If you want to learn about Turkish culture while sinking your teeth into its delicious cuisine at the same time then take a food tour of Istanbul!
Just after we sat down, a glass of sparkling wine materialised from over my right shoulder. I say glass, it was actually a plastic cup filled to the brim, but it added a certain elegance to lunch, the bubbles cutting through and complimenting the rich and punchy flavours of Turkish cuisine.
Before us we had hummus, lamb koftas, olives, smoked meats, dolmas (stuffed vine leaves), and a whole heap of other dishes too all on this cute wooden table. As it was a Sunday, every time I looked around me I saw little old women buying their groceries from the stalls beside us, men casually milling about on street corners sharing glasses of steaming apple tea, a cloud of smoke hanging around them.
With a veritable feast before me, I thought we had reached the climax of our food tour in Istanbul, yet it was only the start of even better things to come. If you want to eat your way around a city – or through a city – then this is the tour for you.
Earlier in the morning my friend and I met Guney, our food guide who was taking us on a culinary Odyssey through Istanbul.
Starting at the Karaköy Ferry on the European side of Istanbul, the first thing we did was jump on a boat and headed over to Asian Kadiköy, the Asian quarter and home to some of the tastiest foods in the city.
While on the boat Guney bought us a cup of Turkish tea, a staple to any Turkish conversation, and started giving us the history of Istanbul, at how it became such a fine place for food.
Due to the fact that Istanbul's been such a melting pot of different cultures over the centuries, it has concentrated elements of all these different cuisines, offering a rare fusion found anywhere else in the world; Asian, European, Middle Eastern… Turkish.
Once we landed on the Asian side of the city, we proceeded to walk all around the markets there, learning all about the different foods.
To kick things off we had a few boreks, light filo pastries filled with different minced meats, vegetables and cheese. Again, like with most dishes here, it was served with tea. Everything is served with tea here.
A big part of Turkish cuisine is honey, so after our bureks we had gulab jamun, a deep heavy dough deep fried in honey. Hard to stomach at 11am and sweeter than anything else you've ever had, they are a seriously delectable treat.
After our meze platter with the sparkling wine, which actually turned out to be a mid-morning snack and not lunch at all, we walked through the markets chatting to a few shop owners, tasting a few of the different spice combinations like ras el hanout which gives a very defined flavour to Turkish cuisine, before we went onto having balli yogurt, a goats cheese yogurt drizzled with sweet homemade honey, one of the most famous dishes in Turkey.
It was quickly becoming apparent that there would be no let up on this food tour of Istanbul; you really do eat something every 10 minutes, each dish as delicious as the next, but Guney did it in a way so you're constantly learning all about the food and about the history of Istanbul and Turkey too.
Saying that, we went onto our next meal, finally lunch of a few different dishes such as kuzu tandir, a really popular lamb dish, and sis kebap, lamb skewers.
As with all food tours, especially one with such a varied cuisine, you're not always going to enjoy every single dish. One shop that we went to served up a variety of different pickled vegetables; if it was small and edible, they'd pickle it, but the flavours were so strong and it didn't exactly help being served with a thick pomegranate drink. However, if anything, this just added to the theatre of the food tour of Istanbul.
Like with most meals in Turkey, our food tour finished off with coffee and baklava, the honey and pistachio filo pastry found everywhere in this city.
Over coffee, we got to sift over all the dishes we had discussing the merits of each one, and it refreshing to note that all of us had a different favourite. That's Turkish cuisine in a nutshell; there really is something for everyone.
For me, learning all about the history of a city while eating your way round it is a great way to see and understand a particular culture, and after dozens of dishes, after eating out own weight in food, I felt we were able to recognise and appreciate some of the finer nuances of this country's cuisine while taking a food tour of Istanbul. Put it this way, there's more to Turkey than just kebabs.
---
Warning: be very wary of scams in Istanbul! There are a number of street scams operating around the city that if you're not wary of you might be tricked out of some money. Find out more about the street scams in Istanbul.
A food tour of Istanbul with Walks of Turkey costs 210 Turkish Lira (approximately £50) and includes all transport costs and food (obviously). Also, as a tip, don't book a nice expensive restaurant for the evening; there's so much food on this tour it'll you through and probably past dinner!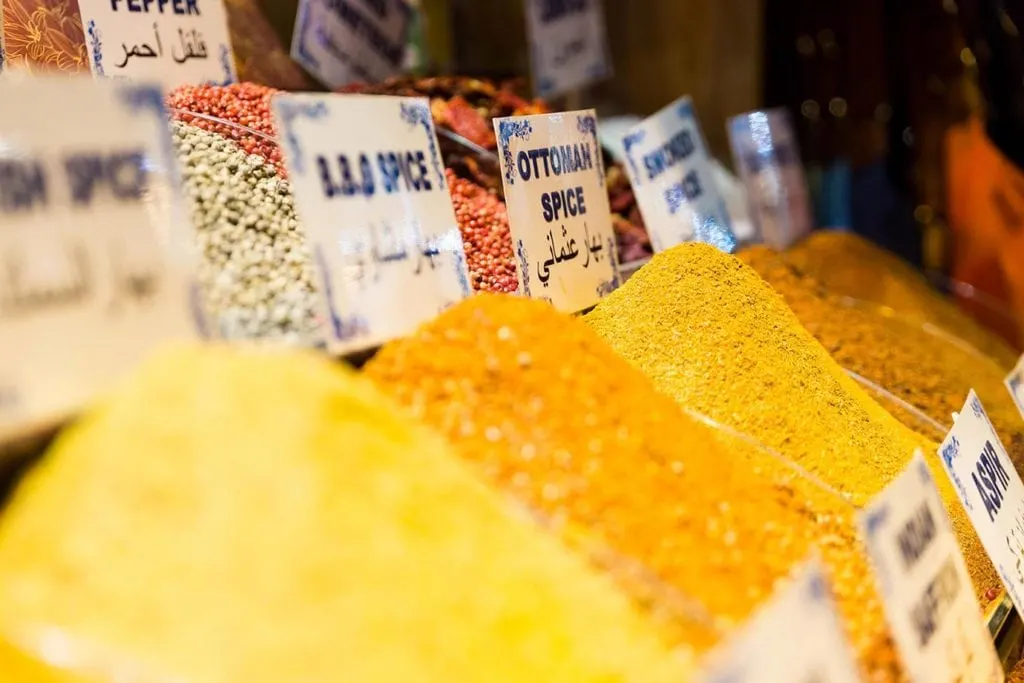 Save
Save