Are you looking a buying an inflatable paddleboard? Then check out my Aquaplanet PACE review on why this is the perfect board for beginners!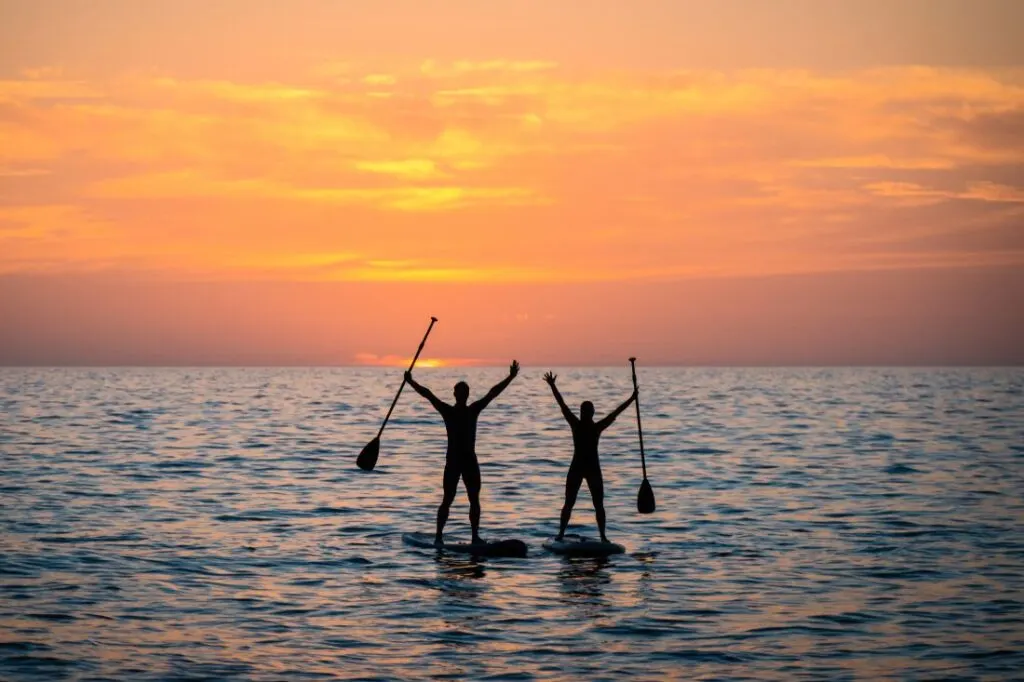 I remember the first time I went standup paddleboarding was in Australia in 2012.
Back then, it was still a pretty new sport, but it was becoming more and more popular with surfers looking to chill after hitting the waves hard.
I was up in Queensland, with this former pro-paddleboarder, and he was explaining what I had to do. "Have you ever surfed before? Ohhh, you'll be fine then mate! Just stand on the board, use the paddle, and you're paddleboarding."
I know it sounds easy, but that's what paddleboarding is. That was it, and from that moment I completely fell in love with the sport.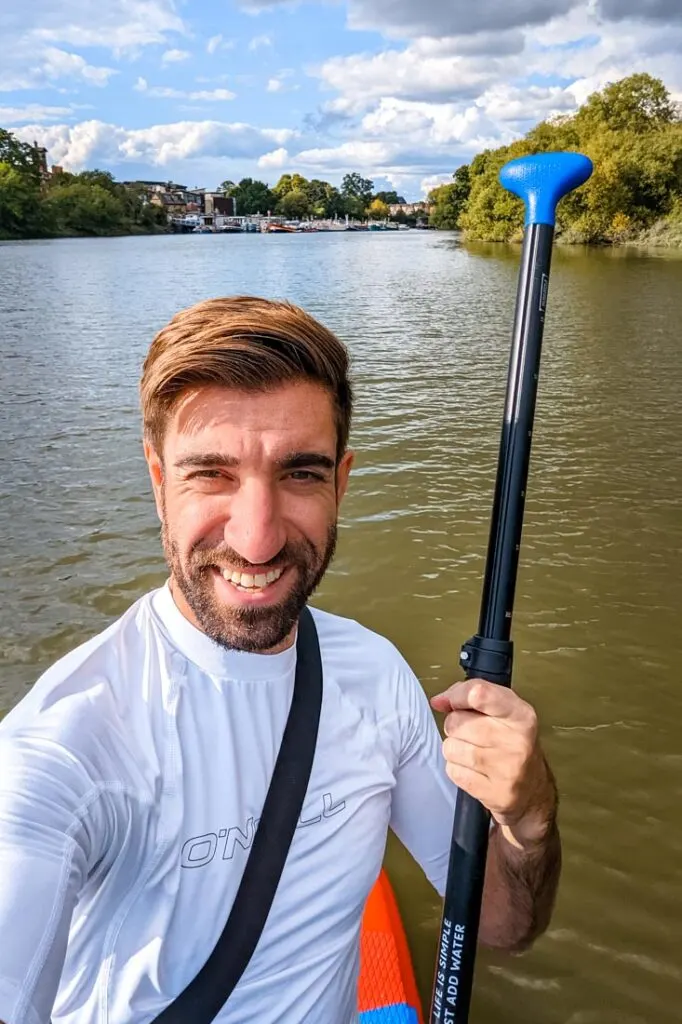 Ever since then, I've always wanted to own a paddleboard. My biggest stumbling block though was living in London, because who has space for a paddleboard living in London? And also, where would you go, the Serpentine in Hyde Park?
Fast forward a few more years and I've moved further from the city centre. I now have a lot more space (hey, I even have a shed now), and I am very close to the Thames.
Basically, I had no excuse. It was time to finally get myself a paddleboard! Enter – the Aquaplanet PACE SUP.
What is the Aquaplanet PACE?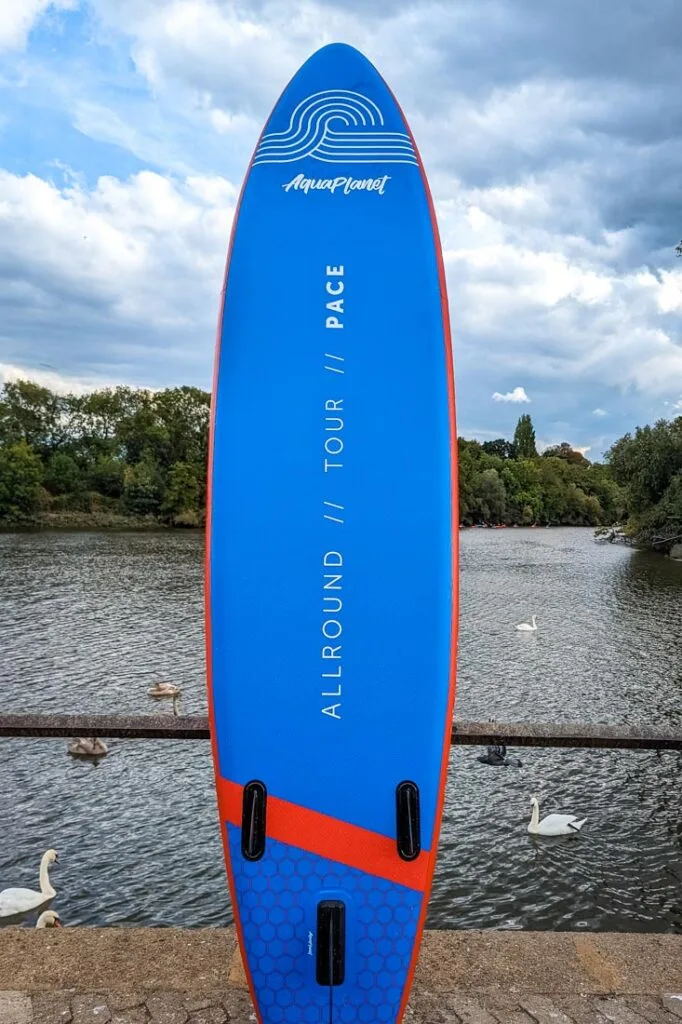 Like me, no one has space for a giant 10" fibreglass paddleboard, and that's why inflatable paddleboards are so perfect.
Over the past few years, inflatable paddleboards have exploded onto the market making it easier than ever getting out on the water.
However, there are A LOT of paddleboards on the market now, so it's important doing your research and choosing the right one. That's where this Aquaplanet PACE review comes in, to help you decided whether this is the right board for you or not.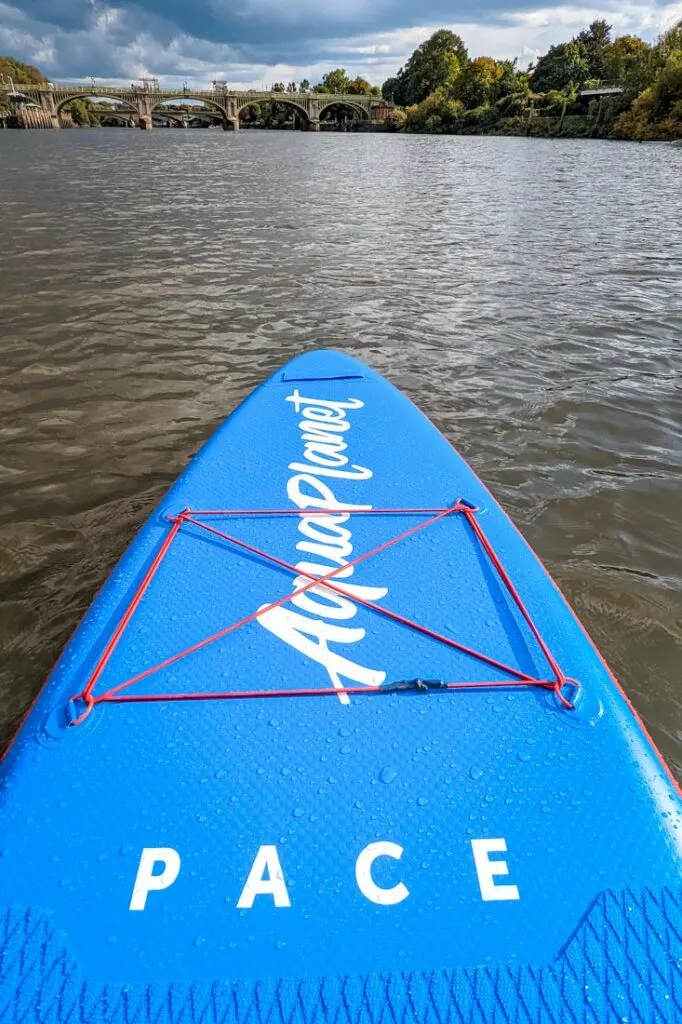 I would say the PACE is definitely aimed at beginners looking to get out on the water or for intermediate boarders looking to improve quickly.
This 10'6" board is built for balance, so it really is perfect if you're a little unsure on your feet. It is slightly thicker than other SUPs on the market which gives it that little extra stability and buoyancy.
However, it's not just built for balance, it's built for speed too. The biggest difference to other paddleboards is it comes with three fins as standard. Obviously this gives you more balance, which gives you more confidence, which gives you more speed. More balance = more speed!
Also, the pointed nose lets you cut into waves a bit more too which I really liked. Even on the Thames I managed to get up some speed.
You can also add a kayaking seat and convert it into a kayak too which is pretty cool.
How easy is it to use?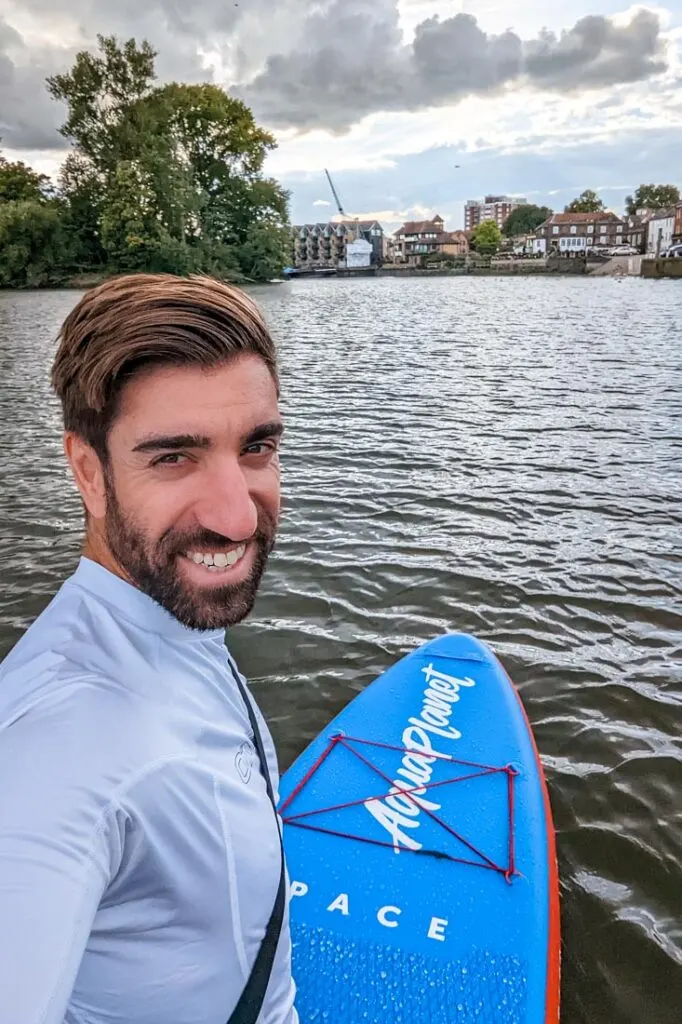 I always felt that the barrier to market with a paddleboard was whether it was genuinely easy to set up and use. If it's awkward to transport, takes time to inflate, and is generally cumbersome, then people will just leave it gathering dust in the shed. That's why I was surprised as how easy it was to use.
Picture this. It was a sunny Saturday in London, and after doing some DIY around the house I quickly decided to get the paddleboard out and try it for the first time.
On a spur of the moment decision, I chucked the whole box into the back of the car, drove around the corner to the river, and started to set it up in the car park.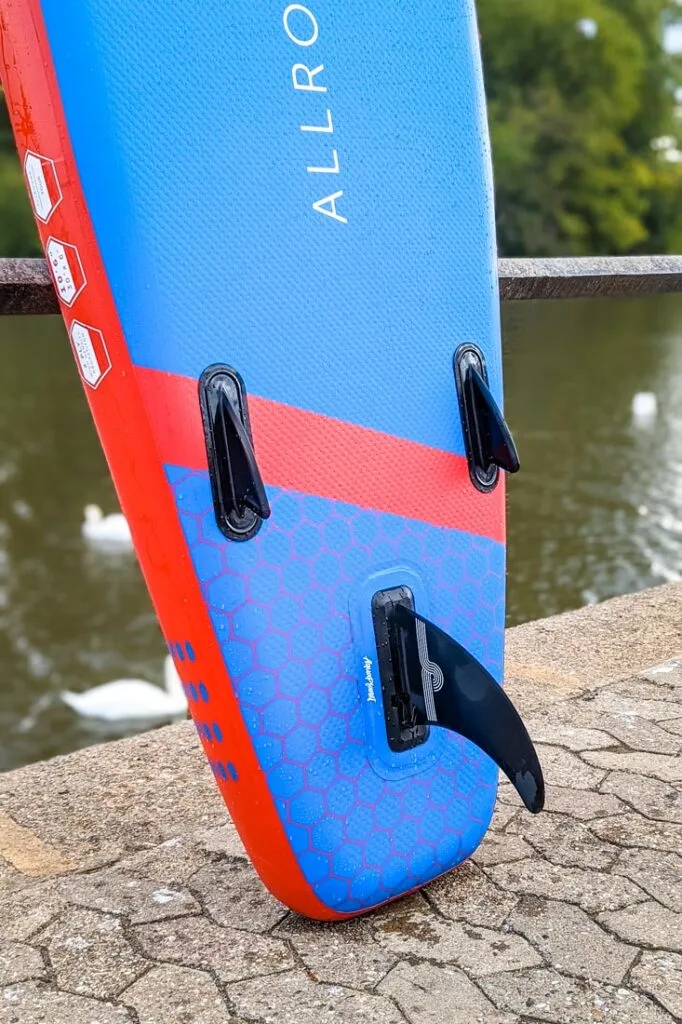 I would say from the moment of getting it out of the box to paddling on the water was around 15 minutes; it really was that quick. And now that I know what I'm doing, that's only going to get quicker and quicker.
Once on the water, I loved it! I didn't really notice the difference between more professional paddleboards I've used, and it was very responsive when navigating on the water.
The pointed shape really gives you that little bit of extra speed which is perfect when you're paddling into the wind.
Now that I've tried it out on the Thames, I can't wait to take it to a few paddleboarding spots around the UK.
Setting up the Aquaplanet PACE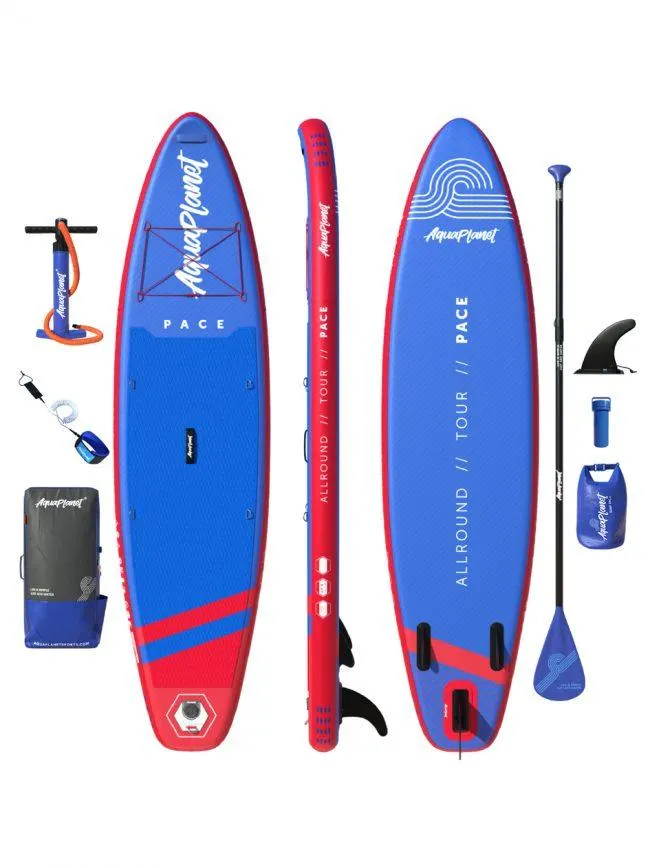 When that giant Aquaplanet box arrived, it left like Christmas had come early. My first thought was "wow, that's a big box, how big is the paddleboard going to be!?" but it packs down very small (more on that later)
In the box is the SUP board rolled up, a paddle that comes in three parts, a pump to pump up the board, a leash to attach the board to your ankle, a shoulder strap to carry the board, a dry bag to carry your things out on the water, and a huge rucksack to carry everything in.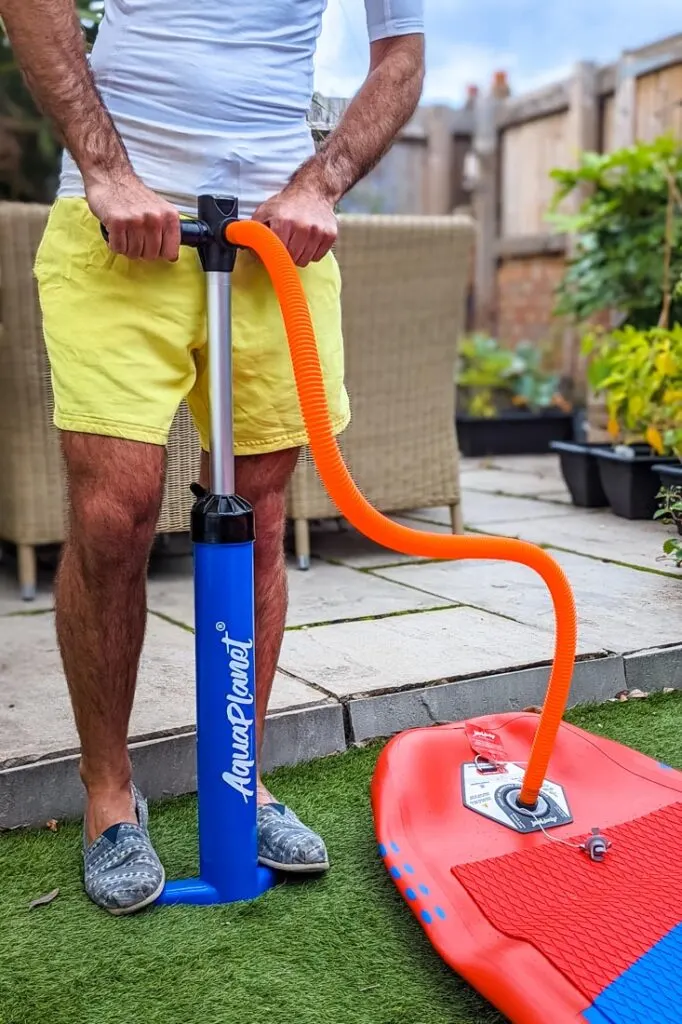 Obviously there are instructions in the box, and they are pretty self-explanatory too. It's an inflatable paddleboard – all you have to do is inflate the thing with the handpump and you're good to go.
This is my one real negative with the board so far. Because it's a handpump, and because it's a big board, it can take up to 15 minutes to inflate.
It took me around 5-10 minutes because I was pumping hard, but it really is a workout. You need to get the board from being completely deflated to around 16PSI, so towards the end it takes a lot of strength to inflate it. I think if you were small framed or quite unfit, you might struggle with inflating it fully.
Personally, because I've inflated boards before and I know how hard they can be, I'll probably buy an electricpump to make things a lot easier for the future.
Putting away the Aquaplanet PACE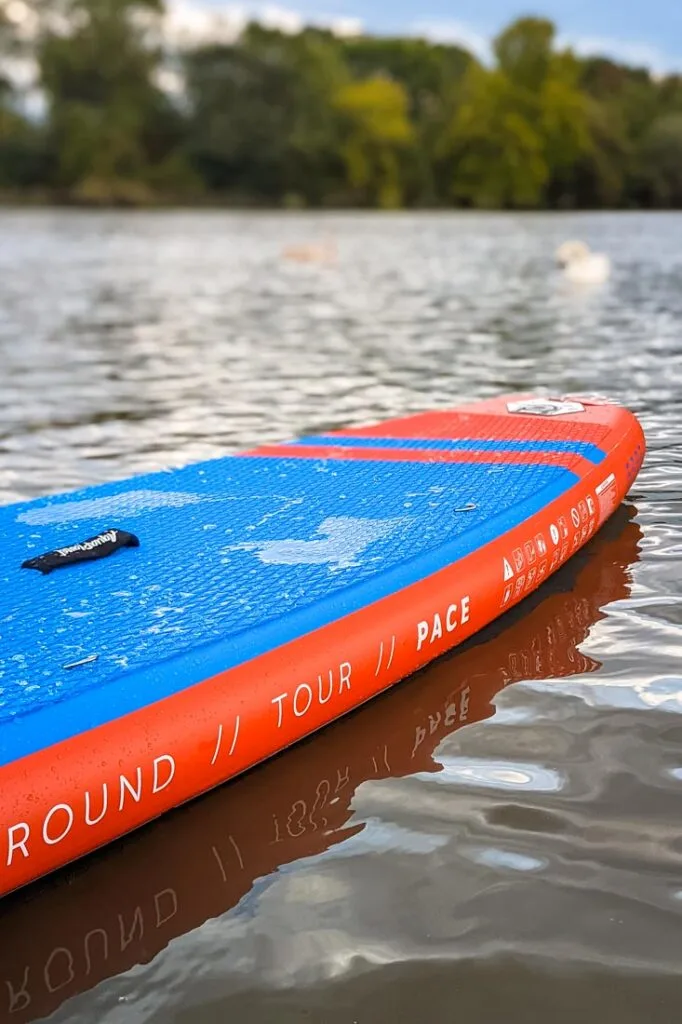 Now this was one of the things I was most interested in – how small would the Aquaplanet PACE pack down to.
Obviously I didn't want to stand around for ages getting cold while working out where everything went, so I wanted to be speedy about things.
Once I got off the water, I deflated the board in around three minutes, so that was fast.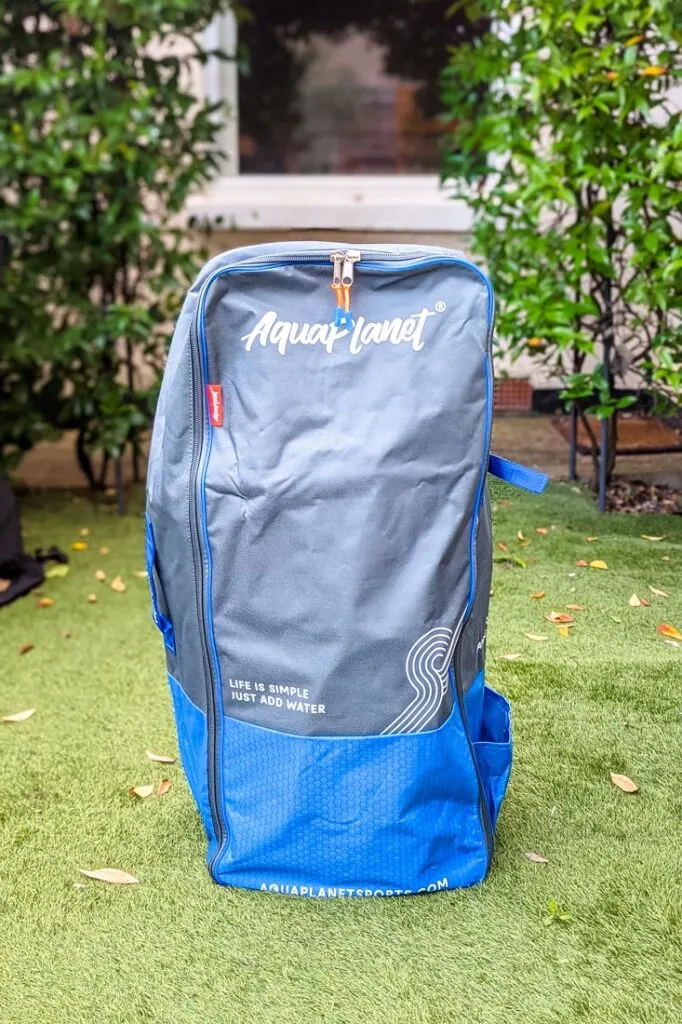 It did take me a couple of goes rolling the board up to fit into the bag, but once I got the hang of it, that's quick and easy too.
Then you just take the paddle apart, and chuck everything into the bag. There was even room to spare which I was surprised about.
Honestly, how small the board packs down to is one of the best selling points. It now sits proudly in my shed, and I know it's not going to gather dust like half the other things I've bought over the years.
Specs
Dimensions: 10'6″ x 31″ x 6″ (3.25m x 79cm x 15cm)
Weight: 13kg
Colour Options: Red & Blue, Teal & Midnight
Fins: Tri-fin setup – two fixed and one removable slide-in fin
Material: High-density PVC fused drop-stitch construction
Max Rider Weight: 120kg
Recommended PSI: 15-17
Deckpad: Diamond cut crocodile EVA deckpad for grip & comfort
Is the Aquaplanet Pace the right board for you?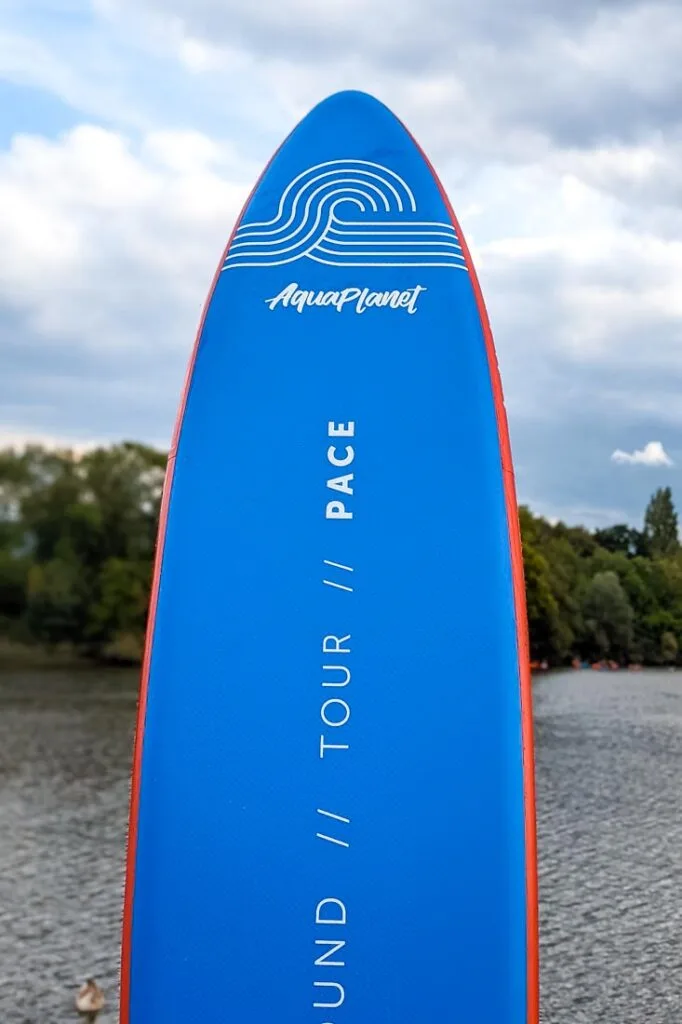 Good question. It doesn't matter if you're a complete beginner or a intermediate paddleboarder looking to take your SUPing to the next level, the Aquaplanet PACE is a great choice of board.
I would say the best thing about the Aquaplanet PACE is the fact it's a great all-rounder. If you've never been on a board before, the three-fin design will give you extra stability.
However, it's also that three-fin design matched with the narrow nose that means you can go that little bit faster on the water. As I said, it's win win.
If you're looking for a casual board that you can use both on rivers and out at sea, then then PACE is a great choice, especially at the £329 price point. And if not, Aquaplanet also stock a range of other paddle boards, so I'm sure there's one there for you.
Right, now it's time to take mine out again on the water!
---
If you have any questions about the board, just let me know in the comments below and I'll get back to you!