From surfing lessons in Newquay to crazy coasteering along the Cornish coastline, these are the best outdoor activities in Cornwall!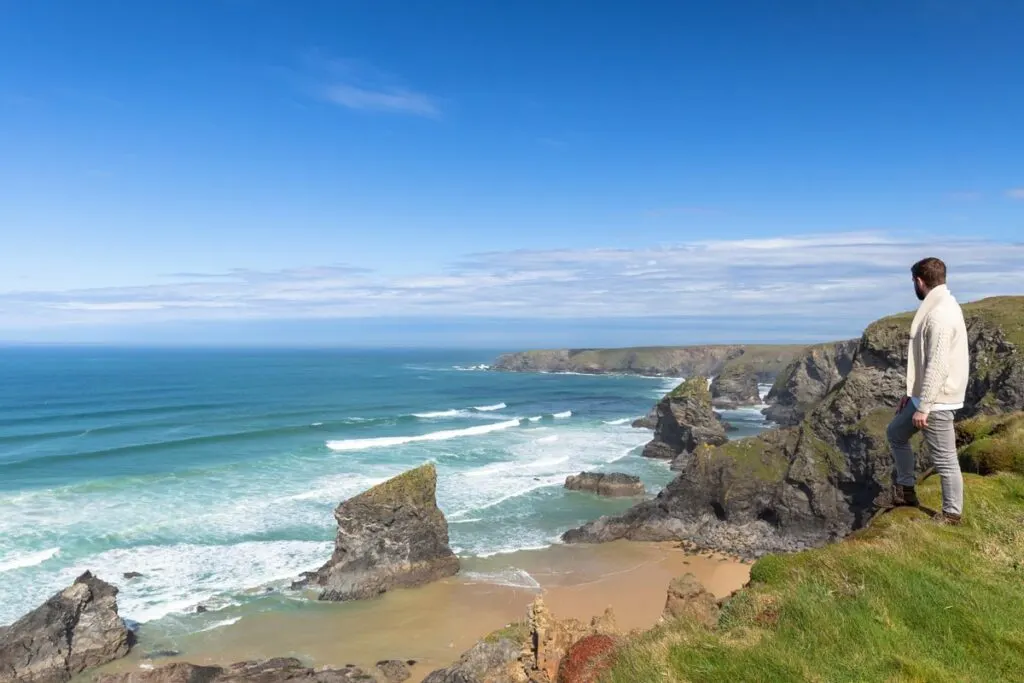 Cornwall is one of the most idyllic corners of the UK. It's one of those rare places that barely even looks like it belongs to the British Isles. You don't get golden sand beaches and beautiful blue seas all around our shores you know!
Framed by the Celtic Sea, you've got miles of lush green landscape, cool cities, and postcard towns and fishing villages just waiting to be explored.
You've also got some of the UK's best cider too, which is arguably very important (especially to the Cornish).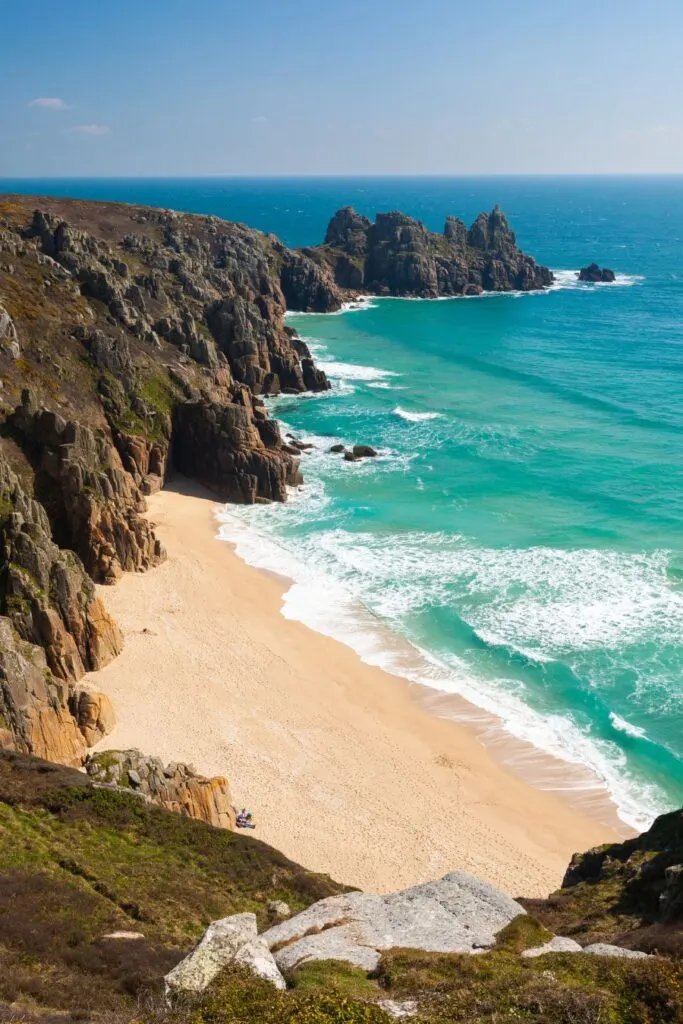 My favourite thing about this region isn't the beach or the bevs though, it's the adventures. Surfing, kayaking, coasteering – outdoor activities in Cornwall are second to none. Honestly, there are some many amazing adventure activities to choose from here.
That's actually the whole point of this blog. If you've landed here, you're probably gearing up to go on an adventure of your own. But you don't necessarily need to head abroad you know – you can find them right here on familiar soil.
Buckle up because you're about to discover Cornwall's best adventure activities. Get ready for an adrenaline rush like no other!
---
The Best Outdoor Activities in Cornwall
Have an adventure at Cornwall's Adrenaline Quarry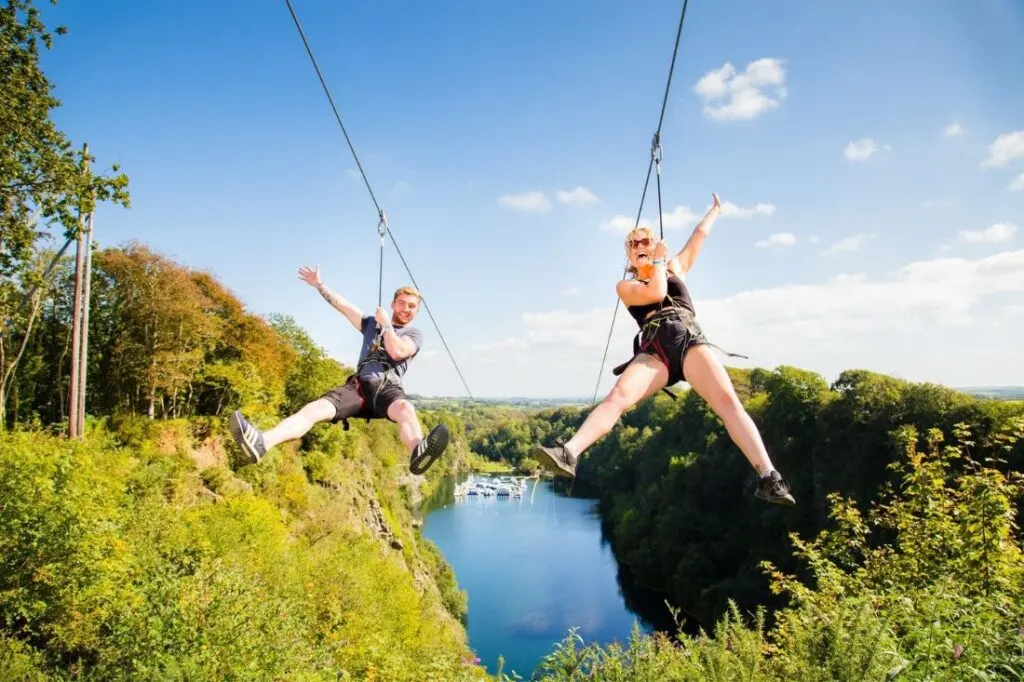 If it's adventure you're after, the Adrenaline Quarry should be top of your list. The clue is in the name – this activity is going to get the heart racing and the adrenaline pumping.
Pretty much every thrill-seeking activity you could think of is on offer here. You name it. Wild swimming? Check. Zip wire? Check. Giant swing? You got it, check.
Not only that, but the Adrenaline Quarry is home to a huge aquapark, kitted out with inflatables, oversized trampolines, monkey bars, slides and more. If that's not quite your bag, no worries. Go-karting and axe throwing are on site too.
This place really does cater to all ages and adventures, so much sure you add it to your Cornwall itinerary when you're here.
Experience the Skywire at Hangloose Adventures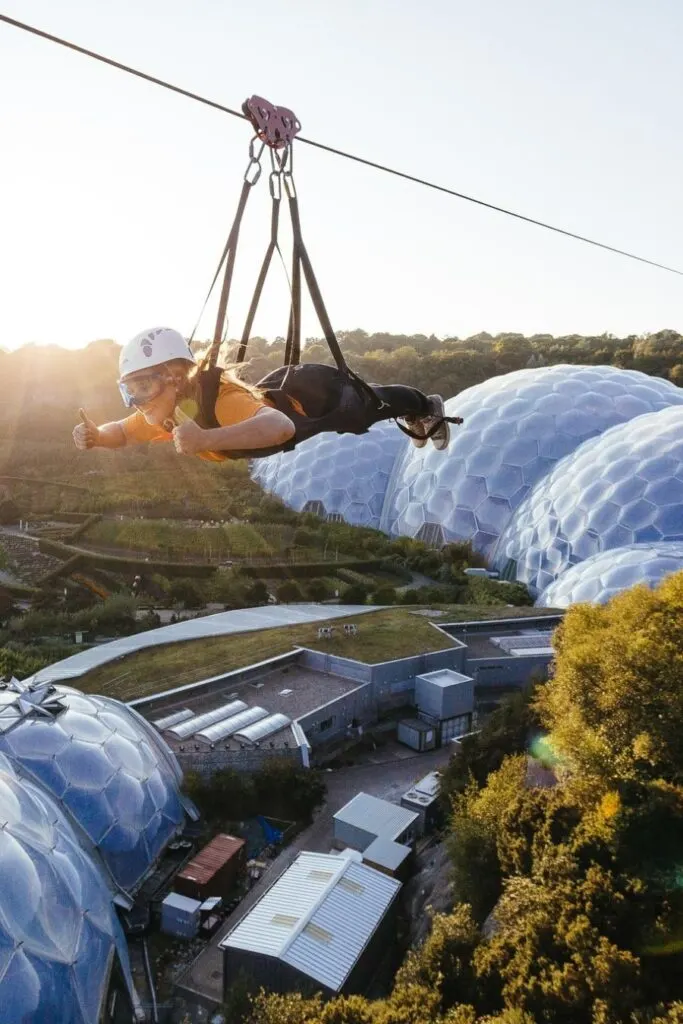 If the zipline at Adrenaline Quarry isn't quite intense enough for you, your next stop should absolutely be Hangloose Adventures at the Eden Project.
The Eden Project itself should definitely be on your list. A series of tropical biomes home to an incredible botanical garden, it's an experience like no other. But it actually houses so much more than people realise.
The Skywire is no small feat – it's England's longest and fastest zipline, covering a whopping 660 metres and at a crazy speed of up to 60 mph. Being able to soar right over those tropical biomes I mentioned is definitely wild, and that's what makes this one of the best outdoor activities in Cornwall.
Aside from the Skywire, you can try out the giant gravity cliff swing, a 33 ft base jump, as well as high ropes or aerial trekking.
Explore Cornwall's coast with Kernow Coasteering
Cornwall is home to rugged coasts and wild seas, and coasteering is the ultimate way to explore them. Out of all of the adventure activities in Cornwall, this has to be one of my favourites. And Kernow Coasteering is one of the best local companies to experience it with.
You get the adrenaline, while cutting out the middleman of an adventure centre. It's just you and nature, up close and personal.
Coasteering is all about scaling the coast, without any help from boats or boards. Instead you jump, climb, swim and scramble. It's great exercise, and super fun too. And while it's fantastic for thrill seekers, it's totally safe. Kernow Coasteering has expert guides leading your trips so you're in good hands.
Get the adrenaline pumping at Via Ferrata Cornwall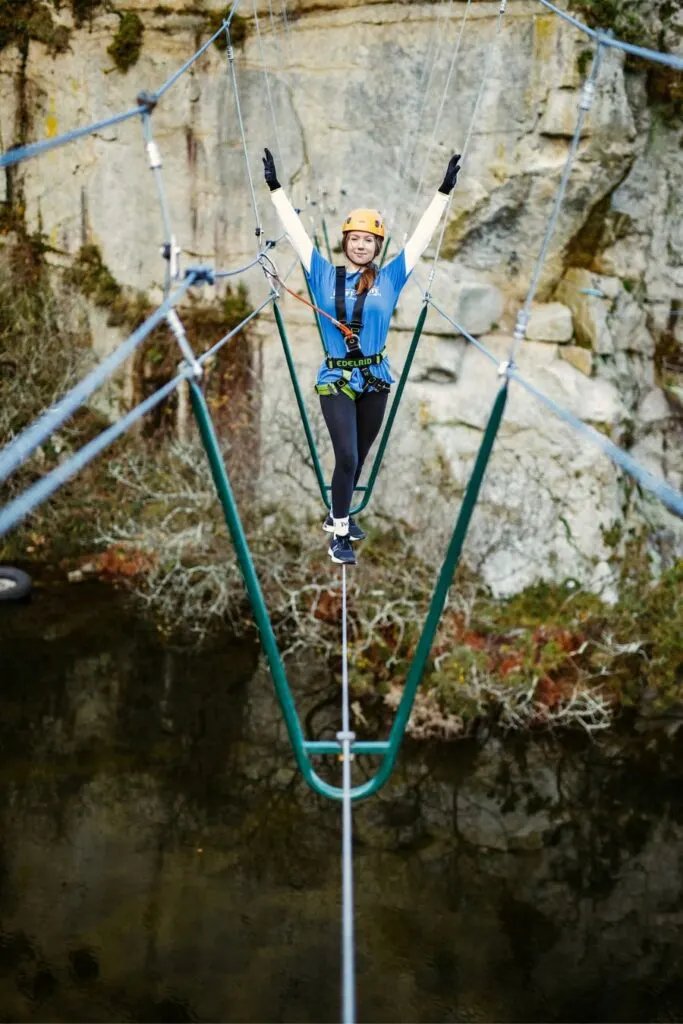 Ever dreamed about experiencing a via ferrata? Well there's one right here in Cornwall – and it comes with a bird's eye view of the county's granite quarrying heritage.
Scale cliff faces, cross high wire suspension bridges, climb mental steps and then zip back down to ground level. The zipline is probably the best bit. That's when you get the views, and believe me when I tell you they're next level.
Aside from the via ferrata, you can also go coasteering, stand up paddleboarding, climbing, or give archery and watersports a go.
Traverse the depths of Cornwall's iconic mines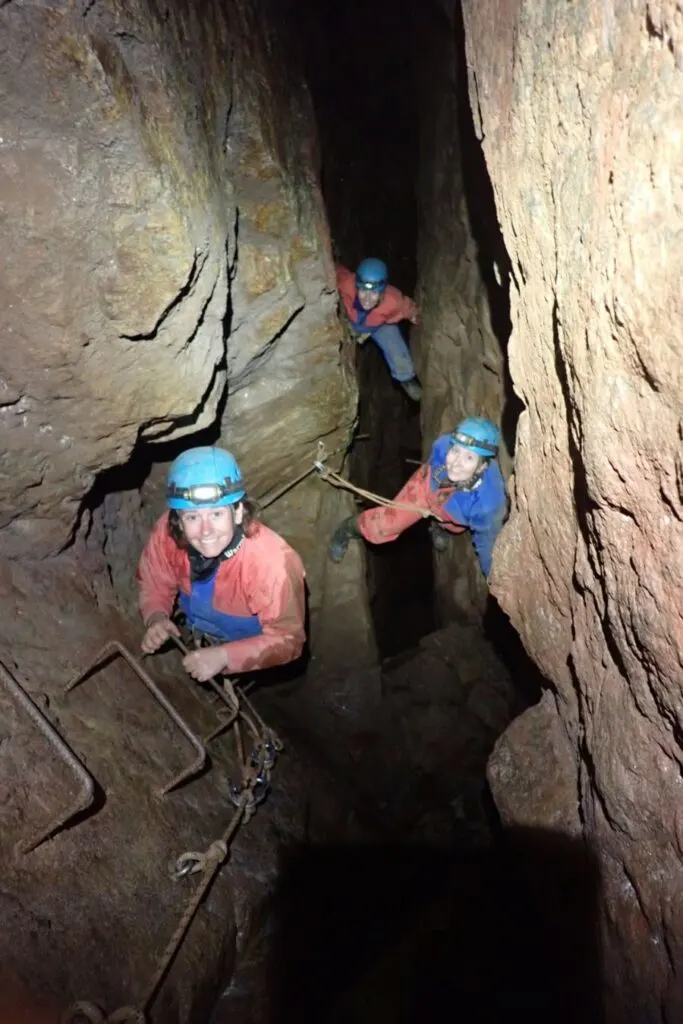 There's a lot to do above ground in Cornwall. But there's plenty to do beneath it too.
Cornwall Underground Adventures is a perfect example. Offering an adventure you won't find elsewhere, you actually get the opportunity to explore the mines themselves. Under the careful watch of guides, you'll wander down into mines ranging from 100 to over 300 years old. And when I say wander, I mean you'll climb ladders and abseil.
Yep, it's another one for the thrill-seekers.
Ride the waves at one of Cornwall's many surf schools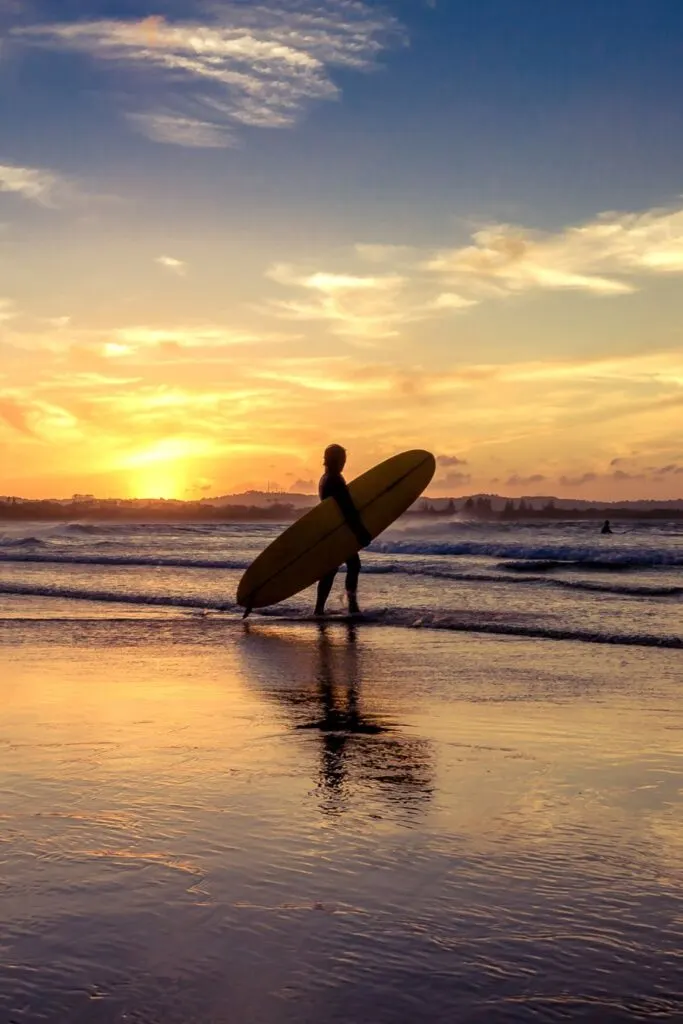 This slice of the West Country is pretty much synonymous with surfing. So if you're already in the area, it's a great time to learn.
As one of the most iconic outdoor activities in Cornwall, there are tons of different surf schools out there. You're pretty much spoiled for choice. There's Harlyn Surf School in Padstow, Fistral Beach Surf School in Newquay, and that's just to name a couple. It's easy enough to find surf lessons near most of the major beaches.
Give paddleboarding a go with SUP in a Bag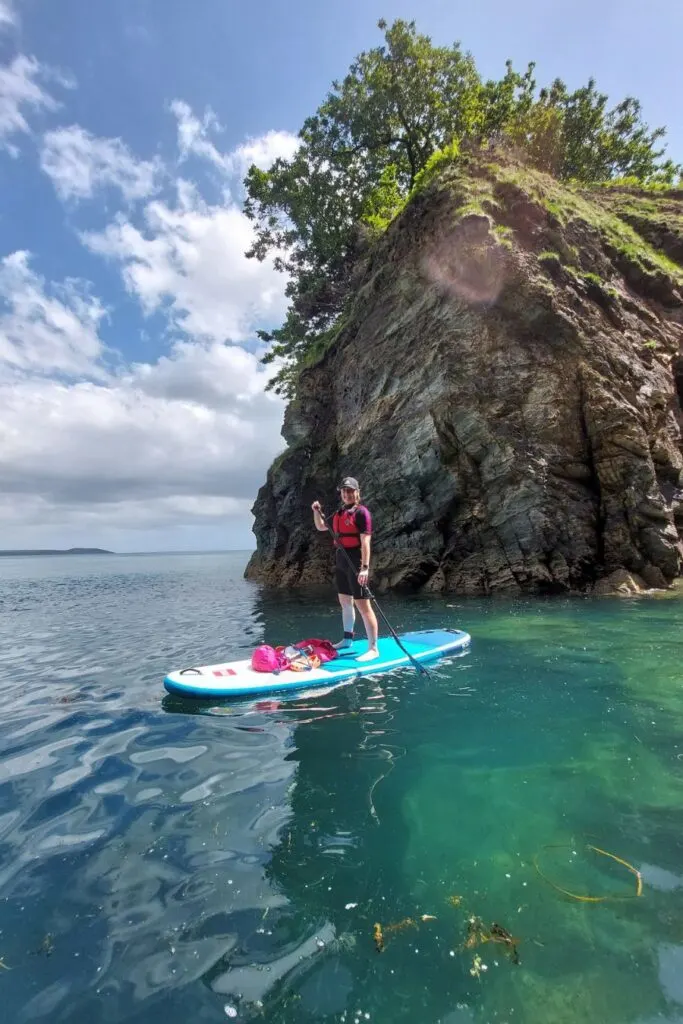 Is surfing not your bag? Paddleboarding just might be. SUP in a Bag are the perfect people to make that happen (see what I did there?).
SUP offers guided scheduled or group stand up paddleboarding lessons of all kinds. What's more, they operate all over Cornwall, from Truro to Padstow, so they're suitable no matter where you're staying.
Paddleboarding is tons of fun. But it's also a lot more laidback and gentle than a lot of the activities I've listed so far, so it's great for a change of pace or if you prefer something a bit more chill.
Step away from the sea and go kayaking in the Helford River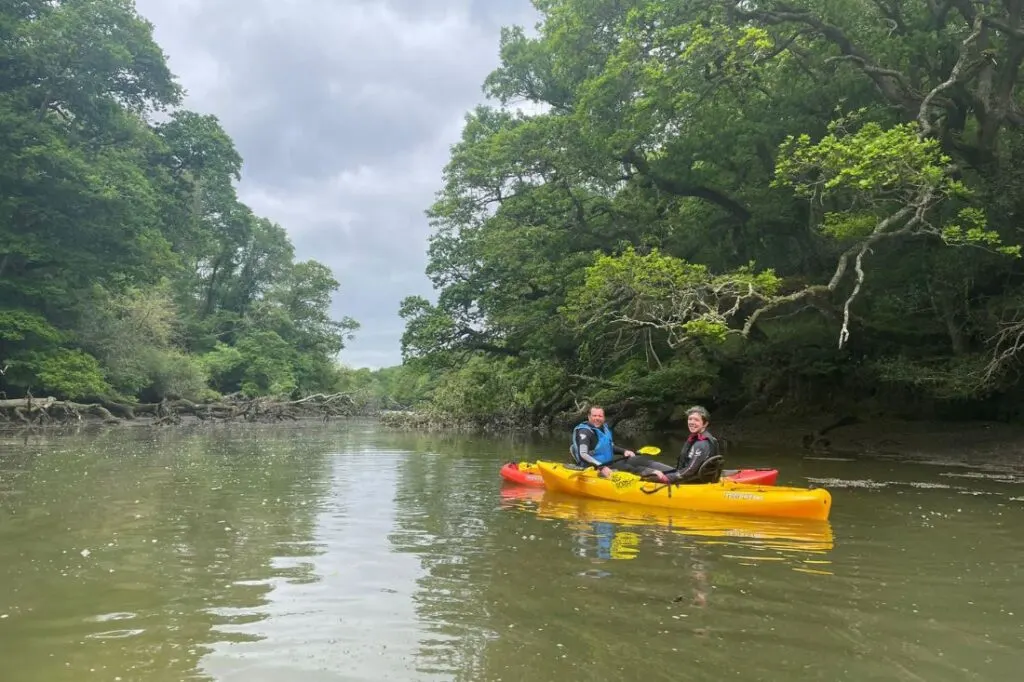 You don't necessarily need to get out of the water if the turbulent waves get a bit much. Instead, you could hit the river with one of my absolute favourite adventure activities in Cornwall.
Koru Kayaking offers guided kayak tours across the picturesque Helford River. But that's not all they offer. There are also a couple of kayak adventures you can take, which guide guests to private beaches and coastlines you can't access on foot.
Get a bit wild on a jet ski safari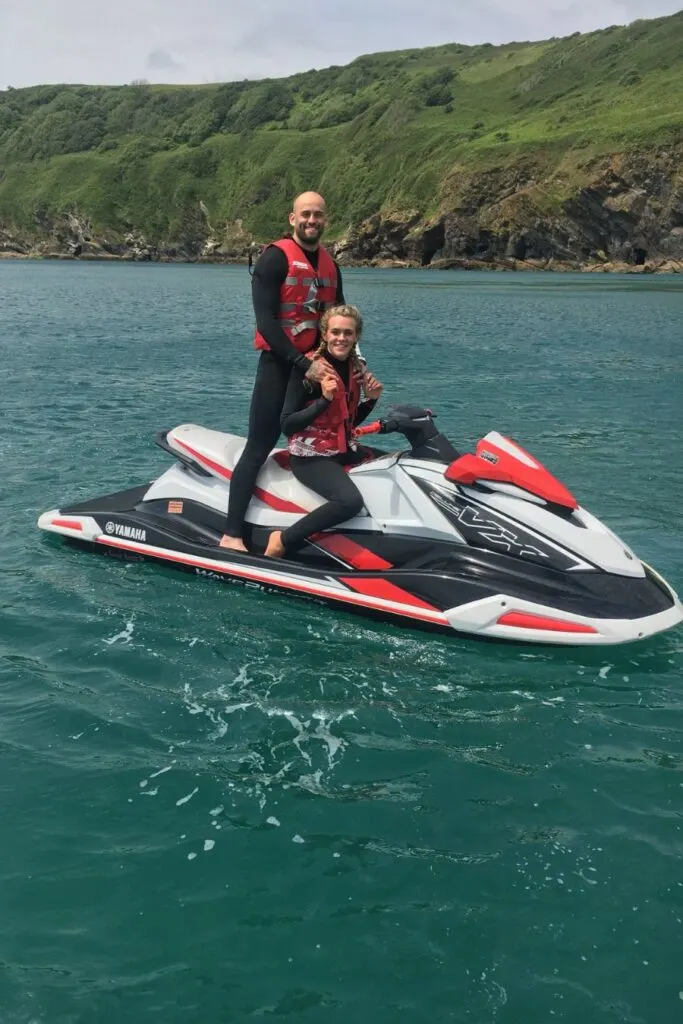 I've talked a lot about adrenaline in this blog: zip wires, giant swings, coasteering. But there's something else that is great for getting the blood pumping. And it's one of my absolute favourite outdoor activities in Cornwall.
I'm talking about getting out on a jet ski of course. This is the ultimate way to ride the waves – boards don't even compare. Waverunner Safaris operate in both Newquay and St Austell, and they're excellent for getting a taste of adventure. They've got courses for complete beginners, or longer trips where you can catch glimpses of the sea life.
If a jet ski is a bit too much, there are other options. Boat trips, abseiling, paddleboarding, whatever you can think of.
Go snorkelling and spot blue sharks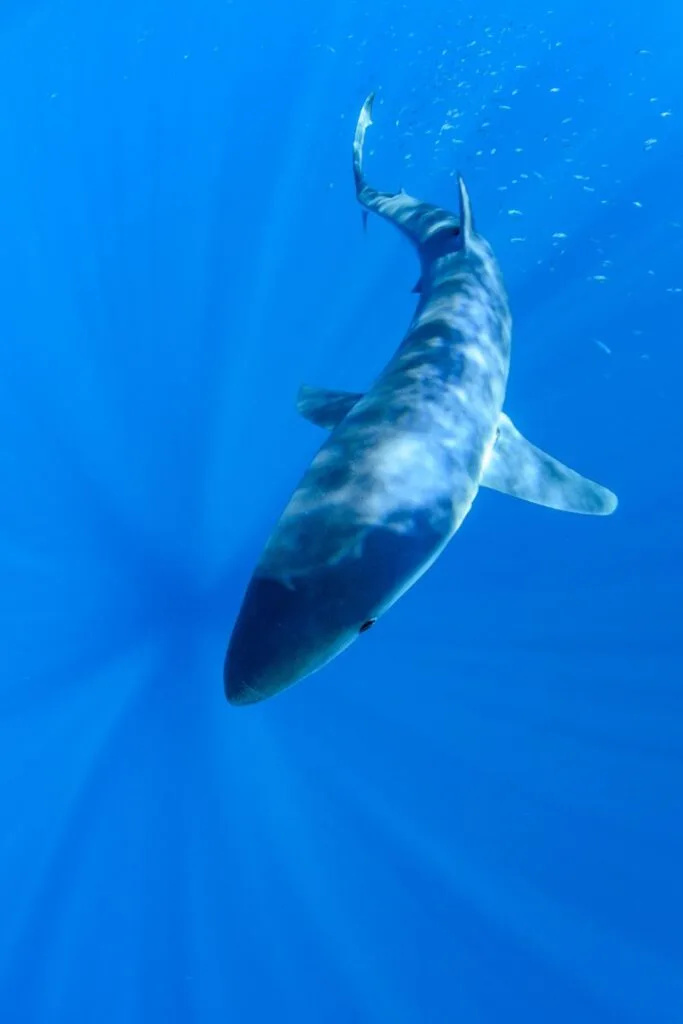 Speaking of sea life, Cornwall is one of the best locations in the country for marine animals. If you're lucky, you can see all sorts: dolphins, seals, and blue sharks.
But if you want to increase your chances of the latter, you're in luck. Blue shark snorkelling is an experience you won't forget – that's what makes it one of the ultimate adventure activities in Cornwall.
Day trips with Blue Shark Snorkel are available from Penzance throughout July and October. They'll take you 10-20 miles off the Cornish coast and offer an unforgettable glimpse of nature as you swim alongside the sharks. This one is a thriller, but don't worry, it's safe.
Where to Stay in Cornwall
When it comes to where to stay in Cornwall, you're completely spoilt for choice.
Hotels can get very expensive during the summer season, so below I've recommend a few different cottages with Aspects Holidays.
Having your own holiday cottage is the perfect way of basing yourself in one place while getting to explore the surrounding area. Also, all these places have their own kitchen, so if you cook from home you really can make some big savings compared to eating out for every meal.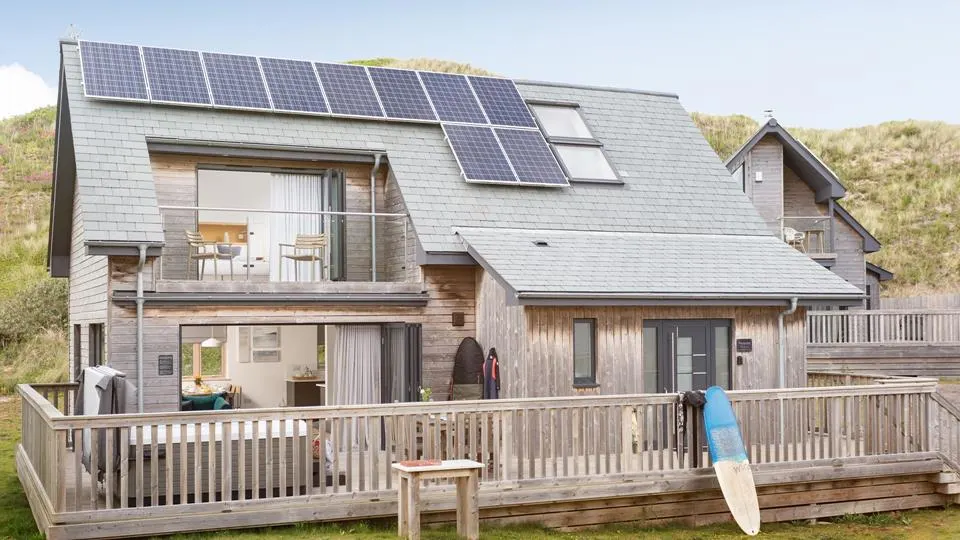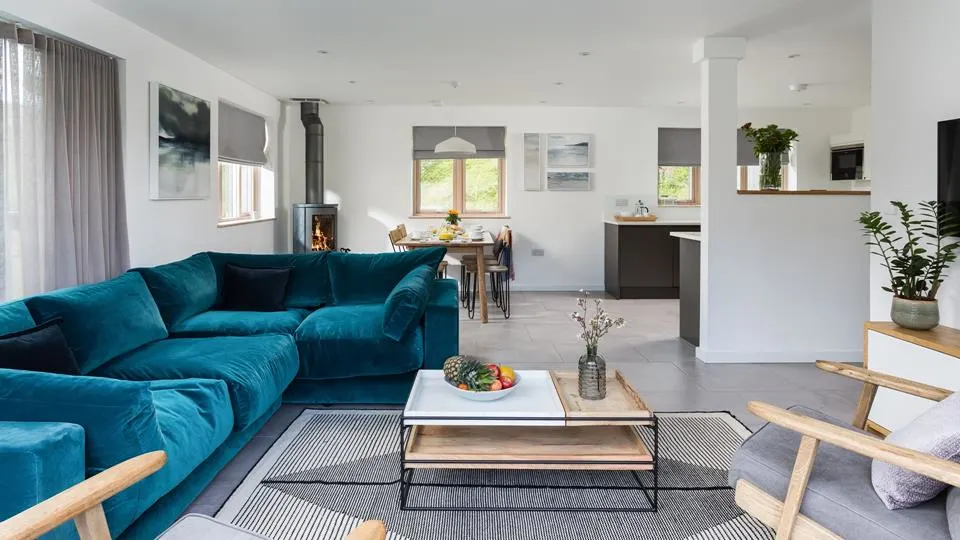 Light, open and airy, High Tide is an awesome place to relax and totally unwind. Located in beautiful Gwithian, it's a stone's throw from Sandy Acres Beach – a great place for yoga or a peaceful morning stroll.
Is that too tame? Sandy Acres is also one of the best spots for surfing, giving you a great opportunity to get out on the waves between your adventures. You can even hire a board for the duration of your stay and leave it at the cottage just like a local.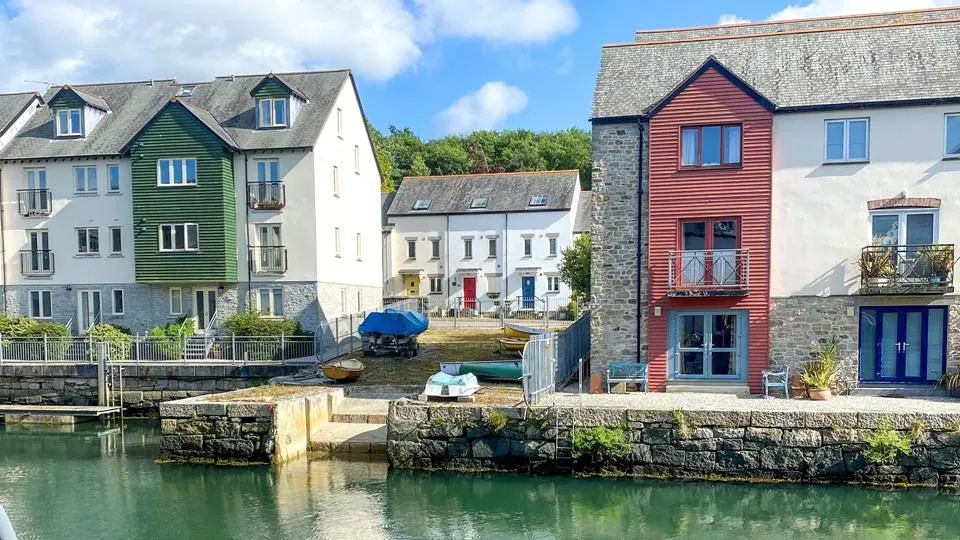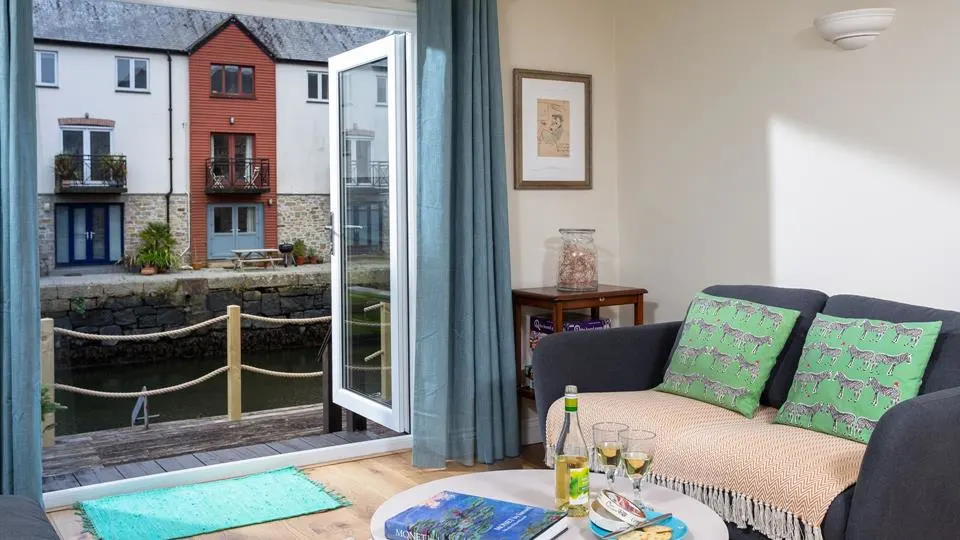 Artist's Residence in Falmouth is a great place for would-be thrill seekers. Peaceful and serene as it may be, adventures are just moments away. If you're already experienced on the water, bring along a kayak or paddleboard for storing at the boatyard opposite, and go exploring at high tide.
It's in a great part of Cornwall, too – Falmouth is a vibrant seaside town, always buzzing with friendly locals, activities, and great places to eat.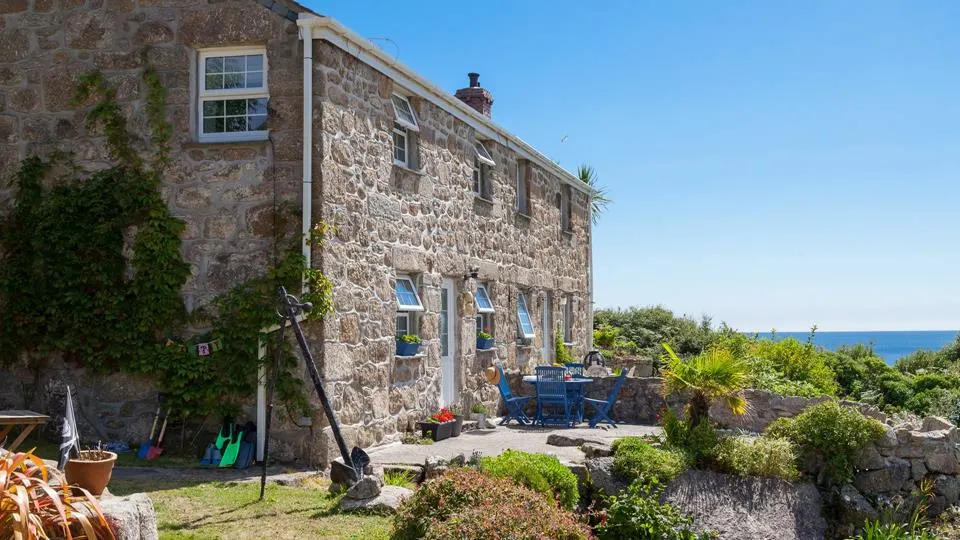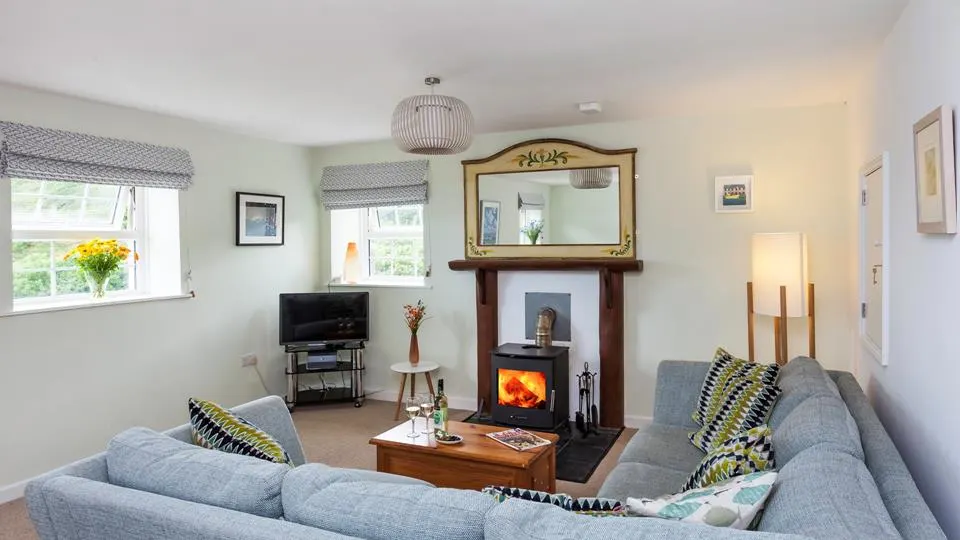 One of my favourite things about Cornwall is the long and winding coastal paths. If you're the same, Piran Cottage in Lamorna could be the place for you.
Piran Cottage overlooks a cove and is only moments away from stepping foot on that rugged footpath. Follow it, and you'll end up in the postcard-perfect village of Mousehole. Quiet and quaint, there's nowhere better to enjoy some downtime from the thrill seeking.
---
That's all from me today. Hopefully you found it useful and found a few places to add to your Cornwall bucket list.
If you've been here before and there's other outdoor activities in Cornwall you'd like to recommend, leave them in the comments!
Like this blog post? Then Pin it for the future!