Looking for the ultimate London adventures? From white water rafting to axe throwing, these are the best adventurous things to do in London!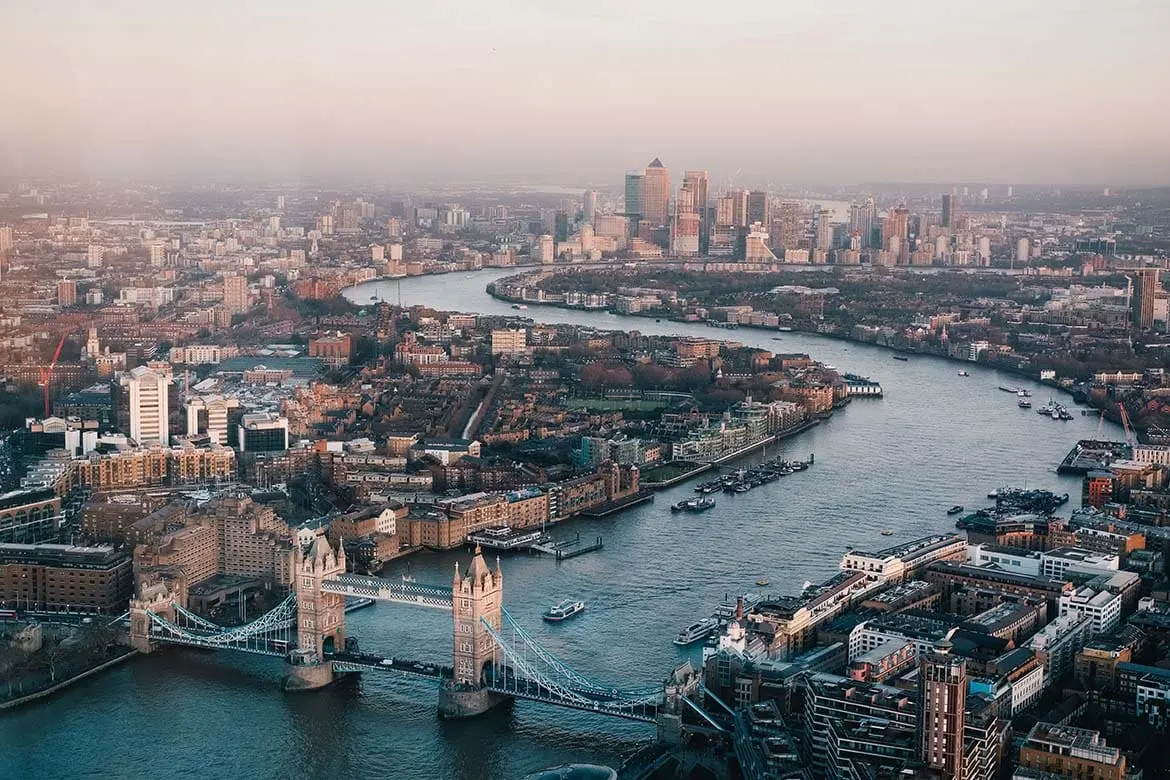 Are you sick and tired of packed tube carriages and people rushing around Piccadilly Circus? Do you need to blow off some stream and get the adrenaline pumping? Then these London adventures are for you!
Over the past 10 years I've lived in so many different areas of London. Even though I've travelled all over the world, I still keep coming back to London and it's a place I'm very happy to call home. What can I say, I absolutely adore this place.
However, if you spend a long period of time in the city it can get quite oppressive. Huge skyscrapers, businessmen sprinting for tubes despite the fact there's another one in 2 minutes, the whole city blind drunk at 11pm on a Friday night. It's okay, I get it.
Whenever I feel like the city is getting a bit too much for me, I like to go on a London adventure to feel alive again.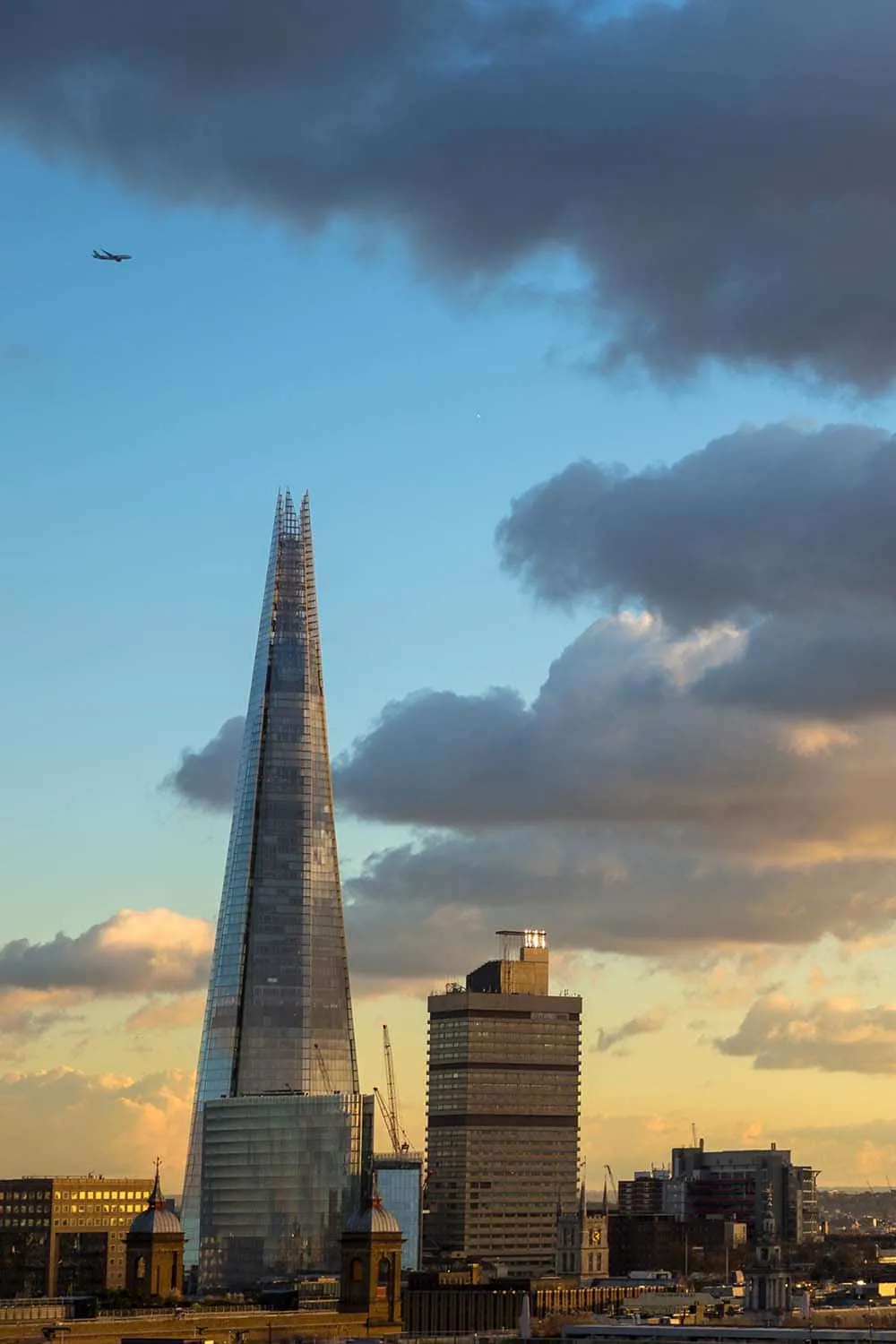 Not everyone can travel to far flung places and not everyone can get out of London for the weekend. If you're one of those people then this is the blog post for you. I really want to highlight the top adventure activities in London to show you can have a great time in the city without going to the pub.
From white water rafting at Lee Valley to ice climbing in Covent Garden, these are 14 of the best adventures in London you need to do at least once in your life.
I really hope you get to enjoy a few of these. And remember, it's okay to be a little scared!
Adventurous Things to do in London
1. White water rafting London
Did you know you can go white water rafting in London? Located at Waltham Cross, the Lea Valley White Water Rafting Centre was the course used in the London 2012 Olympics. Ever since then it has been thrilling people from all over the city and beyond.
I've been here for an extreme kayaking lesson and I absolutely loved it. The course is amazing and it's so much fun taking on the rapids. And they are proper white water rapids too.
There are a few kayaking courses you can sign up for to take your kayaking to the next level. However, the most popular activity is the white water rafting.
This is usually for big groups and it's a lot harder than it looks. You really do have to paddle hard in the water and even then you still get thrown all over the place. That's the point though and expect to get very wet.
I've done a lot of white water rafting all around the world and this is still one of the best places I've ever done it. I can't recommend this one enough.
Also, it's worth using one of London's top serviced apartments to stay nearby Lea Valley. Then you can make it an adventurous weekend in London!
2. Thames Rocket Ultimate London Adventure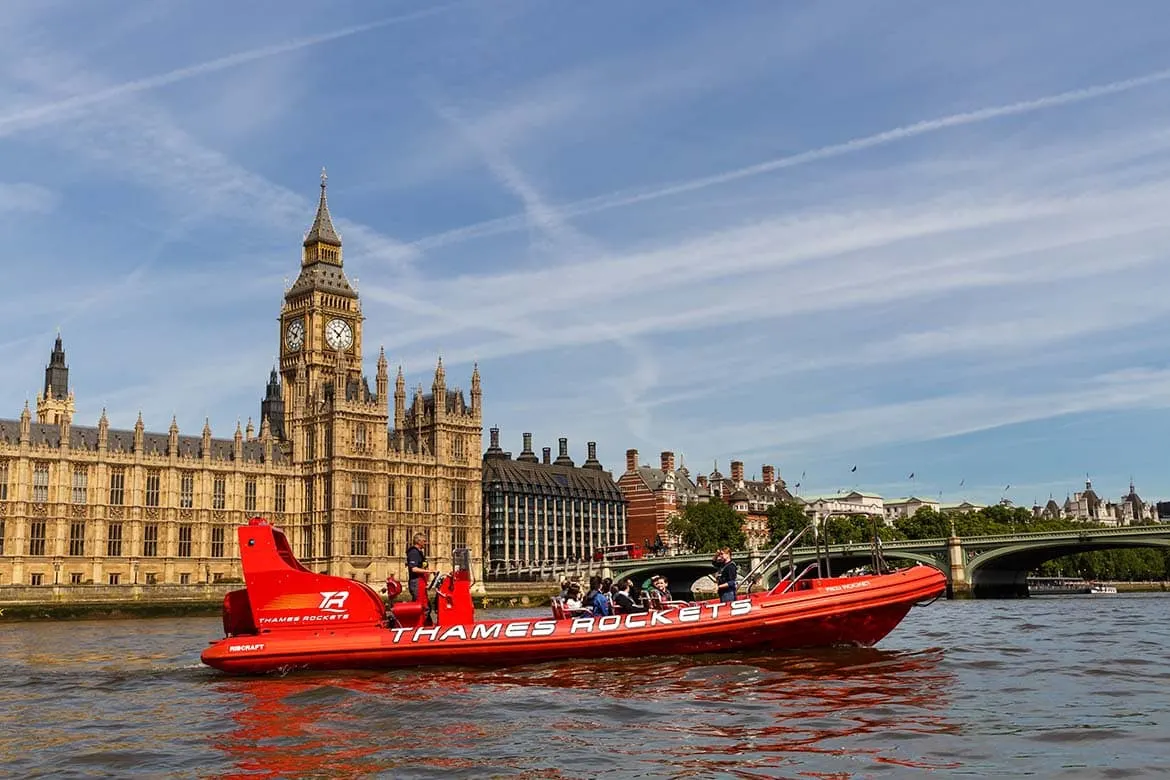 The Thames Rocket Ultimate London adventure is without a doubt one of the best things to do in London.
On this tour you'll see sights such as Big Ben and the HMS Belfast all from the water of your speed boat. However, once you get past Tower Bridge then things really dial up to 11.
This is the part of the River Thames where there aren't any speed limits, so get ready for the ride of your life. You'll reach speeds of up to 35 mph as you're thrown around the boat while doing massive donuts in the water.
I've been on this tour before and I can't tell you how much fun it is. It's like going on a rollercoaster right on the water and you really do get thrown around. This is such a good family activity in London for those of you with teenagers too.
I'd really recommend this tour – it's really is such an amazing experience and one you'll love. This is one of those adrenaline activities in London that's guaranteed to get the blood pumping!
3. Abseil down the Arcelormittal Orbital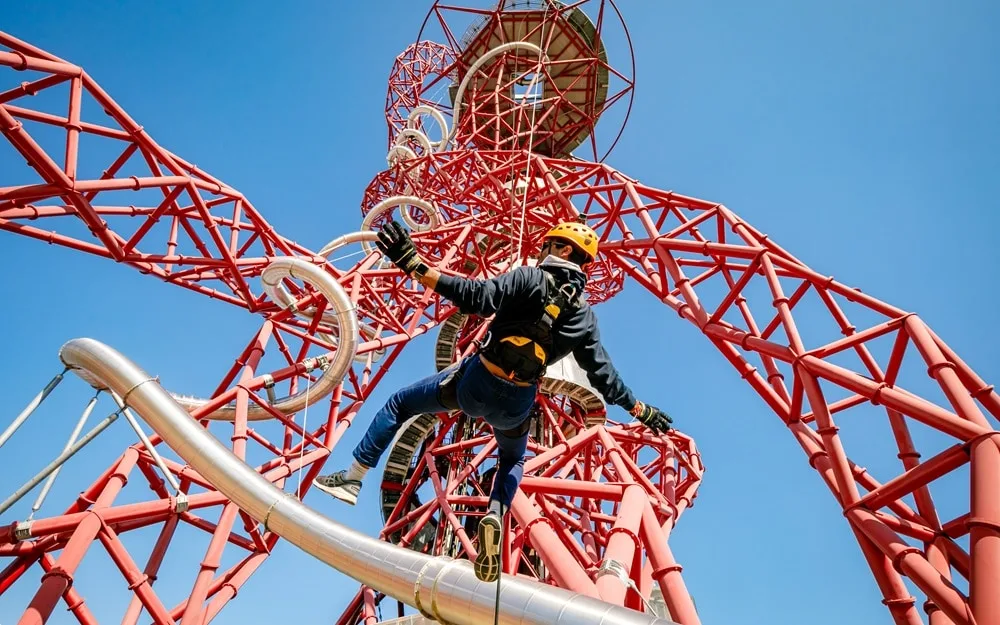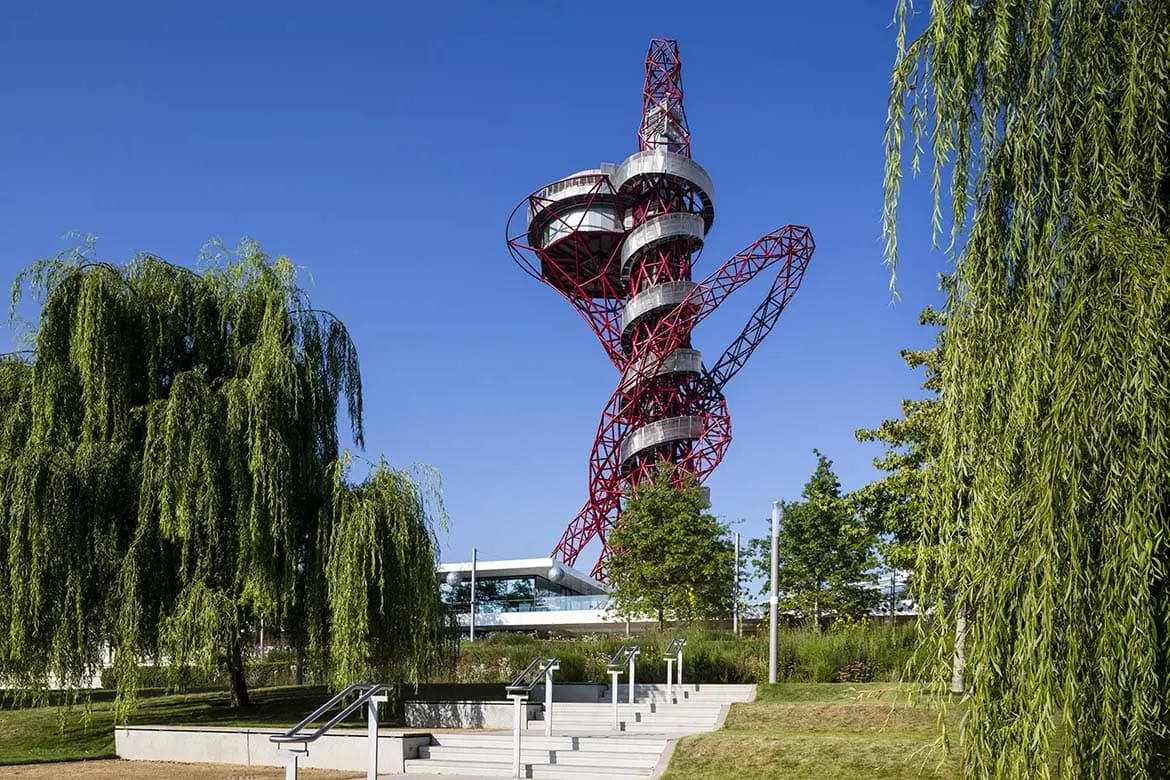 There aren't many outdoor activities in London that'll have you screaming from the top of your lungs, but abseiling down the Arcelormittal Orbital is one of them.
The Arcelormittal Orbital started life as a sculpture and observation tower at the Queen Elizabeth Olympic Park for the London 2012 Olympics. However, after 2012 the Orbital was reborning into one of the best outdoor activities in London.
At 115m high, you can do two things at the Orbital. You can either take on the Slide – a crazy helter-skelter where you plummet to the ground – or you can abseil off the edge of the sculpture.
Both adventures are amazing and are well worth adding to your London itinerary while you're in the city. It's cool getting to explore Queen Elizabeth Olympic Park where the Olympics took place too.
You can get tickets for abseiling here, or if you'd prefer to do the slide then click here.
4. The London Helicopter Experience
If you're looking for some of the best views in London then you can't go wrong with the London Helicopter Experience. As the name suggests, this is where you take to the skies on a sightseeing helicopter tour.
On this tour you'll be able to see iconic buildings such as Tower Bridge, the Shard and the London Eye. Also, if you're a photographer, I can't recommend this enough. The views of the Thames are something else and the photos you'll get are proper droll-worthy.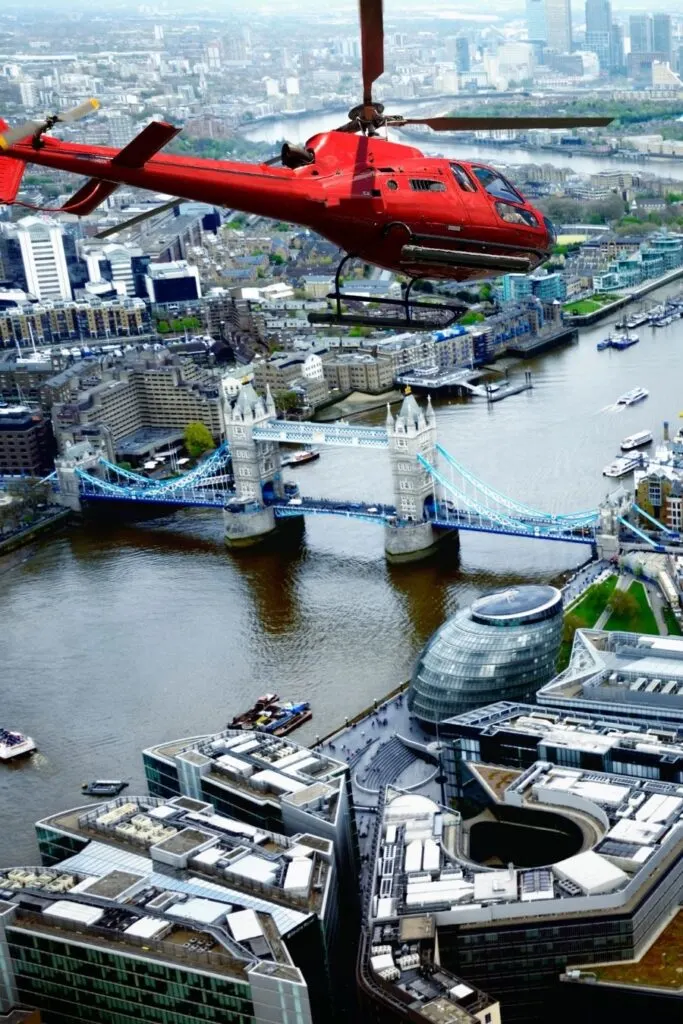 Most tours are only 15 to 20 minutes, though some of them are slightly longer at 30 minutes. Obviously this is expensive, but I promise you there aren't many London adventures quite like it.
You can find out more about London helicopter tours here.
5. Flyboarding at Docklands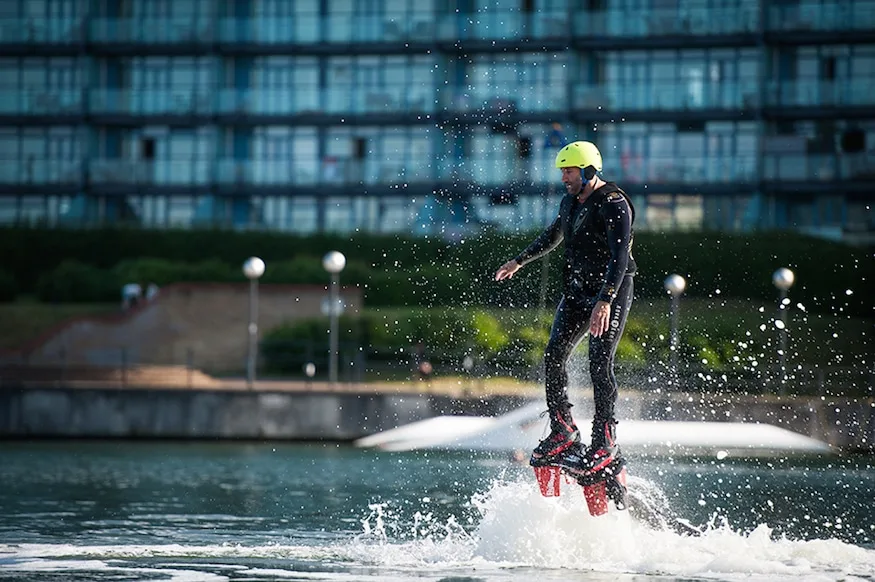 Flyboarding is one of those things you have to do at least once in your life. Well, you can now tick that off your London bucket list at Docklands.
For those of your who don't know what flyboarding is, it's when you've got two huge water-powered jets strapped to your ankles. The force that's pumped through these jets propels you up to 10 metres in the air and it's a whole lot of fun.
If you can control it it's almost like flying over the water. If not, you get to do a bunch of somersaults which is fun too. Basically, it's as close as you're going to get to being Iron Man.
As this is located in Docklands in zone 3, it's really quick and easy getting here.
6. Bounce around at Go London Zorbing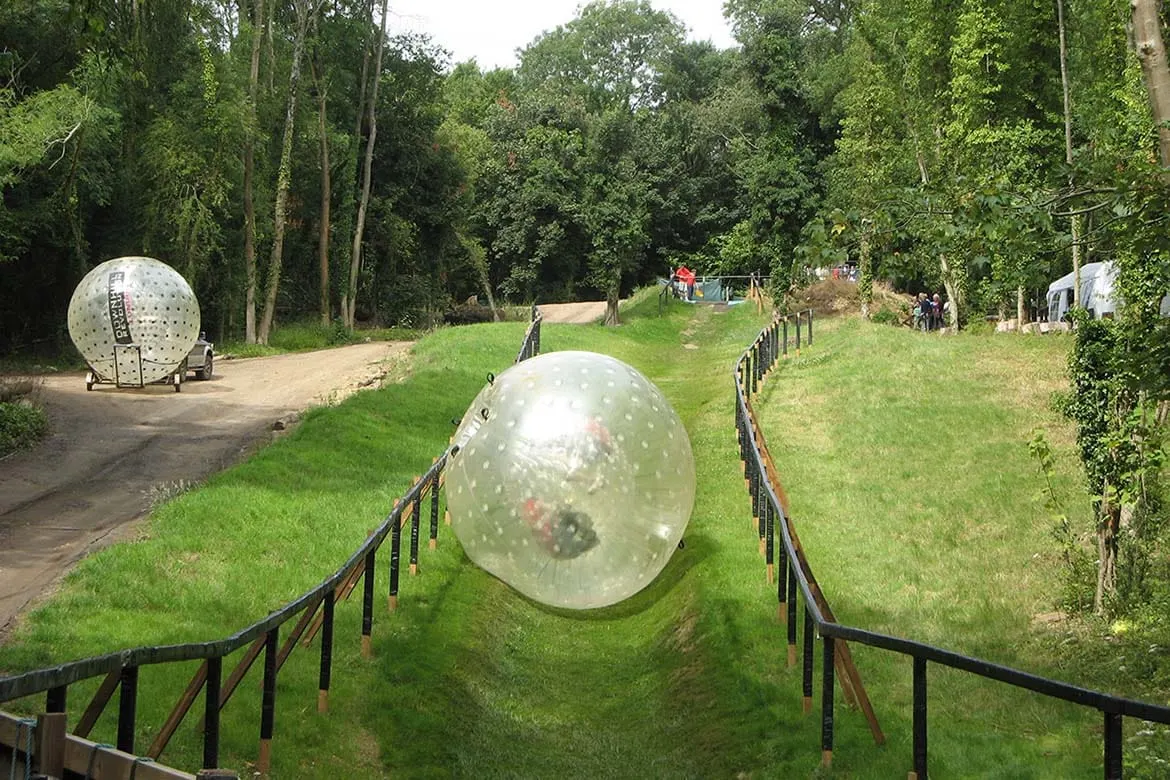 Another one of the best adventurous things to do in London is zorbing. This is where you throw yourself down a hill in a giant inflatable ball. And yes, it is as much fun as it sounds.
You can go zorbing at Go Zorbing London. This is located just south of London and takes about 30 minutes from London Bridge Station.
You can either go for a traditional tandem ride with your partner or for the Aqua Zorbing Ride. This is where they shove in 40 litres of water to create the ultimate zorb water ride. Again, expect to get wet with this one.
This place is only open from March to October so make sure you get in quickly before winter comes around again.
7. Go ice climbing at Vertical Chill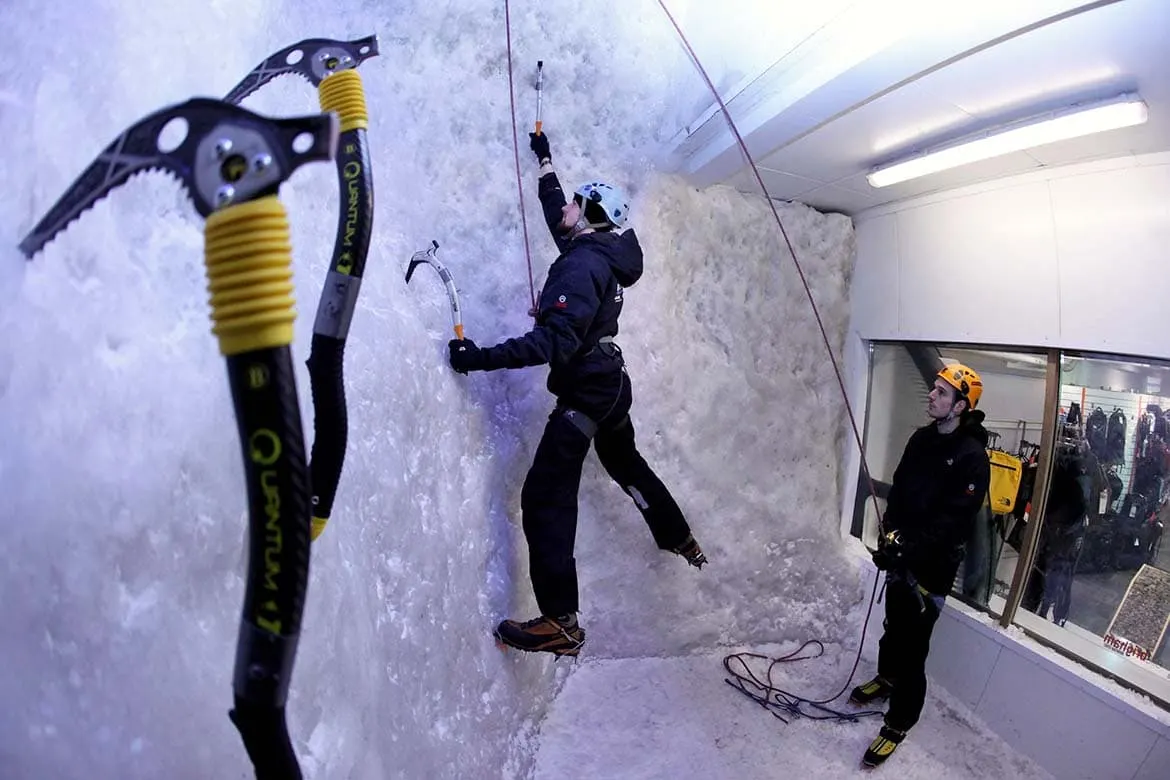 I've been ice climbing in Iceland before. If I knew I could've gone ice climbing at Covent Garden I might not have travelled so far!
I think this is one of the most surprising London adventures. It's also an activity not everyone knows about so you heard it here first.
Tucked away in the basement of Ellis Brigham Mountain Sports shop in Covent Garden is an ice wall called Vertical Chill. While temperatures hover between 5 and -12°C, it's a great place to work up a sweat while going ice climbing.
The 8-metre wall offers climbs for all abilities, with gentle inclines for novices and sharp overhangs for the more experienced. If you've never been ice climbing before then this is a great place to give it a go for the first time.
8. Take on the Epping Forest Oak Trail
This is what hiking near London is all about – getting outside and immersing yourself in nature. The Epping Forest Oak Trail is one of those places that feels like it couldn't be further from the city centre on London. In reality, it's super quick and easy getting here.
At 6.6 miles in length, this hike is a lot shorter than some of the other London hiking trails. All in all, you can do this hike in 2 to 3 hours.
Starting at Theydon Bois Tube station, the Oak Trail leads you through Epping Forest. I'd really recommend visiting the deer sanctuary and saying hello to the deer. Also, The Old Bull is a fantastic pub waiting for you at the end of the trail.
I really enjoy this hike and I'd really recommend it for those of you with kids. They will especially love the deer too!
If you're look for the best hiking near London then make sure you check out my blog post (just click on the link).
9. Climb to the top of the O2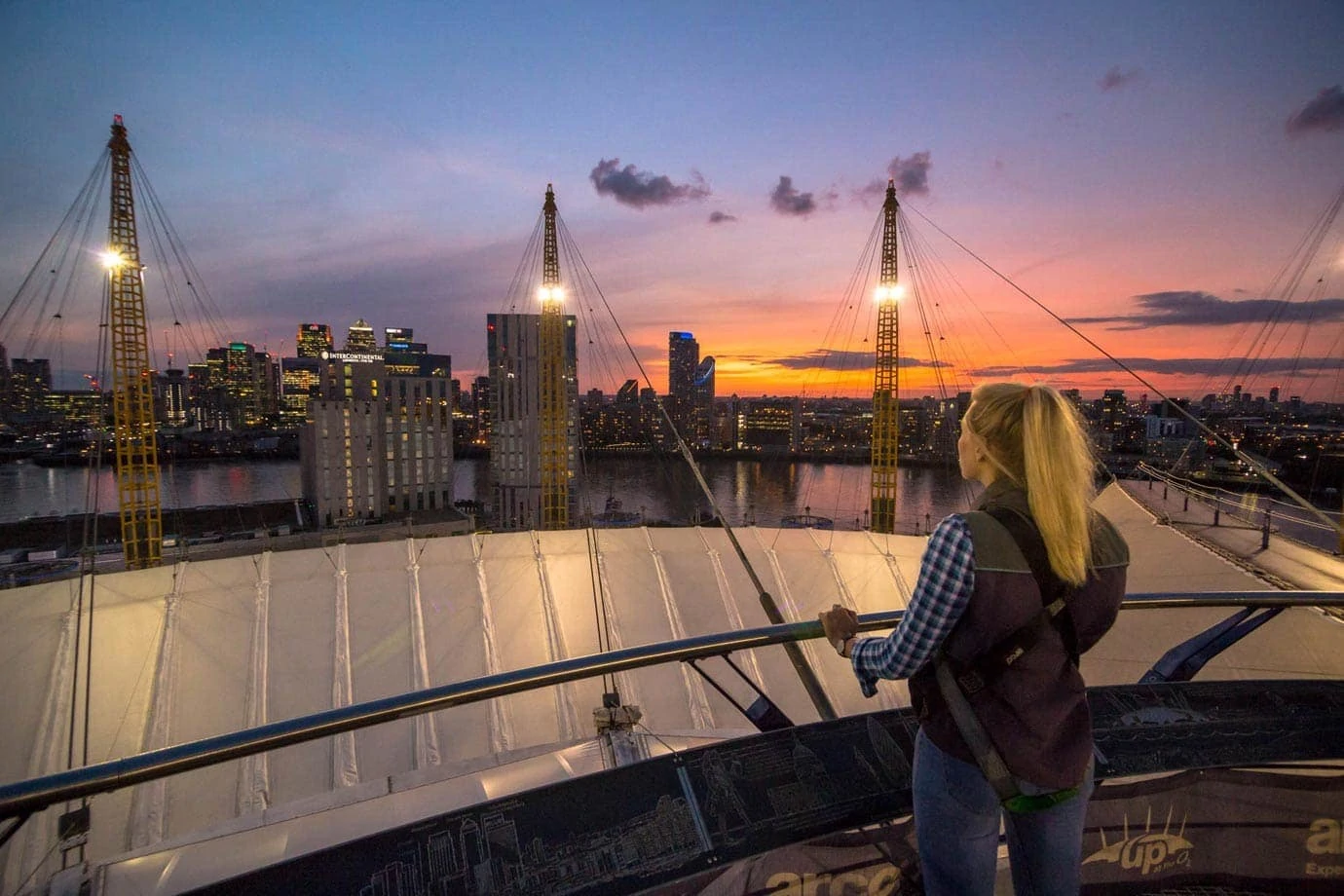 Are you looking for some of the best views in London? Then climb to the top of the O2 Arena for urban mountaineering at its best.
You can book tickets nearly all-year round and once you're kitted out it only takes 30 minutes to climb to the top. From there you can see Canary Wharf and London's stunning modern skyline.
If you want that extra special experience then make sure you go for a sunset or twilight climb for an alternative thing to do. That's when I went and I had the most gorgeous evening overlooking London.
Again, like a few other things listed here, this is a really quick and easy activity to do while you're in London.
I'd really recommend going on this tour. It usually lasts around 90 minutes in total so easy to do in a morning or afternoon. This is a very chilled adventure activity in London that still gives you a really nice buzz.
10. It's A Knockout?
Who remembers "It's A Knockout?" from the 1960-80s? If you don't remember, it was this mental TV show where people would compete in a series of ridiculous challenges requiring strength, stamina and a whole lot of silliness. It's a bit like a classic version of "Total Wipeout".
There are a few places around the UK where you can play It's A Knockout? and it's a really fun day out. The event includes at least six activities and lasts about three and a half hours.
If you have more than 12 people you will be split into multiple teams to compete against each other and other groups on the day.
If you're looking for a group activity with your mates then you can't go wrong with this one.
11. Wakeboarding at Royal Victoria Dock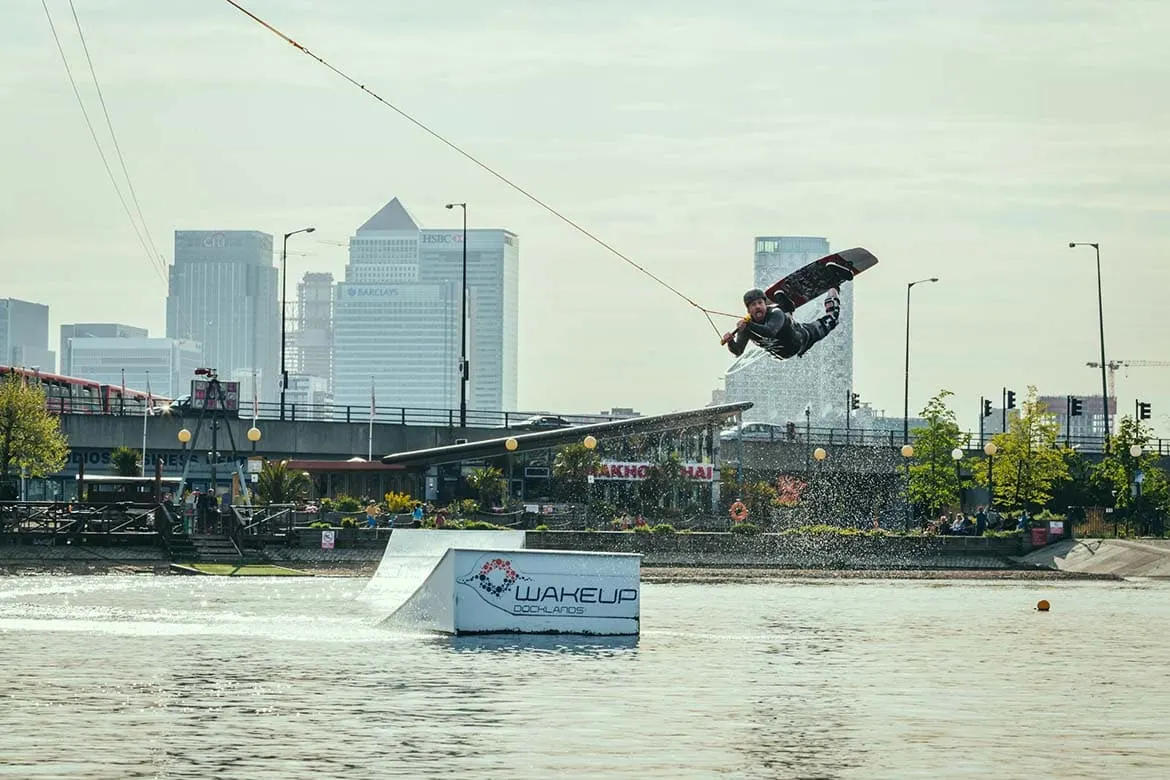 If you're a bit of a water baby like me then you'll absolutely love wakeboarding at Royal Victoria Dock. This is in a really beautiful location with London's skyline as your backdrop.
WakeUp Docklands is London's only inner-city water park and boasts 160-metre Blue Cable loop where you can give wakeboarding a go. There's also a 180-metre Gold Cable course which includes pipes, rails and kickers for those of you who already know how to wakeboard and want to catch some air.
To make things even better, there's even a floating beer garden for afterwards. This is a converted barge called The Oiler Bar and it's a really great place to kick back after a session on the water.
12. Axe throwing in London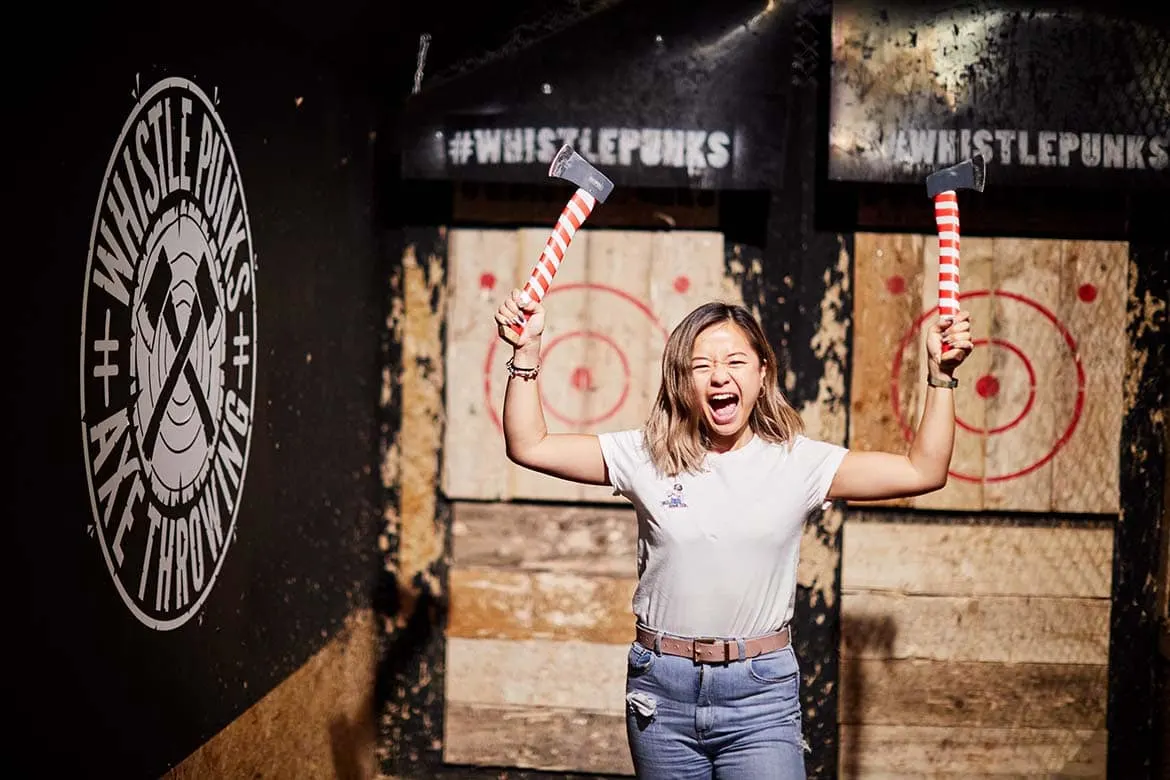 Axe throwing has been popping up a lot over the last couple of years in London. Well, if you fancy pretending being a medieval knight then this is the London adventure for you!
I have been axe throwing before and it's surprisingly difficult. Throwing the axe is easy, hitting the target and getting it to embed in is the hard bit. It isn't about strength at all but about accuracy and technique.
There are a couple of places where you can go axe throwing in London, but the most popular place is Whistle Punks. This is located in Vauxhall and you can book a session for you and your friends.
I don't know if it's worrying or not, but there's even a bar at Whistle Punks so you can grab a beer and watch your friends make fools of themselves.
13. Kayaking in London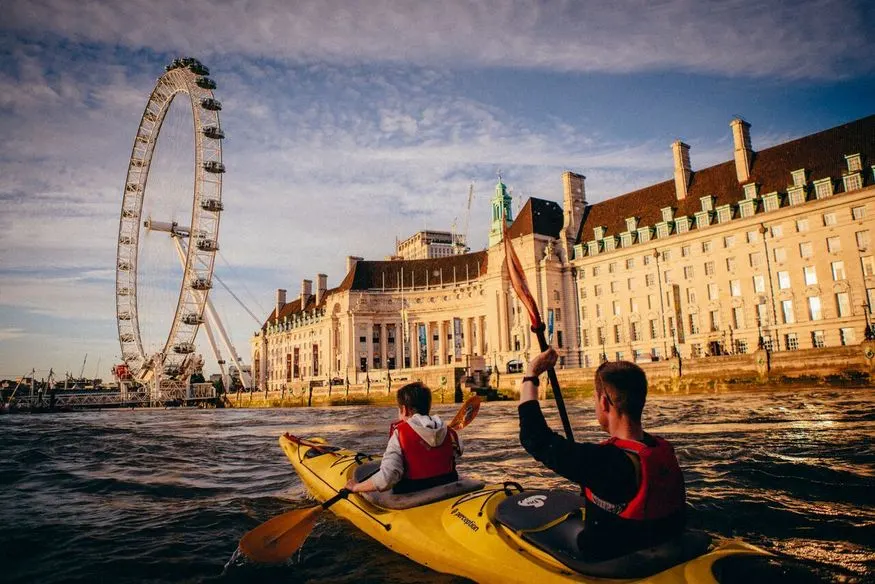 For those of you looking for a more relaxing adventure in London, then this is the one for you.
On a kayaking tour of London you'll paddle along the Thames seeing sights such as the London Eye and the Houses of Parliament. This is like an alternative sightseeing tour and it's such a unique perspective seeing all these iconic buildings from a kayak.
Other tours around London including kayaking around the Grand Union Canal to Little Venice or along Regents Canal.
This really is such a relaxing way of seeing London and it's perfect for couples looking to do something a little different.
I'd really recommend going with these guys for your tour. They even have a night time kayak session which looks amazing.
14. Go Ape Battersea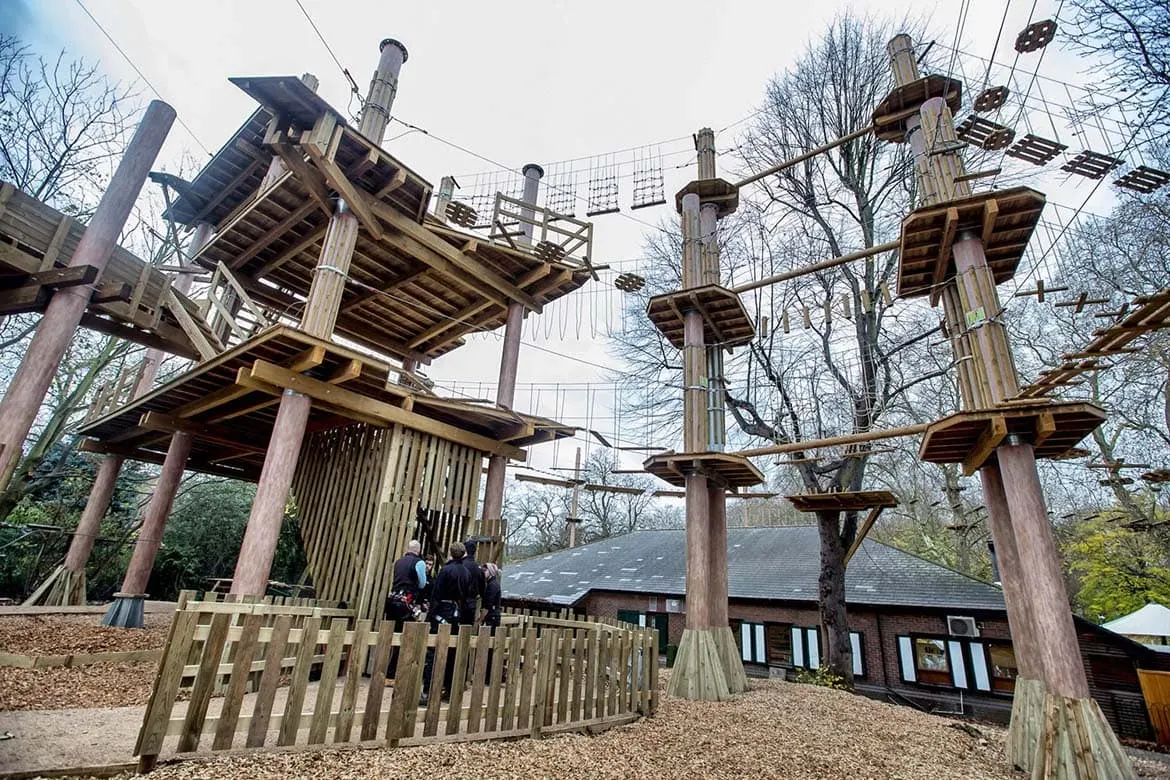 Go Ape is known up and down the country as one of the best family days out. Well there's a Go Ape at Battersea perfect for your needs.
Go Ape is a high-wire course up in the trees where you take on zip lines, Tarzan Swings and rope ladders. This is amazing outdoor fun in the big city with spectacular views across Battersea and the park.
If you're looking at keeping the kids entertained for a couple of hours then there are a few different courses to choose from here. And it's a lot harder than it looks too.
---
Which one of these adventures in London tickle your fancy? Let me know your favourite in the comments below!
Like this blog post? Then Pin it for the future!