Beer, beer, beer. Here's where you should drink beer in Portland!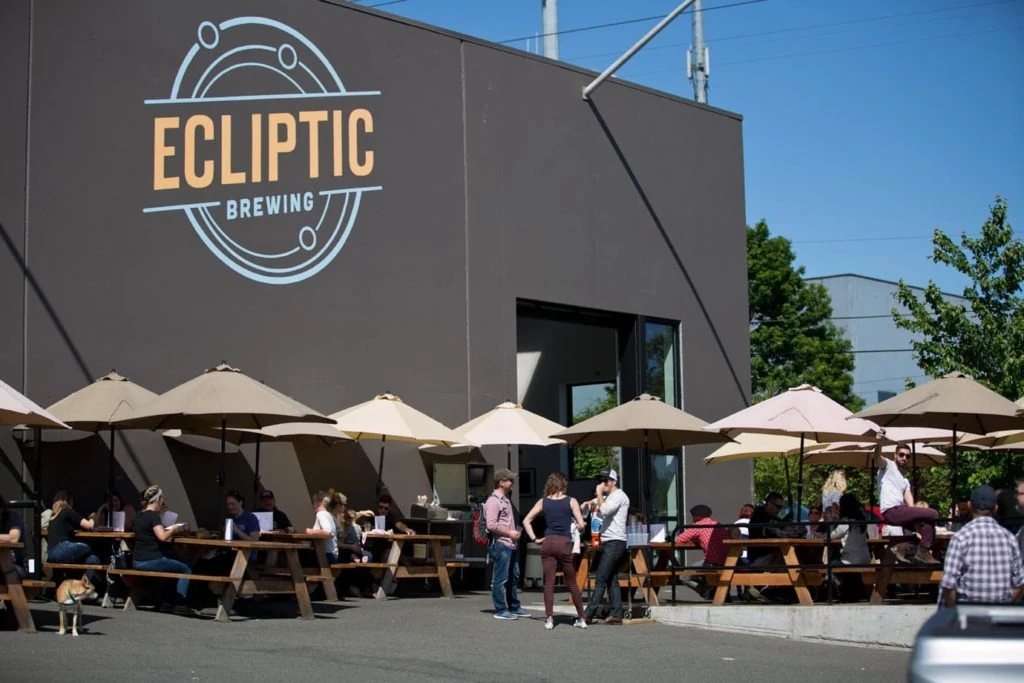 You could spend an entire 72 hours in Portland just trying out different breweries and you still probably wouldn't visit them all. And that's if you didn't sleep.
There are over 70 craft breweries in Portland, Oregon, and I doubt it will stop there. New brew houses are popping up all over the city of Portland, which has justly become a beer city.
There are also an array of options when it comes to brewery tours, but since we are quite a cumbersome crew while filming, we went rogue and popped around to some of our old favourites, as well as checking out some new spots. We encourage you to do the same!
Here are our favourite Breweries in Portland:
Deschutes Brewery Public House – Quality, Selection
Deschutes has been around for a while and so, as expected, they know what they're doing when it comes to craft beer. They have a couple of my all time favourite craft brews; the Mirror Pond Ale and the Black Butte Porter.
Their brew pub is located conveniently downtown and is busy pretty much any time of day. Pop into the bar area to try a flight or sit down in the dining area and make a night of it.
The beauty of visiting the brew pub is that they have exclusive brews you can only taste in house. Every single beer we tried was a delicious adaptation without the sacrifice of quality.
210 NW 11th Ave. Portland OR 97209
Ecliptic Brewing – Edgy Combinations, Great Patio
Ecliptic is relatively new in town, having opened up in 2013. Brew Master John Harris worked with Deschutes for many years before deciding to open up his own joint. When we were there, the sun was shining and the patio slowly filled as the afternoon crept on.
John works with some really interesting combinations that he said comes from educated trial and error. We tried their Barrel Aged Orange Giant Barleywine Ale that was like nothing I've ever tried before. At 12.5%, this one is a sipper and will certainly put hair on your chest.
825 N. Cook St. Portland, OR 97227
Migration Brewing – Local hang out, tasty eats
Luckily, we snabbed a table at Migration Brewing just before the Trail Blazers took the court because this joint was hopping on a Friday night.
We each devoured a glorious Migration burger, topped with aged cheddar and crispy prosciutto, along with a mountain of shoestring fries before getting into the beer tasting.
Along with some of their classics, like the Migration Pale Ale and the Luscious Lupulin IPA, our flight also showcased some seasonal taps, like a refreshing elderflower beer. I, of course, had to order a pint after to make sure it was really as good as it tasted the first time. Spoiler alert: it was.
2828 NE Glisan St. Portland OR 97232
Burnside Brewing – Late night snacks, Selection
After a day of beer drinking, what does one do? Go for more beer! We stopped at Burnside Brewing for a night cap and found the place conveniently located steps away from The Jupiter Hotel, where we were staying.
Looking for something not-too-heavy, I was pleasantly refreshed with my Couch Select Lager. Macca, on the other hand, went full on and tried the Miss Idaho, a 7.9% IPA with hints of melon and juice. That's a way to end a night.
We feasted on their late night fare of delicious warm olives and crispy cauliflower and went to bed, tummies filled and smiles on our faces.
701 E. Burnside St. Portland OR 97214
Since we didn't have time to visit them all on this trip, here are a few more of our favourites that we highly recommend!
Rogue Distillery and Public House
1339 NW Flanders St, Portland, OR
820 NE Dekum St. Portland OR 97211
2944 SE Powell Blvd. Portland OR
---
If you're planning a trip to the USA, then it is important you request for an ESTA USA beforehand. This is the visa you need before entering the country, and you can get one easily before you leave.
Have you been to some of the best breweries in Portland? You can let me know your favourites in the comments below and I'll add them to this list!