Comfortable, stylish and perfectly located for an amazing night out, here's what it's like staying at the Jupiter Hotel in Portland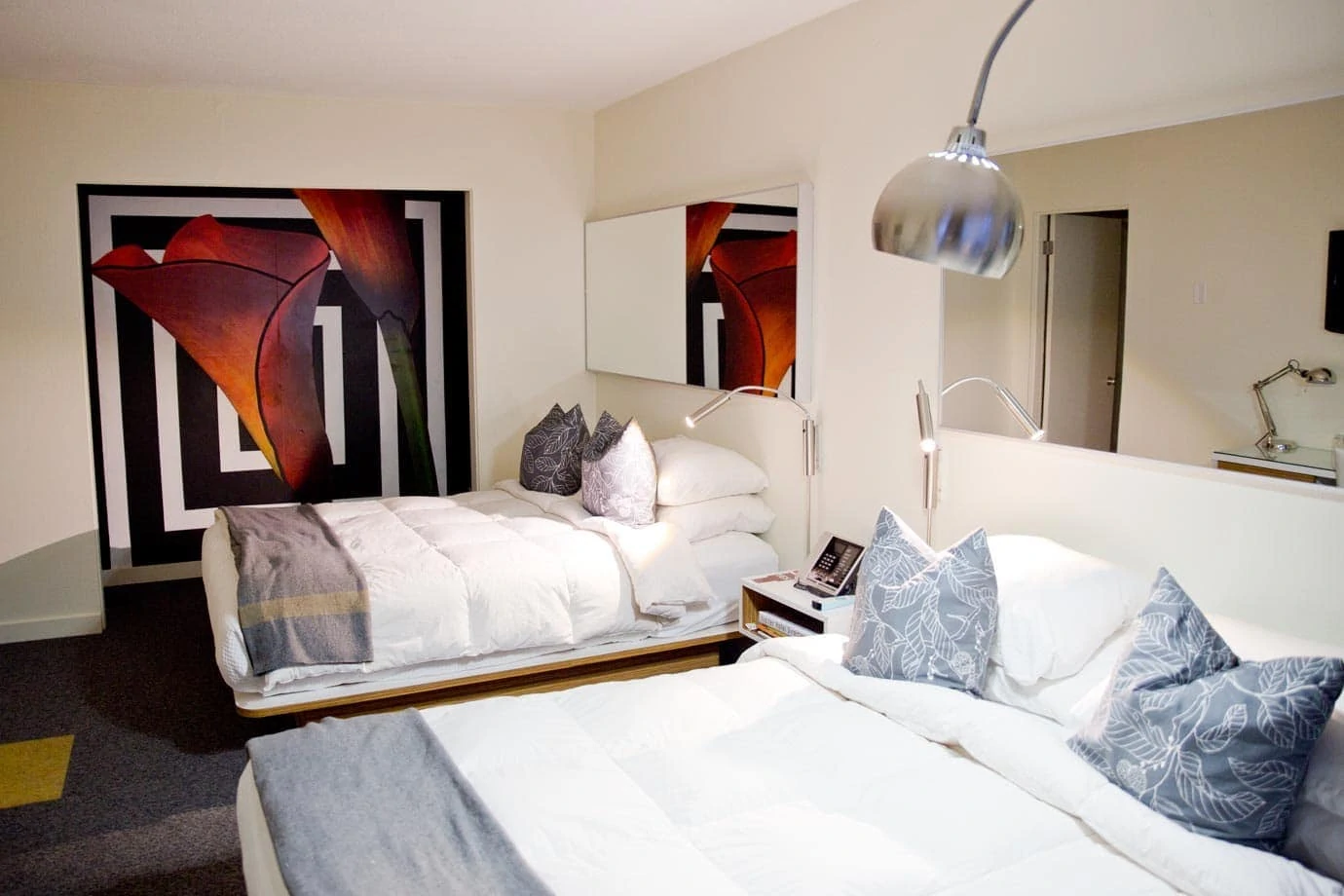 If you're looking for somewhere to stay in Portland that's close to the action but that has its own vibe, then look no further than the Jupiter Hotel.
Not only is the location of the Jupiter Hotel perfectly central without being in the heart of the downtown hustle (think sirens and flashing lights and you'll be thankful this place isn't there), but it's cool. Really cool. Think charming 60s vintage meets hipster heaven. The best way to describe it is pure Portlandia.
When it came to places to stay in Portland, I was looking for somewhere that wasn't upmarket pretentious and that was mid-range budget. At around $116 (£88) per night, the Jupiter Hotel seemed perfect for my needs.
Amenities at the Jupiter Hotel
With the Doug Fir Lounge to the left and the hotel reception and chilling area to the right, there were a multitude of hip people getting ready for the weekend, which is exactly what I wanted to do too.
Checking in was easy, with attractive tattooed man telling me to text if things were too loud after the 11pm quiet time. I really liked that personal service and it showed they cared about their guests. In the end it didn't make a difference as it was quiet.
When we arrived in our room we were greeted by a welcome message on the chalk board door saying "Hi, Macca! We hope you enjoy your stay in Portland" on the back. Again, that was a real nice touch.
The room was equipped with anything you might need while staying at a happening place: ear plugs, snacks and condoms. You know, all the usual.
However, our room was really big and spacious. We had two big double beds and the bathroom was a real nice size too. I wished there was a bath but it was still an excellent size.
The skeleton of the room was definitely reminiscent of an old school motor inn, but there has certainly been a lot of meat put on those bones. The down bedding and fluffy towels are definitely an upgrade from those Motel 6 scratchy sheets that's for sure.
Staying at the Jupiter Hotel
Just as with most things in Portland, art and culture are infused everywhere.
The Jupiter Hotel also has a gallery attached, and while the Doug Fir Lounge across the way isn't formally connected to the hotel, the two go hand in hand. There were concerts going on both nights we were there and loads of people popping in and out.
We went for a night cap there on Saturday night and I was charmed by the place. A log cabin feel with hipster style, this place definitely used to be one of those family restaurants like the ones I used to stop at on road trips through BC and Alberta.
They had a good selection of craft beer (I mean, they had to, right?) and tasty cocktails making this the perfect place for a nightcap before bed.
As I mentioned, another plus for this place is the location.
Located on East Burnside, you can walk to a multitude of bars and restaurants. We visited Burnside Brewing for a couple of pints and their cheap and tasty late night happy hour, just a few minutes walk away.
It's also only about a 15 minute walk over the Burnside Bridge right into the heart of the Pearl District where you'll find tons more bars, restaurants and of course, Voodoo Donuts.
Being that it did seem like a party spot, I was a bit concerned with noise (for all our early morning filming wake ups!) but luckily the ear plugs came in handy. Full disclosure, I'm a notoriously light sleeper and neither of my roommates noticed a peep of sound.
How much does the Jupiter Hotel cost?
A one night stay at The Jupiter Hotel costs $116 USD but make sure you keep an eye of for deals and discounts as often you can save a little money. Also, don't forget you can save money in the city by walking everywhere!
All in all, The Jupiter Hotel delivers a very Portland experience: laid back yet helpful staff, a trendy, fun vibe and culture brimming on all sides. With competitive rates and a stellar location, The Jupiter Hotel is a fantastic choice if you're looking for a social one-stop shop.
Address:
800 E. Burnside St.
Portland OR 97214
503.230.9200
877.800.0004
If Jupiter Hotel doesn't take your fancy, you can check out some of the best hotels in Portland here. There really are some stunning hotels in Portland!