Are you looking for the best places to visit in Alberta in winter? From visiting Banff to the Rocky Mountains, this is how to spend winter in Alberta!

Are you looking for some of the best places to visit in Alberta in winter? Then this is the post for you!
When I think of Canada, the first images I immediately think of are the Rocky Mountains covered in snow in Alberta.
I find them so evocative and powerful, and in a country with some of the world's must stunning scenery, I think the Rocky Mountains are the absolute pinnacle of beauty.
In this post you won't just find some of the best Alberta winter vacation ideas but where to find them
To give you an idea, here's what winter in Alberta is really like!
When is the best time to travel to Alberta?
I'm extremely lucky to have seen Alberta and the Rocky Mountains bathed in sunshine during summer and completely blanketed in snow during the winter, and I can honestly say I don't know which I prefer!
The two seasons are just so different it's like comparing two completely different countries.
During spring and summer, once all the snow has melted, the lakes show their true colours of emerald green and sapphire blue. When the sun is out the colours are so bright it's hard to believe they're real.
Watch part 2 of our trip to Alberta 'Adventures in Alberta, Canada' below!
However, when everything is covered in snow, the Rocky Mountains are transformed into a winter wonderland with some of the best things to do in Banff in winter, and the mountains have this rare ethereal beauty that I just love to capture.
I guess that means there's never a bad time to visit Alberta which is great thing! Whenever you decide to go, these are some of the best places to visit in Alberta in winter.
Also, for those of you staying in and around Calgary, then here is a blog post on cheap things to do in Calgary. This is perfect for those of you with little ones!
---
Where to go in Alberta in winter
Mount Engadine Lodge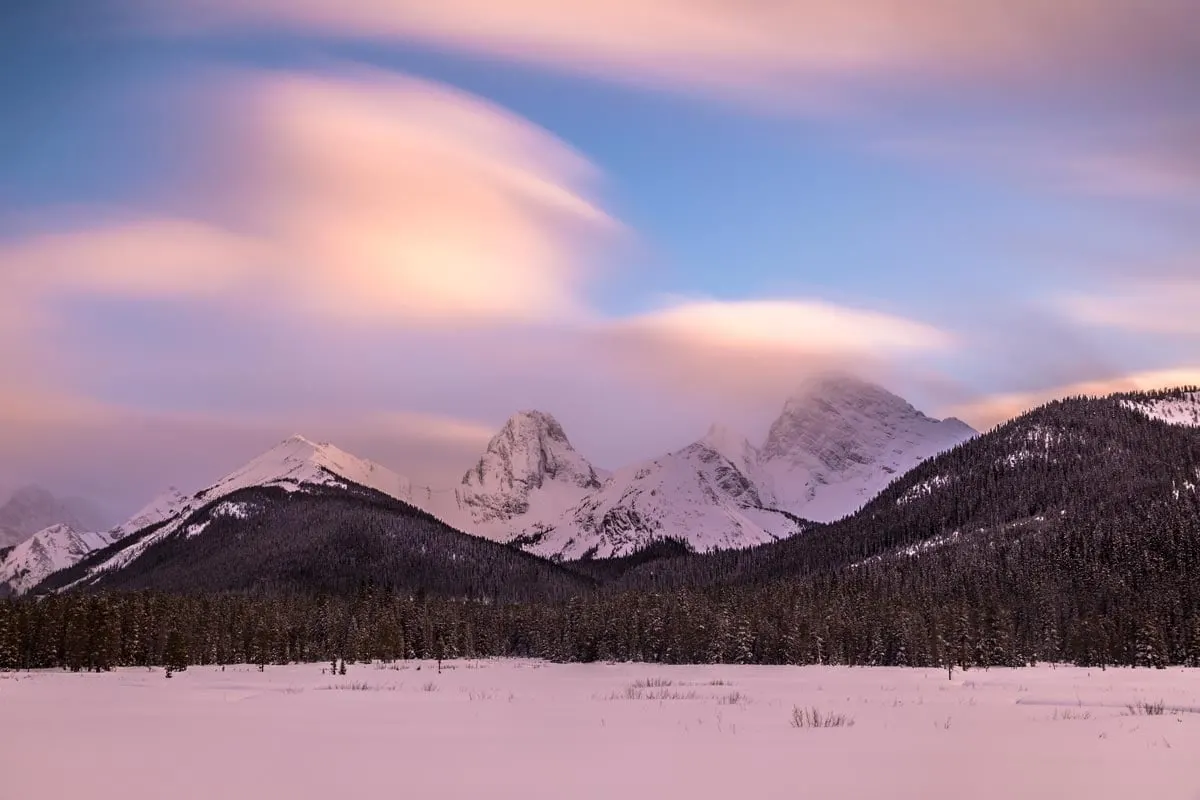 One of the most unique places to stay in Alberta can be found at Mount Engadine Lodge.
Tucked away on the route 742, Mount Engadine Lodge is a good 45 minutes from Canmore and it is considered one of the best backcountry lodges in all of Canada.
Even though there are some amazing trails all around Mount Engadine Lodge, my favourite view was just out the back of Mt Birdwood, Mt Smuts and Mt Shark, all overlooking the lodge.
It's views like this that really highlight why Alberta is one of the most beautiful places in the world!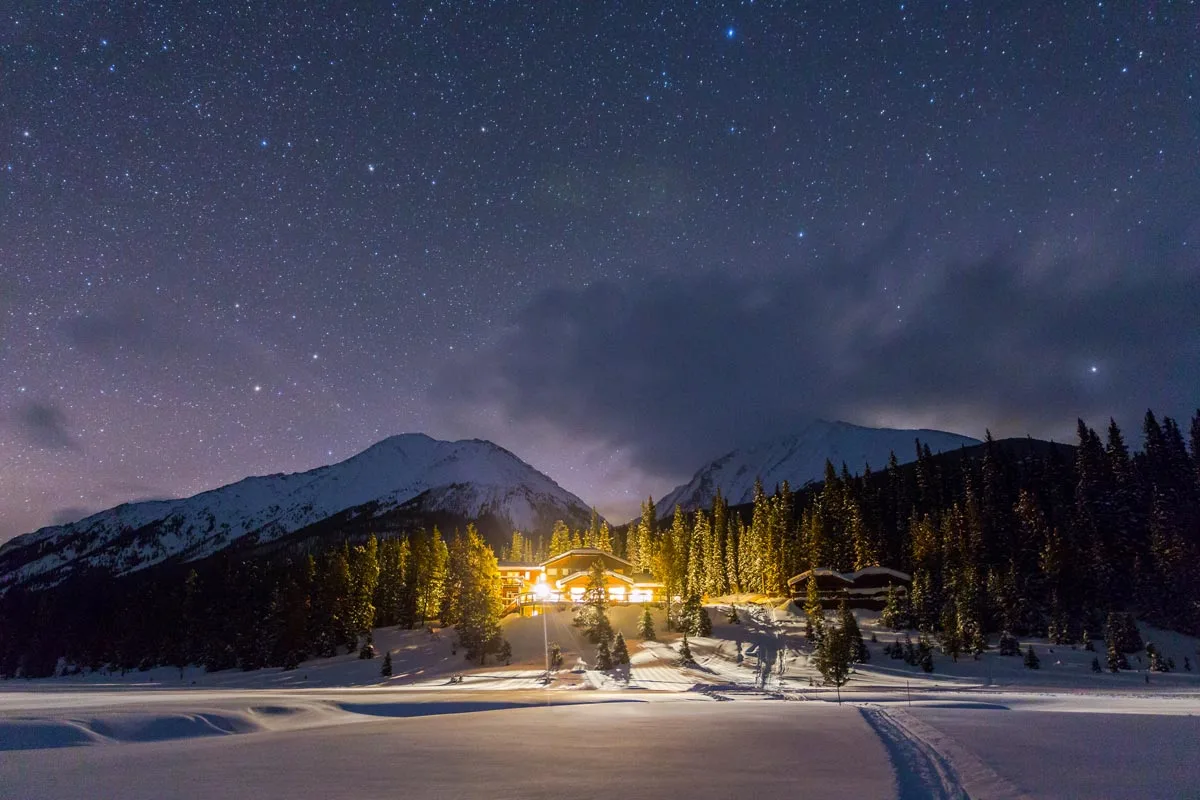 I also really like this view of Mount Engadine Lodge at night too.
There's hardly any light pollution at Mount Engadine Lodge (it really is tucked away in the middle of nowhere). This makes it a perfect place for some night photography. Just make sure you wrap up warm!
The Goat Pond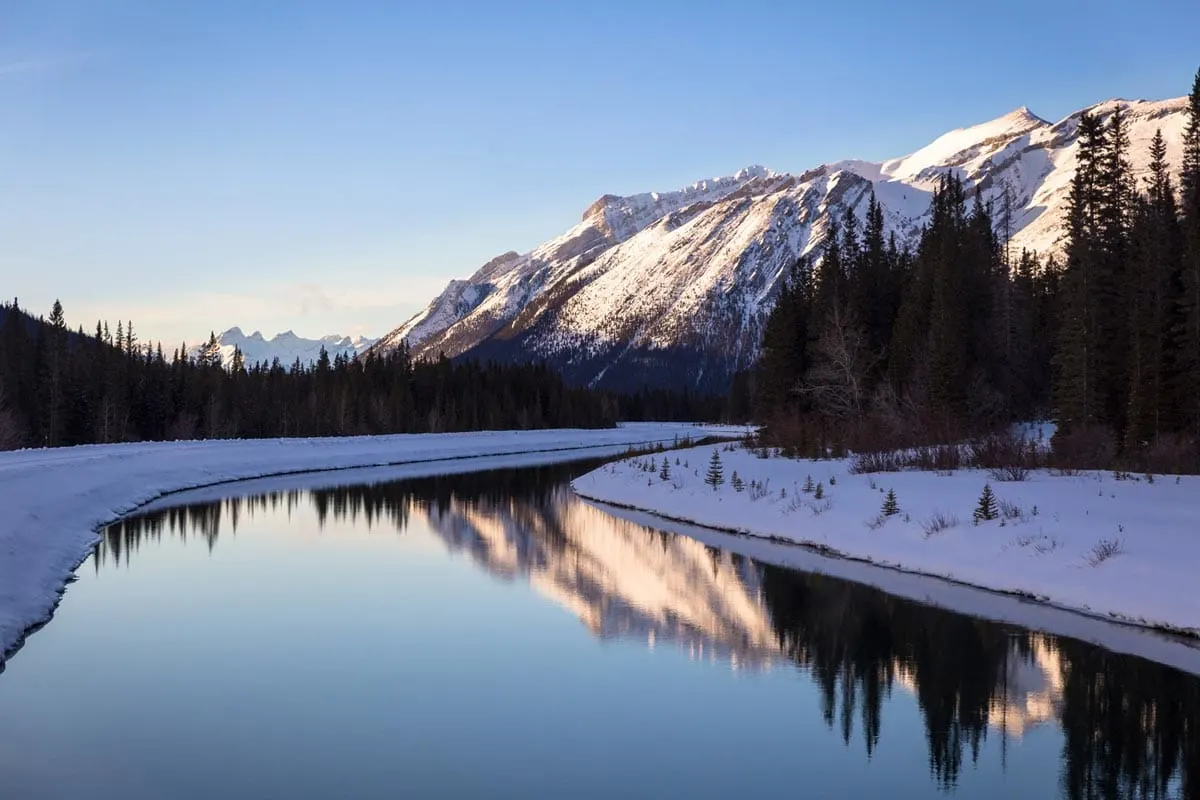 During winter when it's -10 degrees outside, it's rare to come across any water that's not completely frozen over. That's why when I came across the reflections of the Goat Pond along route 742 I was so happy.
A little further along from the Goat Pond is Spray Lakes, a popular hiking spot during the summer, but because this little lake feeds the river the water flows fast enough for it to not freeze over.
When it's hard to get those perfect reflections of mountains in Alberta, it's no wonder this was one of my favourite photo spots.
Flying over the Rocky Mountains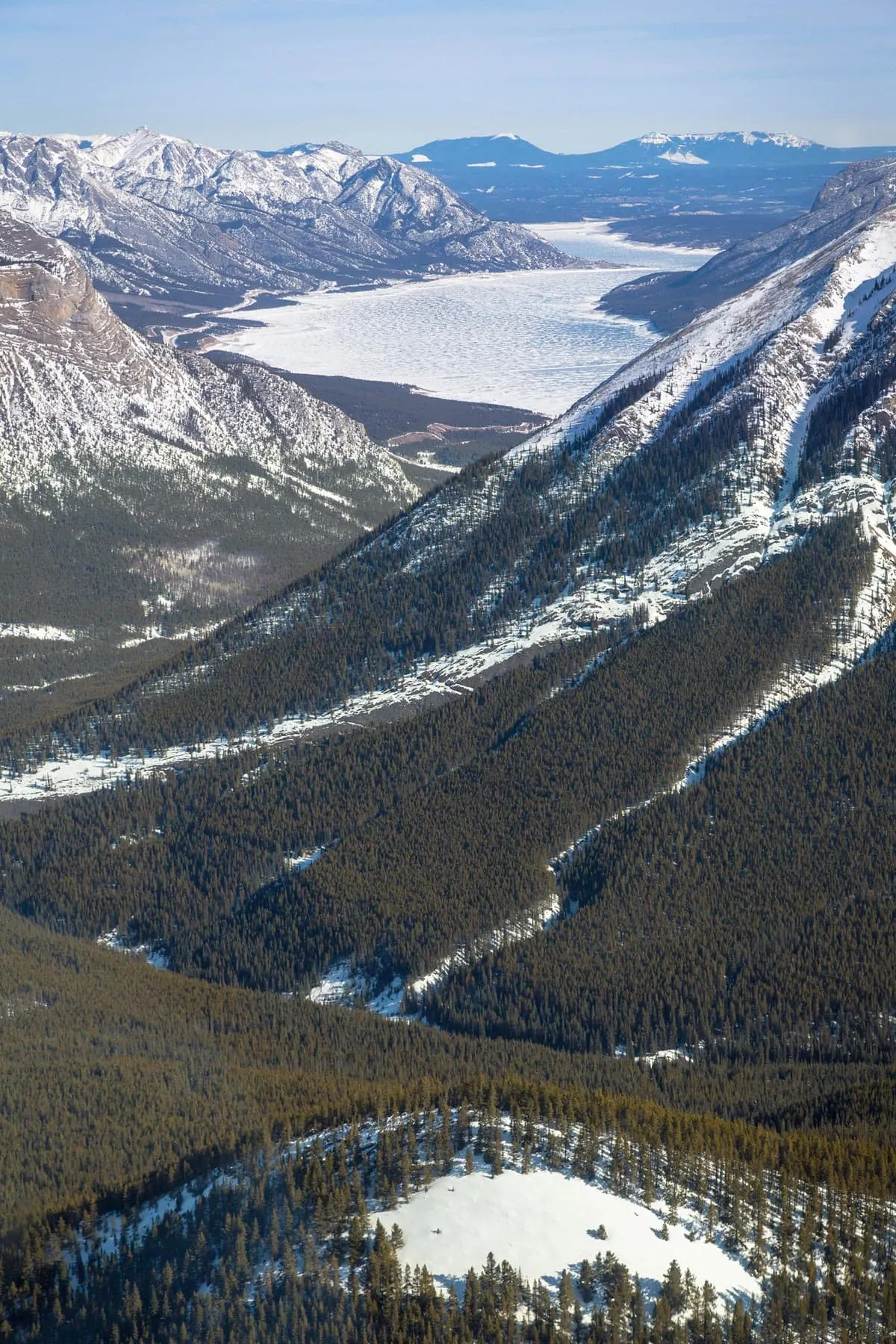 If you want to get some of the best views in Alberta, the ones hardly anyone else can get, then take a tour with Rockies Heli and see the mountains from a helicopter.
As there is a ban on flying drones in all the national parks in Alberta, it is extremely difficult to get quality aerial shots of the Rocky Mountains.
However, with Rockies Heli you can capture some truly stunning shots that very few other people will be able to get.
Also, you get to fly in a helicopter over the Rocky Mountains. It doesn't get much better than that!
Alternatively, you can go on this small plane tour which is also another amazing way of seeing the Rockies.
Lake Minnewanka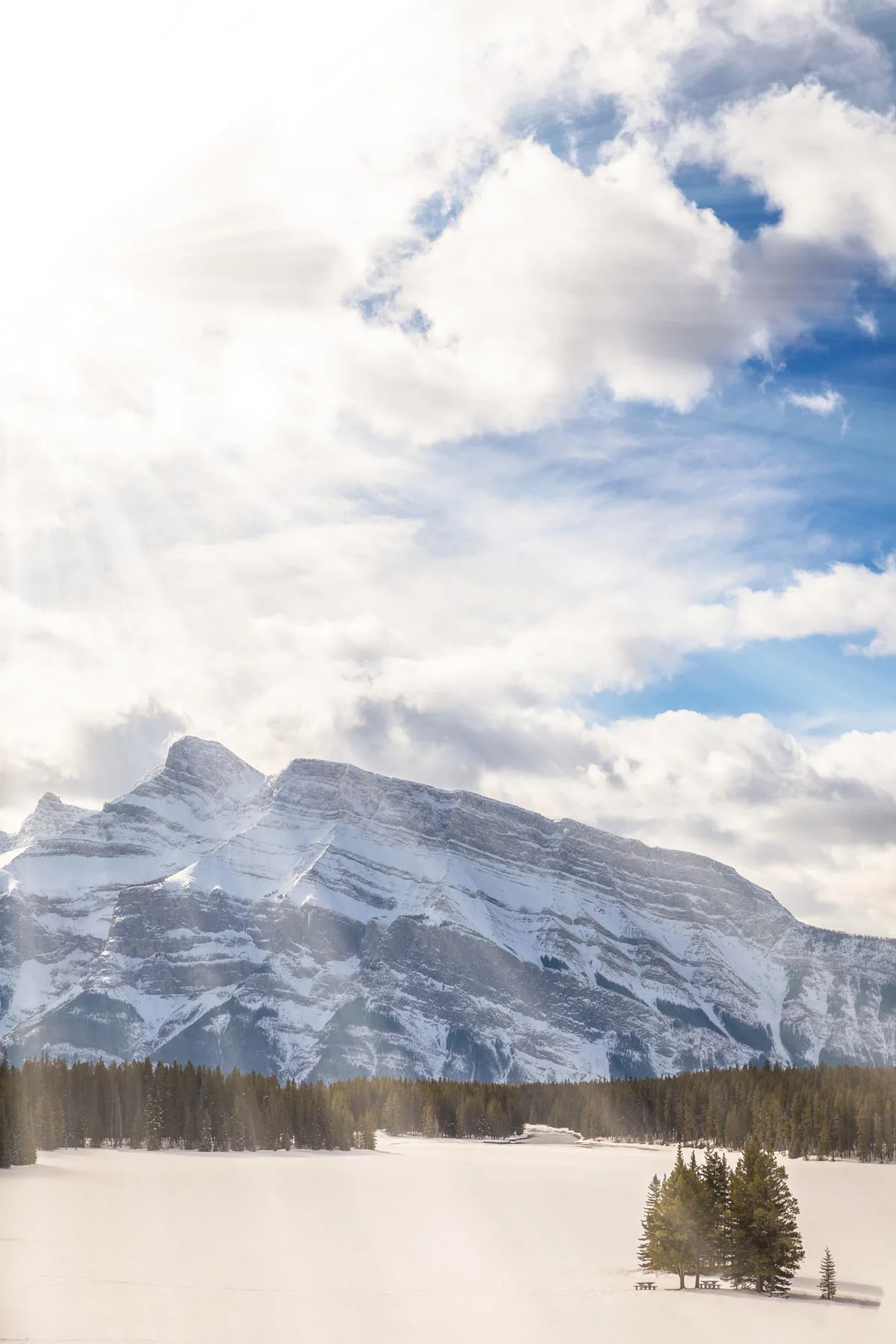 When it comes to the best places to visit in Alberta, I immediately think of Lake Minnewanka.
Just a short 30 minute drive outside of Banff, Lake Minniewanka is an amazing place to explore, especially during winter when the lake is all frozen over.
Once you're on the lake, the view is quite similar to Lake Louise except for one major difference – there are hardly any tourists here meaning you can get some clean shots of the mountains without anyone else in them!
I'd say this is one of the most popular places to visit near Banff – it's probably one of the most beautiful too!
Castle Mountain & Bow River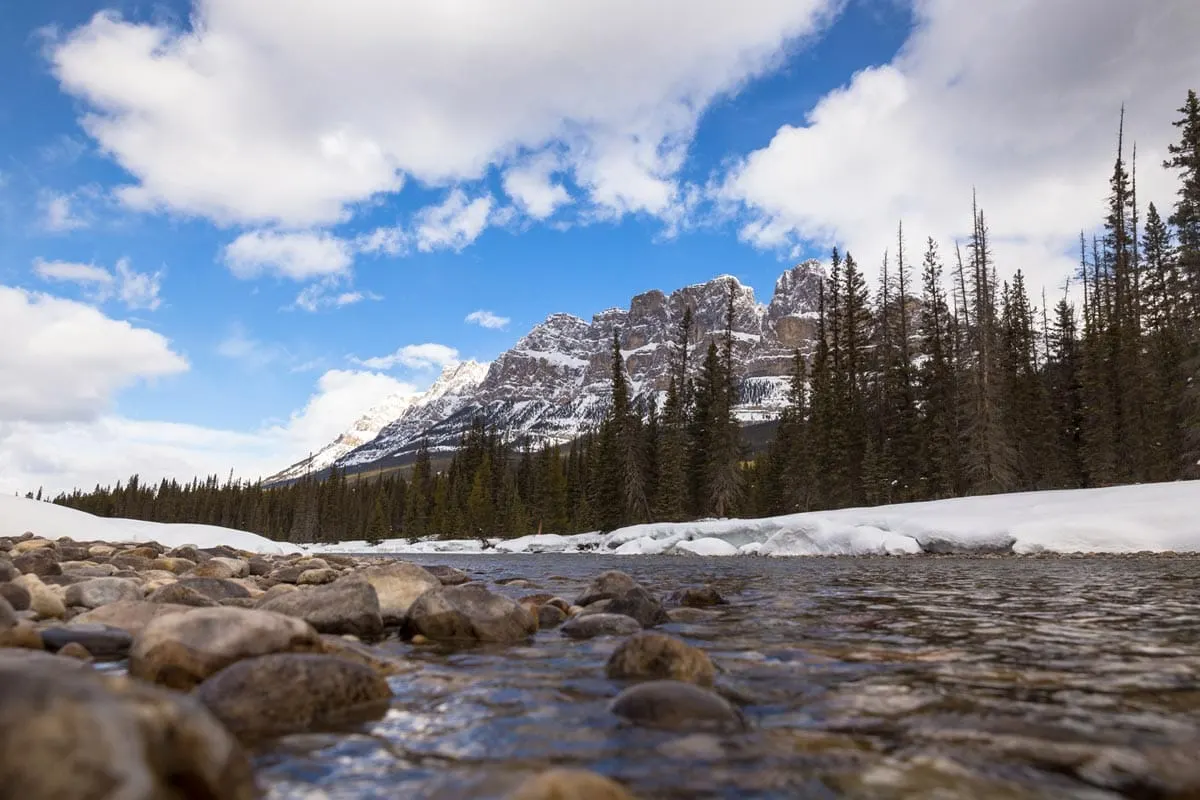 A firm favourite with Canadians in the Rockies is Castle Mountain. Not only can you hike round the backside to the top of the mountain, you can also rock-climb the front face. There's even a climber's/hiker's hut at the top for people to stay at.
The reason it's called Castle Mountain is pretty obvious – the three flat peaks look like the turrets of a castle.
At Castle Junction just off the Trans-Canada Highway you can access a couple of hiking trails following Bow River where you'll be able to get a shot like this one.
This is one of the most popular places along the Lake Moraine and Lake Louise tour which takes you to all the highlights in the area. This tour is a great way of covering a lot of ground, especially if you're short on time!
Anywhere along the Icefields Parkway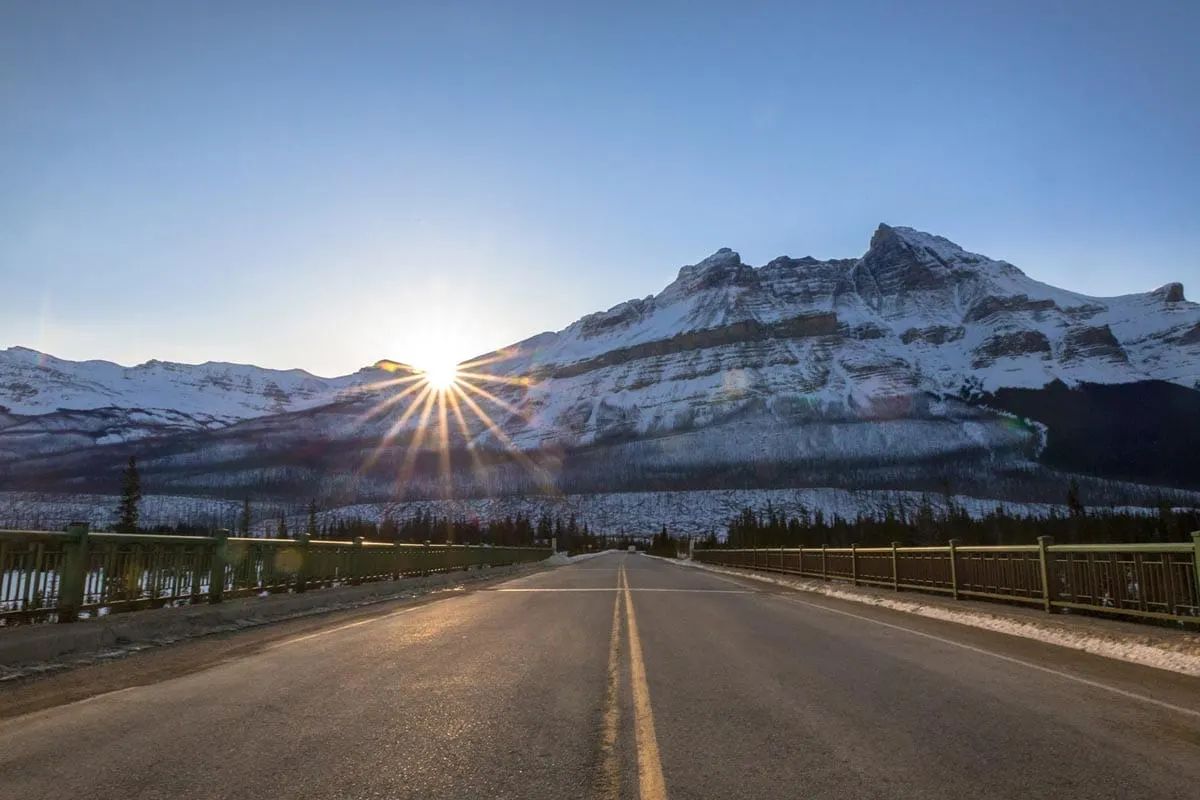 Everyone always considers the Icefields Parkway one of the most beautiful drives in the world. When it comes to epic road trips, this is what it's all about.
The hardest thing about driving along the Icefields Parkway though is you'll want to stop the car every 10 minutes for another photo (trust me, I can't tell you how many times I pulled over to the side of the road for just one more photo).
Considering it's one of the most beautiful drives in the world, make sure you get a photo of the road to reflect that. Just make sure no cars are coming while you're lying in the middle of the road! When it comes to the best views in Alberta, I always think of places like this.
One place I didn't make it to was Edmonton but this is an incredible place to visit on any trip to Alberta. Hopefully this blog post on reasons to visit Edmonton will showcase why.
The top of the Banff Gondola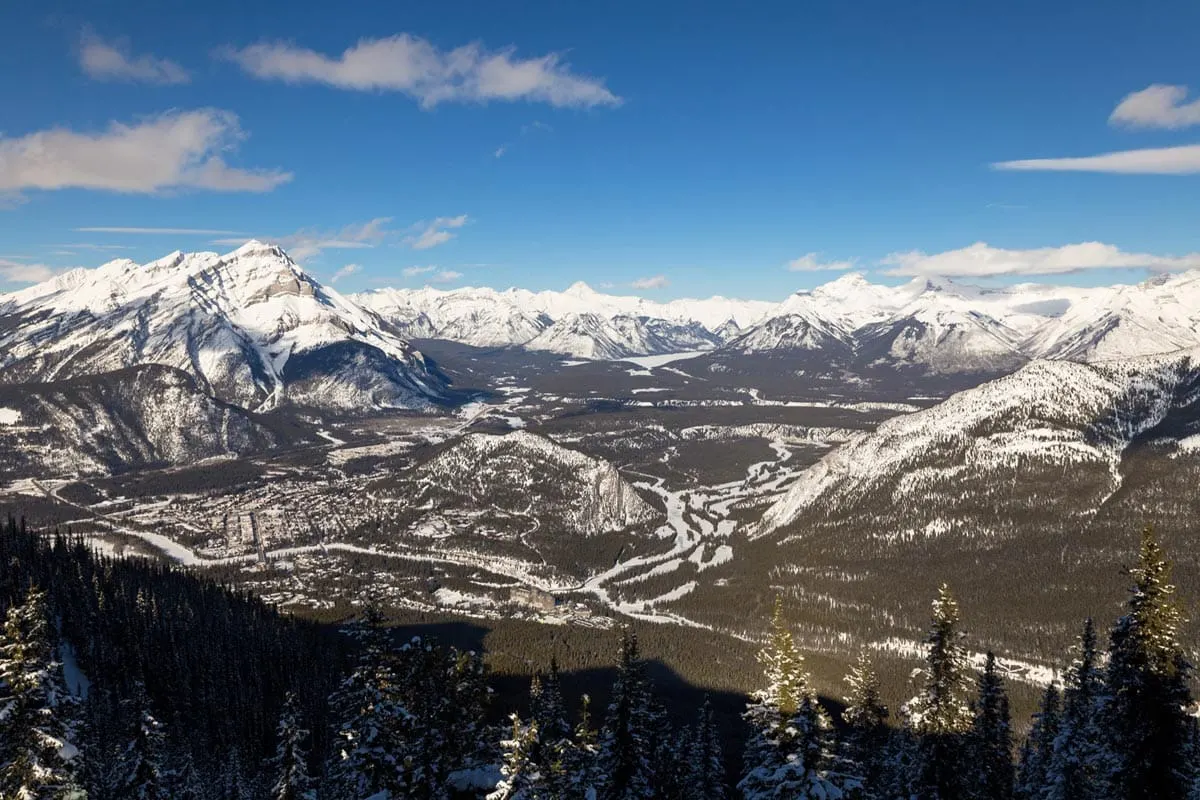 At CA$59, the Banff Gondola might be expensive, but boy is it worth it once you get to the top.
The views of the Banff Gondola start off as beautiful and just get spectacular the higher up you get.
I had two favourite viewpoints while at the top of the Banff Gondola.
The first was at the very end of the walkway with complete 360 panoramic views of the mountains around. Up here it doesn't really matter where you point your camera – you're basically guaranteed to take a good shot.
My second favourite viewpoint was actually from the Sky Bistro, the restaurant at the top of the Banff Gondola. I honestly don't think I've eaten in a more beautiful spot!
This really is one of the most popular places to visit in Alberta in winter. To make things easier, you can pick up your Banff Gondola ticket here!
The view from Lake Louise Ski Resort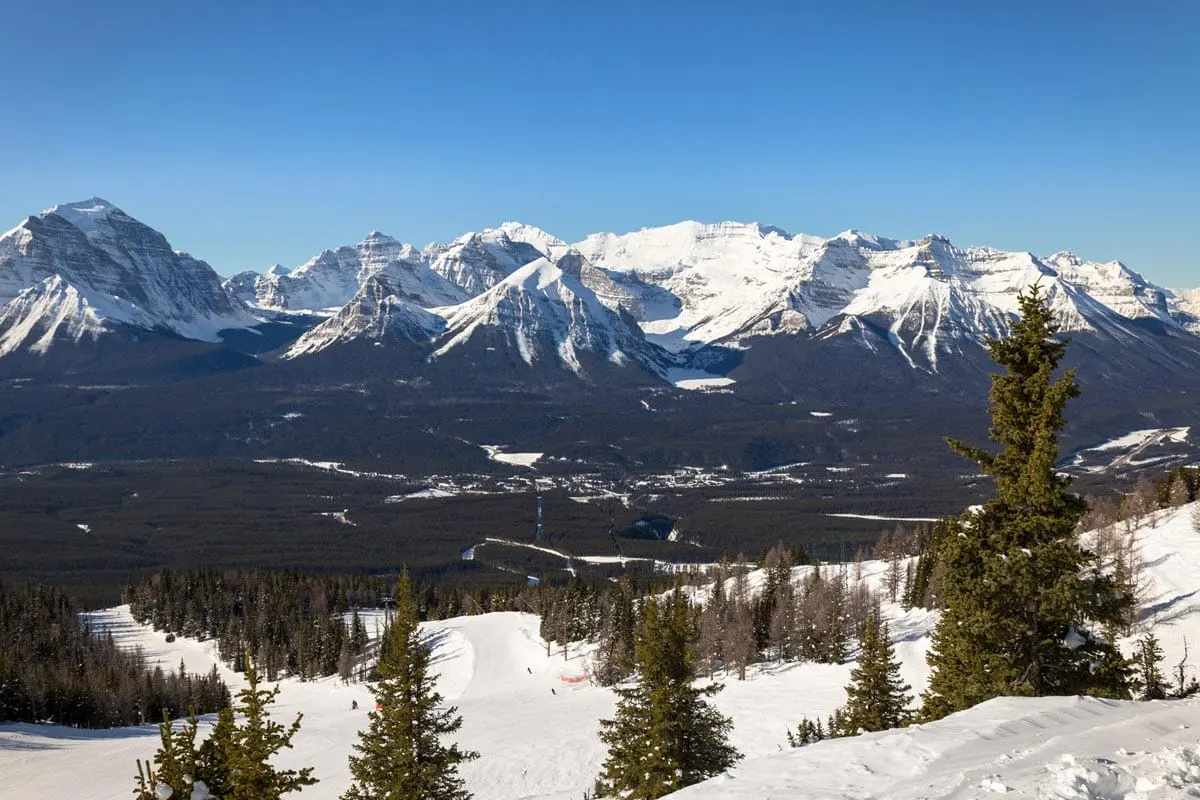 One of the main viewpoints people capture while travelling through Alberta is of Lake Louise.
To be honest with you, it doesn't matter if you're capturing Lake Louise from eye-level or up in the surrounding mountains – it always looks good!
However, my favourite viewpoint of Lake Louise was from Lake Louise Ski Resort.
From here, you can just make out the lake and Chateau Fairmont (the famous hotel at Lake Louise) as small details in the distance and it makes you appreciate just how massive the Rocky Mountains are. You can really see this is one of the best views in Alberta!
---
If you're looking for something a little different then make sure you check out some of the best hikes in Banff National Park – all levels of hiking are covered here!
My trip to Alberta was in association with Travel Alberta highlighting why this is such an amazing winter destination to travel to. As always, views are entirely my own and without bias.
Have you ever been to Alberta before? If so, what are some of your favourite places to visit in Alberta? Make sure you let me know in the comments below!
Like this blog post? Then make sure you Pin it!