From ice climbing up frozen waterfalls in Canmore to flying over the Rocky Mountains, these are some of the best things to do in Banff in winter!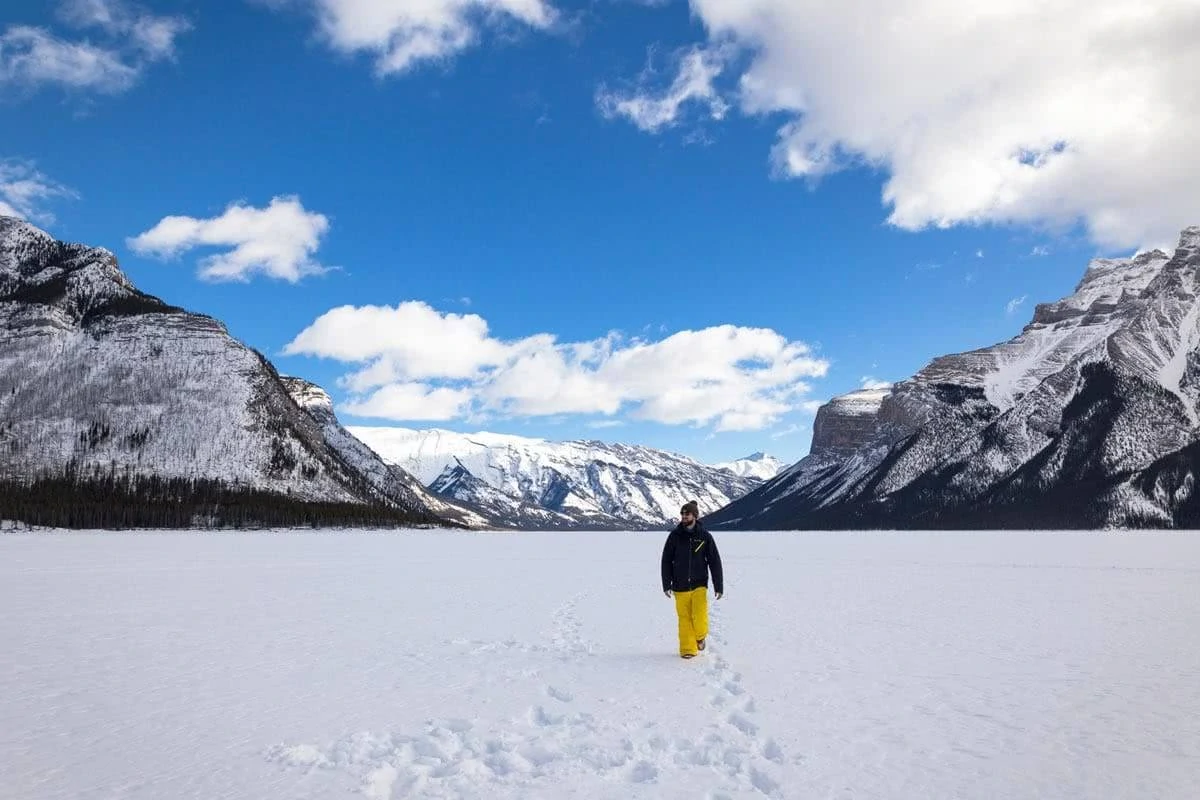 If you're looking for a winter wonderland with some of the world's best winter activities then you've just got to head over to Banff.
Banff, right in the heart of Alberta, Canada, has becoming something of a mecca for skiers and snowboarders looking for the freshest powder and the toughest runs. In Banff Sunshine, Mt Norquay and Ski Louise – collectively known as the SkiBig3 – they've got three ski resorts that'll rival anywhere in the world.
And if that's not enough for you, then there's always back-country skiing from Banff. This is where you strap on some skins, spend five hours hiking to the top of a mountain, only to ski back down again. I'll say it now, Canadian's are among the most adventurous people I've ever come across!
To give you an idea, here are some of my favourite things to do in Banff in winter!
However, if that doesn't sound like your thing, don't worry. There are so things to do in Banff in winter that you'll struggle to fit them all in.
Take me as an example – I am not the best skier (in fact, I only went for the first time recently), but I still managed a week doing hiking, ice climbing, ice skating, dog sledding, snow shoeing,snow tubing, and even a helicopter tour over the Rocky Mountains thrown in there for good measure without ever hitting the ski slopes.
So, if you're looking for the best Banff winter activities then you're in the right place – this really is the blog post for you so keep on reading!
Oh, and if you're in Banff and heading up to Jasper, then I'd really recommend this full-day tour which will take you to some of the best sites along the way!
1. Ice Climbing in Canmore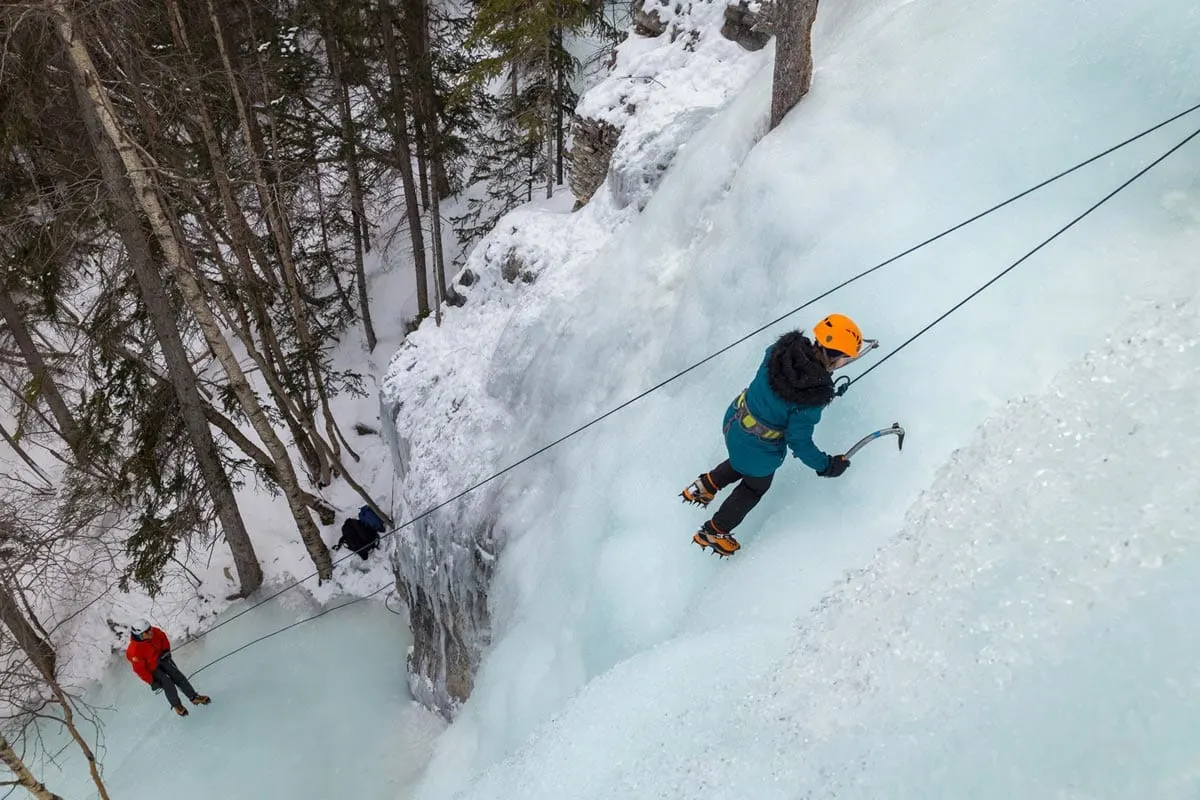 Without a doubt one of my favourite winter activities I did while in Banff was ice climbing with Yamnuska Mountain Adventures just outside Canmore.
Ice climbing is so popular all over Alberta, so if you're looking at trying ice climbing for the first time then this is the perfect place to do it.
I went ice climbing in Iceland last year, so I couldn't wait to get back on the wall and try it out again. It really is an experience like no other.
For our half-day beginners lesson we headed to a place called the Junkyards where there are a couple of huge frozen waterfalls and proceeded to climb a few of the routes there.
I can't tell you how hard ice climbing is – it is so much tougher on the forearms than rock climbing – but it is an incredible activity and one I really recommend to everyone, especially in Canada.
Also, Banff and Canmore really are amazing places to go ice climbing so give it a try while you're in Alberta!
Price – CA$225 per person (two people climbing) for a half-day beginners course with all gear included. It gets a lot cheaper with more of you climbing!
2. Ice Skating at Lake Louise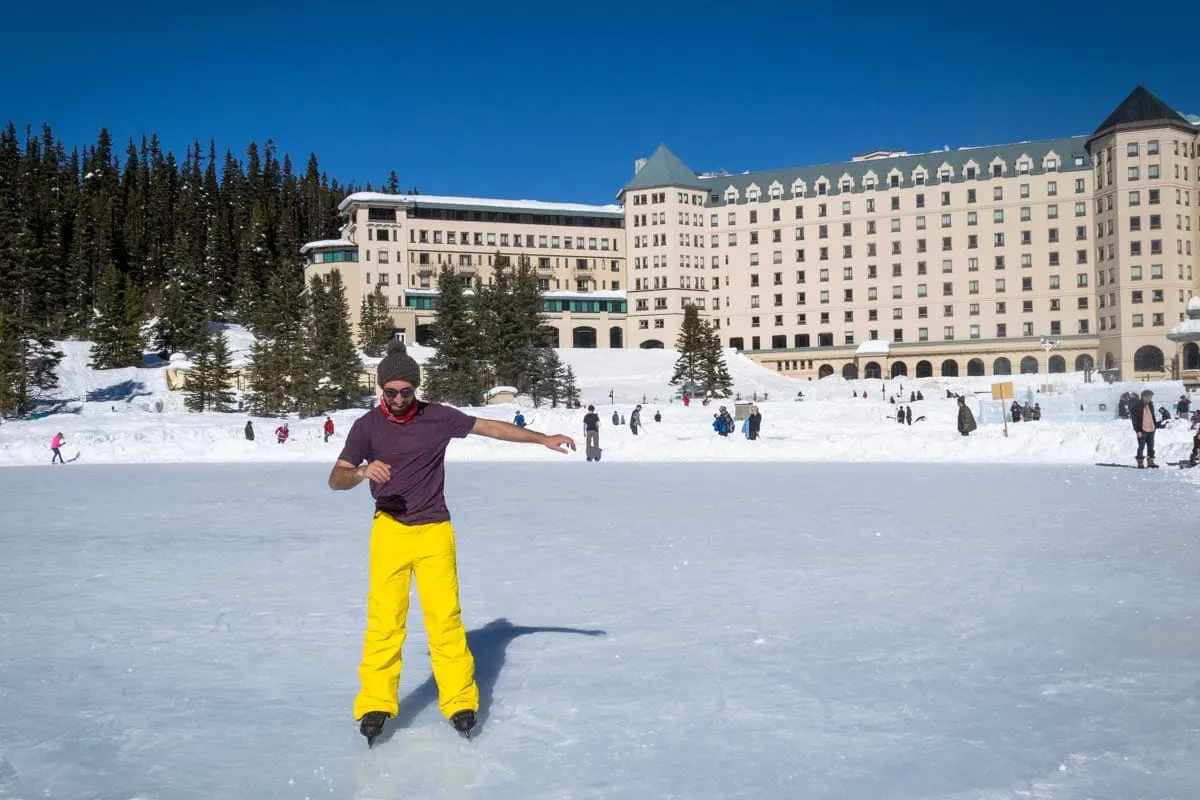 Another winter activity I really enjoy is ice skating – I just wish I didn't fall over so much!
However, hands down the most beautiful place I've ever been ice skating is at Lake Louise.
With the mountains all around you and in the shadows of Chateau Fairmont, one of the most prestigious hotels in the area, you can actually skate right on top of the lake and it is in such a stunning spot.
The best place to hire skates from is Wilsons Mountain Sports just on the edge of Lake Louise, and then you drive up to the lake itself where you can park and head to the ice.
The best thing about skating at Lake Louise is once you've got your skates then it's free! Also, pop into Deer Lodge for some of the best food around too!
Price – Skates: CA$12 per day. Skating: free!
3. Helicopter Tour over the Rocky Mountains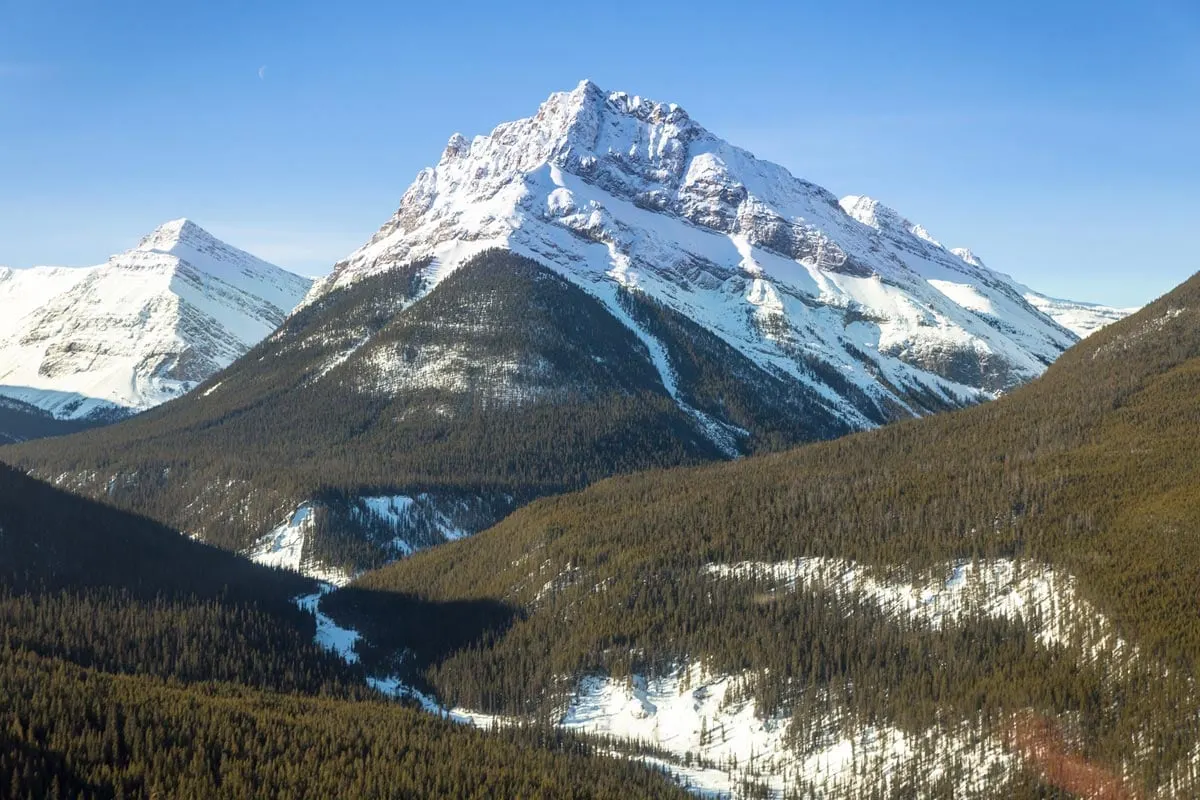 If you're looking some of the best places to visit in Alberta then look no further than flying over the Rocky Mountains with Rockies Heli Canada.
Even though this is a good two-hour drive from Banff along the Icefields Parkway, it is 100% worth the journey the moment you get up into the air.
I had never been in a helicopter before, so I think this was the activity I was most looking forward to while travelling through Alberta, and wow, what an experience.
Our helicopter ride took us over the Rocky Mountains where we followed frozen rivers till we made it to a clearing in the middle of nowhere and the views were just unreal.
I had no idea you could land a helicopter in the snow, so when we pulled up for an hour's hike through the forest I was a little surprised, but it was so special exploring a place that hardly anyone can get to.
I can't recommend Rockies Heli enough – it really is a once-in-a-lifetime experience and the highlight of an trip to Alberta.
Price – CA$199 for a 20-minute tour; CA$499 for the full experience including hike, tour of Abraham Lake, hot chocolate and lunch. You can find out all about this tour here.

4. Banff Gondola Ride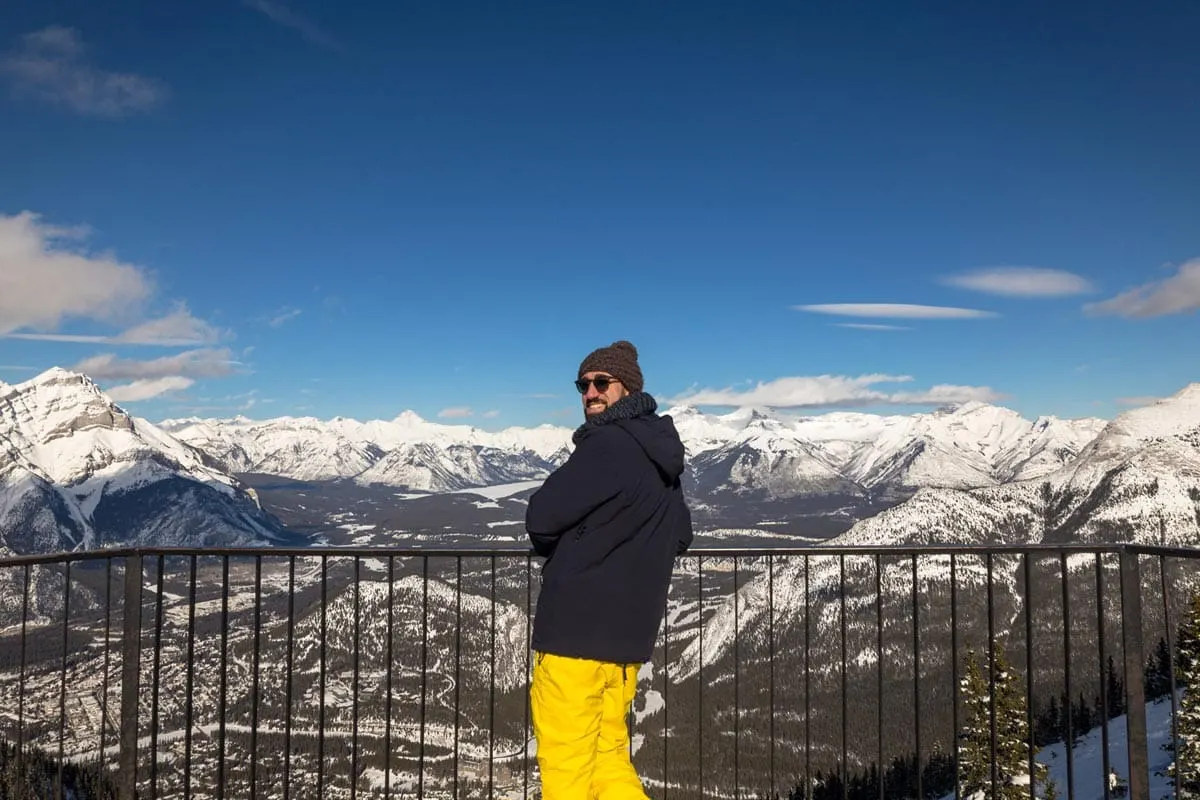 So, the Banff Gondola is a fraction the price of a helicopter tour but you still get some of the best views in the area.
Okay, it's not *quite* the same as flying over the Rocky Mountains, but catching the gondolas to the top of the mountains is still a lot of fun, and the views of Banff below really are spectacular.
Also, the Sky Bistro at the top might take the award for best view while you're eating. Just magic. I'd really recommend the Sky Experience where you get lunch and your ticket for CA$85 – in terms of food and views, this is one of the best winter activities to do in Banff.
I'd put this up there was one of the best things to do in Banff in winter – the views really are just incredible.
Price – CA$56 for adults; children under the age of 15 ride free before 12pm
5. Banff Upper Hot Springs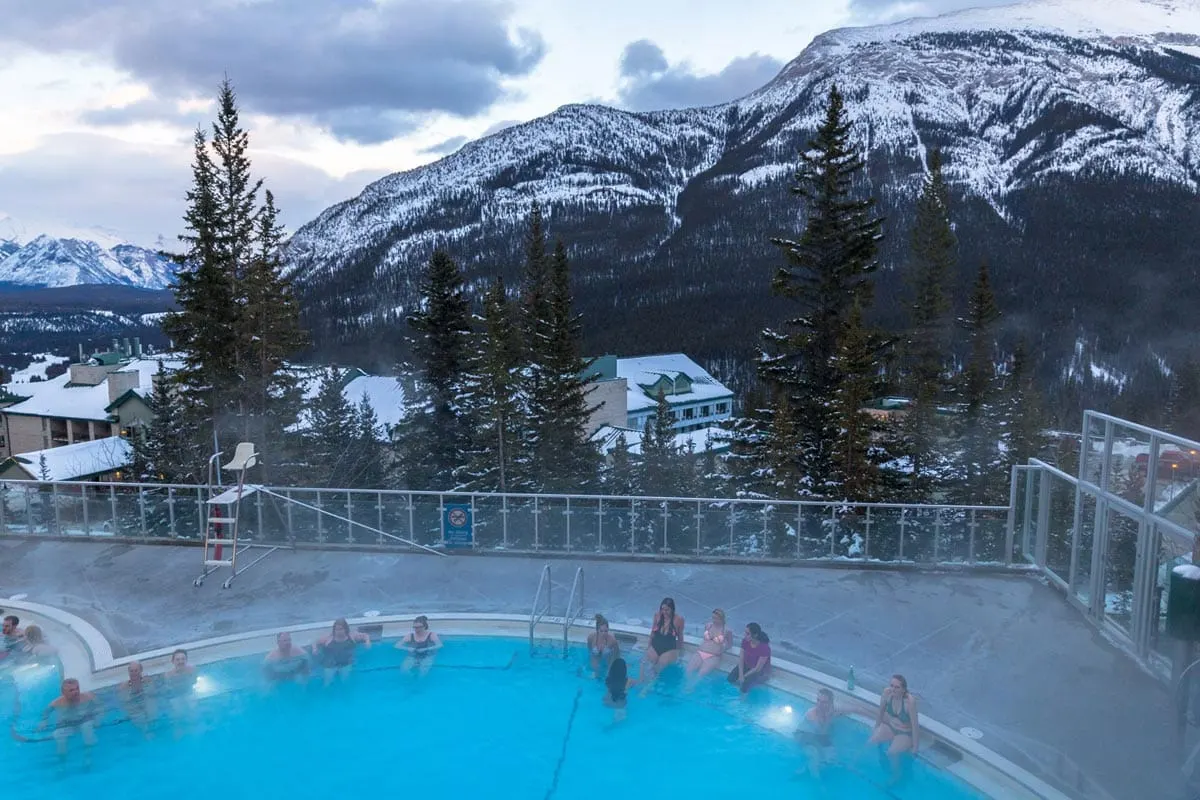 Whether you've just taken the gondola to the top of the mountains or spent a day skiing and snowboarding, the best way to unwind is at Banff Upper Hot Springs.
When it's -10 outside, there's nothing quite like warming up in 40 degree water the views of the mountains all around you. They recommend you only stay about 30 minutes in the water, but I found an hour's soak to be pretty perfect for all my aches and pains to wash away.
And don't worry if you've forgotten your towel or swimsuit – you can hire them there!
Price – CA£7.90; towels and swimsuits are CA$2
6. Hiking to Lake Minniewanka, Marble Canyon and Johnston Canyon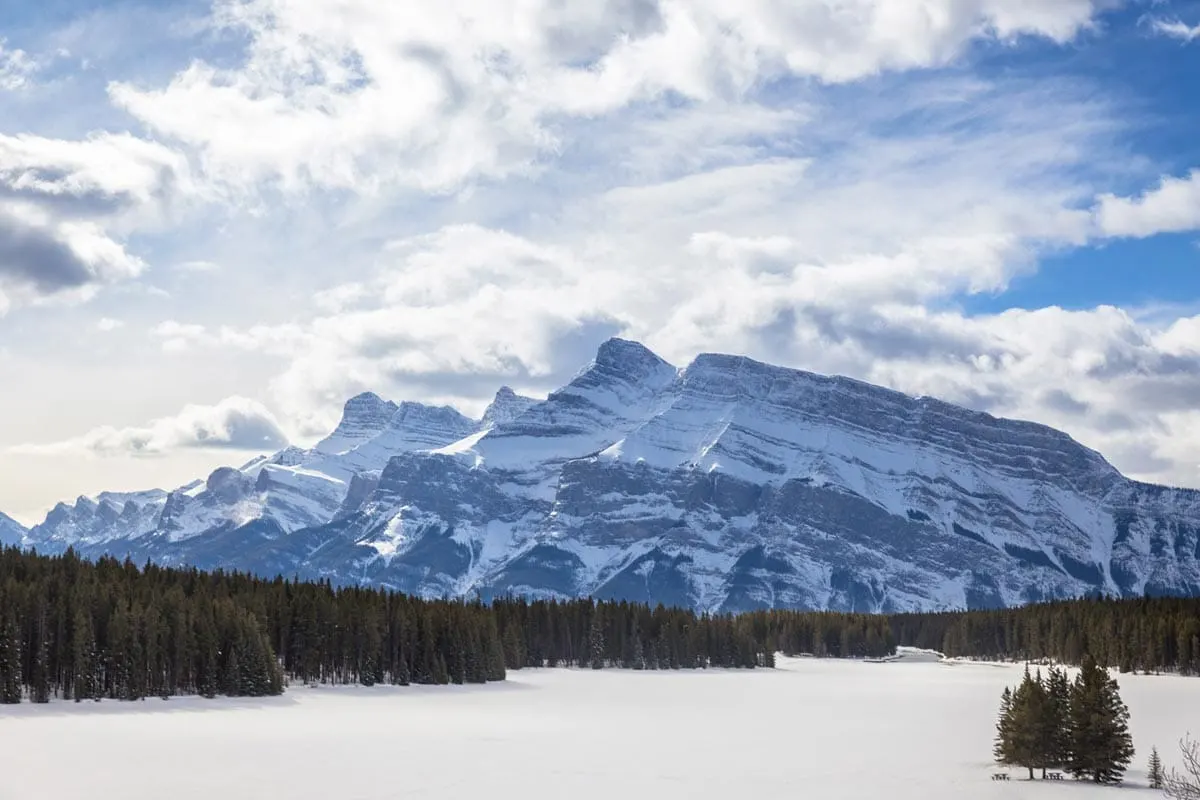 When it comes to things to do in Banff in winter, this one is right up there.
There are countless hiking trails to explore just outside of Banff – all you need to do is put your boots on, pick up your snowshoes and head off in a random direction.
However, if you're like me and have no idea where you're going, then you'll want to spend the day with White Mountain Adventures. These guys are the hiking specialists in Banff.
A few of the more popular spots to visit are Lake Minniewanka, Marble Canyon and Johnston Canyon – all of these places can be reached within an hour's drive of Banff, and with White Mountain Adventures you get to explore them all in a day.
My favourite spot was Johnston Canyon – it takes about a two hours to hike to the Upper Falls, and along the way it takes you through the canyon and forest, past frozen lakes, until you reach this huge frozen waterfall where you'll often find ice climbers. Definitely worth the hike and a really great way of exploring some of the more popular hiking spots around Banff.
Price – CA$109 per person and includes all equipment and lunch for a full day tour. Alternatively, you can go on a tour of Johnston Canyon with a local guide here.

7. Snow Shoeing at Lake Louise Ski Resort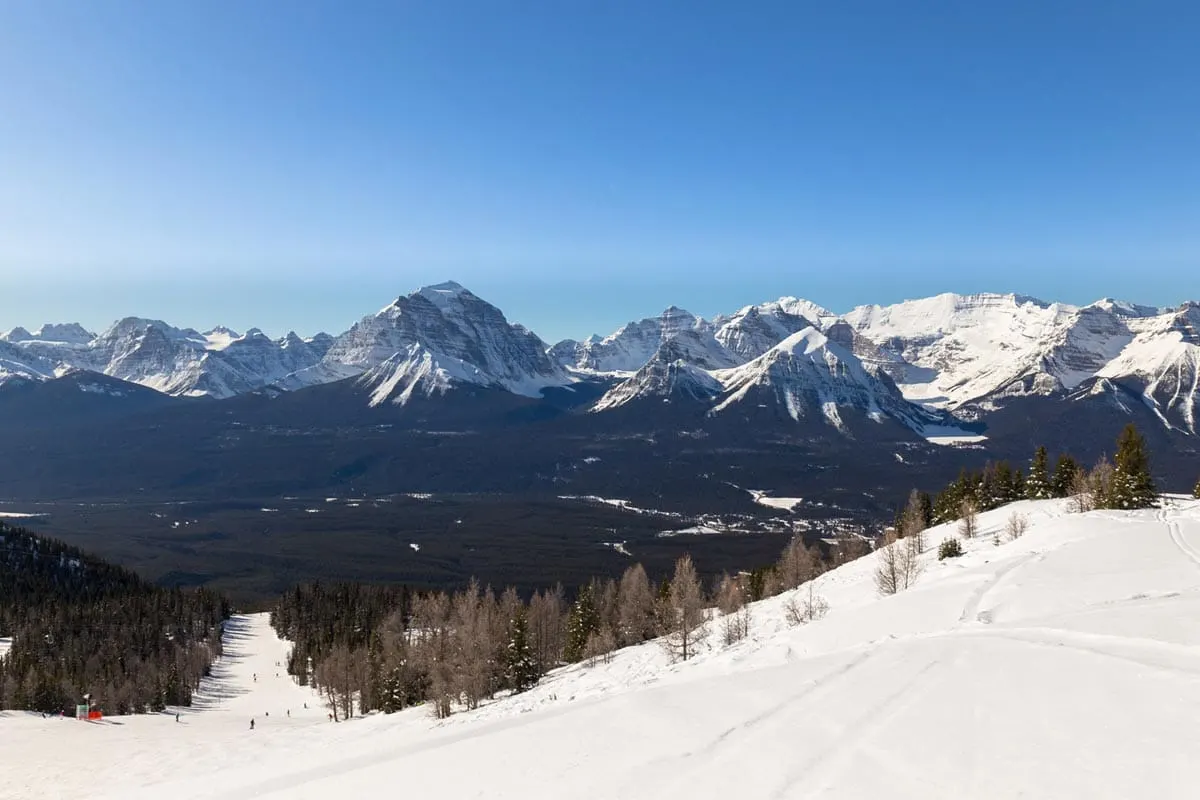 Another amazing winter activity to do in Banff is snow shoeing at Lake Louise Ski Resort.
If you fancy a day off from the slopes or want to explore what a ski resort is like without worrying about falling over and breaking a leg, then snow shoeing is the perfect way to do that.
To start the day snow shoeing you have to catch the gondola to the top of the mountain (worth it in itself) before putting on your snowshoes and hiking a number of the trails.
It really is an amazing way to immerse yourself in the Rocky Mountains and you really do get some of the best views of Lake Louise from the top too.
Also, I have to mention the amazing sushi restaurant at Lake Louise Ski Resort – potentially the best sushi I've ever had in Canada!
Price – CA$79 including a 30-minute return gondola ride and hot chocolate
8. Snow Tubing at Mt Norquay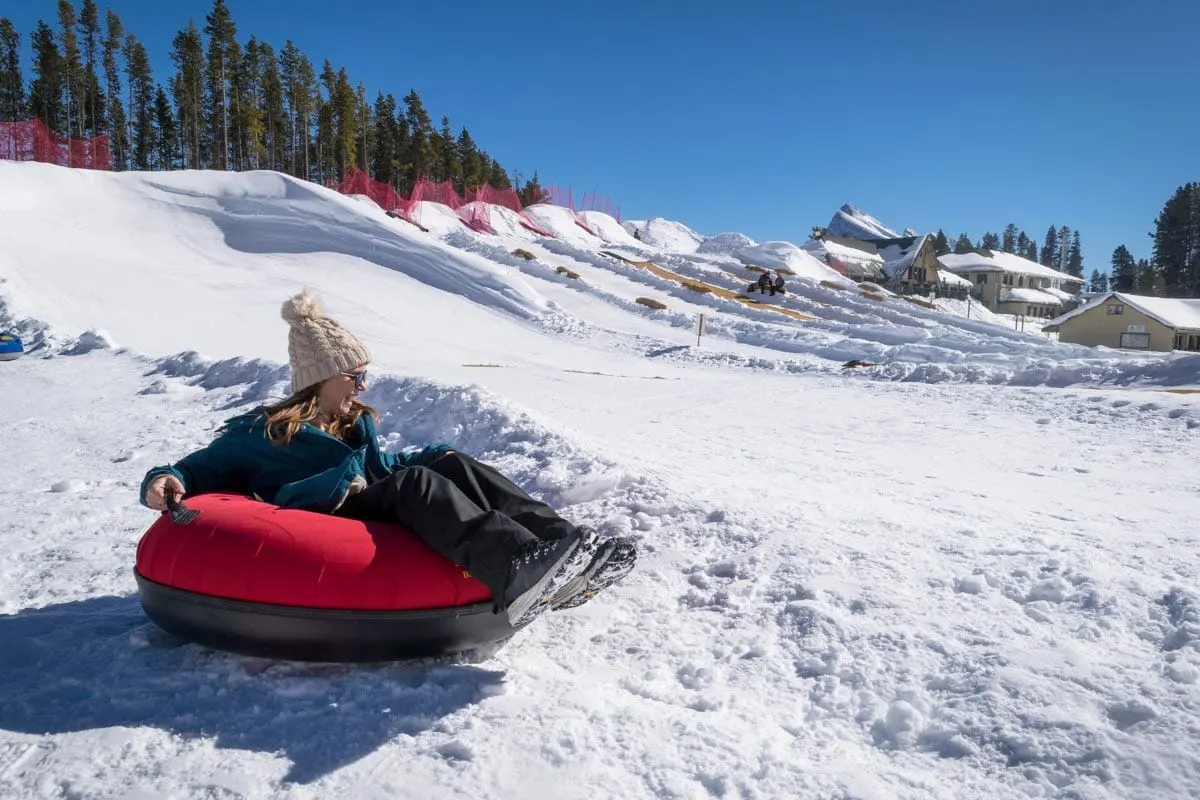 If you don't know what snow tubing is, it's where you sit in a giant inflatable donut and slide down the side of a mountain at a million miles an hour. Scary? ✓ Fun? ✓ Exhilarating? ✓
Even though you can go snow tubing at all the SkiBig3 resorts, the best place to do it is at Mt Norquay – why? They have the longest slope, which means you go the fastest, which means it's the most fun.
Snow tubing is definitely one of the best things to do in Banff in winter – it's such a simple way to get the adrenaline pumping!
Price – CA$30 for a day ticket; CA20 for kids
9. Dog Sledding at Canmore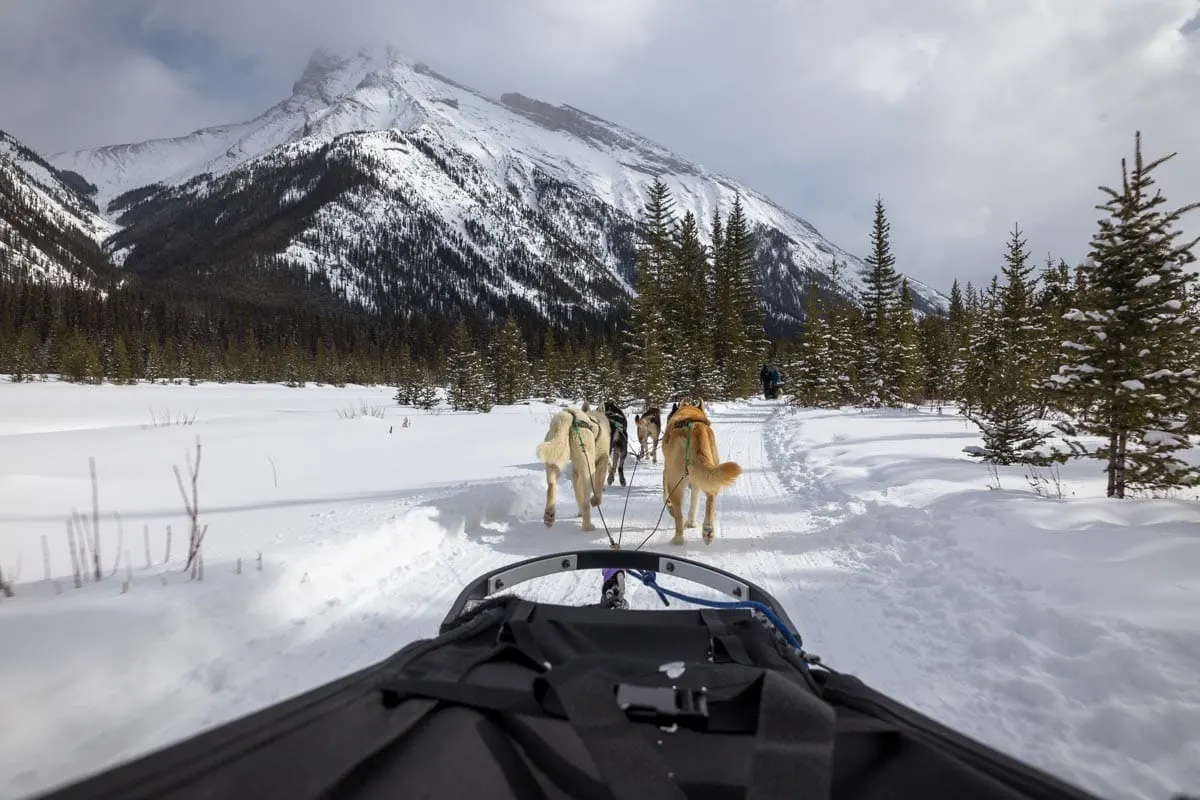 I don't think there's anything more Canadian than dog sledding.
This is another winter activity that's high on people's winter activities to do in Banff and it is an amazing experience, especially if you're a dog lover.
This half-day tour with Snowy Owl Dog Sled Tours starts out in Canmore before you head up into the mountains where you get to play with the dogs for a few hours.
What I didn't realise with the dog sledding is you actually get to control the dogs yourself, and there's a break at the back of the sled to slow down. And when they run, they really run I can tell you that.
This is such a unique activity and one that shows what a winter wonderland Banff really is.
Price – CA$380 for a two person sled (so CA$190 per person)
10. Skiing the SkiBig3
Even though I've mainly concentrated on winter activities for non-skiers, I couldn't write an article about the best winter activities to do in Banff without mentioning the skiing!
Unless you're an expert and are used to off-piste skiing, the main resorts you'll ski at are Banff Sunshine, Mt Norquay and Ski Louise – these are the SkiBig3.
Day passes vary from CA$100 to a weekly pass where you can ski at all three resorts for CA$750.
11. Go on a family friendly horse sleigh ride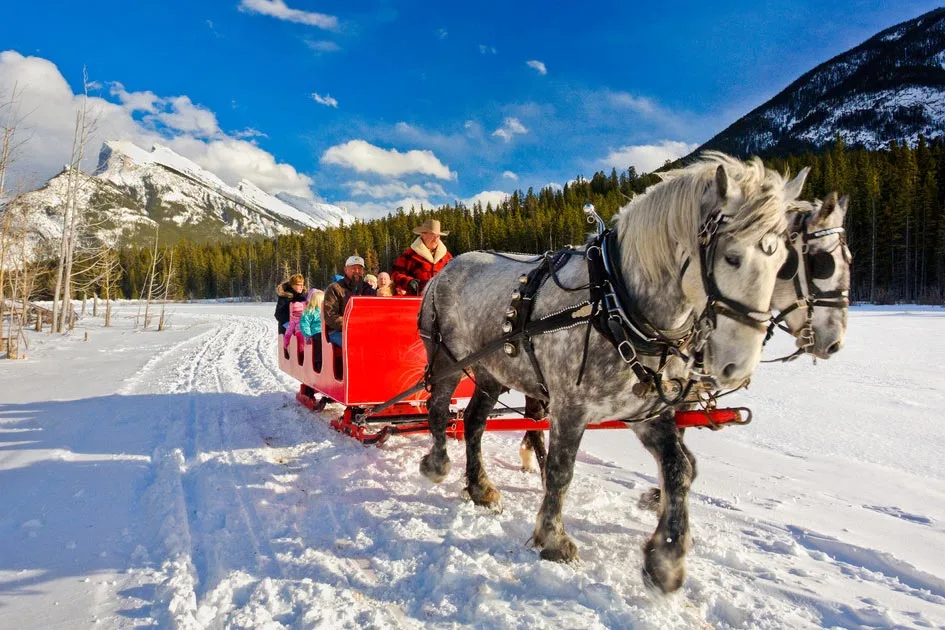 Going on a horse sleigh ride is such a fun activity for the whole family. This tour starts from Banff before heading out for your sleigh ride over the glistening now. You'll be surrounded by Rundle Mountain and Cascade Mountain and enjoy the stunning panoramas of Banff National Park.
<You'll finish your memorable excursion with a fireside warm-up stop after the ride, where you can toast a marshmallow and enjoy a warm drink back at the stables.
As I said, this is absolutely perfect for the whole family! You can find out more about this tour here.
You see, I told you Banff was a winter wonderland with some of the best winter activities to do in the world!
The hardest thing you'll have on any trip to Banff is trying to squeeze them all in (I just about managed all of these in a week!)
Whatever winter activity you choose to do in Banff I have no doubt you'll have an amazing time – you are doing it in one of the most beautiful places in the world after all!
---
My trip to Alberta was in association with Travel Alberta highlighting why this is such an amazing winter destination to travel to. As always, views are entirely my own and without bias.
Have you ever been to Banff before? If so, what are some of your favourite things to do while you're there? Make sure you let me know in the comments below!
Like this blog post? Then make sure you Pin it!