Are you looking for the coolest hotels in Lisbon? From rooms with unforgettable designs to relaxing rooftop pools, this is where to stay in Lisbon!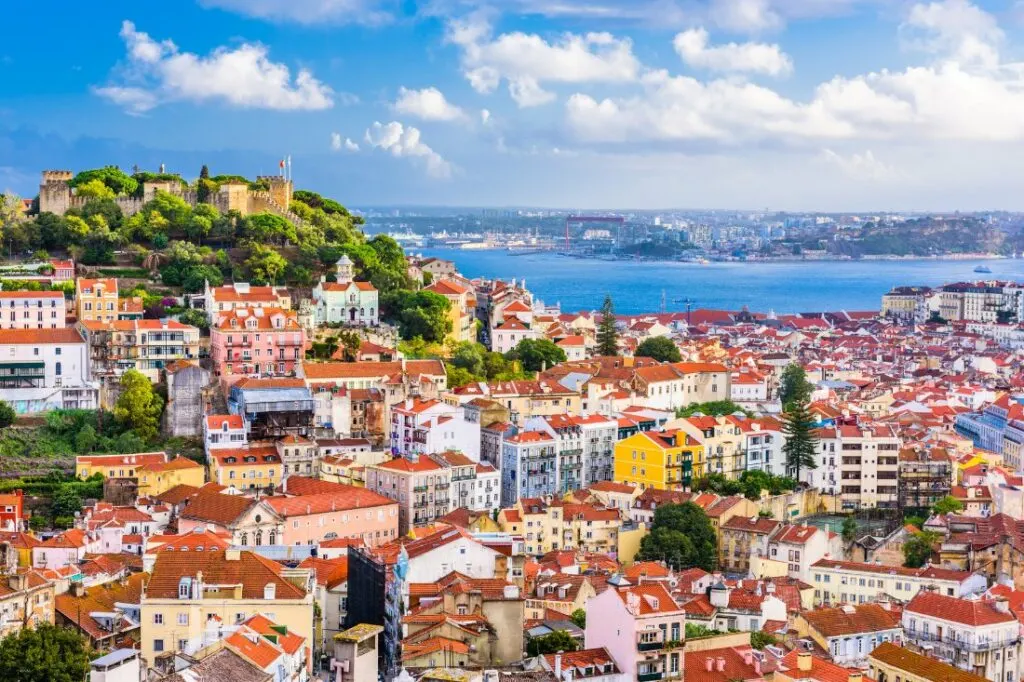 Lisbon is hands down one of Europe's best cities. Honestly, I can't recommend this place enough, and there are so many reasons to visit.
The stunning views atop the hillsides, rolling over rooftops and out towards the water.
The beautiful architecture, framed by tiled facades and sweeping vistas, like something from a storybook.
The history and culture: from castles and cathedrals to traditional Fado music (which is always a great night out by the way!)
But for me, one of the best things is the hospitality – from mega friendly locals to awesome accommodation. By the end of this blog, you'll know what I mean, because today we're talking about the coolest hotels in Lisbon.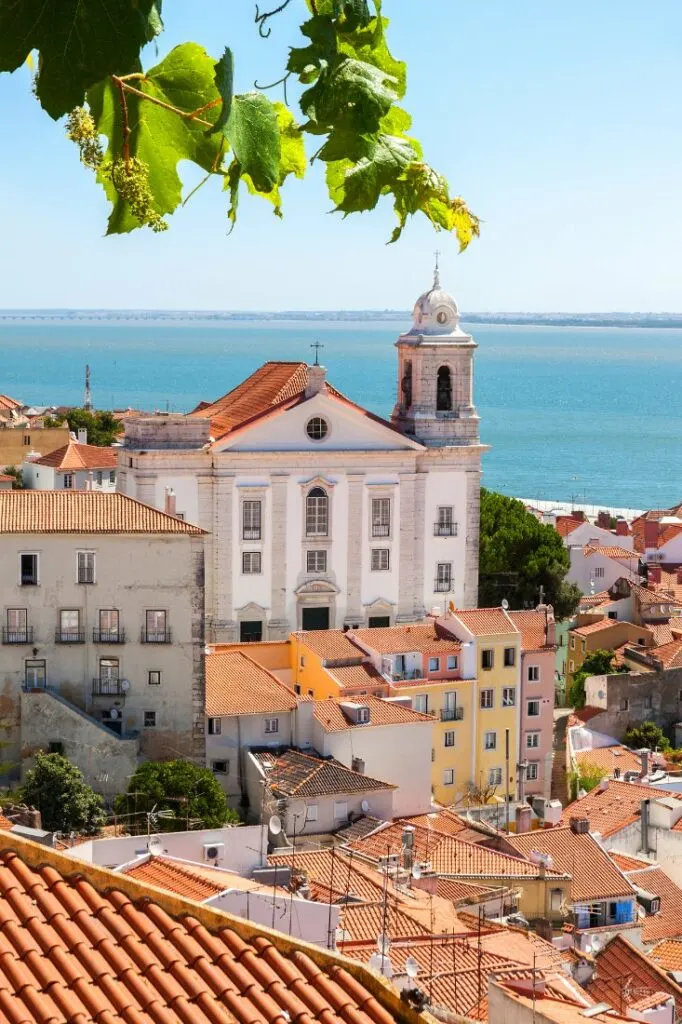 And believe me, there are very cool and unusual hotels. I've been to few cities with so many unique places to stay. It really is that good here!
From opulent 5* spas to design hotels held in the palm of a hand – you'll see what I mean later – with themes ranging from music to wine and cheese. Lisbon has it all and more.
Sitting comfortably? Good – let's get into the coolest Lisbon hotels. Hopefully you'll find this useful when planning your next trip to this awesome city.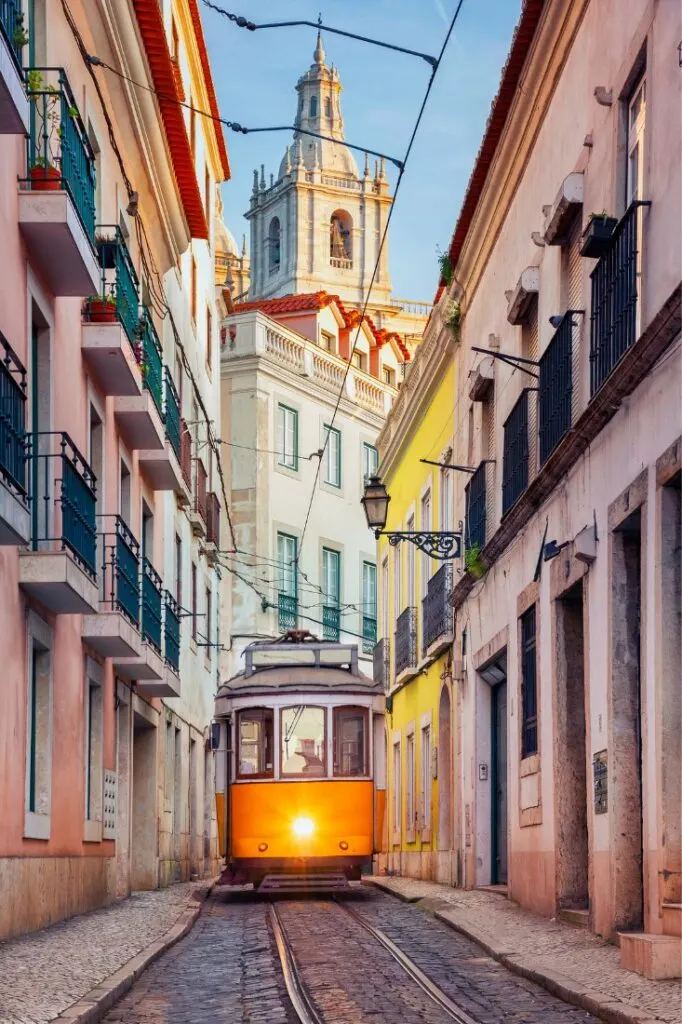 Where to stay in Lisbon
Much like Porto, Lisbon has lots of distinct neighbourhoods, and where you stay will absolutely influence the type of trip that you have.
This is a good thing: though they're different, each area is packed with character and there's loads to do no matter where you are.
It also means you have absolutely loads of choice. Here a few areas I'd recommend:
Bairro Alto – The most popular district in Lisbon for partying, Bairro Alto is the place to be for a taste of Portugal's nightlife. It's a cool neighbourhood by day though too, located on the top of the hill above Baixa with easy access to all the city has to offer and pretty street views.
Alfarma – Alfarma is Lisbon's historic old town, so it's absolutely packed with charm and character. If romantic is what you're after, you'll find it here with colourful houses and narrow cobblestone streets to wander around.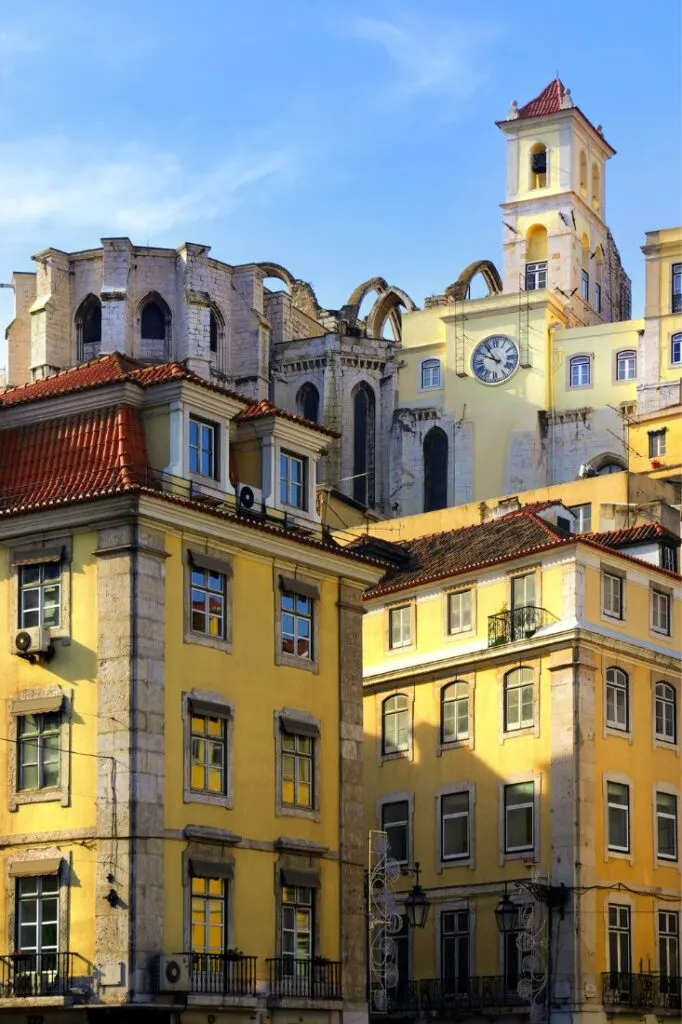 Baixa – Baixa is Lisbon's busy and bustling city centre, home to some of the city's best sights and its most extensive history. You've got landmarks, Neoclassical architecture, plus tons of shops and restaurants – plenty to while away the time.
Chiado – The cultural heart of the city, Chiado is home to museums – as well as Lisbon's literary guild and its famous Elevador de Santa Justa. Plus, a stone's throw from Baixa, the rest of the city is at your fingertips.
Príncipe Real – If you want to feel fancy, I recommend heading to Príncipe Real. First of all, its name literally translates to Royal Prince. Secondly, this is where you'll find luxurious hotels, Lisbon's best restaurants, as well as galleries brimming with beautiful art.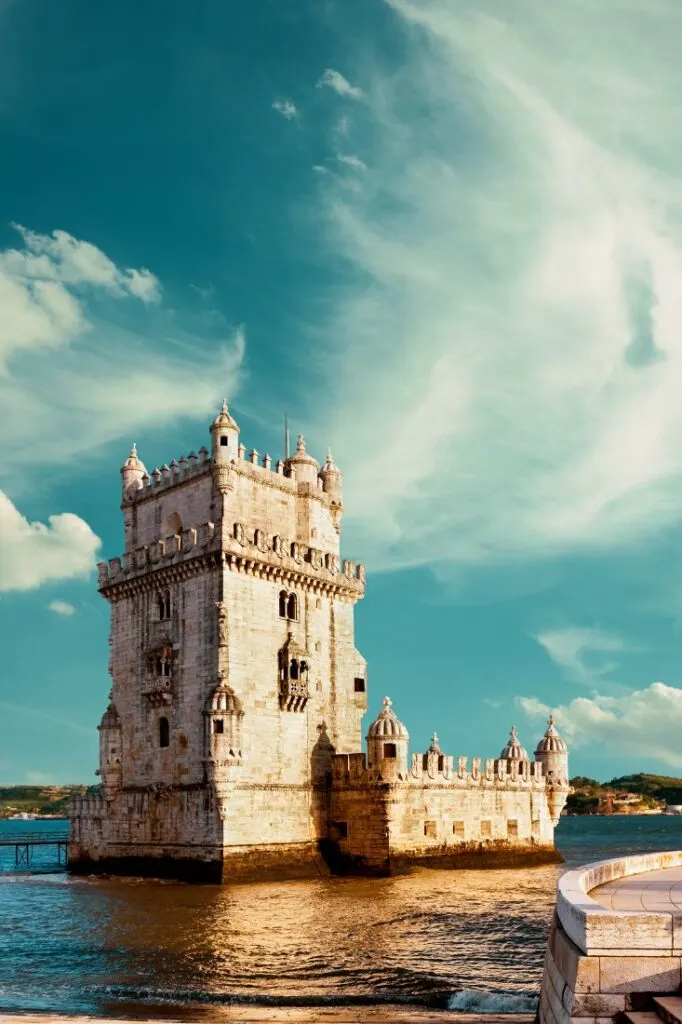 Rossio – On the flip side, if you're exploring Lisbon on a budget, head on down to Rossio. Still central, lively and packed with character, you'll find a few cheaper options for hotels here without compromising on quality or things to do.
Belém – On the edge of the Tagus River you'll find Belém, a neighbourhood best known for its seafaring history, iconic landmarks (notably the Tower of Belém, Discoveries Monument and Jerónimos Monastery) and famous custard tarts. Stay here for maximum sightseeing.
Want to step out of the capital? Check out my favourite day trips from Lisbon!
---
Coolest Hotels in Lisbon, Portugal
Luxury Hotels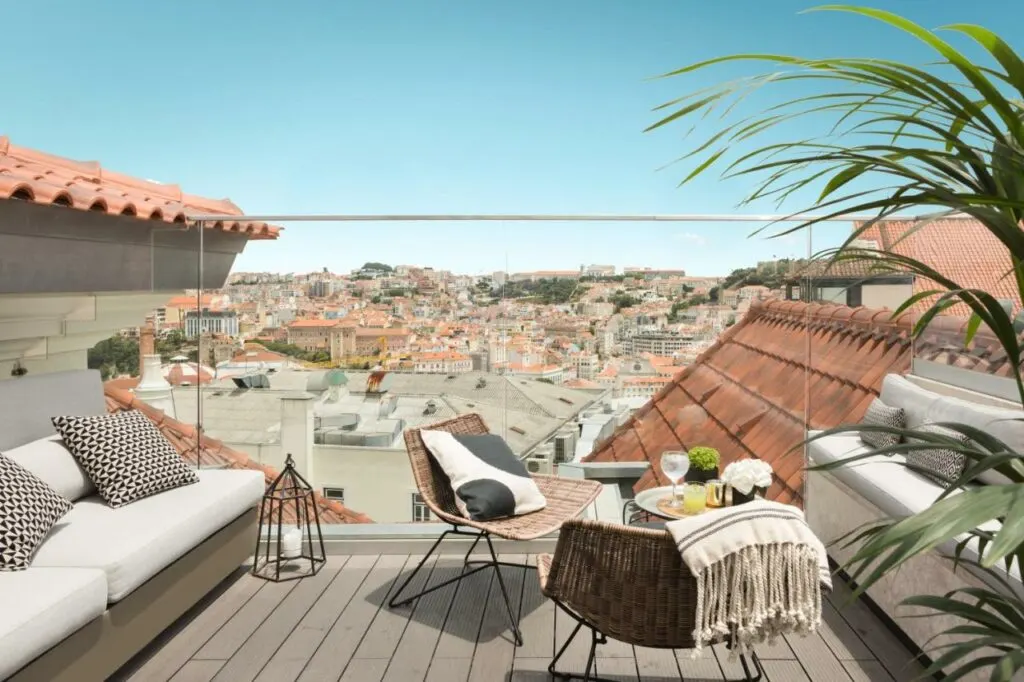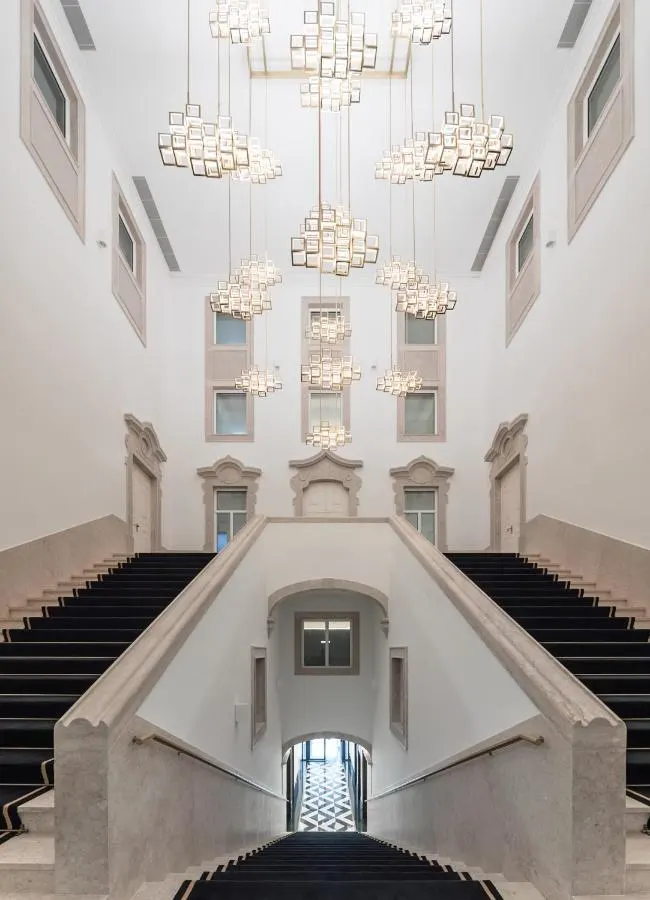 One of the prettiest Lisbon Hotels, find The Lumiares in Bairro Alto, between the River Tagus and Castelo de São Jorge.
This 5-star hotel has sweeping rooftop views and an on-site spa to get you feeling relaxed and refreshed – good thing too, as it's in a prime spot for lots of sightseeing. I really love the aesthetics of this hotel though. It's almost like those Bali vibes but in a cool modern city. For me, this is without a doubt one of the best luxury hotels in Lisbon, so if you want to be pampered then this should be at the top of your list.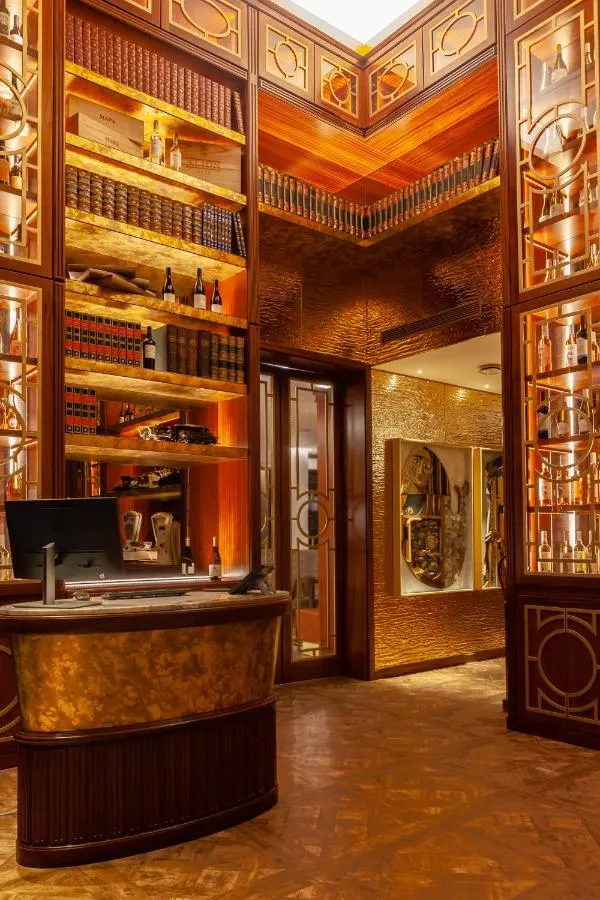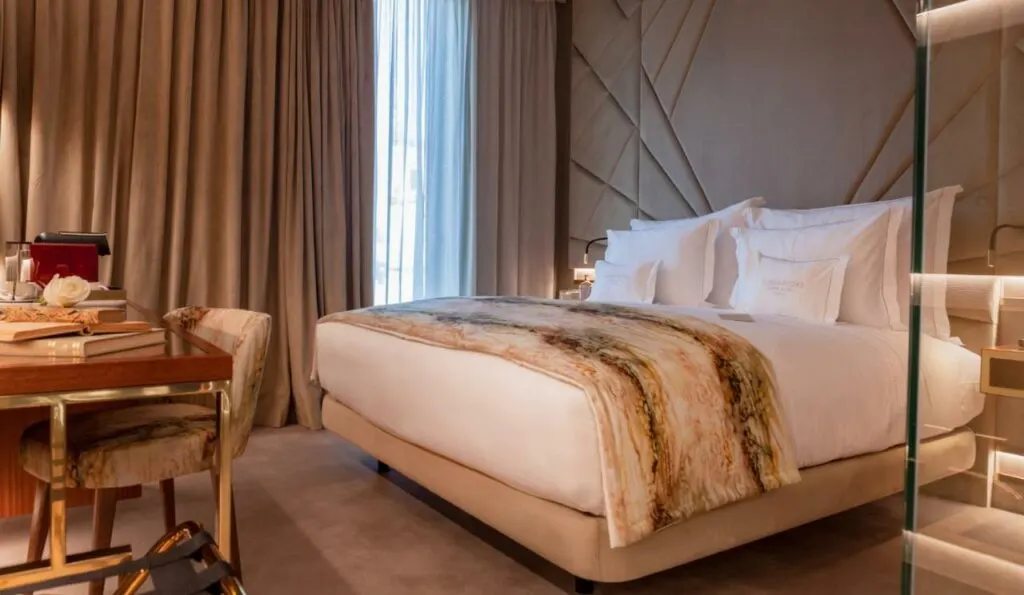 If you like literature, you'll love Wine & Books Lisboa Hotel. Located close by to Belém and only 800 metres from Jerónimos Monastery, you've got all the usual good amenities like an on-site bar, restaurant and sauna.
The coolest thing about this hotel is the decor: as the name suggests, there's a big emphasis on both wine and books. If it weren't for the wine cabinets, some areas could double as a library.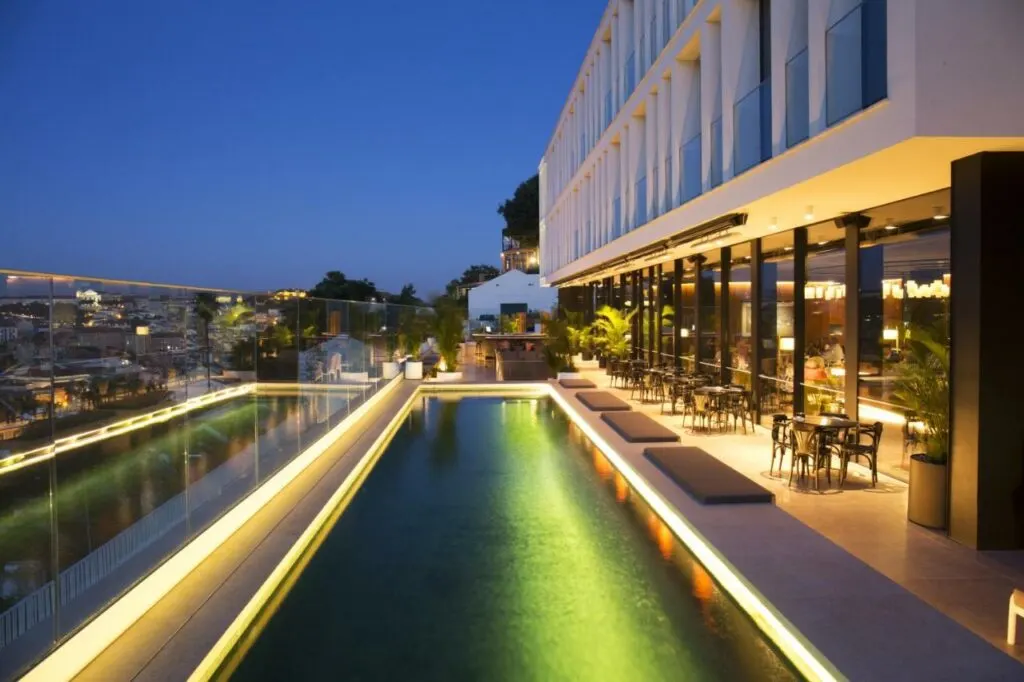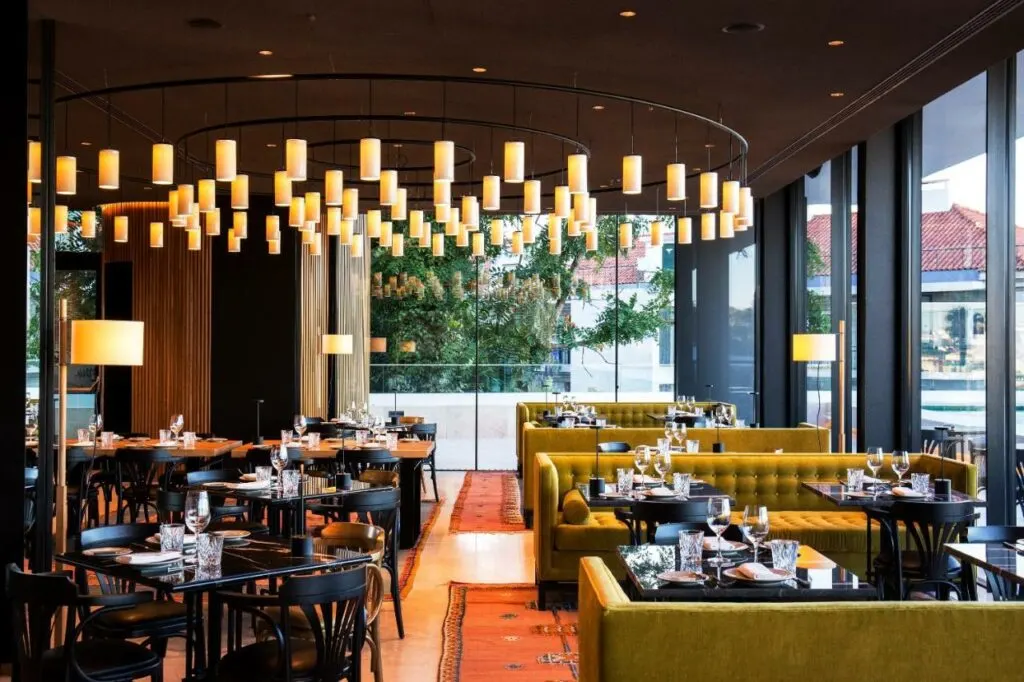 One of Lisbon's most well known hotels, this 5-star hotel is located in the Príncipe Real neighbourhood, so as you'd expect it's pretty bougie.
From here, catch some of Portugal's most panoramic views. Unwind in the outdoor pool after a busy day exploring the nearby attractions. One of the other things that makes this one of Lisbon's coolest hotels is that there's tons of nods to Portuguese culture: through traditional dishes and pieces by local artists.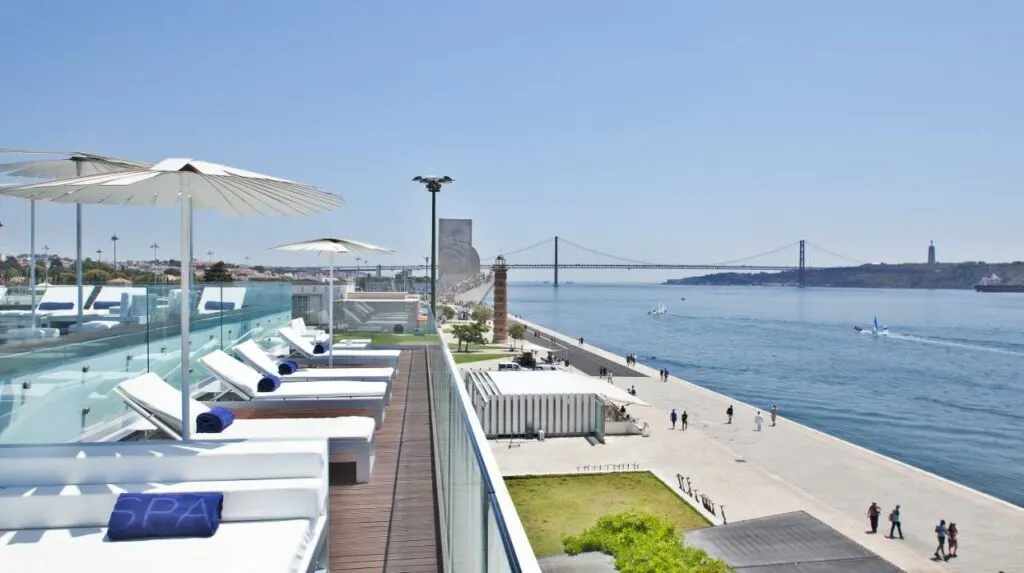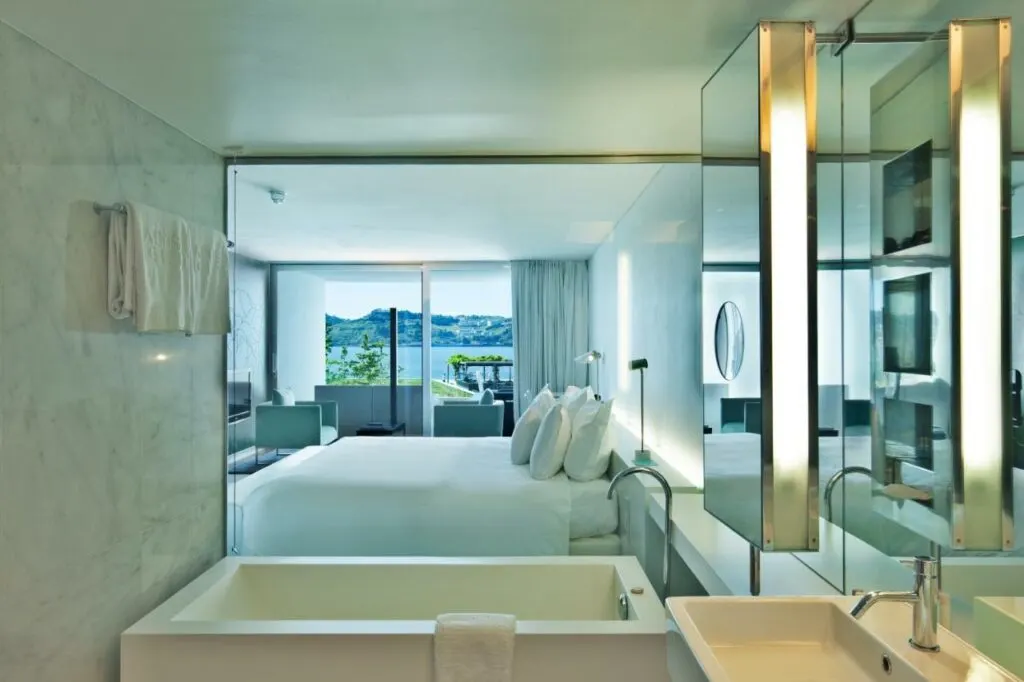 This is another 5-star option for those of you who are feeling fancy – it's also one of Lisbon's sleekest and swankiest hotels – in the beautiful Belém area.
Along the edge of the Tagus River, staying here means lots of time by the water. I don't just mean the views; there's an indoor and outdoor pool too. Otherwise, enjoy the spa, sauna, or eats at the on-site Michelin Star restaurant.
Mid-range Hotels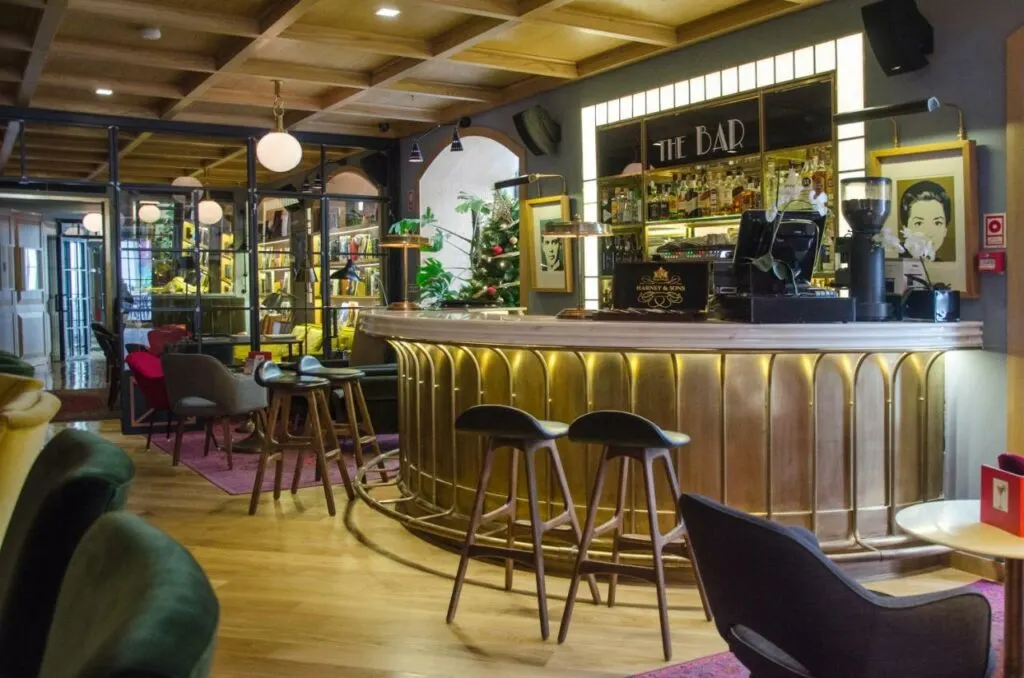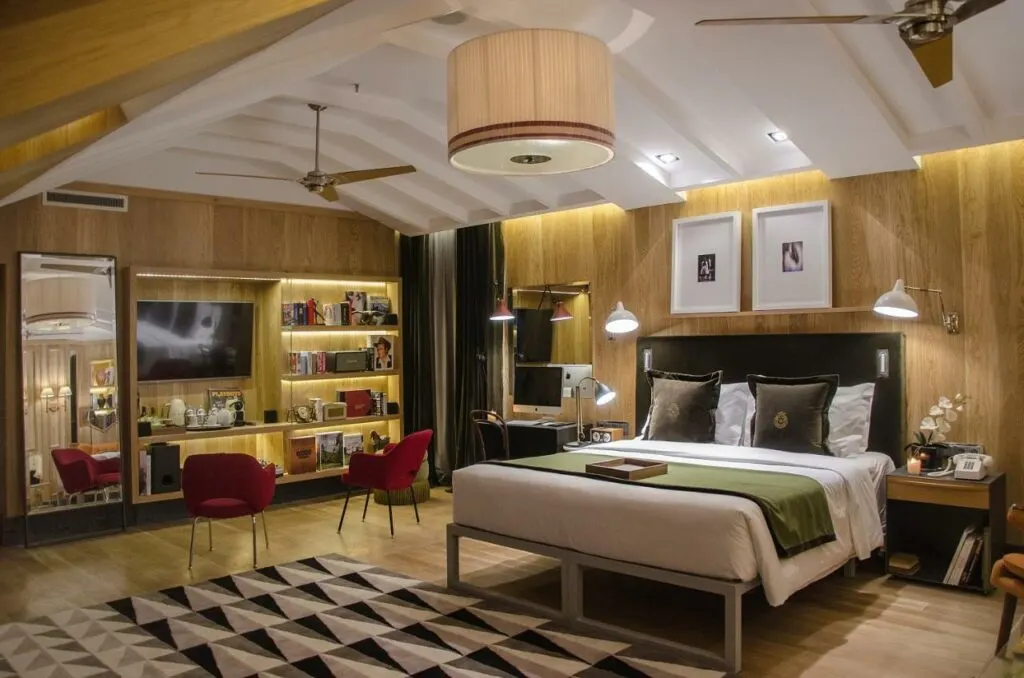 Browns Central is another one of my favourite boutique hotels in Lisbon when it comes to decoration. You've got a historic 18th century building, renovated with modern design trends, like a blend between new and old.
The interiors are inspired by world-class designers so they're absolutely beautiful. Plus, you've got the areas of Bairro Alto, Alfama and Chiado within walking distance.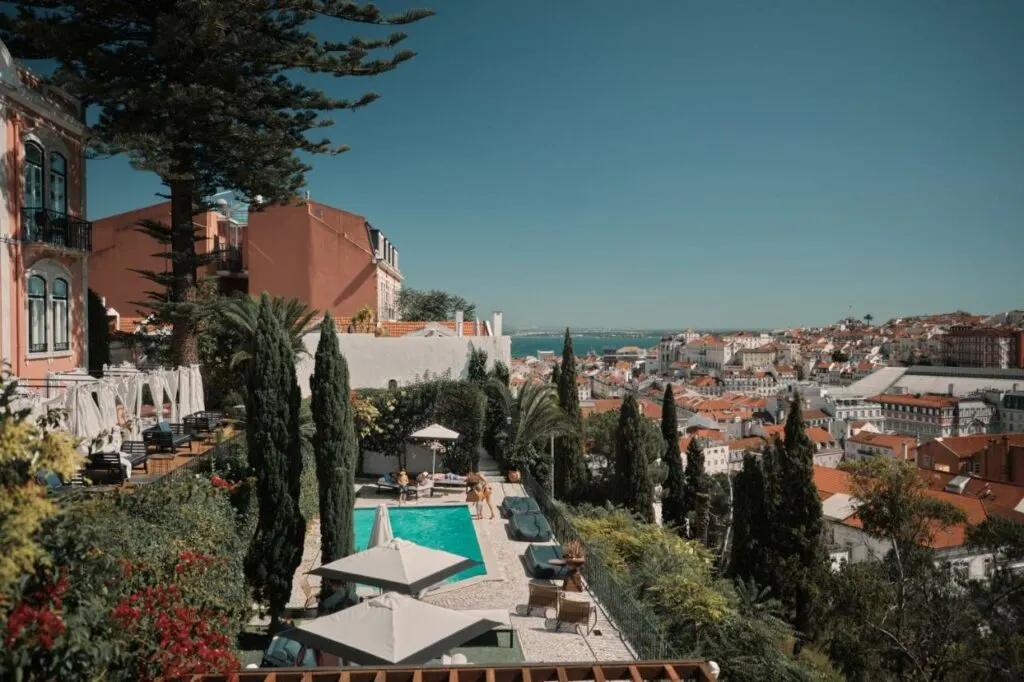 Head to Torel Palace for a stay that feels steeped in history. This Lisbon hotel is made up of three buildings – two being 19th century mansions with traditional architecture to boot. Aside from that, you'll find an outdoor pool and picturesque gardens with views out over the city, Tagus River, and São Jorge Castle.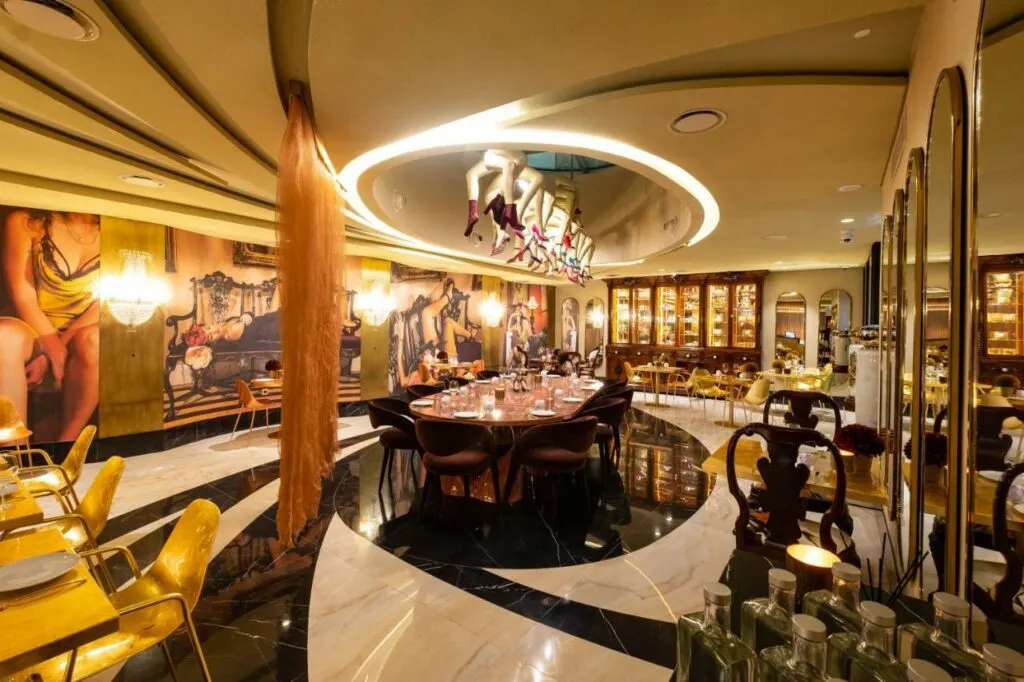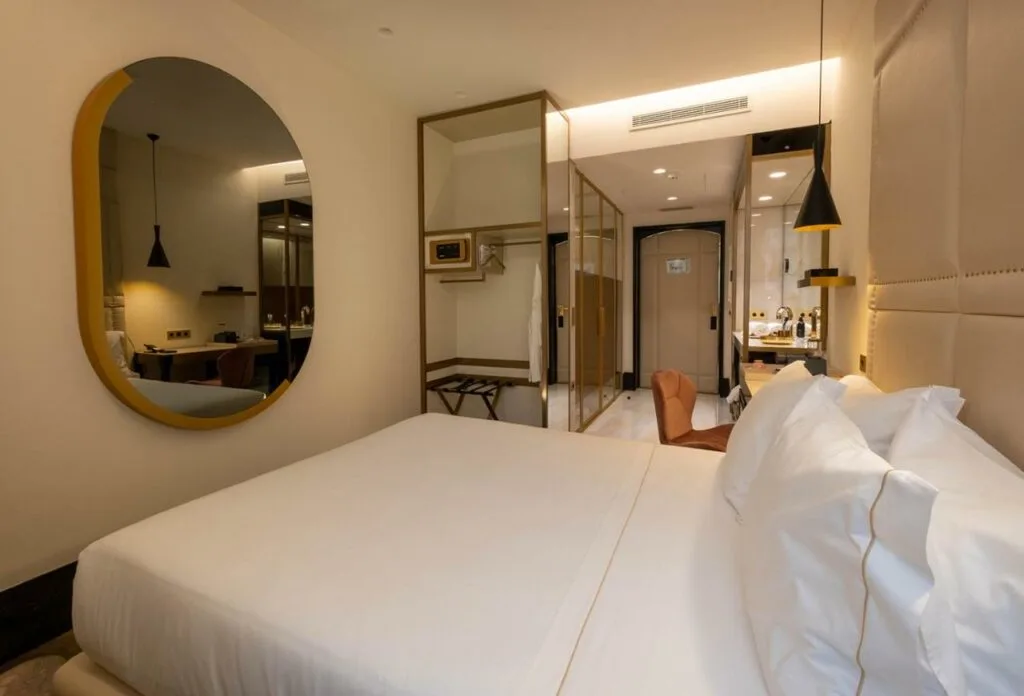 I love hotels with interesting, unique decór. There's only so many times you can see the same hardwoods and soft carpets and bright white walls.
Nothing is typical about Madalena. The aesthetics of the hotel, especially the public areas, are insane: artistic and totally original. The rooms are super comfy too.
You're also conveniently located; Madalena is a stone's throw from Baixa and everything you could need while in Lisbon.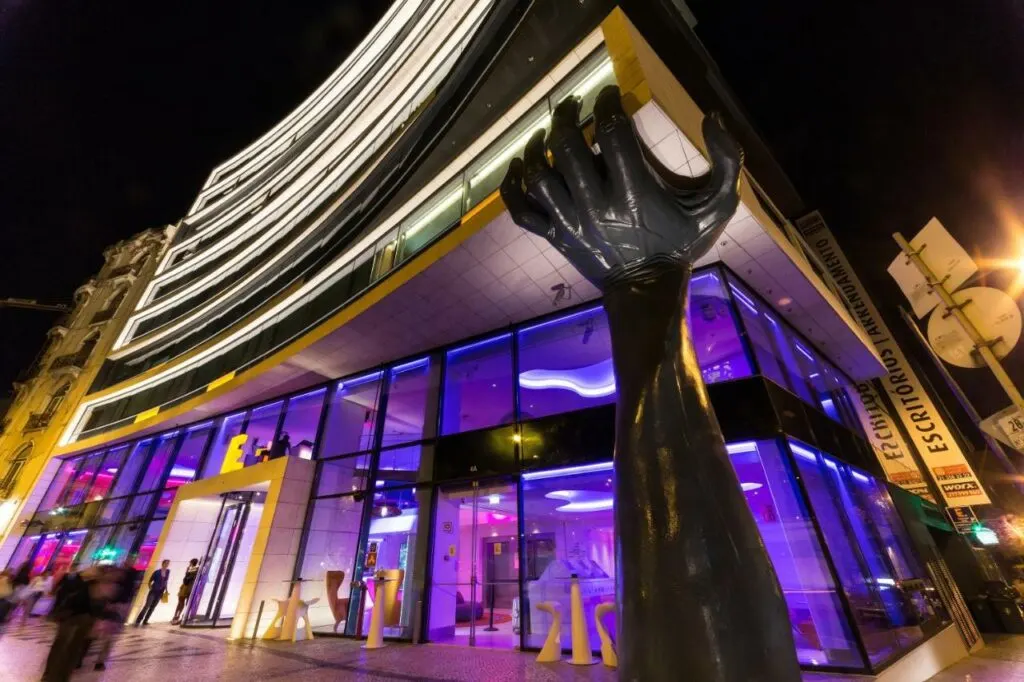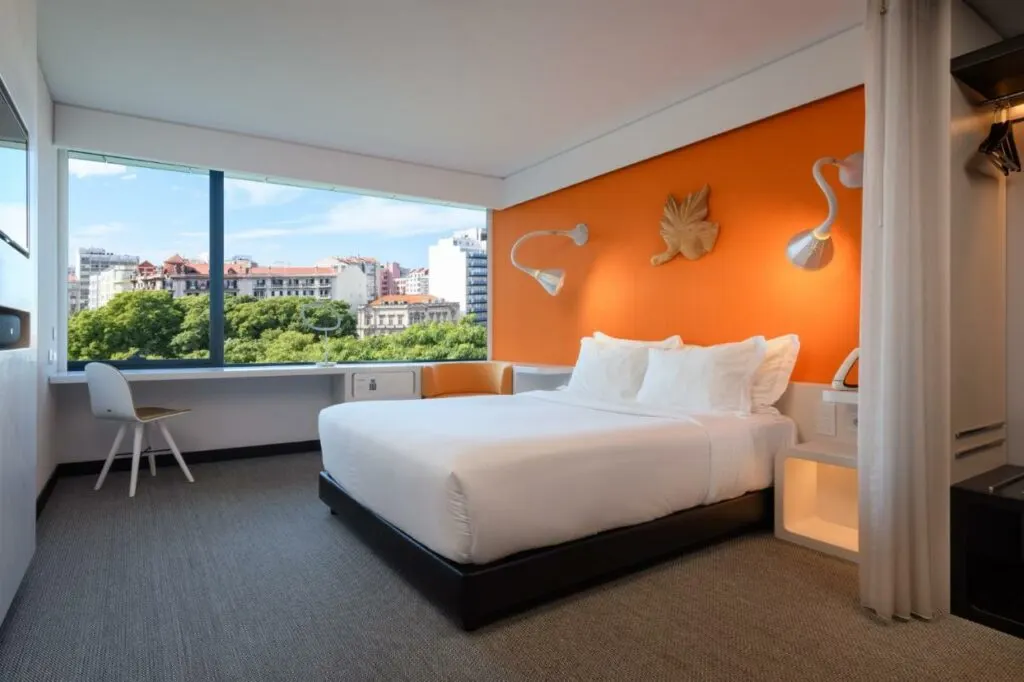 EVOLUTION is another one of the coolest hotels in Lisbon, particularly from the outside – the building is literally held in the palm of a hand. Inside, things are just as fun, with all the rooms designed to be bright, original and colourful. You've got tons of amenities here too including a gym, pool, plus indoor and outdoor terraces to relax on.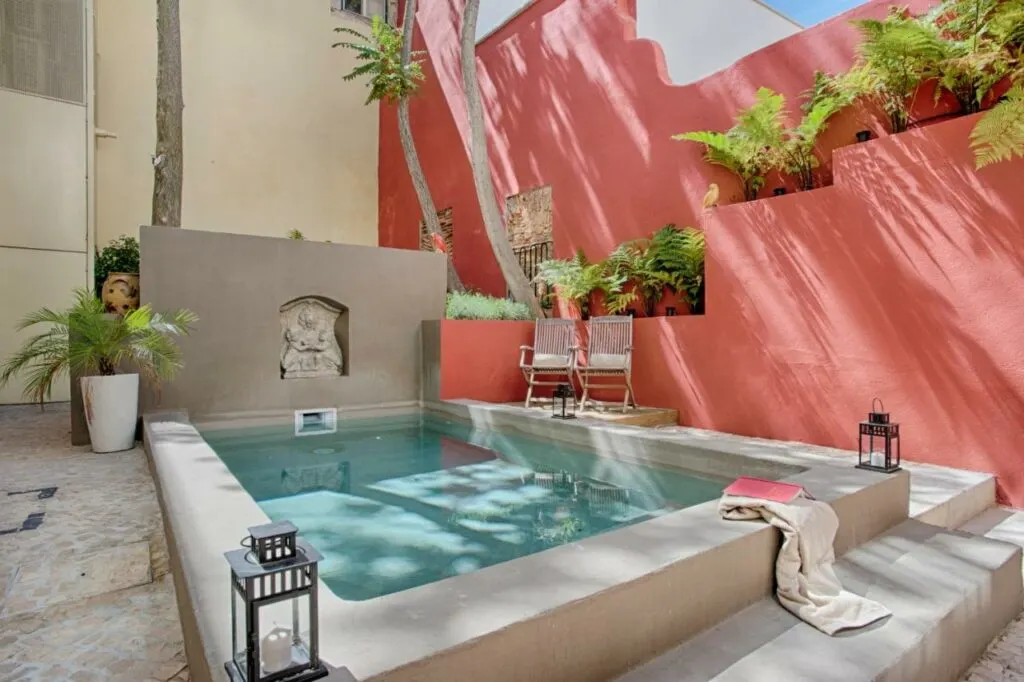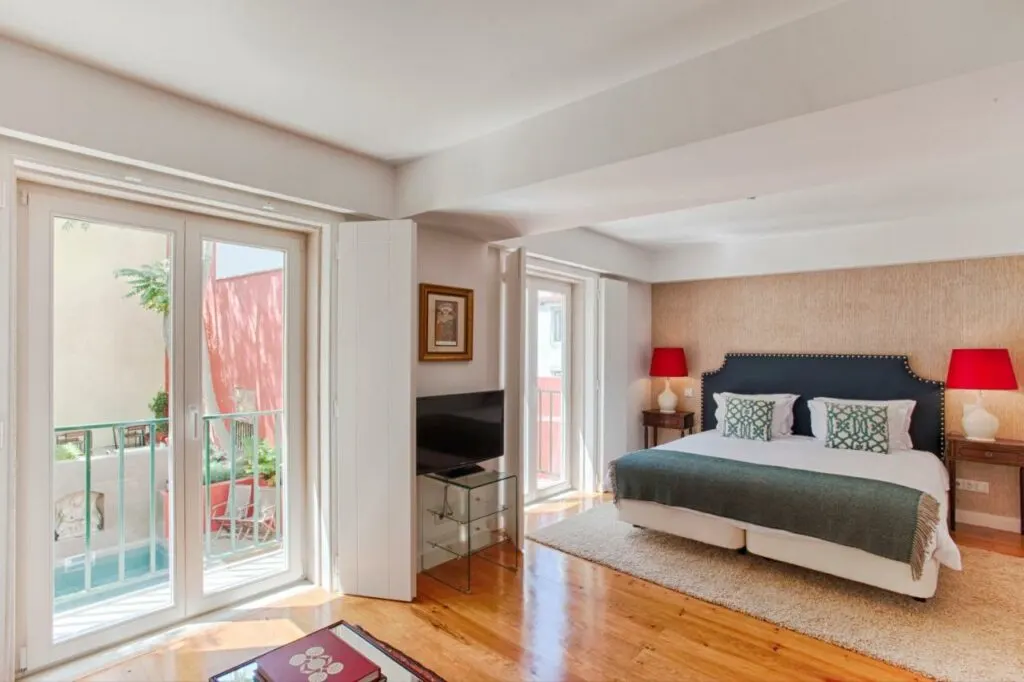 Want to stay somewhere pretty and peaceful? This is the place. Technically a B&B, you'll find Dear Lisbon Charming House near the Rossio area. It's packed with character and one of the quirkiest places I've found to stay in Lisbon so far. Bask in the sun outside in the garden, take a dip in the small pool or just enjoy the views of the city.
Budget Hotels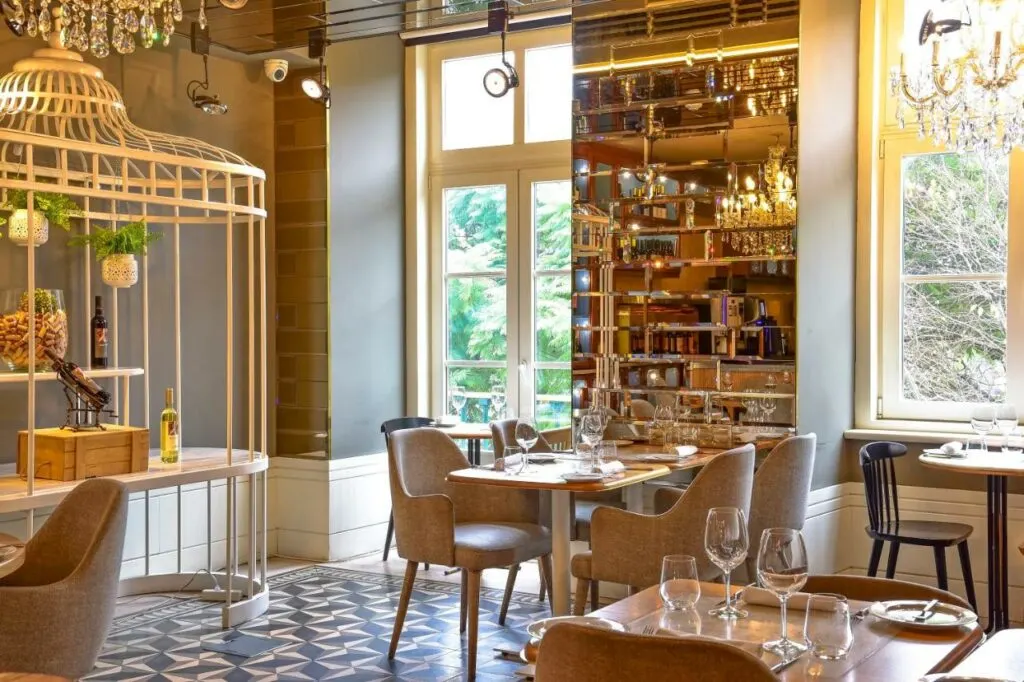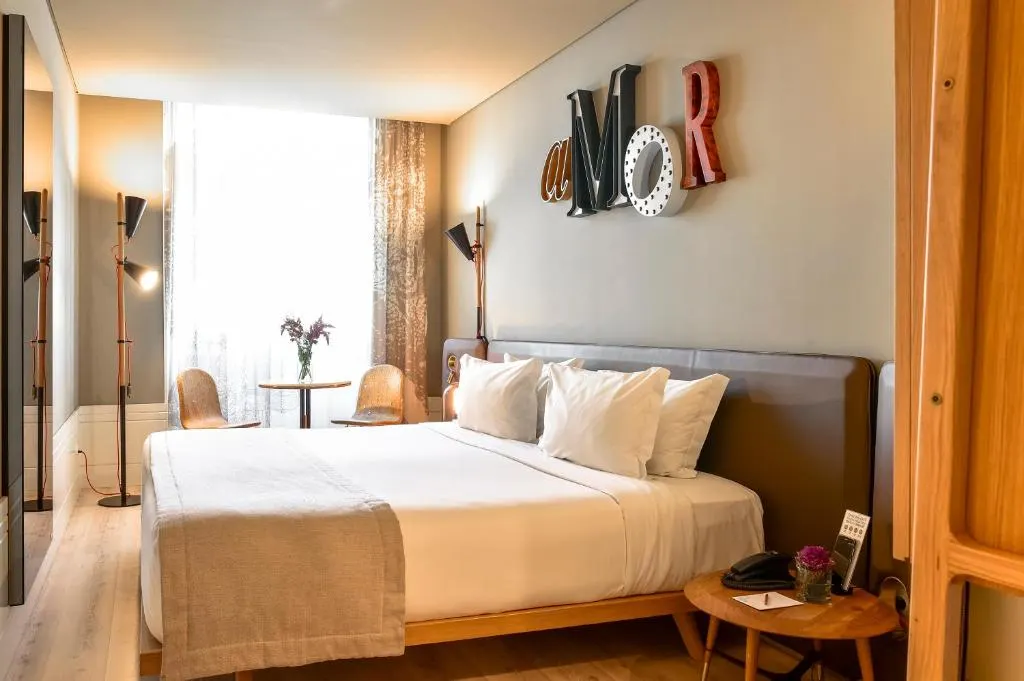 My Story is another Rossio hotel, an awesome blend of old and new. Picture a historic 18th century building, still maintaining some of its original features, brought back to life with vivid neon lights and colour. It's super cool. Hang out in the bar and enjoy the atmosphere.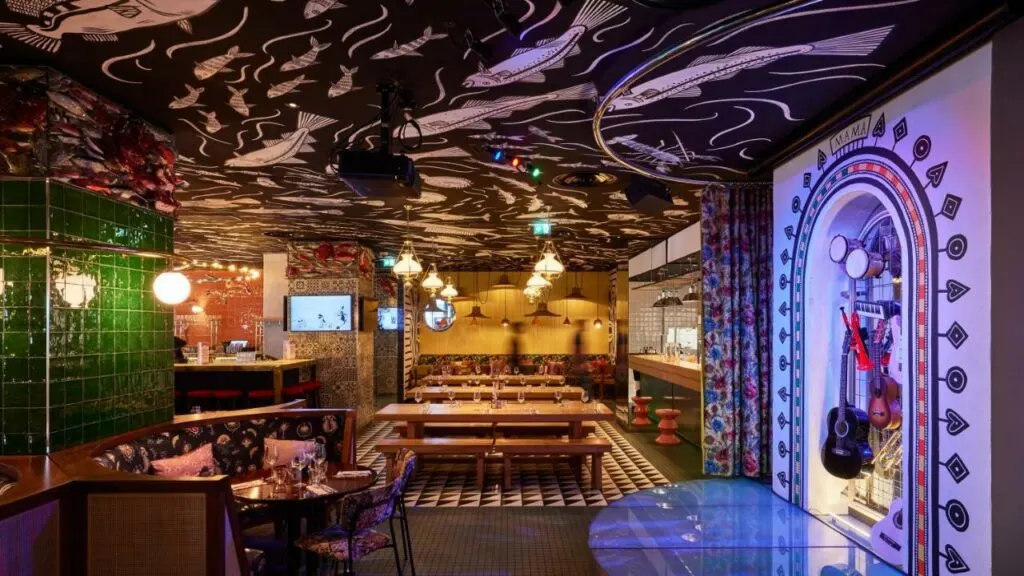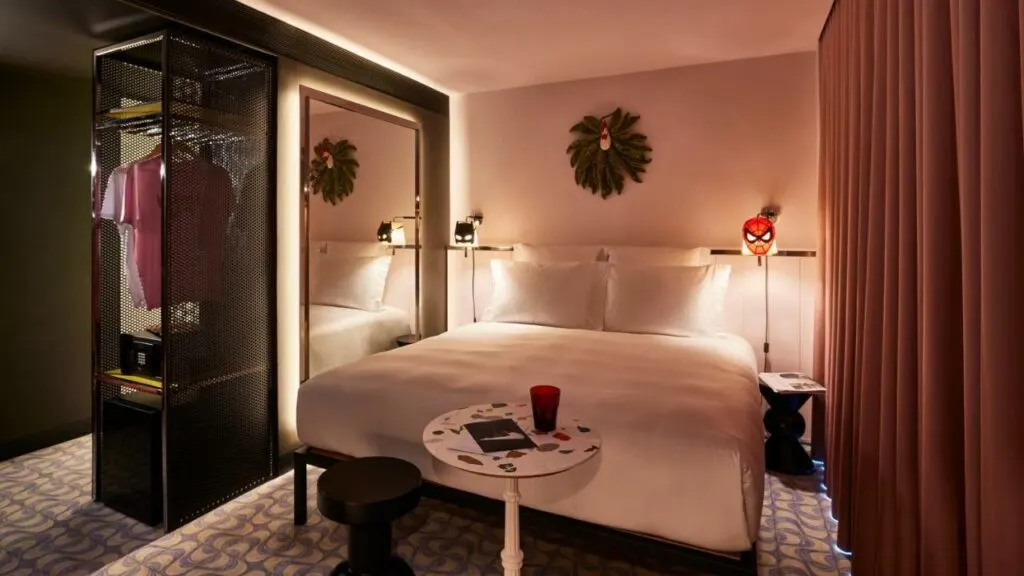 Mama Shelter Lisboa is vivid and vibrant. With bright interiors buzzing with colour and pattern, it's one of Lisbon's quirkiest hotels. Plus, you're in the perfect place to properly explore the city: a stone's throw from the Botanical Garden and the National Museum of Science & Natural History. Finish off a busy day with a drink on the rooftop bar or homemade eats in the on-site Mediterranean restaurant.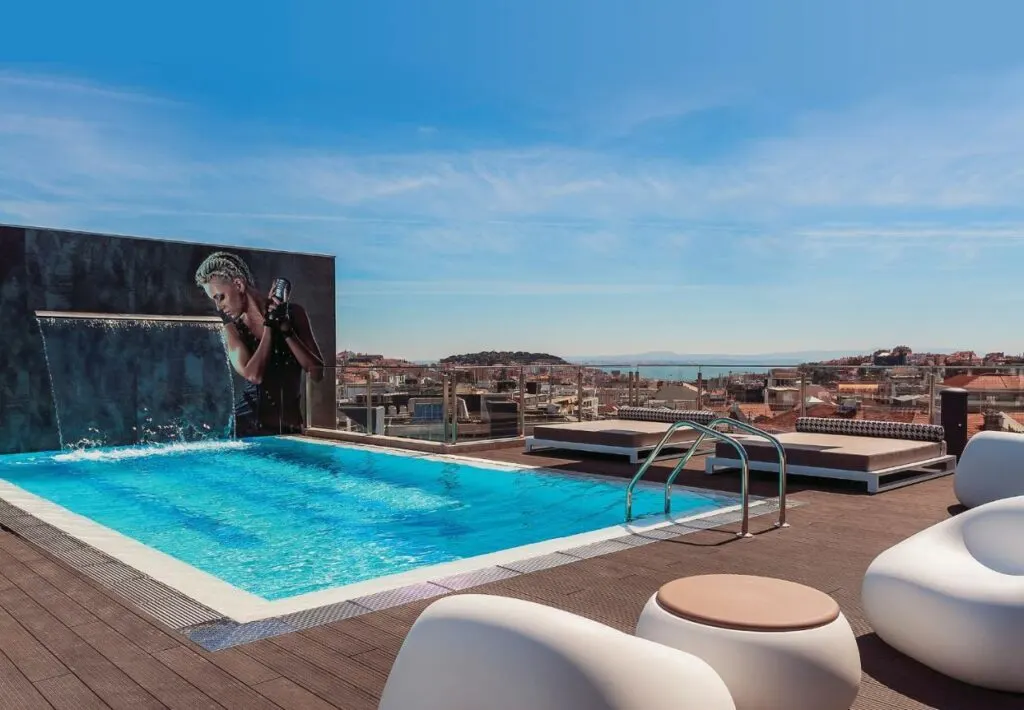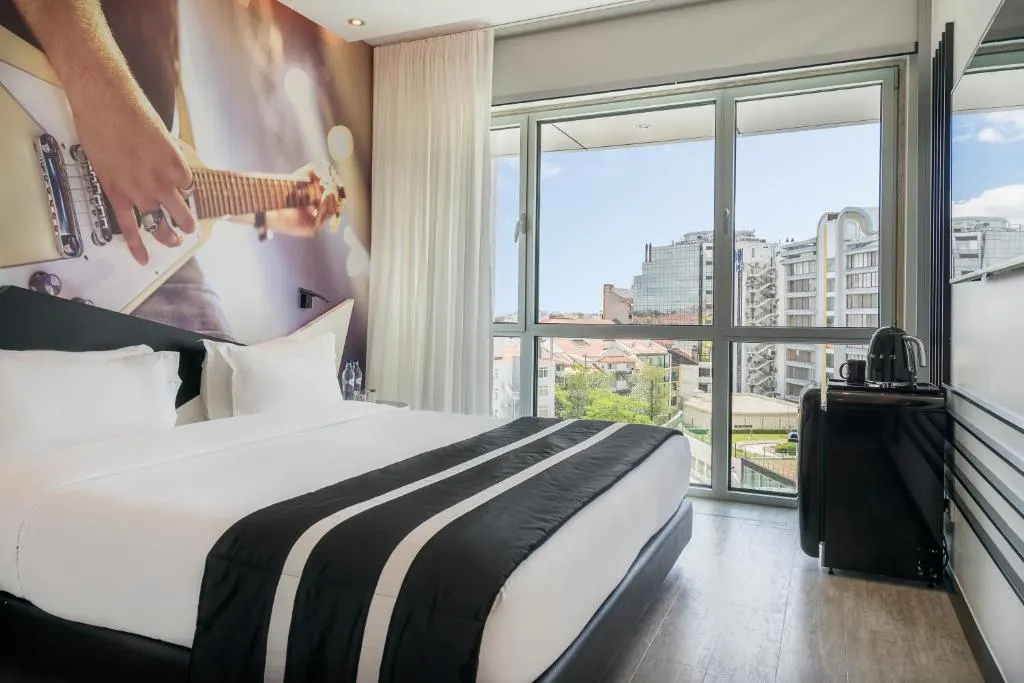 HF Fenix Music is easily one of the coolest hotels in Lisbon, mainly because of its musical theme. Music influences every part of the hotel's design: from the furnishings and decorations of each room to the architecture of the building itself. The music concept isn't just indoors either – just wait 'til you see the rooftop pool and bar!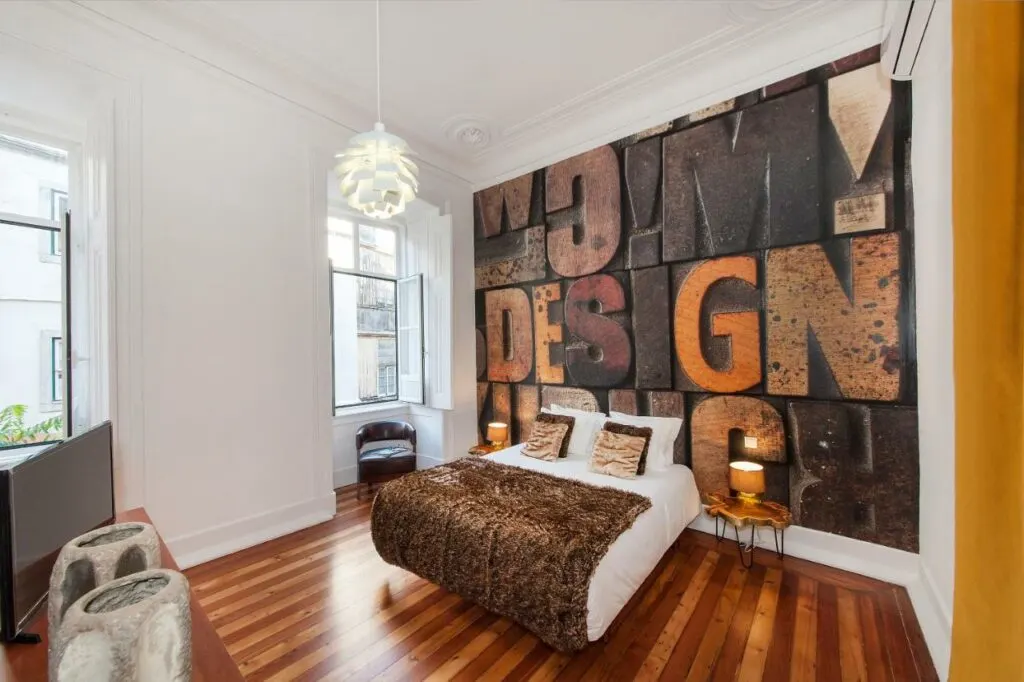 The clue is in the name when it comes to this hotel – mainly that it's an absolutely brilliant place for foodies! As soon as you arrive here you'll be greeted with a wide selection of delicious local cheeses and fine wines. I can't think of many better starts to your trip to Lisbon than that.
Wine and cheese aside, you're in for a good stay here. Comfy bedrooms, central location, plenty of hospitality. The list goes on.
---
They're my top picks for the cool Lisbon hotels. Do you know which hotel you're going to stay at? You can let me know in the comments below!
Like this blog post? Then Pin it for the future!