From the sandy beaches of Costa da Caparica to the historic monuments of Evora and Tomar, these are the best day trips from Lisbon!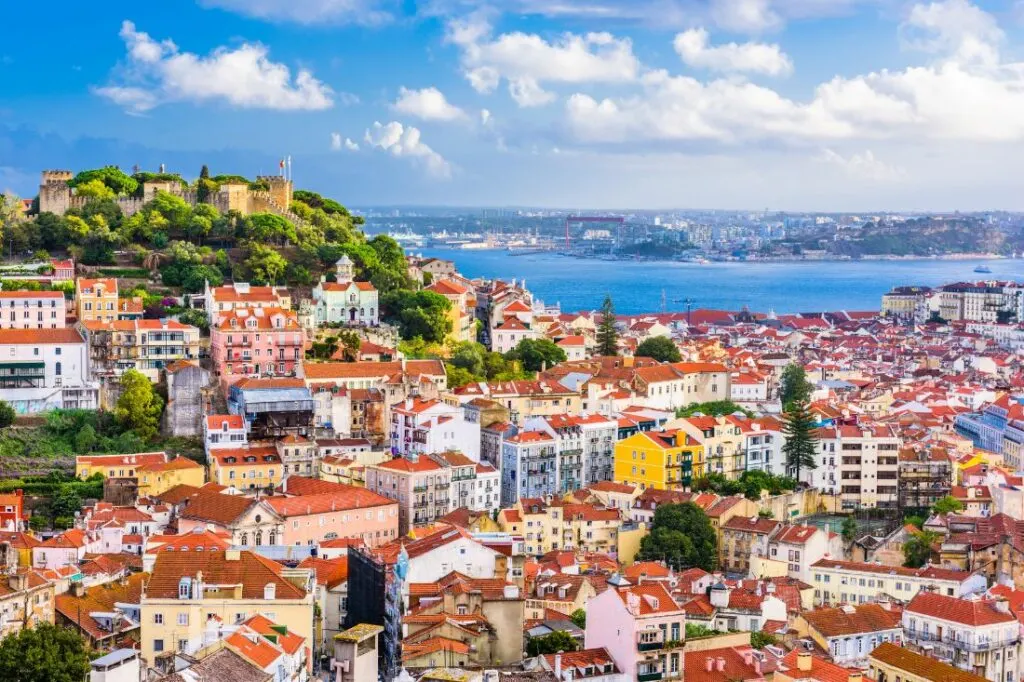 Hands up if you love Lisbon! Spread out over ancient hillsides looking out over the water, Lisbon, Portugal's vibrant capital city, has so much to offer all you travellers out there.
With historic building, such as the Belem Tower, mixed in amongst cobblestone streets, sandy beaches and colourful cafes, you'll want to save several days to explore all this city has to offer.
If you can drag yourself away from the enchanting Lisbon streets, there are so many incredible day trips from Lisbon to enjoy. Explore the incredible UNESCO world heritage sites of Batalha Monastery and Convento de Cristo to Lisbon's north. Or relax on the gloriously sandy beaches at Costa da Caparica. In fact, there are a fair few beach day trips listed here!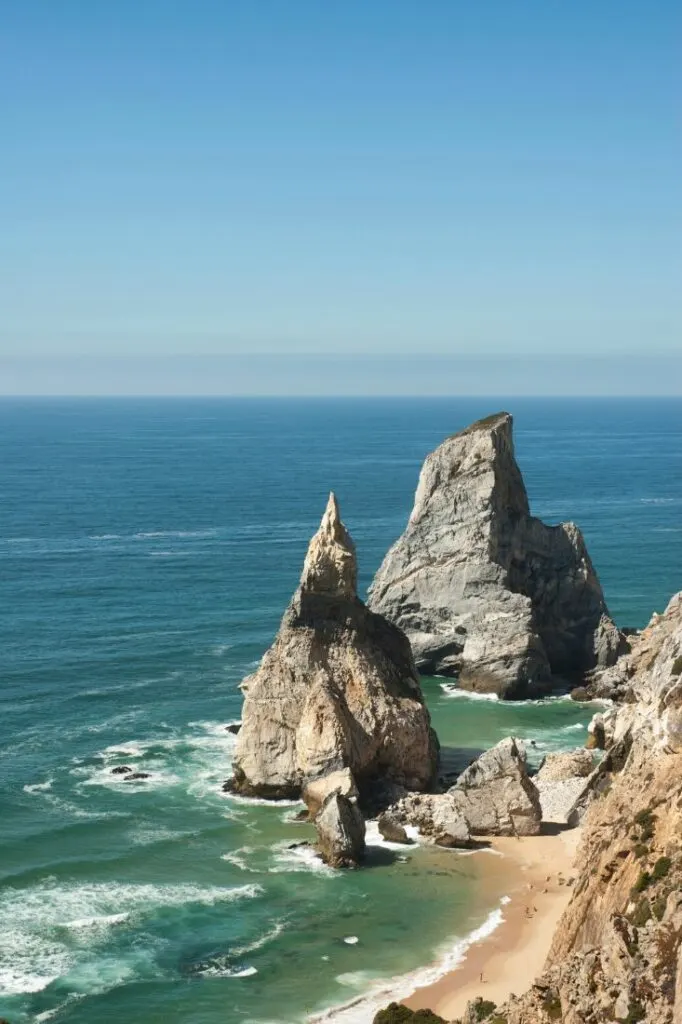 So, if you're headed to Lisbon and wondering what to do, I've created a list of my favourite Lisbon day trips for you. Some of the day trips included, such as Carbo de Roca, Arrábida Natural Park, and Cascais, can be reached in under an hour, so they're definitely doable in a day.
I've also included some trips further afield, up to a maximum of 3 hours away for those who want to pack in a full day's adventure. I've chucked in a few tours as well so you don't have to worry about the logistics of hiring a car or catching a bus/train.
I really hope you enjoy Lisbon day trips as much as I do!
---
Day trips from Lisbon
Sintra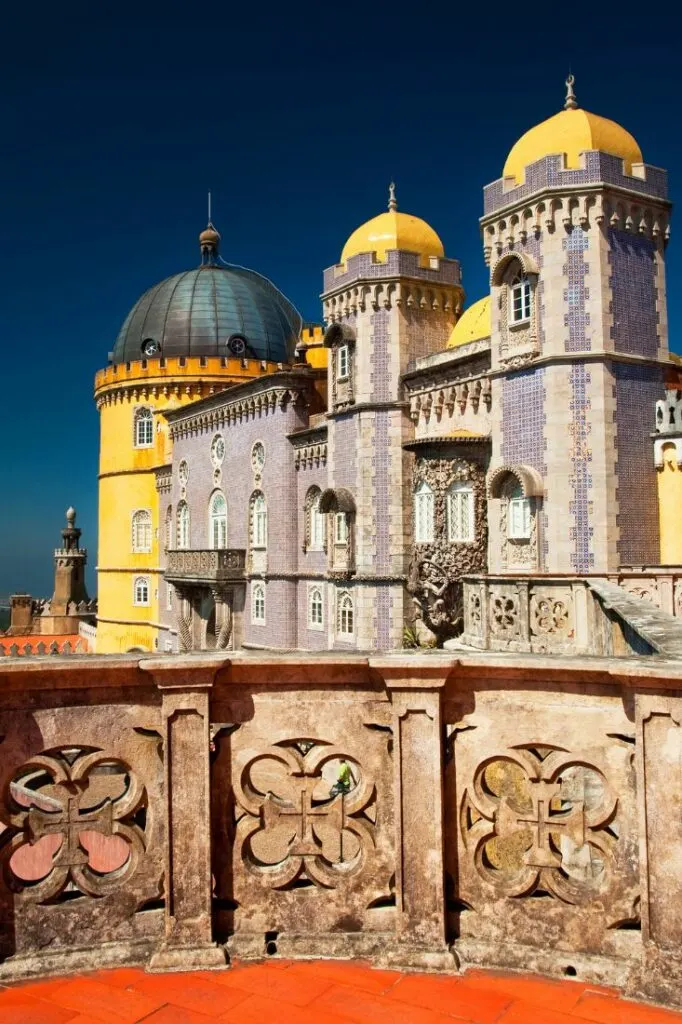 Incredible and brightly coloured medieval castles, ancient convents, and gorgeous palaces await you at the stunning municipality of Sintra. Sintra is located just on the outskirts of Lisbon, only 45 minutes drive away. You might have to take several day trips here to take it all in!
Sights of note include the incredible Pena National Palace, Moorish Castle, Monserrate Palace, and Capuchos Convent. If you can only pick one, visit the National Palace of Pena. Built in the Romantic medieval style and sitting on top of craggy mountains, this royal palace is straight out of a fairy tale.
I was really surprised when I visited Pena Palace. I thought it was just the main palace itself, but the ticket gets you into the beautiful gardens too. This place is massive, so definitely factor in a few hours exploring the whole site.
Batalha Monastery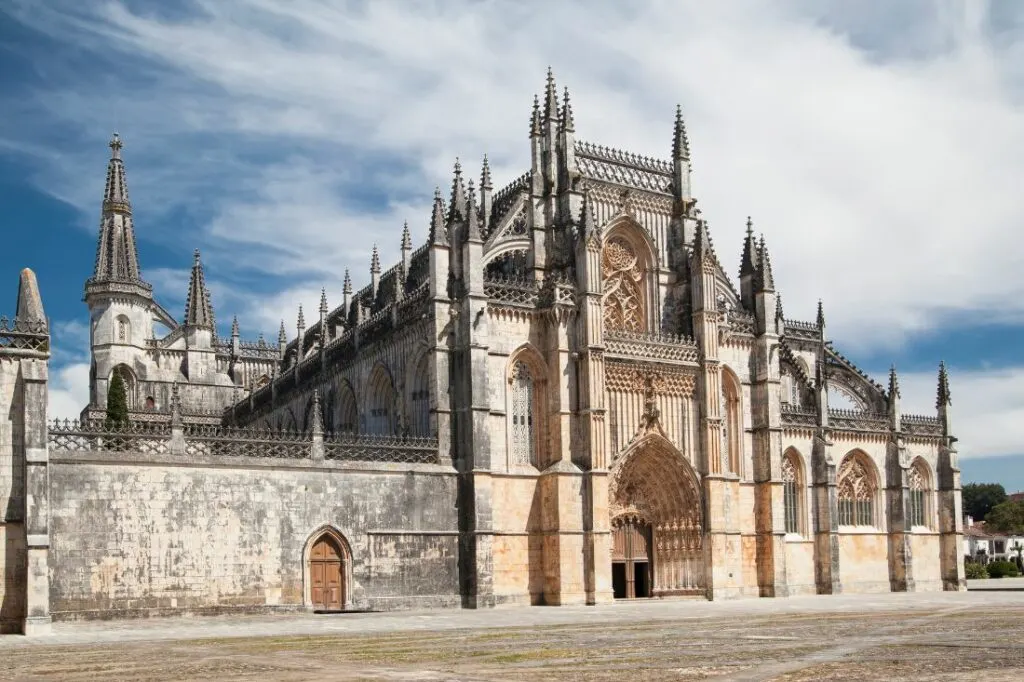 Located in the district of Leiria, approximately 1.5 hours drive north of Lisbon, sits the majestic Batalha Monastery. This incredible monastery is a UNESCO heritage site, and is one of the best examples of late Gothic architecture in Portugal.
Officially named Mosteiro de Santa Maria da Vitória, the construction of this monastery took over 100 years! Both inside and out you'll find ornate carvings, archways, and fine details.
Tickets to enter usually cost 6€, but you can enter for free on Sundays or bank holidays. Lisbon tours to the monastery, which include Fátima, Nazaré & Óbidos, are a great way to experience this impressive site.
Tomar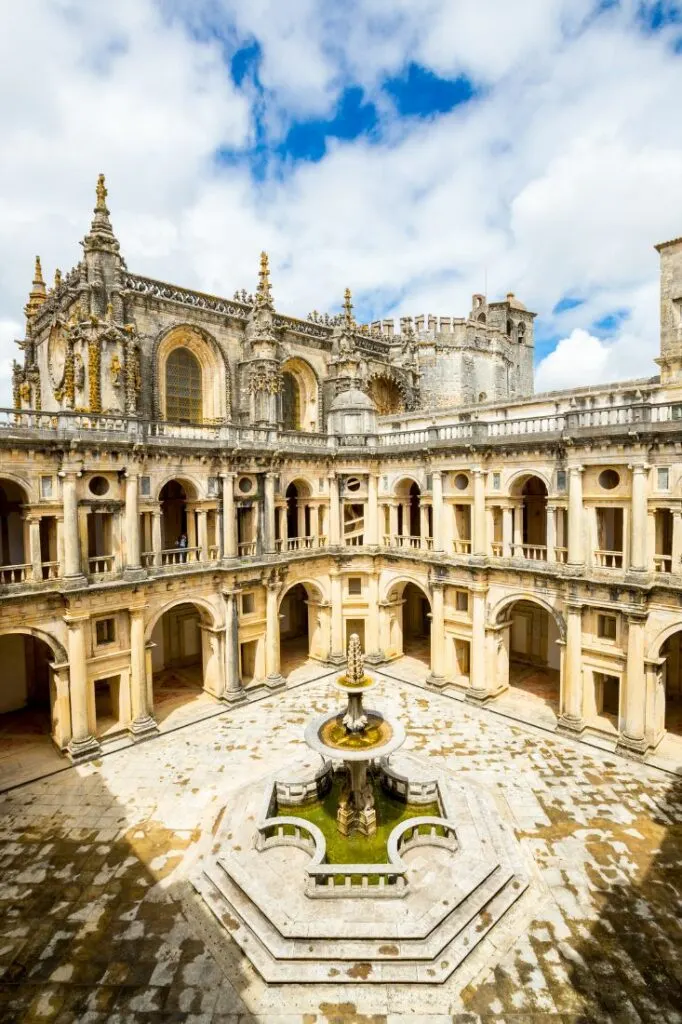 Also sitting about 1.5 hours drive north of Lisbon, but slightly to the west, is the wonderful town of Tomar. Situated on the banks of the river Nabao and filled with large white buildings and historic monuments, Tomar is a picturesque town. It was also once one of the most influential towns in the area.
The crown jewel of this town is the combined Convento de Cristo and Templar Castle, which together are a UNESCO World Heritage Site. This ancient stronghold of the Knights Templar is a massive complex, spanning a whopping 54,000m2. You simply must visit here if you take a day trip to Tomar.
Arrábida Natural Park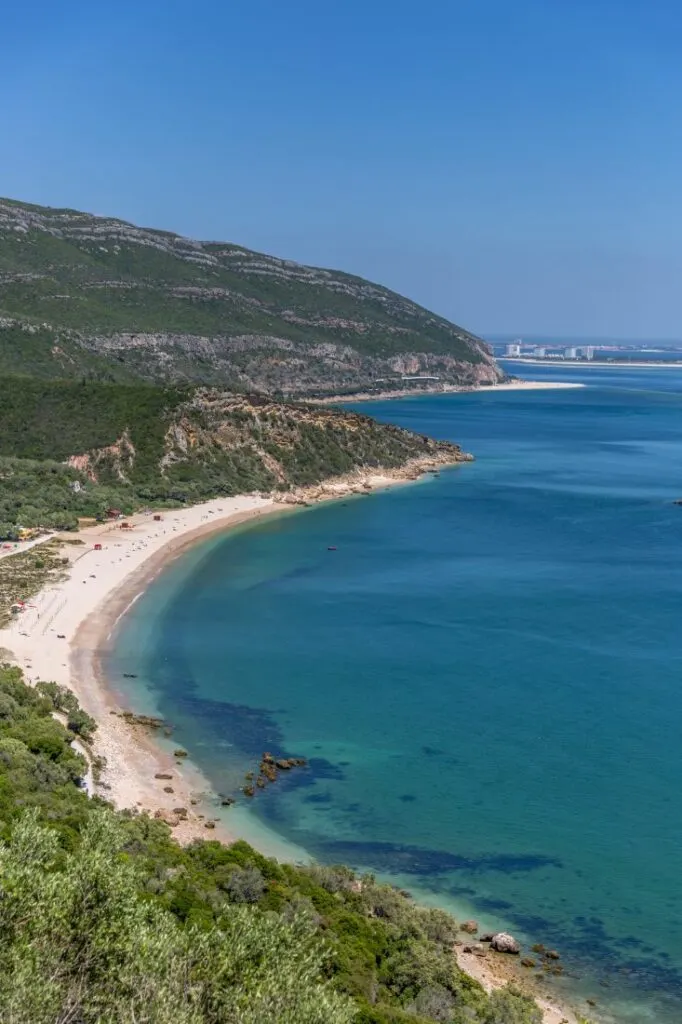 If you're craving time in nature, spend a day at Arrábida Natural Park. Made up of jagged chalky coastlines, caves, sandy beaches, and even a 500 year old convent; there is plenty to explore.
For a challenging hike with spectacular views, take the circular, 8.4km trail Circuito de Vigilância de São Luís. Or, for a gentler experience, hike to Cova de Sesimbra and have a swim.
Sitting by the sea, just to the west of Setúbal, Arrábida Natural Park can be reached in under an hour by car. This is one of the most popular Lisbon day trips for locals escaping the city.
Berlenga Grande Island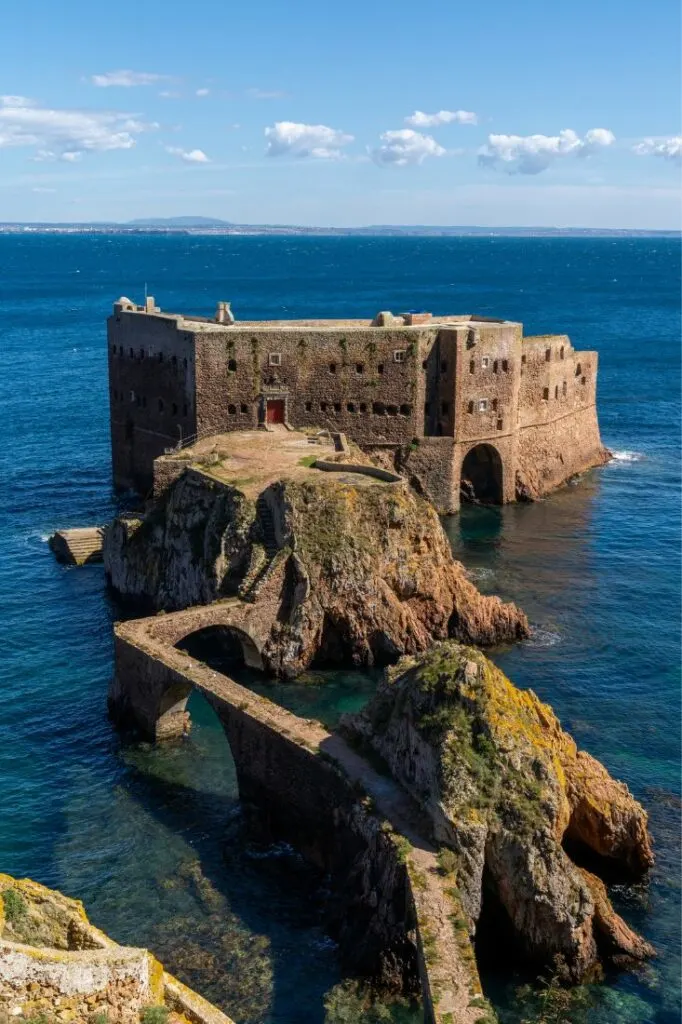 Enjoy the fresh ocean breeze in your hair and take a boat out to Berlenga Grande Island. While small in size, this incredible island is packed with wildlife, stunning scenery, and history.

One of my favourite spots here is the Fort of São João Baptista. Dramatically jutting out into the ocean, this historic military structure is a sight to behold. There is also some fantastic scuba diving here, due to the many shipwrecks.
To reach Berlenga Grande Island, first drive to Peniche, then take the ferry across. The whole trip can take 2.5-3 hours each way. There are also regular Lisbon tours available so make sure you check them out too.
Cascais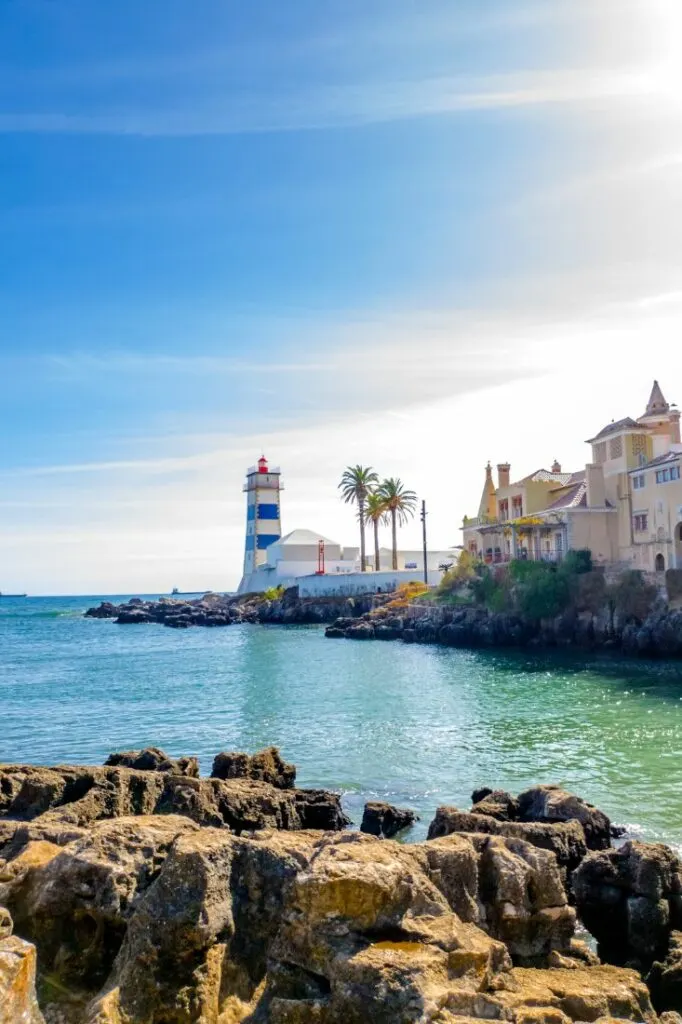 Just a 30 minute drive to the west of Lisbon is the gorgeous coast town of Cascais. Once you arrive, you may find it hard to leave this postcard worthy town.
Start your visit at a cafe in the stylish centre, sip a coffee and enjoy a lazy hour of people watching. Then ride or hike your way along the 8.8km picturesque clifftop cycle path from the marina to Guincho beach.
Along the way you'll be treated to views of the citadel, Farol do Cabo Raso, and endless blue ocean. Finally, make your way down to the wonderfully sandy beaches for a well earned relax.
Evora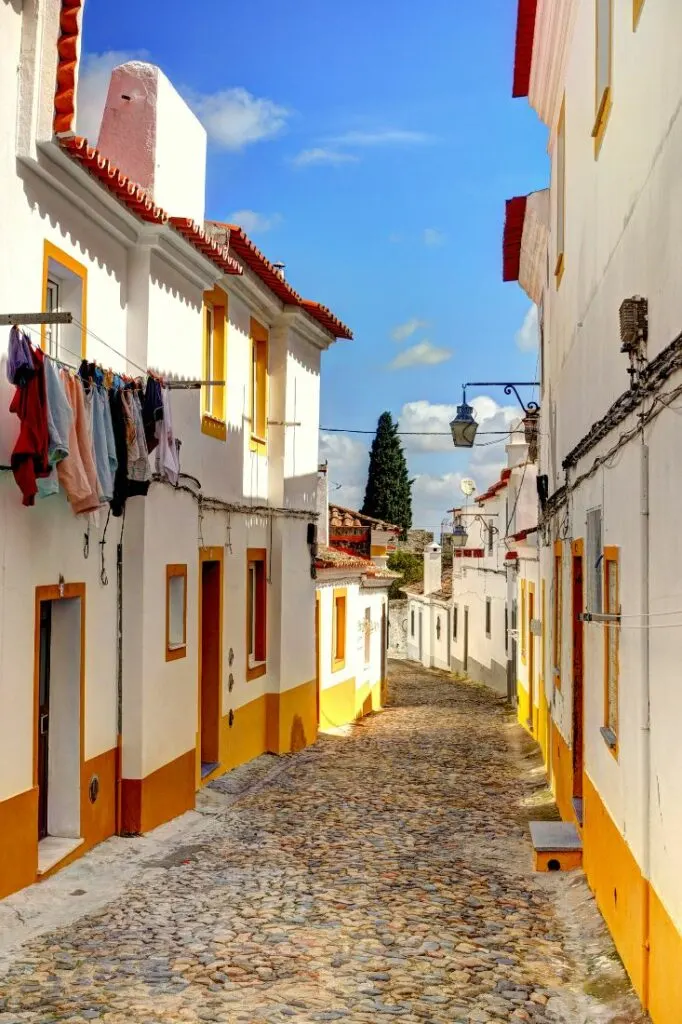 Evora is an ancient city, rich with history. You can reach Evora in a 1.5 hour drive, or in two hours by train.
Featuring a medieval wall, Gothic cathedral, Roman columns, and Renaissance palaces, it is no wonder this is a UNESCO World Heritage site! This is one of the best day trips for history lovers, as you'll get a glimpse into what ancient Portugal would have looked like.
The most intriguing yet terrifying attraction in Evora is the aptly named Bone Chapel. Built into the walls are the skulls and bones of thousands of bodies that were once buried in the surrounding area.
Óbidos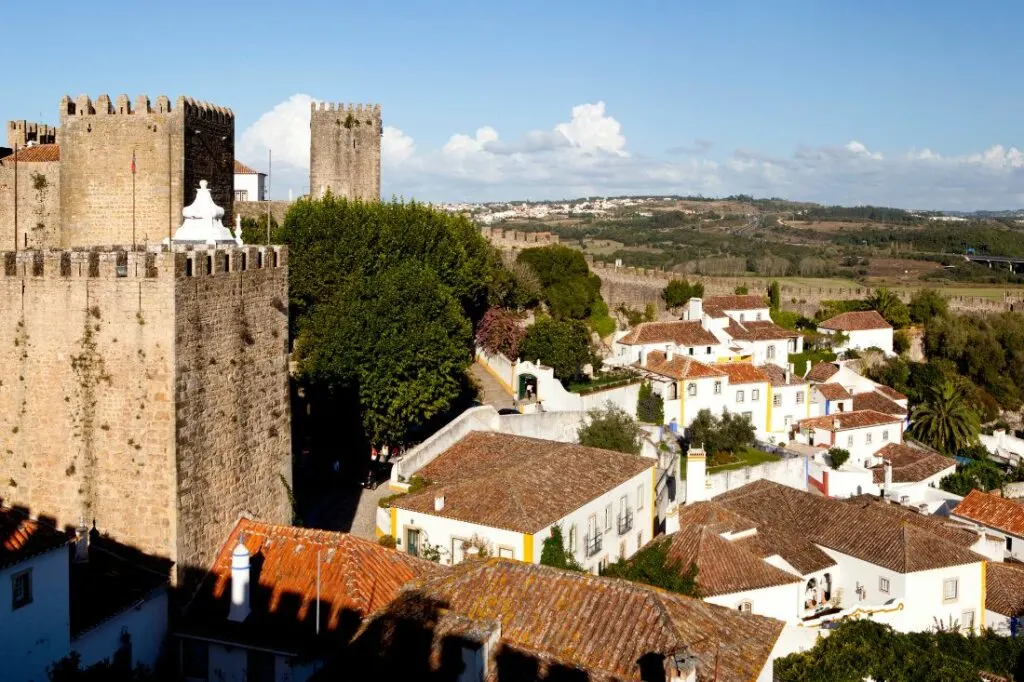 Another fantastic example of a persevered Portuguese medieval town is Óbidos. With its whitewashed buildings, Gothic touches and ancient castle, you'll be snapping pictures on every corner.
While you're here taste the Ginja de Óbidos on Rua Direita. This cherry liqueur has been a local delicacy since its conception as an aperitif by 17th century monks. Even better, this delicious drink often comes served in a chocolate cup, which you can also consume. Delicious!
This enchanting town sits just around 85 km north of Lisbon. Depending on traffic it can take between one and two hours to drive.
Porto Covo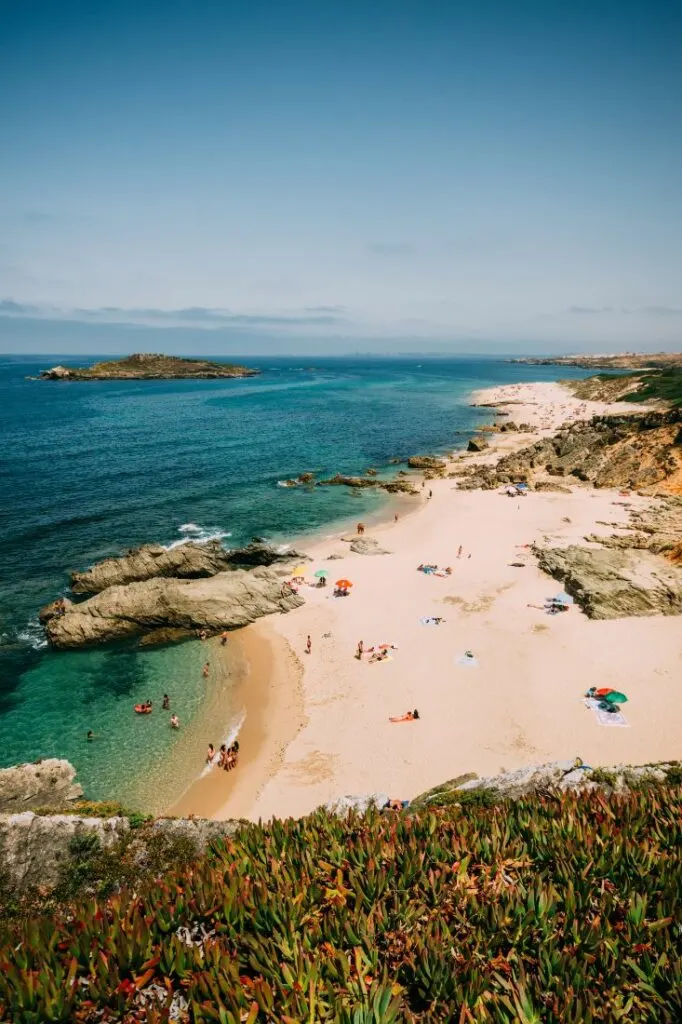 Porto Covo is a delightfully quaint fishing village two hours south of Lisbon. Featuring whitewashed houses, cobblestone streets, and mouthwatering seafood restaurants, all perched on a clifftop, this is one of my favourite day trips from Lisbon.
Gorgeous buildings and delicious seafood aside, one of the main draw-cards here is the beaches, which tend to be quieter than those closer to Lisbon. There are several sandy beaches here to choose from.
Head to Praia Grande for a large beach complete with facilities and lifeguards. Or if tanning sans bathing suit is more your scene, you can visit the nudist beach at Praia Do Salto.
Costa da Caparica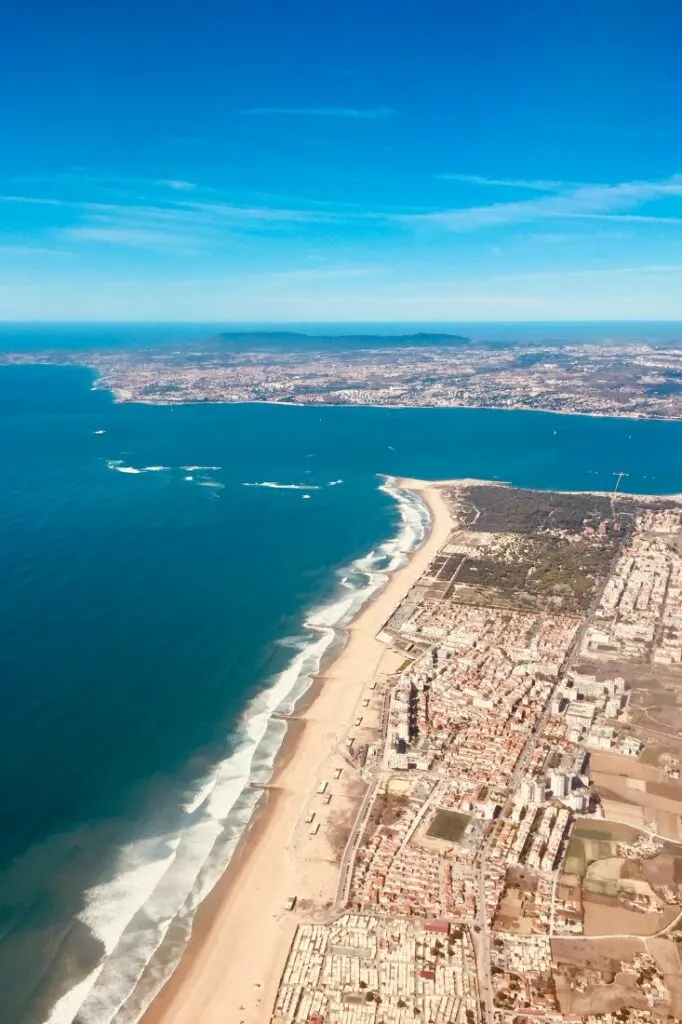 If you're craving a beach day closer to Lisbon, then make your way to the sandy shores along Costa da Caparica. The beaches along this coast are known to be sandy and to have gentle waves, perfect for going swimming. It's also one of the best surf beaches in Portugal. If you're interested in giving surfing a go, check out this amazing surf school.
The beaches stretch out for more than 15km. As a general rule, the further south you go, the more likely you'll find a quiet spot. Some spots closer to the south also cater specifically to nudist or gay beach goers.
You can reach Costa da Caparica in just 30 minutes by car, from there keep driving until you find a beach that suits.
Almada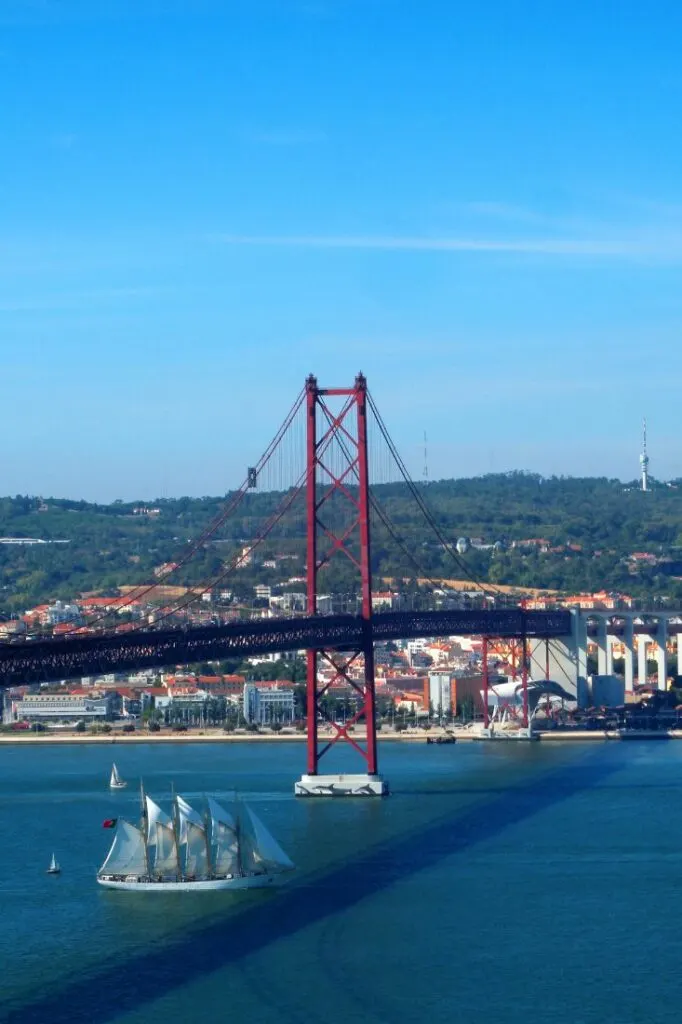 One of the easiest day trips from Lisbon is to cross the Tagus River to visit Almada. Sitting to the south, looking over at Lisbon, Almada can be easily reached in an hour by public transport. For the best experience, I recommend taking the boat across from Cais do Sodré.
One of the highlights visiting Almada is to take in the views at Cristo Rei. Modelled after Rio's Christ the Redeemer statue, Cristo Rei stands upon a clifftop near the 25 de Abril Bridge. From here you're treated to incredible panoramic views of Lisbon from across the water.
Carbo da Roca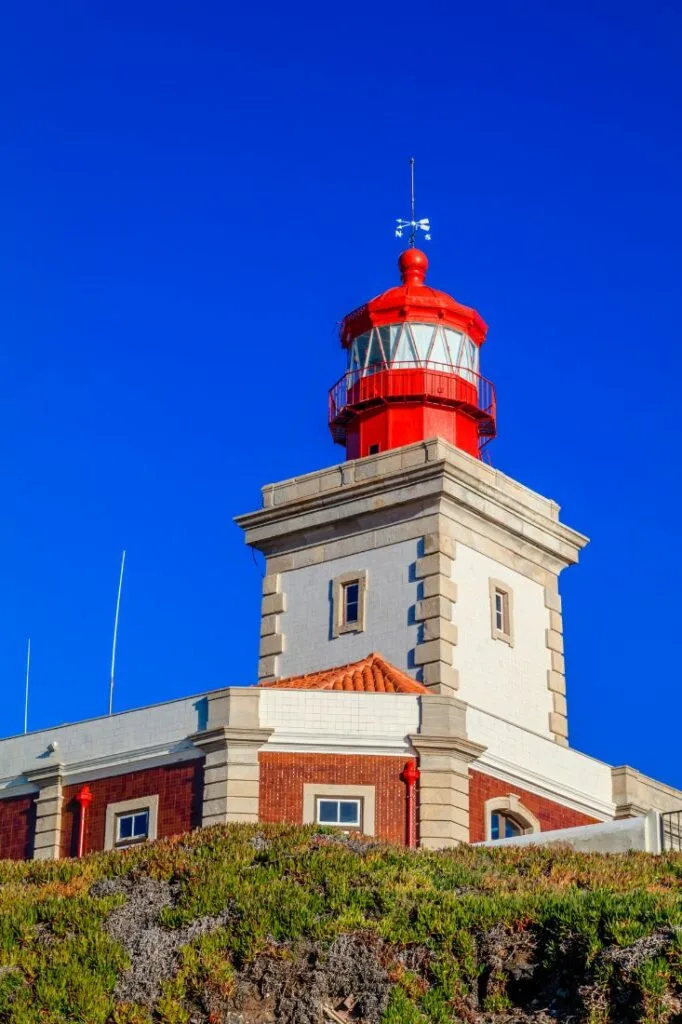 Rugged paths featuring dramatic coastlines with spectacular views are just around the corner in Carbo da Roca. This is one of the best day trips from Lisbon if you're looking to escape the hustle and bustle.
Here, not only will you be able to see Portugal's oldest lighthouse, you'll also get to have a selfie at the most westerly point of Europe. In ancient times, this was believed to be the edge of the world!
Carbo da roca is situated 40 minutes drive west of Lisbon. If you're short on time, Lisbon day trips to Carbo da roca can be tied in with a trip to Sintra.
Porto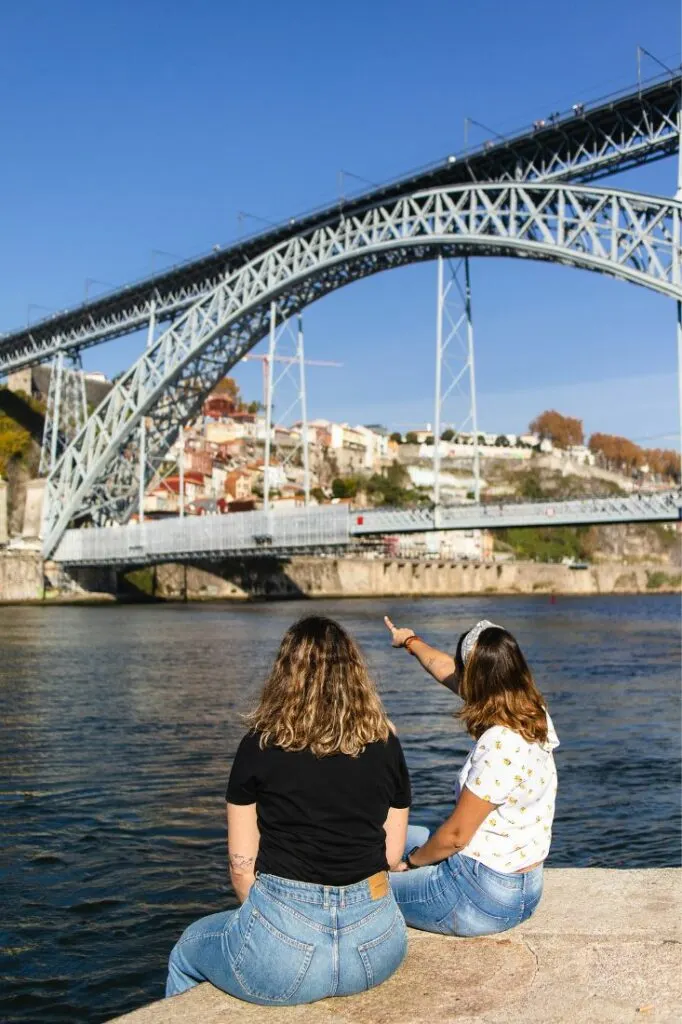 I would say Porto really deserves at least a few days in your itinerary, however it can be done in a (long) day trip. This fascinating city is a showcase of incredible Portuguese architecture, cuisine and culture, all tied up in a vibrant bow. Check out my guides on where to eat and where to find the best architecture in Porto.
The travel time from Lisbon is a three hour drive, so it will definitely be a long day. If you don't have your own transport, I recommend taking this trip, which also stops off at Óbidos and Nazaré along the way.
---
So, now you know my favourite day trips and tours from Lisbon. After writing this, I'm ready to pack my bags and head back. Are you as well? Let me know in the comments below.
Like this blog post? Then Pin it for the future!