Looking for the coolest hotels in Porto? From colourful apartments to rooms with killer views, this is where to stay in Porto, Portugal!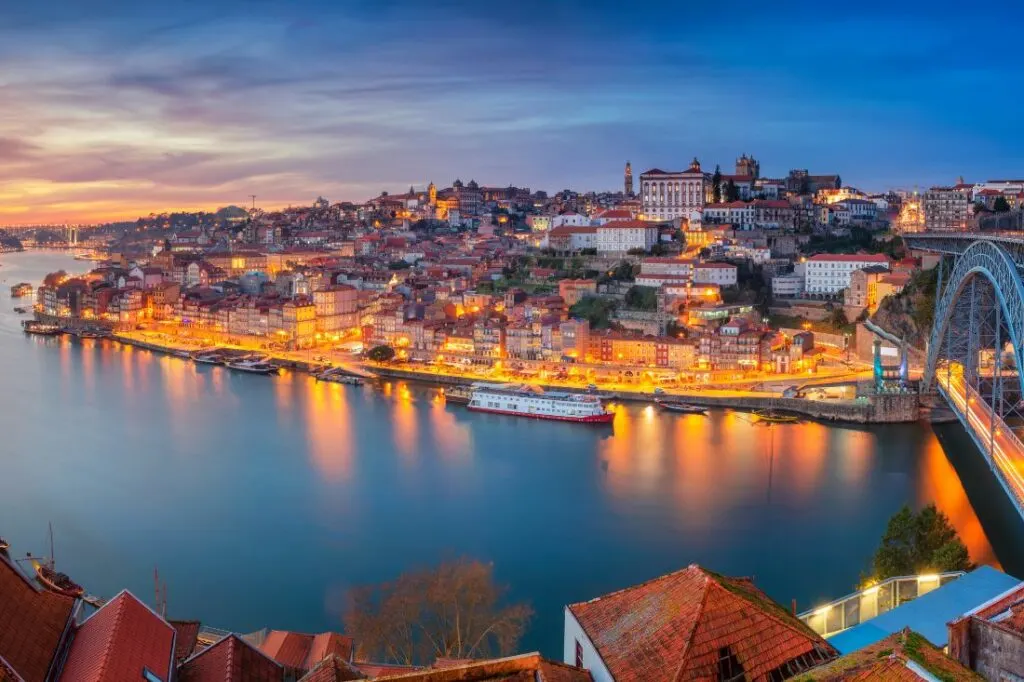 Porto is a beautiful and historic city with so much to see and do.
If you're like me and you love sipping on gorgeous wine while being surrounded by wonderful architecture, then Porto is going to be just the ticket.
Choose from one of the many quayside restaurants along the Douro River, explore the museums and galleries, or shop until you drop in Portugal's second city.
If you're looking for somewhere to stay, then this is the blog post for you. And as you're about to find out, some of the coolest hotels in Porto can be found in the quirkiest of places.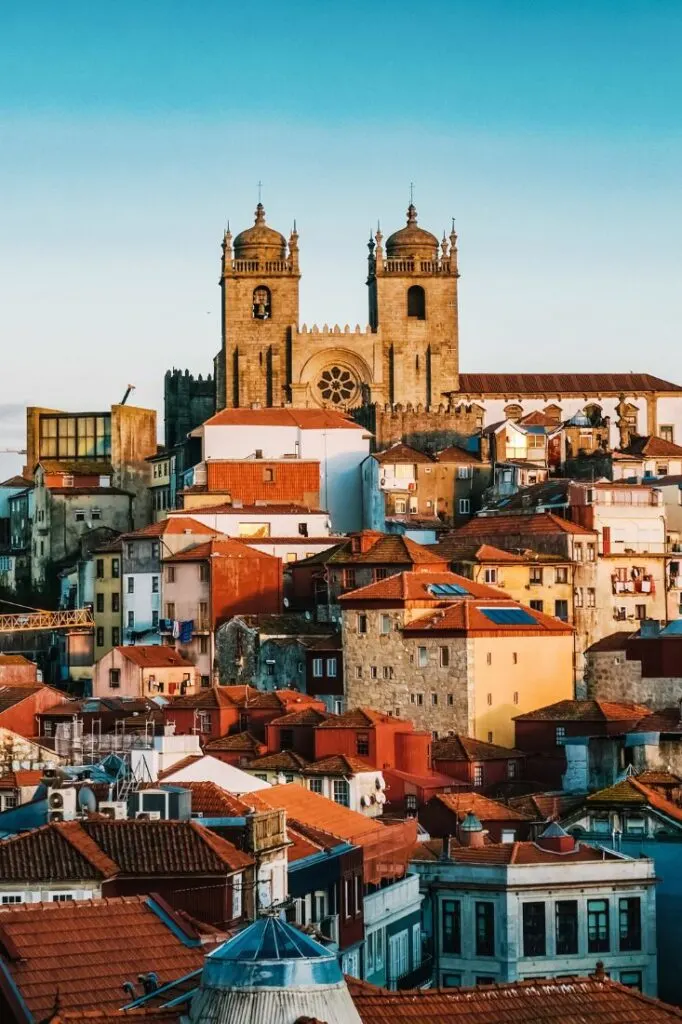 Opt for the extraordinary natural luxury hotel of Torel Palace Porto or the colourful boutique hotel that is Casual Raízes Porto. There is an option for every price point, location, and taste in Porto, Portugal.
Whether you're searching for a break to relax and reset, a digital nomad-style trip, or a culturally-enriching holiday, Porto can deliver! So, now that you're sold on the city, where should you stay?
Where are the best neighbourhoods and which Porto hotels are the coolest and the most unique? Let's dive in and find out!
Where to stay in Porto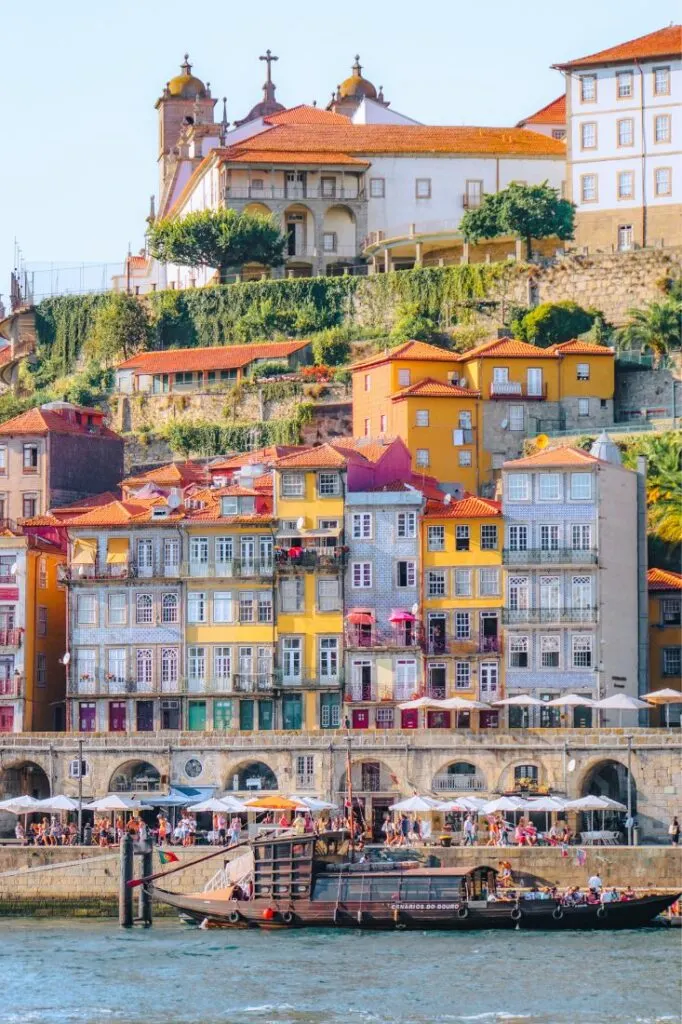 Centro-Baixa: Known as the best neighbourhood for first-timers, Centro-Baixa is close to all the main sights, the major hotel brands, and a ton of great places to eat in Porto.
Ribeira: If you're in Porto for a good time, Ribeira is the hub of nightlife in the city. Head to the quayside for plenty of alfresco eating and partying!
Miragaia: The old-worldly area of Miragaia is covered in cobbled streets, with churches and gorgeous architecture along the banks of the Douro River. It's the ideal spot for a relaxing city break in Porto.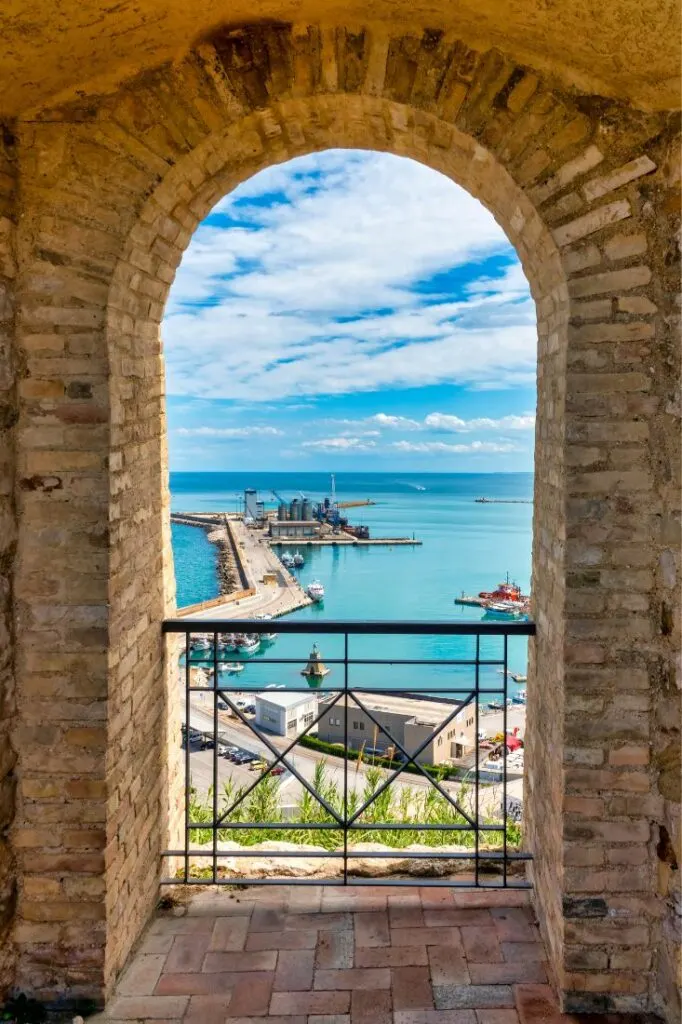 Vila Nova de Gaia: No trip to Porto is complete without a glass or three of wine. Vila Nova da Gaia is a laidback neighbourhood that's filled with Port wineries and eateries. This is one for the foodies!
Avenida da Boavista: If you love hitting the shops and getting some retail therapy, Avenida da Boavista is the place for you. It's the beautiful and fancy part of Porto, so perfect if you love the finer things in life.
---
Coolest hotels in Porto
Luxury Hotels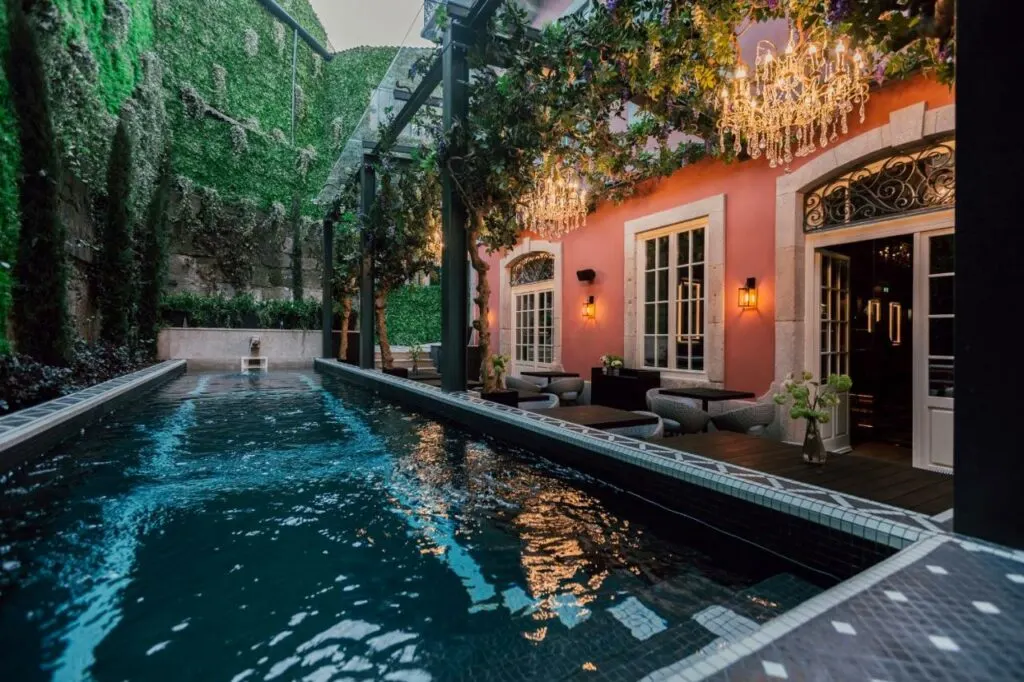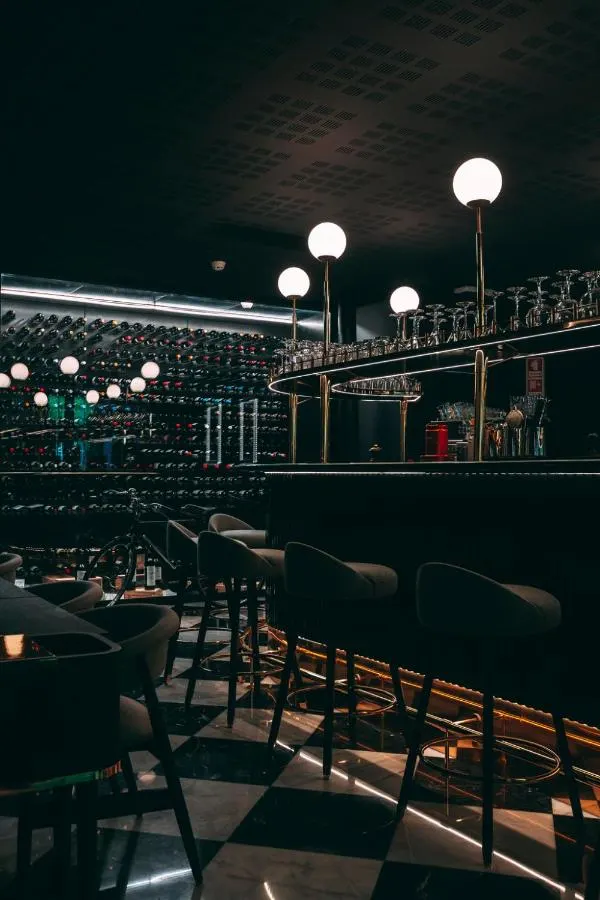 Opulence is the name of the game with this luxurious five-star Porto hotel. Torel Palace Porto is an exquisitely designed boutique hotel with a jaw-dropping pool, surrounded by greenery and classical old Porto architecture.
When you're finished chilling in the pool or lounging around outside, head to the plush library area. recline in one of the gorgeous armchairs with a cocktail or local wine and welcome in the Portuguese evening.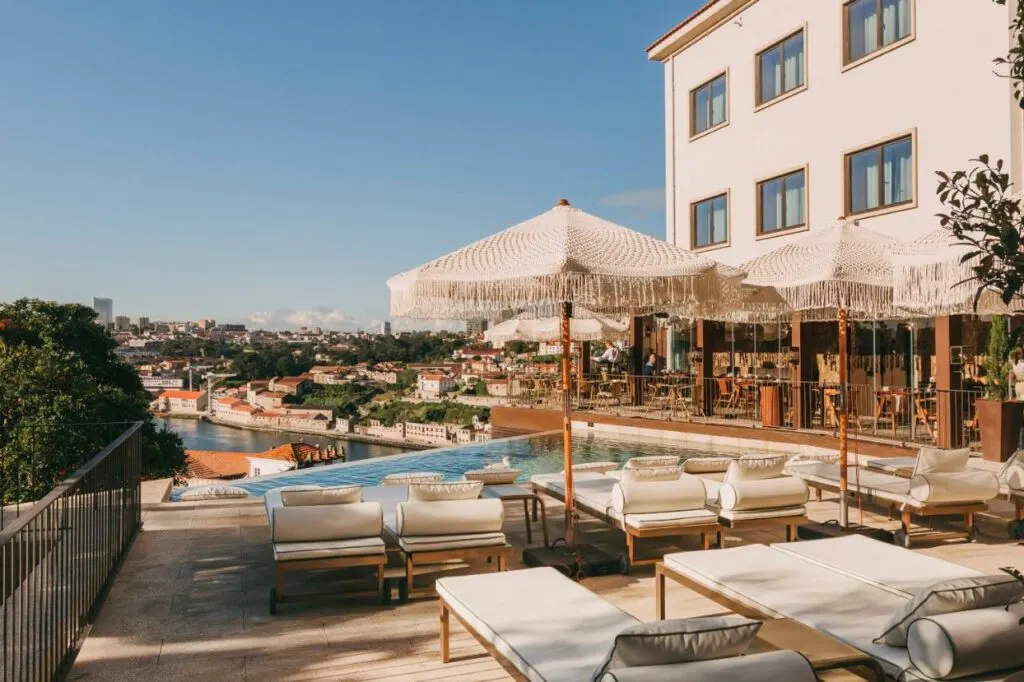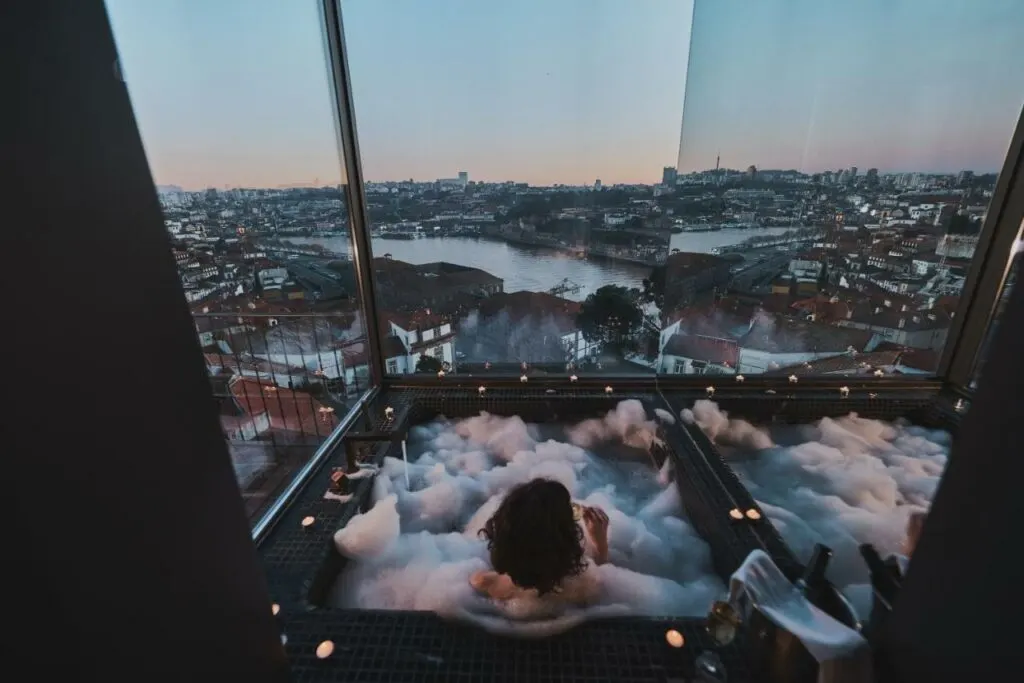 It's location, location, location with the Torel Avantgarde! Being just 10 minutes from the iconic riverside in the centre of Porto, you'll find all the sights on your doorstep.
The coolest part of this hotel however has to be the sun deck. With two pools, tons of loungers and parasols, and expansive views across the city, it's a spot you'll never want to leave! And yes, a couple of the rooms have their own private hot tub overlooking the city below – how cool is that!?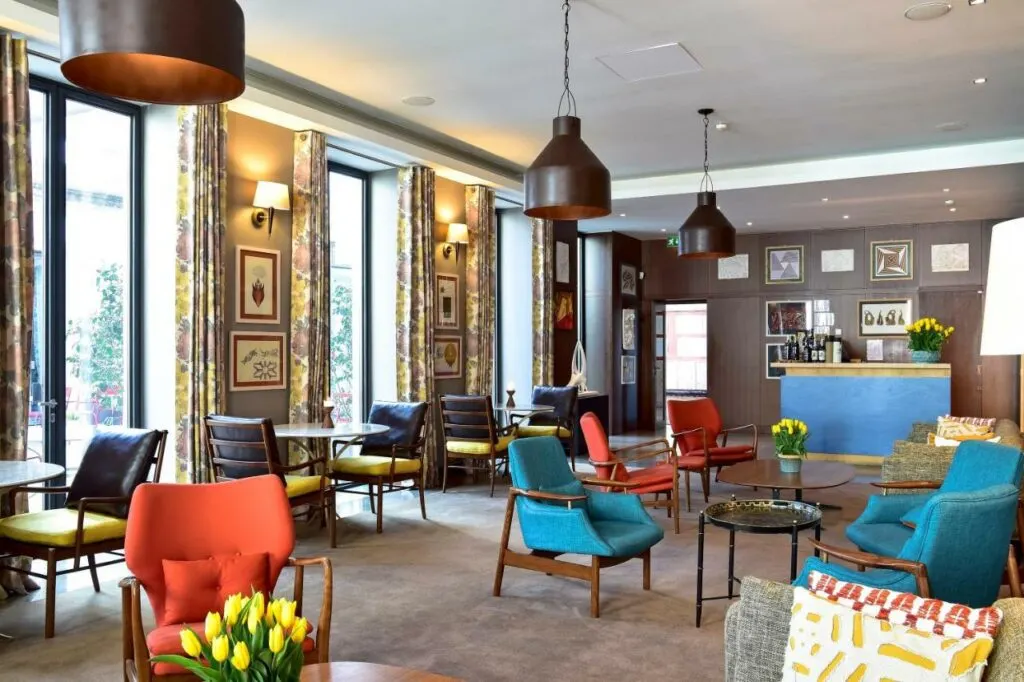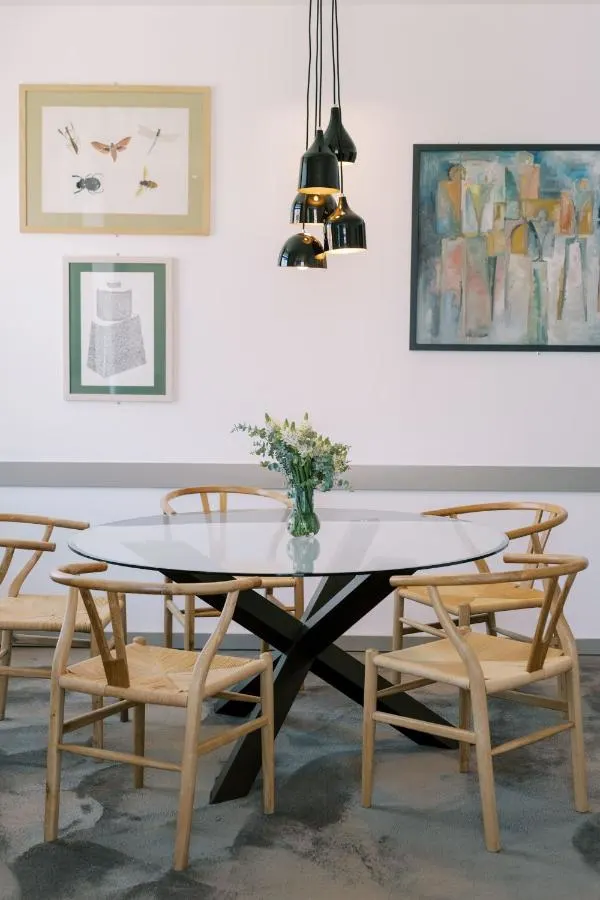 Airy, sleek, colourful, and cool. No list of the coolest hotels in Porto would be complete without The Editory Artist Baixa Porto. This is a really brightly coloured hotel with lots of amazing art adorned on the walls.
Located within walking distance of the iconic Lello Bookstore (which is one of the inspirations for J.K Rowling's Howgarts when she wrote Harry Potter), you can buy a new novel and come back to the luxurious lounge area and lose yourself in a good book.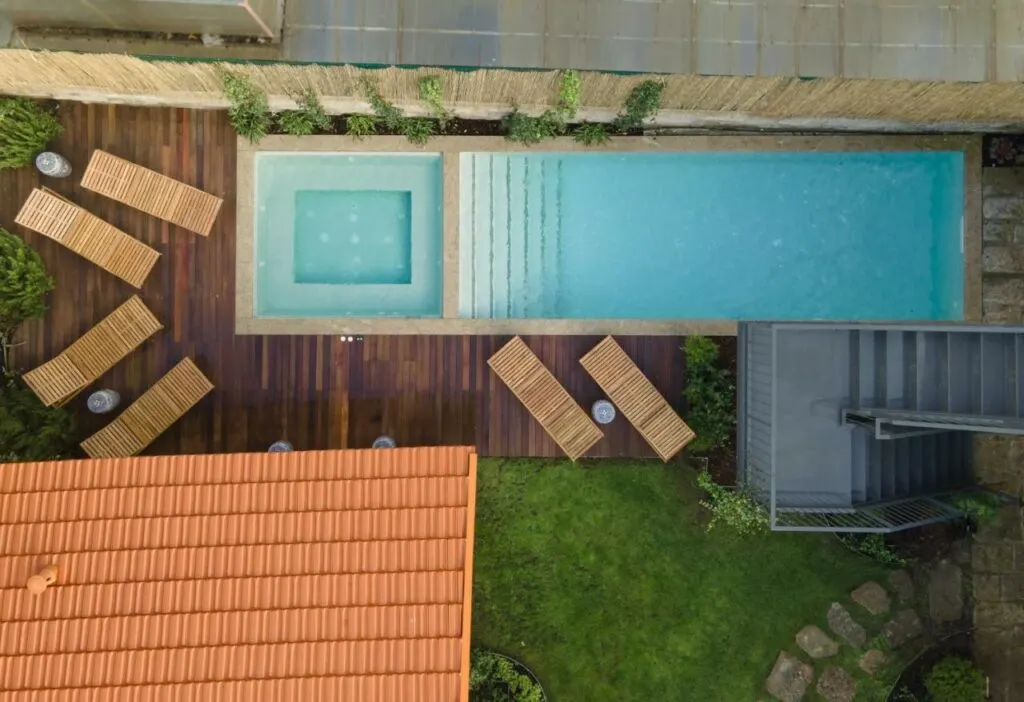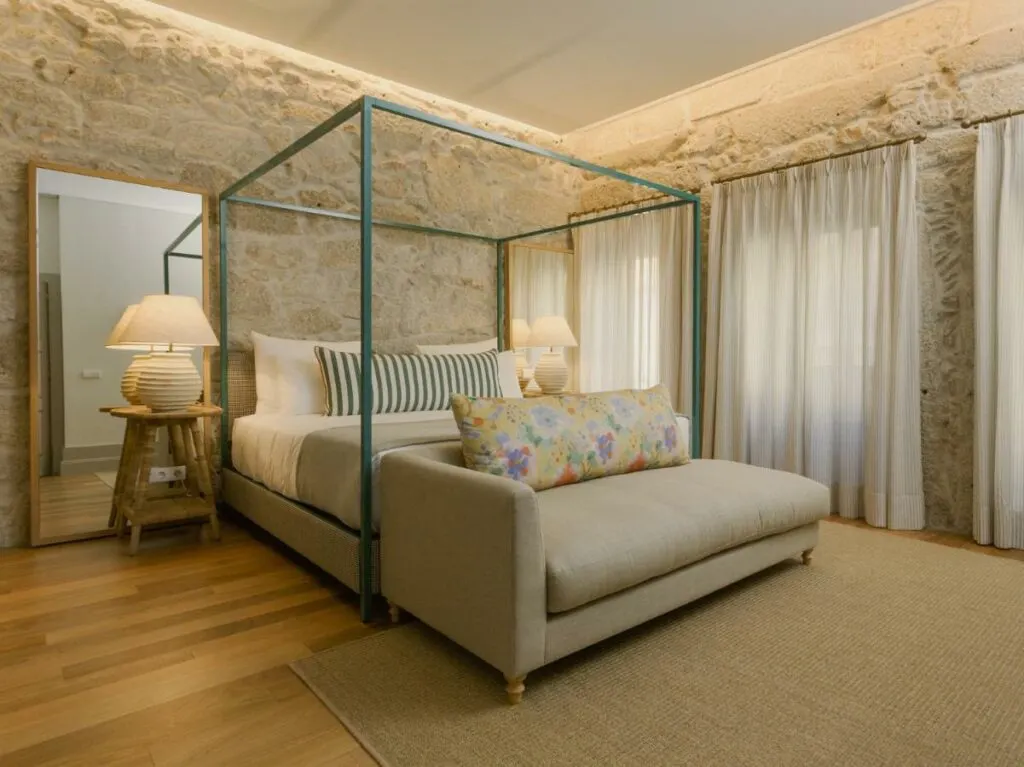 This light and airy luxury hotel looks like it's been pulled directly from the pages of Architectural Digest. Marrying together clean lines and minimalist design with original, old Porto features, like exposed walls, Bonjardim 560 is the perfect collaboration of old and new.
Despite the cool colour palette, this hotel makes you feel at home and at ease – ideal after a long day of exploring the beautiful city.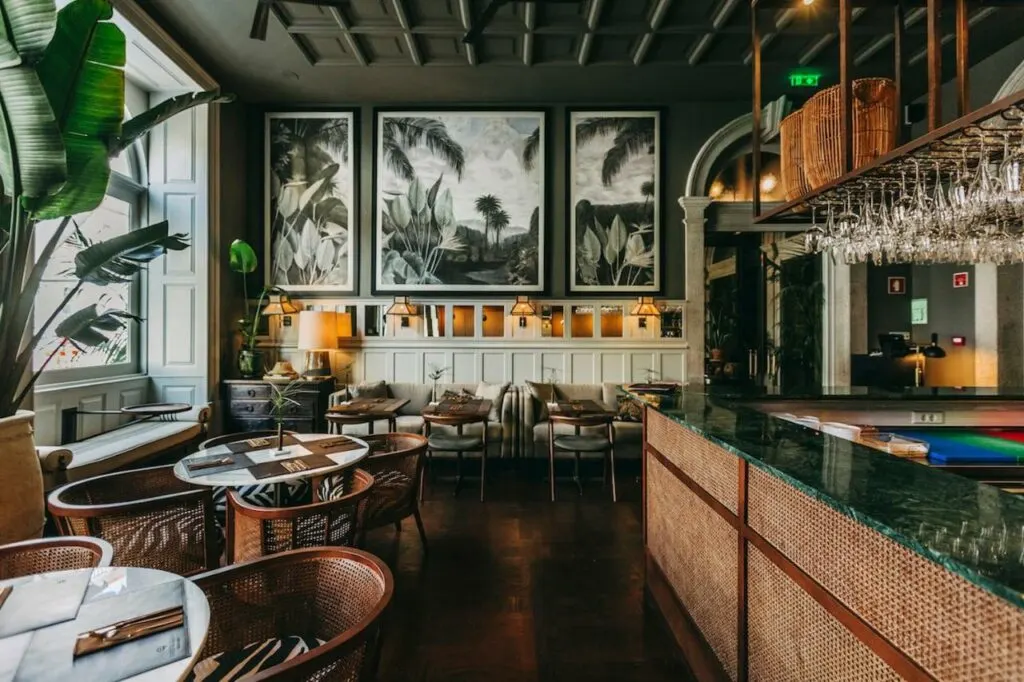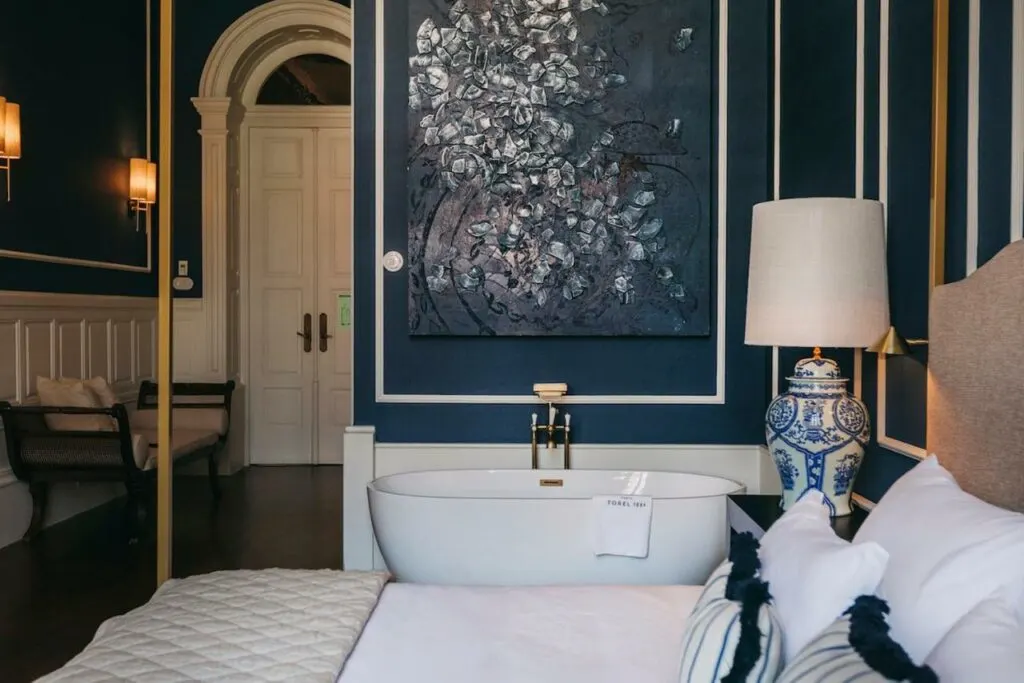 If you're looking for opulence then look no further that the Torel 1884 Suites and Apartments. Decorated in dark and rich tones that make every room feel luxurious and expensive, it's a gorgeous five-star hotel with everything you could ever need during your stay in Porto. Each room has a different vibe and the grand staircase has to be seen to be believed.
Mid-range Hotels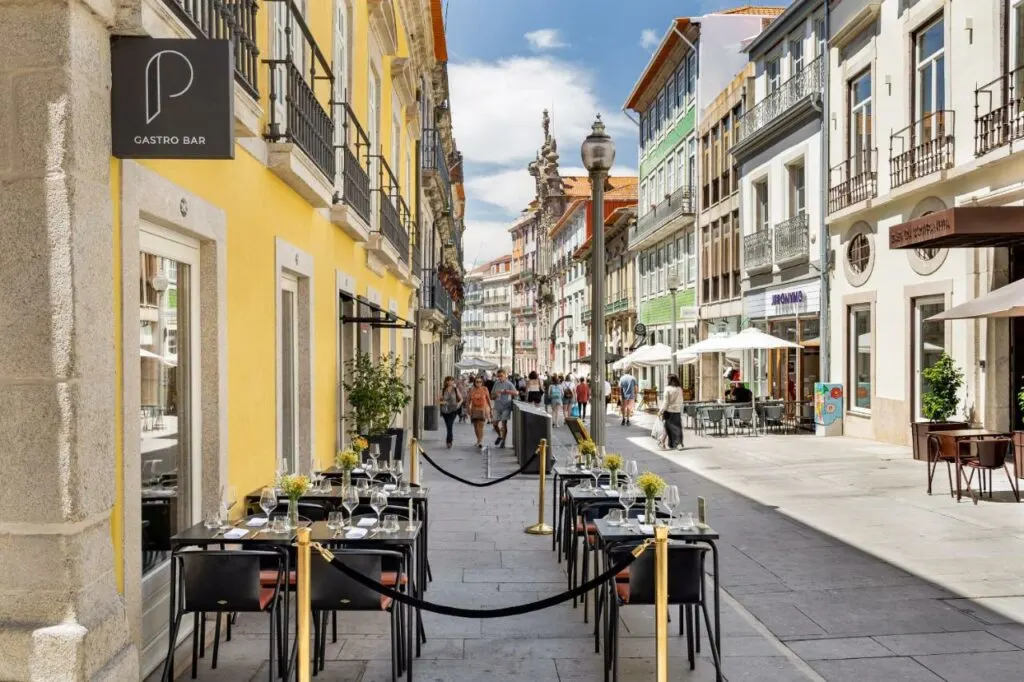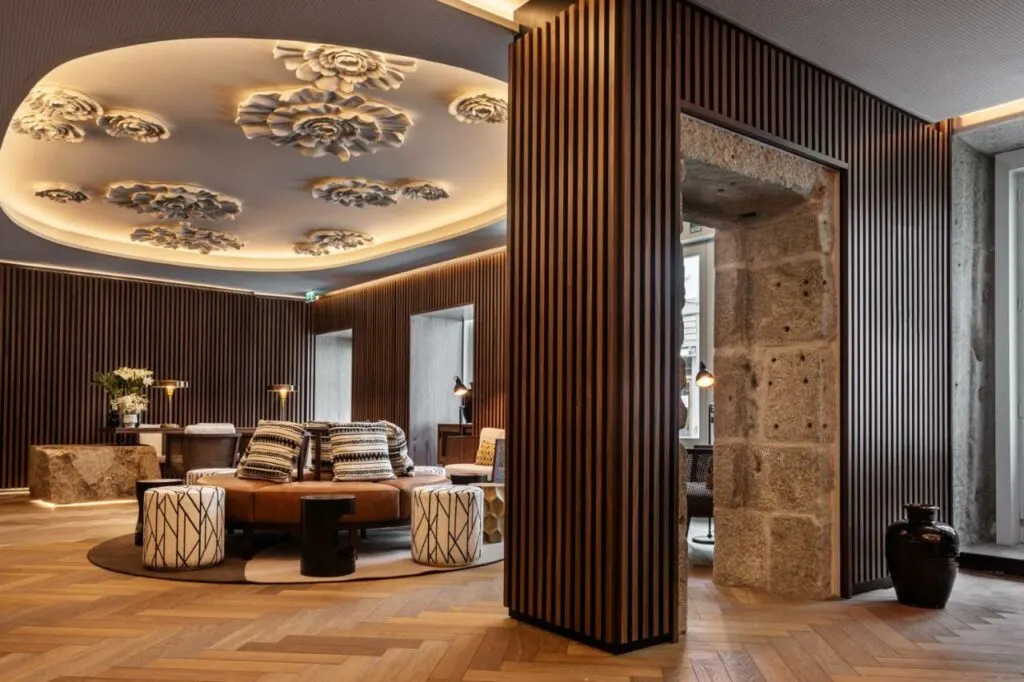 If you're looking for a hotel that offers all the luxuries that you'd expect from a high-end, boutique hotel, but still feels Portuguese, look no further. Pousada do Porto grabs you from the moment you see it. Located in the União de Freguesias do Centro district by Cardosa Square, the traditional bright yellow and white exterior summons you closer.
Once inside, take advantage of the sauna, low-light indoor pool, and sumptuously decorated interiors. If you love an elegant design with a Porto twist, you're going to love this hotel.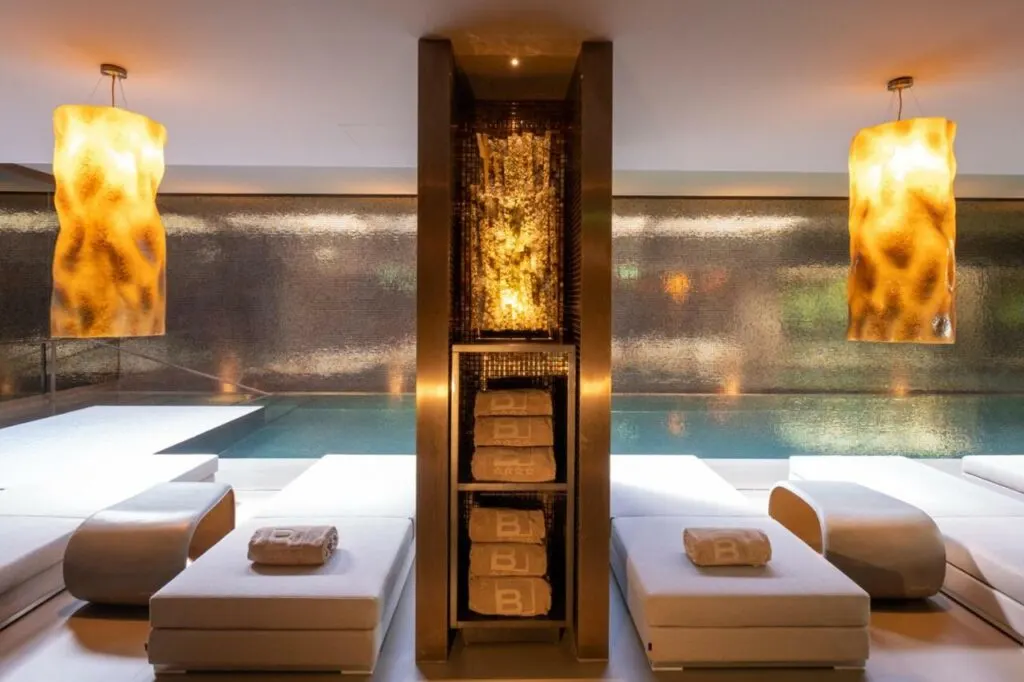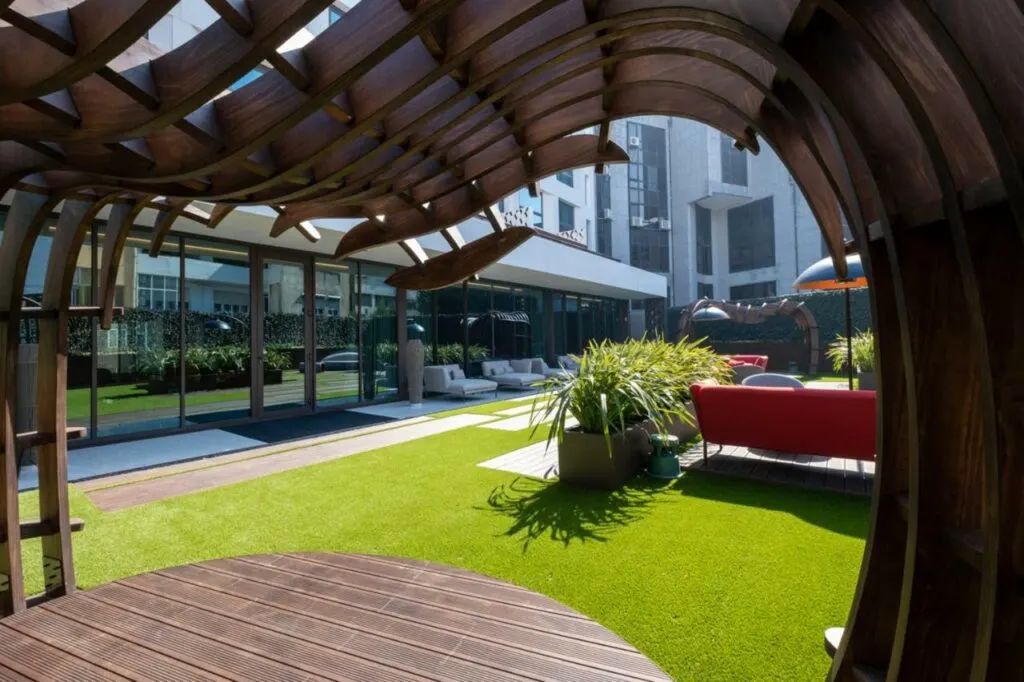 Love a relaxing and calming vibe? One of the cool things about the BessaHotel Baixa is that it feels like you're staying in a gorgeous, exclusive spa. It's got a super modern feel with curving architecture that makes you imagine that you're in a much fancier – and much more expensive – hotel than you actually are.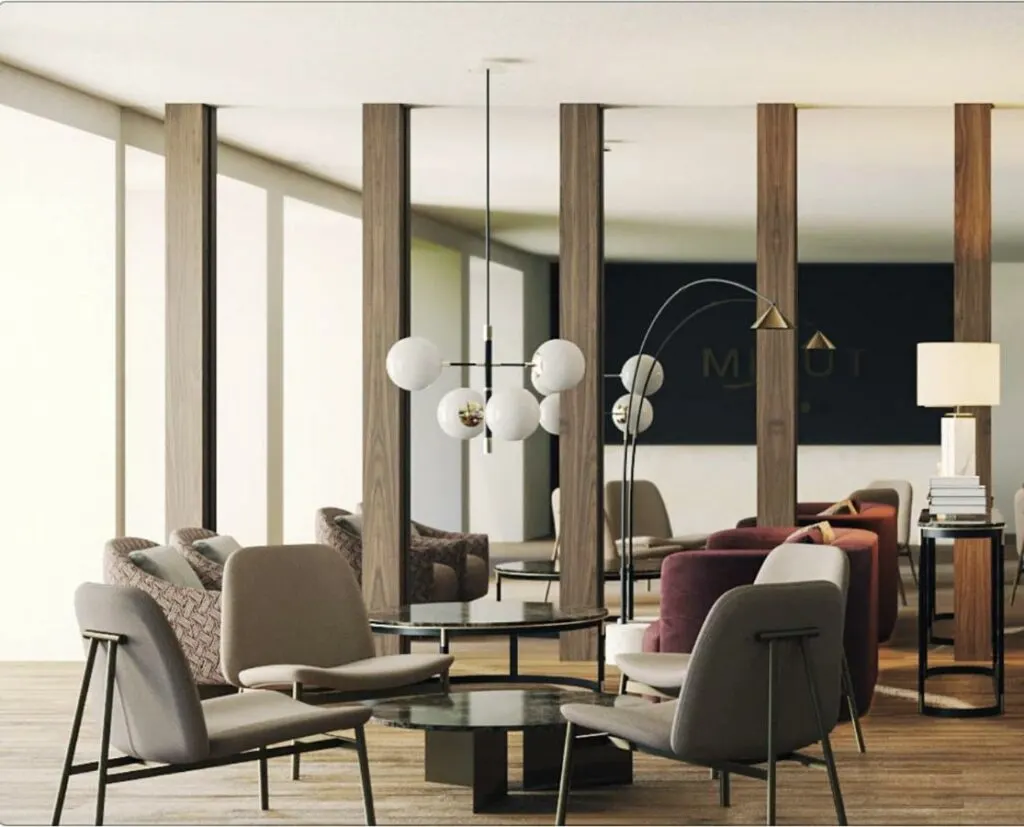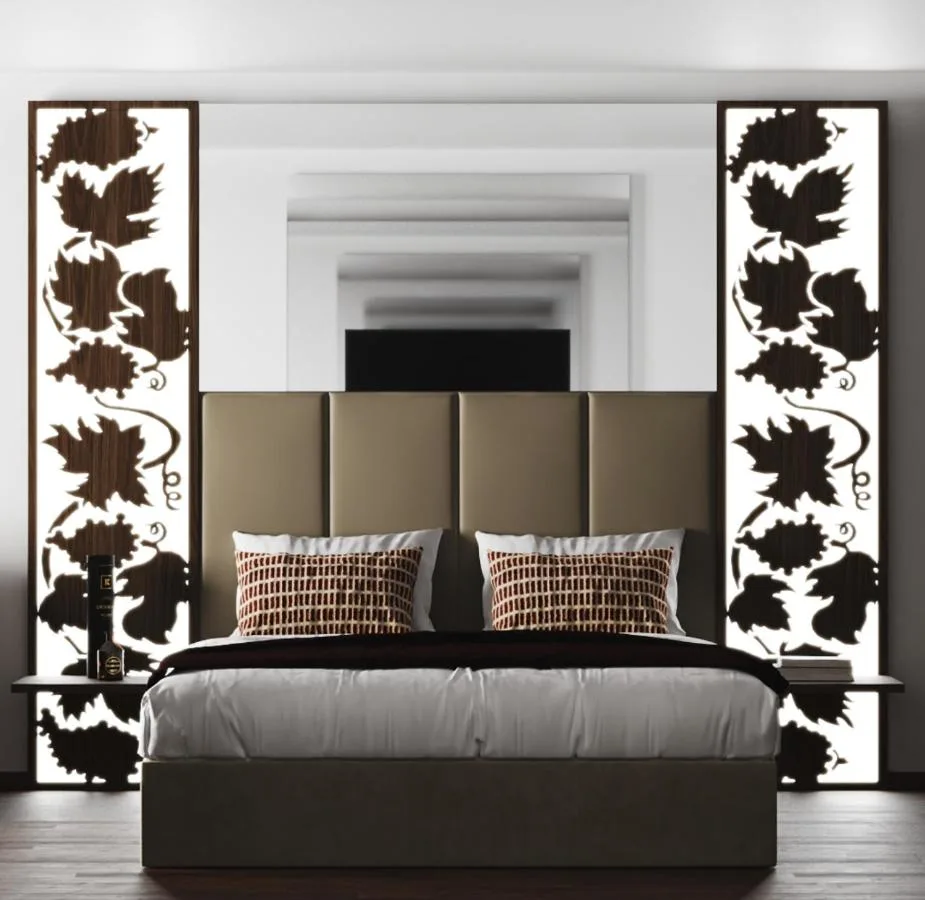 Do you love sleek and modern design? TURIM Oporto Hotel welcomes you with delightful floral headboards, a bar that looks like it belongs in Mad Men, and an ideal city location. Situated just 750 yards away from the Sao Bento Metro Station, everything is within easy reach. If you want to explore at speed, the TURIM also offers bike hire for you to take in the city.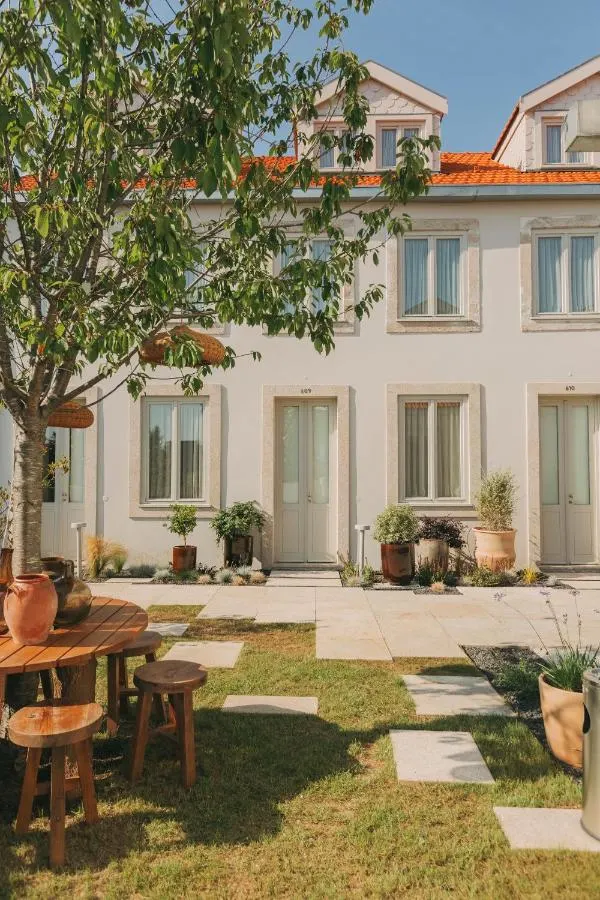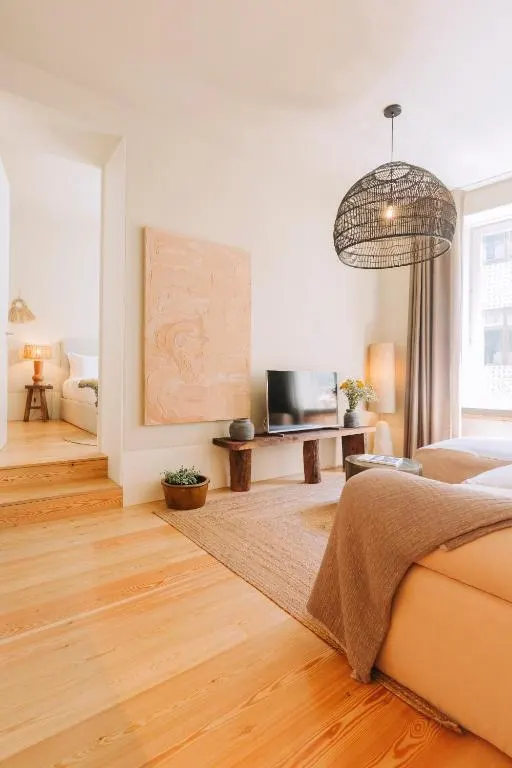 Some Aparthotels feel cold and clinical – like you're in a suite out by the airport, but the Village Aparthotel by BOA is gorgeous. In an old-style Portuguese mansion, the rooms and suites feel like someone's luxurious home.
Stylishly decorated with modern touches, you can spread out in your spacious rooms or take in a sunset drink on the balcony. This is the perfect place to stay in Porto if you're looking for your own space.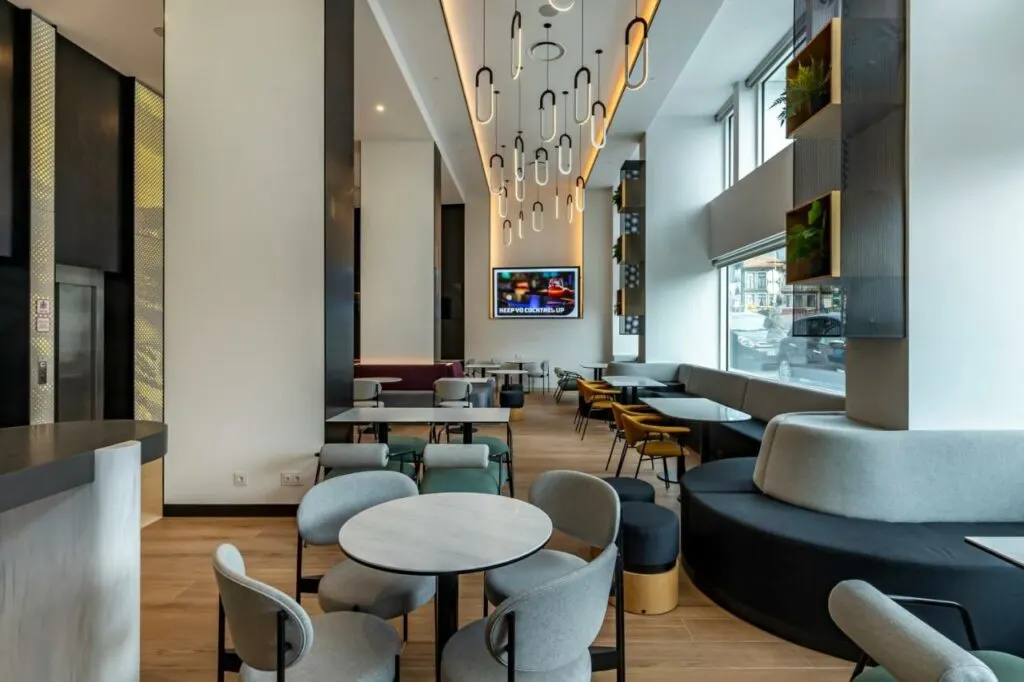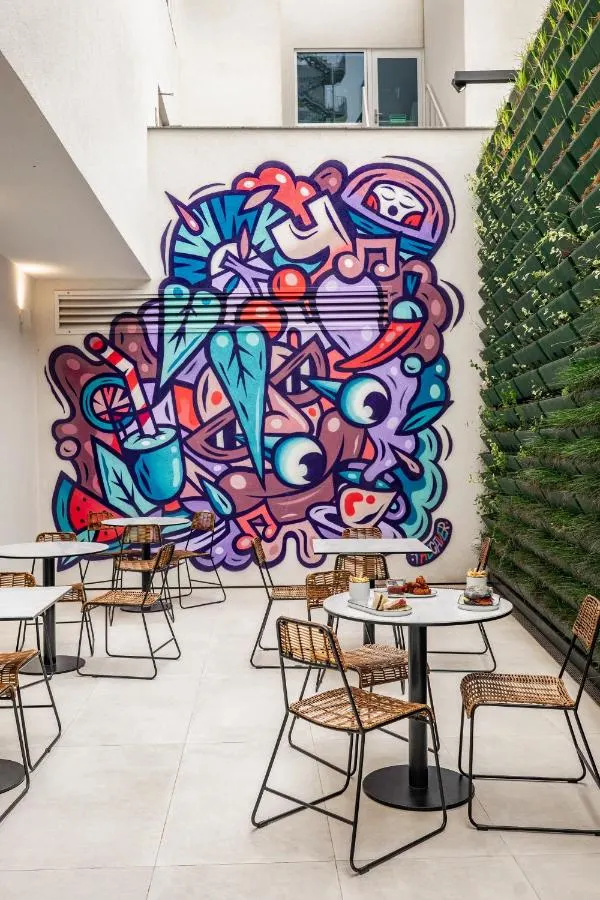 This brightly coloured hotel is located 0.7 miles from Sao Bento Metro Station and offers an eclectic and comfortable stay. It's perfect for on-the-go travelers with a full breakfast and well-informed reception. From armchairs with charging points to quirkily designed water refill stations and its own artistic mural, YOTEL Porto is a refreshingly cool place to stay when you're next in the city.
Budget Hotels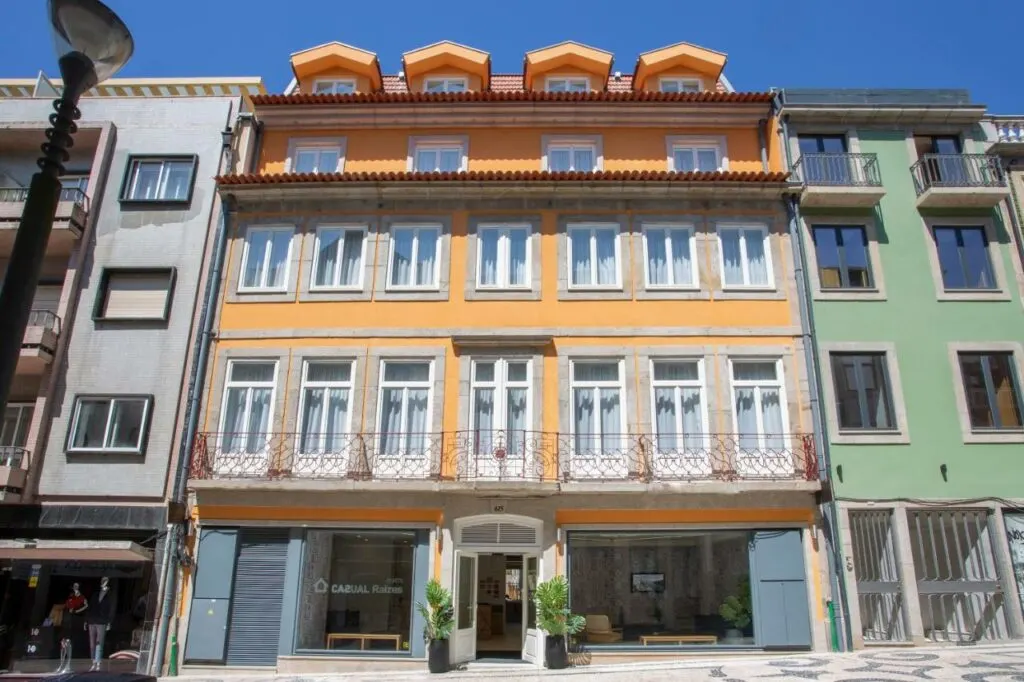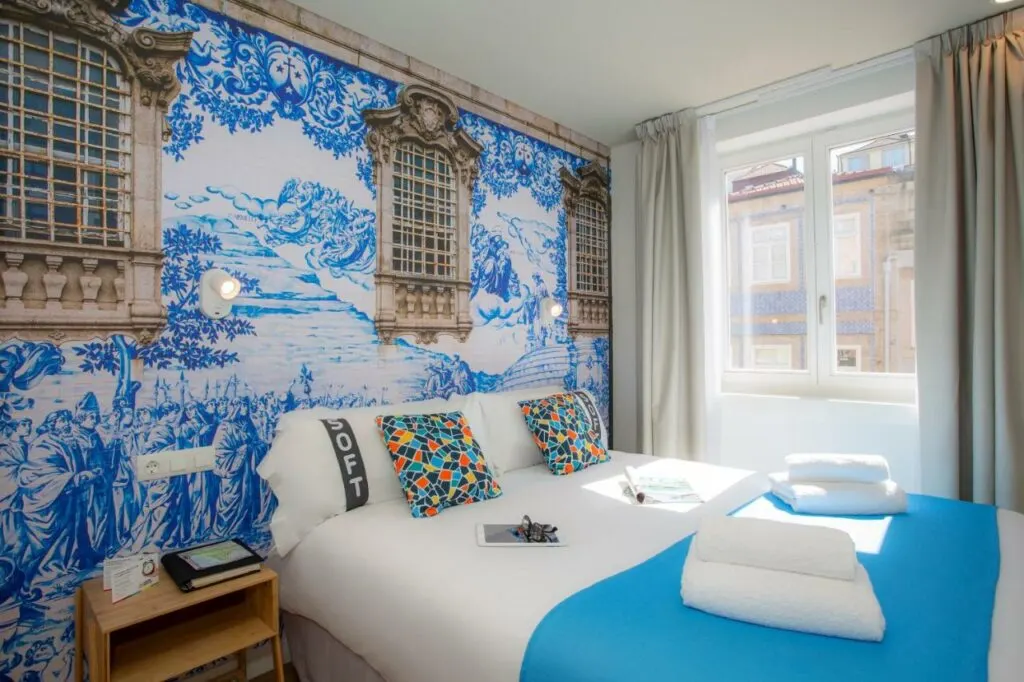 I personally love a hotel that injects the vibe and culture of the city into the decor. Casual Raízes Porto does just that. From Portuguese tile statement walls to murals of the city as headboards, it's unapologetically Porto.
With an expansive outdoor terrace with parasols, hanging chairs, bar-style tables, and more, it's a hotel that promotes being social. Enjoy the unique theme of each room and the explosion of colour around every corner.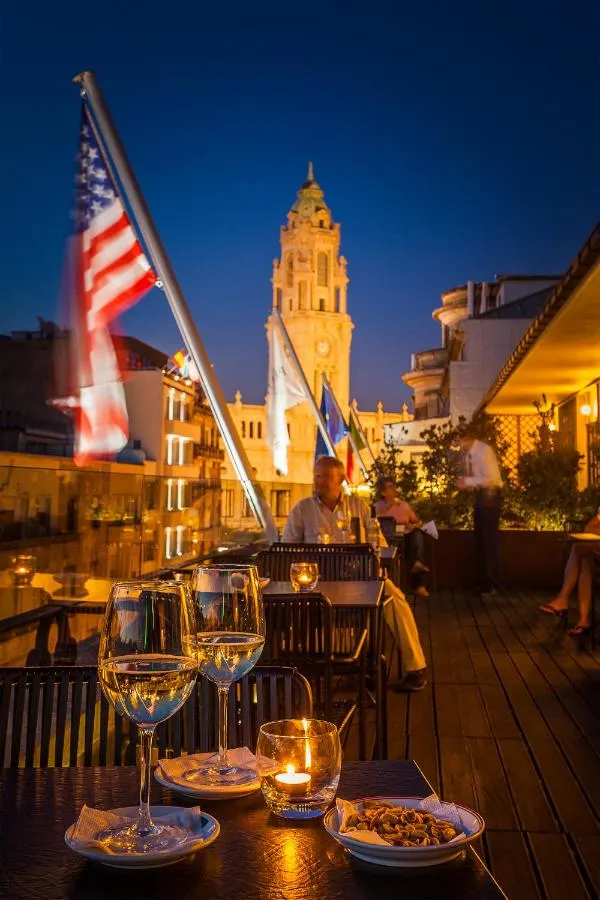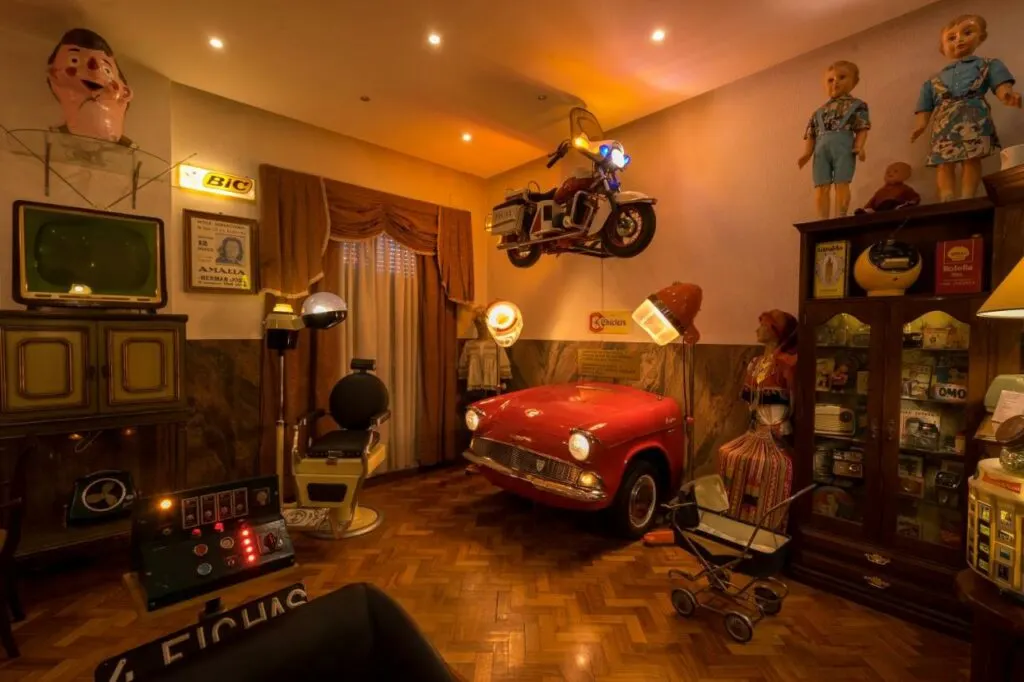 Consider yourself a lover of all things vintage? Book yourself a stay at Pao de Acucar Hotel, located in the Historic Centre of Porto. Quirky is definitely a word I'd use to describe the decor – there are the fronts of old cars and bumper cars mounted into the walls and along the grand staircase!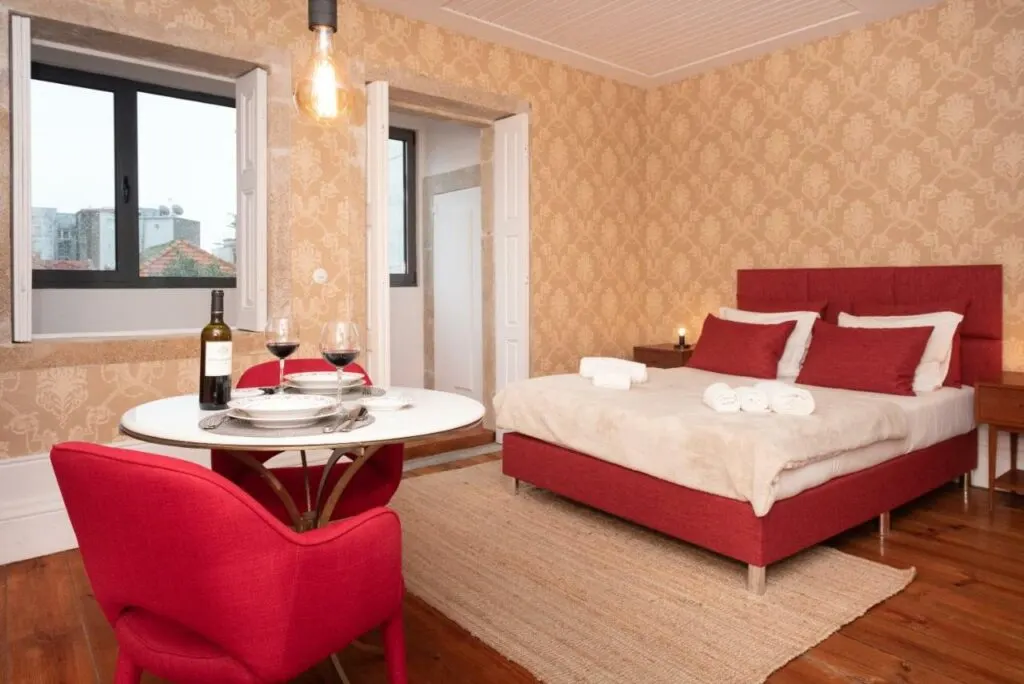 Want to stay in a place that is filled to the brim with history? The Brewmaster's House is quirky and cool because of its location – next to the oldest brewpub in the whole of Porto. Craft beer lovers need to get in on this place as you get a complimentary beer on arrival and tours around the brewery on request – perfect for a boozy weekend away!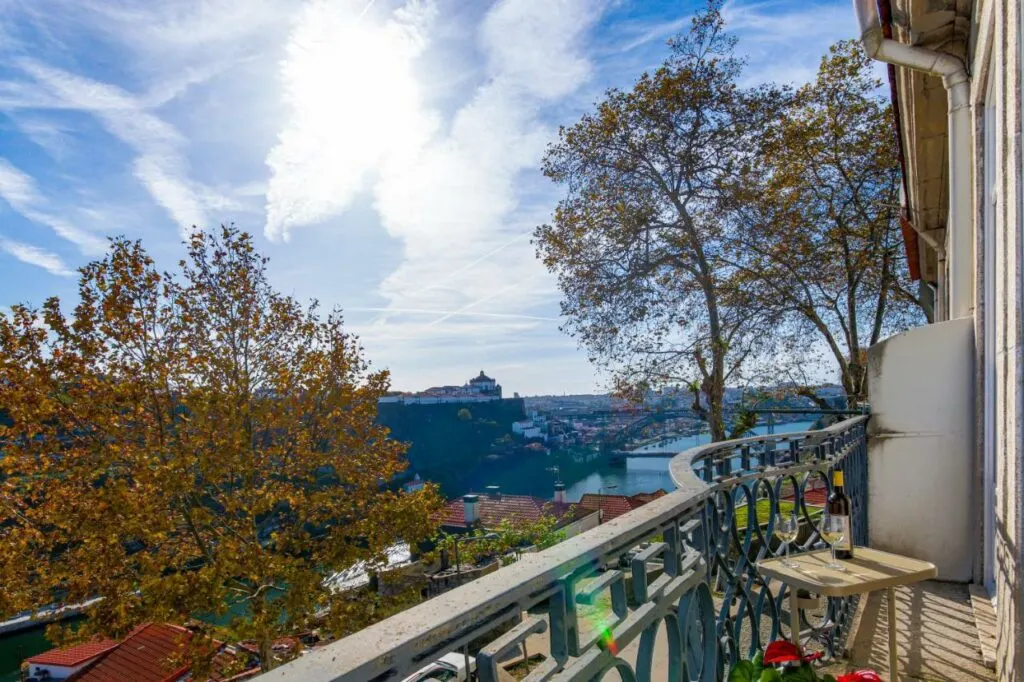 Looking for accommodations that are easy and breezy with river views? This Scandi-esque set of studio apartments give you the space to relax with cool modern wood panelling to separate the rooms, making it feel much bigger and more luxurious than it actually is. Combine this with high ceilings and amazing beam features, and you'll never want to leave.
---
So, there you have it, the coolest hotels in Porto from the utterly opulent to the quirky to the modern and sleek.
Porto is a great city so your visit deserves the perfect base to explore from. Which one would you stay in on your next visit to Portugal? Leave a comment below, I'd love to know which style is your favourite!
Like this blog post? Then Pin it for the future!