Looking for the best things to do on Lord Howe Island? From hiking Mt Gower to feeding fish on Ned's Beach, this is what to do on Lord Howe Island!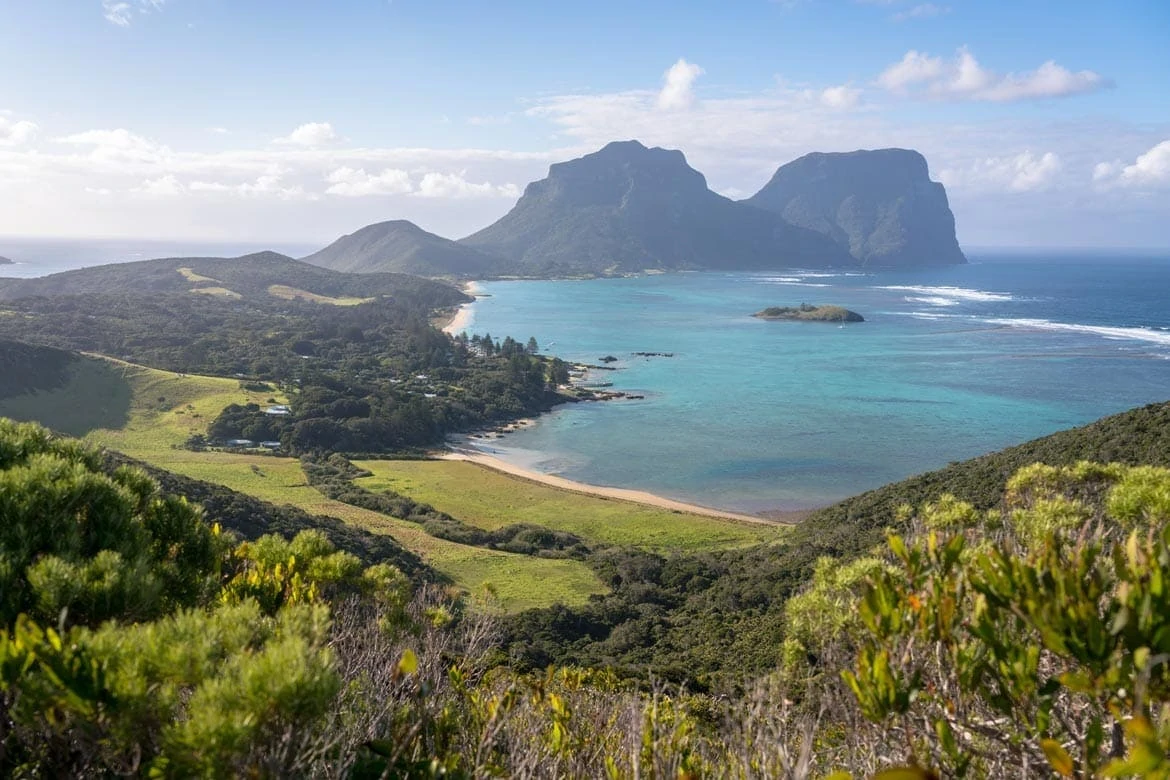 If Lord Howe Island isn't on your bucket list of places to see before you die then add it immediately. Seriously, this place is simply drool worthy and I'm about to show you why.
This little slice of paradise was once described by Sir David Attenborough as "a place so extraordinary it is almost unbelievable. Few islands, surely, can be so accessible, so remarkable, yet so unspoilt." (Read that in Sir David's voice and you'll get the full power of those words.)
Lord Howe Island is a place that immediately gets under your skin. As I flew into the tiny airport and I saw Mount Gower looming over an island surrounded by gorgeous blue and emerald reefs, I knew this would be a special place.
Take a look at my video showcasing some of the best things to do on Lord Howe Island and you'll see what I mean!
They call Lord Howe Island the Galapagos of Australia. That's partly because of its remoteness in the world, but also because of how that isolation has created a place of unrivaled outstanding beauty.
And as if that isn't enough to hammer home how amazing this place is, Lord Howe Island has just been voted as one of the top regions to travel to for 2020 in Lonely Planet's 'Best in Travel' list.
From being in the shadows of places like Hamilton Island and Magnetic Island in Australia, all of a sudden Lord Howe is front of stage in the spotlight.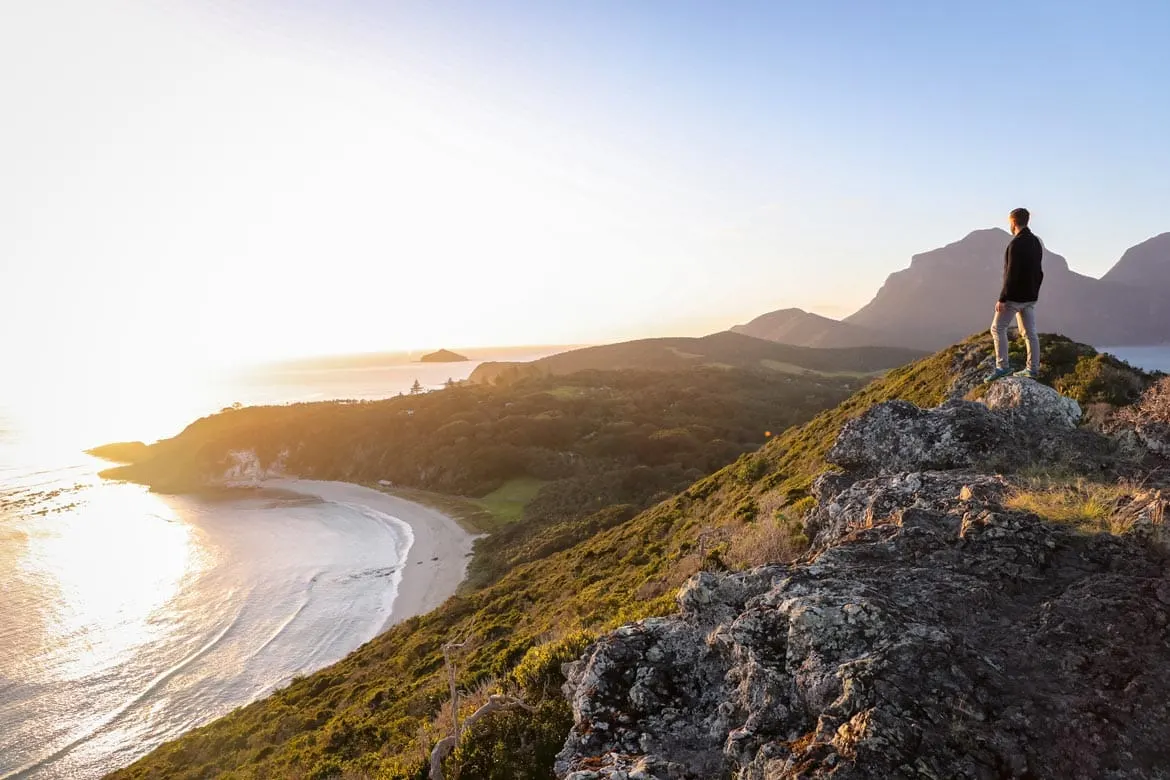 One of the things I loved about Lord Howe Island was how easy it was getting outdoors in nature. Whether its snorkelling with turtles to hiking up to the best viewpoints on the island, there are so many things to do for lovers of adventure. Also, Lord Howe Island is home to one of the best hikes in all of Australia! More on that later.
In this guide I'll go into all the best things to do on Lord Howe Island. From how to get there, what activities you should do and where you should stay, I really want you to use this guide to inspire you and help plan your trip.
And if you've already booked your Lord Howe Island holiday then get ready for the time of your life…
Where is Lord Howe Island?
If you asked me a month ago where Lord Howe Island was in the world, I wouldn't have been able to tell you. That's because I didn't have a clue!
It was only when Destination New South Wales invited me out to explore this region of Australia that I looked it up on a map. And there is was halfway between Australia and New Zealand.
Located 2 hours north-east off the coast of Sydney, Lord Howe Island is a pinprick on a map that you're almost guaranteed to pass by.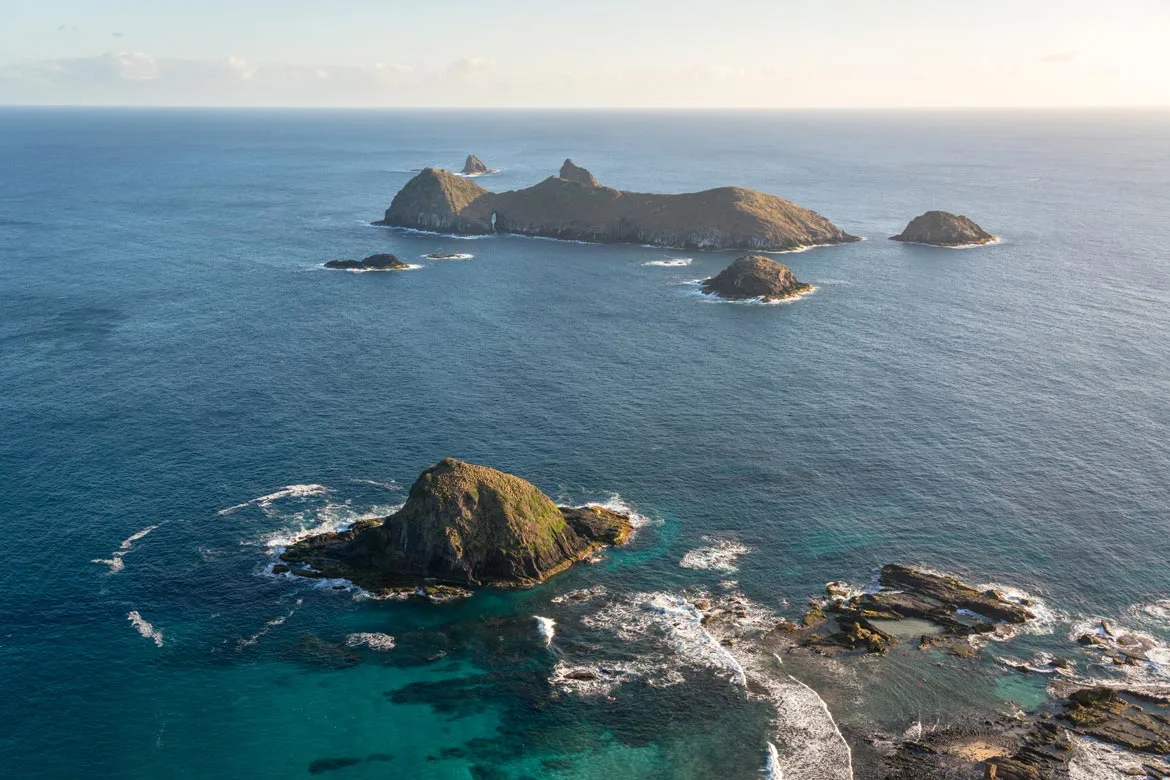 The Lord Howe archipelago actually consists of 28 different islands of varying size, but only one is inhabited with people.
In terms of size, the island is super small. Lord Howe is about 11 kms long and 2 kms wide. This means getting around the island is really easy and most people cycle, though there are cars and roads too.
Being such a small island, it is home to only 360 permanent residents, and tourism is limited to just 400 people on the island at one time. That means if you get to visit Lord Howe Island like I did then you're one of the special few. There aren't many places around the world as secluded as this! Saying that, there are plenty of things to do in Lord Howe Island to keep you busy.
Lord Howe Island Flights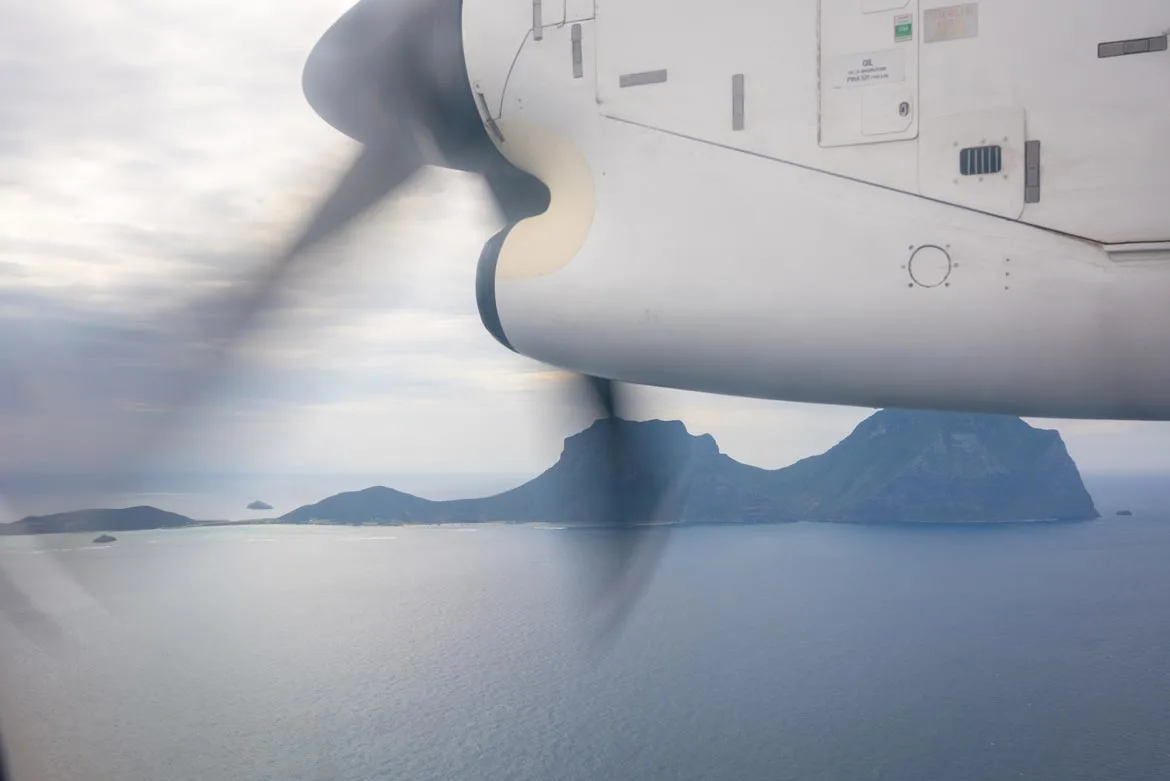 Getting to Lord Howe Island is fairly easy so this should be quite a short section!
There are only two airports that serve flights to Lord Howe Island – Sydney and Brisbane. Saying that, the majority of flights are from Sydney and that's where I flew from. Also making it easy is there's only one airline flying to Lord Howe Island – Qantas.
Because of the limited number of tourists allowed on the island and the short length of the runway, the planes getting to Lord Howe Island are very small. They're usually small 36-seater DH8's. That's one of those old-school, romantic propeller planes. If you can, make sure you bag yourself a window seat.
As the planes are small, you're limited to a certain amount of baggage. This is 14kg of hold luggage and 7kg of carry of luggage. Be warned, they're pretty tight on this luggage restriction so don't risk it by taking too much stuff.
The one thing you can't really avoid is the price. Because of the exclusivity of Lord Howe Island and the small number of flights, it can be fairly expensive to fly there. And when I say fairly expensive, I mean very expensive. I will say this though, it is 100% worth the price!
Often flights are included in Lord Howe Island packages so it all depends on who you book with. More on that below.
When is the best time to go to Lord Howe Island?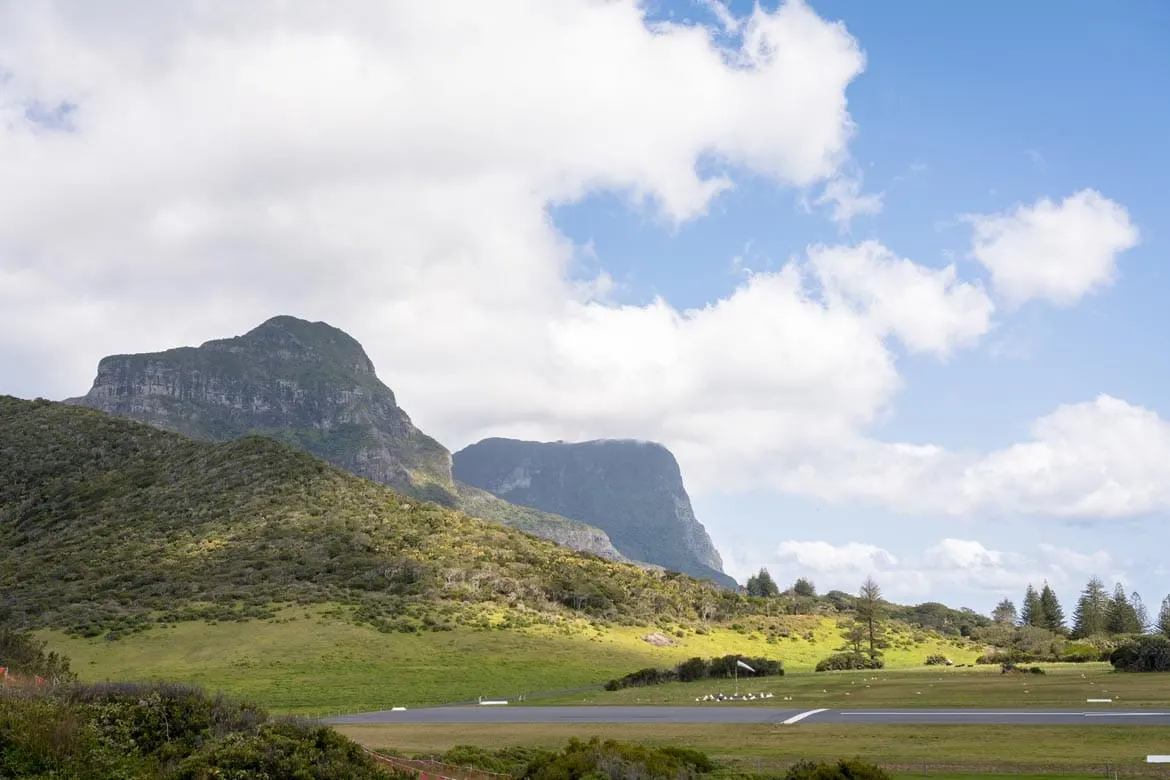 The most popular time to visit Lord Howe Island is between September and May. This is the Australian spring, summer and autumn, so you're guaranteed the best weather then. Sea breezes prevent the summer's from getting too hot which is nice. Tthat's when the water is warmest for swimming and snorkelling too, so this is a really good time to visit.
However, even in the winter months of June, July and August, you'll still have warm and sunny days. Also, it is slightly quieter in winter which is a bonus too.
Maximum temperatures on the island hover around 25°c throughout summer, dipping to an average of 19°c in winter.
The climate on Lord Howe Island is likened to a perpetual Australian spring. It really is a paradise for those escaping the heat of summer, and the cold of winter.
Things to do on Lord Howe Island
Watch sunrise at the top of Malabar Hill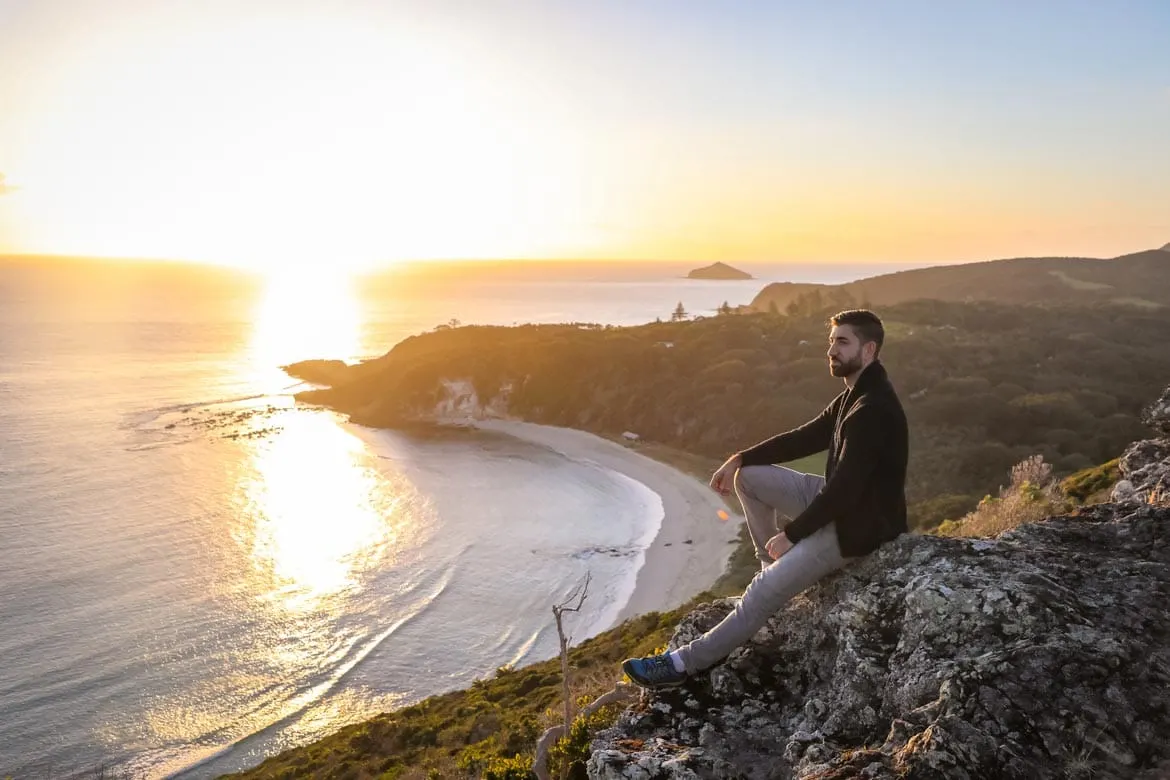 Let's start things off nice and early. I know not many people like waking up before sunrise to go hiking but I promise you it's worth it. Depending on what time of year you visit Lord Howe, if you set your alarm clock 45 minutes before sunrise, that should give you enough time to get to the start of the Malabar Hill trek. For me, that was a wake up call of around 04:30.
From there, it's actually a very easy trail up to Malabar Hill that'll take you around 30/40 minutes to get to the top. The trail is really well marked but it's a good idea to bring along a torch or use your phone to light the way when it's still dark.
Once you get to the top of Malabar Hill, there are loads of really good spots to watch the sunrise over the horizon. Also, being so early and with hardly anyone else on the island, you're almost guaranteed to have the hill to yourself.
You can be up and down in around 2 hours which means you'll be back in time for breakfast. How about that as a way to start your day?
Watch sunset at Kim's Lookout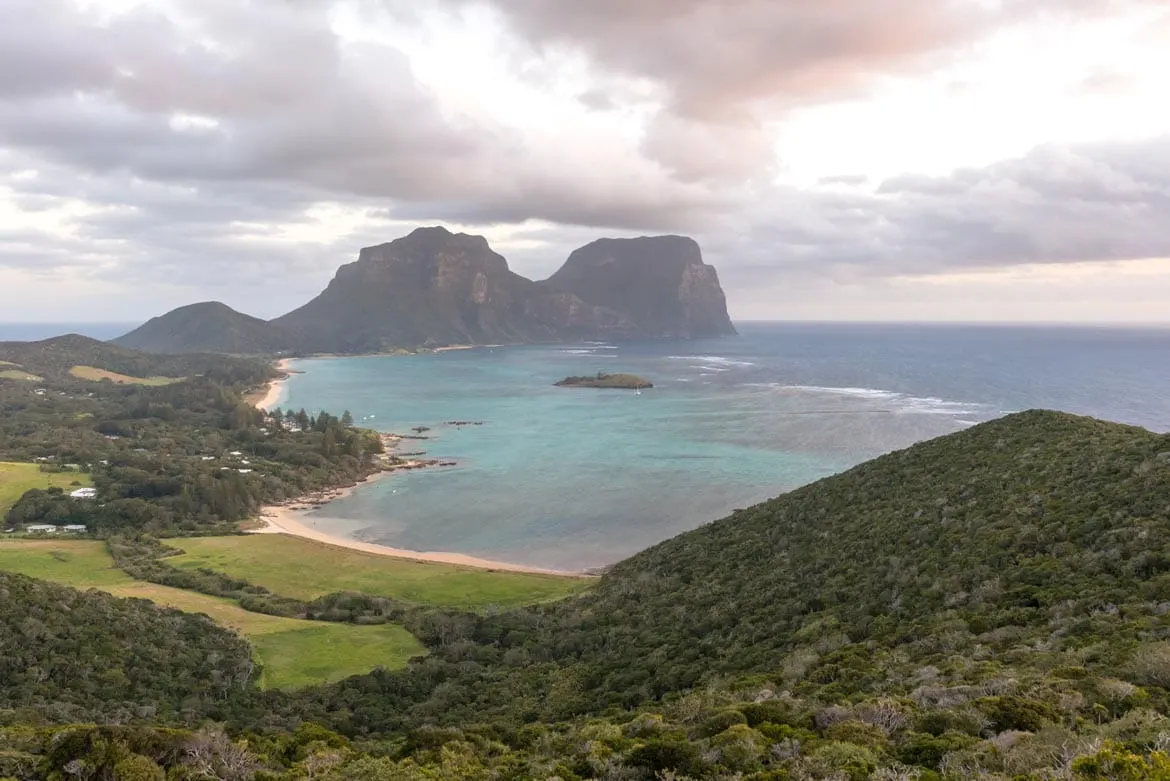 When it comes to what to do in Lord Howe Island, you can't beat a good sunset.
If you're looking for the best place to watch sunset on the island, head up to Kim's Lookout. Not only is this one of the higher points on the island, but it gives you the best views of Mount Gower and Mount Lidgbird.
Kim's Lookout is to the very north of the island and the trail to the top starts at Old Settlement Beach. I really enjoyed this hike as it took you along the beach before you worked your way up through the trees. Unlike the Malabar Hill hike, this one is a bit tougher. Even though it'll only take around 30/40 minutes to hike up to Kim's Lookout, it will make you sweat! The climb is quite steep so you have been warned.
However, the views from the top are 100% worth it. This really is such a stunning viewpoint, especially at sunset with Mt Gower and Mt Lidgbird all bathed in gorgeous golden light.
Be careful making your way back down as it can get dark quickly on the island and there aren't any lights.
I would say the hike up to Kim's Lookout is one of the most popular things to do on Lord Howe Island so make sure you add it to the list.
Explore the island on a boat tour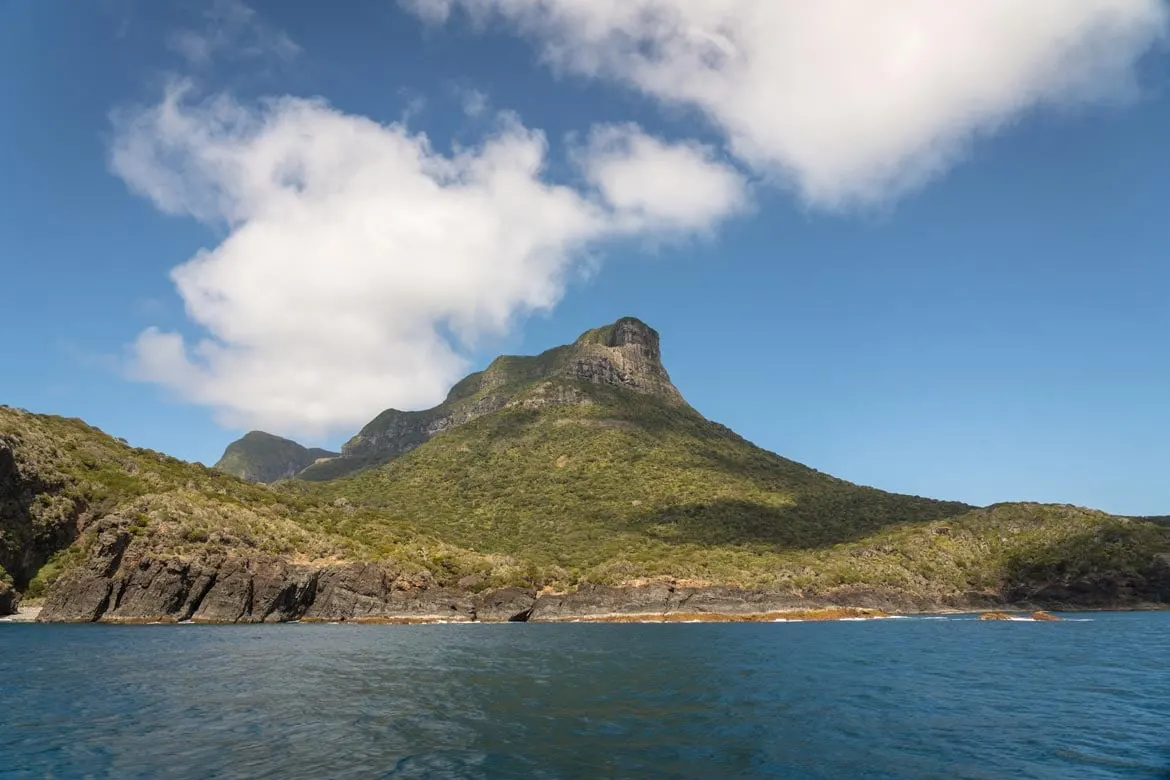 If you really want to get a feel for the island and why they call this the Galapagos of Australia, I'd really recommend taking a boat tour around the island.
Leaving from the pier, I went on a 2-hour tour with Reef & Beyond that went all the way around the island. As soon as we passed by Mt Gower, the scenery of the coastline really changed and it became much harsher and inhospitable. The rocky cliffs really rise of the water creating this dramatic scenery found hardly anywhere else in the world.
This tour also took us to secluded bays and caves. One area, Sugarloaf Point, is apparently the site where there's some buried treasure on the island and no one's been able to find it since. I love a good buried treasure story and it just added another layer of mystery to the island.
Oh, and make sure you bring your swim stuff! In the summer when the weather's warm you'll stop off at a lovely snorkelling spot where you might see some turtles (more on that later though!)
Kayak over to Rabbit Island (Bracken Island)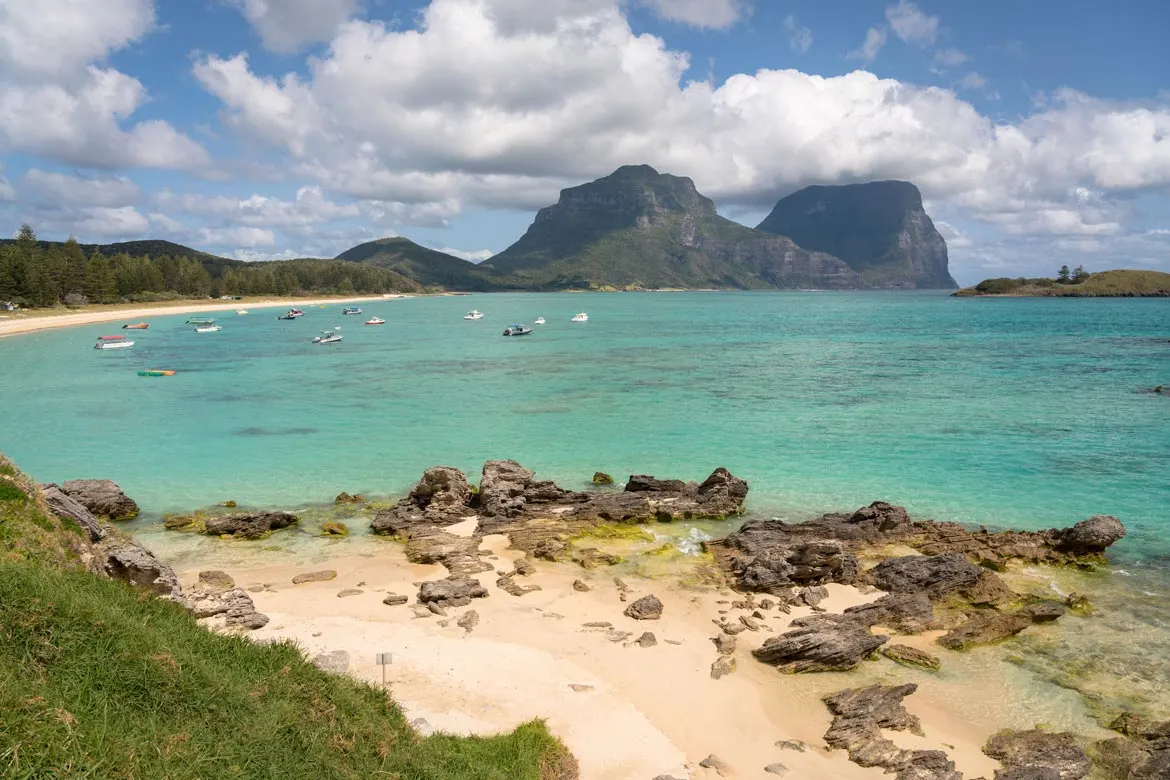 You remember how I said that the Lord Howe archipelago actually consists of 28 different islands? Well Rabbit Island (also known as Bracken Island) is one of them.
One of my favourite Lord Howe Island things to do was hiring a kayak from Lord Howe Environmental Tours and paddling over to the island. It's the big one directly in front of the main beach so you can't miss it.
It took me around 20/30 minutes to paddle over to the island where I left my kayak on the beach and had a bit of an explore. The island is tiny, you can get around it in around 10 minutes, but I loved the different perspective that you get of Mt Gower.
Just be a bit careful walking around the island as there are nest birds in the soft soil so watch where you're stepping!
Spot the Milky Way in the clearest night skies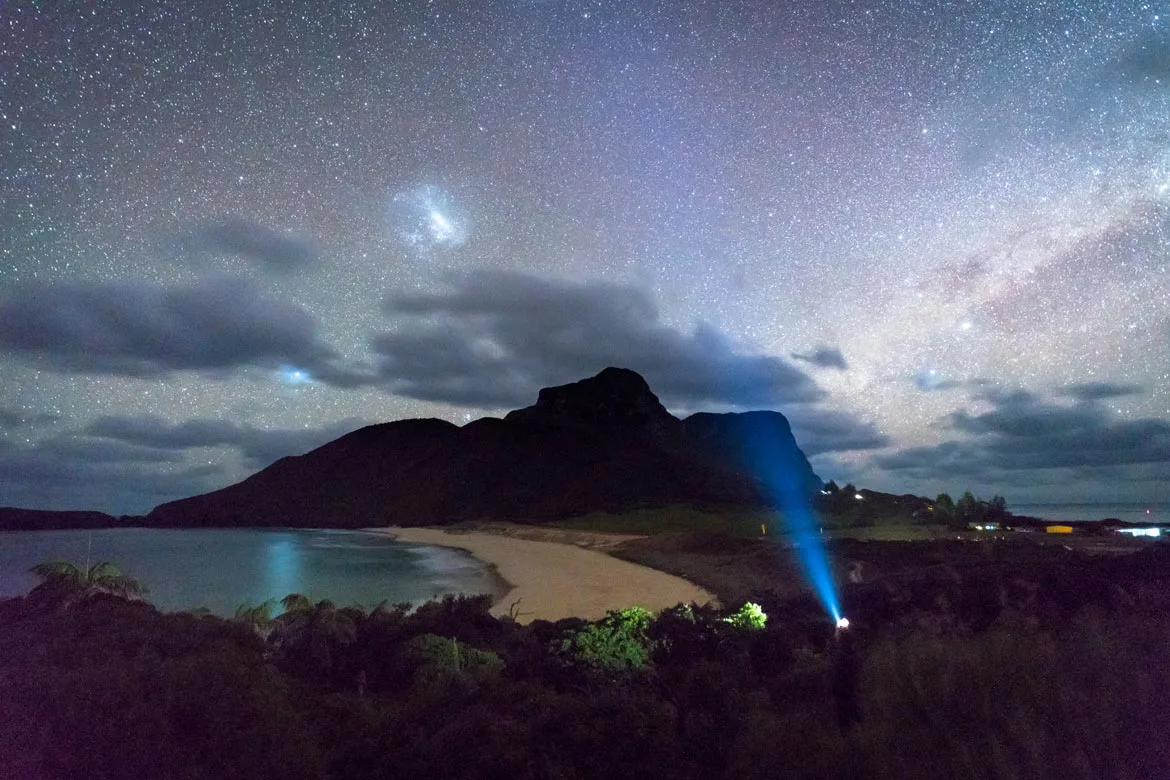 Hopefully this photo says it all.
As you can imagine, light pollution isn't really a thing on an island with hardly any houses and no street lights. That leaves you with a night sky unlike any other I've seen around the world. It's so rare to be able to see the Milky Way with your naked eye, but you can here.
When it got dark around 8pm, I'd hop on my bike and find myself a star gazing spot. From places like Blinky Beach to Ned's Beach, there are so many amazing spots where you can plonk yourself down and lookout for shooting stars. And yes, you'll see shooting stars too.
I mean, how magical does that sounds?
Go snorkelling with the turtles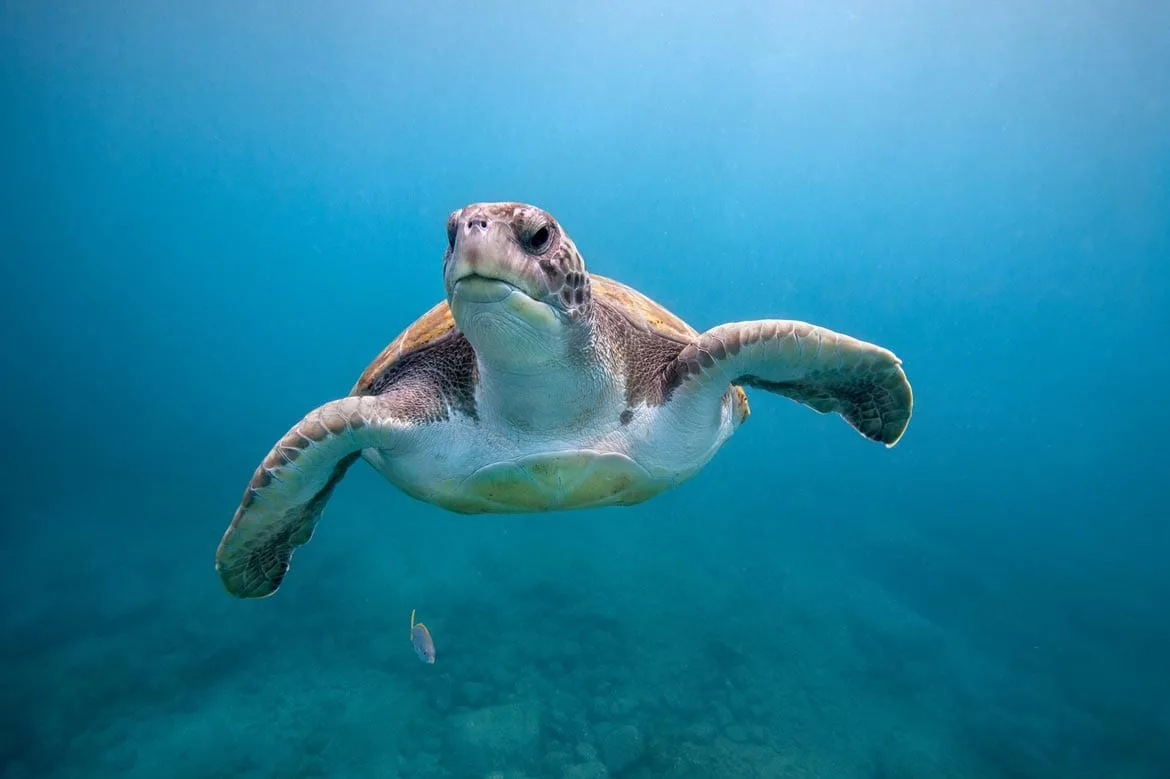 Lord Howe Island has the most southern reef in the world and due to the fact that there's low number of tourists it has a thriving marine life. One of the best Lord Howe Island activities is to grab a snorkel and head into the water.
The reef starts a short 50 metres from the beach and you'll be able to find all the usual culprits like sting rays and the occasional octopus. You're here for the turtles though.
In the afternoon, from around 2:30pm onwards, the turtles come in to feed, so this is the best time to snorkel. From leatherbacks to green sea turtles, you've got a really good opportunity of seeing them here.
However, as I always say when promoting snorkelling and diving, don't touch the turtles! You're in their habitat so just watch them as they lazily float past you.
Learn about the great phasmid at the Lord Howe Island Museum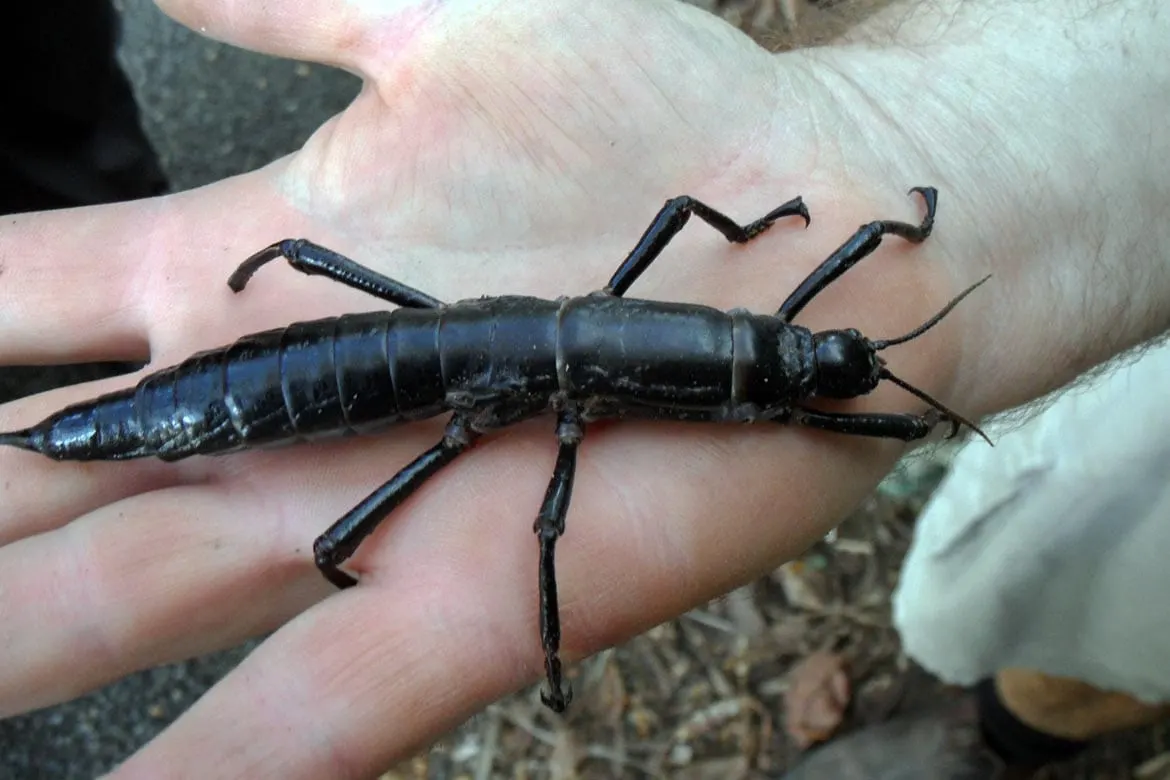 Ah the great phasmid. These guys have the title "the rarest insect in the world".
The phasmid is a species of giant stick insect that can only be found on Lord Howe Island. However, it looks nothing like the stick insects we used to play around with in primary school. Instead, the phasmid is like a giant elongated beetle that resembles a big twig than a tiny stick.
Everyone initially thought the phasmid had been wiped out and they were officially extinct in 1920. However, in 2001, 80 years after the last sighting, they found a family of phasmids in their natural habitat on Ball's Pyramid, a desolate rock in the middle of the ocean.
Since then, they've managed to breed them back from extinction to the point they're hoping they can be reintroduced to Lord Howe Island.
They do still have one family of phasmids at the Lord Howe Island Museum. This is an amazing place to pop in and learn all about the phasmids. It's not like you can do this anywhere else in the world so take full advantage of it!
Take on the epic Mt Gower Hike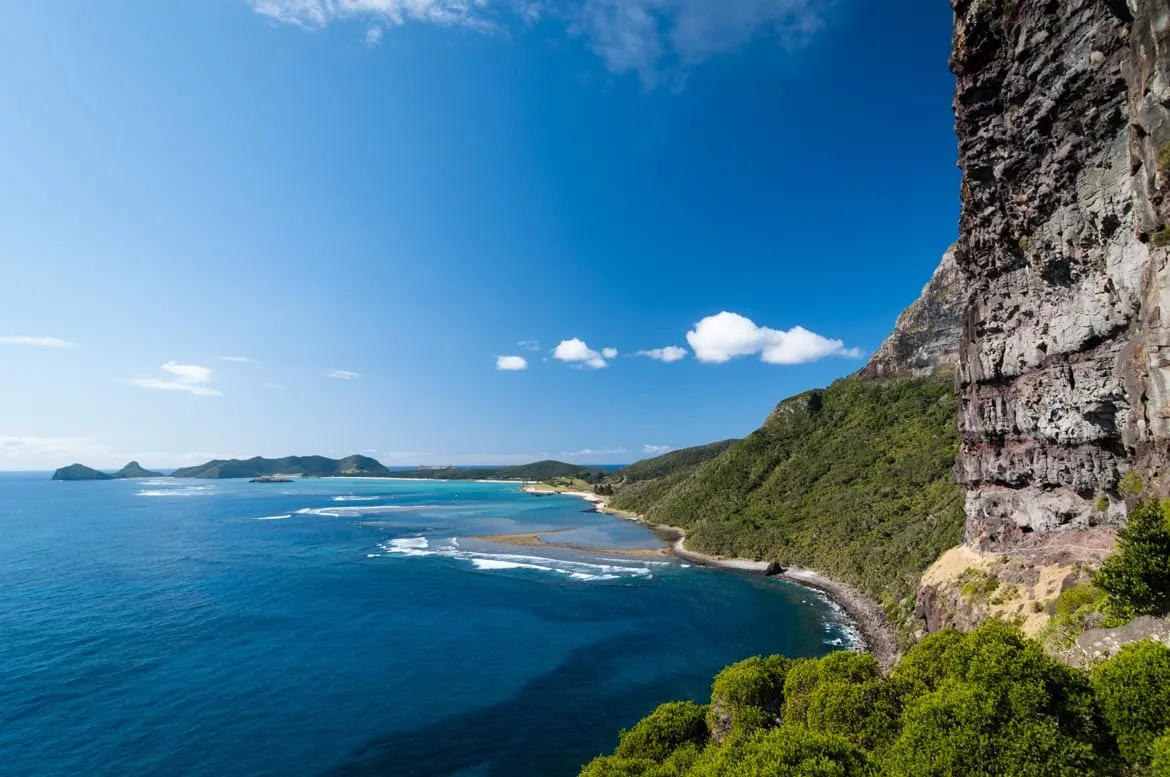 Looking at what to do in Lord Howe Island? Then look no further than Mount Gower.
Mt Gower stands sentinel 875m high, and no matter where you are on the island you'll always see it in the corner of your eye.
If you've got time, one of the best Lord Howe activities is to spend the day hiking to the top. It's a tough hike perfect for lovers of adventure.
Now this is an epic 8-hour hike that's consistently in the top 10 best hikes in all of Australia. Yes, it's really that good. In fact, a lot of people come here just to conquer Mt Gower.
Unfortunately, because not many people hike it per year, it means you have to go with a guide to show you the trails. Prices are around AU$100 per person.
The group hikes are on every Monday and Thursday, but you can hire a private guide outside of these times if you'd like to do it in a small group.
You can find out more about hiking Mt Gower here.
Go standup paddleboarding along the coast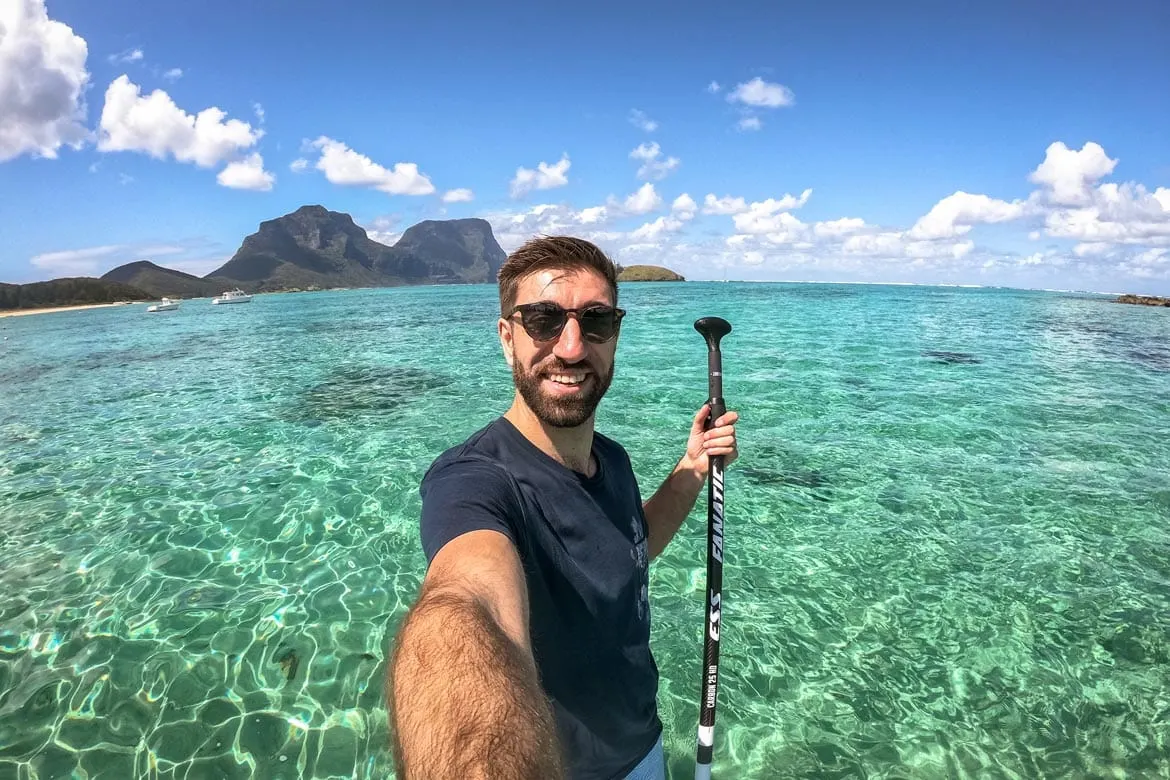 Similar to the kayaking, you can also hire paddleboards from Lord Howe Environmental Tours. I always love paddleboarding wherever I am around the world as I find it so calm and relaxing. Well I don't think I've ever paddleboarded in a place as beautiful as Lord Howe Island.
Unlike the kayaking, just standing on the board gives you that little bit of extra height to peer into the water. If you're lucky you might see some sharks and turtles too.
If there's not too much wind you can also paddleboard over to Rabbit Island, but this is a lot harder and slower than in a kayak.
The benefit of a paddleboard though is if it's a hot day you can just jump into the water.
Hike up to the Goat House Cave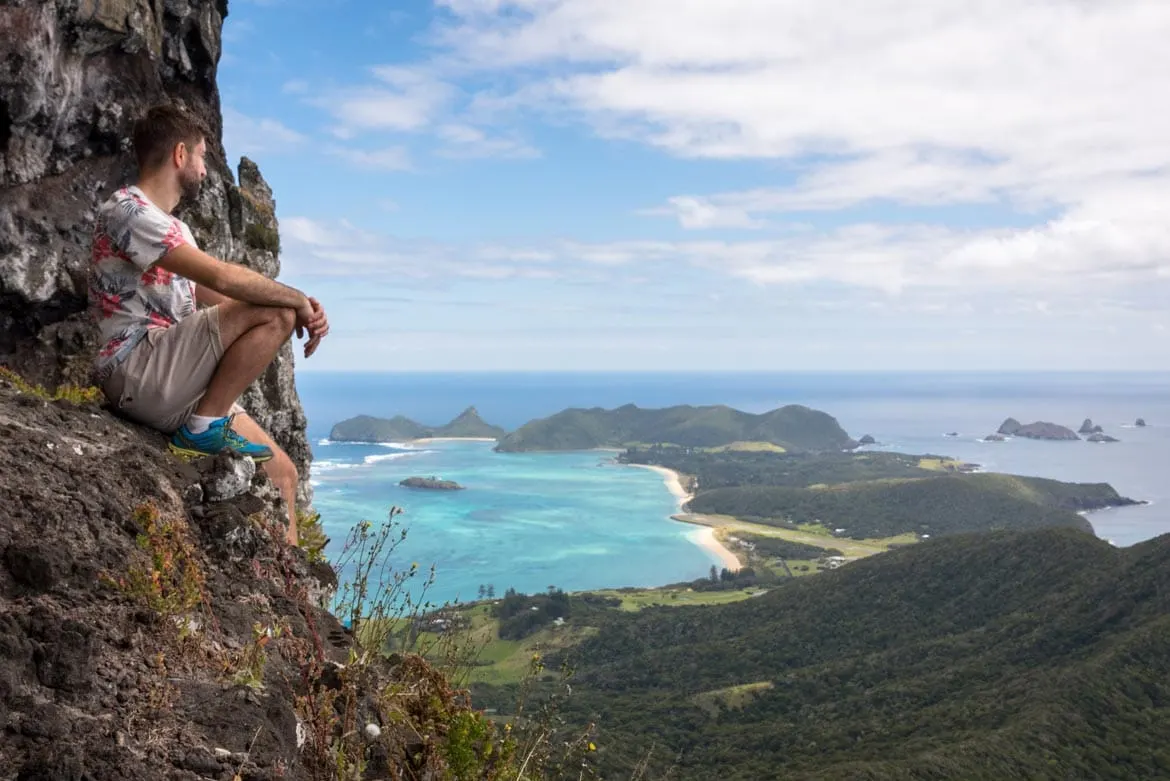 I think the viewpoint from Goat House Cave was my favourite on the island, mainly because it was so unexpected.
The Goat House Cave hike is perfect for those of you looking for a hard hike but don't have the time or energy to take on Mt Gower.
Located in the north of the island, the Goat House Cave starts walking through a lush green forest with banyan and bamboo trees dotted all over the place.
However, after about 20/30 minutes the incline starts getting really steep, so much so they have roped sections just so you can pull yourself up the mountain.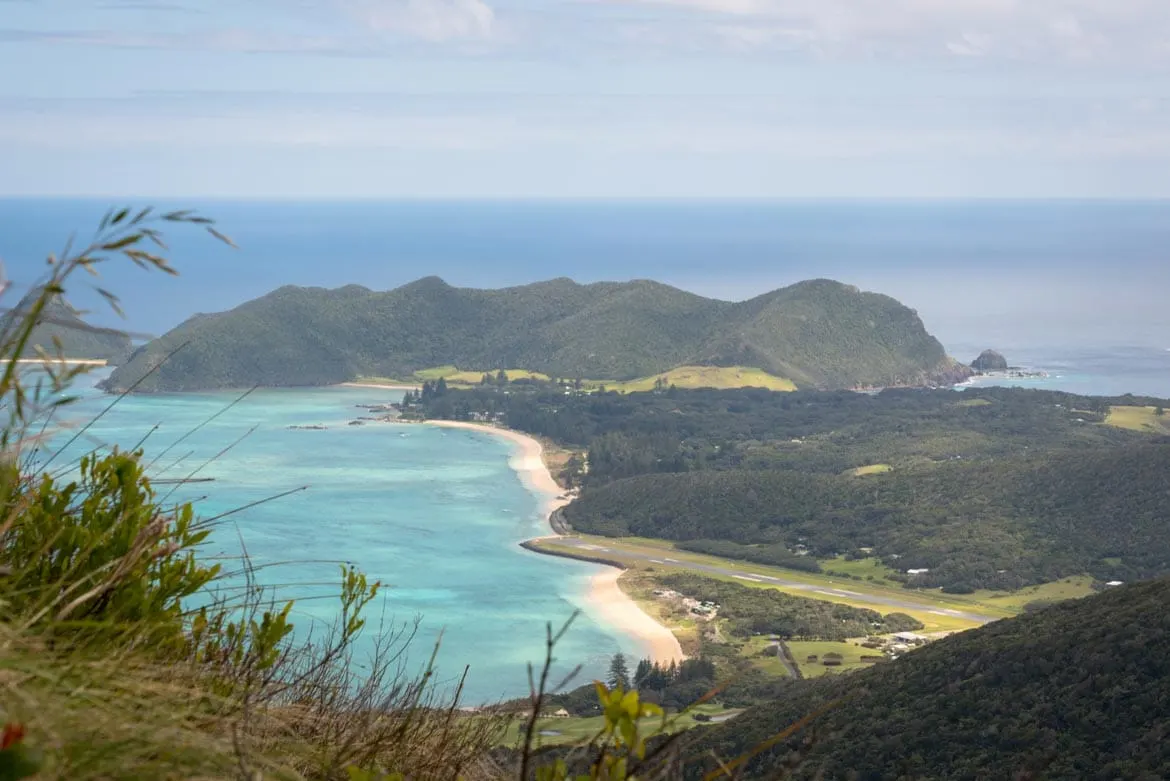 I can assure you this is a tough hike! Once it got a lot steeper I really sweating buckets and blowing hard. However, the good thing about this hike is it isn't a long one. It generally takes around an hour to an hour and a half to reach the Goat House Cave.
The beautiful thing about this climb is it's all about having tunnel vision. 99% of the climb is through the forest, so the scenery doesn't change at all. Once you pop out the treeline at the top though you're treated to these beautiful views of the island that not many people get to see.
If you make it to the top of the Goat House Cave, make sure you walk a little bit around the corner as you'll have a cracking view of Balls Pyramid too!
Overall, you can be up and down within a couple of hours, so even though its a tough hike it doesn't take too much time.
Feed the fish at Ned's Beach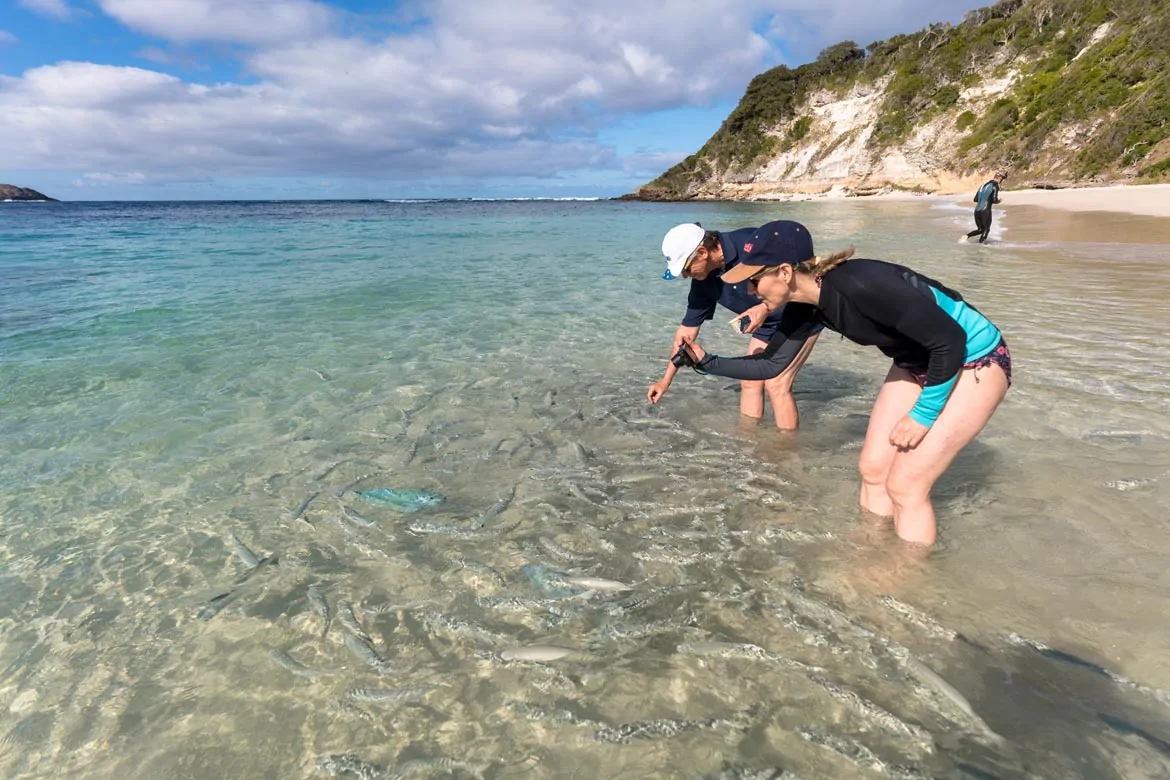 This is one of the more unique things to do on Lord Howe Island! Over at Ned's Beach you can feed the fish. And when I say feed the fish, I really mean you can feed these giant fish by popping pellets into their mouth. It's a bit like giving your dog a treat. Just it's a fish. And loads of them. All in the water. You get the idea.
In the hut at Ned's Beach there's a feeding station, and for AU$1 you can buy a small pot of fish pellets. Then you just take it down to the shore, wade into the water and start feeding the fish.
Some of these guys are big boys though with an even bigger appetite. These fish have it so easy with us humans coming to feed them every day, but it is a lot of fun!
It's cool bringing along an underwater camera to get some shots too!
Cycle around the island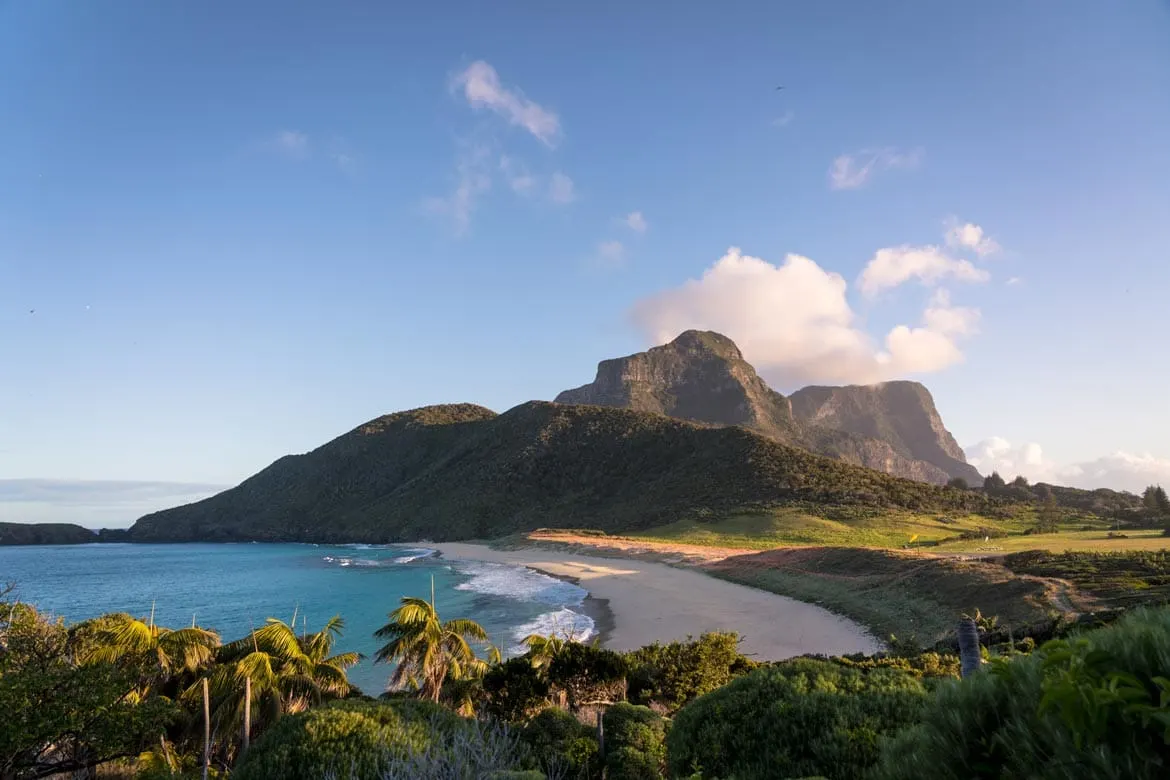 I found out there are only 6 hire cars on the island. That says something about how people get around, and it isn't by car!
Instead everyone cycles. You can hire a bike for AU$7 a day from Wilson's and then you get to zoom around the island. I loved having the freedom of my own bike and as there are hardly any cars it always feels very safe.
I think it took me an easy 20 minutes to cycle from one end of the island to the other, so the cycling is very easy. Probably because it's so flat everywhere.
Also, its mandatory to wear a bike helmet (which will be provided) when you're cycling. Make sure you wear it because you'll be fined if you don't!
Enjoy all the delicious food on the island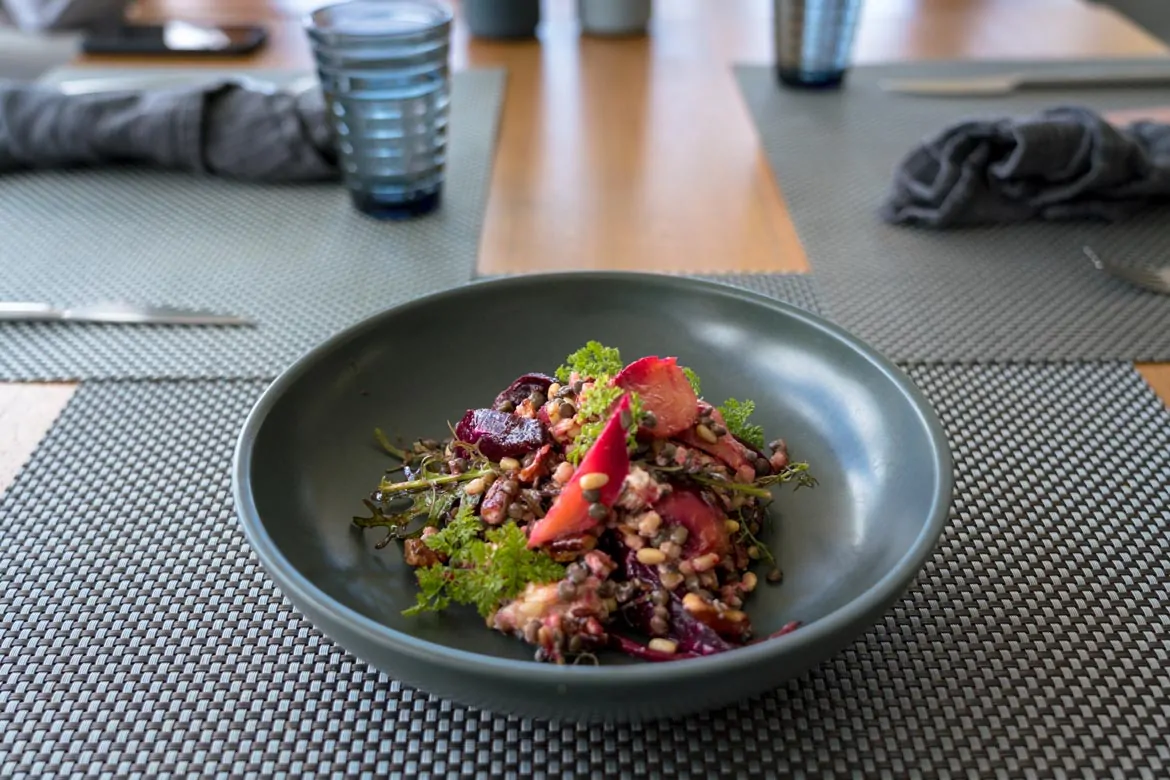 One thing that really surprised me about Lord Howe Island was the food; it was absolutely delicious.
I stayed a Pinetrees Lodge (more on that in a minute) but every day was a feast with incredible ingredients and cooking.
At Pinetrees Lodge they would have a big buffet for lunch with 8 or 9 different salads to choose from and some lovely cooked fish or kebabs. But that would be nothing compared to the evening meal which was usually a 3-course extravaganza using the finest ingredients like scallops.
Obviously there's a level of luxury the high-end resorts want to deliver but this was some of the best hotel food I've ever had. It was easily as good as any 5* hotel restaurant in a major city, so I say tuck in and really enjoy it.
Play a round at the Lord Howe Golf Club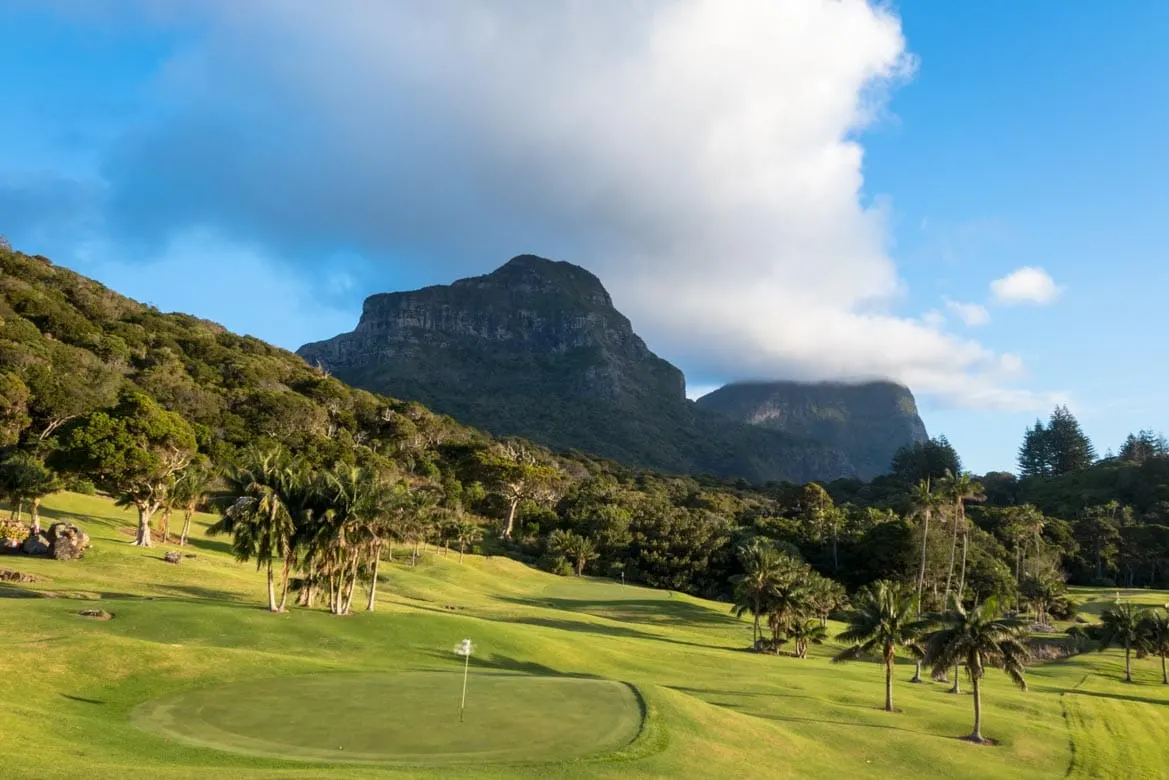 Yes, Lord Howe has its own golf club. In fact, it might just be one of the most beautiful golf clubs in the world.
Overlooking the ocean and with Mt Gower in the background, you can play a round at Lord Howe Island golf club for AU$40.
The best thing is obviously you're not going to bring your own clubs with the flight luggage restrictions, so the green fees include club hire.
The golf club works on an honesty system scheme. You just pop your money into a pot, pick up the clubs and then you're good to go.
Even if you don't want a game, its still worth coming down here for a drink or for the fish fry on Wednesdays. Then you get to soak up the views while tucking into some yummy fish and chips. For me, I would say this is one of the most unique things to do in Lord Howe Island.
Lord Howe Island Accommodation
You're certainly not short of options when it comes to accommodation on Lord Howe Island. Apparently there are 19 places to choose from. These range from luxurious 5* resorts with the best views to more like AirBnB type places, but there's definitely something for everyone.
However, I'm only going to mention the 3 hotels which I saw myself. Hopefully I'll be able to do a longer post all about the accommodation options later!
When it comes to AirBnb on Lord Howe Island, there are a few places starting to pop up, so this could be a good option too.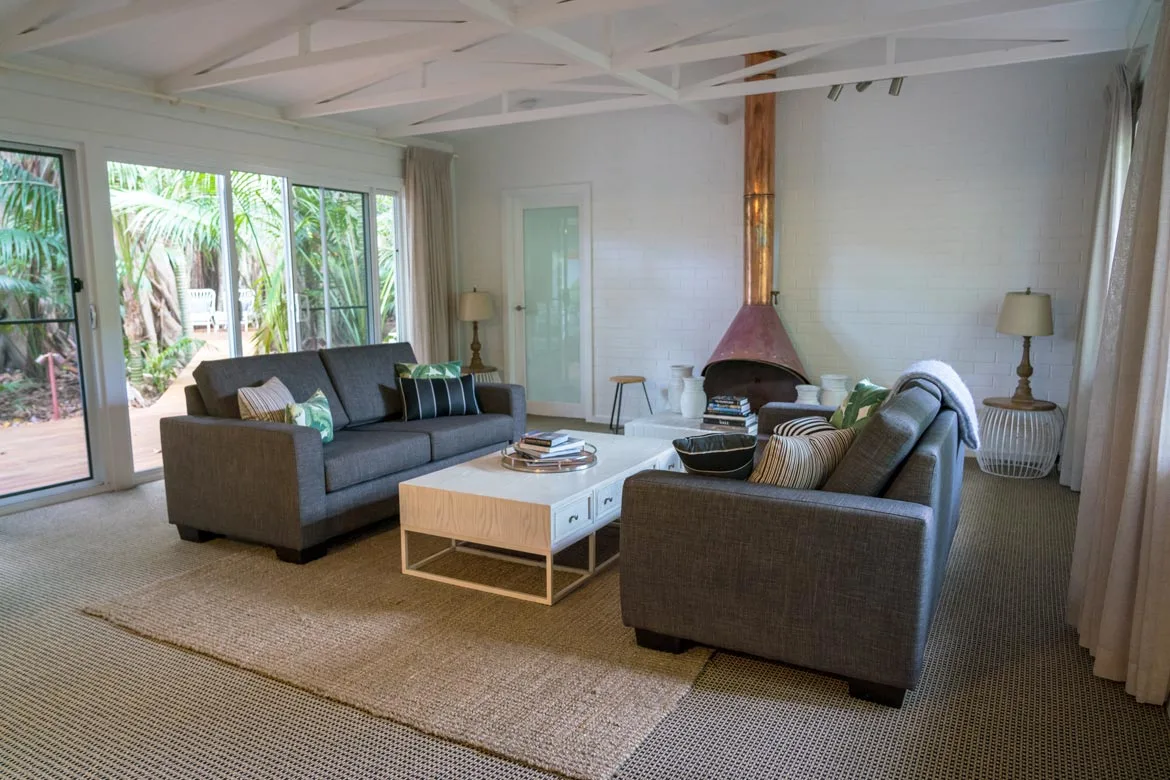 As I've already mentioned, Pinetrees Lodge is where I stayed and it was just amazing. Located just moments from the beach, Pinetrees Lodge is set surrounded by banyan trees and gardens. What I loved about this place was all meals are included. And when I say all meals, I really mean it.
Every morning I had a lovely cooked breakfast (there are usually two options to choose from). Lunch is an array of hot and cold salads that are delicious, but if you know you're going to be out and about you can asked for a packed lunch or even a BBQ on the beach. Yep, that's really a thing. Then dinner is this extravagant affair with a 3-course dinner that'll blow you away. Food is a major focus here and it really shows in the quality of the ingredients and cooking.
You can also book a number of activities directly with the guys at Pinetrees Lodge and they're full of information too. I can't recommend this place enough!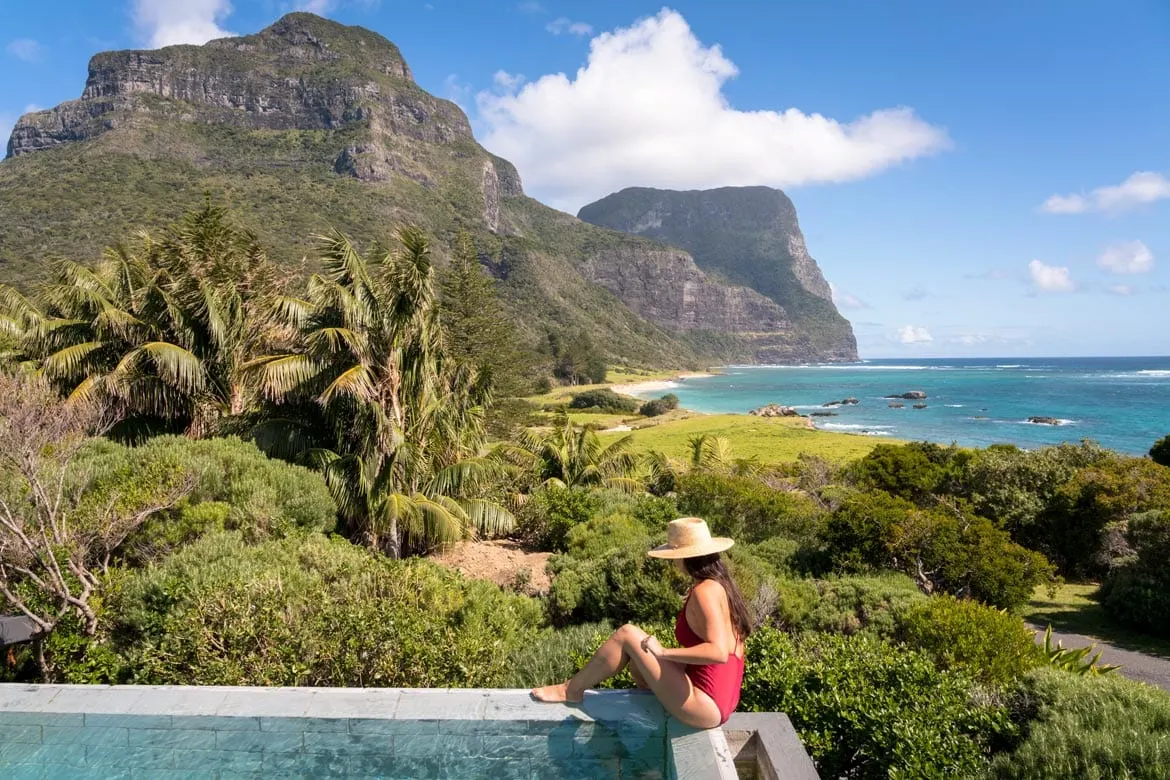 How dreamy does that pool look!? Capella Lodge is the most luxurious hotel on the island. This is the type of place where you can expect to rub shoulders with celebs.
Celebrated as the pinnacle of luxury on Lord Howe Island, Capella Lodge rests atop romantic Lovers Bay. An inspired architectural design welcomes spectacular views of the ocean, reef and mountains into the Lodge. All of the rooms come with the own private balcony where you'll find a bath with the most beautiful views.
There are only 9 suites at Capella Lodge but each one is a fabulously decked out with clean and contemporary design. Also, the restaurant is amazing too with views of Mt Gower in the background. There's where you'll find the swimming pool too which I think might just be the most beautiful swimming pool in the world!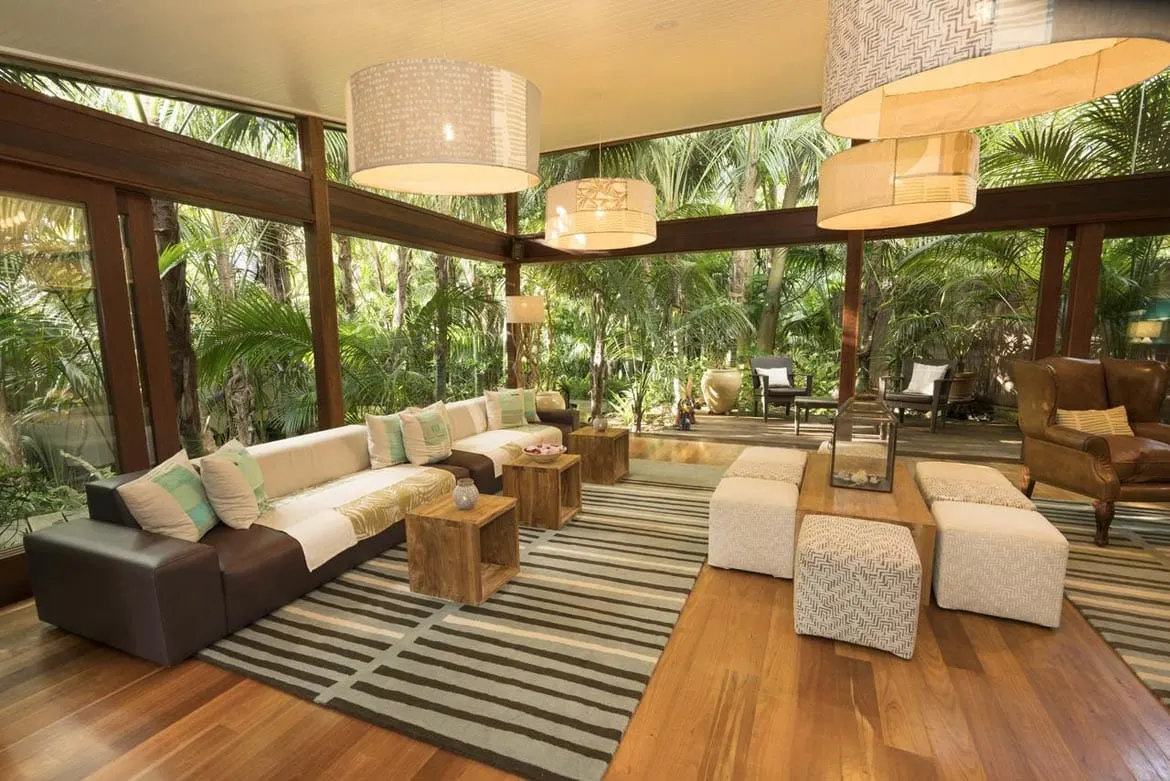 You might start seeing a theme here. That's the Lord Howe Island accommodation options are on the next level. Well Arajilla Retreat is no different there!
Arajilla Retreat is located in a forest area just behind Old Settlement Beach towards the north of the island. Arajilla is a very exclusive property with a range of 1-bedroom and 2-bedroom luxurious suites to choose from. However, it always feels like you've got the place to yourself here. And I love how it really feels like you're in the heart of a forest when the beach is still only moments away.
Once again the food is as gourmet as you'll find anywhere. In fact, I know a couple of the locals who think this is the best restaurant on the island! There's also an on-site spa and wellness centre for those of you looking to unwind for the day.
Being at the very north of the island, one of the benefits of Arajilla is that seclusion. It's just so quiet and peaceful here!
---
My trip to Lord Howe Island was in association with Destination New South Wales promoting the island as part of Lonely Planet's 'Best in Travel' list. As always, all view and opinions are my own.
Are you looking at what do on on Lord Howe Island? Which of these activities I've listed would you like to do most? Let me know in the comments below!
Like this blog post? Then make sure you Pin it for the future!