As a capital of food, music, art, and tech, Seoul is a traveller's paradise. Want to discover the coolest hotels in Seoul? I've got you covered!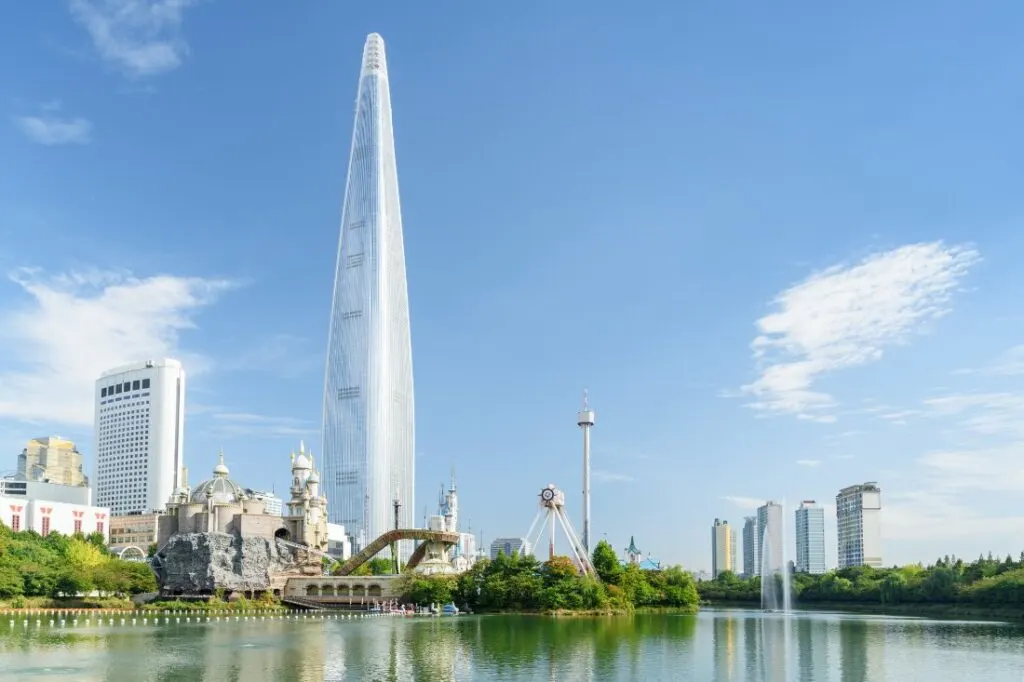 The capital of South Korea, Seoul is a vibrant city that's buzzing with excitement. From amazing fashion to coordinated K-Pop numbers to food that I can't stop thinking about, a visit to Seoul isn't something you're likely to forget in a hurry.
With some of the coolest hotels in Seoul featuring colourful displays of teddy bears and cartoons all the way to sleek rooftop pools and cosy libraries, there's a lot of variety when it comes to finding accommodation. Oh, and they have robot hotels here too. Yes, this is really a thing!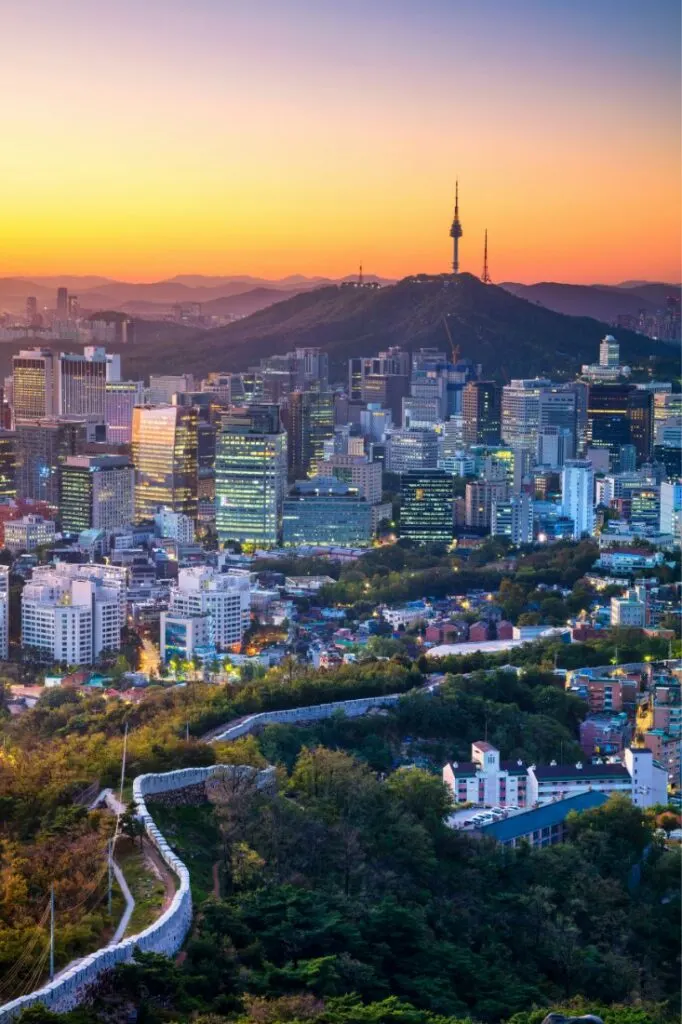 One of the things I love about Seoul hotels is that even the budget spots like Orbit have their own super distinct personality and quirky design choices. It means you can easily find a cool place to stay in Seoul without breaking the budget.
So, whether you want to be in the heart of the action, fancy being surrounded by bubblegum pink dreams, or want somewhere a little more luxurious, Seoul can definitely deliver!
With that in mind, let's dive in and find out some of the coolest hotels in Seoul. Hopefully you can use this blog post when planning your next trip here.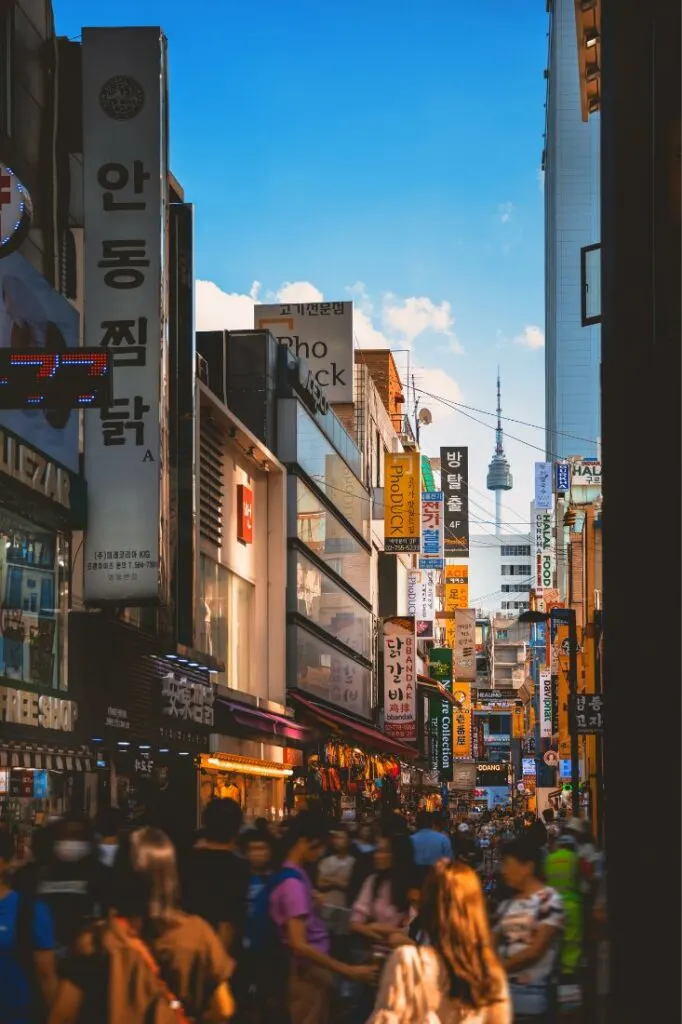 Where to stay in Seoul
Insadong
If you're looking for a lively neighbourhood to base yourself in during your trip to Seoul, head to Insadong. Filled with artsy streets, traditional attractions, and plenty of restaurants, it's perfect for first-timers.
Myeongdong
Want to get your fill of retail therapy then you need to stay in Myeongdong. Filled with fashion stores, the main drag is the epicenter of Seoul's shopping scene.
Hongdae
If you're wanting to stay in a place that's more hipster-friendly with a huge indie arts and music scene, head to Hongdae. Located by Hongik University, it's full of students, so you can always get some good deals.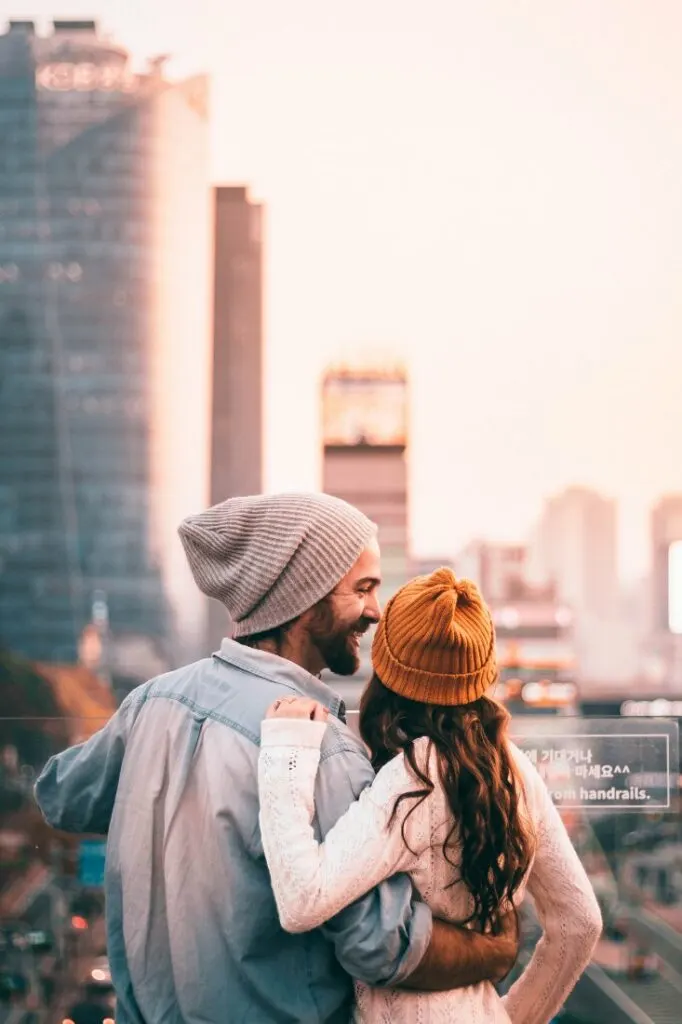 Gangnam
Gangnam is more than just a catchy song, it's actually one of the richest and most luxurious neighbourhoods in the whole of Seoul – that's why Psy sung about the style and lifestyle!
Itaewon
Consider yourself a foodie? Itaewon is known for its amazing restaurants and bustling nightlife scene, so if you're more of a night owl than an early bird, this is the place for you.
---
Coolest hotels in Seoul, South Korea
Luxury Hotels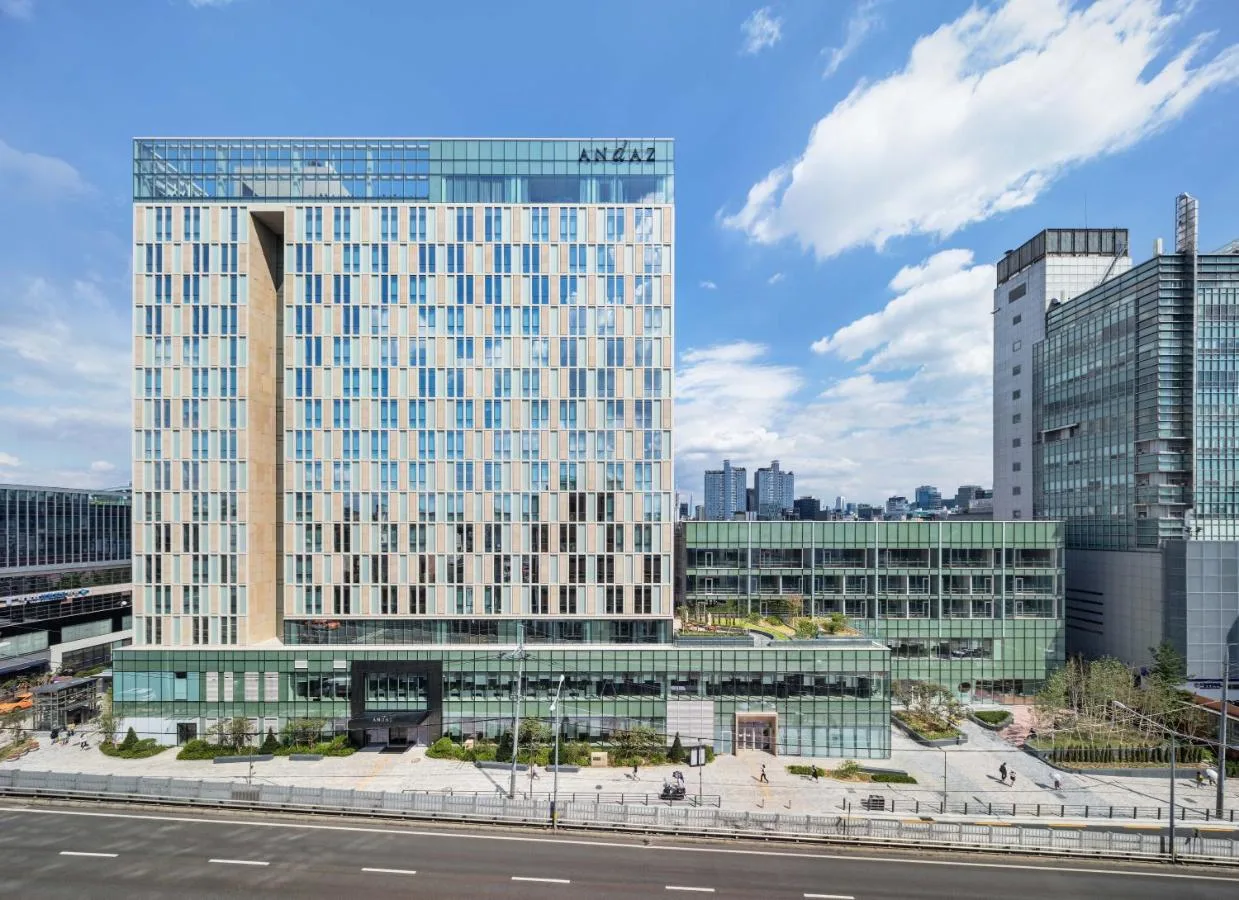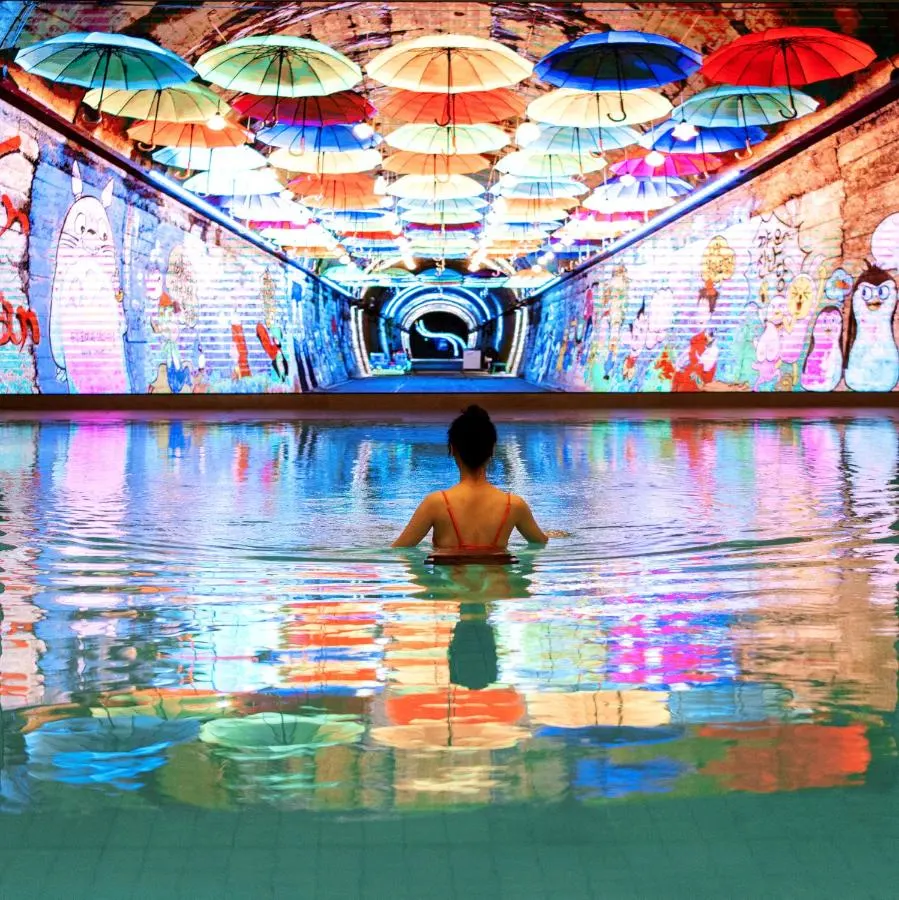 Located in the exclusive and luxurious Gangnam district, Andaz Seoul is a hugely sleek and modern place to stay if you're looking to splash the cash and treat yourself.
If you're looking for an Instagram-worthy post from your Seoul hotel, head down to the gigantic indoor pool. Once you're there, you'll find a huge art installation, full of colourful hanging umbrellas – it's super cool!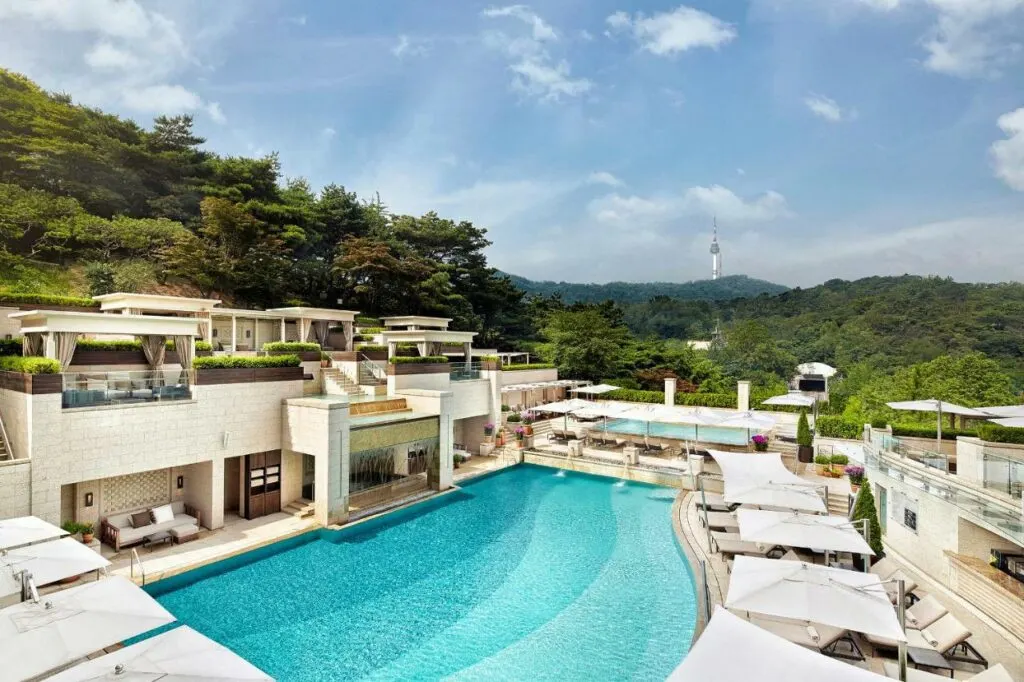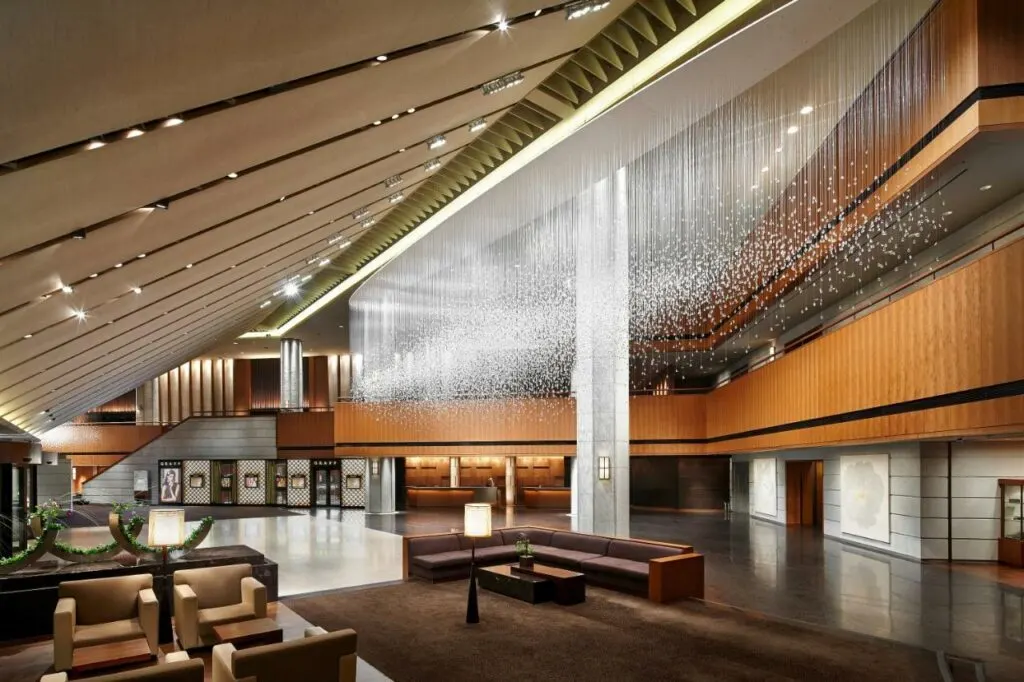 Want to stay in a cool hotel that's full of amazing architectural touches? Look no further than The Shilla Seoul. With panoramic views of downtown, a spectacular geometric communal lobby area, and even a giant water feature out front, it's a design lover's paradise.
I love the calmness and tranquility of the rooftop pool area. It has amazing views of mountains that make you feel like you're a million miles away from the bustling city below. For me, this is without a doubt one of the best luxury hotels in Seoul!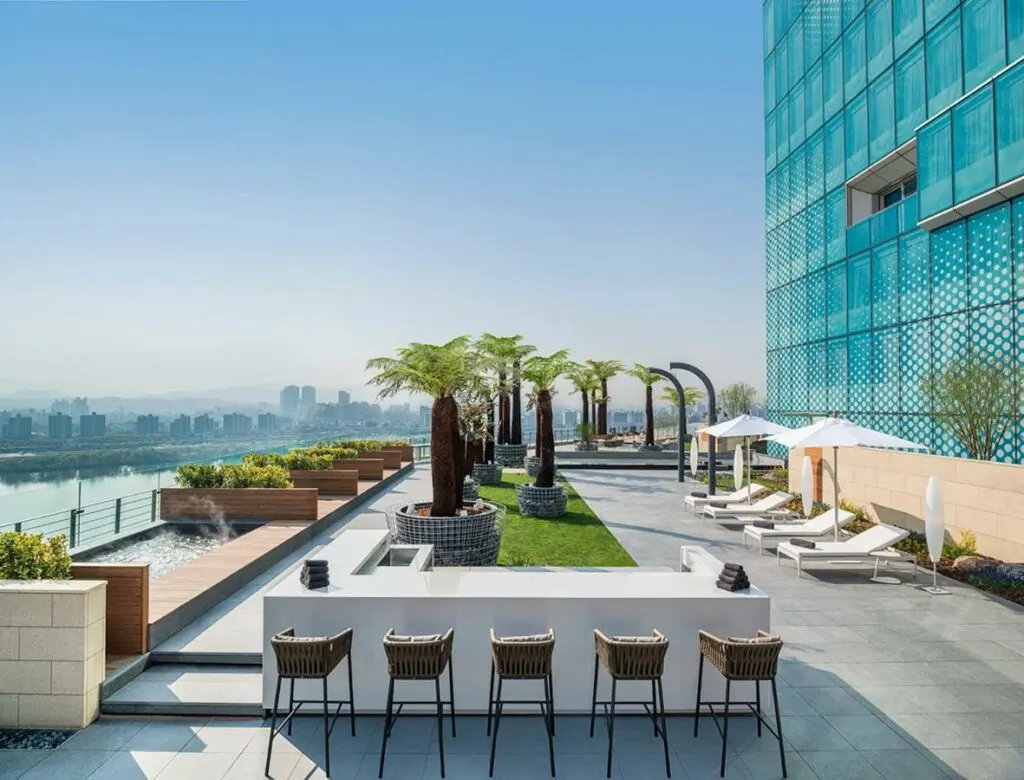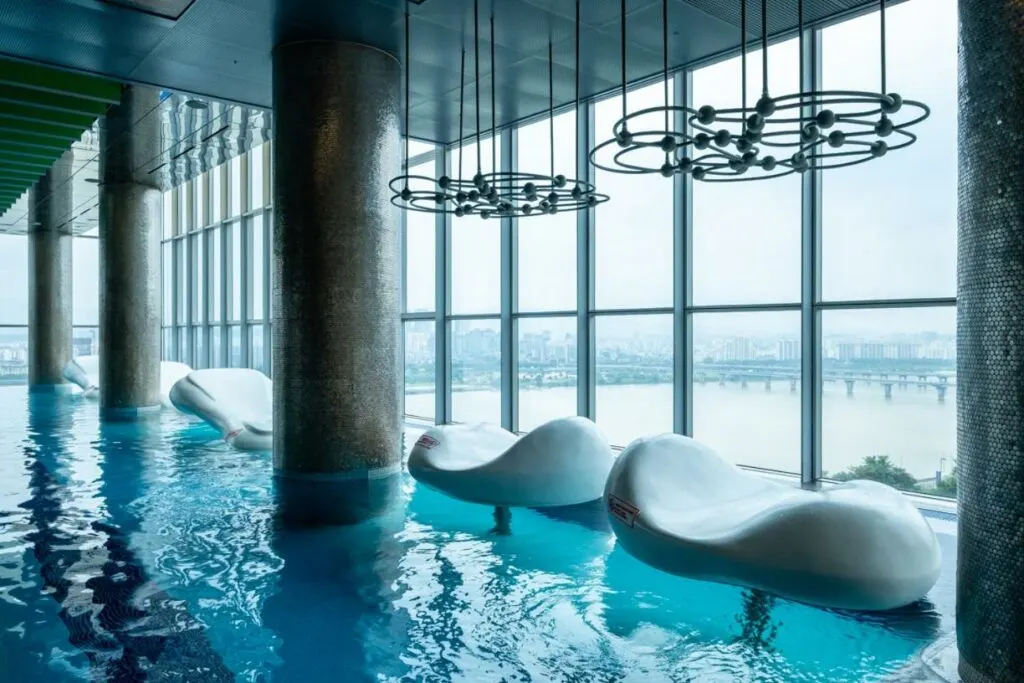 Looking for more of a chilled-out party vibe while you're staying in Seoul? The Vista Walkerhill Seoul – formerly known as the W Seoul – is a gorgeous place to stay with jaw-dropping views of the Han River.
The piece de resistance? The outstanding rooftop area. You've got a huge pool, an outdoor cocktail bar, hanging seats and sofas, and amazing views. This place is the perfect area to kick back and relax and hang out with friends.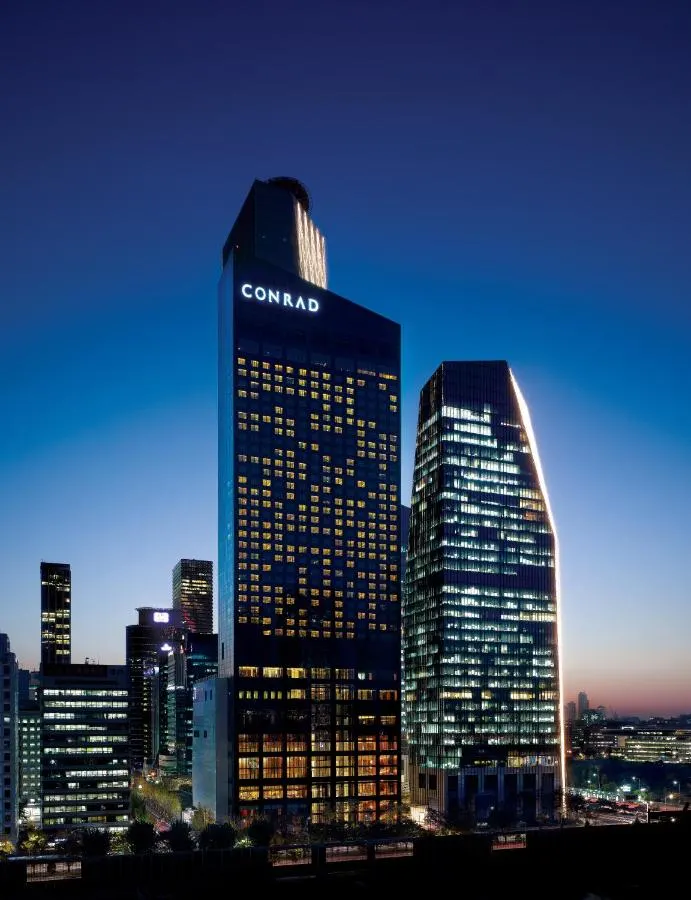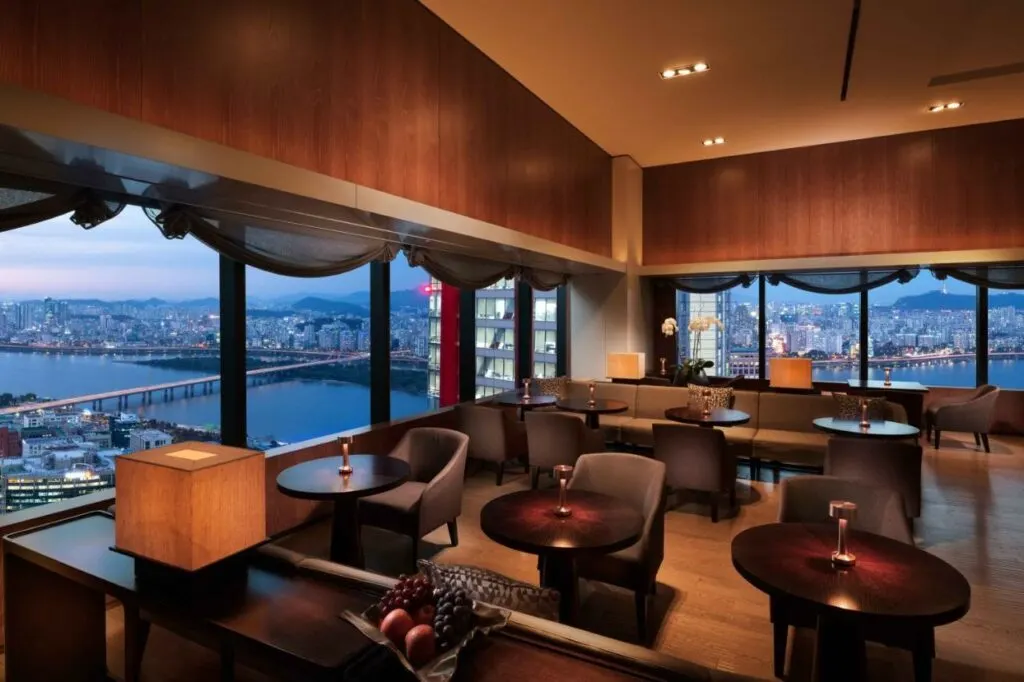 If you're looking for the ultimate luxury stay in Seoul, look no further than the Conrad Seoul. With expansive views of the iconic Seoul skyline, these trendy and modern rooms are huge – honestly, I think they're bigger than most flats in London!
Outside of the rooms, there's a full gym and spa service if you need to be pampered and a gorgeous restaurant full of delectable dishes from all over the world.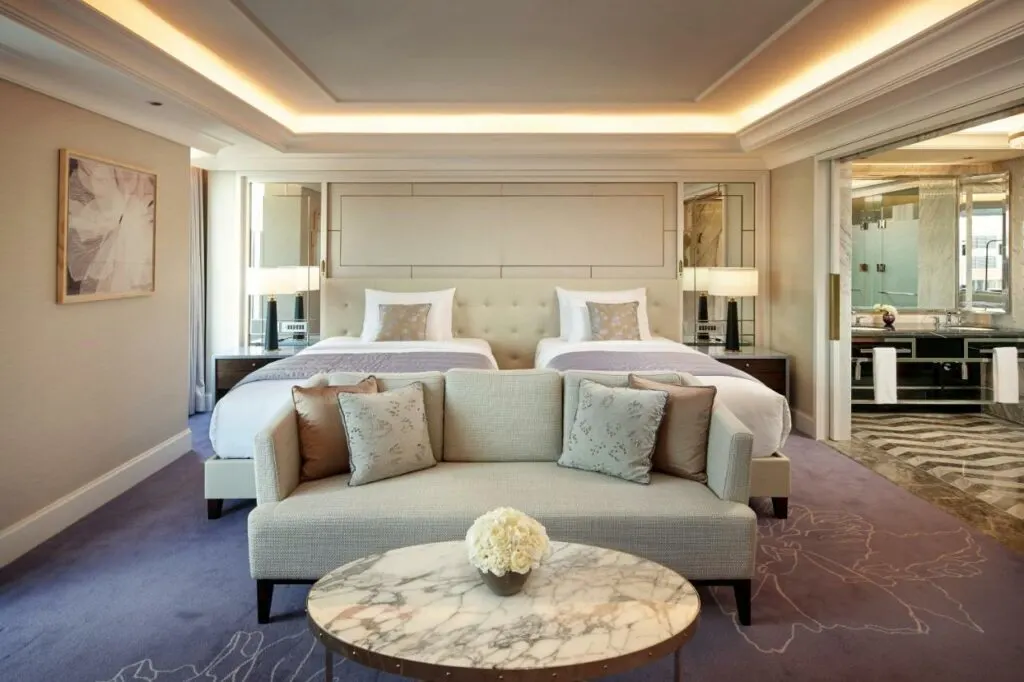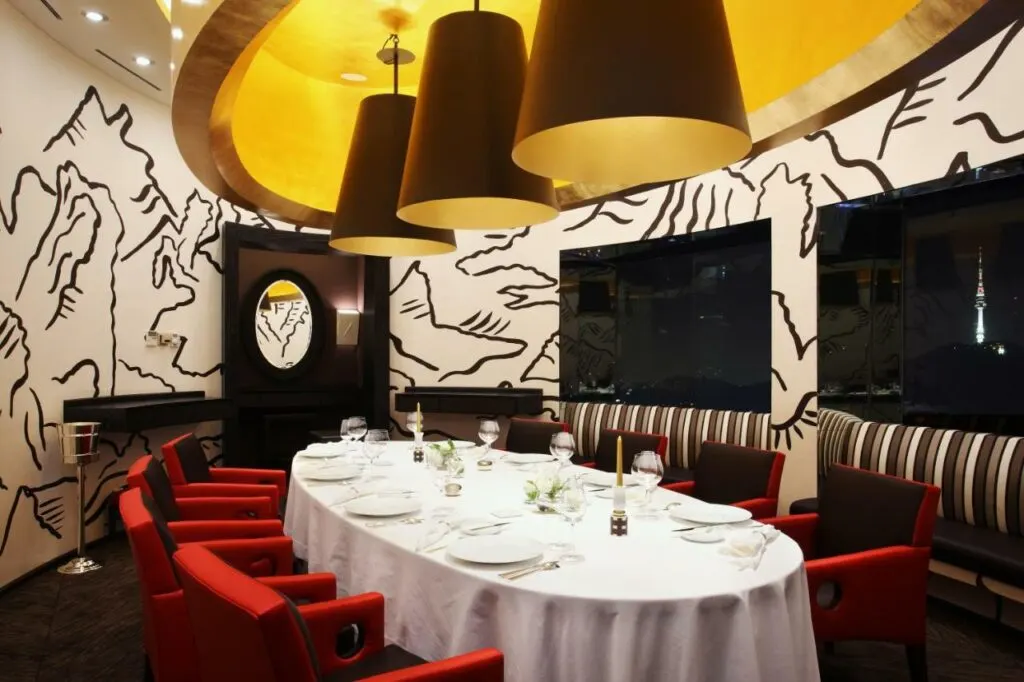 Looking for a cool place to stay in Seoul that is absolutely dripping in opulence? Well then, the Lotte Hotel Seoul Executive Tower needs to be at the top of your list. With a lobby that looks like it belongs in a European palace and a chandelier-filled Michelin-starred restaurant, it's a place that'll make you feel like you've truly arrived.
The rooms themselves are so huge, and the majority of them are actually suites with panoramic views of the Myeongdong area. Kick back and relax in your huge suite, or head up to the gorgeous pool area and cool off after a long day exploring Seoul.
Mid-Range Hotels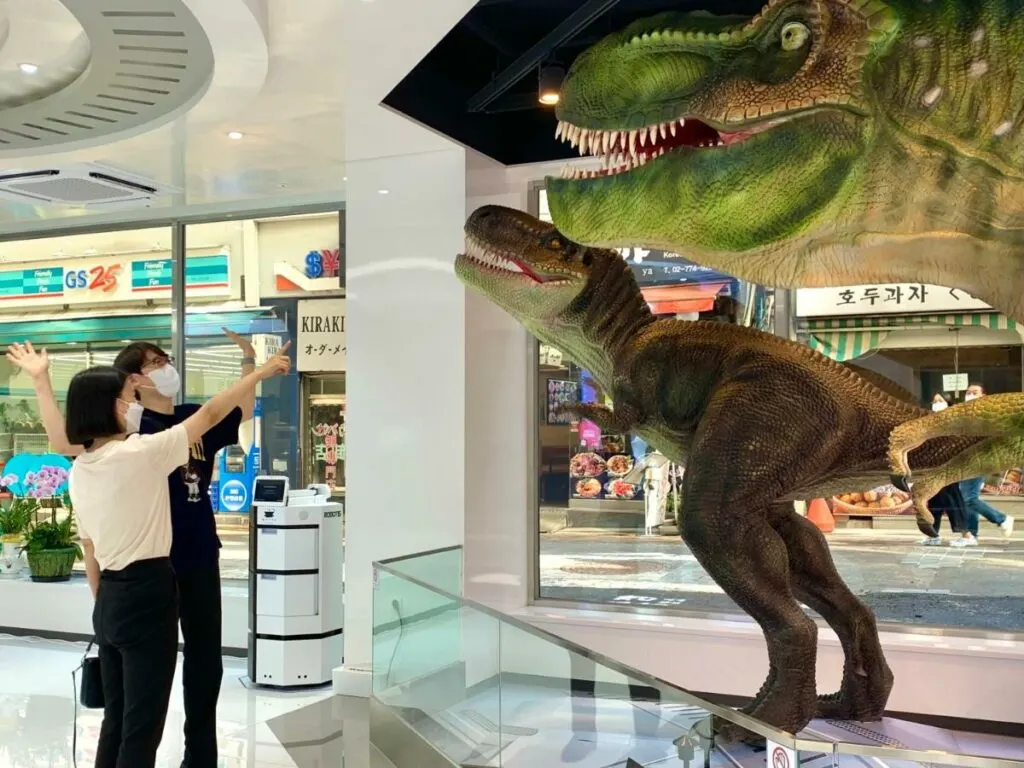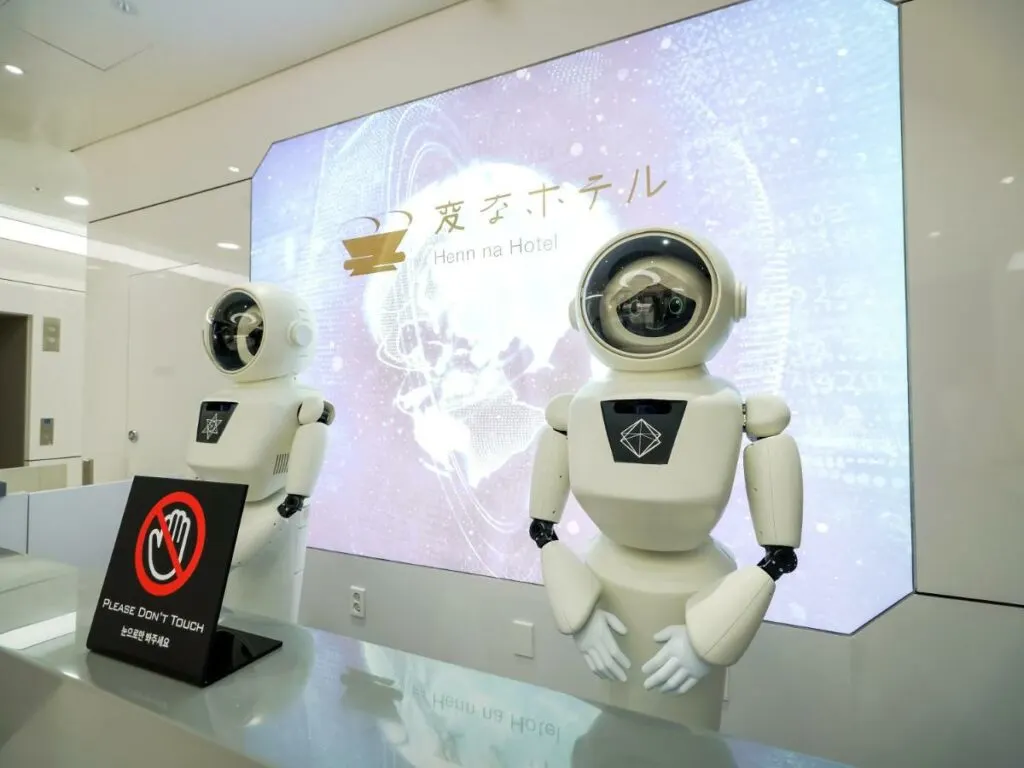 In the heart of bustling Myeongdong, Henn na Hotel Seoul is the perfect spot if you love technology and all things robotic. I think it's probably the coolest hotel I've ever seen.
There are robots and automation all around the communal areas that are both entertaining and seriously useful. If robots aren't your thing, you can check out the giant dinosaur art installation in the lobby area. I'm not kidding. It's awesome.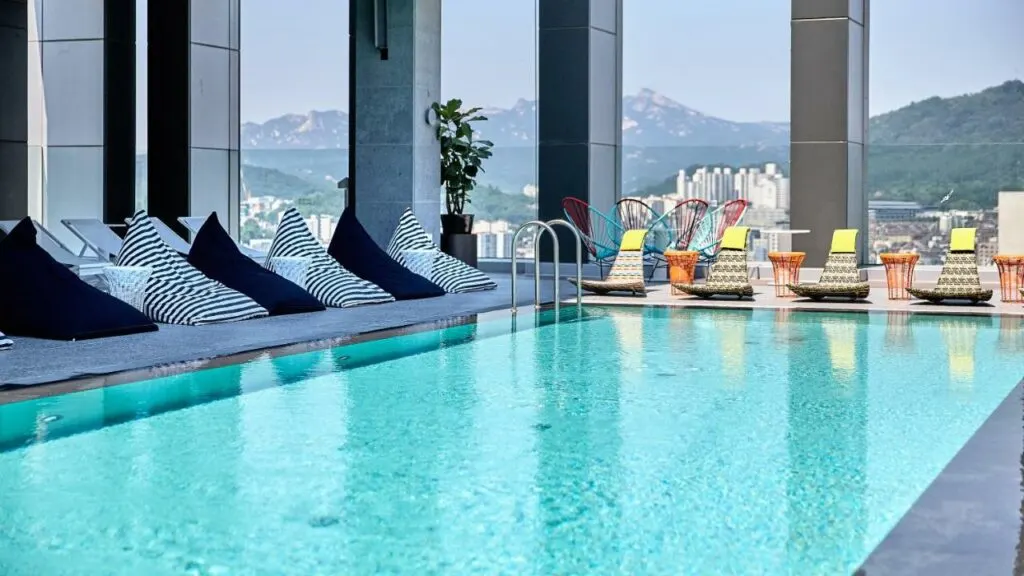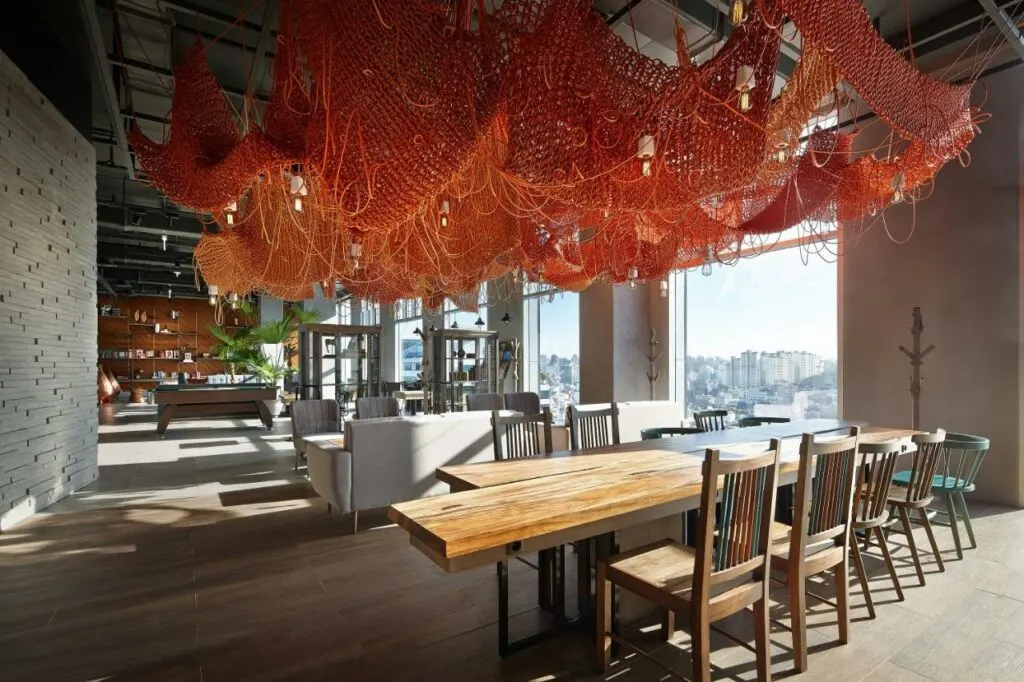 If you're looking for one of the best boutique hotels in Seoul, then you'll want to take a look at this one. Located in the Mapo-Gu area of Seoul, L7 Hongdae by LOTTE is a lesson in luxurious minimalism. From its clean lines and stunning art installations that hang over the restaurant to the elegant rooftop pool, it always feels like you're in a super cool Seoul hotel. That's because you are!
If you're looking to kick back and relax, there's a huge roof with a pool table and a sleek bar area that's always filled with delicious cocktails.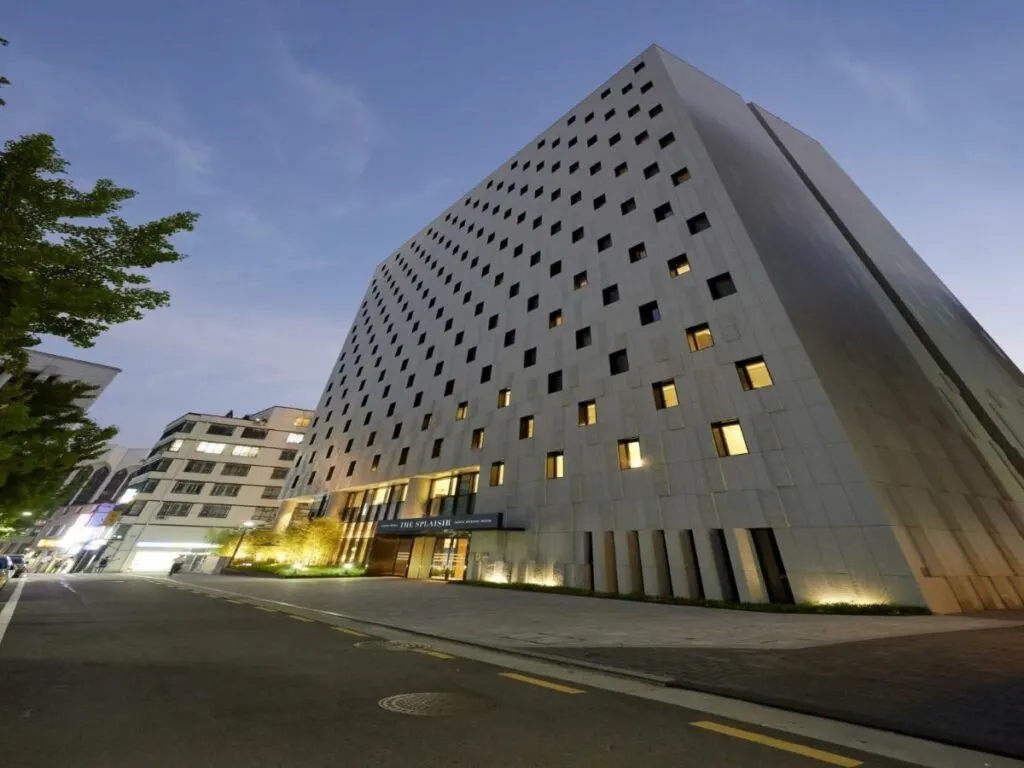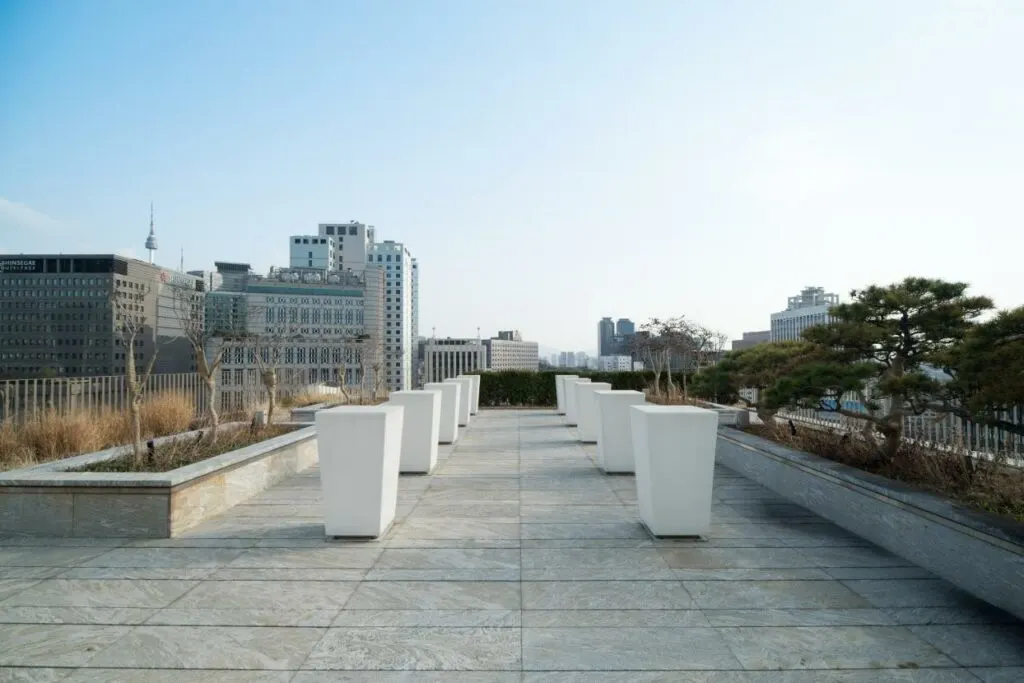 So, this particular boutique Seoul hotel is a tale of two halves. The Sotetsu Hotels The Splaisir Seoul, located in the vibrant Myeongdong region, has a deeply unassuming exterior, but once you get inside you seem to get the choice of two main room styles.
Either you can go with a classic look, or you can opt for more cutesy, bright, and bubbly decor, that revolves around teddy bears and stuffed animals. As I said – it's definitely a place that's split into two distinctly different vibes, making it one of the coolest hotels in Seoul!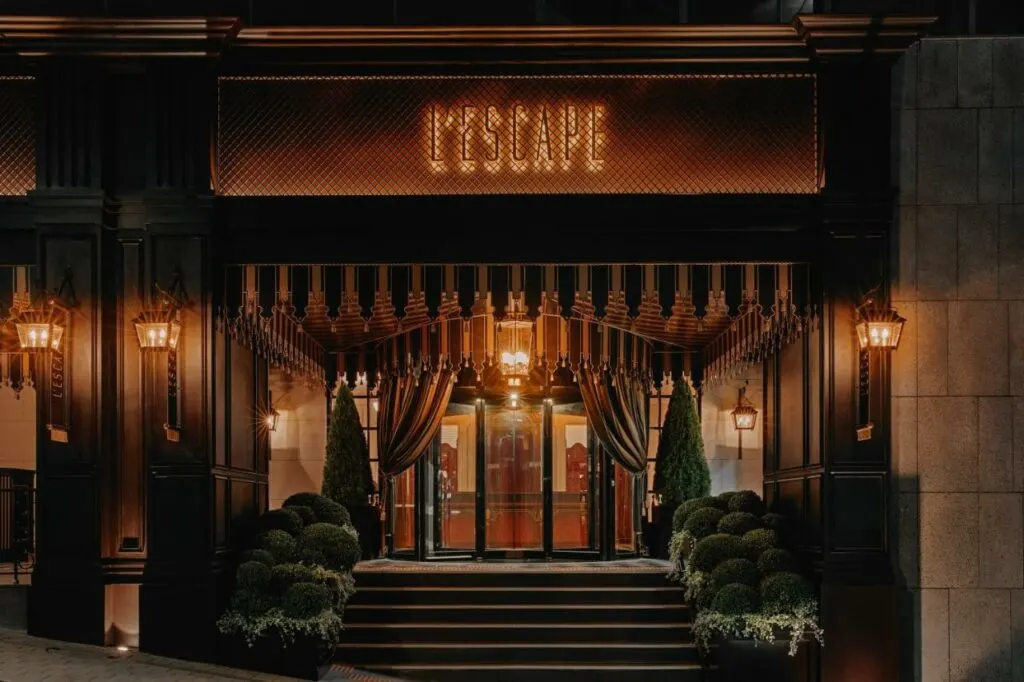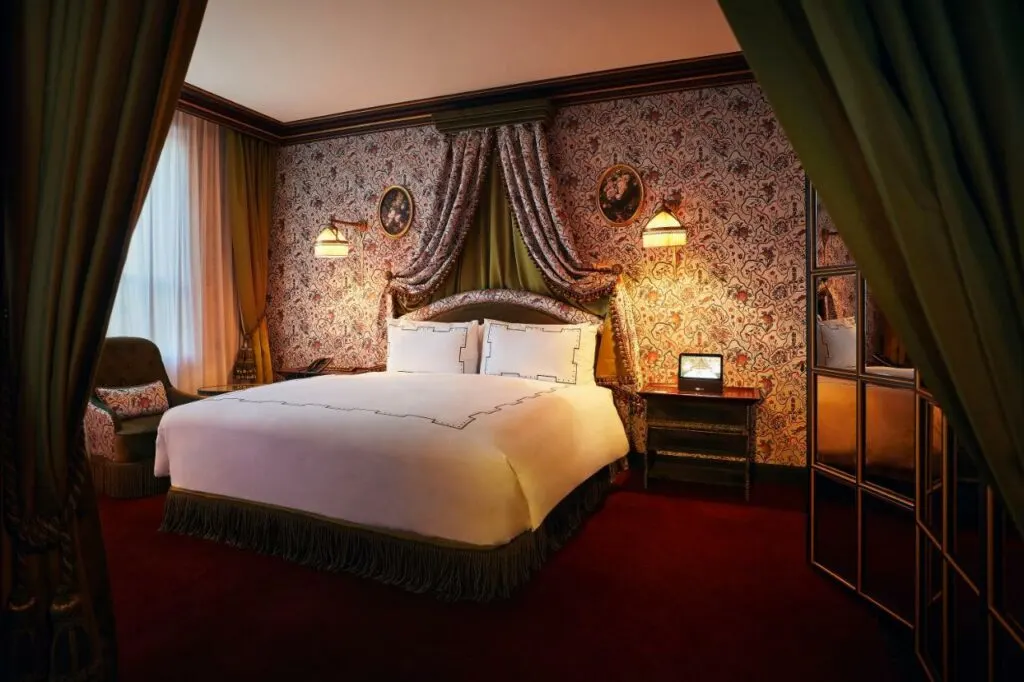 It's rare to find such a maximalist, low-light decor style anywhere in East Asia, let alone in Seoul, but L'Escape Hotel has that in spades. With a turn-of-the-century French influence, it feels cosy and welcoming – perfect for relaxing after exploring the city.
Filled with heavy drapery, intense printed wallpaper, and rich velvet tones, this cool hotel in Seoul has a distinctly vintage vibe that's unlike anywhere else in the city.
Budget Hotels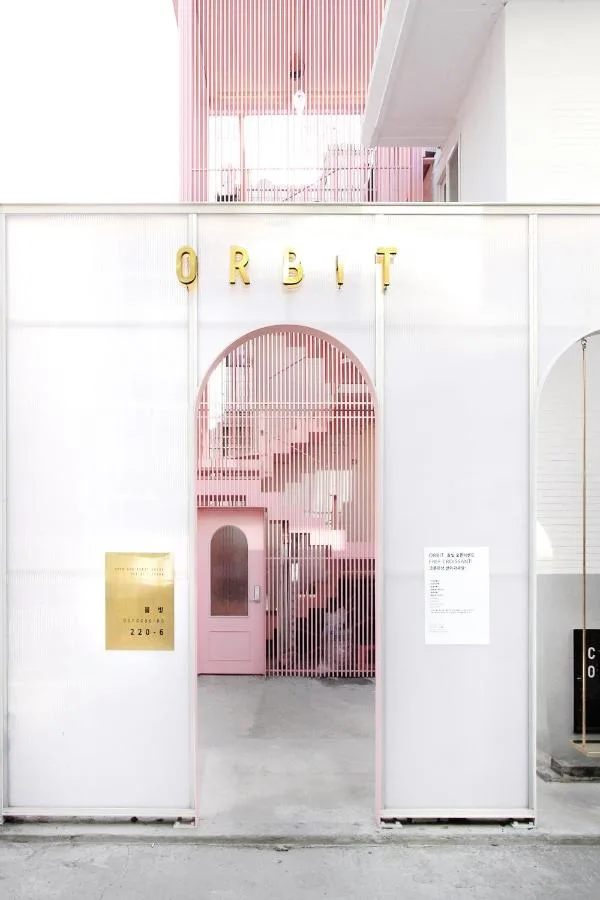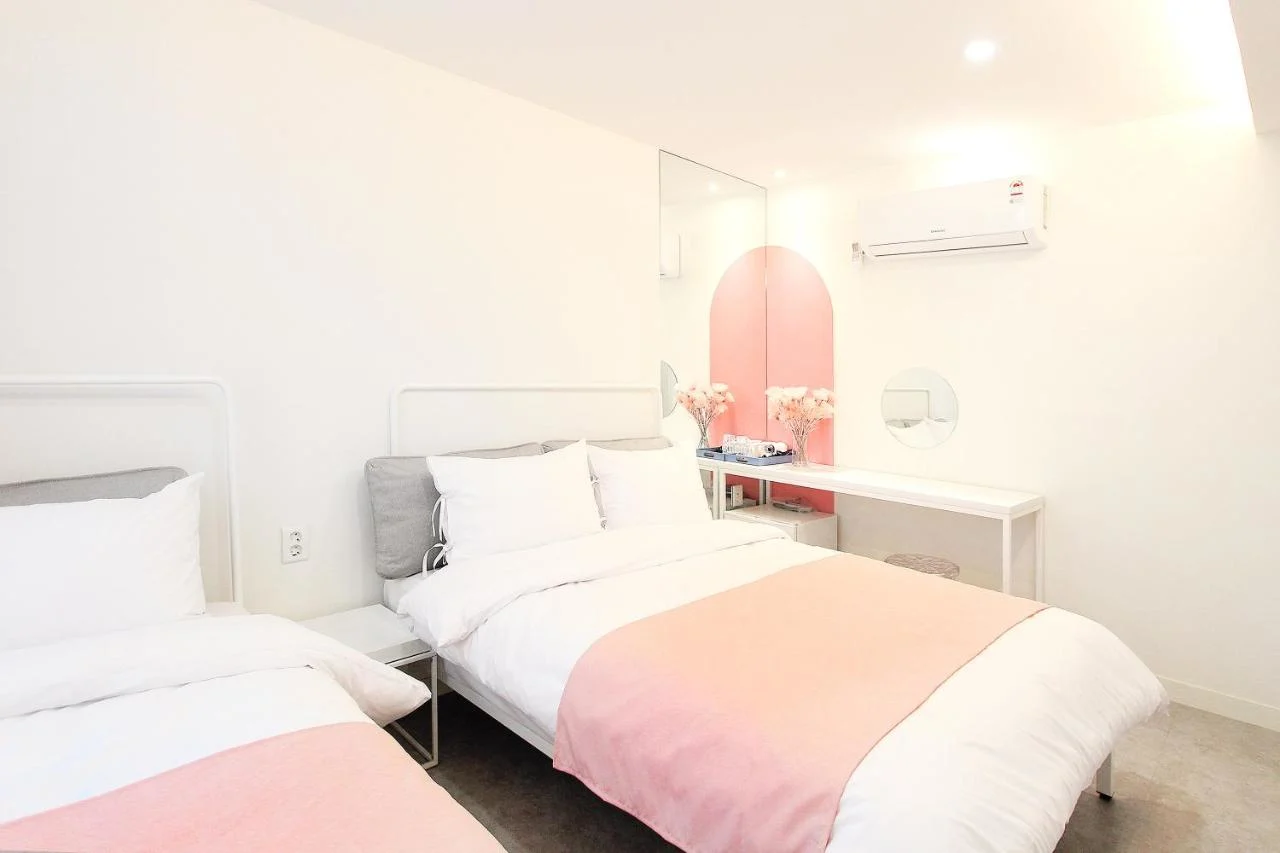 Looking for the most bubblegum pink room that you've ever stayed in in your life? Orbit is a cute and quirky guesthouse in the Mapo-Gu district and once you're there, you'll essentially find no surface that isn't either baby pink or white!
If sugary decor is your thing, you'll love a stay here. It's the perfect spot for friends as it has triple and family-sized rooms so you can kick back and relax together after a long day of exploring Seoul.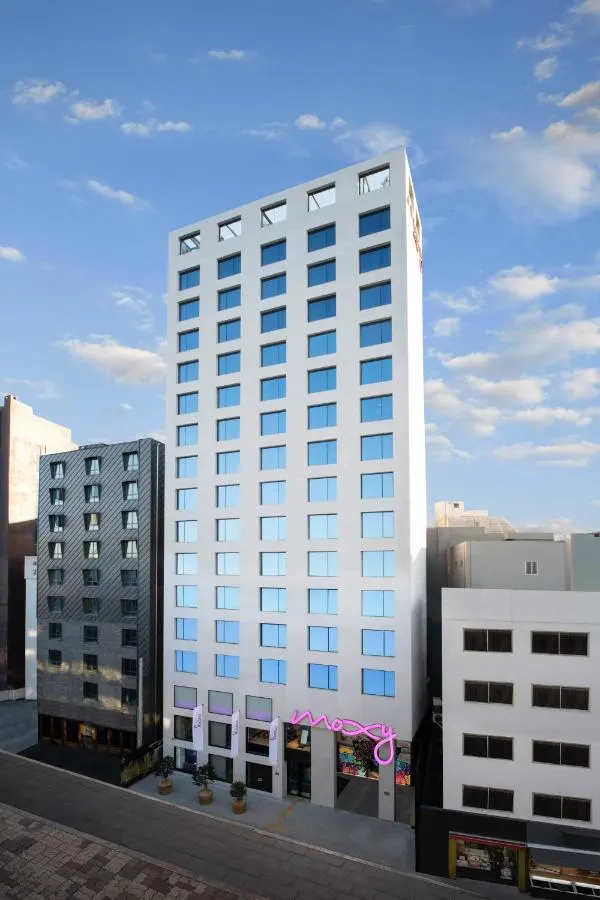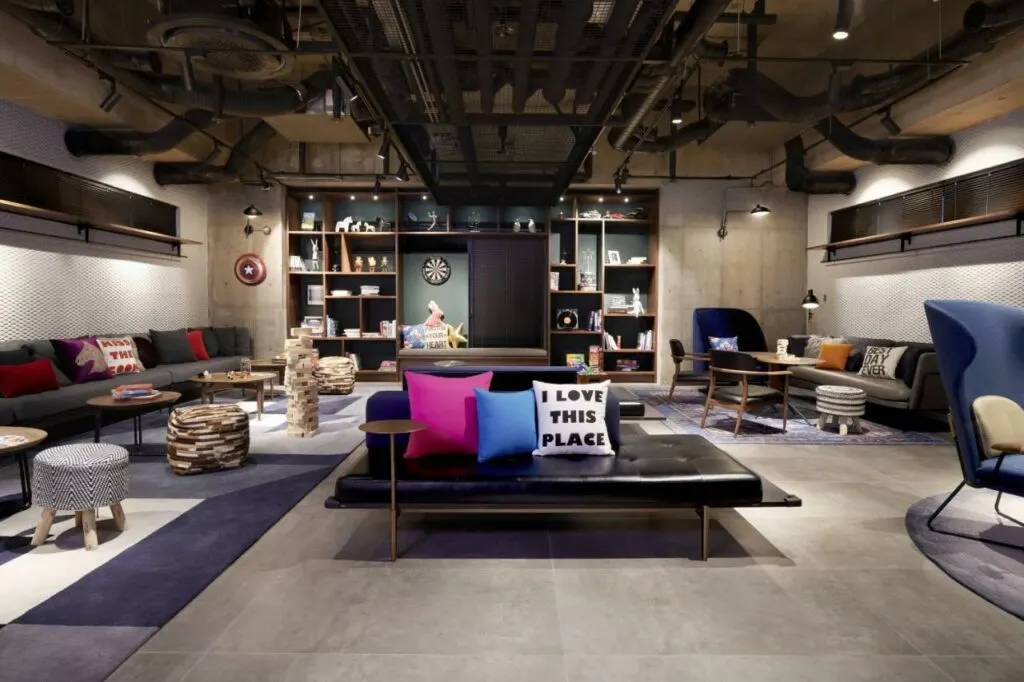 If you're wanting a youthful, industrial party vibe from your cool Seoul hotel, you need to check out Moxy Seoul Insadong by Marriot. With an eclectic decor style in the communal areas, like the stripped-back lounge area and the fun bar, it's definitely a social place to stay.
Located in the Insadong district, you're close to all the action. If you want somewhere to stay in the centre of Seoul, book yourself into Moxy!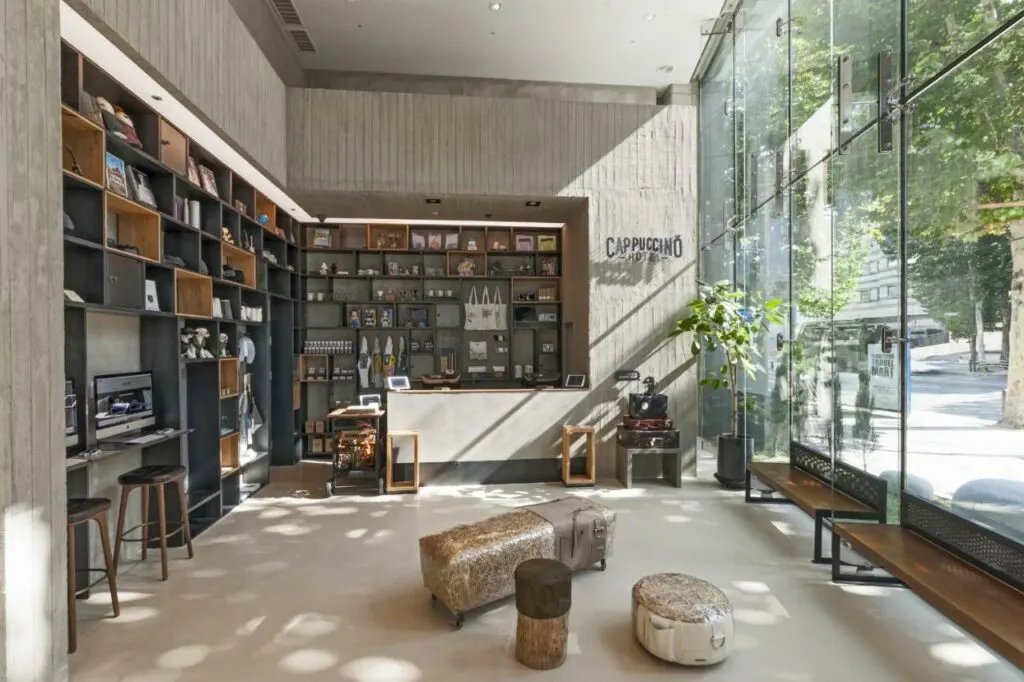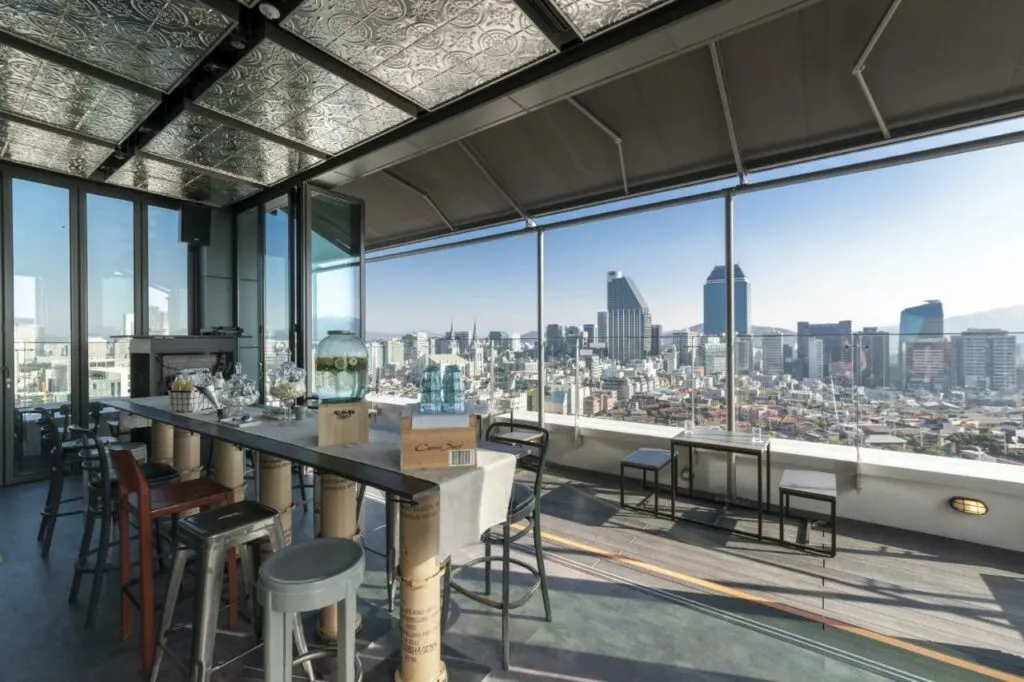 Located in the bustling Gangnam district of Seoul, this particular hotel is perfect if you're traveling with a furry friend. That's right, this Seoul hotel not only welcomes dogs, but it also encourages them! Each room has a tiny little hut that's beautifully designed, specifically for your pooch.
Hotel Cappuccino also has some amazing communal spaces including a trendy bar space and a gorgeous coffee shop where you can either relax or get some work done.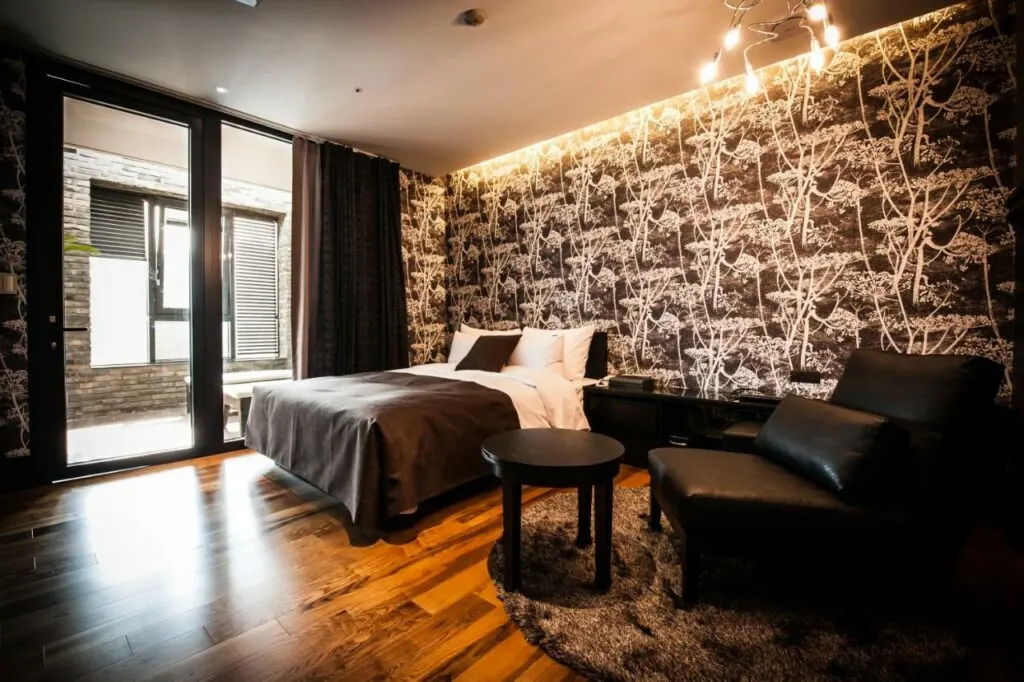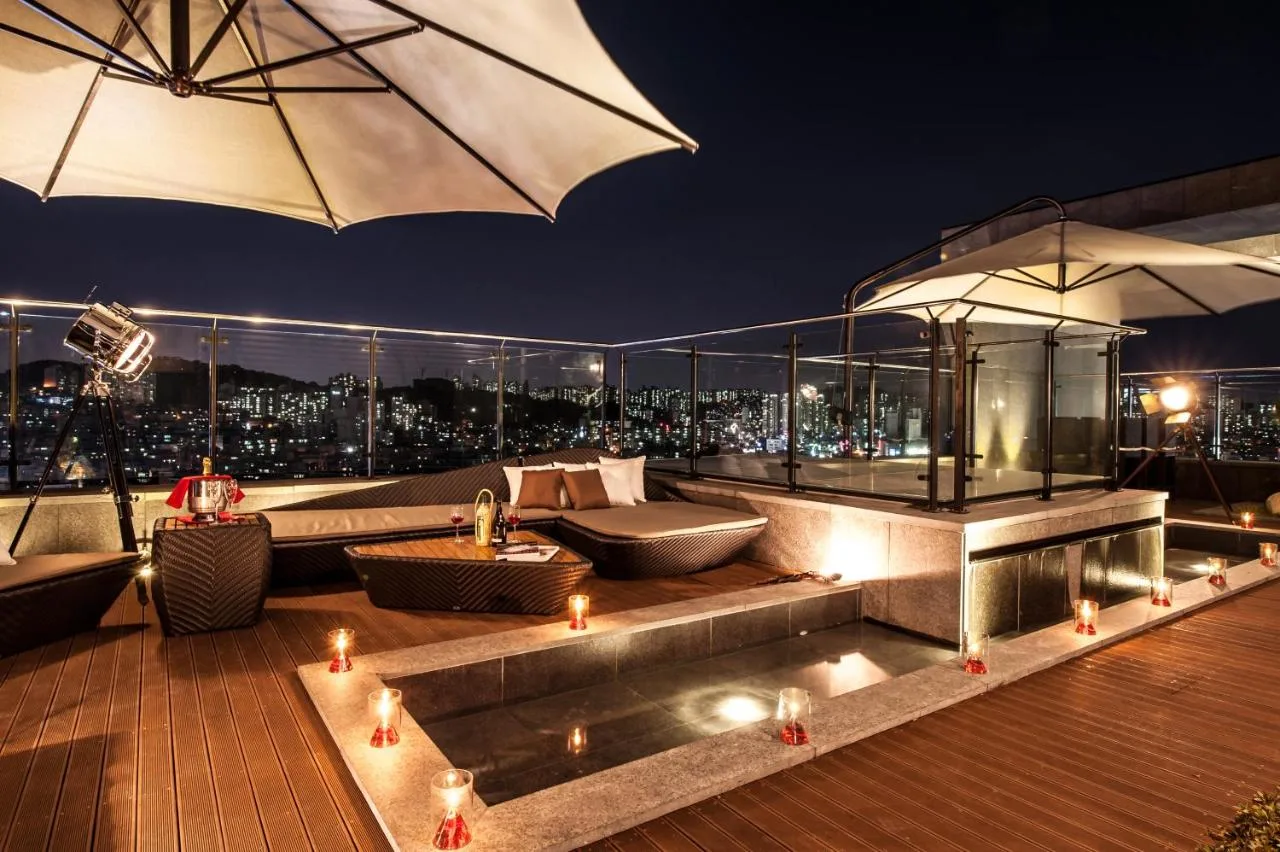 Honestly, it's rare to find a hotel that's so sleek and luxurious for this kind of budget price. SR Hotel Sadang can be found in the Dongjak-Gu which is only a 20-minute subway ride from the vibrant shopping district of Myeongdong.
With huge floor-to-ceiling windows giving you views of the city and dark, intense bar and restaurant areas, this Seoul hotel has a little bit of everything no matter what you're into!
---
So there you have it, the coolest hotels in Seoul. Which one is your favourite? Have you been to Seoul yourself and have a cool Seoul hotel recommendation? Let me know in the comments below and I'll add it to my next South Korea itinerary!
Like this blog post? Then Pin it for the future!