Looking for the coolest hotels in Bangkok? From rooftop infinity pools to hipster hotels, these are the best places to stay in Bangkok!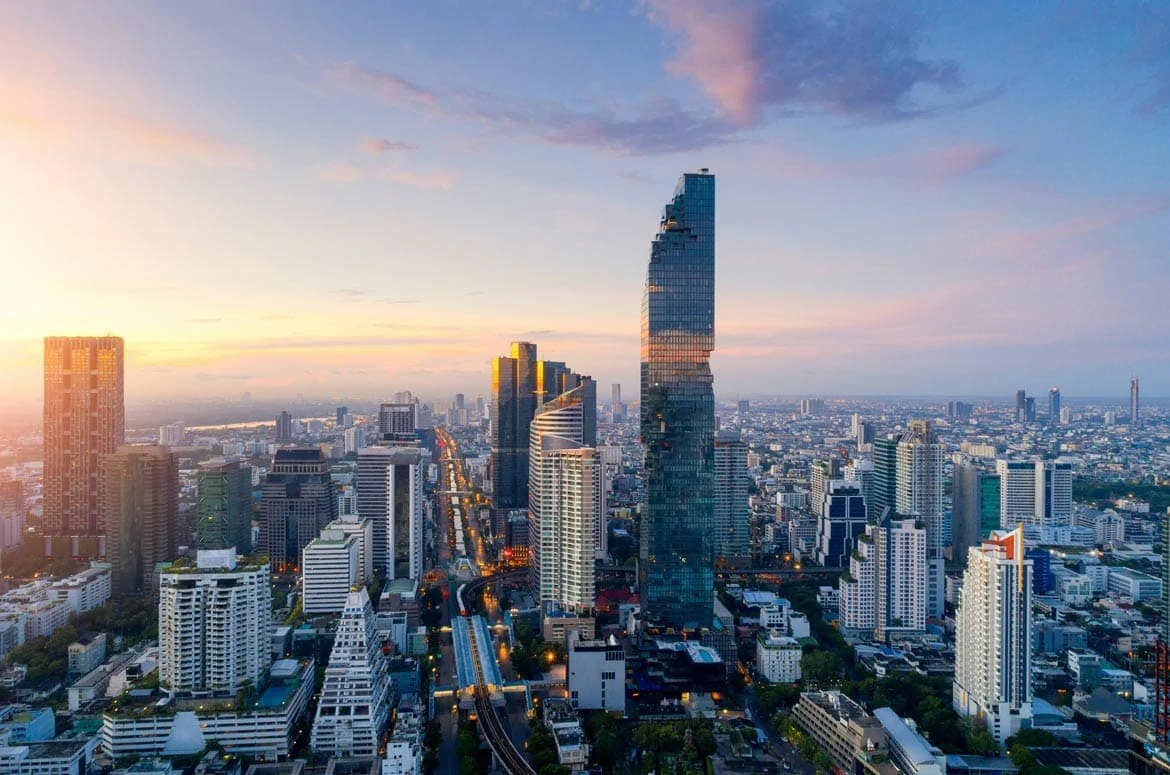 I'll stick my hand up right now and say I love Bangkok.
I've been a fair few times (I think 10 at my last count), so it's a city I know fairly well and I've fallen in love with all its beautiful madness.
It is a city that just exudes cool, and it is fast becoming one of the trendiest cities in the world. And to reflect that, here are some of the coolest hotels in Bangkok for you to stay at.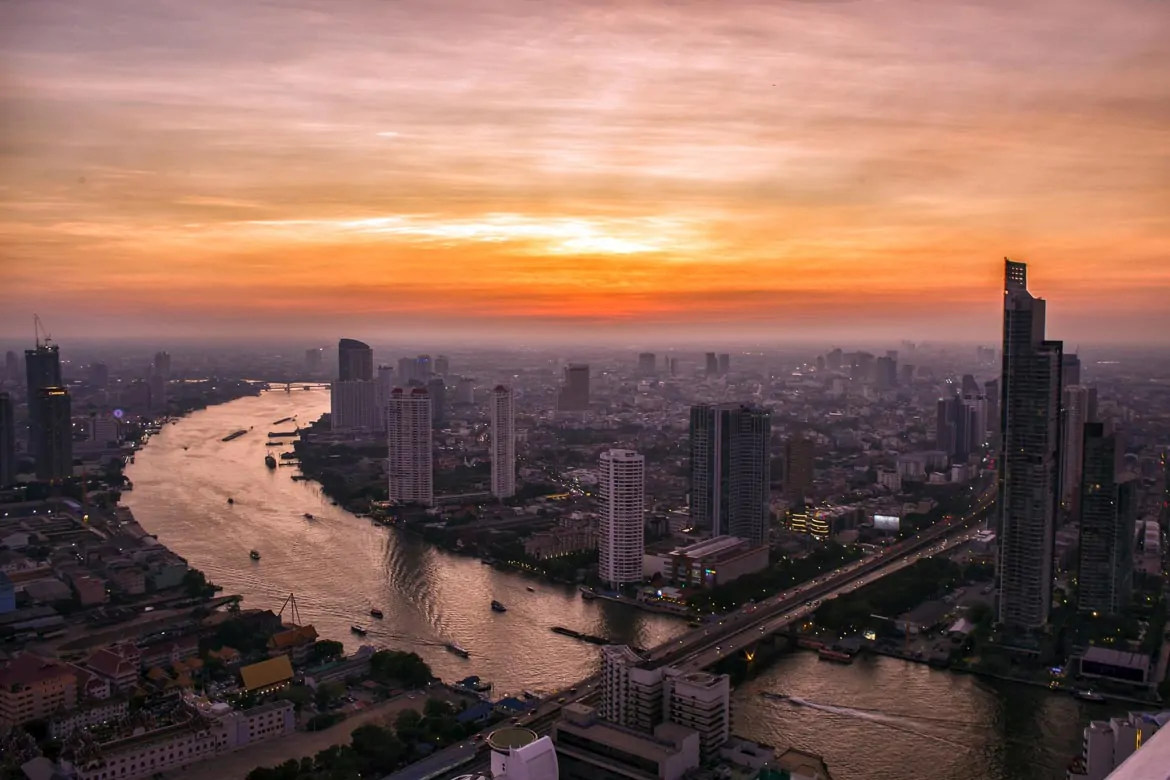 With the city's perfect blend of gritty edge and old-world charm, it's easy to spend a good few days wandering the streets and immersing yourself in all this place has to offer. And from world-class street food stalls to towering skyscrapers to shopping markets galore, there really is something for everyone in Bangkok.
Now, whether you're spending a few days in Bangkok or are stopping over on a longer Southeast Asia trip, you'll need to find a cool place to kip. Luckily there's a huge number of awesome hotels in the city.
With its proud position as one of the most visited cities in the world, Bangkok has a diverse range of hotels, hostels and guesthouses where you can escape the chaos of the streets.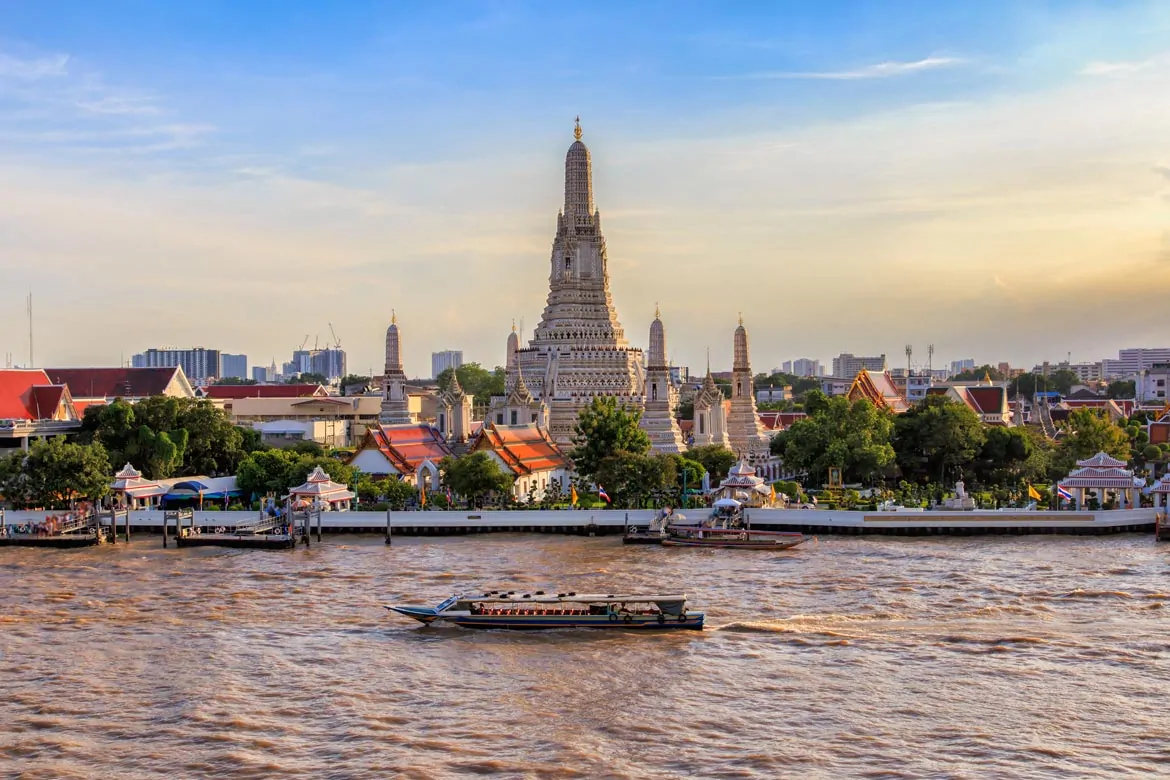 To help you narrow down your search, I've put together a list of some of my personal favourites from the coolest hotels in Bangkok.
From luxurious skycraper hotels such as Tower Club at lebua to quirky boutique accomodation such as the House of Phraya Jasaen, there's something in this list to cover every taste (and budget too!)
If you're in the city for a few days, then make sure you check out my guide to the best food tours in Bangkok. I've been on a fair few of these food tours and it's so much fun eating your way through the city!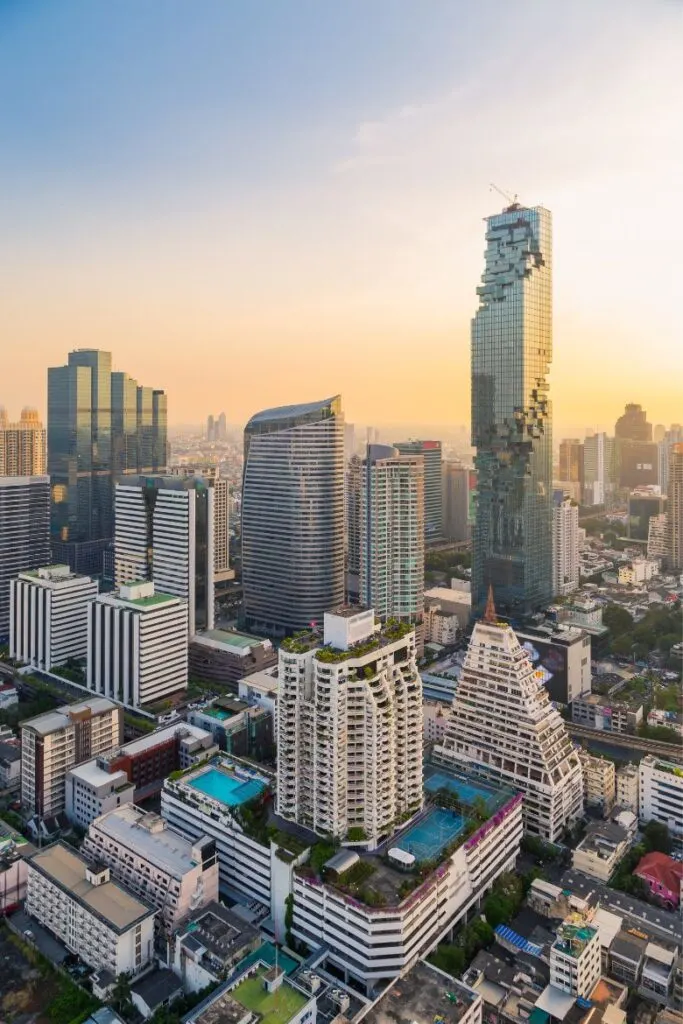 Where to stay in Bangkok
First things first, you need to make some sense of all the different neighbourhoods in the city.
Let's kick off by taking a closer look at eight of the most popular areas. These places are packed full of boutique hotels in Bangkok:
1. Khao San / Banglamphu Area: You've probably heard of the famous (or infamous) Khao San Road. This road is packed with pumping bars, clubs and restaurants and Khao San Road hotels are frequented by backpackers from all over. Banglamphu also has other trendier and quieter roads, but this neighbourhood a little outside the central area of the city.
2. Bangkok Riverside: You should stay here for the best views of the Chao Phraya River. Also, Bangkok Riverside has great BTS and boat transport links to all the main tourist landmarks around the city.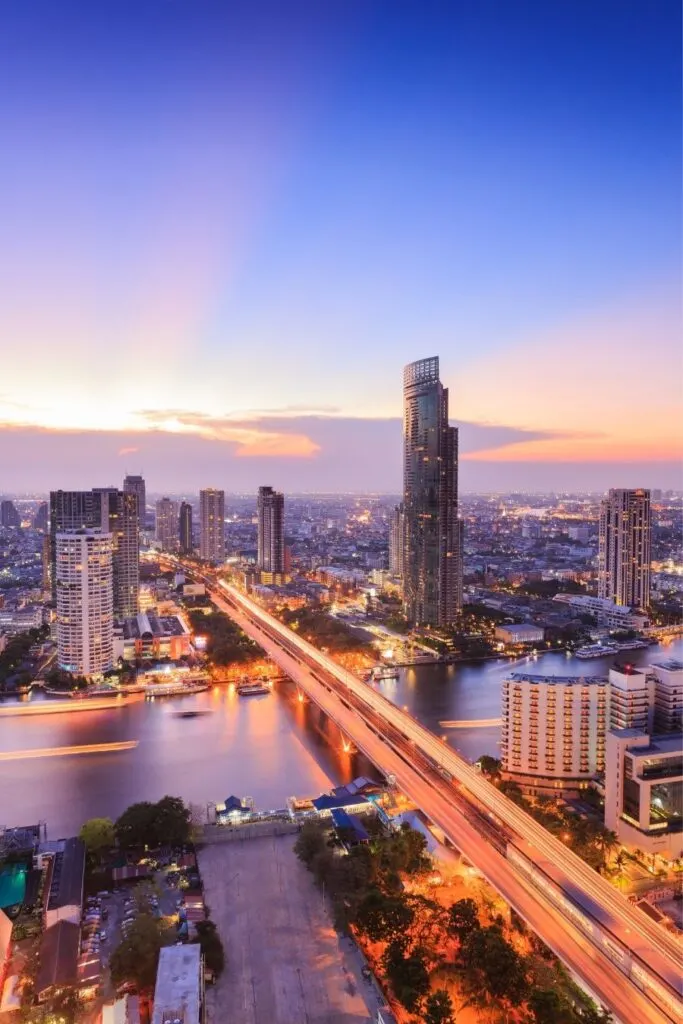 3. Sukhumvit Area: Sukhumvit isn't just the longest road in Thailand – it's also one of the longest roads in the world! Stay here if you want to explore the many 'sois' (side streets) packed with plenty of food and nightlife options.
4. Silom Area: Silom is Bangkok's financial district, but it's not just alive during the day. There's also plenty of night-time action, including the famous Patpong night market.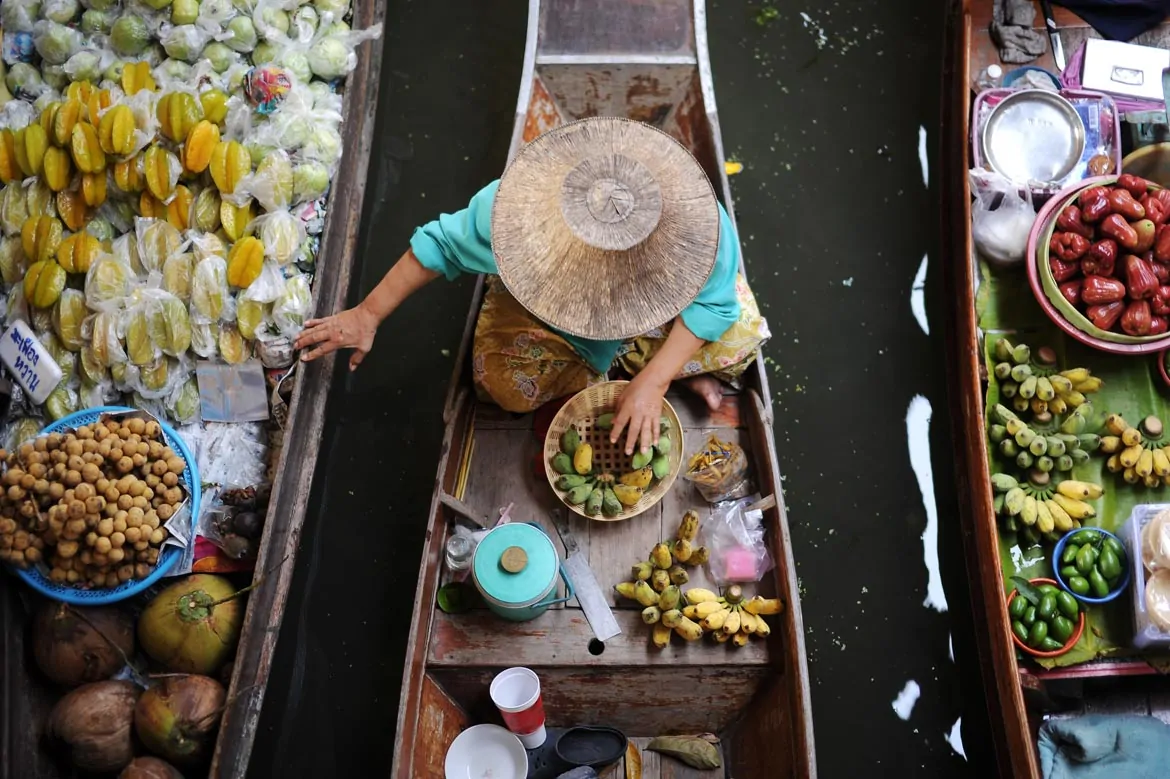 Other Areas in Bangkok
5. Siam Area: Shopaholics from around the world flock to Siam for its huge number of megamalls, including the enormous MBK Center, and the luxurious Siam Paragon. Siam is pretty much as central as you can get in Bangkok.
6. Pratunam Area: Pratunam is another shopper's paradise in Bangkok, with more street markets and local vendors offering up all kinds of goods at bargain prices. Come here prepared to haggle!
7. Chinatown Area: Stay here and you'll be able to spend your days getting wonderfully lost in the many alleys full of market stalls and street food vendors. Chinatown is of the most fascinating areas in Bangkok and probably my personal favourite.
8. The International Airport Suvarnabhumi Area: There isn't a huge amount to do in the immediate area around Suvarnabhumi International Airport, 30km away from the centre of the city. Stay here if you need to be close to the airport for an early morning flight.
---
Best Hotels in Bangkok
From 5-star hotels to boutique properties with luxury amenities, there is an abundance of accommodation options to choose from here in Bangkok. So you've got it, here are my top picks for the best place to stay in Bangkok!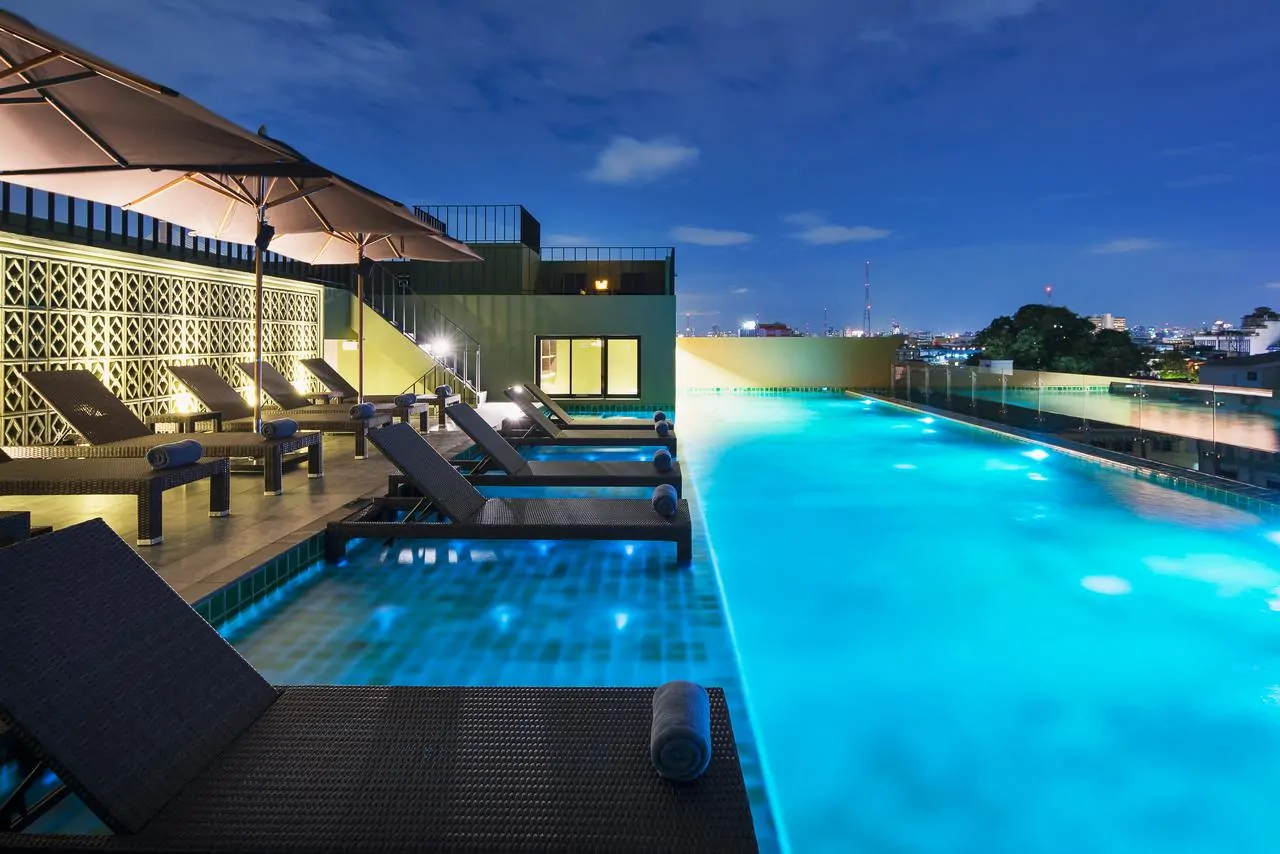 Chillax Heritage is located in the heart of Bangkok Old Town, so you'll walk out to experience an authentic local atmosphere every day. You're a short stroll away from Khao San Road so you're all set for a plethora of nightlife options every night.
What makes this one of the coolest hotels in Bangkok is its amazing rooftop pool. You can spend your day literally 'Chillax'ing by the pool. The rooms themselves are fairly swanky. Relax after a day exploring the chaotic city streets in your very own private hot tub.
You're also close to a lot of the city's attractions, including the Temple of the Emerald Buddha and the Grand Palace.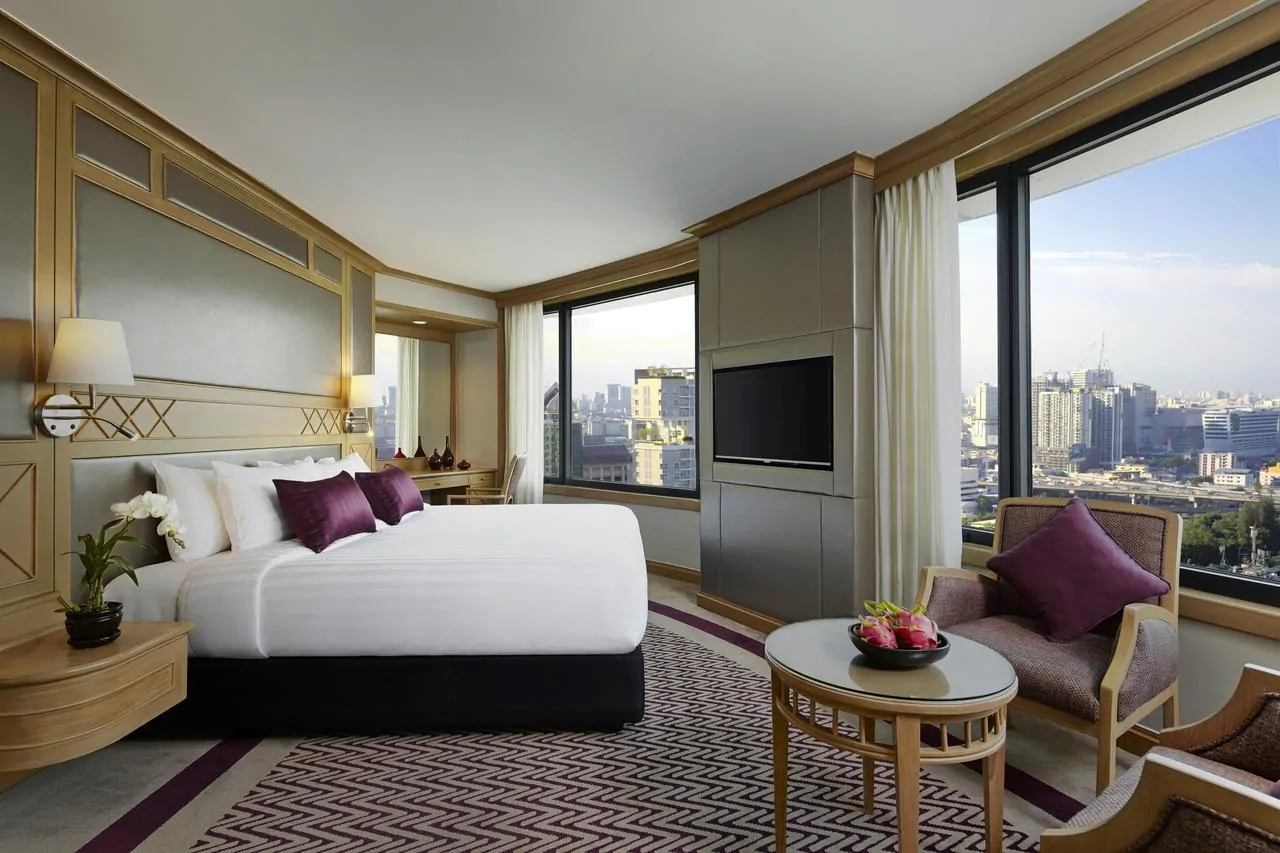 Avani Atrium Bangkok is the quintessential modern city skyscraper hotel.
You'll be getting the best in Thai service and all the usual perks of a luxury hotel here. Escape the Bangkok heat by lounging pool-side and indulge in the daily spread of the lavish breakfast buffet.
Upgrading to the Executive rooms for access to the AVANICLUB, the hotel's executive lounge, is worth it! Avani Atrium also has a Benihana on-site which is worth checking out for a fun teppanyaki experience.
Avani Atrium Bangkok Hotel is situated near Phetchaburi MRT Station. A free shuttle service is available to take you to the station and to nearby shopping areas every day.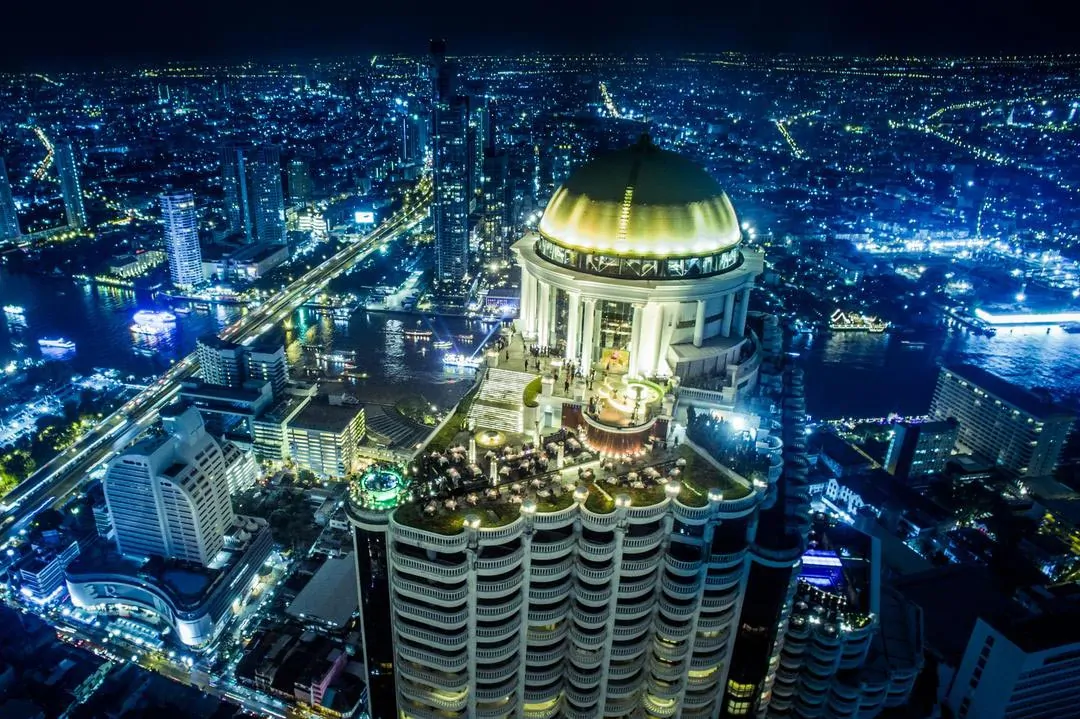 Tower Club at lebua offers the ultimate five-star hotel experience in Bangkok. The service is exceptional. Trust me, the staff here will make you feel like you're the most important guest they've ever had.
You can enjoy the sight of the city's skyline and Chao Phraya River from most of the rooms and the outdoor pool area. Head upstairs to marvel at the iconic Dome at Lebua – an array of impressive rooftop restaurants and bars with the best night-time views of the city.
And yes, there's also the fact that the Hangover Part II was filmed here. You can even stay in the enormous three bedroom Hangover Suite if you're a real fan of the franchise.
Tower Club at lebua is a short walk away from Saphan Taksin BTS Station which is well connected. You can also catch boats to all the major tourist attractions from Sathorn Ferry Pier nearby. The surrounding area of Bang Rak is always buzzing and atmospheric.
When it comes to unique Bangkok hotels, this one is always near the top.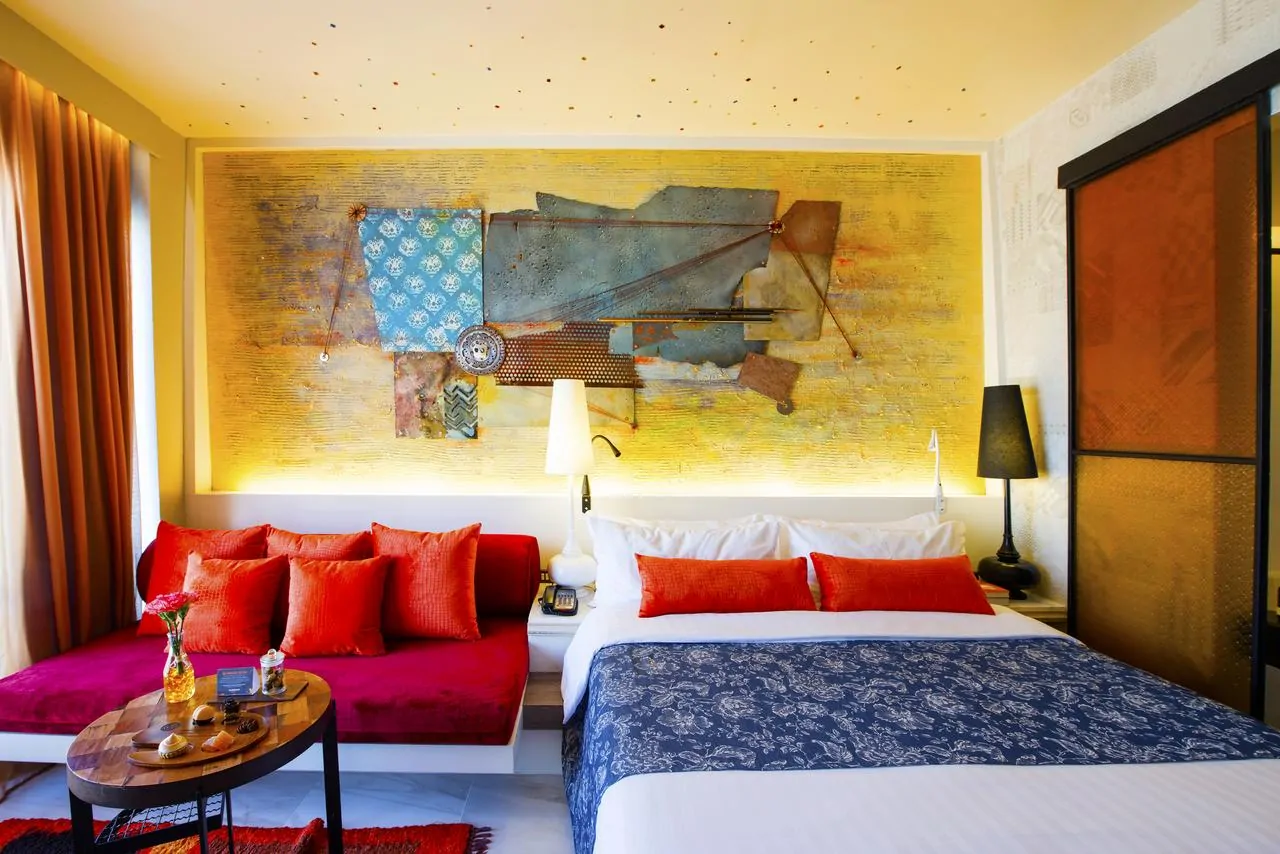 The uber cool Siam@Siam Design Hotel is based in the heart of the shopping hub of Siam, with a number of artsy and stylish rooms.
The rooftop bar is a great place to watch the sun go down with a cocktail or two in hand. Spend your morning chilling poolside in the infinity pool. Or lounge in your room with floor-to-ceiling windows looking out into all the action of downtown Bangkok.
Shopaholics, this is one of the coolest hotels in Bangkok and it's just a stone's throw away from the city's most popular malls. Location-wise, it doesn't get much better than this. You're a couple of minute's stroll away from the National Stadium BTS and the beautifully tranquil Jim Thompson House.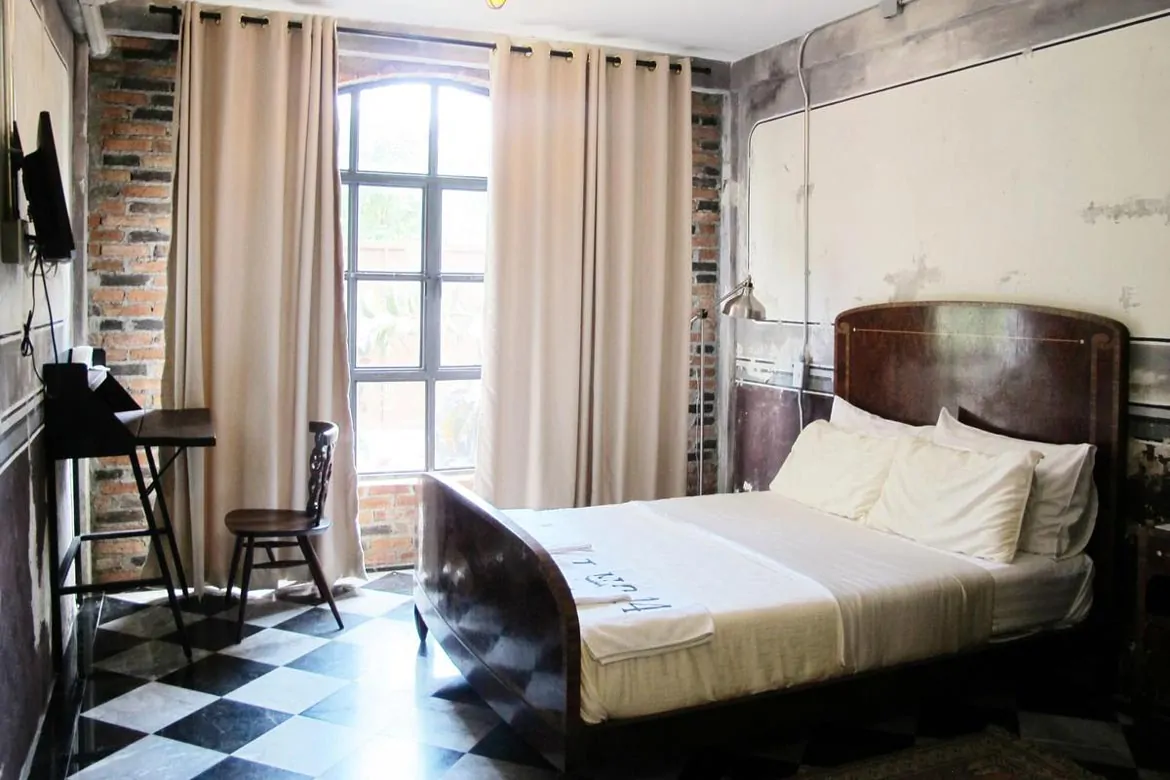 Wondering where to stay in Bangkok for a bit of peace and quiet? Head directly to J No. 14 Hotel for the ultimate boutique hotel experience in the heart of the city.
This unique colonial-style hotel has just 14 rooms and is oozing with charm throughout. You're a stone's throw from the Chaopraya River Pier and connected to the rest of the city by boat.
This is one of those hotels that I really looked forward to coming back to after a long day in the bustling city streets. Decked out with antique furniture and modern fittings, the 14 rooms and all the common spaces are truly lovely (and totally Instagrammable).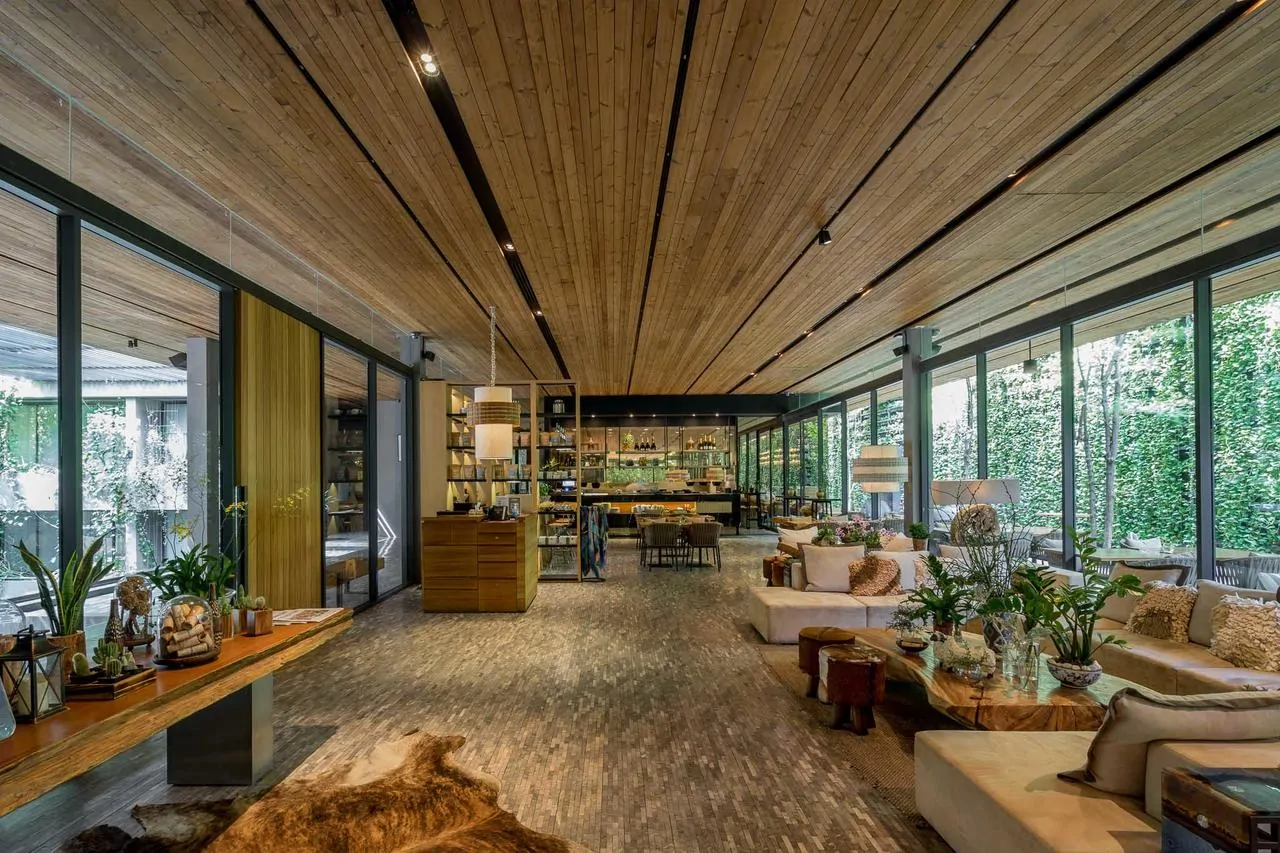 I think we can file this one under the trendy hotels in Bangkok category.
Ad Lib Hotel is a beautiful boutique hotel situated in the trendy area of Wattana and near the lively Sukhumvit Road. You'll find it tucked away behind an array of lush banyan trees.
Although there's a number of of lively nightlife and shopping options nearby, there's an air of serenity throughout. I loved the beautiful blend of wood, glass and marble used throughout the interior. The beds are also some of the comfiest I've experienced anywhere in the world.
Take the hotel's free Tuk Tuk shuttle service to nearby Nana BTS station or you can walk over in just 10 minutes. Oh, and there's also a salted outdoor pool to dip your toes into after a day exploring the beautifully chaotic city.
If I had to describe this hotel in one word, it would be sumptuous.
As is the case with most of the coolest hotels in Bangkok, it features a lovely outdoor pool. The rooms here are divine and luxurious, and you're guaranteed some of the best pillows in the city. Enjoy a sunset cocktail or three at the surprisingly mellow and very cool Speakeasy Rooftop bar.
The Hotel Muse Bangkok Langsuan – McGallery Collection is a short stroll away from Chidlom BTS station, so you're well connected to the rest of the city by SkyTrain.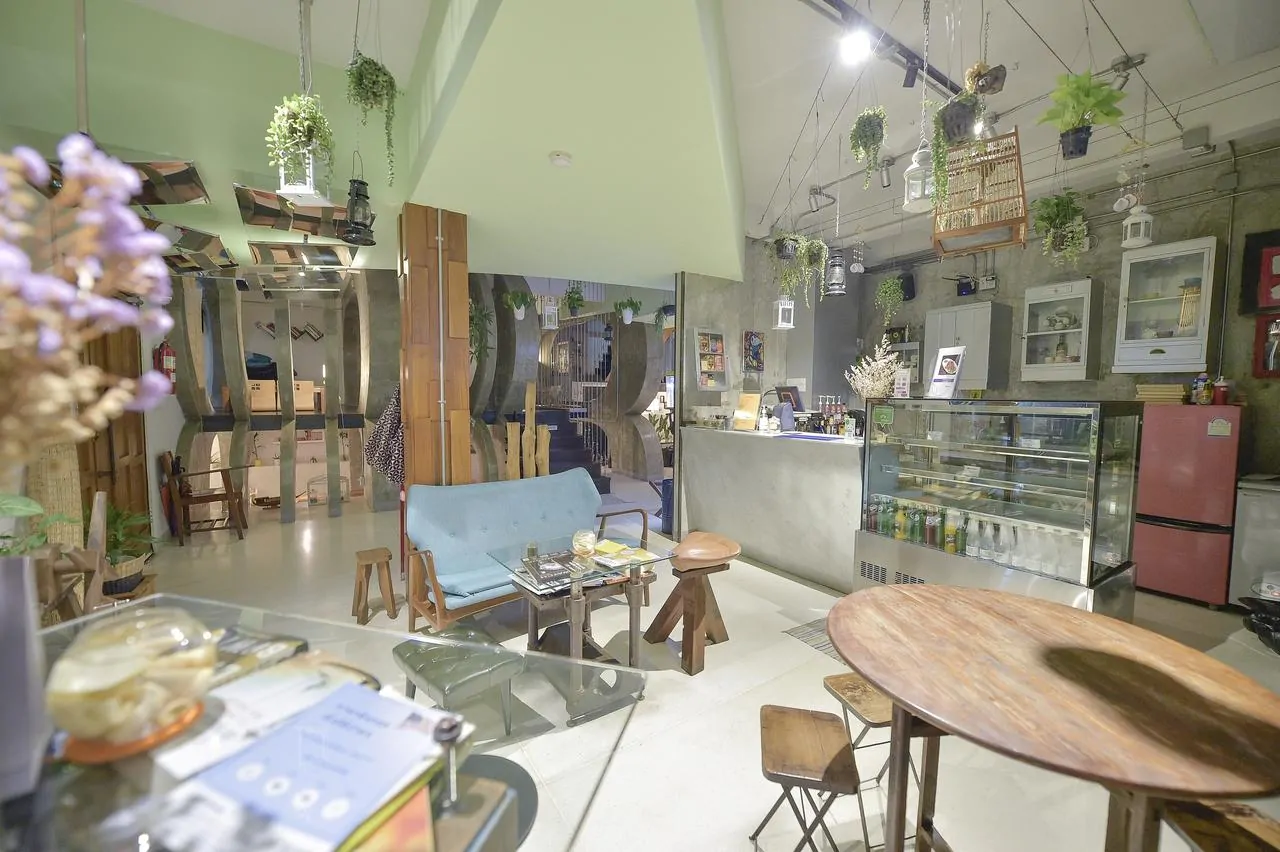 Wondering where to stay in Bangkok that's a little off the beaten track?
Head straight to the Houe of Phraya Jasaen, an effortlessly cool boutique hotel located in 'Old Bangkok'. It's named after the owner's great grandfather, which already gives you a sense of the family feel of this place.
The interior is quirky and unusual, and every single room has its own distinct design and personality. I loved staying in the Circle Room with the enormous (and extremely comfy) round bed suspended from the ceiling.
Location-wise, you're a short walk away from Saphan Taksin BTS station and the ferry pier to get you anywhere you need to go.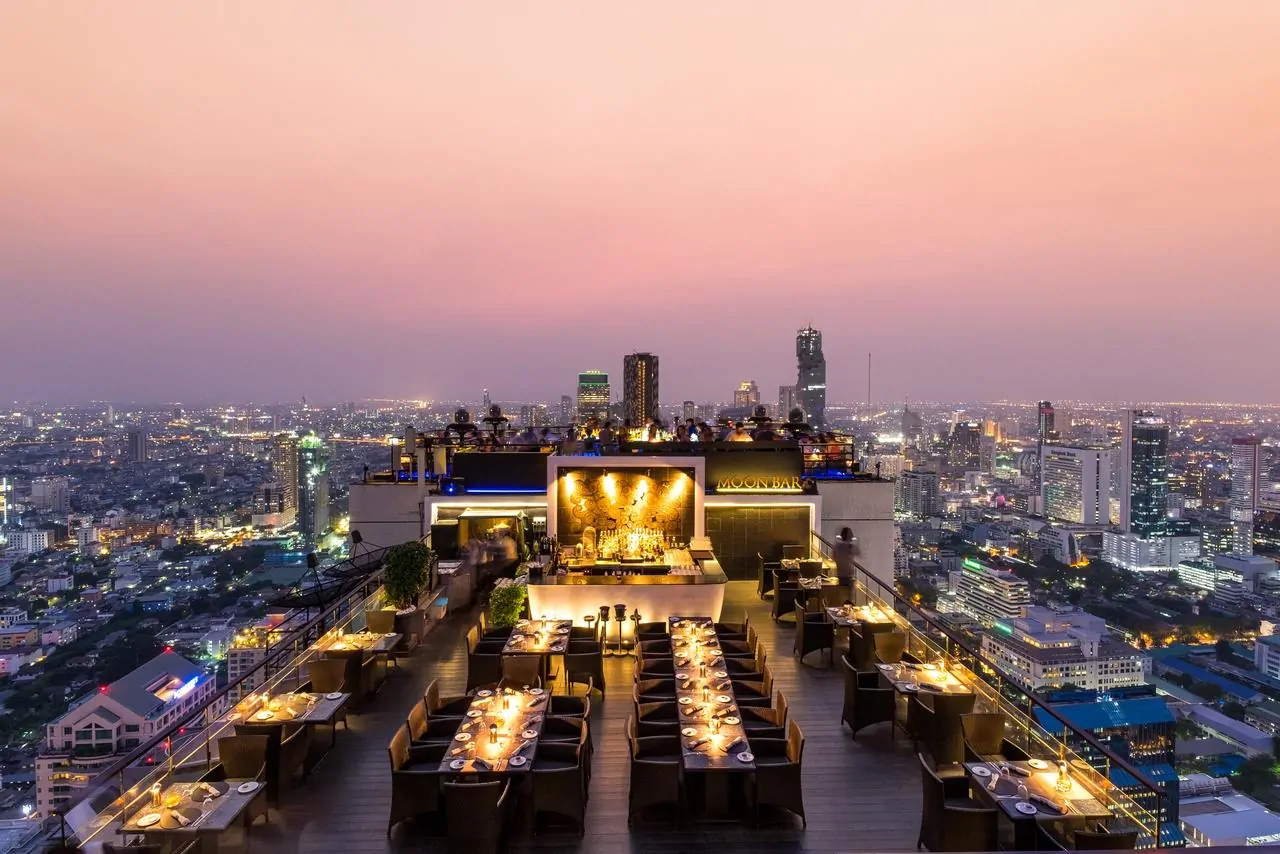 The Banyan Tree Bangkok offers a luxurious array of spacious rooms and suites with city and river views. As is expected from the classic luxury Bangkok hotel, it has a roof-top bar with insane views and a glorious outdoor pool area.
What makes this one of the coolest hotels in Bangkok is the impeccable service. Expect to be treated like the star guest, as everyone in the Banyan Tree Bangkok receives excellent personalised service. The hotel also has a huge activity offering, from cooking classes to guided shopping excursions.
You'll be based in the business district of Sathorn, so it's a good choice if you want to stay in a less crowded area of the city. Lumphini MRT station connects you to the rest of the city.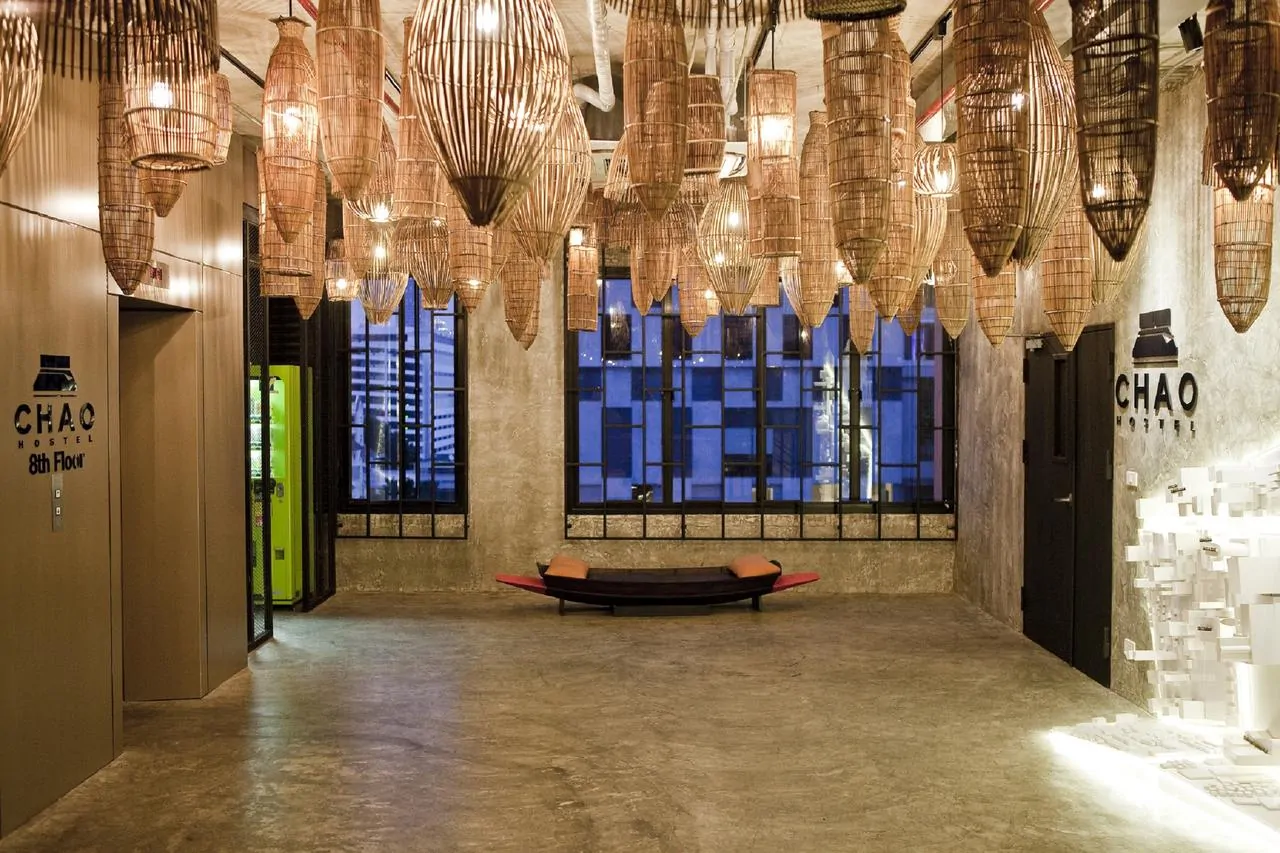 Get up from your bed and head straight to the city's most popular malls as you're in the heart of the shopping action here. Chao Hostel offers both dorm accommodation and private rooms. The common areas are also a great place to socialise if you're a solo traveller looking to mingle!
Chao Hostel is one of those cool hotels in Bangkok for the budget-savvy. Just 2 minutes away from the National Stadium BTS Station, you couldn't really get more 'in the heart of the action' in terms of location. The great transport links will easily get you pretty much anywhere you need to go.
---
Where are some of your favourite cool places to stay in Bangkok? Let me know in the comments below and I'll add them to this blog post!
Also, if you have any questions about your Bangkok itinerary then I'm more than happy to help with that too!
Like this blog post? Then make sure you Pin it!