Are you looking for the coolest hotels in Vienna? With rooftop bars, quirky art, and bold designs, here's the list to help plan your trip to Vienna!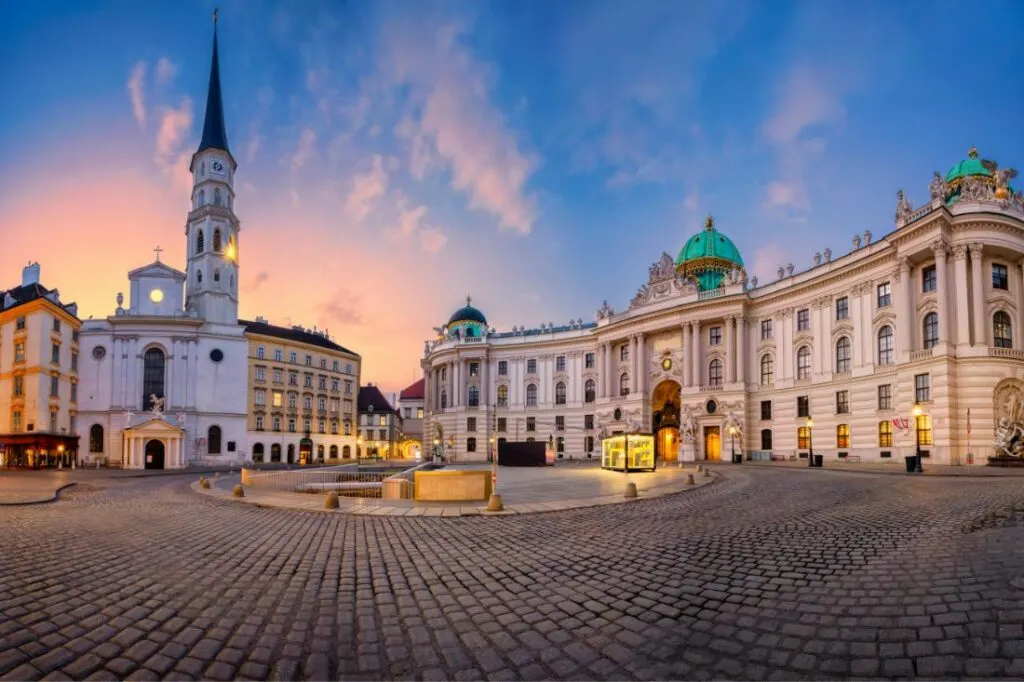 Vienna just exudes charm, doesn't it? It's the place where Beethoven, Mozart and Schubert lived and died, and its impact on classical music is legendary. You can almost feel their legacy from just walking around this stunning city.
However, Vienna is so much more than just classical music and opera houses. There's art wherever you look in Vienna. There are cool underground bars that are bouncing on the weekends. And there's an amazing foodie scene just waiting to be enjoyed.
For all of this though, you're going to need somewhere to stay, somewhere cool. That's why I've put together the coolest hotels in Vienna. All of these places listed here are stunning in every sense of the word.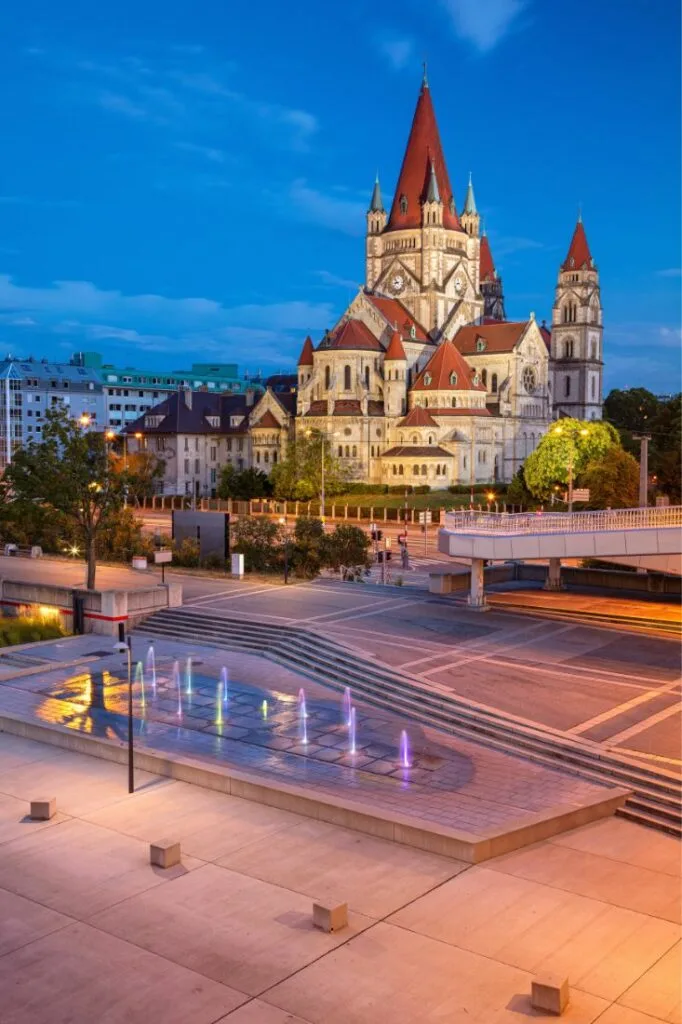 Whether sipping beer on the rooftop bar of the House of Time, enjoying the breathtaking city views from the Melia Vienna, or enjoying the green paradise of the Hotel Fabrik Wien courtyard, there is something for everyone here.
There's a reason why Vienna is one of the most popular cities in Europe. Honestly, I can't recommend this place enough – hopefully you love it here as much as I do! Right, let's dive into the coolest hotels in Vienna and find out where you're going to stay!
If you're planning a trip to Vienna, then check out my guide on all the best things to do in city. This guide is packed full of where to go and what to do – hopefully you'll find it useful for a long weekend away!
Where to stay in Vienna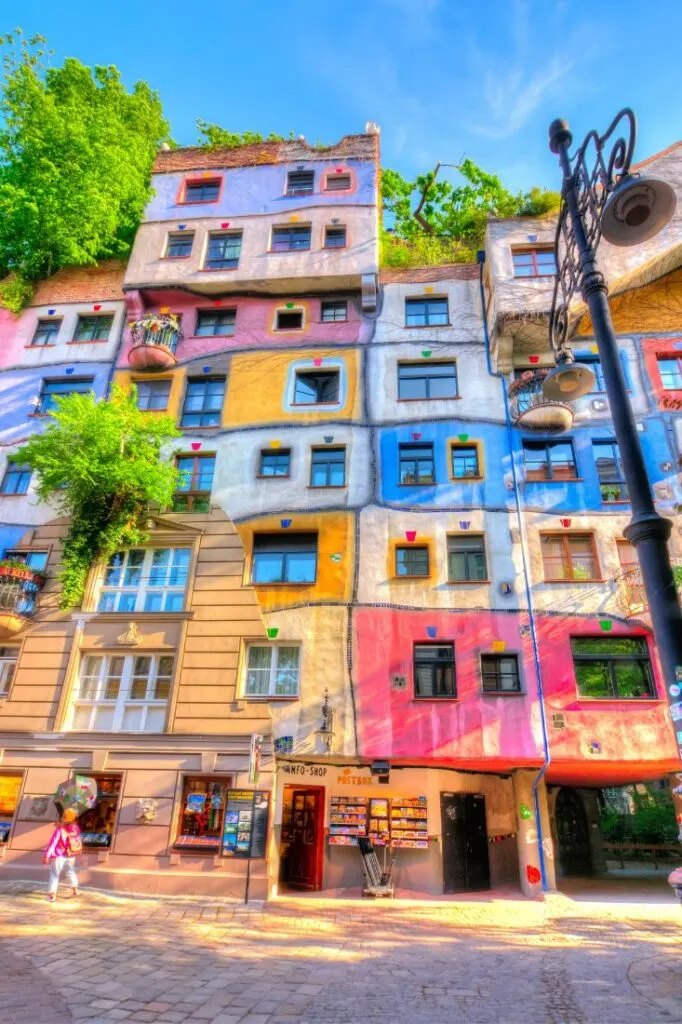 When travelling to any city, it's a great idea to know the best places to stay. Here's our rundown of the most popular areas of Vienna.
1. Innere Stadt (Central Vienna) – There's no better place to stay than in the centre. Everything is right here at your fingertips in the first district. From trendy nightclubs to the historic old town, you'll love being in the heart of Vienna.
2. Neubau – If you're looking for cool in Vienna, Neubau is the place to be. The 7th district is edgier than many places in the city. It has a great nightlife and plenty to see, such as the museumsquartier.
3. Leopoldstadt – Right next to the centre is the city's 2nd district. The area has a creative and cool vibe, while only being a short walk over the Danube Canal to the city centre.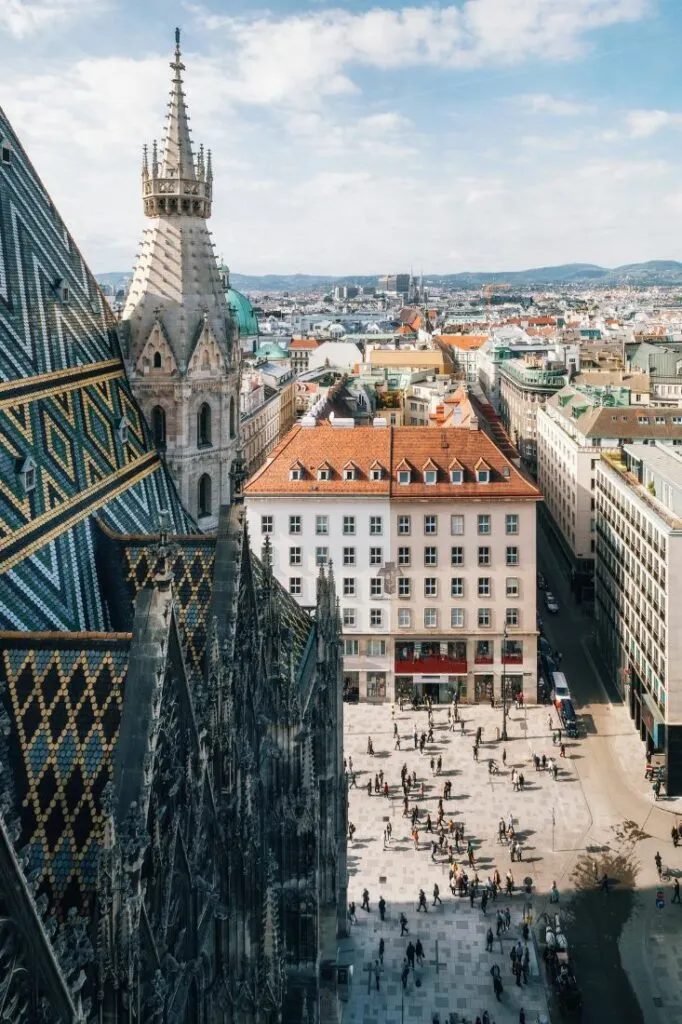 4. Landstraße – If you want to be close to the center but still want to save a little money, Vienna's 3rd district will suit your needs. There is more of a local feel here while still being an excellent location.
5. Wieden – The 4th district is similar to Neubau in that this is a hip and trendy area, away from the hustle of the citer centre. If you want a laid-back atmosphere and a real feel of the city, stay here.
6. Mariahilf – Do you love shopping? If so, the cool 6th district is the one for you. Here you'll love the vast array of shops and the vibrant atmosphere.
---
13 Coolest Hotels in Vienna
Luxury Hotels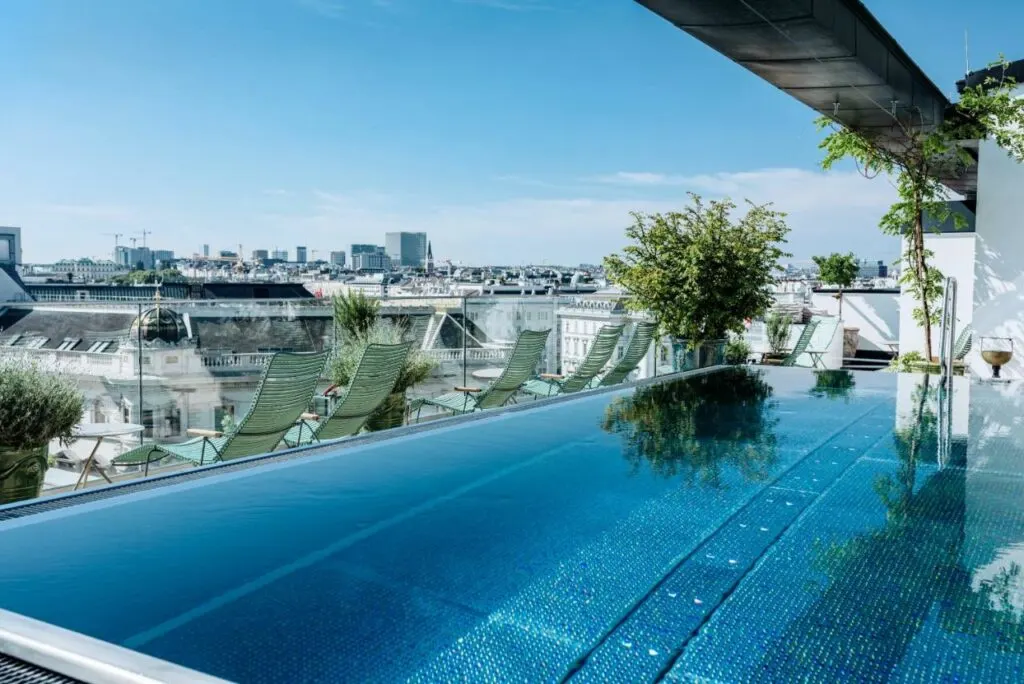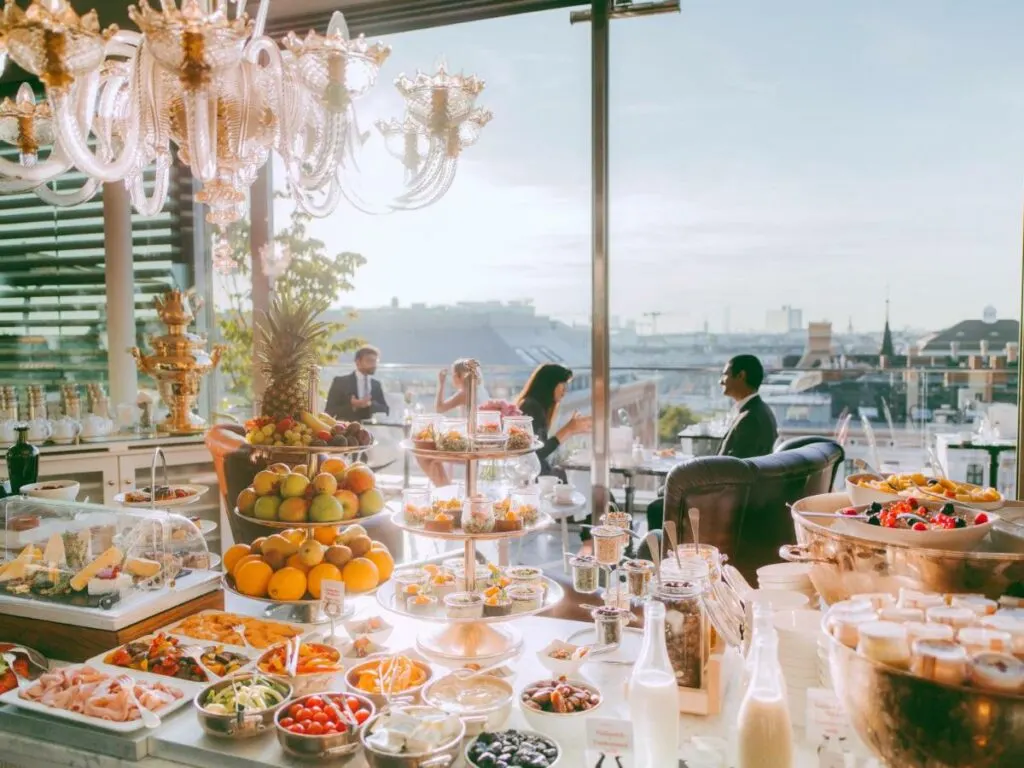 Grand by name and grand by nature. 5-star hotels can sometimes feel a little sterile, but the Grand Ferdinand provides plenty of warmth. Whether it's the fountain in the courtyard, the rooftop pool or the terrace bar, you'll love everything about your stay here.
It's a premium hotel that doesn't take itself too seriously. There is a great atmosphere and some lovely touches, such as the popcorn and candy floss machines in reception. While laid back, you still get the luxury, service and experience you'd expect from a top-class hotel.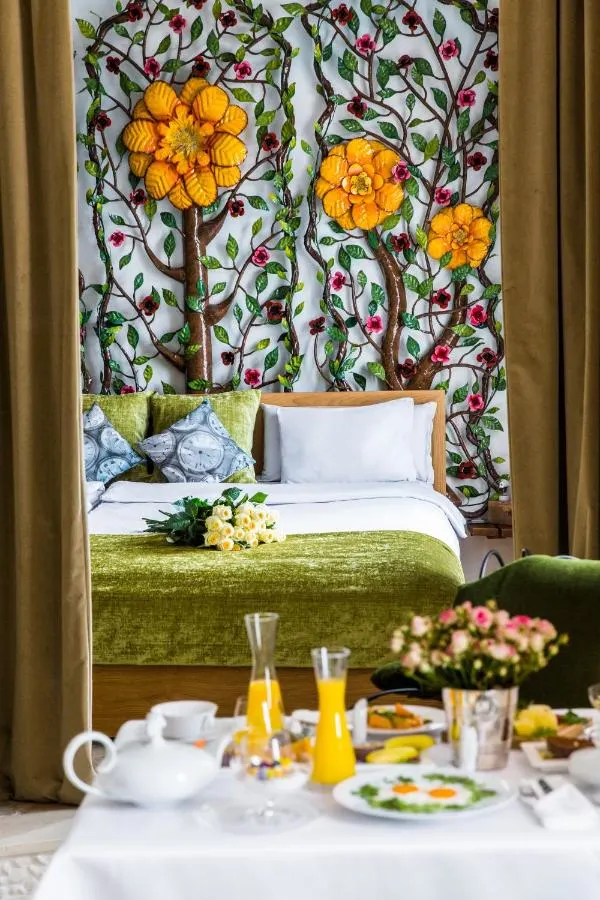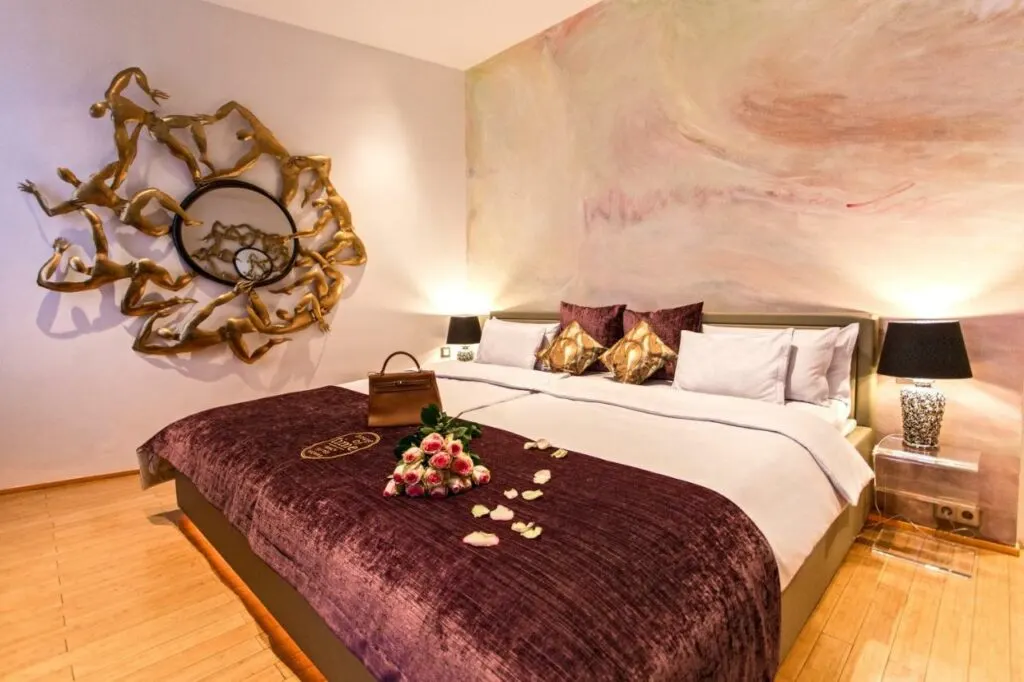 The House of Time is a wonderful mix of the old and new. The boutique hotel is situated in a 19th-century building, but much of the interior is beautifully modern. It blends the two together to make a hotel that feels special.
It's one of the smaller Vienna hotels on our list, as it has just five uniquely decorated suites. Depending on your room, you may get a bar, balcony, terrace or private sauna. It all adds up to a unique hotel and one of the coolest hotels in Vienna.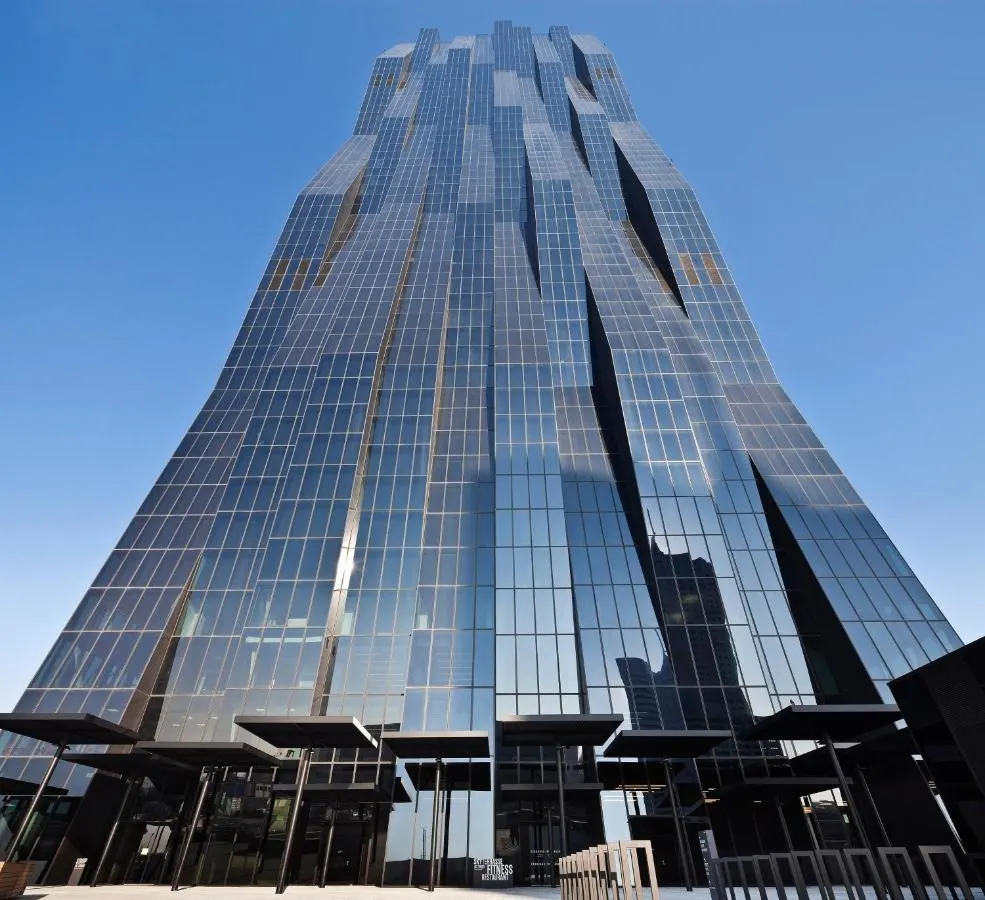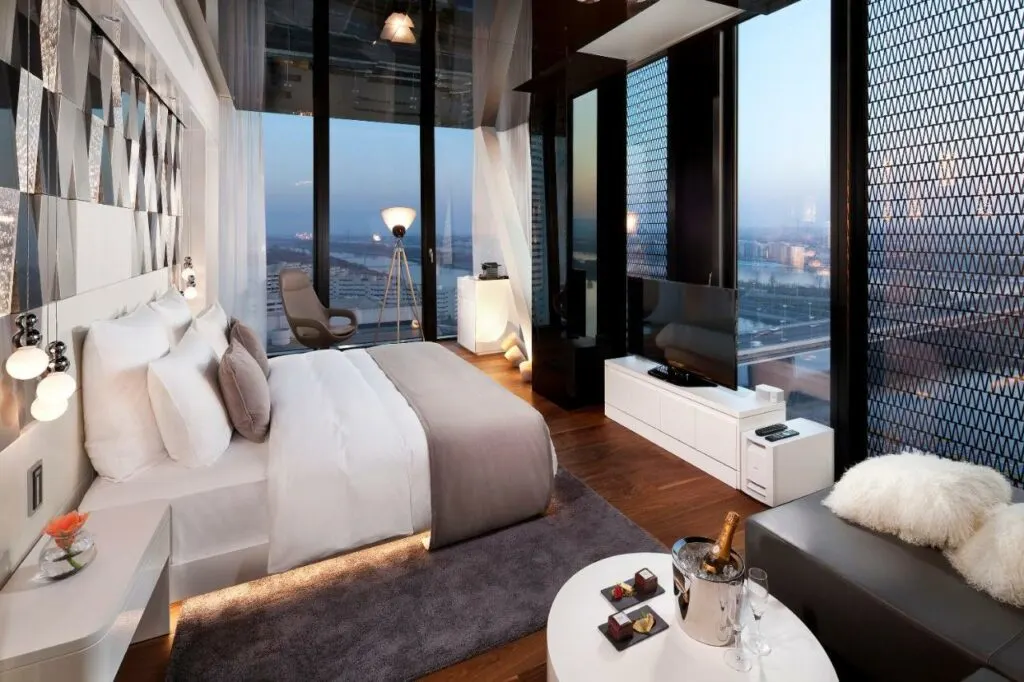 One of the coolest aspects of the Melia Vienna as it's situated in the city's tallest building, the DC Tower. With that, you can imagine the breathtaking view you'll get. Even better, they have a rooftop terrace where you can enjoy them.
The design here is elegantly modern with a vast array of black colours, which give a sense of sophistication. It doesn't feel dark, though. Plenty of light pours through the floor-to-ceiling windows in each suite, and the hotel also has a stunning grand staircase to enjoy.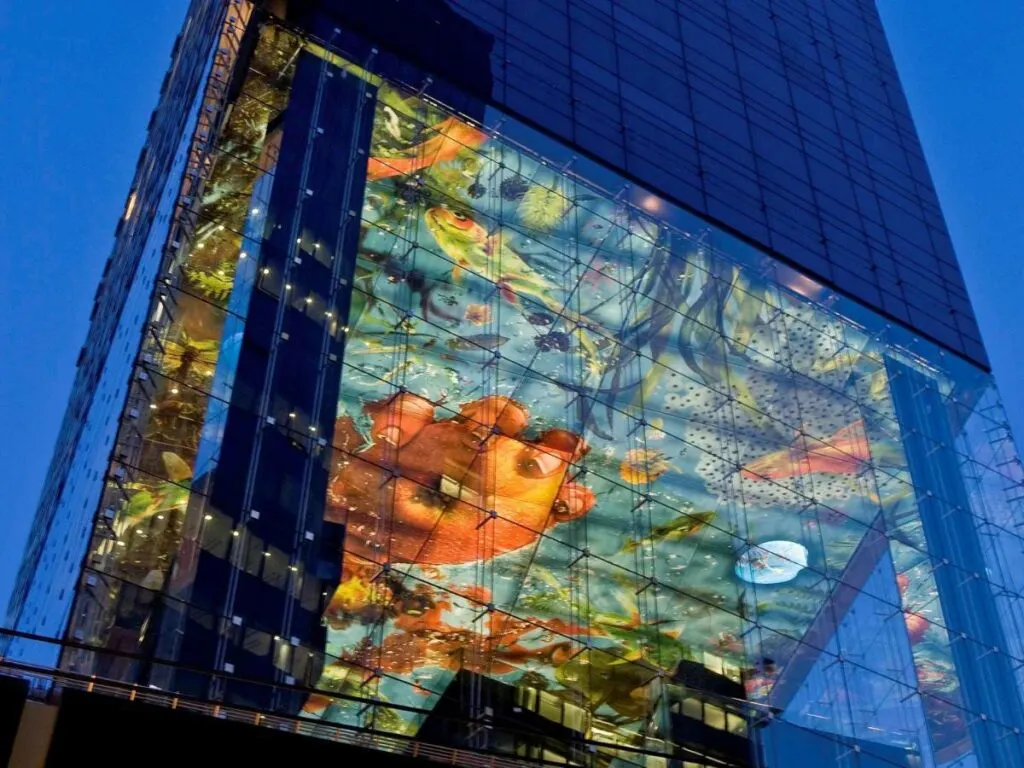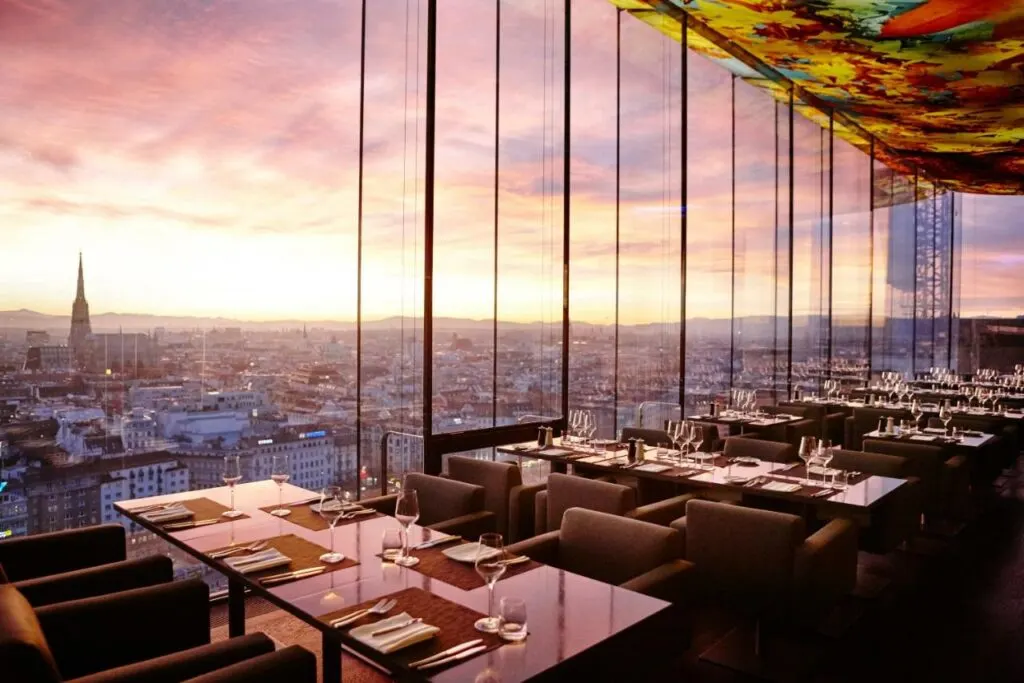 The SO/ Vienna is a gorgeous hotel both inside and out. The building was designed by renowned architect Jean Nouvel, and you'll immediately be taken aback by its graceful glass façade. Once you get inside, the excitement doesn't fade away.
With great rooms, professional service and stunning designs, this is a hotel that anyone would enjoy. You only have to see the customer reviews to see why this makes our list. Not only is it cool, but it's a fantastic hotel.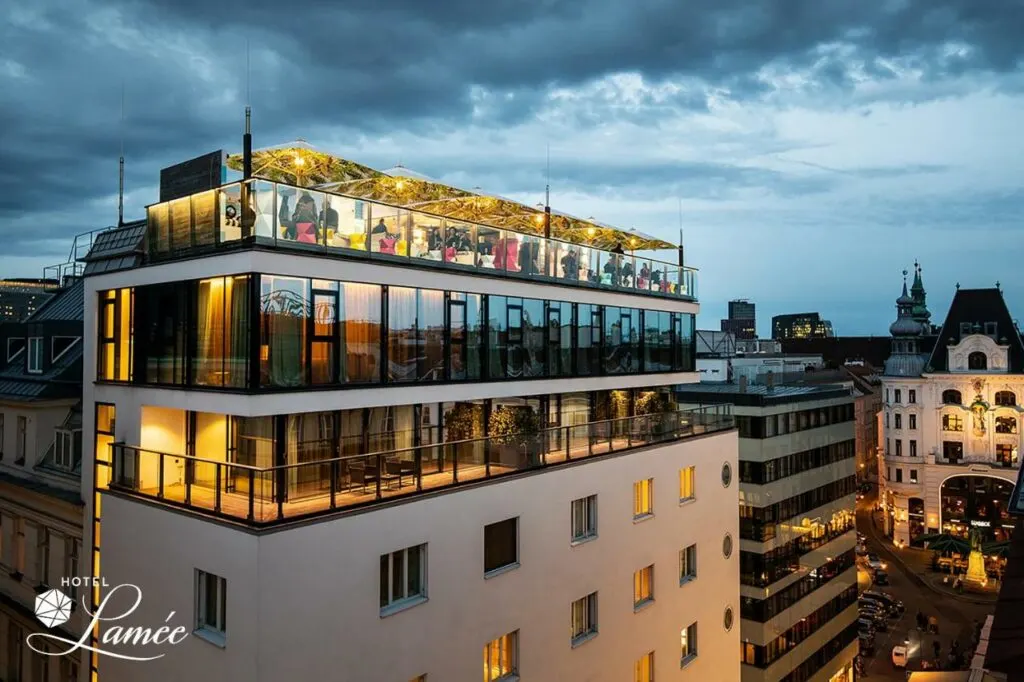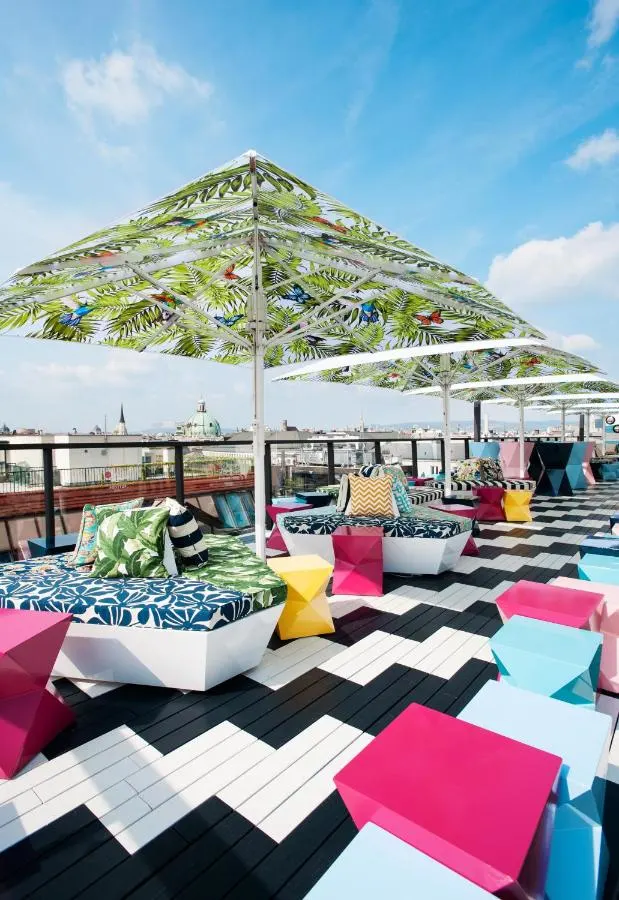 For cool exteriors, there is nowhere better in Vienna than Hotel Topazz and Lamee. It looks stunning and is paired with another building across the street, called Hotel Lamée. Both are brilliant places to wind down and are in a great location.
Many have noted that even though it's central, the hotels are surprisingly quiet. The design here is exceptional, especially with the rich mahogany and marble throughout. The rooftop bar is the icing on the cake, and you're sure to have an awesome time here.
Mid-range Hotels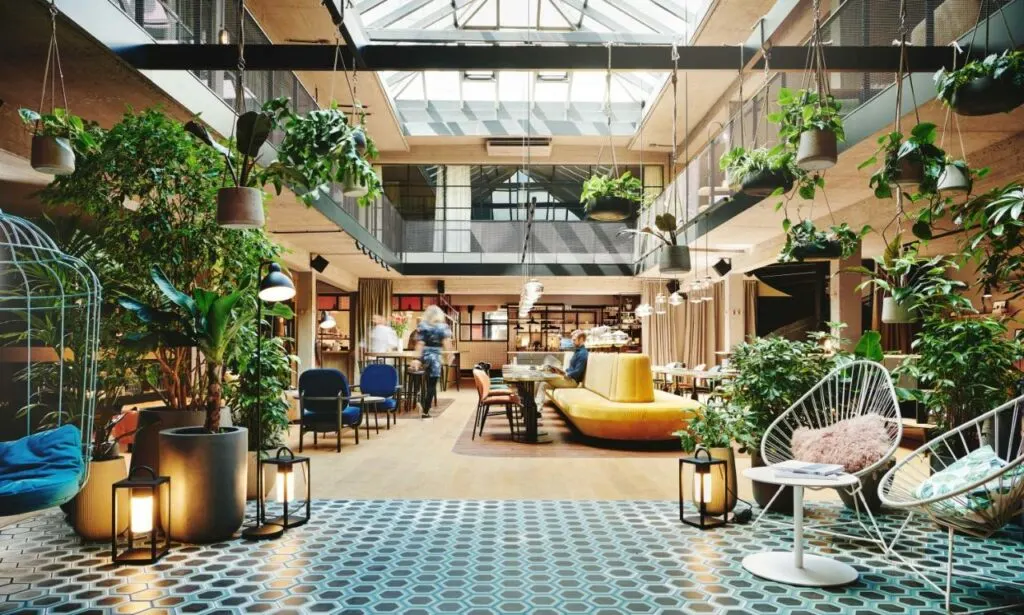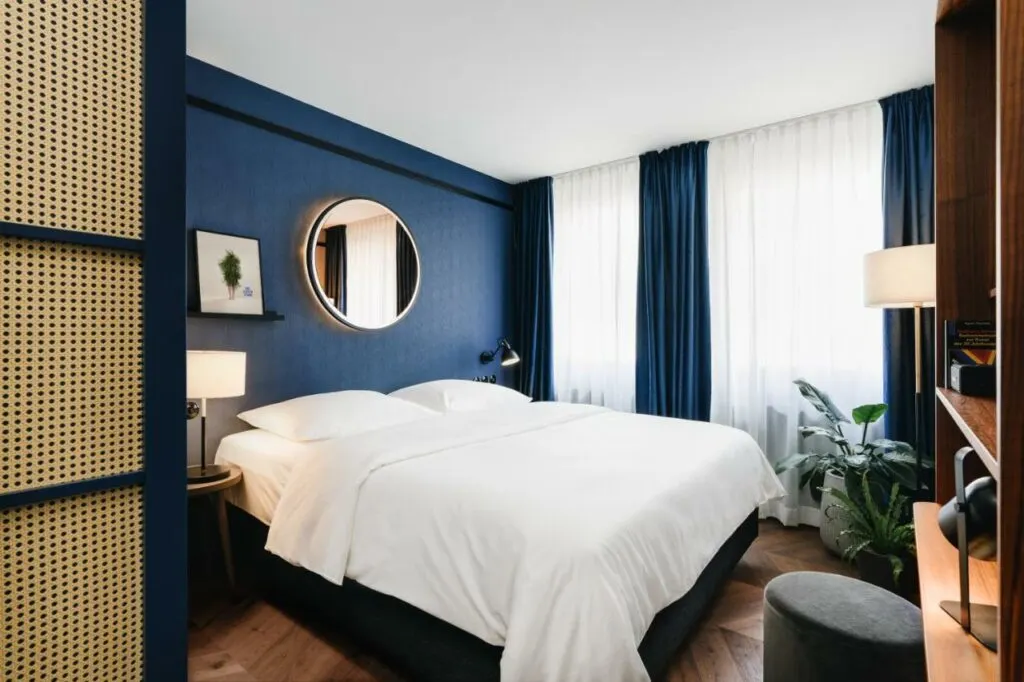 For those wanting a cool hotel in a great location, it's hard to look past the Hotel Gilbert. The building is a beautiful mix of modern art surrounded by nature. The green plant exterior will automatically fill you with joy before you even get inside.
Once you enter, you'll see many quirky pieces of art. The attention to detail here is superb, with plenty of small features that make it extra special. Other larger features, such as the circle mirrors, spiral staircases and range of amenities, will put a huge smile on your face.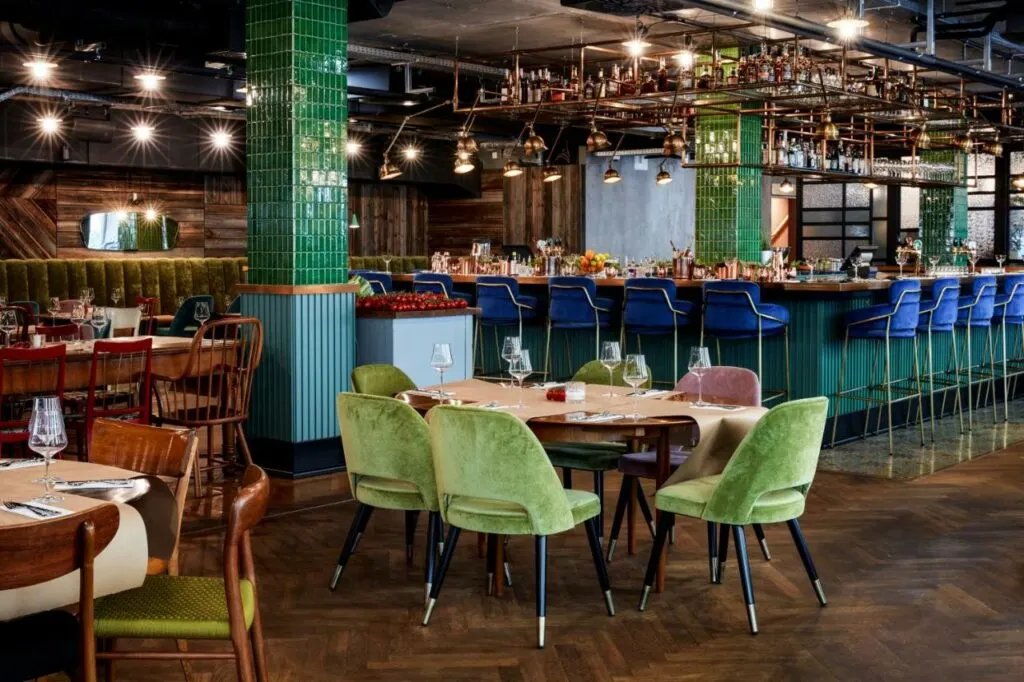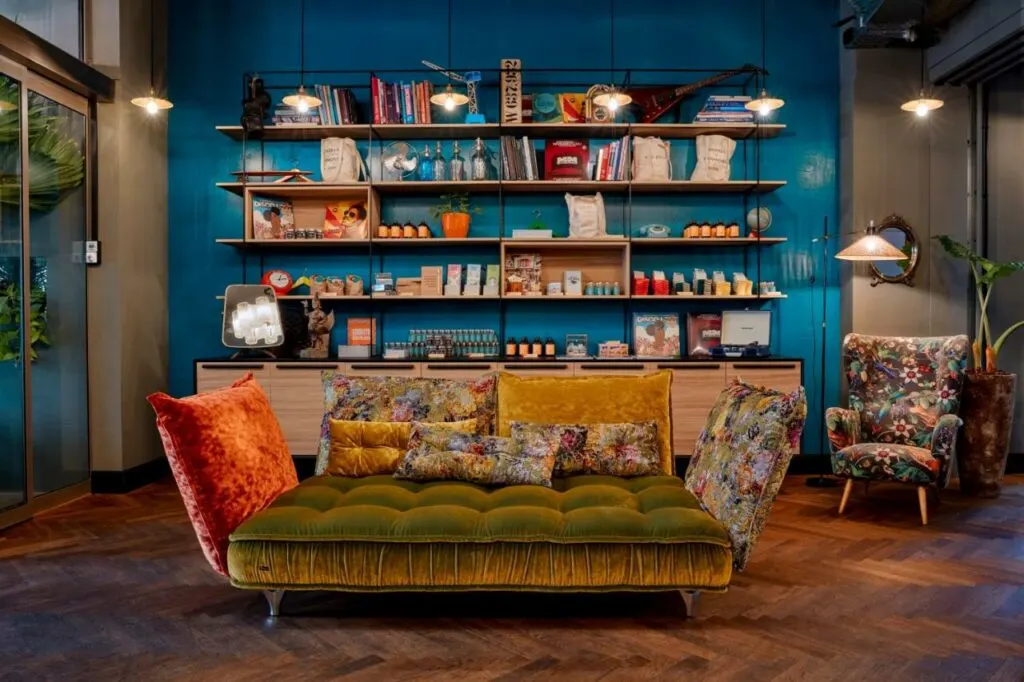 Vienna's 7th district, Neubau, is the place to be for nightlife and a taste of the edgier side of Vienna. The Max Brown is one of the best Vienna hotels to enjoy that atmosphere. The stylish hotel is beautiful throughout, with vivid, colourful décor.
There is also a terrace to enjoy a drink, or perhaps you'll want to pass your time on their billiards table. The lounge area is delightfully quirky, and plenty of greenery can be found. This hotel does things a little differently than most.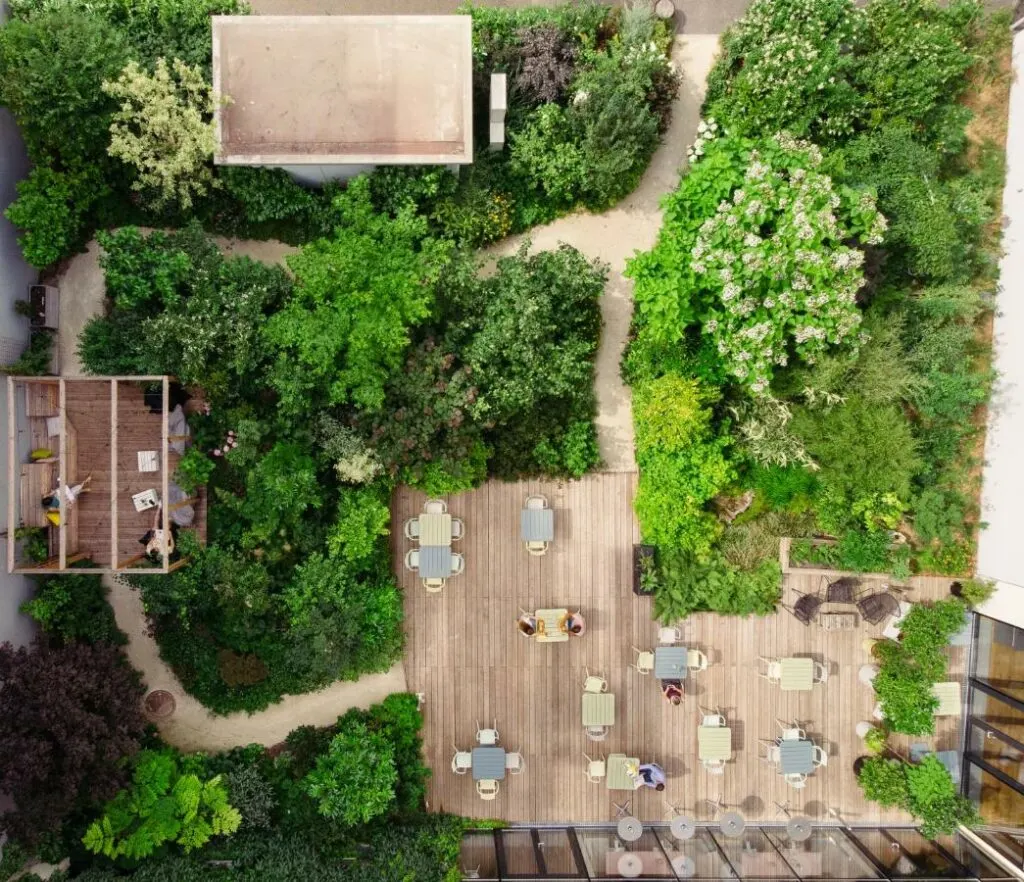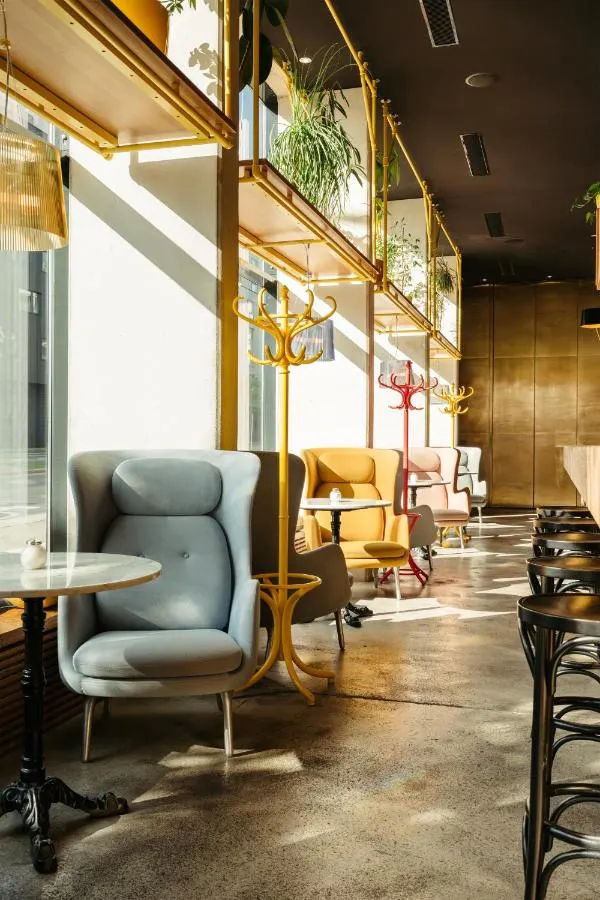 The Hotel Schani Wien is an introvert's dream. With mobile check-in and check-out, you can head straight to your room and open up your door with your smartphone! Inside, you'll find individually furnished rooms that are stunning.
This hotel has the feeling of walking into a friend's house. It has a homely, familiar feel that will immediately put you at ease. Plenty of colour splashed around, and with it being 350 yards from the main station, you can quickly get anywhere you want.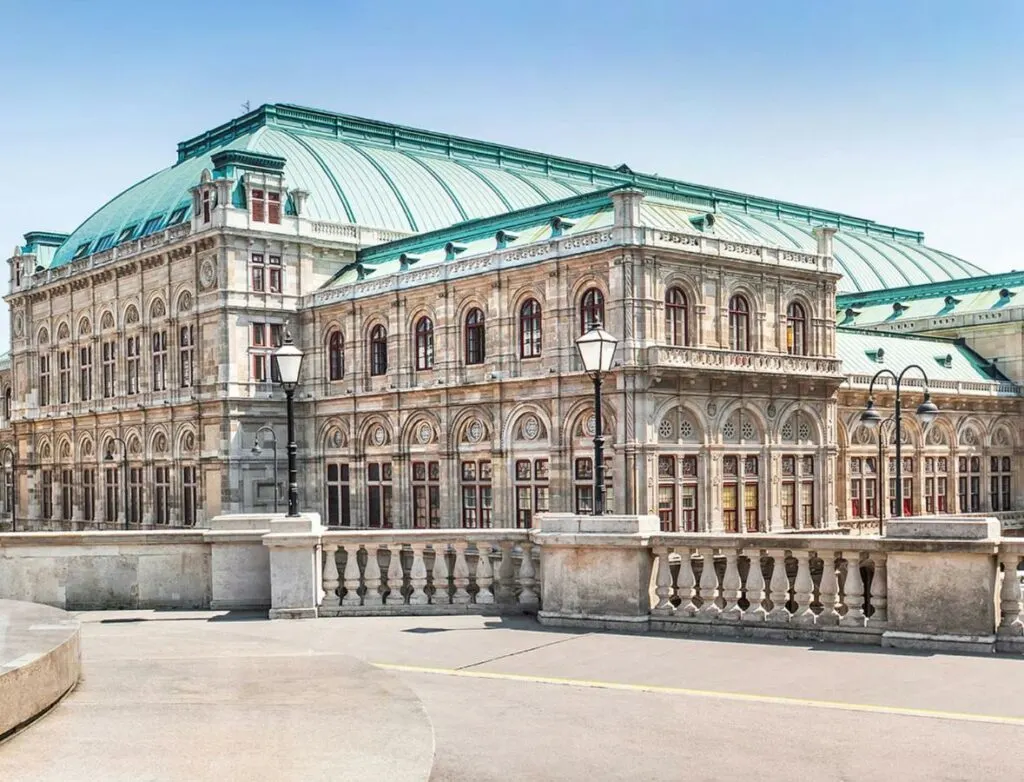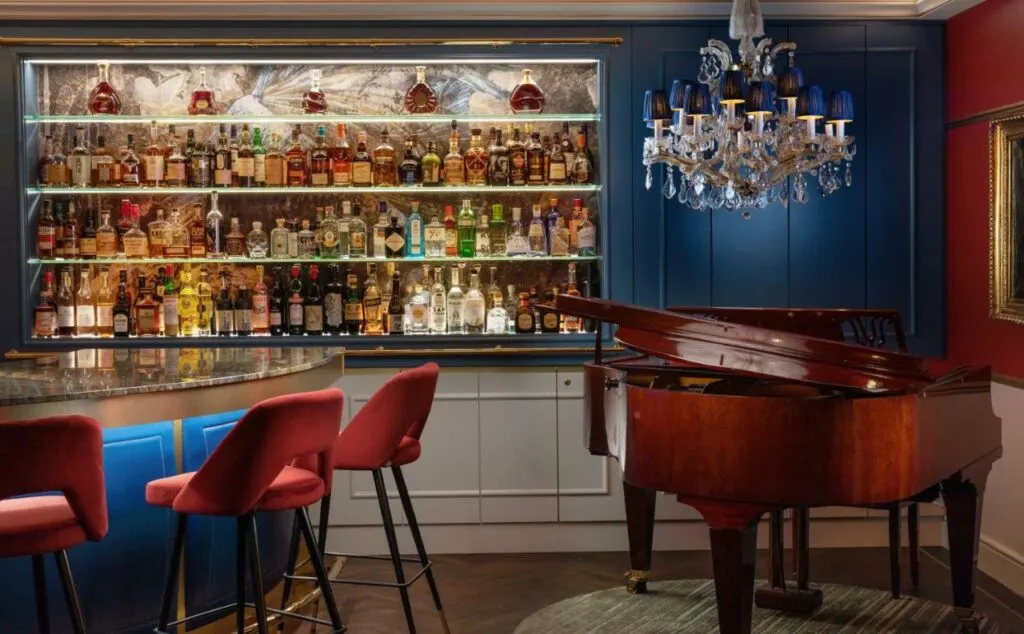 When travelling, you often want a quiet hotel but one that is still in a great location. The ARTIST Boutique Hotel provides that along with a perfect hotel experience. That's helped with possibly the friendliest service staff in the whole of Vienna.
As the hotel's name suggests, there is plenty of art here to enjoy. It's extremely clean and beautifully decorated, while still having a homely feel. After a long day, you can relax beside their wonderful spirits collection and grand piano.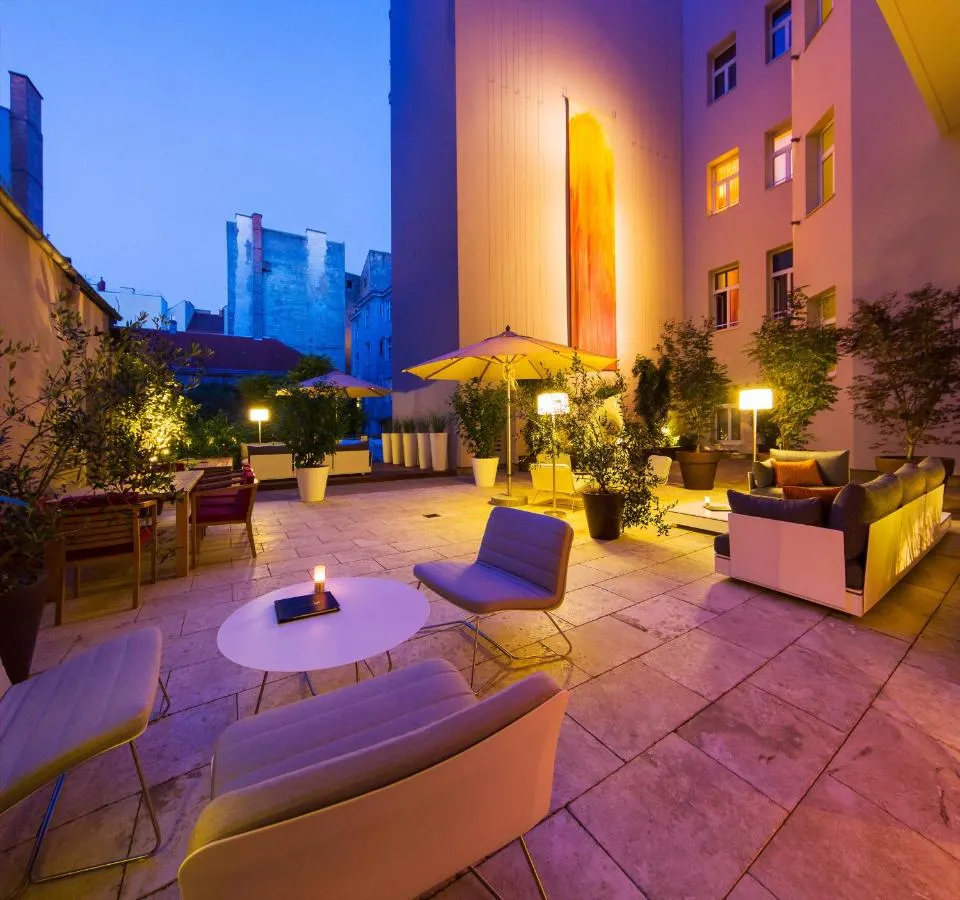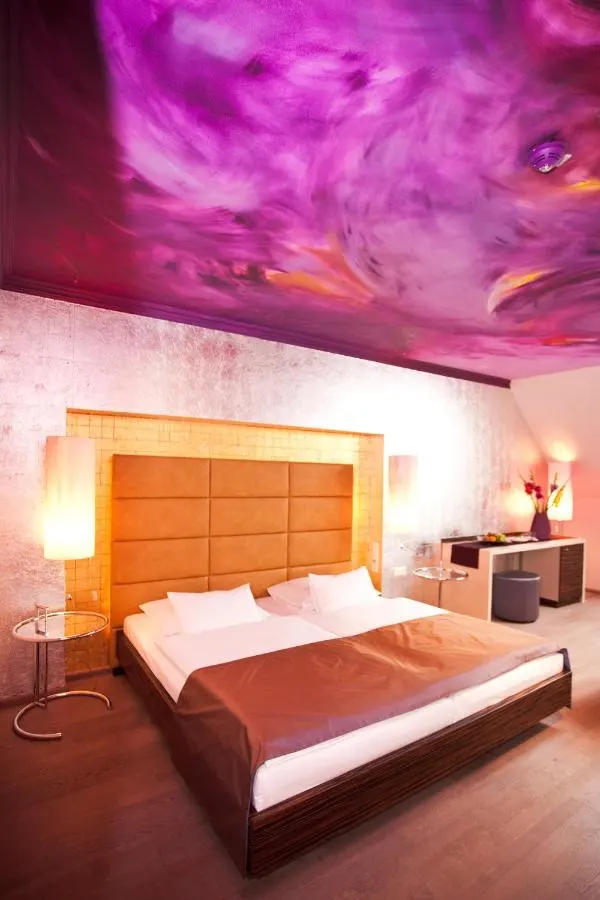 One guest called the decoration of this hotel "ingenious", and I'd be inclined to agree! There is plenty of artwork to enjoy, and the colours are bold and beautiful. With amazing customer service and a great location, there is nothing to dislike here.
That's especially true after a cold Vienna day when you get to enjoy the underfloor heating in the private bathrooms. Their courtyard is a great place to relax, especially considering you're surrounded by greenery. If you book here, you'll undoubtedly fall in love with the place.
Budget Hotels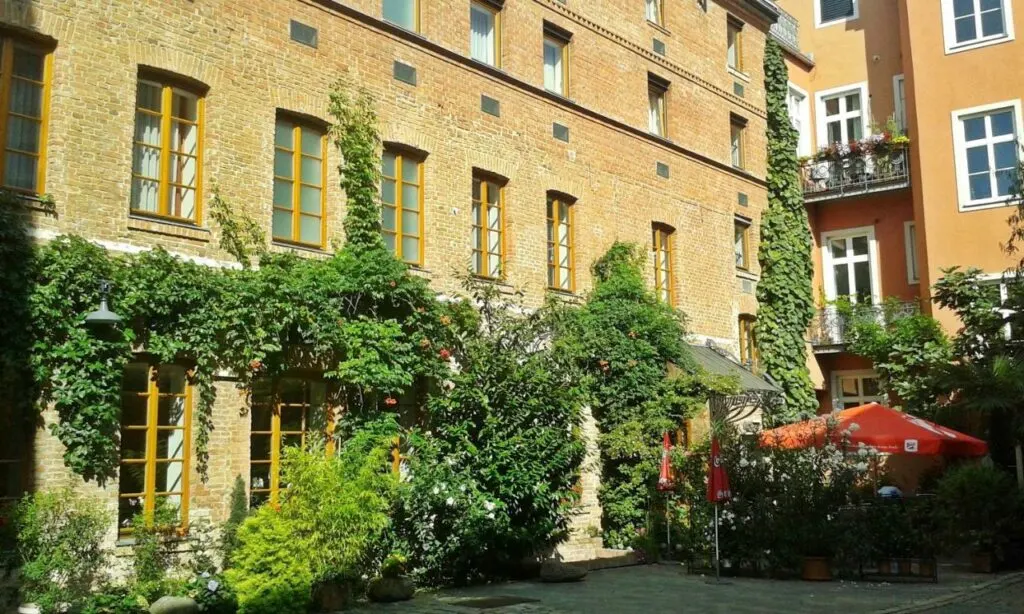 How many hotels have you been to that have a chimney stack in the middle of them? Probably not many! This hotel was created on the site of a former linen factory which explains its quirkiness. Along with that quirkiness are brilliant service and warm, clean rooms.
The internal courtyard where the chimney is located is the standout feature. The amount of greenery makes you feel far away from the hustle of city life, but it's still in a great location. Being right next to both a subway and a tram, you'll have instant access to anywhere in the city.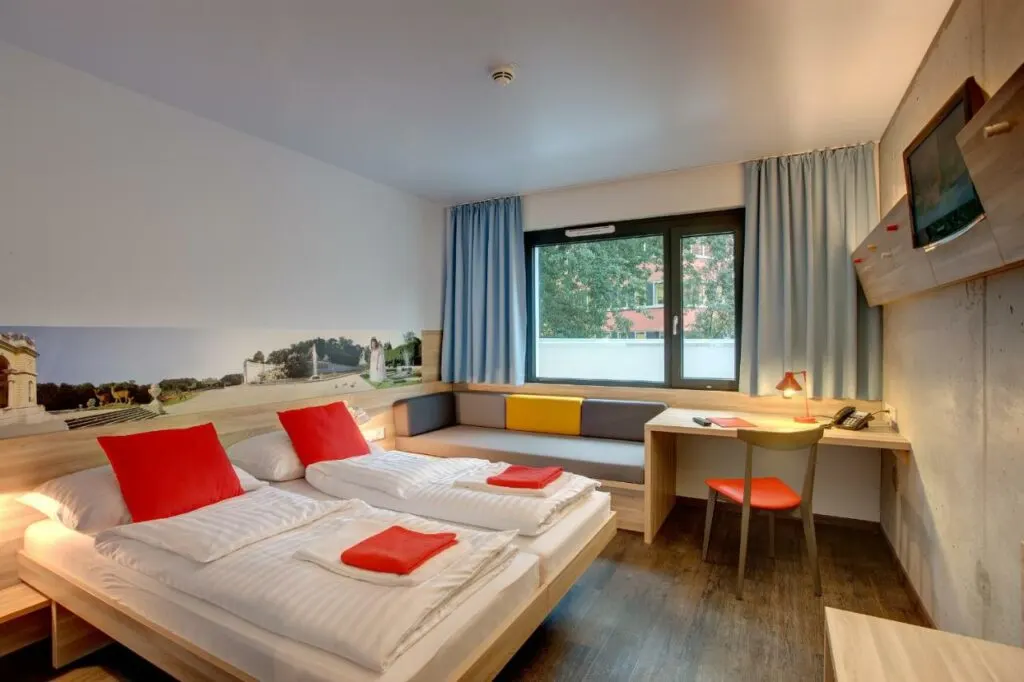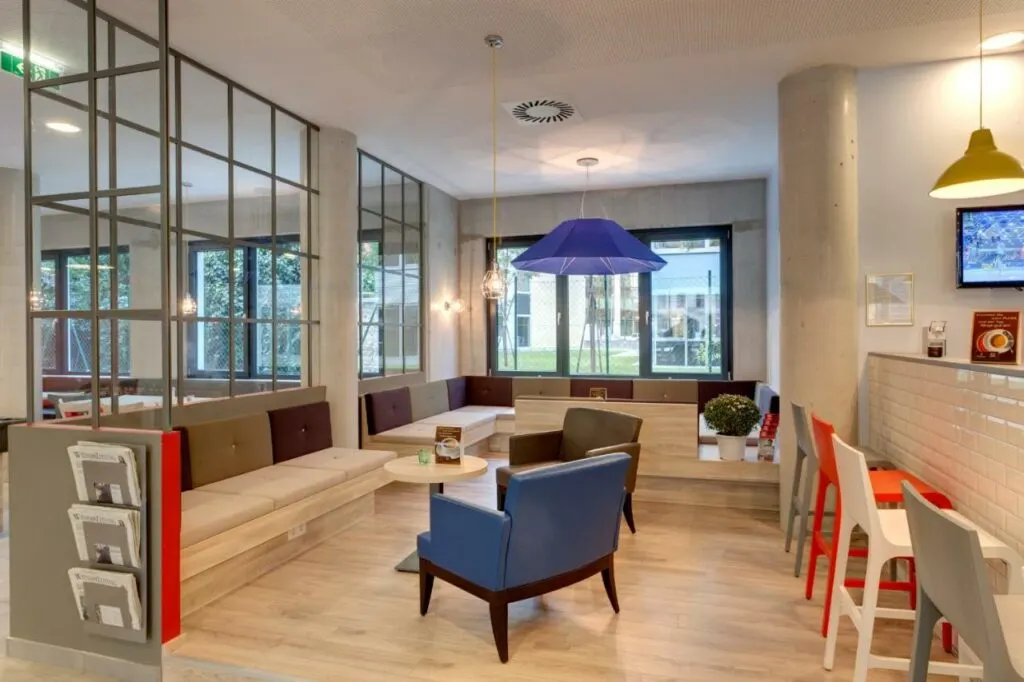 Another brilliant hotel near the centre is Meininger. For those looking for a laid-back atmosphere, you'll fall in love with this place. There are little quirky additions everywhere you look, such as having a guest kitchen and even a games room.
If you want to chill out after a tiring day of walking, it's a great place to relax. What's special about this hotel is that it feels like a home away from home. The rooms are incredibly stylish, with bold splashes of red throughout the building.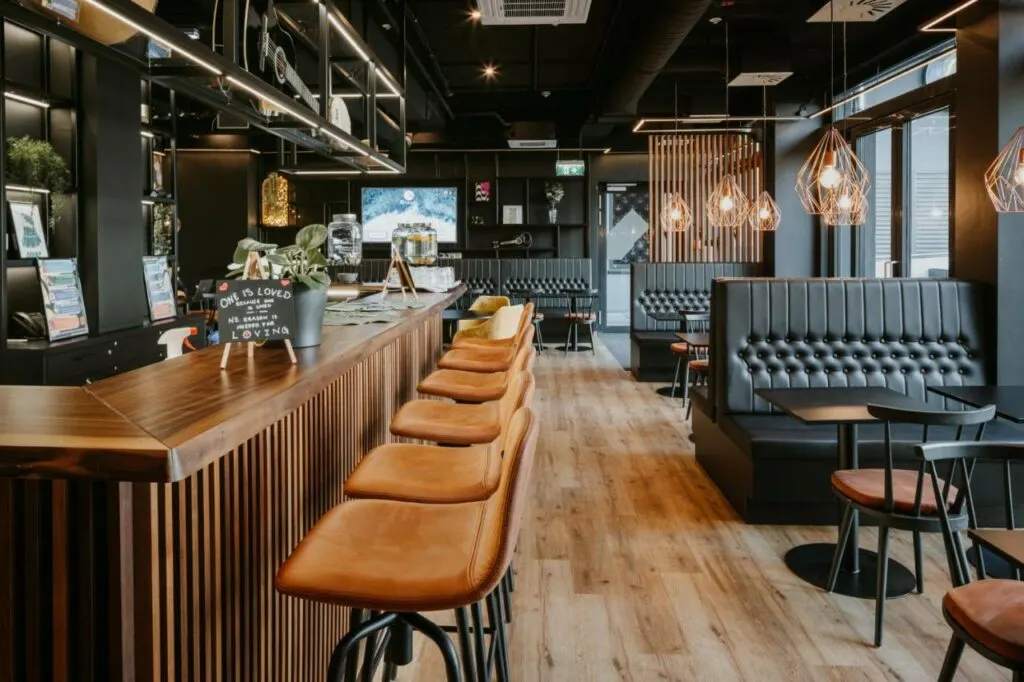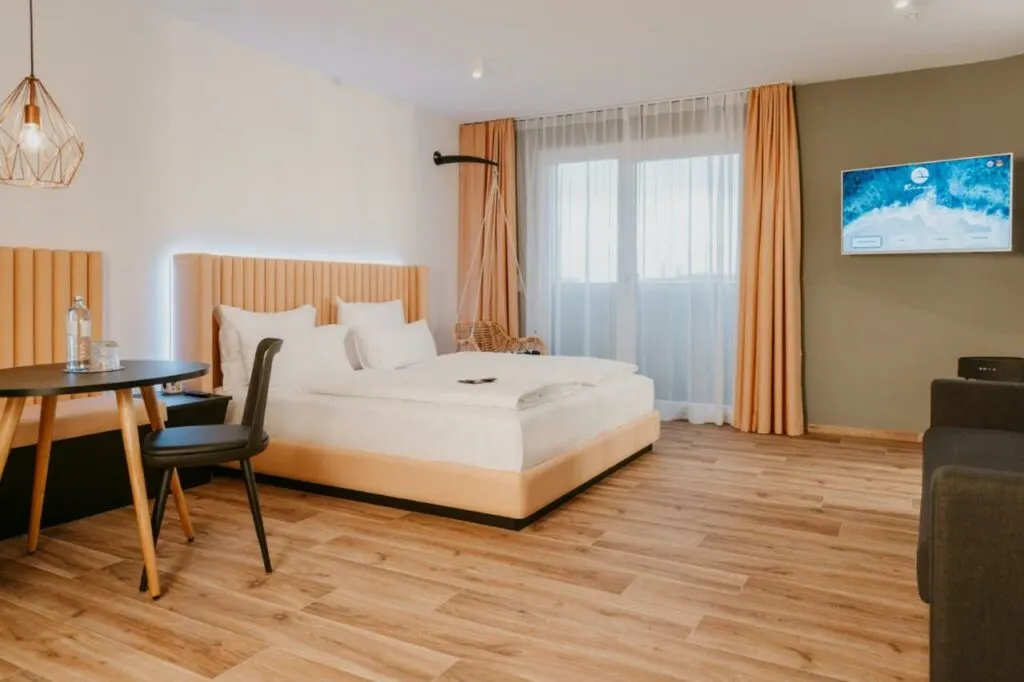 Most Vienna hotels are awash with bland light colours. However, many of the hotels we've seen on this list are bold and beautiful. The Rioca Vienna Posto 2 does things a little differently, as black is the dominant colour here. It has the feeling of being in a high-end nightclub.
Despite the common use of black, beautiful lighting means it doesn't feel dark. It has an apartment vibe, but with all the comforts you'd expect from a high-quality hotel. The exceptional service will help to make your stay even more memorable.
---
Vienna is a historic and beautiful city, but sadly, many of its hotels are a little boring! Thankfully these 13 coolest hotels in Vienna like to do things a little differently and are perfect places to stay.
Do you think any are missing from my list? If so, let me know in the comments below and I'll add them!
Like this blog post? Then Pin it for the future!