Travelling from Vienna to Salzburg? Whether you fly, drive in a hire car or ride the train, these are the best ways of travelling between the two cities!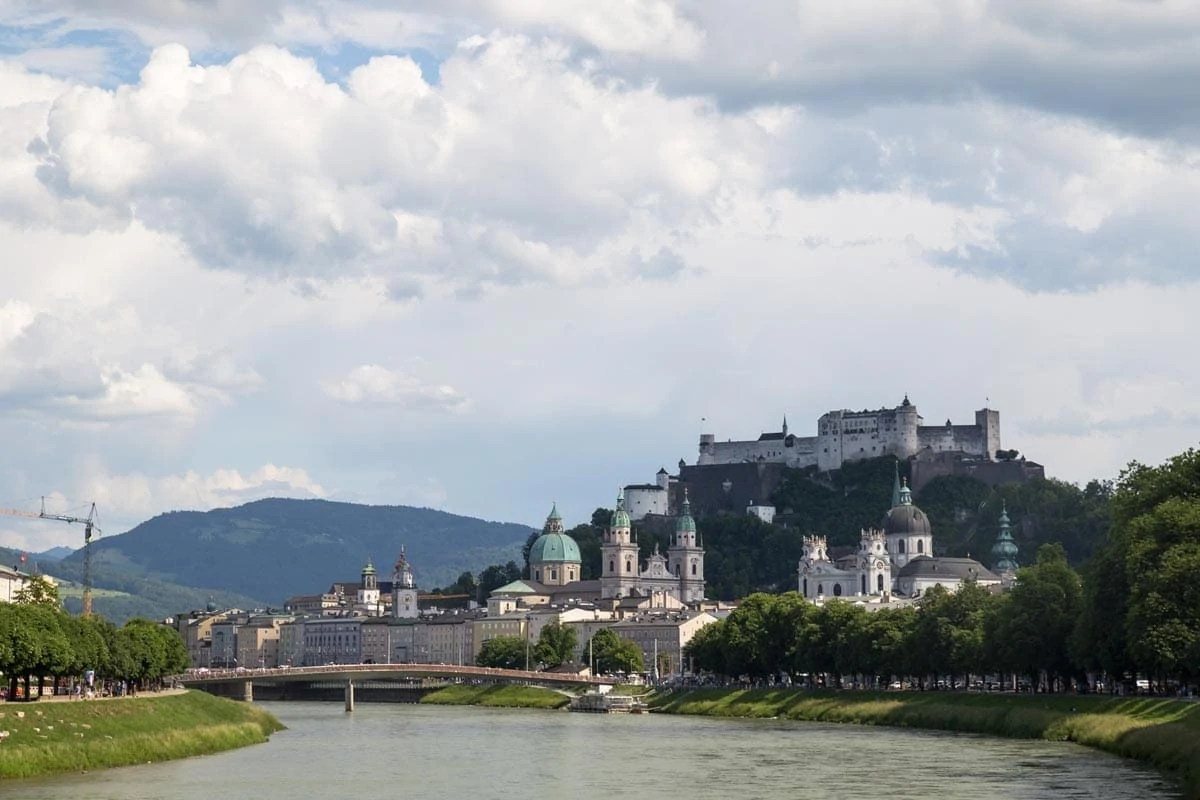 Salzburg is famous for two things – being the birthplace of Mozart and the home to The Sound of Music. However, there's so much more to this gorgeous town tucked away in the mountains.
It's one of those places that feels so laid back and relaxed. One of my favourite things to do here is find a cute café in one of the many squares in Old Town, order an espresso and a plate of apple strudel and watch the world go by.
There aren't many places that doing nothing is an experience in itself, which is why this is such a popular day trip from Vienna.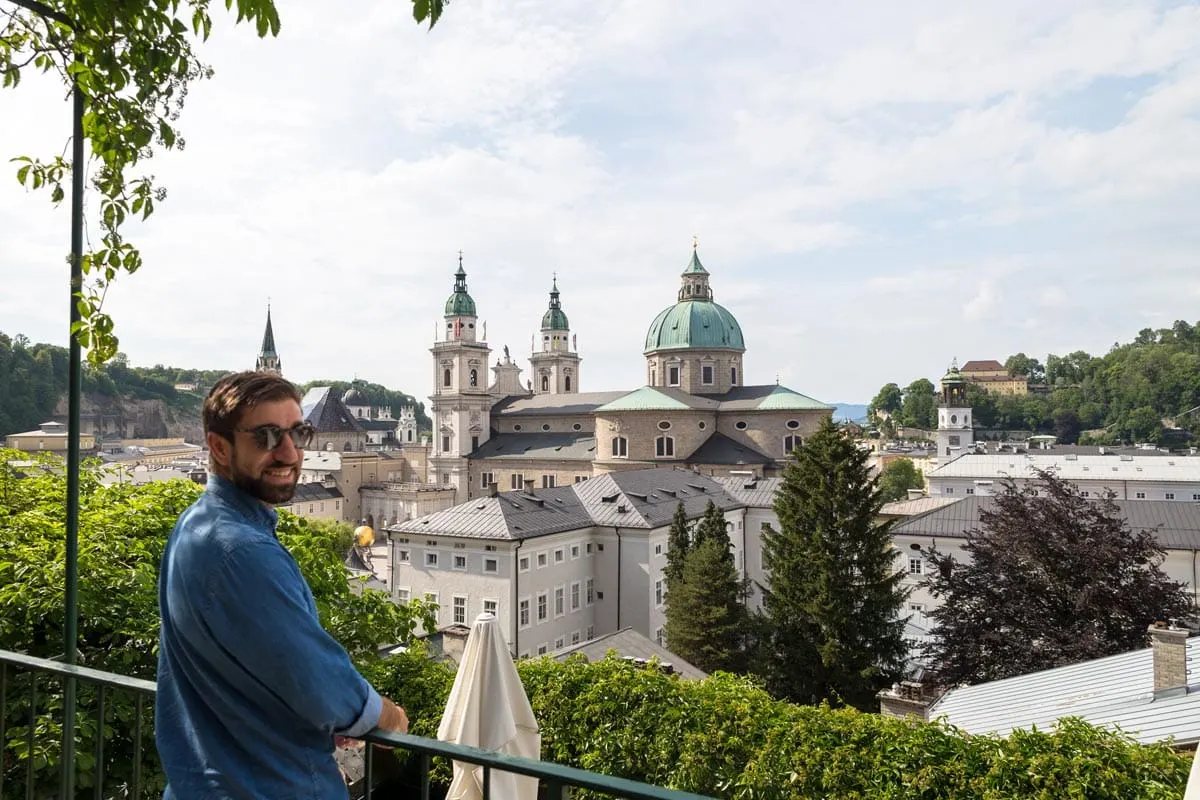 Travelling from Vienna to Salzburg is a super easy and there are a number of options to choose from.
In this blog post I'm going to take you through catching the train, giving carpooling a go, and of course driving it yourself.
Hopefully after reading this you'll have more of an idea which is the best method of travel for you! Also, I'll tell you which is my preferred method of travelling too (in case it makes a difference!)
Taking the train from Vienna to Salzburg
Austria is one of my favourite countries in Europe. I just love the landscapes of mountains and lakes, especially in summer.
As such, one of the best things you can do is kick back in a train seat and watch the Austrian scenery pass you by.
As such, I think this is my favourite method of travelling between the two.
Taking the Vienna to Salzburg train is very quick and easy. The fast train takes around 2 hours and 15 minutes. The slow train takes around 3 hours, so it's not all that much longer. Also, there are approximately 99 trains per day so there's bound to be one when you want it.
The train leaves from Vienna Hbf (the main central station) and takes you into Salzburg Hbf. Depending on where you stay in Salzburg, a lot of hotels are within walking distance of Salzburg train station.
The first train leaves from Vienna Hbf at 05:30 and arrives at 07:52, and the last trains leaves at 21:25 and arrives at 00:28. Obviously there are a number of different train times throughout the day too.
Ticket prices for Vienna to Salzburg varies dramatically depending on when you buy your ticket and what class you get.
The cheapest ticket is €19 for an advanced 2nd class ticket. The most expensive is €97.30 in 1st class if you buy on the day! Obviously I really recommend buying all train tickets beforehand if you know your travel plans.
You can find train times and prices here.
Taking the bus from Vienna to Salzburg
So the Vienna to Salzburg bus doesn't really exist!
Due to the high competition of trains and their low cost, there aren't actually any bus companies that run directly to Salzburg.
Flixbus (one of the most popular bus companies) does show the occasional bus option but it's 6 hours and a lot of money so I'm not going to list it here.
Basically, if you're deciding between the bus and the train, that decision's already been made for you.
Flying from Vienna to Salzburg
By far the quickest method of travelling from Vienna to Salzburg is to fly.
This route only takes 45 minutes. However, once you add on check-in time and leaving the airport, then it doesn't work out all that much quicker than the train.
Then there's the price. A quick look on Skyscanner and flights are around €100 for a one-way flight which is a lot of money for not much time saved. Return flights are around €150.
Basically, I'd suggest saving yourself the money by taking the train!
You can find flight times and prices here.
Driving from Vienna to Salzburg
It's road trip time!
Another really popular way of travelling between Vienna and Salzburg is by driving.
Driving takes around 3 hours, but I'd suggest setting aside 4 hours and stopping off in Steyr along the way. Steyr is one of the best-preserved old towns in Austria that dates back to the 10th century and it's a wonderful place to stop off for lunch.
Driving on the Austria roads is really easy (don't forget they drive on the right side of the road if you're coming rom the UK) and the scenery is just beautiful.
To be honest with you, one of the reasons I love this route so much are all the tiny little villages you see along the way. Just imagine what I'd be like living here!
Carpooling with Bla Bla Car
Another alternative method of travelling between the two places is carpooling.
If you don't know what this is, carpooling is where you share a lift with someone already travelling to the same place.
One company Bla Bla Car have taken this to the next level by having everything all in one place. All you need to do is state where you're going and up comes a list of drivers, what time they're leaving and how much it costs. And it is a lot cheaper than catching the train too!
Other things to consider
If you're hiring a car to drive, make sure you bring your driver's licence and adhere to the speed limit
Camping in Austria is allowed at many places including next to lakes, atop mountains, and alongside rivers
---
If you're heading to Salzburg then check out my side on 'What to do in Salzburg' for some of the best things to do in the city.
Are you planning a trip to Salzburg? If so, how are you going to get there? I'd love to know in the comments below!
Like this blog post? Then make sure you Pin it!