From roaming rural cities and sprawling state parks, to your favourite watersports on one of Texas's many lakes, these are the best day trips from Austin!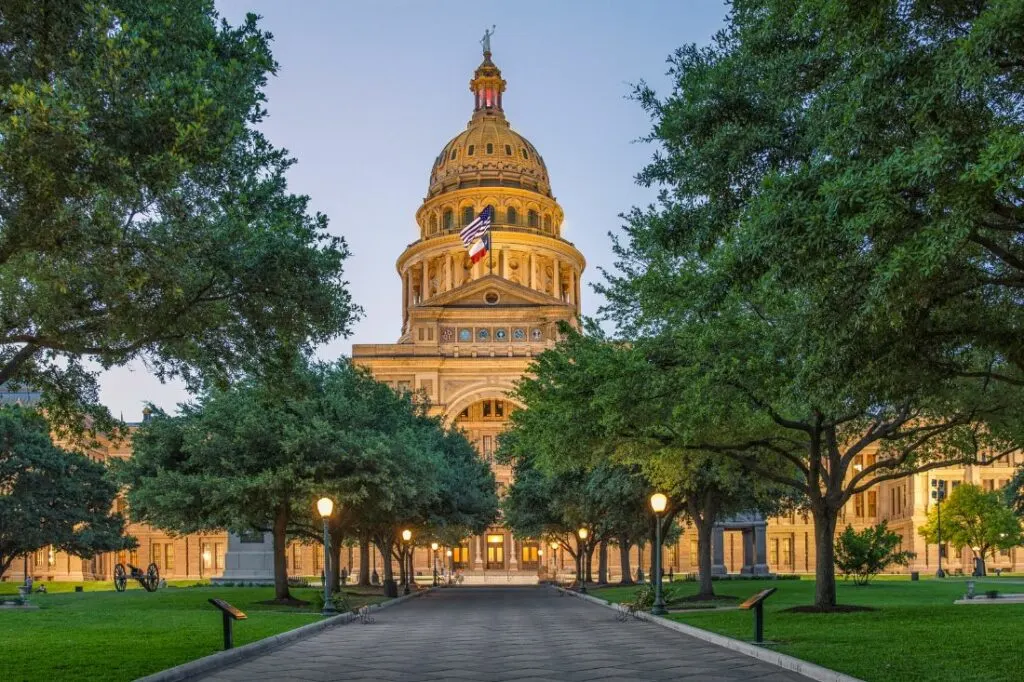 Austin, Texas. A city home to some of the world's best live music and iconic Southwestern heritage.
You're guaranteed to have an amazing time in Austin, but did you know that there's still plenty to see once you step out of Texas's capital city?
In fact, I could argue that there's even more fun to be had outside – that's what these day trips from Austin are all about!
Sprawling state parks, winding rivers, waterfalls that splash and crash. Not to mention some of the most charming, historic small towns you'll come across in this part of the United States.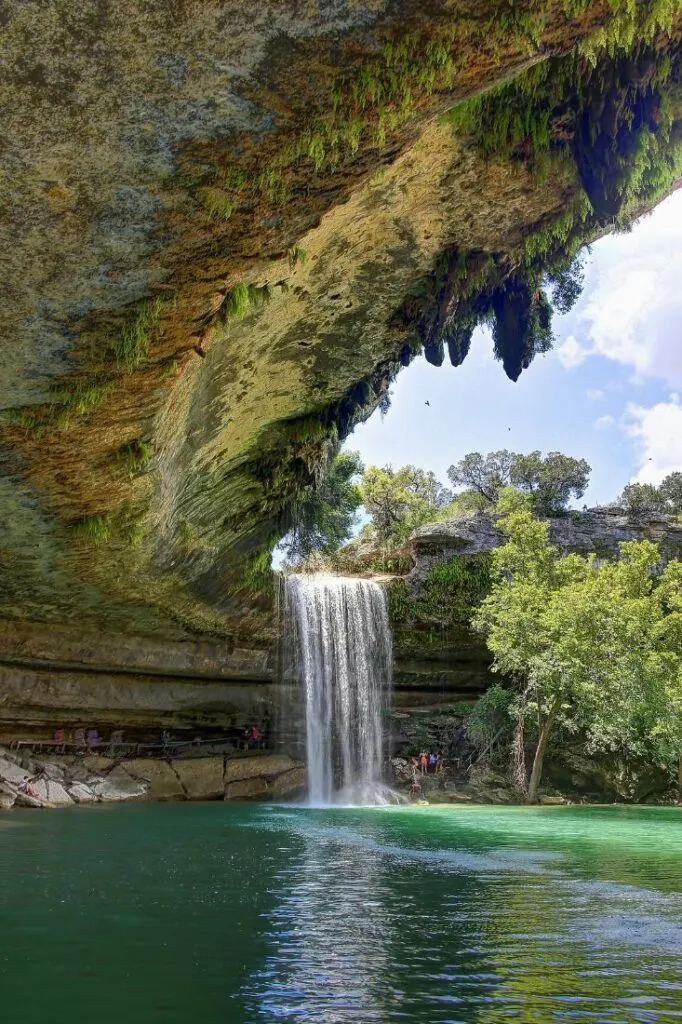 From Gruene and Fredericksburg, Canyon Lake to Enchanted Rock, these are some of the top places to visit near Austin.
And whether your idea of a good time is exploring cities and roaming around small-town museums, or hiking your way around some of the best National Parks in the US, there's something here for you.
Some are nearby, some are further away up to a couple of hours. For a few, you'll need to drive, whereas other destinations will be proper Austin tours with guides to lead the way. Like I said, there's something for everyone in this blog post.
So scroll on, read and save this post – you won't want to miss these spots during your Texan travels.
---
Best Day Trips from Austin
Amble around Marble Falls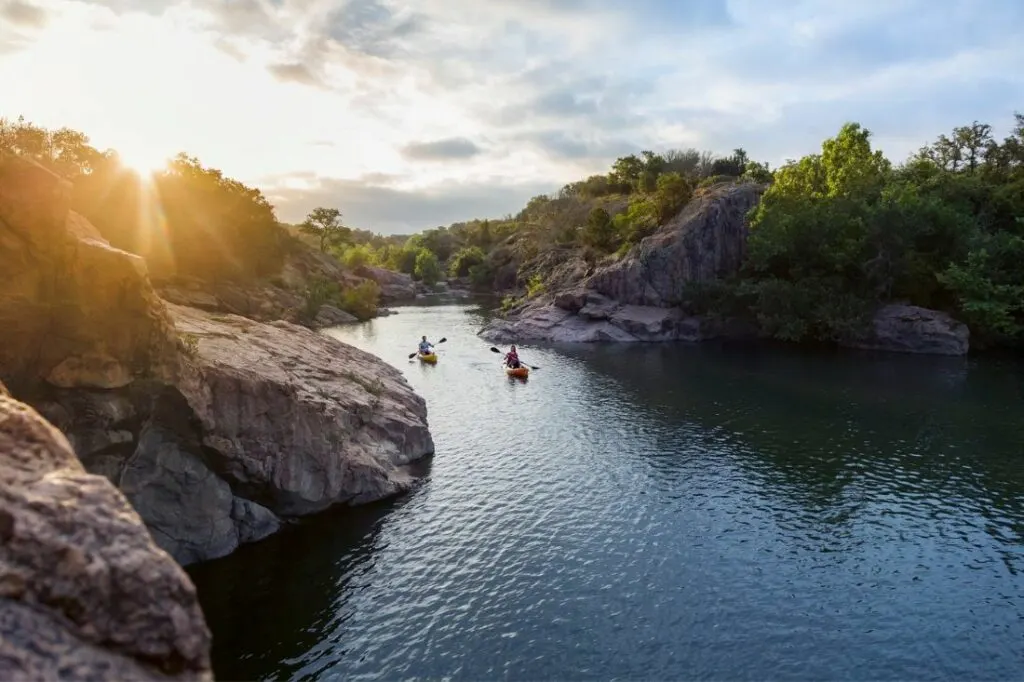 Marble Falls might sound like the next Niagara, but actually it's a small city about an hour's drive from Austin.
Here you'll find a plethora of things to do: from a walkable downtown bursting with independent shops and boutique galleries, to a myriad of outdoor activities to explore.
One thing not to forget is to check out Lake Marble Falls, one of the Highland Lakes along the Colorado River and a hub for water sports and activities. One of the best things to do here is go kayaking – and yes, it really is this beautiful!
Hang out at the Hamilton Pool Preserve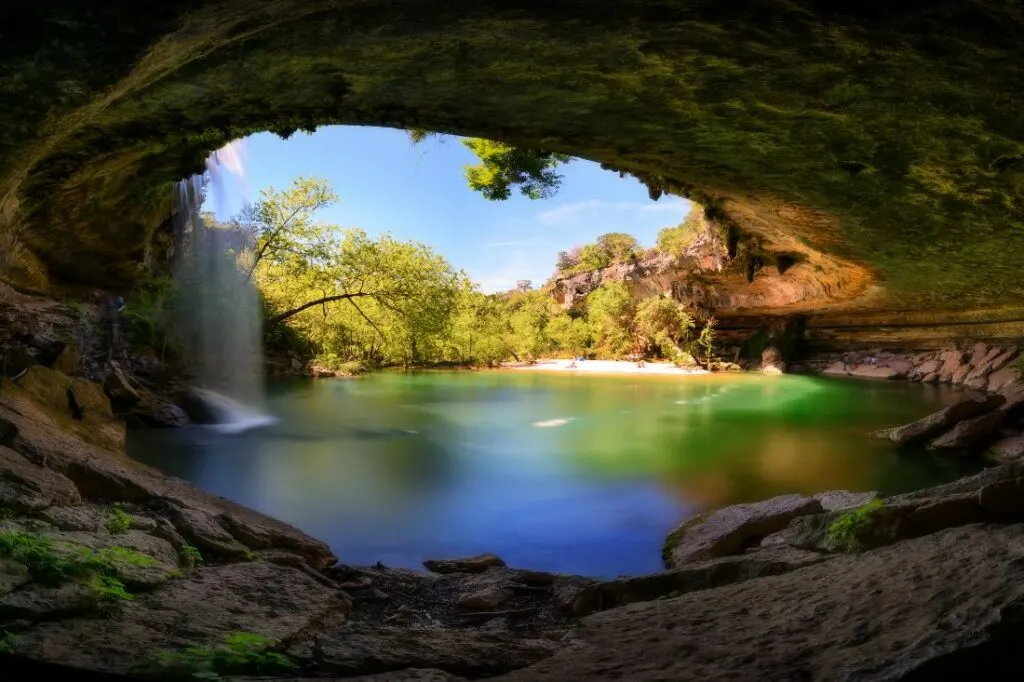 The Hamilton Pool Preserve is one of the best ways to escape the hustle and bustle of the city, about 40 minutes out of Austin. A historic swimming hole, designated as a preserve by the Travis County Commissioner's Court in 1990, it's one of the best places in Texas for a little R&R.
Here you can take local hikes and enjoy the wilderness. However, be aware that you can't hike behind or swim by the waterfall (in case of falling rocks), and that reservations are required for the pool.
Head to the city of Dripping Springs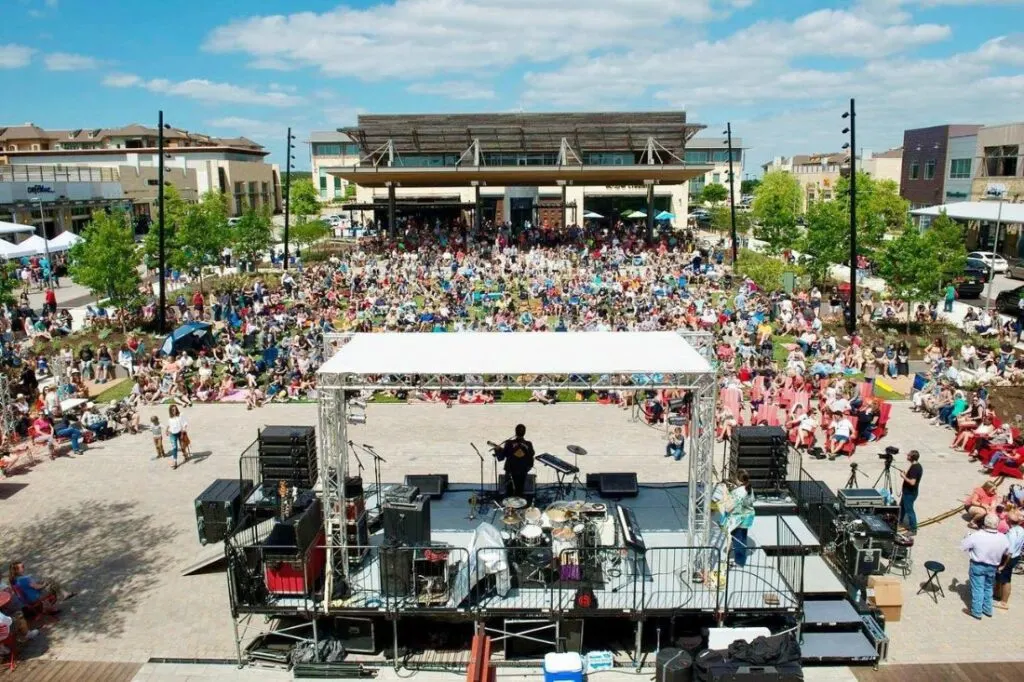 Located close by Hamilton Pool Preserve, a half hour out of Austin, you'll find the rural city of Dripping Springs.
Head here for a completely different vibe to Austin. Dripping Springs is only home to just over 4,000 people, and its main appeal is its small-town charm and tight-knit community.
Peruse the town's local businesses and enjoy the tranquillity of Charro Ranch Park. If you're planning on visiting Hamilton Pool too, try and combine the visit – they're a stone's throw apart.
Roam around Pedernales Falls State Park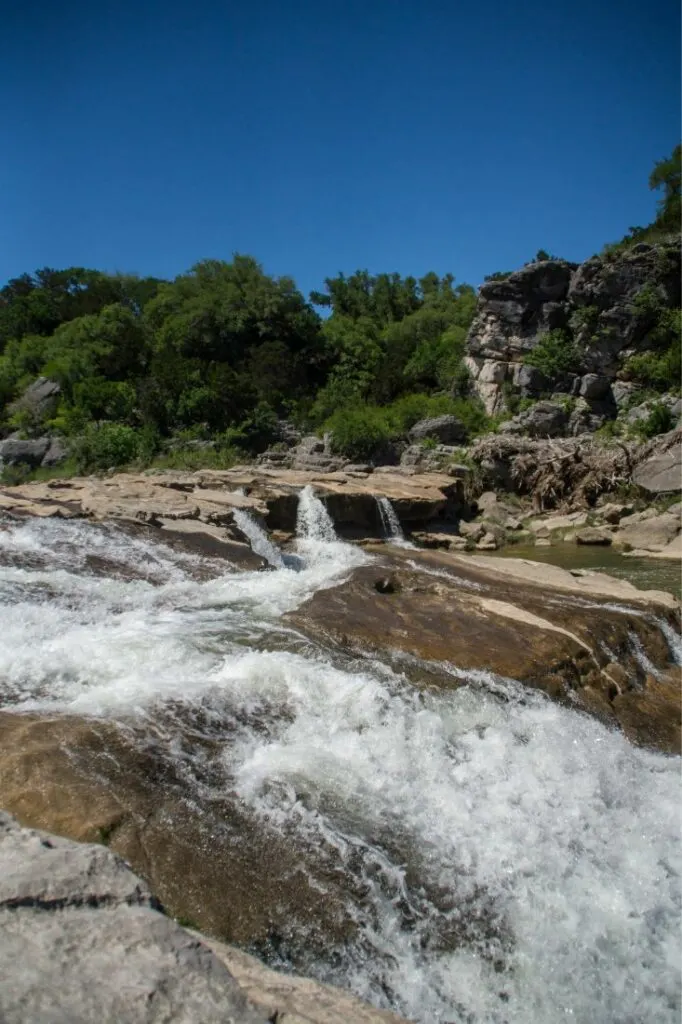 One of my favourite things about Texas is its state parks. That's why so many of them make the best day trips from Austin.
That includes Pedernales Falls State Park: a full 5,215 acres of limestone slabs and rolling hills, with rivers running through them. And it's just an hour away from the capital so it's really easy getting here.
Whatever your hobby, here's a place to do it. Swimming, tubing, hiking, biking – even fishing if that's more your bag.
Explore the Enchanted Rock State Natural Area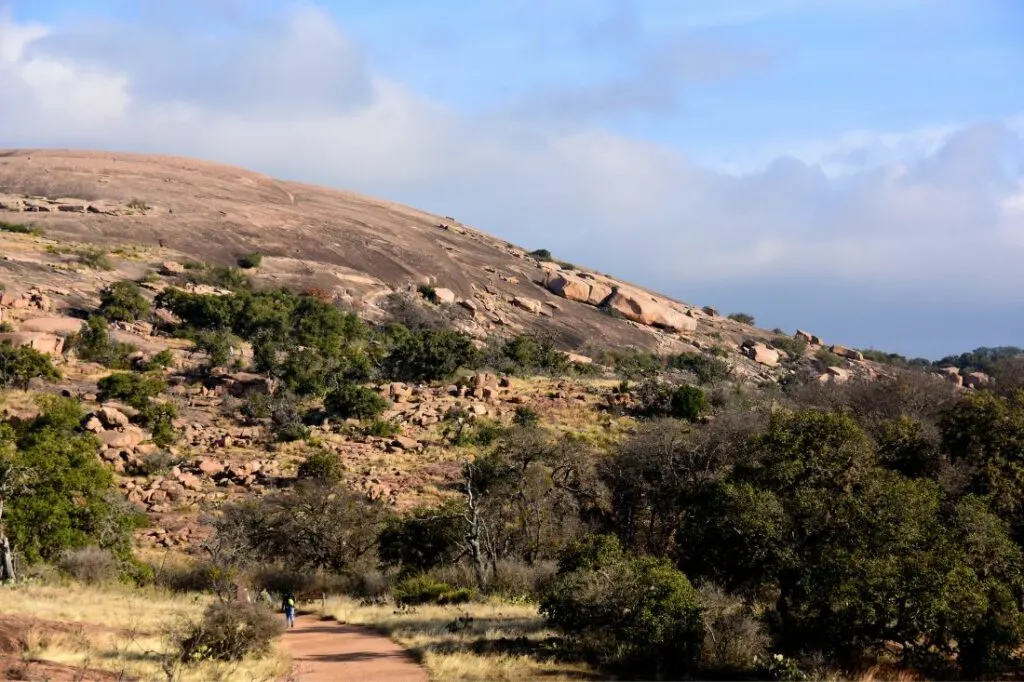 Enchanted Rock State Park is one of the prettiest state parks in Austin. And the centrepiece of it all is the pink granite monolith at Enchanted Rock State Natural Area. It looks cool, doesn't it!?
Just an hour and a half from Austin, this is one of those bucket-list sights you need to tick off when visiting the US. Aside from the rock, you'll also find 11 miles of trails that you can hike, climb, and cave. You could spend a whole day there easily, so plan accordingly. This is definitely one of the best Austin day trips though and one I'd really recommend.
Enjoy the outdoors at Canyon Lake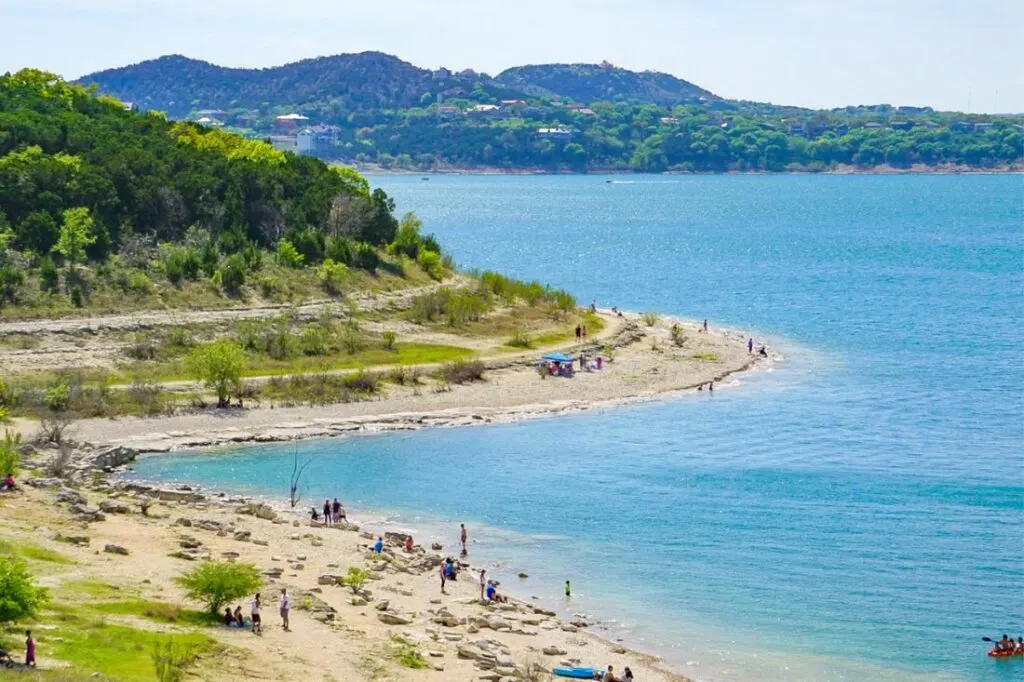 Canyon Lake is a town an hour and a half outside of Austin, proudly known as the Water Recreation Capital of Texas. It's a true enough title, too – if you want to get out on the water, this is the place to be.
Its namesake, Canyon Lake, is a whopping 8,200 acres so there's more than enough room to pursue your favourite lakeside activity, be it swimming, sailing, or tubing. When you've had enough of the water, explore one of the local hiking trails.
Or get the best of both worlds in San Marcos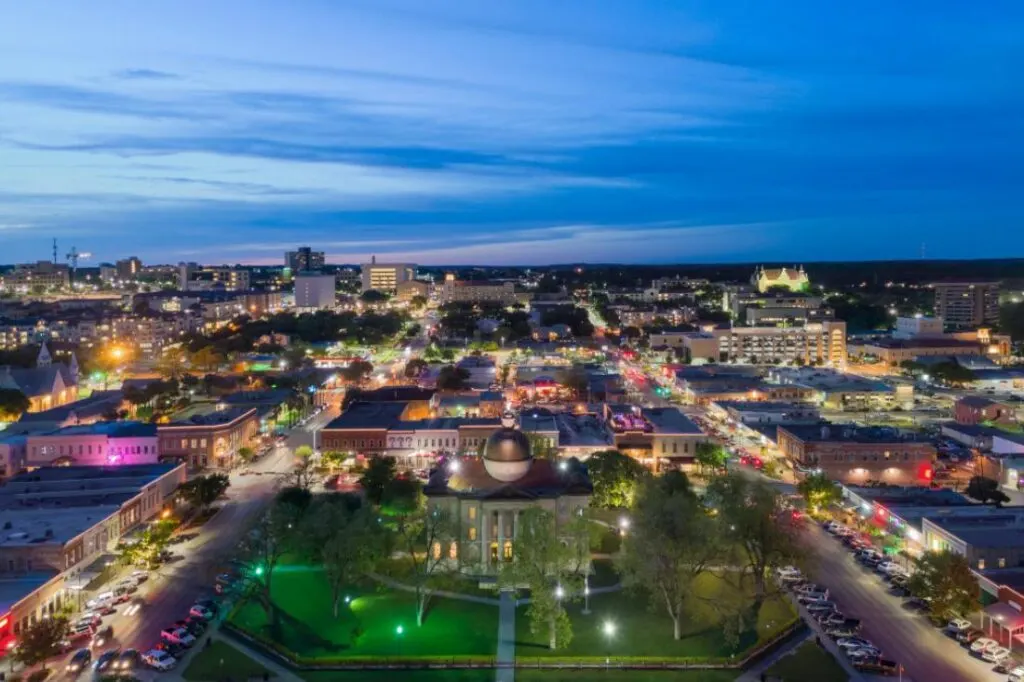 Not far from Canyon Lake, a half hour's drive from Austin, you'll find San Marcos. This city is the perfect blend between indoor and outdoor activities.
On the one hand, you've got art and culture: the Mermaid Match art tour, the LBJ (Lyndon B. Johnson) museum. You've got downtown, local stores and bars. Then you've got the outdoors: Purgatory Creek, tube rentals, inner city parks.
Rain or shine, sporty or studious, San Marcos has something for everyone, on every occasion.
Take a dip in the natural swimming holes at Wimberley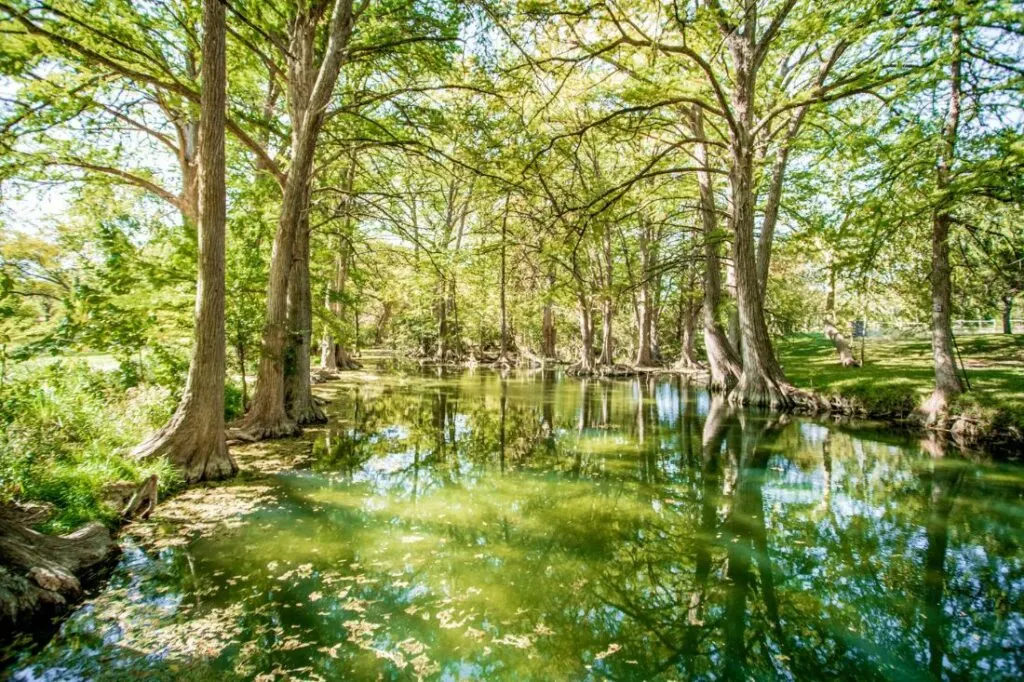 A little further afield than San Marcos is Wimberley. This village is a 40-50 minute drive from Austin, but it's well worth the journey.
Main reason being it's home to two of Texas's best natural pools: The Blue Hole and Jacob's Well. If you're visiting in summer, make sure to take a dip and cool off – they have refreshing temperatures all-year-round, thanks to being fed by natural, underground springs.
After you've dried off, take a hike around Blue Hole Regional Park or zip line through the local valley.
Or visit the Colorado Bend State Park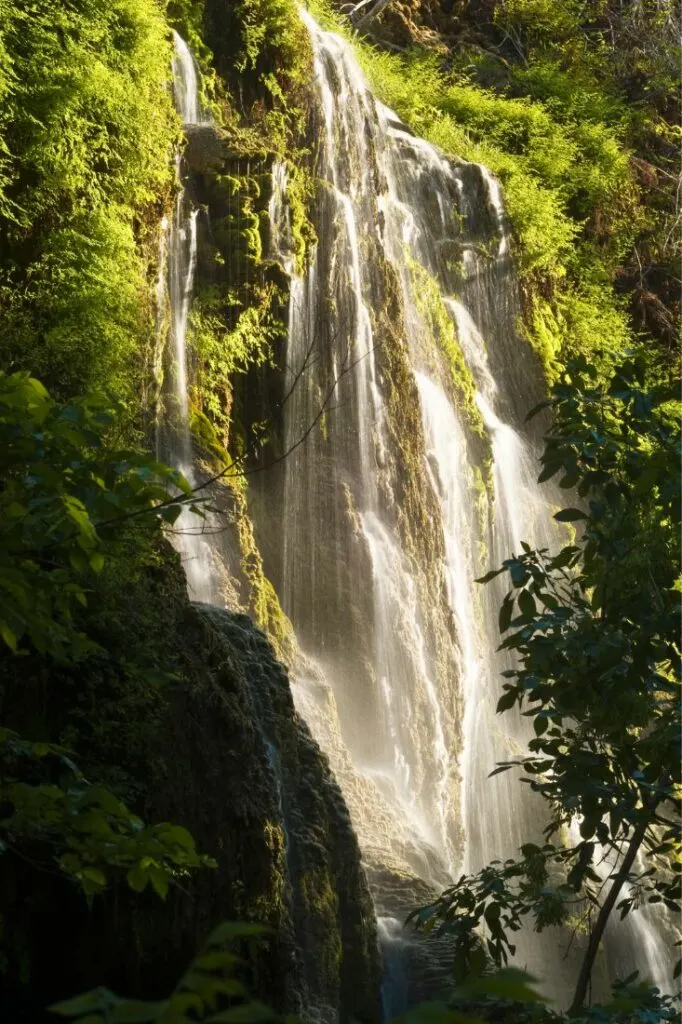 Not sure if I've given it away already, but I love a state park. And I really do think they make the best day trips from Austin.
So I'm recommending another: Colorado Bend State Park. This one's a little further, at 2 full hours away. But with more than 5,000 (!) miles for you to explore, trust me, it's worth it.
Not only can you hike (I especially recommend Gorman Falls), but you can swim at Spicewood Springs and paddle along the Colorado river. You really can't go wrong with this place.
Broaden your mind in the Gruene Historic District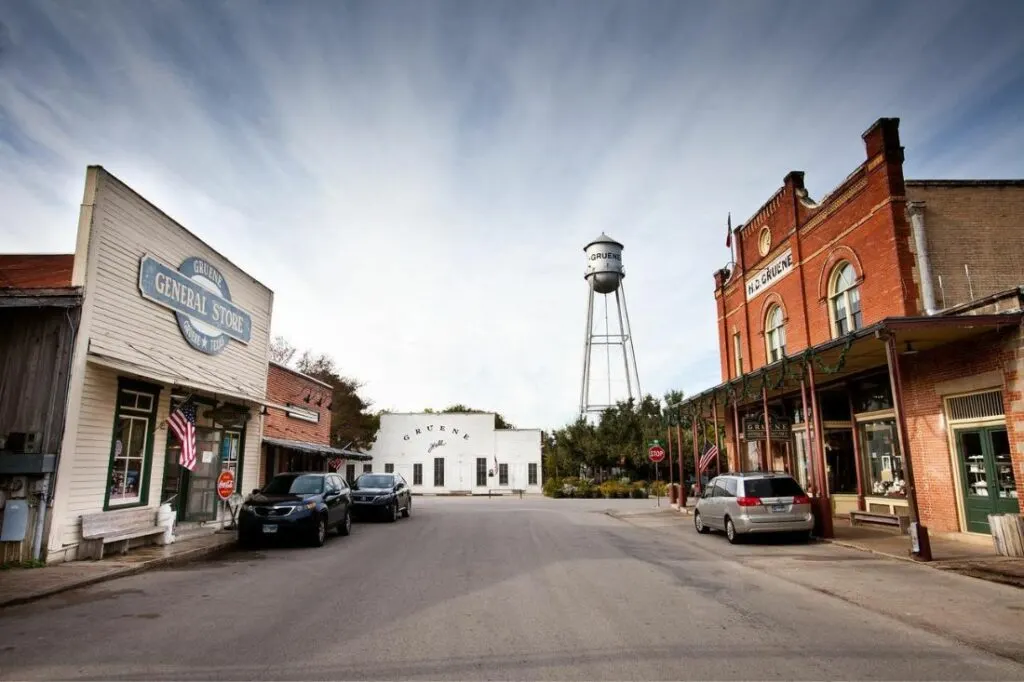 About 50 minutes from Austin, you'll stumble upon the city of New Braunfels. From here, you'll find Gruene – a historic district linked to Germany.
Once populated by German cotton farmers, way back before the Civil War, Gruene's German-Texan history is an interesting one. Actually, the whole of New Braunfels has links to Germany, so I'd recommend exploring both in one day. There's tons to do even if history isn't your jam.
Go on a day tour of San Antonio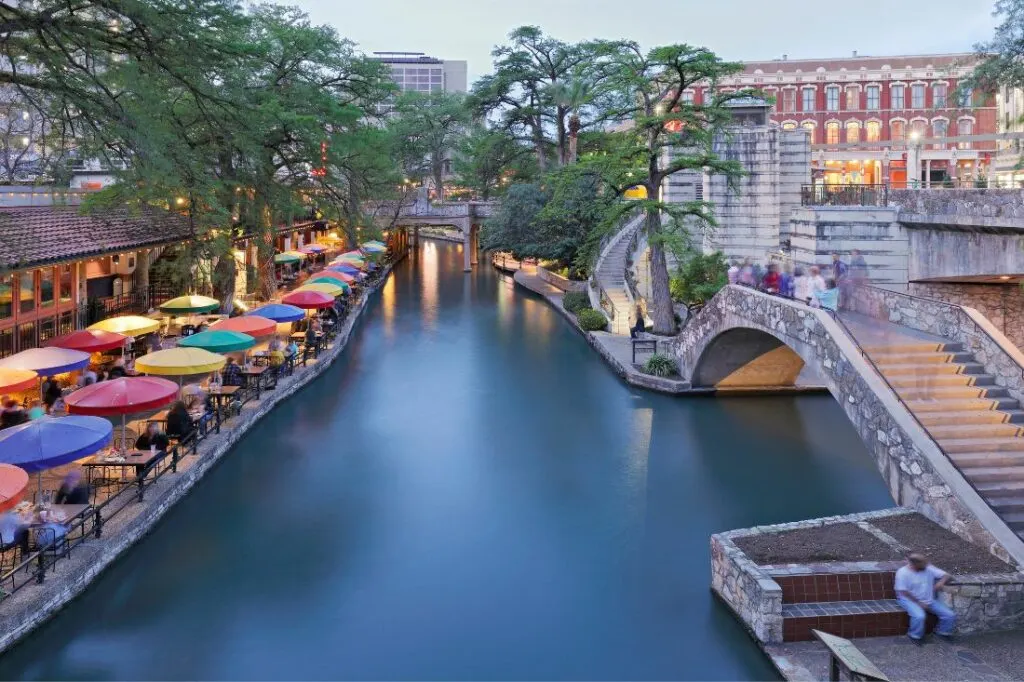 If you travel a little further, you'll come across San Antonio, a city an hour and a half out of Austin. In this city, you'll find The Alamo: a historic Spanish mission and fortress, standing tall since the 18th century.
You'll also find the San Antonio River. I'd recommend a long and winding walk alongside it, particularly over sunset. If you want to make the most of your visit, I'd recommend taking a guided tour from Austin – your guide will cover all of the important bits, and it's one of the best Austin tours in general if you ask me.
Stay close to home at the McKinney Falls State Park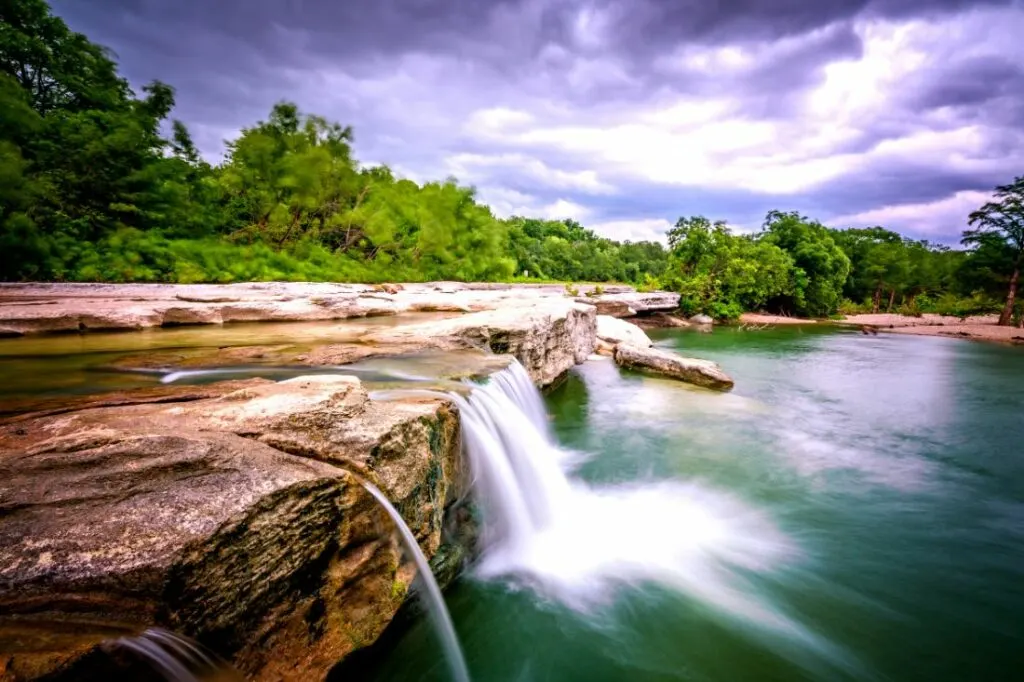 If you're pressed for travel time, but you still want to escape the hustle and bustle of central Austin, head to McKinney Falls State Park. Still within the city limits, but with enough to keep you occupied for hours on end, this is one of the most convenient Austin day trips.
You may still be within Austin, but it sure won't feel like it. Not with the variety of adventures to be had. You can cycle, hike the trails, bird watch, swim, fish, or just hang out by the waterfalls. Like I said, you'll feel a million miles away.
Taste the wine in Fredericksburg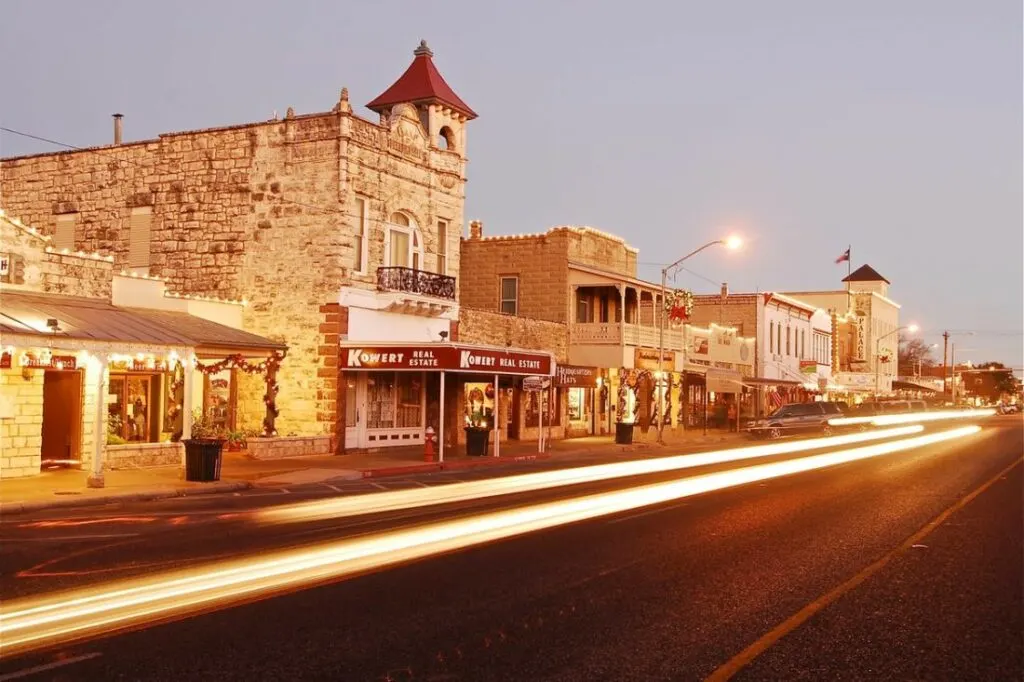 New Braunfels isn't the only German-Texan town 'round these parts. Introducing Fredericksburg, a town just 1.5 hours away, and one of the most unmissable day trips from Austin.
There's something for everyone here, from its sprawling centre to a historic district home to multiple museums, such as the Pioneer Museum and the Pacific War Museum.
Most famously though, Fredericksburg is known for its wine. It's got more wineries than some have hot dinners, so there's tons of places to head for a tasting.
Not into wine? That's still not a reason to miss this town. If peaches are more to your taste, know that Fredericksburg is famous for them. Head down to Das Peach Haus to taste them woven into your favourite recipes.
---
Now that you know the best Austin day trips, it's time to get planning your Texas travels. Which one are you most excited about and why? Let me know in the comments, and have an awesome time!
Like this blog post? Then Pin it for the future!