This is my definitive guide to Emerald Pool in Dominica including where it is & how much it costs. There's a reason why this is the BEST waterfall in Dominica!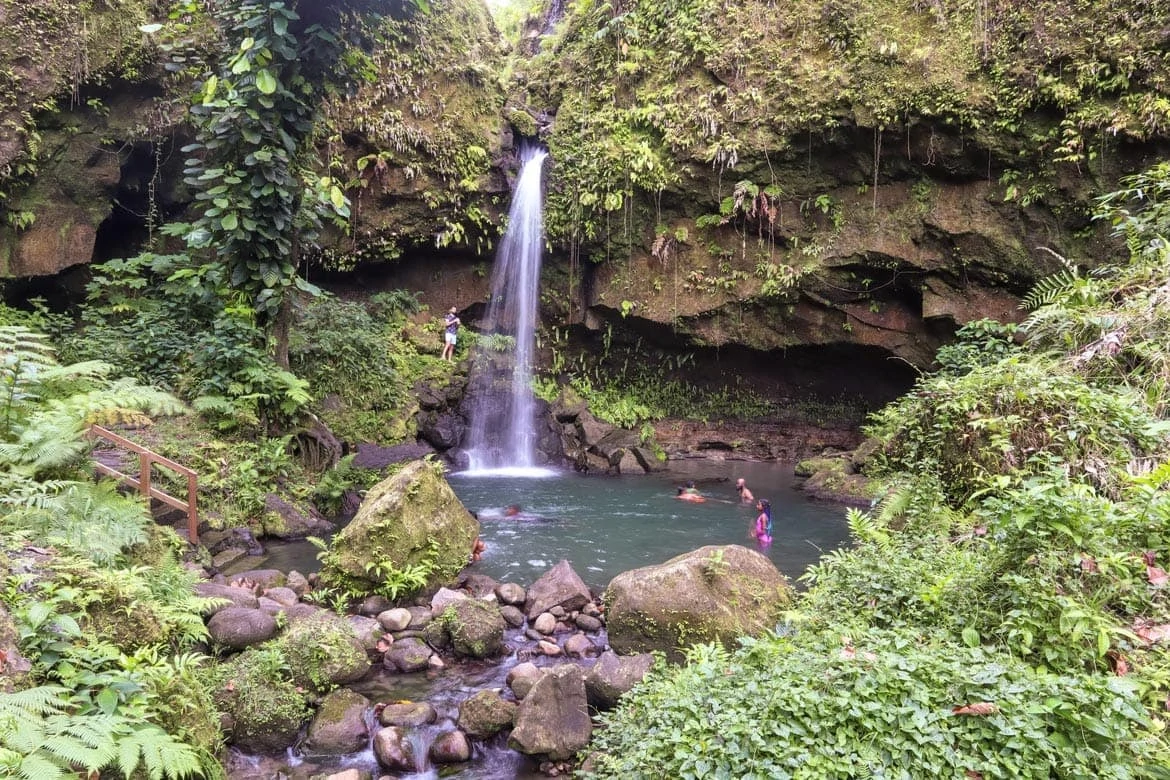 Are you looking for some information about Emerald Pool in Dominica? Then you've come to the right place! In this blog post I am going show you why this is one of the best places to visit in Dominica. Also, I'm going to give you loads of practical advice too so make sure you read on!
If there's one thing that Dominica has in abundance its waterfalls. There are 365 rivers on the island (one for every day of the year!), so naturally you'll find waterfalls on every part of the island too. This place really lives up to its name as the 'nature island of the Caribbean'!
Even though Trafalgar Falls are the most visited tourist attraction in Dominica, I actually found Emerald Pool much more beautiful. To me, this is the best waterfalls in Dominica.
Nestled deep in the forests of Dominica, Emerald Pool is a welcome oasis from the hot and humid weather.
Not only is this place stunning to look at, you can also swim here too which is a massive bonus compared to Trafalgar Falls.
In fact, I would say this was one of my favourite things to do in Dominica. Nothing can quite beat going for a refreshing dip, especially in somewhere like Emerald Pool.
So, if you're looking at visiting one of the most popular places in Dominica then this is everything you need to know about Emerald Pool. Just make sure you bring a towel and swimming costume because you're going to need it!
What is Emerald Pool in Dominica?
Emerald Pool is a 40-foot waterfall located in the heart of Dominica.
Being in the middle of the lush forest, the pool itself is a bright green colour surrounded by mossy rocks and hanging vines. However, when the sun shines on the water and filters through the trees, it's transformed into this gorgeous emerald colour.
Located in Morne Trois Piton National Park (you can find out more about the national park here), Emerald Pool is the 2nd most visited tourist attractions in Dominica. It is also the most easily accessible World Heritage Tourist Site on the island.
Morne Trois Piton National Park also includes Boiling Lake and the Valley of Desolation with its mud pools and geysers in case you're looking for a couple of other places to visit in Dominica.
For me, I absolutely loved walking through the trees with the sounds of the forest around me.
It's a really short walk of around 10-minutes from the visitors centre to the waterfalls itself via the Emerald Pool nature trail. The walk is really relaxing, and after about 5 minutes you get your first look of the falls from a viewing platform.
However, nothing quite beats seeing the waterfalls for the first time. Once you come down the well marked walkway towards the waterfalls, you eventually see the water cascading down over the rocks from behind the trees. It's such a magical place.
Down at the pools themselves, there's another viewing platform which is an amazing place for photos. Also, there are a few benches in the rest area to leave your bags.
Can you swim there?
Yes, you can! One of the best things about Emerald Pool is popping into the water and going for a swim. It's so relaxing and refreshing, especially on a hot and humid day (which is most days in Dominica).
There are toilets and changing rooms at the visitors centre, so you can get changed into your swim stuff there.
Down at the pools, there are a couple of rocks you can jump off into the water if you're feeling adventurous. Be warned though, the water isn't *that* deep, so don't jump from the top rocks!
There's also a cool cave by the side of the main pool which is worth exploring too. I loved how quiet and secluded it was inside the cave – just another thing to do there!
Getting to the Emerald Pool Nature Trail
Getting to the Emerald Pool is very easy. As most people will be coming from the capital of Roseau, the drive takes around 40 minutes through the middle of the island.
If you're coming from Portsmouth which is the 2nd largest city in the north-west of the island, the drive takes a little over an hour.
There's plenty of parking at Emerald Pool if you're driving yourself. If not, you can get dropped off at the visitors centre.
Buses pass the Emerald Pool on their way to the villages of Castle Bruce and Carib Territory, and can be caught be the west outbound bridge in Roseau. Bus fare: EC$6.50 adults and children EC$3.25.
How much does the Emerald Pool cost?
The Emerald Pool costs EC$16 (US$6) per person. However, I'd really recommend buying a weekly tour site pass. They cost EC$32 (US$12) and it means you can get into all the Dominica National Parks such as Trafalgar Falls and Cabrits National Park under one ticket. Alternatively, you can buy your tickets beforehand here.
You can also buy food and drink at the visitors centre and there are a number of benches to sit at too. The food is actually really good here, so it's worth coming for lunch.
What else is there to do in the area?
Yes, there is! One of my favourite things to do in Dominica is visit a bush bar. This is a local bar where the serve up some weird and wonderful rums. Well, very close to Emerald Pool is one of the best bush bars around.
Just a short 15-minute drive from Emerald Pool is Castle Bruce on the east coast of the island. There you will find the bush bar Islet View.
The views from this place are absolutely magical. The east coast is on the Atlantic side of the island, so everything is a little more wild and rugged.
What I'd really recommend doing is get yourself to the bar, speak to the owner Freddie and try some of the different rums he has.
As I said, they have a load of weird and wonderful rums. Some local favourites are 'cock stand' which is supposed to work as an aphrodisiac and the Barack Obama is a popular one too.
I worked my way through a few and my favourite was a ginger rum with a little juice with it. The coconut rum was delicious too! Be warned: most of the rums are served neat here, so be prepared for a long afternoon!
Top tips for visiting the Dominica Emerald Pool
For cruise ship passengers on a day trip – Make sure you bring your swimming costume and a towel. I forgot my towel and it can be pretty cold when you first get out of the water!
In high season (from October to May), there can be a large number of visitors from cruise ships here. If you're travelling on your own or part of a tour then I'd recommend coming here either early in the morning or late in the evening to beat the crowds
If you fancy a snack or something to eat then bring some money. You can pick up something at the visitors centre. If not, you can bring in your own food and drink and have a little picnic by the waterfalls yourself
Alternatively, get yourself some Kubuli beers, grab your friends and settle in for the afternoon
Be careful if you're jumping off the rocks into the waterfalls. It's quite shallow and rocky underneath, so don't dive in head first
---
My trip to Dominica was in association with Discover Dominica for the #UnknownDominica campaign highlighting some of the best things to do on the island. As always, views are entirely my own and without bias.
What else are doing in Dominica? Let me know in the comments below!
Like my blog post? Then make sure you Pin it for the future!