Are you looking for some of the best things to do in Havana? From driving around in a classic car to drinking daiquiris, this is what to do in Havana, Cuba!
Like everyone else who's wandered around Old Havana and watched the sunset from the Malecon with a mojito in one hand and their camera in the other, I too have fallen under Havana's spell. When it comes to the best things to do in Havana, there are truly some awe-inspiring experiences here. Honestly, I can't tell you how much I love this city.
With its rustic charm of old colonial buildings to the kind-hearted people you meet on the streets to its rich and vibrant history, Havana has a soul to it rarely found anywhere else in the world.
It is a place that you arrive in slight trepidation at whether it will live up to its reputation and it is a place you leave with a smile on your face, all under the faint whiff of rum and cigar smoke still lingering on your breath.
What to do in Havana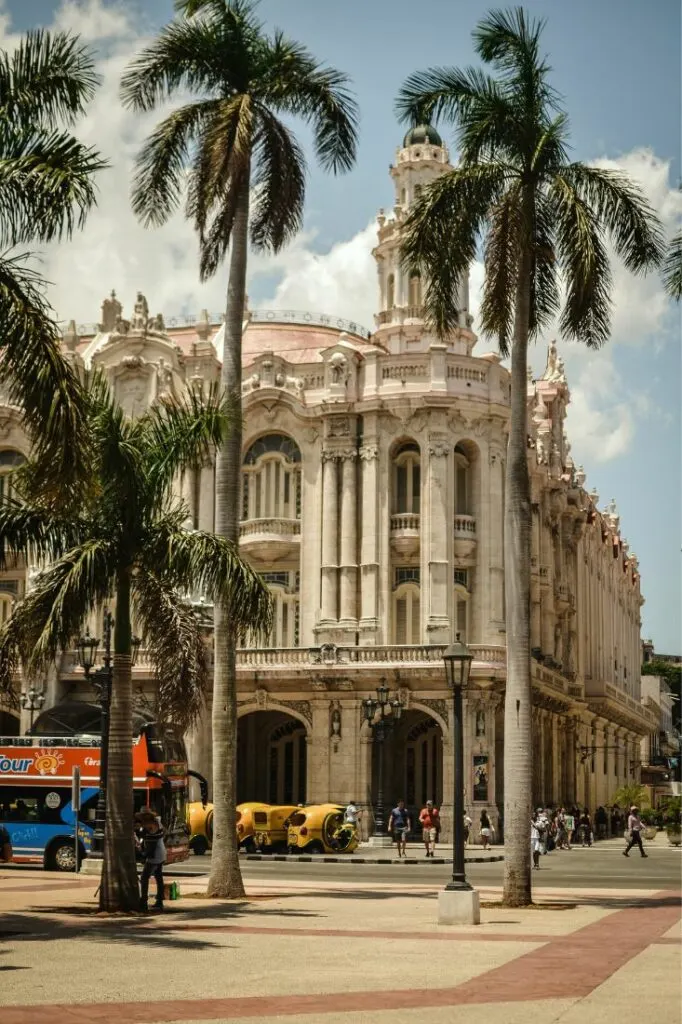 I spent six days looking for the best places to visit in Havana. I honestly had so much fun exploring all this city had to offer.
Instead of exploring other parts of Cuba, I really wanted to understand what makes this city tick, to understand why this was the cultural heartbeat of the country.
With its colourful history and uncertain future, everyone says "visit Cuba now before it changes forever." For me, I say "just visit Cuba". It is a country that is always going to march to its own beat, it is a country that's beautifully unique in every way, and that's never going to change. I honestly don't think there's ever going to be a bad time to visit!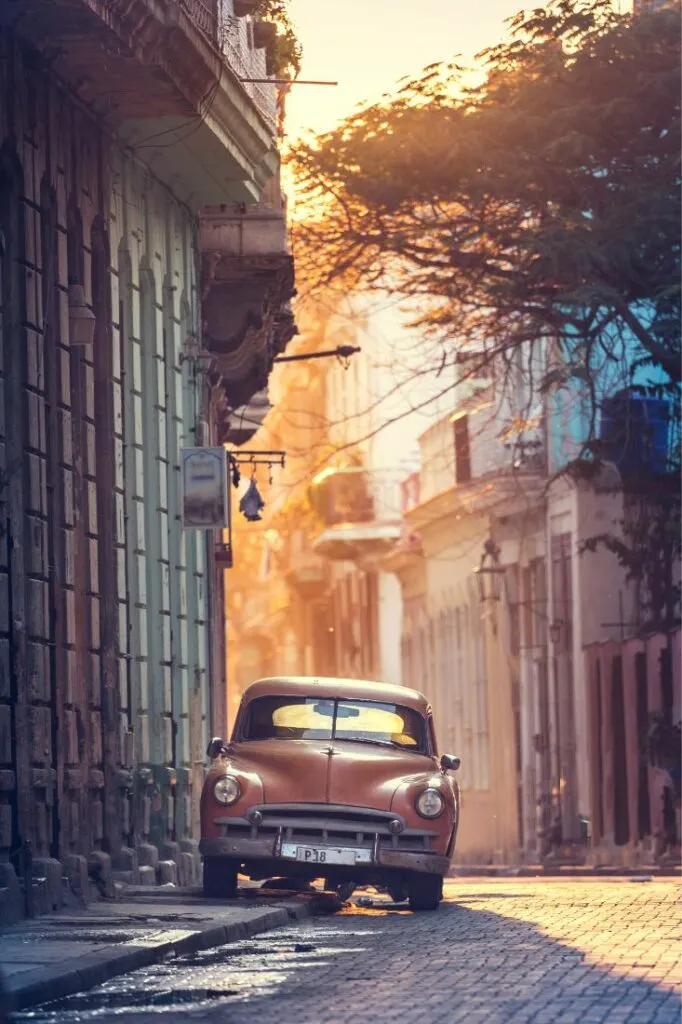 From driving around in a vintage car to drinking daiquiris in Ernest Hemingway's old haunt, here are some of the most fun things to do in Havana. Just immerse yourself in the city and you'll love it!
Also, check out my guide on where to stay in Havana – it's packed full of the best hotels and useful information on where to stay.
For those of you still unsure about Cuba, check out this blog post on 40 things to know before traveling to Cuba. It's packed full of practical advice and information which will make planning your trip that little bit easier.
---
Fun Things to do in Havana, Cuba
1. Sunset at the Malecon
The Malecon is the main waterfront in Havana. It stretches for 8km along the coast making it perfect for long walks by the sea. Despite all the cars whizzing by, it's actually pretty peaceful down here, and it is without a doubt one of the most beautiful parts of the city.
In the evening, especially around the weekend, the Malecon has this wonderful ability to transform itself into whatever you want it to be. It is a bar where you can meet and share a couple of cervezas with the locals; it is a place where you can learn a few salsa moves; it is a place where you can share a kiss and a cuddle with a loved one as the sun dips over the horizon. Whatever your reason, it is such a stunning spot to visit.
I'd really recommend coming down here on your first night in the city. It has a buzz around it like few other places in the city.
2. Ride around in a 1950's vintage car
Along with recently-rolled cigars and freshly-made mojitos, these colourful classic cars have become such a symbol of Havana. You barely have to take a step out of the casa particular that you're stay in before one of these antiques trundles past.
The majority of these cars are taxis you can hire for the day or to get you from one side of the city to the other. And if you make friends with the driver, they might just let you behind the wheel. I managed to drive along the Malecon is it was one of my most adventurous things to do in Havana. It just felt so old school and authentic.
3. Get lost in Havana Vieja
Havana Vieja, Havana's Old Town, is one of the main tourist hotspots in the city, but it doesn't mean you have to act like a tourist. I was surprised at how easy it was to get lost here, and it led me to some of the most beautiful spots I came across while I was in Havana.
Every street is so bright and vibrant around Havana's Old Town you could easily spend hours just exploring each one. I recommend going on a little self-guided walking tour around the streets and taking it all in. Havana's Old Town still has this authenticity about it rarely found in other cities.
4. Listen to some Cuban beats on the streets
When it comes to what to see in Havana, you're never far from someone playing the guitar or shaking a maraca. One bar that was always packed with an amazing Buena Vista Social Club style band was Café Paris, right in the heart of Old Havana.
This place had the best band I saw while I was in the city. Even if you don't want to go to a bar you'll still find musicians at all of the main plazas – get yourself a cerveza, kick back and take in the beats. There is so much live music around the city – it's just one of the reasons I love Havana.
5. Head to El Floridita for their famous daiquiris
When Ernest Hemingway declared Floridita's as "the best daiquiri in the world", people have been flocking here ever since. Considering this is from the guy who once said, "write drunk, edit sober" (something that I've always lived by myself), you know he's probably got some serious experience under his belt to make such a statement.
With about 20 flavours to choose from, a daiquiri from Floridita will set you back 6CUC ($6). Totally worth it, especially on a hot day (read 'every day' in Cuba). This really is one of the most popular things to do in Havana.
6. Take a tour of Teatro Nacional de Cuba
The Teatro Nacional de Cuba (the National Theatre of Cuba to you and me) is one of the most impressive buildings in all of Havana.
Even though the theatre first opened it 1915, it was closed for a number of years for renovations. However, on 1st January 2016 the theatre reopened and its opulence is in stark contrast to the rest of the city.
A one hour guided tour costs 5 CUC ($5), but if you can get tickets to the ballet then do that – it's always rated as one of the best things to do in Havana at night.
7. Ride around in a pedicab
If it's late in the day and you don't want to take a taxi then jump in a pedicab. These are great for getting around short distances and they're much cheaper than a taxi too. Usually, a 10-minute ride will set you back around 2/3 CUC ($2/3) and they're super fun riding around all the old streets.
8. Stay in a casa particular
Hotels are for the rich, casa particulares are for those who want to get to know the real Havana. Costing just 25CUC ($25) a night, a casa particular is essentially a homestay – you rent a room off a Cuban host and become one of the family for however long you're staying there.
An extra 5 CUC ($5) buys you a huge breakfast in the morning of bread, eggs, fruit and strong coffee, and 10 CUC ($10) buys you dinner in their home, something everyone should do at least once. I really enjoyed my stay in my casa particular and it was one of my highlights in the city.
9. Learn about the history of Havana
This one is so important when it comes to what to do in Havana. There's a story behind each of those derelict crumbling buildings built in the 1950s. When you learn that that average monthly wage is about $30 per person in Cuba, you'll quickly realise upkeep and maintaining these once glorious buildings is just not an option when there are mouths to feed.
It's the sad truth behind communism and the revolution, so instead of saying "wow, look at that building falling down!" appreciate the fact that there are probably families still living in it. This isn't a museum; it's life.
Also, Havana's Old Town is listed as a UNESCO World Heritage Site, so it's important to appreciate why.
10. Stand in the middle of the Plaza de la Revolucion and feel tiny
The Plaza de la Revolucion is where Fidel Castro held many of his political rallies during and after the Cuba revolution and it is an absolute must-see on any trip to Havana.
Apparently you can fit up to a million people in this plaza and it is flanked by two huge memorials to Che Guevara and Camilo Cienfuegos.
There's also a huge monument to José Martí standing at 109m, and for 3 CUC you can catch an elevator to a viewing platform for one of the best views of Havana. Again, this is one of the top Havana attractions so make sure you add it to your list of places to see.
11. Eat at a casa paladares
If you want to eat out then you essentially have two options – government run restaurants, and casa paladares, restaurants run by locals.
Now it's thought that the government run restaurants don't really care what food they produce because they're always going to be subsidised by the government, but the casa paladares lives and dies on its reputation to put out good food. If it doesn't and people don't eat there, it closes down. So, if you want "good" food in Havana, head to a casa paladares.
12. Drink a piña colada out of a pineapple
When it's 30+ degrees every day and as humid as hell, it's a good idea to drinks lots of water and to stay rehydrated at all times. Still, when water doesn't quite cut it, grab yourself a piña colada pineapple.
These cost 5 CUC ($5) and can be found all around the city (my favourite place was just off Plaza de la Catedral). These piña colada pineapples couldn't be any fresher and they're a delicious way to cool down on a hot day.
13. Take a salsa lesson then drink enough rum to think you're good at it
There aren't many people around the world that can jump up and dance at the faint hint of a salsa beat but the Cubans absolutely live for it.
If you can, make enough time for a salsa lesson and learn the basic steps, then take yourself off to one of the many salsa bars, knock back a few cuba libres and hit that dance floor with false confidence. You'll most likely be awful at it, but damn is it fun.
14. Party in the Arts Factory like there's no tomorrow
One place that was really recommended to me by a buddy was the Arts Factory. It doesn't really matter what day of the week you go here, it is always packed full of locals and tourists alike and it's almost guaranteed an event or exhibition will be going ob.
When you walk in, you'll be given a card which you buy drinks with, and at the end they add up how many you've had. In terms of bars, this is up there with the best things to do in Havana at night. Head here if you're looking to immerse yourself in a local party.
15. Learn all about the Cuban revolution at the Museo de la Revolucion
You can't come to Cuba and not learn all about Fidel Castro and the Cuban revolution. Even though the Museo de la Revolucion is more than a little biased, it is still one of the best museums in Havana and it's fascinating learning about this period of history that sent shockwaves around the world right in the very heart of it.
Tickets cost 8 CUC ($8) and it takes about one to two hours to see everything. Be warned – there's hardly any English translations on the displays. When it comes to the top things to do in Havana, from a cultural standpoint, I think learning about the history of the country is so important.
16. Talk to the locals and hear their stories
Cubans have such a natural curiosity that they're always keen to come up and chat to you about where you're from and what you're doing while in the country. It obviously helps speaking Spanish, but a fair few people, especially the younger generation, speak English too.
Almost everyone you meet as a unique story to tell so make sure you're open to meeting the locals!
17. Take endless photos of cars
As soon as you step outside the airport when you arrive in Havana you'll see these brightly coloured vintage cars driving around everywhere, and you'll immediately grab your camera to take a photo of one before remembering you should probably check into your casa particular first.
Do you know what the good thing is? At no point will you ever get tired taking photos of these classic cars and every one will be a beaut! As a photographer this was without a doubt one of the things I love about my time in the city. Hopefully some of my photos do them justice!
18. Find out how they make Cuban cigars at Partagras Factory
If you're still searching for that authentic Cuban cigar, the one you want to smoke on your last night in the city with an ice-cold beer, then head to Partagras.
A lot of people will try and sell you fake cigars on the street for a little as 1 CUC ($1) – with these you really get what you pay for – but if you want the real deal then Partagras is the place for you.
Partagras also run cigar tours every Monday-Friday for 10 CUC ($10) when you get to learn all about how they make cigars in Cuba! I know not everyone advocates smoking, and I certainly don't either. However, for a lot of people smoking a Cuban cigar is a real bucket list moment.
19. Watch the sun set from the San Carlos Fortress
When it comes to things to do in Havana, this one is right up there. Just on the other side of the Malecon and overlooking is the city is Le Cabana, the San Carlos Fortress.
Not only is this one of the best viewpoints in the city and the perfect place to go for sunset, they also fire the canons every day at 9pm to signal the end of the day in an impressive display, so two reasons to make the journey across the water! When it comes to what to do in Havana, I always make sure I recommend this activity to people. It's very touristy but it also gives you a good insight into the history of the city too.
20. Support the locals by buying from them
In Havana, you need to be careful with where you spend your money. A lot of the big businesses in the city like hotels and tour companies are usually owned by foreigners. This means that instead of pumping money back in to the Cuban economy, something that is needed, your money is leaving the island.
One thing I really encourage is buying from locals. Even if its things like food or souvenirs it's really important you support the local economy.
21. Watch the fishermen down by the Malecon
I could watch the fisherman is Havana all day long. It doesn't matter what time you head down to the walls of the Malecon, you're bound to find locals fishing here. Not only is this a pastime for the locals, often they keep the fish to cook with.
I didn't do this myself, but apparently you can fish here too. If you ask a local and pay a little money, the locals will let you fish with their rod for a bit. One of the more unique things to do in Havana for you!
22. Marvel at El Capitolio building
Recognise this building? Even though it's not an exact replica of the Capitol Building in Washington DC, it is modelled on the building. El Capitolio is one of the most famous buildings in Havana.
It was the organisation of government in Cuba until after the Cuban Revolution in 1959, and is now home to the Cuban Academy of Sciences. This is definitely a must-see while in the city (though it's impossible to miss it!)
---
My trip to Cuba was a part of KLM's #KLMtop10 campaign uncovering new and exciting destinations all around the world. As always, views are entirely my own and without bias.
I'd love to hear what are some of your top things to do in Havana are so make sure you let me know in the comment box below!

Like this post? Then make sure you Pin it!