Are you looking at what to do in Dominica? From swimming in Emerald Pool to whale watching, these are all the best things to do in Dominica!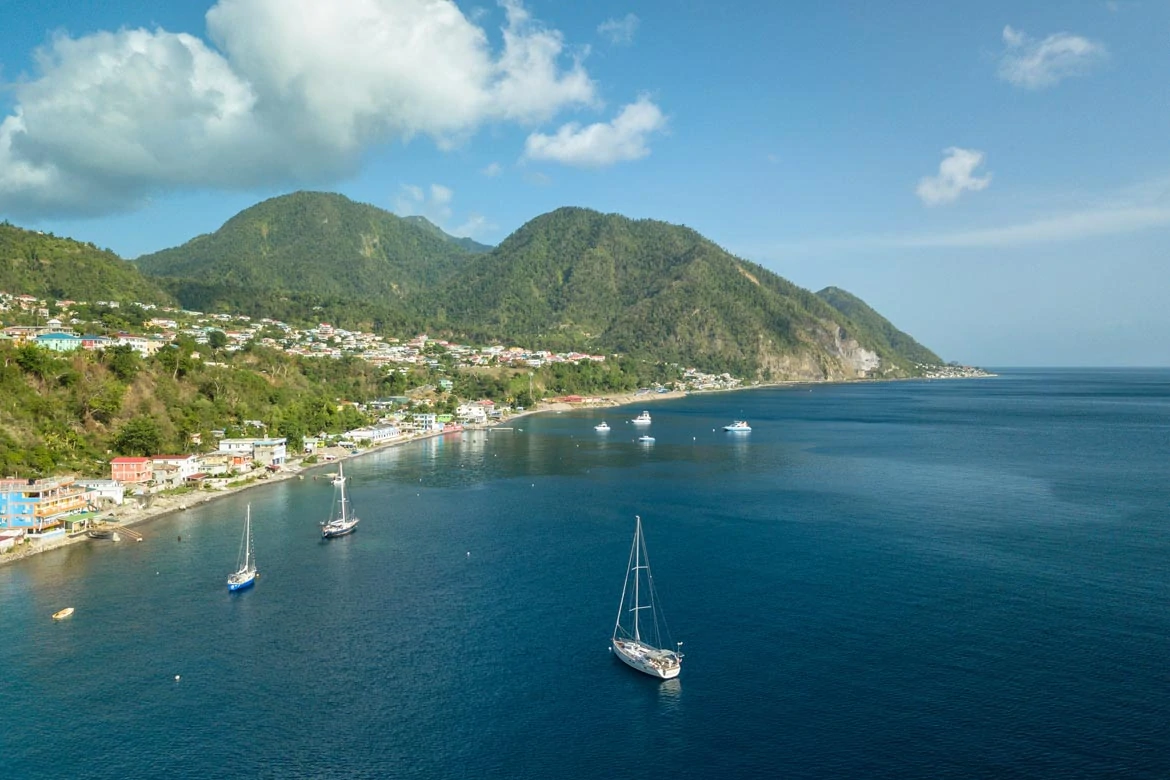 Dominica is fast becoming my favourite country in the Caribbean. Unlike a lot of other islands around with beautiful pristine beaches and packed holiday resorts, Dominica is a million miles away from that.
It's this wild, rugged island that looks straight out of Jurassic Park. Honestly, everywhere you look is just so lush and green. I guess that's why it's known as "the nature island of the Caribbean".
Well, if you're wondering what to do in Dominica then you've come to the right place.
In this post I'll tell you all about the best things to do in Dominica, where to find them, how much they'll cost and more. Basically, look at this as your ultimate travel guide to Dominica!
As a little taster, check out some of my favourite places to visit in Dominica in my video below. This should give you a real flavour of the island.
Adventure activities in Dominica
As you know I absolutely adore my adventure activities. Well there are more activities in Dominica than you'll know what to do with.
While I was there I went canyoning and jumping into rock pools, hiking through the rainforest, scuba diving at Champagne Beach, whale watching out in the deep blue ocean, on a river safari on the hunt for pirates and a load of other things too.
I can honestly say if you like adventure then you will love it here.
As I've said, the island is just so raw and rugged.
There are 365 rivers here (one for each day of the year – there's a little Dominica fact for you), 9 active volcanoes and too many waterfalls to count. This definitely isn't your typical Caribbean beach holiday and I absolutely love it for that.
So, if you're looking for an island full of surprises this is what to do in Dominica. I really hope you fall in love with the island as much as I did!
– What to do in Dominica-
Get your adrenaline fix canyoning with Extreme Dominica
My first activity in Dominica was canyoning with Extreme Dominica. For those of you who don't know what canyoning is, this is when you abseil down the side of waterfalls and jump into rock pools. It sounds scary but I promise you it's so much fun!
My day started getting kitted out with a wet suit, helmet and harness. Then I was quite literally shown the ropes on how to abseil. Again, it's a lot easier than it looks.
From there it was a short 15-minute drive to the main spot where we started canyoning. I was a little nervous as first but our guides Benani and Benny were fantastic at helping us out and it wasn't long before I was abseiling down these gorgeous waferfalls.
My favourite part of the tour was throwing myself off a 40-ft jump into a deep rock pool below; it was such an adrenaline rush (as you'll see from my video).
In total our canyoning experience took around 2 hours but there are a number of different tours to choose from. I'd really recommend this activity for those looking for an adventure.
A 4-hour canyoning tour with Extreme Dominica costs £153 (US$190) and includes all equipment and hotel transfers too.
See sperm whales while going on a whale watching tour
One of the top things to do in Dominica is whale watching. Dominica is one of the best places in the world to see sperm whales, so a whale watching trip is very different here compared to a lot of other places around the world.
I am always slightly pessimistic when it comes to tours like this as I never think we'll see anything. I guess that's me being very British. Well this tour completely surpassed my expectations.
Not only did we see a few sperm whales in their natural environment (one family even with a small calf), we also saw a giant group of dolphins that were swimming alongside the boat too.
I had never seen whales in the wild before so this was a particularly special moment for me. To celebrate, on the way back to Roseau, the guys on the boat cracked out so rum punch to make it the perfect afternoon. Also, if you want to learn more about the wildlife in Dominica then I'd really recommend this trip.
A 3-hour whale watching Dominica tour costs £72 (US$90) and includes all professional guides, drinks on board (including rum punch!) and hotel pick-up/drop-off too.
Explore the underwater world diving in Dominica
I always love diving in the Caribbean. In fact, the last time I was diving here was one of the most unusual dives I've ever done – diving to a submerged yellow submarine in Barbados. Well, the diving in Dominica lived up to the hype too!
One of the dive sites we visited with Dive Dominica was Champagne Reef. Unfortunately there wasn't any champagne there, but instead I got to swim around streams of bubbles like I was in a champagne flute.
As Dominica is a very volcanic country, at Champagne Reef you get to see that with the gases escaping the earth's crust. The bubbles were even warm to touch too – just another unusual dive site to add to the list!
A 2-tank dive with Dive Dominica costs US$108 and includes all transport and equipment too. Another dive company are Nature Island Dive if you're looking for someone else to dive with.
If you're thinking of diving in Dominica, check out this awesome post on Girls That Scuba that goes in everything you need to know!
Take a swim at the Emerald Pool
Emerald Pool is a 40-foot waterfall located in the heart of Morne Trois Piton National Park. Being in the middle of the lush forest, the pool itself is a bright green colour surrounded by mossy rocks and hanging vines. However, when the sun shines on the water and filters through the trees, it's transformed into this gorgeous emerald colour.
Nothing quite beats seeing the waterfalls for the first time. Once you come down the well-marked walkway towards the waterfalls, you eventually see the water cascading down over the rocks from behind the trees. It's such a magical place.
Down at the pools themselves, there's another viewing platform which is an amazing place for photos. Also, there are a few benches in the rest area to leave your bags.
If you're looking for more information on the Emerald Pool then I've written a big blog post about it! Alternatively, you can buy your tickets beforehand here.
Drink some rum at Islet View Bush Bar
One of my favourite fun things to do in Dominica is visit a Bush Bar. This is a local bar where the serve up some weird and wonderful rums. Well, very close to Emerald Pool is one of the best bush bars around.
Just a short 15-minute drive from Emerald Pool is Castle Bruce on the east coast of the island. There you will find the bush bar Islet View.
The views from this place are absolutely magical. The east coast is on the Atlantic side of the island, so everything is a little more wild and rugged.
What I'd really recommend doing is get yourself to the bar, speak to the owner Freddie and try some of the different rums he has. I worked my way through a few and my favourite was a ginger rum with a little juice with it. The coconut rum was delicious too!
Wander around the capital of Roseau
Roseau is the colourful capital of Dominica located on the south-west of the island. The population of Dominica is 74,000 people, and approximately 15,000 of them call Roseau home.
For tourists, Roseau isn't much bigger than a cluster of streets but I really recommend setting aside a few hours to explore the place.
I was in Roseau on a Saturday so I went to the weekend market which really gave me an insight into the culture and what daily life is like there. Also, I found the largest avocados I've ever seen in my life – they were genuinely bigger than my head!
There are a fair few restaurants dotted around Roseau too. One of my favourites was Old Stone Grill & Bar with some fantastic Creole dishes.
You can take a tour of Roseau and learn all about the history of the town. On this tour you'll also visit the Dominica Botanical Gardens and Trafalgar Falls, so it's a great way of seeing lots of the island in a short amount of time.
Marvel at Trafalgar Falls
When it comes to what to do in Dominica, make sure a visit to Trafalgar Falls is on the list. This is actually the most popular tourist attraction on the island. Once you get here you'll see why; the falls are magnificent.
Trafalgar Falls are actually two waterfalls side by side. One is 85 metres – this is the papa – and the other one is 40 metres – this is the mama.
To get to the waterfalls it's a short 10-minute walk from the visitors centre along the path until you get to a viewing platform. From here there is a rock path down to the water. You can swim here too but I preferred to take photos and take in the beautiful surroundings.
Go on cruise along Indian River
One of the best Dominica tours you can do on the island is a little cruise along Indian River.
Located near Portsmouth (the 2nd largest town on the island), you can hire a boat for a couple of hours to take you along Indian River. This is the best place to explore the mangroves on the island and go wildlife spotting. We saw a number of different birds and some huge mud crabs too.
However, this is a river cruise with a difference. After about 30 minutes cruising along the river we stopped off at a random Bush Bar for some more rum punch. This place is so cute and secluded it's well worth doing the cruise just to visit this spot.
We also visited one of the film locations where they filmed a scene for Pirates of the Caribbean: A Dead Man's Chest which was quite cool too.
Learn about the history of Dominica at Fort Shirley
Another of my favourite activities to do in Dominica was learning all about the history of the island at Fort Shirley. This is located in Cabrits National Park north of Portsmouth. There I had a tour with Lennox Honeychurch (best name ever) and he taught me all about the history of the area.
The most important naval battle in the Caribbean – the battle of the Saints – took place here on the April 12th 1782. The battle was fought within sight of the ramparts in Prince Rupert Bay, so this is such an important site.
The fort was neglected and fell into disrepair, but historian and anthropologist Dr Honeychurch has spent years returning the fort to some of its former glory. Fort Shirley is now a UNESCO World Heritage Site.
If you're interested in the history of Dominica and the Caribbean then this place is a must.
Kick back and relax at Wotten Waven Hot Springs
Being a volcanic island, it's no surprise that there are a few different hot sulphur springs dotted around. One of the most popular places to visit these are at Wotten Waven. Here there are several places where you can relax and unwind in the hot springs for a few hours.
My advice would be to shop around though. There are a few different places to choose from and some are definitely nicer than others. I'd recommend finding one with a bar, pick up a couple of beers and take the afternoon off.
Tickets to the hot sulphur springs cost around EC$15 (US$5). Oh, and make sure you bring your swimming costume and a towel!
Cook up a feast with a Caribbean cooking class
While we were in Dominica, Chloe went off for a Caribbean cooking class to learn more about the Creole cuisine. That's where she met Daria, one of the locals offering cooking classes in her home.
Chloe spent the morning cooking up a feast with locally sourced ingredients. They use a lot of plantain, taro, yam and other root vegetables in Dominica, so it's easy to describe Creole cuisine as simple. However, I actually found the flavours quite complex at times with lots of zingy lime and parsley used. Also, it's pretty spicy too which is why I loved it so much.
Anyway, if you're interested in learning all about Caribbean food and Creole cuisine then take a class with Daria!
Immerse yourself in the culture of the Kalinago People
Dominica still has a small group of indigenous people known as the Kalinago. This is one of the only islands in the Caribbean where the Kalinago culture is still celebrated so this is a fantastic opportunity to learn more about this part of the world.
You can head to the Kalinago Terittory and learn all about their way of life from dancing to weaving. This is a very popular place to visit for older cruise ship passengers looking to learn more about the island.
– Best Hotels in Dominica –
If you're looking at where to stay in Dominica, there are plenty of top hotels to choose from. The majority of people stay in the capital of Roseau in the south of the island.
However, on my trip I split my time between here and Portsmouth, the 2nd largest city in the north-west. Staying in these two places will give you a really good overview of what the island is all about.
Anyway, these are two of the most popular places to stay in Dominica. Pick one of these and you won't be disappointed.
Set along the serene coastline of Dominica, Fort Young Hotel has some of the best views I've ever seen from a hotel. If you get a seaside view, every morning you're greeted by the beautiful blue waters and lush green mountains off in the distance.
Fort Young Hotel has a number of amenities but my favourite spot was relaxing in the hot tub taking in the view. Also, for a 4* hotel, the restaurant was really reasonably priced too.
Fort Young Hotel also has a dive centre where you can do your PADI certificate, or you can relax and grab a rum punch in the bar.
I really enjoyed my time at Fort Young Hotel so would really recommend it here if you're staying in the capital. For me, this is definitely one of the top Dominica hotels.
The other place I stayed at was Picard Beach Cottages in Portsmouth. These were idyllic cottages set right on the beach. Every morning I awoke to the sound of waves lapping on the beach – sounds perfect, right?
Each cottage is kitted out with its own kitchen, little lounge/dining area and double bed. Also, there's a little veranda out front which is the perfect place for watching sunset each night.
Next door to Picard Beach Cottages is a little restaurant or it's a 10 to 15-minute walk into the restaurants in Portsmouth.
If you want to be away from it all and enjoy the Caribbean in style then this is the place to be.
How much does Dominica cost?
Good question! I actually found Dominica surprisingly inexpensive, especially when compared to other Caribbean islands around.
For lunch in a local restaurant you're looking at between EC$35-60 (US$13-25). This is for either meat, fish or shrimp (that's all they offer at local restaurants).
Dinners in the evening cost around the same price and often they have deals on cocktails or rum punch.
Bottled water and a local Kubuli beer and will cost EC$5 (US$2).
Depending on what activities you do, I would say you could get by on around EC$165 (US$60) per day. As I said, compared to other Caribbean islands this is surprisingly good.
When is the best time to visit Dominica?
Essentially, there are two seasons in Dominica – cruise season and not cruise season.
The majority of cruise ships start arriving in September, but the season really picks up in October all the way through to May.
Most cruise ships will port at the capital of Roseau which is in the south-west of the island. A few smaller ships will port in Prince Rupert bay which is just north of Portsmouth in the north-west of the island.
That means May till September isn't cruise season. However, it is "hurricane season".
I say this with a huge emphasis because even though it's hurricane season, IT DOESN'T MEAN THERE WILL BE A HURRICANE.
I feel like everyone is always scared to travel to places when they see words like hurricane and monsoon season, but the reality is it's unlikely there will be a major hurricane while you're there.
With Dominica, the last major hurricane they had was Hurricane Maria in 2017. Even though this was the worst hurricane they've had on record and it destroyed a lot of the island, the last major hurricane they had before this was Hurricane David in 1979.
That's 28 years of no major hurricanes, so please don't be put off when you see hurricane season.
I travelled here in mid-July, so the middle of the season, and the worst we got was a little bit of rain. Otherwise it was glorious sunshine for the whole week.
Getting to Dominica
Getting to Dominica is easy but it can take a long time.
I flew direct from London Gatwick to Antigua in the Caribbean with Virgin Atlantic which took around 8 hours. (Note: British Airways also fly to Antigua too.)
From there, I flew from Antigua to Dominica with the local Caribbean airline Liat. It's a really short 30/40 minute flight but the layover in Antigua can be a few hours.
That makes the total travel time from London to Dominica at around 12 hours.
---
My trip to Dominica was in association with Discover Dominica for the #UnknownDominica campaign highlighting some of the best things to do on the island. As always, views are entirely my own and without bias.
What are some of your top things to do in Dominica? Let me know in the comments below!
Like my blog post? Then make sure you Pin it for the future!