This is what it's like exploring the abandoned settlement of Kangeq, a ghost village almost completely forgotten about
We stepped off the boat to silence in Kangeq. In Greenland, it's almost a sound in itself.
As I looked up I could see deserted house after deserted house, the once colourful paint now faded by time and the constant battering of wind and snow.
Like with all of Greenland, it's hard to think that anyone ever lived here, yet they did. They were so far away from society it's hard to imagine they were a part of our civilisation at all.
Then, as walked up to the first house I saw her, an old woman hanging some washing up on a line. As she heard me approach she turned around and gave me a heart-warming smile, almost as if to say "you found us".
Behind those eyes there hid a secret, one that was to become apparent as we explored the abandoned settlement of Kangeq.
Watch our video to see what Kangeq is really like:
Take a boat to Kangeq
That morning saw us head down to the harbour at Nuuk, the sun already high in the sky.
There we were meeting up with Jon, one of the guides at Touring Greenland. Our plan for the day was to head over to Kangeq, an island an hour's boat ride to the west of Nuuk.
The thing about Greenland is there are hardly any roads. The open water and waves are people's highway, and everyone's got a boat here. So, after spending a few days in the capital it was about time that we hit the water for the first time.
Bundled up in Michelin Man style jump suits to protect us from the nail biting wind, we flew over the water with Nuuk getting smaller and smaller behind us, water droplets spraying all around us glittering like diamonds as they caught the light.
After a short ride of about 20 minutes we finally came face to face with our first iceberg.
It's hard to describe the over-joyous feeling of seeing an iceberg for the first time. These things are just so damn beautiful, and they almost command a solemn silence from some innate power within.
As we bobbed alongside it Brianna, Brian and I shared a grin. Considering we'd just started our tour, it was a taste of things to come.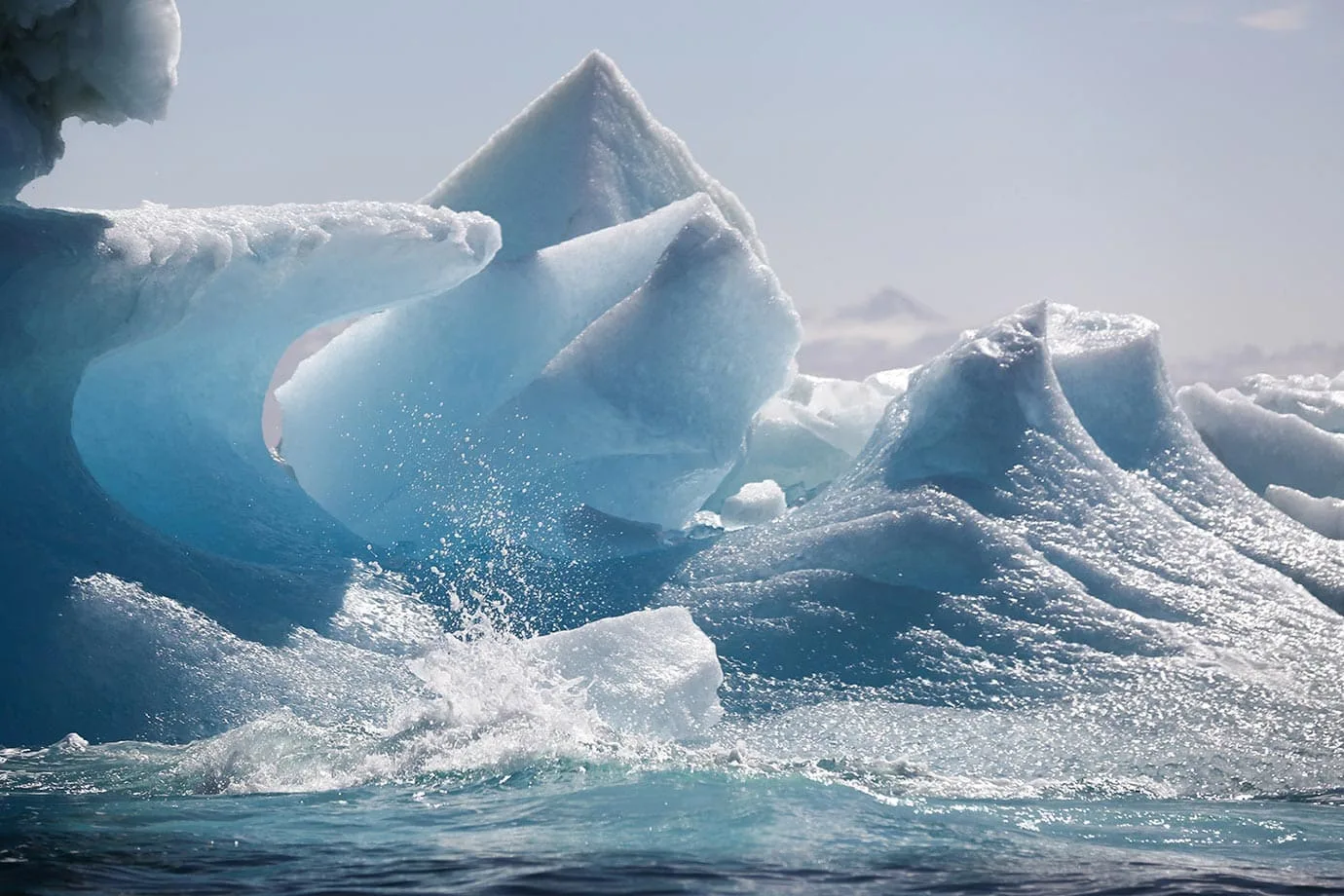 What is Kangeq?
Slowly sailing through a narrow bay we eventually arrived at Kangeq.
The first thing I immediately noticed were all the colourful houses dotted around the hills, all standing sentinel, all abandoned.
It is thought that Inuits first came to Kangeq before 1,000CE, and the first Danish settlers came here between 1721 and 1728, many of them staying to call this place home. It wasn't long before the island was dubbed Haabets Oe, the 'Island of Hope', almost a sign of things to come.
However, due to its remote location, life became harder and harder for the people of Kangeq until they eventually abandoned it in 1978.
From walking around this place, it's hard to imagine that this settlement lasted for 250 years, that anyone would be able to survive here, but they did.
The thing is Kangeq is a lie; it is no longer abandoned.
As we saw when we first arrived, people are once again returning to this place, even if it's only for the summer months when it's warm enough to eke out a living.
I say eke out a living because that's exactly what they're doing here. If you want something to eat, you have to catch it. If you want a wash, you have to go outside and collect the water. And with only one or two families living here each summer, you don't exactly have many people to talk to.
And do you know what? That's the beauty of the place. It's the remoteness that draws people in, it's the hardship that makes life so easy.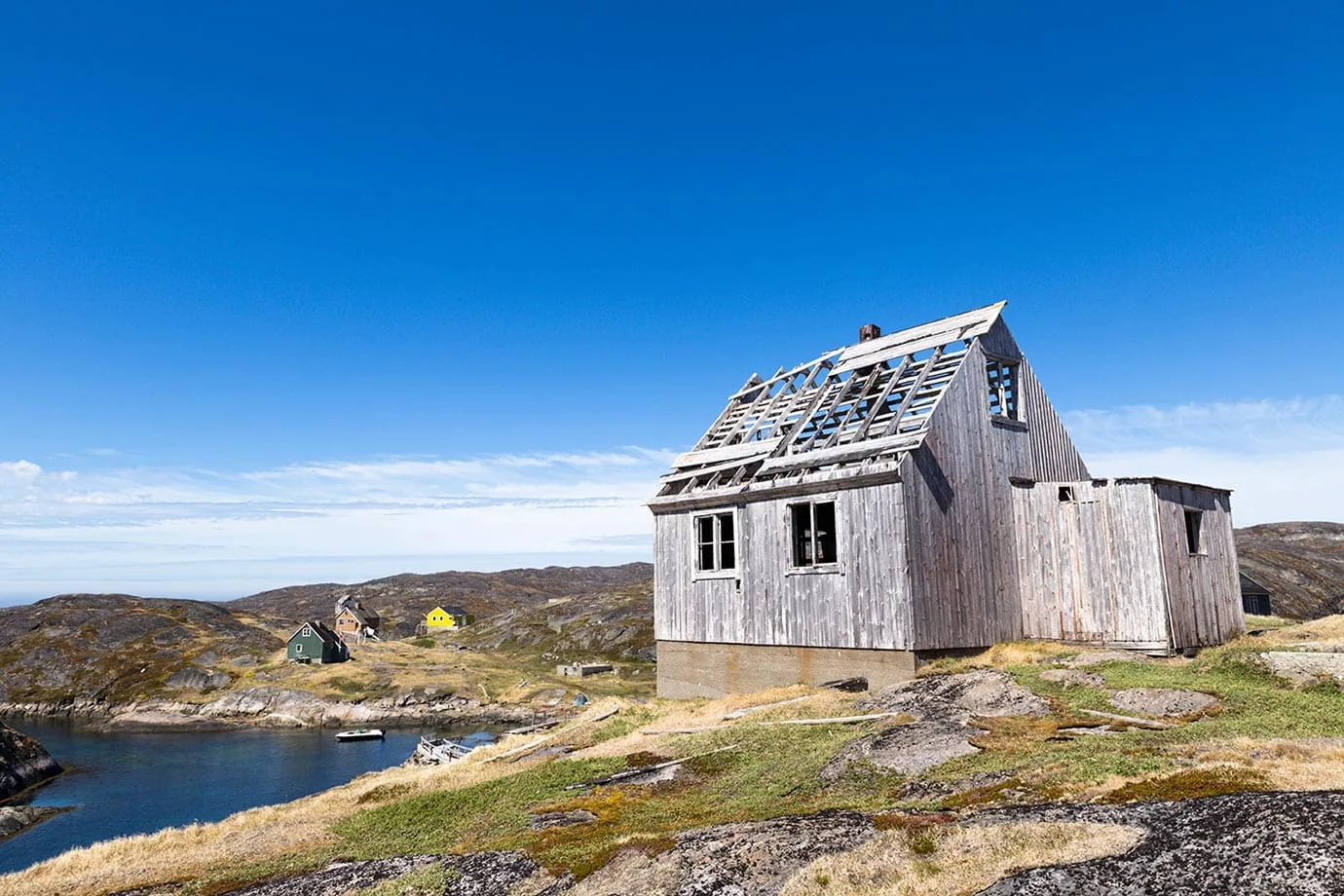 Do people still live in Kangeq?
We spent a few hours walking around Kangeq, and everywhere we went there were signs of this now deserted community – a ruined church with pews and benches still inside, a graveyard with weather-worn crosses and gravestones, destroyed boats on the rocks.
As I walked around, I had one question at the back of my mind – could I imagine living here? And do you know what? I could.
Imagine waking up to this view every morning. Imagine that quiet solitude. I think no amount of hardship can beat that.
Once we got back to the harbour Jon brewed some coffee and we discussed what life would've been like to live here and we came up with one word – peaceful.
As our boat slowly sailed back through the bay leaving Kangeq behind I turned around for one last look of the settlement and I saw the woman standing by her washing line, watching us leave. I would like to think she was still smiling.
It was then that I understood her secret; this is where happiness can be found.
How much does it cost?
A half day tour with Touring Greenland costs 600 DKK (£68/$90) and includes all transport costs and coffee and a snack.
Also, it's worth taking your own water for the hike around Kangeq, and don't forget your camera!
Photos of Kangeq in Greenland
Would you ever want to visit somewhere like Kangeq? Or would you ever want to live there? Let me know in the comments below!
Save