Are you looking for the best places to visit in Greenland? From Nuuk to Ilulissat, here's where I recommend you visit on your trip to Greenland!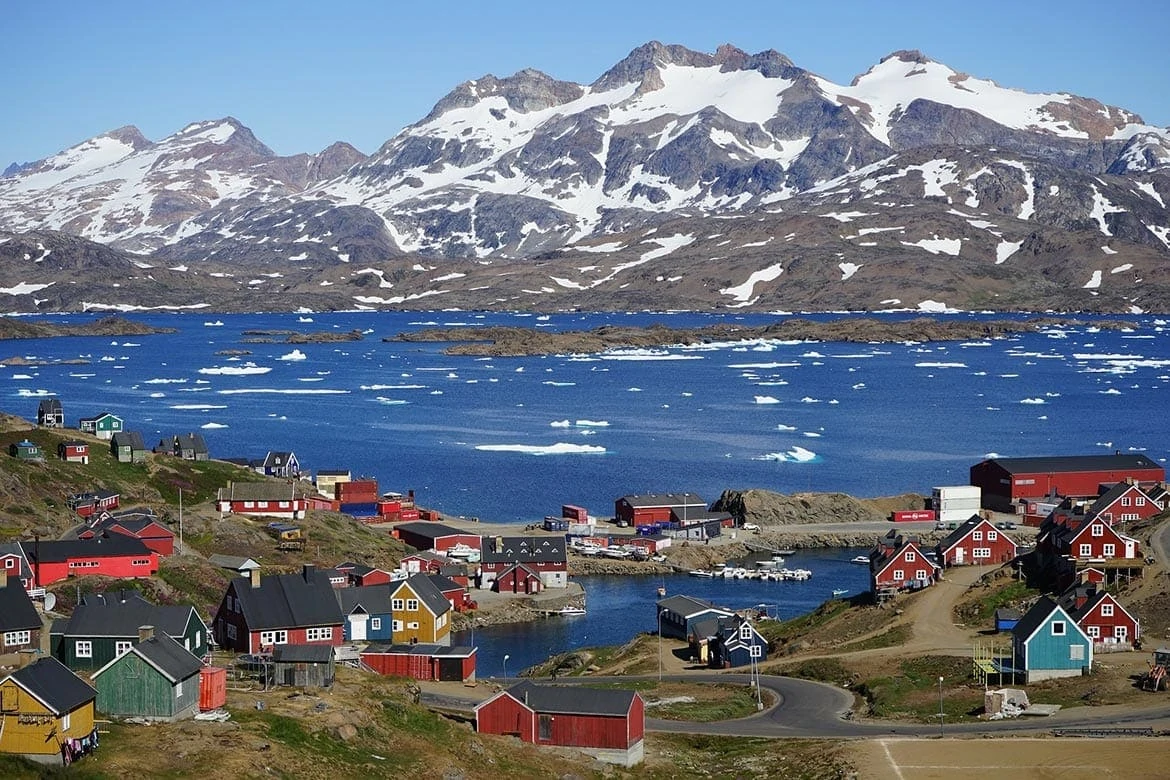 I feel like I've been flying the flag for Greenland ever since I visited there in 2016. I can't believe it was that long ago now and I've been dying to go back ever since.
On that trip I spent two weeks travelling around some of the best places to visit in Greenland and I just fell in love with the county. For me, nowhere quite captures the imagination like Greenland does. Honestly, you'll be very hard pushed to find anywhere more beautiful than this country. Hopefully some of these photos in my post will highlight that!
For those of you planning a trip to Greenland, make sure you read my blog packed full of travel advice & information before you go. In it I answer loads of important questions like what to wear and how to get around.
If you're looking for some wanderlust though then these are the most beautiful places to visit in Greenland. If you visit a couple of these on your trip to Greenland then you're in for an amazing time!
Nuuk
Let's kick things off with the capital of Greenland – Nuuk.
Nuuk is home to 17,000 people. Now, that may sound like a tiny number for a capital city, and it is, but when you consider the total population of Greenland is 56,000 people then it's a lot.
Like many places in Greenland, Nuuk is built on a peninsula and is surrounded by water. Considering there are only about 60kms of paved roads in the country, it's really important being by the water so you can get around by boat.
With a university, high school, cultural centre, microbrewery and nightclub, Nuuk is the epicentre of modern culture in Greenland. There's plenty to do here compared to the small villages in the countryside which is why it's so popular among young adults.
My favourite place in Nuuk is down by the harbour. Nuuk Cathedral (the Church of Our Saviour) overlooks the water and it is in such a beautiful spot. That whole area along the coastline is just stunning. Stand there and really take in the capital.
Kangeq
If you've got time, I'd really recommend a day trip to Kangeq (you can find out more about it in this tour). This is only a 20-minute boat from Nuuk but hardly anyone visits here anymore.
Kangeq was once a thriving village, but now it is completely abandoned with decaying colourful houses dotted all over the place. It almost feels like a forgotten about place in Greenland. It's eerie but incredibly beautiful at the same time.
It is thought that Inuits lived in Kangeq before 1000AD, but the first Danish settlers came here between 1721 and 1728. Many of them built the community you see today and called this place home. It wasn't long before the island was dubbed Haabets Oe, the 'Island of Hope', almost a sign of things to come.
However, due to its remote location, life became harder and harder for the people of Kangeq until they eventually abandoned it in 1978.
From walking around this place, it's hard to imagine that this settlement lasted for 250 years, that anyone would be able to survive here, but they did.
Kangeq gives you a really good insight into what life would've been like in Greenland which is why I recommend you visit. Remember this is one of the hardest places to live on earth – Kangeq showcases that.
Narsaq
Narsaq is one of my favourite places to visit in Greenland and I can't recommend this town enough. It's just so peaceful and tranquil here. And again, the views are just something else.
Located in Southern Greenland, Narsaq has a population of around 1,500 people. This means it's a real tight-knit community with everyone supporting each other.
The town is built up on a small incline towards the surrounding mountains. I stayed in Hotel Narsaq, and one morning as I pulled back the curtains I could see the valley floor of Narsaq before me. No matter where I looked I could see cute colourful houses almost as if they were pieces on a board game.
In the distance I could see hundreds of icebergs dotted along the horizon framed by jagged mountains, snow already on their peaks. As I said, this place is something else. Drink in those views because I just love this place.
Narsarsuaq Glacier
You can't come to Greenland without seeing a glacier up close in all its glory. These glaciers are always in the news as they're melting as a severely rapid rate through global warming (you can read more about it here).
It's only when you see a glacier like this for yourself that you understand how severe this is. At Narsarsuaq Glacier there are small blocks of ice and icebergs for as far as the eye can see. It's so easy picturing what the effect that the rising water temperature would have on all the ice here.
The best way of getting to Narsarsuaq Glacier is by boat from Narsaq. I went on a tour while I was here so I could see some of the bigger icebergs. It's hard to describe how majestic they are up close but I've tried here if you fancy reading about the beauty of icebergs.
If you don't head north to Ilulissat (more on that below), then this is one of the best places to see a glacier for yourself.
Ilulissat
One of the most popular places to visit in Greenland is Ilulissat. Announced as a UNESCO World Heritage Site in 2004, the Ilulissat Icefjord stretches 40km from the Greenland ice sheet to Disco Bay.
This is where you'll find the most productive glacier in the Northern Hemisphere. Approximately 20 billion tonnes of icebergs get pushed out of the fjord each year which is just a crazy amount.
The best way of seeing the glacier and Ilulissat Icefjord is on a boat tour. Then you can see a few different places along the coast. Alternatively, this is an amazing spot for a helicopter ride over the icefjord. Helicopters are one of the more common methods of getting around Greenland so it's easier to do than you'd imagine.
One of the top things to do in Illulissat is to visit Knud Rasmussen's Museum. This is a museum dedicated to the famous Danish explorer Knud Rasmussen and it goes into his voyages to Greenland in a lot of detail.
Disko Bay
Disko Bay is one of the most historic places in Greenland. This was the spot that Erik the Red, a Norse explorer, first settled in Greenland in 985 AD. However, Inuit artifacts date back here as far as 2400BC – it's so crazy imagining people living here over 2,000 years ago.
Due to the nutritious water, Disko Bay is the best place to go whale watching in Greenland. During spring you can go whale watching here and see bowhead whales, humpback whales, killer whales and even narwhals.
All year round, Disco Bay is the most visited place by visitors to Greenland. Even though boat tours are the number one thing to do here, you can also go dog sledding.
There are dog sleds and sled dogs everywhere, and it is a very exciting experience to go out across the ice or the hills, while the dogs in front of you enjoy pulling the sled. If you do this during winter you've got an amazing chance of seeing the Northern Lights which is just another reason to visit!
Qaqortoq
Qaqortoq couldn't be further from the capital of Nuuk.
Located on the southern tip of Greenland, Qaqortoq is the fourth largest town in Greenland. To put that into proportion for you, that's still only 3,000 people. To say it's small is an understatement.
One of the top things to do in Qaqortoq itself is to visit the museum. One thing you quickly learn about Greenlandics is there's a such huge sense of community. They're also extremely proud of their history which is why a visit to the museum is a must.
There's a really nice hike in the area too. It only takes about 30 minutes to get from the town centre to Lake Tasersuaq, and then you're up in the mountains. If you really wish to explore the city's backcountry, the five-day hike to the Norsemen's old Episcopal residence and the sheep farming settlement of Igaliku is mega.
There's also one other place I'd recommend below…
Uunartoq Hot Springs
About an hour's boat ride away from the small town of Qaqortoq in Southern Greenland sits the island of Uunartoq, which literally means "the warm place".
This is where you'll find some hot springs in Southern Greenland and I'd argue that they're the most beautiful hot springs in the world.
Hot springs are abundant in Greenland. However, Uunartoq is the only hot spring that is actually warm enough to bathe in. The water consistently sits at a pleasant 38 degrees.
Again, I can't tell you how stunning this spot it. Surrounded by mountains and icebergs, the hot springs are a warm oasis in an otherwise freezing country.
Apparently old Vikings used to bathe here after battle. Nowadays, the occasional tourist makes the journey here to rest their weary bones. I tried to make the occasion a little more magical by bringing along a bottle of wine. This place is so special and I wanted to enjoy it as much as I could.
For me, this is without a doubt one of the best places to visit in Greenland.
Igaliku
When I arrived in Igaliku I stood overlooking the town and I counted the total number of houses. As there was only a handful it didn't take me long. It was only when I checked into Igaliku Country Hotel that I found out the population was 28. That's a town made up of 28 people. A "town". No matter where I went in Greenland it seemed as if each place was getting smaller and smaller.
Igaliku is at the bottom of a valley, and even in Greenlandic terms it's remote. With a population of 28 people it has to be. The thing is, being in a place that small I immediately felt like I was a part of the community. I liked that feeling.
There's not a huge amount to do in Igaliku other than immerse yourself in being somewhere so remote. Fishing is really big here, so that's one of the things you can do for an afternoon. There are also some really nice hikes in the area to a couple of waterfalls, so I'd recommend doing that if you've got time.
I know I keep going on about it though, but it's so rare being somewhere so remote. Just enjoy the silence because you may never be somewhere like this ever again.
Nunataaq
From Igaliku, as if things couldn't get any smaller or quieter, I went to Nunataaq, a place that only had two families living there.
There are 4 houses there, and one of them you can rent for a few days. The reason why this is such a cool spot to visit is you can go kayaking among the icebergs. And with the mountains in the distance and icebergs for as far as the eye could see, you couldn't ask for a more beautiful place to do it in.
It's hard to describe the feeling of being in a kayak alongside an iceberg. Like with the rest of Greenland, you can't help but be overawed by the beauty of these things, you can't help but find peace from being within touching distance of them too.
We set off late in the afternoon around 5/6pm for a reason, and as the sun started to get lower and lower bathing these things in gold it truly felt like we were explorers, like we were the only ones on the water navigating these channels for the first time. It was such a good feeling and one that will live with me forever.
Tasiilaq
There are only a few places that you can visit in East Greenland, and Tasiilaq is by far the most popular. With a population of 2,000 people, this is just another small spot you have to visit in Greenland.
Everything seems a little bigger in Tasiilaq. The mountains, the distances, the adventures, the challenges loom and beckon both summer and winter. It lies on the island of Ammassalik about 100 kilometers south of the Arctic Circle.
This place offers pretty much every kind of adventure you could wish for. Boat tours, dog sledding, snowmobiling, hiking, Tasiilaq has it all and more.
The Flower Valley behind the town is a popular place for short or long hikes. This is where you should head to experience the great outdoors.
Also, make sure you speak to the local community here. Unlike most of the other places in Greenland, Tasiilaq is cut off from the rest of the world in such a unique way. Because of this it's really fascinating hearing how people live here.
The Midnight Sun
One of my favourite things to do in Greenland was go out at night and see the midnight sun. Nothing can beat having a glass of wine and watching the sun on the horizon
It's hard to find anything but an incredible view in Greenland and of course, the further North you are, the longer the sun lingers.
It's so peaceful to just sit and watch the world go by, to have a moment all to yourself. For me, it's one of those moments where you feel so energised and it's such a rare experience too.
---
Are you planning a trip to Greenland? Where would you like to go? Let me know in the comments below!
Like this blog post? Then make sure you Pin it for the future!