Looking for fun things to do in Bristol? From Clifton Suspension Bridge to seeing Banksy, this is how to have the ultimate weekend in Bristol!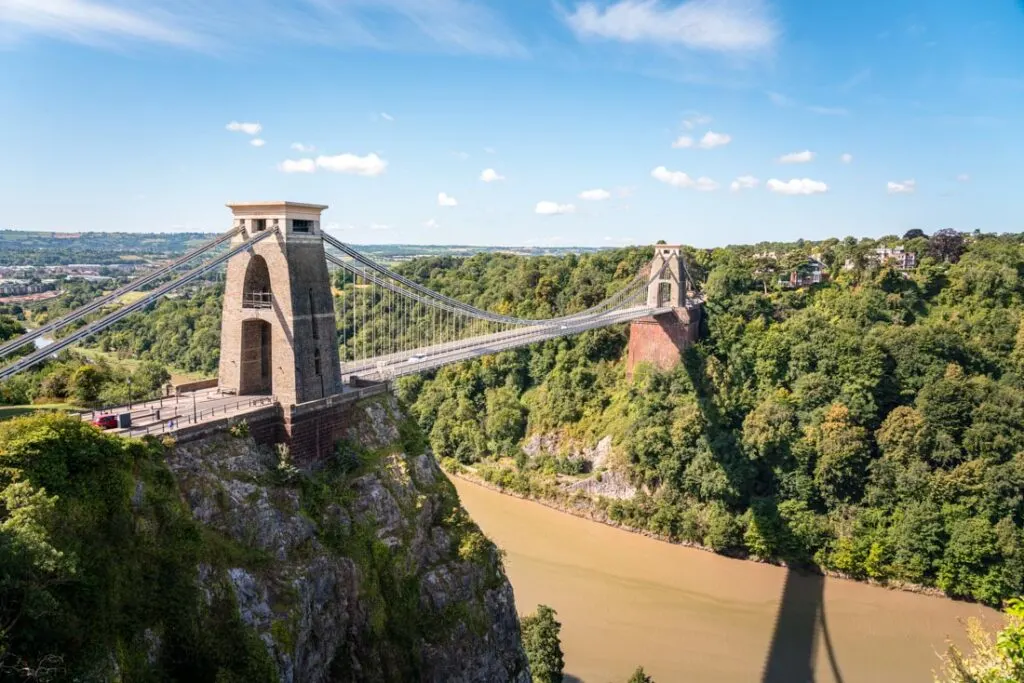 Bristol is without a doubt one of my favourite cities in the UK. It's easily in my top 5 – it might even sneak in at no. 3.
It's a city that has it all. The history of Isambard Brunel's ground-breaking SS Great Britain, the infamous and iconic Clifton Suspension Bridge, world-class street art by Banksy dotted all over the city, and an amazing food scene that'll leave you drooling for more.
As you can see, already there are so many fun things to do in Bristol – the only problem is squeezing everything into one trip!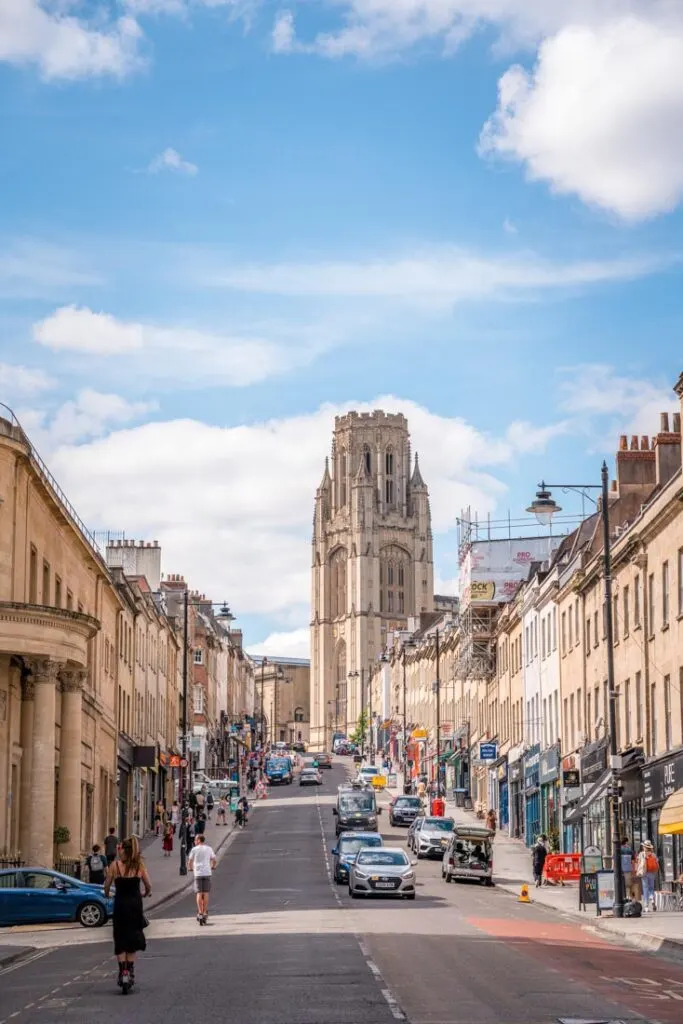 I've been coming to Bristol ever since I was a student, so it's a city I know really well. That's why, in this blog post, I'm only going to show you the best places to visit in Bristol.
One of the things I love about Bristol is the city is very easy to get around. You can easily walk to most places listed here, and there's a good bus network for those places on the edge of the city like Clifton.
If you're planning a trip to Bristol, these are the places you'll want to mark on your map for your weekend in the city.
I really hope you find this blog post useful, and I really hope love this city as much as I do!
Getting to Bristol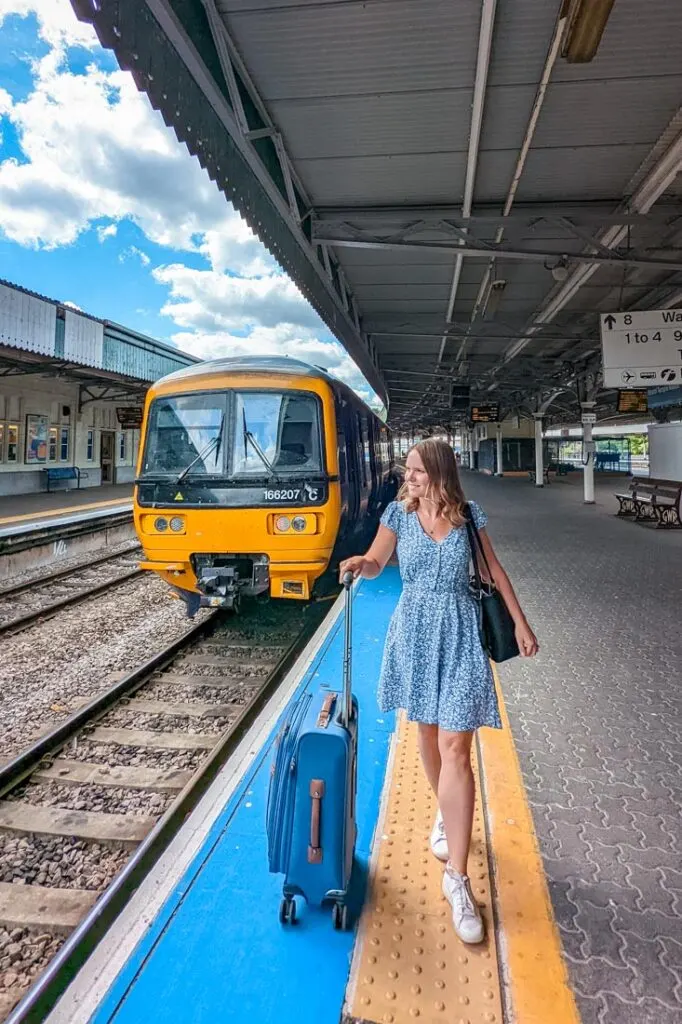 From London, getting to Bristol is super easy.
It's one of those cities where catching the National Rail train is a no-brainer.
Driving usually takes around 2.5 hours, petrol prices are through the roof at the moment, and it's bad for the environment. Three negatives right off the bat.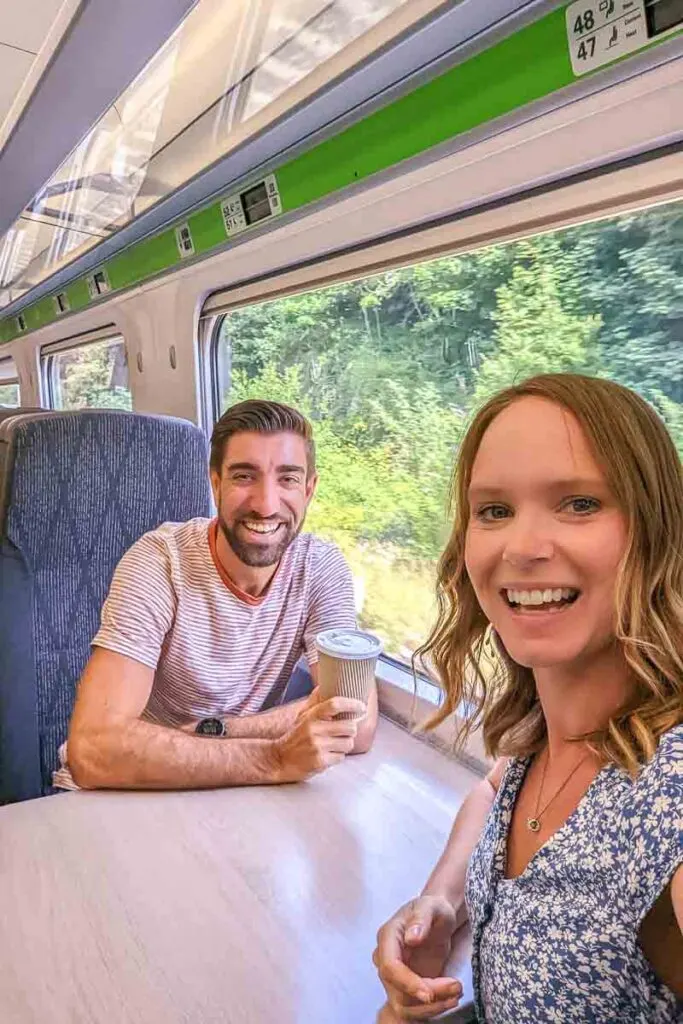 In comparison, if you catch the fast train to Bristol, it only takes 1.5 hours. Also, our tickets only cost £96.20, so £48.10 per person. I think that's damn good value! Looking at it, if you book well in advanced, you can get it a lot cheaper than that too.
We managed to save quite a bit of money by using our Two Together Railcard on our journey. If you don't have one of these, I'd 100% recommend buying one as you can save up to a 1/3 on all train travel. It only costs £30 for the year, and often you'll save more than that on one journey alone.
For example, we saved over £50 on this trip along, so we've made the money back already. If you travel by train with your partner a lot like Chole and I do, then it's a nice little travel hack to save money.
Fun things to do in Bristol for couples
Learn all about the SS Great Britain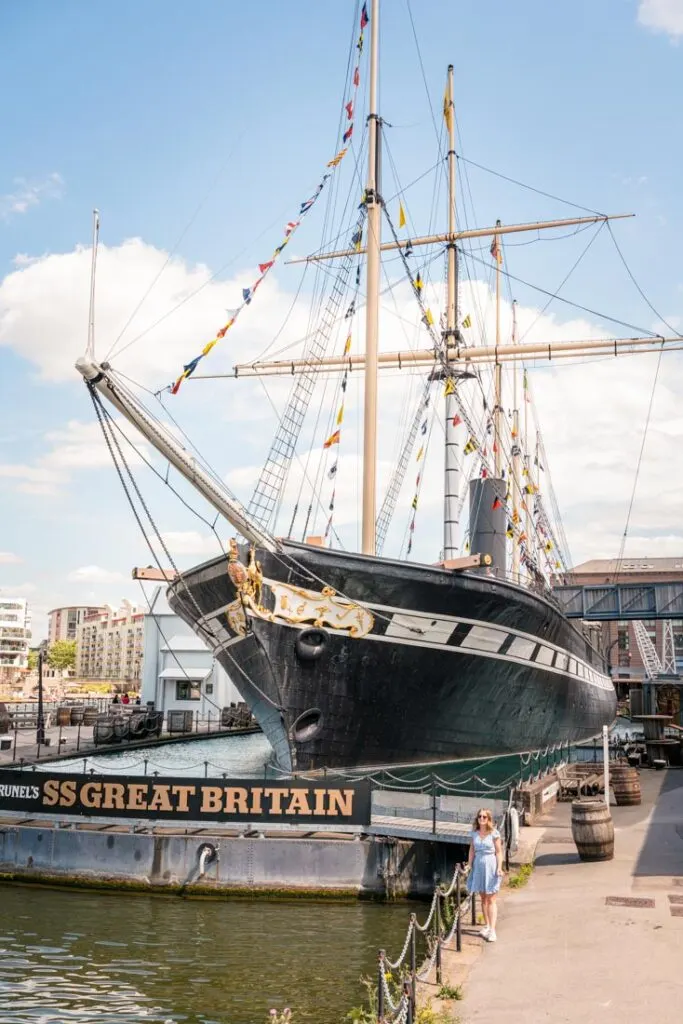 To kick off your Bristol itinerary, I'd really recommend visiting the SS Great Britain.
Designed by Brunel, this is an interactive museum dedicated to what was once the largest passenger ship in the world. And if you can't tell from the photos, it is absolutely massive.
In the mid-1850s, the SS Great Britain's main route was to Australia. On board it carried over 600 passengers, 36 sheep, almost 100 goats, and a 1,000 chickens and turkeys! The journey took around 120 days – just imagine being on a ship like this for four months of your life!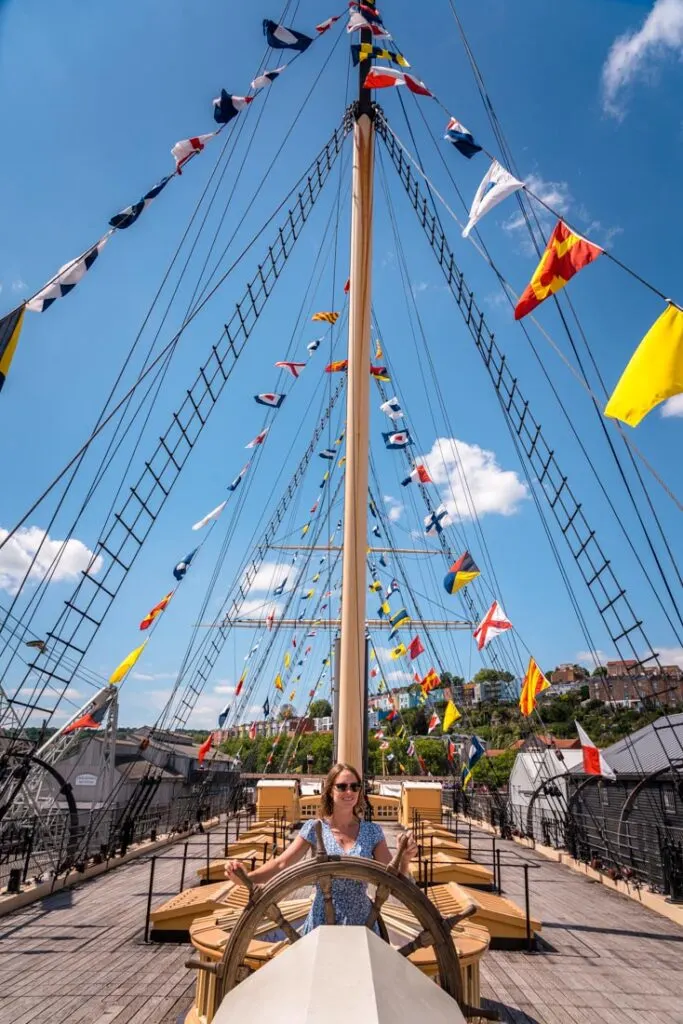 I found the SS Great Britain fascinating. I didn't know much about the ship, so it was really interesting walking around the museum and learning all about this ground-breaking ship.
Also, a lot of the exhibits are very interactive, so it's perfect for the family. You can even buy a separate ticket to climb the rigging just like the sailors used to 150 years ago. I wish we had time to do that as it looked great fun!
Visit the iconic Clifton Suspension Bridge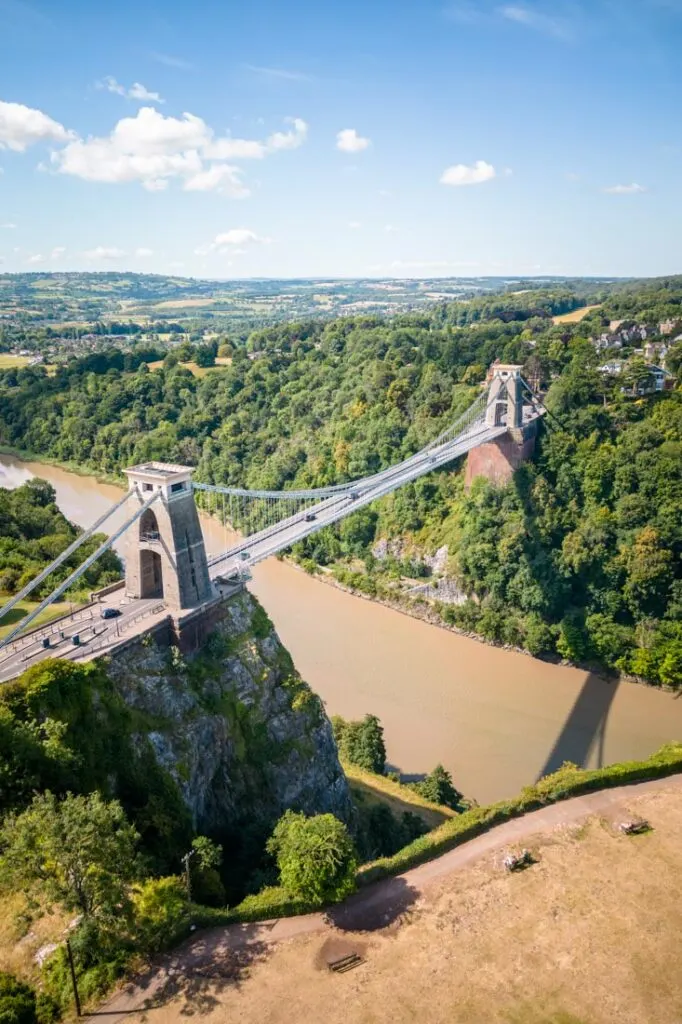 If there's one iconic image of Bristol, it's the Clifton Suspension Bridge.
Spanning the Avon Gorge and River Avon, this suspension bridge was first opened in 1864. What's crazy is this is another of Brunel's engineering feats. And even crazier than that, he designed the bridge when he was just 24! I think I was picking fruit in Australia when I was 24!
Being an adrenaline junkie, another Clifton Suspension Bridge fact I love is the first ever bungee jump happened here in 1979. It takes some serious stones to be the first person ever to do a bungee jump!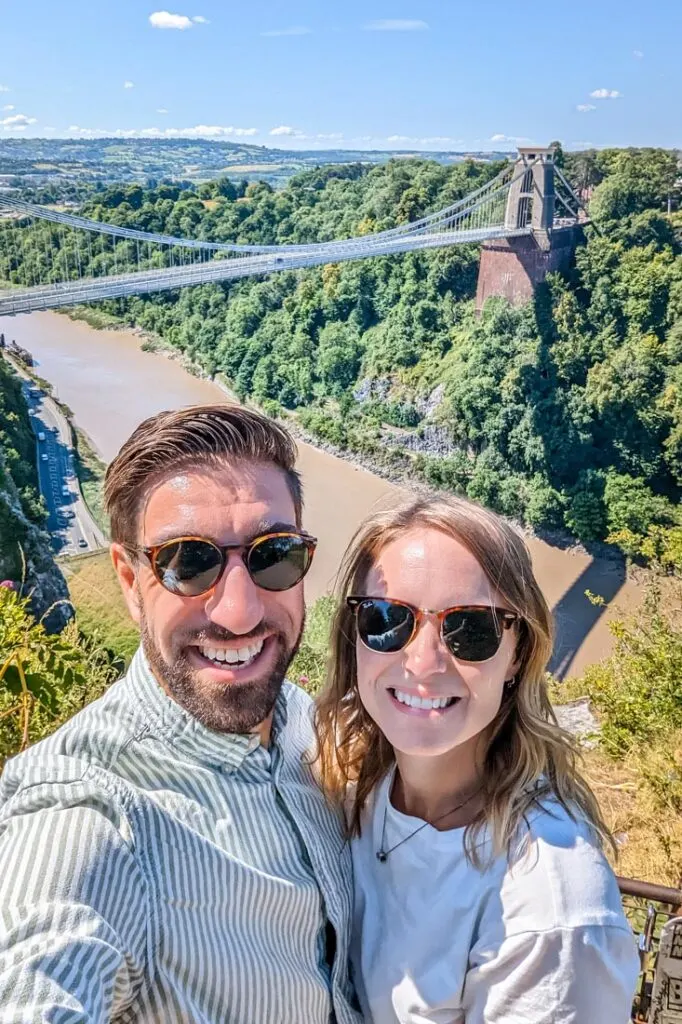 On the far side of the bridge, you've got Leigh Woods which is a fantastic place to go for a walk (in fact, these are some of the best walks around Bristol if you're interested). And on the near side, there's another park where you'll also find the Clifton Observatory.
It's on this side that you can get some really good photos of the bridge. This is a lovely place to visit in the morning to start your day.
Have a sundowner drink at Clifton Observatory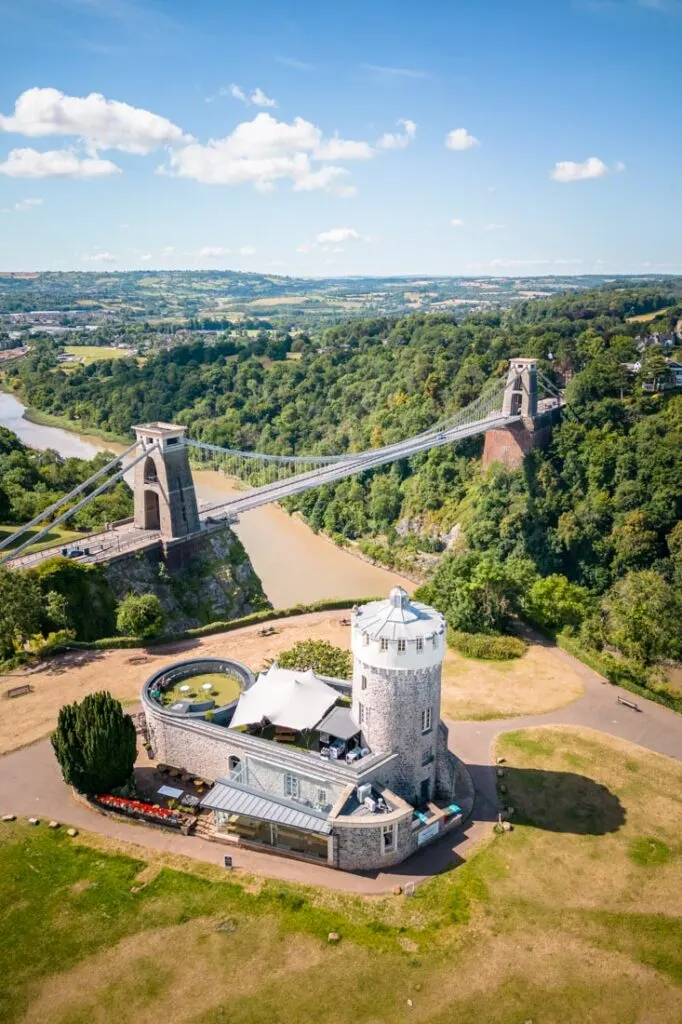 One of my fave fun things to do in Bristol is head to the Clifton Observatory at sunset.
Here you can grab a drink, sit on the outside terrace, and enjoy the sunset with stunning views of the bridge. It's such an amazing spot that people don't make use of enough. It's also cheap too – in London, you'd pay top dollar for a view like this.
The Clifton Observatory has been here since 1766, so it's a lot older than the suspension bridge.
There's a small museum inside the observatory with a really cool camera obscura at the top.
You can also head down deep into the depths of the Giant's Cave here. This is a cave cut into the Avon Gorge cliffs, one where an ancient giant used to live. There are 140 steep steps down through the rock, and once you get out into the cave you have an amazing view of the bridge.
Walk around the pretty streets at Clifton Village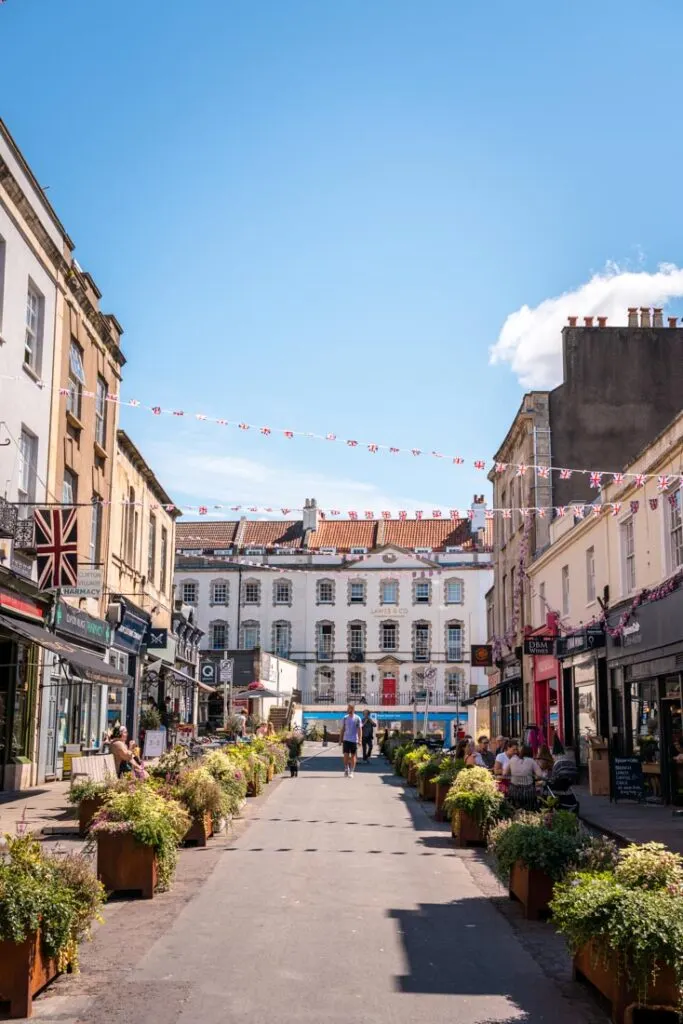 Clifton Village is regarded as one of the prettiest neighbourhoods in Bristol. True to its name, it has a really charming village vibe here.
After you've seen the bridge, I'd really recommend walking around this area popping into all the different boutique shops.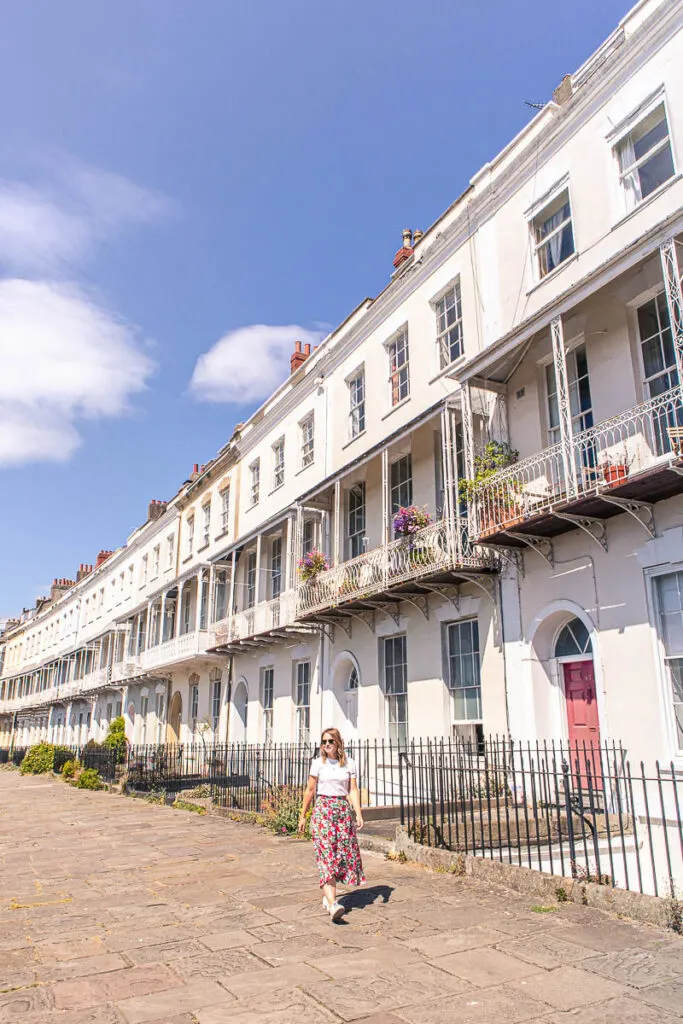 There are a number of cafes, delis, restaurants and pubs to choose from here that it's impossible listing them all – I should do a separate guide to Clifton Village.
One spot you have to visit is the Royal York Crescent. This is a row of Georgian houses that is just oh so pretty. It's little streets like this which is why I love Bristol so much.
Go on a self-guided street art tour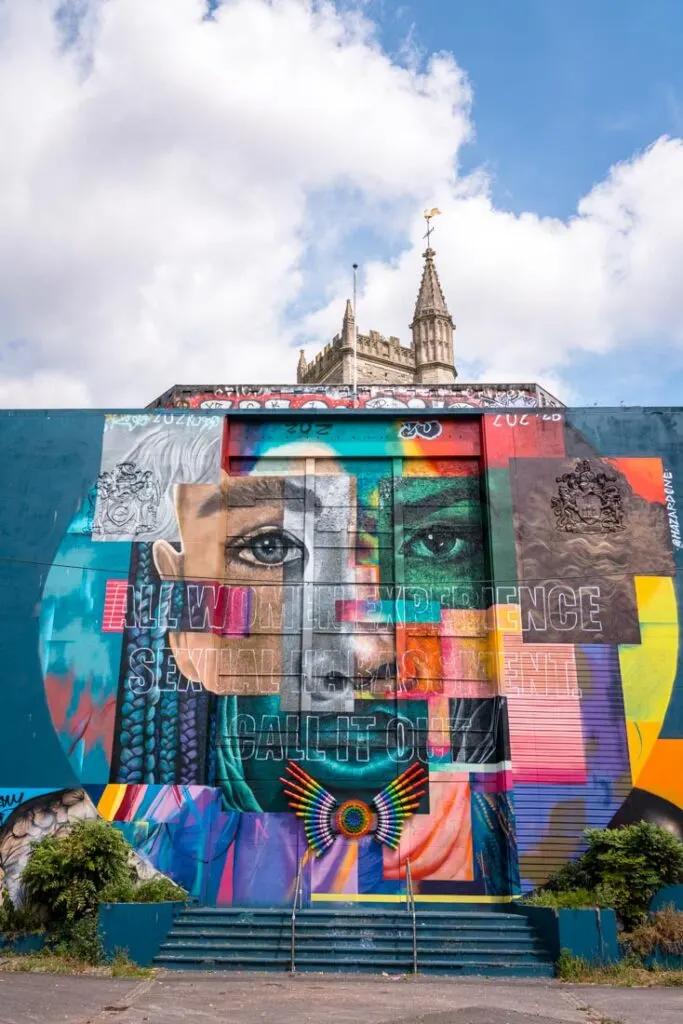 Banksy and Bristol. They go hand-in-hand, don't they?
Yes, Bristol is the stomping ground of the elusive street artist Banksy. He is considered as one of the founding fathers to street art and helped the street art scene explode as a cultural phenomenon around the world.
One of Banksy's earliest known works Mild Mild West appeared in the late 90s in Stokes Croft. This is the image of a teddy bear throwing a Molotov cocktail at a squad of riot police, apparently a response to police cracking down on so-called 'illegal raves' at the time.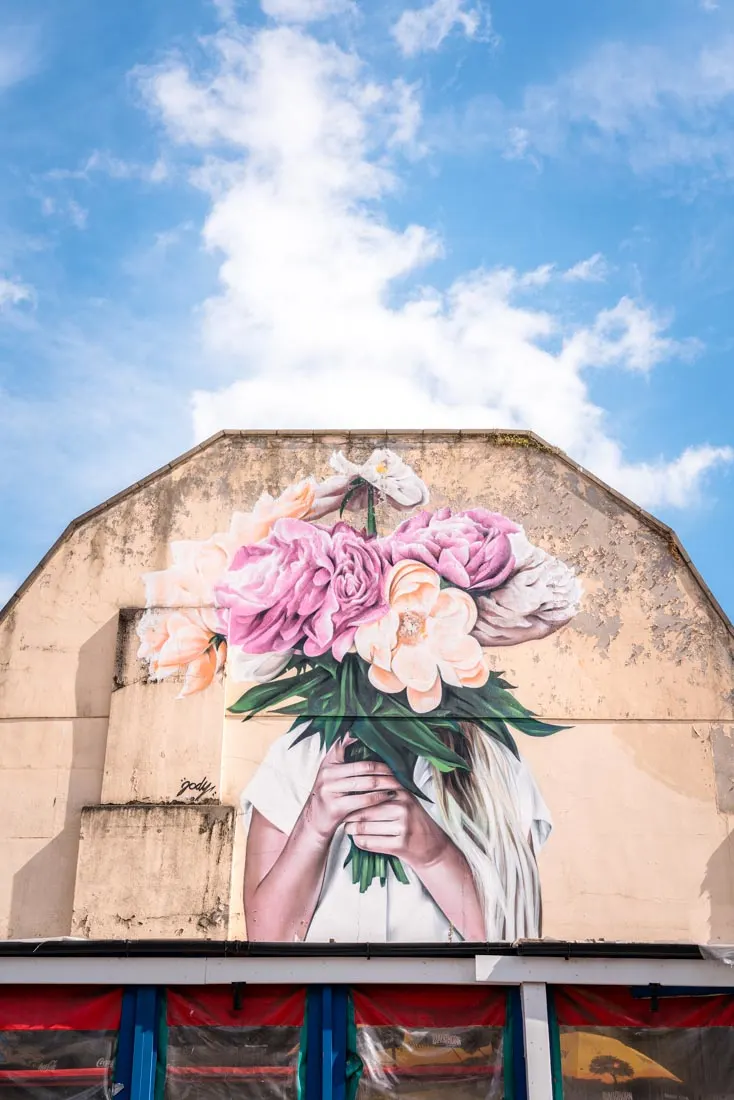 There are so many Banksy's tours to go on in Bristol. However, if you fancy taking things at your own speed, then check out 'Where's the Wall' – this is a self-guided street art tour which you download as an app/web page.
In the app it takes you to some of the best street art in Bristol (including all the Banksy's). At each mural, there's a detailed video to give you the background information which I really liked. It meant we could go on our own street art tour without having to rush around on a guided tour.
For me, this is one of the top fun things to do in Bristol for adults.
Grab a bit to eat at Cargo in Wapping Wharf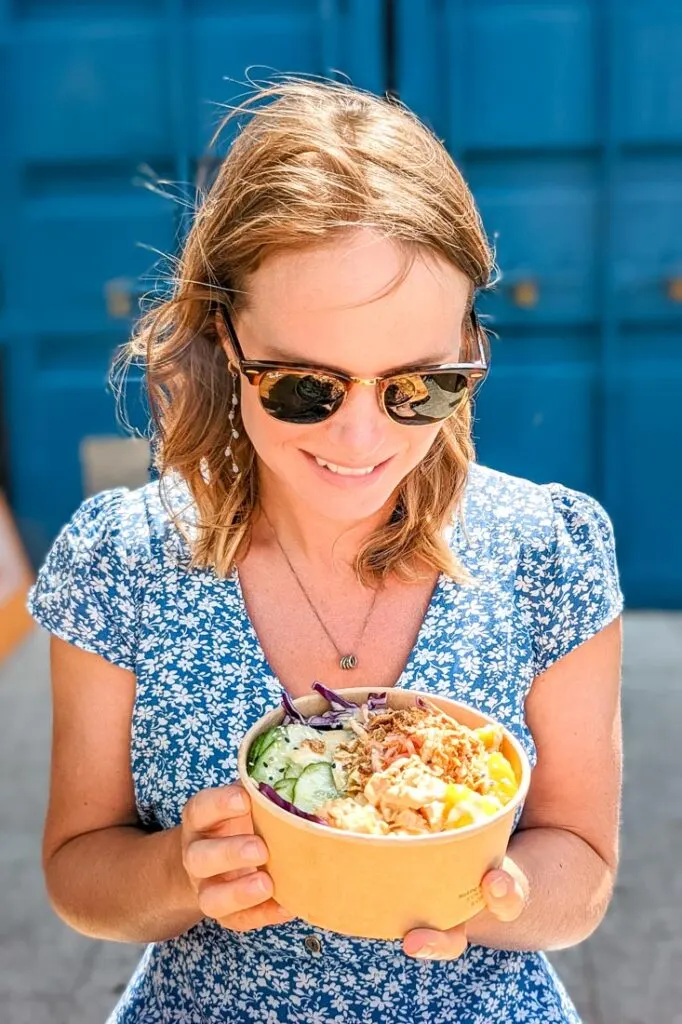 Wapping Wharf is one of the newest quarters of Bristol in the old historic harbourside. Located right by the water, Cargo is a collection of converted shipping containers that now house trendy bars, cafes and restaurants.
You'll also find everything from a florist to an ethical clothes shop, all the way through to a butchers and a barbers.
However, for me this is one of the top places to eat in Bristol. There are so many places to choose from, so the best thing to do is wander around and see what your taste buds fancy.
Cargo Cantina do delicious tacos, Dog Town do crazy American hot dogs, Salt & Malt do quality fish & chips, but we went for a poke bowl at Loki Poke. Everyone raves about this place and it did not disappoint.
Get your coffee hit from New Cut Coffee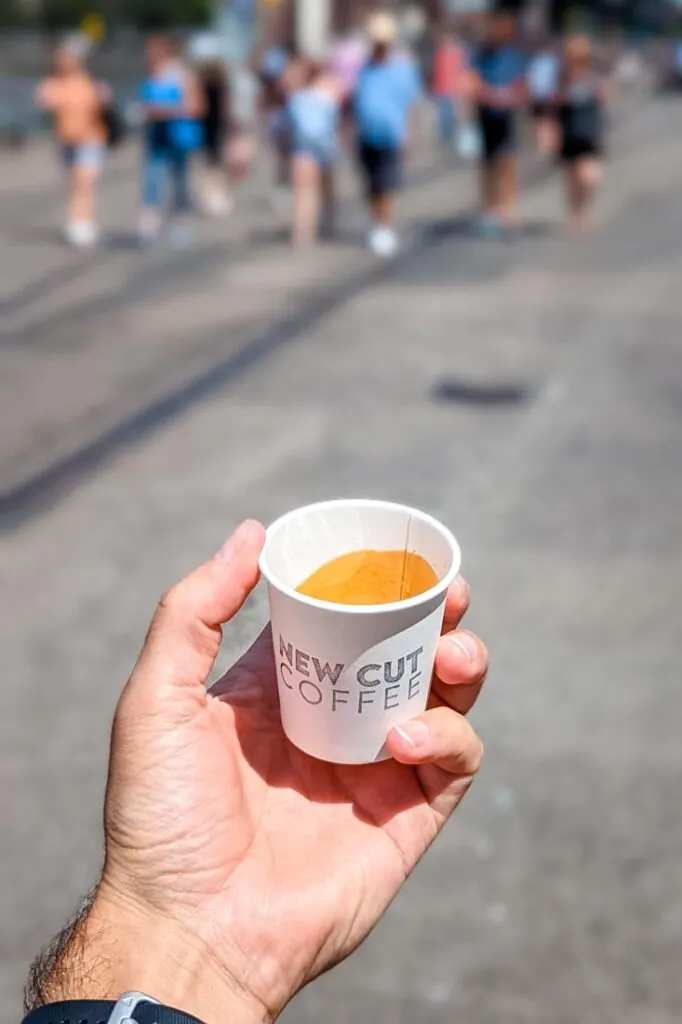 Bristol is a city that does good coffee; you're definitely not short of hipster cafes and pop-up vans offering cold brews and turbo-charged espressos.
On Spike Island, a couple of places that I'd recommend are Little Victories and New Cut Coffee.
Little Victories has those cool Scandi vibes, while New Cut Coffee has a stripped back urban warehouse feel to the place.
Both do great coffee though, so if you're a coffee aficionado then these are the two stops for you on Spike Island.
Catch a water taxi to Spike Island or the city centre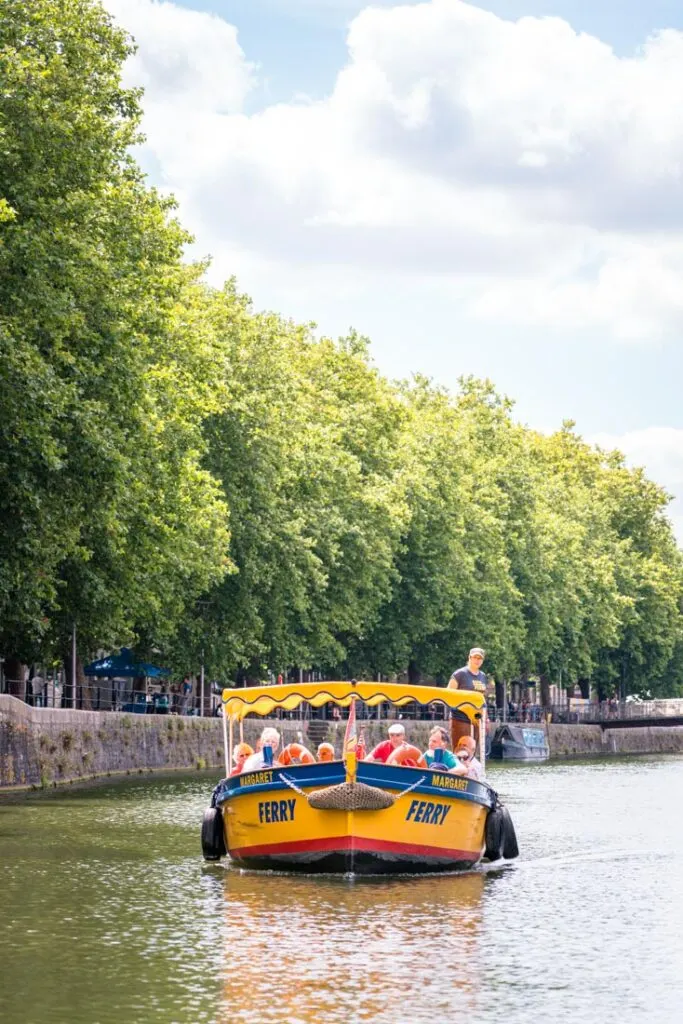 One of the best ways of getting around Bristol is by water taxi. Bristol Ferry have been serving Bristol's waterways since 1977, and their iconic yellow and blue boats have been buzzing people all around the city.
One of the things that's great about Bristol Ferry is they are a not-for-profit business. That means tickets are really cheap – only £2 per person – and the crew are always really friendly too.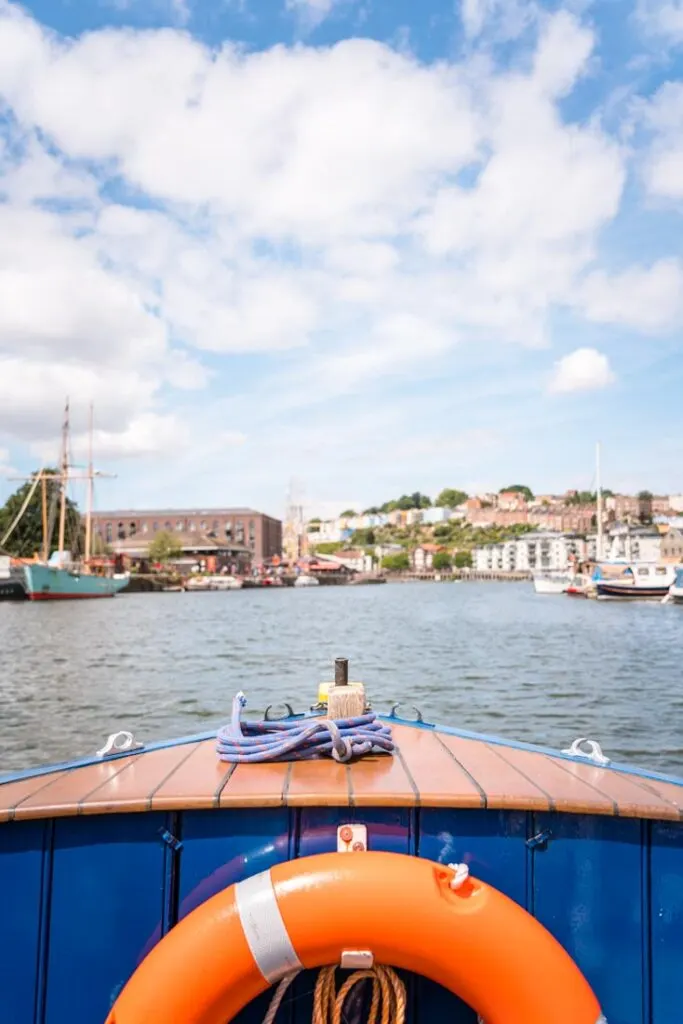 They also offer daily tours if you fancy a more in-depth view of Bristol's waterways. They also do a gin cruise on Thursday's which is just a marvellous idea.
See the mirror-ball in Millennium Square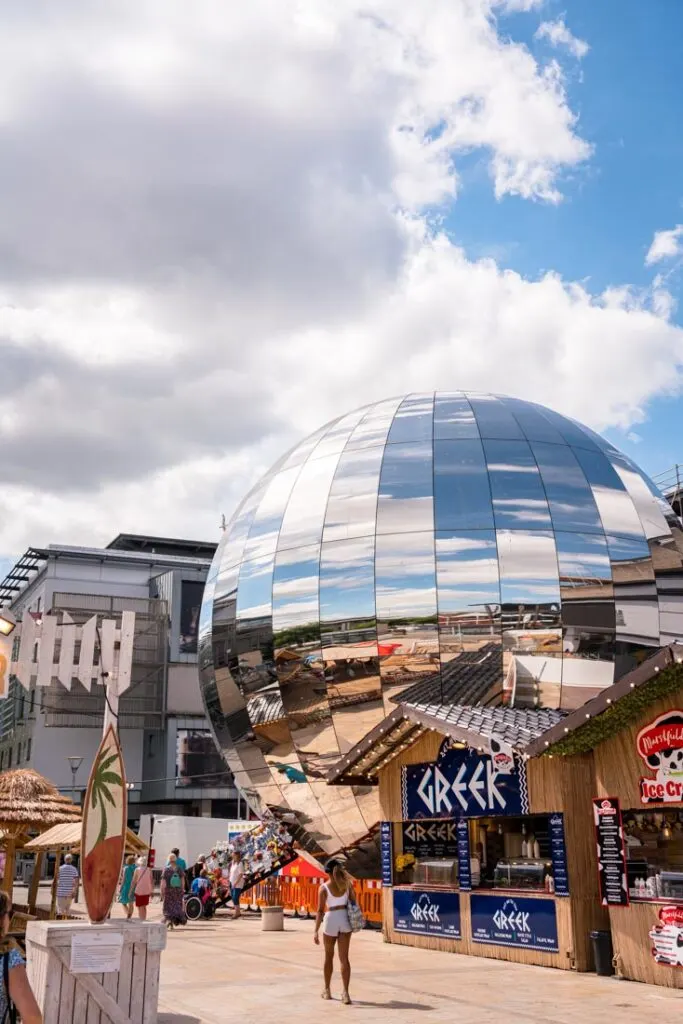 Millennium Square is usually written off in Bristol travel guides, but it has been going through a phase of regeneration over the past few years.
Around the outside of the square there are a number of bars and restaurants, and it can be a fun spot to visit on a night out.
At Christmas, there's an ice rink in Millennium Square with an apres ski bar, festive film screenings and a number of food stalls too.
I really love the giant mirror-ball though. Originally built for the millennium in 2000, this was part of the city's science museum. It's very kitsch (some might say tacky), but it's a cool photo spot.
Relax on College Green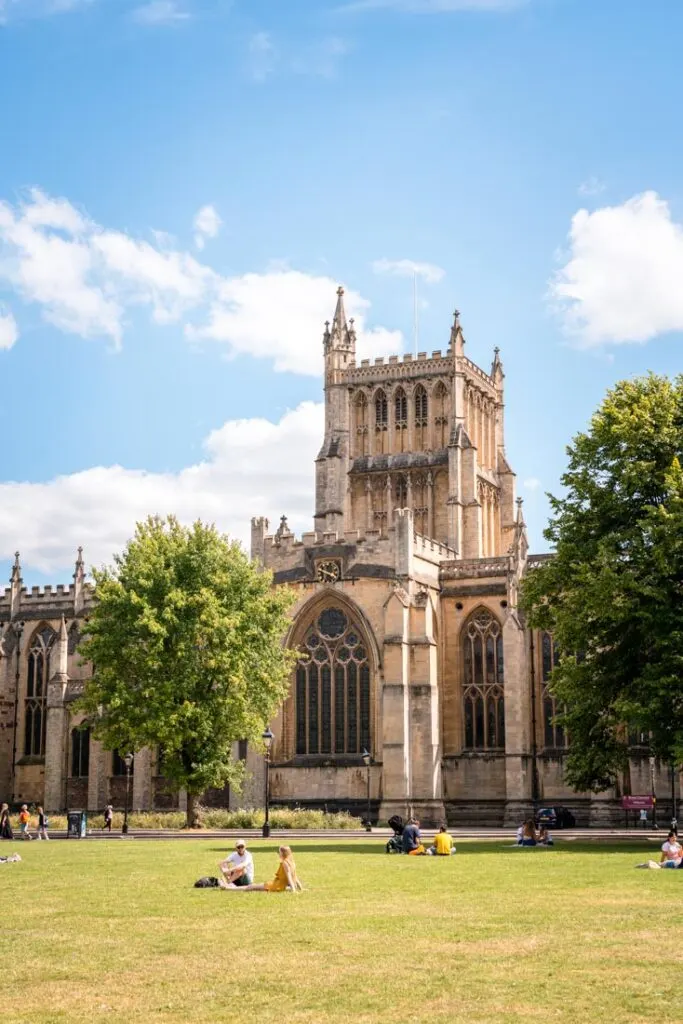 If you didn't know already, Bristol is one of the top universities in the country with over 20,000 students calling this place home.
And unlike the nearby campus universities of Birmingham and Bath, Bristol is a proper city university with different uni buildings dotted all over the place.
That means, when visiting here, you get a little insight into uni life. It's one of the reasons the city is so liberal-minded with lots of local activism.
One of the best places to do see is on College Green opposite Bristol Cathedral. In summer, you can kick back and relax on the grass and watch the world go by. Despite being right in the centre of the city, it's surprisingly peaceful, especially on a hot sunny day.
Get your ice cream fix at Swoon Gelato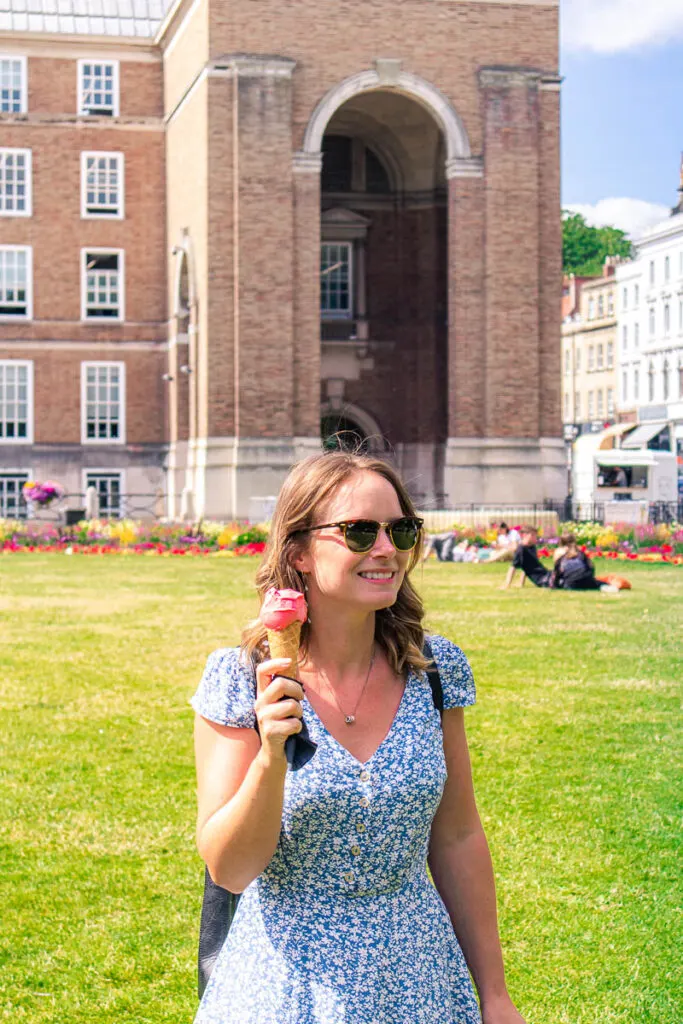 Talking of hot sunny days, you'll want to make sure you add Swoon Gelato to your Bristol itinerary. This is considered the be gelato in the city.
Instead of crazy flavours like key lime pie or peanut butter & jelly, you just get standard flavours like chocolate, salted caramel and strawberry. But even though they're simple flavours, they'll be the best version you'll ever have. Honestly, I can't tell you how good the gelato is here.
It's quite pricy, around £4.25 for a single scoop, but it's worth it. Decadent and down right delicious.
Try the infamous sourdough donuts from Pinkmans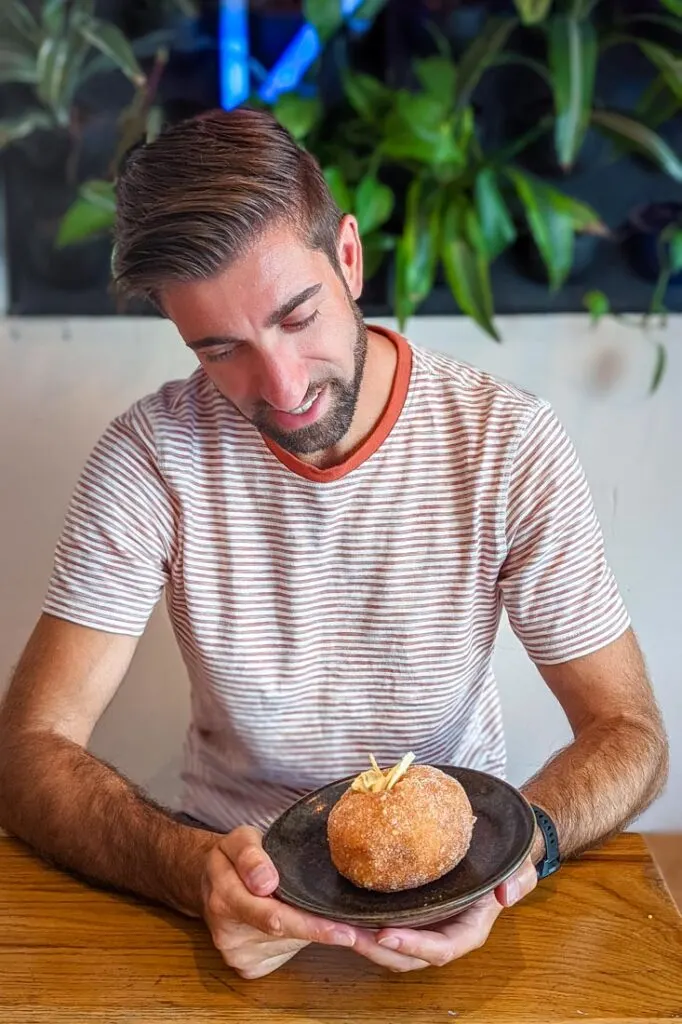 If gelato isn't your thing, then keep on walking up the hill towards Cabot Tower and you'll pass the infamous Pinkmans bakery. This place has been voted in the top 25 bakeries in the UK, so you know you're in good hands here.
From freshly baked bread to pastries and sandwiches, everything is delightful. However, the thing that put Pinksmans on the map is their signature sour-dough-nuts. These are super light and fluffy and piped with more cream than you can manage.
They always have seasonal specials on. As we visited in summer, they had a tropical coconut & pineapple doughnut – all I needed was a pina colada to go along with it and I would've been in heaven.
Climb to the top of Cabot Tower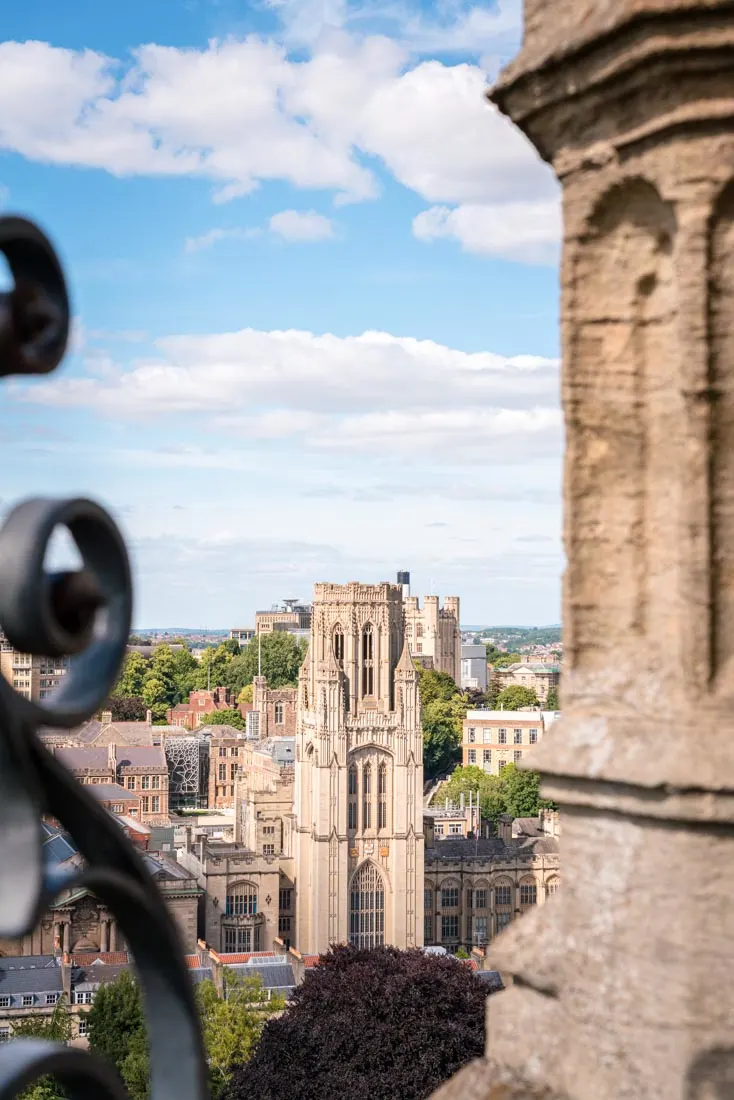 Cabot Tower, set in the tranquil parkland of Brandon Hill, was originally built in 1897 to commemorate John Cabot's famous voyage from Bristol to North America 400 years earlier.
Open to the public, you can climb the spiral staircase to the top of the tower for some of the best views overlooking Bristol. From up here you get to see the beauty of South West England. I'd say this is one of the best free things to do in Bristol, so if you're on a budget then this one is for you.
Pop into Bristol Museum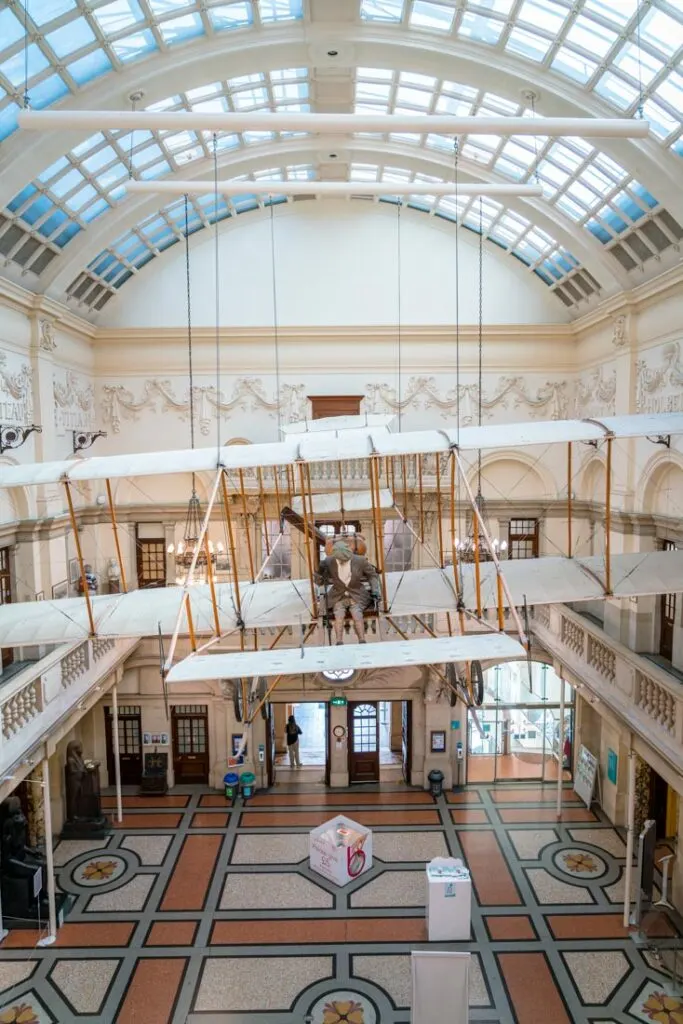 Another place that's free for tourists is Bristol Museum. With 19 galleries over 3 floors, Bristol Museum showcases world-class collections of art, archaeology, geology and natural history.
In 2009, the museum hosted an exhibition by Banksy featuring more than 70 works of art. The exhibition was developed in secrecy with no pr. Basically, this massive Banksy exhibition dropped and no one knew about it. How cool is that!?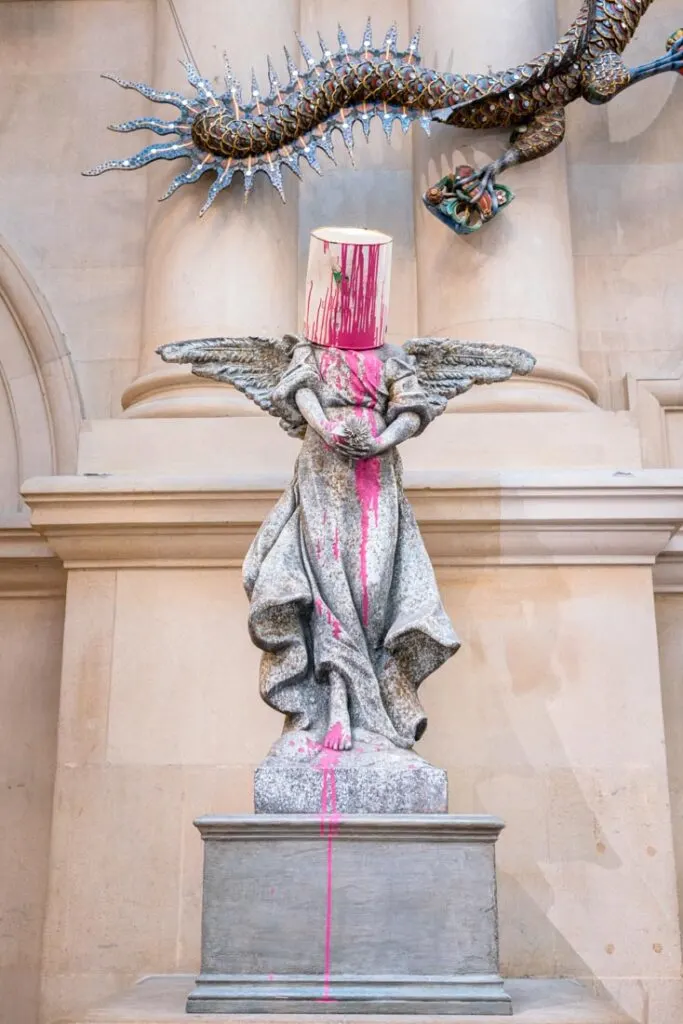 The exhibition was probably one of the most publicised visual arts events in living memory and the most popular art exhibition ever held in Bristol.
To commemorate this event, you can find one of his most famous pieces, the Paint Pot Angel, in the main hall as you walk in. It really is such a statement piece.
Go for dinner at The Coconut Tree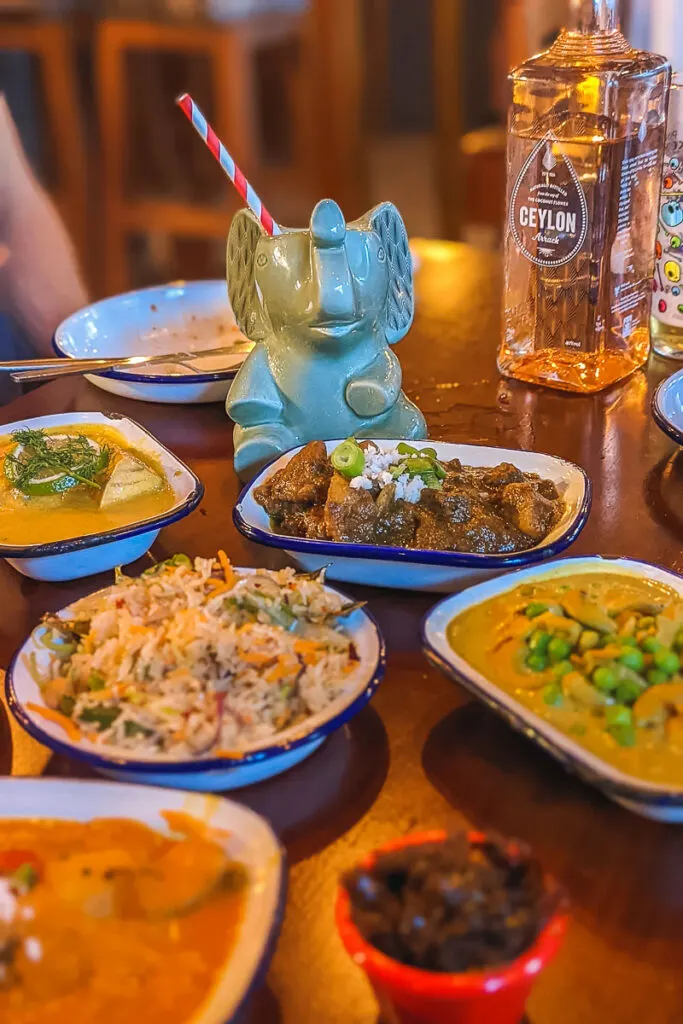 I can honestly say that the Coconut Tree is the best Sri Lankan food I've eaten outside of Sri Lanka. Hands down it's the best.
The food is authentic, aromatic, super spicy, and generous – all the things it was when I travelled around Sri Lanka.
It's a proper feast too. All the dishes are priced between £4 and £9, so it means you can order loads of different dishes.
My favourite dishes were the black pork curry, the goat curry, the salmon infused in coconut milk, and the tender pumpkin cooked in coconut cream.
The only thing I'm gutted about is that they don't have a restaurant in London, because I would eat there all the time. Seriously, it really is that good, so make sure you add this to your things to do in Bristol for couples.
Have a pint in a cosy pub
There are so many brilliant pubs dotted all around Bristol, so if you like a tipple then you'll be very happy here.
If you're looking for a pub with a killer view of Clifton Suspension Bridge, then the White Lion is a must. There is an outside terrace here with some of the best views of the bridge.
A little further down the road is the Portcullis; this is one of the top-rated pubs in Bristol and it's a proper boozer. They also do indie-film nights here too which are fun.
Another pub worth mentioning is the Coronation Tap. This is a cider house where they have their very own Exhibition cider. They can only serve this cider in half-pint glasses because it's anywhere between 13-16%, so it's pretty punchy! Usually I can only manage about 3 of these before I stagger out the pub…
Or have cocktails at one of the UK's top cocktail bars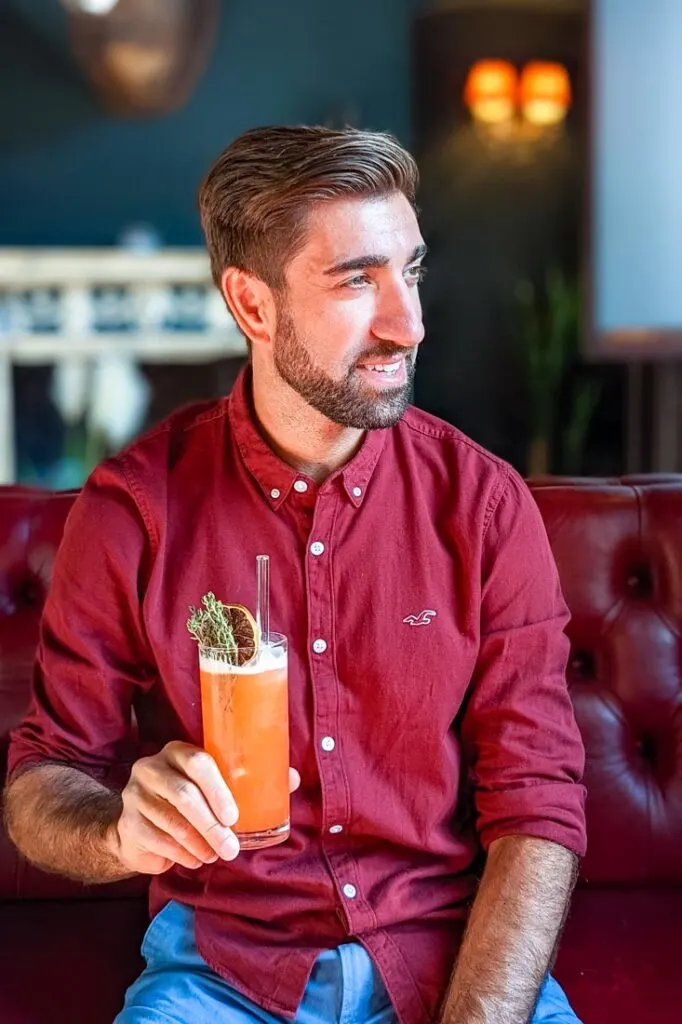 The Milk Thistle is always consistently voted as one of the UK's top cocktail bars. This is a prohibition-style speak-easy bar that exudes style and sophistication.
Spread across four floors and hidden in plain view right in the city centre, the Milk Thistle is a haven of stunning architecture, eclectic decor and exceptional cocktails.
The venue includes a clandestine hidden vault, a decadent lounge bar, and a parlour bar. The drinks menu is very unusual, so it's best to tell the server what type of cocktail you like and they'll take it from there.
I would say this is one of the top fun things to do in Bristol for adults, especially if you're looking for a fun place to begin or end your night.
Go for a fancy lunch at Adelina Yard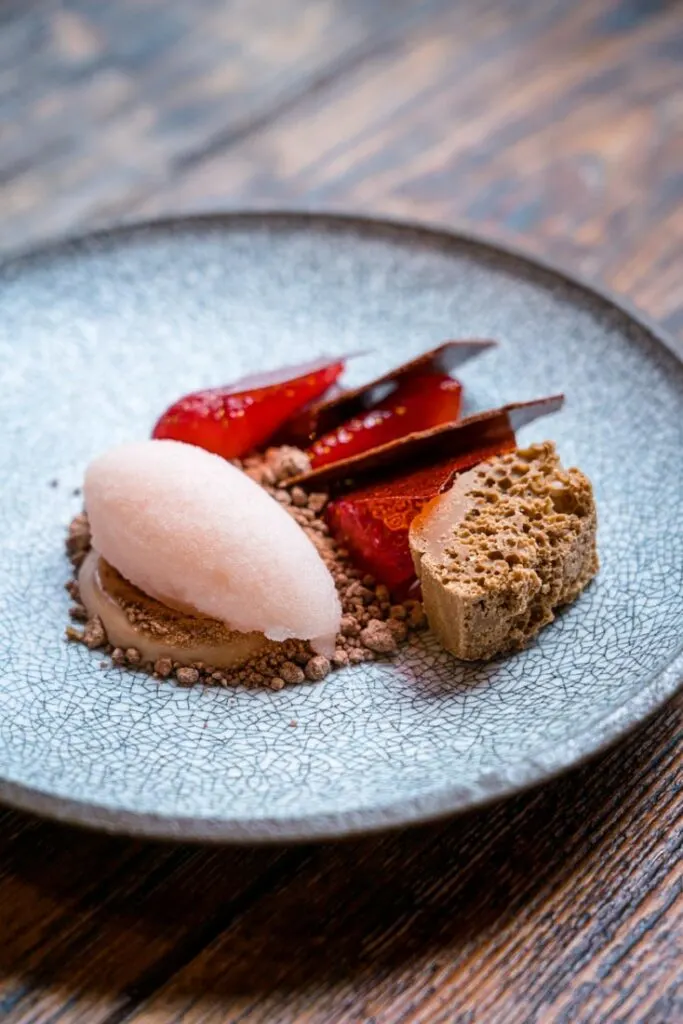 Chloe and I love our fine dining. There are a few Michelin starred restaurants in Bristol, but we wanted somewhere that wouldn't break the bank. That's when I found the lunch menu at Adelina Yard.
This four-course tasting menu is only £38 per person, which I think is really good value for money. You can also get a g&t for only £5.50 – bargain.
Adelina Yard is modern British cooking at its finest. Executive chefs Olivia Barry and Jamie Randall really champion local sourced ingredients and make them sing.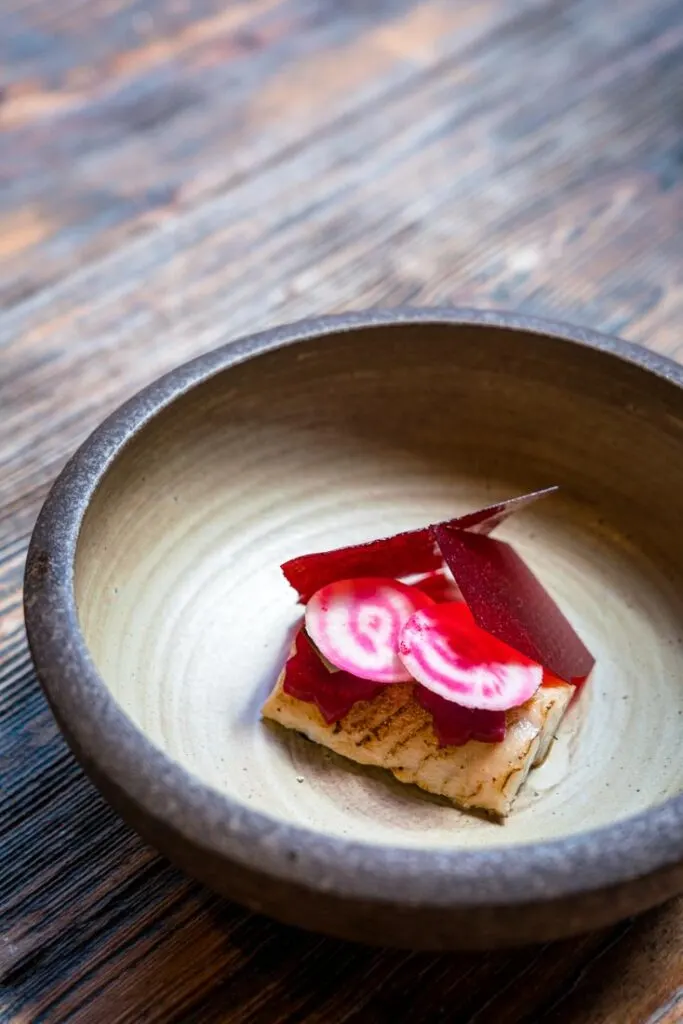 My favourite was the smoked eel, beetroot, burnt apple and pickled kelp dish. It was super complex in its flavours with a nice texture from the beetroot crisp and a palette cleansing sharpness from the pickled kelp. Just perfect.
If you're in the city and are looking for the best brunch spots in Bristol, then this is the guide for you!
Where to stay in Bristol
The Clayton Hotel Bristol City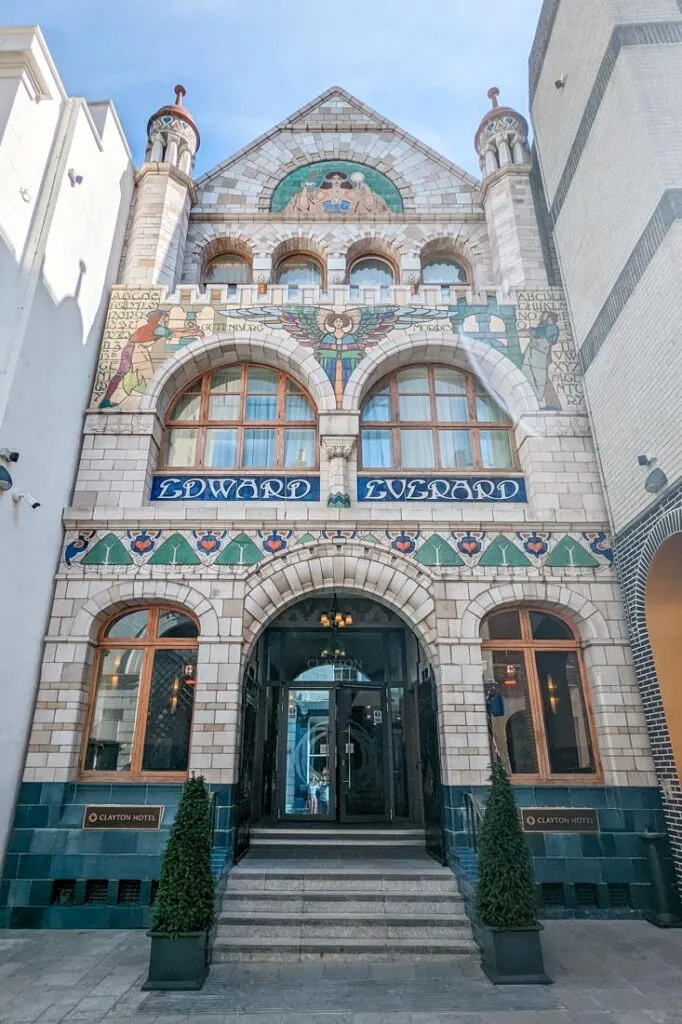 For our trip, we stated at the Clayton Hotel right in the heart of the city. This is a 4* hotel that is beautifully housed in the grade II listed former print works. The design of the building celebrates Bristol's links to art whilst restoring a piece of local history.
The interior of the hotel is really open and modern, as are the rooms. One of the things I loved about the room was it was completely quiet – for a city centre hotel that's pretty rare, so it was nice to be able to fully relax.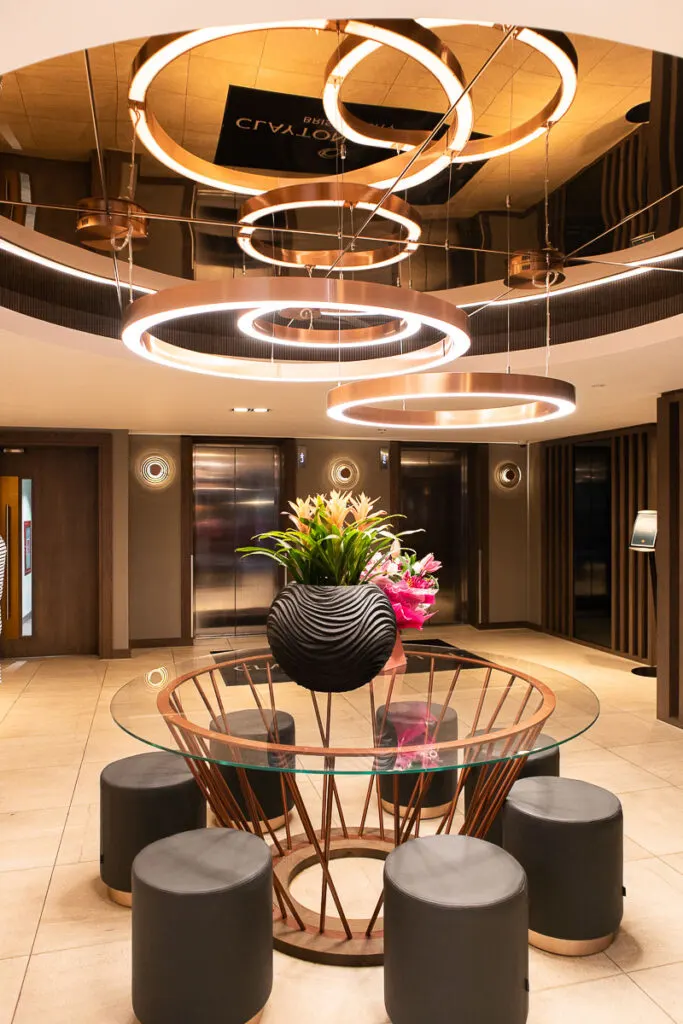 Being right in the heart of the city centre is what makes this such a great place to stay though. Most places listed in my fun things to do in Bristol are a 10-to-15-minute walk away from the hotel, so it's a great place to base yourself for your weekend in Bristol.
Also, and I'm sure larger groups staying here will be happy to hear, but the breakfast is amazing. It definitely helps to fuel up when you've got a big day of sightseeing ahead of you.
---
This post was in association with National Rail highlighting some of the best weekend breaks in the UK. As always, all views are entirely my own and without bias.
Which of these fun things to do in Bristol for adults is your favourite? If you have any questions at all about the activities featured here, let me know in the comments below!
Like this blog post? Then Pin it for the future!