Are you looking for the best places to visit in Shropshire? From exploring Ludlow to Iron Bridge, this is what to do in Shropshire!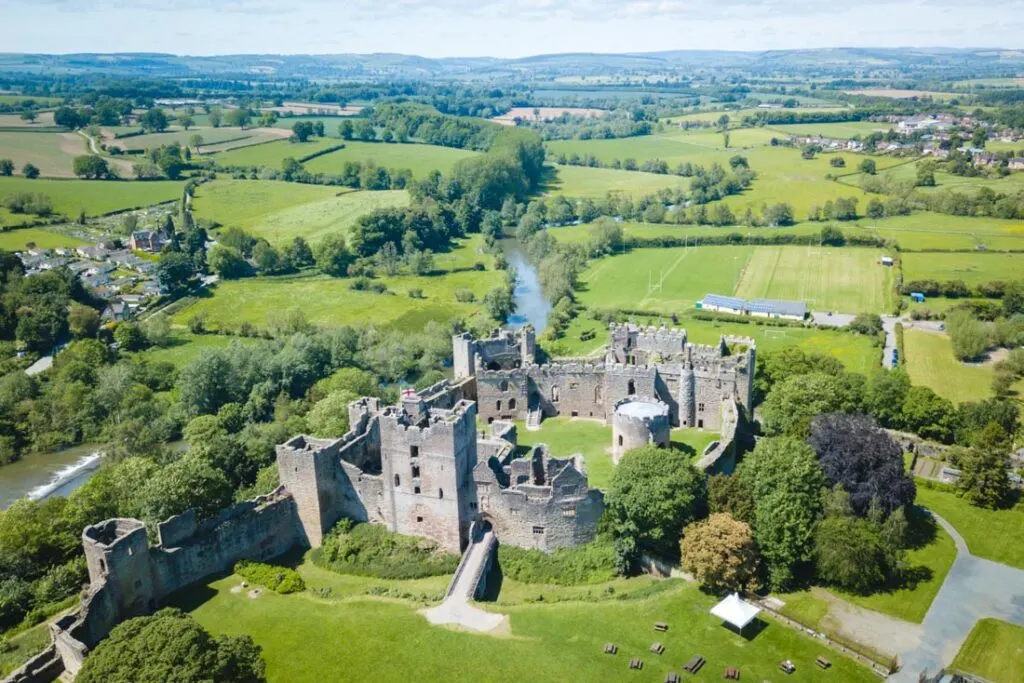 When it comes to beautiful places to visit in Shropshire, you're completely spoilt for choice.
It's one of those really underrated places in England. I'm not going to say it's a hidden gem, because places like Ludlow and Ironbridge are already famous, but it was the countryside that really surprised me. It really is absolutely stunning here (hopefully my photos in this post will show that!)
On my latest UK staycation, I went on the hunt to find the best places in Shropshire, and I completely fell in love with the place.
The views from the Stiperstones walk was enough to do that, but throw in little villages like Church Stratton and the history of Ludlow Castle, and I was completely sold.
Also, if you're a foodie like me, then there are so many fantastic cafes, food markets and restaurants for you to explore. This place really is famous for food for a reason!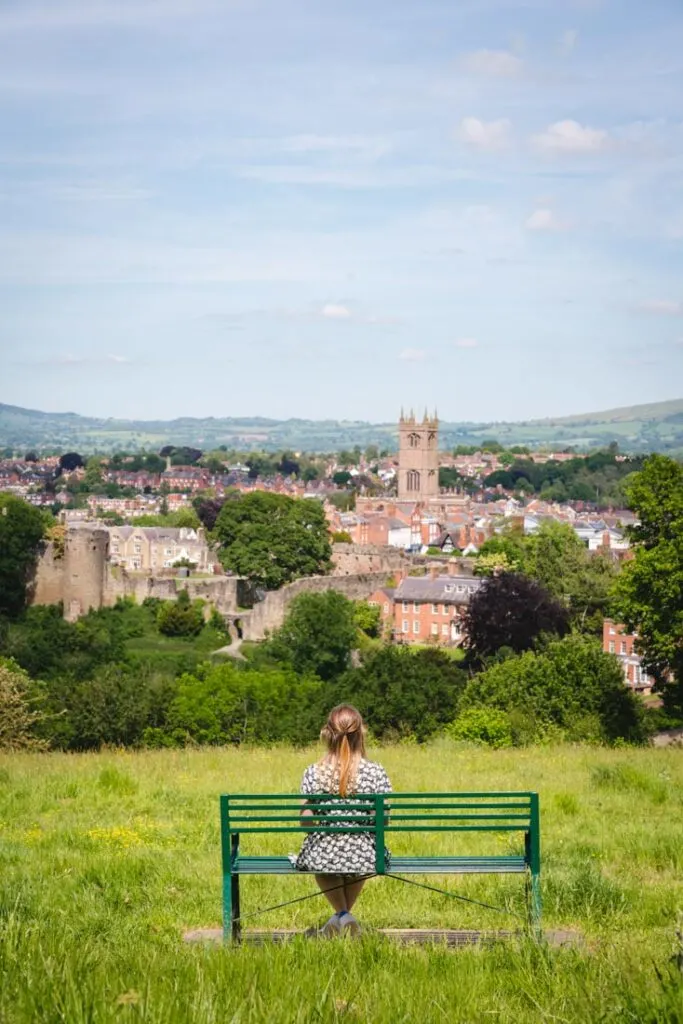 I always love places that have a wonderful blend of culture, history, outdoor activities, and of course delicious food. Well, Shropshire has all of that and a lot more.
If you're planning a trip here, then this blog post is packed full of the best things to do in Shropshire. I promise you you're going to have such an amazing time here, so keep on reading!
Where is Shropshire?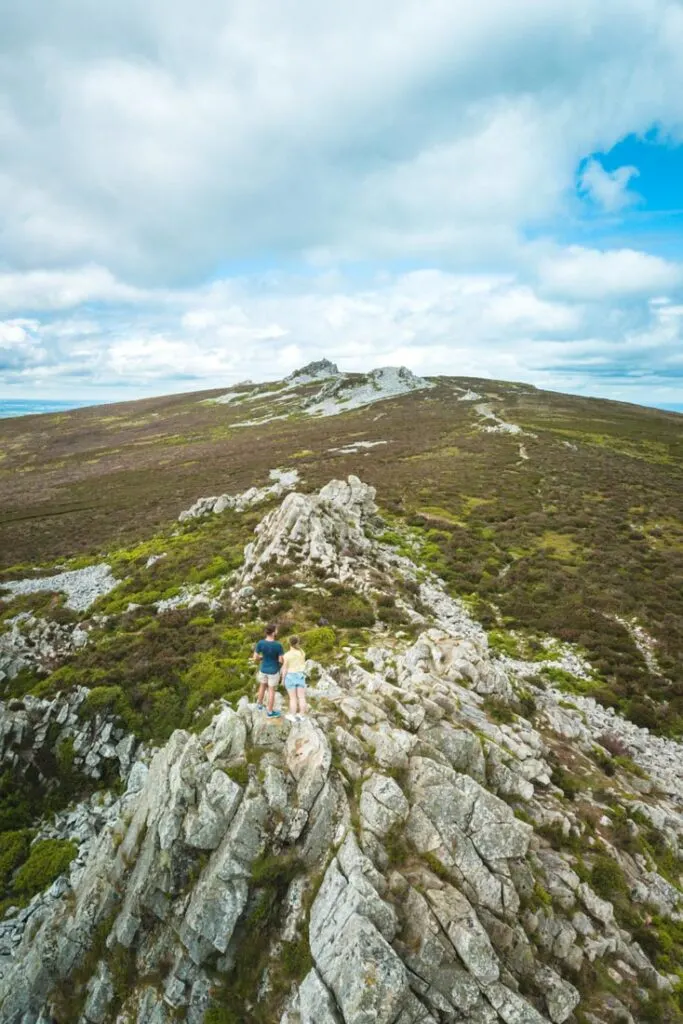 Shropshire is located in central England between the city of Birmingham and the Welsh Border. You can see it on a map here.
At nearly 1,500 square miles, Shropshire is one of the UK's least populated areas, but it boasts some amazing sites and attractions.
This county is home to the UNESCO World Heritage Site the Ironbridge, and the Shropshire Hills (which make up a quarter of the county) is an Area of Outstanding Natural Beauty.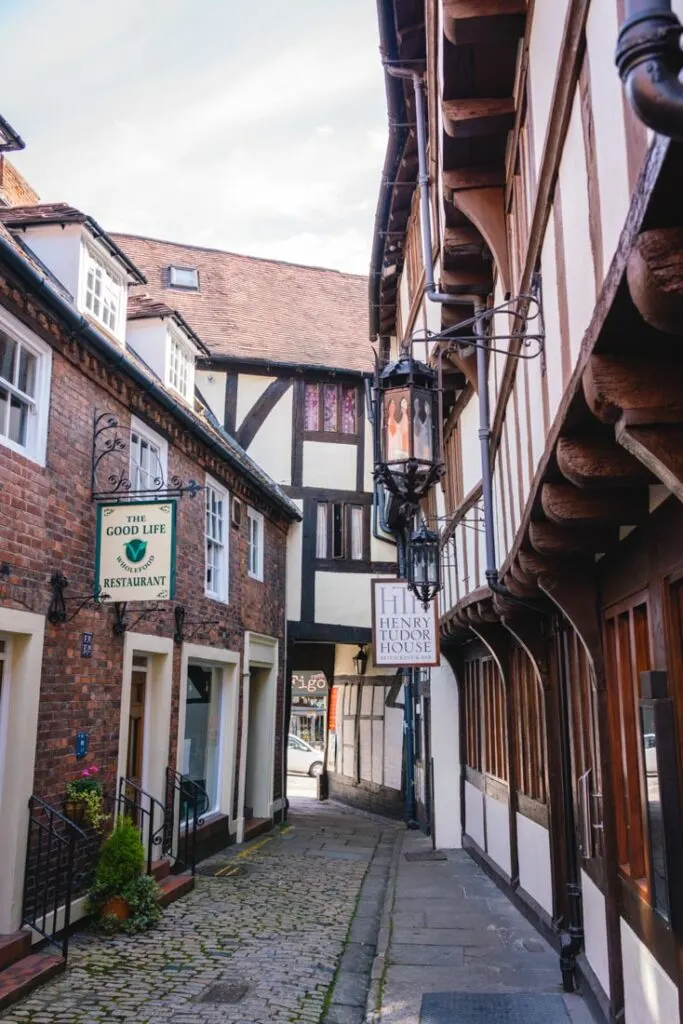 We drove from London to Shrewsbury (the capital of Shropshire) in under three hours, which I thought was really good going.
It's about two hours from Bristol and Manchester, and only an hour from Birmingham, so it's very accessible.
If you're catching the train from London, you go via Crewe, and it takes a little over three hours.
Best Places to Visit in Shropshire
If you're looking for a few different days out in Shropshire, I've grouped these into three areas – Shrewsbury, Ludlow and Iron Bridge.
Basically, you can use this guide for a day out in Ludlow, or you can choose some of the best places to go in Shropshire for a longer trip. Hopefully these will give you a very good overview of what you can do in Shropshire though.
Shrewsbury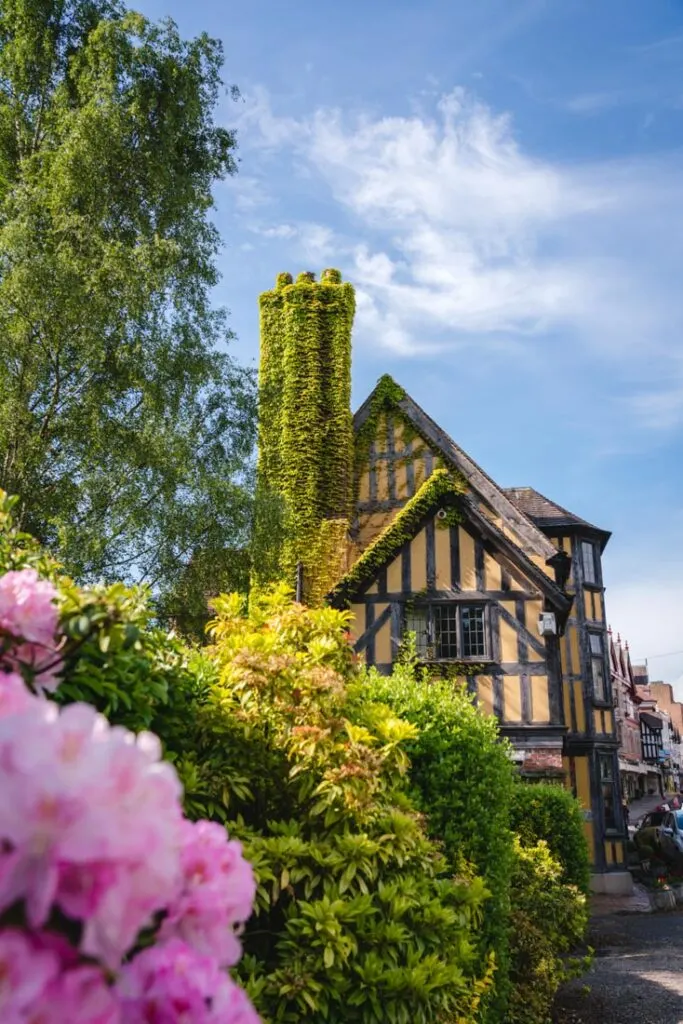 As I mentioned, we started off our trip to Shropshire in Shrewsbury.
Built on original medieval plans, walking around town feels like stepping into a different era. There's a castle (naturally), but I loved all the old Tudor buildings dotted around everywhere. There are over 660 listed buildings here, and they really give character to the town.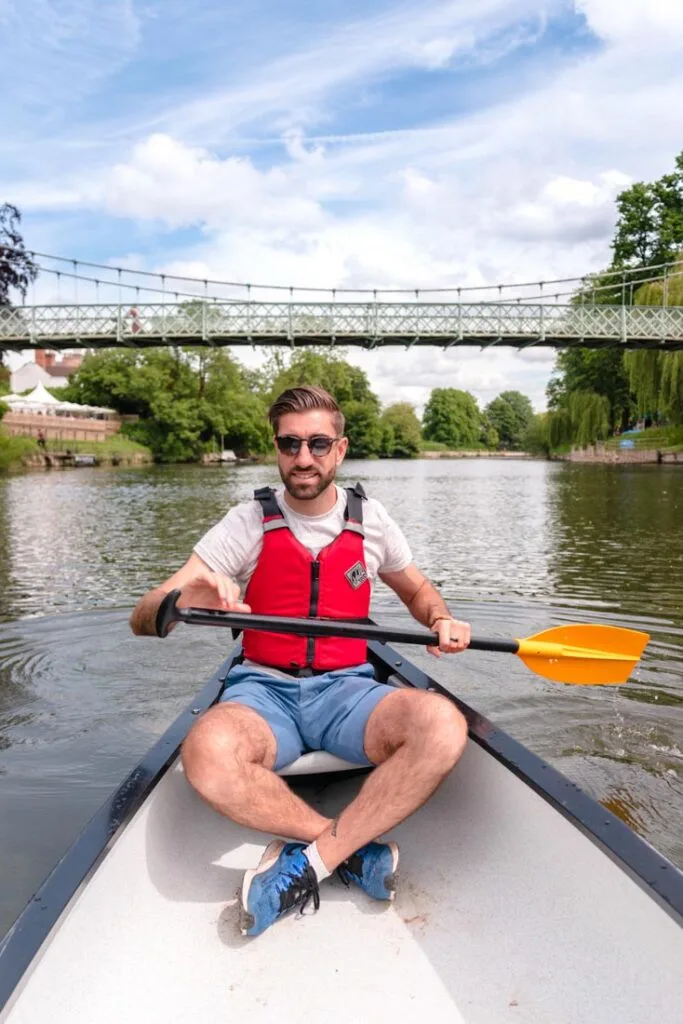 When you look at the map of Shrewsbury, it's almost an island with the River Severn looping around the town.
Because of this, one of the best ways of seeing Shrewsbury is from the water. We hired a canoe with Hire A Canoe (it's all in the name really), and went for a gentle paddle along the river.
We floated past places like the Quarry Gardens (the main park in Shrewsbury) and the Charles Darwin monument. Darwin was born and bred in Shrewsbury, so it was pretty cool seeing a monument to him.
There are a few different tours to choose from with Hire A Canoe. Most of them are two-hour self-guided trips, but there is an epic six-hour tour in there too. I wish we had time for that one.
It's cheap too, costing only £30 per person for everything (including transportation). This really is such a special way of seeing Shrewsbury!
The Boathouse Inn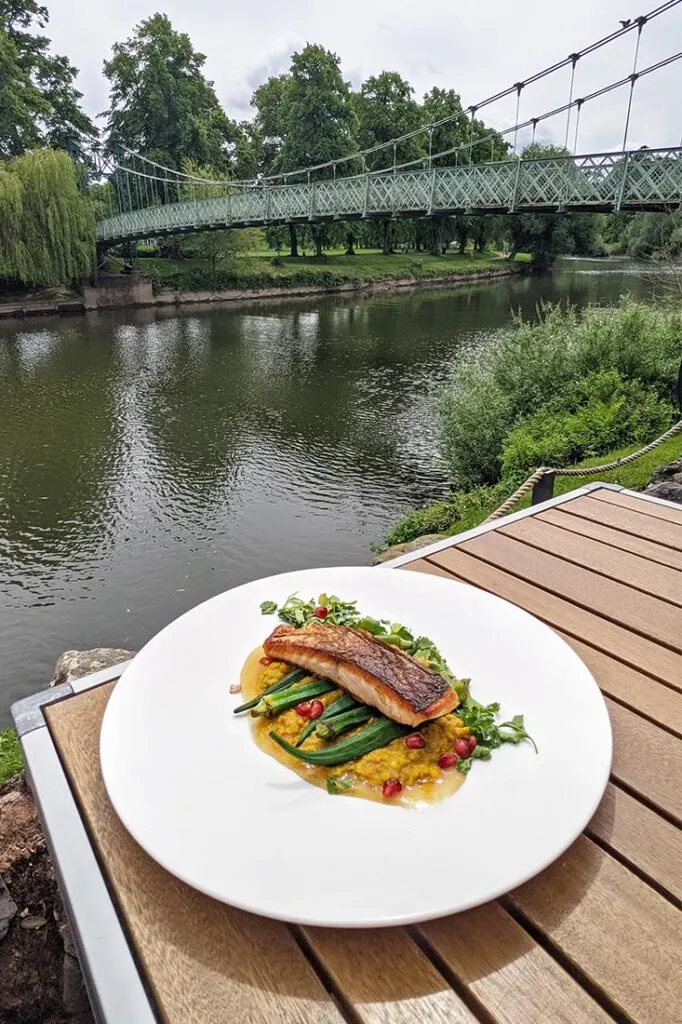 Our canoe trip ended just by Quarry Gardens. From there, we went to The Boathouse Inn, one of the best restaurants in Shrewsbury overlooking the River Severn.
We were lucky to grab a table on the terrace right beside the water, and it was such a beautiful spot.
I had the grilled spiced salmon with okra and daal, and it was delicious.
I would say one thing about this place though. Make sure you bring you appetite because the portion sizes are massive (which is a good thing of course!)
Shrewsbury Castle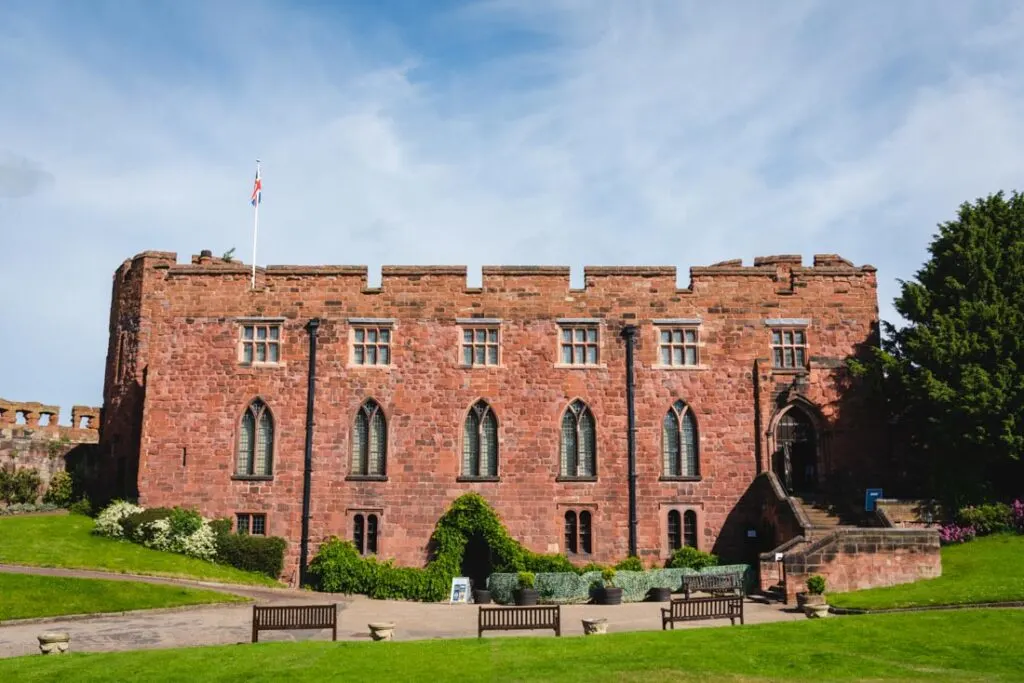 If you're searching for one of the top Shropshire attractions, Shrewsbury Castle is always near the top.
Shrewsbury's history dates back to around 800 AD when the town when people first settled there.
It wasn't until the Welsh starting attacking in 1069 that they thought "hang on, we need a castle here", so it was built the following year in 1070. I told you Shropshire had some serious history!
It's free to enter the castle grounds (it's an amazing spot for lunch), but you can also get tickets to the Shropshire Regimental Museum inside the castle.
One of the prize exhibits is the baton of the German Admiral Doenitz, captured by soldiers of the King's Shropshire Light Infantry at the very end of World War II. Doenitz had been nominated as Hitler's successor, so it's a pretty important artifact.
Flaxmill Maltings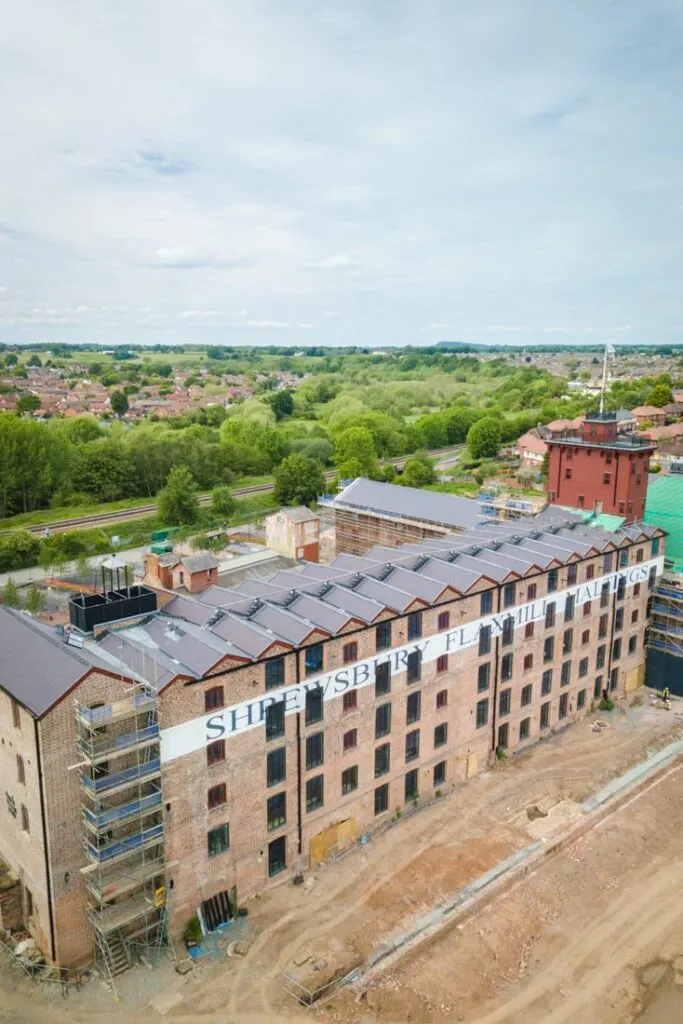 Culturally, the Flaxmill Maltings is one of the top attractions in Shropshire.
This building might look like any other mill, but it's considered to be the grandfather of the skyscraper.
Built in 1797, this was the first building in the world to use a solid iron-framed structure. These blueprints for using an iron-framed structure essentially went on to create the modern skyscrapers we see today.
Derelict for many years, the Flaxmill Maltings is being loving resorted by Historic England with a new multi-million-pound refreshment.
Opening in Spring 2022, the new Flaxmill Maltings will be a historic museum to the past. It will also have shiny new offices, a café, and an observation platform at the top of the Jubilee Tower. We had a sneak peek at the top of the Jubilee Tower and the views are great!
The Loopy Shrew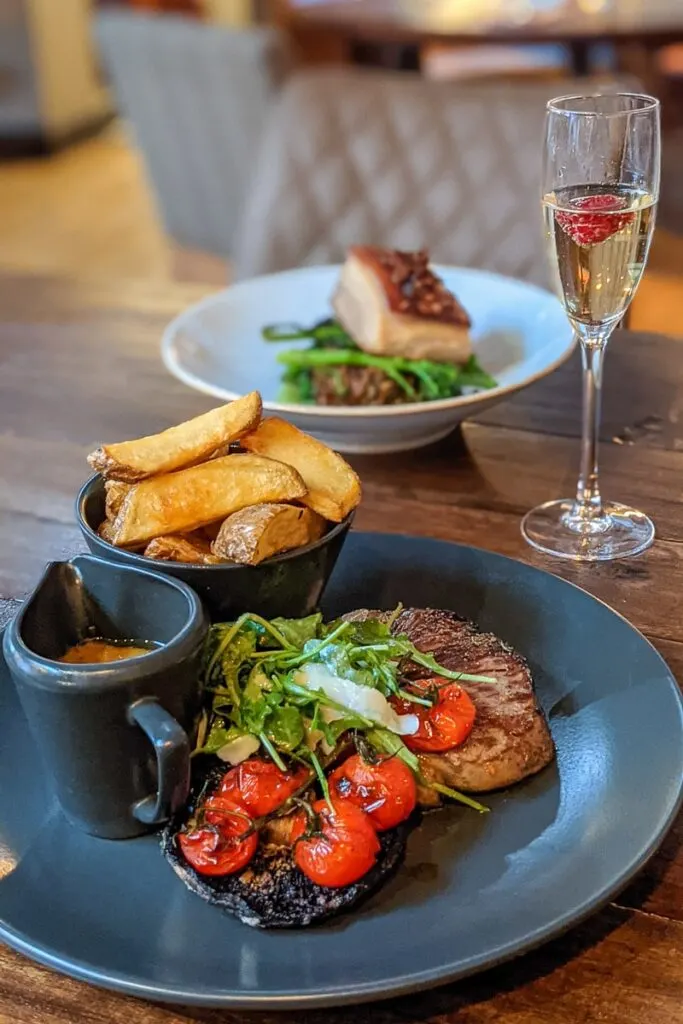 This is one of the things that I loved about Shropshire, even unassuming pubs can serve up incredible food.
The Loopy Shrew is a family run restaurant and bar with a few boutique rooms right in the heart of Shrewsbury.
The Loopy Shrew serves modern British food using locally sourced producers, and it's a cracking place for dinner.
I had the crispy pork belly with a wild garlic velouté, a potato rosti, wilted spinach, charred tender stem broccoli and a pancetta crumb. Honestly, it was one of the best pork bellies I've had in such a long time!
Love2Stay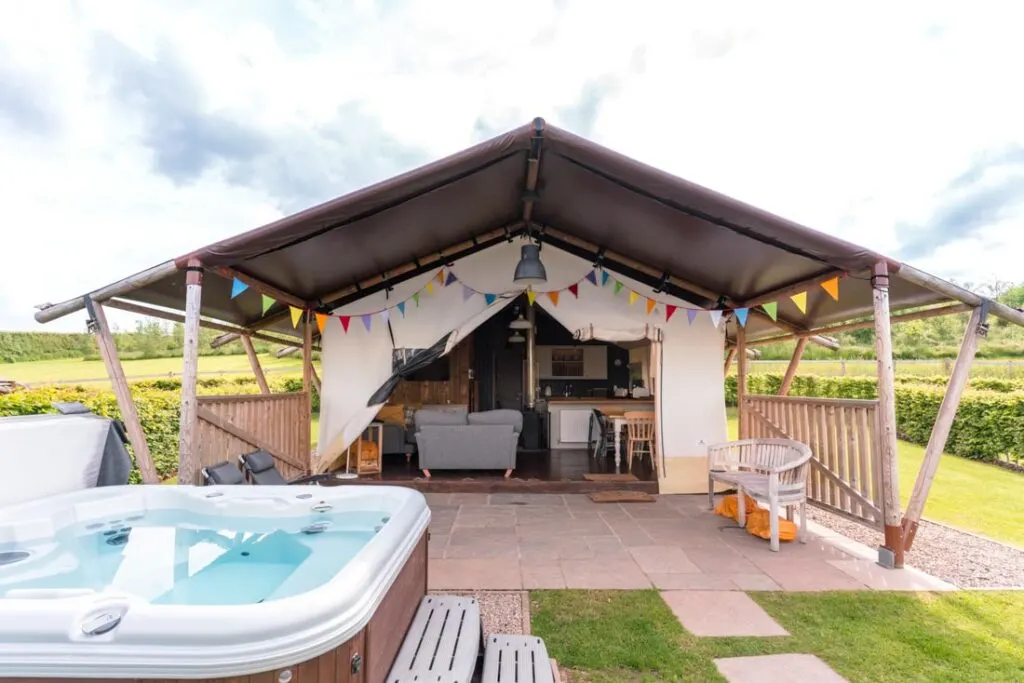 Love2Stay is often described as the Centre Parks of Shropshire. It's a cross between caravan park, luxury safari tents (each with its own private hot tub, of course), and adventure park all in one.
Facilities include an adventure play park for the kids, an assault course for the adults, a small lake where you can go paddleboarding, and a outside swimming pool too. There's also a Cinedrome where you can catch a film, or you can relax in one of the tents.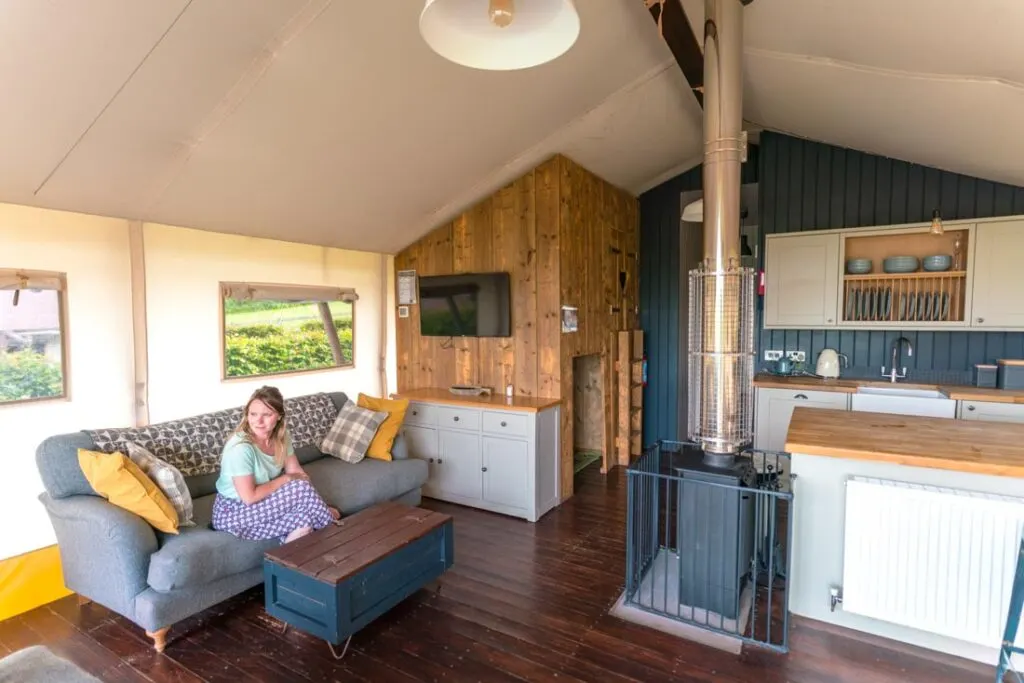 Obviously we weren't caravanning, so we stayed in one of the safari glamping tents. These were surprisingly spacious – you could easily sleep a family of six in a tent. They came with their own dining room, lounge and kitchen too, so everything you need for a self-catered holiday away.
Outside, each tent comes with its own hot tub and bbq pit. We ate in Shrewsbury that night, but I wish we had some food for the bbq. Our neighbours were cooking one and it smelled delicious!
---
These are some of the best places to visit near Ludlow. We drove from Shrewsbury to Ludlow in the morning, so if you want the prefect start to the day, head to Long Mynd first.
Long Mynd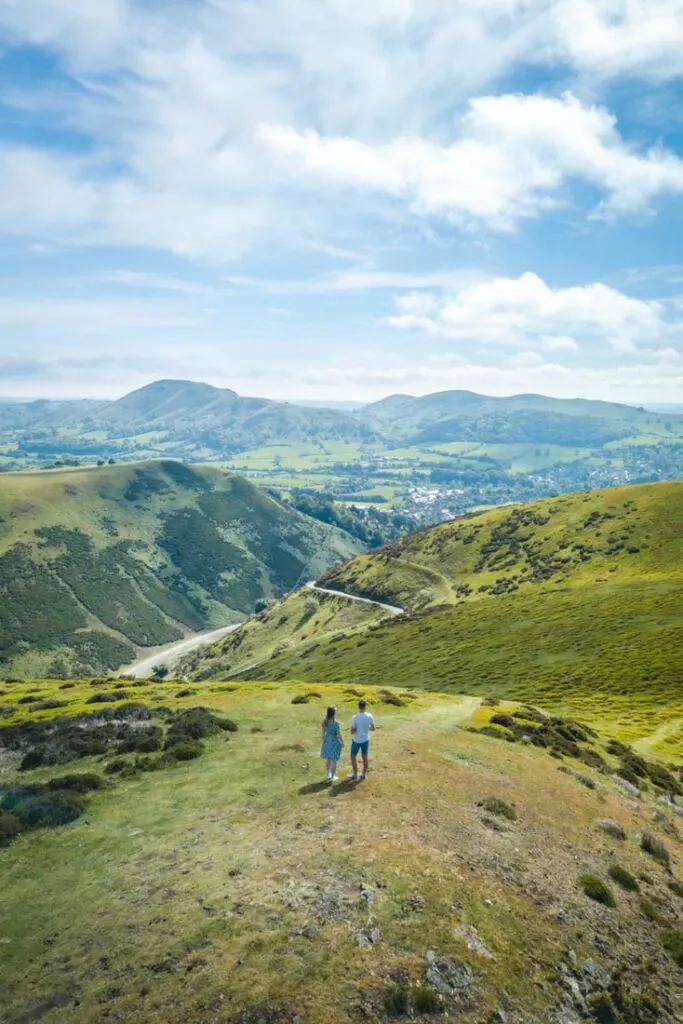 For me, it's views like this which is why I loved Shropshire so much!
On the way from Shrewsbury to Ludlow, you have to pass through a tiny place called Church Stretton, a stunning village to visit in Shropshire.
Saying that, on this drive you'll pass through loads of pretty villages near Ludlow that are well worth stopping off at!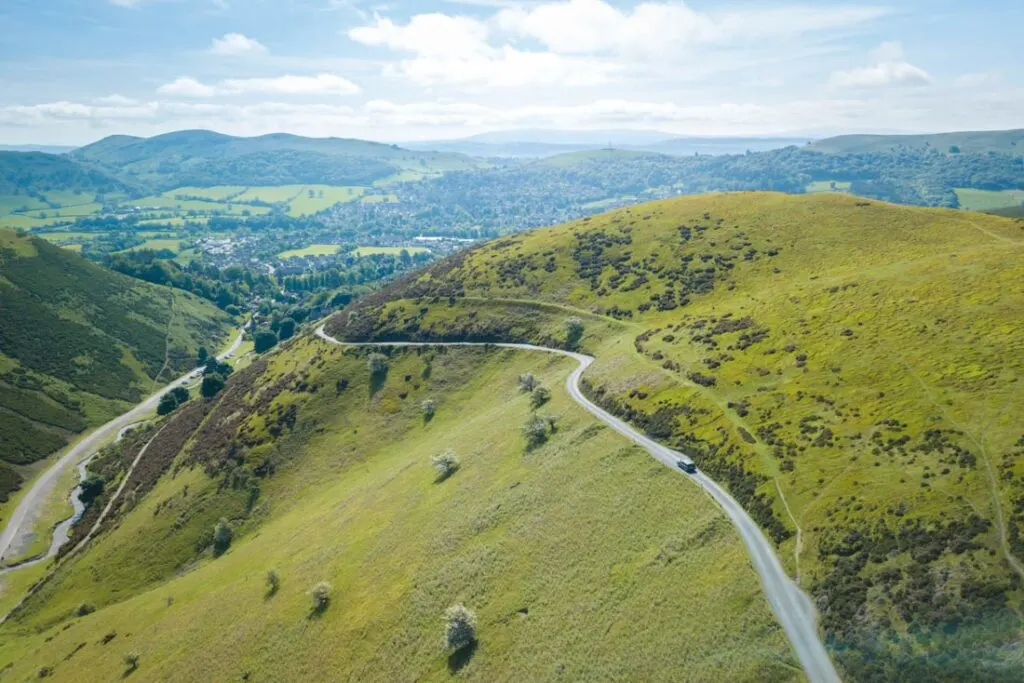 If you make a slight detour into the hills, you will drive along the Burway Road. This is billed as one of the most scenic roads in the UK, and it did not disappoint. The views as you get higher and higher are just spectacular.
It only took 10 minutes of driving on the Burway Road before we made it to a car park at the top of Long Mynd. From there, we parked up and went for a short walk to take in the stunning views.
There are loads of fantastic walks in the area (like this one), and on a clear day you can see the Brecon Beacons and the Malverns too.
This is definitely one of the most beautiful places to visit in Shropshire, so make sure you add it to the list!
Ludlow Farm Shop
Just on the outskirts of Ludlow you'll find the Ludlow Farm Shop.
To kick things off, we had a tasty breakfast of eggs Benedict in Ludlow Kitchen (the on-site restaurant they have here). This is a converted barn serving up breakfast and lunch. Even though we were here for breakfast, they're really famous for their tea and cakes. The scones looked particular good.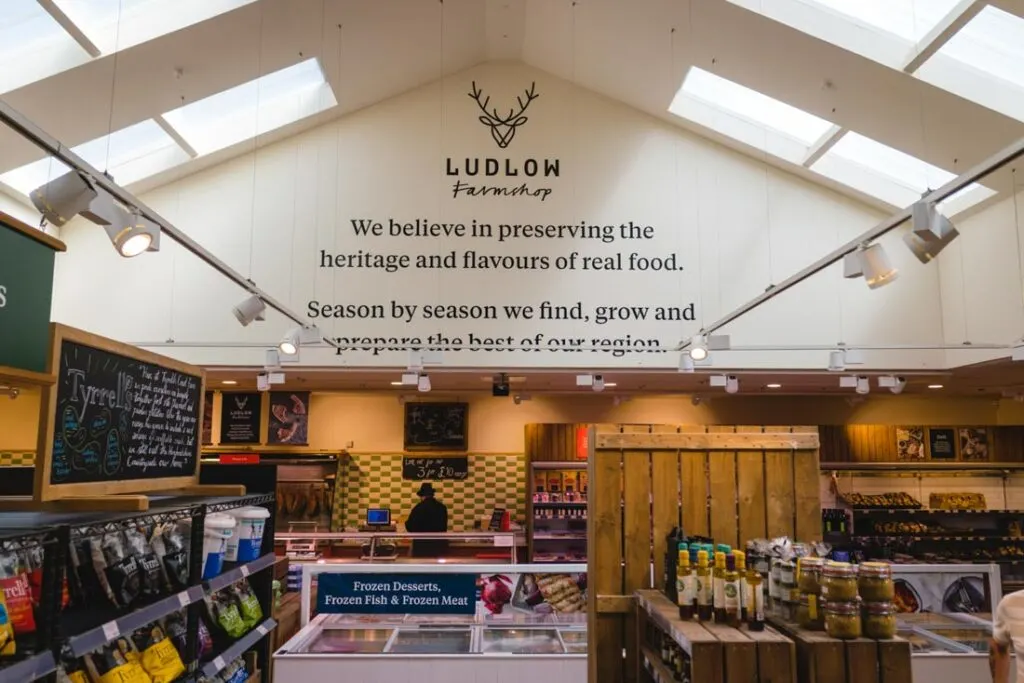 After breakfast we meandered over to the farm shop. This is a foodies dream with row after row of yummy goodies just waiting to be discovered.
The farm shop celebrates local produce, and a lot of the food such as the bread and the jams are made on site. All of the beef, lamb and pork comes from the farm, along with the milk used to make the cheese and dairy products.
If you're looking at picking up a few treats to take home with you, this is the place to find them. Oh, and I can't recommend their bestselling cheese (the cheese with no name) enough!
Ludlow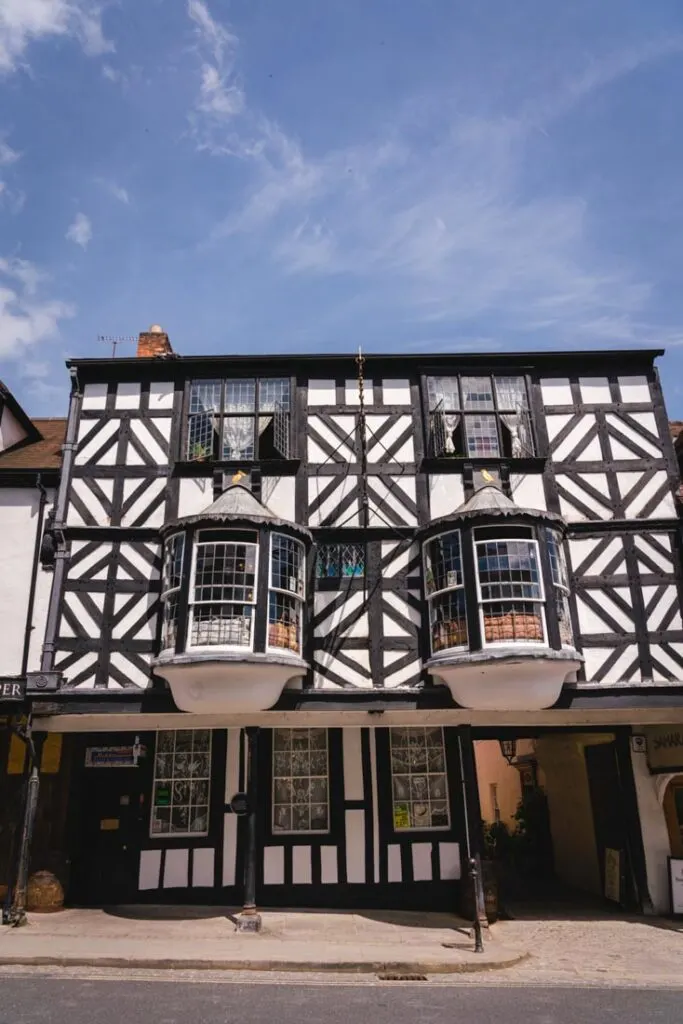 Ludlow is a thriving market town that's famous for food and architecture. The town itself has over 500 listed buildings dotted all around it, so one of the best things you can do here is go for a walk and take them all in.
It's also got an amazing reputation for food. From fine-dining to the food market, there is something for everyone and every budget. And it's all delicious too (just try the Indian spiced buns from the Deli to prove that).
The second and fourth Thursday of every month is a local farmer's market. This showcases the best produce in the area. There are also a number of food stalls you can eat at, so this is a good time visiting Ludlow.
Another great time to visit is in September. This is when they have the Ludlow Food Festival in the grounds of Ludlow Castle. This is one of the best food festivals in the UK, so it's definitely worth checking out if you're planning a trip to Shropshire.
Ludlow Castle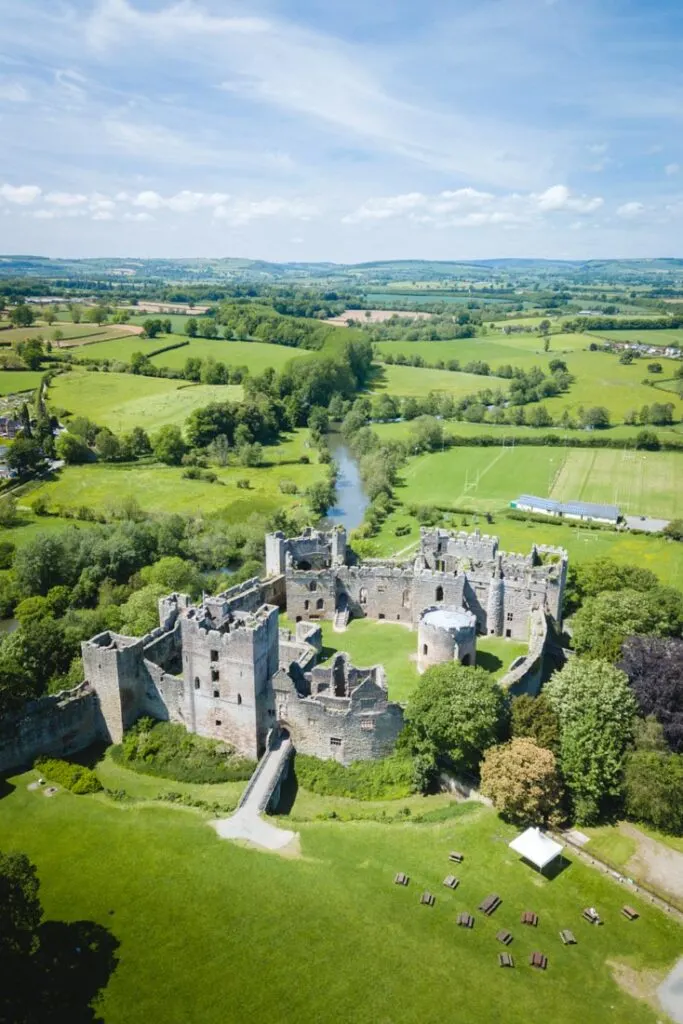 Standing proudly over the town is Ludlow Castle.
Built in 1066, the castle has seen more than its fair share of history. This actually used to be where the Royal family lived before Windsor Castle (we're talking a fair few hundred years ago though), so there's the Royal connection.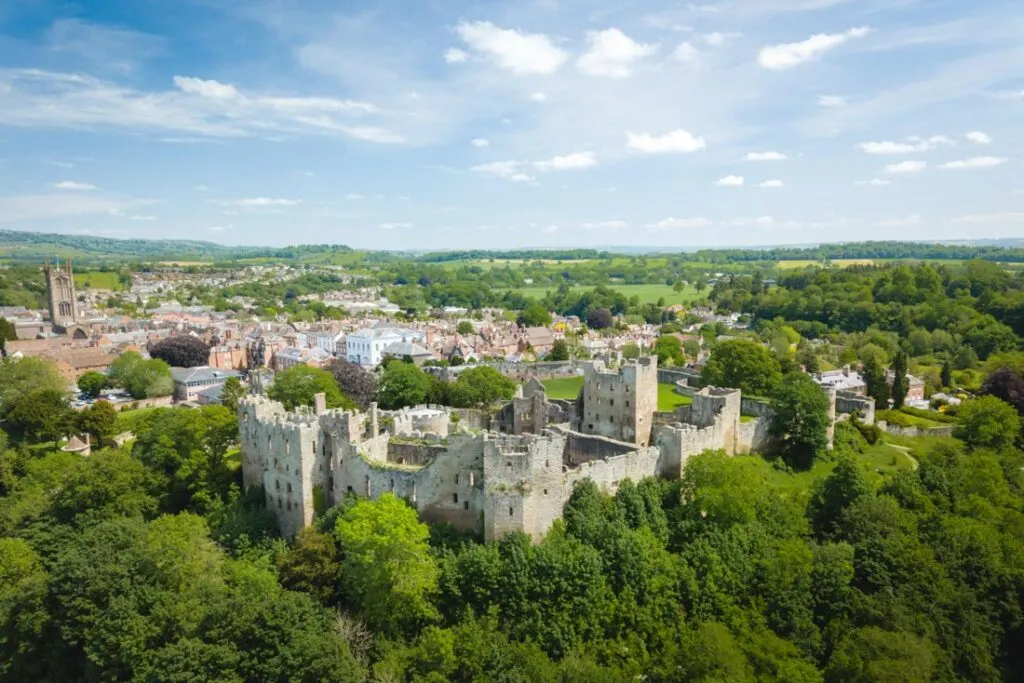 What I loved about Ludlow Castle was how much you can explore. I'd recommend heading up one of the towers to the battlements – from here you'll have the most amazing view over Shropshire.
Whenever I'm in an ancient castle like this, I always like imaging what life would've been like a 1,000 years ago. I suspect quite cold and drafty, but the views would definitely make up for that.
Tickets into Ludlow Castle cost £8 per person. For me, this really is one of the best things to do in Ludlow.
Fishmore Hall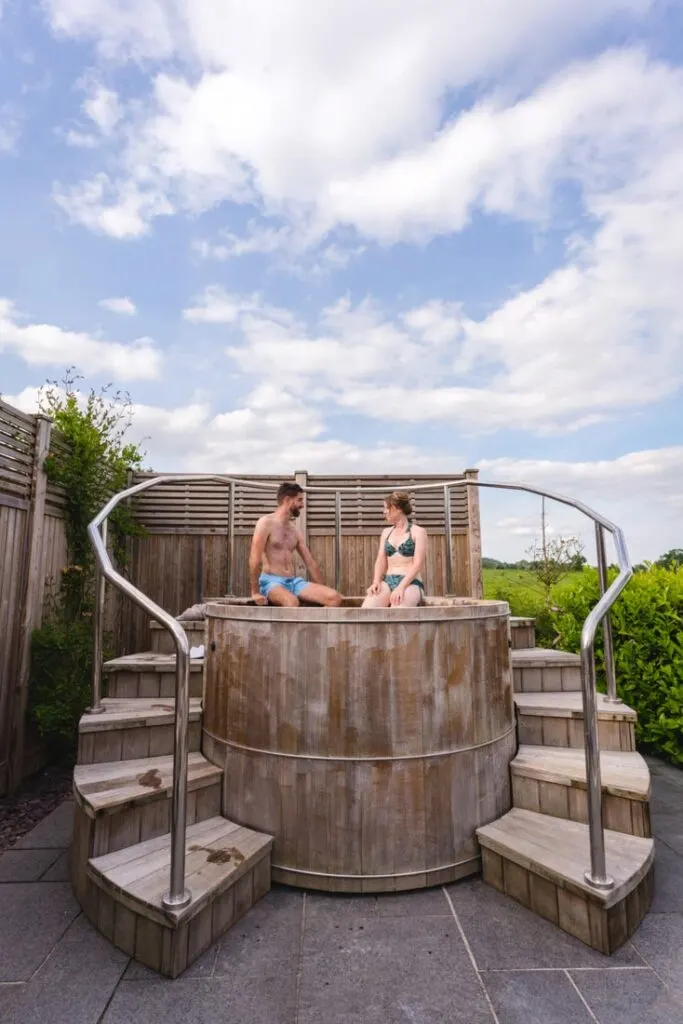 Put your hand up if you love a tasting menu!? Then you need to stay at Fishmore Hall!
Located a short 5-minute drive from the centre of Ludlow, Fishmore Hall is a small boutique Georgian hotel and spa. Tucked away in the countryside, I was fully in relax mode from the moment we arrived. Or maybe that had something to do with the spa treatment I had soon after.
For me though, the real selling point of Fishmore Hall was the restaurant. This is a 3 AA rosette restaurant with a killer seven dish tasting menu.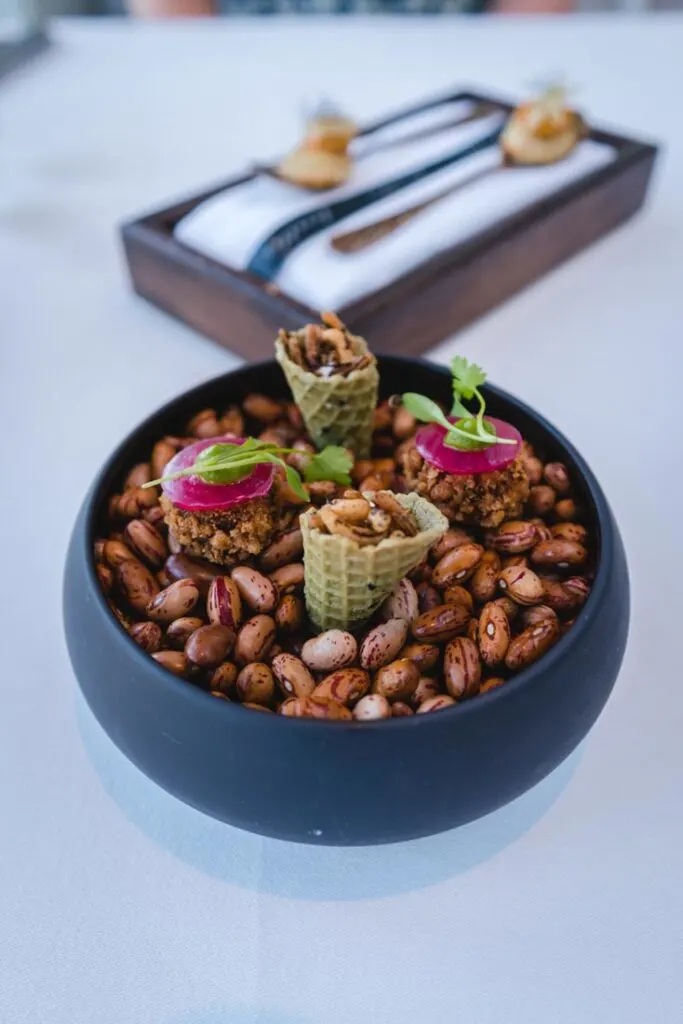 The head chef Phil Kerry really champions local produce while challenge your tastebuds.
My favourite course was the pink peppercorn panna cotta with peaches and a champagne sorbet. It was really thought-provoking, and the perfect segway from savoury into sweet.
I really can't rave about this dinner enough. Fishmore Hall is easily one of the best restaurants in Shropshire, and it's well worth staying here.
---
For our last day out in Shropshire, we travelled all over a bit, but we started the day exploring the historic town of Iron Bridge.
Iron Bridge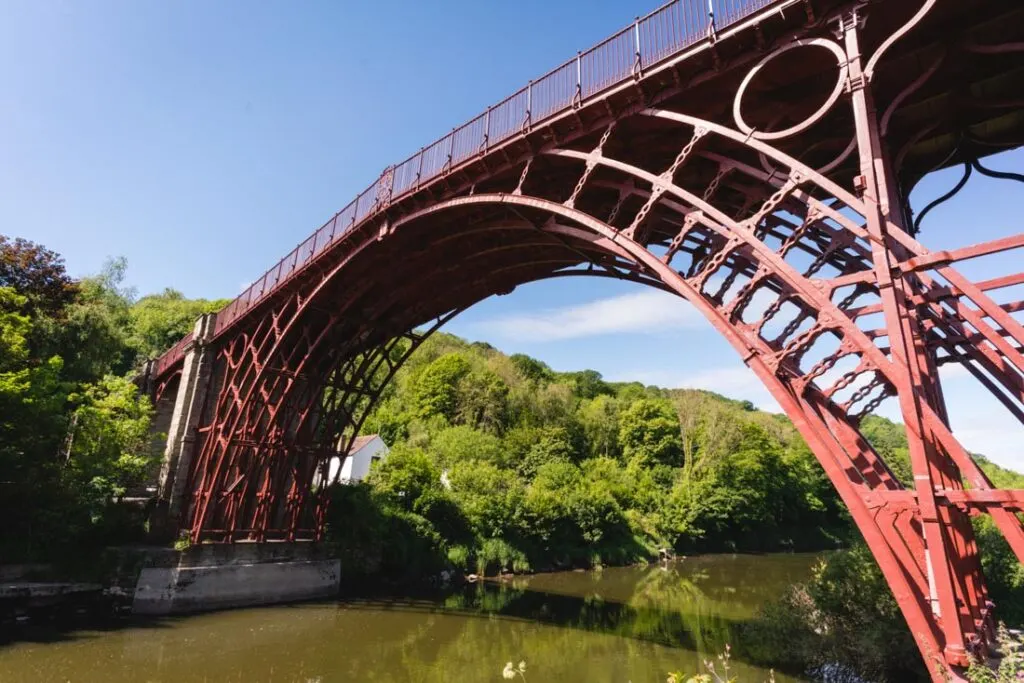 Iron Bridge is always regarded as one of the best places in Shropshire, especially if you're into your architecture and history.
As the name suggests, Iron Bridge is famous for its Ironbridge that straddles over the River Severn.
It's thought that this is the birthplace of the industrial revolution. In 1779, the world's first iron bridge was erected over the river, marking a turning point in English design and engineering. After it was built, cast iron quickly became the go-to material for building aqueducts, bridges and buildings (like the Flaxmill Maltings outside of Shrewsbury).
The Ironbridge was actually awarded a UNESCO World Heritage Site status in 1986, making it one of the first in the world along the likes of the Taj Mahal. Basically, this place should be as famous as the Taj Mahal!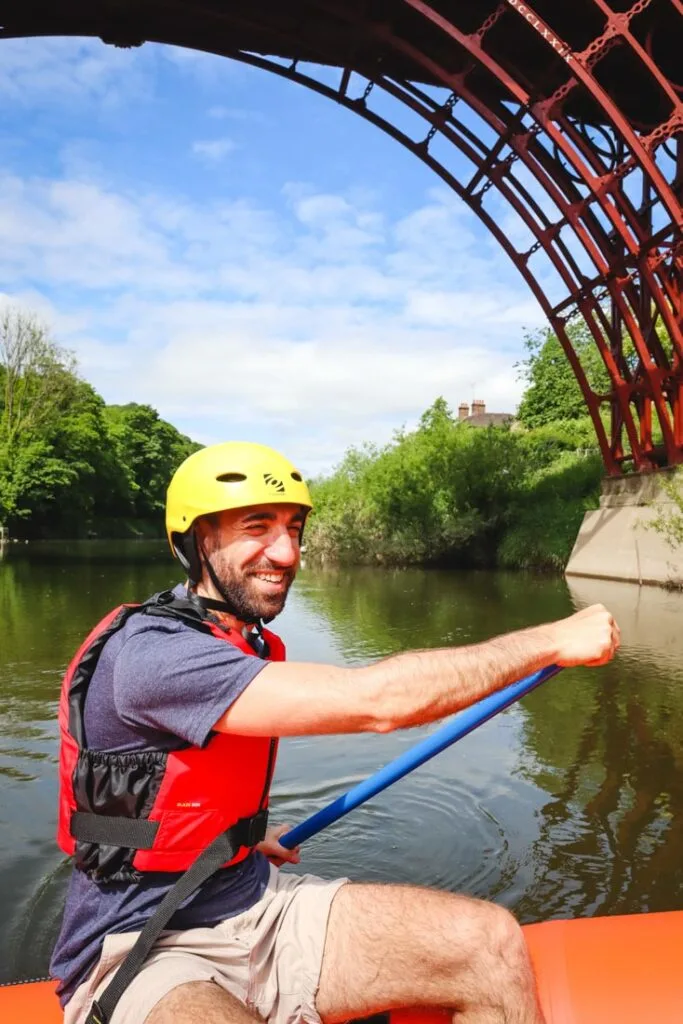 One of the best ways of seeing the Ironbridge is underneath it. That's why we hired a raft from Shropshire Rafting Tours, so we could float under the bridge.
We picked up our raft from the kiosk beside the Museum of the Gorge. After a brief safety demonstration, we lazily floated down the River Severn towards the Ironbridge.
It was such a great way of taking it all in, and seeing other sites such as the Bedlam Furnace.
There are a number of different tours to choose from with Shropshire Raft Tours. You can hire canoes/kayaks, or go for a longer scenic tour along the Severn. Make sure you check them out to see what's on offer.
Stiperstones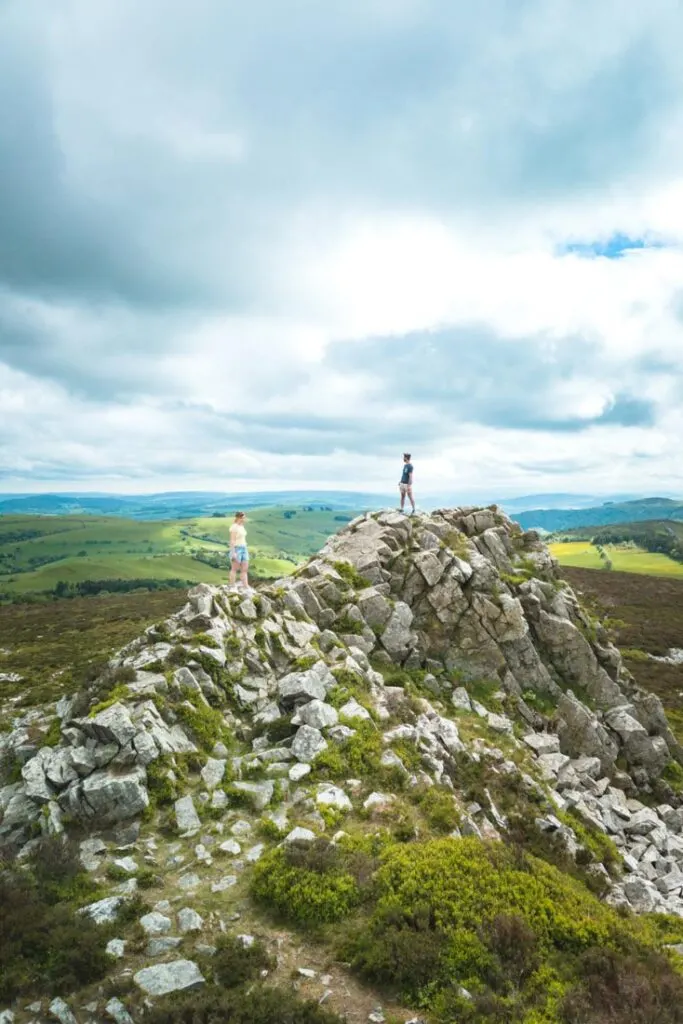 I'll say this now. The Stiperstones walk is easily one of the best circular walks in Great Britain. Honestly, it really is that good.
What are the Stiperstones I hear you ask? Well, they are these crazy rock formations in the heart of the Shropshire Hills. It's almost as if the rocks have been dumped here and long forgotten about.
The remarkable ridge of the Stiperstones is made of quartzite, an extremely hard, crystalline rock which sparkles in the sun. It really can be blinding on a bright day.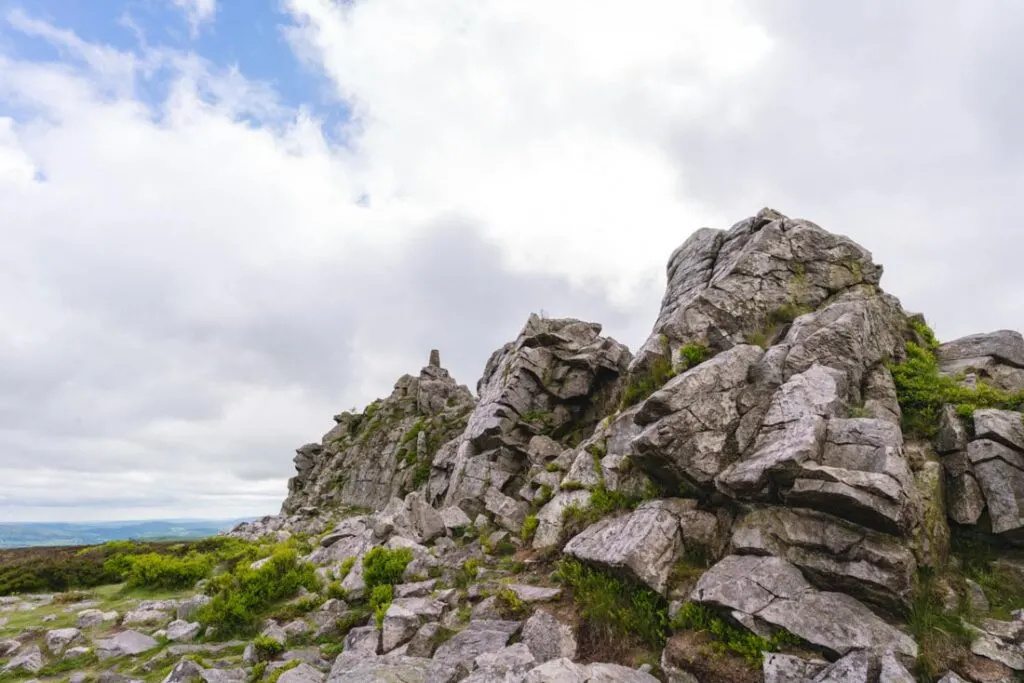 We went for an amazing afternoon hike to the Stiperstones. There is a 5.5 mile circular walking route which takes around two to three hours. Once again, the views of the Shropshire Hills on this walk were spectacular.
We've written a guide all about the Stiperstones walk, so check that out too. This is easily one of the most beautiful places to visit in Shropshire though.
Hawkstone Hall & Gardens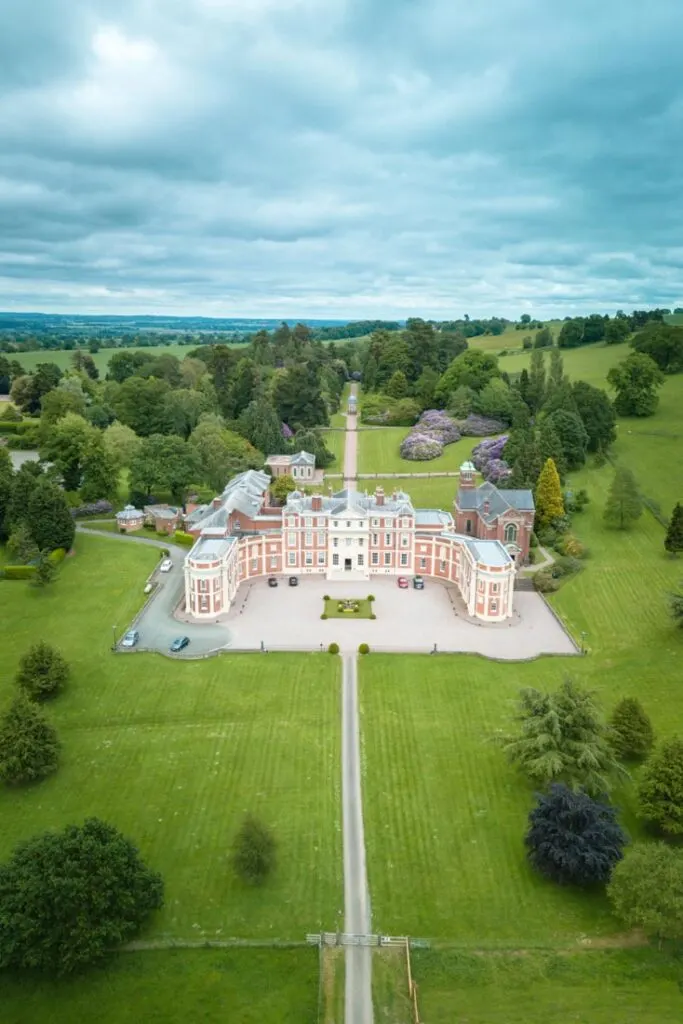 This was our home for the night, the very grand and opulent Hawkstone Hall & Gardens just outside of Shrewsbury. Who fancies a 1920s Great Gatsby party here!?
Nestled within the hills of the rolling Shropshire countryside, you will find the magnificent Grade 1 listed, Hawkstone Hall & Gardens Estate. With ceilings gilded in gold, sweeping staircases, four-poster luxury suites with roll-top tubs and 88 acres of pristine gardens, this is a gorgeous place to stay at.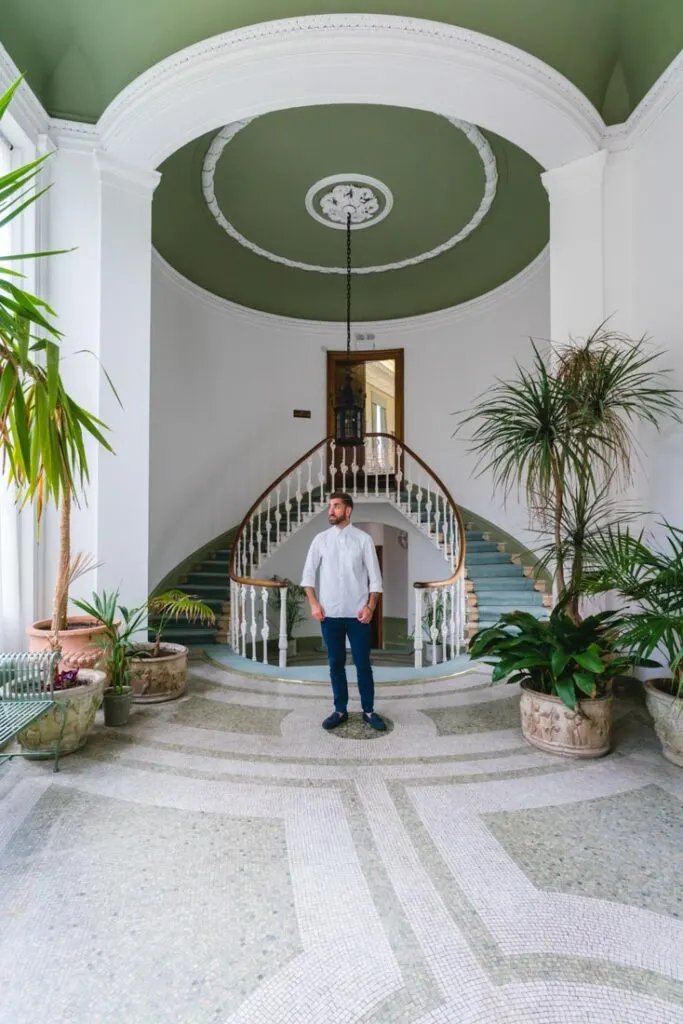 As soon as you step into Hawkstone Hall, you can just feel the grandeur of the place. Each of the rooms is named after a famous writer (we were in the Agatha Christie suite), and the 1920s art deco touches all over the hotel take you back to a different era.
With a room as beautiful as the Saloon Restaurant, they need to back it up with the food. Luckily, that's just as good as everything else surrounding you, and we had a delicious meal here.
Another thing I really enjoyed about Hawkstone Hall was wandering around the gardens. It all felt very Jane Austin.
With so many incredible places to stay in Shropshire, this one is right up there with the best.
---
This post was in association with Visit Shropshire promoting some of the best things to do in the area. As always, views are entirely my own and without bias.
Are you planning a trip to Shropshire? Which of these Shropshire beauty spots was your favourite? Let me know if you have any questions in the comments below and I'll get back to you!
Like this post? Then make sure you Pin it for the future!