Looking for the best things to do in Brixton? From eating your way through Brixton Market to visiting Brockwell Park, this is what to do in Brixton, London!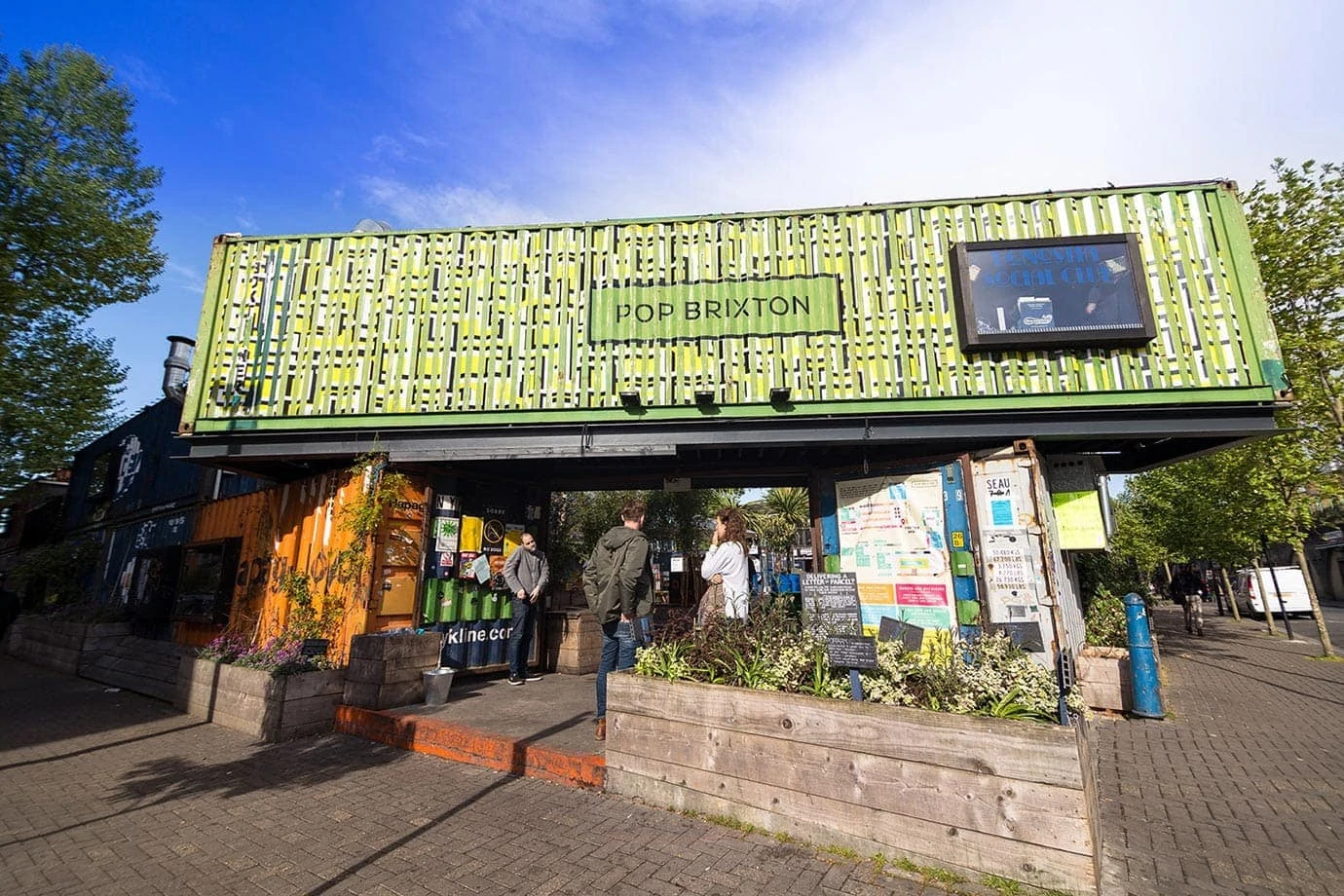 Brixton is genuinely one of my favourite parts of London. Whenever I have friends visiting, I always give them this huge list of things to do in Brixton and they end up falling in love with the place too, so I must be doing something right.
I've been to Brixton so many times it almost feels like a second home to me. There aren't many places in London I can say that about.
I just completely love the vibe of the place. A lot of places in London can feel quite samey, but Brixton has kept its charm and character from the 1970s. It was cool then and it's damn cool now.
To give you an idea, check out my video for Visit London on some of the best things to do in Brixton, London.
Visiting Brixton
I remember first going to Brixton in 2010, a couple of years before I moved to the city.
I had already been to a party with my friends in Wandsworth and I was on my way to another party in Brixton (I was young, it's what we did!)
After getting off the bus at the Ritzy, I walked towards Brixton Village Market before finally tucking into some jerk chicken with my friends at Fish, Wings and Tings.
I don't know if it was the delicious food or the incredible house party I went to soon after but I've been coming back to Brixton ever since. And do you know what? The food and the parties have been just as good!
When Visit London said they were looking for someone to do a Brixton area guide, I jumped at the chance.
I wanted to go back to some of my favourite spots and show people the places that first made me fall in love with London.
As you'll see, this guide is packed full of where to go in Brixton. I really wanted to showcase why this is such an amazing part of London. So, if you're planning a trip here, this is the blog post for you!
– What to do in Brixton, London –
Brixton Village Market
Brixton Village Market is always my first port of call when I get to Brixton.
Just around the back of the underground station and barely a five-minute walk, Brixton Village Market is the place to go for foods from around the world.
Even though Brixton is famous for its Caribbean culture you'll find amazing cuisines from Asia, India, South America, and practically everywhere in-between.
One of the best things about Brixton Village Market is the price. Everything is incredibly cheap here. In fact, it's now one of the top budget eating destinations in London.
Macca's top tip – Whatever happens when you first get to Brixton Village Market, don't go to the first place you lay your eyes on! Instead, do a couple of laps around the market seeing all the different types of restaurants before making your choice.
My top dishes:
Mama Lan – Beef noodle soup. Their most popular dish and everything amazing about this place all in one bowl. The real taste of Asia, and their noodles are to die for.
Senzala Creperie – The signature Senzala. Gorgonzola cheese, cameralised onions, sundried tomatos, rocket. Feeling naughty? Ask to have a fried egg on top
Wishbone – Deep-fried mac n'cheese squares. Good for your heart? Definitely not. Good for your soul? You know it.
Pop Brixton
Like a lot of places in London, Pop Brixton is a permanent pop up with a focus on independent boutique shops and street food stalls.
Pop originally started out as a temporary project to turn disused land into a creative space for local businesses. How did they do this? With old shipping containers.
Each shop and food stall is in an old shipping container, and it is easily one of the most creative spaces in all of London. Also, it isn't just about the food and drink here but there are quirky little shops like the Japanese knife sharpening company and there's a damn feek barbers too.
Unlike Village Market, Pop takes off its roof during the summer months making it one of the best places to be in south London for the sunny summer festival vibes.
Macca's top tip – Make sure you check out the events guide to see what's going on over the weekend. When an event is on (like showing Wimbledon during the summer) the atmosphere steps up a fair few notches and it's an amazing place to be.
My top shops:
Brixton Port Authority – An amazing little bar serving craft beers, organic wines and they even distill their own spirits too. Top place.
London Barberhood – London Barberhood is a community-inspired traditional barbershop. That means if you're looking for a damn good haircut and a little bit of a natter too, you can't go wrong with this place.
Make Do and Mend – Make Do and Mend is a vintage boutique stocking men's and women's vintage clothing from the 1950s to the 1990s. Just ask Sarah to sort you out with a new outfit and you'll be in safe hands!
Brixton Windmill
You could live in Brixton for years and not know there's a windmill just around the corner from the high street.
Built in 1816, Brixton Windmill was working as a flour mill in this area long before it became popular. These days it is a great place to come for a quiet five minutes to yourself or for a picnic with your family. There's a great kid's play area here too!
If you walk up Brixton Hill towards Streatham you'll eventually come to a Blenheim Road. Turn right here and walk to the end and you'll find the windmill. If you'd like to learn more about the history of Brixton Windmill and the area then you can do a guided tour of the area. You can check dates here.
For me, this is one of my favourite places to go in Brixton and not many people know about it.
Macca's top tip – Negril, one of the best Caribbean restaurants in London, is just around the corner from the windmill making it the perfect place to walk through after your meal.
Brockwell Park
Brockwell Park is huge park located about 12 minutes from the underground station (by walking). Alternatively, you can catch a bus to either Dalberg Road Effra Parade or Jubilee Primary School.
With ornamental ponds, a 19th century clock tower, an 'Old English' herbaceous flower garden and a number of historic buildings, there's plenty to see in Brockwell Park. That's before I even mention Brockwell Lido.
On the rare day during the summer when you'd half contemplate going for a swim, Brockwell Lido is one of the places to do it. That's if you're brave enough; it's still freezing no matter the time of year!
Hootananny and the Effra Social
If you're looking for a couple of old fashioned boozers then you can't go wrong with Hootananny and the Effra Social.
From the top of the high street (near the Ritzy), if you walk past St Mathew's Church keeping it on your right for 10 minutes you'll eventually come to Hootananny and the Effra Social (they're next door to each other).
These two places usually have music and events every night from Wednesday to Sunday, and if you're into your local music then this is the place to go.
Macca's top tip – Often these two places don't get busy till around 11pm, so if you're looking for a light night venue in Brixton these are two of the best around. Also, Hootananny often has reggae nights too which are always huge amounts of fun.
O2 Academy and Electric Brixton
Brixton has two of the best music venues in all of London – the O2 Academy and Electric Brixton.
The O2 Academy is a bit of an indie venue with acts such as the Black Rebel Motor Cycle Club, Broken Social Scene, Future Islands and Mogwai playing.
The Electric Brixton is for all the ravers among you with mega names such as Carl Cox, Flume and Kygo all playing. If you're looking for nightlight in Brixton, these two places are where you should start.
Macca's top tip – If you're looking for a very alternative place to go for a drink, opposite the Electric Brixton is St Mathew's Church. Here, underneath the church is Gremio de Brixton, a bar in the church. There aren't many places in London where you can prayer over your beer!
The Bowie connection
I can't talk about Brixton without talking about Bowie.
The legend that is David Bowie was born here, and his impact on the area lives long to this day.
Just opposite the underground station there is a semi-permanent memorial to him, a huge piece of Ziggy Stardust painting on the wall. It's not been covered with plastic to protect it, and usually there are flowers lying on the ground so come and pay your respects. I always say make sure this is on your list of things to do in Brixton as it's living history.
Is Brixton safe?
One question I get asked a lot is whether Brixton is safe.
Obviously I can only speak from personal experience, but in my 8 years of visiting Brixton, and let's be honest here, in various states along the way too, I've never come across anything that I'd deem 'unsafe'.
Brixton can attract a certain type of character, and I'd say to do come across some very odd people here, but unsafe? No, I would never say it's unsafe.
Like anywhere in London, it's very important to be careful of your surroundings and don't put yourself in any dangerous situations, especially when you're drunk!
So there's my ultimate list of things to do in Brixton! Hopefully it'll help you get out of zone 1 and explore one of my favourite parts of London!
---
If you're looking to discover a very different part of London then make sure you check out my guide to do in Elephant and Castle. This is one of the most up-and-coming areas of London so see it now before it changes!
My trip to Brixton was part of a campaign with Visit London challenging you to #SeeMoreLondon (which we hope you do!) As always, all views and opinions are entirely my own and without bias.
Have you ever been to Brixton? What are some of your favourite things to do there? Make sure you let me know in the comments below!
Like this blog post? Then make sure you Pin it!