Want to learn about the London beer scene? From Camden Town Brewery to the Meantime Brewing Company, these are the best London brewery tours for you!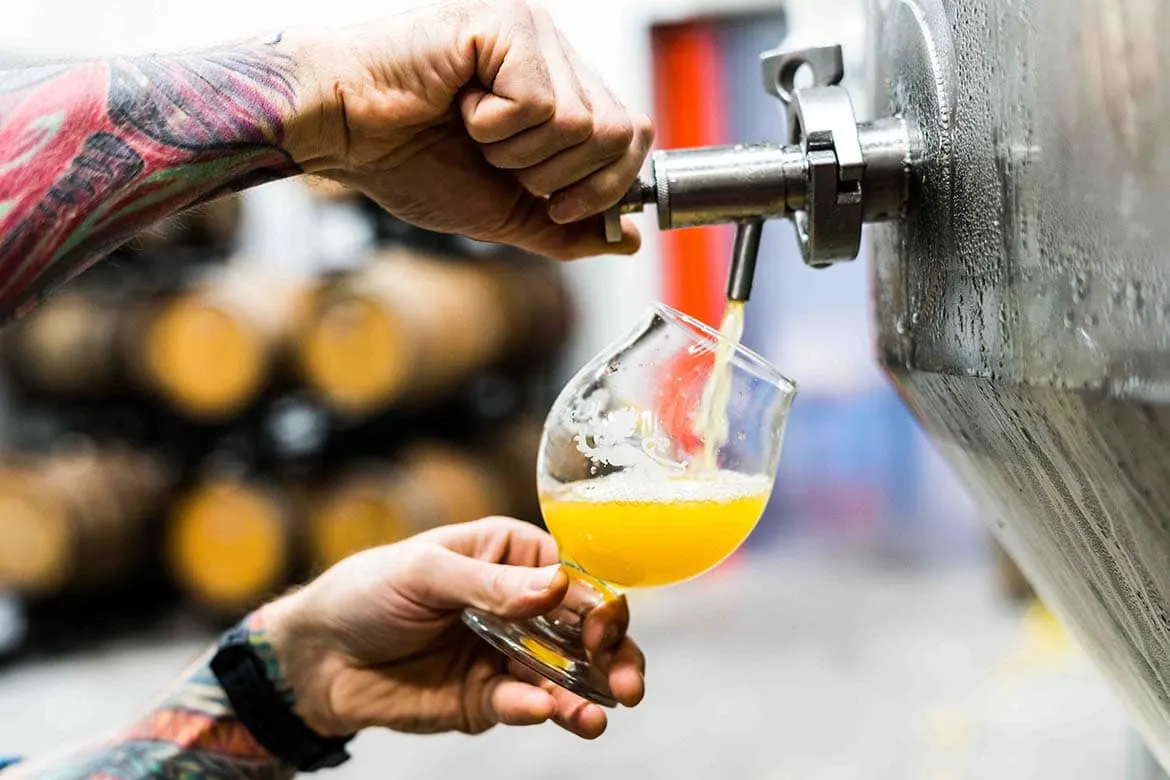 If you're looking for something different to do this summer, then here are my favourite London brewery tours for you guys.
I've been living in London for over 10 years now and I can't tell you how much the beer scene has changed in that time.
5-years-ago the most exotic beer you'd find in a pub was Hoegaarden. Fast forward to today and there are so many cracking craft beers to choose from. Honestly, the choose in almost endless, more than you can do in a night anyway. Most pubs even have Beavertown on draft nowadays (which I absolutely love by the way).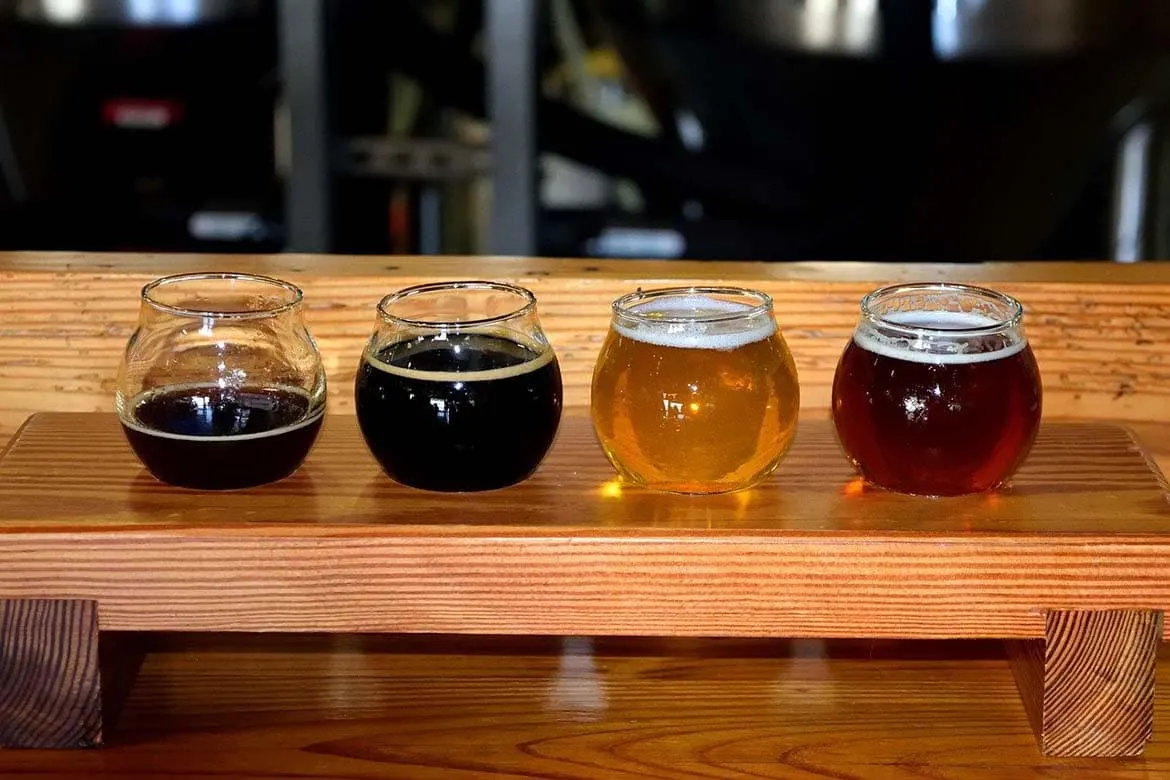 Supplementing all of this beer are these amazing London breweries popping up all over the city. Breweries like Fullers and Camden have been around for ages, but now there are single still craft microbreweries creating some downright delicious beers.
Places like Fourpure Brewing Co and Camden Town Brewery have really changed the craft beer scene with innovative ideas. For example, Fourpure were the first British brewery to can its beers in 330ml cans, something that is now becoming much more the industry standard now.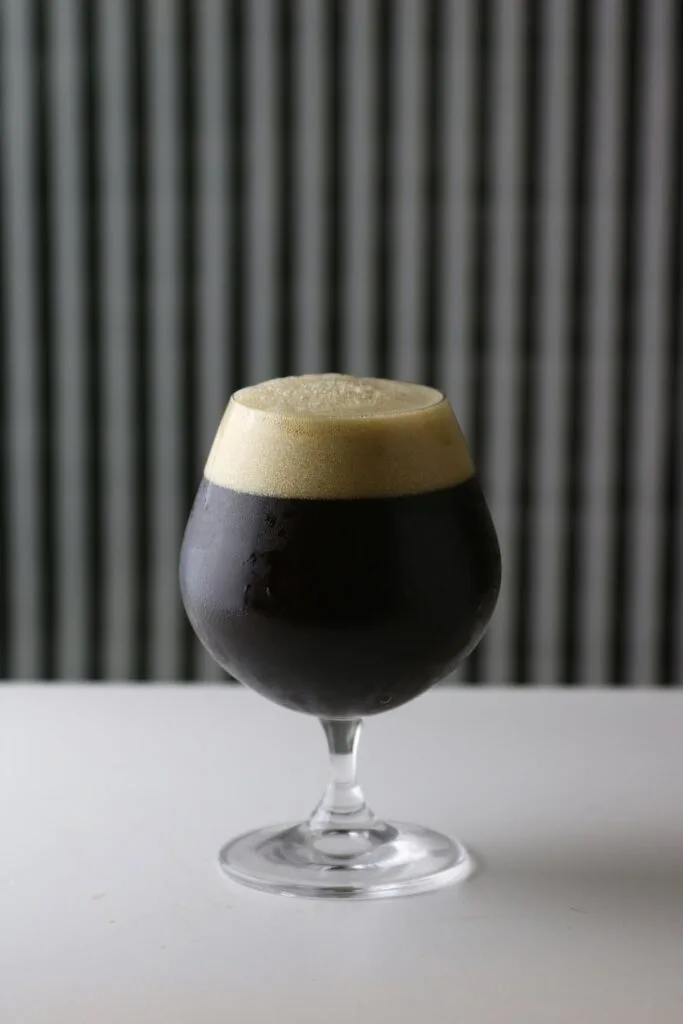 As a beer lover (you can even read all my fun facts about beer here!), I've done a fair few of these incredible London brewery tours, you know, for research purposes and all that.
From self-guided tours at the Bermondsey Beer Mile to a historic pub tour right in the heart of the city, these are some of the best beer tours in London.
The next time you're looking to drink your way through the city, go on one of these tours and really experience how great the craft beer scene is here in the Big Smoke.
Oh, and drink responsibly and all that.
Tours in London
Camden Town Brewery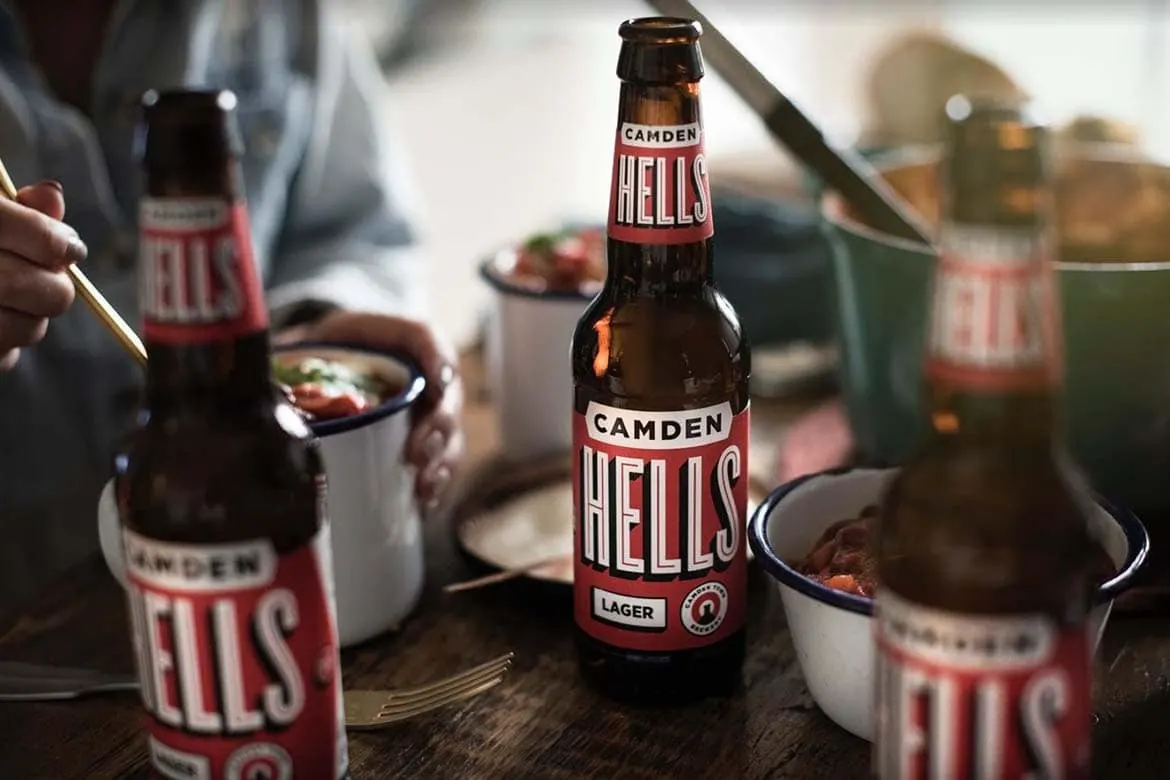 Camden Town Brewery really is one of the best breweries in London and you will love the tours they have here.
I think Camden Town Brewery have some of the freshest IPAs in the city. Pop along to the taproom and you'll quickly see what I mean. The best thing is they've also got an excellent kitchen so you can eat here too.
As for tours, this brewery offers two different tours. The first is a drop-in tour (meaning you can't pre-book). This is a quick tour that takes you through the basics of beer and it only costs a gold coin donation (either £1 or £2). The money is donated to the 4 charities that the brewery supports so you're even doing a good deed going on this tour.
The second tour is a lot longer and much more in-depth. This tour lasts approximately 90 minutes and will take you on a trip through the brewery sampling a few beers along the way. This is a great place to start your beer Odyssey and you really get to see the inner-workings of a brewery. It ain't pretty but boy do they produce a delish beer at the end of it.
This tour costs £12 per person and it's best if you pre-book beforehand. Obviously you can pop along to the taproom for free.
The Five Points Brewing Co.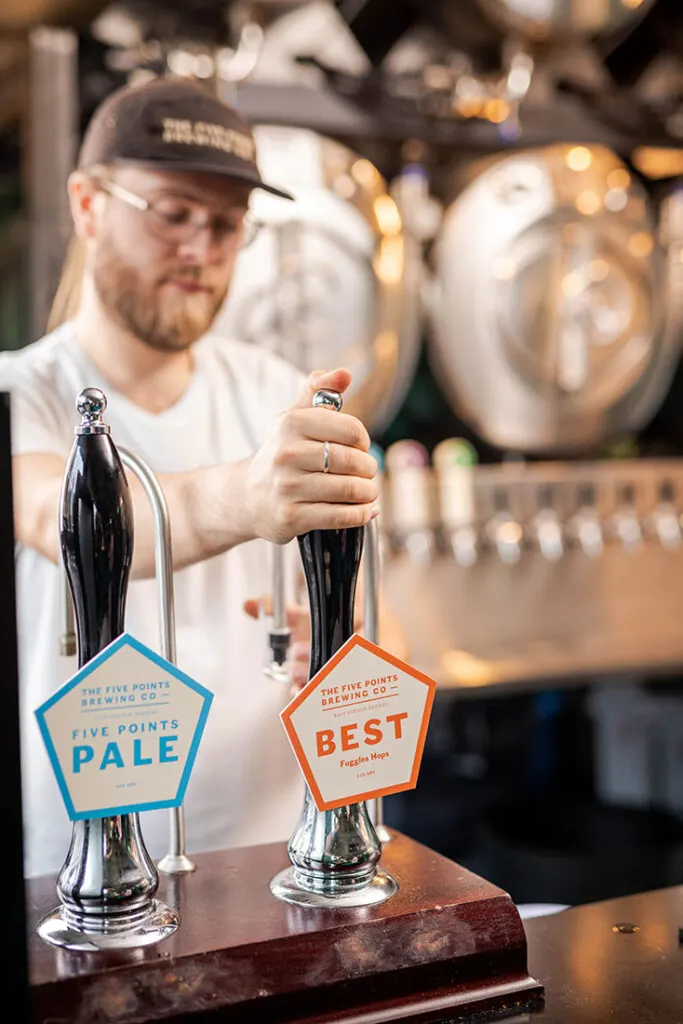 You may have seen Five Points beers in supermarkets like Tesco and Sainsburys – their JUPA juicy pale ale is one of my go-tos for a summer bbq; it is absolutely delicious.
Well, these guys are now doing brewery tours too. Located in the heart of Hackney in east London, these tours are all about the methodology and the brewing process.
Led by one of the main Five Points beer experts, they will take you on a guided tour of the brewhouse, barrel-ageing project, and packaging lines while explaining everything that goes into making excellent craft beer.
After the tour, you will taste four different beers fresh from the tank while seated on their mezzanine beer terrace overlooking the brewery. This brewery is always great to visit, especially before a night out in Hackney afterwards.
Five Points Brewing tours are available on Thursdays at 7pm, and Saturdays at 2pm & 4pm. They also do private tours too!
Meantime Brewery Tour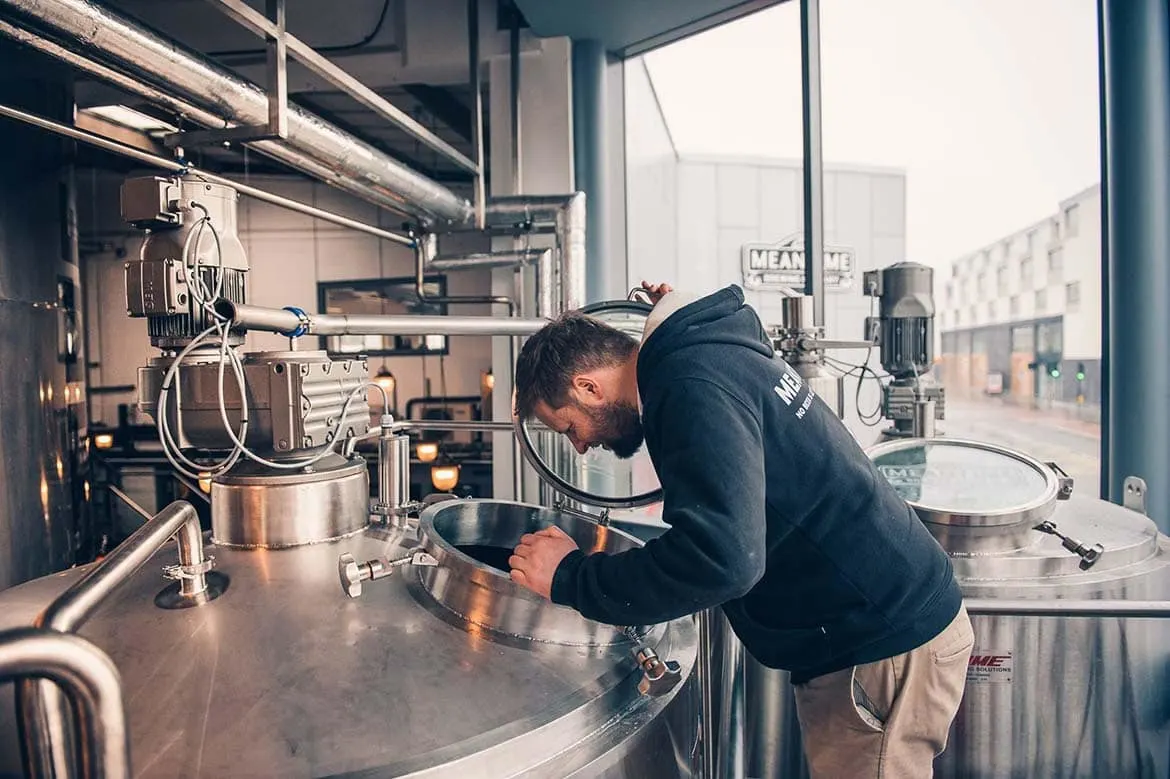 If you've ever wanted to see the Cutty Sark or the Royal Observatory (the birthplace of Greenwich Mean Time) then maybe add the Meantime Brewing Company to the list as well.
Meantime Brewery is an award-winning brewery in Greenwich. It actually lives inside the Old Royal Naval College. This means that it is only the second brewery in the world inside a UNESCO World Heritage Site. Very London and very cool.
The Old Brewery run regular tasting sessions and tours that you can go on. The tour and tasting session last around 90 minutes, and you can even book a private tour if there's a large group of you.
On Saturday there are tours every hour from 12-5pm. On weekdays, they only offer evening tours at 7pm. Tickets are £20 per person and included a tasting session.
Fuller's Brewery Tour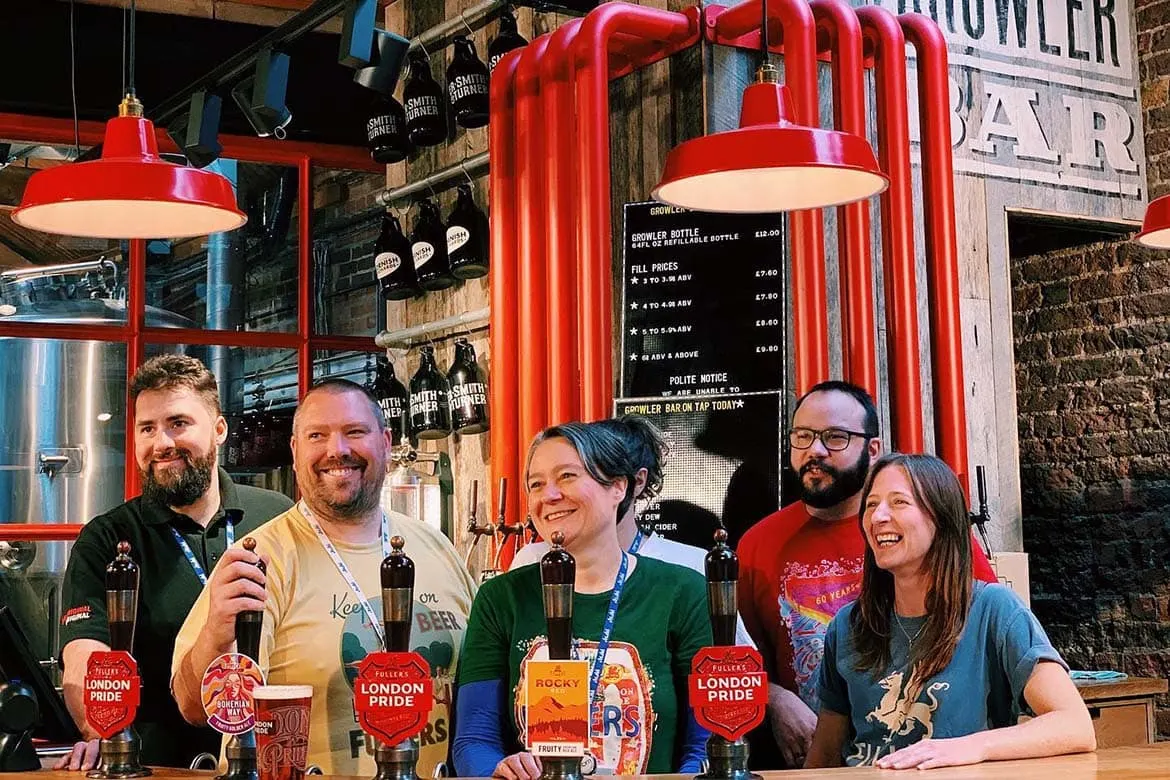 Fuller's is one of the oldest breweries in London. They have been brewing beer on this site in Chiswick since 1845. How amazing is that!?
With beers like London Pride, Frontier and Honey Dew, they've got a really quality range of beers that have been served up to Londoners for well over 100 years now.
The Griffin Brewery tour shows modern machinery combining with traditional brewing methods to produce Fuller's award-winning ales. This tour is perfect for tourists as it runs from Monday to Friday with a number of slots from 11am till 3pm. The tour usually lasts around 90 minutes and you end up in the taproom at the end of it.
Tickets for this one cost £20 per person and are really popular so book beforehand. You're also right next to the Thames Path so you can go for a walk along the Thames afterwards.
Historic pub walking tour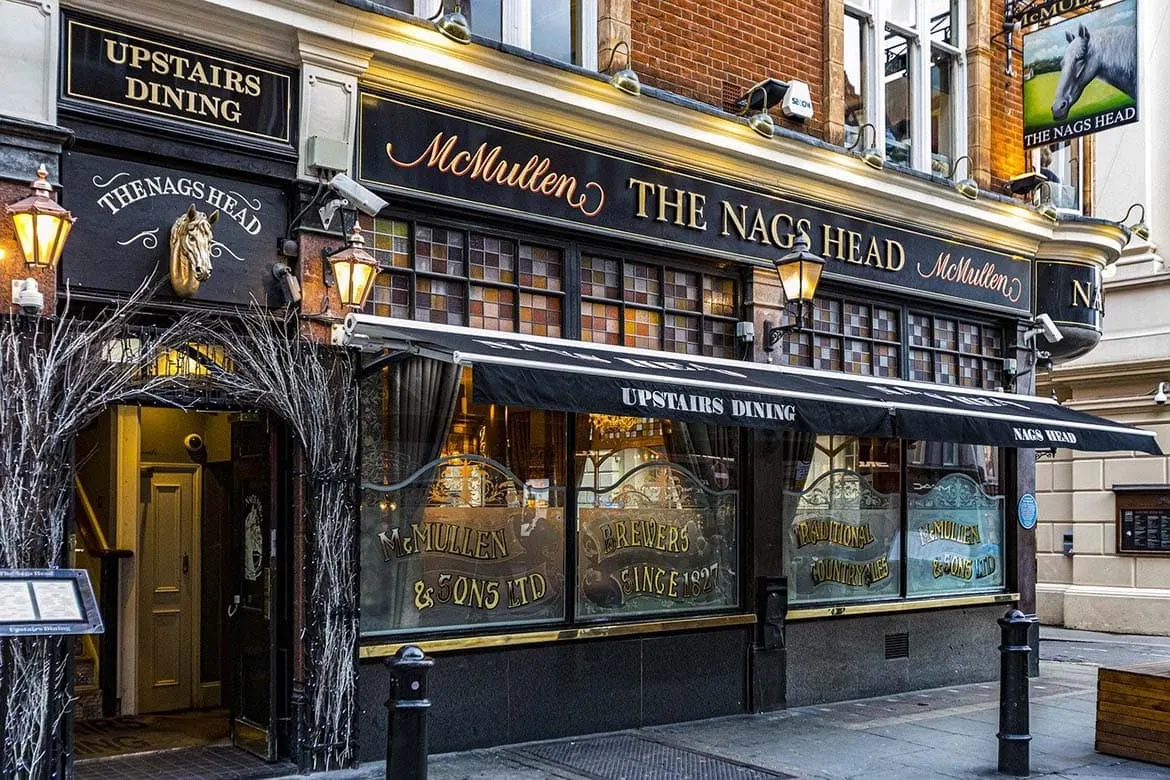 This is actually one of the most popular London beer tours you can do.
On this tour you'll experience London's traditional drinking scene on a pub crawl taking in some of the most historic pubs in the city.
You'll have a fun and educational guide where you'll visit at least four historic pubs. Pop into centuries-old ale houses, see literary haunts favoured by writers like Charles Dickens and Sir Arthur Conan Doyle, and learn about local drinking culture through the ages.
For those of you who are interested in the history of London while enjoying a few pints along the way, then you really can't go wrong with this tour. You can find out more about this London walking tour here.
Bermondsey Beer Mile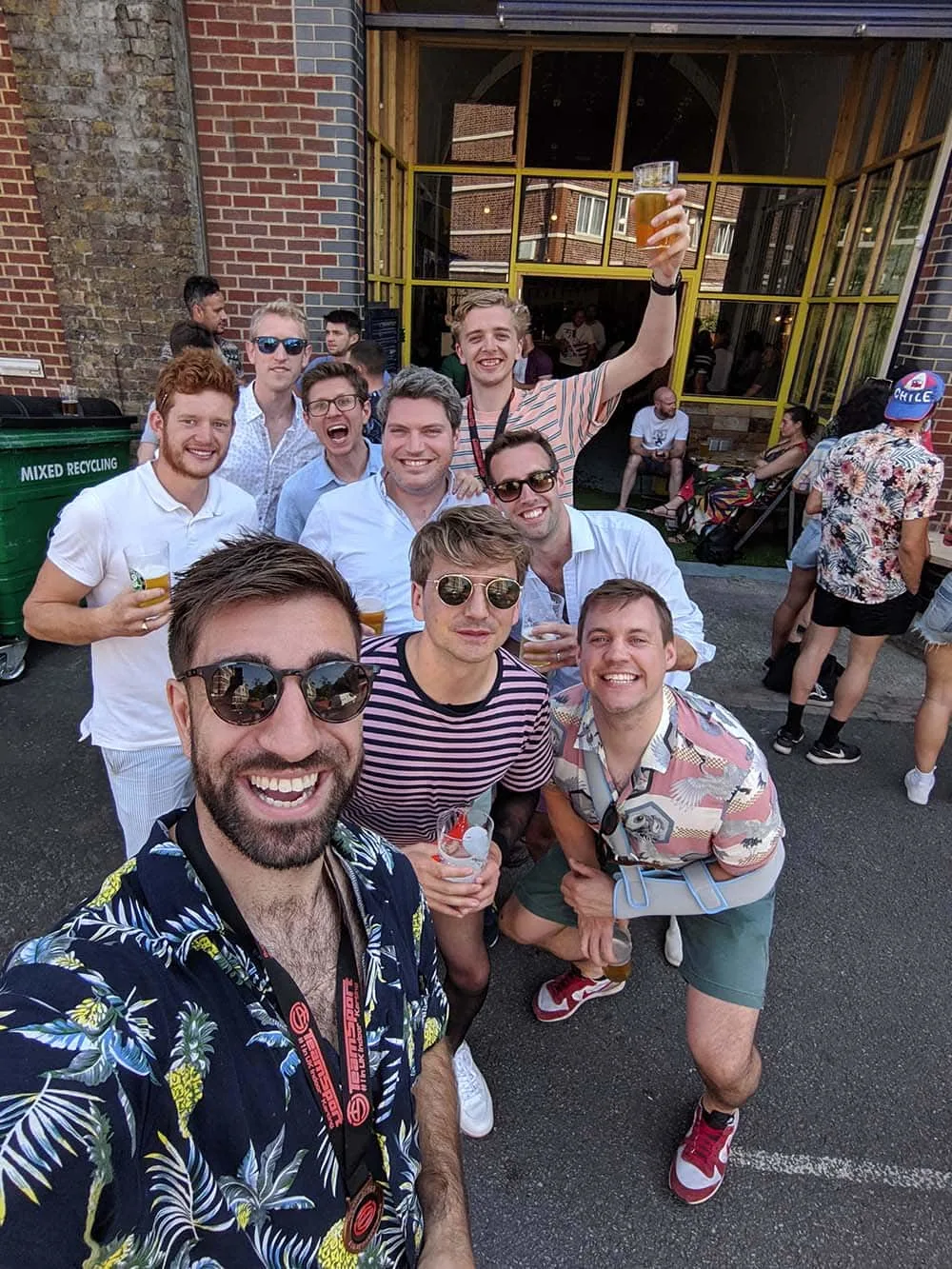 I can't recommend the Bermondsey Beer Mile enough for when you're in London.
Basically, the beer mile is an amalgamation of craft microbreweries and bottle shops located in the old railway arches of Bermondsey near London Bridge. It's taken the craft beer experience in London to the next level.
To date, there are about 17 different London breweries along this roughly 2-mile stretch. The best thing to do here is start at one end and make your way along the Bermondsey Beer Mile stopping off at a few different places along the way.
A few notable mentions that I'd really recommend are Anspach & Hobday, Fourpure, Partizan, Southwark Brewing and The Kernel. Stop off at any of these and you're bound to enjoy the beers they have on offer.
The best thing about the Bermondsey Beer Mile is it's essentially a self-guided tour. Just pick your team, head there early on a Saturday and see if you can tick off a fair few of these mircobreweries.
For me, this really is one of the best self-guided London brewery tours you can do in the city. I have no doubt you'll enjoy this one. A lot.
For more information about all the different London breweries and their opening times, check out this incredible Bermondsey Beer Mile guide. This guide will really help with planning your trip here.
Beavertown Brewery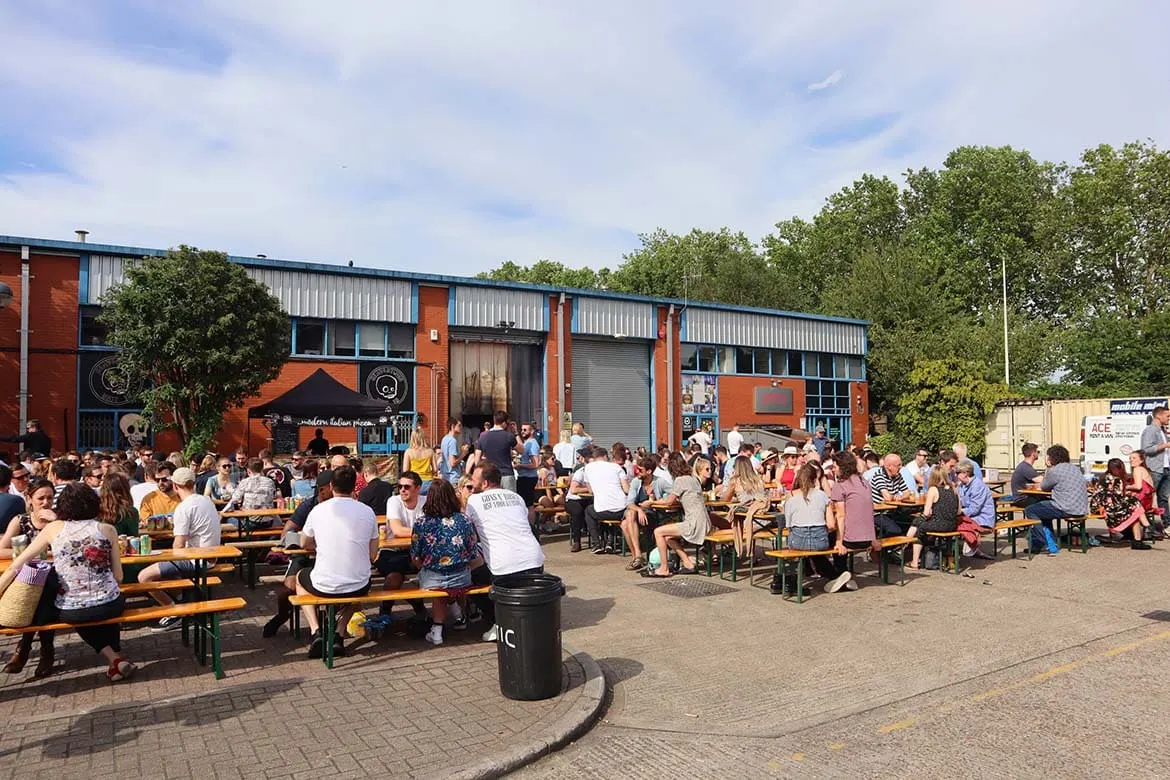 I feel like Beavertown Brewery have slowly been taking over London for the past couple of years now. If you've never heard of this place before, Beavertown produce fantastic session beers like Neck Oil and Gamma Ray. If you haven't had these yet then get yourself on a Beavertown Brewery Tour!
Beavertown Brewery was set up in 2011 by Logan Plant, son of legendary Led Zepplin frontman Robert Plant. Located in Tottenham Hale, North London, Beavertown is well-known for its annual event The Beavertown Extravaganza. This is where they welcome some of the top breweries from around the world to offer up their beers to thirsty Londoners.
The Taproom at Beavertown is awesome and there's a huge outside beer garden that's perfect for the summer. I'd really recommend getting here and trying out a few of the beers that Beavertown have to offer.
The Taproom is open every Saturday and they even have a street food truck there for when you're feeling peckish. Even though this isn't an out and out London brewery tour, it is still a fantastic place to visit. When it comes to beer tasting in London, it's hard beating this spot.
---
Which one of these breweries in London would you be keen to visit? Make sure you let me know in the comments below!
Like this blog post? Then Pin it for the future!