For those looking to get away from it all and really relax, paradise can be found at the luxurious Heritage le Telfair Golf & Spa Resort in Mauritius!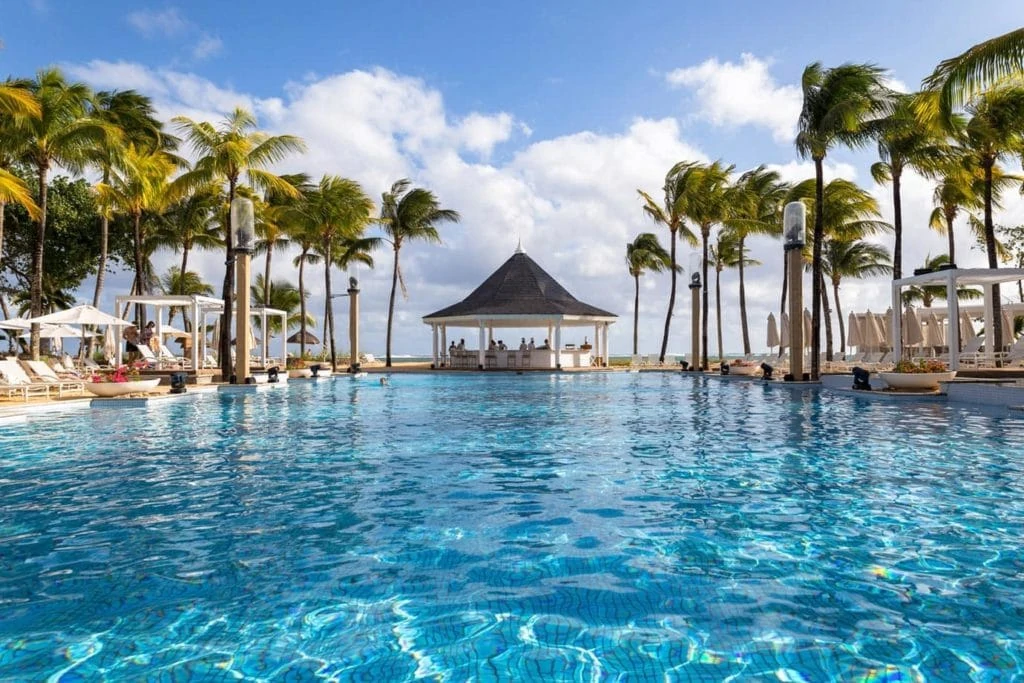 The only time I thought I'd visit Mauritius would be on my honeymoon.
In my mind, that's the only reason anyone visits this remote island out in the Indian Ocean, a place to get away from it all with your love one.
Well, when Heritage le Telfair Golf & Spa Resort invited me over for their grand reopening with my girlfriend Chloe, bells started ringing in my head. Wedding bells.
Don't get me wrong, I love lazing around a pool and going for long walks on beautiful beaches, but I was a little worried that I wasn't quite ready for Mauritius yet. You know, not being married and all.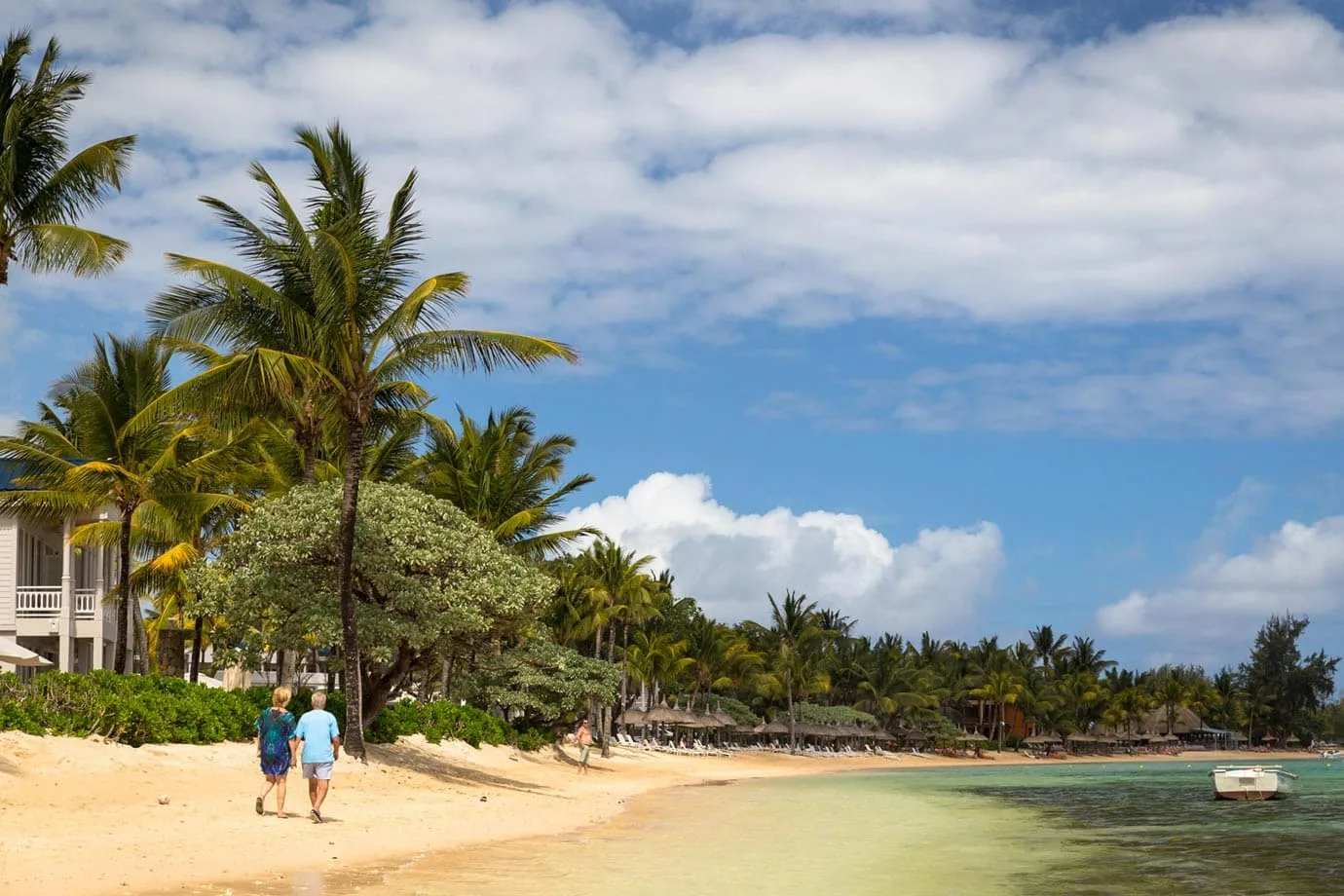 Thankfully, I couldn't have been more wrong about the place!
Yes, you can have breakfast on the beach followed by a sensuous couples massage, but you can also have some incredible adventures here too.
And being based in the authentic south of the island, at Heritage le Telfair you're perfectly placed to explore all Mauritius has to offer.
Arriving at Heritage le Telfair
The day I arrived at Heritage le Telfair was a special one (not because I was arriving of course), but after a long three-month renovation project it was their reopening night – it was time to party.
With around 500 guests from far and wide to toast the renovation of Heritage le Telfair, the evening was a celebration of what makes this property so unique, and with incredible dancers, beautiful lighting displays and gourmet food it created a night no one would forget. I just wish all hotels threw parties like this when I arrived!
The next day, when everyone was nursing off their champagne hangovers, it was then that I saw how beautiful this property was, and over the following week I got to try my hand at yoga, pilates, go a food tour in Port Louis, explore the south of the island on electric bikes and eat in all the different restaurants Heritage le Telfair had to offer – put it this way, it wasn't like a honeymoon at all!
Hotel Overview
Heritage le Telfair Golf & Spa Resort is a 5* colonial-style resort with 158 rooms that focuses on health and well-being.
Like with most hotels in the south of Mauritius, Heritage le Telfair not only has its own stunning white sand beach with beautiful blue ocean views, but a river meanders through tropical gardens dividing the hotel into two, and with palm trees dotted all over it gives a very relaxed feel to the place.
One of the things I loved about being located in the south of the island was everything seemed so much more secluded and authentic. The resort is on the doorstep of a few of the island's natural wonders such as Black River Gorges National Park, Chamarel Waterfall and the mysterious Seven Coloured Earths (which looked a lot like a tropical Mars to me!)
Also, with several restaurants to choose from, a world-class golf course, incredible kitesurfing and a brand-new wellness centre with daily yoga and pilates classes, Heritage le Telfair really does have something for everyone.
Rooms and Suites
The beautifully refurbished suites are located in two-story villas dotted around the resort and are really spacious and roomy with white-washed walls and dark wood furniture.
The Gardenview Suites overlook the resort's tropical gardens while guests in the Seaview Suites and Beachfront Suites can enjoy views of the Indian Ocean from their balcony – just pure bliss!
For me, it was great having so much room, and the walk-in closet where I could unpack all of my clothes made it feel like home for the week.
Service and Facilities
One of the winning features at Heritage le Telfair is that each of the suites comes with 24-hour butler service. This is someone who will help make your stay even more enjoyable by helping plan all of the different activities you want to do while you're in Mauritius.
No matter where you are in the grounds of Heritage le Telfair there are palm trees, banyan trees and exotic flowers all around you, and there's a real feel of luxury with the staff dressed up in classic beige and white suits which I thought was a real nice touch.
Another place worth mention is the Cavendish Bar which has a gorgeous sunken bar (fully stocked of course), and just to the side of the bar there's a snooker room, library and grand piano. Most nights at the Cavendish Bar there's live music too – another bonus!
Facilities at Heritage le Telfair include:
Bar
Beach
Fitness centre
Golf course
Kids' club
Laundry
Parking
Pool
Restaurant
Room service
Sauna
Spa
Tennis court
Wi-Fi
Activities
As the name would suggest, the Heritage le Telfair has a world-class championship golf course (hosting this year's AfrAsia Bank Mauritius Open, a huge event with some of the world's best golfers) where you can stay and play.
There's also a huge emphasis on wellness with activities such as yoga, pilates and nature walks on offer, but that's not everything.
If, like me, you're more into your adventure activities then there's an incredible kitesurfing school at the hotel. With good consistent winds every day, the south of Mauritius is one of the best places to try kitesurfing for the first time. You can also go quad biking and mountain biking in the Frederica Nature Reserve, so it's not like there's nothing to do at the hotel!
And the best thing is most of the activities like the daily yoga and hiking are completely free! Yes, you really can do something different each day without having to pay extra!
Saying that, a couple of activities like the quad biking through the nature preserve and the sunset yoga session you have to pay for so make sure you check at the front desk before signing up!
Food and Drink
One thing that's guaranteed at Heritage le Telfair is you won't go hungry.
With 12 restaurants across the two properties, sometimes the hardest decision you'll face each day is which one to choose for dinner.
The main restaurant Annabella's features a buffet breakfast and themed a la carte dinner menus as well as providing a variety of healthy dishes which reflect the focus on well-being.
If you're looking for a place to dine on the beach under the stars then Le Palmier is in a great location, and both Gin'ja and Zafarani offer top-notch Asian cuisine. In fact, I'd even go as far to say that the Indian thali I had from Zafarani was one of the best I've had in a very long time!
However, my favourite restaurant was Le Chateau.
Located just off property, Le Chateau is in a converted French chateau with gorgeous gardens and views of the surrounding mountains.
If you're looking at doing something a little different while in Mauritius, go for the pre-dinner wine tasting with incredible wines from France and South Africa.
And one thing I loved about Le Chateau was that even though the standard of food was a real step up here, it wasn't that much more expensive than the other restaurants. Another nice touch is one night dining here is included in your weekly supplement.
Why you should stay at Heritage le Telfair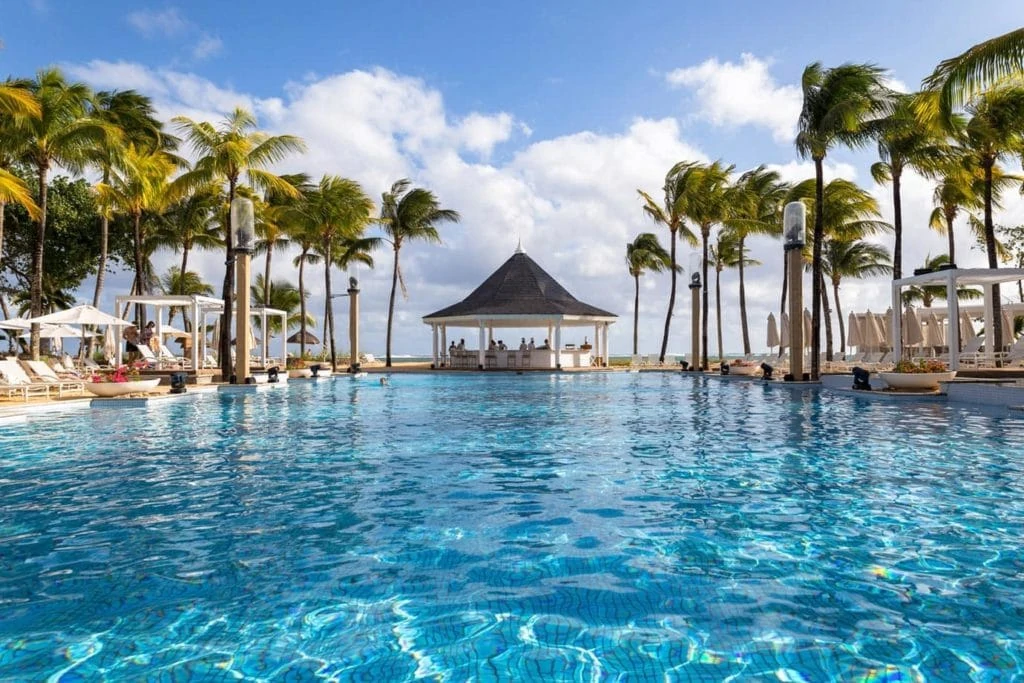 As I've said, my one worry about staying at Heritage le Telfair in Mauritius was that it was just a honeymoon destination with nothing to do. In the end, I actually wish I had more time to squeeze in all the amazing activities! Funny how wrong you can be about a place, eh?
With its old colonial Plantation-style architecture, a huge focus on easy-going luxury and a number of delicious restaurants to eat at, it's easy to see why Heritage le Tefair is one of the best hotels in Mauritius. Who knows, and I'd better be careful saying this, but the next time I might be back here is for that extra special occasion!
---
A suite with garden view at Heritage le Telfair Golf & Spa Resort costs approximately £324 per night with 24-hour private butler service. All prices include breakfast and amenities in your room.

Address:
B9 Coastal Road
Bel Ombre
Mauritius
Tel: +230 601 5500
[email protected]
My stay at Heritage le Telfair Golf & Spa Resort was complimentary, but as ever, all views are entirely my own and without bias.
Have you ever been to Mauritius before? Is so, what did you think of the island? Let me know what you got up in the comments below!
Like this post? Then make sure you Pin it!