Looking for one of the best 5* luxury hotels in Rhodes? Then check out my Ixian Grand review on this stunning adults-only all-inclusive resort!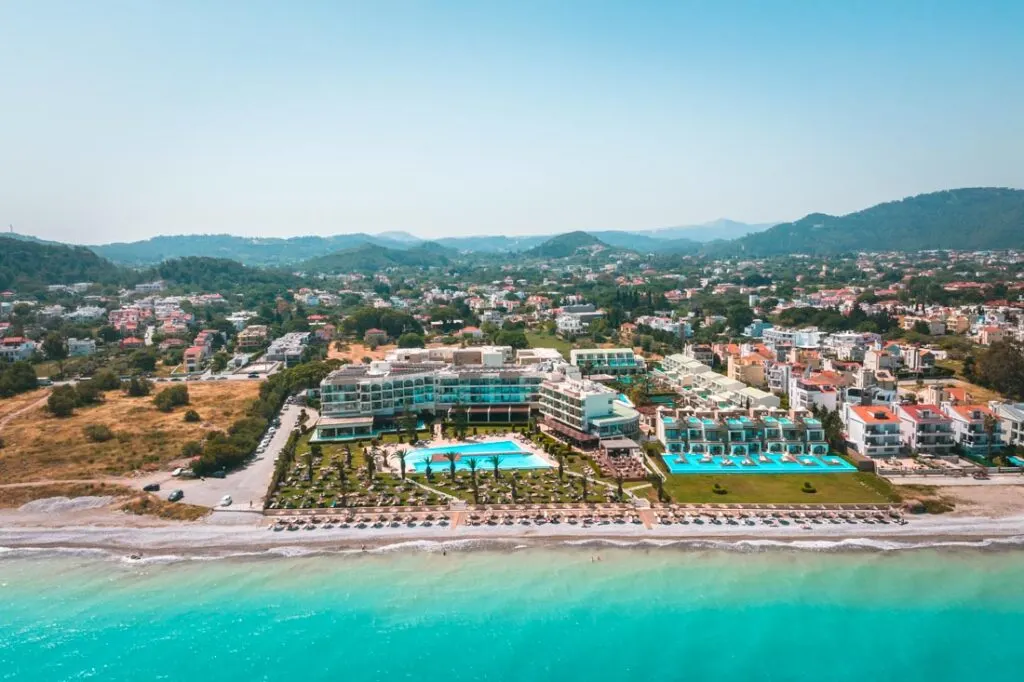 There's something so perfect about holidays in Greece. The bright blue Aegean Sea lapping the coast, lazy days spent in the sun, crumbling ancient ruins dating back thousands of years wherever you go, and of course delicious and fresh food in local tavernas, often washed down with a crisp glass of white wine. It sounds glorious, doesn't it?
I recently spent a few days at The Ixian Grand and Suites in Rhodes, and I had such an amazing time there.
My days were split between lying with a good book by the private pool in our suite, deciding what to eat for dinner, and the hardest decision, when was it socially acceptable to have a cocktail (the answer – any time).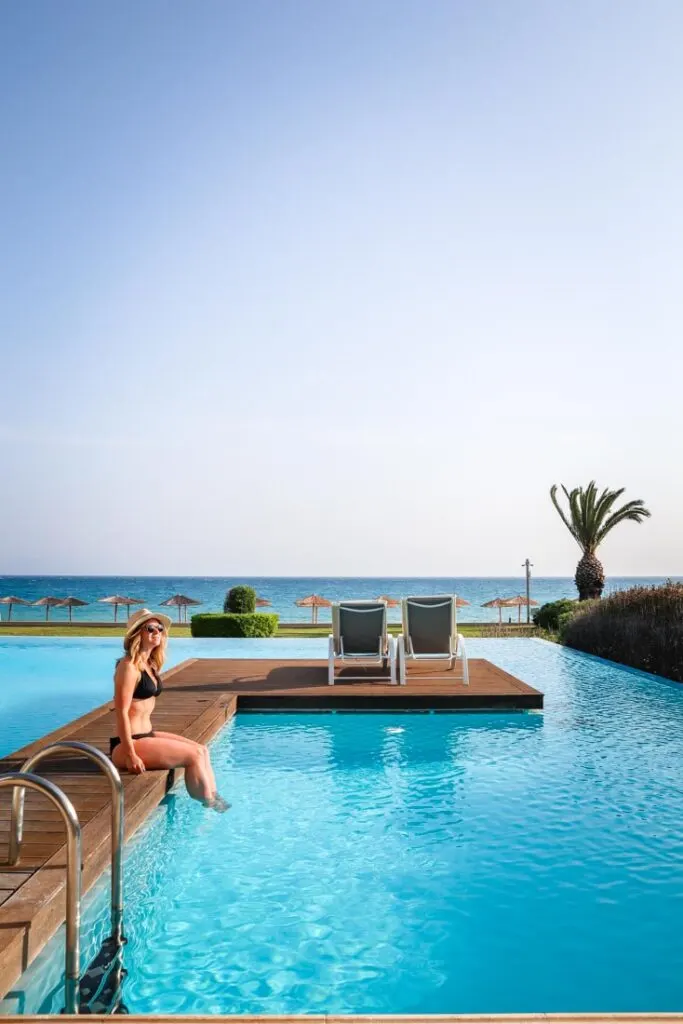 We didn't just want to stay in the hotel though, we wanted to go out and explore the island too. This was my first time back to Rhodes since I was a kid, so I was really excited to see how the island had changed.
In this review I'm going to tell you all about what it's like staying here. From the different restaurants on offer to some suggestions on what to do in Rhodes, this post should give you a good overview of The Ixian Grand.
If you're looking for a luxury hotel in Rhodes, then hopefully my Ixian Grand review will show you why this is one of the best hotels around.
What is The Ixian Grand Hotel & Suites?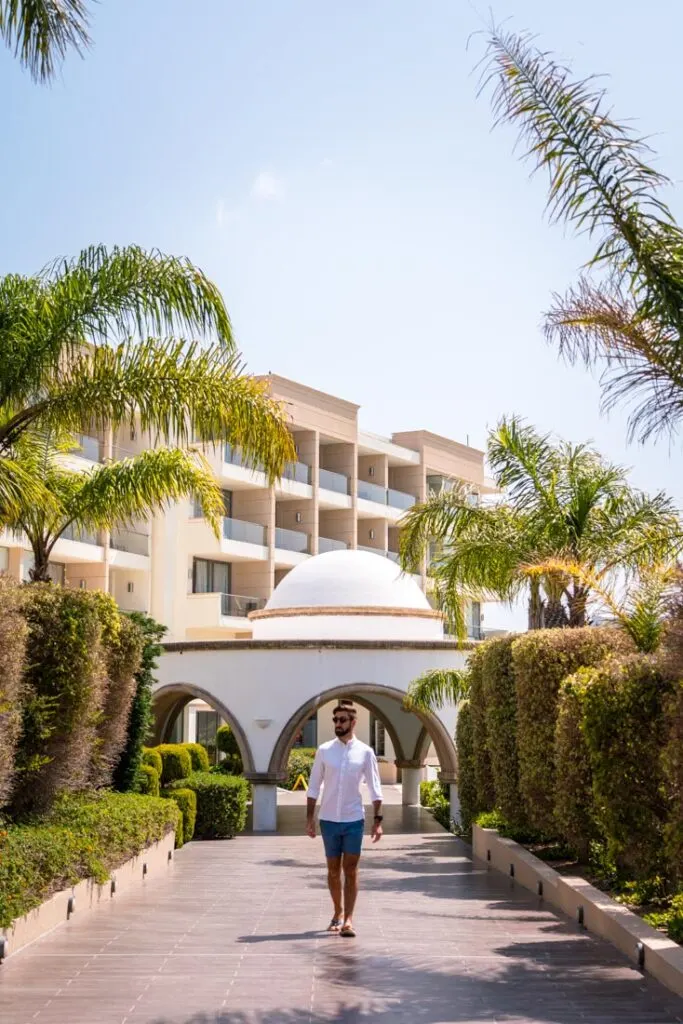 The Ixian Grand Hotel & Suites is a 5* adults-only all-inclusive hotel located in the north of Rhodes.
One of the things that makes this such an amazing hotel is the location. Not only is it 6 km away from the cobblestone streets and medieval walls of Rhodes Old Town, but it is also directly on the beach.
After exploring the area, I thought all the hotels would be on the coast with beach access, but most of the big hotels are set a road back. This means you have to cross a busy road to get onto the beach.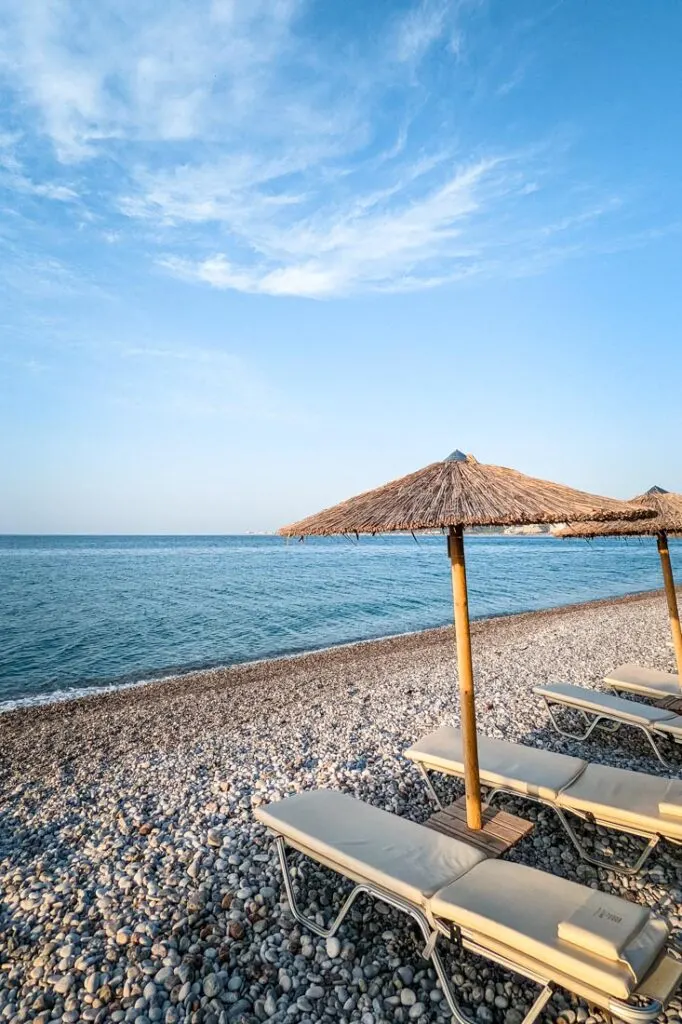 At The Ixian Grand, I loved how the beach was just outside our suite. Even though it's a small thing, it made a big difference and made our stay so much more relaxing.
Also, there aren't any big buildings on either side of the hotel. This really makes the hotel feel much more private and secluded than the other hotels in the area, especially considering it is a big hotel with 348 rooms and suites.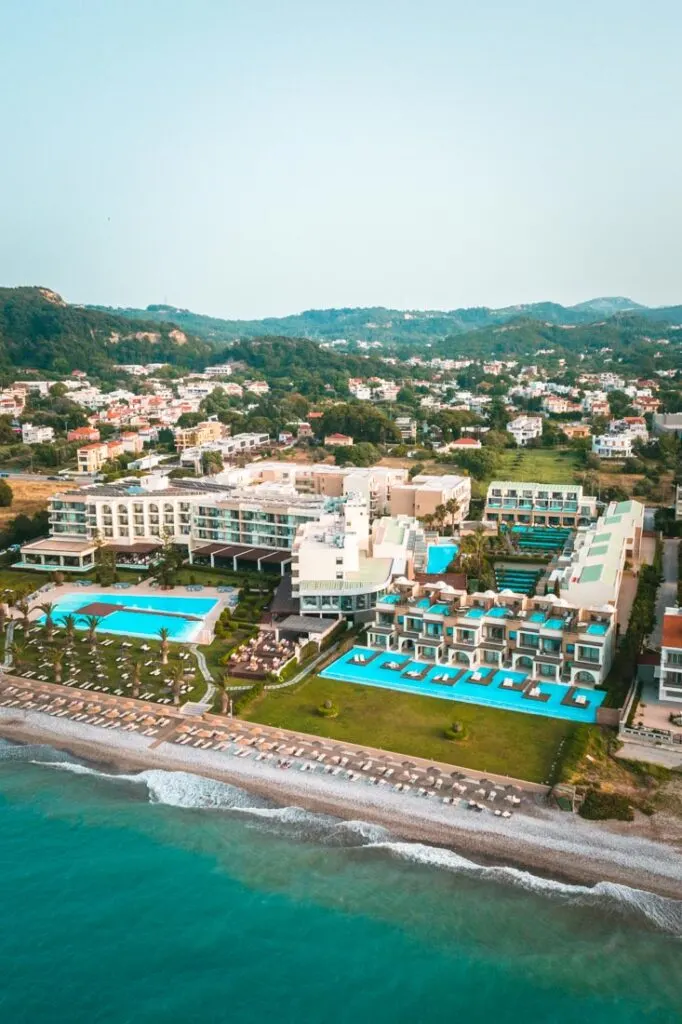 As for the hotel itself, The Ixian Grand has four restaurants, two bars, three swimming pools, loads of sun loungers both by the pool and on the beach, and there's a luxurious 5* spa too.
One of the things that I really thought made this hotels standout from others was the service. Honestly, all the staff really do everything they can to make sure you enjoy your holiday. There's no hassle, no selling of group tours, just laid-back vibes and an easy-going atmosphere.
It sounds crazy, but the service was on a level to when I went to Amilla Fushi in the Maldives. It really was that good!
The rooms at The Ixian Grand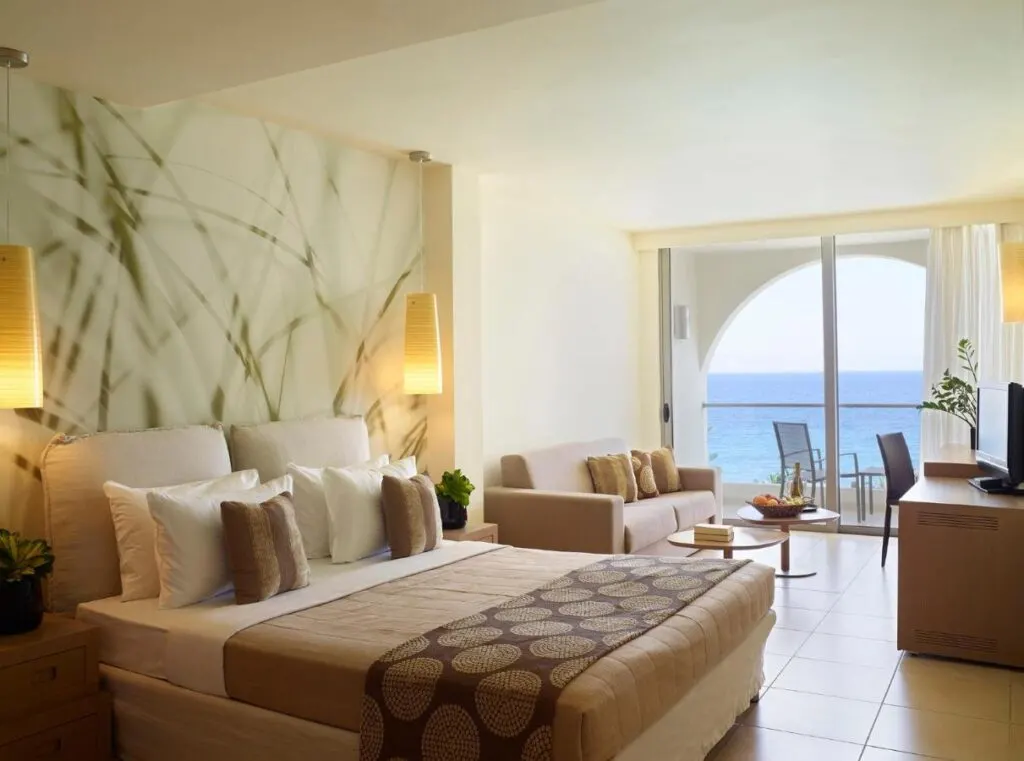 Accommodation is divided into two – there's the main hotel block with rooms, and a separate complex with suites.
There are three types of rooms to choose from:
Double Room with Inland View
Deluxe Room with Garden View
Deluxe Room with Sea View
Obviously the rooms with the sea views are where it's at. All the rooms are lovely though with light creams and whites perfectly blending into the beach landscape.
The suites at The Ixian Grand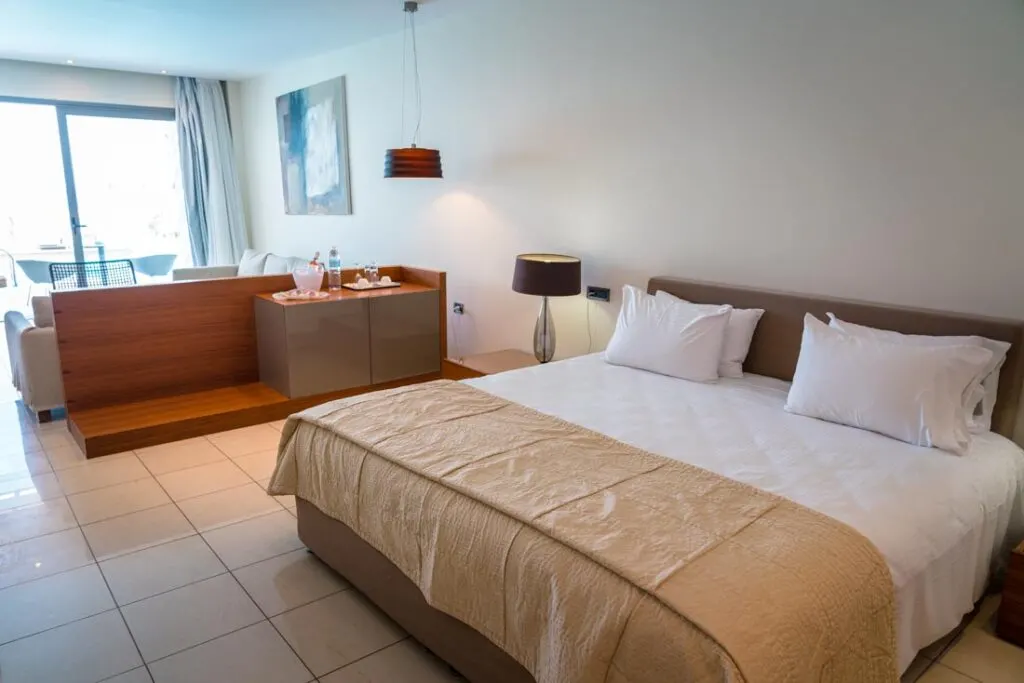 If you can afford it though, the suites are a big step up in terms of quality and what they offer.
Like the main rooms, there are three types of suites on offer:
Premium Guestroom – Swim Up Garden View
Grand Suite – Private Pool
Beachfront Grand Suite – Private or Sharing Pool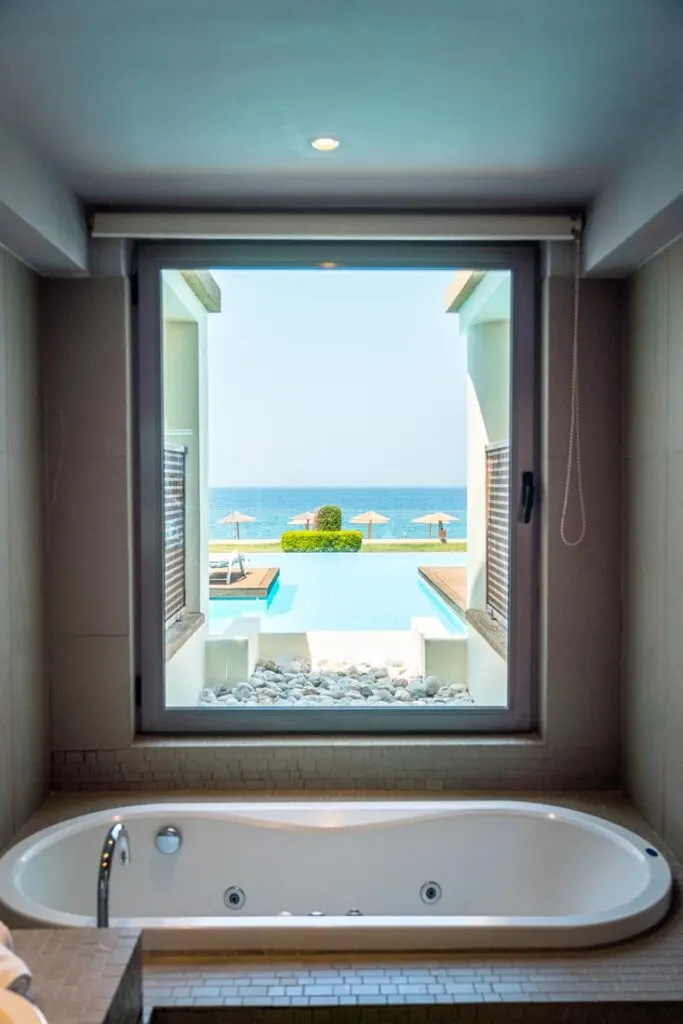 All of these rooms are much bigger and have either their own private pool or a private shared pool. A lot of the suites have their own Jacuzzi bath too which is a nice addition.
We stayed in one of the beachfront grand suites and it was such a lovely room. I loved waking up each morning, pulling back the curtains and having the views of the private pool and beach. That's what holidays are all about.
Rooms or suites?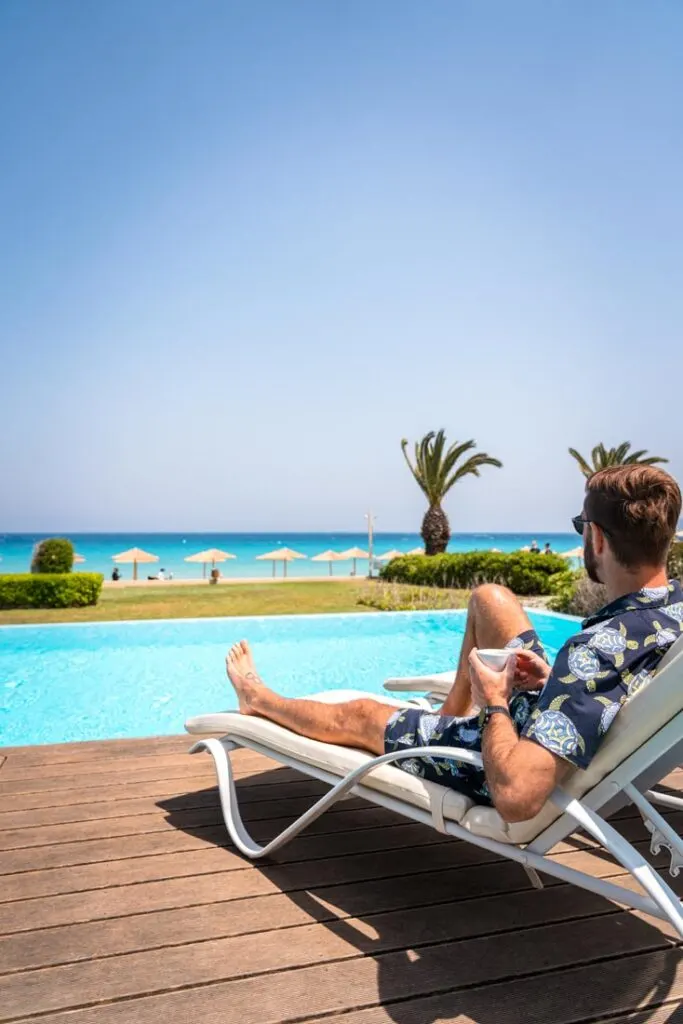 And so we come to the biggest different between the rooms and suites. If you book a room, it means you can only eat in the main hotel restaurant for your stay.
However, you do get one dinner included in one of the other restaurants complimentary during your stay, but otherwise you'll mainly eat in the one restaurant.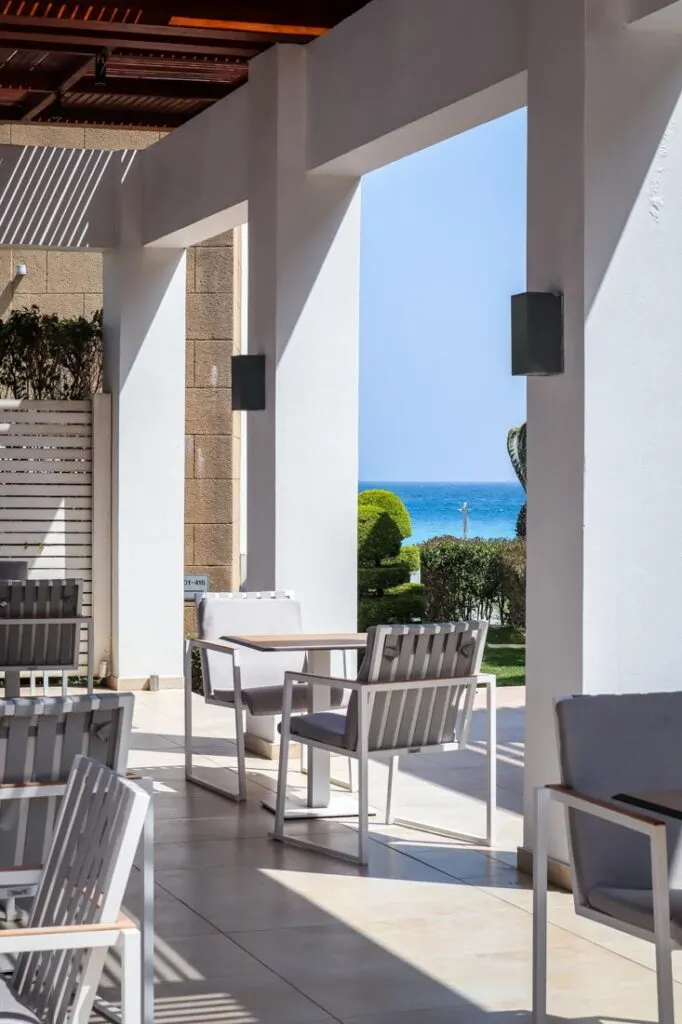 If you stay in the suites, it means you can eat in any of the restaurants any time. You're not limited to just eating in one or two restaurants – you can go to any of them.
I think this is such a big difference. If you're a foodie like me, then I'd really recommend booking a suite. I think the benefit of eating in all the restaurants is well worth the step up in price.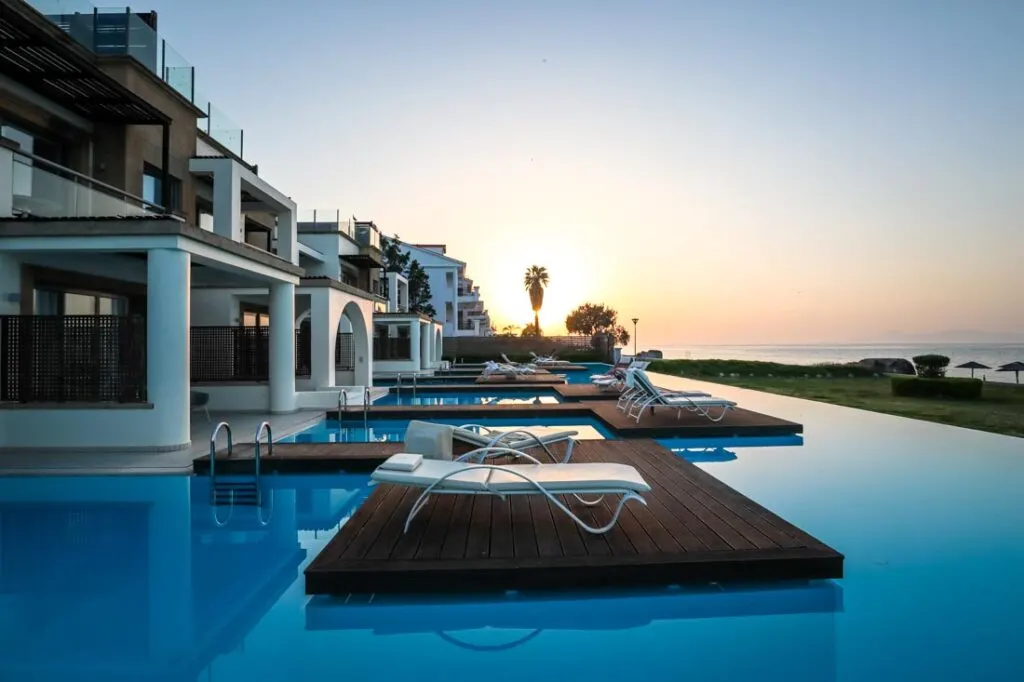 Also, one of the restaurants is solely used for the suites, so this feels much more secluded to anywhere else in the hotel.
It all depends what you prefer. I actually know a fair few people who would choose a restaurant buffet over a la carte, so it's all down to you!
Restaurants at The Ixian Grand
One of the things that all-inclusive hotels fall down on is food. Often there aren't enough options, and the quality just isn't that good. Thankfully that's not the case at The Ixian Grand hotel!
There are four restaurants to choose from here. These are:
Vis a Vis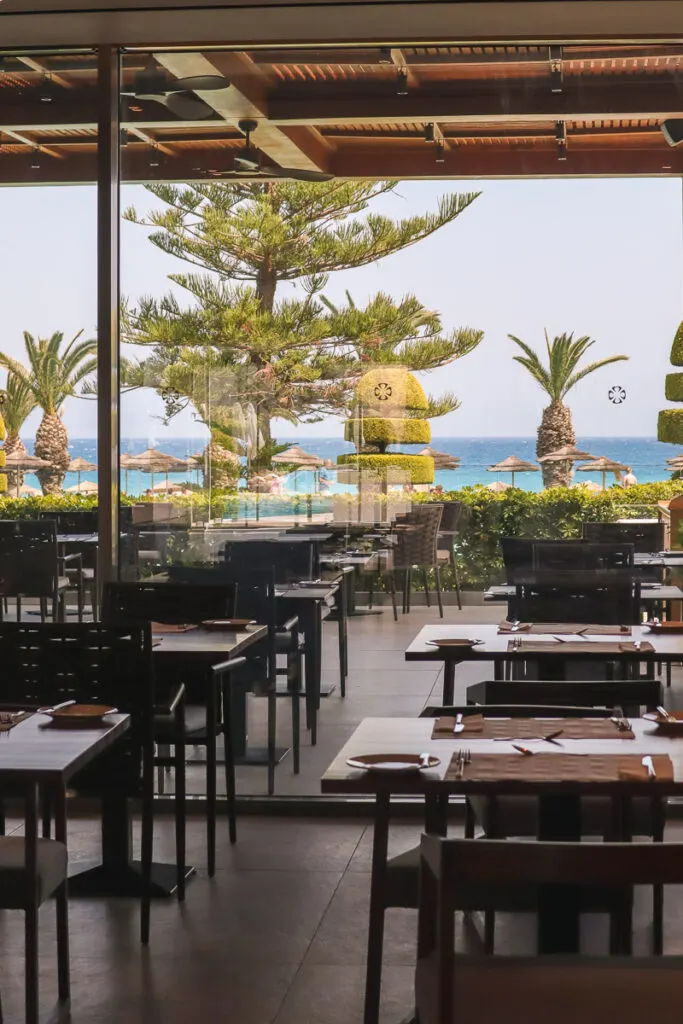 This is the main restaurant which offers Mediterranean gastronomy and Greek cuisine. Even though this is a buffet, there are loads of different hot and cold dishes to choose from all around the world. I usually find buffets very heavy with lots of fried food, but Vis a Vis offers loads of salads and fresh meze dishes, so you're not hunting for vegetables.
The outside terrace is a really relaxing spot, especially for dinner. Oh, and there's table service for drinks too which is a nice touch.
Milonges Greek Taverna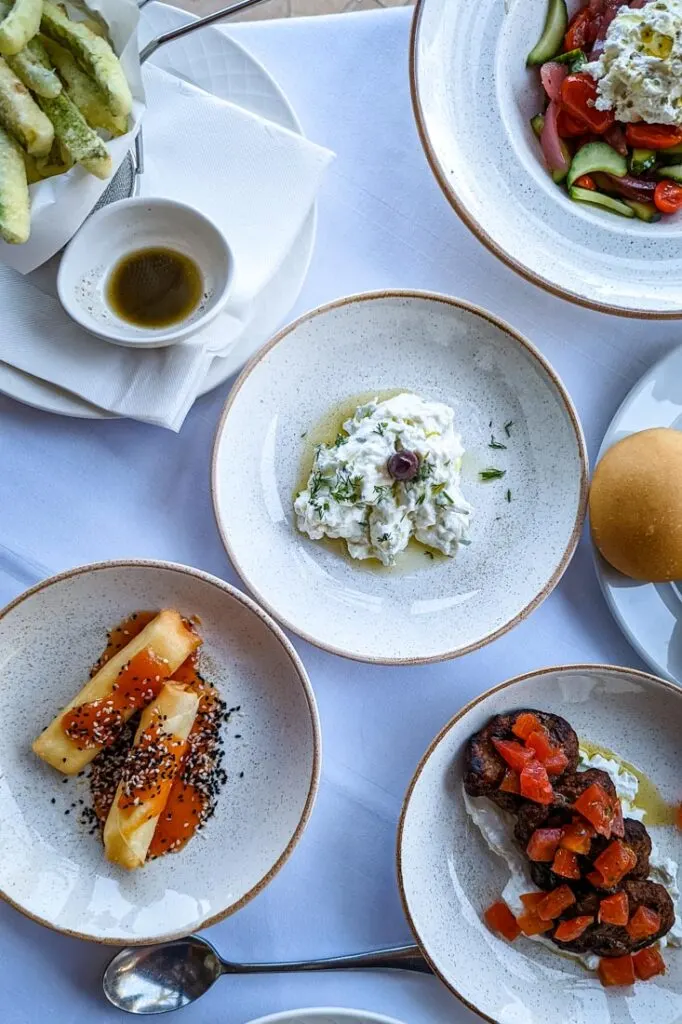 As the name suggests, Milonges is a contemporary Greek restaurant. From tzatziki with pita to feta rolls to Greek salad, all the stereotypical Greek dishes are elevated to another level.
Also, the head waiter Michaelis is so passionate about Greek cuisine and wine. He really went out of the way to explain each dish, where it came from in Greece, and he really championed Greek wine too. The wine has come a long way from the retsina days, so I'd recommend a nice Greek sauvignon blanc for lunch or dinner.
Muza Htista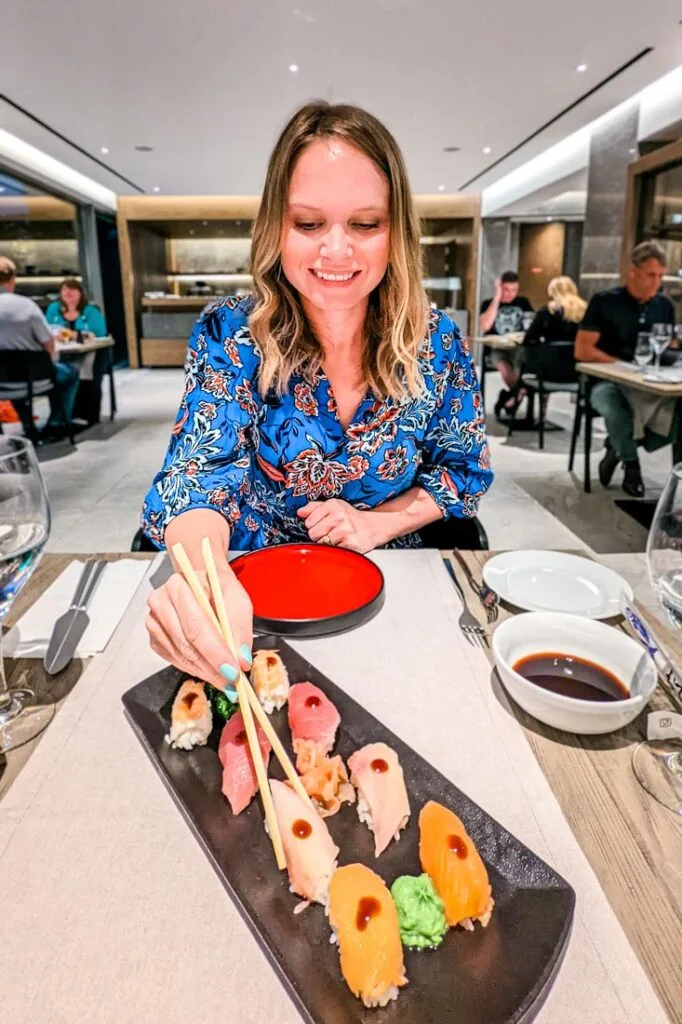 This is a Japanese Peruvian fusion restaurant. We absolutely love Nikkei-style cuisine, so this quickly became our favourite restaurant. The dishes I'd really recommend are the sea bass ceviche, the spicy tuna tartar, the dragon rolls and the beef fillet cooked over a hibachi. All of them are absolutely delicious.
The other thing I loved about this restaurant is they have their own signature cocktails that pair perfectly with the food. If you're eating Peruvian food, naturally you've got to have the signature pisco sour!
Alazonia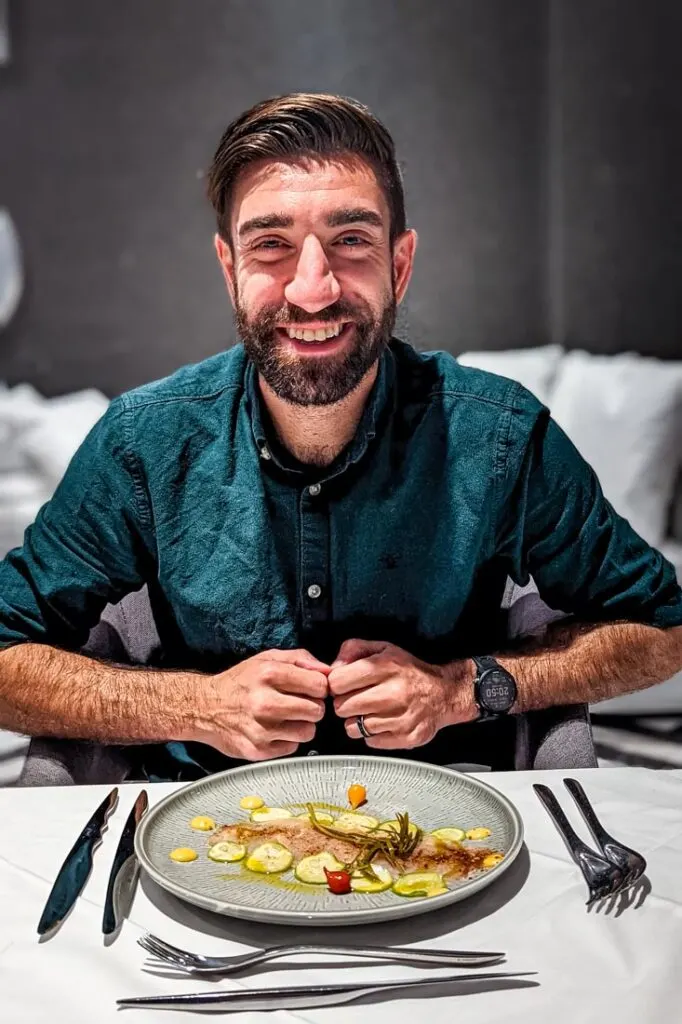 The final restaurant is Alazonia. This is the restaurant exclusively for the suites guests. Overlooking the private pools and the Aegean sea, this restaurant is in the best location and has the best views.
Each night they offer a different three-course dinner with dishes from all over the world. There's also an a la carte breakfast option at this restaurant too.
Bars at The Ixian Grand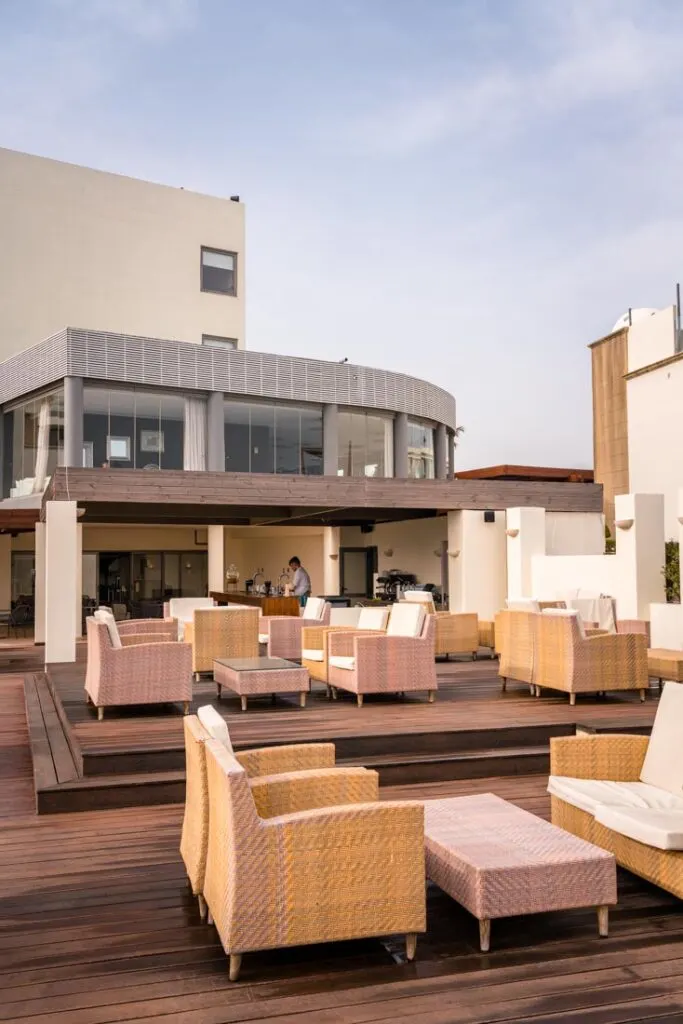 There are two bars at The Ixian Grand. Inside you'll find Truman's Lobby Bar, and outside is the Blue Pool Bar.
One of the things they're doing differently at the Ixian is offering premium signature cocktails. Even though these are at a cost of about 10 euros per cocktail, they are top quality and what you'd expect at a swanky cocktail bar.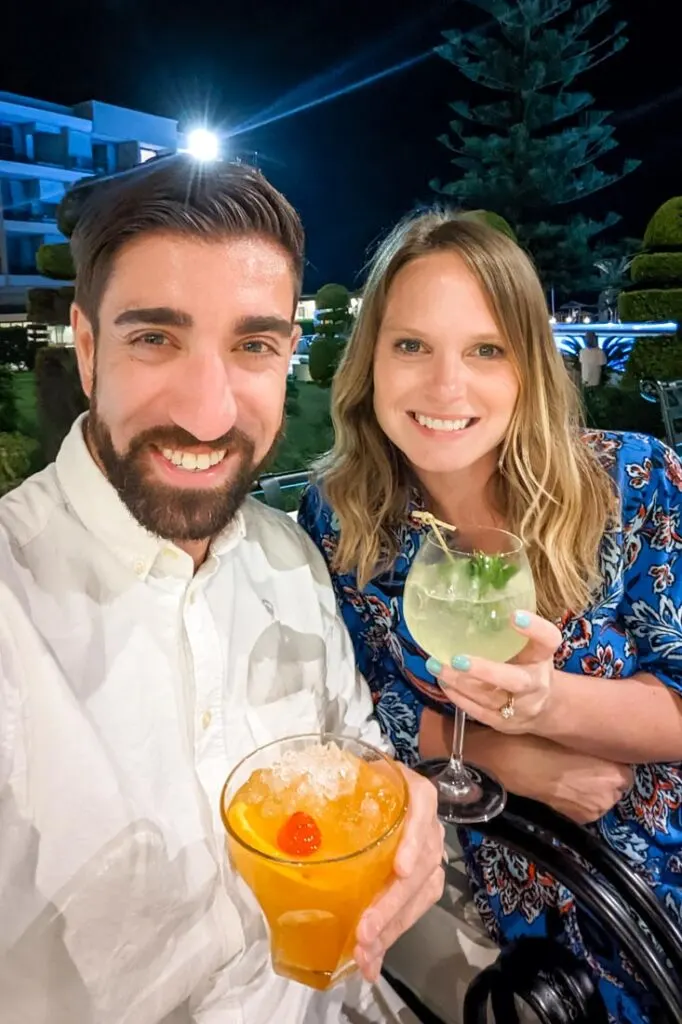 However, the fact that they offer premium cocktails only highlights the gulf in quality of the other drinks they offer. Even though you can get a mojito or pina colada (as well as most other cocktails), they're made in batches and not with premium spirits. They still taste good, but they're definitely not at that 5* level the rest of the hotel offers. That's my only complaint really!
The Ixian Grand Spa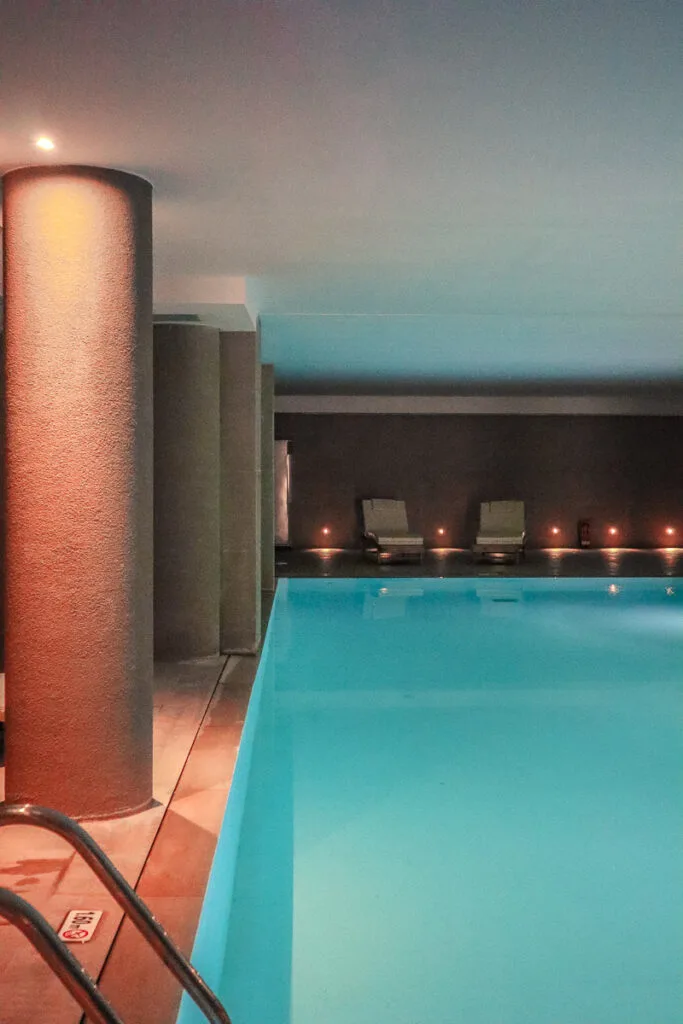 When you're somewhere like The Ixian Grand, you're very firmly on holiday mode. If you want to take that relaxation to the next level, then you can at the hotel spa.
Here is a lovely heated indoor swimming pool which feels in keeping with the ancient Greek baths.
There are also a number of treatment rooms here too. Chloe and I have a couples massage and it was amazing. Chloe even said it was one of the best massages she's had in years!
Things to do in Rhodes
If you're staying at the hotel for a week or more, I'd really recommend hiring a car and exploring the island for a day or two.
We hired a car from the rental agency for 40 euros a day and went on a bit of a road trip.
Here are some of the best places to visit in Rhodes that you should see.
The Acropolis at Lindos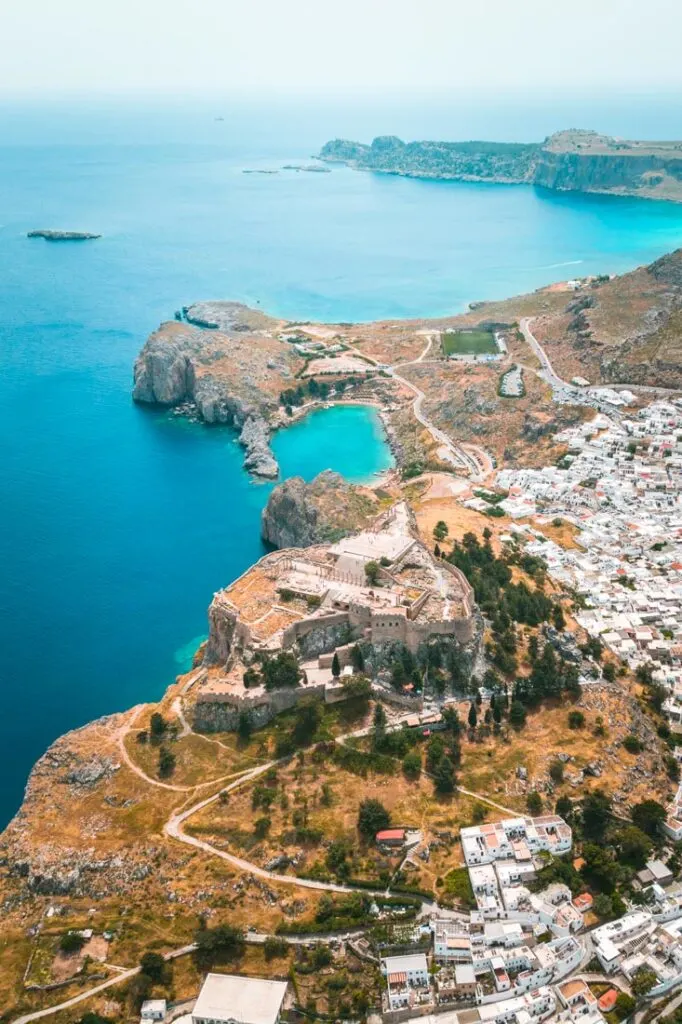 An hour to the south is the sleepy village of Lindos. This is a gorgeous place full of traditional white houses and a maze of winding streets.
Looming over the town is the Acropolis of Lindos, the most important ancient Greek monument on the island. Dating back to the 4th century BC, the acropolis is now a ruin of crumbling columns with the most beautiful views over the Aegean sea.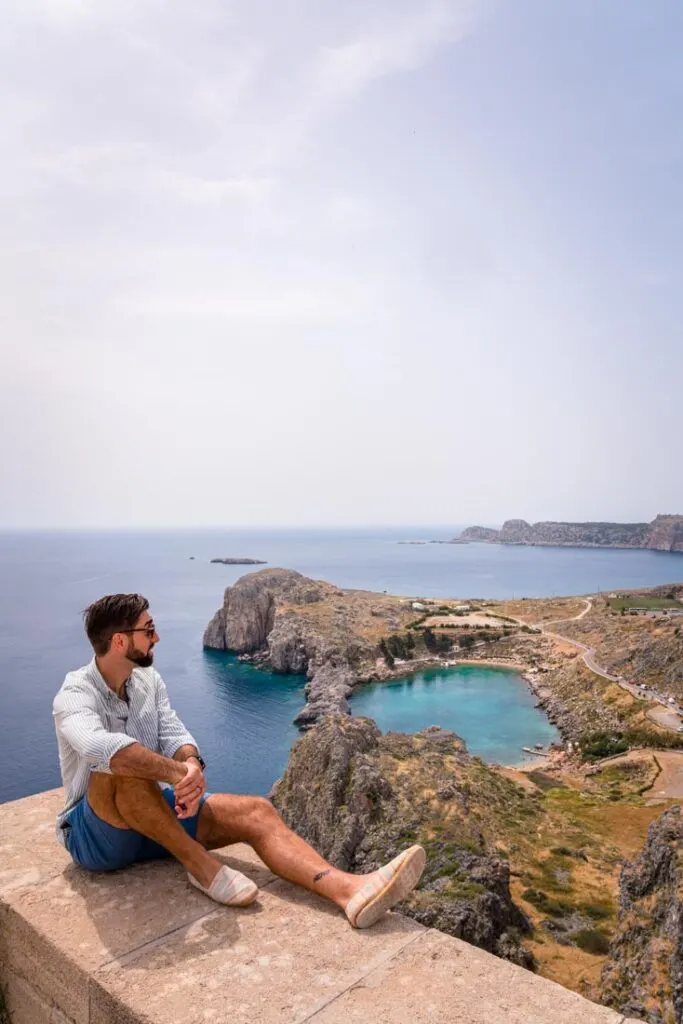 I absolutely love my ancient history, so walking in the footsteps of where Alexander the Great was supposed to have visited instantly made me feel like a kid.
I was walking in the steps of greatness, and it doesn't take much imagination to think how grand and ornate this temple would've been 2,400 years ago. For me, this really is one of the best things to do in Rhodes.
Lunch at Stegna Kozas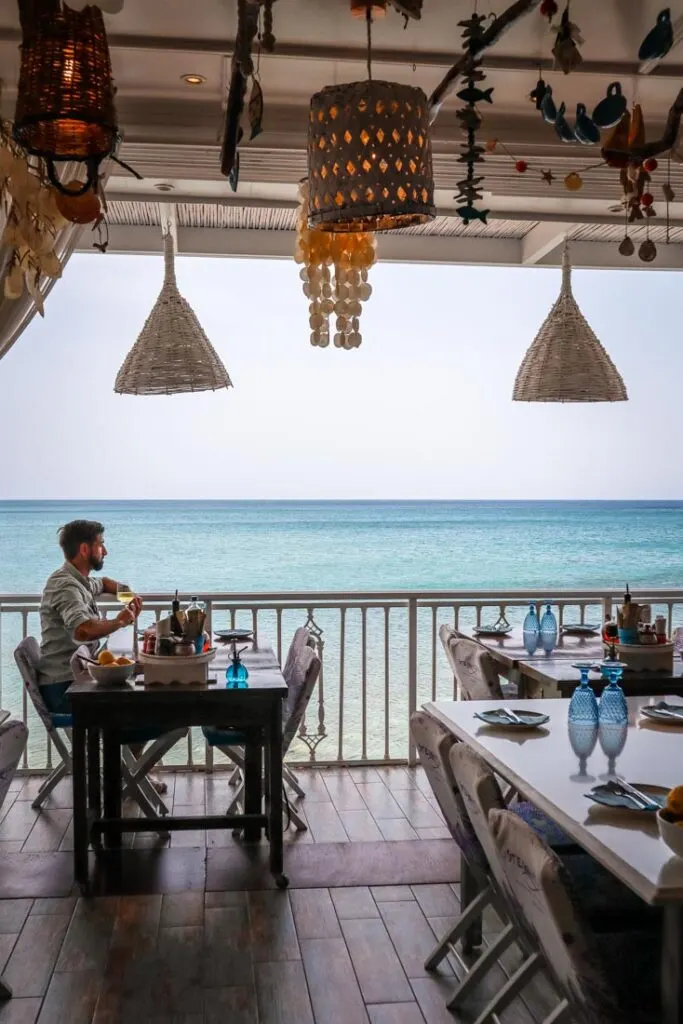 As we were driving back up the coast, we stopped off at Stegna Kozas for lunch. This restaurant is in the most picturesque spot overlooking the crystal clear waters.
As you'd expect being so close to the sea, this restaurant is famous for its fresh fish. We had grilled octopus and it was perfectly charred and tender. We also had these giant prawns cooked in an ouzo sauce – any excuse to have another ouzo in Greece!
Visiting Anthony Quinn Bay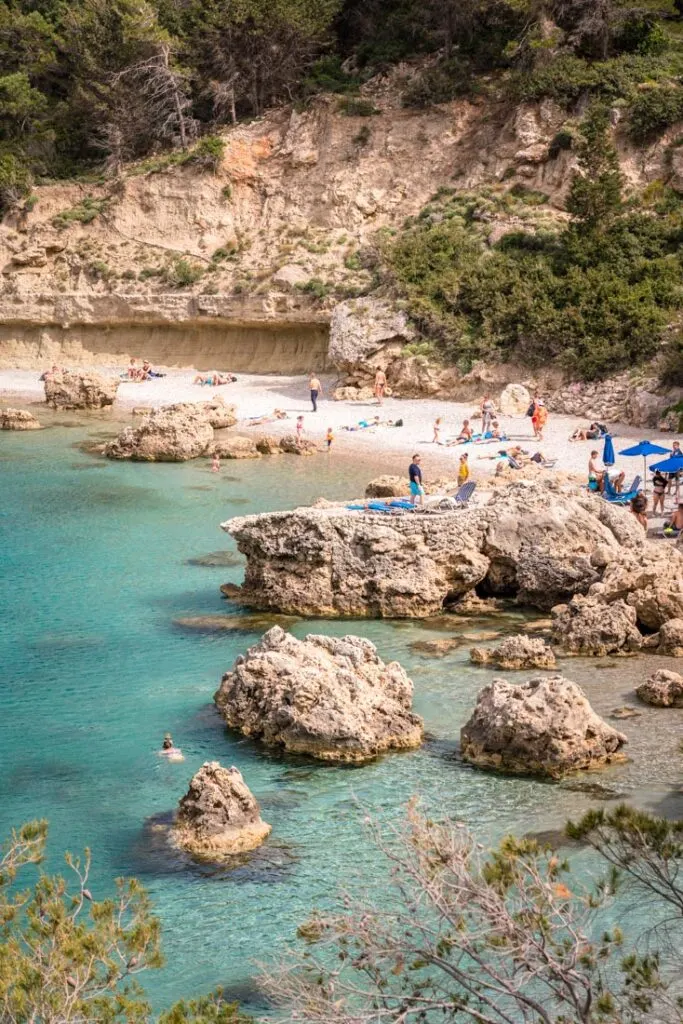 If you're looking for one of the best beaches in Rhodes, look no further than Anthony Quinn Bay.
Found at the end of a winding road, Anthony Quinn Bay feels like one of those secret spots that's just been discovered. The reality is you'll be sharing it with dozens of other people there that day, but it still feels like very secluded! This is a great spot to visit though if you've got a car for the day.
Exploring Rhodes Old Town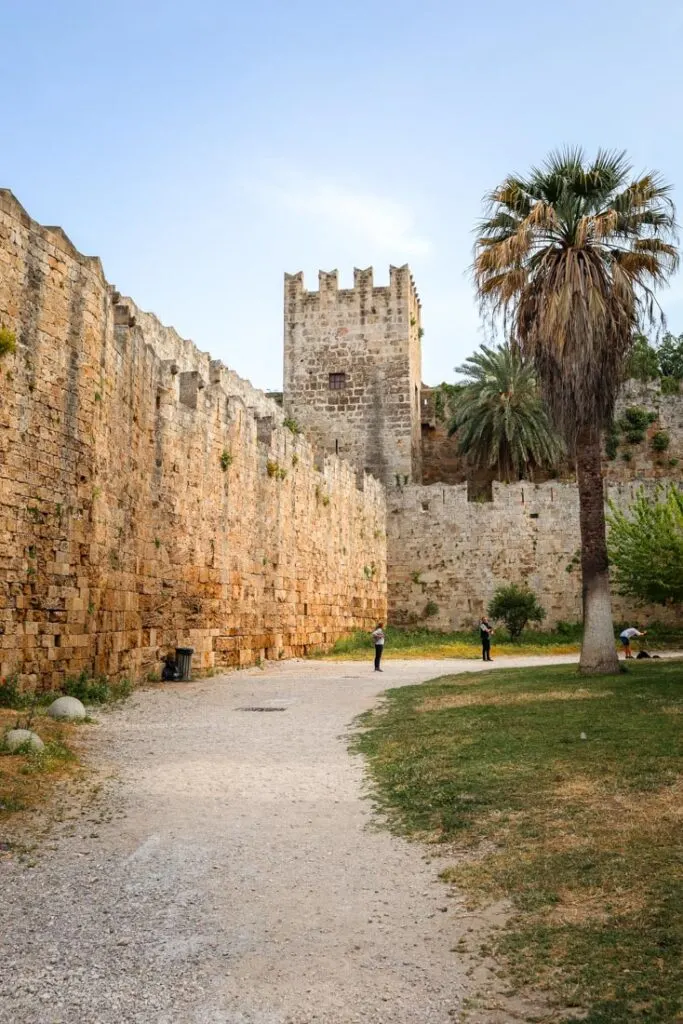 Finally, no trip to Rhodes would be complete without a trip to Rhodes Old Town. Strolling around the ancient walls is like taking a step back in time.
Rhodes is famous for the Colossus of Rhodes. This was one of the ancient Seven Wonders of the World. Built in 280 BC, this was a giant 33-metre-high statue dedicated to the god Helios. Even though the statue was destroyed soon after in an earthquake in 226 BC, it is still amazing seeing the original site of the Colossus. The ancient Seven Wonders of the World is like the first ever bucket list, and it's amazing imagining how big the statue would've been.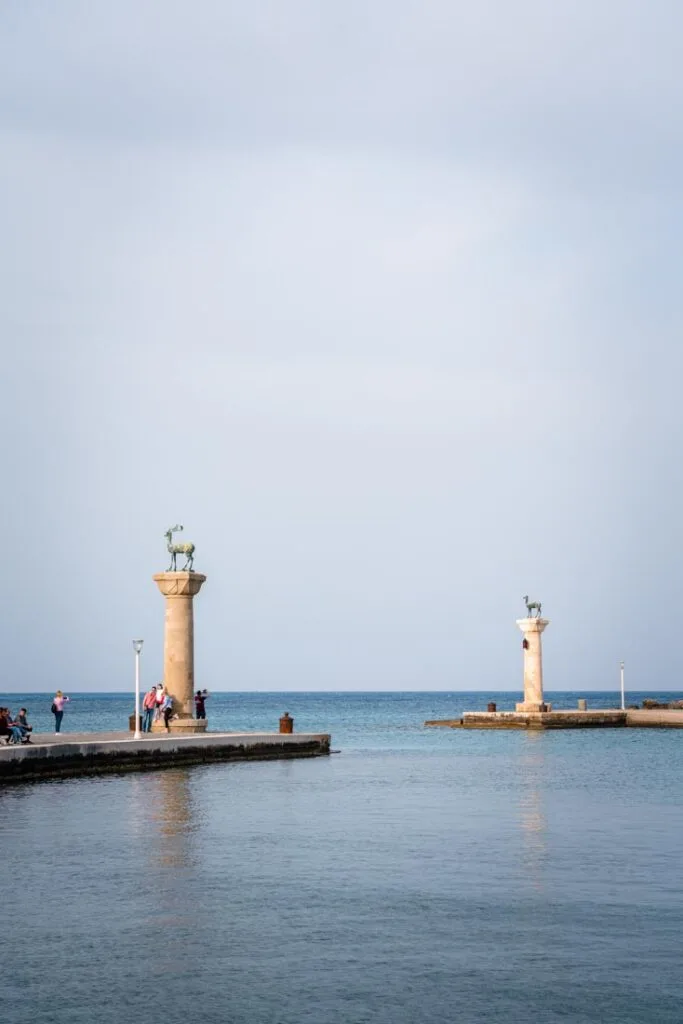 Rhodes is also famous for the medieval walls. This is the oldest medieval town in Europe and it is a UNESCO World Heritage Site too. Just walking around the streets is a pleasure, so it's definitely worth adding this to your Rhodes itinerary.
The Ixian Grand Review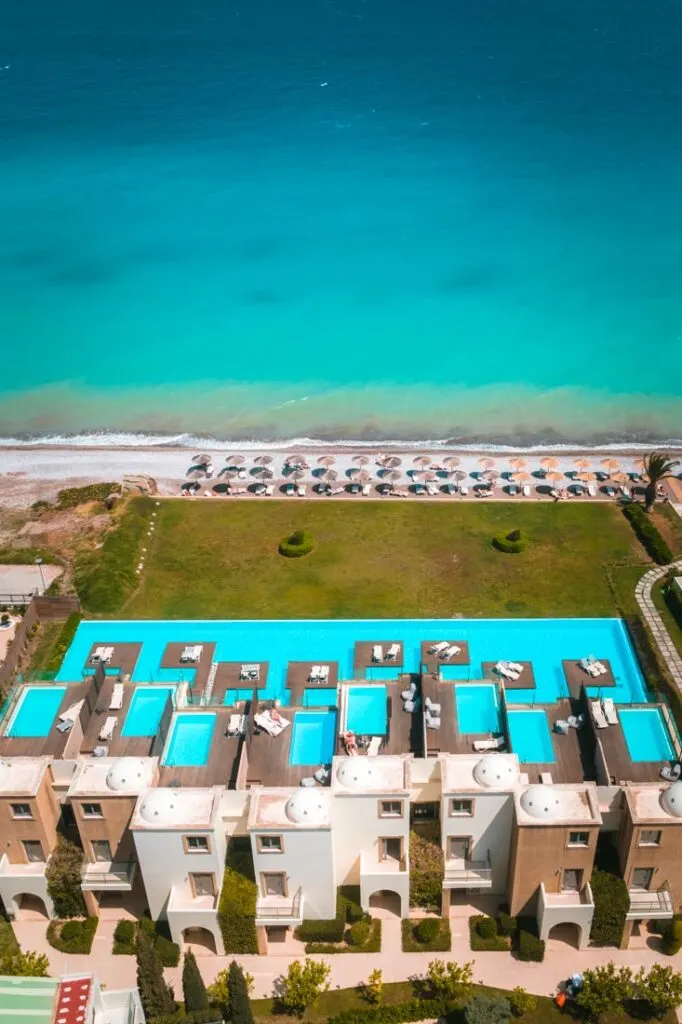 Personally, I absolutely loved staying at The Ixian Grand. This is definitely one of the best 5* luxury hotels in Rhodes that is both smart and secluded.
I loved how the hotel has direct beach access – one of the things not all other hotels on the island have – and I thought the dining options were excellent. It's worth coming here just to eat at all the different restaurants!
Also, being so close to Rhodes Old Town is perfect if you want to explore some more of the island.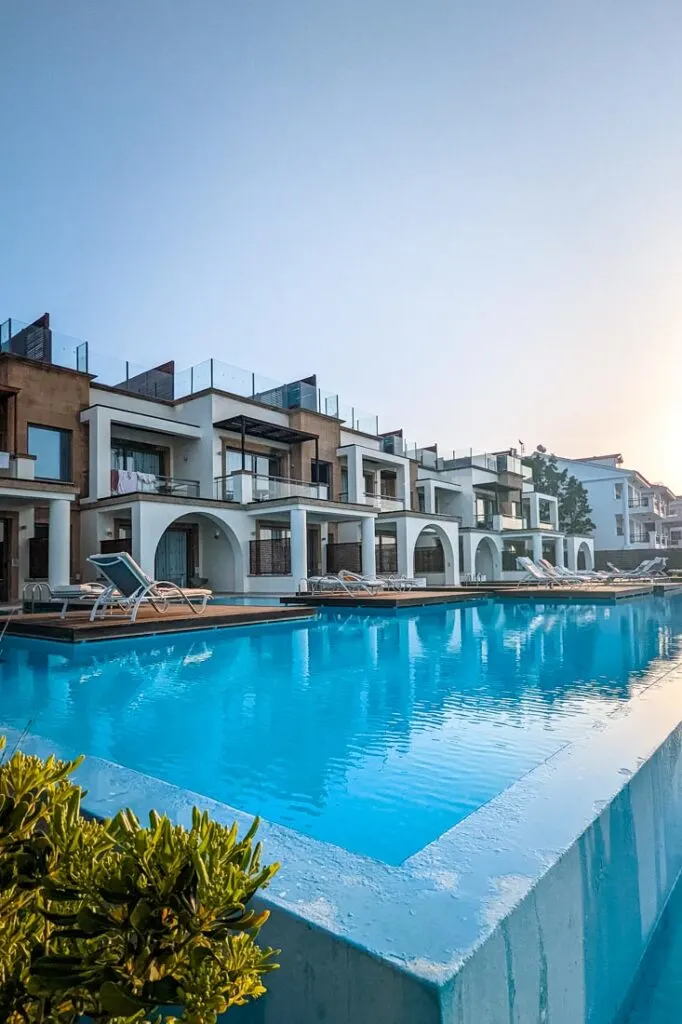 Hopefully my review of The Ixian Grand has given you a good overview of what it's like staying here.
As ever, if you have any questions at all, just let me know in the comments below and I'll answer them. I really hope you have an amazing holiday in Rhodes though!
---
Like this blog post? Then Pin it for the future!