Comfortable, stylish and perfect for mirrorless shooters on weekends away, this is my review of the new Manfrotto Noreg camera backpack!
As a travel blogger and photographer, I have had a fair few camera backpacks over the years.
I started off with an Amazon Basics backpack and have searching for that perfect camera bag ever since.
For the last few years though I have been using Manfrotto backpacks. I often switch between my Manfrotto Professional 50 backpack and my Manfrotto Bumblebee-230 backpack depending on the job and how long I'm on the road for.
Even though these are much larger backpacks (my girlfriend calls them my turtle shells), they offer so much space and functionality. They're not weekend bags though.
However, their latest offering is the Manfrotto Noreg bag, a stylish backpack aimed specifically at mirrorless shooters.
Check out my video review of the Manfrotto Noreg camera backpack here:
With two main compartments – a top compartment for camera accessories and clothes, and a detachable bottom compartment for a mirrorless camera with a lens – this backpack is perfect for weekends away as opposed to longer trips.
Recently I've been testing out the Manfrotto Noreg backpack for the last couple of weeks and here is what I think of it. If you're looking for a new camera bag then make sure you keep reading my review of the Manfrotto Noreg camera backpack!
Also, if you're looking at upgrading your gear then check out my post 'The 11 Best Cameras for Bloggers 2019' to help you out!
Manfrotto Noreg Features
First up, the Manfrotto Noreg backpack has been designed for functionality. It really is an ergonomic backpack that makes shooting on the road seamless.
One of my favourite features is that the bottom compartment slides out giving you easy access to your camera. It's quite hard to describe but you'll see what I mean from the photo below and from my video. I found getting my camera out of this backpack much quicker than with my other ones though speeding up the shooting process.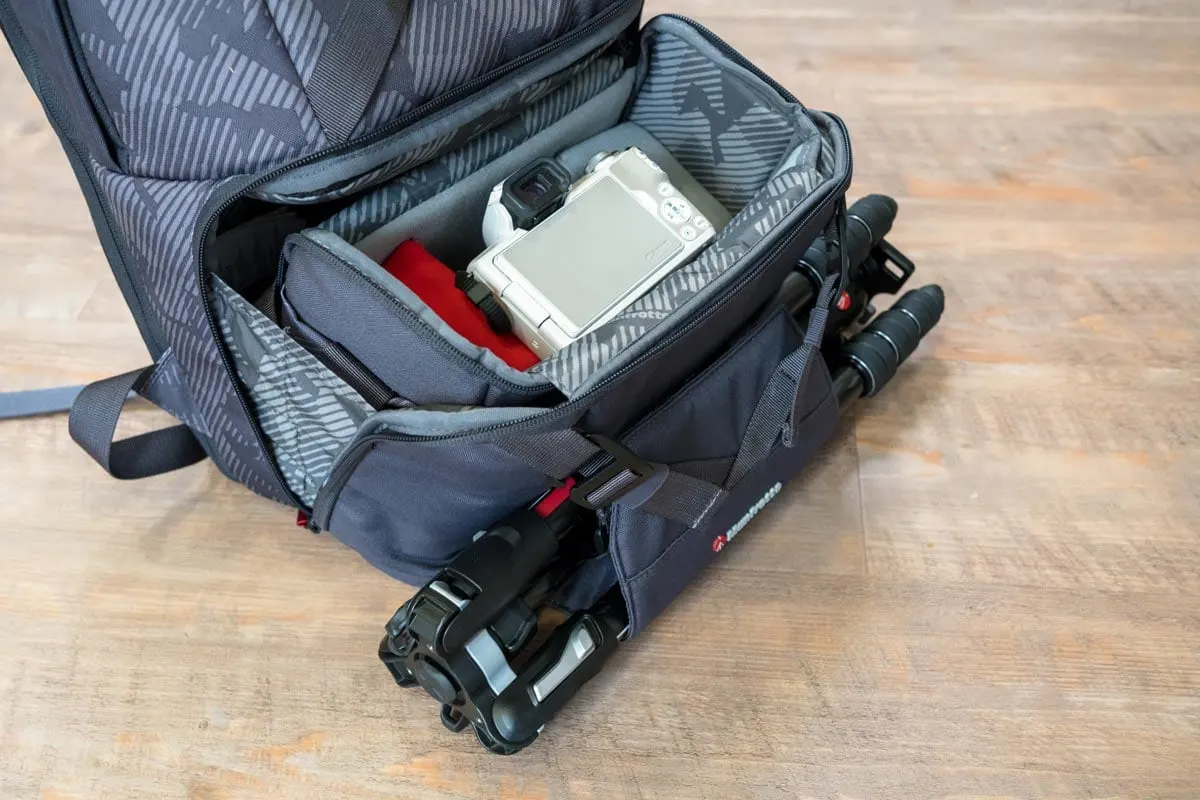 The bottom compartment easily fits my Sony A7riii with a 24-105mm f/4 lens attached to it and there's enough room for another lens like the Sony 16-35mm f/2.8 lens but it is a tight fit.
However, not only does the bottom compartment slide out but it is completely removable. This compartment zips up and comes with a shoulder strap turning it into a messenger bag. Personally, I haven't used it much as a messenger bag but it is a useful feature to have, especially if you don't want to take your backpack out with you.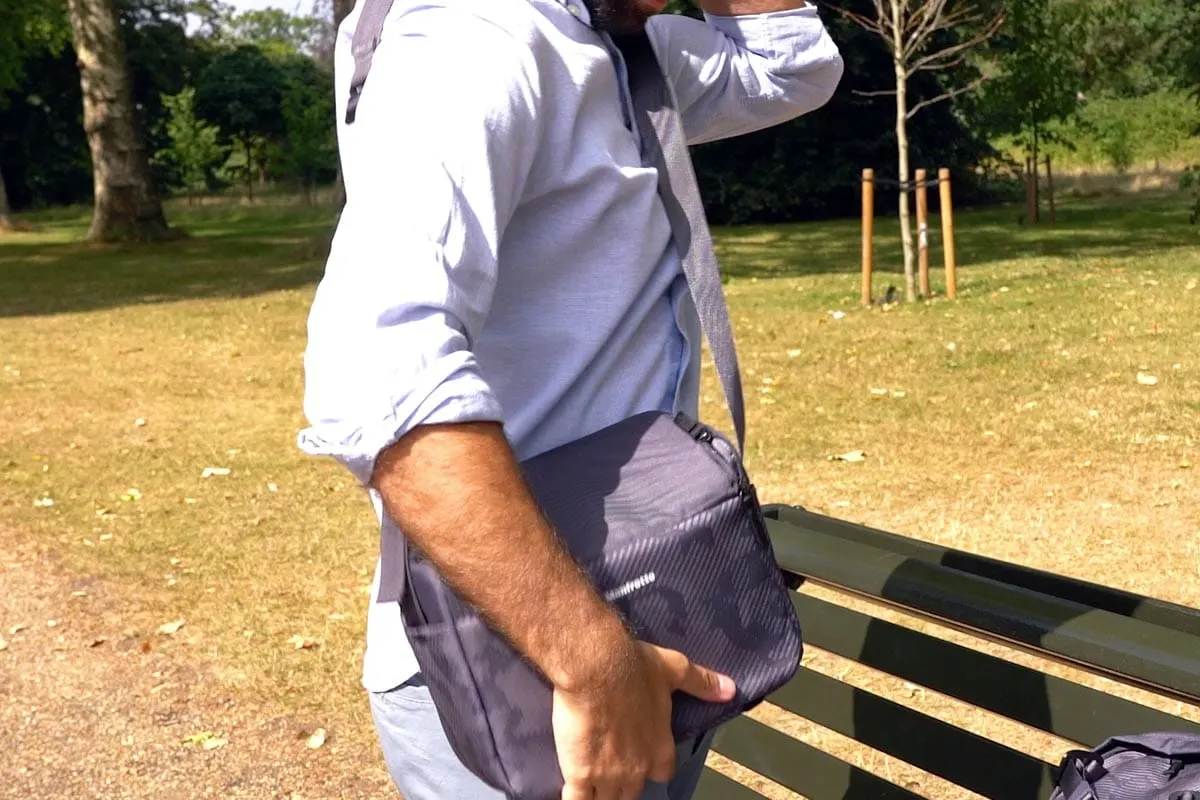 Another feature of the Noreg backpack I really like is the 15" laptop compartment is removable too.
Like most camera backpacks, the laptop compartment is at the back of the bag. However, you can unzip this from the bag itself turning it into a portable laptop case. There's even a separate sleeve for a 9.7″ tablet or iPad.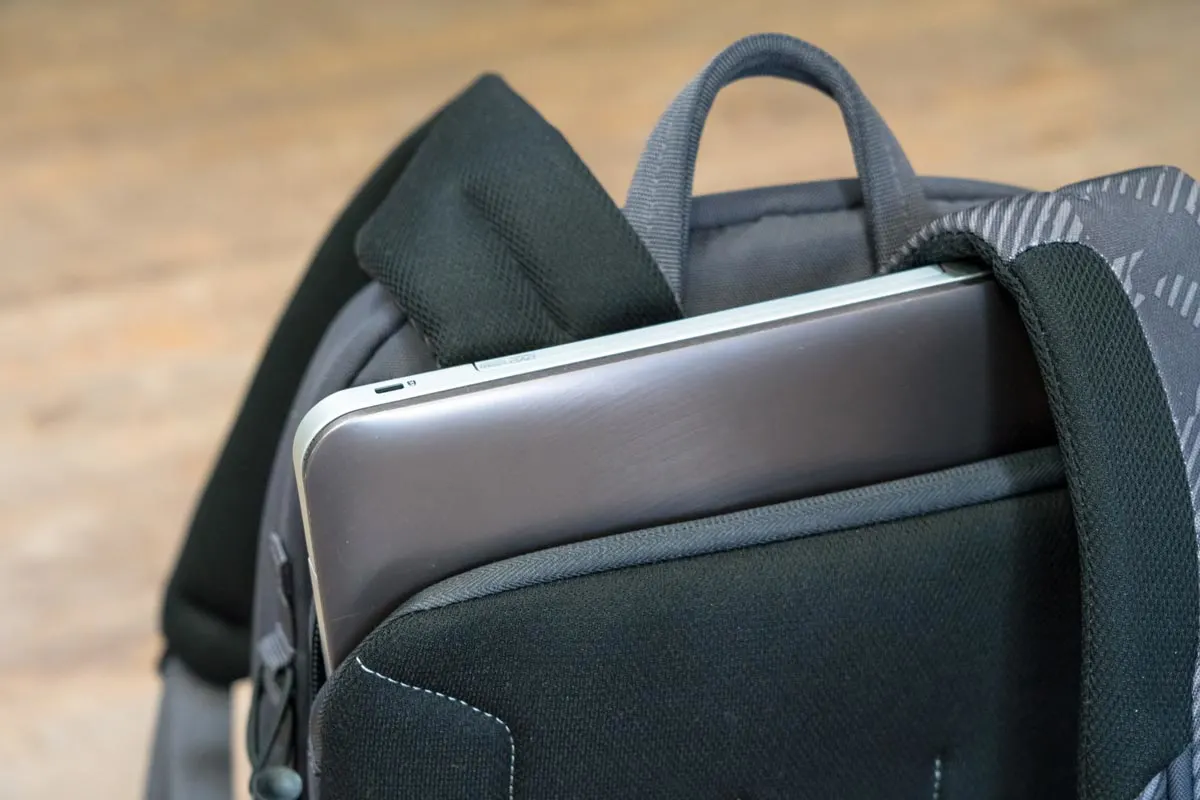 Obviously I fly a lot so I found this feature really useful. Saves me carrying a separate laptop case now and adds another layer of protection to my equipment.
Attaching a tripod
Even though it looks complicated at first, attaching a tripod at the bottom of the backpack is really easy.
All you have to do is unhook the front flap, unfasten the Velcro straps and loop them through your tripod. All in all it takes about 30 seconds.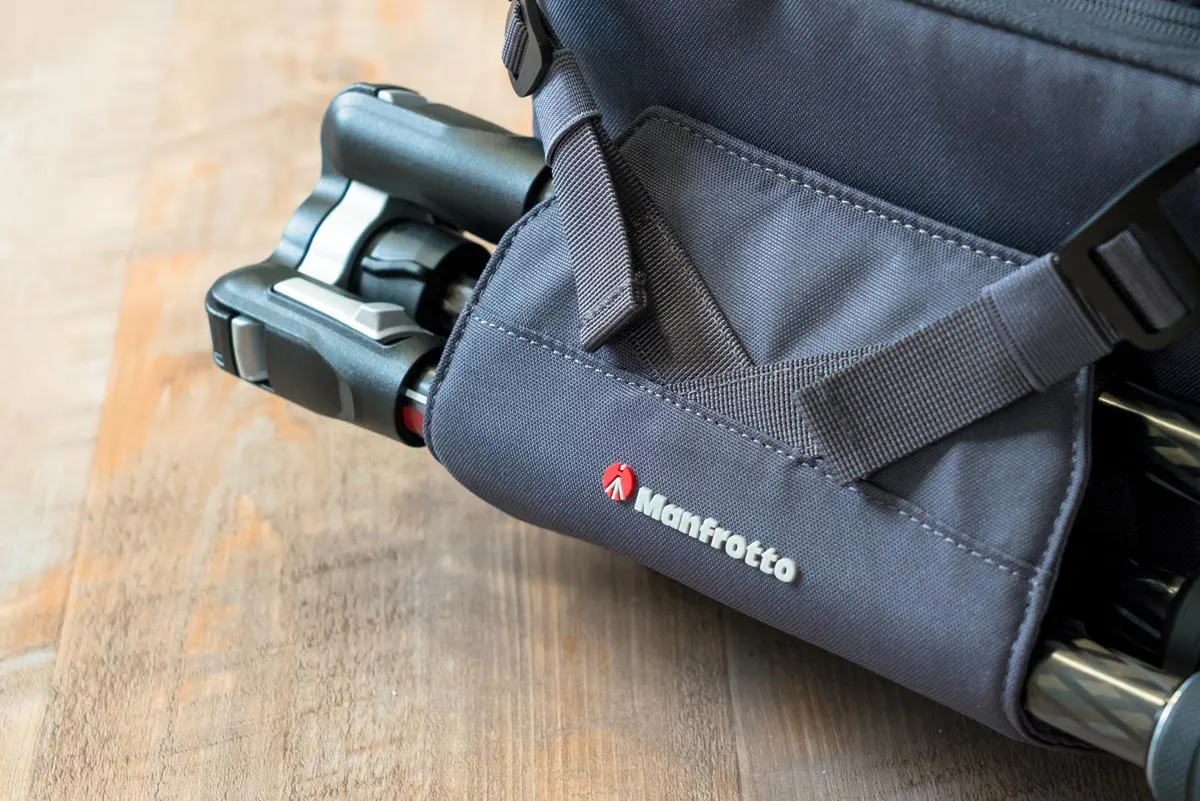 Having a tripod at the bottom of a backpack is really good for your back and posture. You want all the weight distribution at the bottom of the backpack, so it's good the Noreg is designed like this.
However, I would say one slight annoyance of having a tripod attached at the bottom is I banged it quite a few times in small spaces like on tube and buses. Not only annoying for me but for the other passengers too. Then again, I always find travelling with a tripod quite annoying so it comes with the territory.
I would also say attaching a tripod any larger than the Manfrotto BeFree Advanced would be to big and bulky so this is specifically designed for travel tripods.
What is this backpack for?
I would say the Noreg backpack is more for smaller shoots and weekends away.
If you know you're only going to need one camera, a spare lens and all the accessories, then this is perfect.
However, if you want a couple of lenses (especially something bigger like a 70-200mm f/2.8) or another camera body, then this isn't the backpack for you.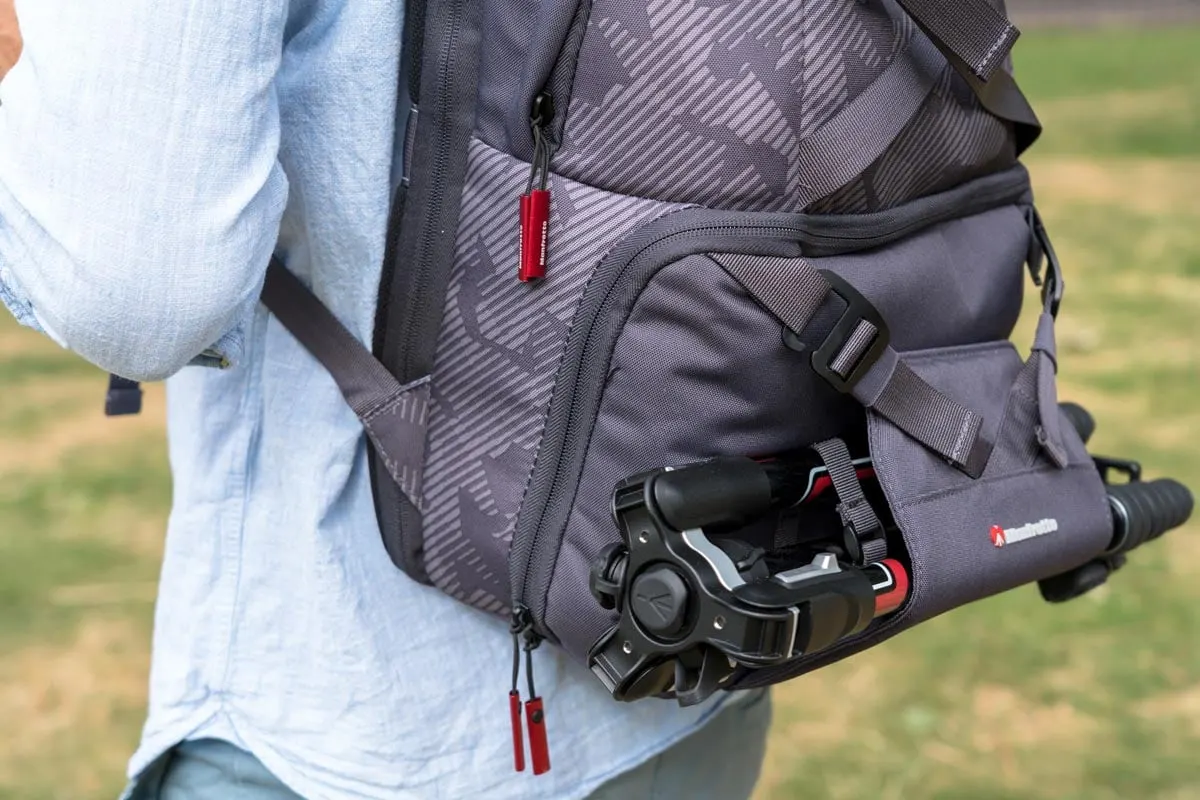 While I was testing out this backpack, I could really tell it was designed for ease of travel in mind. For example, it's the perfect size for overhead compartments on planes so you'll never have to worry about luggage restrictions.
Also, the top compartment of the bag itself is surprisingly big. I could easily fit in enough clothes for a weekend away as well other essentials like food and a water bottle.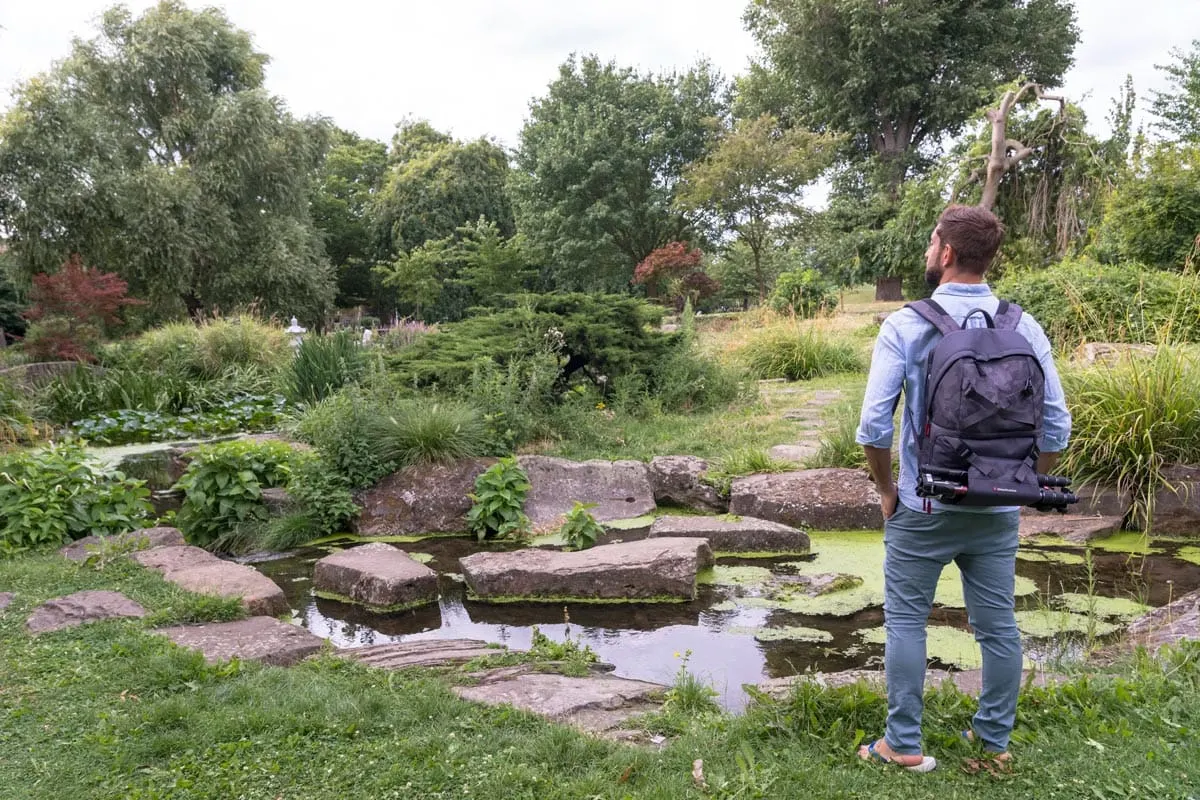 At the end of the day, a good camera backpack has to be comfortable too otherwise it'll ruin your back. With thick shoulder straps and a clip across your sternum, I found the Noreg backpack very comfortable though I do wish it came with a waist clip too.
Still, if you're looking you a stylish camera backpack perfect for weekends away then you really can't go wrong with the Manfrotto Noreg. In my opinion it really is one of the best camera backpacks for 2018!
---
This post was in association with Manfrotto promoting their new Norego camera backpack. As always, views are entirely my own and without bias.
If you've got any questions about my Manfrotto Noreg backpack review then let me know if the comments below. I'm more than happy to answer anything.

Like this blog post? Then make sure you Pin it!