Looking for the best things to do in Oslo in winter? From cross country skiing to the Viking ship museum, check out these winter activities in Oslo!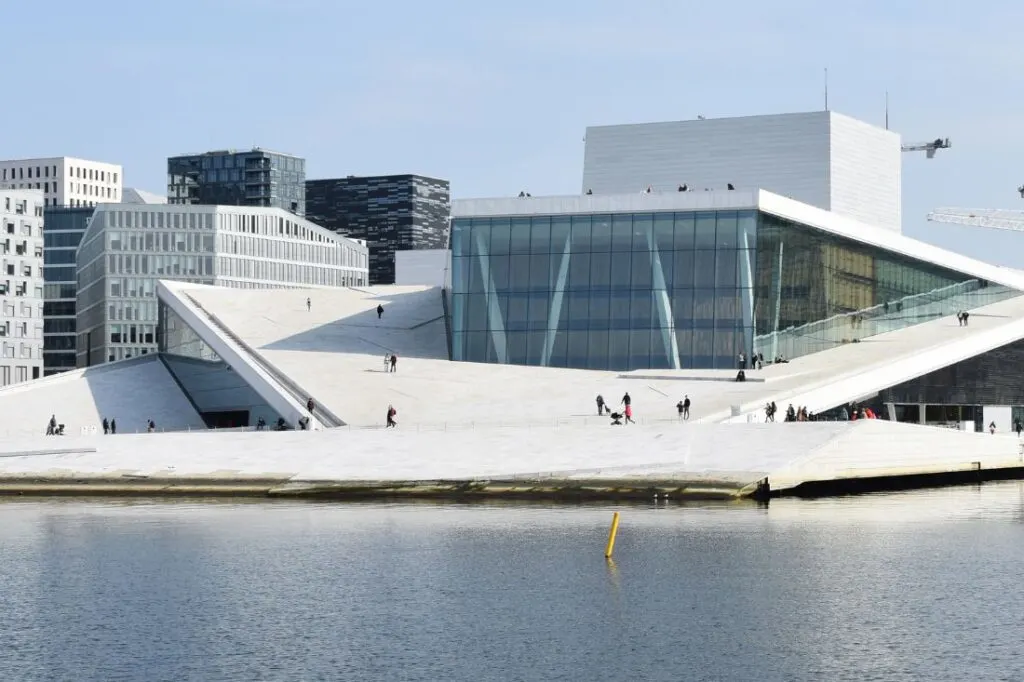 There's no place like Oslo. Norway's capital is a cultural hub in the middle of wild beauty. Mountains, glaciers, fjords – Norway has it all.
In Oslo, you have all the amenities you'd expect from a European capital, but the wilderness never feels far away. Put it this way, there aren't many places where you can go from the city centre to cross-country skiing in the wilderness in about 20 minutes!
Oslo in winter is something special. The city turns into a proper winter wonderland: ice skating, sledding, even skiing. You have it all and more. But when the cold gets a bit too bracing, there's plenty to do once you step inside, too. That's the beauty of travelling in winter!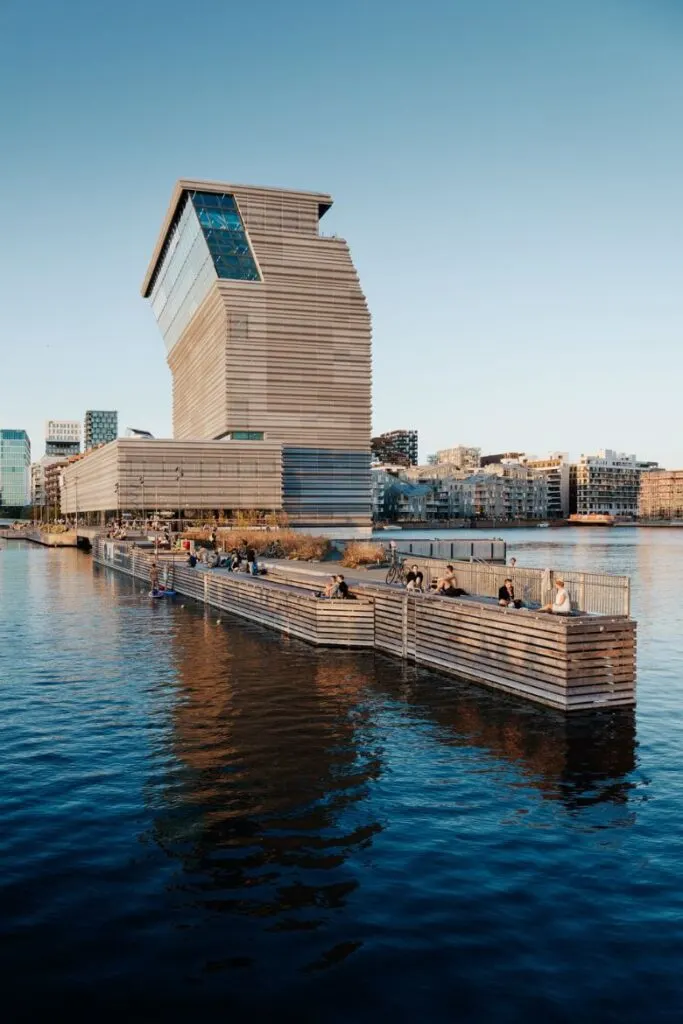 I'm talking about all the good stuff. Museums, iconic landmarks, the whole shebang. Basically, what I'm saying is, winter in Oslo is just as good as in the summer. In many ways, it's better because you're more likely to just share it with the locals.
Yep, it's cold. And yes, the days are short. Layer up and pack as much as you can into daylight hours, before enjoying indoor activities once the sun goes down.
See? Sorted. And I guarantee it'll be a winter unlike any other. So, without further ado, here are the best Oslo winter activities!
If you love Scandinavia, then check out my guide to spending a weekend in Copenhagen, and winter in Stockholm. I've been to both and they are amazing places to visit over winter!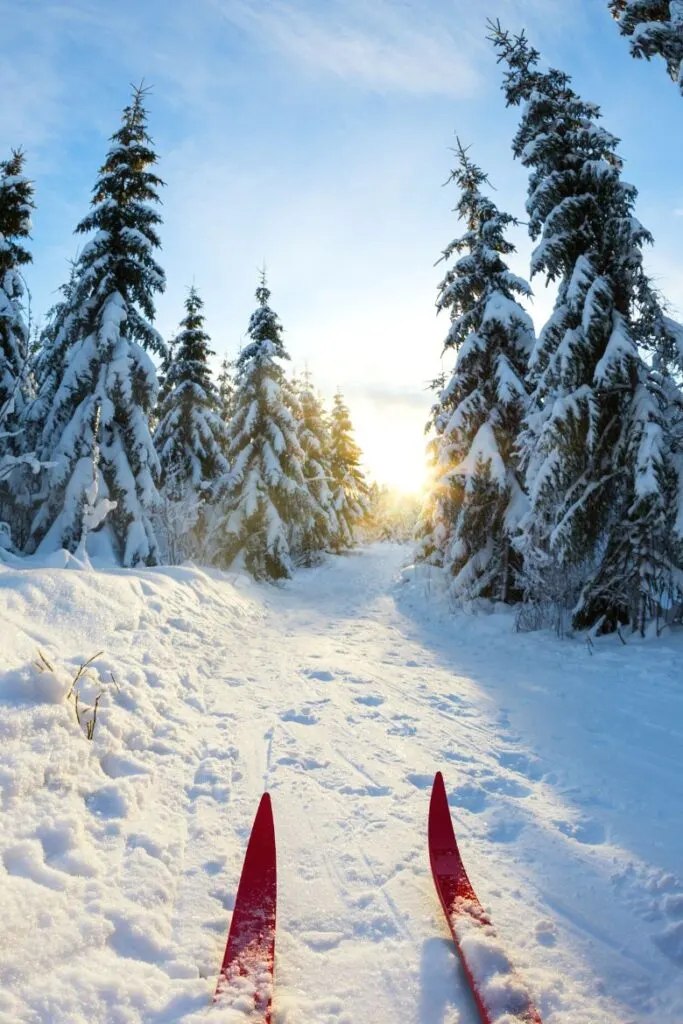 Oslo winter weather
I'll be honest with you. Weather in Oslo in winter is cold with a capital C. In December, you're looking at highs of 1°C (33.8°F) and lows of -4°C (24.8°F). As we progress into January, you've got a high – if you can call it that – of 0°C (32°F) and lows of -5°C (23°F).
Snow is likely, especially in January, which has an average of 8.8 inches of snowfall. Obviously you're going to want to pack a really warm coat (I'd take my ski jacket), hat, gloves, thermals and lots of layers. If you're going to be outside sightseeing or on the slopes, then it's really important packing the right gear so you don't freeze.
---
Things to do in Oslo in Winter
Try your hand at cross-country skiing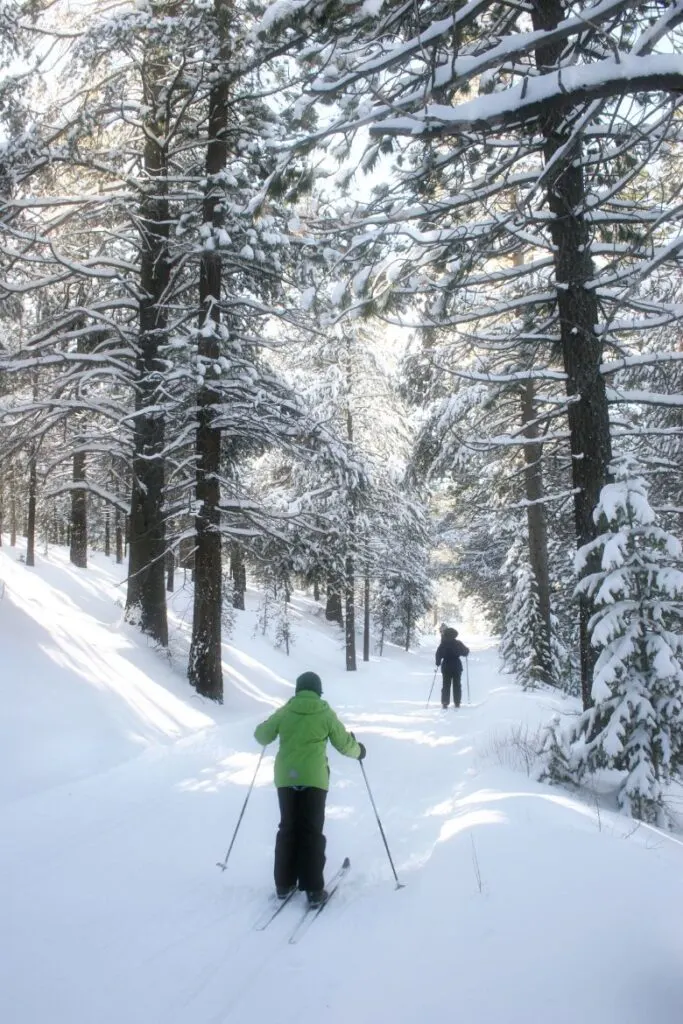 "Hang on, isn't Oslo a city?" you bet it is, but that doesn't mean skiing isn't an option. In fact, it's one of the best Oslo winter activities there is.
Cross-country skiing is particularly popular. There are over 1,600 miles of prepared cross-country ski trails in Oslo's forests. And because public transport is so efficient, it's easy to take the metro to some of the most popular destinations, like Holmenkollen.
Or go sledding instead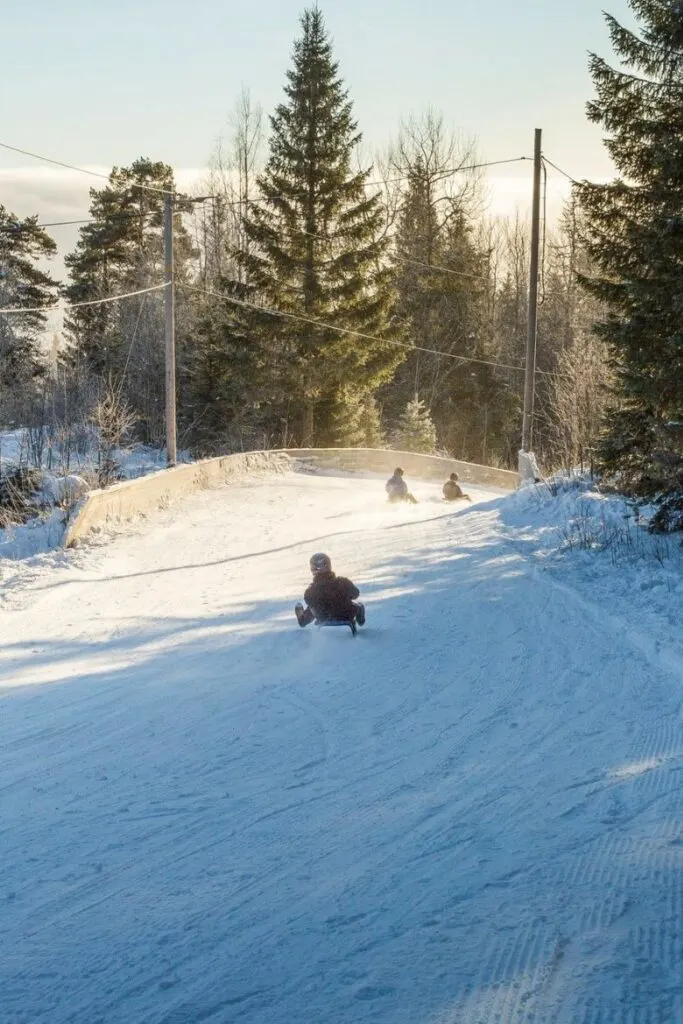 Skiing isn't the only way to enjoy the snow. Sledding is super popular in Oslo, so much so that you can rent sleds in a few local places either by the hour or for the whole day.
The best place for sledding in Oslo is undoubtedly Korketrekkeren, also known as "the corkscrew". It's a whopping two kilometres long, running all the way from Frognerseteren to Midtstuen. This is the perfect activity for the little ones too, though you'll see people of all ages on the slopes.
Visit Holmenkollen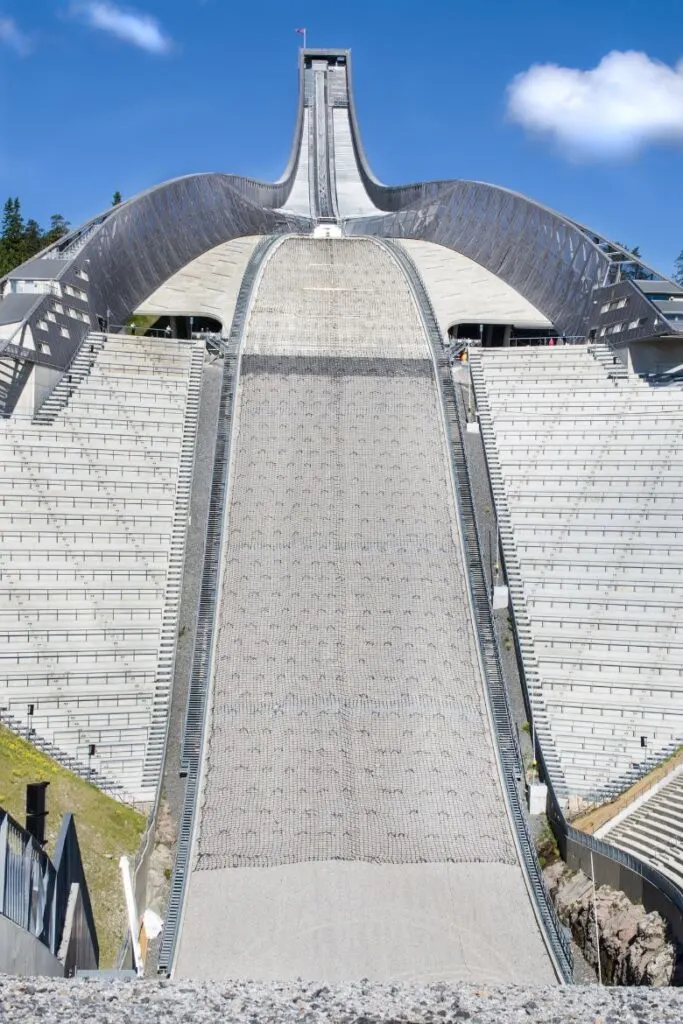 Speaking of snow sports, no trip to Oslo in winter is complete without a visit to Holmenkollen. Holmenkollen is a mountain that's home to some of the coolest attractions in Oslo.
Firstly, there's the ski jump, which dates back over 100 years (which is just crazy when you think about it). There's also the ski museum, which is the oldest of its kind in the world and houses over 4,000 years of history.
Check out Oslo Winter Park at Tryvann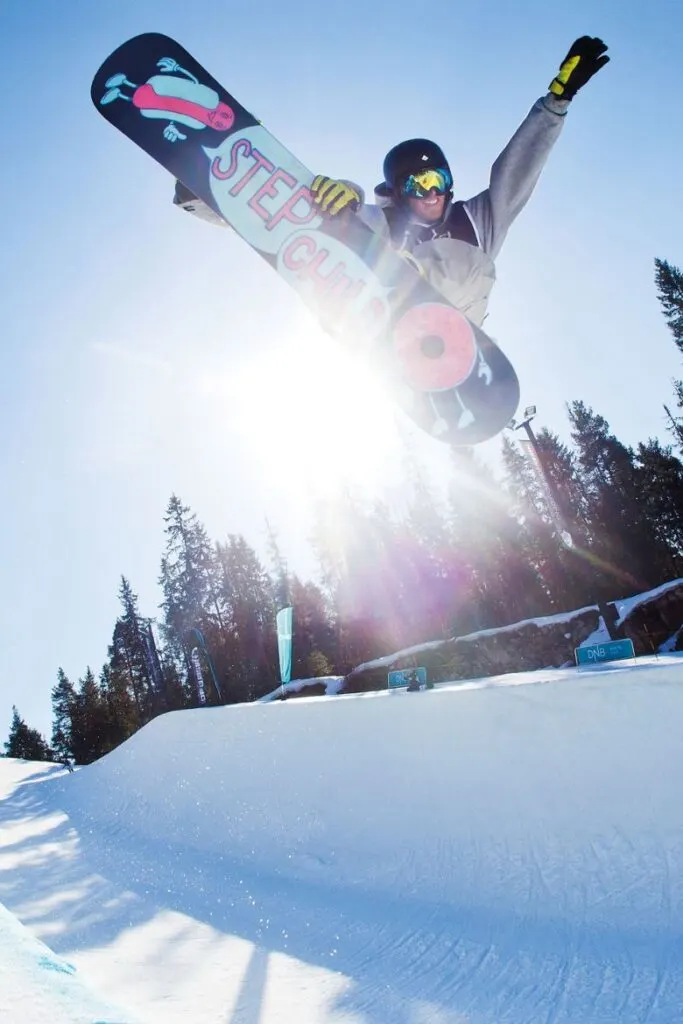 Want to get in some ski practice? Don't miss the chance to try out the Oslo Winter Park at Tryvann.
With 14 runs – the longest being 1,400m – and 7 ski lifts, it's a great place to take to the slopes. Plus, because there's so much choice, there's a lot of flexibility with skill level. This is definitely one of the best winter activities in Oslo if you're a ski/snowboard fanatic like me.
Experience Oslo's Christmas markets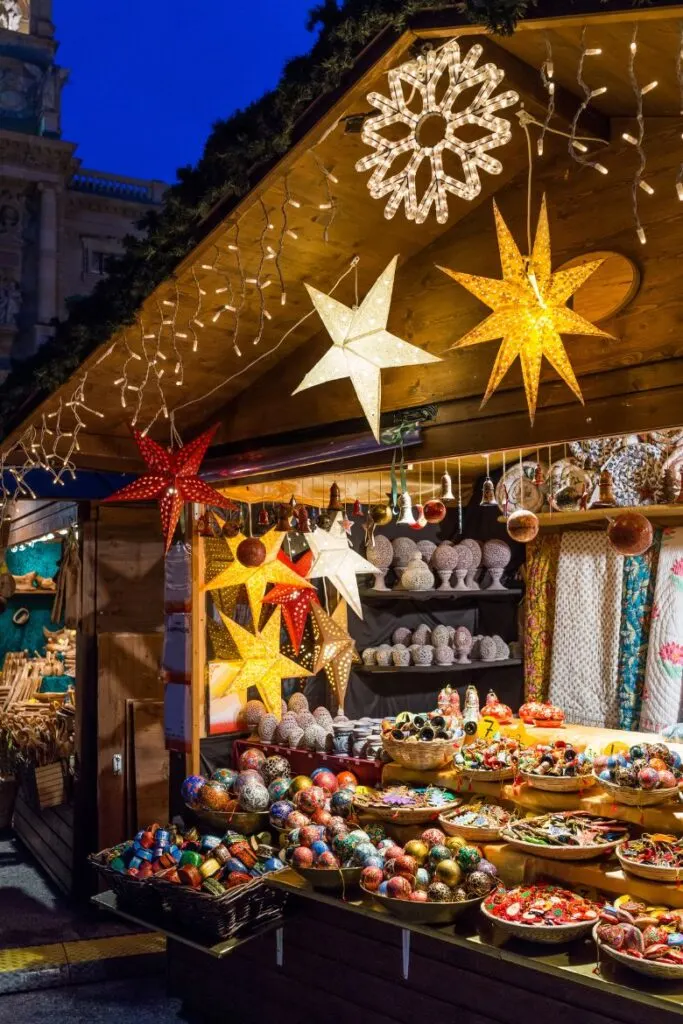 If you're visiting Oslo in December, it's prime time to get into the festive season. And few things are as festive as a Christmas market.
Oslo's are particularly great – you're in Scandinavia after all. Oslo's markets are open every day in the lead up to Christmas and are perfect for getting your hand on some traditional Norwegian goodies. Winter woolens, ornaments and sweet treats will be in abundance, along with mulled wine and local delicacies. Elk burger, anyone?
Take a hike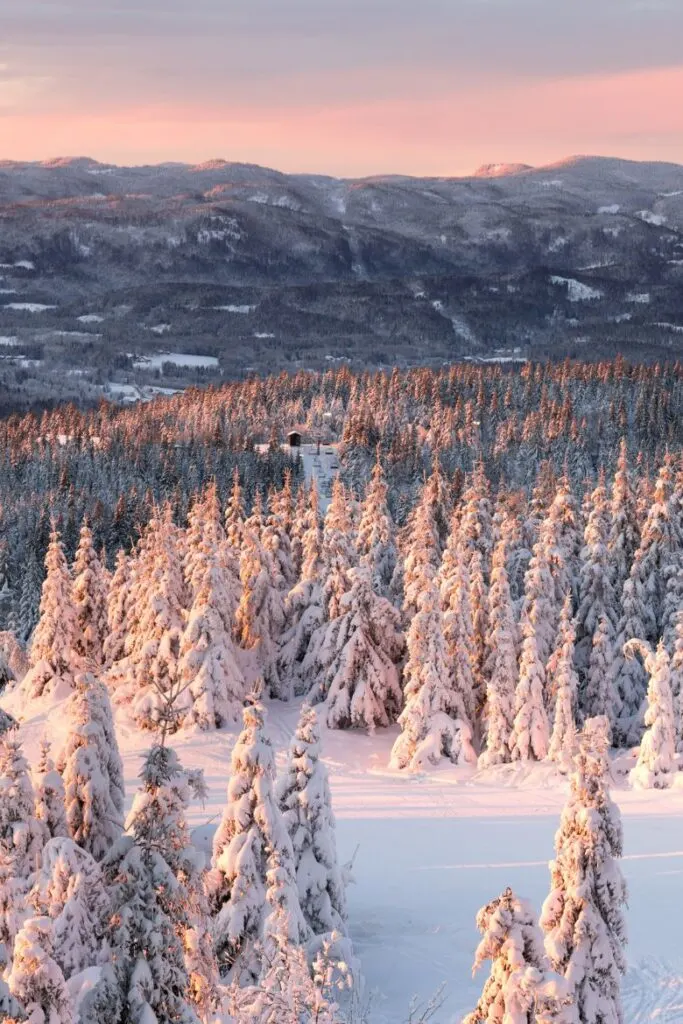 Nope, I'm not telling you to leave my blog; I'm telling you not to miss out on Oslo's beautiful walking and hiking trails just because it's cold.
Winter hiking is one of my favourite activities. There's tons of good local trails in Oslo. Consider Nordmarka (also a great skiing location!) or Grefsenkollen, from the top of which you can catch views of the city and the fjord.
Go ice skating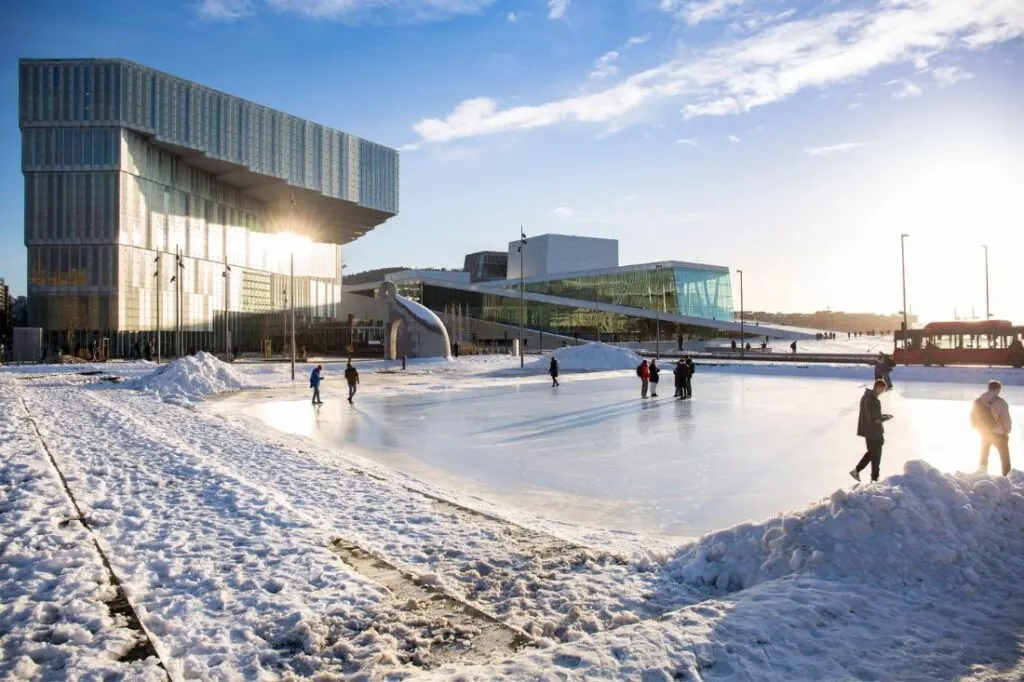 Ice skating is a classic, and it's super easy to do in Oslo in winter. Because it's so popular, there are tons of places to skate in winter. If you want a rink, I'd recommend Spikersuppa in the city centre. It's free if you have your own skates, but you can rent them too.
You can go skating on frozen lakes in Oslo, but you need to be really careful and make sure it's safe. Pay attention to any warnings, always follow local guidance, and never head out on your own.
Warm up at the KOK sauna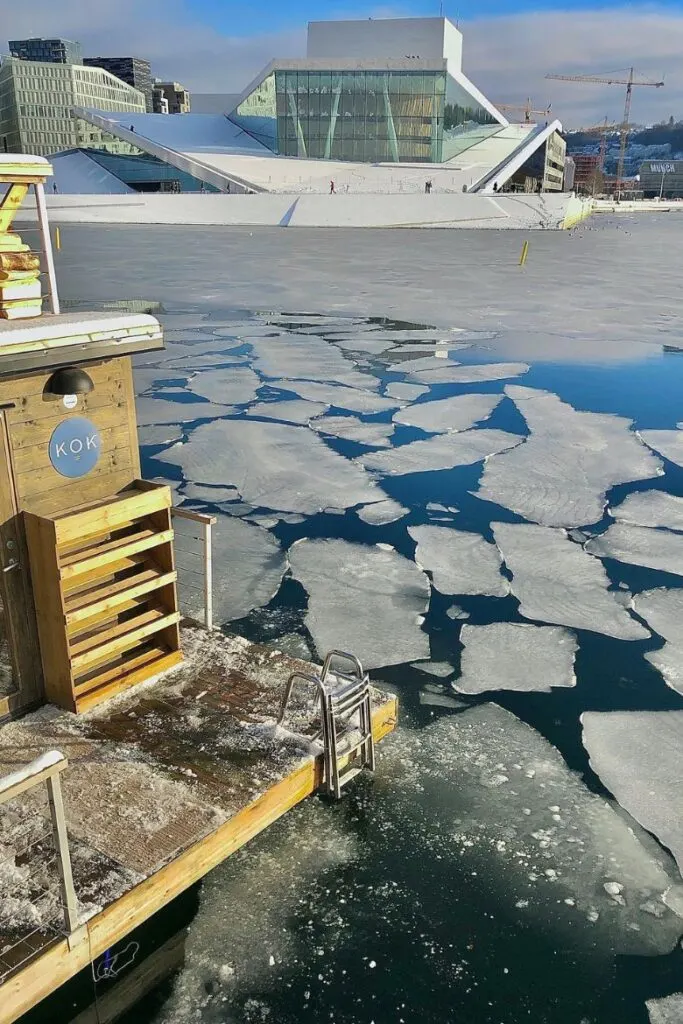 Feeling chilly after a day packed full of Oslo winter activities? No worries, I've got the perfect place to warm up.
KOK Oslo is a sauna unlike any other, mainly because it floats. It drifts around the Oslo Fjord throughout the river, and offers three experiences for guests. Enjoy the experience with others, or rent it out for a private group. If you're brave enough, you can even take a dip in the water!
Get educated at the Nobel Peace Center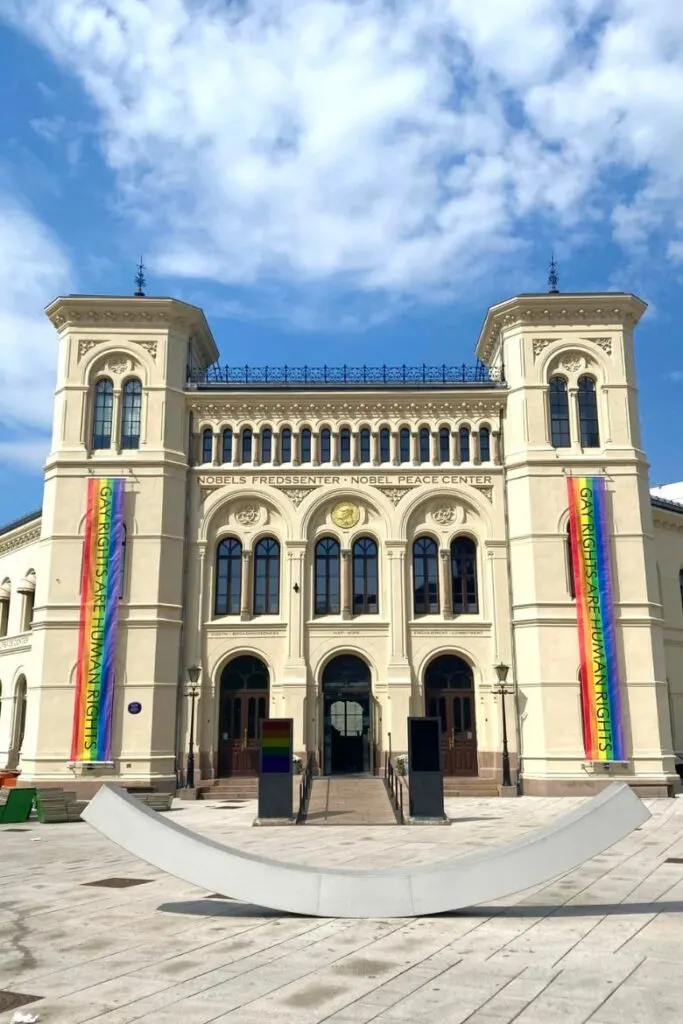 Oslo is famously home of the Nobel Peace Prize. In the Nobel Peace Center, you can get educated on the history of the prize, and its founder, Alfred Nobel.
Explore the museum, take a guided tour, or if you time your visit right, attend a specific event or exhibition. Obviously if it's cold outside, then this can be a great place to visit to get inside for a bit. There's also a really love cafe here too!
Or learn about the vikings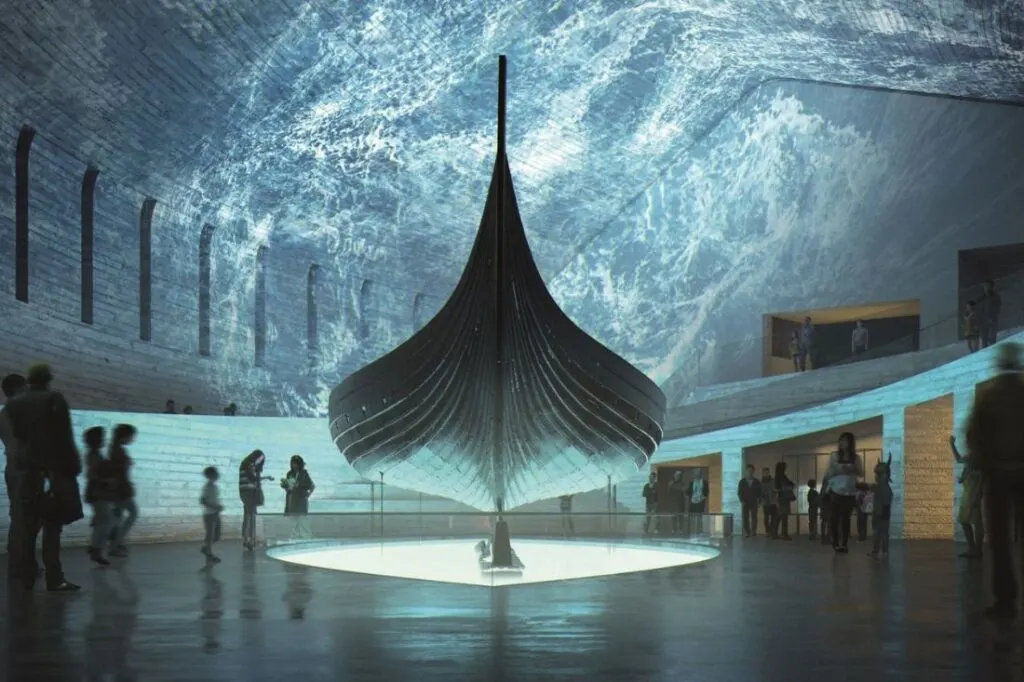 When visiting a new place, I really love to learn about the culture and history. That's why I'm an avid museum goer – I'll usually always recommend at least one.
Oslo has some amazing museums, but my personal favourite has to be the Viking Museum. It's home to some of the world's best preserved Viking ships, as well as weapons, jewellery, and other bits and pieces from the viking age.
Sadly, the museum is closed for renovations until 2026 earliest. Be sure to keep it on your list until then though!
See one of the world's largest sculpture parks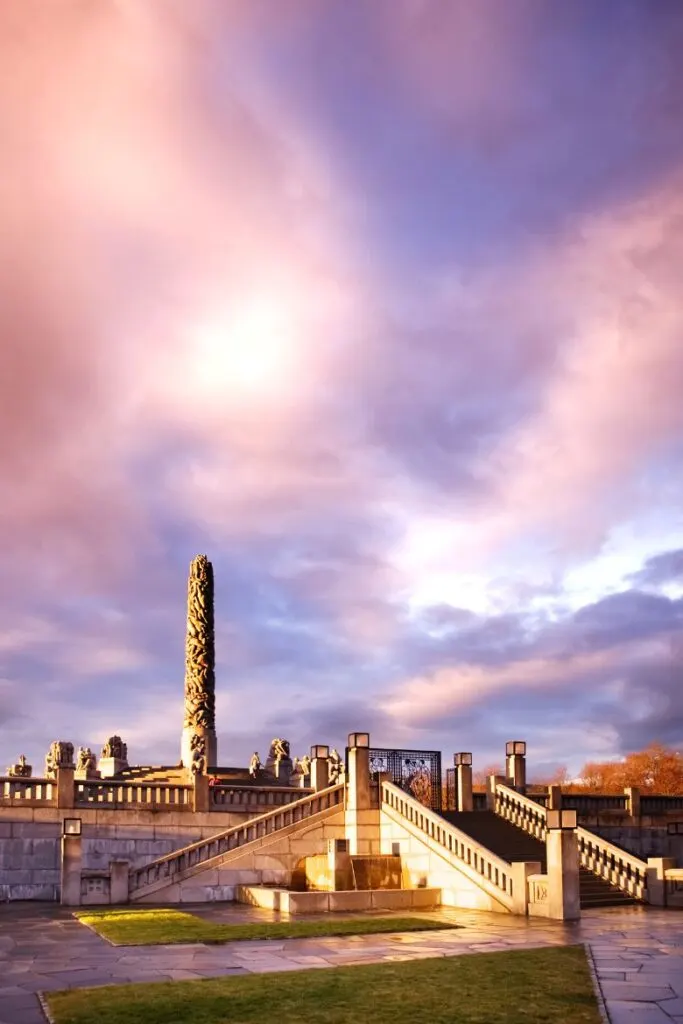 Vigeland Sculpture Park is one of Oslo's best attractions. It's outdoors, sure, but the winter is actually one of the best places to visit.
See, over a million people visit the park each year. It's the world's largest sculpture park by one artist, and houses over 200 of Gustav Vigeland's bronze, granite and cast iron sculptures. In the summer, the place is heaving, so out of season you miss the crowds and get more time to peruse the collection.
Get a glimpse of Oslo's opera house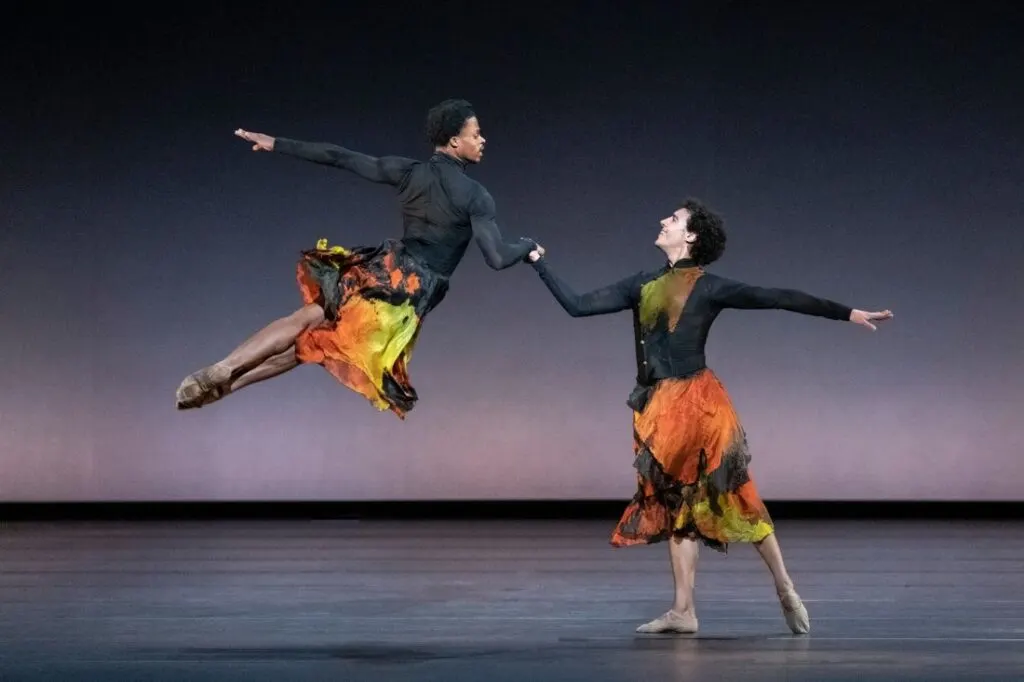 If you're passionate about the arts, you need to visit Oslo's opera house. As Norway's largest artistic institution, it's home to opera, ballet, musical theatre and concerts.
If you time it right, catch a show. If not, glimpse some pretty incredible architecture from the outside.
Walk on water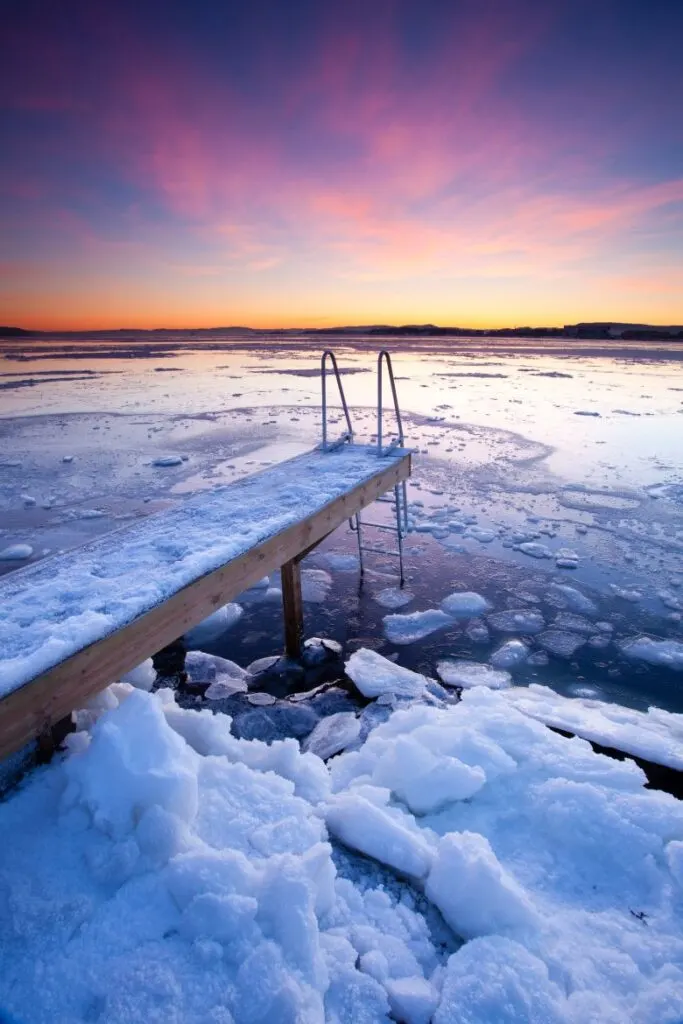 Yep, that's a thing that you can do in Norway. Depending on the time of year, if the ice is thick enough when the sea of the fjord freezes over, you can cross it on foot. Sandvika is the most popular place to do this.
Now, you've got to be extremely careful with this. There are usually signs and local warnings, so follow the guidance. Again, never go it alone!
---
Where to stay in Oslo in winter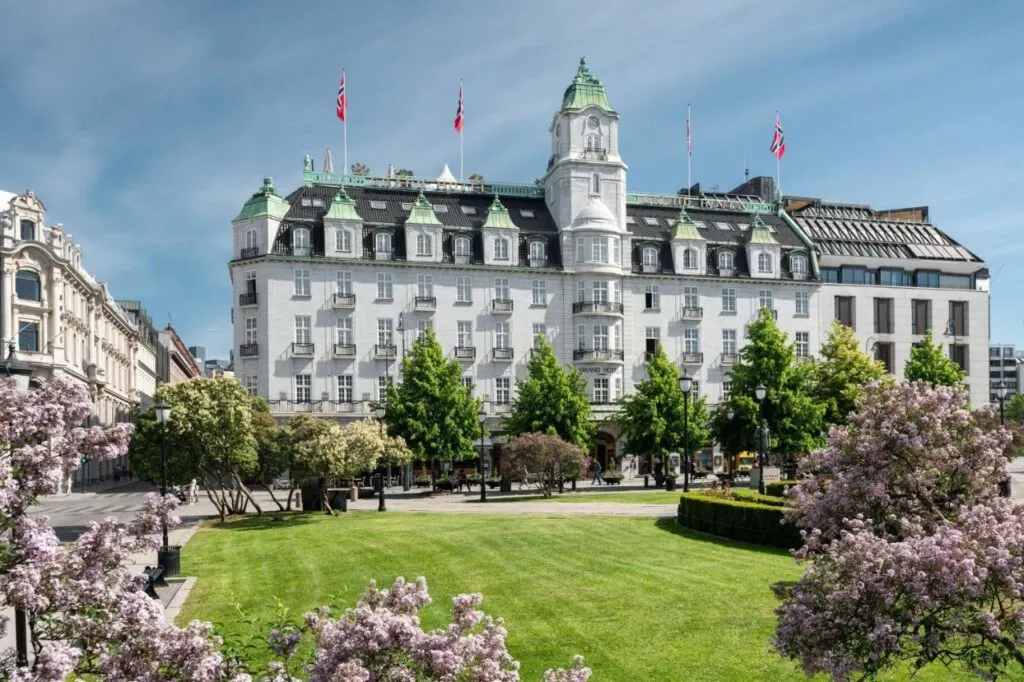 If you've got the funds, you can't get grander than the aptly named Grand Hotel. Located right in the city centre – it's literally 550 yards from the Royal Palace – the Grand Hotel has stood tall and proud since 1874. Guests enjoy panoramic views from its rooftop bar and free access to its spa on weekdays. Nice.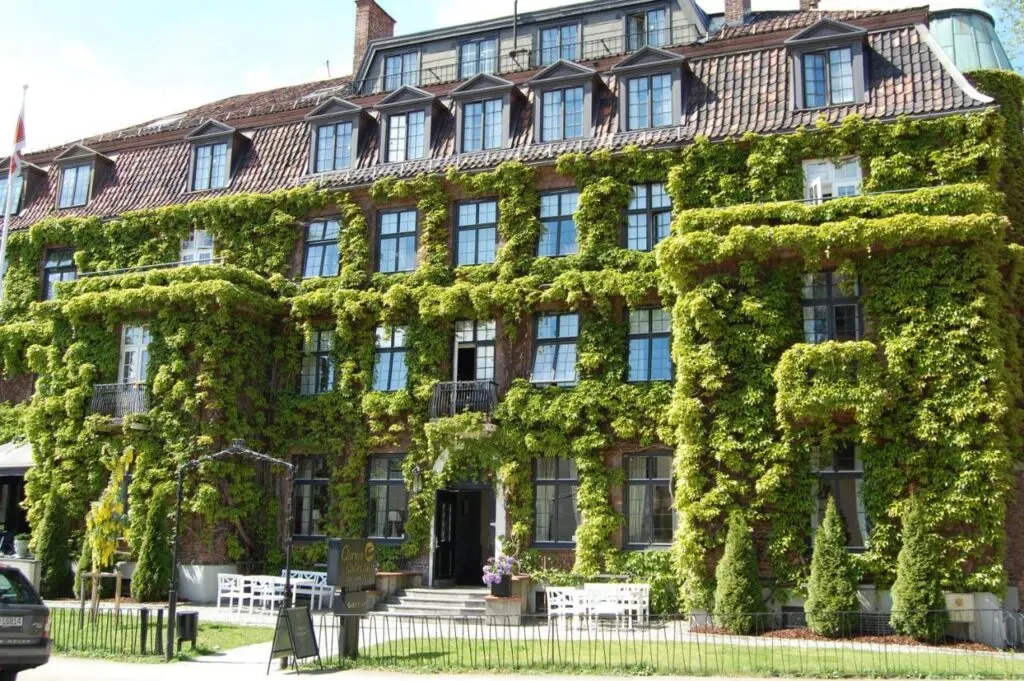 One of the most distinctive hotels in Oslo thanks to its leafy exterior, Hotel Gabelshus is cool, comfy and cosy. Some rooms have balconies, the hotel has a fitness room (plus a sauna) and it has a library. What else do you need?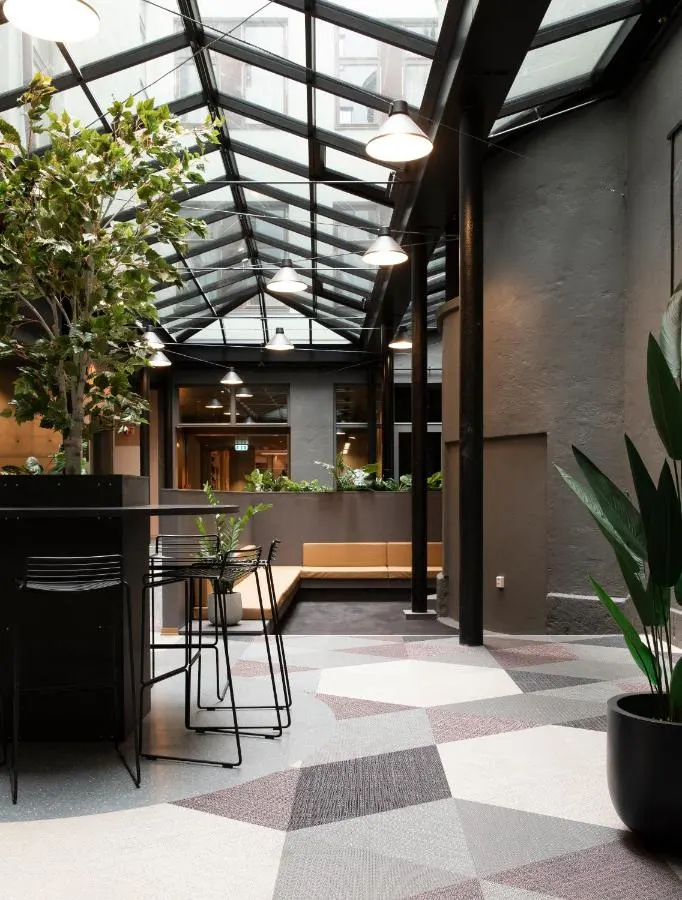 Cheap and cheerful, Citybox Oslo is in the heart of the city, so it's absolutely ideal for exploring. Rooms are bright, cheerful and comfortable, with private bathrooms and a work desk for the digital nomads amongst us.
---
And that's a wrap! Now, the floor is yours: head to the comments to tell me your own best experiences in Norway, other amazing winter cities, or any activities you think I've missed.
Like this blog post? Then Pin it for the future!