Are you looking for a magical winter city break? From Budapest to Stockholm, check out these incredible cities for a snowy city break!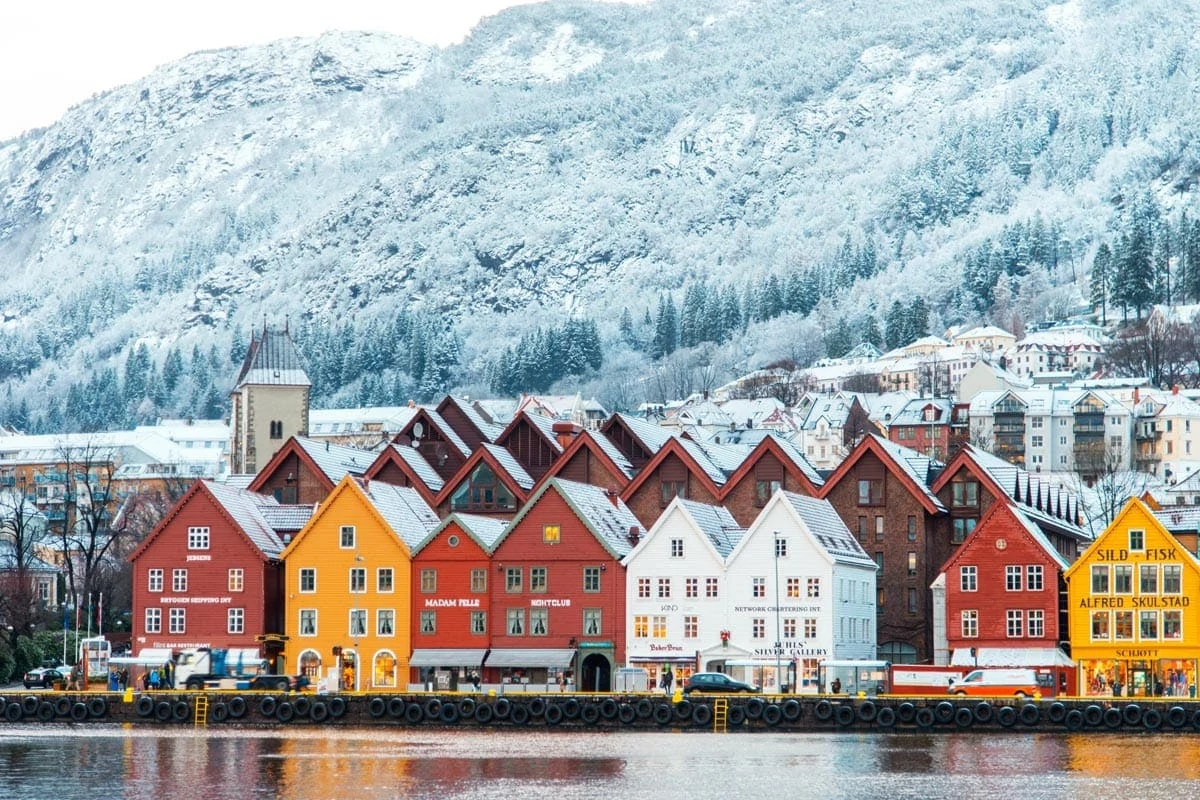 There's nothing quite like wrapping up warm and going on a winter city break, is there?
Living in London, my winters are far from magical. It's all cold grey days and early nights. If it snows, it instantly turns to slush and the city shuts down. And don't even try speaking to people in January or February because everyone is so grumpy.
That's why I always go on one or two winter city breaks in the new year, usually to somewhere I've never been before.
I really love exploring a new city when it's bright and cold, and cities like Copenhagen, Stockholm and Tallinn look so beautiful blanketed in snow.
With that in mind, I thought I'd ask a few bloggers to share their favourite winter city breaks.
From Budapest to Oslo, these are some of the best European winter city breaks. Also, I just had to include a couple of other places like the States and Kazakhstan for something a little further afield. There really are some amazing winter destinations all over the world!
So, if you're looking for your next city break this winter you really can't go wrong with any of these!
Tallinn, Estonia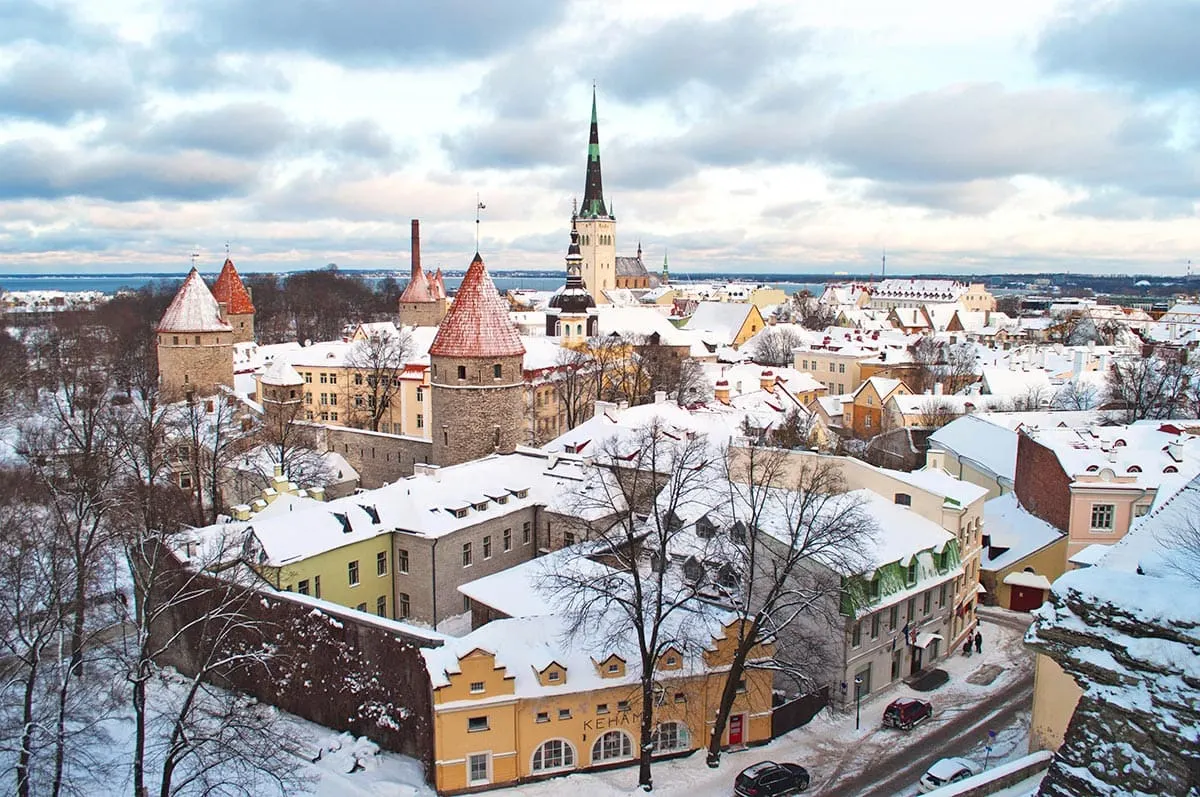 Take Tallinn's medieval streets and fairy tale turrets, add a sprinkling of snow, drape them with sparkling lights and you've got festive magic.
During the winter months, Tallinn's old town is a Christmas card come to life. The city dates back to the 13th century and still has the same cobbled streets and merchants' houses painted in pastel shades. Its small scale and pedestrianised streets make it a great place to wander around too.
Or you can climb up onto the city walls for a bird's eye view over the snow-covered rooftops. And when the chill sets in, just look out for a café with a candle outside the door. This means they serve hõõgwein. This is Estonia's version of mulled wine with fruit and nuts on the side.
The Old Town Hall Square is the heart of the old city. This is where you'll find the Christmas markets in December, with stalls selling gifts and local specialties like sauerkraut and black pudding. Oh, and it's all set around a giant Christmas tree.
There are so many winter activities in Estonia, but a weekend away in Tallinn is right up there.
Did you know you can see Tallinn as a day trip from Helsinki too? If you've got time then I'd really recommend it! Here's how you can travel from Helsinki to Tallinn.
For more information check out On the Luce's post on 'the magic of Tallinn in the snow'.
Oslo, Norway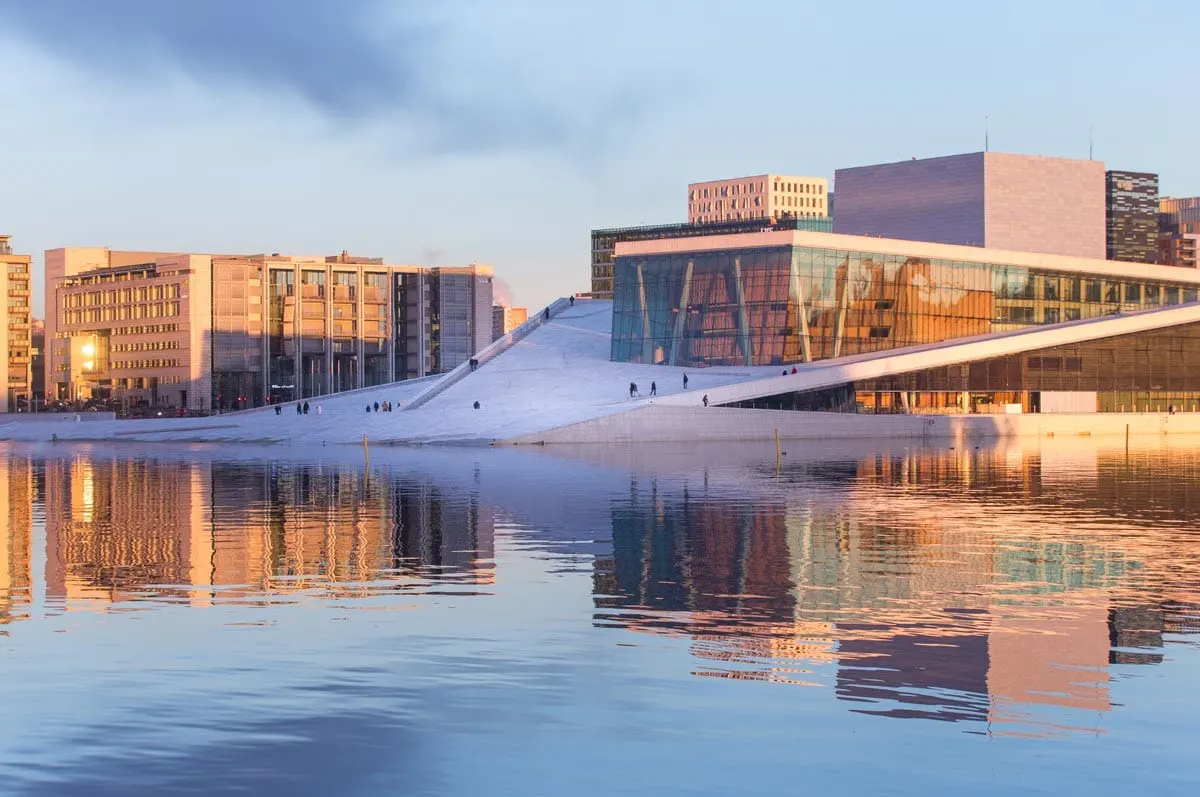 Imagine green hills covered in snow, glittering ice-free fjords, mountains, valleys and a vibrant city in the middle of its surroundings, beating like a living heart. Welcome to Oslo, Norway's largest city and its capital.
Christmas spirit fills the city from the middle of November throughout to December. The whole city is covered in soft lights glittering in the snow, giving it such a magic touch. Christmas markets will tempt you with a smell of gløgg (Norwegian glüwine), ginger bread and other Norwegian specialties.
In 40 minutes from the city centre, the metro will take you up one of the highest hills surrounding Oslo. Rent downhill or tobogganing equipment, rush down the hills and enjoy crispy winter air biting your skin despite the sunny weather. Explore cross-country slopes or go for a walk and feel like a native Norwegian on a Sunday walk.
Also, don't forget to visit Holmenkollen National Ski Arena. This will will provide you with brilliant views of the city, ski museum and downhill simulator. It will give you an understanding of why its a temple to the religion of skiing in Norway.
The modern Oslo will surprise you with its museums and contemporary architecture. Visit Oslo Opera House and walk on its white marble roof. Its architectonic design gives spectators the image of the Opera House arising from the fjord. Also, it's free to enter which is great news.
Another eye-catching architectonic wonder is Astrup Fearnley Art Museum with its intention to provide a visual idea of the tall ships once sailed along Oslo's harbor.
There really is so much to do in Oslo on a winter weekend away!
For more information check out Travelletter's post on 'top things to do in Oslo'.
Stockholm, Sweden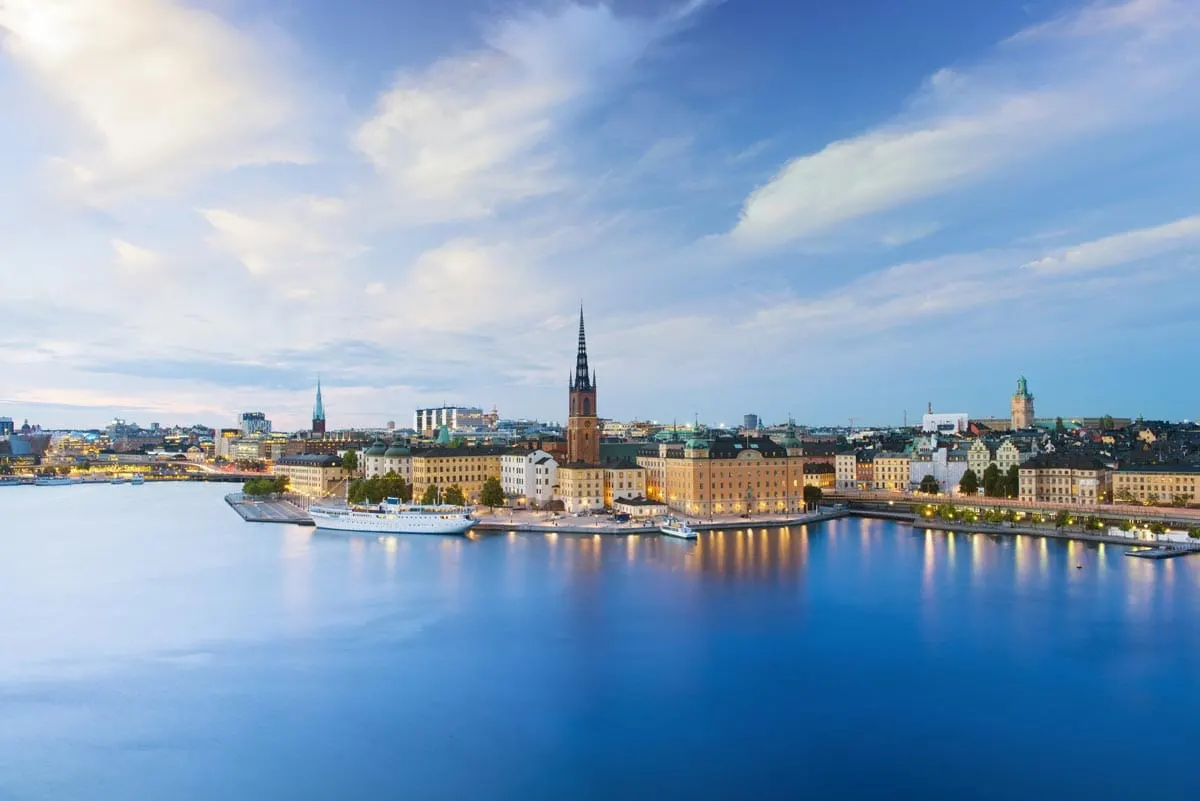 If you're looking for the perfect winter city break, look no further than the magical Scandinavian city Stockholm! For me, Stockholm is the perfect snowy city break as during the cold months it becomes a magical winter wonderland.
I would say Stockholm is actually a city that is better visited in winter. In summer the crowds in Stockholm can be horrific, especially if one or several cruise ships are docked in the city. By comparison, Stockholm in winter is almost deserted of tourists, but is a city that is still alive with locals.
In winter the dark nights close in early which adds to the atmosphere of the city. The cold weather offers many opportunities to experience fika and the traditional dish of Swedish meatballs.
If you want to escape the cold I recommend visiting one of the city's many museums, my favourites being the ABBA museum and the Vasa museum. Also, make a visit to the royal palace – it's so beautiful there! For kids, the Nordic zoo at Skansen is a lovely place to see animals in their original habitat and environment.
But for me the best thing about visiting Stockholm in winter is timing the visit in December and visiting a Christmas market held at Gamla Stad and Skansen living history museum. And if you are lucky you might just get some snow too – just like we did during our winter visit! This is why a short break to Stockholm is such a good idea!
For more information check out Wandermust Family's post on 'why you should visit Stockholm in winter'.
Helsinki, Finland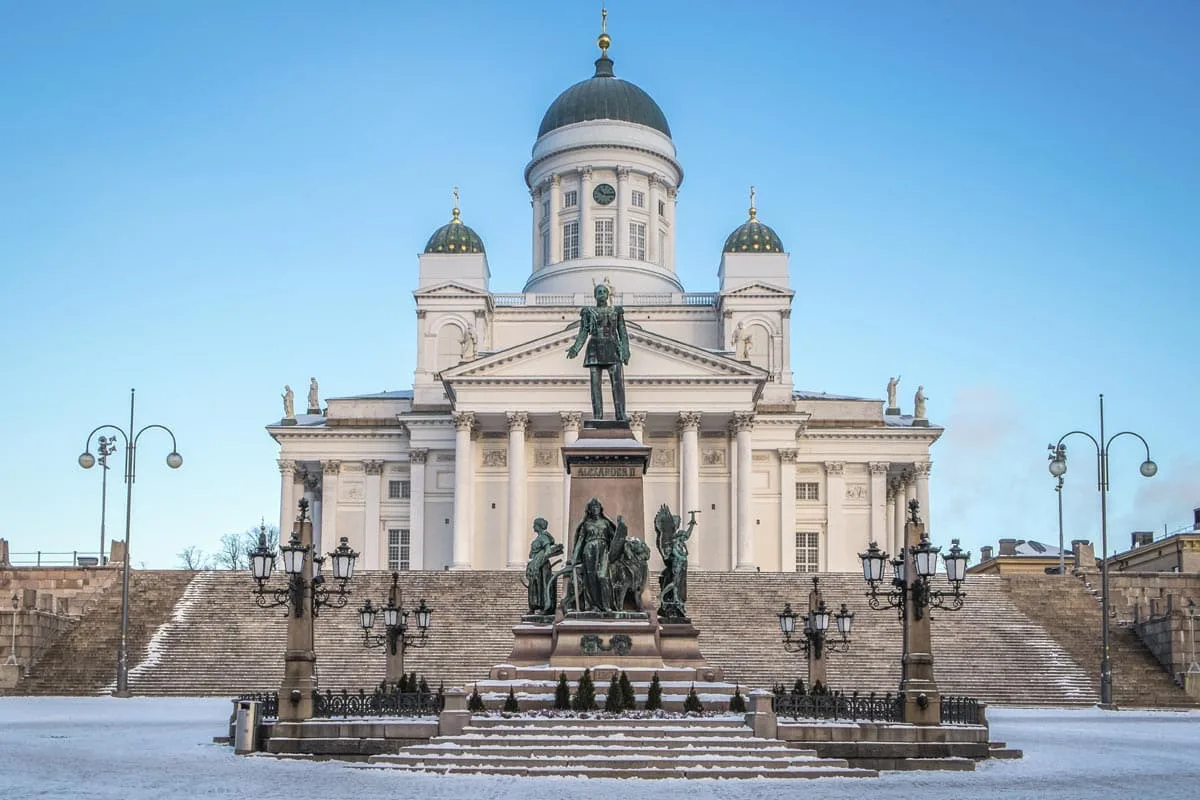 One of the best winter weekend breaks is to Helsinki in Finland!
This Nordic capital is especially charming in the winter, even though the daylight hours are limited – think sunsets around 3 PM. However, the lack of sunlight won't get you down as the whole city is lit up with beautiful lights during the holiday season, and then also again during the Helsinki Lux festival which occurs in January.
You can grab delicious food and drinks in Senate Square, which is especially festive around Christmas when booths open up to sell ornaments, traditional Finnish products, and tasty warm drinks like mulled wine (called glögi in Finland) and hot coffee. In fact, a great cup of coffee is never far anywhere in Finland, as Finns are the #1 drinkers of coffee in the world. It helps them cope with the cold winters and short days!
One other traditionally Finnish way to enjoy the winter in Helsinki is to take a traditional sauna. Many luxury hotels in Helsinki have saunas, but you also can visit a modern public sauna like Löyly, which overlooks the beautifully frozen Baltic Sea.
In addition, there's also the UNESCO fortress island of Suomenlinna that's well worth a visit even in the cold. There are also several fantastic museums such as the Design Museum that are great for exploring when the weather outside is uncooperative.
If you want to get out of the city, Porvoo and Nuuksio National Park are only a quick train or bus ride away. You can even take a day trip to Tallinn. This really is such an amazing winter city break!
For more information check out Eternal Arrivals's post on visiting 'Helsinki in winter'.
Vienna, Austria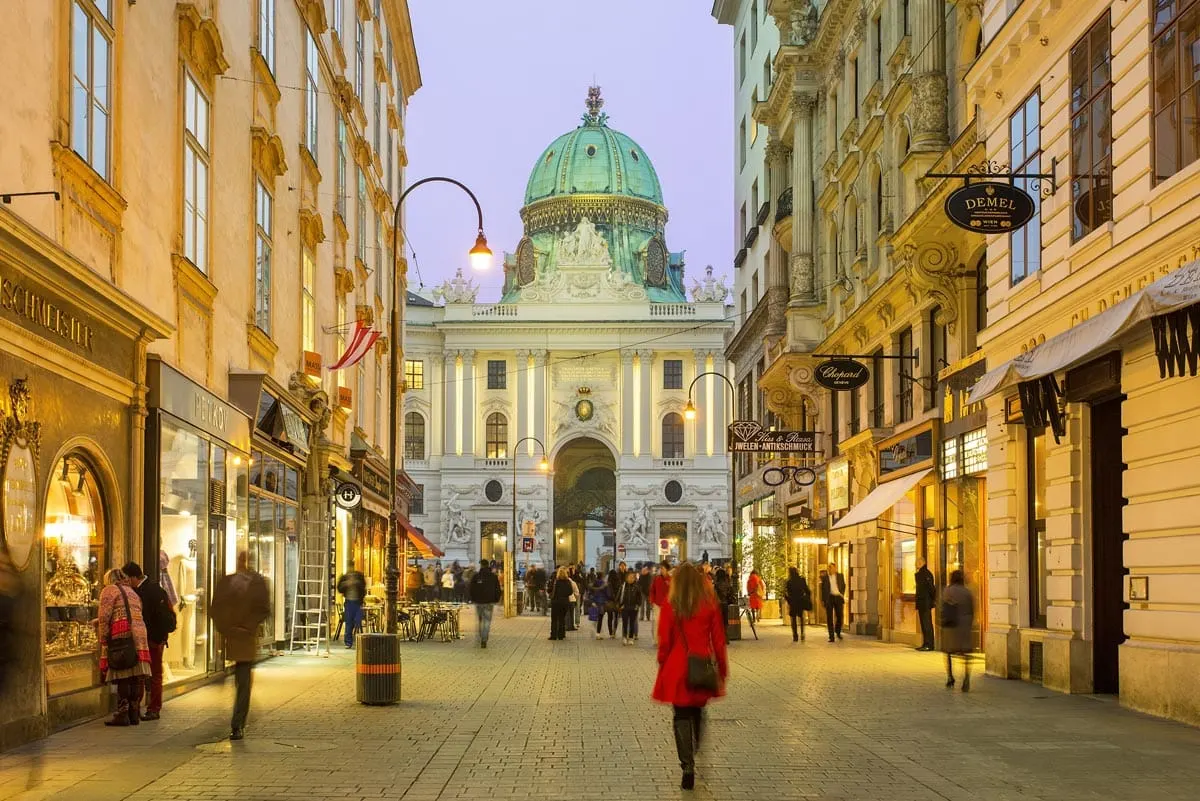 Vienna is an all-year destination, but it gets particularly attractive in early winter when the city transforms into a Christmassy sea of light.
Everyone is out at one of the numerous charming Christmas markets to mingle and feel the pre-holiday spirit. Each market has its own flair and you should definitely visit more than just one. Every street sparkles in different lights and it really puts you in the Christmas mood.
Vienna is famous for its coffee houses. They are traditional, cozy and you might get lost in the countless number of different types of coffee you can order. Don't forget to enjoy your coffee with a traditional apfelstrudel or sachercake.
Up for a waltz? Then you should schedule your visit to Vienna to attend one of the glamorous balls. Dress up like a Hollywood star and enjoy an evening dancing and sipping champagne.
Vienna is also a city of culture, classical music and architecture. You won't have difficulty in finding something to your taste. Just visit a classical concert in the splendid hall of the Musikverein and explore the museums and galleries.
I recommend strolling through the city and looking at all the architectural details of the buildings all around you. Famous architects such as Wagner or Hundertwasser have left their marks on this incredible city.
Tip from a local: Vienna is also famous for hot dog stands. Don't forget to eat a sausage at the Würstelstand (that's the Austrian name of hot dog or sausage stand) by the Albertina museum!
For more information check out Suitcase and Wanderlust's post on '3 Days in Vienna'.
Budapest, Hungary
If you are looking for a cheap escape in the cold season, Budapest is the ideal place. Budapest is called 'the little Paris of East', and we can assure you it has a similar charm.
Winter makes it an amazing time to visit with temperatures dropping below zero and snowflakes whitening everything all around. Also, it is one of the cheapest cities in Europe, ideal for backpackers.
In winter time is a good idea to treat yourself with a day in one of the dozen spas in Budapest. The city is well known for being a thermal city with hot natural water coming up easily. This makes it the ideal place to relax your body and destress. The most popular spars are Gellert and Ruda Bath in the part of Buda, and Szecheny Baths in Pest.
Budapest used to be two towns split by the Duna running through the middle – Buda and Pest. Today, it is one city connected by a couple of gorgeous bridges. In the Buda part you can visit the Fisherman's Bastion and the Budapest Castel, the perfect place for sunset. On the opposite side of the Duna is the Parliament, St. Stephen's Basalicia and the shopping city centre.
Budapest is the perfect winter city break as it is cheap, cozy, full or rich history and the nightlife is absolutely incredible too. This is what Budapest winter breaks are all about!
For more information check out Italian Trip Abroad's site for loads of content on Europe.
Lake Bled, Slovenia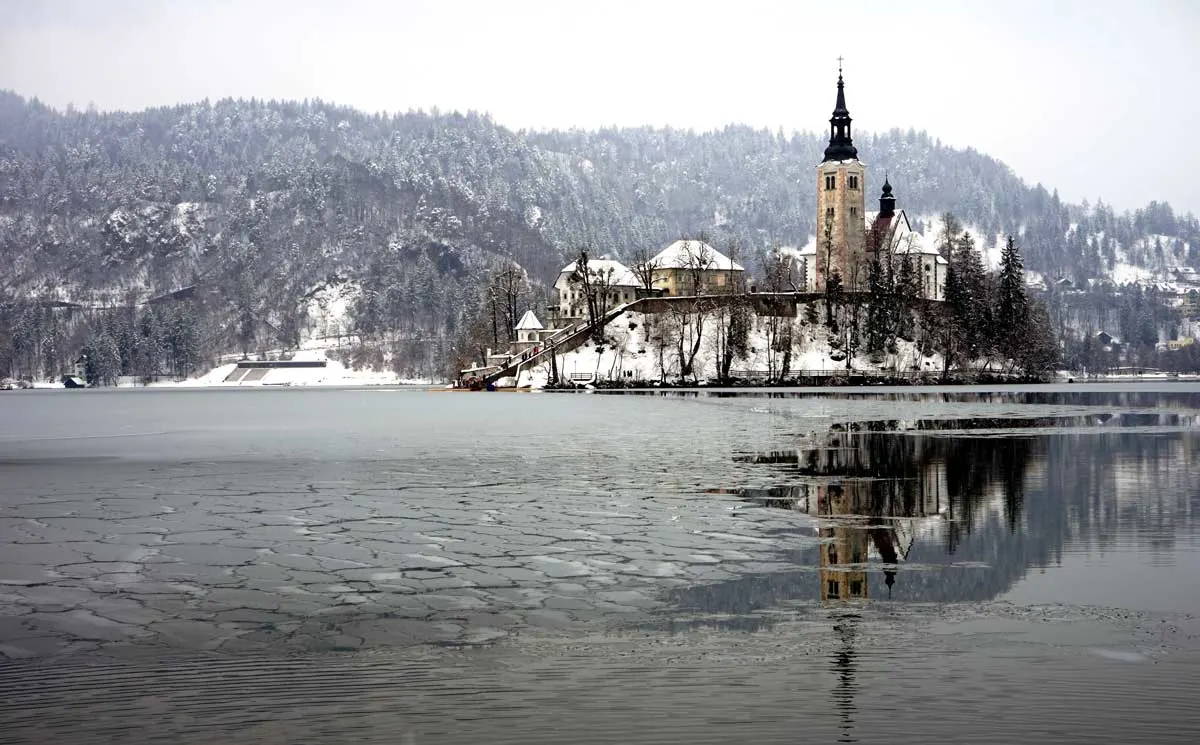 Lake Bled is an amazing destination in summer, but in the cold months when everything is covered in snow, it totally transforms into one of the best winter city breaks in Europe.
There are plenty of things to do in winter at Lake Bled. Because there are not many tourists around you can pretty much enjoy the town all to yourself.
The trail around Lake Bled and the one up the castle are still open and cleaned every day. One of the best things is to walk around it and take beautiful photos of the island with its church in the middle.
If the lake is not frozen, you can take the traditional wooden boat called a pletna and visit the tiny island. If the water is frozen then you can ice skate or walk to it. Make sure you do check with the locals if the ice is strong enough though!
Half an hour from Lake Bled is the Vogel ski centre where you can practice winter sports. There are slopes for beginners as well as for advanced skiers and it's a great place to go skiing.
There are plenty of hotels in Bled which have spas, so at the end of a day spent in the snow or on the slopes you can always choose to relax in a jacuzzi or in a sauna. The perfect way to end the day!
For more information check out The World in My Pocket's post on the 'best things to do in Lake Bled in winter'.
Zagreb, Croatia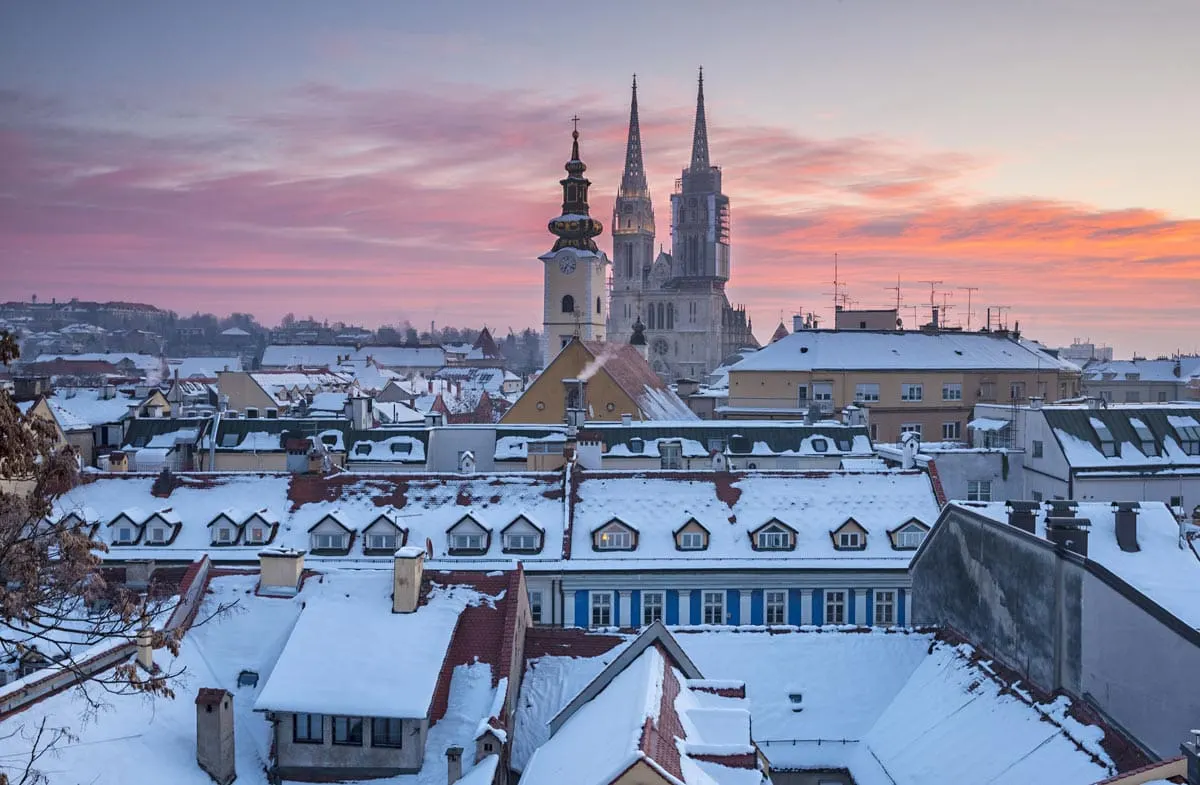 A very surprising winter city is Zagreb in Croatia. I bet you didn't think of there? One of the reasons this is such a fantastic place to visit is because it's a lot cheaper than the other 'European Christmas Market' destinations.
Zagreb has won the title of 'Best Christmas Destination' 3 years in a row from the website European Best Destinations. The market is part of the 'Advent in Zagreb' festivities, which run every day, all through December and into January. This makes it the perfect mid-week or weekend winter break.
Zagreb has a wide range of accommodation choices to suit every budget – with top rate hostels, all the way up to mass chain hotels, all within easy walking distance to the winter activities. Zagreb has a broad variety of food options on offer but in winter you simply must try the roadside toasted chestnuts, corn and sausages. Just delicious.
Kids (and big kids) will love the ice skating rink at Zagreb's ice park where you can glide around listing to the sounds of wintery-style music. It's easy to find, just head to the Art Pavilion, you'll see it right next to the statue of the first Croatian King, Tomislav.
For more information check out Chasing the Donkey's post on an 'advent in Zagreb'.
Sarajevo, Bosnia and Herzegovina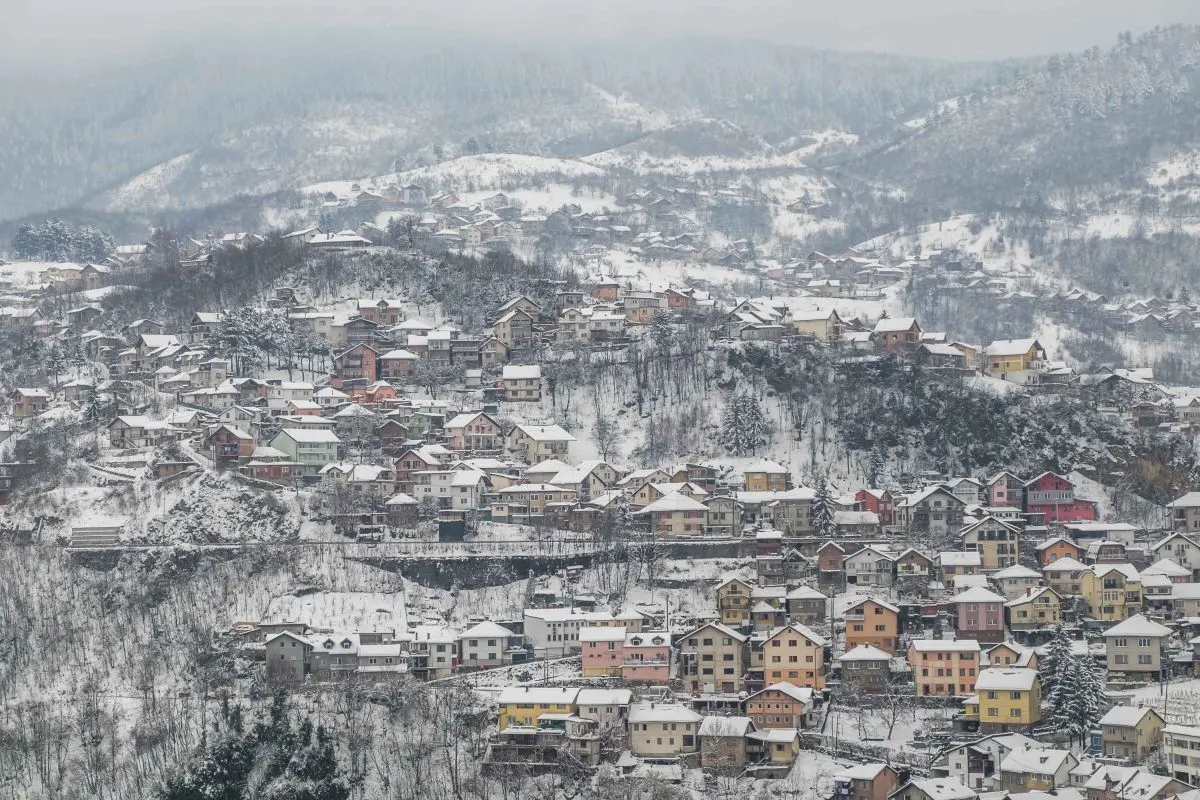 Sarajevo, the fascinating capital of Bosnia and Herzegovina, might not seem like the most obvious winter destination. But some might remember that the city hosted Winter Olympic Games in 1984. You still can find around the city numerous remnants of these events, including the cute Olympic mascot – Vucko.
In the winter time Sarajevo looks like fairy tale. The city is located in the valley, surrounded by mountains and when everything is covered in snow you can feel the magic around. Wandering the narrow streets of Bascarsija or looking at the city from one of many viewpoints is a pure pleasure. And once you get cold you can get warm inside with the delicious and strong Bosnian coffee, thick as tar.
If you like winter activities you will find them among things to do in Sarajevo too. Even if most of the Olympic infrastructure was badly destroyed during the war in the 90s it is still possible to go skiing. The nearby mountain Bjelasnica, located only 20 minutes away from Sarajevo, is the most popular place for winter activities. You can find few slopes and lifts there, all at very affordable prices, and you will surely spend a fun day out in the snow there!
For more information check out My Wanderlust's post on 'things to do in Sarajevo'.
Minsk, Belarus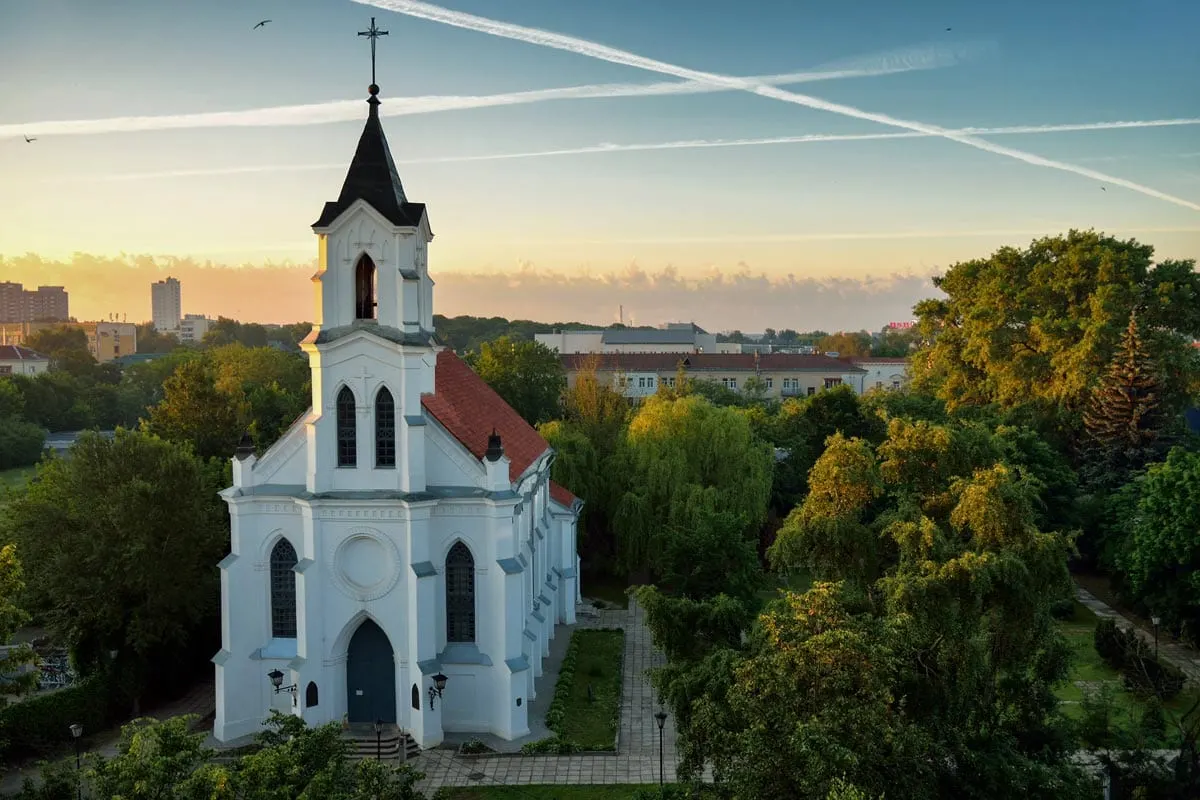 A Minsk city break is a great option for winter. As it's a big city it has everything from a diverse range of bars to restaurants with delicious Belarusian cuisine to museums that will interest all ages.
If you like hockey, Minsk has the third largest hockey arena in Europe, and guess its name… it's called Minsk-Arena! This is where you can both watch hockey games and attend different concerts of local and international singers and bands. It's always a good idea to check who's playing before your trip.
If you're planning your trip to Belarus, I suggest checking out ski resorts, most of which are located just about 30-40 km away from Minsk.
To discover the traditions of Belarus, you should definitely check Strochitsy outdoor museum of rural lifestyle and architecture, Dudutki museum of ancient crafts and technologies, and Khatyn village, which is a tragic monument left from the times of the Second World War.
Visit Belarus this winter and learn more yourself!
For more information check out Roman Roam's post on 'planning a trip to Belarus'.
Almaty, Kazakhstan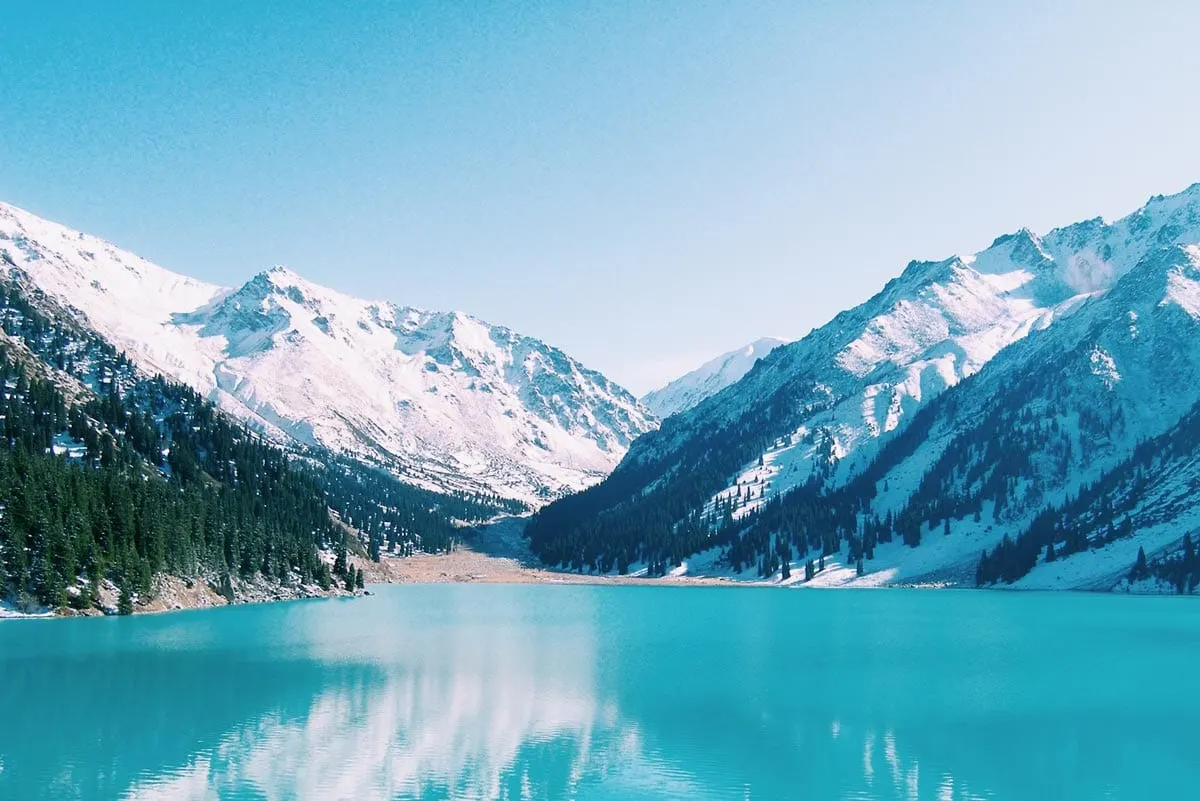 Almaty in Kazakhstan is one of the best winter city breaks I have ever been to for the simple fact that it is beautiful during the colder months. Surrounded by the Tian Shan mountains to the south, this Central Asian city boasts views that are unparalleled to anywhere else I have ever been.
You can take a bus for less than $0.50 to the mountains to go enjoy winter sports like skiing and ice skating, or just catch some of the breath-taking views.
The parks in Almaty offer a respite from the hustle and bustle of city life and they are often buried in snow and so quiet that you can hear a pin drop. While the cold may be bothersome to some, if you bundle up properly it truly is a magnificent place to enjoy winter. In addition, the city is lined with cozy cafes that offer hot chocolate and a variety of coffees to warm you up.
Central Asian and Kazakh food is hearty and heavy and it will keep you energized and happy during the cold months in Almaty.
I definitely think that everyone who loves winter should visit Almaty and enjoy it in a different region of the world! This is by far one of my favourite winter weekend breaks!
For more information check out Megan Starr's post on an 'visiting Almaty in Kazakhstan'.
New York, USA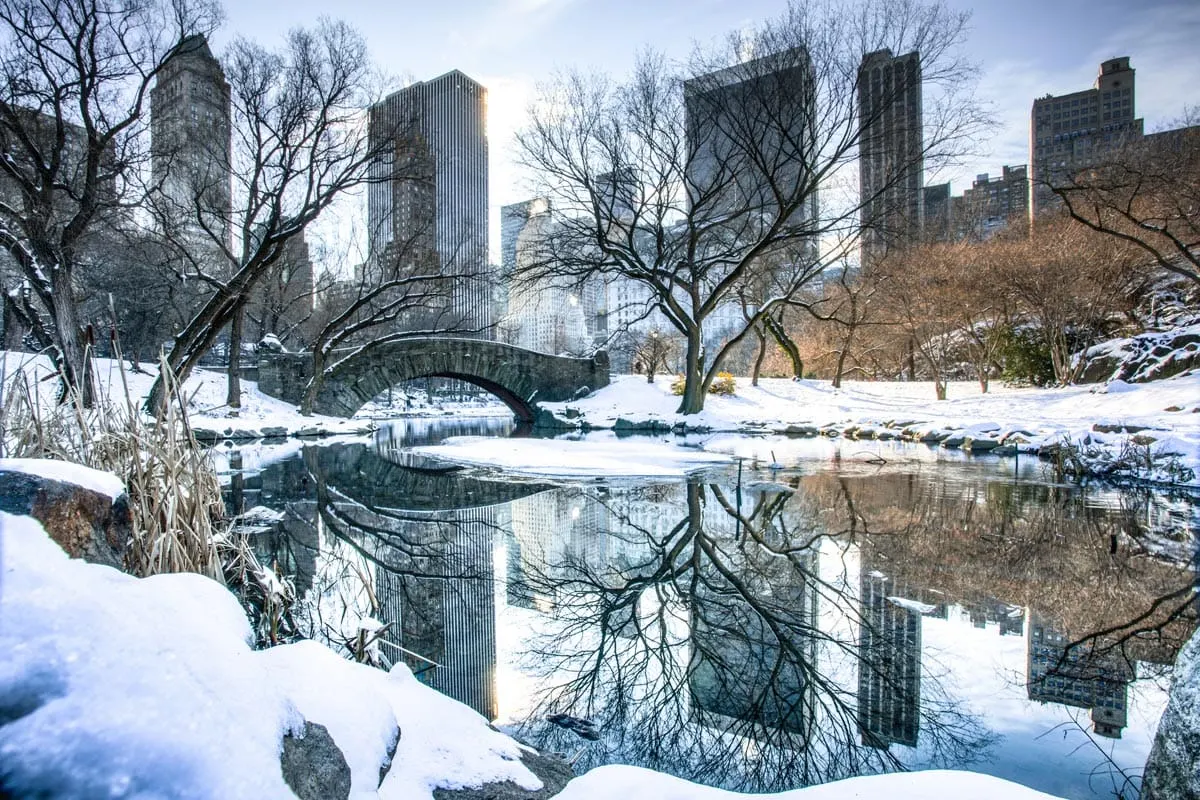 New York City is always up there as one of the best city breaks in winter. Almost every Christmas movie ever made is set here for good reason; it is magical over the holidays.
There are decorated trees everywhere, including in many city parks; the enormous tree at Rockefeller center, which is draped in lights and topped with an enormous crystal; a tree covered in animal origami at the Museum of Natural History, and many more.
A light show plays out regularly on the façade of Saks Fifth Avenue, and all of the major department stores have beautiful holiday-themed window displays.
You can go ice-skating throughout winter surrounded by skyscrapers at Bryant Park (free with your own skates); under the tree at Rockefeller Center; or in Central Park with iconic views of Midtown Manhattan.
Of course, the shopping is second to none, including an enormous outdoor holiday market at Union Square.
Later in the winter season, New York is still a great winter destination. When it snows in New York, it is like a winter wonderland. And if you need a break from the cold, there are dozens of world-class museums to visit!
For more information check out Travel Collecting's post on 'top tips for New York City'.
---
Where is your favourite winter city break in the world? Is there somewhere that you'd really recommend? Let me know in the comments below!
Like this blog post? Then make sure you Pin it!