Are you planning a trip to Bedruthan Steps, Cornwall? From tide times to things to do in the area, check out my guide to Bedruthan before you go!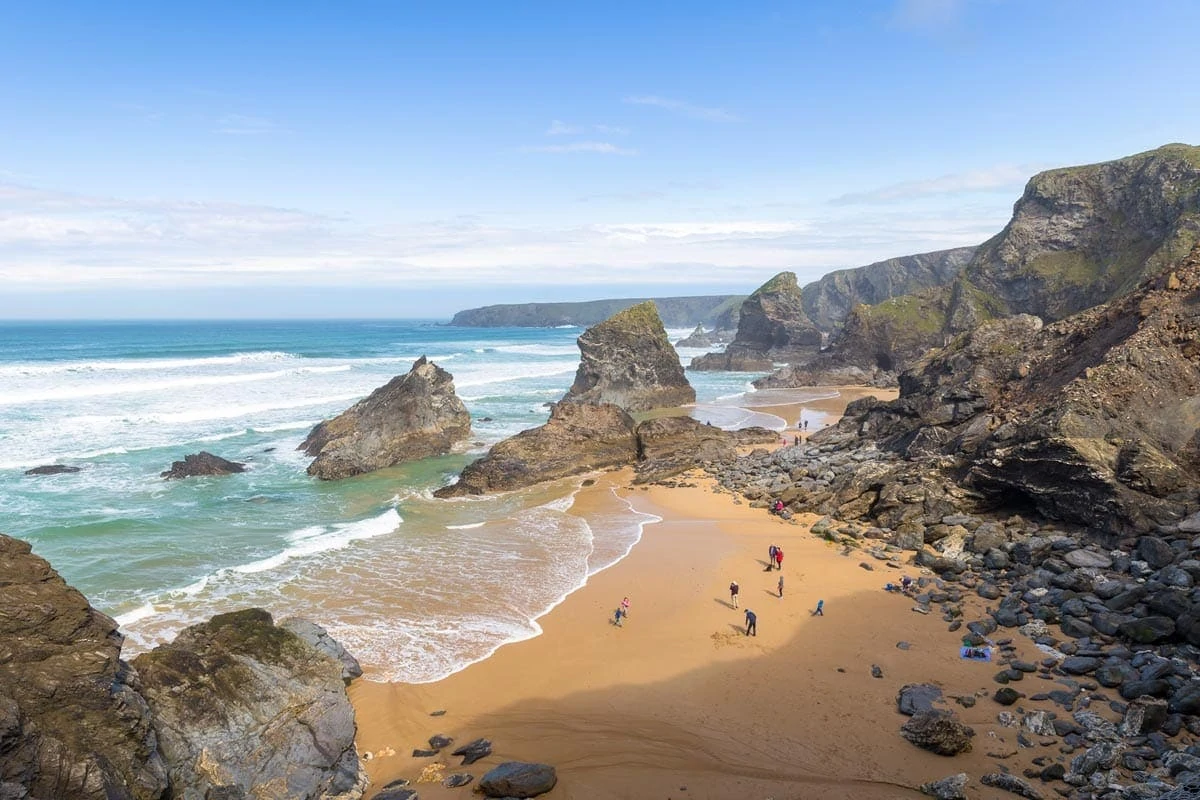 I'm saying this now, Bedruthan Steps is one of my favourite places in all of the United Kingdom.
There's just something about the rocks and the cliffs protruding out of the sea that captures the imagination like nowhere else. They're like the 12 Apostles in Australia, but you know, only British.
When I was walking along Bedruthan Steps beach, I couldn't help thinking of pirates who must've used this area as a smuggles cove. This place feels like it's straight out of Treasure Island and I love that air of magic and mystery.
The dramatic views of Bedruthan Steps rarely fails to take your breath away. As this is one of my favourite places in the UK, I wanted to give you a detailed post on everything you need to know about Bedruthan Steps. Hopefully this post is packed full of advice & practical information on the history, how much the car park costs, when is the best time to visit and where to stay in the area.
This is a real highlight on any trip to Cornwall, so next time you're in the south-west of England make sure you add Bedruthan Steps to your list of places to visit.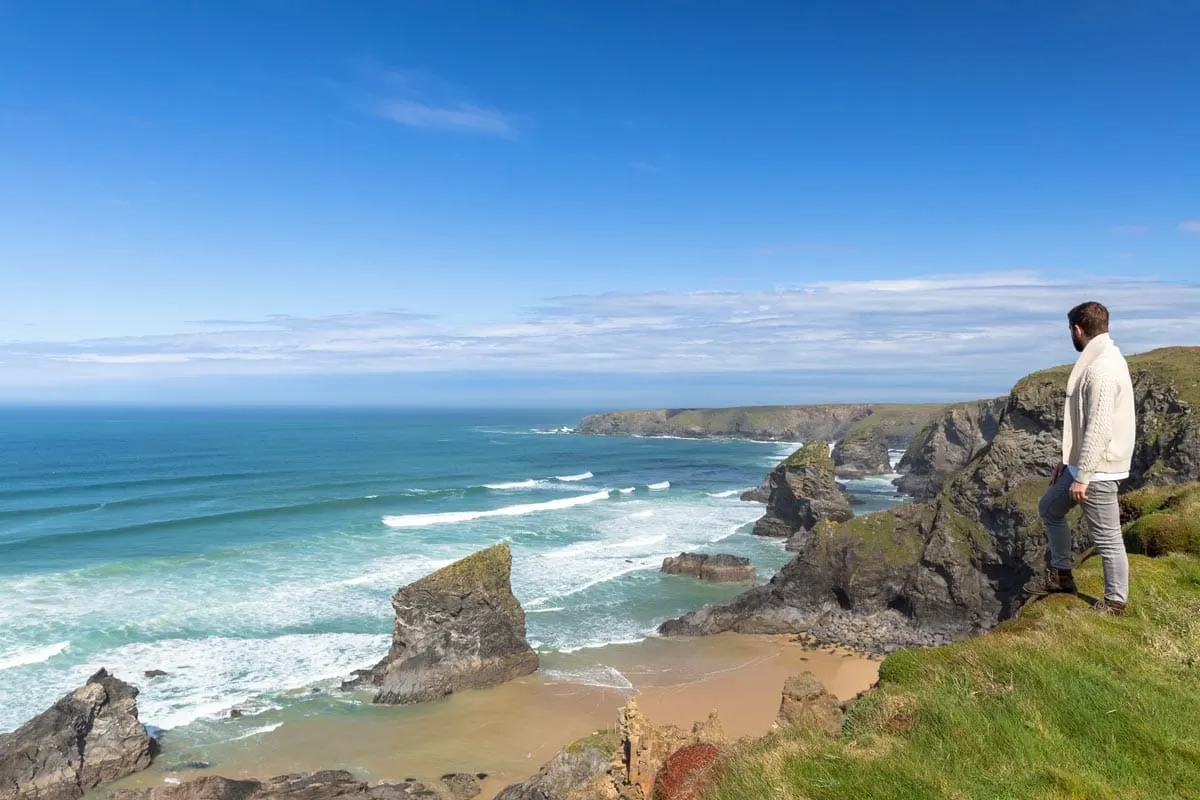 Bedruthan Steps map
Despite the funny name, Bedruthan Steps is a place in the north Cornish coast.
Technically it's in Wadebridge, but the closest village is Mawgan Porth which is a really beautiful spot. However, the majority of people come here from Newquay or Padstow.
The area is famous for a series of granite stacks that have fallen into the sea creating one of the most dramatic stretches of coastline in the UK.
The history of Bedruthan Steps
According to legend, the rocks were stepping stones for the giant Bedruthan who used them as a shortcut across the bay. I love this image of a great lumbering giant leaping from rock to rock. Just think of the giants from Lord of the Rings when you're here and you'll understand.
The first recorded name of 'Bedruthan Steps' is from 1847. Even though it was named after the original cliff staircase, the name is now used for the beach and stretch of coastline.
Honestly, the best thing about the Steps is the view from the cliffs. For me, it really is one of the best views in the UK.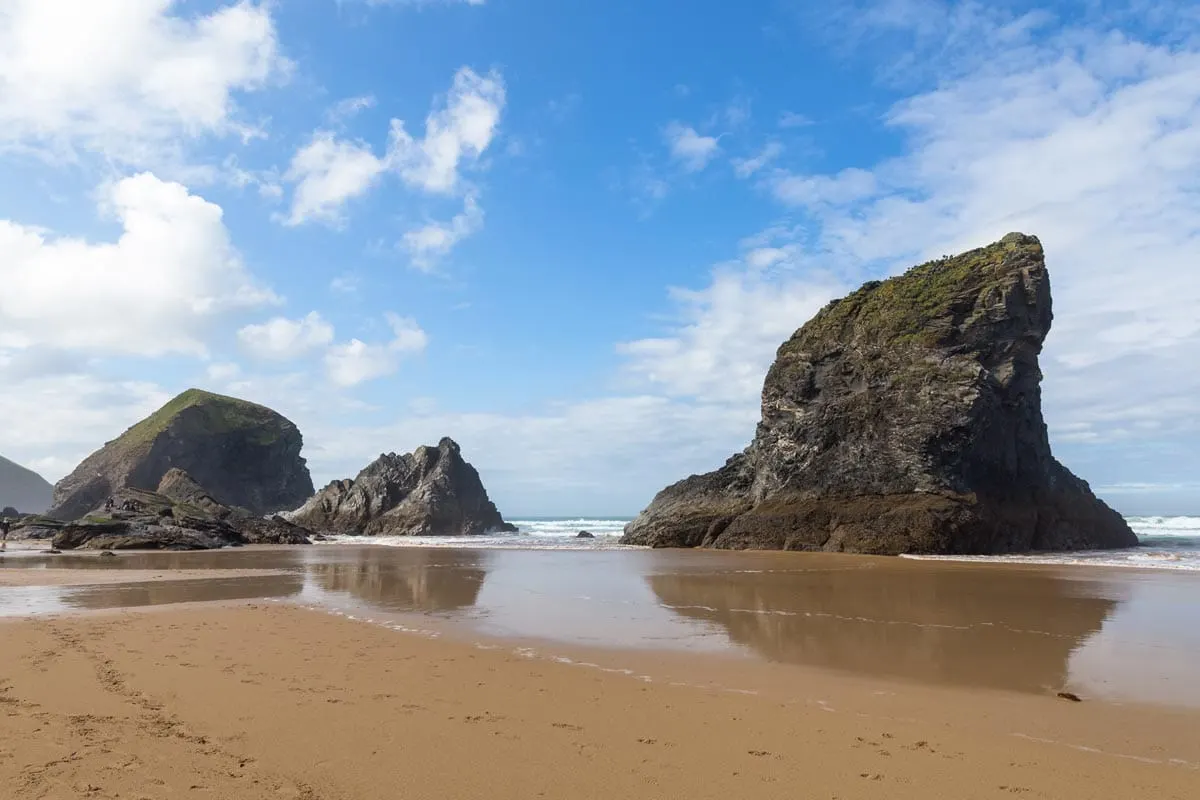 Is the beach dangerous?
In an answer, it can be.
Access to the beach is difficult. It's down a narrow steep staircase, so a certain degree of fitness is recommended. For those with kids, make sure you take care on the staircase as the railing is quite high and there is a big gap underneath.
The beach itself can only be reached during low-tide, so make sure you check tidal patterns before you visit so you can access the beach. People have been known to be stranded once the tide comes in, so please be careful.
At low-tide, the beach stretches on for a mile with lots of nooks and crannies to explore. Just make sure you bring hiking boots or trainers to get over all the rocks everywhere.
Also, as you'll see for yourself, the sea is exceedingly rough and powerful. It is not recommended you swim here at all – though I'm not sure who would want to anyway!
Due to bad weather, the staircase is usually closed from 1st November through to the 1st March. Also, there is no lifeguard on this beach.
Finally, take care along the cliffs at Bedruthan Steps. We live in the selfie generation where people die from getting too close to the edge so again, please be careful.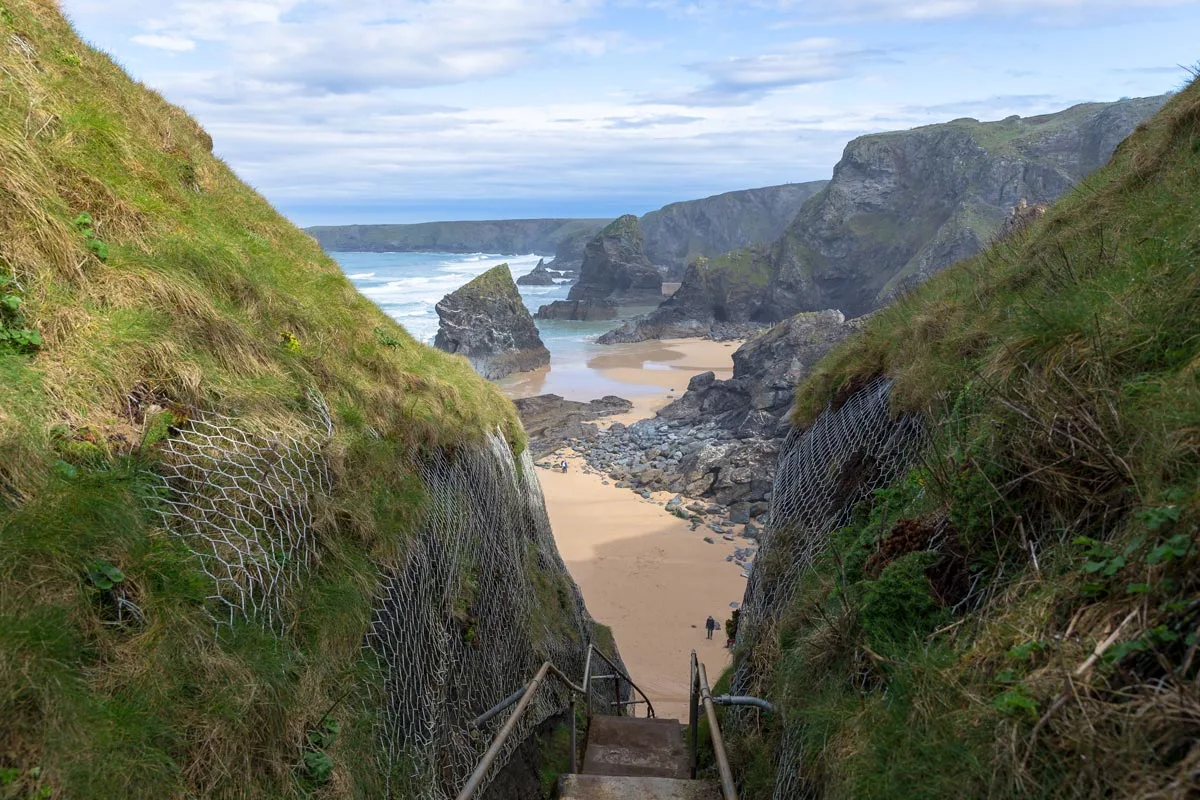 Bedruthan Steps tide times
As I've already mentioned, this beach on the north Cornish coast is usually closed from 1st November through to the 1st March.
At high tide, the sea covers the entire beach right up to the cliff staircase. There are caves on the beach, notably to your left as you descend the cliff staircase. This large cave can be explored and provides access to the next beach but only attempt this on a falling tide or you will find the sea rising and you will be cut off.
If you want to get onto the beach, it's best to check tide times before your trip. You can check tide times here.
Bedruthan Steps parking cost
No, it's completely free to visit this area!
The only thing you need to pay for is the car park. This costs £2.50 for two hours which is more than enough time to visit the beach. However, if you fancy walking the West Coast Path and making a day of it then get longer parking.
For those who are members of the National Trust, if you have your badge on display then parking is free. Once you've parked the car, it is a short 5 to 10 minute walk to the staircase that'll take you down to the beach.
Also, there is a really nice tearoom at the car park where you can grab water from the hike along the cliffs or a scone when you return. It's actually a really nice tea room so I'd definitely recommend stopping off here.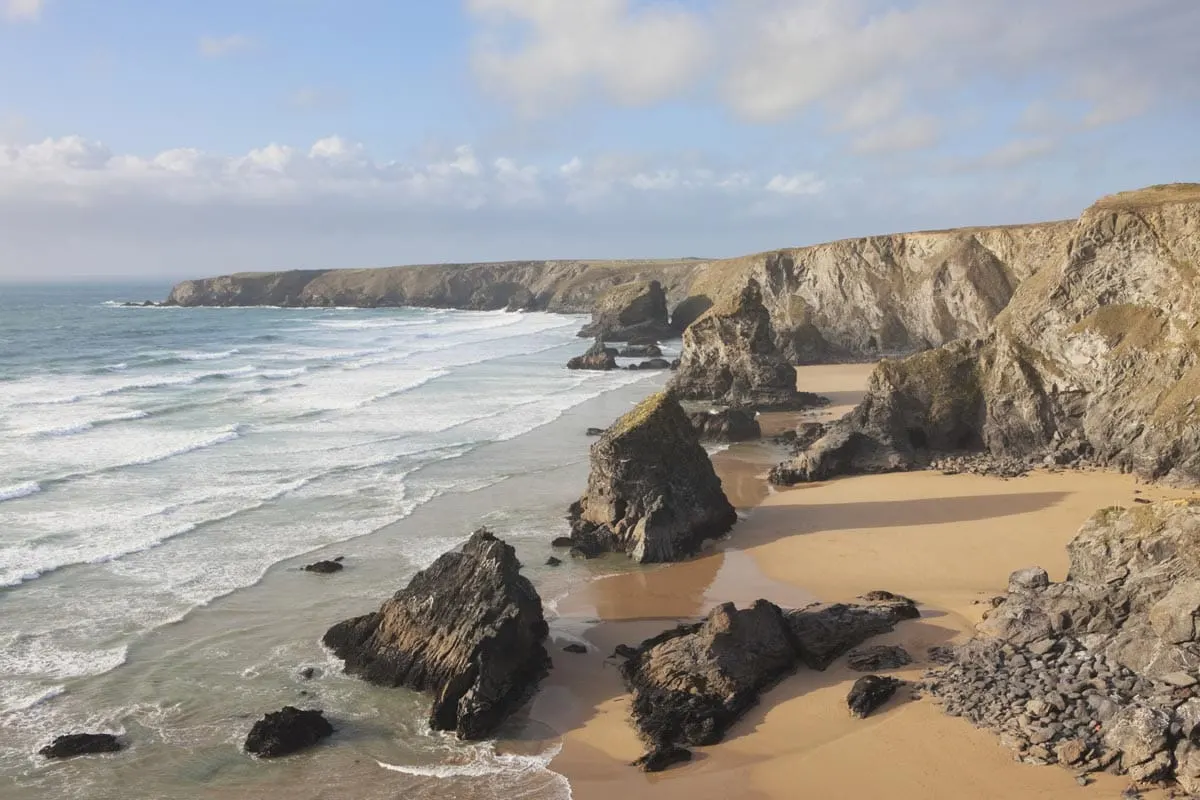 Camping at Bedruthan Steps
If you want uninterrupted access at Bedruthan Steps then there is a camping spot just a little further along from the main car park. Spots cost £8 per person and include use of shower facilities. They are animal friendly too if you're travelling with a dog.
This camping spot is only open during the summer months. Make sure you check availability beforehand. The person to speak to is [email protected]. You can sort out your camping spot directly with her.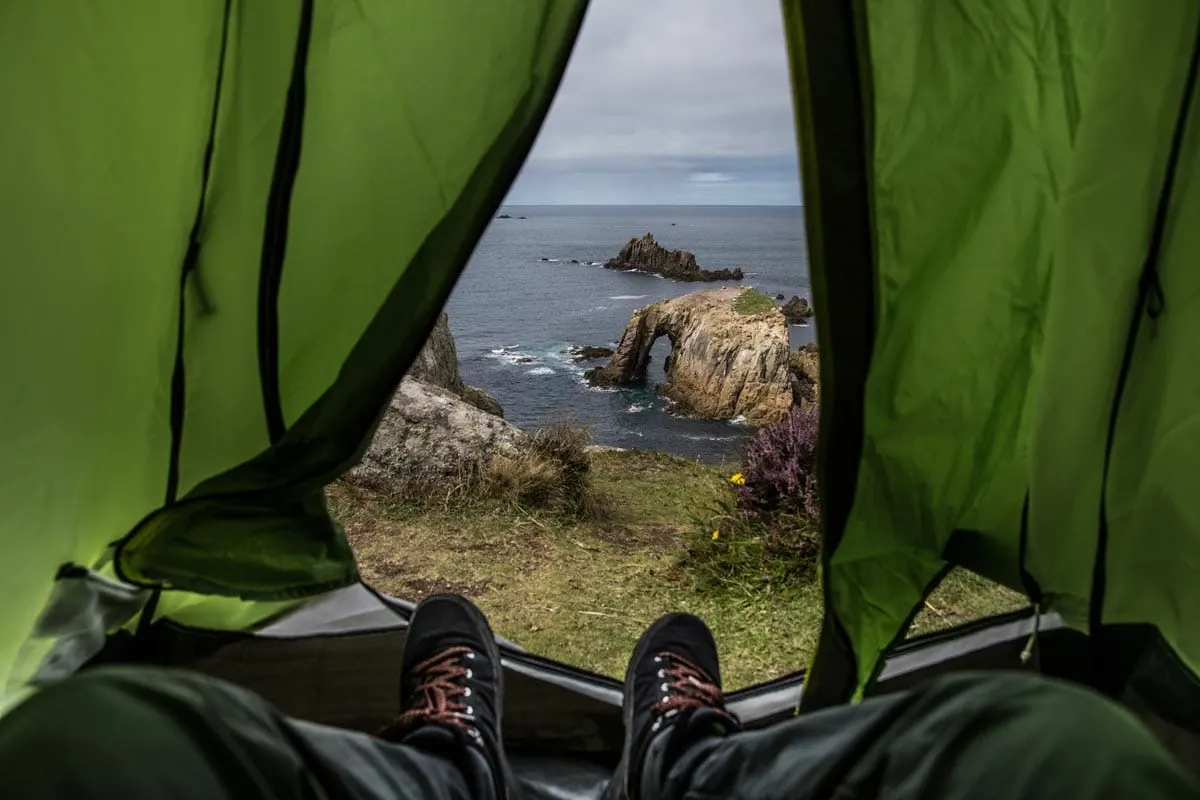 Places to visit near Bedruthan Steps
Bedruthan Steps are north of Newquay so there are a number of places to visit along the coast. If you're heading that way, here are some of the best things to do in Newquay.
One of my favourite spots is Watergate Bay. This is a lovely stretch of golden sand that's perfect for a British beach day. Also, there are a couple of amazing restaurants there and The Watergate Bay Hotel is worth checking out too.
Another place I love is Padstow. This place is foodie heaven with a number of Rick Stein restaurants in the tiny town. Also, Paul Ainsworth's 21 is a Michelin-starred restaurant serving up some of the best food around. I had the set lunch menu here and it was actually very reasonably priced at £29 for a three-course meal. Fantastic value for money, especially considering it is Michelin-starred.
Finally, a little further up the coast is Port Isaac. I don't think fishing villages come any cuter than this place and it is a must-see on any trip to Cornwall. There are a number of lovely tea rooms here, and the coastal walk overlooking the village offers some of the best views around too.
You can check out some of the most beautiful places to visit in Cornwall here. With so many places to visit, it can be hard choosing where to go first. The good news is no matter where you choose it'll be absolutely stunning!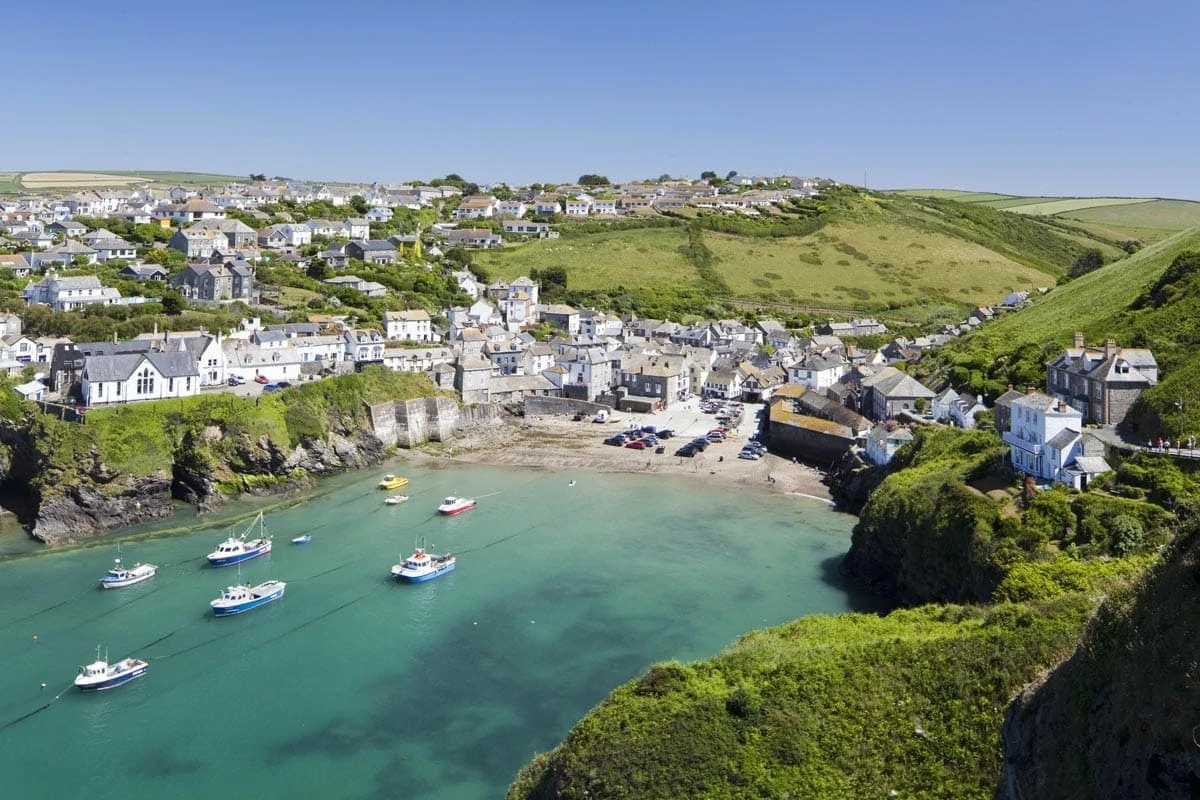 Hotels in Bedruthan Steps
If you're looking for a Bedruthan Steps hotel, here are a few places I'd recommend:
Budget:
Legacy Hotel Victoria – £45 per night – This is a nice little hotel in Newquay, about five miles from Bedruthan Steps.
Trevarrian Lodge – £65 per night – This lodge is just 20 minutes from the beach and is in a gorgeous village in Cornwall.
Mid-range:
St Petroc's B&B – £95 per night – This old-fashioned stonehouse B&B is so cute and is the perfect holiday home for any trip to Cornwall.
Bedruthan Steps Hotel – £160 per night – This is the closest hotel to Bedruthan Steps and is just four minutes from the beach. The views from here are outstanding.
Luxury:
The Scarlett Hotel – £430 per night – This is one of the most luxurious hotels in all of Cornwall. If you want to treat yourself to the next level while visiting Bedruthan Steps you really can't go wrong with the Scarlett Hotel.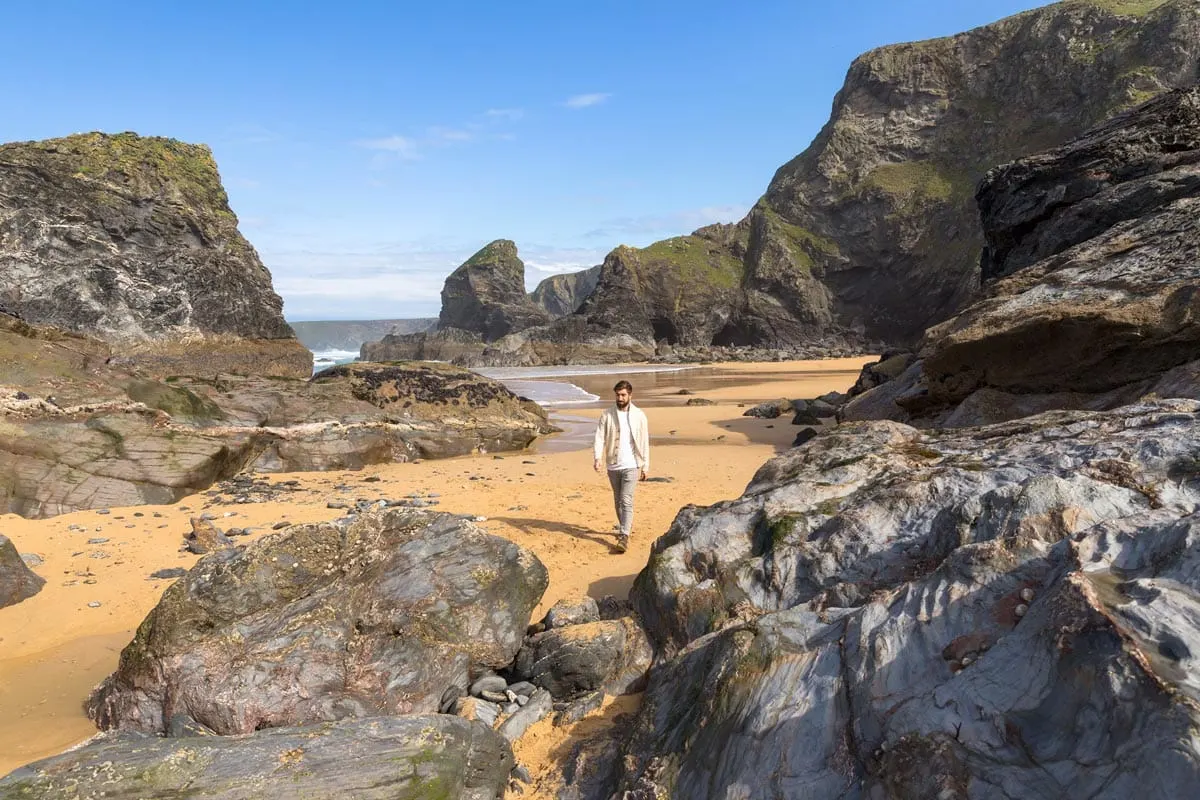 Every time I visit Cornwall I come across a view that truly takes my breath away – on my most recent trip that honour went to Bedruthan Steps.
I always knew this place existed, but nothing comes close to seeing it yourself for the first time; it's almost spell binding.
This is the Cornish coast at it's very best – raw, rugged yet enchantingly beautiful.
---
Are you heading to Bedruthan Steps anytime soon? If so, what are the other things you're getting up to while in Cornwall? Let me know in the comments below!
Like this blog post? Then make sure you Pin it!