Newquay is the perfect UK beach holiday destination. From surfing Fistral Beach to hiking the West Coast Path, these are the top things to do in Newquay!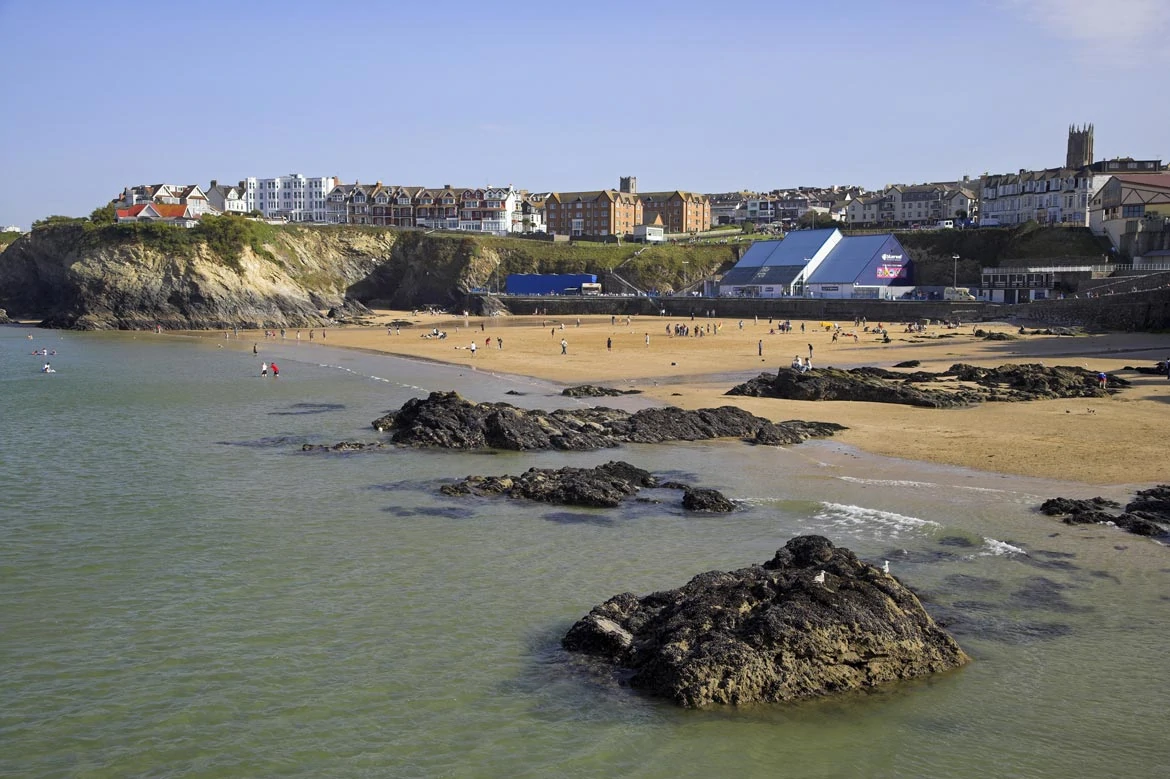 For decades Newquay has been one of the UK's most popular beach destinations.
It's really well-known for its cool surfing scene and stunning beaches, but there are also some top quality restaurants and an amazing nightlife too. And it's not just 16-year-olds partying – Newquay has got a lot more sophisticated over the last few years.
Personally, I've always found Newquay to be pretty chilled and relaxing. Yes, the town centre is packed full of bars and restaurants, but that's part of the charm. The coastline is absolutely stunning though and there are some fantastic things to do in Newquay.
Last time I visited, it was quite obvious that the town was consciously trying to shed its party image. A lot of the most popular clubs aren't even there anymore. They've been replaced by a pleasing mix of bistros, bakeries and boutique hotels. Basically, Newquay has reinvented itself and it is now one of the most popular spots in Cornwall.
If you're looking some seriously epic waves and a laid-back coastal town in the UK, you need to give Newquay a chance. And don't worry if you're not a big surfing person, there's plenty of other stuff to keep you occupied!
From coastal hikes and pirate quests to beach yoga and the beautiful Japanese gardens, here's what to do in Newquay for your next British holiday.
These are some of the top things to do in Newquay – pack in a few of these are you're in for an amazing holiday!
If you're looking for one of my other favourite places to visit in Cornwall, make sure you check out Bedruthan Steps. When you see the views from this place you'll quickly understand why!
Surfing on Fistral Beach
No holiday to Newquay would be complete without going surfing. It doesn't matter if you're a pro shredding the waves or someone who's never been on a board before, everyone is welcome in the water here.
Head to the wonderfully sandy Fistral Beach for the best surf in Newquay and some really great vibes. Even though it's a really wide beach, it can get a little crowded during the summer. Come early to find a good sunbathing spot.
You can find a number of surf schools in Newquay and get your hands on the latest gear from the many surf shops in Newquay High Street.
You can pick up a surf lesson for around £35 per person. This is for a 2 and a half hour lesson with board hire, a wetsuit and tuition (obviously). I can't tell you how much fun it is surfing on Fistral Beach.
If surfing isn't your water sport of choice, I also spotted a lot of people riding jet skis and paddle boarding. You can find out more at the Newquay Watersports Centre. Getting in the water is a must in the summer though!
Taking in the views at Watergate Bay
When you're looking for what to do in Newquay, exploring its beautiful beaches is an absolute must. Well, make sure you add Watergate Bay to the list. This is probably my favourite beach in Newquay (and that's saying something).
It's got that elusive soft golden sand which is so hard to find on beaches in the UK. It's a good place to while away the day with a good book and top up your tan, with plenty of cafes and restaurants nearby.
Surf lessons are available and the water can good for a dip if the weather is right. Watergate Bay is also a popular spot for kitesurfing on a windier day.
They frequently hold events here so check out their website to see what's on when you go. It's also the spot where the annual Beach Horse Polo event is held.
If you're looking for family activities in Newquay, I'd definitely recommend a day at Watergate Bay.
Wandering around the Japanese Gardens
When you're searching for the top things to do in Newquay, a Japanese Garden might seem a little out of place, but the gardens here are so beautiful. I really love finding unusual spots so this serene little haven was a delightful surprise.
The Japanese Garden is small in size so it's easily covered in an hour or two. It's packed with a plethora of unique plants and water features, including the Stroll Garden, the Water Gardens and a Zen Garden (my fav).
Spend some time strolling among the exotic variety of Japanese plants and soak in the tranquil atmosphere. There's even a traditional teahouse to give you the full experience of an authentic Japanese garden.
Doing yoga on the beach
For those of you really looking to relax on holiday, let me suggest some yoga for you.
I was lucky enough to experience this at the Oceanflow Yoga Studio (one of the best yoga studios in Cornwall). The Oceanflow studio overlooks Fistral Beach, and you can choose from a wide range of yoga classes to find one that's suitable for you. There are some beginner sessions for those of you doing yoga for the first time too.
There aren't many places in the UK that offer a great outdoor yoga experience but this is definitely one of them. You'll feel truly removed from hectic daily life as you practice yoga with the breathtaking coastal views. Just beautiful.
Whether you're an expert yogi or not, I'd highly recommend this as one of the best things to do in Newquay.
Full on family fun at Pirates Quest
If you're heading for a break with little ones in tow, the Pirates Quest is one of the best family attractions in Newquay. It's a fun and well-produced immersive experience that'll leave everyone smiling for the rest of the day.
A crew of theatrical actors (they really take their roles very seriously) take you along on a walk-through a pirate's journey until you reach the end of your quest at Blackbeard's Tavern (unfortunately no ale there my friends).
Now, while you may go here for your kids, you'll end up enjoying it a lot more than you'd expect! I was impressed with the details of the sets, the theatrics of the actors and the quality of the special effects. The entire experience takes an hour and there's a Treasure Shoppe with tons of pirate related goodies (and sweets) at the end.
Eat at Lusty Glaze restaurant
When it comes to what to do in Newquay, there's no way you can leave without indulging in some super fresh seafood. Luckily, there's a ton of choice when it comes to restaurant options. I really loved the restaurant at the Lusty Glaze resort. Not only was the food and service excellent, but what really made it special was the stunning views of the coast.
It's pretty steep down the steps to the restaurant but you couldn't ask for a more beautiful location. Head here for evening cocktails so you can enjoy the sunset over some drinks. There's also live music in the summer, so check out their website for events.
Walk the South West Coast Path
If you love coastal walking as much as I do, you've got to add a walk on South West Coast Path to your list of things to do. This National Trail path runs all around Newquay and offers stunning views over the coast. It's suitable for all fitness levels as you can join it at various different points and get off whenever you like. There are also plenty of benches to plop down in mid-walk for a little rest or to take in the views.
If you're lucky, you get may get to spot some wildlife along the way. People have spotted basking sharks, dolphins and whales on the Cornwall shores.
Relax and unwind at The Scarlet Spa
Luckily, the Scarlet Spa is available for use even if you're not staying at the hotel. There are indoor and outdoor pools, a steam room and a number of spa treatments designed for the nourishment of mind, body and soul. Treatments include traditional hammam bathing, mud massages, and incredibly rejuvenating facials. Oh, and there's also a cliff top hot tub where you can soak while surrounded by nature.
Don't miss out on the Relaxation Room with its amazing cocoon-like pods that you can nestle in and forget the world. This is also one of the best places to stay in Cornwall so treat yourself for a very special night.
Enjoy a local Cornish pasty
This one is pretty self-explanatory. Trying a traditional Cornish pasty is essential when you're deciding what to do in Newquay.
For those of you that haven't come across Cornish pasties here before: they're basically deliciously crunchy pastries filled with savoury ingredients. You can now find lots of different fillings such as egg, chicken or bacon. I'd recommend going for the classic beef and potato at Morris Pasties. Nom nom nom.
Take in the views of Newquay Harbour
Once you get into town, get your bearings with a simple stroll down the picturesque Newquay Harbour. It's the perfect thing to do on your first day in Newquay.
There are a number of restaurants and ice cream shops along the harbour. Tuck into some traditional fish and chips and watch the fishing boats coming in to dock. The harbour even has its very own little beach with a restaurant. I mean, just look at this view!? Definitely one of my favs in Cornwall I'd say!
Dive in at the deep end with coasteering
When it comes to recommending things to do in Newquay I also throw coasteering in there. Coasteering includes a series of adventurous coastline activities such as jumping off cliffs, swimming around the rocks in the ocean or walking on narrow cliff paths. Clearly it's not an activity for the faint-hearted, but it's a popular excursion for adventure lovers like me.
Cornwall is a great spot for coasteering in the UK, but just make sure that you're safe by going with an experienced company. They'll organise and run the entire excursion for you and your group, with all the necessary safety equipment included. Usually it costs around £45 per person for a half day activity. Again, this is something I really recommend in Cornwall.
While coasteering may not be for everyone, it's a fun and adventurous way to get up close with the Newquay coastline. For me, this is one of the best things to do in Newquay.
Learn all about the local cyder at Healeys Cyder Farm
While the coast and related activities will take up a lot of your time in Newquay, this family-run farm offers a nice change of scenery. Healeys Cyder Farm is the largest cyder-maker in Cornwall. You'll get to learn a lot about cyder, which is different from the more well-known cider.
The farm actually has a lot more to offer than just a tour of the brewery. In fact, spending an afternoon here is a great choice for those of you looking for family activities in Newquay. There's something for all tastes. You can check out their farm animals and their display of vintage cars, before tucking into a traditional cream tea in their lovely tea room.
There's also a small museum and shop where you can buy cyder and all the local produce from the farm.
---
If you're thinking of going on a road trip around Southern Cornwall then I really recommend this blog post (just click on the link). It's packed full of the best places to visit and it's a great 3 day itinerary to follow.
What do you think are the best things to do in Newquay? Let me know in the comments below and I'll add them to this blog post!

Like this blog post? Then make sure you Pin it!