Looking for the best places to visit in UAE? From the architecture of Abu Dhabi to the beaches of Fujairah, here is my itinerary for the entire UAE!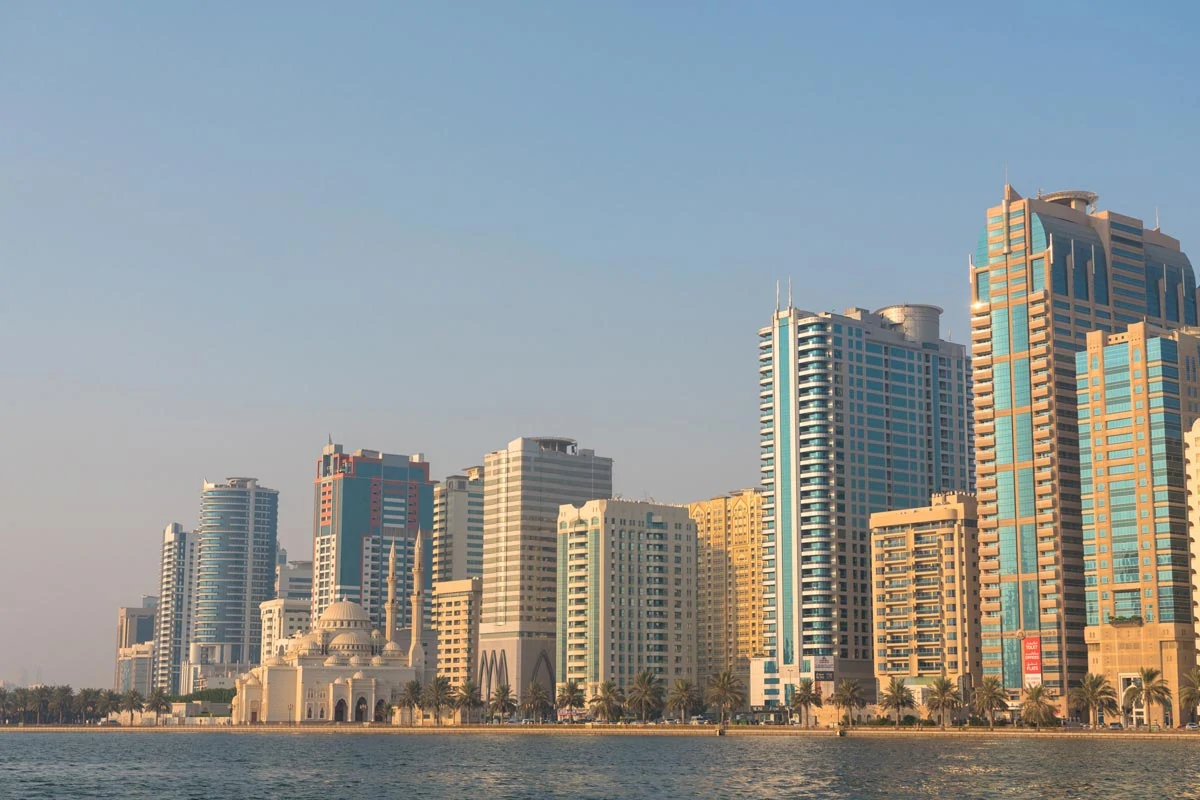 There's more to the United Arab Emirates than just Abu Dhabi and Dubai. Don't believe me? Then let me show you the best places to visit in UAE! And we're not just talking about a few attractions scattered around but some of the best things to do IN EACH STATE!
Even though Abu Dhabi and Dubai are the two largest Emirates making up more than 90% of the UAE, there are still five other Emirates you can visit.
After my most recent trip travelling around all seven Emirates with Rotana Hotels, these are the best places to visit in UAE. If you're looking for an incredible holiday in the Middle East then make sure you tick off a few of these things!
What to do in UAE
One thing that really bugs me is when people say "I don't see the point of visiting the UAE, there's nothing to do there…"
Well, on my first day there I wandered around the Sheikh Zayed Grand Mosque (arguably my favourite mosque in the world), took in Picasso, Pollock and other world-class artists at the Louvre, acted like a big kid and went on all the rides at Warner Bros World before coming back to my hotel for a relaxing massage and an amazing dinner.
Nothing to do there? That was just one day in Abu Dhabi, let along the rest of the UAE!
Let me say this now, the UAE is an incredible place for your holiday. It really does have a little bit of everything (including an indoor ski centre in Dubai!)
So, if you're thinking of exploring this part of the Middle East, here's where I recommend what to do in UAE. Oh, and make sure you check out some of the best Dubai tours beforehard too – there are so many incredible activities here!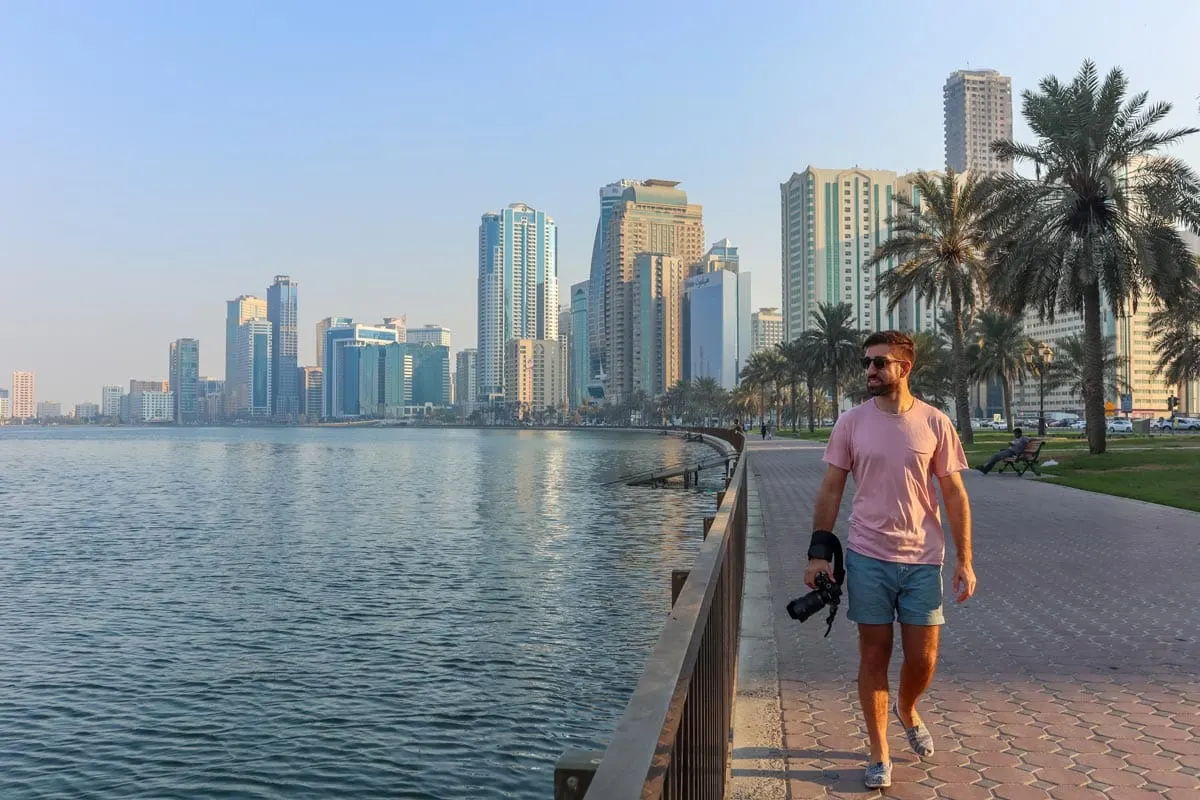 Abu Dhabi
Abu Dhabi is the largest Emirate in UAE and it is the official capital too.
It is a city full of superlatives – it is home to the world's largest hand-woven carpet, the world's heaviest chandelier, the world's fastest rollercoaster, the tower with the greatest lean. This is a place that certainly doesn't mind breaking world records!
I've been to Abu Dhabi a couple of times now and I really like it there. The mixture of amazing architecture and high-adrenaline adventure activities in the UAE make it the perfect place to start your trip.
Marvel at the Sheikh Zayed Grand Mosque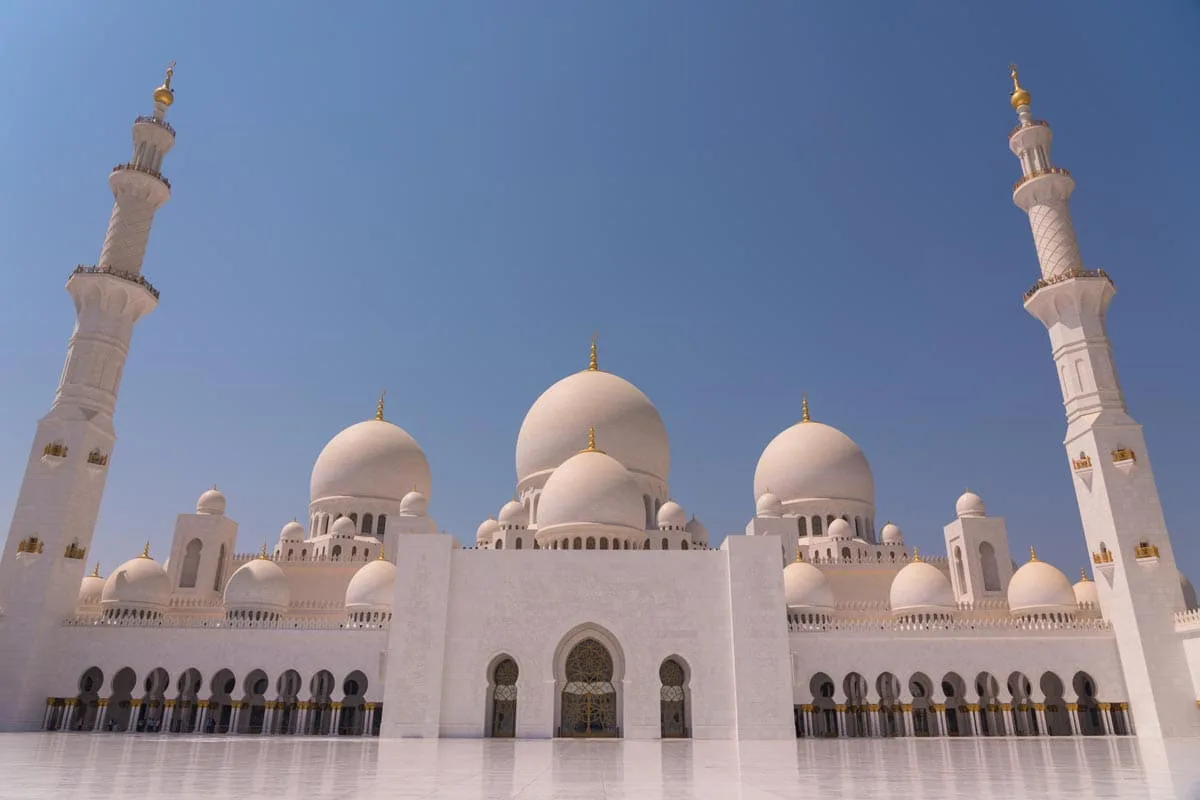 I think the Sheikh Zayed Grand Mosque is my favourite mosque in the world.
Even though this place is relatively new (it first opened in 2007), it has become a shining light for Abu Dhabi.
The mosque is completely free to enter (men must wear trousers, women must be covered) and is open from 9am till 10pm.
This is where you'll find the world's largest handwoven carpet (with a mammoth 2.6 billion knots) and the world's heaviest chandelier weighing in at 12 tons. For me, this is one of the top places to visit in Abu Dhabi.
Take in the amazing architecture at The Louvre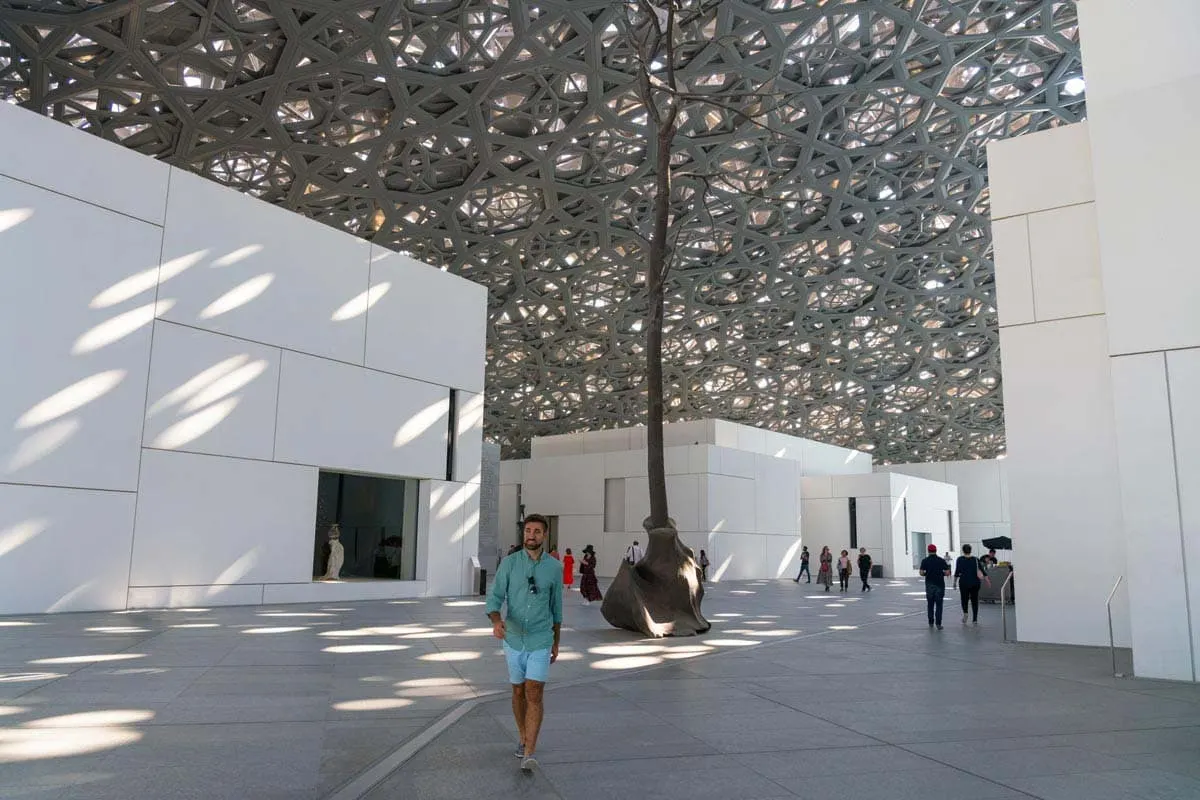 The Louvre opened its doors in 2017 and it is the sister museum to the one in Paris.
Much like the one in Paris, the Louvre houses some incredible pieces of art from antiquity all the way to the modern day.
However, the building itself is like one giant display showcasing the amazing architecture in Abu Dhabi.
Outside it looks like a futuristic spaceship, but once you get to the main hall it really opens up into this stunning space that blends sharp edges with reflective water features. Just stunning.
Be a big kid again at WB World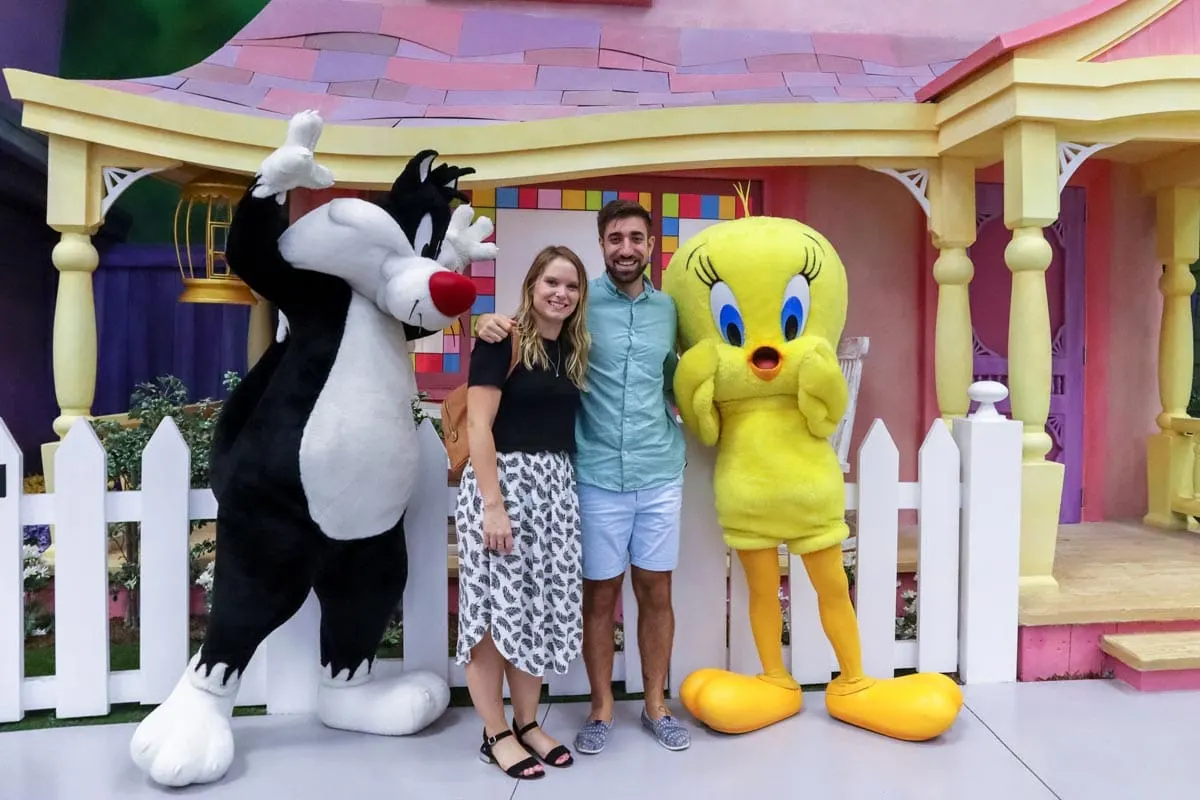 This is another place that's just opened up in Abu Dhabi and is one of the best tourist attractions in UAE.
Opposite Ferrari World (which is home to the world's fastest rollercoaster), WB World Abu Dhabi is a bit more sedate. Saying that, there are some fantastic rides here and its fun for all ages.
Being a comic book fan, I really enjoyed 'Gotham City' which was home to the Batman and Riddler rides, but I also enjoyed 'Bedrock' with the Flintstones ride.
Also, WB World is all indoors so this is a great place to head when it gets too hot outside. WB World is one of the new places to visit in UAE and it's perfect for families too.
Spot dolphins at the Saadiyat Rotana Resort & Villas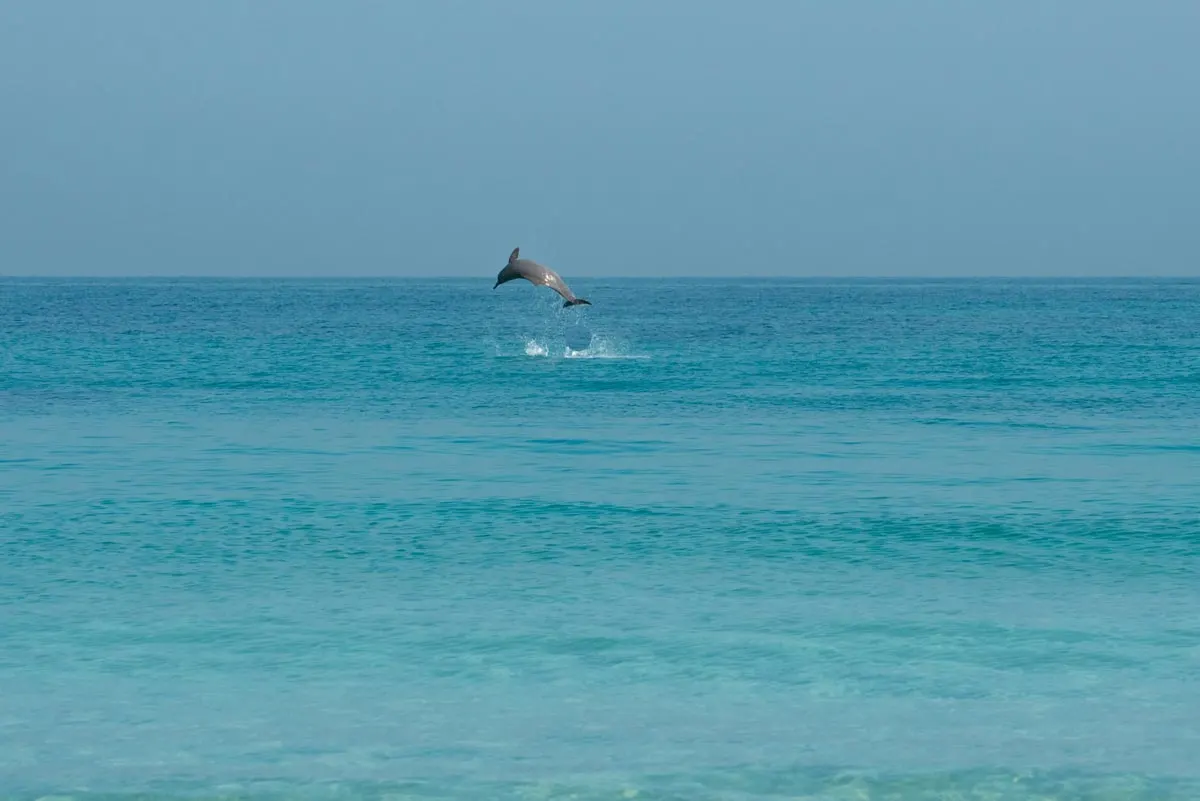 Yes, you really can see dolphins in the UAE!
While I was staying at the Saadiyat Rotana Resort & Villas, I went for an early morning walk along the beach and I was lucky enough to see dolphins backflipping right in front of my face.
They were literally 10 metres away from me just off the beach and they were putting on quite the show.
This really was one of the highlights of my trip to the UAE – hopefully you'll see dolphins too. If not, you can always go for a swim!
Where to stay in Abu Dhabi – Saadiyat Rotana Resort & Villas
Ajman
Even though Ajman is the smallest of the seven emirates, it packs a big punch.
The beaches are beautiful here with hardly anyone on them, especially compared to those of Dubai. Also, the Corniche is a really popular place where locals like to bbq and have a picnic. Ajman is one of the most historic places in the UAE and it still has a number of customs and traditions there.
Learn about the pearl diving industry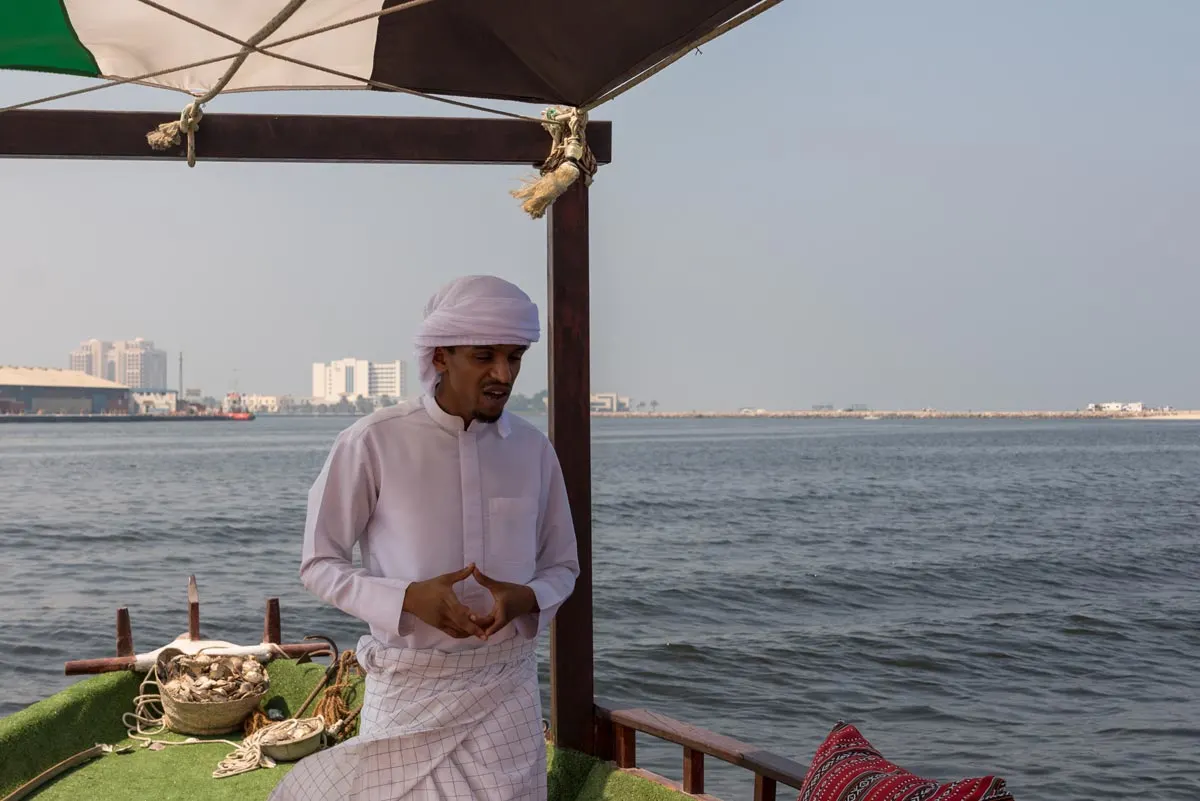 Before the oil boom, pearl diving used to be one of the biggest industries in the UAE.
As the name suggests, this is where people used to dive for oysters to see if they had a valuable pearl inside them. Expeditions used to take weeks, and if a boat came back with a few pearls it was considered a success.
These days the pearl diving industry has changed and the best way of learning about it all is aboard the Ajman Pearl.
This is a tour that takes you around the mangroves of Ajman where you learn all about the history of pearls and how they're grown.
Not only that, you also have the chance of opening up an oyster to see if there's a pearl inside. If there is, you get to keep it!
When we cracked one open, nestled under the flesh of the oyster was the biggest pearl I've ever seen. I know it sounds set up but the pearl genuinely came from the oyster! No tricks or anything.
If you're on your honeymoon or are on a romantic holiday then I'd really recommend this activity.
Enjoy lunch by the beach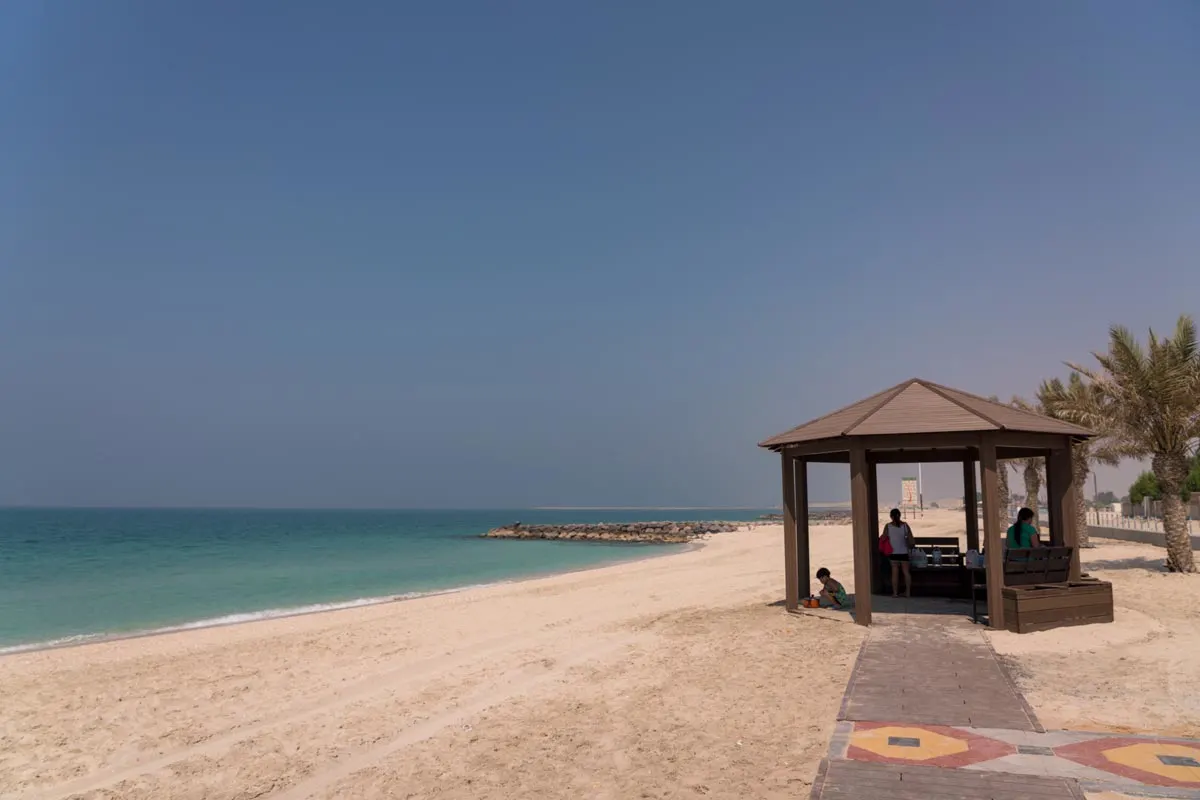 This is one of the top things to do in Ajman. As I said, the beaches here are absolutely beautiful without any of the people.
While I was travelling in the UAE, we stopped off at the beach in Ajman for lunch and it was bliss. There was only one other family around, otherwise we had the beach to ourselves.
There are several beach huts you can sit in to avoid the sun (it was a tepid 38 degrees when I was there) and it's very relaxed compared to the hustle and bustle of city life.
Dubai
Dubai. It is a city that has it all.
From towering skyscrapers to crazy malls with ice rinks in them to beautiful beaches (often with a camel or two walking by!), there really is something for everyone in Dubai.
I've been to Dubai a couple of times now and it's hard not to like the energy of the city. There's always something going on at a million miles an hour and I love the fast-paced life there – it reminds me a little bit of London in that sense, just very hot!
With that in mind, here are some of the best things to do in Dubai.
Museum of Illusion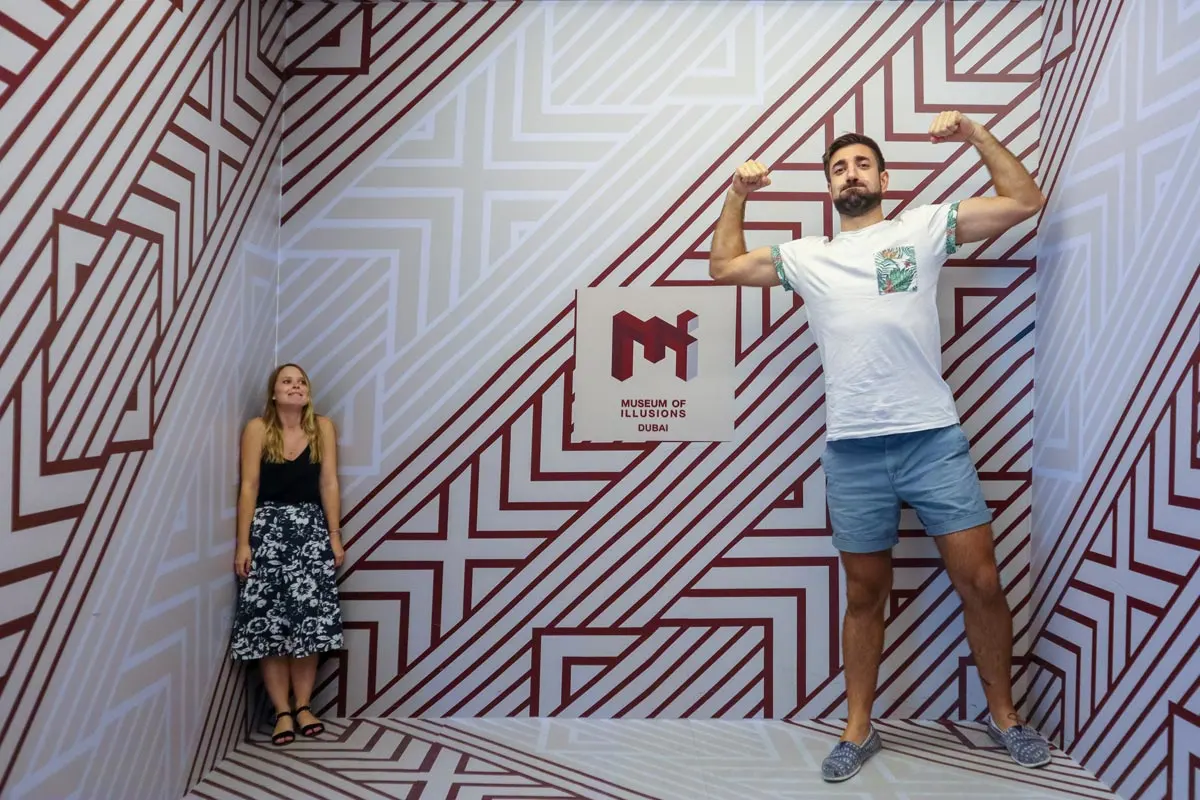 The Museum of Illusion in Dubai has just opened up in the summer of 2018 making it one of the newest places to visit in the UAE.
From mind-bending illusions to looking like a giant, this is good ol' fashioned family fun. I can imagine it's the perfect place to bring the kids.
They really encourage taking photos here and the staff even took a few so make sure you bring your camera along. Oh, and your sense of humour too!
Eat at Teatro in Towers Rotana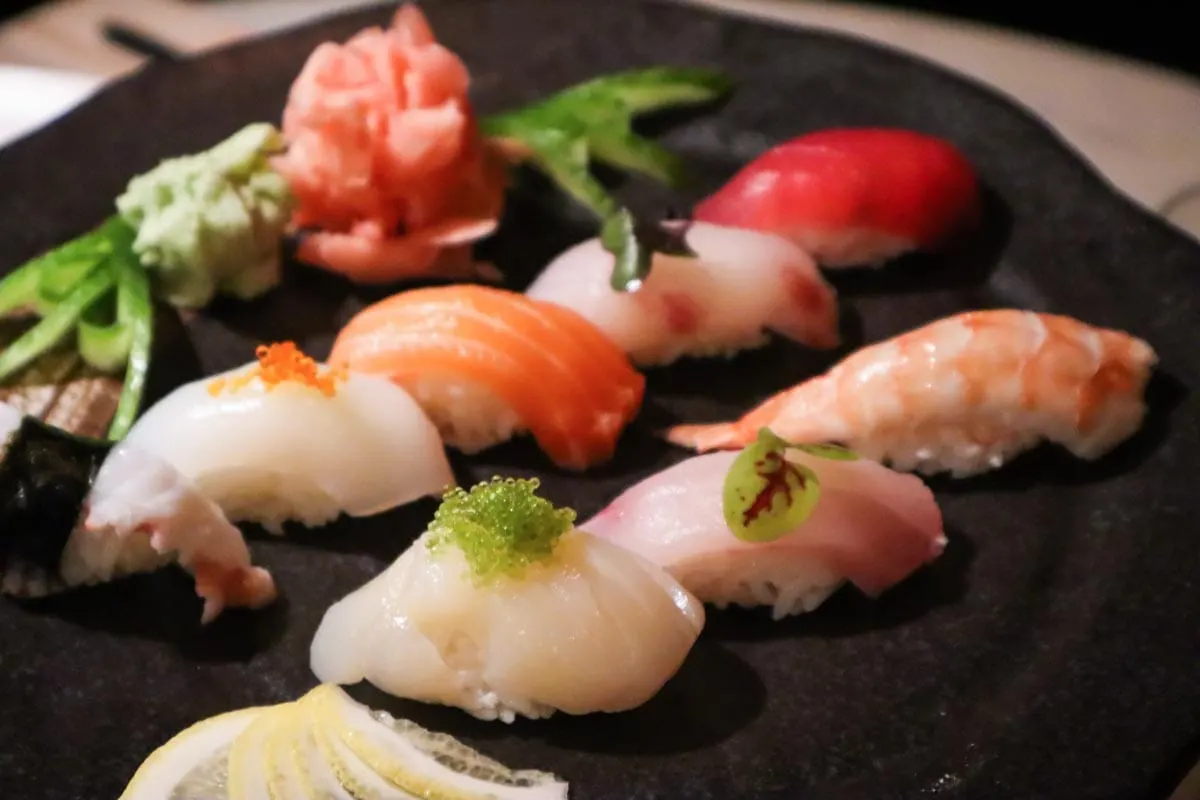 One of the places everyone said we had to eat at was Teatro in Towers Rotana. This is constantly ranked as one of the best restaurants in Dubai and it certainly did not disappoint!
The food is a fusion of east meets west so expect to find things on the menu like wasabi tempura prawns and miso-glazed seabass.
We had the sushi platter and it was delicious. Very authentic with their own sushi master and it was incredibly pretty too. It was food that looked good and tasted even better.
If you're looking for an amazing place for dinner in Dubai then I'd really recommend Teatro.
Explore Dubai Creek on an abra boat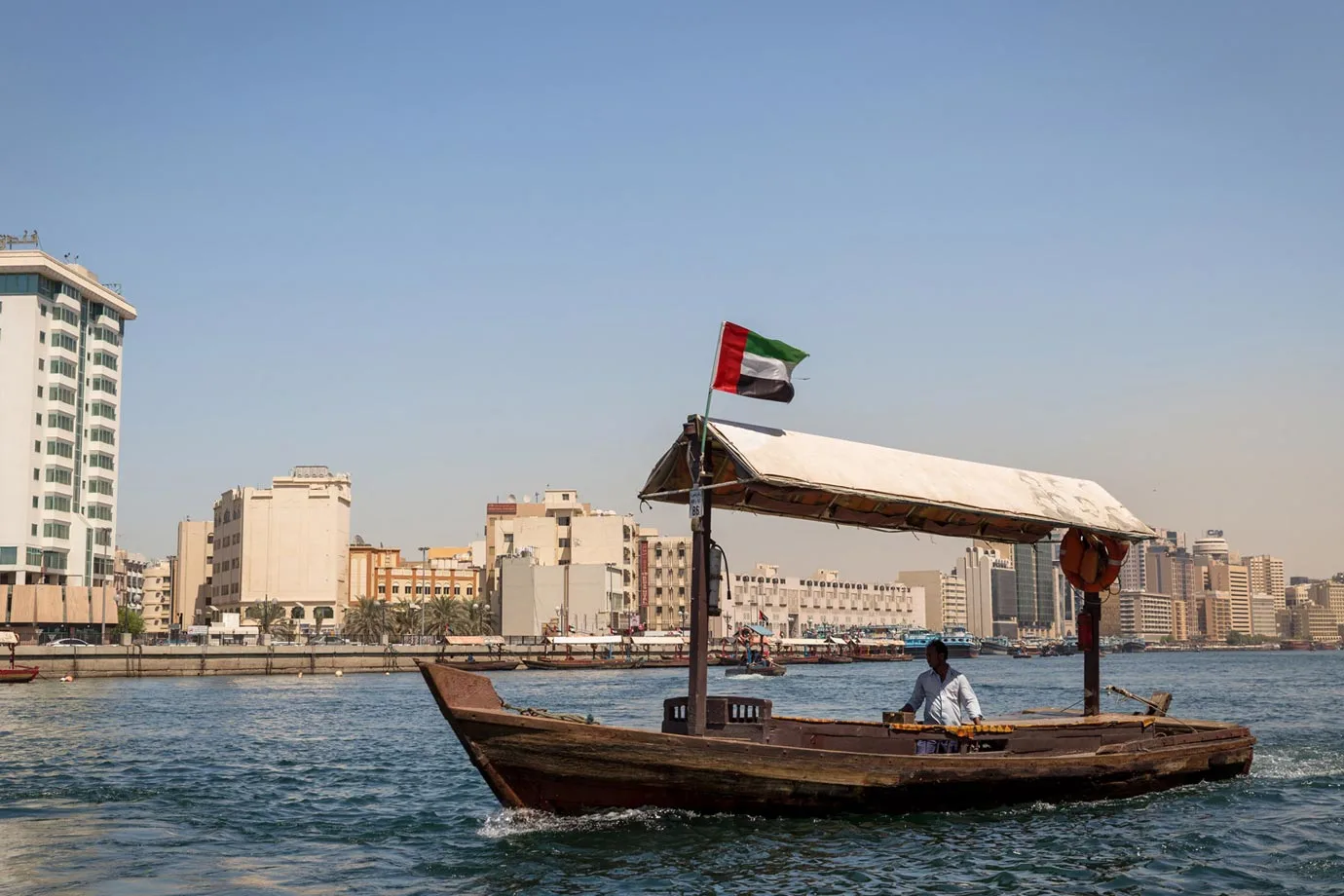 Here's a little money saving tip for you. Abra boats are cheapest way of getting around Dubai with a one-way ticket costing just 20p.
Not only are they a cheap way of getting around, they are also great for seeing the city from the water. Also, this is such a traditional mode of transport that it feels very nostalgic too.
The best place to get an abra is near the Old Quarter and on Dubai Creek. The boats are very regular every 10 minutes and some leave before if they're full. This really is such a good way of sightseeing Dubai!
Take in the skyline from Al Bandar Rotana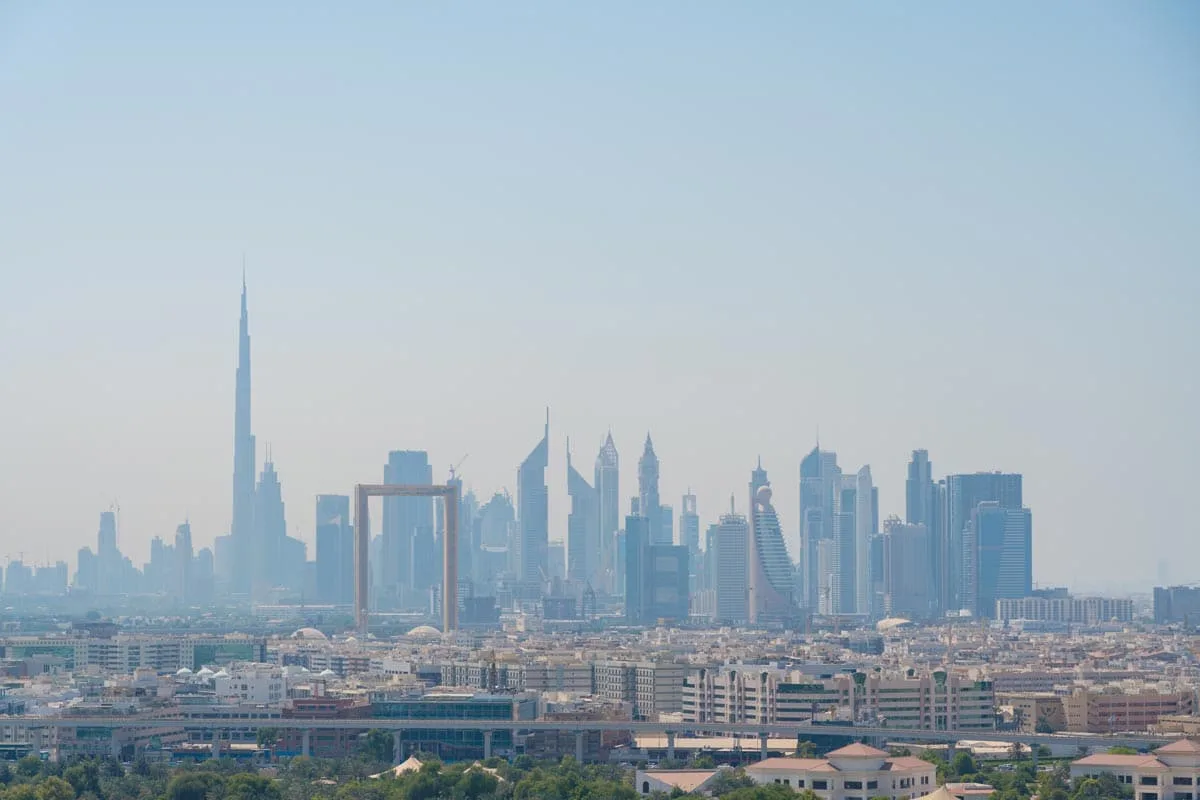 I'll put my hand up right now and say I'm a sucker for a good skyline. Well, in Dubai they have one the world's best.
I could spend all day roaming around Dubai in search of the best photo spots, but one of my favs is at the top of the Al Bandar Rotana.
Up on the 18th floor you can grab a cocktail from Gusto Restaurant, sit on the terrace and watch the sunset. Or, if you're like me, you can take photos of the sunset! Still, this really is one of the best views of Dubai.
Where to stay in Dubai – Al Bandar Rotana or the Towers Rotana Dubai
Fujairah
If you're wondering where to go in UAE, let me introduce you to Fujairah. At times this place feels like it's a million miles away from the other Emirates.
Not only do you get gorgeous beaches here, but you also get the Hajar Mountains in the background giving this an otherworldly feel. It wasn't the Luna landscape of the Atacama Desert in Chile but it wasn't far off!
If you're looking for a place to really kick back and relax then there are a number of 5* resorts here.
Also, if diving and snorkeling are your thing then this is where you'll find it in the UAE.
Here are some of the best tourist places in Fujairah.
Go snorkeling at Snoopy Island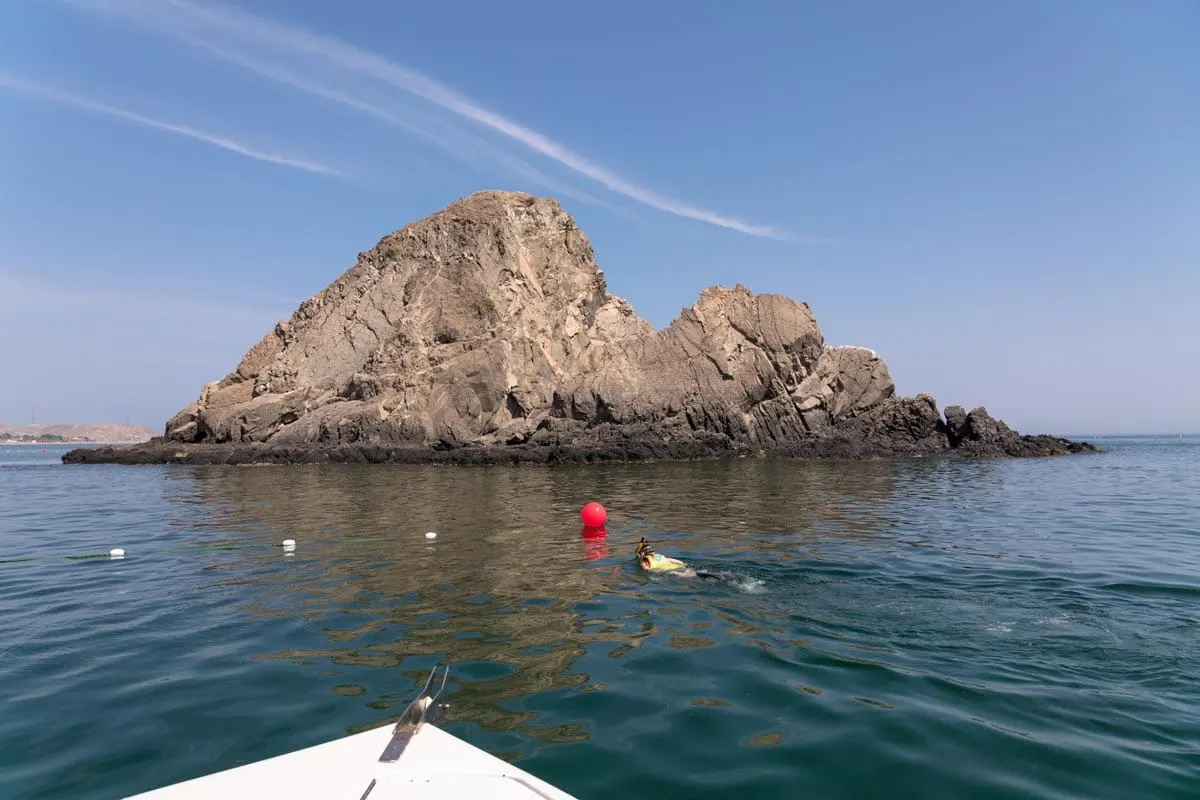 The main place to go snorkeling in Fujairah is Snoopy Island.
This was a short 10-minute boat ride along the coast from where I was staying at the Fujairah Rotana Resort & Spa and it's a really good snorkeling spot.
Snoopy Island is a large rock protruding from the sea and there's a small reef surrounding this teeming with life.
Unfortunately we didn't see any turtles but they are really common in the area. But we did see lots of other little fishes and it was a great way to spend an afternoon.
Take in the landscape while parasailing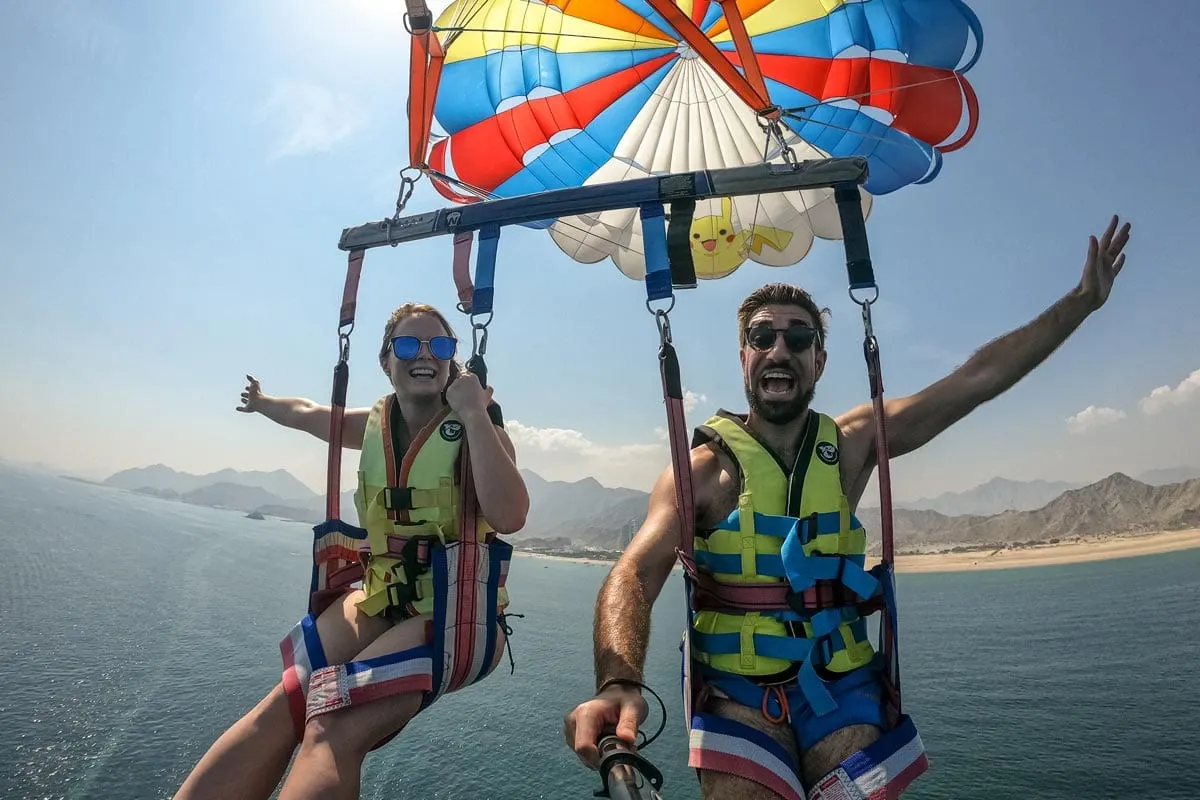 I always love parasailing wherever I am around the world – it always reminds me of family holidays when I was younger.
So, when I saw you could go parasailing at Fujairah I signed up immediately. It was definitely one of my favourite things to do in the UAE.
One of the best things about going parasailing in Fujairah is the landscapes. You really get to see the Hajar Mountains from high up with the bright blue water glistening below. So much fun!
Where to stay in Fujairah – Fujairah Rotana Resort & Spa
Ras Al Khaimah
Ras Al Khaimah is quickly establishing itself as the adventure capital of the UAE. For me, this is up there with the best places in UAE so make sure you add it to your list.
Not only are there activities like jet skiing along the coast and hiking up in the Jebel Jais Mountains, but it is also home to the world's longest zipline! This is an adventure activity like no other and it is such a rush.
Ras Al Khaimah is also home to a few all-inclusive resorts (bet you didn't think you'd find them in the UAE!) That means if you're looking for a proper holiday by the beach and the by the pool then you can't go wrong with RAK. And yes, you can drink alcohol here. I told you it was surprising!
Ras Al Khaimah is one of the best places to visit from Dubai for people looking for a more relaxed state and a lazier beach holiday.
Take on the world's longest zipline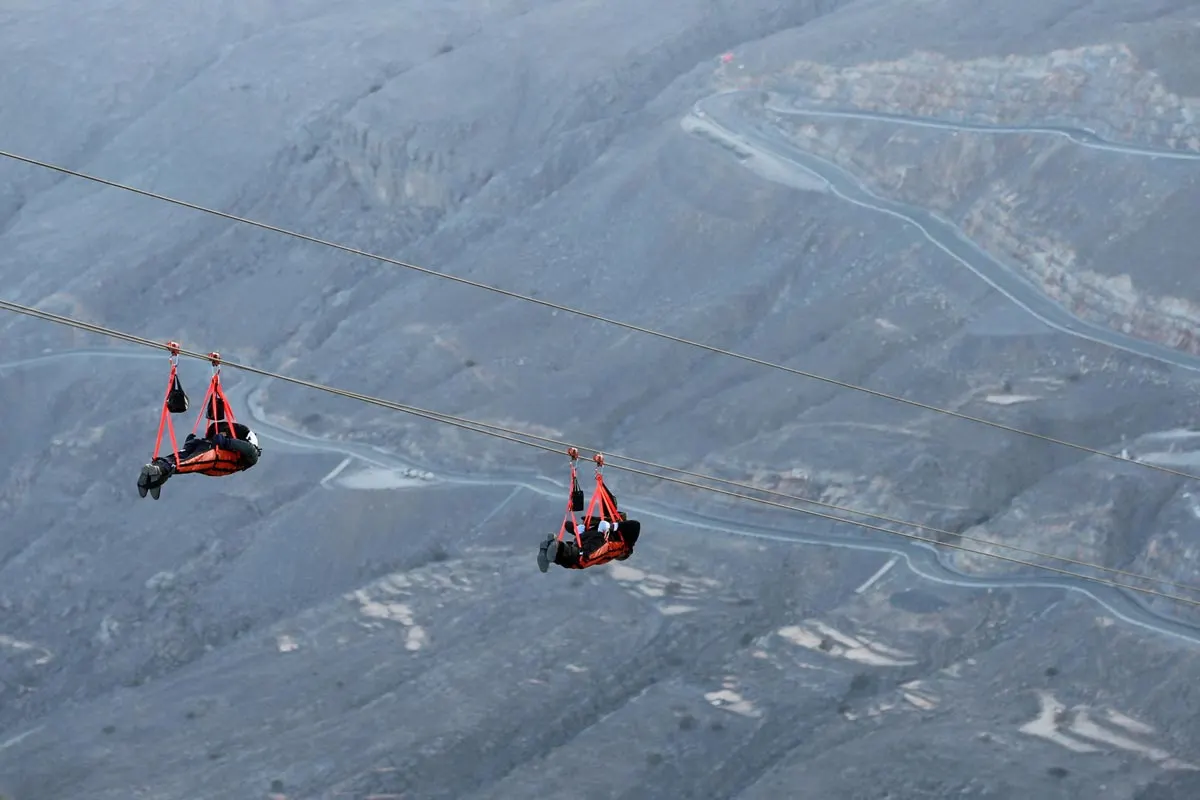 Obviously I love my adventure activities and they don't come much better than this.
So, how long is the world's longest zipline? It's 2.8kms where you reach speeds of up to 160kph and it is an adrenaline-pumping 2 minutes flying through the mountains of Jebel Jais.
You fly in the superman position facing forward, and once you reach terminal velocity it's actually quite relaxing (I really mean that!) Also, it's a great way to take in the beautiful scenery of the mountains too.
You can book tickets with ToroVerde Ras al Khaimah. We arrived on the day so you don't need to book in advanced if you don't want to. This is definitely one of the best new places to visit in UAE that's for sure!
Enjoy beautiful sunsets at The Cove Rotana Resort
One of the best places you can stay in Ras Al Khaimah is The Cove Rotana Resort.
This is an all-inclusive resort that looks a little like the Santorini of the UAE.
The Cove Rotana Resort is based right on the beach and it has uninterrupted views of the sunset. This really is the best place to watch sunset in the United Arab Emirates.
Also, there's a little beach bar right on the beach meaning this is the perfect place to be for those sundowner cocktails before a delicious dinner! What I would give to be back on the beach right now…
Exploring the coastline on a jet ski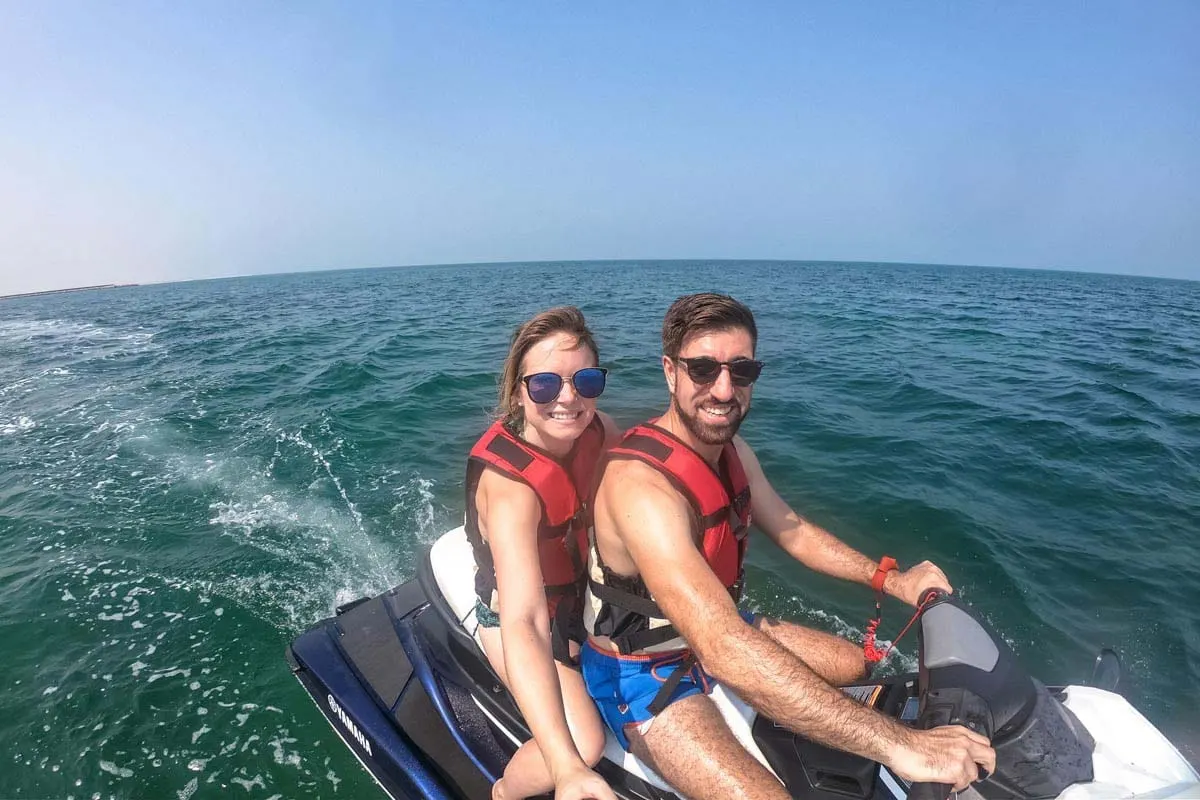 Jet skiing is another one of those classic beach holiday activities that I love.
While I was staying at The Cove Rotana Resort I picked up a jet ski for the morning and zoomed along the coast.
Every time I go jet skiing these days it's with my girlfriend on the back and she hates it when I go fast. From the sound of her screams I always push it too far but what can I say, it's so much fun!
Where to stay in Ras Al Khaimah – The Cove Rotana Resort
Sharjah
Sharjah is seen as the most traditional and cultural of the emirates. This is the only one where drinking alcohol is strictly prohibited, but that doesn't mean you can't have fun here.
UNESCO declared Sharjah as the Cultural Capital of the Arab World in 1998, recognition reaffirmed in 2014 when it became Capital of Islamic Culture, so there's plenty to see here.
Also, the skyline down by Khalid Lake is among the best you'll find in the UAE.
When it comes to what to do in the UAE, I really recommend adding Sharjah to the list. It really is very different from the other emirates!
Drink traditional Arabic coffee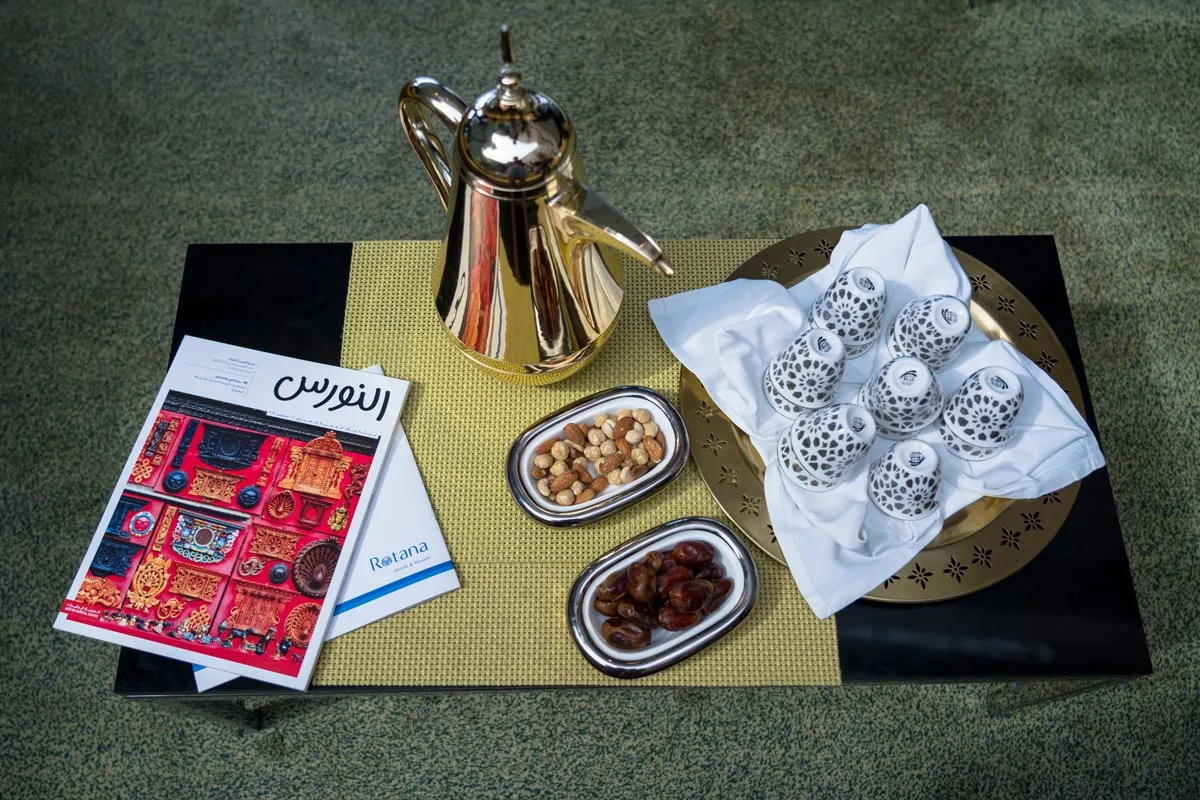 If you've never had Arabic coffee before then you've got to give this a go.
Arabic coffee is very aromatic and is often spiced with cardamom. Unlike other coffee, it is actually a greeny golden colour and is very bitter to drink.
Most of the time coffee is offered to guests when they arrive somewhere new and traditionally it is drunk for a small cup.
A word of warning – if you don't shake your cup after you've finished it then your host will keep on filling it up until you do! Shaking your cup is a sign you don't want any more coffee and we learned this during a traditional coffee ceremony when we arrived at Centro Sharjah.
Go for a sunset cruise on an abra boat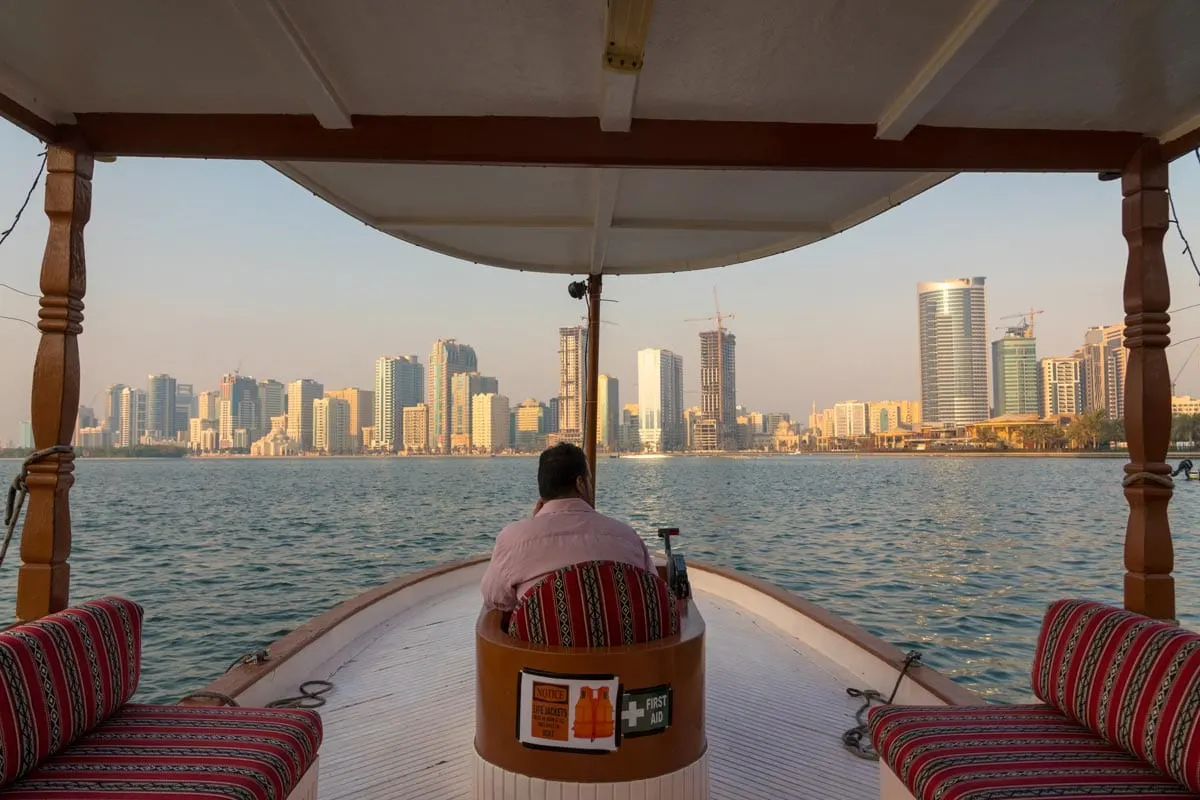 One of the best places to visit in the UAE is Khalid Lake.
Not only do you get the gorgeous skyline glittering in the water, but you also get to see the old and the new blended together with Al Noor Mosque nestled between the skyscrapers.
By Al Majaz Park there is a boat jetty where you can hire an abra boat to go on a little cruise of the lake.
We came down here at sunset and it was just beautiful – definitely the perfect time of day to see Sharjah and it was a little cooler too.
Where to stay in Sharjah – Centro Sharjah
Umm Al Quwain
If you're wondering where to go in the UAE then take a look at Umm Al Quwain!
Umm Al Quwain is a tiny emirate wrapped around an island dotted lagoon and it's really beautiful here.
This place has a bit of a retro feel to it as there aren't any big international resorts or megamalls like you'll find in Dubai, but because of that it has a distinct charm.
Across the creek, uninhabited Al Sinniyah Island is a protected marine environment noted for its mangrove swamp and large colony of Socotra cormorants. We also saw flamingos here too which was a nice added bonus!
Go kayaking through the mangroves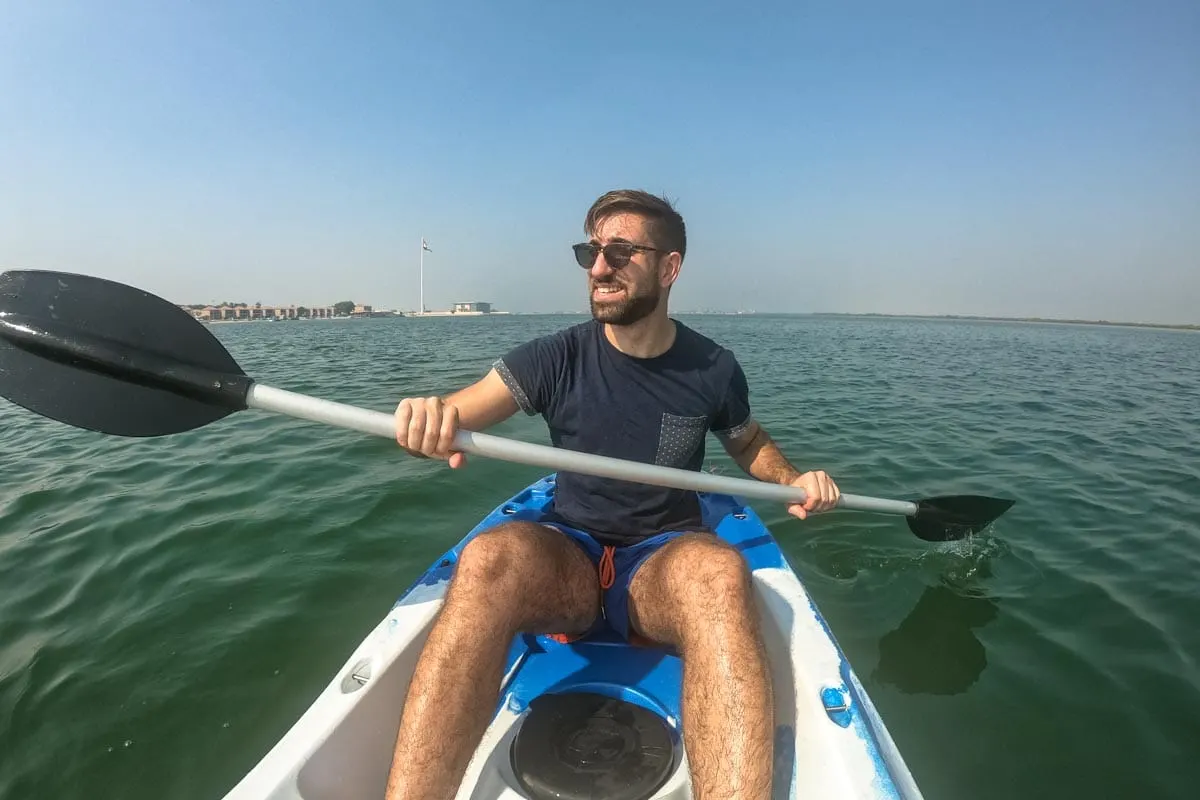 One of the best ways of seeing the mangroves up close is in a kayak.
Even though I didn't see any turtles while kayaking in Um Al Quwain, it is very common to see them in the area. However, I did see flamingos though which was a huge surprise. I never thought there were flamingos in the UAE but I was completely wrong about that.
I went kayaking from UAQ Marine Club which is like an adventure club with loads of activities to choose from. Best thing about this is they've got a pool so you can go for a relaxing dip after kayaking.
Hiring a kayak is fairly cheap (100AED, £20) and I'd really recommend this to anyone passing through Um Al Quwain.
---
My trip to the UAE was in association with Rotana Hotels promoting some of their best hotels in the region. As always, views are entirely my own and without bias.
Are you planning a trip to the Middle East? What do you think are the best places to visit in UAE? Make sure you let me know in the comments below!
Like this blog post? Then make sure you Pin it!