From the mountains of Wadi Bani Awf to exploring the capital of Muscat, these are the most beautiful places to visit in Oman on your first trip!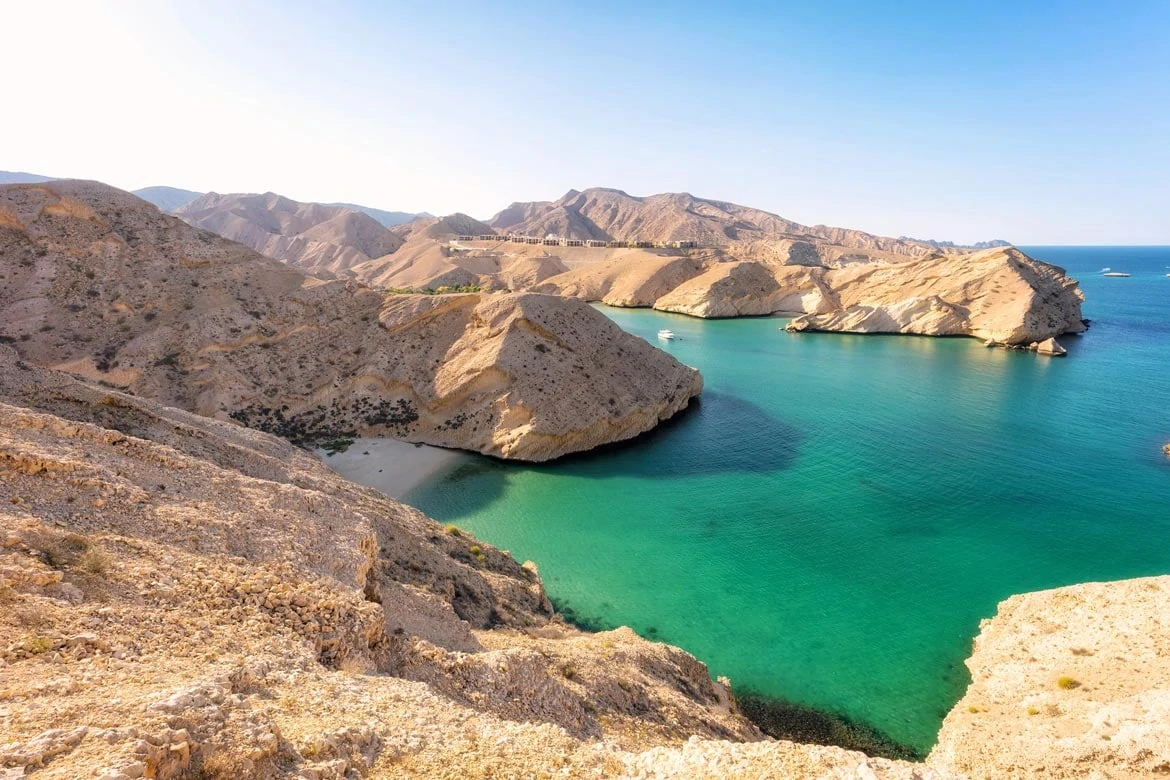 Are you looking for the most beautiful places to visit in Oman? Then this is the blog post for you!
Let me start off by saying this now – Oman was not what I expected at all. In fact, I think it's a country that will really surprise you too.
I've been to the United Arab Emirates a few times before. I've even been to Fujairah, the Emirate state neighbouring Oman in the Arabian Gulf, so I assumed the country would be very similar to this place. Oh how wrong I was.
Oman is nothing like Dubai or the UAE. In fact, it's like nowhere else I've been to before. There are just so many beautiful places in Oman that make it such an amazing country to explore for your holidays.
For my tour of Oman, I went straight from the city of Muscat to spend a night in the sand dunes under the stars. Then I drove though Wadi Bani Awf and up into the mountains where it's surprisingly cold, not what you'd expect from a desert country at all. Then I headed back into the hustle and bustle of Muscat again to end my trip. All in just a few days in the country.
I'm going to tell you all about these places and more.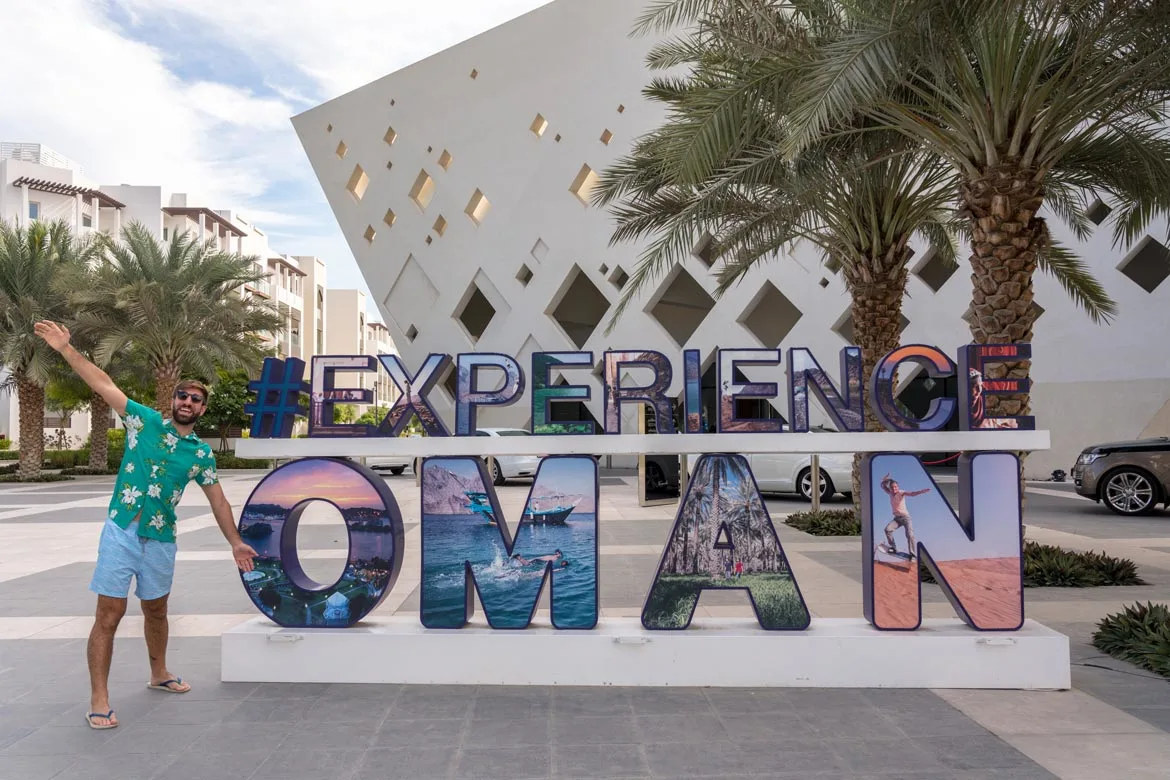 Beautiful Oman
This may sound stupid, but I had no idea that Oman had so many different landscapes. I thought because it was in the Middle East that it was an endless desert.
I don't say this lightly, but Oman is one of the most beautiful countries I've ever been to before. It's a place that just captures the imagination and I can't wait to go back again and explore more of the country one day. It's no wonder the tourist board keep on calling it 'Beautiful Oman' – it really is.
In this blog post I'm going to show you some of the most beautiful places to visit in Oman. I'm also going to add in lots of practical information too like whether you need a guide and some of the different customs in Oman.
Basically, if you're planning a trip to Oman then this is the blog post for you – just keep on reading!
Customs in Oman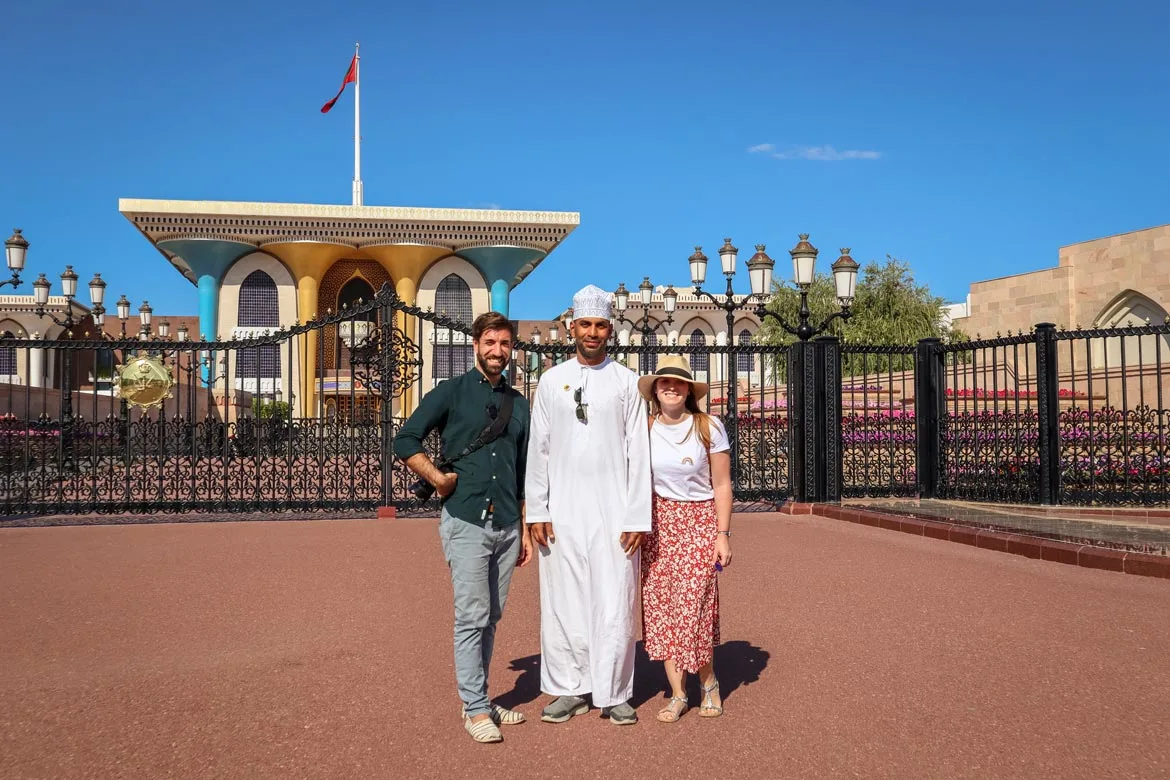 First things first, let's look at some of the customs in Oman before your trip.
Everyone is very welcoming – I found Omanis really welcoming and friendly wherever I went. Everyone I met was curious about where I was from and why I was visiting the country, but in a very kind way. If a local comes up to you it's more for a chat than anything else which I loved.
Say hello to everyone – I can't remember not saying hello to a single Omani while I was there. It's just custom to say As-Salaam-Alaikum to pretty much everyone you make eye contact with. When meeting someone of the opposite sex, do not offer your hand unless they offer you theirs first.
Don't hold hands – As Oman is a strictly conservative culture, it's best to err on the side of caution and not hold hands with your partner in public. I travelled to Oman with my fiancée and we refrained from holding hands in case we caused any offence.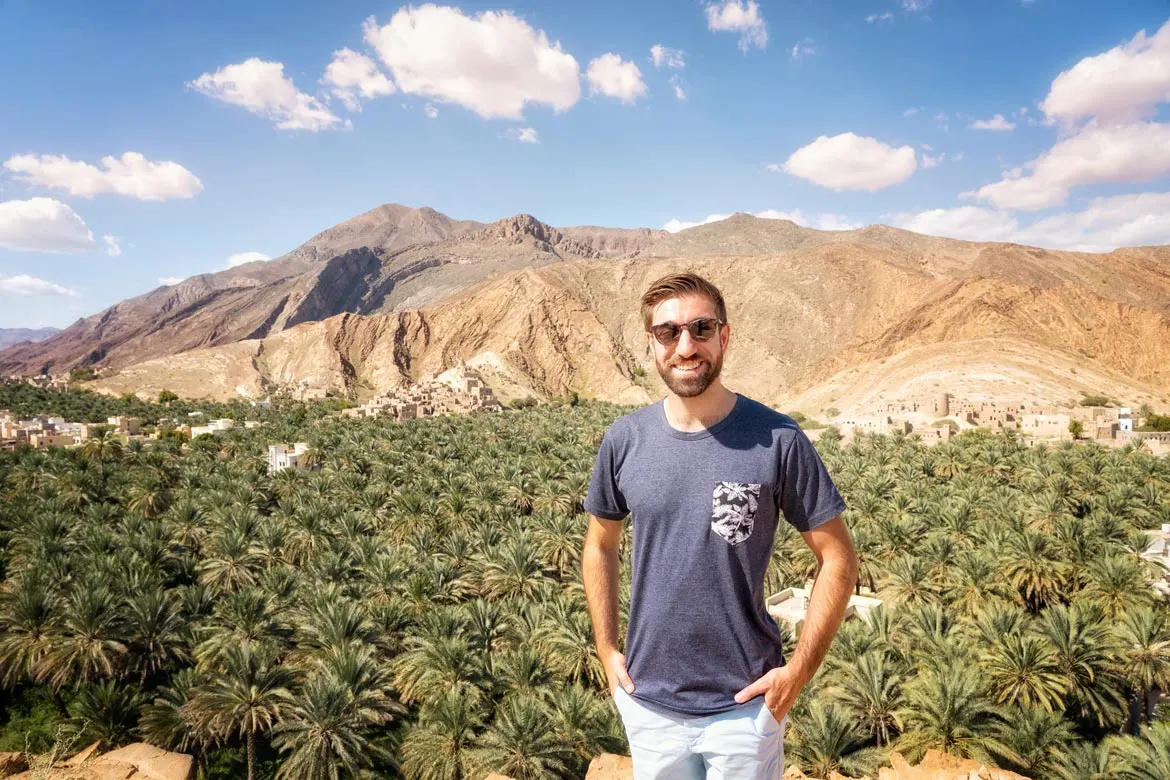 Dress appropriately – It's best for women to wear loose clothing with their shoulders and arms covered. Chloe's written an amazing blog post all about what women should wear in Oman so check that out. For men, try to avoid very short shorts and no vest tops please!
Show respect to Sultan Qaboos – Sultan Qaboos came into power in 1970 making him the longest serving leader of the Arab world and he has completely changed the country to the point he is revered.
And don't get angry – It's actually illegal to show anger in any way in Oman so try to keep your emotions under control. One of the more surprising customs in Oman for you!
Check out some more advice & information on visiting Oman here. This post is packed full of everything you need to go before you go.
Flying to Oman
Flying to Oman is very easy from the UK (or anywhere else around the world!)
We flew from London Heathrow to Muscat with Oman Air and there are flights twice a day. You can also fly direct from Manchester too.
Flight time is around 7 hours so it is a relatively quick flight and perfect for a holiday. However, because of the time difference you do land at night, so make sure you factor this in when booking your trip. It's always best to get an airport pickup or a taxi as it's late at night.
Beautiful Places in Oman
Dunes by Al Nahda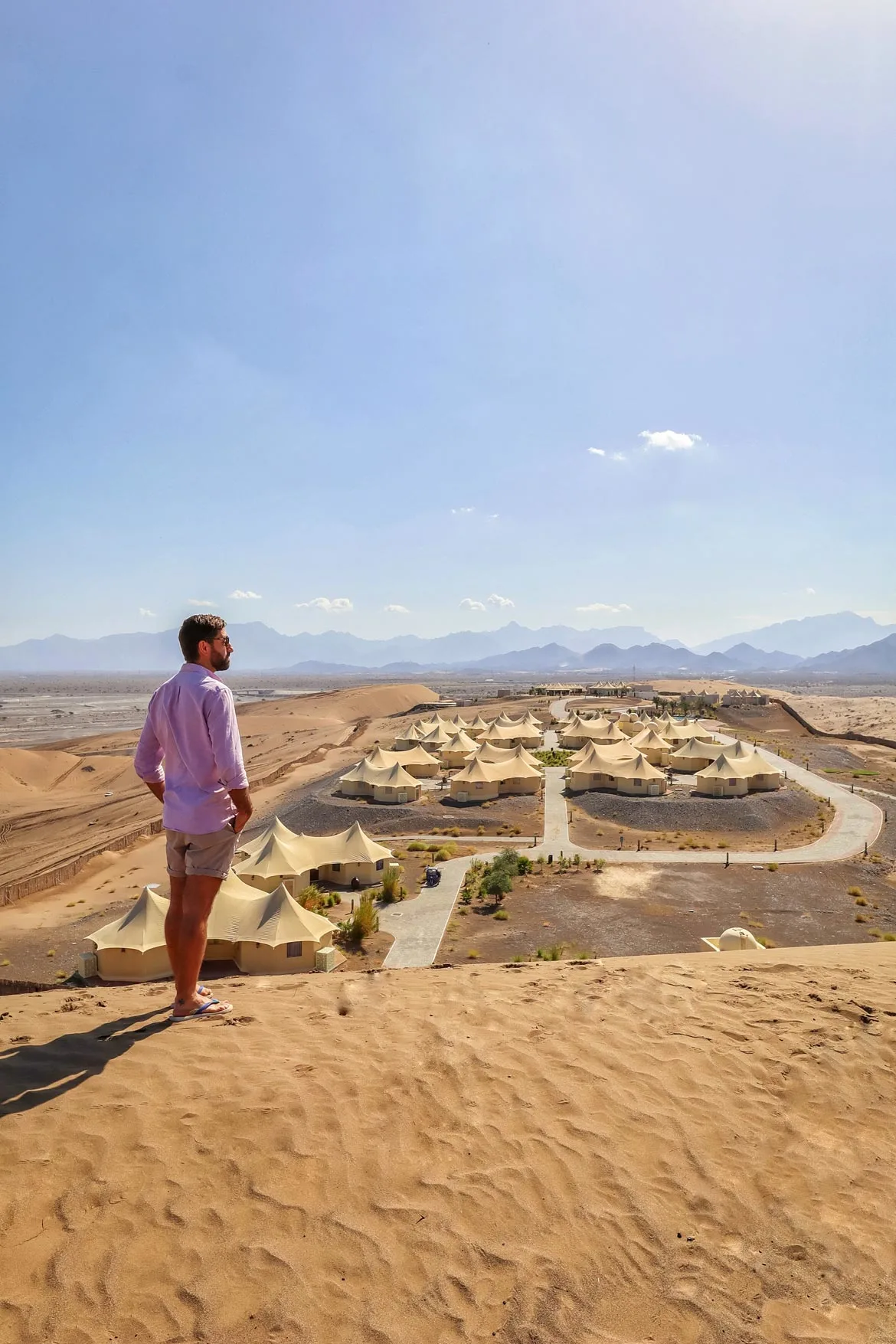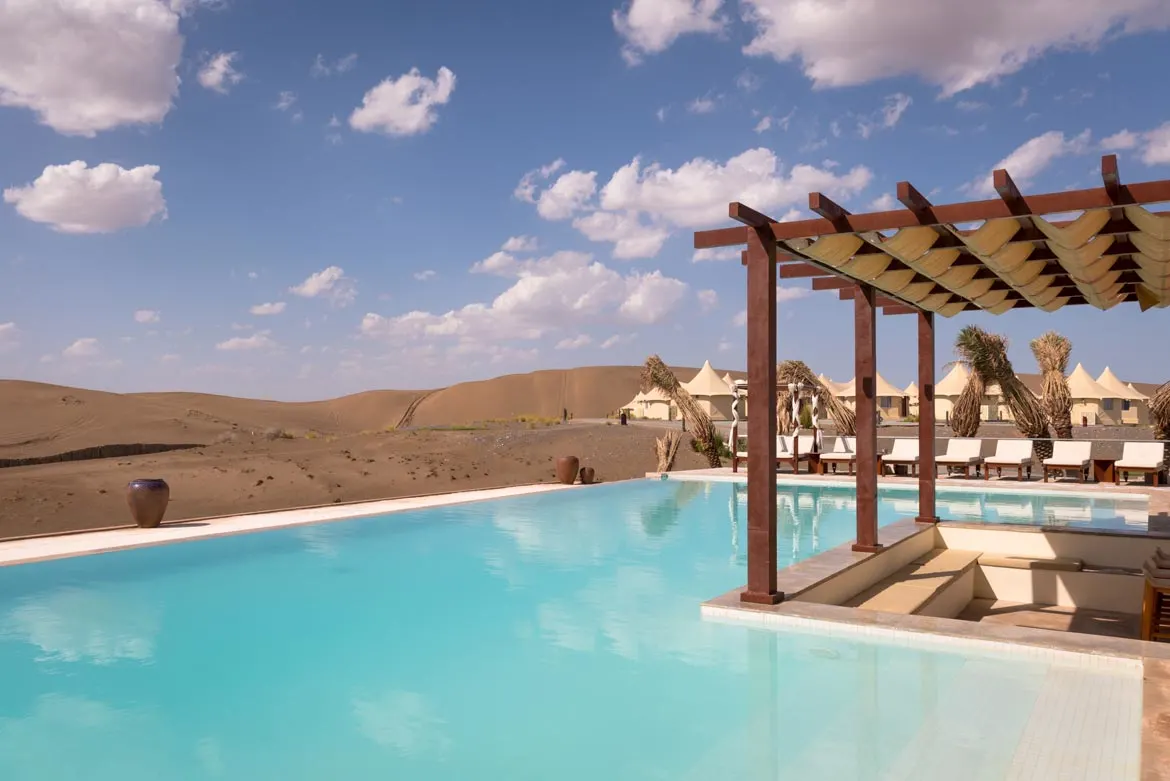 The first place we visited in Oman was Dunes by Al Nahda. This is only an hour and 15 minutes from the capital Muscat but it feels like it's a million miles away.
Dunes by Al Nahda is a 4* resort where you get to sleep in luxurious tents under the stars. It's quite hard to describe really so hopefully the photos will show you what I mean!
When we arrived here I couldn't believe the views of this place. The resort is surrounded by huge dusty orange sand dunes and it makes you feel like you're in the heart of the desert.
One of the best things about staying at Dunes by Al Nahda is you're completely cut off from it all. The only things you'll need to worry about is how long you should relax in the infinity pool or whether to have breakfast in bed.
One of the more adventurous activities you can do there though is quad biking through the sand dunes. The quad bikes are beasts but you don't need any experience and it is so much fun. This was probably my favourite adventure in Oman!
Rustaq Fort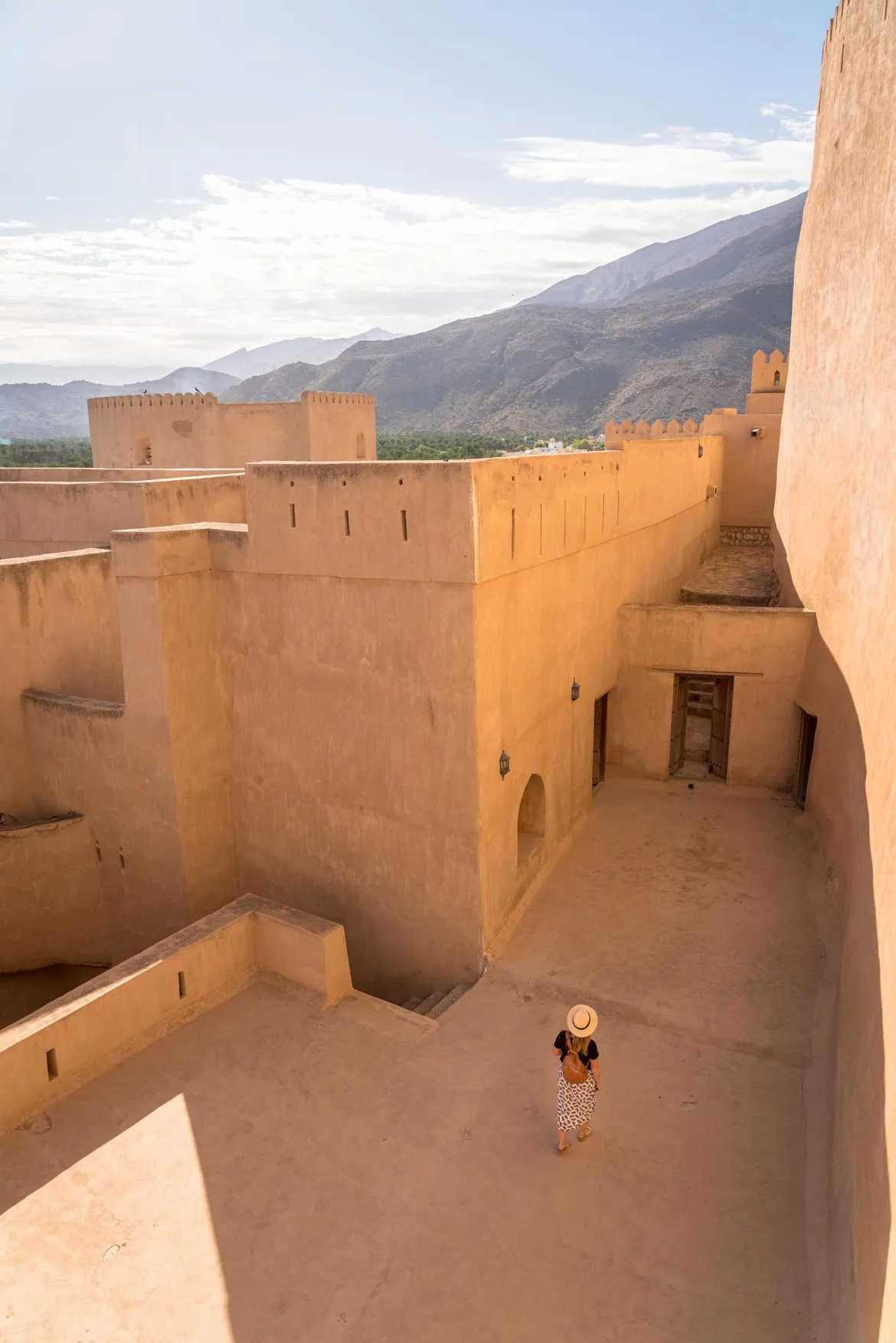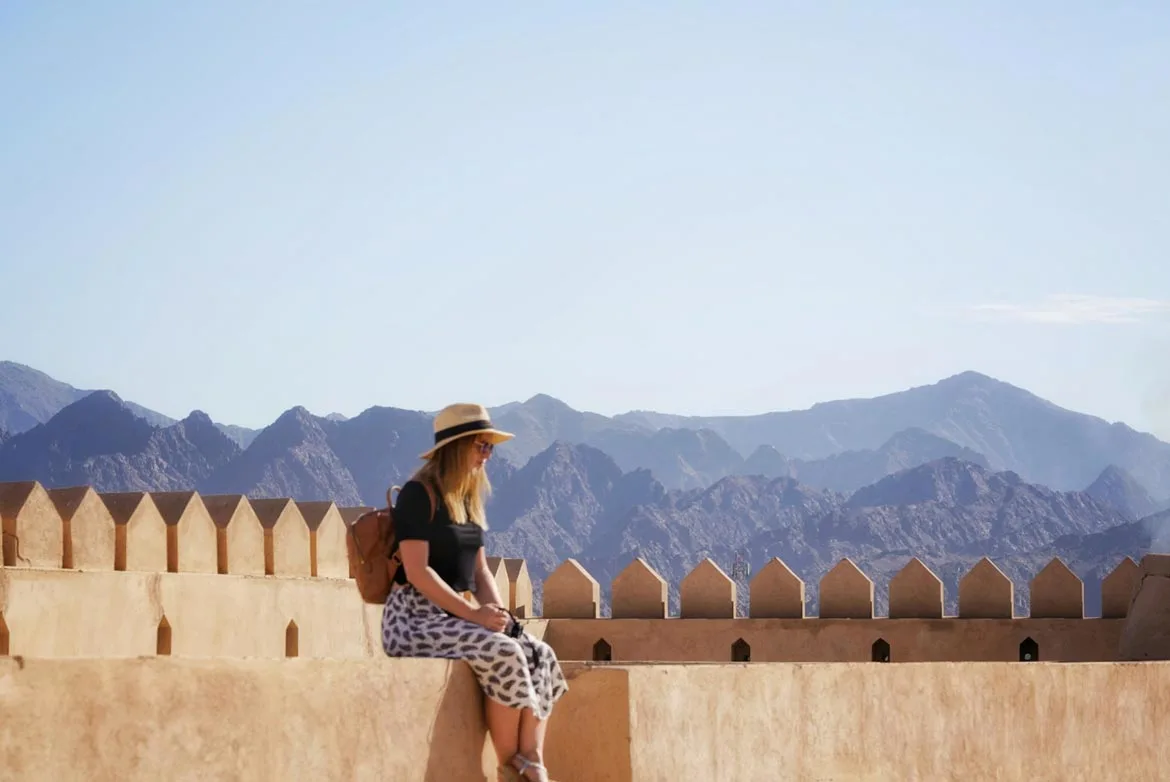 Let me say this now, I love a fort. I just love how they're a blend of architecture and history all in one place. That, and you usually get a killer view at the top too.
Rustaq Fort is located in the Al Batinah Region of northern Oman. Built in 1711, Rustaq Fort is an amazing example of Omani Islamic architecture with these high walls and narrow windows everywhere. And surrounding the fort are the mountains of Wadi Bani Awf (also one of my top places to visit in Oman!)
I arrived at the fort fairly early at around 10am and I was surprised to have the place all to myself. It takes around an hour to walk around the fort and there are a number of secret passageways and ladders leading you to the ramparts.
The fort has been carefully restored and it's an impressive sight looming above the town, so if you're heading to Wadi Bani Awf then I'd definitely recommend visiting this place first.
Entrance tickets to the fort is 500 baisa (£1) so it's very cheap! There are also a few Rustaq beach resorts in the surround area too.
Wadi Bani Awf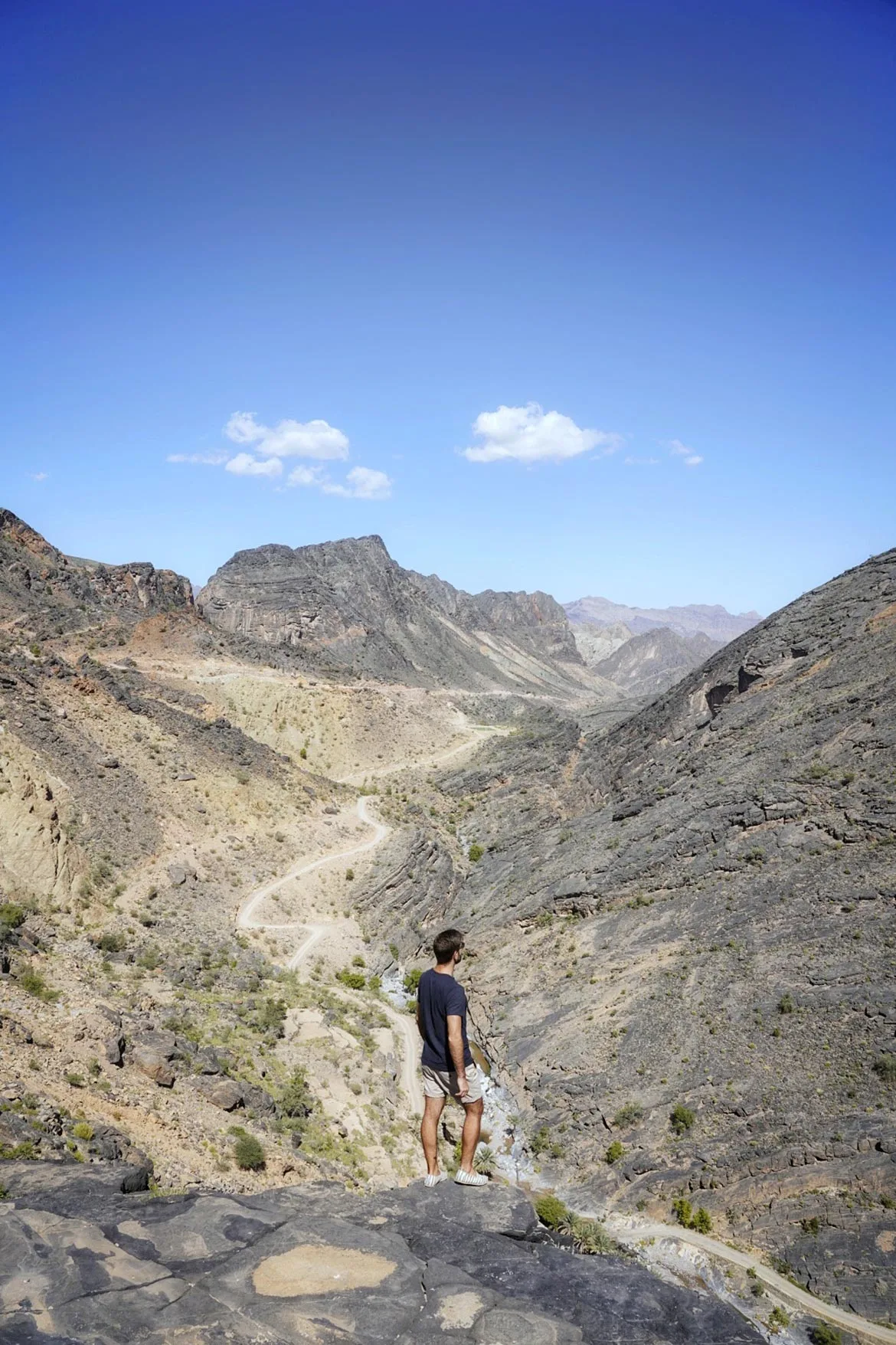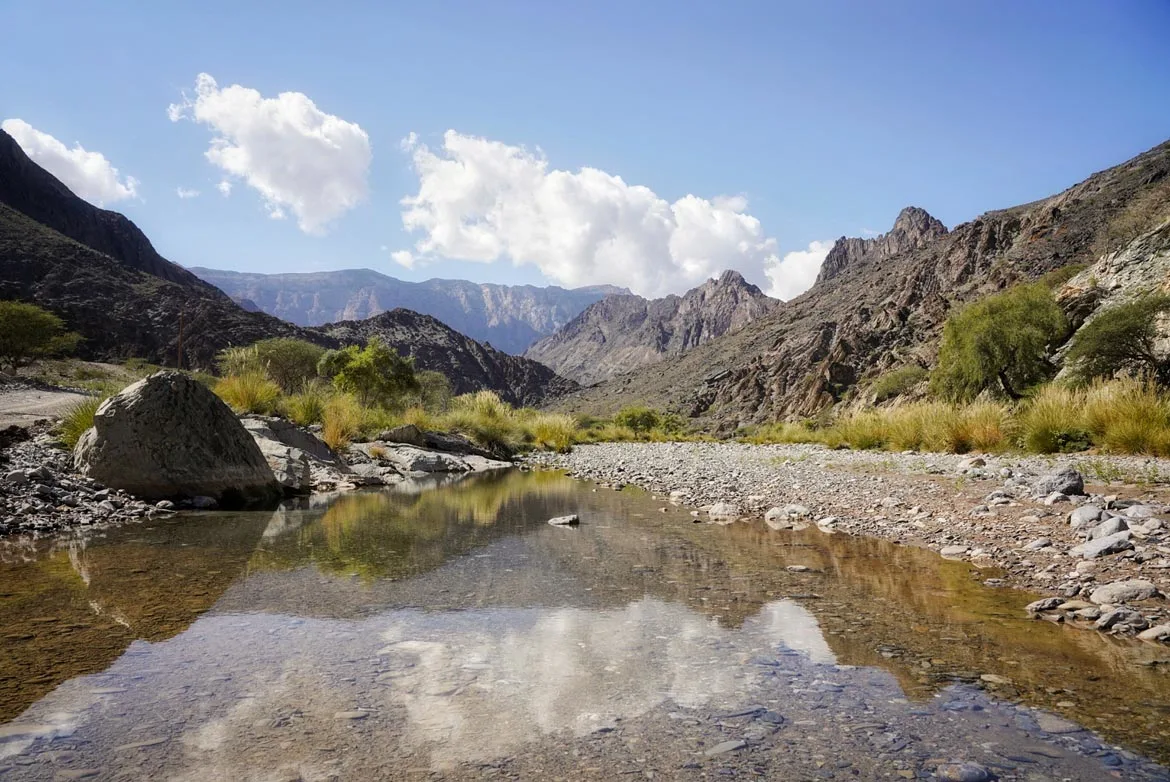 I bet you didn't think Oman had mountains like this!
I know you're thinking: "what is a wadi?" Well, a wadi is basically a valley or ravine that's dry except in rainy season. So, if you're looking to head up into the mountains you'll most likely drive through a wadi!
A lot of people head to Wadi Bani Awf to go canyoning and rock climbing at Snake Canyon, but we went on a different adventure all together.
Driving through Wadi Bani Awf to the top of the mountains is a bone-shuddering adventure in itself. All the 'roads' here are off-road dirt tracks, and it's impossible driving in this region without a 4X4.
With our driver, guide and all-round legend Ahmed from Desert Camel Adventure Tours, we took on the rough roads all the way to the top.
The hardest part was not stopping every 100 metres to take another photo. These were some of my favourite views in Oman, especially when you get to the top of the wadi at 2,000 metres.
If you're looking for a 4WD safari tour from Muscat then check out this day out. This is a full-day tour where you'll explore the Wahiba sands and the wadis of the area.
Jabal Akhdar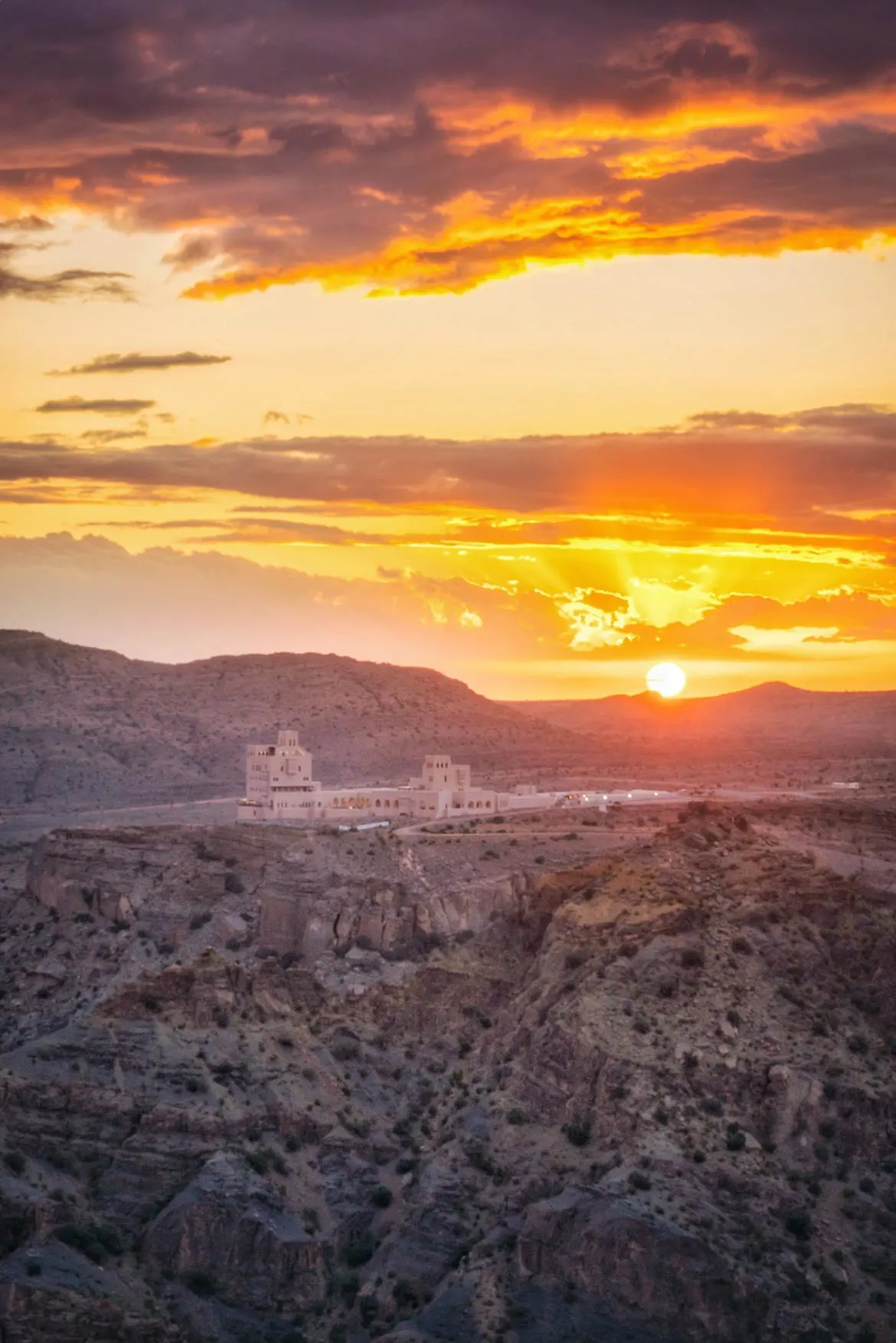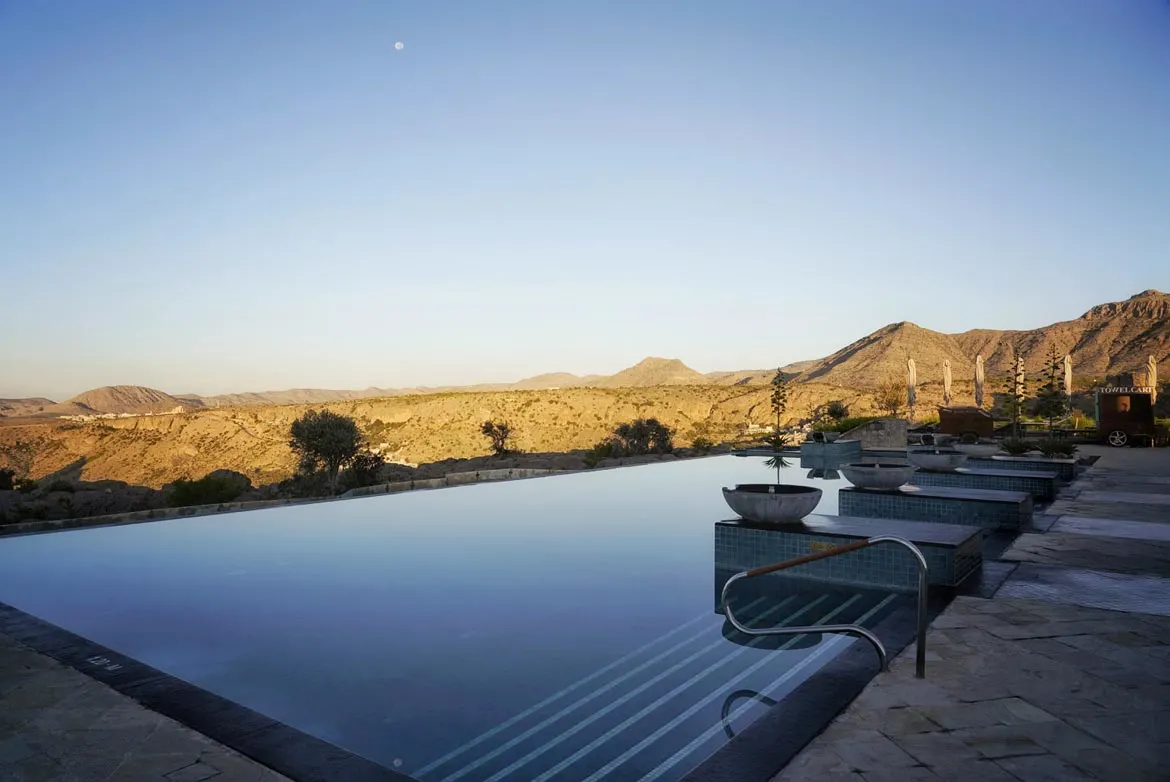 From Wadi Bani Awf, one of best places to visit in Oman is Jabal Akhdar. This is a village high up in the mountains of northern Oman.
In Jabal Akhdar, perched on the edge of the cliffs, you'll find the Anantara Resort. There's no way to subtly say this but the Anantara is one of the most beautiful hotels in the world. It's expensive but I promise you it's worth it.
The Anantara is a blend of ancient Islamic architecture where part of it looks like an old fort, with modern design bringing it into the 21st century. Even though this is an uber-luxurious place to stay, the views of the Jabal Akhdar valley are stunning.
My favourite spot at the Anantara was Diana's Point. This is a glass lookout point where you can grab a cocktail and watch the sun set behind the mountains. It's like your own platform on Mars.
It's named after Princess Diana and Prince Charles visited the exact same point in 1986, long before the hotel was built here. Basically you're walking in the footsteps of Royalty which is another reason to come here! In my opinion Diana's Point is one of the top things to do in Jabal Akhdar. Apparently it's the most tagged Instagram location in the country too!
Birkat Al Mouz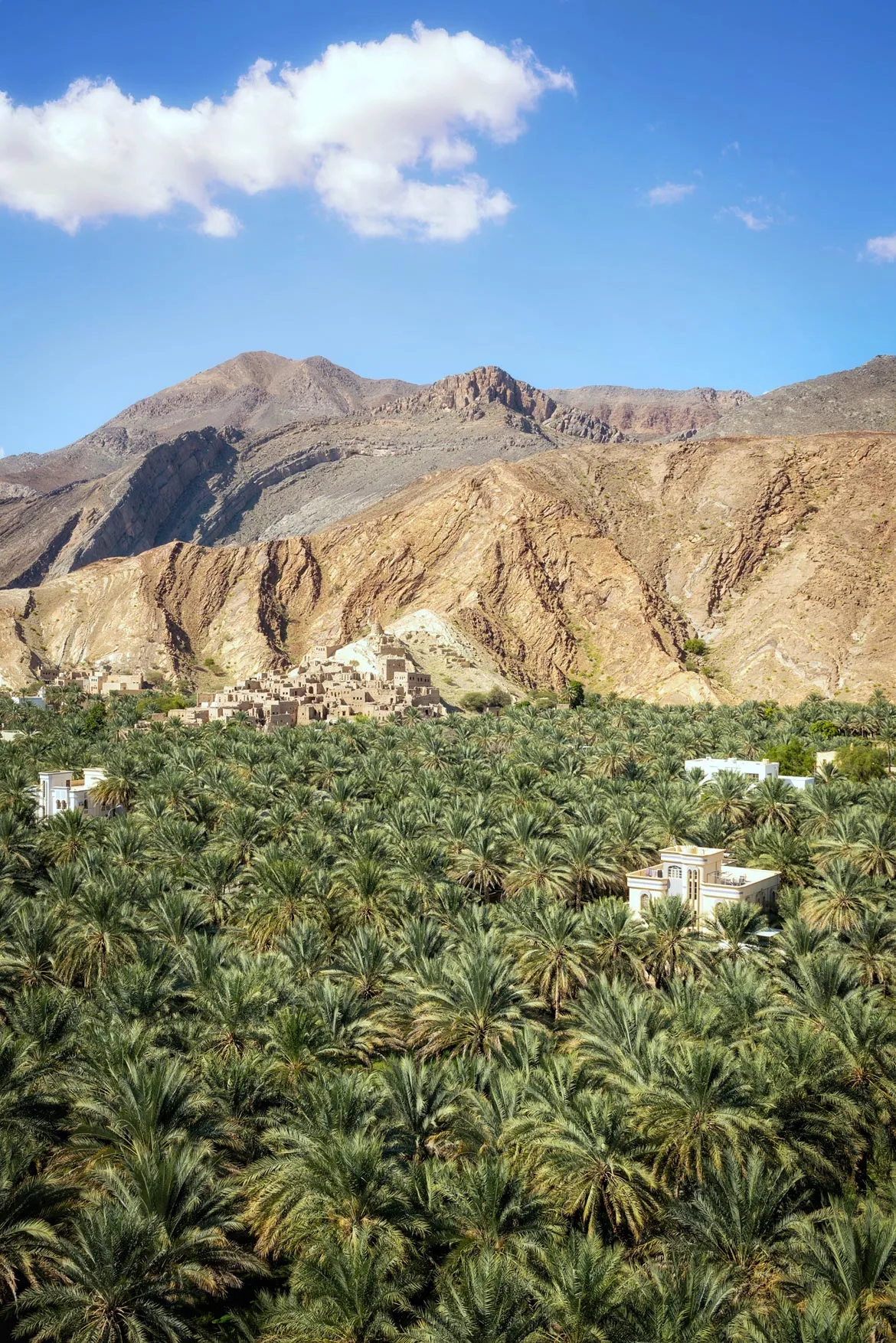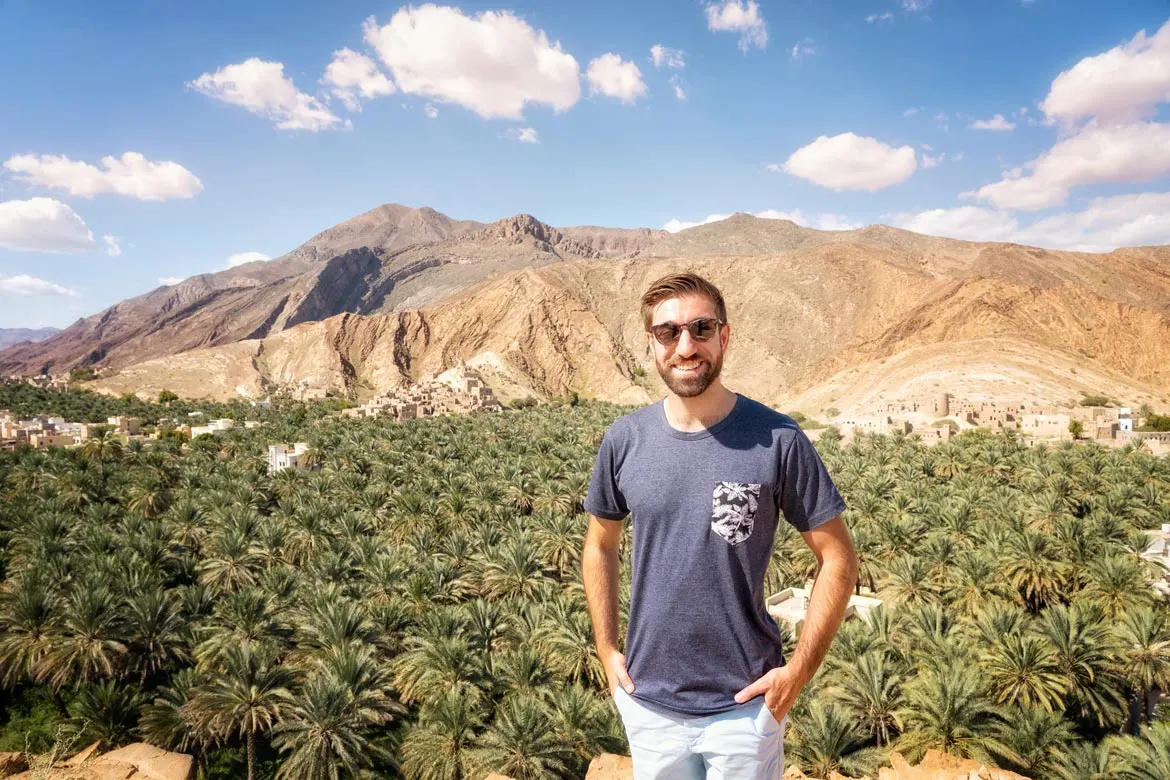 Another reason why it's a great idea having a driver is he'll take you to all the best spots in Oman like this one, Birkat Al Mouz.
As we were driving back to Muscat, Ahmed asked: "Would you like to see a lookout point that not everyone knows about?" 10 minutes later we were overlooking this oasis of palm trees in the middle of the desert. I mean, this place just screams 'Beautiful Oman'.
Nestled at the foot of the mountains is an abandoned village which you can explore. You can also drive through the middle of the palm trees to really immerse yourself in this oasis.
For me though, this was one of those spots that just captured the magic and imagination of Oman. I told you there were a lot of different landscapes here – well this is just another one. For me, this is one of the top places to go in Oman that's slightly off the beaten track.
Sultan Qaboos Grand Mosque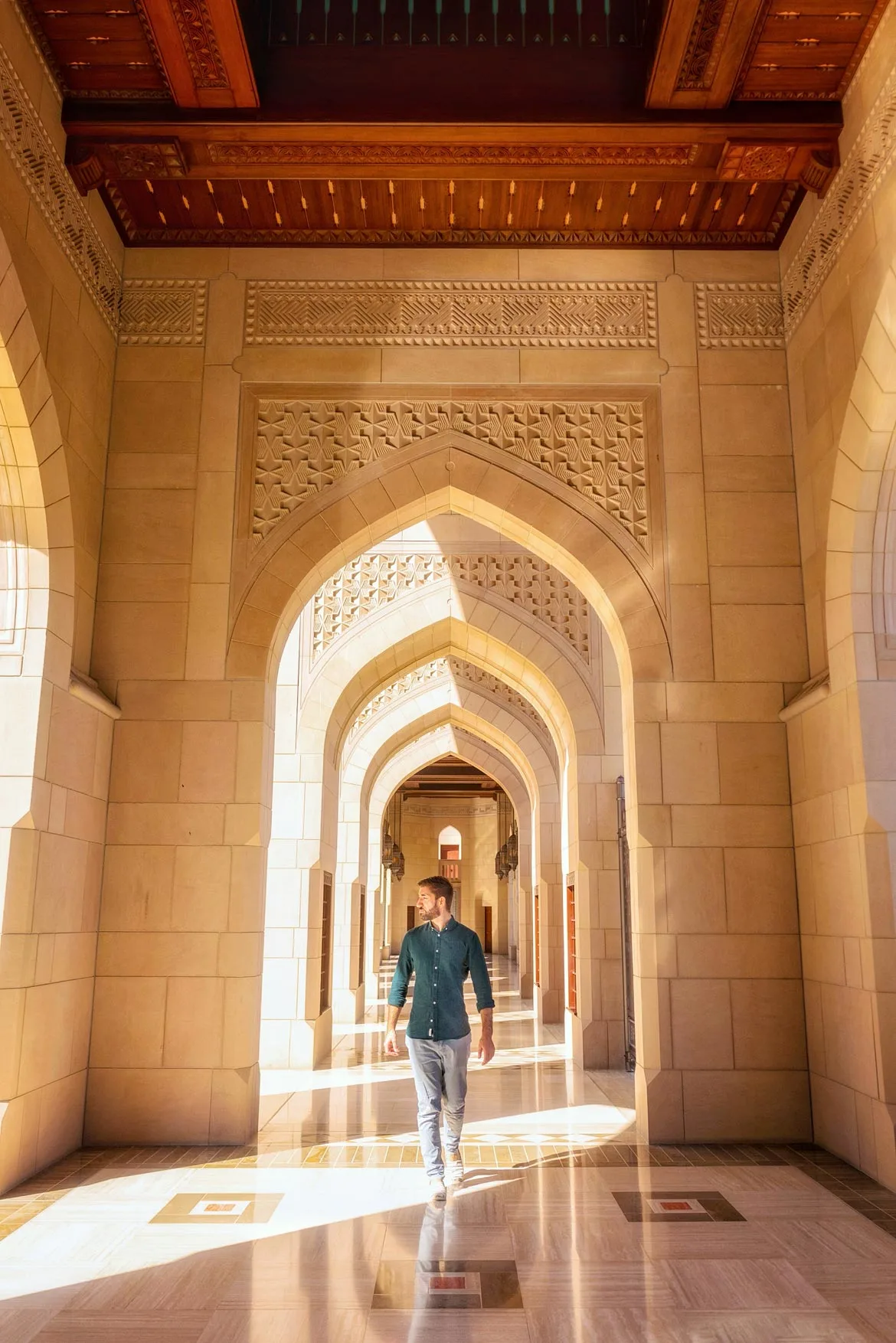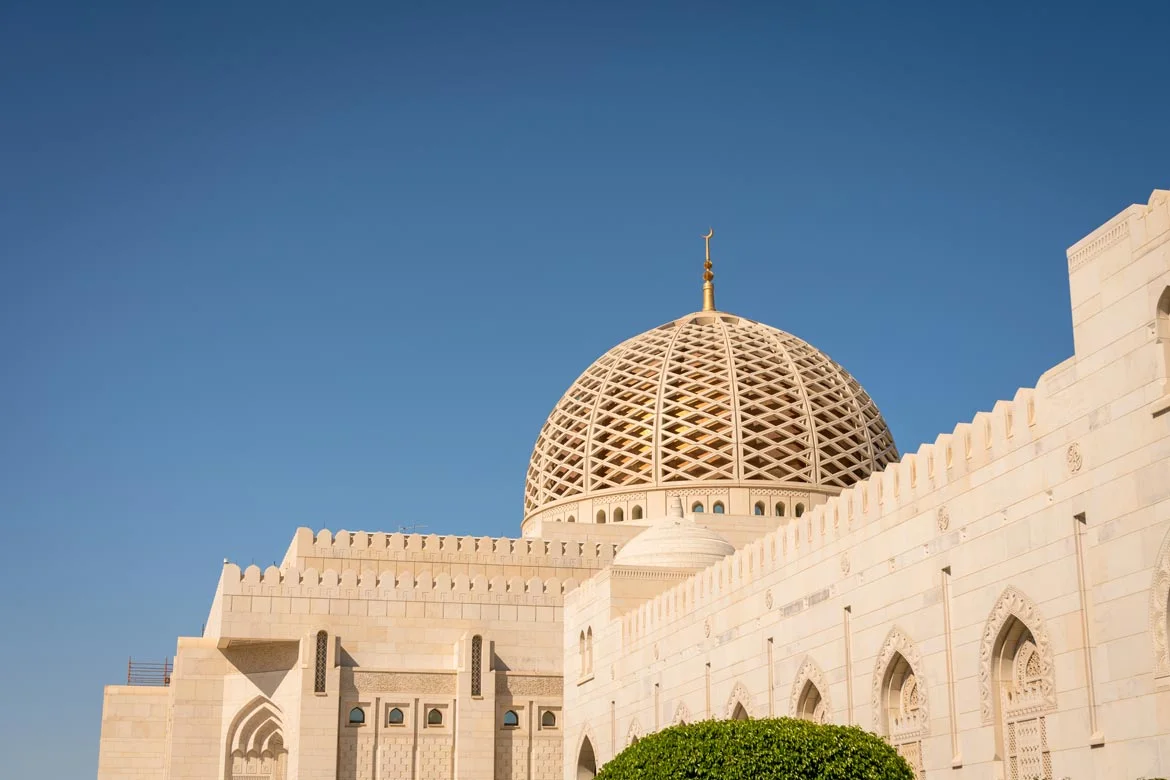 The Sultan Qaboos Grand Mosque is one of the finest mosques in the world. Built by Sultan Qaboos in 2001 as a present to his people, the mosque can hold up to 20,000 people at one time.
In fact, it's full of superlatives. It took 300,000 ton of Indian sandstone to build the mosque. The main chandelier above the prayer hall is 14 metres tall, weighs 8.5 tons and is made up on 600,000 Swarovski crystals. But my favourite fact is the prayer hall houses the world's second largest hand-woven carpet with a whopping 1,700,000,000 knots. Imagine stitching that one together!
I always enjoy visiting mosques around the world as I just love the clean lines of symmetry wherever you look. And they are always so peaceful and calming.
With the Sultan Qaboos Grand Mosque, foreigners are encouraged to visit to learn more about Islam as a religion and to see how accepting it is. It's a good ethos.
If you're visiting the mosque, it has a very strict dresscode. For men, that's trousers and a t-shirt. For women, it's either a long dress or trousers, you need to make sure your shoulders are covered and you need to wear a headscarf. If you're not dressed appropriately you can hire clothes on site.
The Sultan Qaboos Grand Mosque is without a doubt one of the most beautiful places in Muscat. It's open every day for tourists from 8am till 11am. After that it's closed for prayer.
National Museum of Oman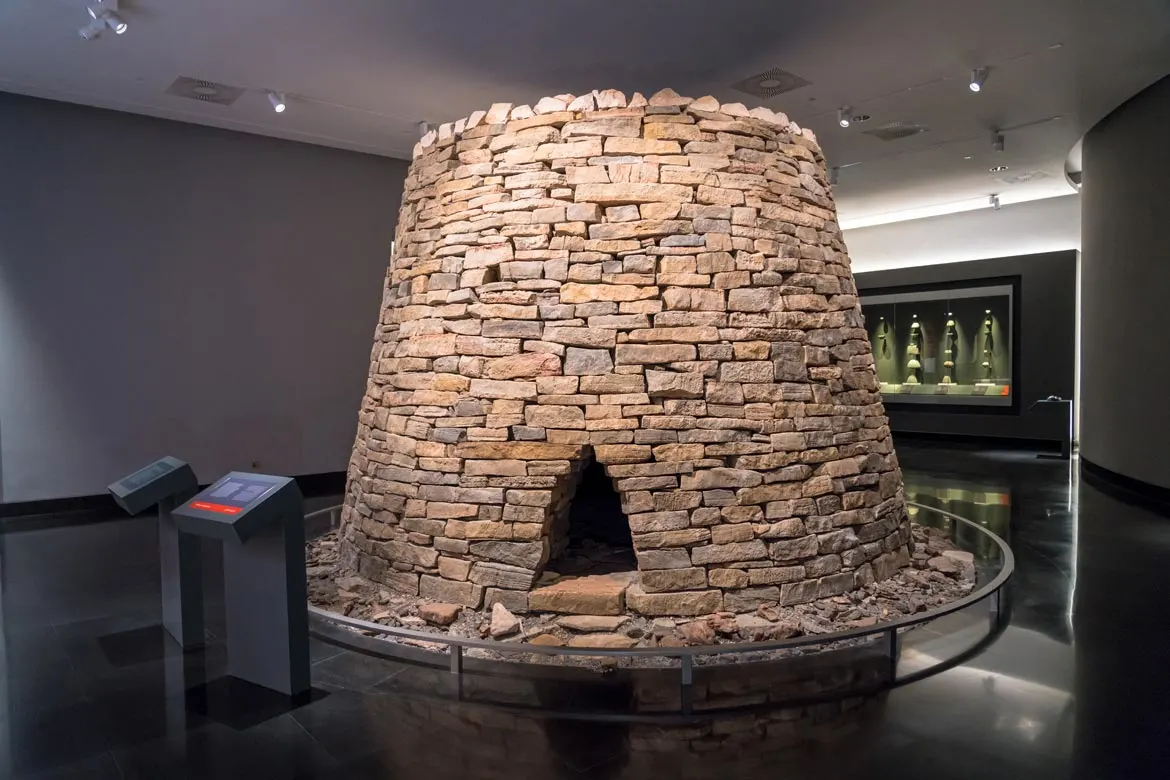 For those of you interested in the history of Oman then I'd really recommend visiting the National Museum. Located in the Old Quarter of Muscat, the National Museum opened in 2016.
The museum is really well laid out and goes through the history of the first settlers to modern day Oman. I didn't realise that settlers dated back 4,000 to 5,000 years ago here, so they preceded the Egyptians.
The emphasis of this modern museum is on quality rather than quantity. Each display has a huge amount of space, height and light to really enhance the selective displays showcasing the heritage of Oman.
My favourite exhibition was learning about the mysterious Beehive Tombs of Al Khutm and Al Ayn. These date back nearly 4,000 years, and a bit like Stonehenge here in England, no one knows why they were built. So fascinating learning the history of this country!
Tickets for the National Museum cost 5 Riel (£10) for an adult.
Al Alam, the Sultan's Palace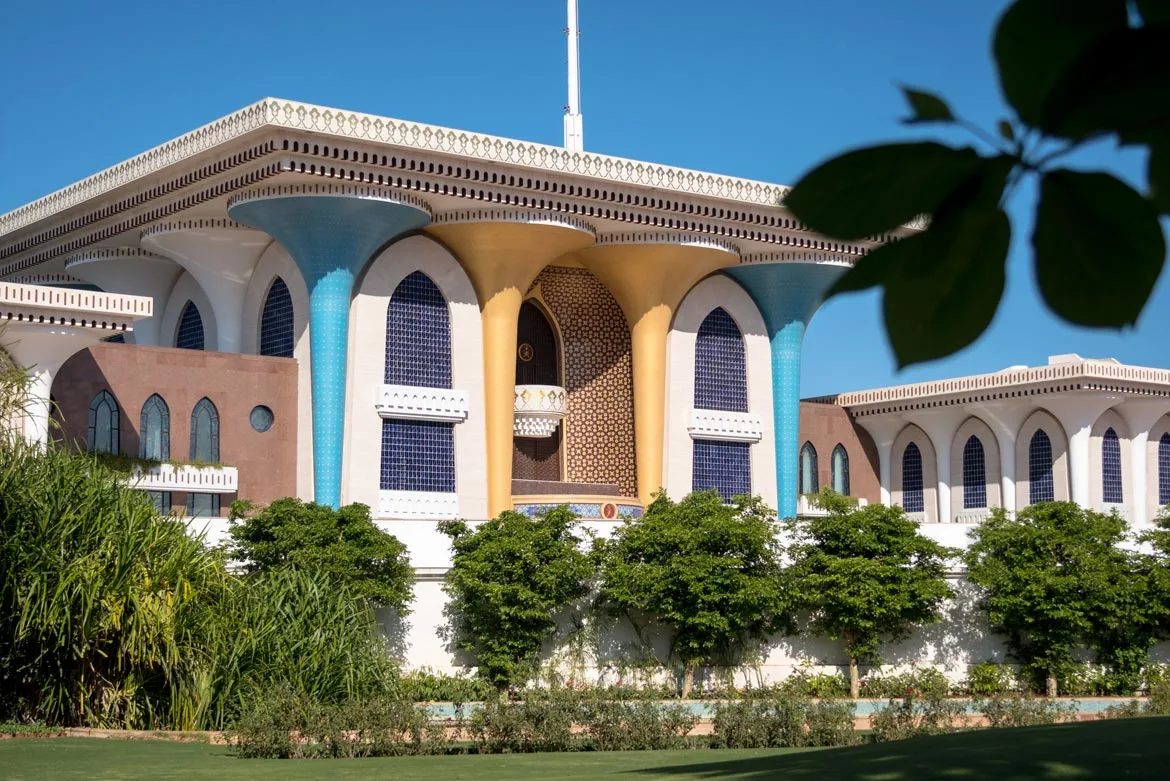 Opposite the National Museum is the Sultan's Palace, Al Alam. This palace gives you a small insight into the wealth that Sultan Qaboos must have. Oh, and this is just one of six palaces he has around the country.
For me the main highlight here are the brightly coloured blue and gold columns on the palace. These look like flowers rising out the ground and they look surprisingly modern considering this palace was rebuilt in 1972.
Even though most people pause in front of the front gate for a few photos, you can actually walk around the back of the palace. Here you really get to see the size of the buildings. This is one of the top tourist attractions in Oman.
Either side of the palace are Mirani and Jalali Forts built in the 16th century by the Portuguese.
Muttrah Fish Market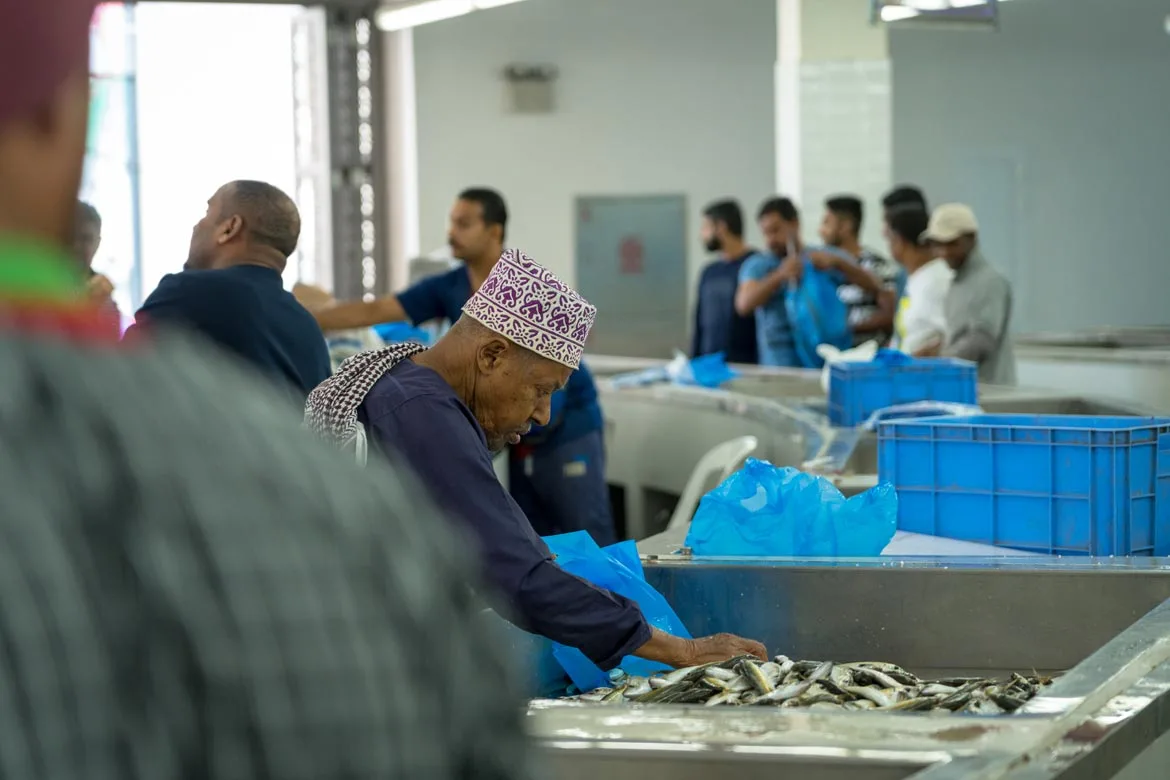 It may seem strange to add in a fish market as one of the top places to visit in Oman but I really liked it here!
Unlike a lot of markets in Middle Eastern countries (and I would even throw Muttrah Souq that's just down the road into the category), the fish market felt very real. It's where locals and businesses would go to buy their fish. It wasn't for tourists, it wasn't fake, and I liked it for that.
There was a real buzz to the place as they were selling everything from freshly caught crabs to huge whole tuna.
What the locals do at the fish market is they buy their fish, then they take it to a separate section where it gets cleaned a gutted for a small charge. I thought this system was quite clever as it means you can have a freshly fileted fish without having to do it yourself.
Beware: this is a real working fish market with lots of live fish. If you're vegetarian or vegan it's probably best to steer clear of this one.
The Muttrah Corniche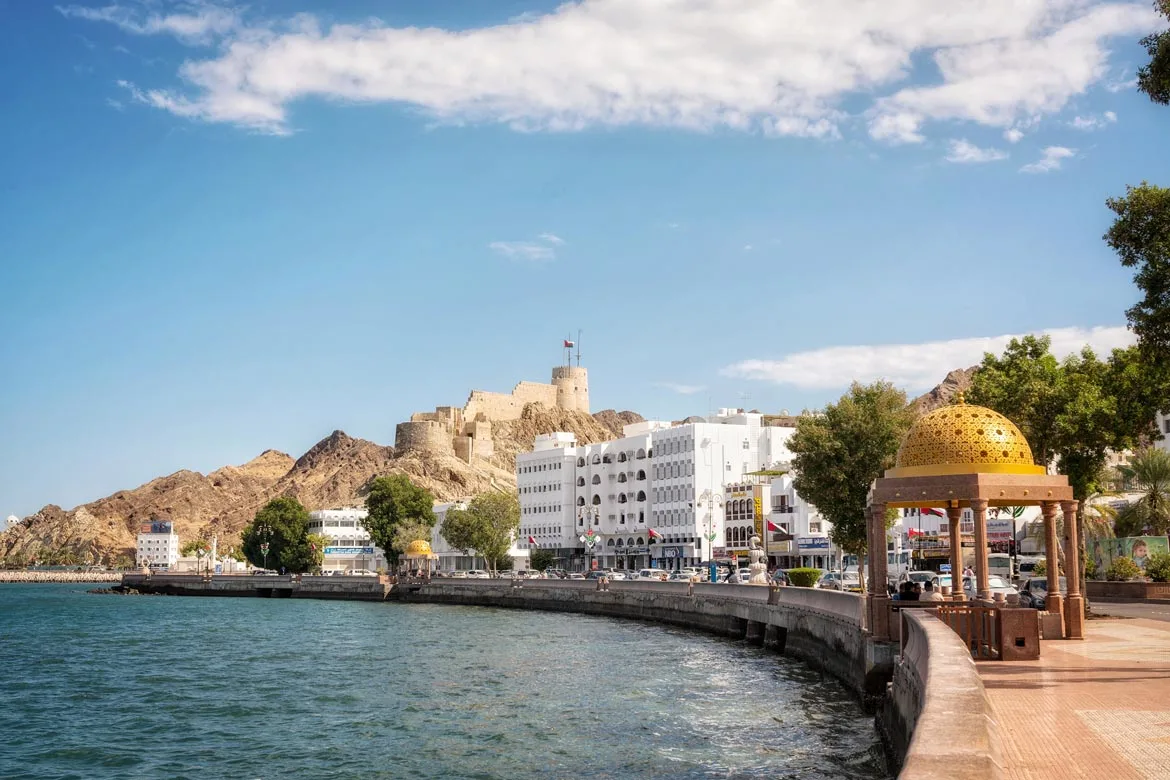 Just outside the Fish Market is the Corniche, a long part of Muscat well worth visiting on any trip to the capital.
I think after visiting places like Dubai and Abu Dhabi, I expected Muscat to be built up and modern, but it is the complete opposite. There are no uber lux skyscrapers on the horizon or traffic problems that blight Dubai. Instead, Muscat has kept its beauty and charm, traits signified in places like the Corniche.
Lined with 19th century merchant's houses and punctured with bright blue minarets from the surrounding mosques, the Muttrah Corniche is one of the city's most vibrant areas.
I'd really recommend picking up a lemon and mint juice and taking a stroll along the waterfront. It really is such a peaceful place wander around.
A great way of seeing a lot of these places mentioned is on a Muscat city tour. If you're looking at what to do in Oman, this is a great place to start. That way you'll get to see Muscat before exploring the rest of the country.
Bandar Khayran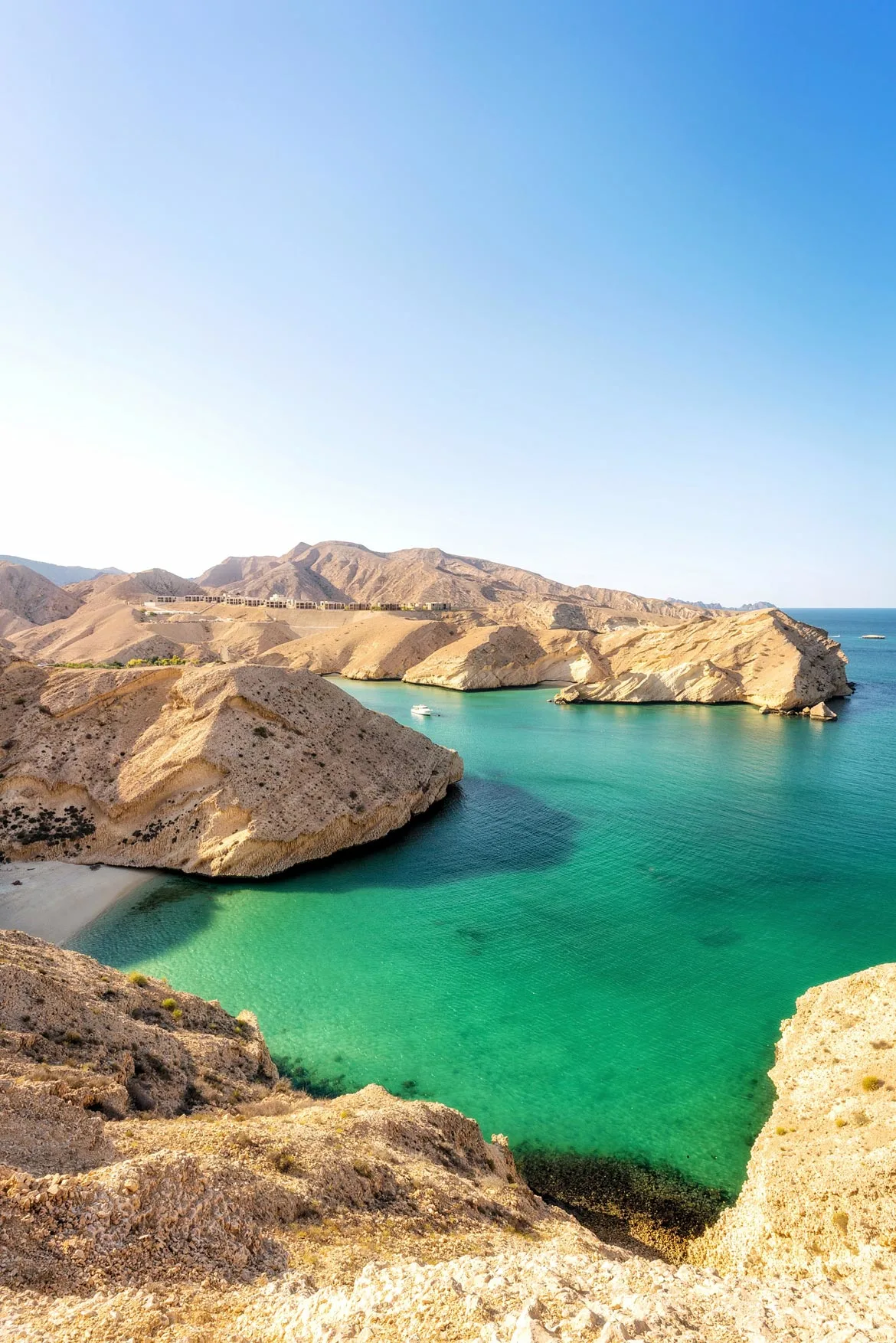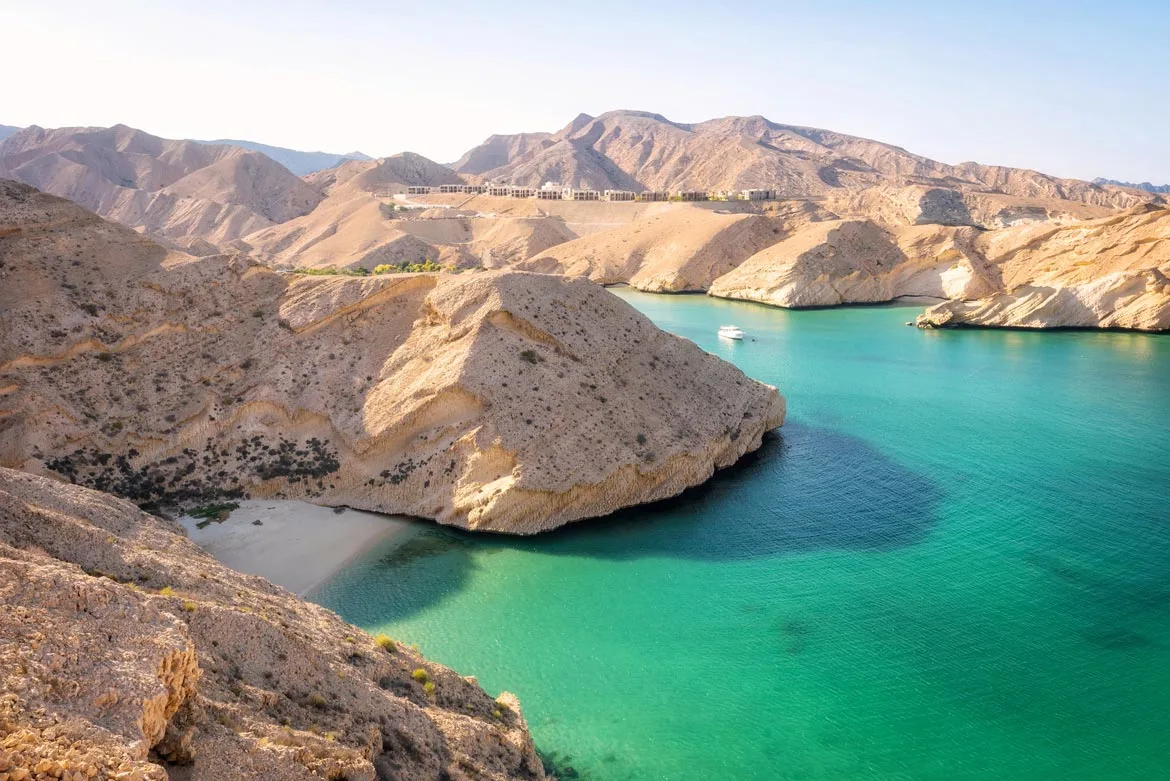 This might just be my favourite place to visit in Muscat. Located in the north of the city is Bandar Khayran, a coastal town that feels so far from the bustle of the city centre.
Here the coast breaks up into a series of khors (inlets) and bandars (natural harbours), the perfect place to go exploring. There are a few hills by the side of the road the you can scramble up for an amazing view of the bay below.
Another really popular activity is to hire a kayak and to paddle around the secluded bays and beaches. This is also a really popular dive spot too with a dive school located next to the Shangri-La.
The colour of the water is something else though, especially when the sun sets. If you've got time, I'd definitely add this to your Oman itinerary. And yes, it really does look as good as the photos!
Where to stay in Muscat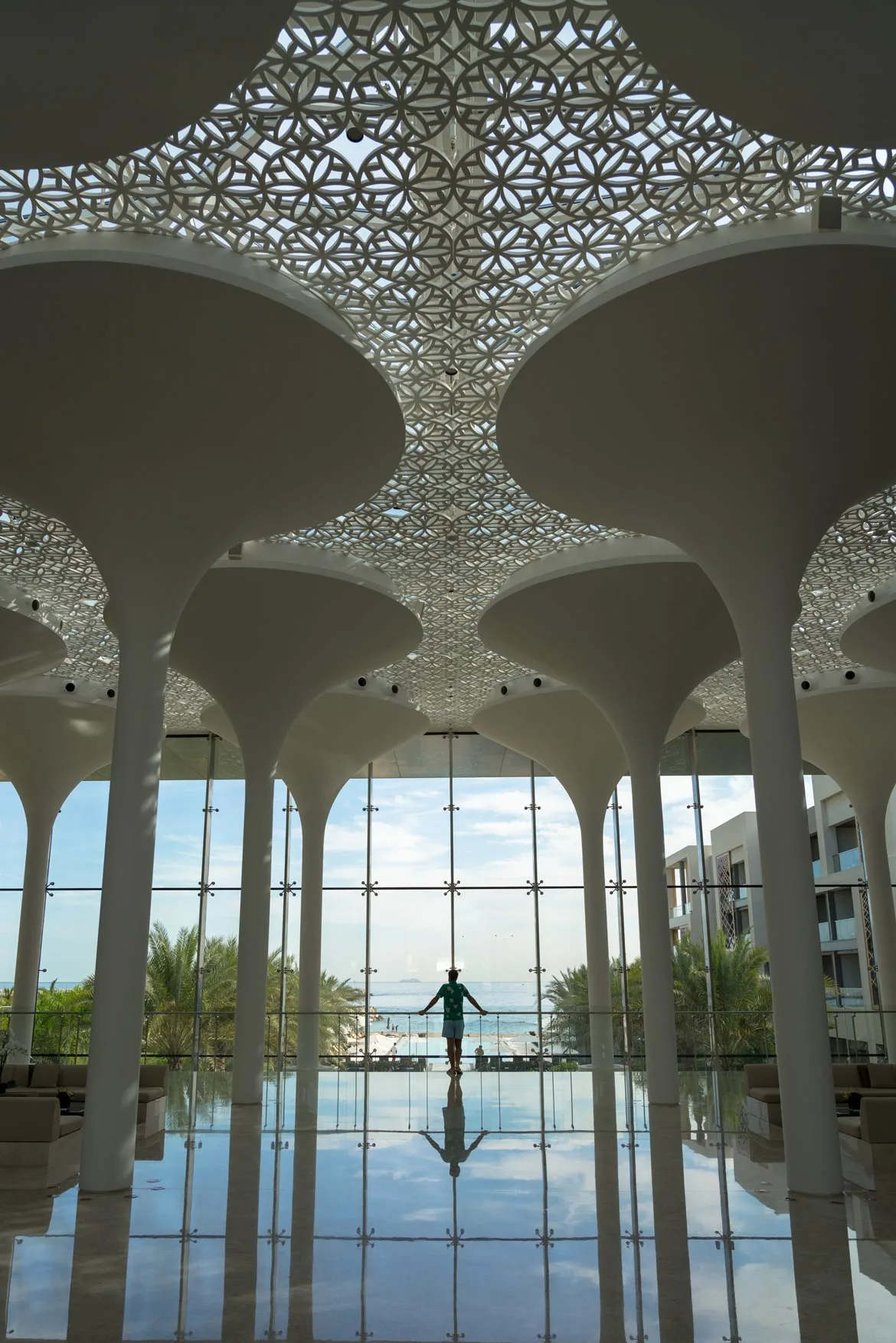 While I was in Muscat I stayed at the Kempinski, a gorgeous property on the Gulf of Oman.
Nestled within the newly built coastline community of Al Mouj which has been dubbed 'the new heart of Muscat', the Kempinski is a fantastic place to base yourself to explore all the city has to offer.
There are 4 restaurants on site offering everything from traditional Arabic food to modern dining. One of the restaurants, Soi Soi, was the best Thai food I've had in a very long time (not including my most recent trip to Thailand of course!)
I really enjoyed my time at the Kempinski though and hitting the pool after a busy day of sightseeing was bliss. Oh, and the airport is only a 15-minute drive away, so it's a good option for business travellers too!
Tours in Oman
---
My trip to Oman was in association with Experience Oman showcasing some of the best things to do in Oman. As always, all view and opinions are my own.
Are you looking at where to go in Oman? What part of the country would you like to visit first? Let me know in the comments below!
Like this blog post? Then make sure you Pin it for the future!