From going on a desert safari to playing in the snow at Ski Dubai to hitting the beach, here are 4 super fun things to do in Dubai, UAE!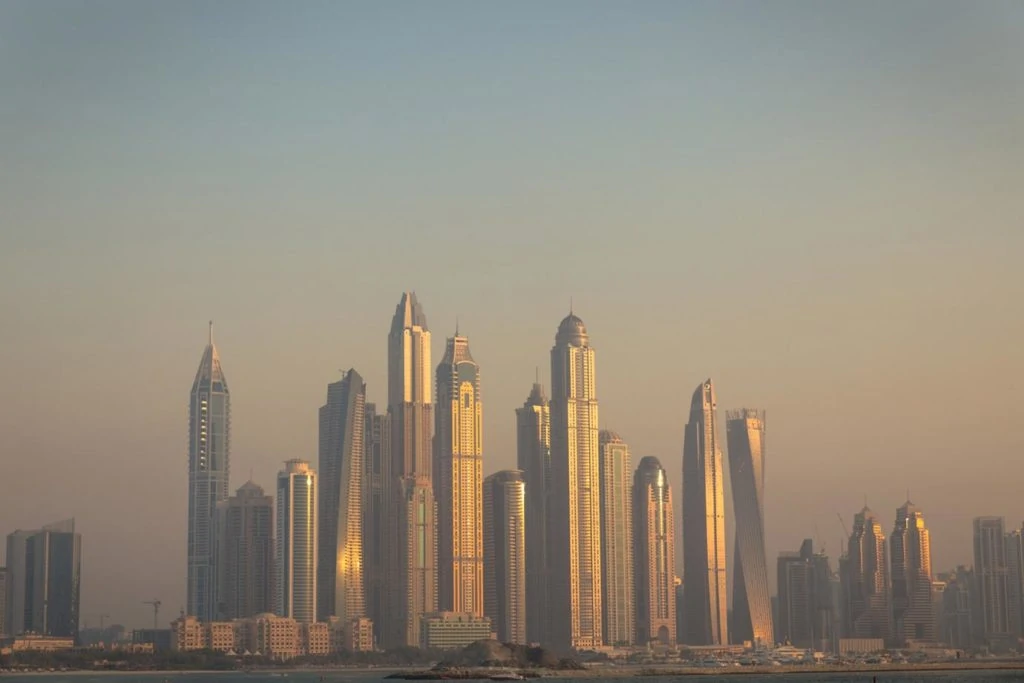 From towering skyscrapers to crazy malls with ice rinks in them to beautiful beaches (often with a camel or two walking by!), there really are some fun things to do in Dubai.
Add in gourmet food from all over the world, opulent 5* hotels that give Las Vegas a run for their money and every single shop ever imaginable and it's a feast for the senses. There's even a desert and ski dome thrown in there for good measure too – just a couple of things to consider when booking a holiday to Dubai with Teletext Holidays!
Dubai is a city that's always fascinated me. Relatively unknown as a destination and without much influence or power on the world stage until 1966, Dubai and the United Arab Emirates struck liquid gold when they discovered huge amounts of oil reserves in the country. Ever since then their tourism, development and every facet of city life has grown at a stratosphere rate.
Today, this city is home to 2.9 million people. Annually, it attracts 15.3 million tourists making it the fourth most visited city in the world above the likes of Tokyo, Rio de Janerio and New York. We're talking about a city here with a huge pull on people, a city that attracts people from all over the world because of its diversity of things to do. That's why I wanted to visit Dubai with Teletext Holidays, to see what all the hype was about.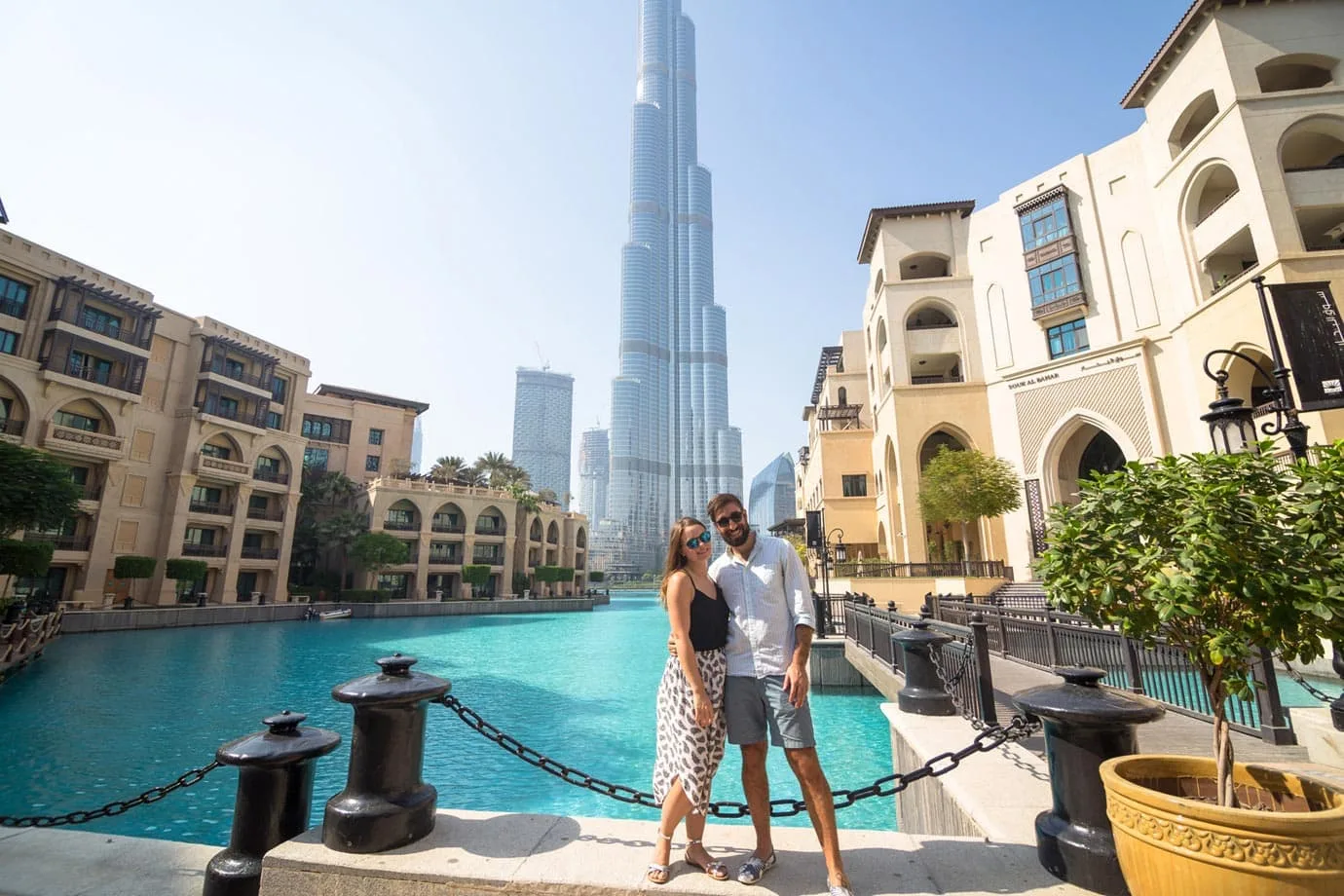 What do see in Dubai
One thing I quickly learned is nothing is too big here, there's no such thing as 'impossible'.
All I have to mention is the Burj Khalifia, the world's tallest building standing 828 metres high. That's nearly a kilometre up in the sky, and it is every inch as impressive up close as it is from afar.
From the top of the Burj you can see the 'world map', a number of man-made islands that resemble a world map. A little further down the coast is the Palm, an even bigger man-made island with some of the city's biggest and most luxurious hotels (including the infamous Atlantis hotel). As I said, nothing is too big here and it is a place that really showcases the best of the Middle East.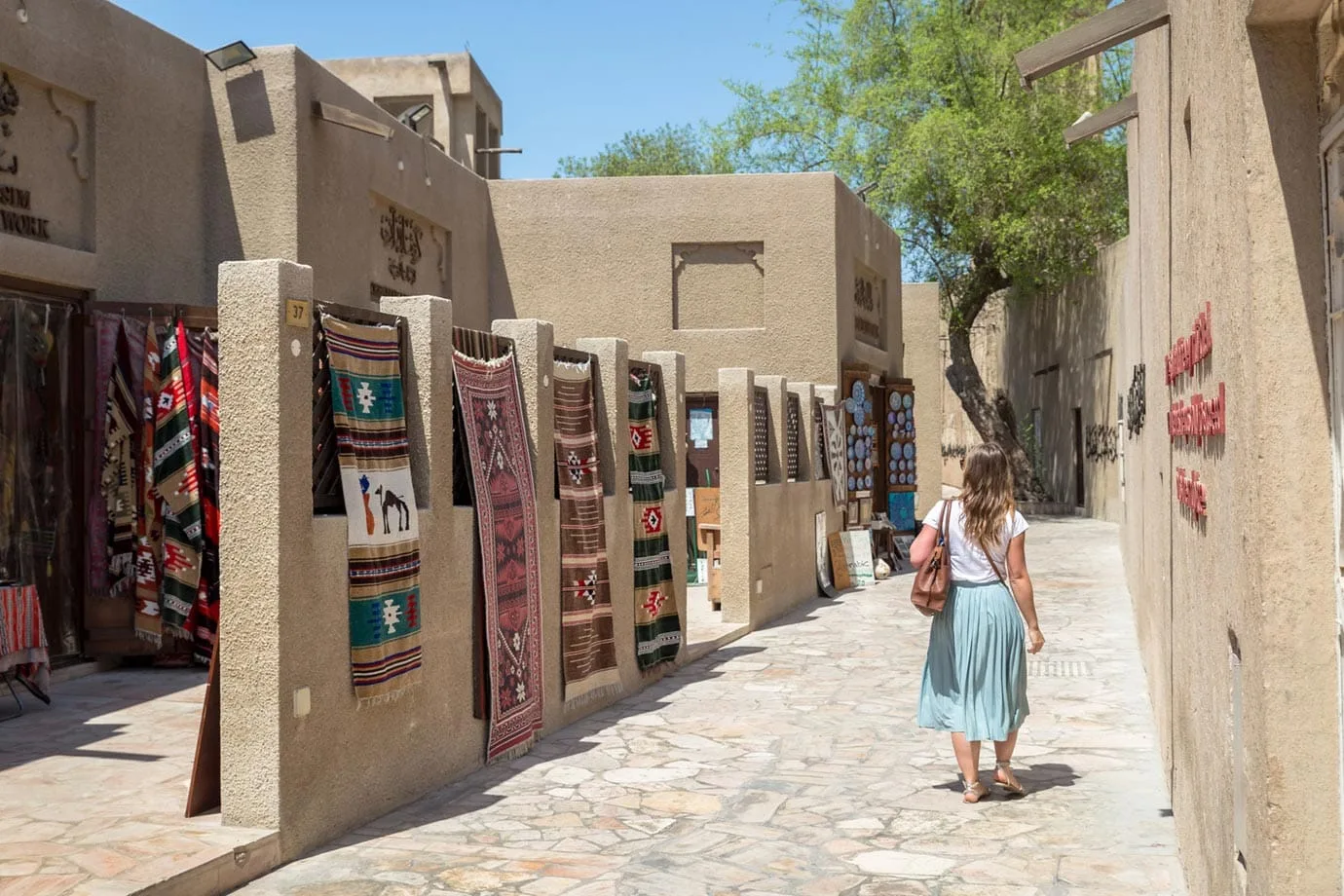 One of the major attractions to a city like Dubai is it caters for everyone – if you're looking for a romantic getaway or an all-inclusive holiday with the family, it's got that. If you're looking for action adventure, or if you'd like to delve into the history and culture of the area, then it's got that too. No matter what you're into, you'll be able to find it in Dubai, and that's one of the reasons people can't get enough of the city right now.
With that in mind, here are 4 super fun things to do in Dubai all on one trip. Strap yourselves in, this is one wild ride!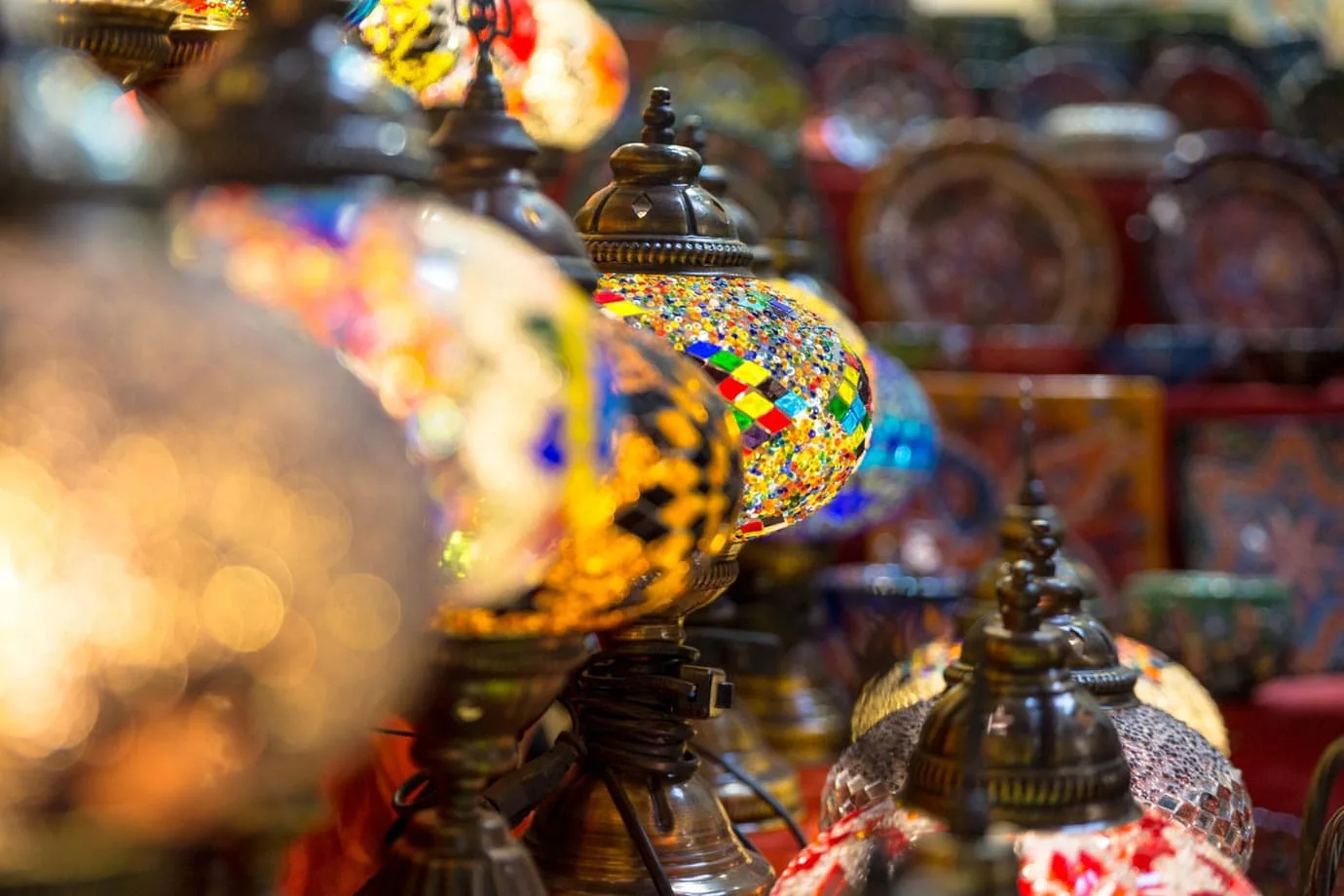 1. Go on a desert safari and get the adrenaline pumping
If you're an adrenaline junkie then there are a few fun things in Dubai for you to do.
Firstly, there's all the amazing watersports on offer such as waterskiing, wakeboarding, and there's even diving too. Or, if you'd prefer to throw yourself out of a plane and go skydiving, you can do that too. There's even an indoor skydive centre in case it's too hot outside.
For me though, I wanted to get into the desert and explore the landscapes outside the city.
It doesn't matter which company you book with, most of the Dubai desert safari tours come and pick you up at your hotel and drive you the hour and a half into the desert. Then, once you're out in the desert you're treated to an experience like no other.
If you've never been off-roading in the desert before, it's hard to describe, but it's like being on the craziest roller coaster ride bouncing around at 50kph, all with sand blasting everywhere. For a solid hour I laughed and screamed as my driver Hussain took me up steep sand dunes and along tight narrow ridges. At times I'm not too sure how the car didn't roll off the side of a sand dune, but if you're looking for that fear factor then this activity certainly has that.
To make things even better, at the end of the desert safari tour I was treated to an incredible sunset (on a day which it was 41 degrees I might add!) And to wrap things up, we then went to one of the desert camps for a traditional Middle Eastern meal followed up by belly dancing and sheesha. The Arabic experience was complete.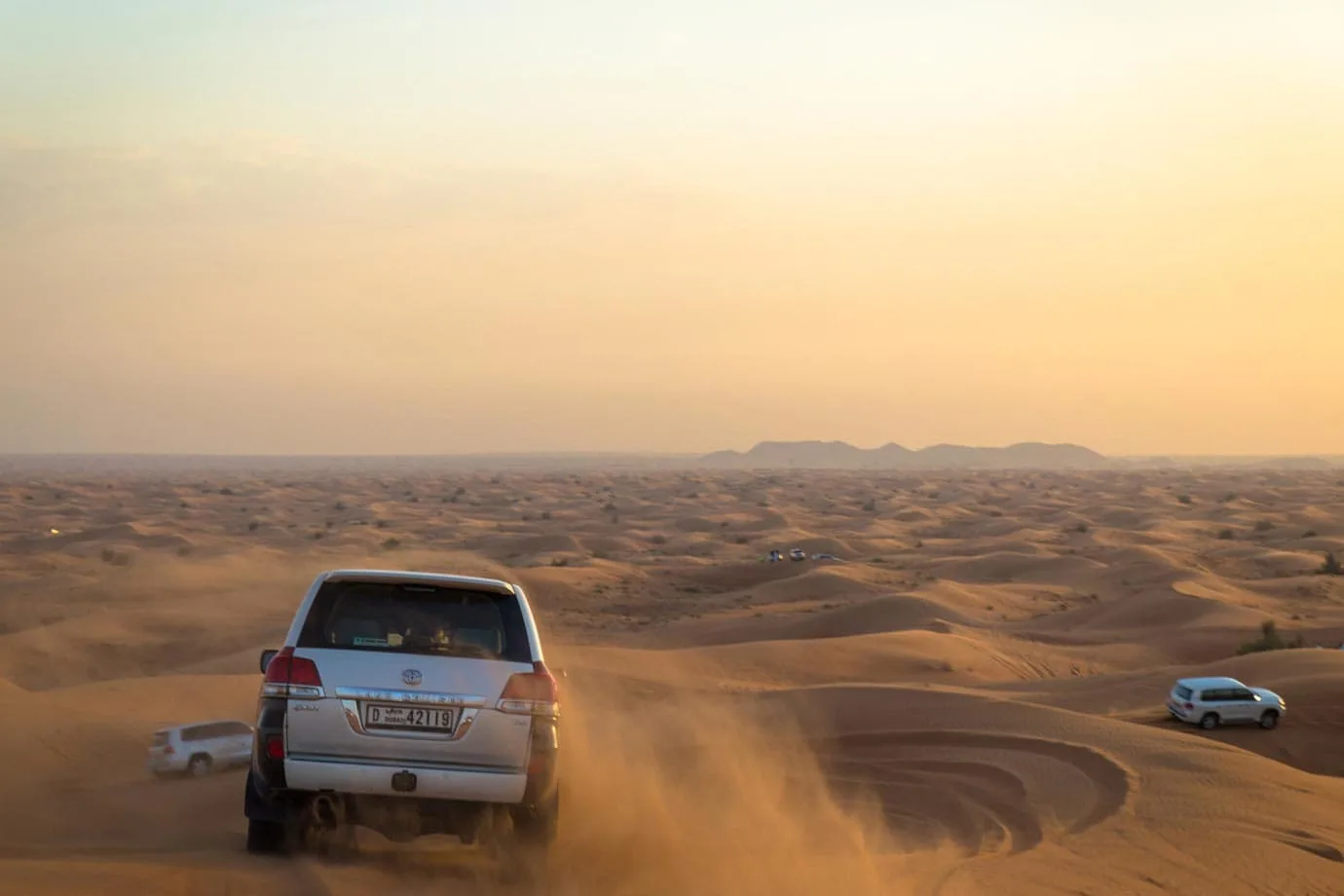 2. Relax on the beautiful beaches and soak up the sun
One thing Dubai is famous for is its weather. Ever seen a rainy picture of Dubai? That's because it rarely happens. If you're the type of person who needs sun sun sun then you really can't go wrong with a place like Dubai.
In summer, temperatures can easily creep north of 50 degrees making it almost unbearable for anyone. However, during autumn things become a little more tolerable. While I was there I had a couple of days that hit around 41, otherwise it was a steady 35 degrees without any humidity whatsoever. For me, justttttt perfect.
A couple of the most popular beaches are Jumeirah Beach and Jumeirah Beach Resort (aka JBR, it's a different place). This is where Dubai operates in its own little bubble – around the rest of the city expect to dress modestly within Islamic culture. At the beach, pretty much anything goes, and there aren't many beaches around the world where the skyline comes right up to the water.
Also, there are some really nice restaurants dotted along the waterfront at JBR, and you can find loads of beach activities like jetskiing and parasailing all along the coast.
I'm not going to lie, the beach and the cool water is a refreshing relief from the hustle and bustle of the city centre!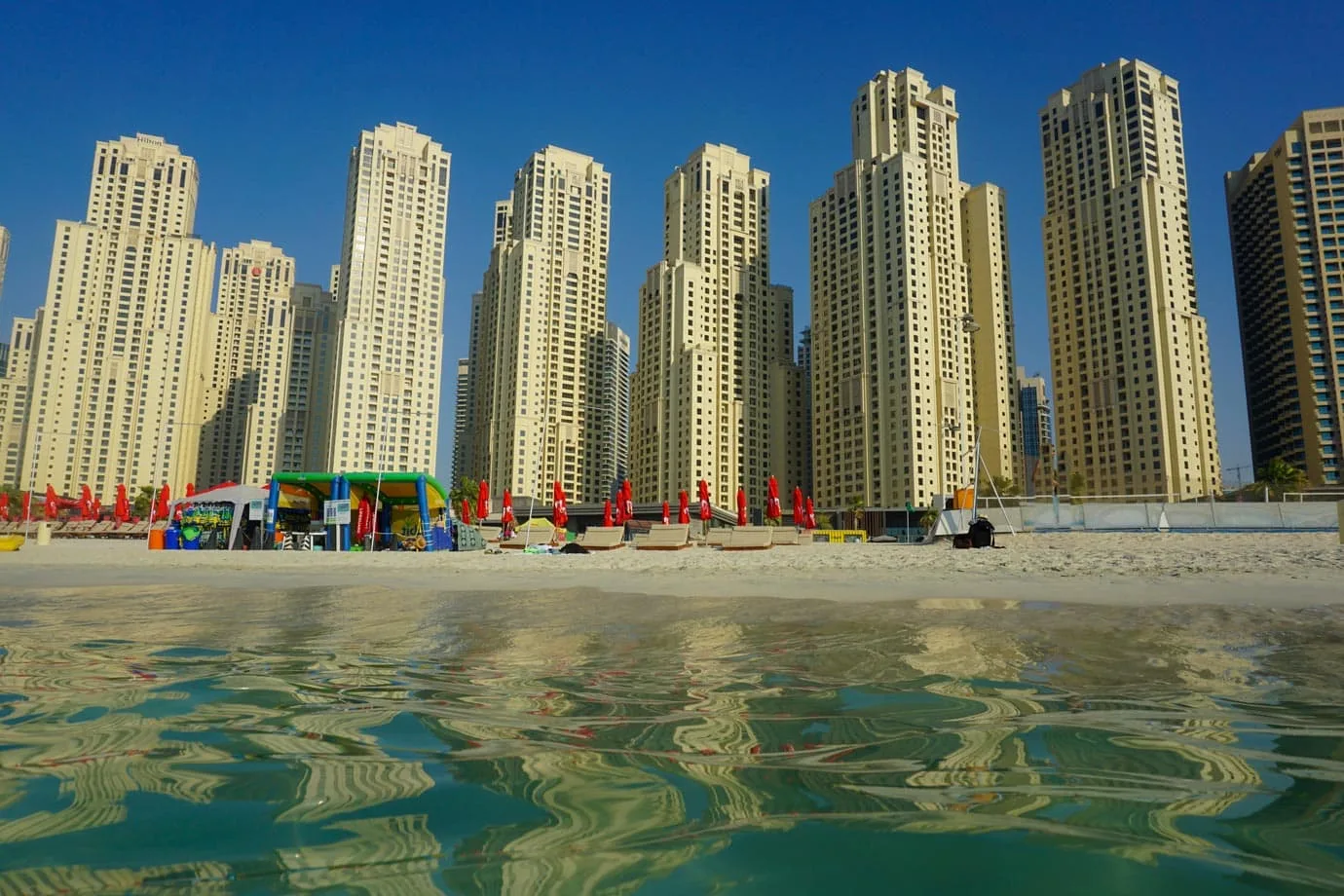 3. Learn to ski or play around in the snow at Ski Dubai
When things get a little hot in Dubai (read: every day) then make sure you head to Ski Dubai. If you haven't heard of this place yet you can probably work it out – it's a huge ski dome in the middle of the desert.
Yes, when it's 50+ degrees outside you can play in the snow at -2 degrees. And we're talking about real snow here people not just a dry ski slope!
Even if skiing isn't your thing then there's still plenty for you to do at Ski Dubai.
The Polar Pass gives you access to the ski dome where you can go bobsledding, tobogganing, go in a zorb or ride the ski lift to the top of the slopes.
For me, I absolutely loved Ski Dubai. It is so surreal at first going from the blazing heat outside to the freezing cold inside, but it is an amazing experience and definitely a must on any trip to Dubai. This really is one of the most fun things to do in Dubai.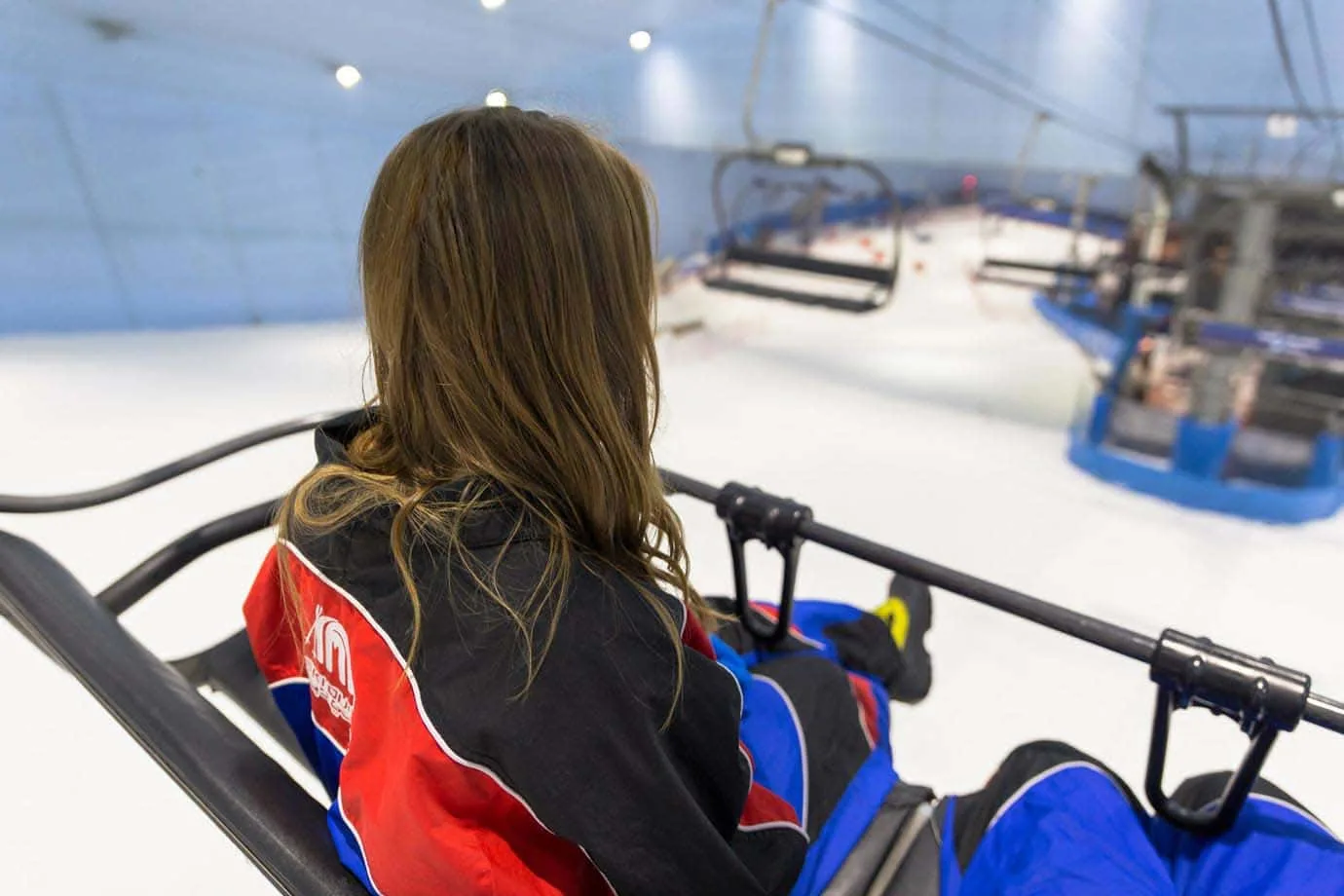 4. Have a city break and take in the best of the city
You can't come to Dubai and not take in the city skyline. One of the best places to do this is at the top of the Burj Khalifia. Here you can get a ticket to the 125th floor, or, if you're feeling flush, a premiere ticket takes you up to the 148th floor. The views of the city from up here are unreal and I couldn't believe how much higher we were from the other massive skyscrapers surrounding us. If you're heading to the top of the Burj, then make sure you read up on the Burj Khalifia dress code first as they can be strict about certain items of clothing.
Another thing to do at the Burj Khalifa is shopping at the Dubai Mall, and if you hang around until 6pm you'll be treated to a spectacular musical fountain display. These displays run every 30 minutes from 6pm till 11pm every day and it's well worth visiting then.
Continuing on the city break theme, another couple of places to check out at the Old Town in Dubai and the souks (both the spice souk and the gold souk – it's fairly obviously what each one sells!)
In Old Town you get a little sense of the history of Dubai, and it really hammers home how far the city has come in a very short period of time. And the souks are pretty authentic too and are great places to get lost in for a few hours.
A lot of people who visit Dubai get caught up in everything else the city has to offer, but I think it's really good to spend a day at the souks and in Old Town to learn and understand this crazy place a little better.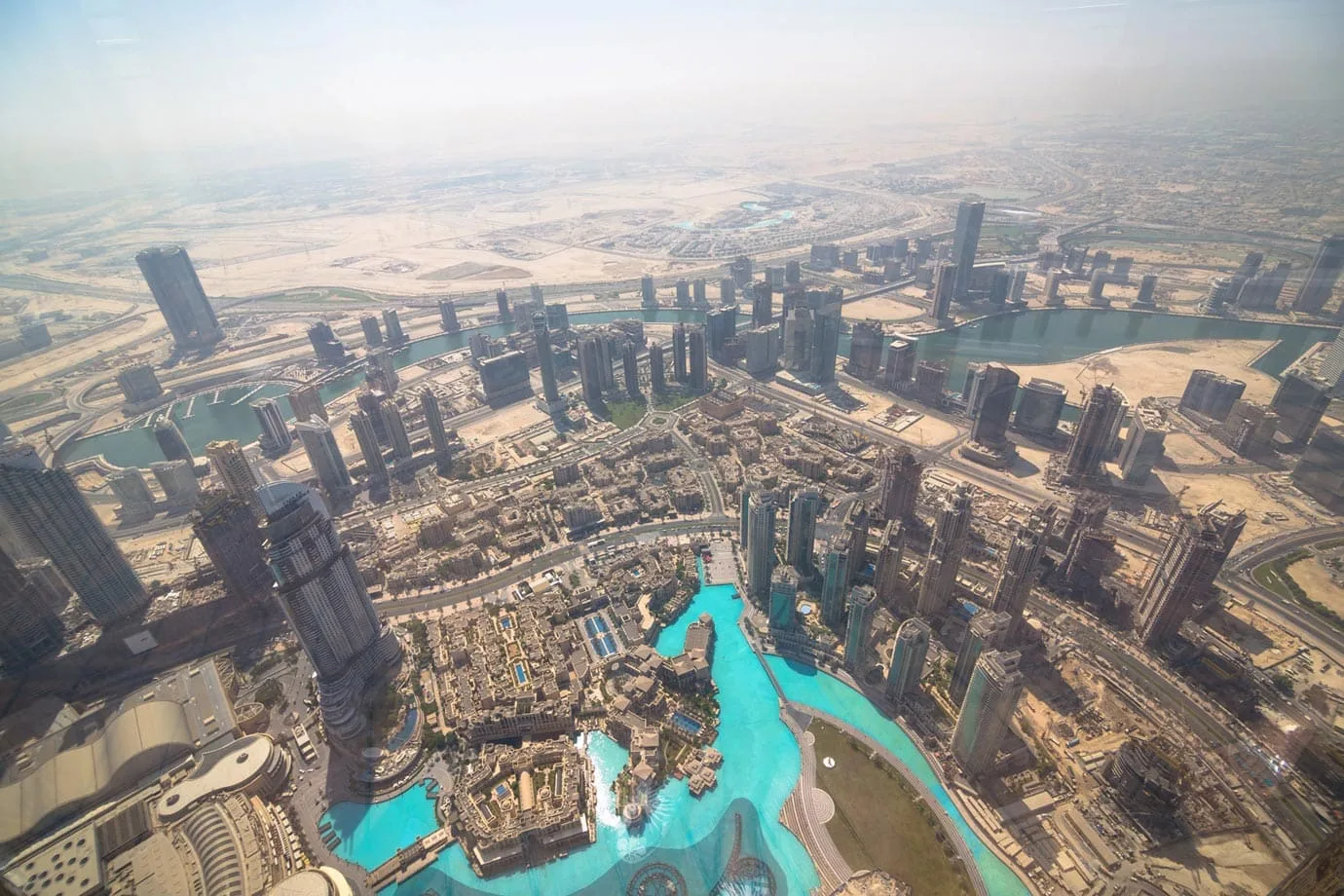 Why you should visit Dubai
I was so fascinated to learn all about Dubai and to try to understand why this city is so popular for tourists right now.
After a week with Teletext Holidays packing in as much as I could I can see why people love it here so much – where else can you have four very different types of holiday in just a few days! There aren't many places around the world where you can do that!
---
If you're looking for a guide to Dubai then check out Wanderlust Chloe's post on 24 Hours in Dubai.
My trip to Dubai was in association with Teletext Holidays's campaign #TeletextDoesDubai promoting one of their best selling destinations. As always, views are entirely my own and without bias.
What are some of your favourite fun things to do in Dubai? And if you've never been before, what's the one thing you'd most like to do? Let me know in the comments below!
Like this blog post? Then make sure you Pin it!