From skydiving the Palm in Dubai to the world's longest zipline in Ras Al Khaimah, these are the best adventurous things to do in the UAE!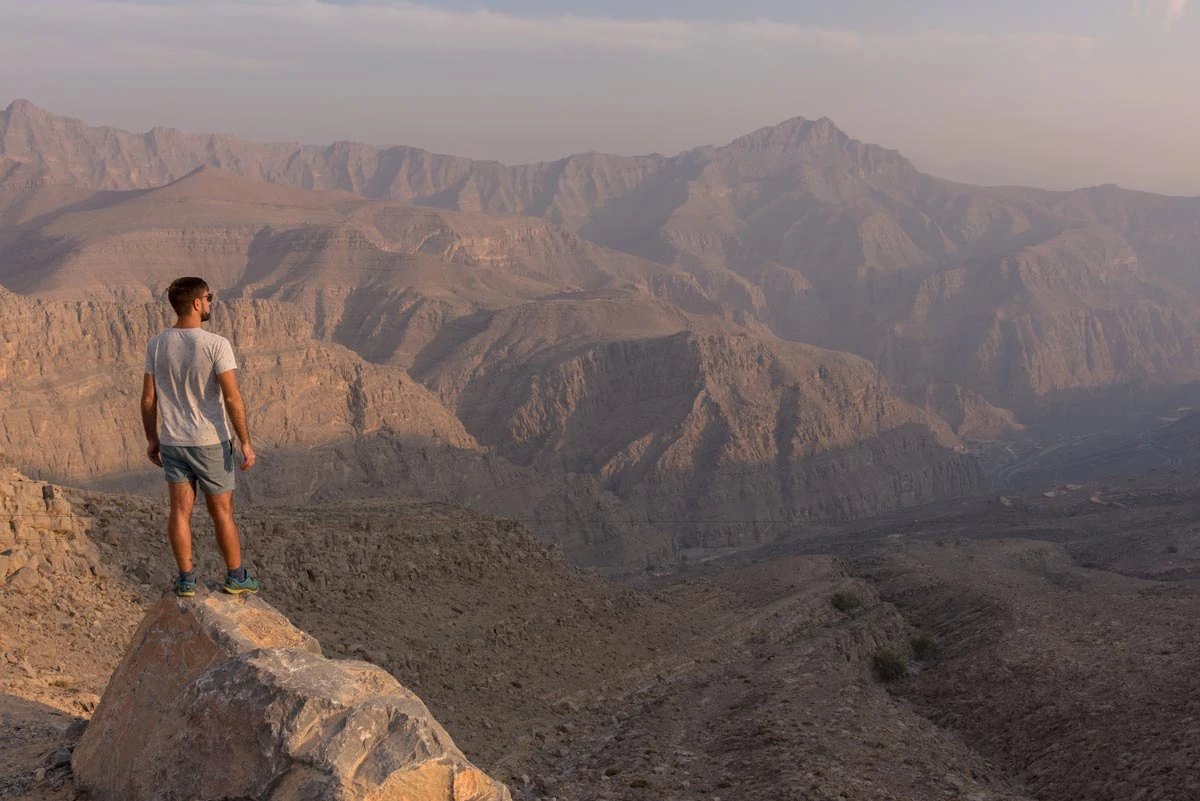 When it comes to adventurous things to do in the UAE you're almost spoiled for choice.
There's sand dune bashing in Abu Dhabi, sky diving over the Palm in Dubai, kayaking through the mangroves in Umm Al Quwain and that's before mentioning the world's longest zipline in Ras al Khaimah.
The hardest thing is choosing which is the best adventure activity for you. The one thing that's guaranteed is you'll have an amazing time!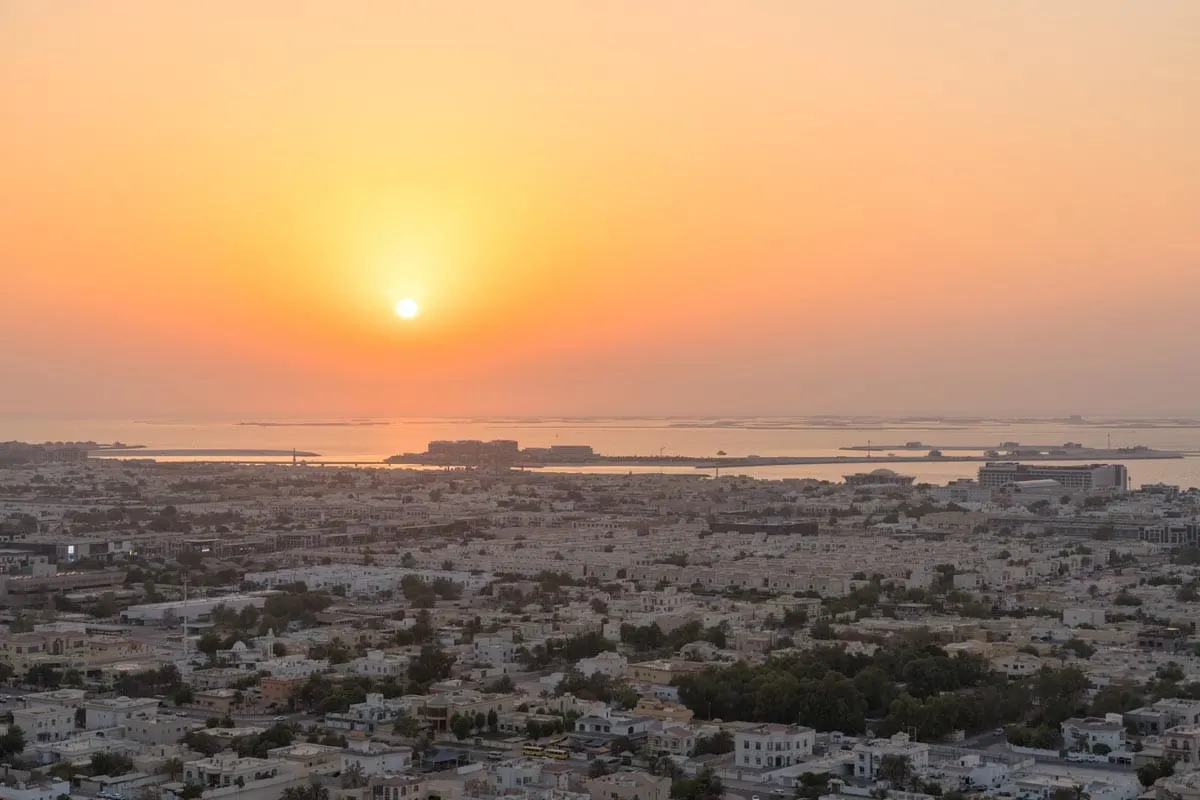 I recently travelled around the UAE with Rotana Hotels on the hunt for some of the best adventure activities in the Middle East and I had such an amazing time.
One of the things I loved about the UAE is how easy it is to get around. It sounds like doing all 7 Emirates in 8 days is a lot, but most of them are really small.
In fact, I travelled from Sharjah to Amjan, then from Ajman to Umm Al Kuwain, before ending up in Ras al Khaimah all in a day.
That means if you're looking for some adventurous things to do in the UAE, getting from Abu Dhabi or Dubai really isn't a problem.
Add in some amazing hotels to stay at along the way and you've got the makings of a perfect holiday. You can find some great Dubai deals here if you're booking something soon.
So, as a bit of inspiration for you for your holiday, here are the best adventures in the UAE!
---
Desert safari, Abu Dhabi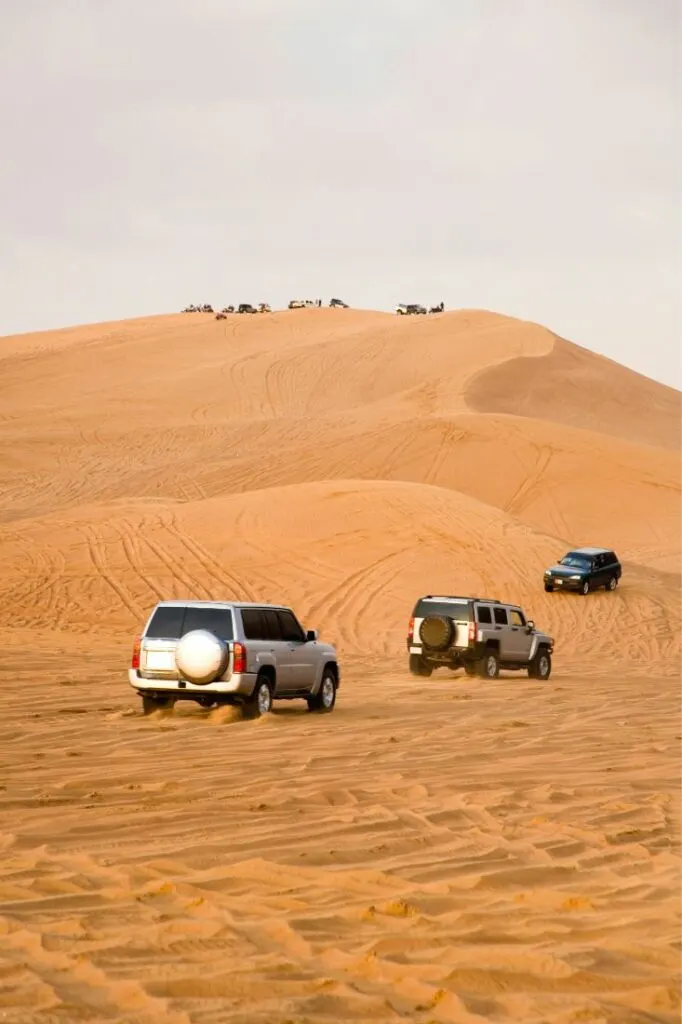 I'm guessing most of you won't know what a desert safari in Abu Dhabi entails.
Basically it's like being on the craziest roller coaster ride ever bouncing around at 50kph, all with sand blasting everywhere.
For a solid hour I laughed and screamed as my driver Ali took me up steep sand dunes and along tight narrow ridges. At times I'm not too sure how the car didn't roll off the side of a sand dune, but if you're looking for that fear factor then this activity certainly has that.
You can go sand dune bashing all over the UAE but desert safaris in Abu Dhabi are considered the best. Also, with desert safari tickets costing around £45 per person it is amazing value for money.
As for things to do in the UAE, this is definitely one of my favourites. You can probably tell that from my video with Lonely Planet!
WB World, Abu Dhabi
Warner Bros World in Abu Dhabi only opened on the 25th July so it's one of the newest attractions around. When I went to WB World it was deserted. Okay, so I went on a Monday afternoon but I didn't have to queue for ANY rides which was amazing.
My two favourite areas were 'Metropolis' (with the Superman ride) and 'Gotham City' (with the Scarecrow and Riddler rides) and I genuinely felt like a big kid again going on rides.
WB World is completely enclosed so you can visit any time of the year. Also, being indoors in the air condition is a welcome break from the scorching summer sun.
Tickets to WB World cost 295AED (£60) and it is well worth visiting for an afternoon while in Abu Dhabi.
Also, just over the road from WB World is Ferrari World, home to the world's fastest rollercoaster. This goes from 0 to 240 kph in just 4.9 seconds – mental.
Taking on the world's longest zipline, Ras al Khaimah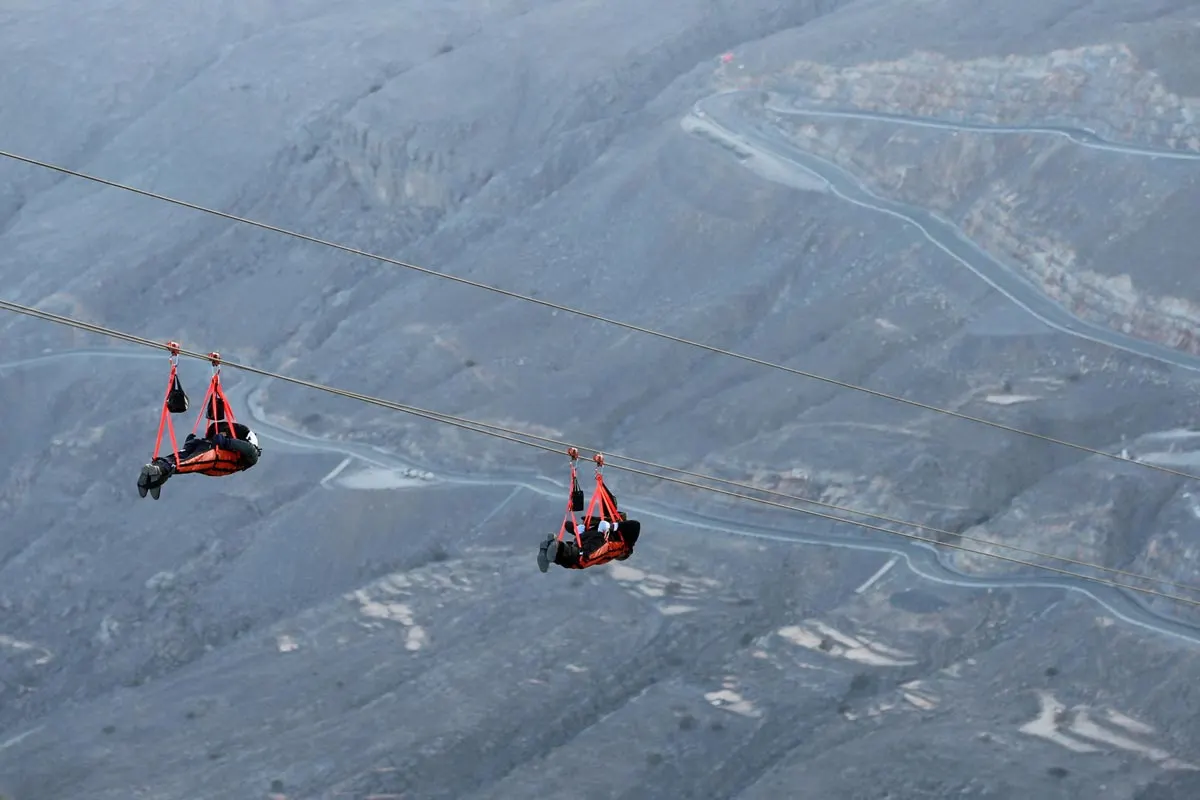 While I was travelling through the UAE I knew I had to take on the world's longest zipline. Talk about a bucket list activity!
Located up in the mountains of Jebel Jais, the world's longest zipline is 2.8kms of adrenaline fuelled fun. Also, you fly at speeds of 140-160kph which is just crazy when you think about it.
Once you hit top speed though you can relax a bit and take in the gorgeous views of the mountains. Saying that, I don't think I stopped screaming for a solid two minutes.
Tickets with Toro Verde costs 325AED (£66) and it takes up a whole afternoon. Add in the viewing platform and a drive through the rough and rugged desert of Ras al Khaimah and I think its very good value for money.
Oh, and they even throw in a certificate to prove you've done it at the end!
Skydiving the Palm, Dubai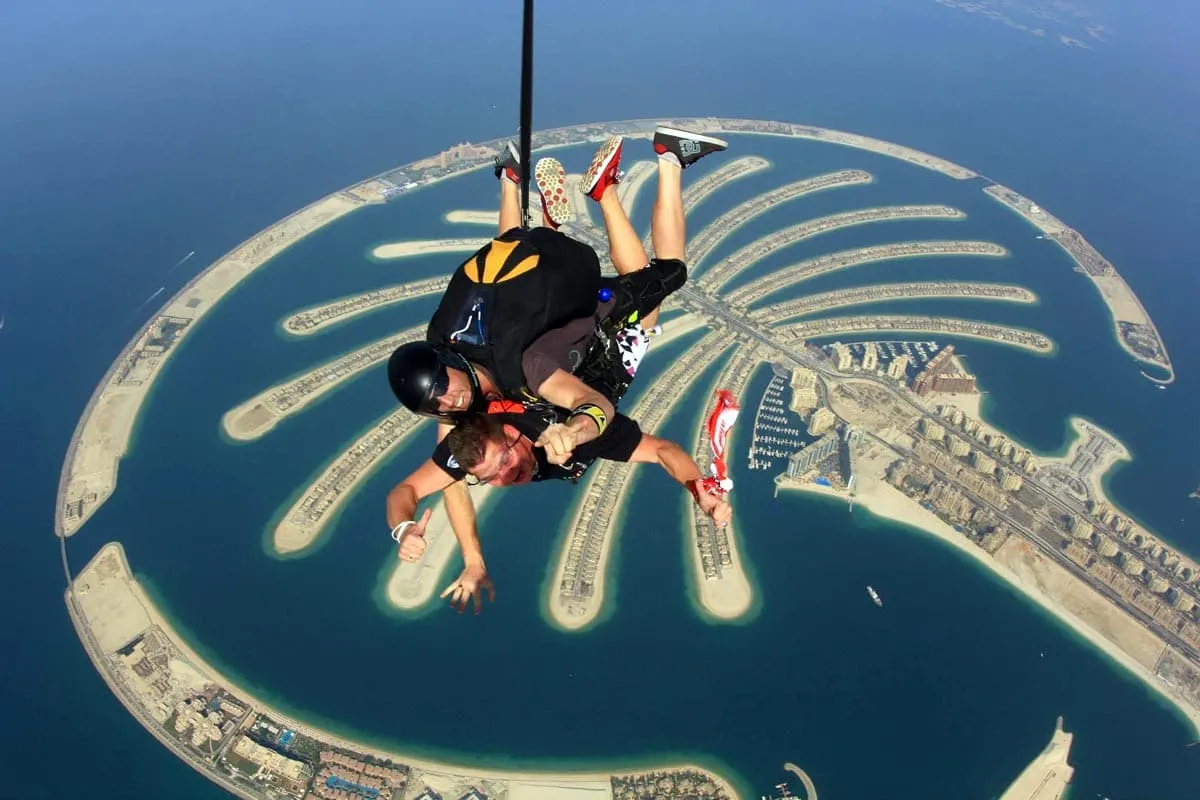 If there's one iconic image that screams ADVENTURE at the top of your lungs it's skydiving the Palm in Dubai.
I was speaking to someone about this recently, and even though staying on the Palm is amazing, you never know you're staying on a palm tree. The only way of really getting that perspective is from up above which means a helicopter ride or skydiving.
Even though skydiving the Palm is expensive (you're looking at around £450 for the experience), you are skydiving in one of the most unique locations in the world.
Nothing can quite beat that feeling of free-falling through the air as the image of the Palm gets bigger and bigger with every passing second.
Put it this way, it's an experience you won't forget anytime soon!
Kayaking through the mangroves, Umm Al Quwain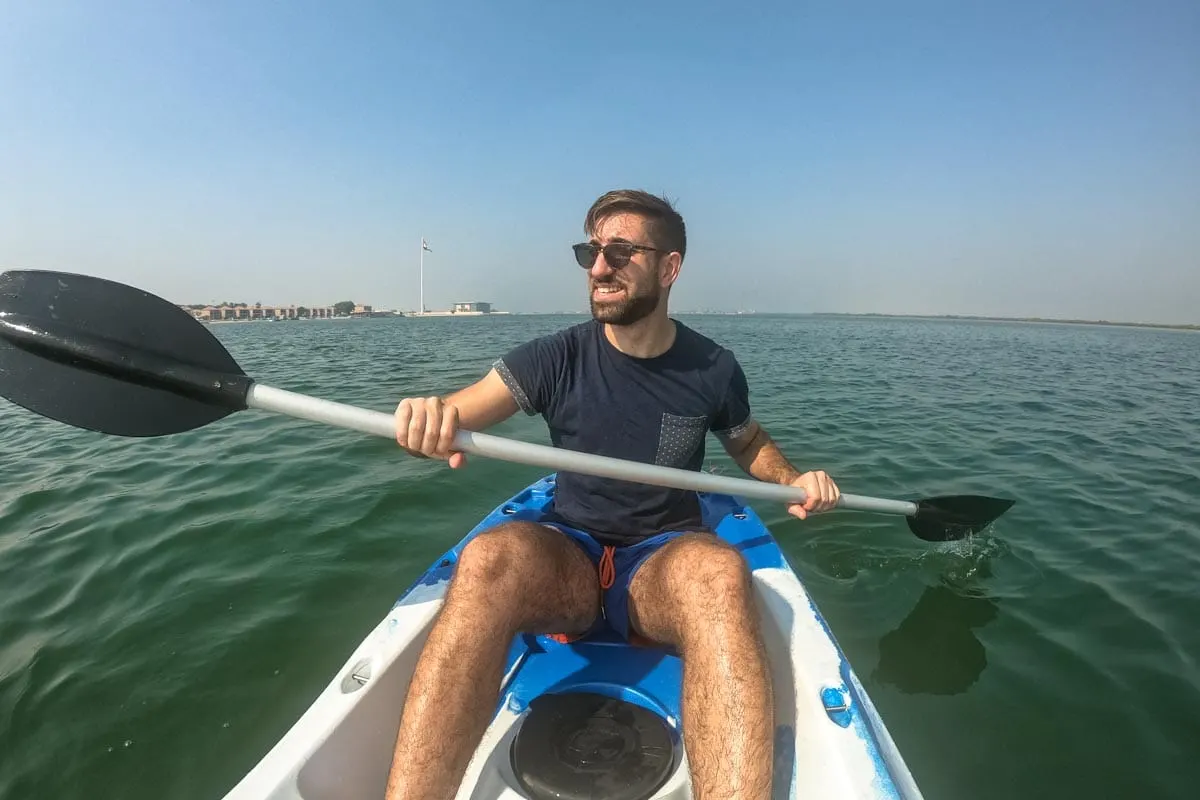 When it comes to kayaking in the UAE, the one place everyone raves about is Umm Al Quwain. This is because you can kayak out to the mangroves really easily and it makes for a fantastic adventure in the UAE.
Even though I didn't see any turtles while kayaking in Umm Al Quwain, it is very common to see them in the area. However, I did see flamingos though which was a huge surprise. I never thought there were flamingos in the UAE but I was completely wrong about that.
I went kayaking from UAQ Marine Club which is like an adventure club with loads of activities to choose from. Best thing about this is they've got a pool so you can go for a relaxing dip after kayaking.
Hiring a kayak is fairly cheap (100AED, £20) and I'd really recommend this to anyone passing through Umm Al Quwain.
Parasailing, Fujairah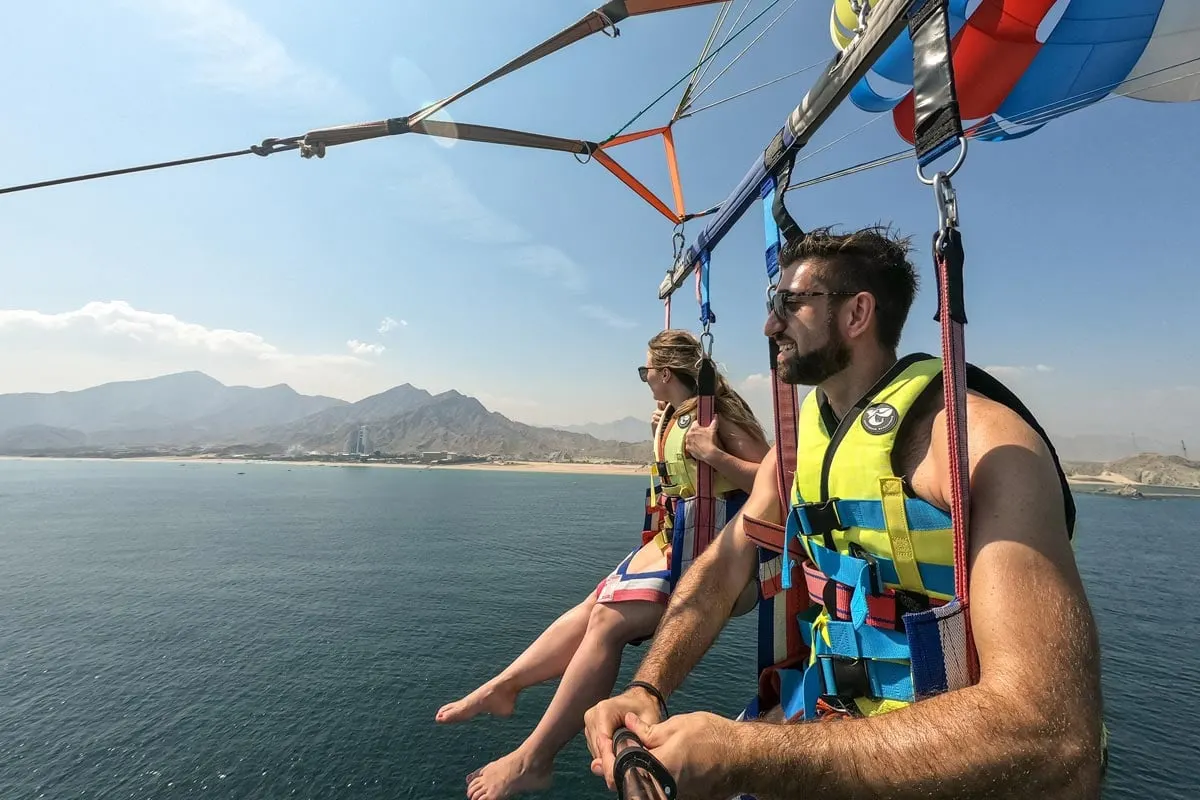 You can't have a proper beach holiday without going parasailing!
The beaches at Fujairah are among the best in the UAE so while I was staying at Fujairah Rotana Resort & Spa I just had to go parasailing.
The thing that's unique about the beaches at Fujairah is you've got the mountains in the background and they are just so beautiful.
I love parasailing because it's so peaceful and relaxing once you're up in the air. Also, we got dunked a couple of times in the water for good measure!
Jet skiing, Ras al Khaimah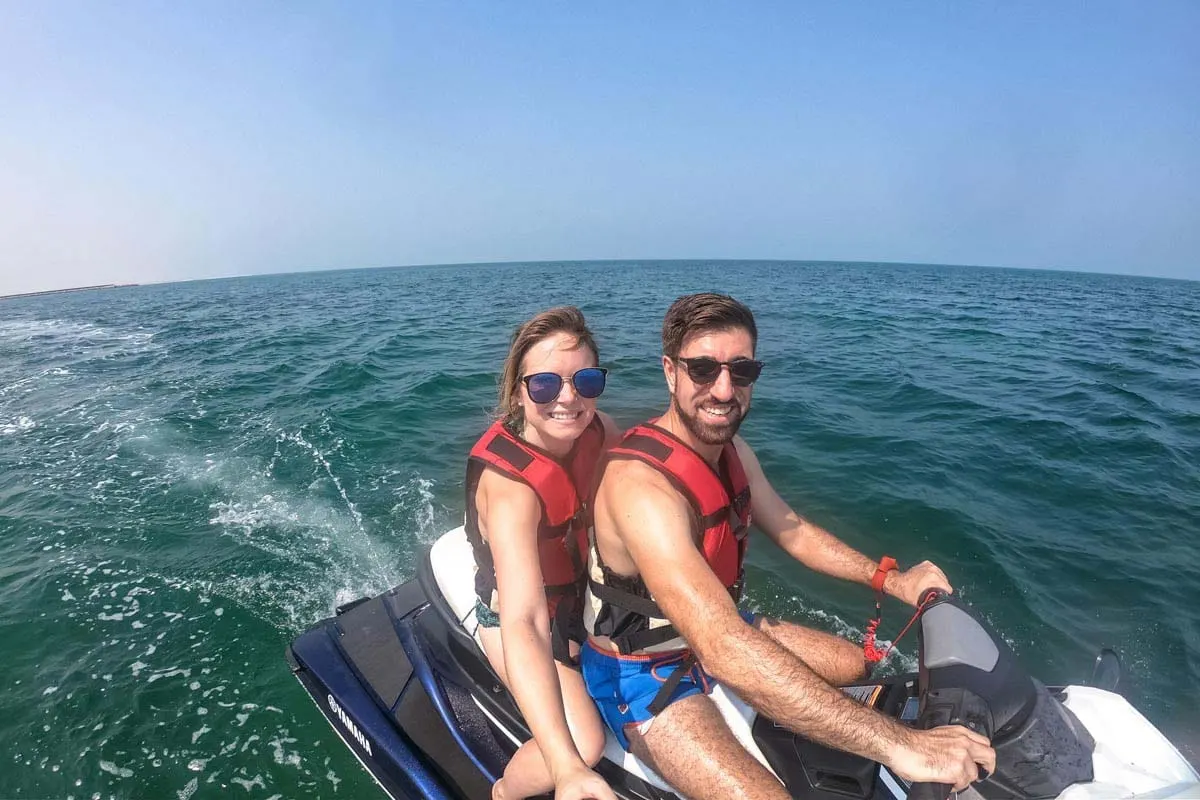 Jet skiing is another one of those classic beach holiday activities that I love.
While I was staying at The Cove Rotana Resort I picked up a jetski for the morning and zoomed along the coast.
Every time I go jet skiing these days it's with my girlfriend on the back and she hates it when I go fast. From the sound of her screams I always know I push it too far though, so this really is an amazing adventure activity to do in the UAE.
The architecture at the Cove is really famous in Ras al Khaimah and people refer to it as 'the Santorini for the UAE; I think the best way of seeing this architecture if from a jet ski because then you get a real sense of the size and grandeur.
Hit the slopes at SkiDubai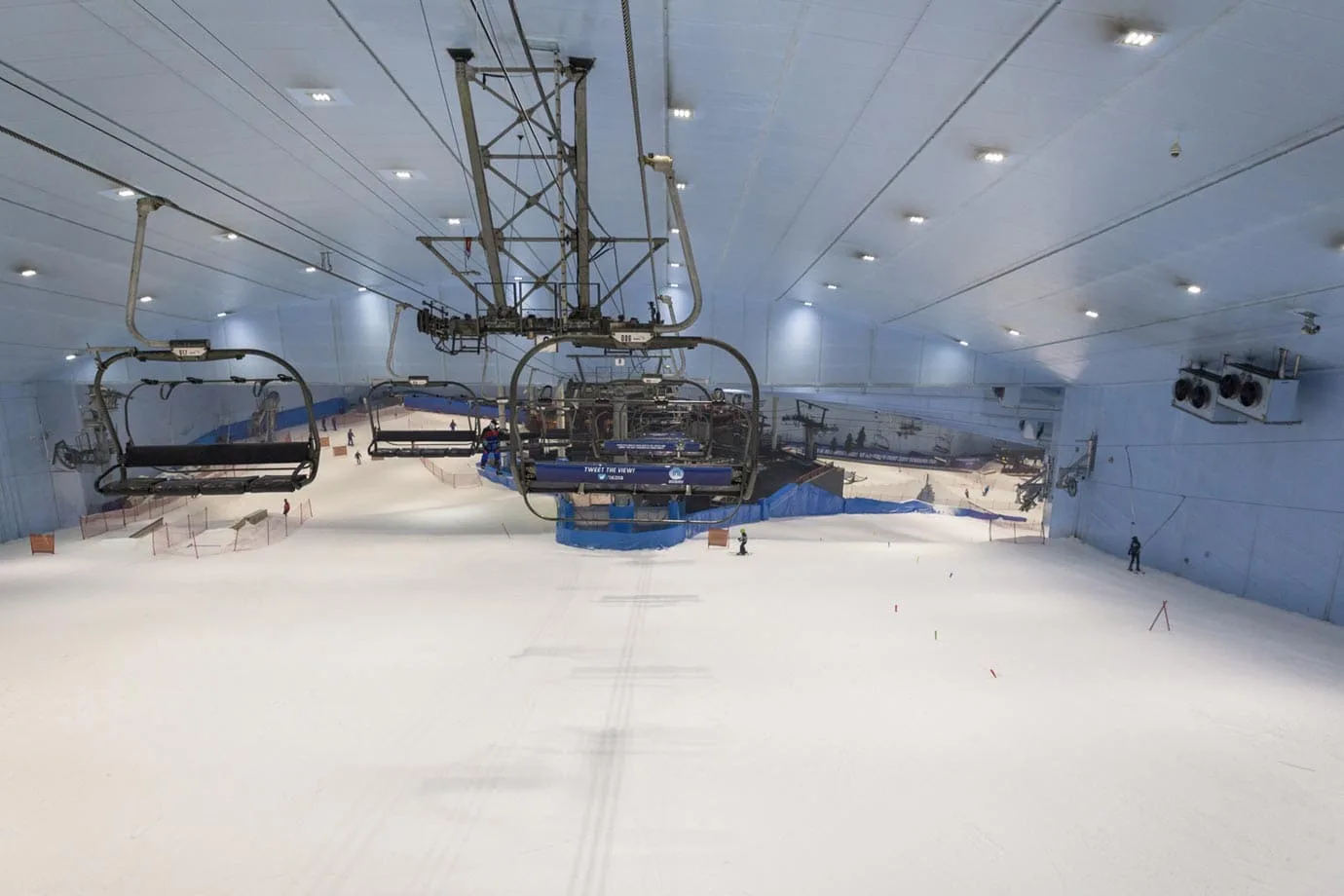 When things get a little hot in Dubai (read: every day) then make sure you head to Ski Dubai. If you haven't heard of this place yet you can probably work it out – it's a huge ski dome in the middle of the desert.
Yes, when it's 50+ degrees outside you can play in the snow at -2 degrees. And we're talking about real snow here people not just a dry ski slope!
Even if skiing isn't your thing then there's still plenty for you to do at Ski Dubai.
The Polar Pass gives you access to the ski dome where you can go bobsledding, tobogganing, go in a zorb or ride the ski lift to the top of the slopes.
For me, I absolutely loved Ski Dubai. It is so surreal at first going from the blazing heat outside to the freezing cold inside, but it is an amazing experience and definitely a must on any trip to Dubai.
Go diving at Martini Rock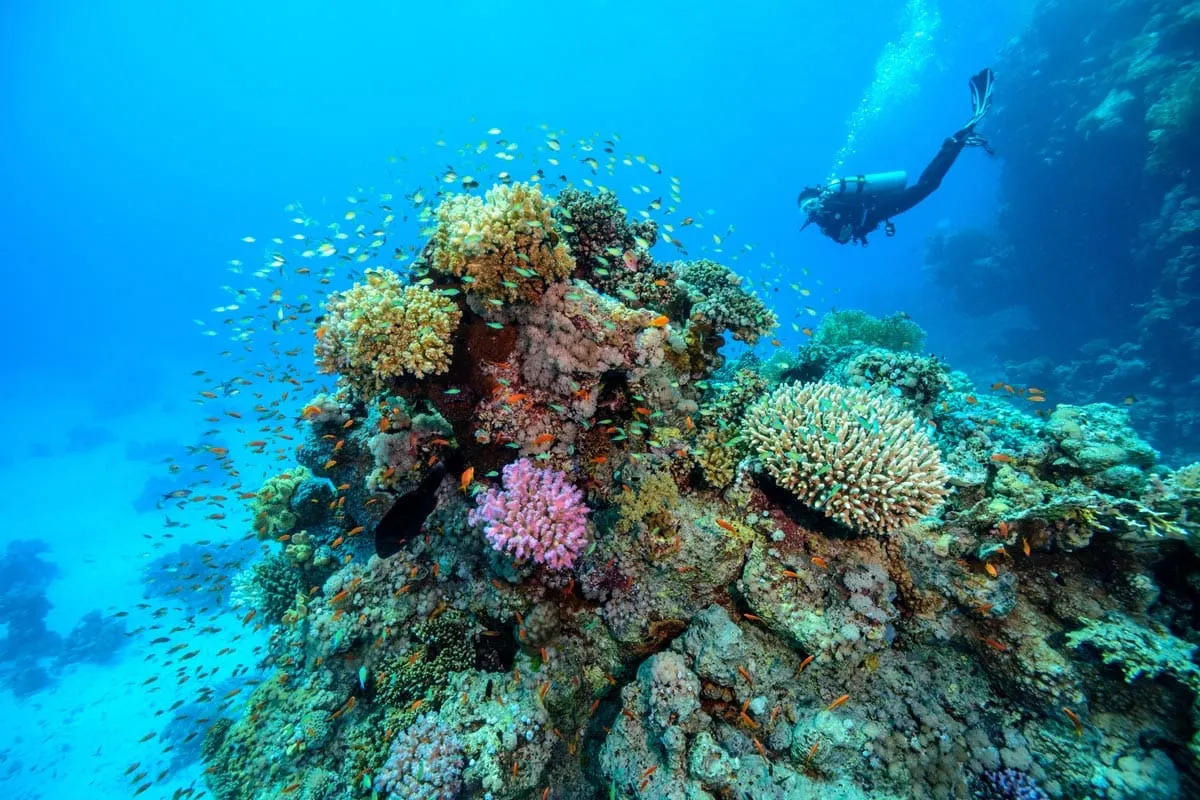 Okay, so the diving isn't the *best* in the UAE but it's much better than I thought!
Just off the east coast of Fujairah, Martini Rock is probably the UAE's best dive site. This place is home to an abundance of marine life and you'll see things like broomtail wrasse, cuttlefish, lionfish, and even a few turtles poking around the area!
---
My trip to the UAE was in association with Rotana Hotels promoting some of their best hotels in the region. As always, views are entirely my own and without bias.
Are you planning on any adventures in the UAE? What are some of the things you'd like to do there? Make sure you let me know in the comments below!
Like this blog post? Then make sure you Pin it!