Looking for a romantic getaway in Sussex? From visiting Bolney Winery & Leonardslee Gardens, this is how to have a romantic weekend in Sussex!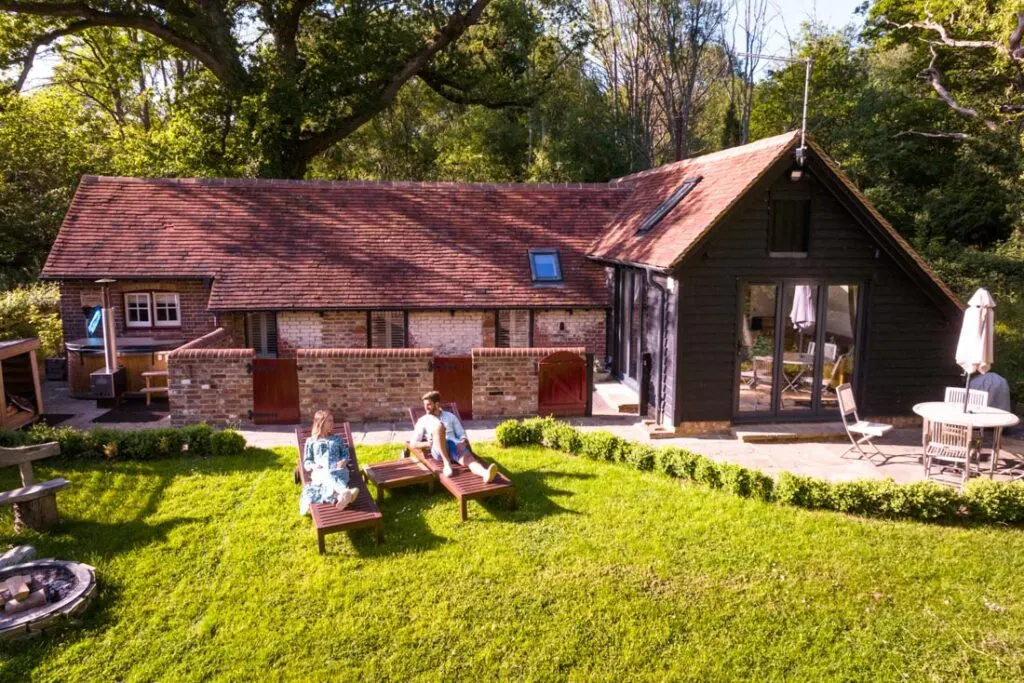 Sometimes you just can't beat a UK staycation, can you?
Well, Chloe & I recently had a very romantic getaway in Sussex and we had such an amazing time there.
Sussex is one of our favourite places to visit in England. It is one of those counties that has it all. World-class vineyards? Check. Stunning natural beauty? Check. Cool and creative cities? Check. Oh, and let's throw in some beautiful beaches in there for good measure too.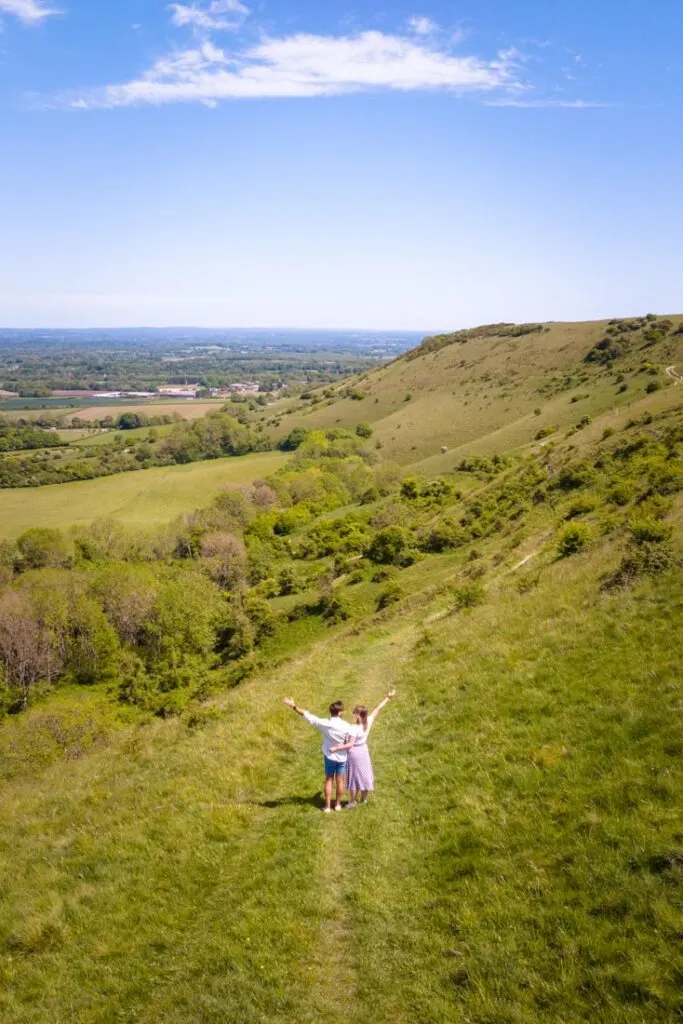 For our Sussex getaway, we wanted to stay somewhere out in the countryside but with a few things on the doorstep.
That's when we found The Piggery at John Bull's House on Classic Cottages, a really charming cottage just on the outskirts of Horsham.
This place was as cute as they come with a little private pond outside and its own Scandinavian wood-fired hot tub.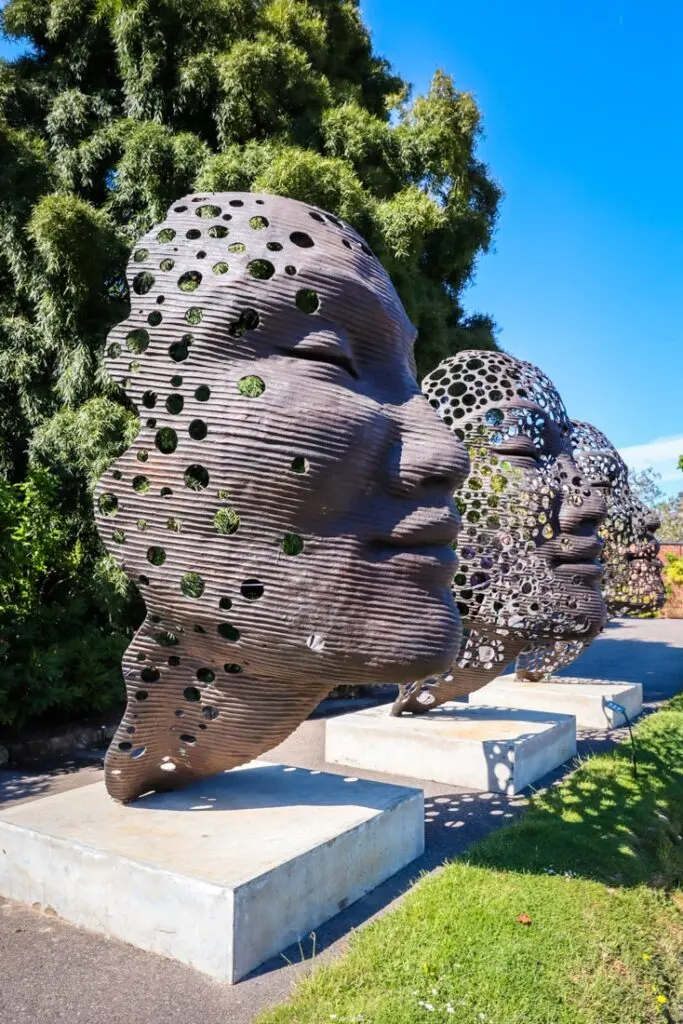 Also, just a short drive from the cottage was Bolney Wine Estate and Leonardslee Gardens, two of the top places to visit in Sussex.
So, if you're looking for an amazing UK staycation, here's how to have the perfect romantic getaway in Sussex. I promise you this is perfect for all you couples looking to have a little quiet time together!
The Piggery at John Bull's House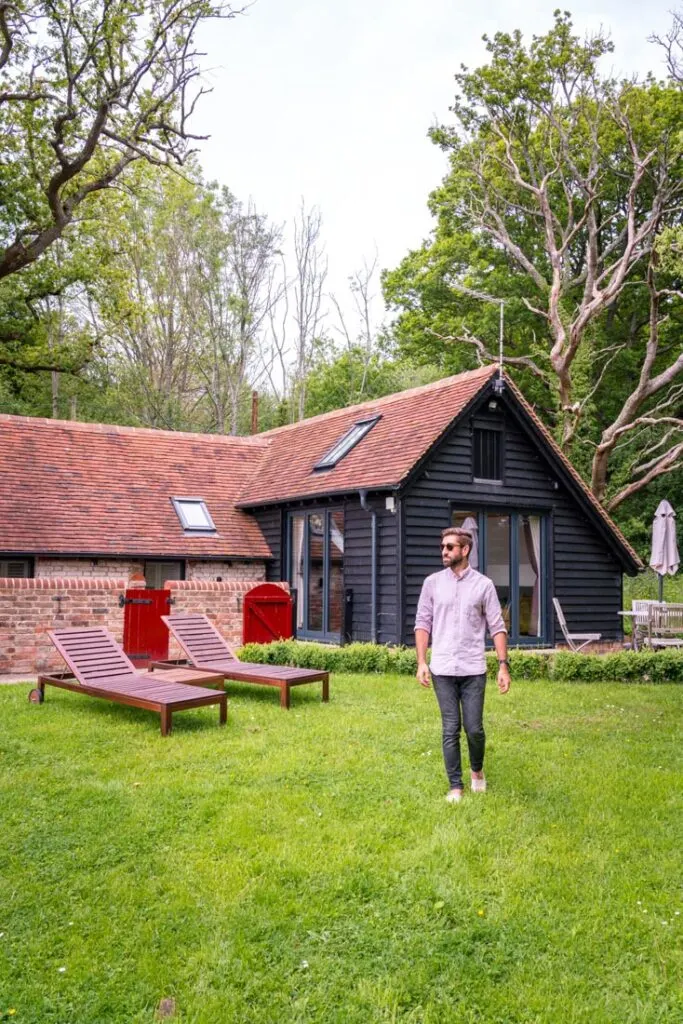 Let's kick things off with where you're going to stay. As I mentioned, we found The Piggery at John Bull's House on Classic Cottages, and it has everything for that couples retreat in Sussex.
As you step through the door, you walk into the open-plan kitchen and living room. The first thing I noticed was the big bifold doors at the end of the room with sunlight streaming through. It's at this end of the room where you'll find the sofa, the perfect place to have a cuppa while overlooking the pond outside.
The state-of-the-art kitchen is kitted out with everything you need for a staycation. There's a Nespresso coffee machine in the corner (very much needed for those lazy mornings), an induction hob with lots of pots and pans, and plenty of surface space to rustle up your favourite meals (or to dish out a yummy takeaway from a local restaurant).
Off to the side from the kitchen is the bathroom and the bedroom. The bathroom is surprisingly spacious but unfortunately there's no bath. When you've got a hot tub outside that's not such a big thing though!
As for the bedroom, there's a king-size double bed and plenty of cupboard space if you're staying here for more than a few days.
By far my favourite spot at The Piggery was outside. Here you'll find a table and chairs adjacent to the pond, another secluded seating area towards the back of the cottage, a couple of sun loungers for those long summer days, and the best bit – a Scandinavian wood-fired hot tub. And yes, it's glorious. In my eyes this is one of the best holiday cottages in Sussex with a hot tub.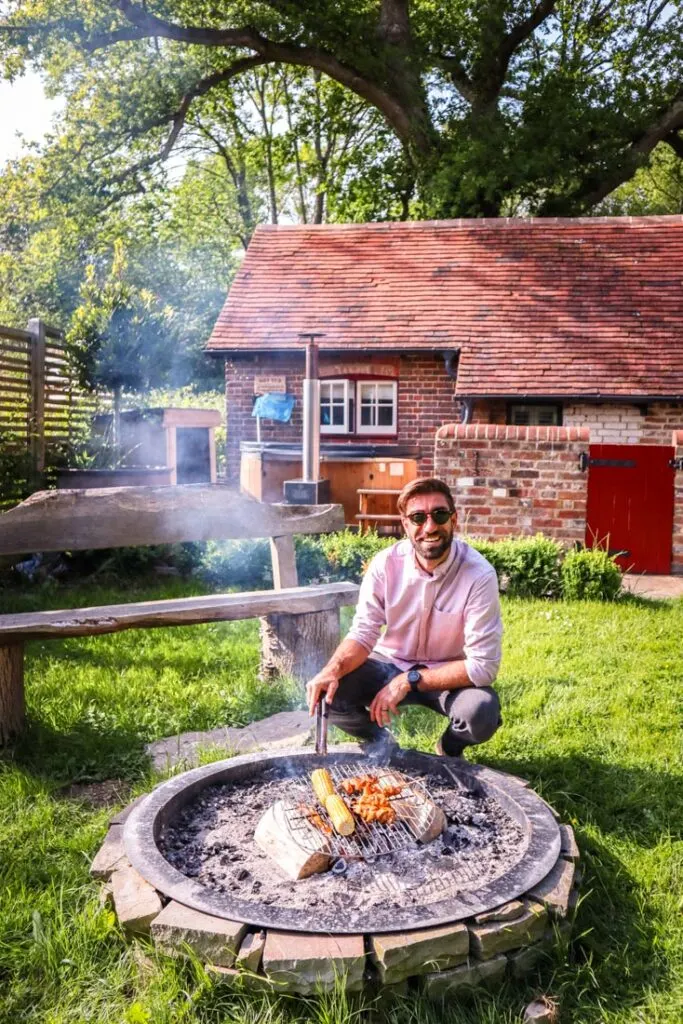 We were so lucky with the weather for our romantic getaway in Sussex. So much so we even had a bbq outside over the firepit, complete with toasting marshmallows over the embers afterwards.
Another thing not to miss out on is popping a bottle of bubbles, getting a couple of glasses and sipping champagne while the sun sets. You can even pick up a bottle from Bolney Wine Estate nearby.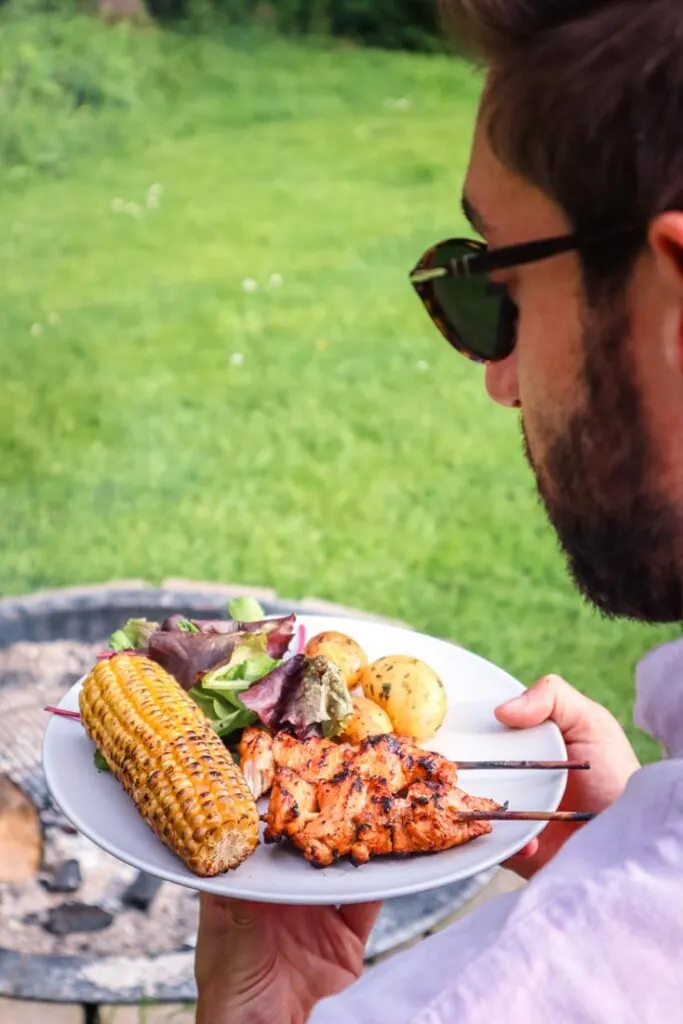 Considering this cottage only sleeps two, there is so much space available. Also, I love how it's kept a lot of the old features of the original piggery and blended them with modern décor.
This really is such a beautiful place to stay in Sussex, and perfect for exploring the surrounding countryside too.
Bolney Wine Estate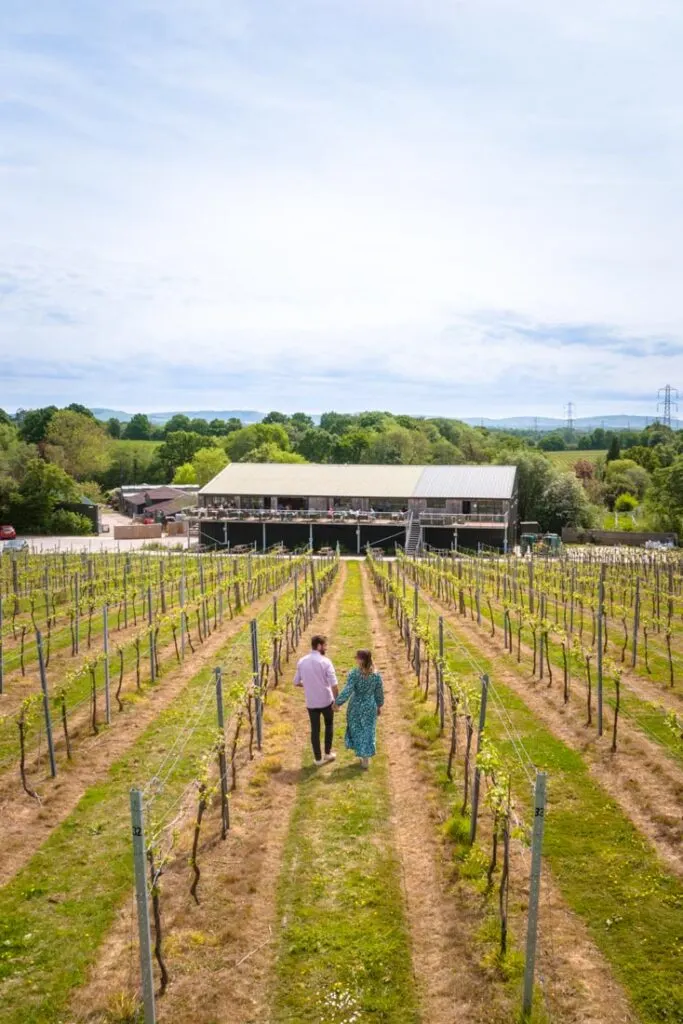 Chloe & I have been championing English and British wines for years now. Honestly, you don't need visit Champagne in France when we've got sparkling wine like this so close to home.
One place we've been dying to visit for a while now is Bolney Wine Estate. This is actually one of the oldest wineries in England. They first set up here in 1972; that's 50 years ago when the wine industry was still just a dream on these shores.
We went on a wine tour at 10am to learn all about how they produce wine here at Bolney Wine Estate. Now 10am might sound early for a wine tour, but it was a 2-hour tour which meant we finished in time for lunch afterwards. I call that win win.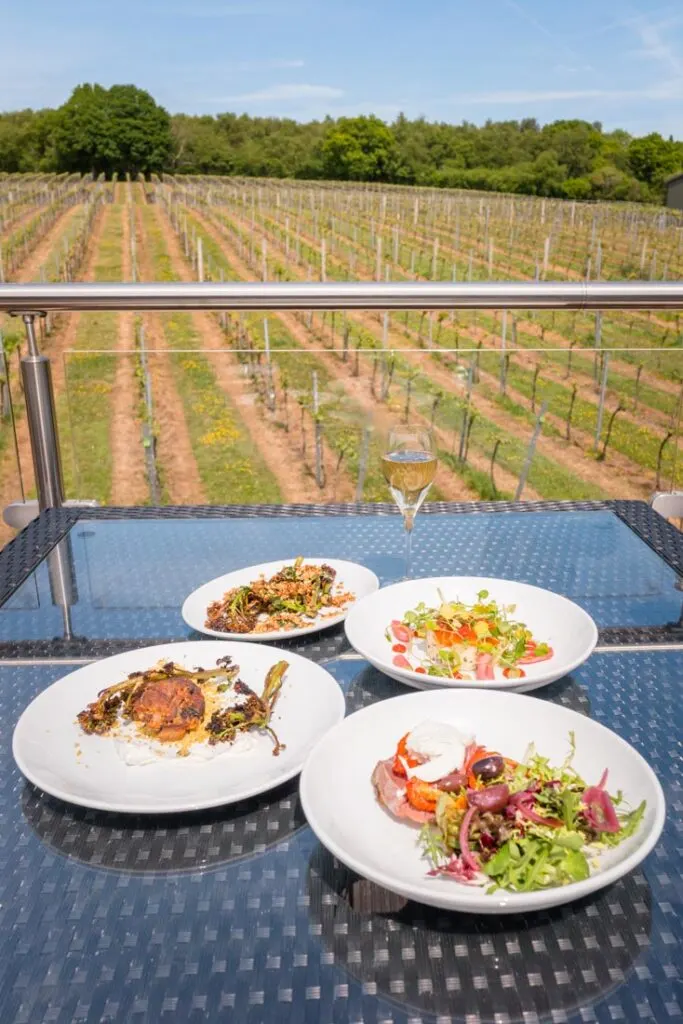 The tour started with us walking through the vineyards learning all about why the south of England is such a great place for growing grapes. I always find vineyards surprisingly peaceful – and that's even before drinking the wine!
We then peeked inside the winery itself where the wine is stored in steel vats and oak barrels. Bolney produce over 250,000 bottles of wine a year, the most popular being English sparkling wine, so there's always a buzz of activity at the winery.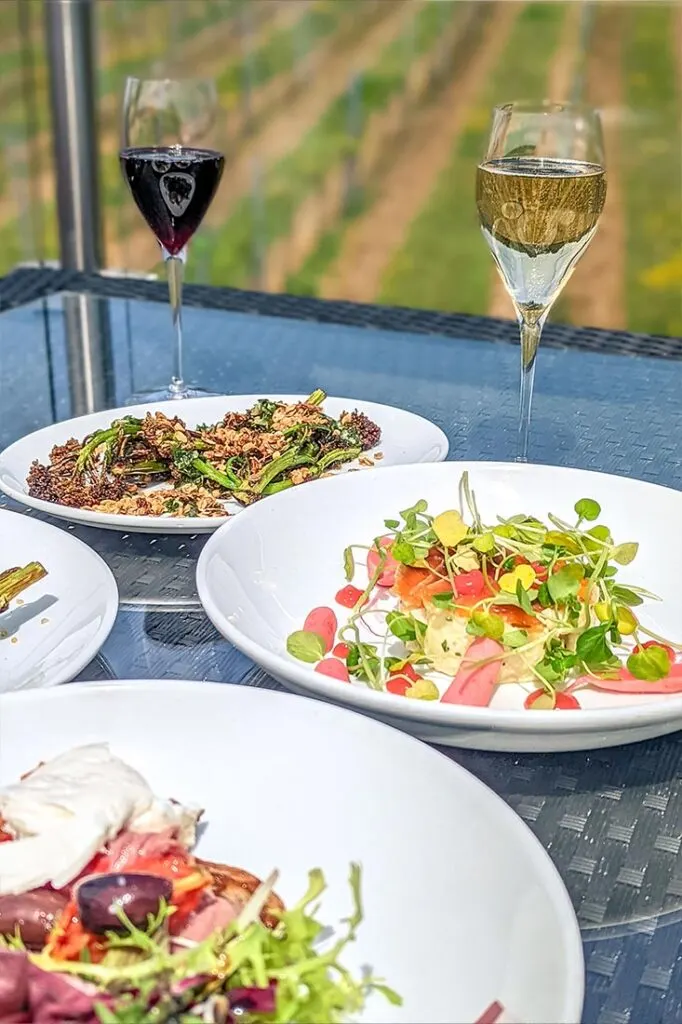 After we wandered around the vineyard, we headed back into the main building for the wine tasting. We tried four different wines, a gin and a vermouth (which they also distil on site), all paired with different cheeses and meats.
As we finished the tour around midday, we then sat outside on the terrace overlooking the vineyard for lunch. For me, this is what a romantic getaway in Sussex is all about!
Leonardslee Lakes and Gardens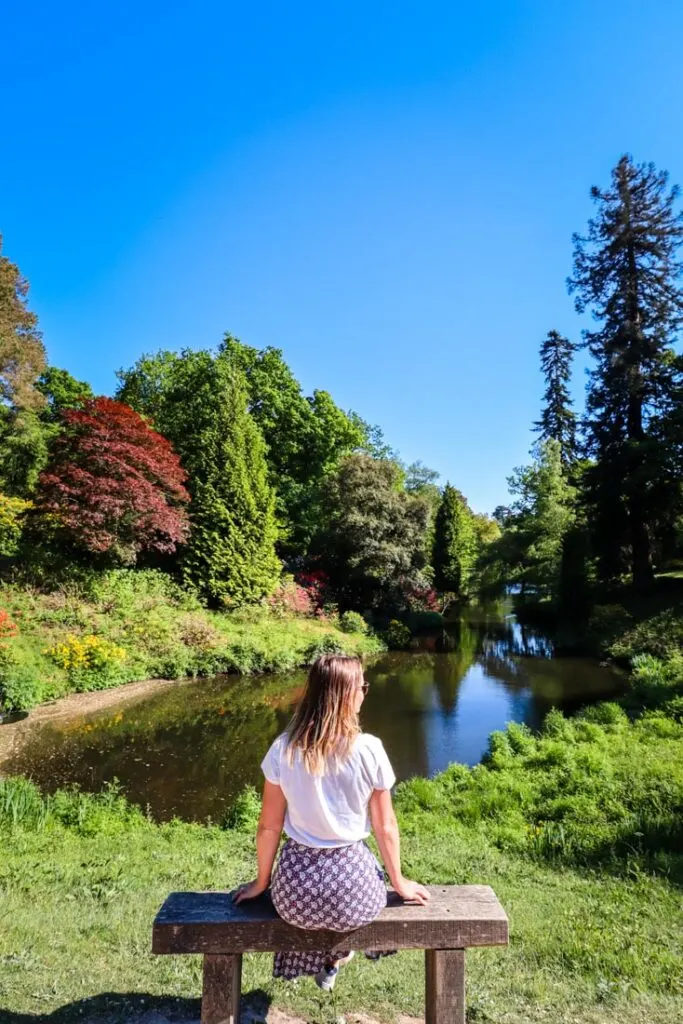 Another place that was a short 10-minute drive from our Classic Cottages holiday home was Leonardslee Lakes and Gardens. This place is your stereotypical English country gardens that feels like its been plucked straight out of a Bronte novel.
Walking around Leonardslee Gardens is like going on a treasure hunt. All around the 240 acres you'll find different wild flowers in bloom, rare trees from the other side of the world, and even striking sculptures that somehow seamlessly blend into the landscape.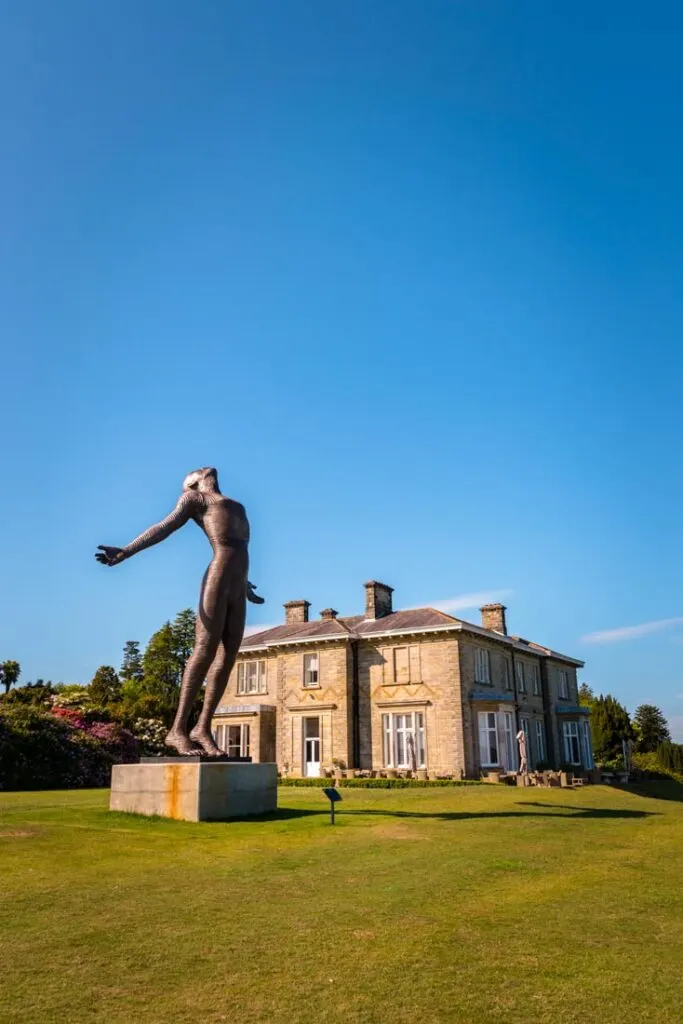 When we visited the gardens there was a number of sculptures created by artist Anton Smit dotted all over the place. My favourite was the 7-metre bronze sculpture Faith which is located on the lawn by Leonardslee House. I kind of looks like Cristiano Ronaldo celebrating (though I'm sure that's not what the artist was going for!)
Leonardslee House is also home to the Michelin-starred restaurant Interlude. Unfortunately we didn't have time to visit there on our weekend in Sussex, but we really wanted to. This restaurant run by head chef Jean Delport is one of the most creative restaurants in the country. It's definitely a place we'll be coming back to that's for sure!
Ditchling Beacon walk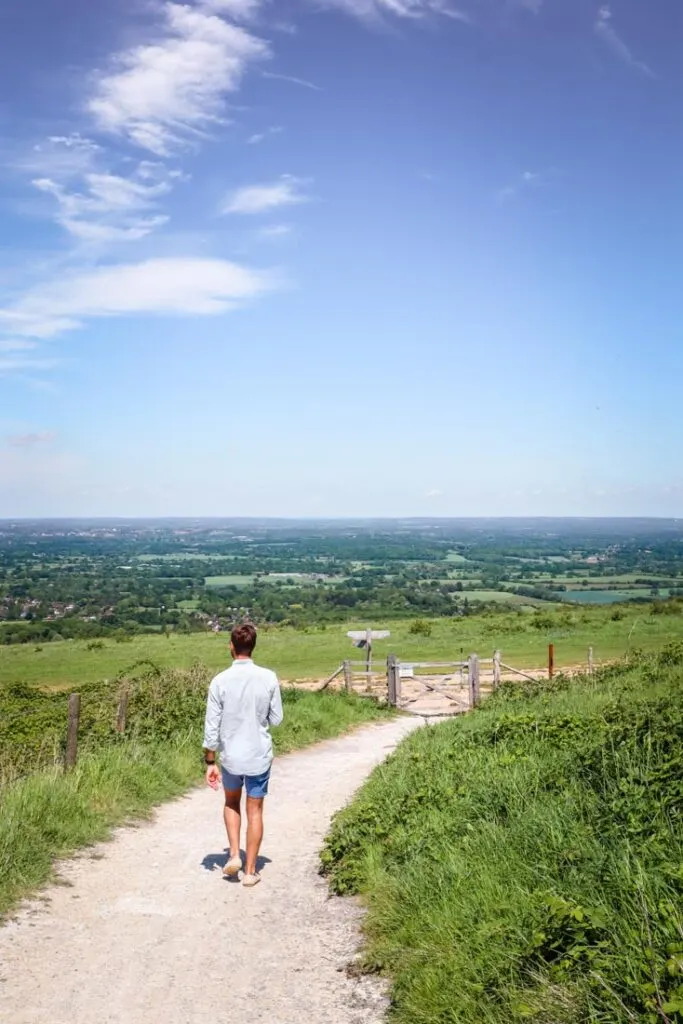 If you're looking for one of the best walks in Sussex, then look no further than the Ditchling Beacon walk. The views of the English countryside from up here are absolutely stunning.
This walking route starts at the top of Ditchling Beacon – at 248m this is the highest point in East Sussex. From here you have sensational panoramic views over the South Downs National Park. In the other direction you can even see Brighton and all the way to the sea too.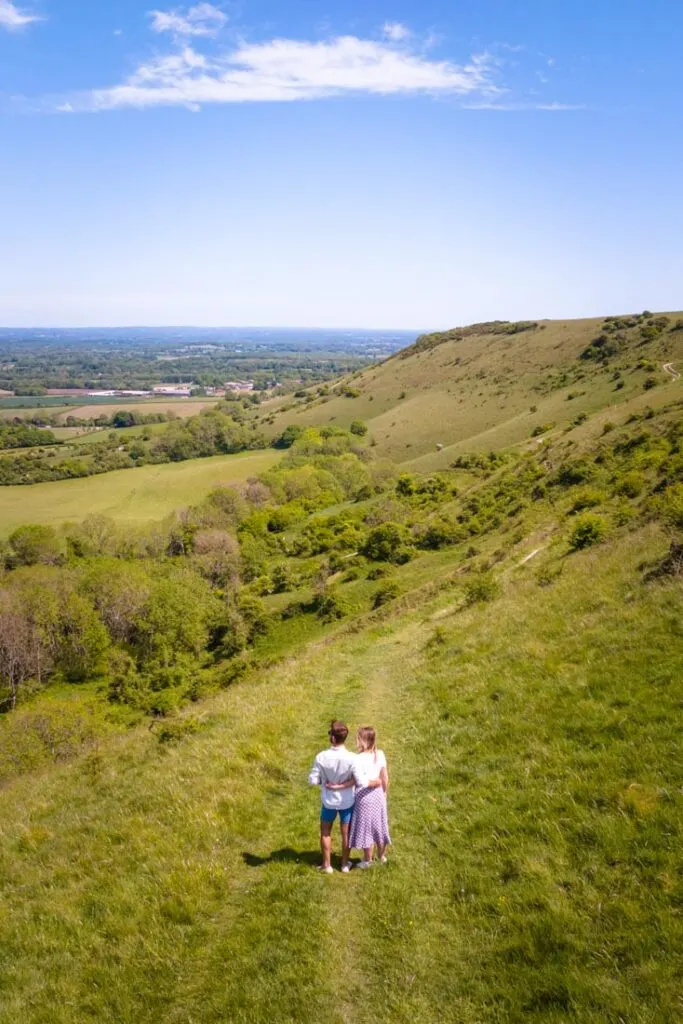 This 7km walk itself takes around 2 to 3 hours (depending on your pace) and takes you on a circular route through the countryside. You'll pass sweeping valleys, fields of wild flowers, grazing land with sheep and cows, woodland and more. It really has got a bit of everything!
We saw a number of mountain bikers cycling along the ridgeway too. It really made me wish I had my bike with me as it looks like a gorgeous cycling route.
The only thing really missing from this walk is a good pub or café at the end of it, but there is an ice cream van at Ditchling Beacon car park on hot days.
The Ouse Valley Viaduct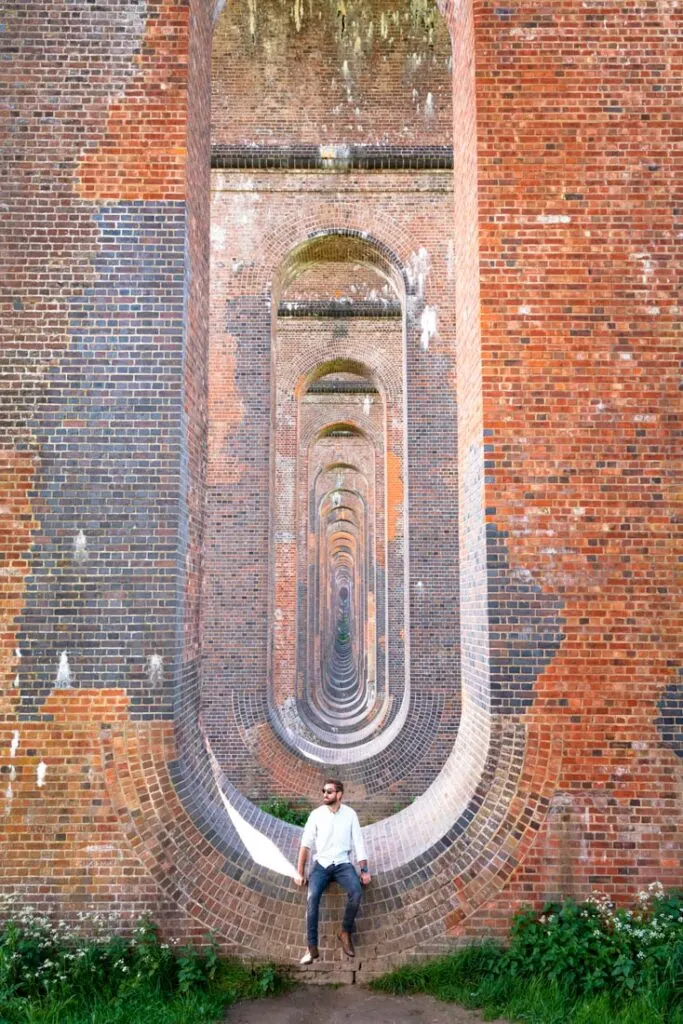 If you're a keen photographer like me, then you'll love the Ouse Valley Viaduct. This is a place I saw on Instagram years ago and I've been dying to visit ever since.
Located between Haywards Heath and Balcombe, the Ouse Valley Viaduct was originally built in 1838 to carry the London-Brighton line over the River Ouse.
There are a couple of laybys beside the viaduct, so we parked up early one morning and walked 5-minutes to the viaduct arches.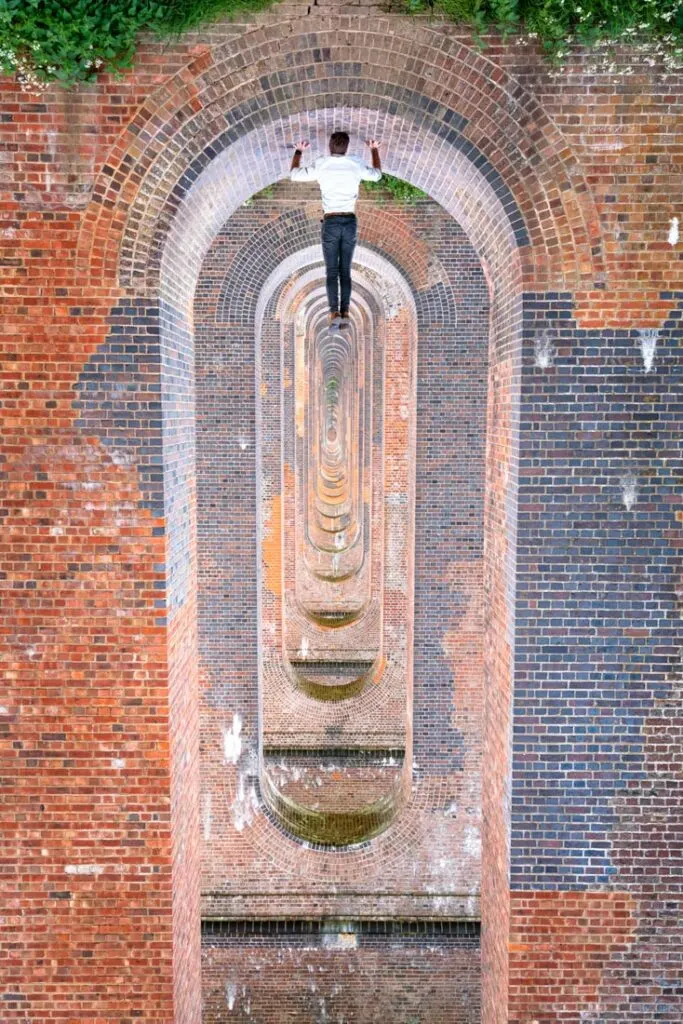 Once you get to the arches, you'll see why this is a photographer's dream. Because there are so many arches, looking through them gives this sense on infinity. It's a bit like when you stand in a lift with mirrors all around you and it looks like you can see forever.
It really plays with your mind and you can take some incredible photos here. One of them was my version of the film Inception. It's cool, isn't it!?
The Bolney Stage Pub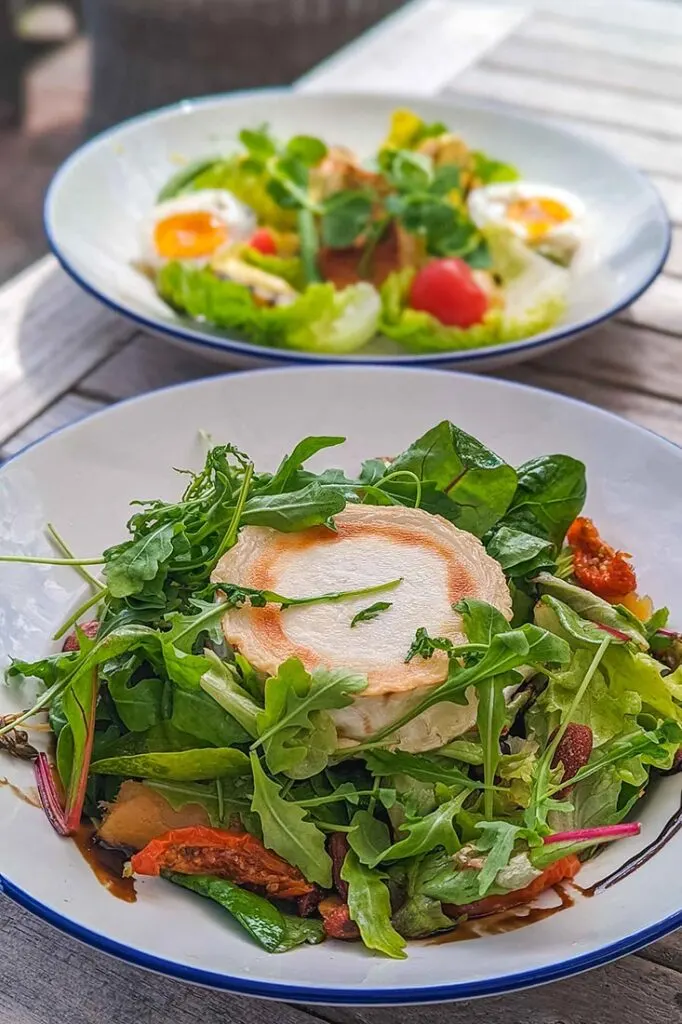 We couldn't have a romantic break in Sussex without visiting one of the local pubs, and there are many excellent ones to choose from.
The one I'd recommend is The Bolney Stage in Bolney, moments from the A23 from London to Brighton. It's a huge pub with cosy interiors and a massive pub garden for those long summer days.
The menu here is full of the classics like local pies, fish & chips, burgers, and vibrant salads. It's just another great option for somewhere to eat near The Piggery.
---
This post was in association with Classic Cottages promoting some of the best UK staycations. As always, all views are entirely my own and without bias.
If you're looking for information on places to visit nearby, don't miss my guides to visiting Bodiam, the South Downs National Park and the best hikes nearby too.
Like this blog post? Then Pin it for the future!