From wine tasting at Ridgeview Wine to exploring Charleston and Alfriston, these are the best places to visit in East Sussex, England!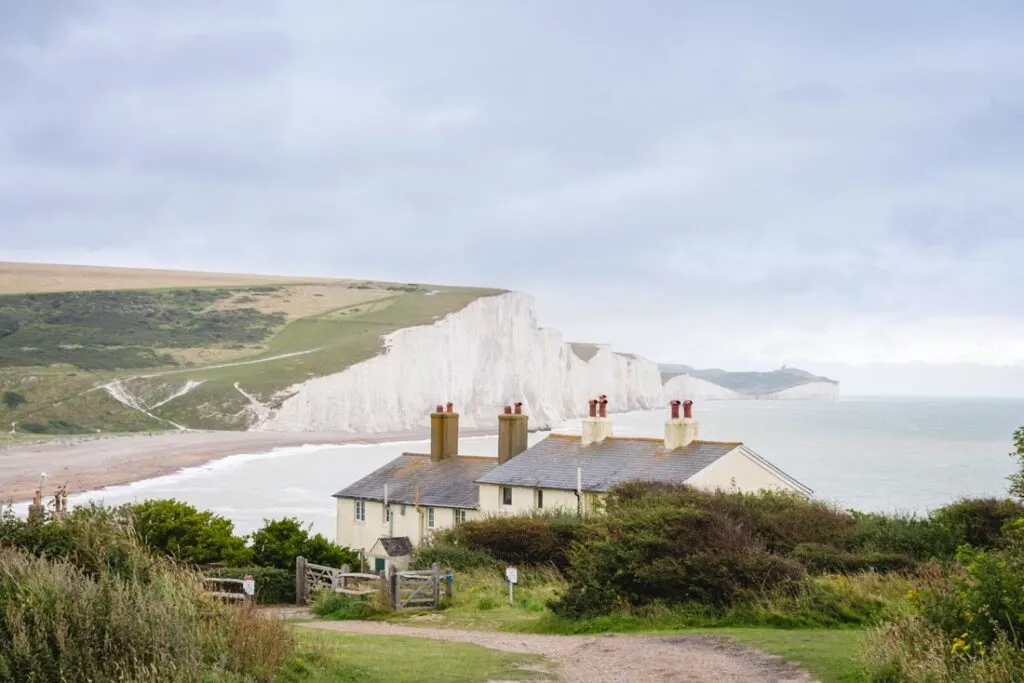 I feel like East Sussex is one of those counties that has so much going for it.
It's got the natural beauty of the Seven Sisters cliffs and the South Downs National Park; it's got cool creative towns to explore in Brighton, Hastings and Rye; and there's an abundance of history in places like Bodiam Castle.
Forget about a weekend, you could easily spend a month and still not see all there is to do in East Sussex.
That's why I wanted to come up with some of the best places to visit in East Sussex to help plan your trip here.
Everyone knows about Brighton and it's packed with tourists, that's why I wanted to highlight a few other places you might not have thought of.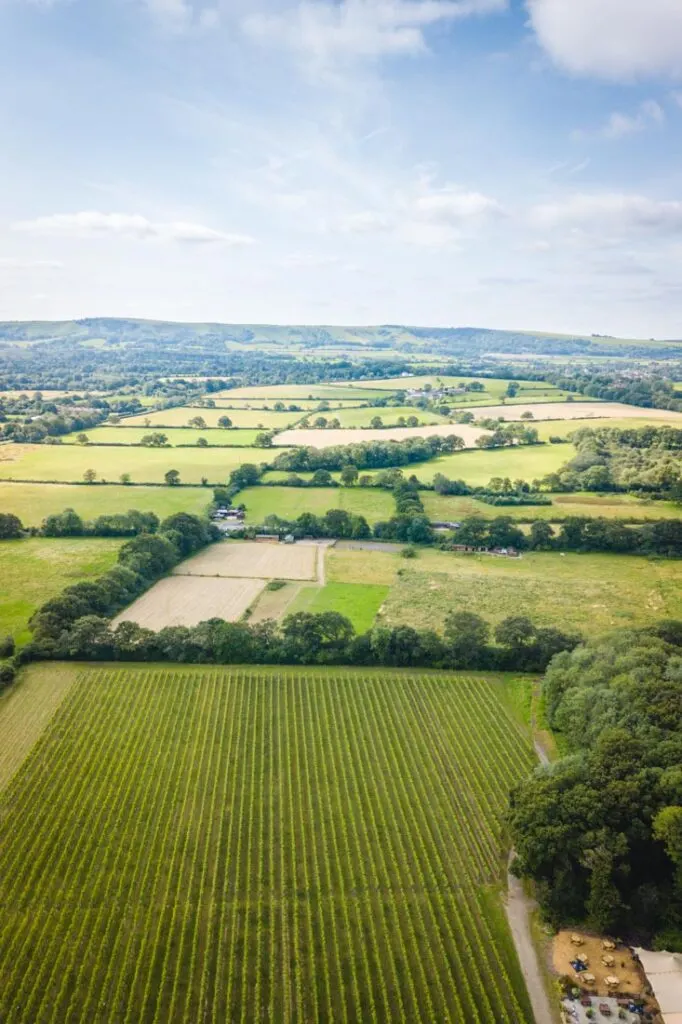 How about wine tasting in the foothills of the South Downs National Park? Or visiting Charleston, the historic artists residence to Vanessa Bell and Duncan Grant?
It's very easy to have an amazing weekend in East Sussex without hitting all of the popular hotspots.
In this blog post, I am going to highlight a few of my favourite things to do in East Sussex. As I said, I love it here.
Make sure you save this post for the future, and I really hope it helps you plan your trip to this gorgeous part of England.
Gourmet Garden Trails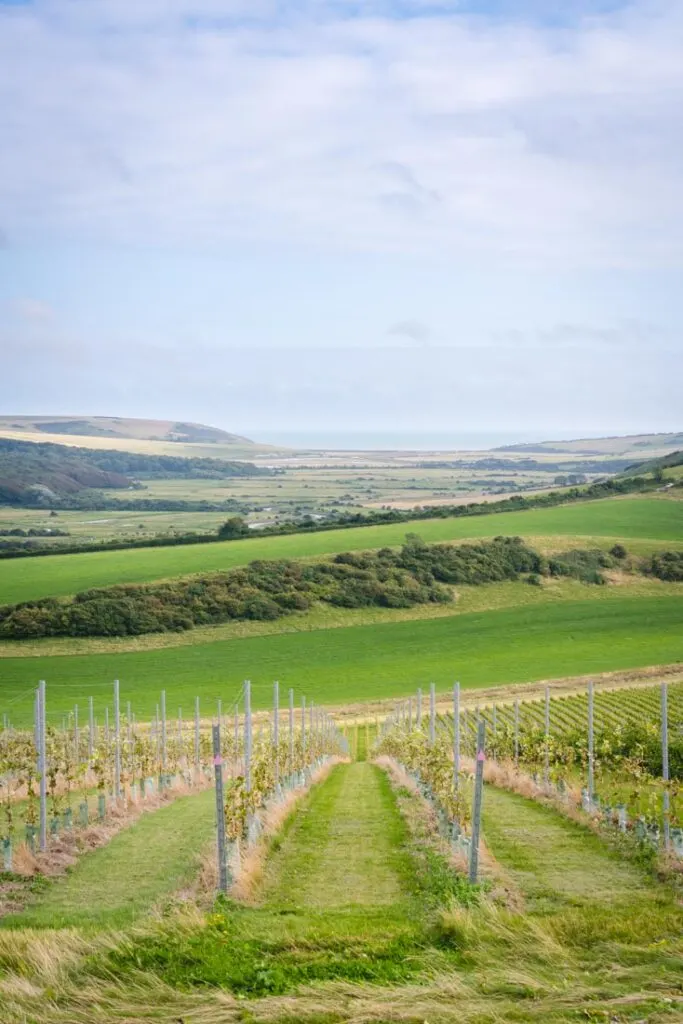 For those of you short on time and looking for inspiration, I'd really recommend taking a look at Gourmet Garden Trails.
This is an exciting new tourism product delivered by a number of local tourism organisations in partnership with Visit England, packed full of suggested itineraries focusing on England's finest food and glorious gardens – hence the name Gourmet Garden Trails!
There are experiences in cookery courses, brewery and vineyard tours, gorgeous gardens, local museums and independent restaurants, all topped off with some of the finest accommodation around. It gives visitors a real taste of England at their fingertips.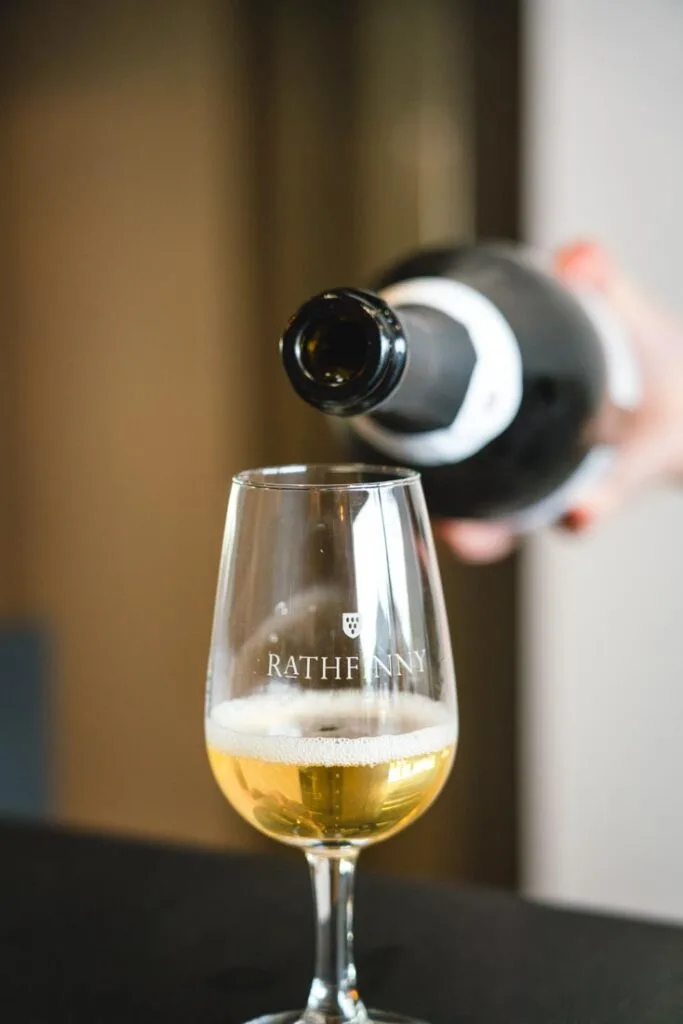 My trip essentially followed the 3 days of food and wine in the South Downs which was brilliant (more on that below).
So far there are Gourmet Garden Trails in Cheshire, East Sussex, Essex, Hertfordshire, Kent, The Peak District & Derbyshire and West Sussex.
As I said, if you're looking for some top-quality itineraries, then check out GGT. Information and inspiration – what more could you want!?
Best Places to Visit in East Sussex
Ridgeview Wine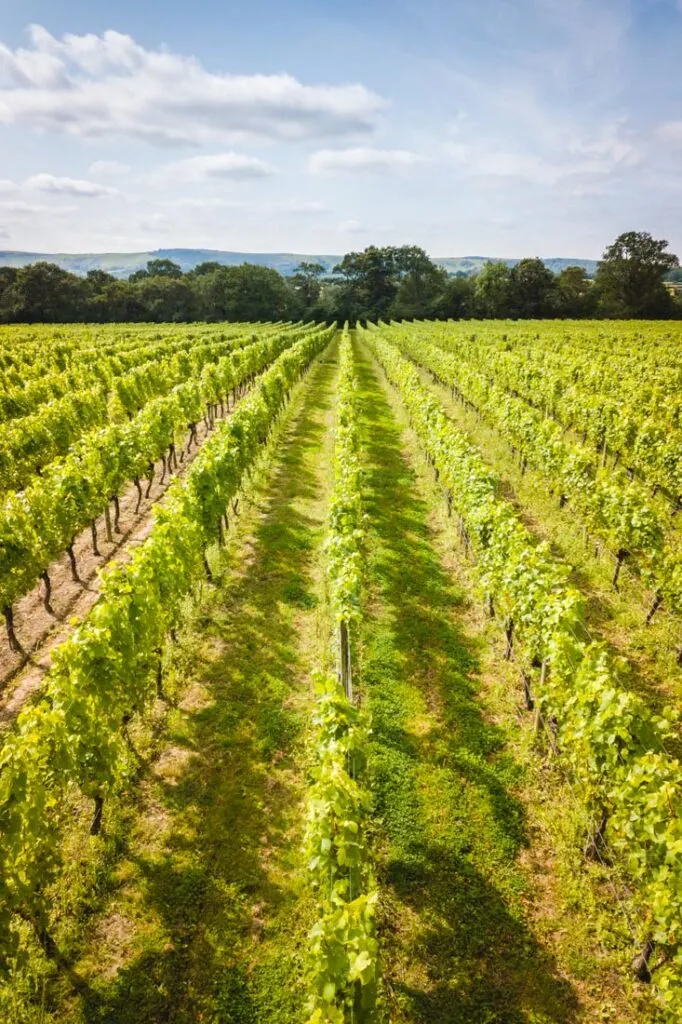 If you've never heard of Ridgeview before, you're in for a treat. This is a vineyard producing some of the best sparkling wines in the world. Honestly, the wines really are that good here. The fact they won 'Winemaker of the Year' at the International Wine and Spirit Competition in 2018 is testament to that.
Located close to the quaint village of Ditchling in East Sussex, Ridgeview has a reputation for producing full flavoured sparkling wines.
With the green rolling hills of the South Downs in the background, this is such a stunning vineyard to go on a wine tour.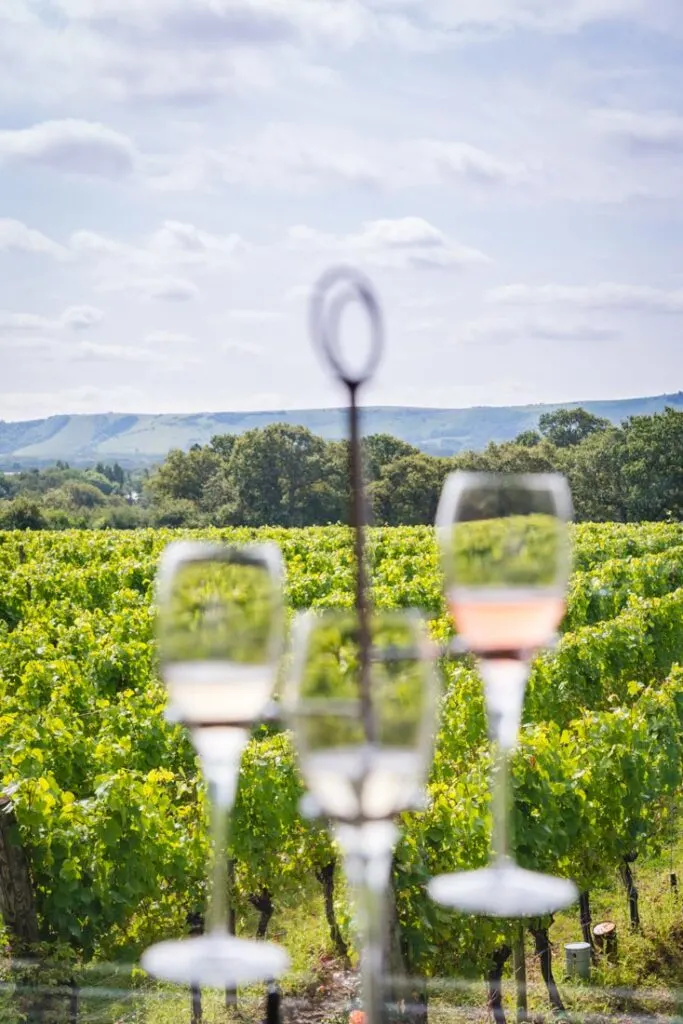 The vines were planted way back in 1995 when the UK wine industry was still very niche. Since then, the wine industry has boomed, and Ridgeview have been at the forefront of that.
One of the reasons East Sussex is the perfect place for producing wine is due to the chalky soil (very similar to the Champagne region in France), a temperate climate, and a sea breeze to blow away any disease. All of this means the UK is actually an incredible place for producing wine. I bet you didn't know that!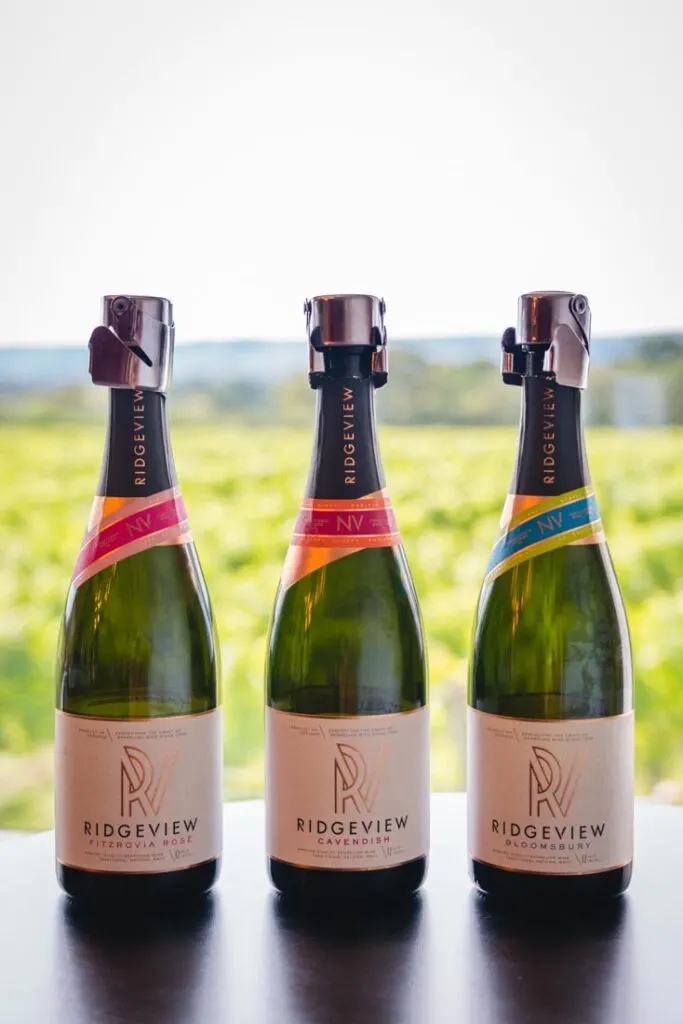 The best thing to do here is to go on a tour of the vineyard learning all about how they produce wine here. My favourite bit (naturally) was trying all the different English sparkling wines from the tasting room directly overlooking the vines. I honestly think the wine tastes better when you're surrounded by that view.
A Ridgeview tour takes 1.5 hours and costs £15 for the standard tour, or £20 for the Classic tour (this one involves tasting their vintage range).
Ditchling Beacon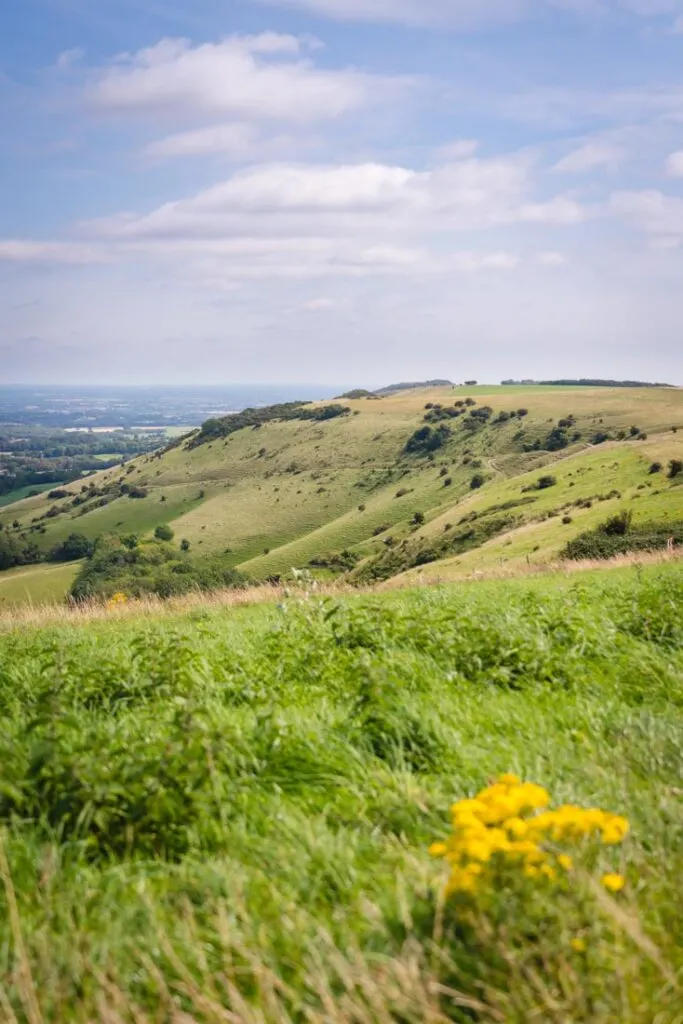 Close to Ridgeview is the little village of Ditchling. If you're passing through for lunch, The Green Welly Cafe is a great place to eat at. Alternatively, afternoon tea of sandwiches and scones at The Nutmeg Tree is another option too.
Just on the outskirts of the village and up a massive hill, you'll find Ditchling Beacon. This is one of the best viewpoints overlooking East Sussex and it's well worth visiting.
There is a paid car park at the top of the hill. Usually during the summer holidays there's an ice cream van at the top too.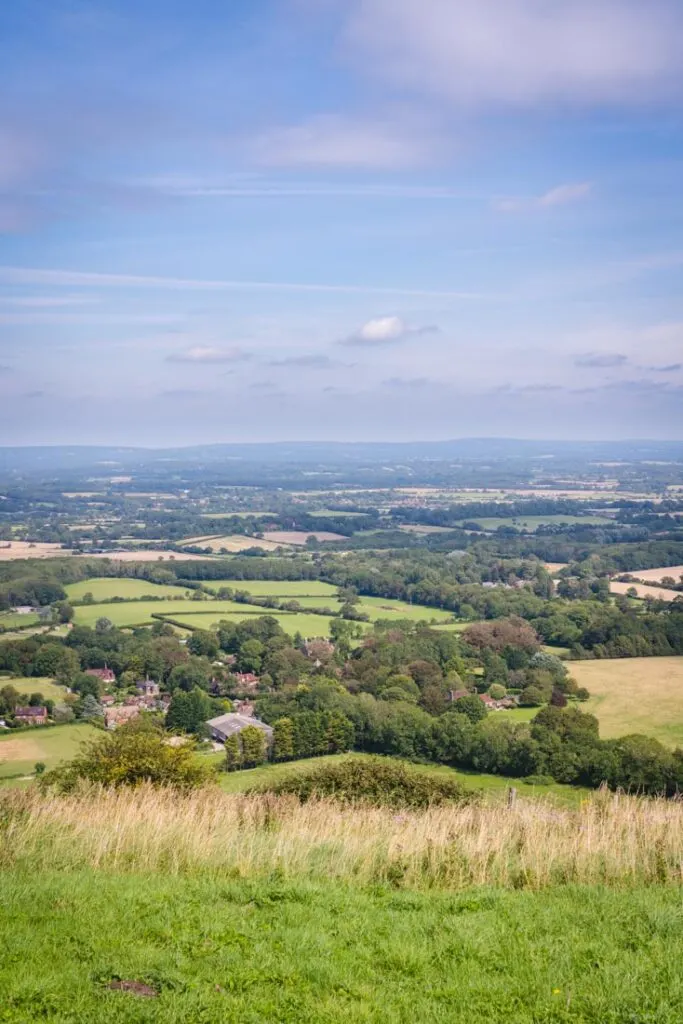 For those of you looking to explore more of the area, Ditchling Beacon is on the South Downs Way. This means it's the perfect place picking up the trail and going for a walk.
The most popular route is from Ditching Beacon to Devil's Dyke. This is a 3-hour, 7-mile walk that follows the ridgeway to Devil's Dyke. I haven't done this myself yet, but it's on my British bucket list.
During spring and summer, the grass is covered with vibrant wild flowers that bring a touch of colour to the landscape.
If you don't fancy the whole walk though, even getting an ice cream at the beacon and admiring the view is incredible.
When you get up here yourself, you'll quickly see why this is one of the top places to visit in East Sussex. I just wish I had a bit longer to explore all the area has to offer.
Alfriston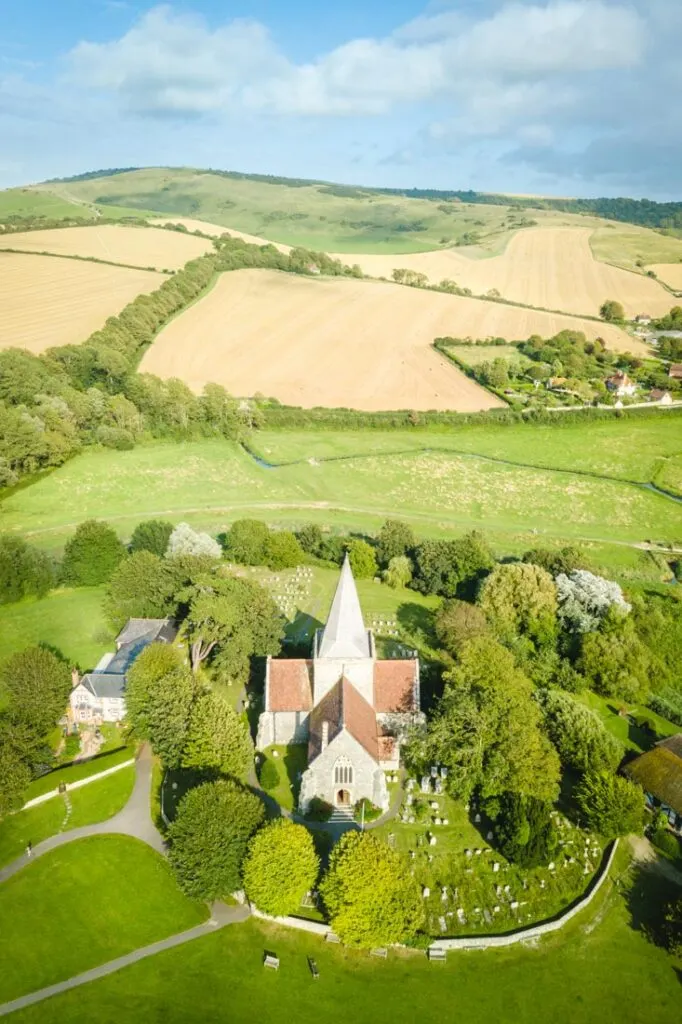 For my East Sussex itinerary, I stayed in the cute little village of Alfriston. With its chocolate-box-pretty pubs, wonky medieval buildings and independent shops, it's amazing how much there is to do here for such a tiny village.
Bookworms will completely fall in love with Much Ado Books, an independent bookshop that's jammed packed with unknown authors just waiting the be discovered. Opposite this, fashion lovers will enjoy browsing through the rails of vintage clothes in the Dressing Room.
If you're looking for the best cake and cream tea in Alfriston, then pop into Badgers Tea House. This was once the village bakery, and that tradition lives strong with the cakes and pastries they have on offer.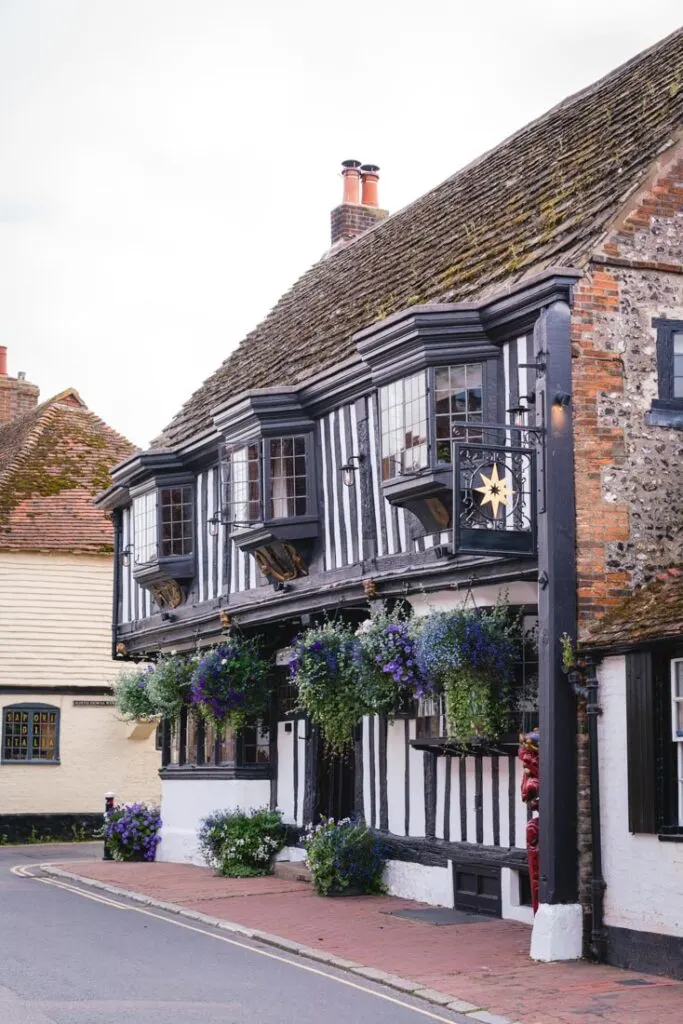 To really get a feel for village life, make sure you walk around the Tye (the local village green) where you'll find St Andrew's Church. This church is known as the 'Cathedral of the South Downs', and from my photo you can see why.
While I was in Alfriston, I stayed at The Star, an old 15th century inn that's now a hotel and restaurant owned by TV presenter Alex Polizzi. This place has been hyped up as one of the top hotels in East Sussex, and it's easy to see why.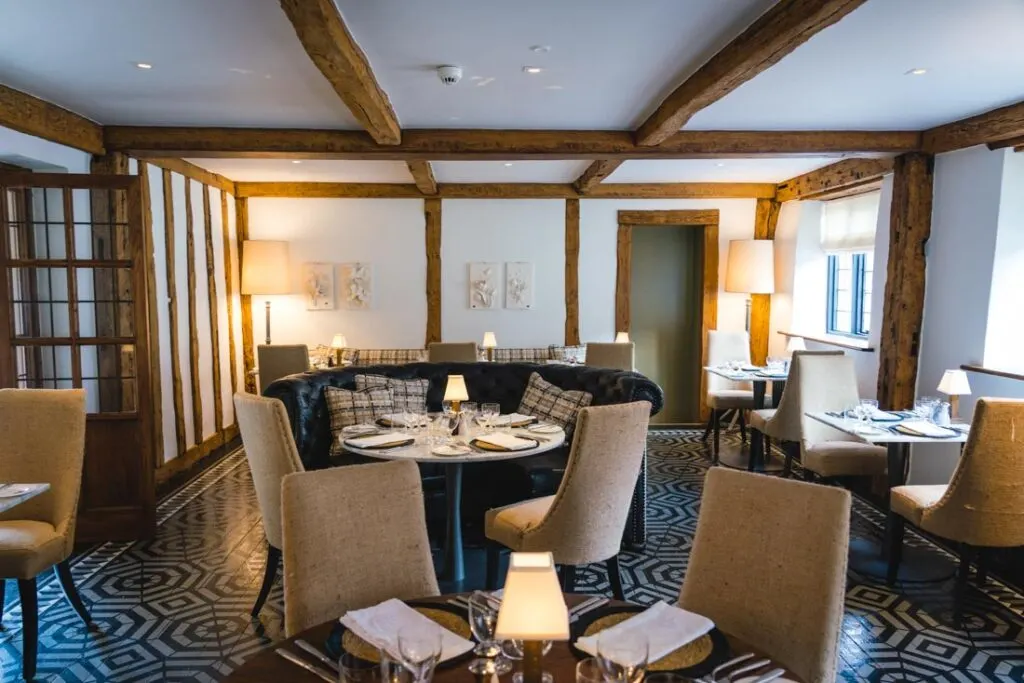 The Star, housed in a mixture of new and old buildings, has been rebuilt recently. This gives it a really nice blend of comforting modern rooms and a stylish restaurant with ancient beams and secret corners throughout the hotel.
The restaurant is amazing too. Simple Italian cooking done incredibly well. I really loved my meals here.
Charleston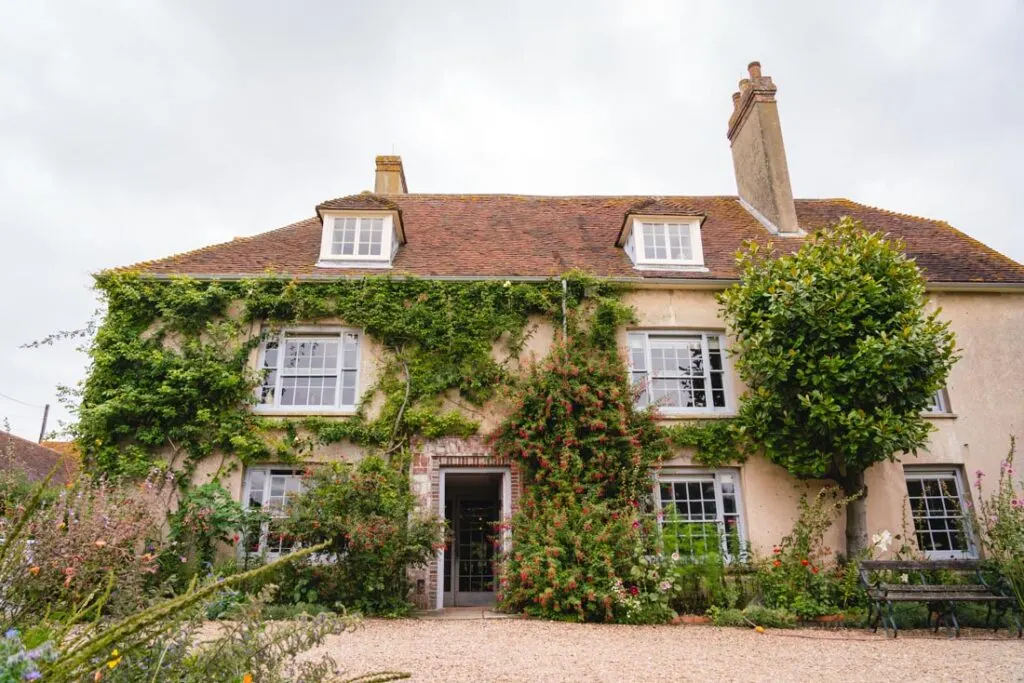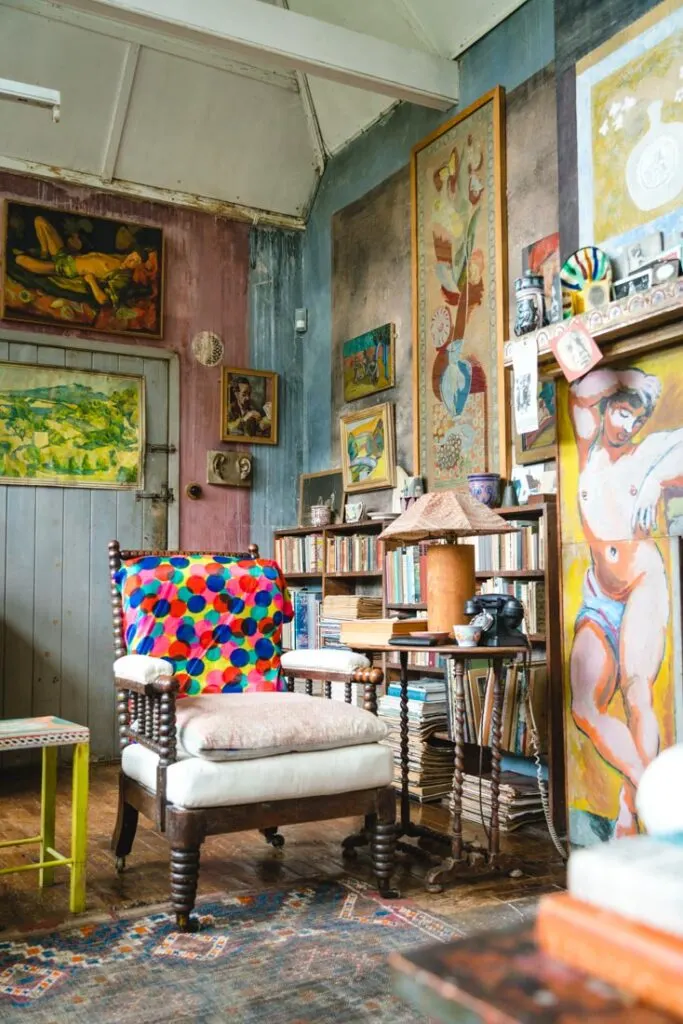 For me, Charleston really highlighted what my Gourmet Garden Trails itinerary was all about. I wouldn't usually visit a local museum like Charleston, but I found it absolutely fascinating.
Charleston was once the historic home to Vanessa Bell and Duncan Grant, two modernist artists from the 1920s. Together, they created a quirky home that's like a living museum with each room individually styled and painted.
Not only that though, they also created a movement.
Charleston used to be a focal point for some of the 20th century's most radical artists, writers and thinkers who collectively became known as the Bloomsbury group.
It is where they came together to imagine society differently, and has always been a place where art and experimental thinking are at the centre of everyday life.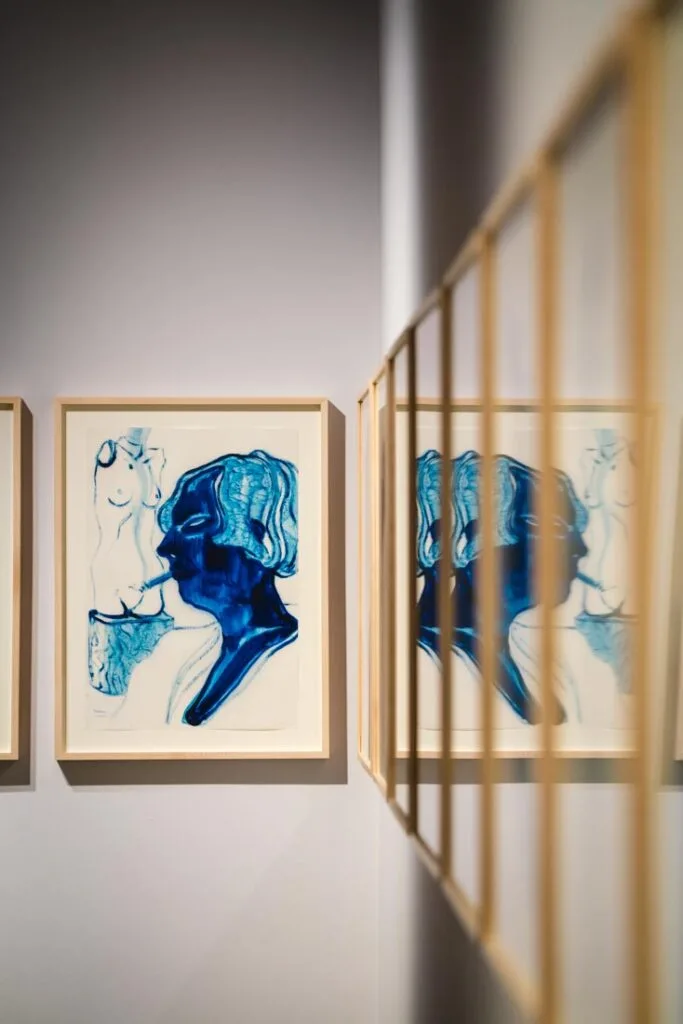 Today, Charleston is a memorial to not only those great artists who once walked these walls and gardens, but it celebrates all artists with ever-changing exhibitions and festivals.
At Charleston, they believe in the power of art, in all its forms, to provoke new ways of thinking and living.
I didn't know anything about Charleston or the Bloomsbury group, so it was great learning more all about this.
Tickets to the main house at Charleston cost £16 for adults, and under 18s go free which I thought was a nice touch.
Tickets for the exhibitions cost £9.90 for adults, and again under 18s go free.
Middle Farm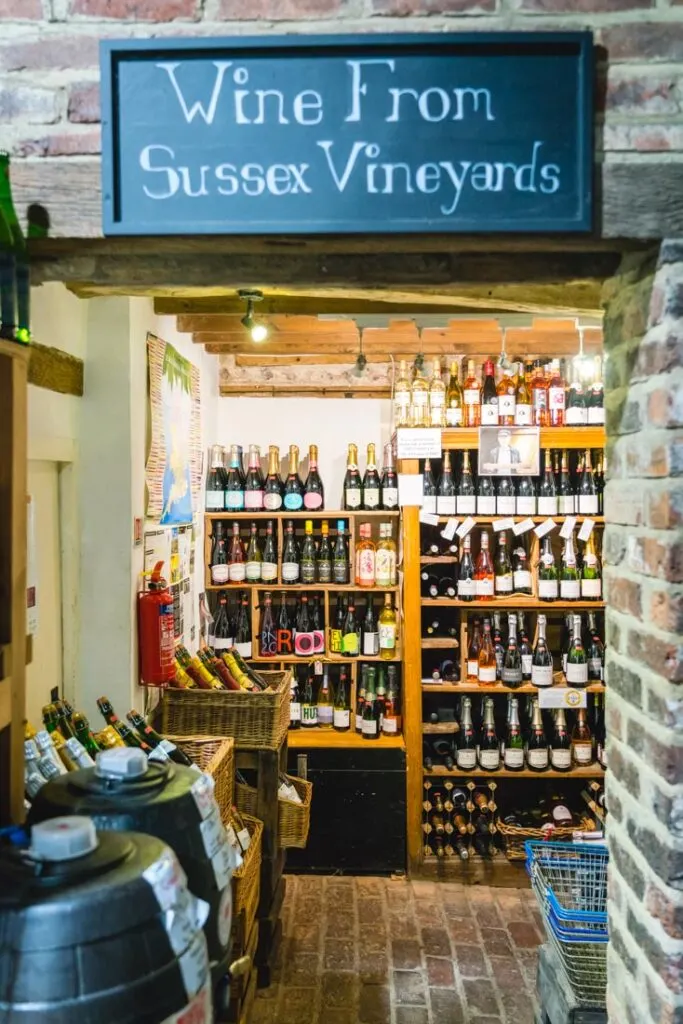 Another place to visit in East Sussex, especially if you've got little ones, is Middle Farm. This is just over the road from Charleston.
Middle Farm is one of those places that has something for everyone. For the kids, you can say hello to the donkeys, llamas, ponies and pigs. This is a great opportunity for them to learn about farm life.
For the adults, where to begin! There's a really lovely tea room with delicious scones, a butcher with top quality meats from the farm, cheeses from the surrounding area, or perhaps my favourite place, the cider and perry shop.
The cider and perry shop was the largest I've ever seen. They have over 100 different ciders and perries on sale here. With that many on sale, the best thing to do is taste a few and then fill up a bottle of your favourite. It's the proper local experience.
Seven Sisters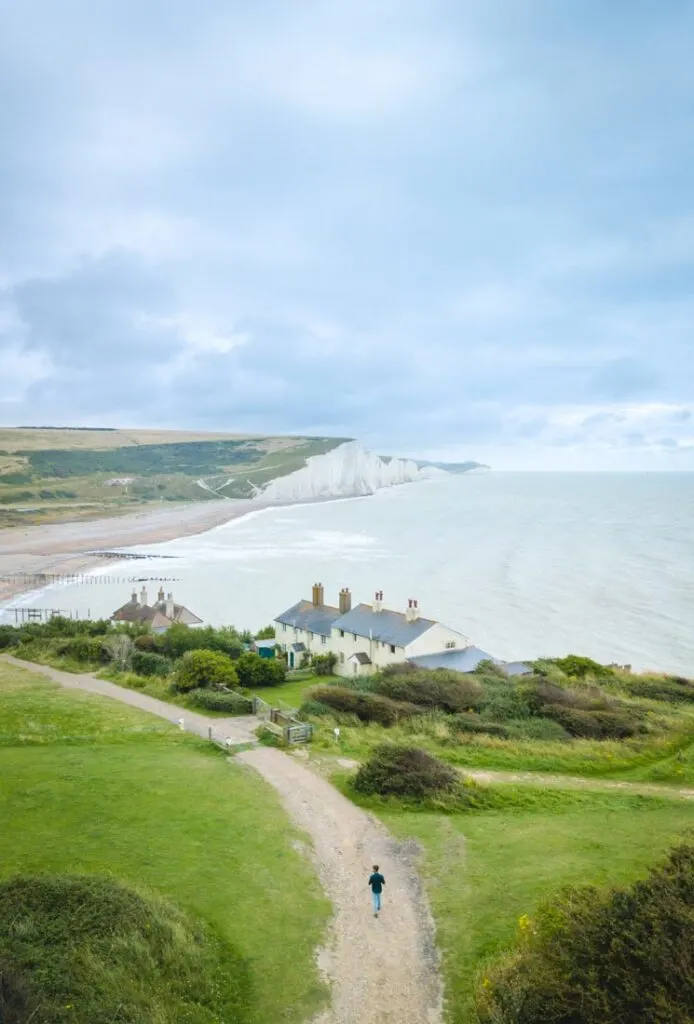 For me, this is one of the most iconic images of England. When I realised this viewpoint of the Seven Sisters was only 15 minutes away from Alfriston, I just had to visit.
The Seven Sisters cliffs are part of a magnificent stretch of coastline between Seaford and Eastbourne. This area is designated and protected as a 'Heritage Coast', and is the finest example of unprotected chalk cliffs in Britain.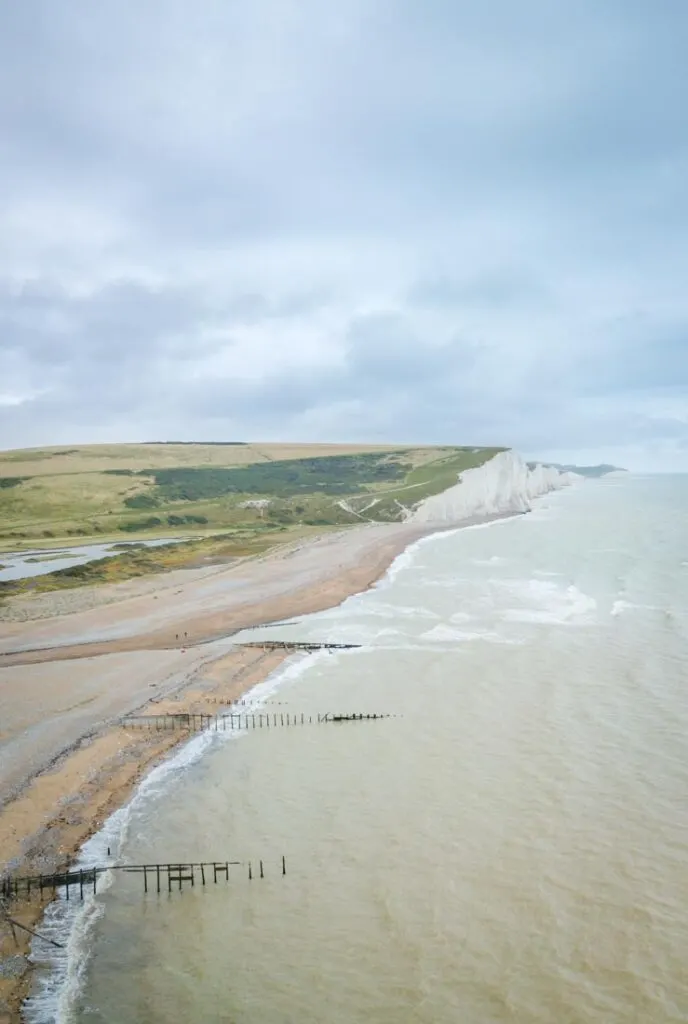 One of the best things to do at the Seven Sisters is to go on the Beachy Head walk. This is a walk from Eastbourne to the Birling Gap where you have a view of the Seven Sister but from the other side of the cliffs. You can read all about this walk here.
This time around though, I wanted to get to this famous viewpoint. Parking at South Hill Barn Car Park, it's just a short 15-minute walk to the Seven Sisters Cottages and this view.
It's also well worth taking in the view from Hope Gap too. When it comes to places to visit in East Sussex, this one really is right up there.
Rathfinny Wine Estate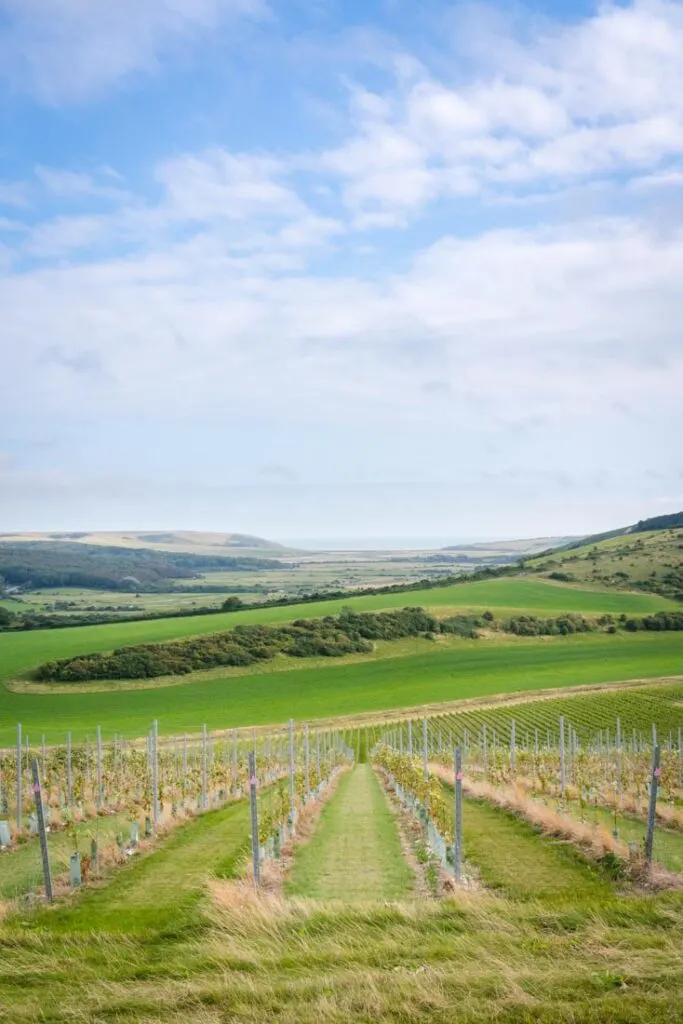 Another vineyard that champions the best of East Sussex is Rathfinny Wine Estate. Despite being a relatively new vineyard (it was founded in 2010), Rathfinny are quickly establishing themselves as one of the top producers of English sparkling wine in the country.
Much like Ridgeview, Rathfinny also has very chalky soil with a strong sea breeze to blow away any disease. All this means you're left with an absolutely delicious bottle of sparkling wine.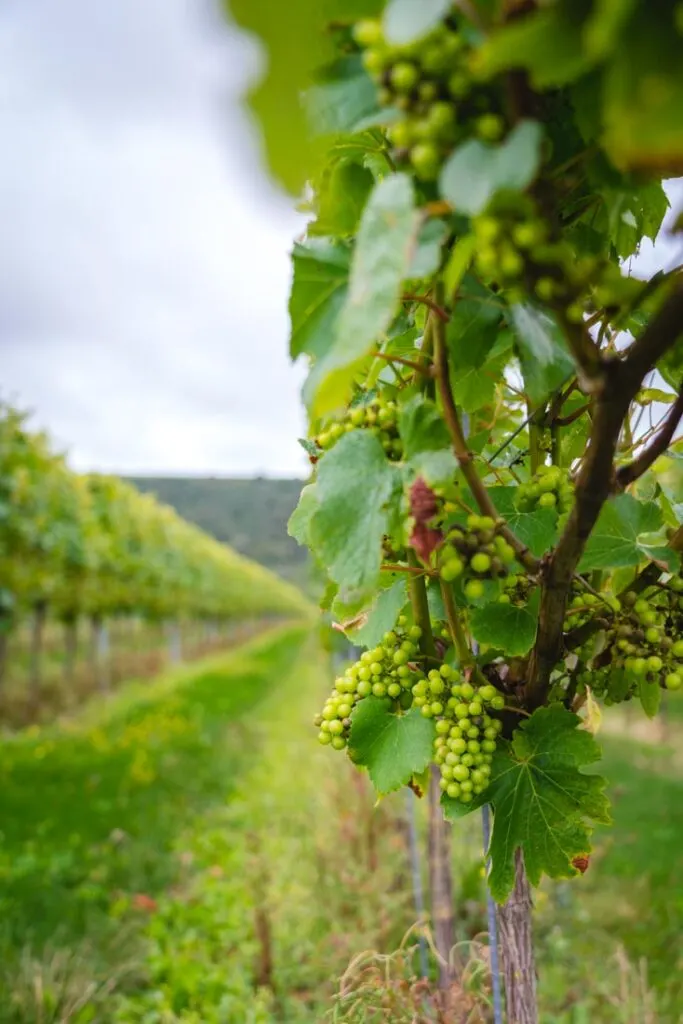 The best way of learning about the wine at Rathfinny is to go on a tour that takes you around the estate and shows how they make wine here. Tours run over the weekend and cost £25 per person.
There are also two restaurants on the estate. The Tasting Room is considered to be one of the best restaurants in East Sussex. Since it opened in 2018, it has been awarded The Place Michelin for two years running.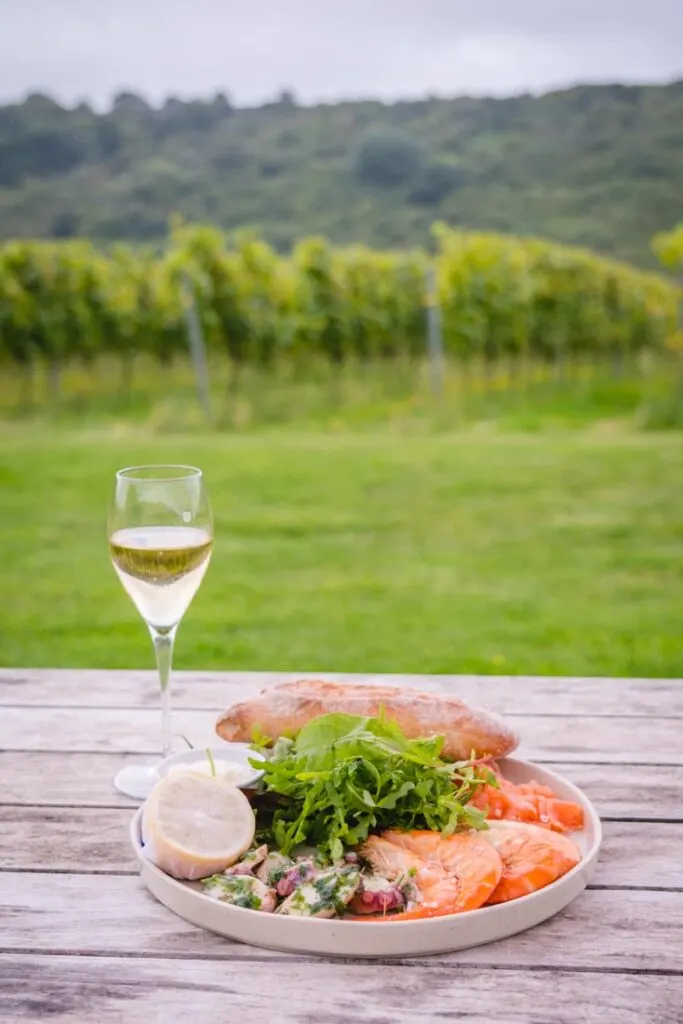 The other restaurant is The Flint Barns, a much for casual restaurant down in the vines themselves. I had lunch at The Flint Barns and it was absolutely delicious. I had the seafood platter with a glass of the classic cuvee. Honestly, the food and bubbles taste a lot better when you're surrounded by vines!
---
This post was in association with Sussex Modern and Visit England promoting the new Gourmet Garden Trails. As always, views are entirely my own and without bias.
Are you planning a trip to East Sussex? Let me know if you have any questions in the comments below and I'll get back to you!
Like this post? Then make sure you Pin it for the future!