From hiking the eerie Kingley Vale to visiting the epic Seven Sisters Country Park, here are some of my favourite places to visit in the South Downs!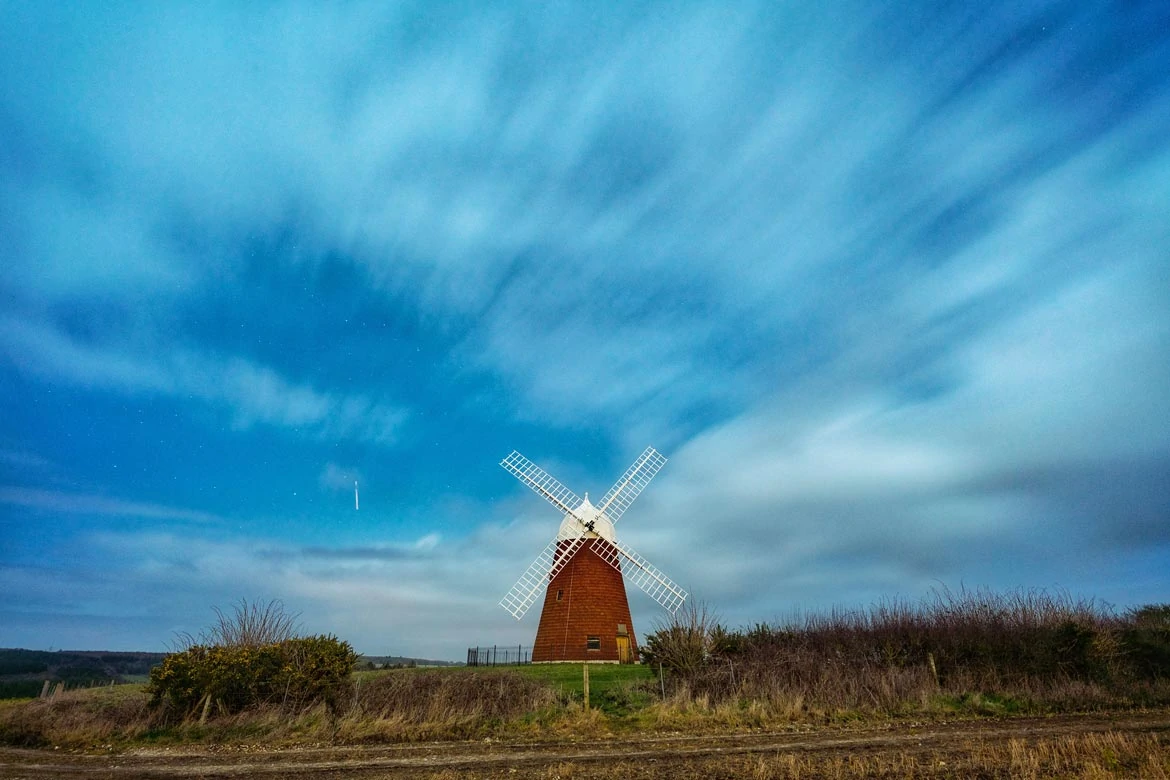 I've recently just got back from an amazing microgap adventure in the South Downs National Park and I've fallen in love with England all over again.
One of the things I really wanted to do this year was travel to places a lot closer to home. From ancient sites like Stonehenge to beautiful cities like Durham, there is so much to see and do in England. Sometimes it's easy to forget that I don't have to travel a million miles to go on an amazing adventure.
So, when I was asked to be a Visit England ambassador this year promoting some of the more unique things to do in this country my dream came true. And now I get to share that dream with you too. For me, this is what travels in England are all about!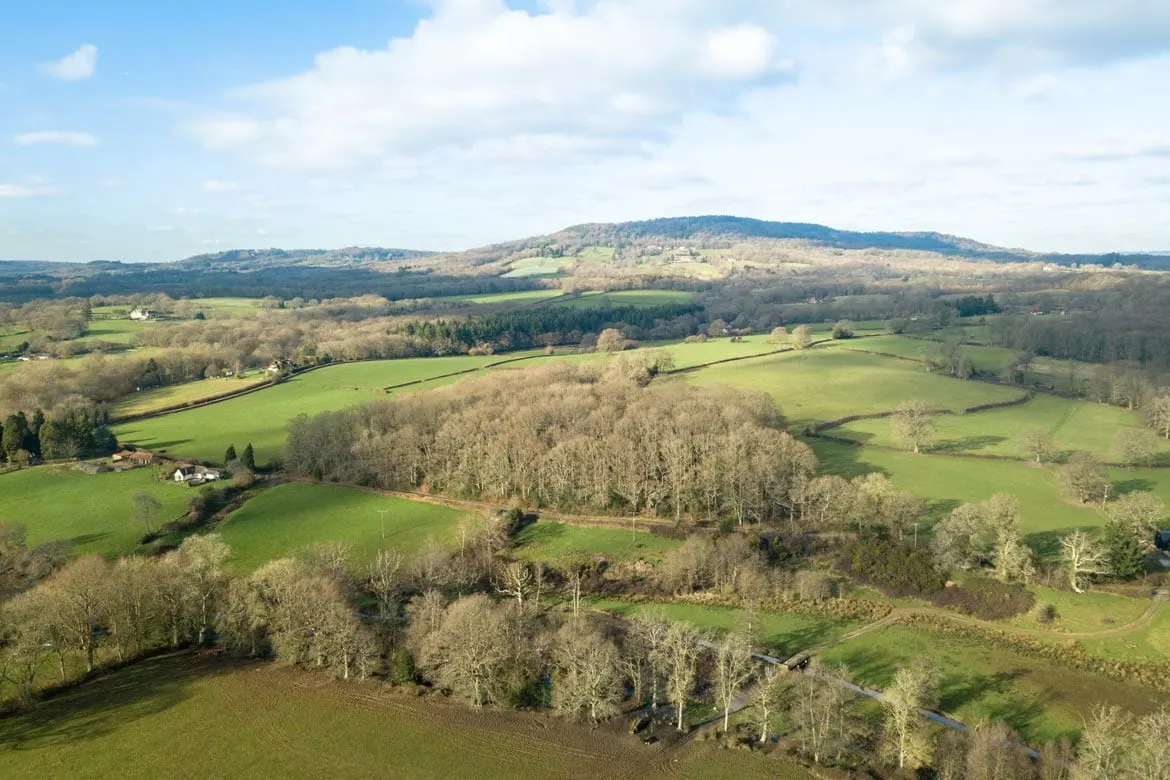 My Microgap adventure: Stargazing in the South Downs
My microgap to the South Downs National Park was unlike any other I've done recently. Even though I wanted to discover some of the best things to do in the South Downs, there was a huge learning element to this trip.
Like any kid growing up watching Star Wars, I've always been fascinated about space and the final frontier. That's why this trip was all about learning about space and the stars.
The South Downs National Park is one of the best places in the world to go stargazing (more on that later!) Honestly though, I've never seen night skies like I have here.
Obviously you can only go stargazing at night (duh), so here are some of my favourite places to visit in the South Downs for daytime. Hit up any of these on your microgap adventure and you're in for an amazing time!
Places to visit in the South Downs
Stargazing in South Downs National Park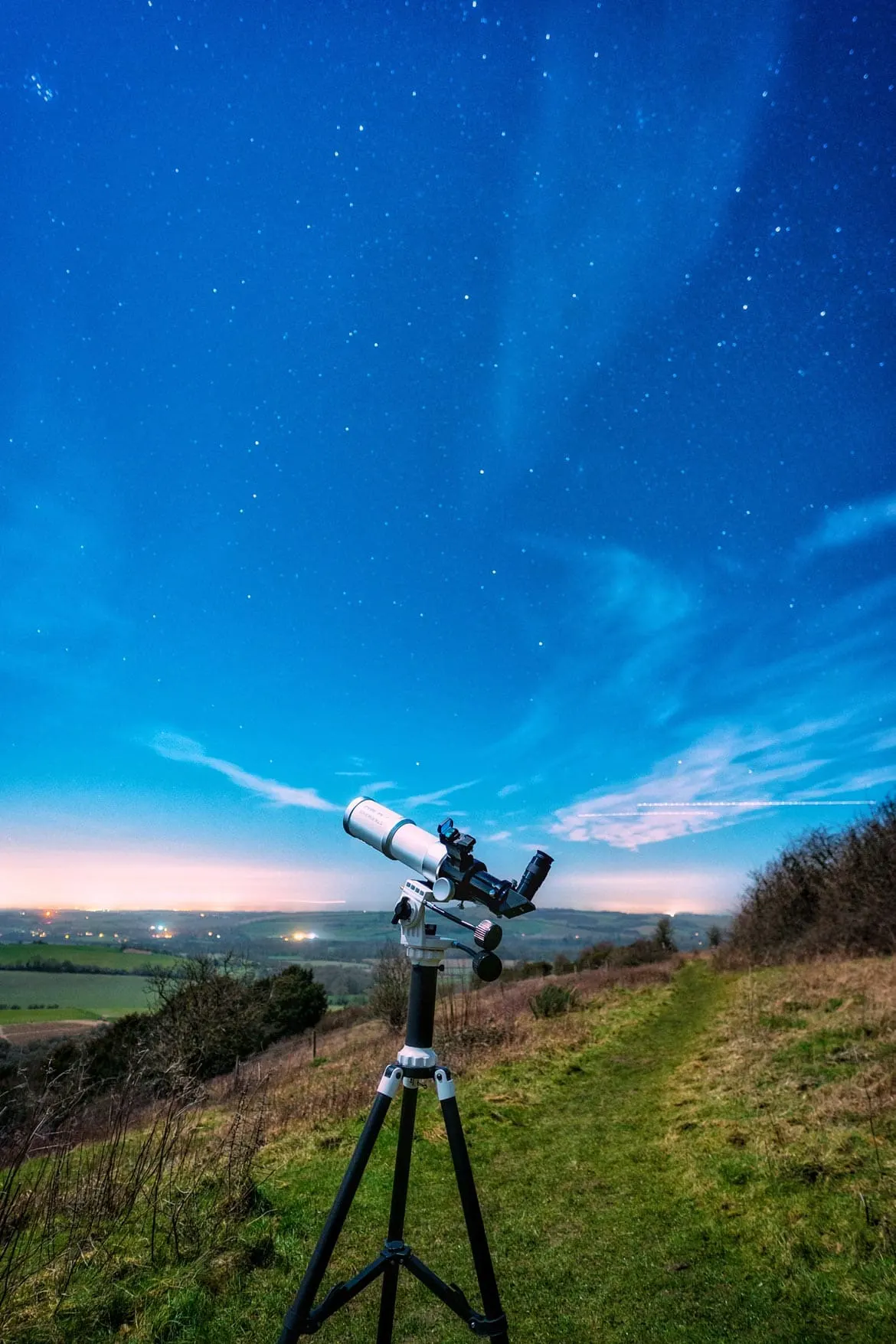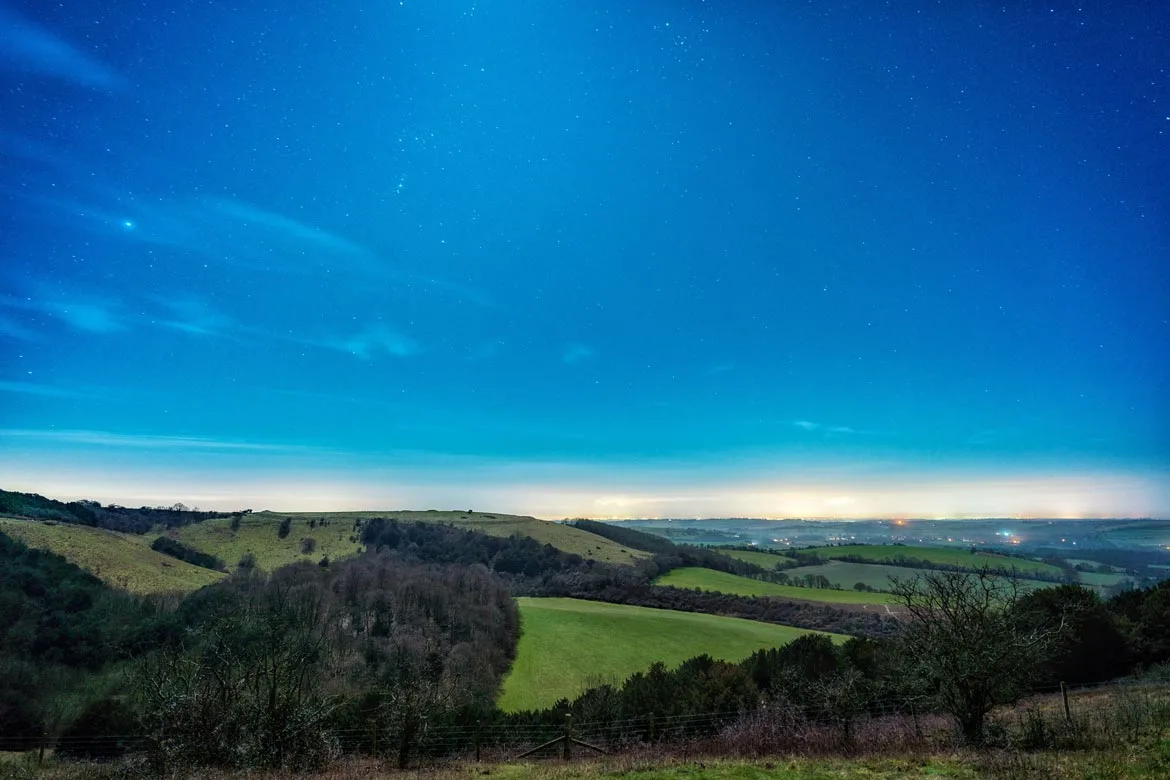 I'll start off with the whole reason why we came to the South Downs in the first place – stargazing!
Like I've already mentioned, the South Downs National Park is one of the best places in the world to go stargazing. It is officially an international dark sky reserve. There are only 16 around the world so it's amazing that we've got one on our doorstep.
Every year in February there's the South Downs Dark Skies Festival. This has a load of free events all over the South Downs where you can learn about the stars and the night skies. If you've never been stargazing before then this is a great place to start.
We had a session with Dan Oakley (unofficially known in these parts as Dark Skies Dan) who taught us so much about the night skies. For example, Sirius, the dogstar, is the brightest star in the sky. I always thought this was the north star but I was completely wrong! It was great learning all about the constellations and Dan was so enthusiastic. He really made you want to learn more about our night skies.
Obviously if you're not around for the South Downs Dark Skies Festival then you can go stargazing on your own. I'd really recommend visiting the Old Winchester Hill – this is where I took this photo from (above) and is probably one of the best views across the valley.
You can check out my definitive guide to stargazing in the South Downs here. This guide is packed full of information and is perfect for planning a stargazing trip here.
Hiking at Kingely Vale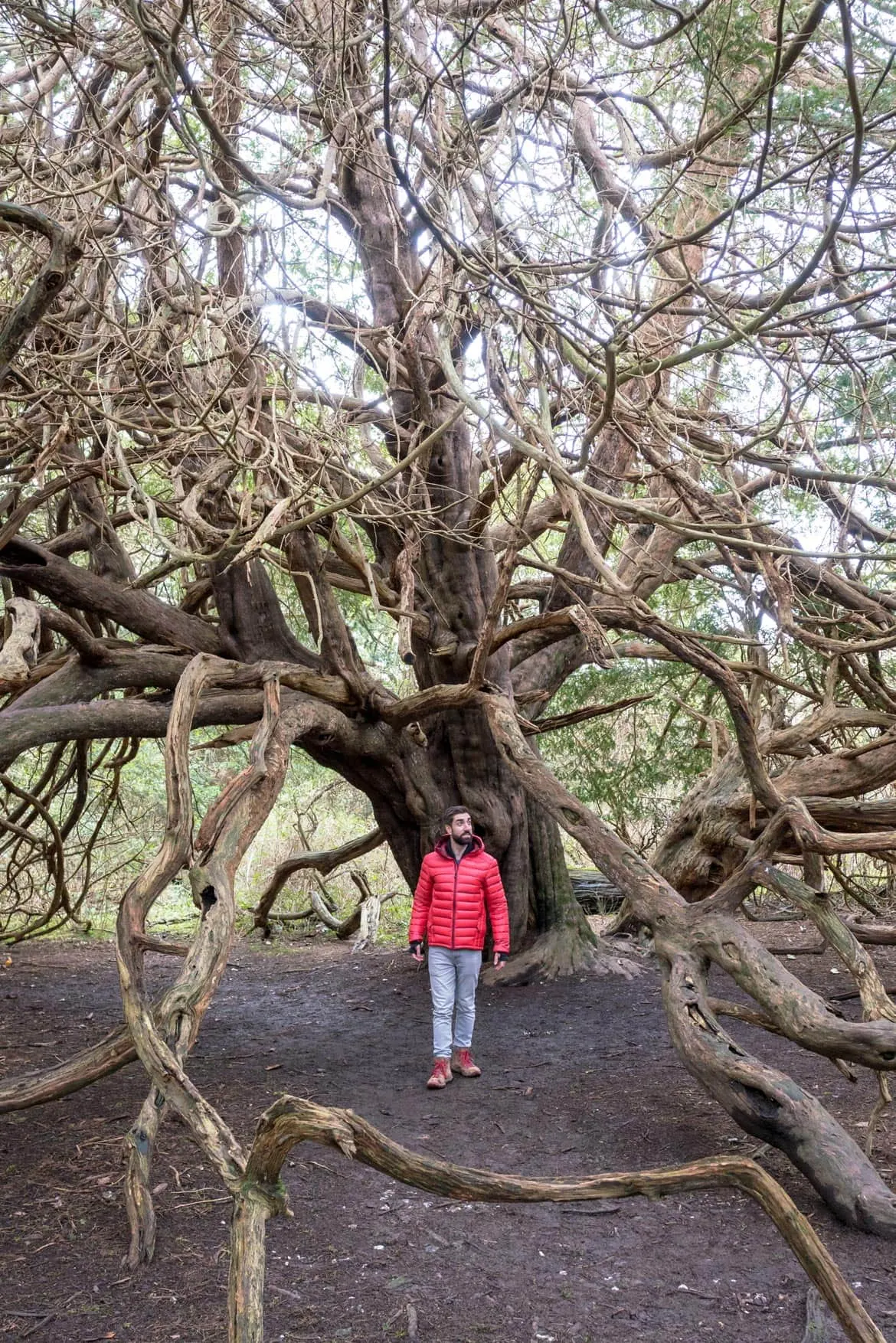 One of my favourite things to do in the South Downs was hiking at Kingley Vale. Walking around here felt like I was in the middle of the Weirwood in Game of Thrones.
Just a short 10 to 15-minute drive from Chichester, Kingley Vale National Nature Reserve is a fantastic place to go hiking. There are some footpaths leading up from the village of Stoughton which is a fun day-hike to do.
However, for me it was all about the yew trees. Kingely Vale has one of Europe's most impressive yew tree forests. Some trees date back over 2,000 years which is just mind-boggling. These gnarled twisted trees look like they're from a Tim Burton dream, and it's a lot of fun weaving in and out of the branches.
Getting to the yew tree forest in Kingley Vale takes around 30 minutes from the car park. Also, weirdly, there was a little mobile coffee car selling croissants and making espressos in the car park, so if you need to refuel you can here.
Walking around the streets of Arundel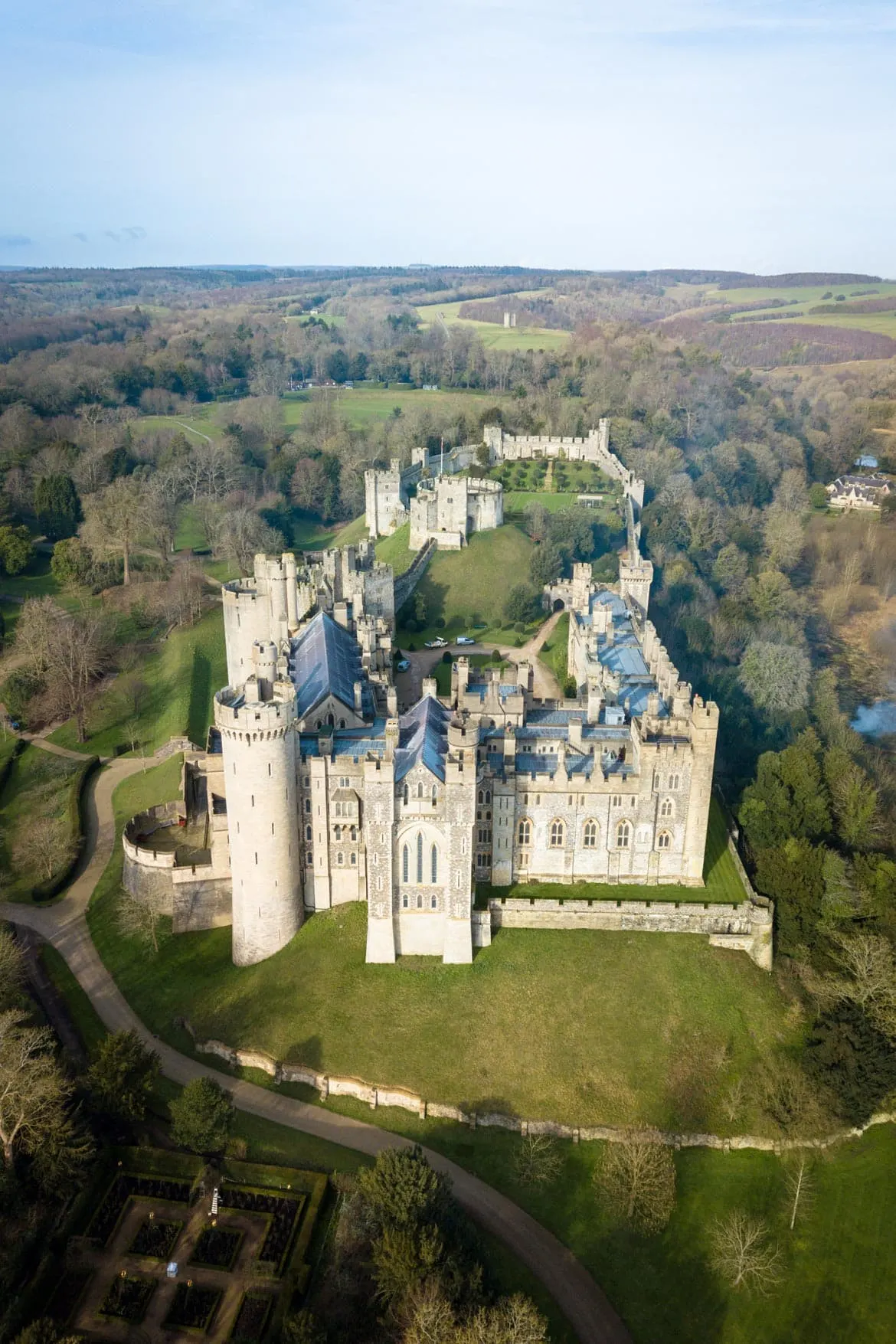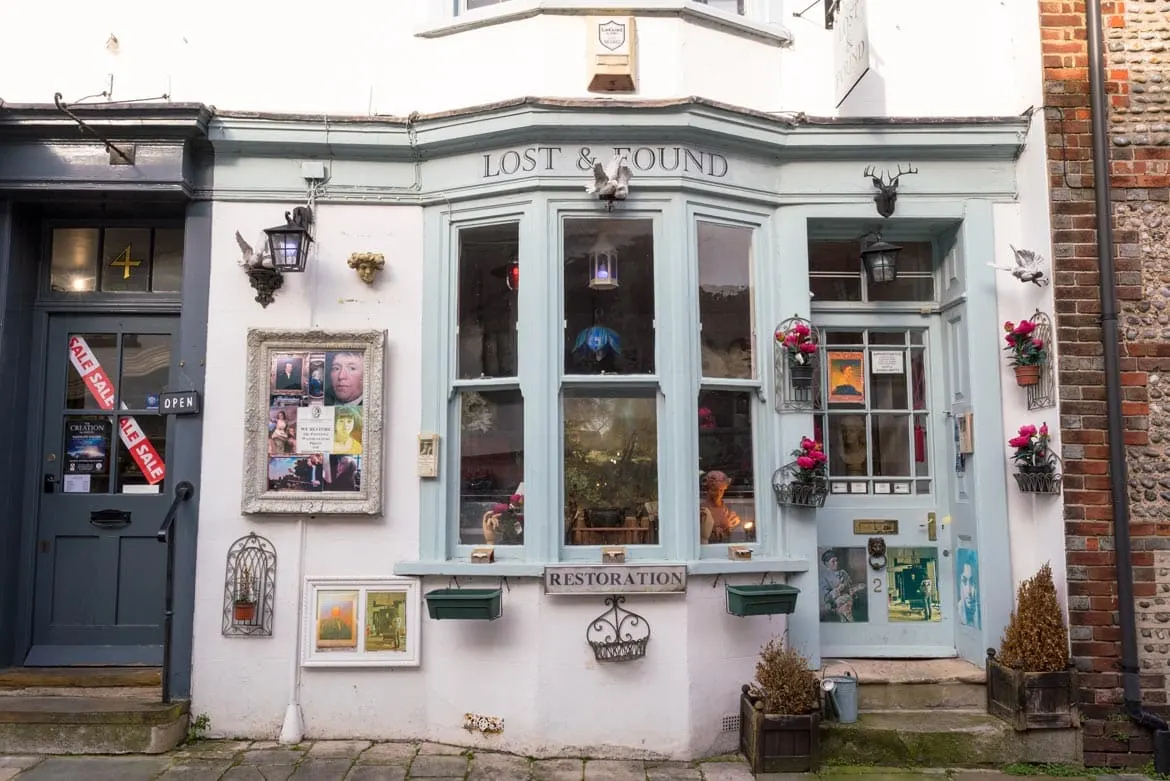 When it comes to beautiful places to visit in the South Downs, make sure Arundel is high up on your list. This old market town is picture-postcard perfect and there's so much to do here.
Located in the heart of Arundel and one of the biggest attractions in the South Downs is Arundel Castle. This is a castle that dates back to 1067 and it is one of the most magnificent castles I've ever seen. Set high on a hill in West Sussex, Arundel Castle commands the landscape with these gorgeous views across the South Downs and the River Arun.
Arundel is also famous for its cathedral, so I'd really recommending popping in there. For me though, one of the best things about Arundel is all the boutique shops and independent restaurants everywhere.
One place that caught my eye was the Tea and Biscuit Club, a cute shop selling brightly coloured teapots and blends from all over the world. This is a very quintessentially English shop!
To be honest with you, I could write a separate blog post all about Arundel there's so much to do here!
Eating at the Shoe Inn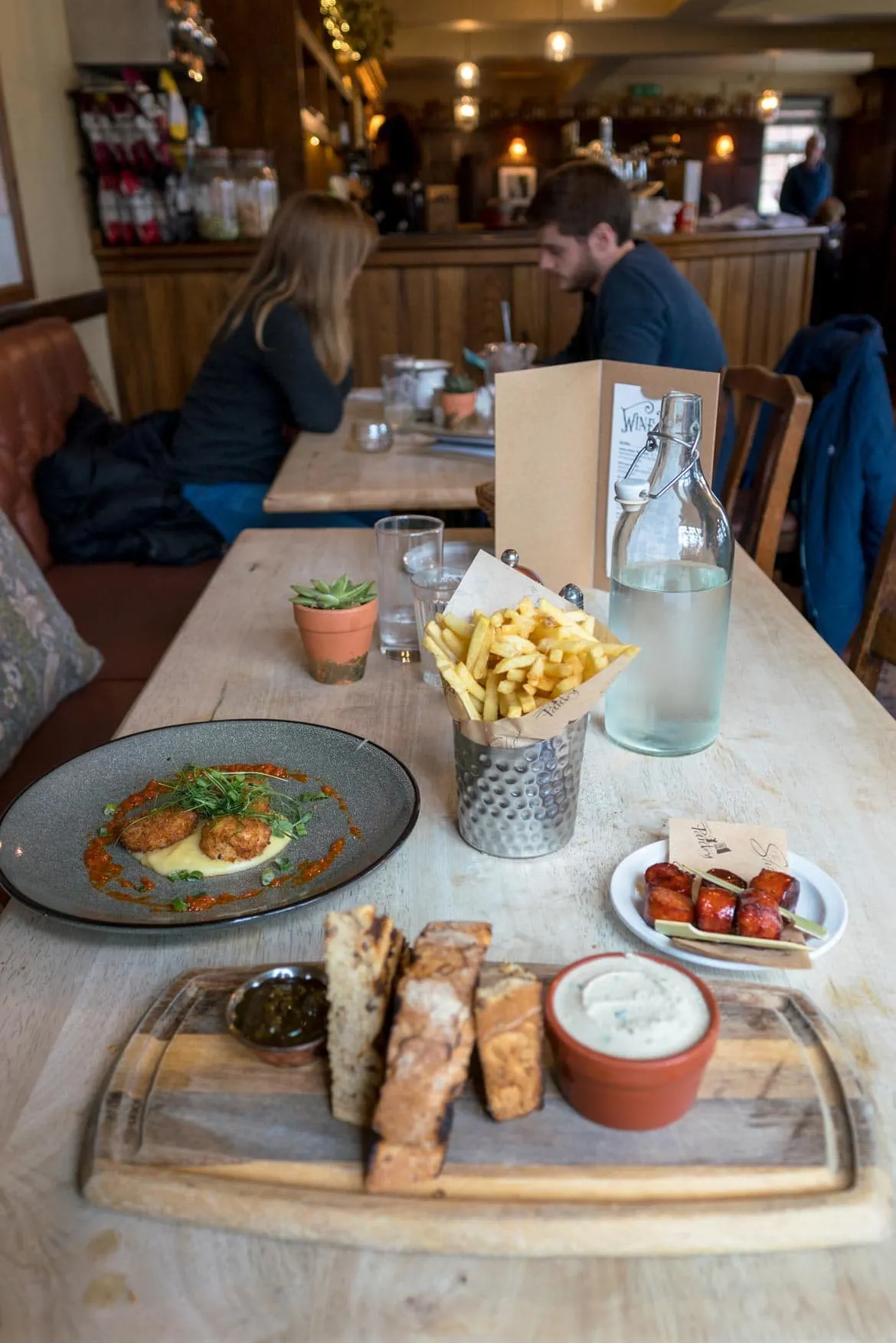 Cosy country pubs are two a penny in the South Downs, but my favourite by far was The Shoe Inn.
The Shoe Inn is a beautiful village pub located in the picturesque village of Exton, in the heart of the Meon Valley on the South Downs Way.
In the summer everyone sits outside by the banks of the river, and in winter everyone hunkers down by the warm fireplace inside.
I was expecting pie and mash from this pub but instead was welcome withed a menu that had scallops and truffle fries. I can't tell you how good the food was here, and the kitchen is focused on only using local ingredients which I always like.
Another thing that I loved about the Shoe Inn was they bake and sell their own bread! As people were paying up, they also bought loaves of bread to take away. It was such a nice touch and I haven't seen that in a long time.
Learning all about space at the Winchester Science Centre and Planetarium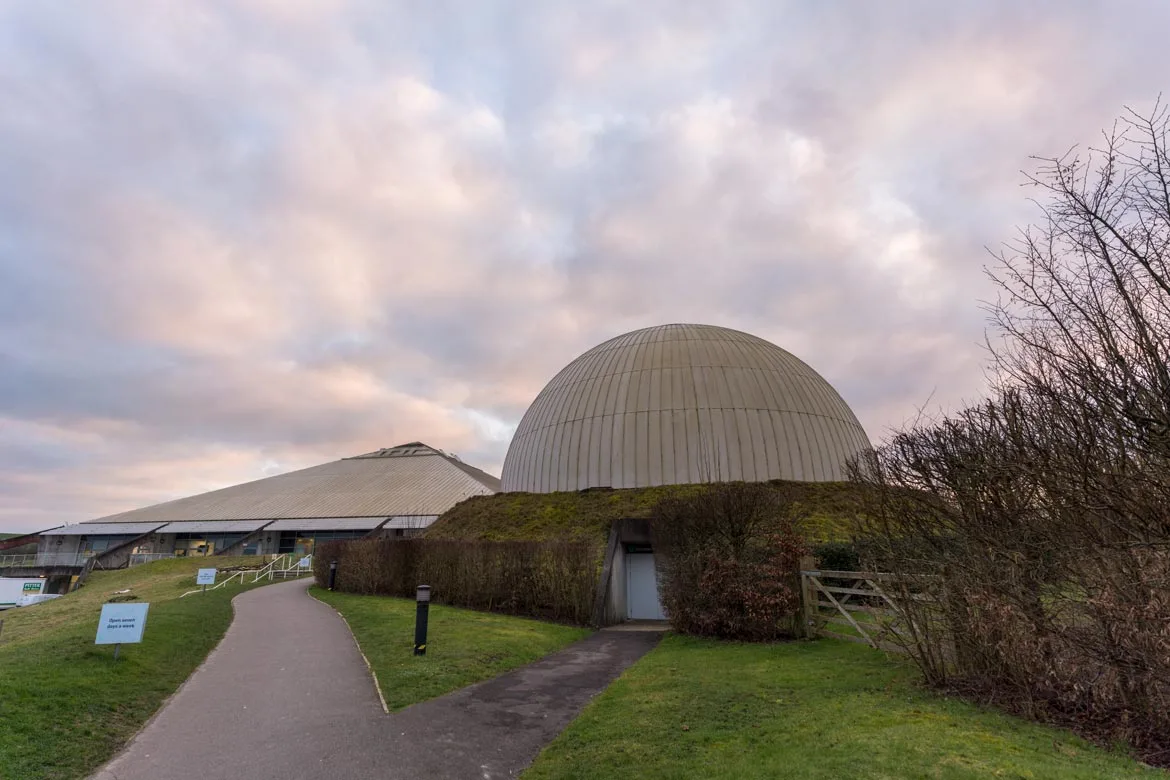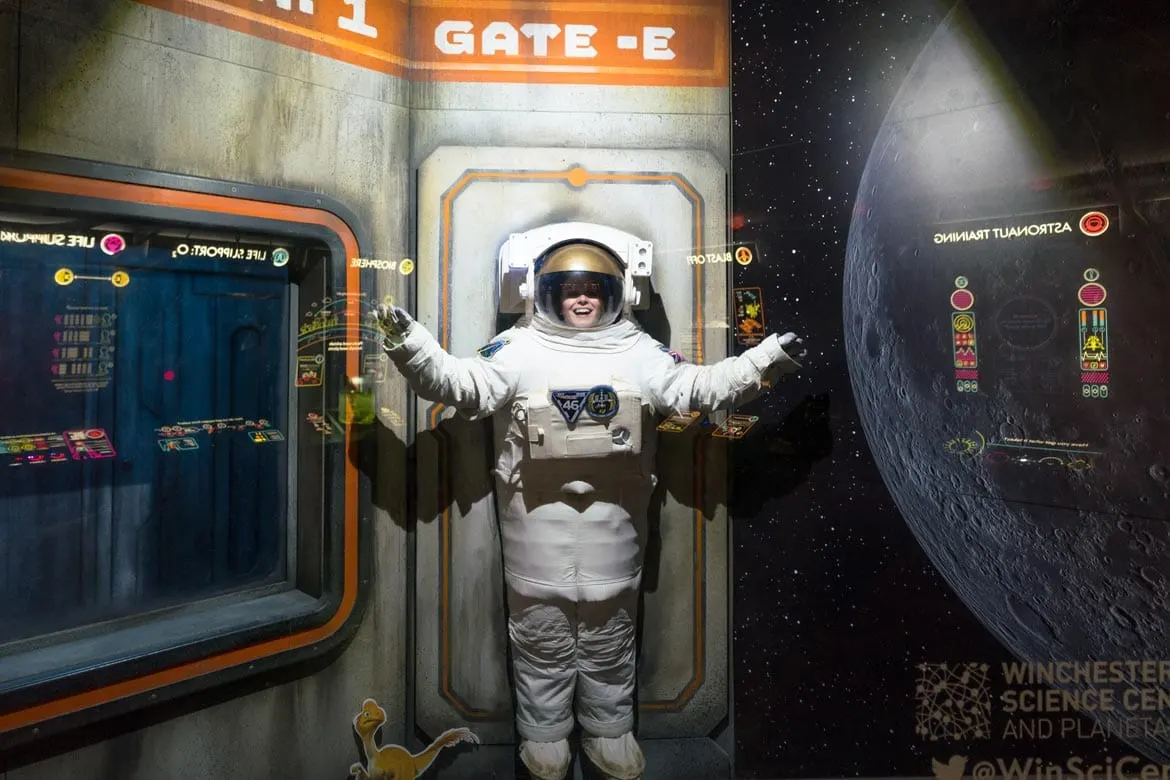 Continuing our theme of space and stargazing, another place was visited was Winchester Science Centre and Planetarium. This place is perfect for some family-friendly fun, but there's plenty here for adults too.
Dotted around Winchester Science Centre and Planetarium are loads of interactive displays where you can learn all about space. I slipped on a NASA space suit and pretended that I was an astronaut for 5 minutes, so that was a bit of a highlight for me! It was great seeing so many displays dedicated to teaching kids about science in a fun and easy way.
The other part of the Science Centre is the Planetarium. Here we watched a short film all about how stars were created (perfect for our stargazing!) The 360° cinema screen completely surrounds you. All you can do is relax back in your seat and get sucked into a black hole or fly through the Solar System.
Also, there are some events in the evenings where you can listen to things like Pink Floyd's Dark Side of the Moon while sitting under the stars with a glass of wine in your hand. Now that sounds like my kind of night!
Hiking to the Devil's Humps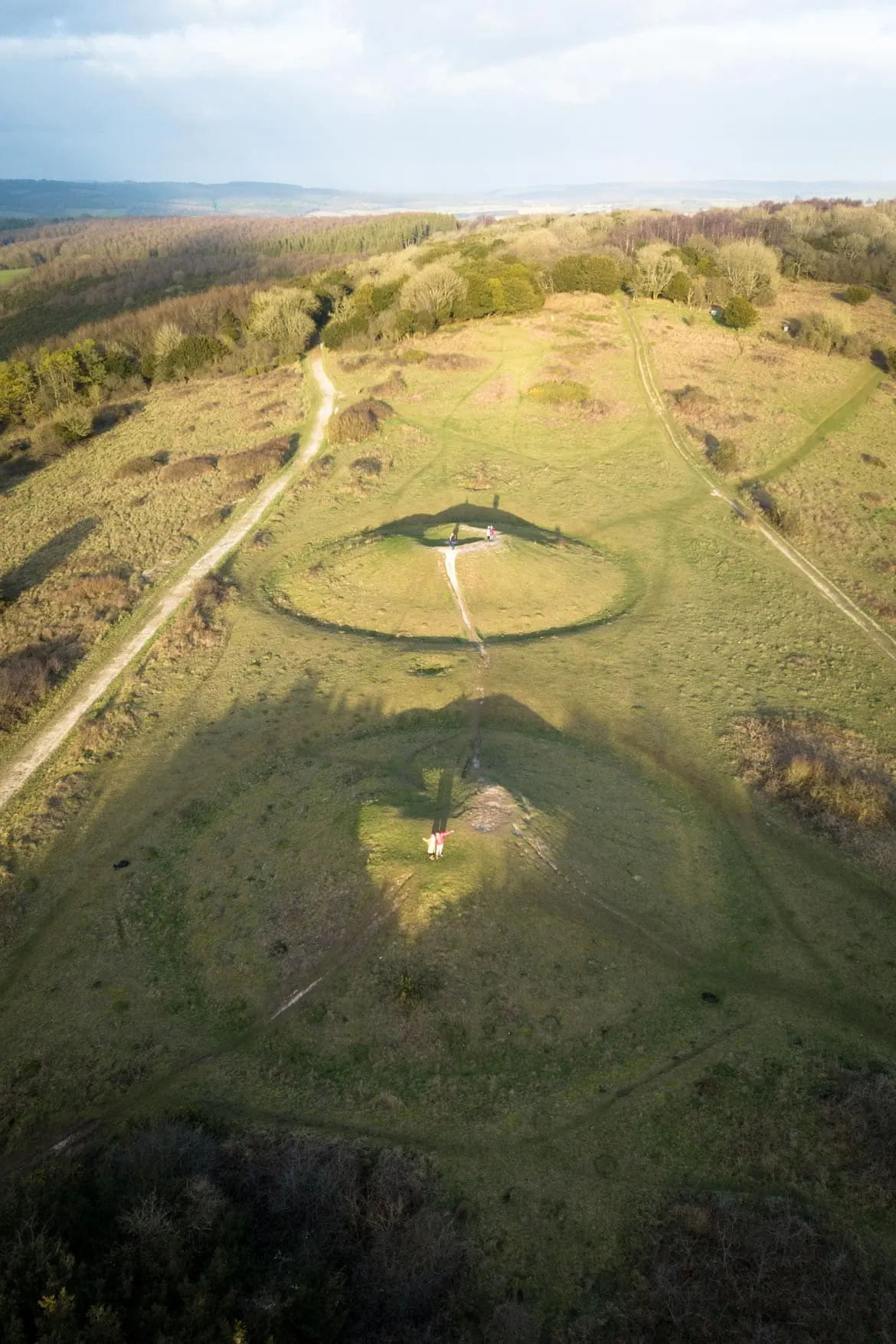 Another of the top things to do in the South Downs is hiking to the Devil's Humps. These might officially be the best name for a historical site ever.
Also located in the Kingley Vale National Nature Reserve, you can get to the Devil's Humps from the yew tree forest or you can visit separately. I actually came here separately as I wanted to go on a longer hike through a different part of the reserve.
Anyway, the Devil's Humps are thought to be ancient bronze age burial mounds. There are four in a row and they almost look like little volcanoes. They really do!
Apparently this is the site where Viking king's were once buried. Rumour has it there's treasure in the area too though I didn't find any.
But standing at the top of the burial mounds you'll be treated to one of the best views across the South Downs. From this vantage point you'll be able to see Chichester Cathedral, Brighton, and on a clear day you can see the Isle of White too.
The Devil's Humps were definitely one of my favourite places to visit in the South Downs. Such a unique location!
Visiting the cute village of Amberley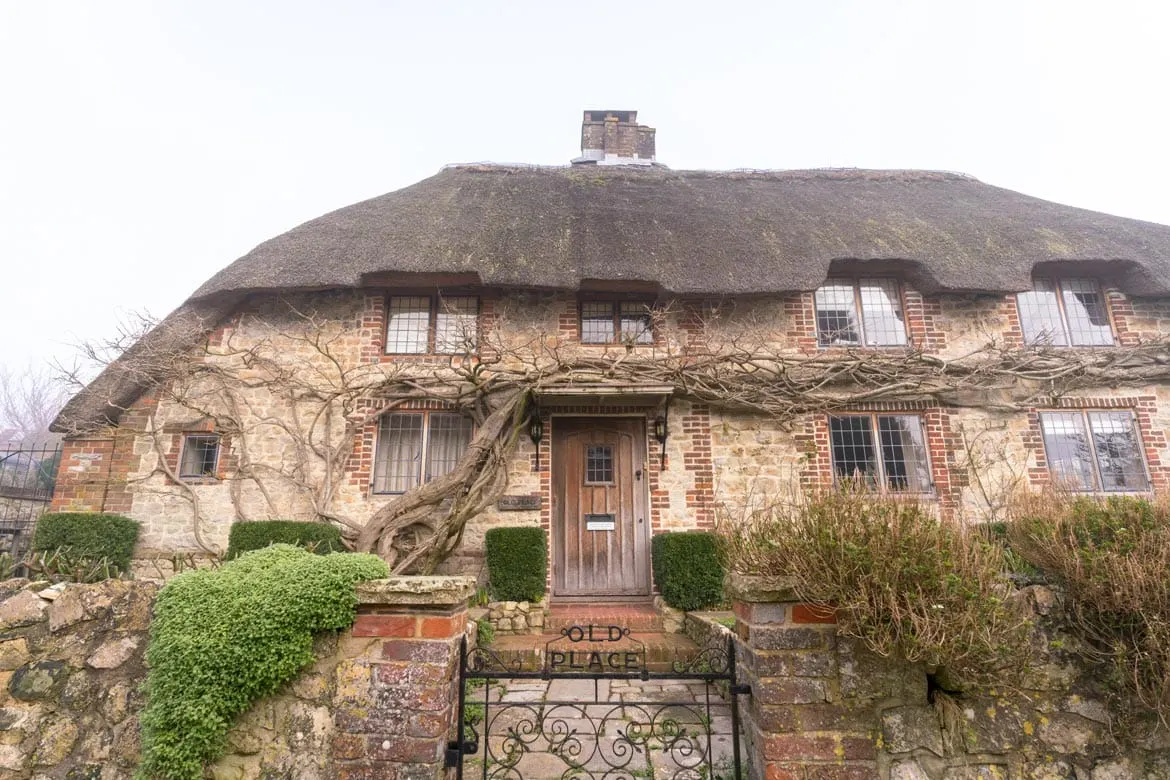 Amberley in West Sussex is your archetypal English village. All the houses here are made out of the same stone bricks that make you want to take a thousand photos (which is exactly what I did).
Even though you can walk around Amberley in about 10 minutes, there's a surprising amount you can do here. Like a lot of villages dotted around the South Downs they have their own tea rooms. There's also a quaint museum packed full of classic cars too, so if you're a petrolhead then pop along here.
Also, who wants to spend the night in a castle? Amberley Castle is actually a hotel with 19 luxurious rooms on offer. The interior design reflects the history of the castle and rooms are furnished with antiques and fine fabrics alongside contemporary features. There's a really nice restaurant at Amberly Castle too for those looking for some fine dining.
Amberley is very small so you only need an hour here before you've seen it all.
Seven Sisters Country Park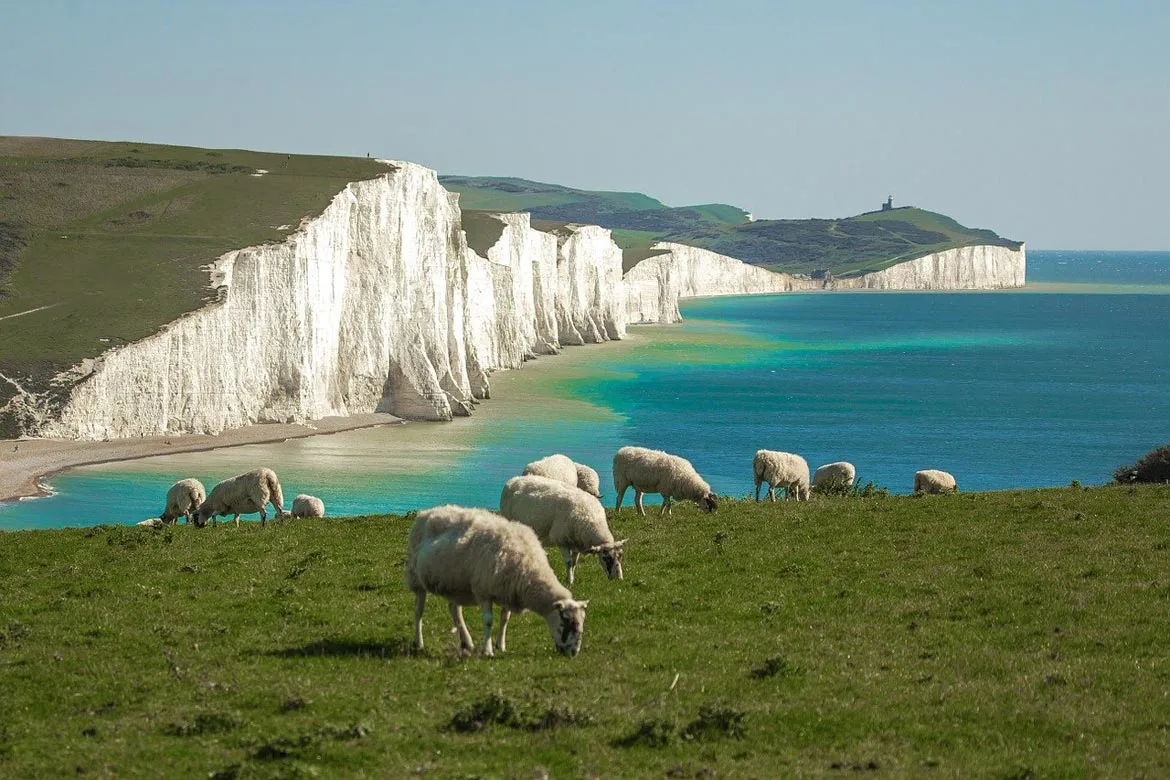 One of the most iconic images of the South Downs National Park is of the Seven Sisters. These are the giant while cliffs at Seven Sisters Country Park with some gorgeous views over the water.
This is a really popular place to go hiking along the clifftops or relaxing on the beaches below. Or if you simply want to take in the surroundings then you can relax at Saltmarsh cafe and rooms, located behind the visitors centre.
The Visitor Centre is situated in an 18th century barn, and provides useful information on the Park with displays and exhibitions. There is also a shop with leaflets, maps and souvenirs on sale.
Queen Elizabeth Country Park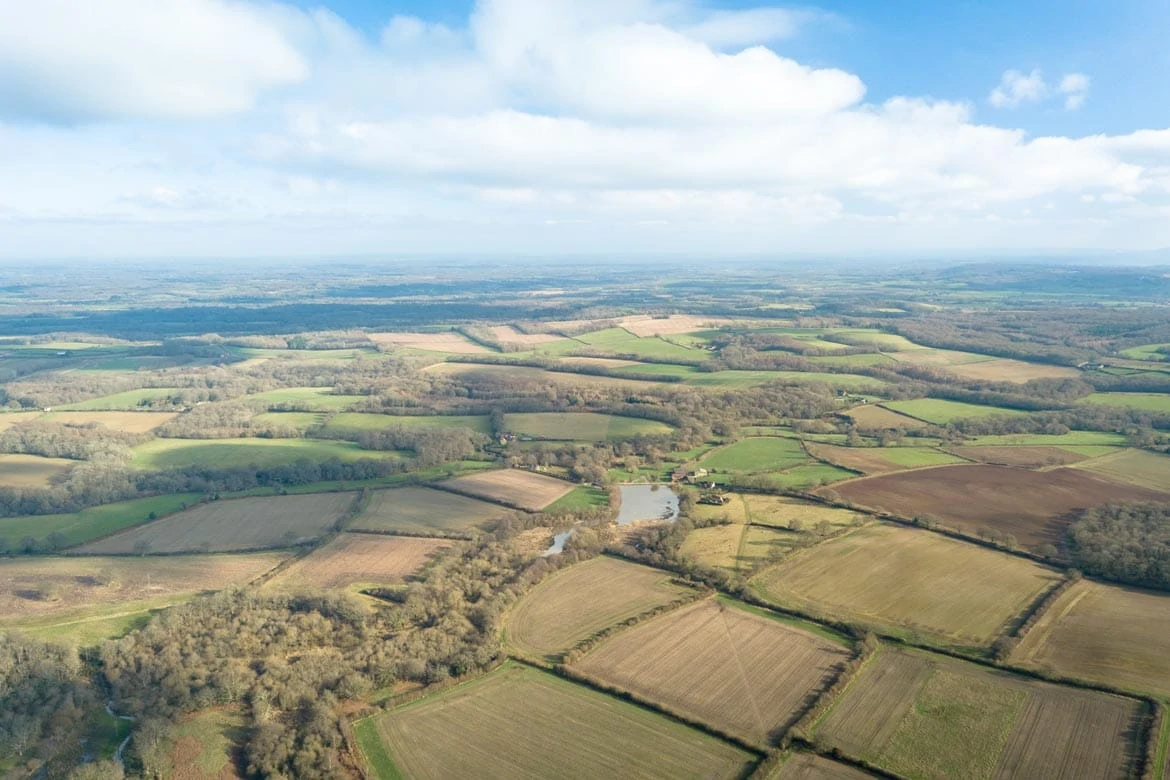 Officially an East Hampshire Area of Outstanding Natural Beauty, Queen Elizabeth Country Park is another place I'd recommend visiting.
With loads of hiking trails in the area, this is also an excellent place to coming mountain biking. There are a few shops in the area where you can hire a bike if you don't have one yourself, and all the trails are well marked.
This is a really dog friendly area too, so if you're looking for an epic walk with your dog then you can go wrong here. You'll also get to see the rolling hills that this part of the country is famous for.
Where to stay in the South Downs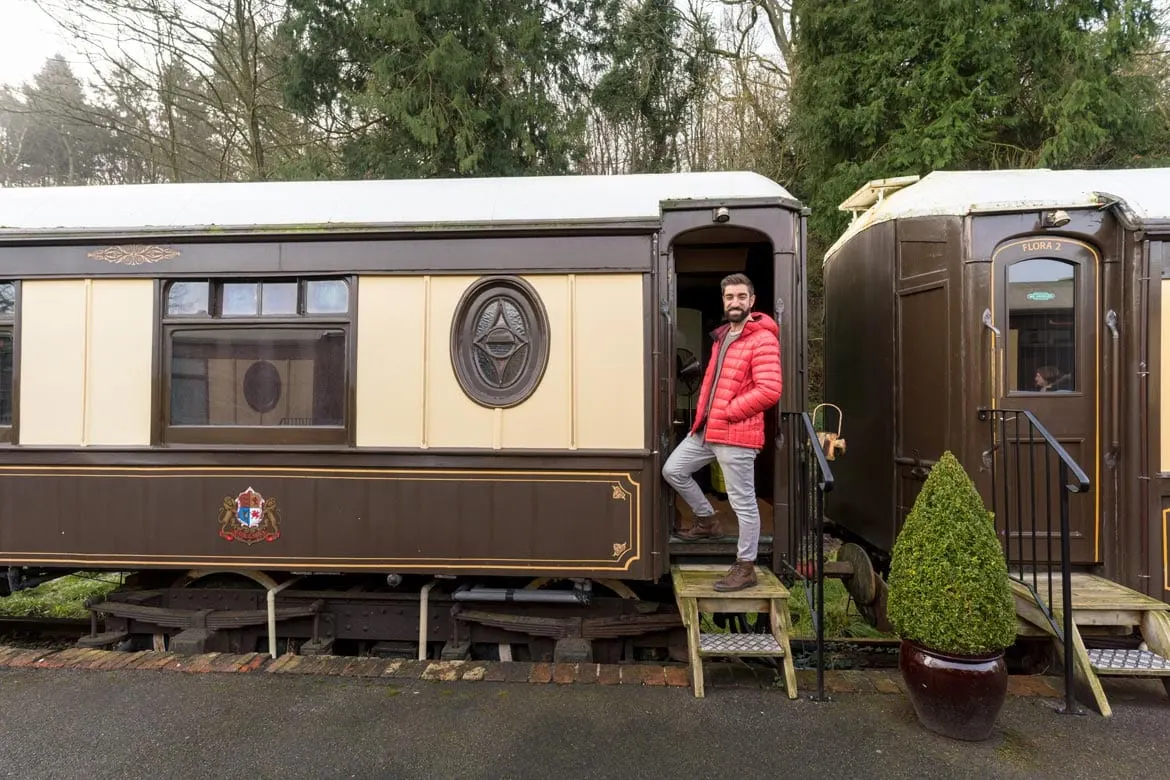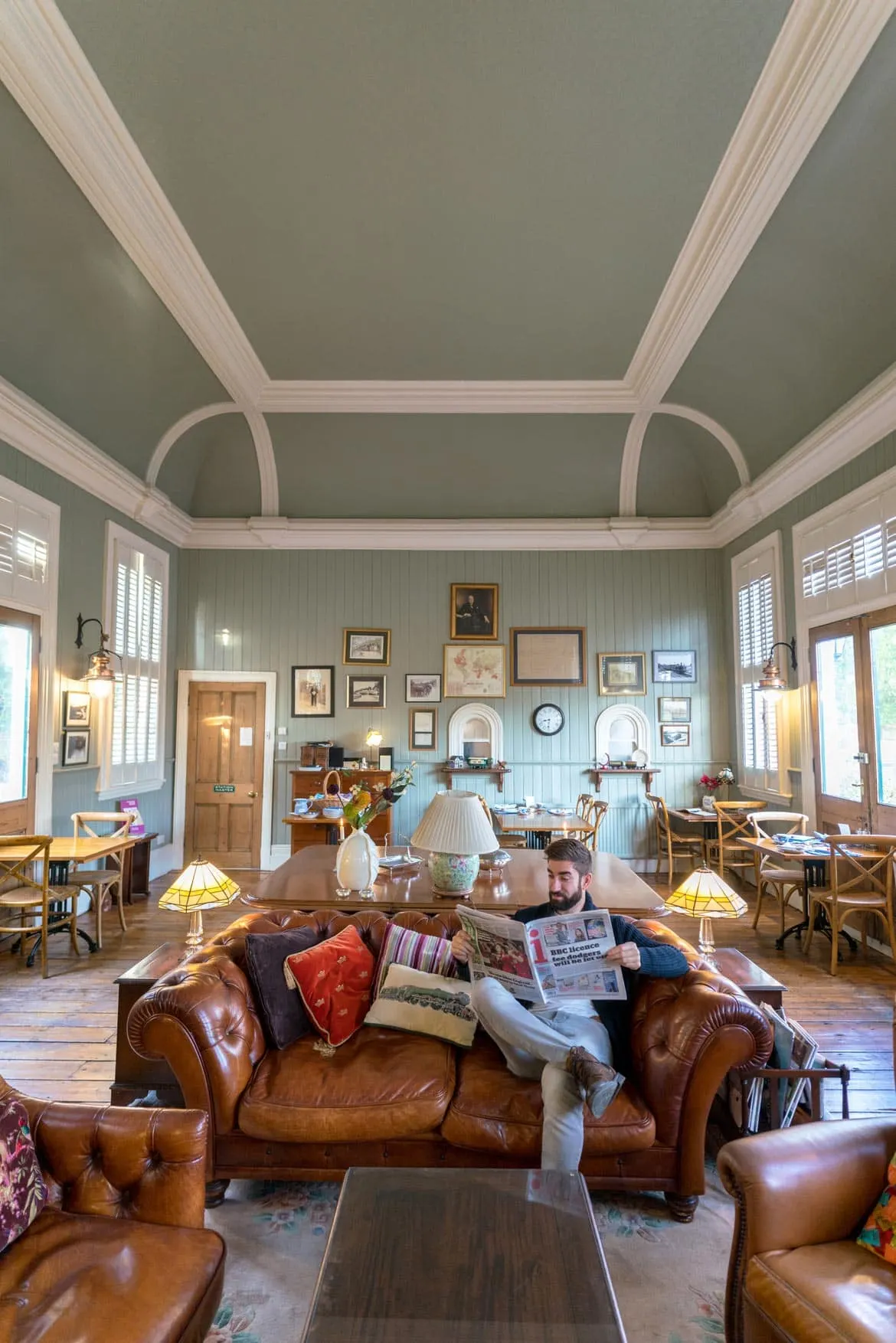 The Old Railway Station is without a doubt one of the most unique places I've ever stayed. As the name suggests, this is an old converted railway station.
The Old Railway Station became a hotel in the 1980s and its been charming passengers ever since. The old waiting room is now the breakfast area. The platform is an outside terrace perfect for afternoon tea in the summer. But best yet, the old Pullman carriages are the bedrooms. How cool is that!?
Going to sleep on an old train carriage was such a cool experience and was one of my favourite things to do in the South Downs. If you're looking for a unique place to stay I really can't recommend this place enough.
Getting from London to South Downs
The South Downs is wedged in-between Brighton and Portsmouth near the South Coast. In fact, the national park stretches for 100 miles from Winchester all the way over to the Seven Sisters National Park.
One of the things that I found quite surprising was how quick and easy it was getting from London to South Downs.
I hired a car (luckily there's a Sixt rental right on my doorstep) and headed south on the A3. It's not long before you're in the stunning English countryside.
It depends on where you're travelling from, but it takes anywhere from an hour and a half to two hours driving to the South Downs. For a weekend away from London, it definitely isn't too far.
Also, I would really recommend driving. The South Downs National Park is massive – it covers over 1,600 sq kilometres – so a car is essential for getting around here.
Alternatively, you can get a train from Waterloo station to Winchester and base yourself there. My vote is for the car though.
My South Downs vlog
Make sure you watch my video to see some of the best things to do in the South Downs. This is one of my favourite videos I've created so it would be brilliant if you could give it a watch!
Also, you can subscribe to my YouTube channel here!
---
This post was in association with Visit England promoting some of the best microgap experiences in England. As always, views are entirely my own and without bias.
Do you fancy stargazing in the South Downs? What else you would you like to do there? Let me know in the comments below!
Like this post? Then make sure you Pin it for the future!