Are you looking for the best sea view holiday cottages in Cornwall? From Boscastle to Portreath, check out these perfect Cornwall cottages by the sea!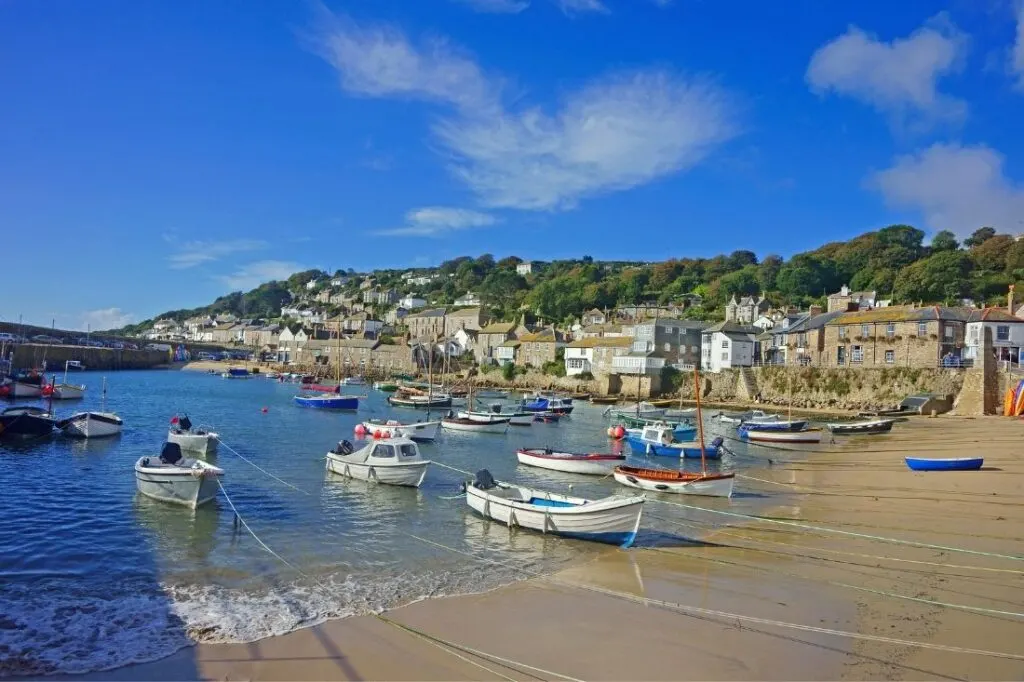 There are a 1,000 reasons why Cornwall is one of the top holiday hot spots in the UK.
With breathtakingly beautiful beaches, a rugged coastline, cute fishing villages dotted all over the place and a whole host of attractions to choose from, it's easy to see why so many people flock to Cornwall every summer.
If you're heading to Cornwall for your holidays, you want make the most of it. That's why I wanted to feature 5 sea view holiday cottages in Cornwall that are perfect to stay at.
These are all incredible, so you can kick back with a drink and enjoy the stunning views. This is what UK staycations are all about!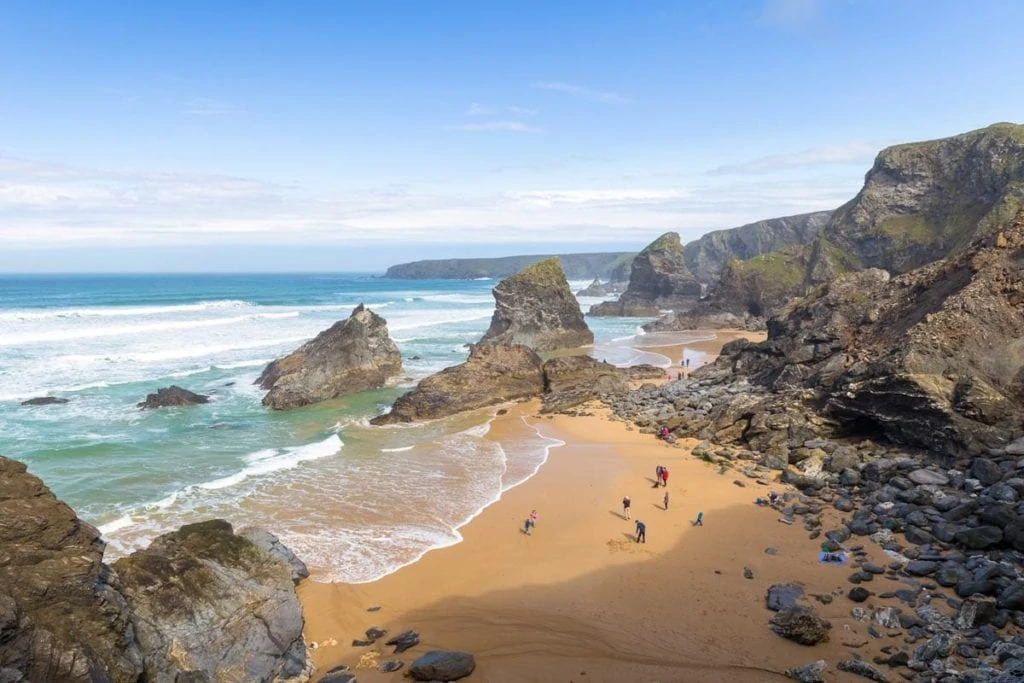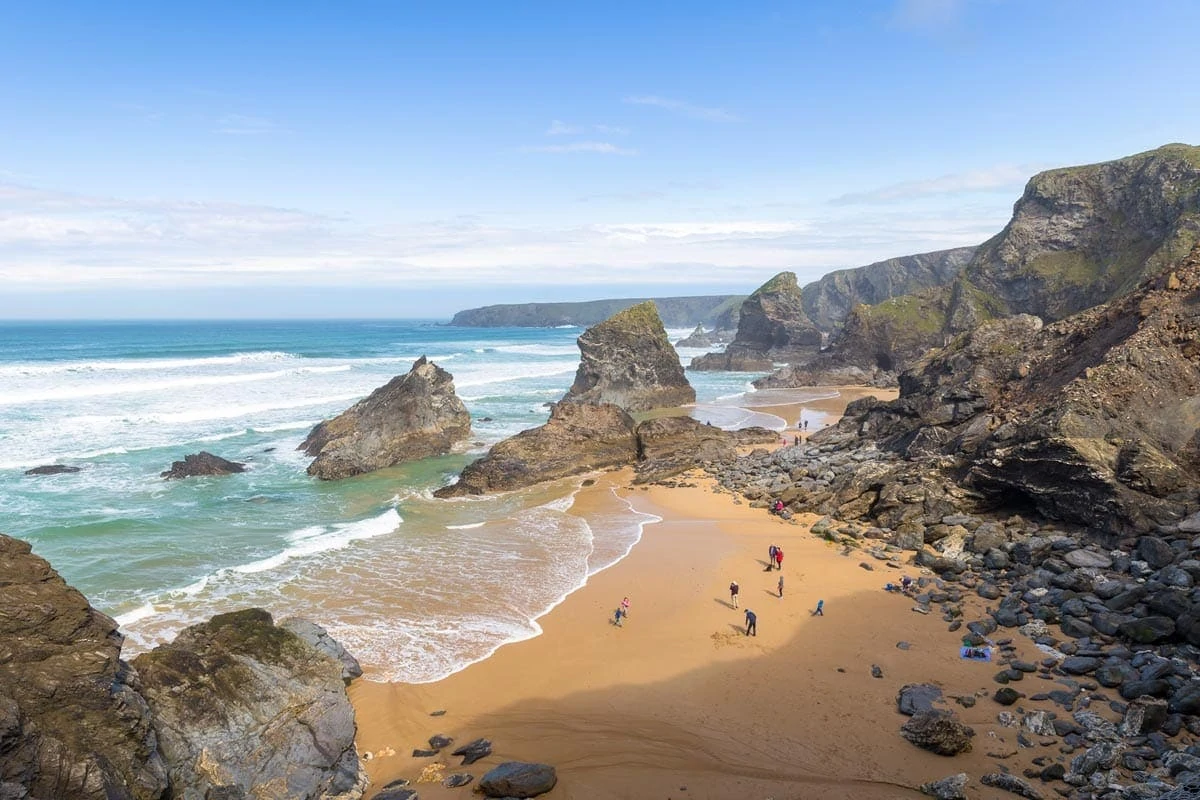 From here, you can visit places like Bedruthan Steps. I'm chucking it out there, but I think this is one of the most beautiful places in England. The views of the beach are something else.
As a little inspiration, here are 19 photos that'll make you want to visit Cornwall. Hopefully this will show you why I love Cornwall so much!
So, if you're planning a trip to this corner of England, here are my top 5 sea view holiday cottages in Cornwall.
Cornwall cottages by the sea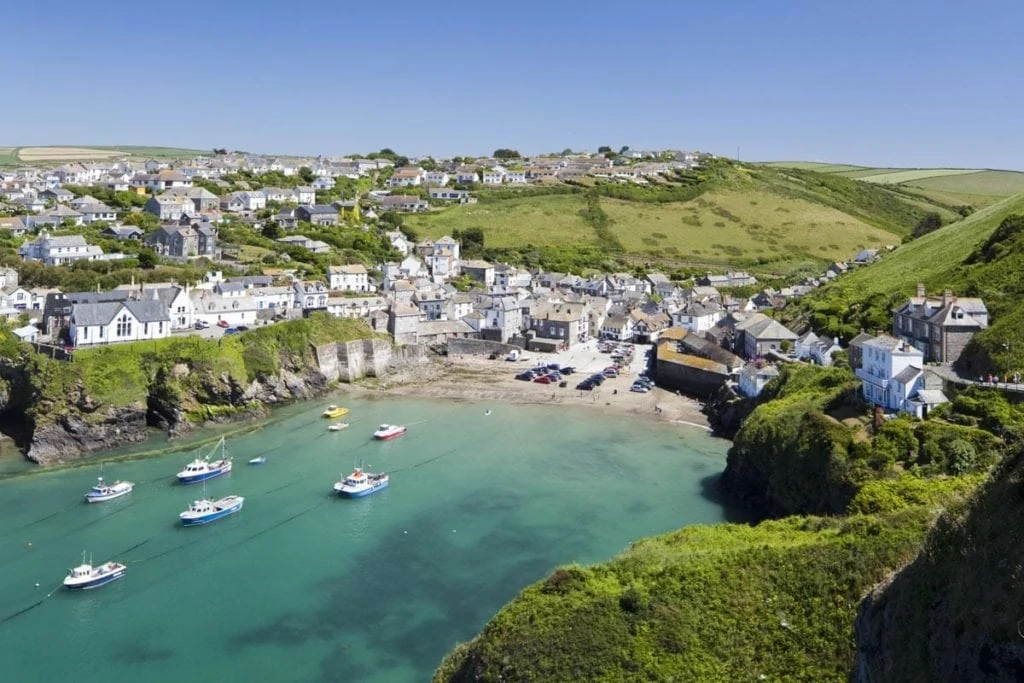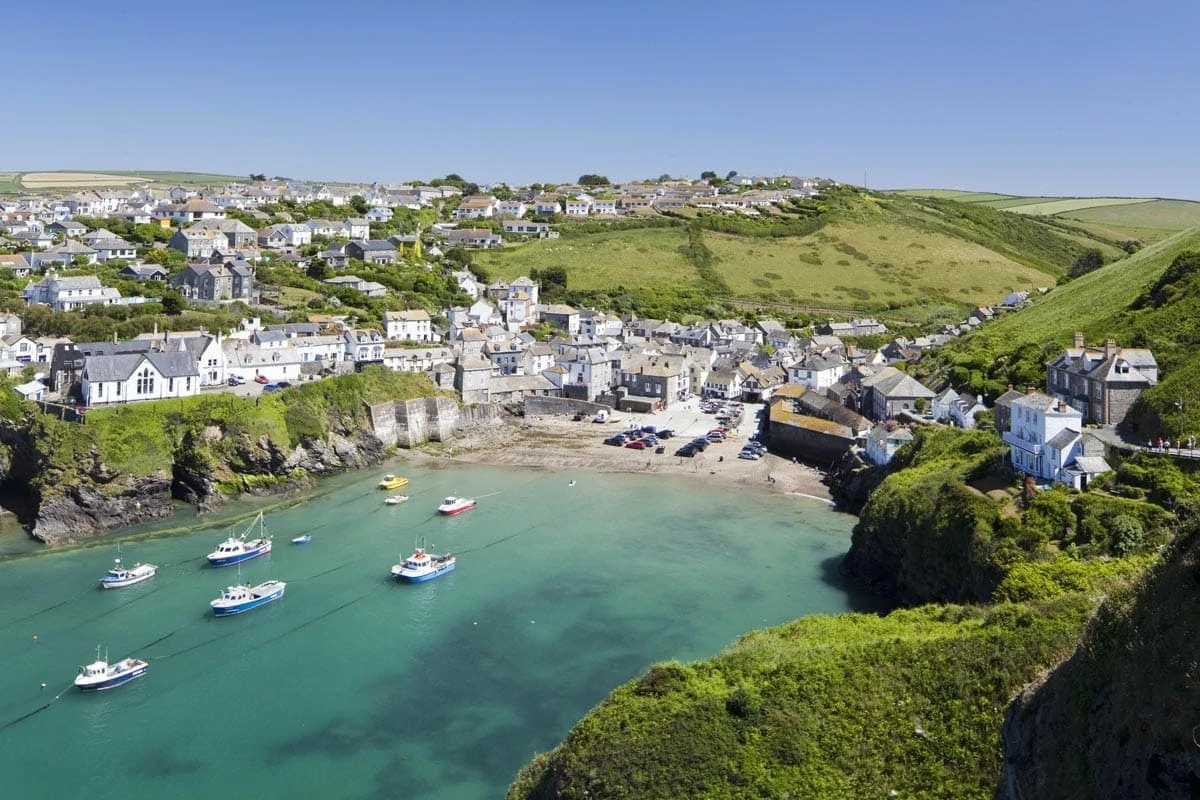 Sea view cottages in Cornwall are just part of that quintessential British seaside holiday.
All of these Classic Cottages featured are self-catering. That means it can be your little home away from home. Also, a couple of these are dog friendly holiday cottages too, so you don't have to leave the dog at home.
If you head to North Cornwall, you'll find rocky cliffs and a rugged coastline. These are perfect for those of you who like hiking along the coast.
In South Cornwall, you'll find a milder climate with calm sandy beaches and some awesome surf spots.
No matter where you choose though, you're in for an incredible holiday!
Sleeps 6 + cot
Now this is what sea view holiday cottages in Cornwall are all about. Massive glass windows with views of the beach, a balcony where you can enjoy coffee in the morning, and a hot tub where you can enjoy a drink in the evening. I mean, what more could you want!?
This contemporary designed beach house has unobstructed views overlooking Portreath beach. Inside, there's an open plan living area with modern kitchen and breakfast bar area. I love the fact there's a wood burner in the living room for when it gets chilly in winter.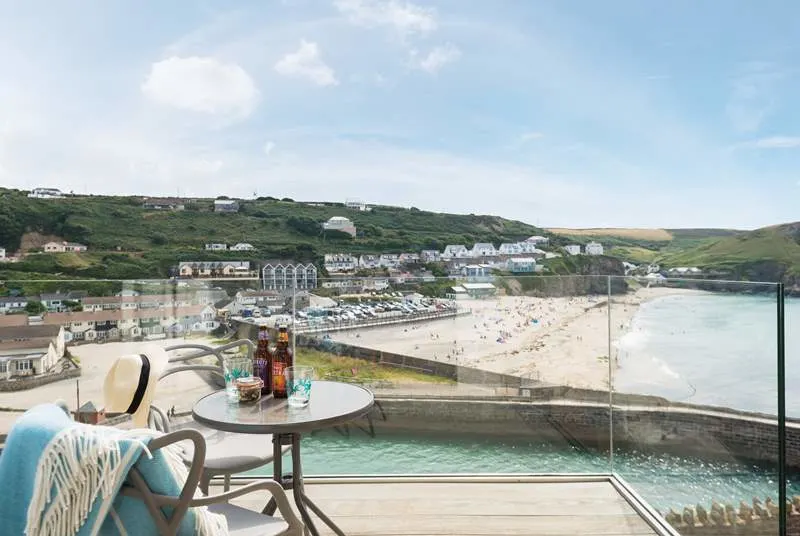 There is one main master bedroom with a king-size bed and en suite bathroom. The other two bedrooms come with either king-size beds, or they can be split to make twin beds. This is perfect if you're travelling with little ones. There are two other bathrooms too.
One of the things that makes this such a remarkable property is the number of windows everywhere, all with views of the beach or ocean. Also, a hot tub outside? Yes please.
Rockaway occupies an idyllic coastal position, with sweeping sea views extending out across the sea towards Portreath harbour wall and beyond to Gull Rock.
This really is an amazing cottage to choose for your holiday in Cornwall.
Sleeps 8 (no children under 8)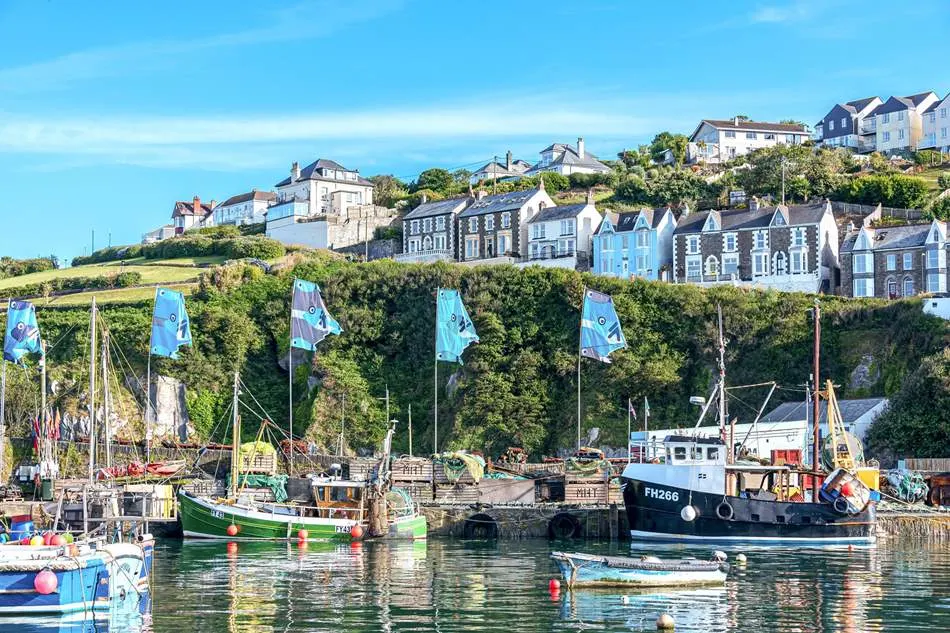 Perched above the picturesque Mevagissey harbour, this is a converted master mariner's house that is absolutely gorgeous both inside and out.
The thing that immediately draws the eye is the living room and dining room, both with huge bay windows offering panoramic sea views over the ocean. Both of these spots are perfect for having drinks or dinner with the family while enjoying the views.
The home of the harbour master in a Cornish town or village would historically command the very best view of the harbour, and this is certainly the case here.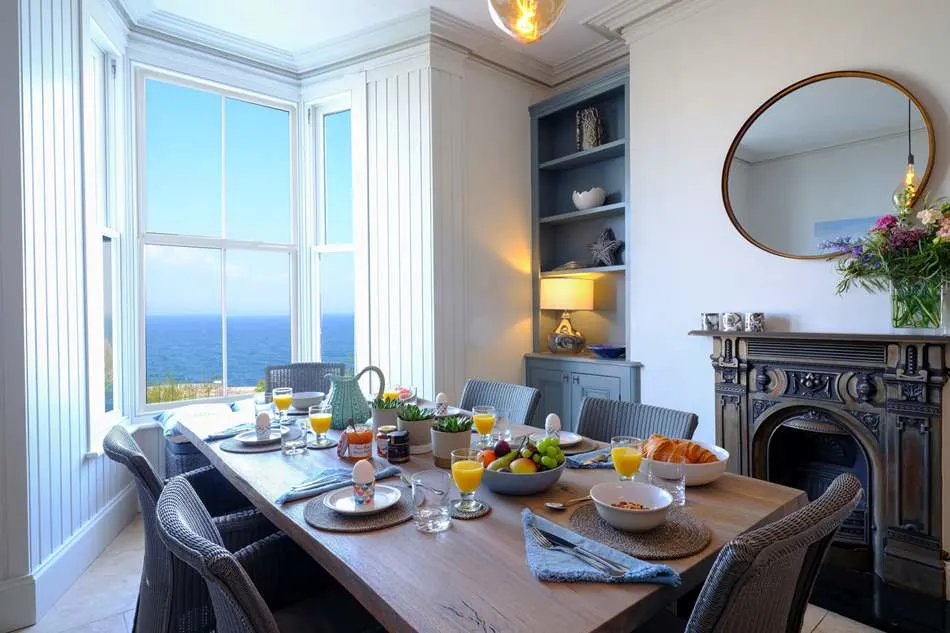 French doors from the adjoining kitchen lead out onto a secluded private patio. This is where you can relax in peace and quiet surrounded by colourful plants and Mediterranean potted palms.
On the first floor there are three bedrooms. One has a super king-size double bed, one has a four-poster king-size double, and the other is a double. On the second floor there are two other bedrooms, one with a king-size double bed and one with a single bed. On each of floor there is a bathroom too.
Harbour Masters House is just a short stroll away from the centre of Mevagissey with its assorted eclectic shops, cafes and characterful pubs and restaurants.
Sleeps 6 + cot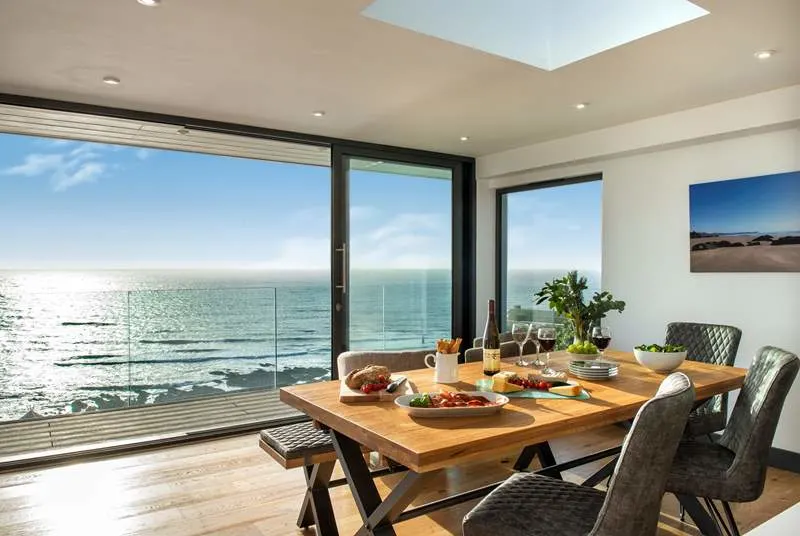 This is another contemporary sea view holiday cottage in Cornwall that is located right next to the beach.
Set in an elevated position in the pretty village of Portwrinkle, this stylish retreat is the very best of coastal living.
The open plan kitchen, dining and living area has floor-to-ceiling windows overlooking the beach directly below. Wooden floors, comfy seating, under-floor heating and soft lighting make it super-cosy in the winter months, so don't just save it for the summer.
To make things even better, there is a large multi-floor terrace that is the spot to be when the sun sets. If you're looking for an amazing outside entertaining space, this is the cottage for you.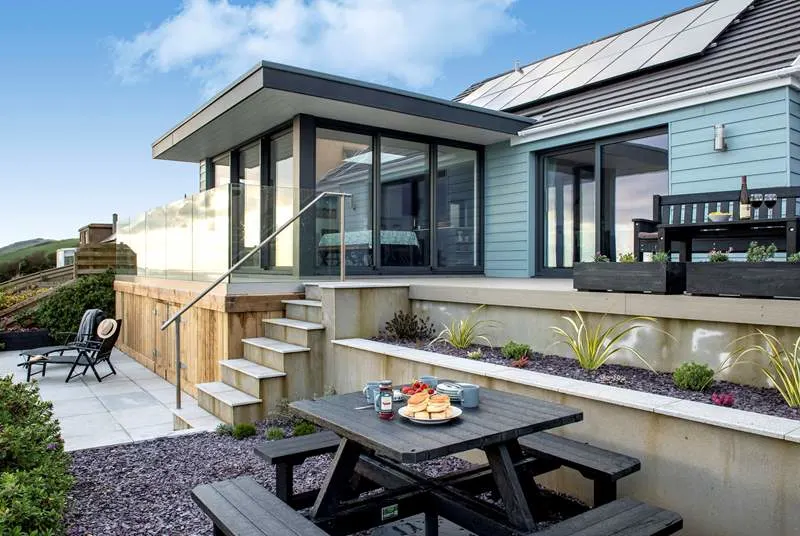 This holiday cottage has three bedrooms on the first floor. One bedroom is with a king-size double bed and en suite bathroom, the second bedroom has a king-size double, and the third bedroom comes with a 'zip and link' bed which can either be a super-king or twin beds. Also, there is a second bathroom on this floor too.
Portwrinkle is situated on a magical and unspoilt stretch of coastline. The beach is the shortest of strolls down the hill and once you have finished having fun in the rock pools, splashing in the water and building sandcastles in the sand, there are miles of coastal footpath waiting to be discovered.
Sleeps 8 + cot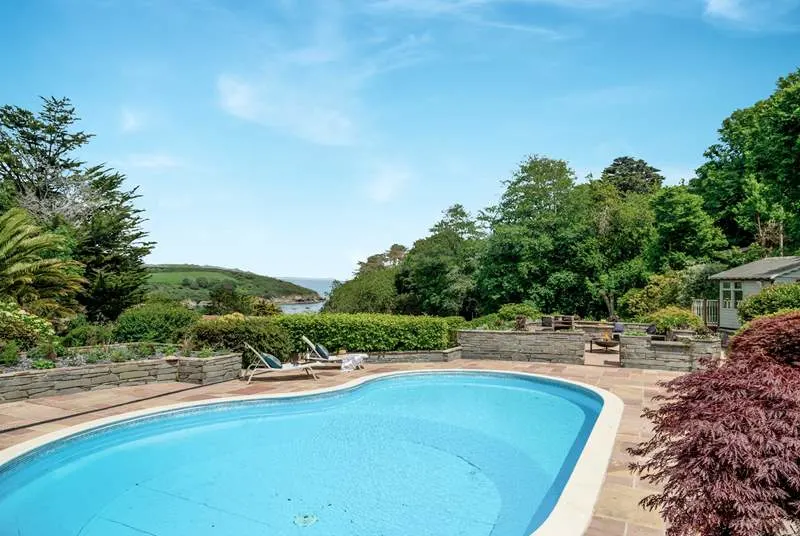 If you're looking for a Cornish holiday cottage with a swimming pool, then look no further.
This house has recently been refurbished to give the ultimate comfort. As you enter the property, it spans out in front of you. The large dining table seats 12, and the bi-fold doors are perfect for those warm summer evenings.
However, outside is the place to be and the real strength of this property. There's a heated pool that the kids will absolutely love, but my favourite area is the patio with recessed seating, a bbq and a fire pit for when it gets dark.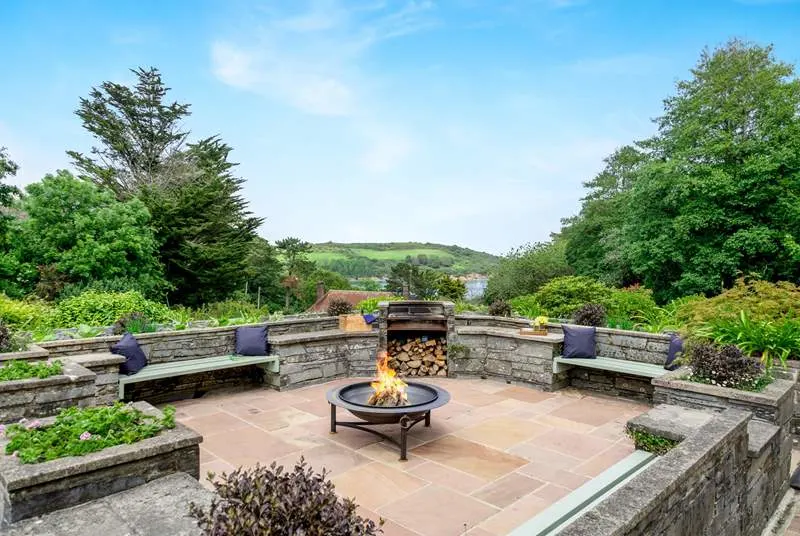 The house has three bedrooms all with fabulous super-king size beds. The main bedroom boasts the best views of course and an en suite bathroom. The further two bedrooms each have their own shower-room and 'zip and link' beds that can be configured as two singles if you have younger ones.
There is also a separate annexe that provides an extra living space for larger parties or for teenagers. Set about the garage on the first floor is a space with a little kitchenette, a living room with seaside views, and a bedroom with a super-kind bed.
I would say if you're looking for a fully functional holiday home that's ideal for two families with kids, then you really can't go wrong with this option.
Sleeps 4 + cot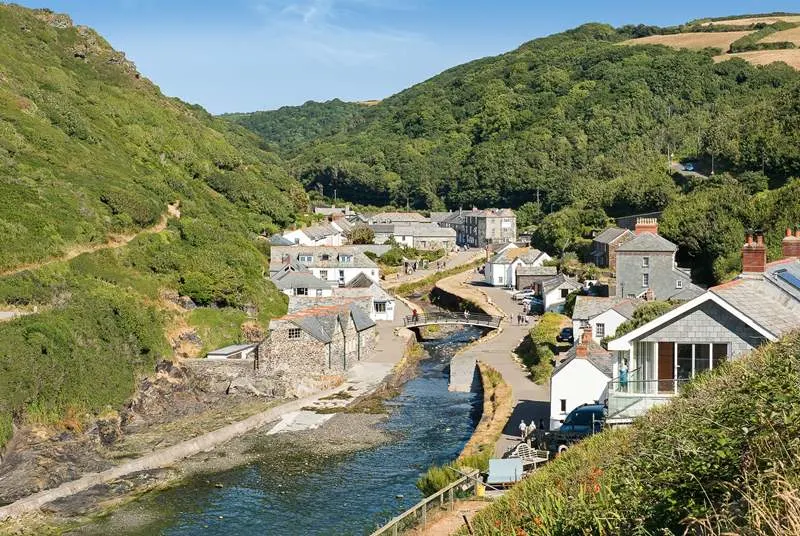 This is quite a different house to rent in Cornwall as you don't get sea views, but you do get incredible river views instead.
Situated in the charming village of Boscastle, this house has views overlooking the harbour and the river flowing out to sea. The views almost look like you could be in New Zealand.
The open plan living room and kitchen offer the best views of the harbour with a cute table right up against the window.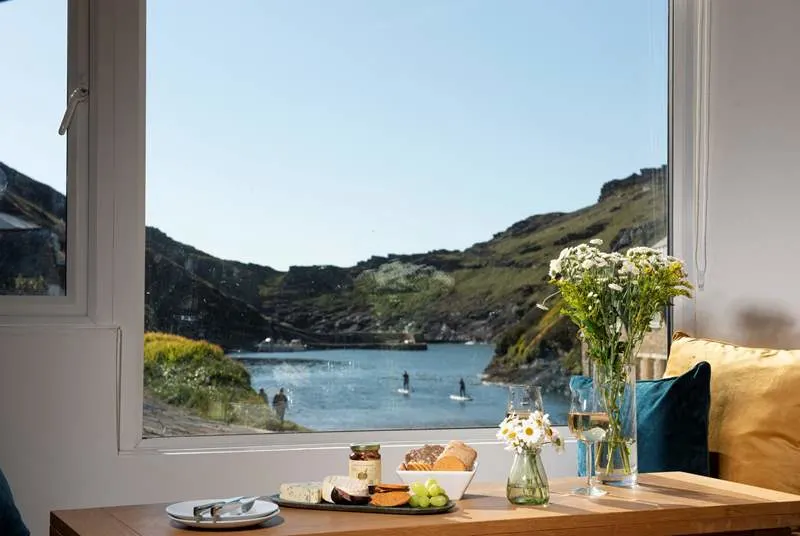 Outside there is a small terrace area that channels Mykonos vibes, and it's a bit of a sun trap in the summer.
Up on the first floor there are two bedrooms. The first has a king-size double, and the second has a double. There is also a bathroom with shower, WC and wash basin.
With the historic harbour, galleries, shops, pubs and restaurants right on your doorstep and magical walks along the stunning coastal footpath and wooded valleys only a stone's throw away, what more could you want from the ultimate Cornish fishing village experience.
---
Where are you looking to stay in Cornwall? If you have any questions at all, just let me know in the comments below!
Like this blog post? Then Pin it for the future!