Are you looking at where to stay in Havana, Cuba? From Hotel Nacional de Cuba to Residencia Santa Clara, these are some of the best hotels in Havana!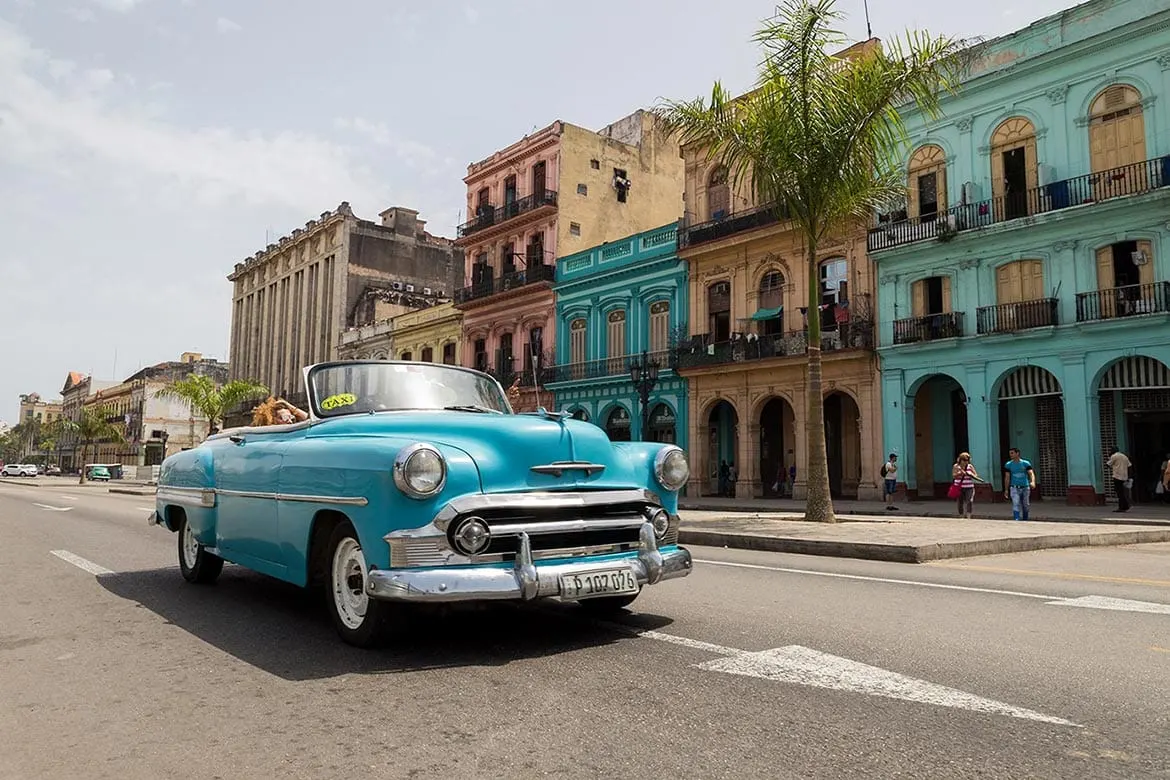 Let me say this now – Havana is one of the coolest cities you'll ever visit in your life. Honestly, I can't stress this enough, it is just so authentic that I completely fell in love with the place.
Despite its colourful past and present, Havana still manages to exude these happy vibes rarely found anywhere else in the world. It's got this vibrant buzz that brings a smile to your face no matter where you are in the city. Or perhaps that's the Buena Vista Social Club music you'll hear everywhere and the mojitos being sold on every street corner.
When it comes to where to stay in Havana, it can be quite difficult finding the right place for you. Often you'll hear people saying you should only ever stay in casa particular, a local homestay where the money goes directly to Cubans. On the flip side, other people want to enjoy their holiday and opt to stay in a hotel or a resort.
I really want you guys to have the best time in Cuba, so I'm going to feature some of the best places to stay in Havana. These are the ones where you can safely base yourself and then explore all the city has to offer. And it definitely has a lot to offer.
Pick one of these places and I'm sure you'll have an incredible time. I really hope you love the place as much as I do. And enjoy it – there aren't many places like Havana anymore!
Why visit Havana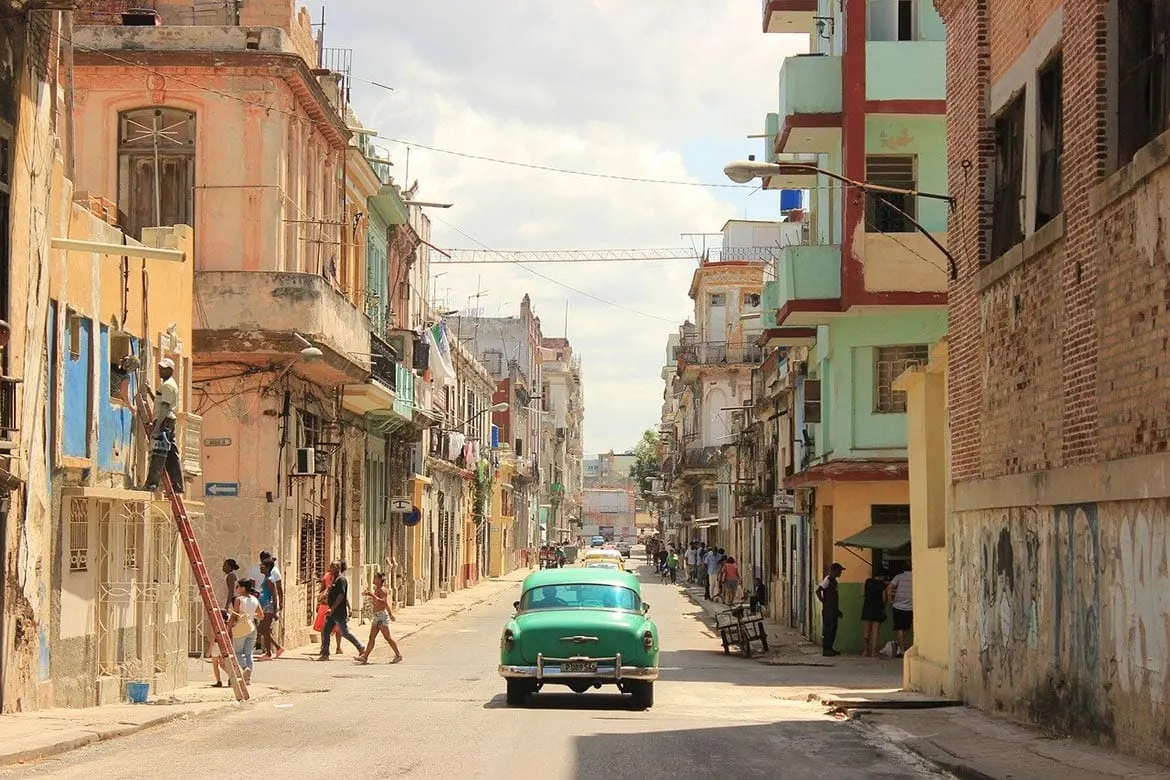 Havana has lived under the community rule of Fidel Castro for as long as people can remember.
Cuba was once a thriving and powerful country on the world stage with celebrities flooding the streets of Havana after WW2 in the 40s and 50s.
However, when Castro came to power in 1961, the country changed and it has almost been in a timewarp since then.
Yes, the buildings are crumbling and infrastructure is shocking. Yes, there are still deep-rooted problems with the government. But through all of this, Cuba has retained an authenticity that can't be found anywhere else in the world.
You won't find the flashiness and latest mod-cons from other capitals cities. Instead, what you'll find is a raw beauty and unadulterated experiences. I just love the place for that.
From the classic cars of Old Havana to wandering around the Malecon, make sure you check out my blog post to discover some of the best things to do in Havana. This is perfect for those of you planning on what to do in the city!
Also, you can find out how much it costs in Cuba here. This guide it packed full of what everything costs including daily budgets.
Where to stay in Havana, Cuba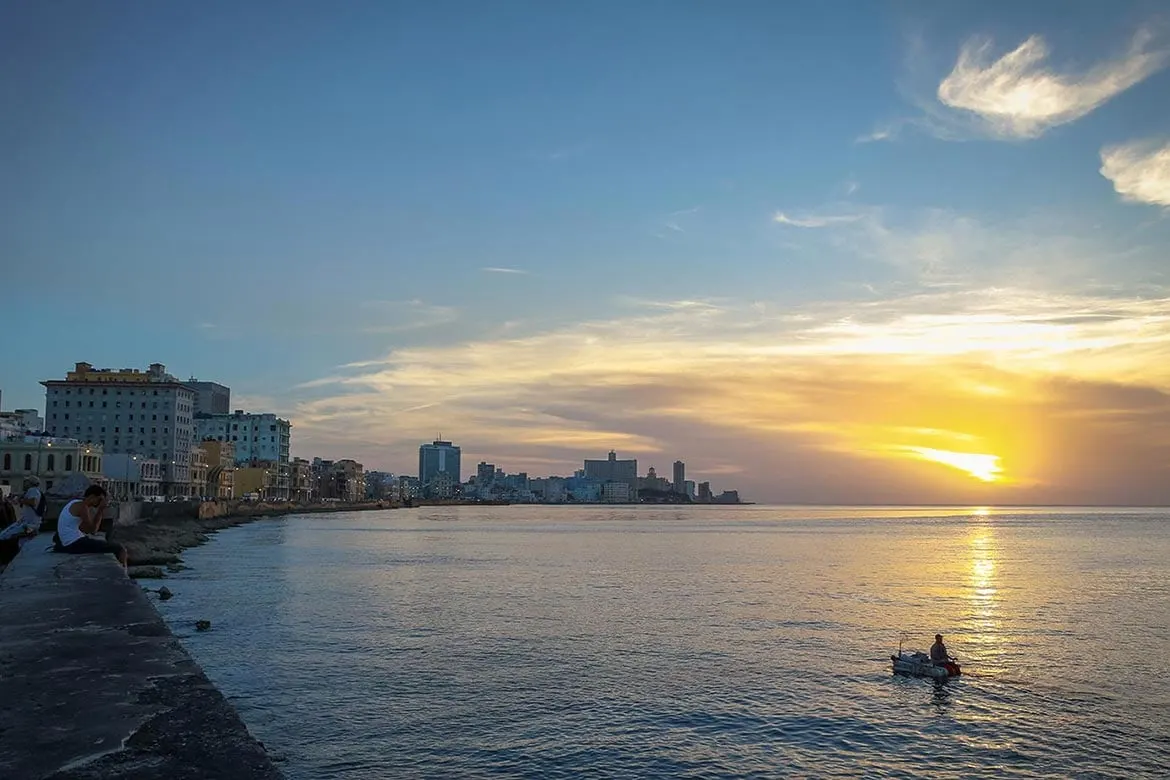 When it comes to where to stay in Havana, things used to be a lot trickier than they are now.
If you go back 5 years (yes, a lot of these changes have only happened within the last 5 years!), it was extremely difficult to book somewhere to stay that wasn't a luxurious 5* hotel. Hostels and AirBnbs weren't really a thing here.
Thankfully, things have changed. Nowadays you can book a number of hotels, apartments and AirBnbs all online before your trip. This will give you a huge peace of mind as I know from personal experience that nothing can be more disconcerting than rocking up somewhere without having a hotel booked!
I've wanted to give you a few different options of where to stay, but all of these are among the best hotels in Havana. Hopefully this will give you a good idea of what the accommodation is like in the city.
Hotel Nacional de Cuba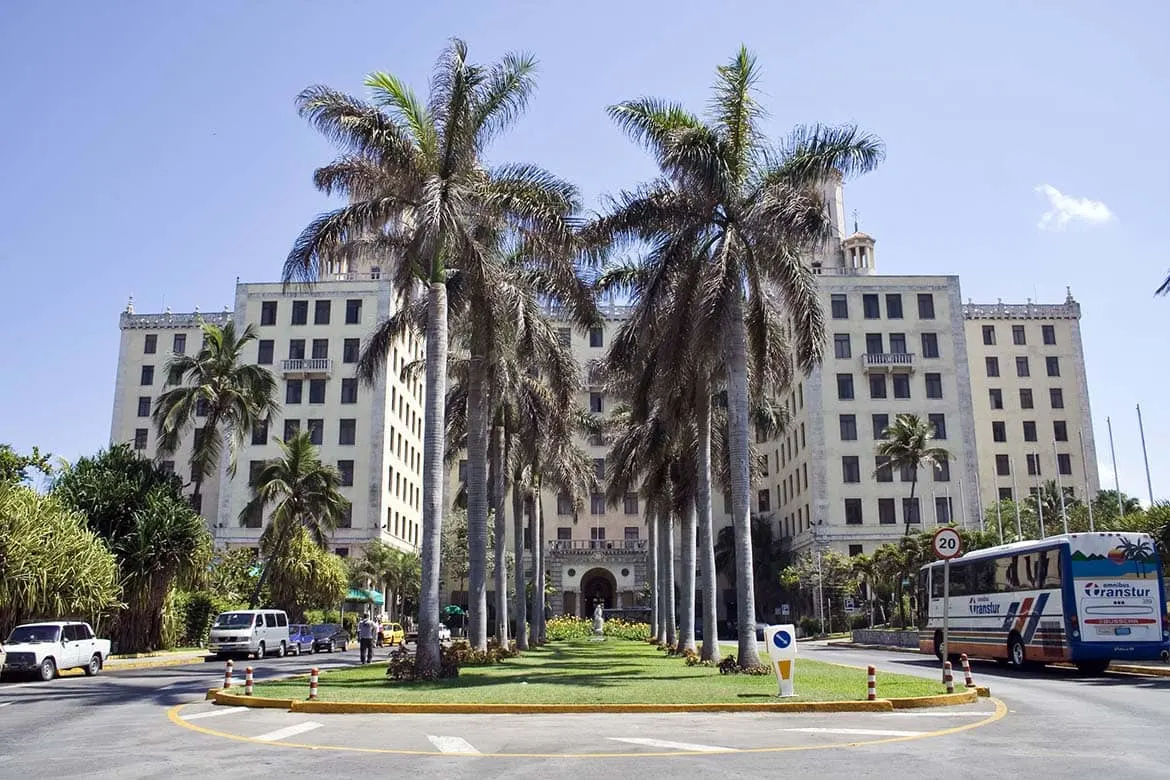 The Hotel Nacional de Cuba was once renowned all around the world as the best hotel in Havana. Despite opening its doors in 1930, things haven't changed all that much and it is still an amazing 5* hotel with an incredible reputation.
Located in the Vedado district, the hotel overlooks the ocean. Also, the Malecon – the main waterfront boulevard in Havana – is just a short walk away from here.
Being such an old hotel in Havana, it comes with a rich and colourful history. It was built on the site of The Santa Clara Battery, one of the most historic caves on the island. This acted as a prison and you can even explore some of the caves today.
The hotel also boasts some pretty famous guests. Winston Churchill, Frank Sinatara, Rita Hayworth, Marlon Brandon, Earnest Hemingway. I mean, I could go on and on here.
Even though I didn't stay here (I wish!), I did pop in for a cocktail to soak up the atmosphere of the place and it is in such a gorgeous location. And as you'd expect with all 5* hotels, the service is top notch.
Hotel Saratoga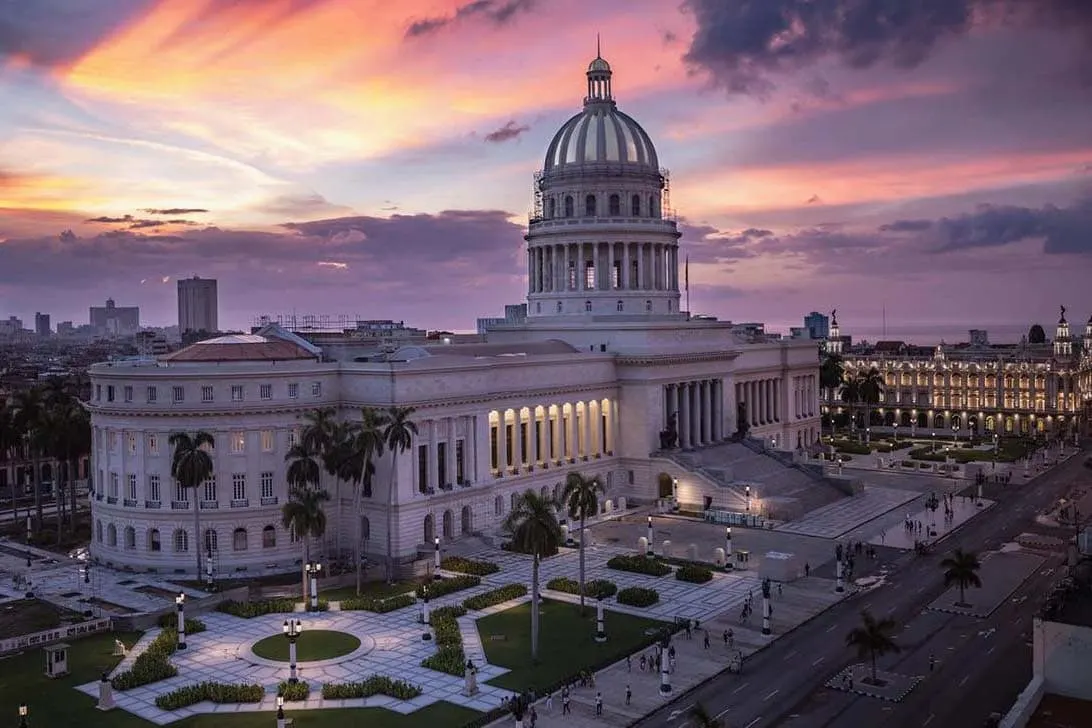 When I visit Havana again, this is where I would choose to stay. Hotel Saratoga is just perfect on so many levels.
Firstly, the location is bang in the middle of Havana Vieja (Old Havana). This is one of the best neighbourhoods for exploring some of the nearby Havana attractions such as the Teatro Nacional de Cuba and the Museo de la Revolucion.
Secondly, you'll find the best rooftop bar in Havana. This bar and swimming pool overlooks the Capitolio building (the one based on the Capital Building in Washington DC). Obviously the views from up here are just incredible.
Finally, the main reception is like stepping into the Great Gatsby. Everywhere is decked in black and white marble with these ornate columns dotted all over the place.
When it comes to where to stay in Havana, you really can't go wrong with Hotel Saratoga. Even if you're not staying here, it's worthwhile popping in and checking out the hotel for yourself.
Gran Hotel Manzana Kempinski La Habana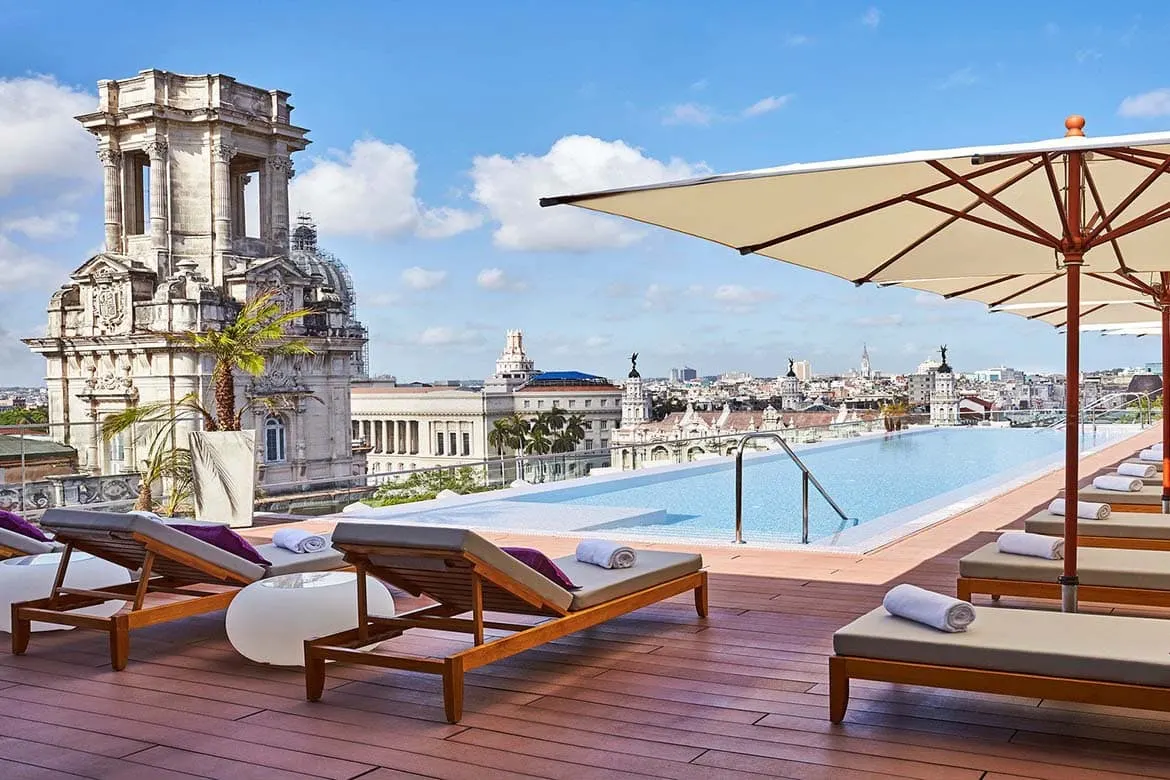 The relatively new Manzana Kempinski is one of Havana's latest luxury hotels. However, unlike a lot of cities boasting 5* luxury, Havana has maintained its authentic charm and character. I don't know why but luxury hotels just don't feel out of place here.
Gran Hotel Manzana Kempinski La Habana reopened its doors in 2017 after a 5-year renovation. One of the best spots in this hotel is in the infinity rooftop pool with sweeping views of the city. There's also a cracking spa in this hotel for those looking for a little R&R.
Those of you looking for the traditional side of Havana then there's an old fashioned tobacco lounge with a dedicated cigar sommelier. Here you'll find some of the best Cuban cigars in the city in a very relaxed atmosphere.
If you're looking for high end luxury then you really can't go wrong with the Gran Hotel Manzana Kempinski.
Residencia Santa Clara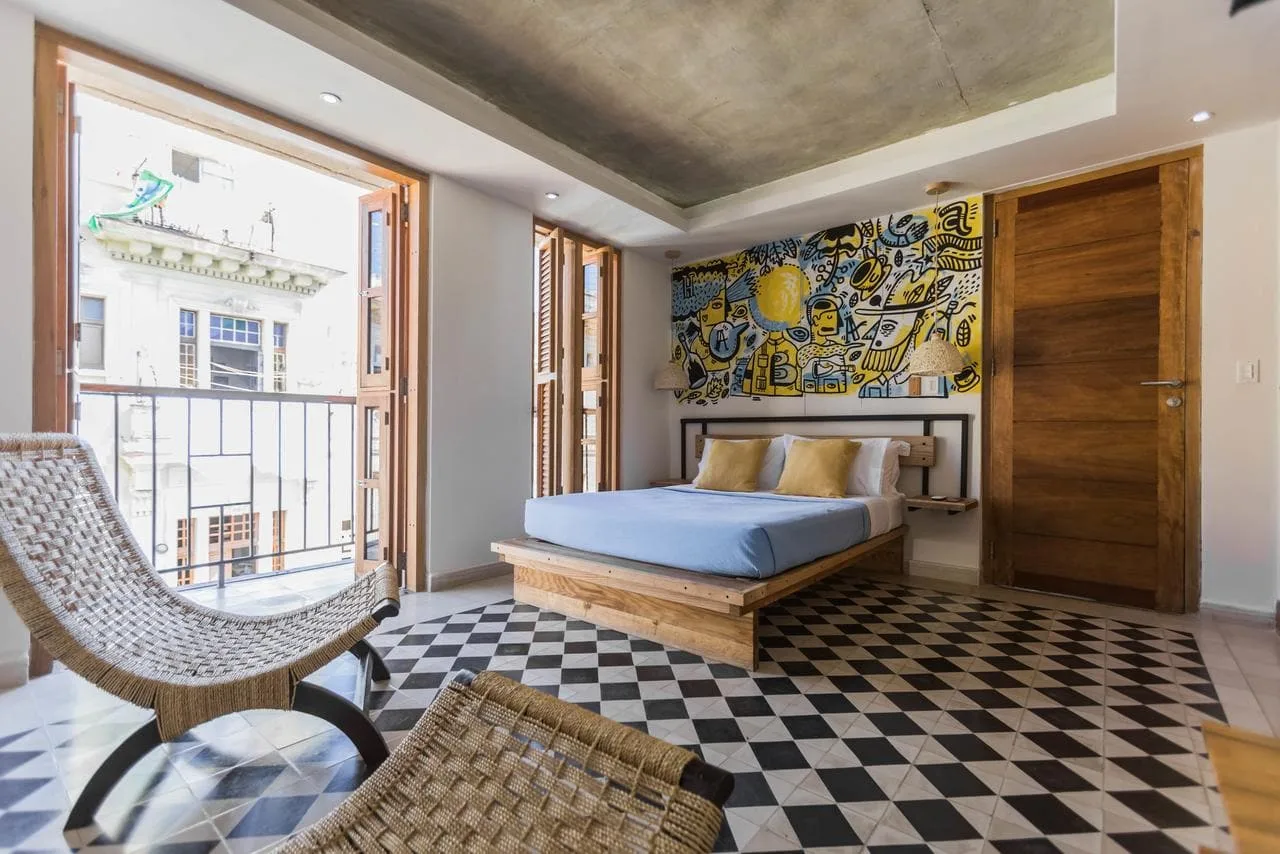 One of the most unique hotels in Havana is Residencia Santa Clara. This place is like a cross between a modern art museum and a designer's dream.
Being in an old colonial building with views of the ocean, each room has its own mural on the wall that reminds me of a Miro painting. Many rooms also have a balcony too.
Downstairs there's a bar and the hotel has a 24/7 front desk too which is perfect for those late night arrivals.
Also, Residencia Santa Clara is located in Old Havana, so the location is bang on too. I would say this is a very classy boutique hotel which is a lot cheaper than staying at one of the fancier 5* hotels in the city.
Hotel Sevilla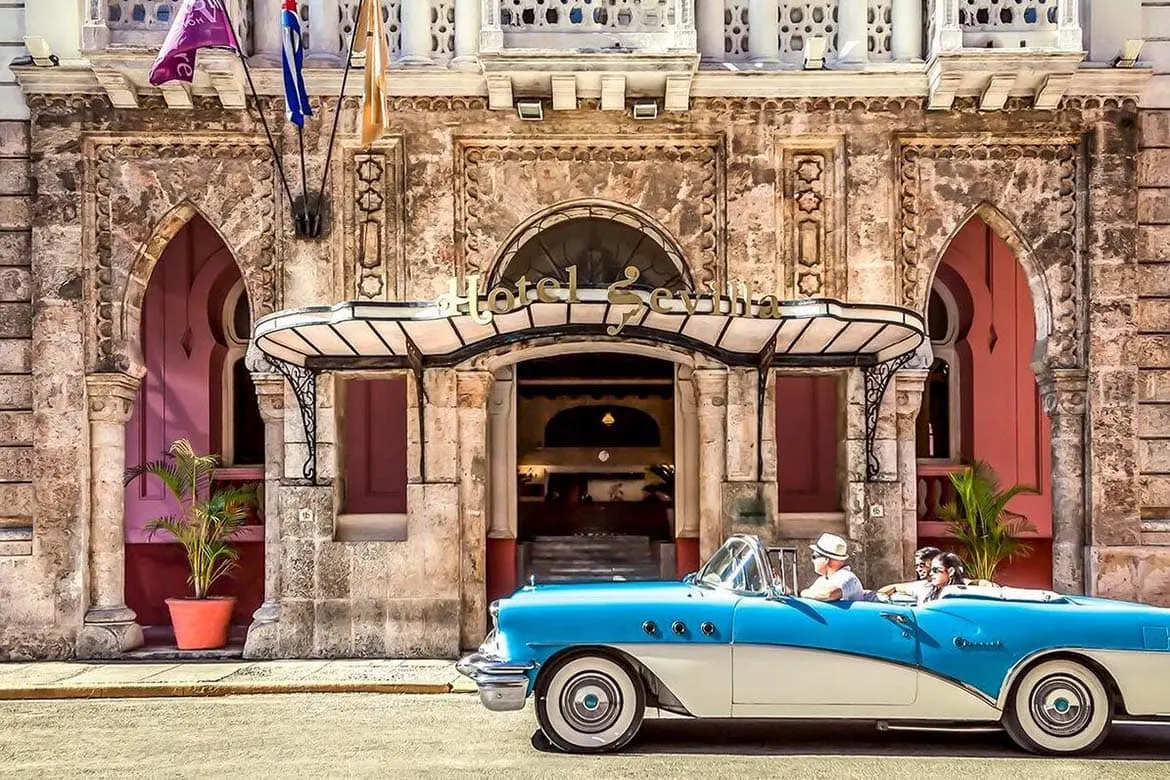 Hotel Sevilla is one of the oldest Havana hotels. Opened in 1908, the architects of the hotel were inspired by the Moorish style of Alhambra Palace in Granada in Spain. If you've ever been there you'll see similar design points and notes dotted all around the hotel.
The outside of Hotel Sevilla is just stunning and really sets the tone of what it's like to stay here. The main restaurant has got some killer views too.
La Bodeguita del Medio, the birthplace of the mojito, is a short walk away, and you can even get to the beach of Playa del Chivo too.
Cubanacan Marazul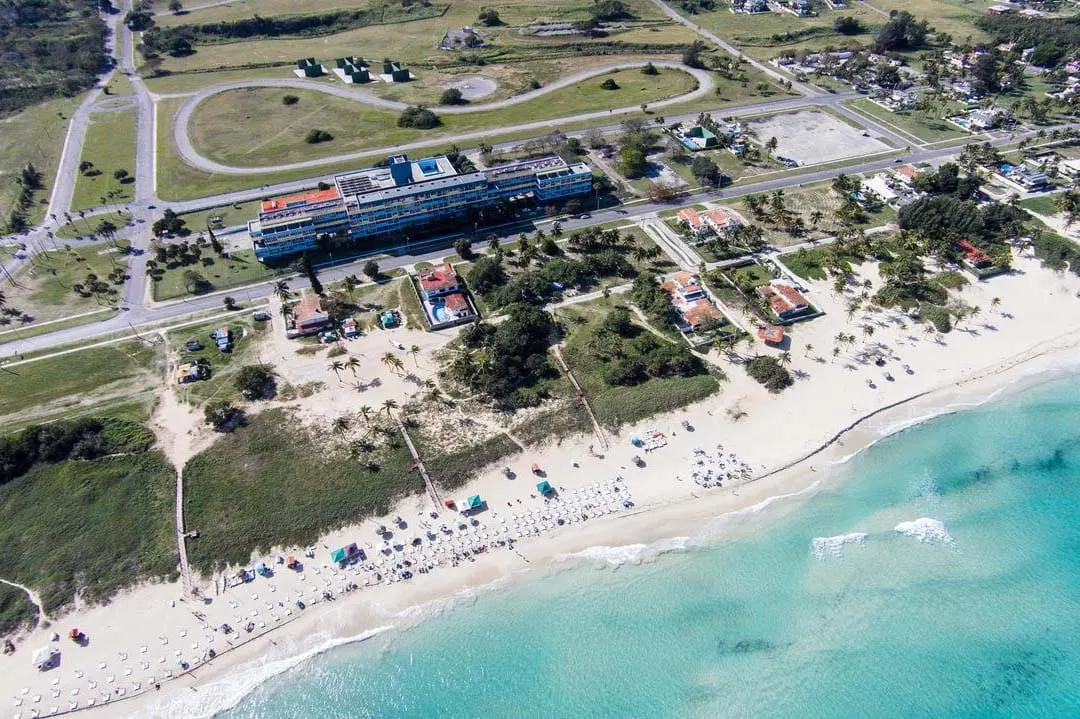 For those of you looking for a proper beach holiday then check out Cubanacan Marazul.
Even though this hotel is located 20-minutes outside of Old Havana, at times it feels like you're a million miles away from the hustle and bustle of the city centre.
Located right on the beach with the crystal clear waters of the Caribbean outside, Cubanacan Marazul is a really nice all-inclusive beach resort for those of you looking for a bit of down time in Havana.
One of the best things about staying here is that there's free transportation from the hotel into Old Havana, so it's very easy exploring the city from here. Also, all-inclusive means you can really let your hair down while on vacation.
The views of the beach are dreamy though. Just the perfect place for a few pina coladas on the beach watching the world go by.
Malecón 663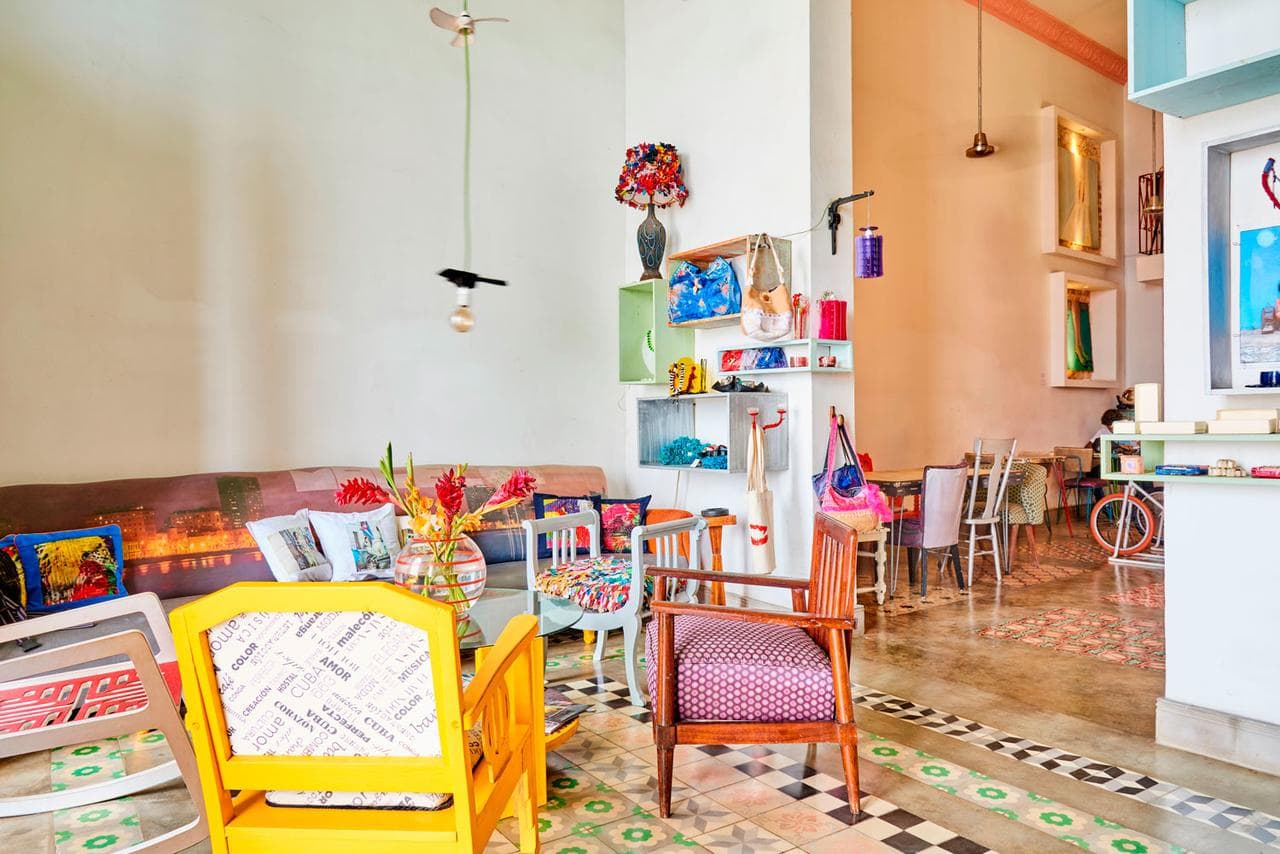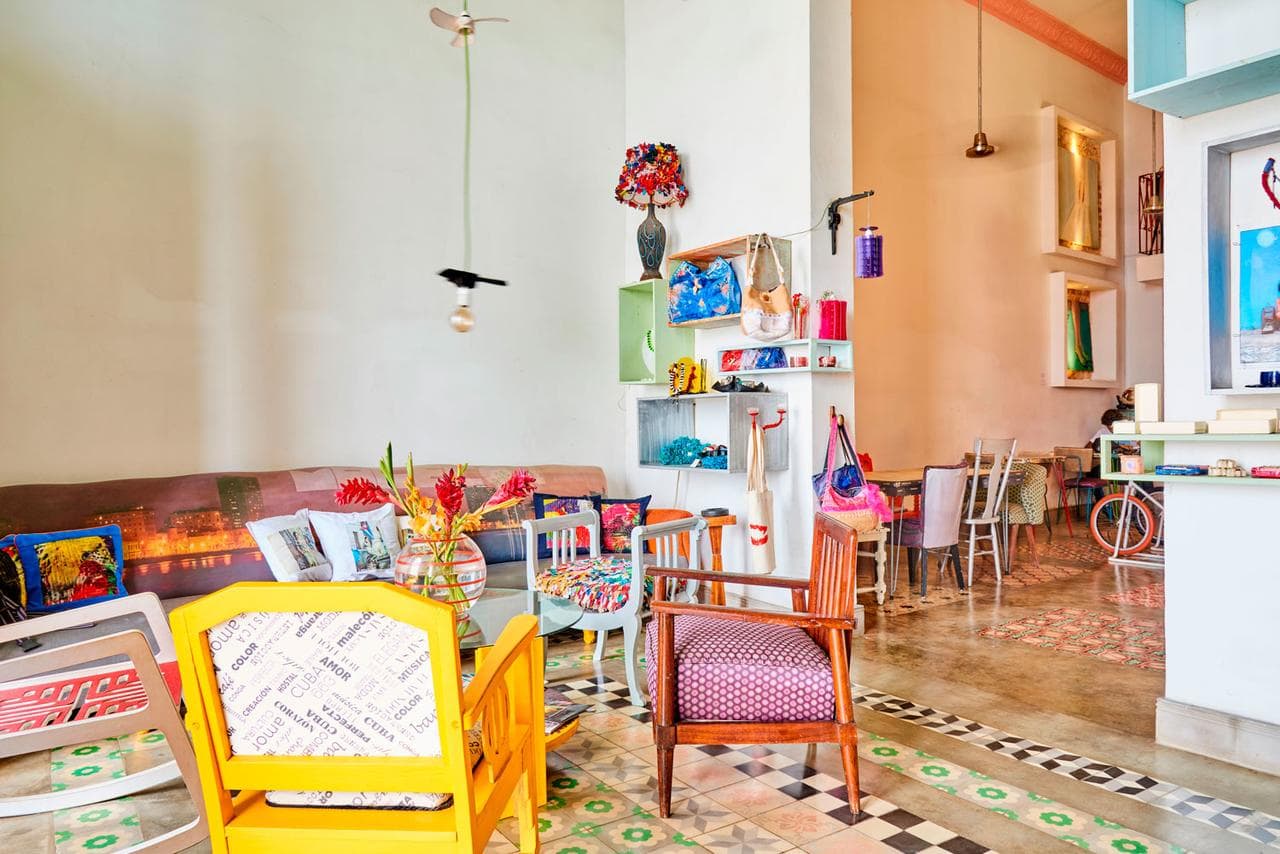 Malecón 663 is a really nice boutique hotel that ranks very highly on the quirky spectrum. When you walk into the hotel you'll notice the brightly colour décor and kitsch furniture all over the place. The staircase is even made out of old wooden chairs.
One of the best things about this hotel is the location. Based right on the waterfront by the Malecon, a number of these rooms overlook the local fisherman below. It's such a quiet and peaceful spot watching the fisherman every day, all made better with a beer in hand.
There's also a really nice rooftop terrace with views of the ocean. Oh, and there's even a little hot tub here too.
I would say this is one of the best budget hotels in Havana.
Chez Nous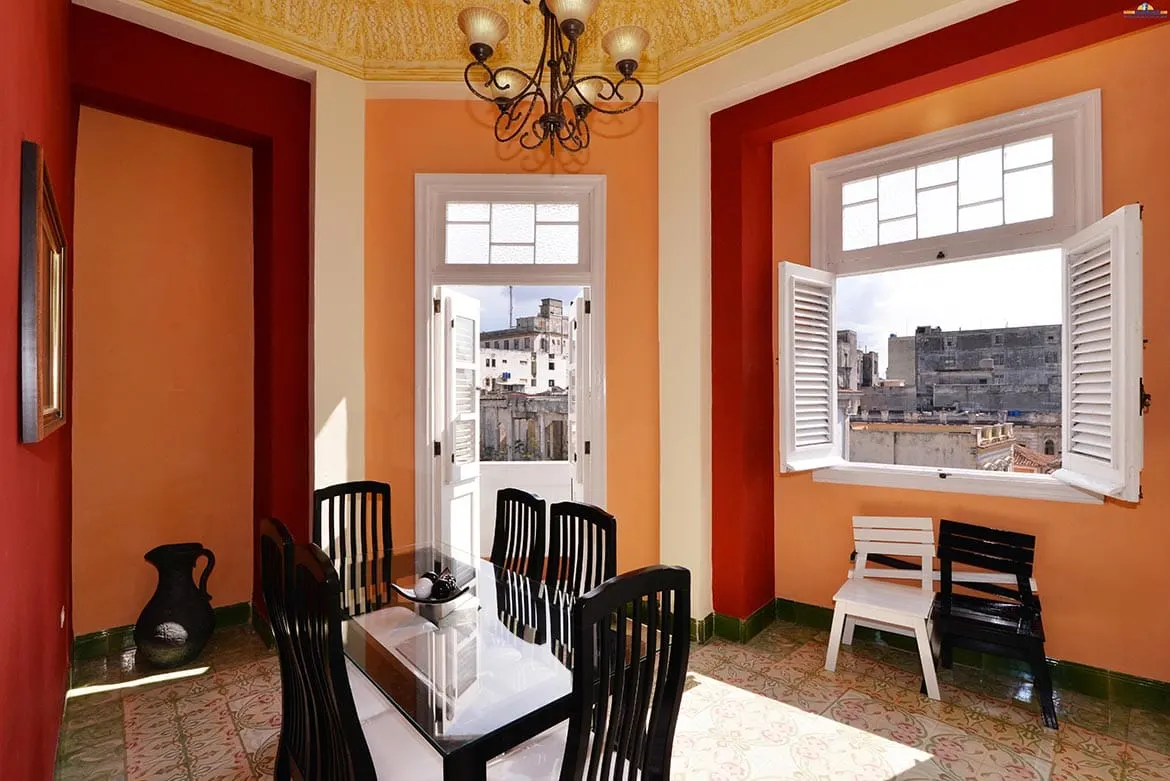 If you're looking for something a lot cheaper then check out Chez Nous. This is one of the best casa particulares in Old Havana. Compared to a hotel, you can pay around $40-50 per night at a casa particular, so it does work out a lot cheaper. You also get to stay with a local host which is a really nice experience too.
Chez Nous is a very traditional style of building right in the heart of Havana Vieja. This means that all the main sites and attractions are withing short walking distance of the property. There are a couple of really nice bars in the area too where you'll be able to soak up Cuban music.
---
What are some of your favourite hotels in Havana? Let me know in the comments below and I'll add them to this blog post!
Like this blog post? Then make sure you Pin it for the future!