Volcano boarding down Cerro Negro in Nicaragua
A slight breeze blew across our faces, bringing with it signs of a new day. A clang rang out as someone scraped metal on metal as they spooned porridge into their mouth. Gravel crunched as one or two people shifted as they tried to find a comfier position, difficult when just sitting on rocks. A cough, a grunt, a slurp of coffee. Otherwise, silence.
No one was looking at each other. All eyes were fixed on the panorama before them.
Perched on the side of one volcano, we had views of another six in front of us, each getting smaller and smaller as they were scattered off into the distance. Mist still carpeted the forest floor far below us almost like a blanket of snow, becoming whiter and brighter as the sun slowly emerged from behind one of the volcanoes.
Eventually, it rose high enough over the edge of the rock, spreading sun spears, illuminating everything it touched until it finally fell upon our faces, warming us in a way that breakfast never could.
Still silence. Nothing needed to be said.
It was one of the most beautiful scenes any of us had ever seen. Truly. We all knew that. We all appreciated that. We all shared that.
Then we finished our coffee, picked up our backpacks, and headed back down the volcano. It was time to go hiking again.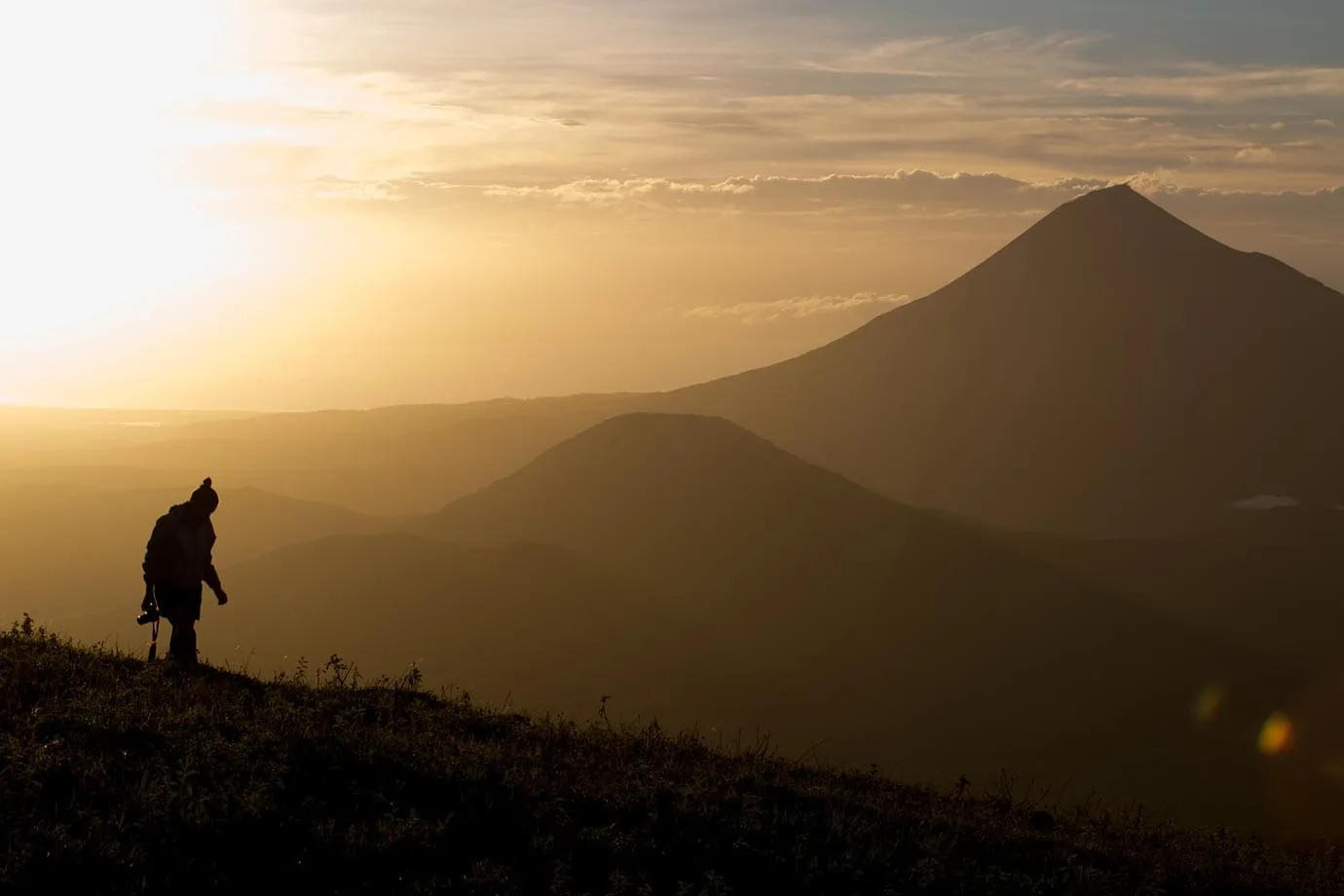 The day before found us in the office of Quetzaltrekkers in Leon, Nicaragua.
Quetzaltrekkers are one of the only non-profit, all volunteer-run adventure associations in the world, and when we say non-profit, we mean non-profit. All of the profits they earn from their activities go towards charities and projects helping the disadvantaged youth in the surrounding area, and that ethos was certainly something that attracted us to them.
I first heard about Quetzaltrekkers from a friend in Canada, and there were a number of times when we met people of the road who said "if you're going to Nicaragua, you've got to do one of the hikes with Quetzaltrekkers; they're unreal." It's safe to say these guys came highly recommended.
With a number of one-day, two-day and three-day treks on offer, we were lucky enough to go on one that was our guide's favourite – the Volcan El Hoyo trek. Difficulty rating; very.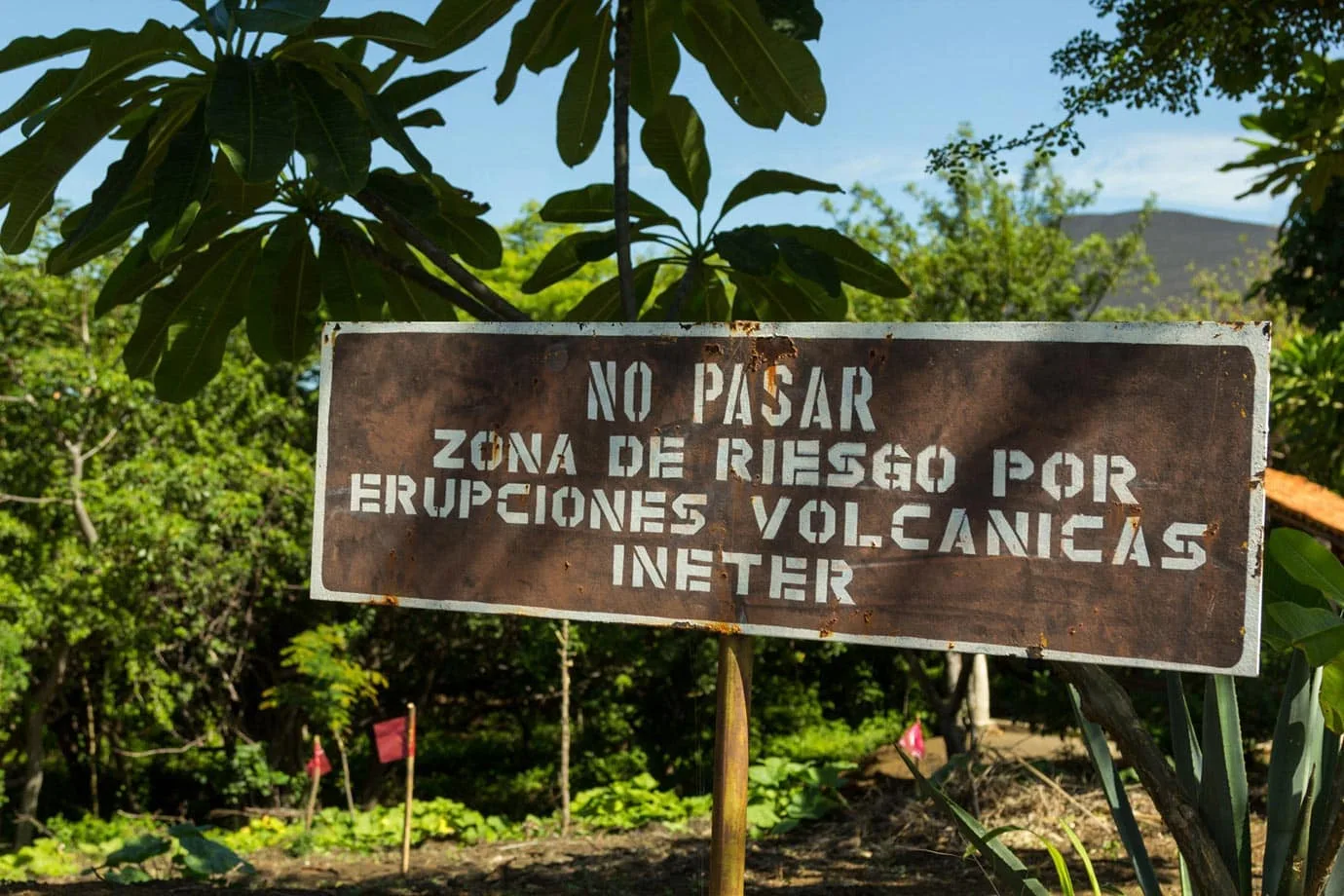 Being a two-day hike out into the Maribios volcanic range – a chain of volcanoes between Lake Nicaragua and the Gulf of Fonseca – once we were out there; we weren't coming back until we caught the bus home, and that meant we had to be pretty choosey with equipment.
So naturally, once we got to the office that morning, we had to completely repack our bags. In hindsight, leaving all of our clothes and instead taking all 20kgs of camera gear was a slight miscalculation, especially when we had to take all our cooking equipment, food for a couple of days and nine litres of water each (sounds like a lot, we wished we had more) on top of that too, but if there's one thing that we always need it's our camera gear, and we were willing to take it with us regardless of the consequences.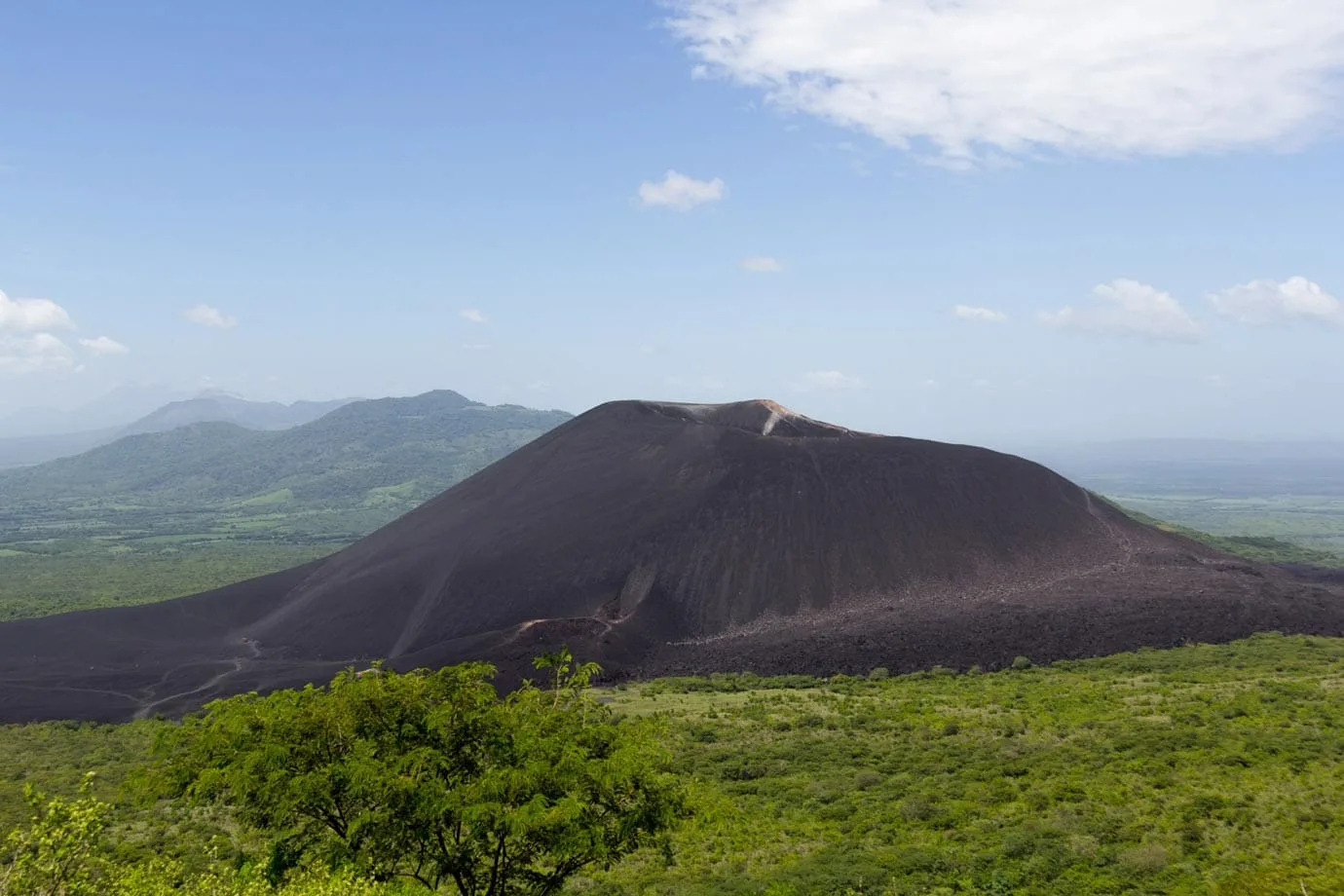 The first place that our El Hoyo trek took us too was Cerro Negro, a relatively small 728m active volcano an hour outside of Leon.
Despite being first formed in 1850, Cerro Negro is the youngest volcano in all of Central America, and it has erupted a number of times since then (the last being in 1999).
As its name suggests, Cerro Negro is just a big black hill covered in sand (or volcanic dust if we're really getting technical here), and on one side it is extremely steep without any large rocks or boulders, just fine sand.
This makes it the perfect place for a pretty unusual activity – volcano boarding.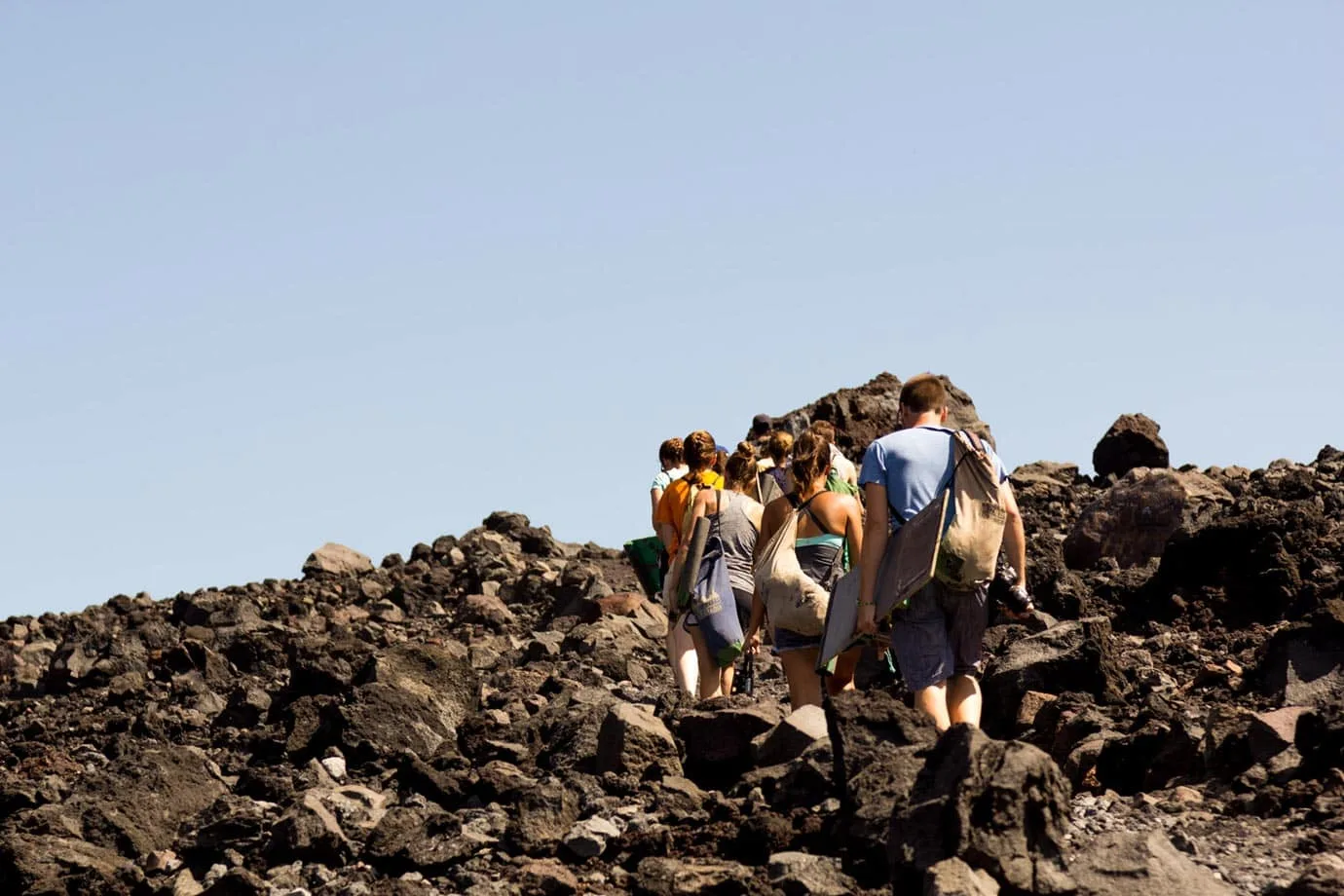 At the bottom of Cerro Negro we were each given a board (a glorified plank of wood with a piece of rope to steer with, but it seemed sturdy enough), and we started the hour's hike over the rocks and round the side of the volcano to the top.
As we got higher and higher, the views of the Maribios volcanic range and the Pacific Ocean became clearer and clearer, and we couldn't help but marvel at just how beautiful and pristine this part of the world really was.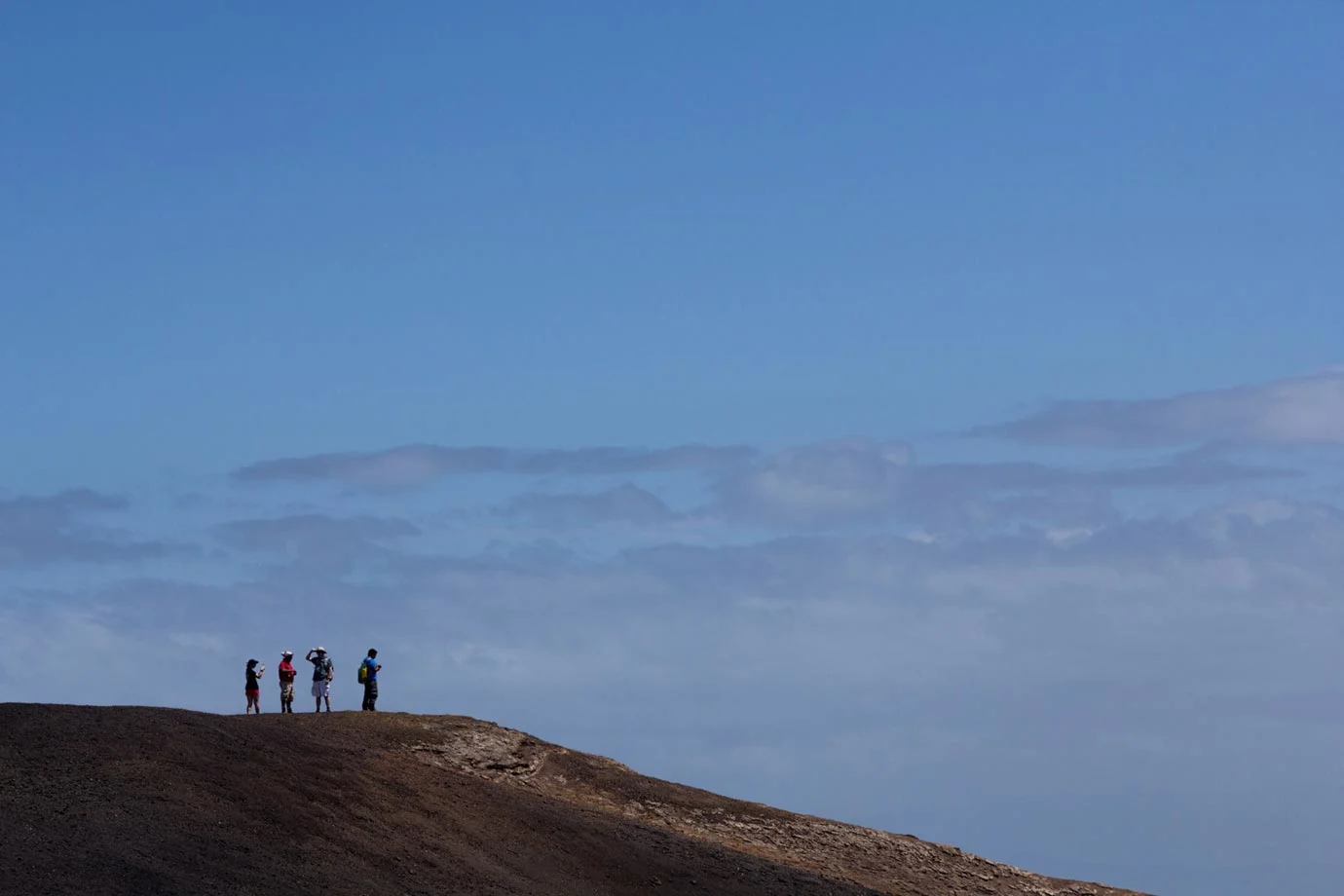 Once we made it to the top, we were told exactly how to ride the boards.
Essentially, you sit on it. If you want to go faster, lean back. If you want to go slower, don't lean back. Use your feet to steer and dig your heels in to stop, and you're just about there. Lesson one done, next stop professional volcano boarder.
Firstly I watched Brianna board down. She started off quite slowly, but once she gained more confidence she became faster and faster until by the end she was absolutely flying.
Next up was Brian. Under usual circumstances I would expect Brian to speed down too, but unfortunately, as we're not your usual trio, he had to film, so he shredded the first half of it, then jumped off his board, whipped out his camera and waited for me to pass by.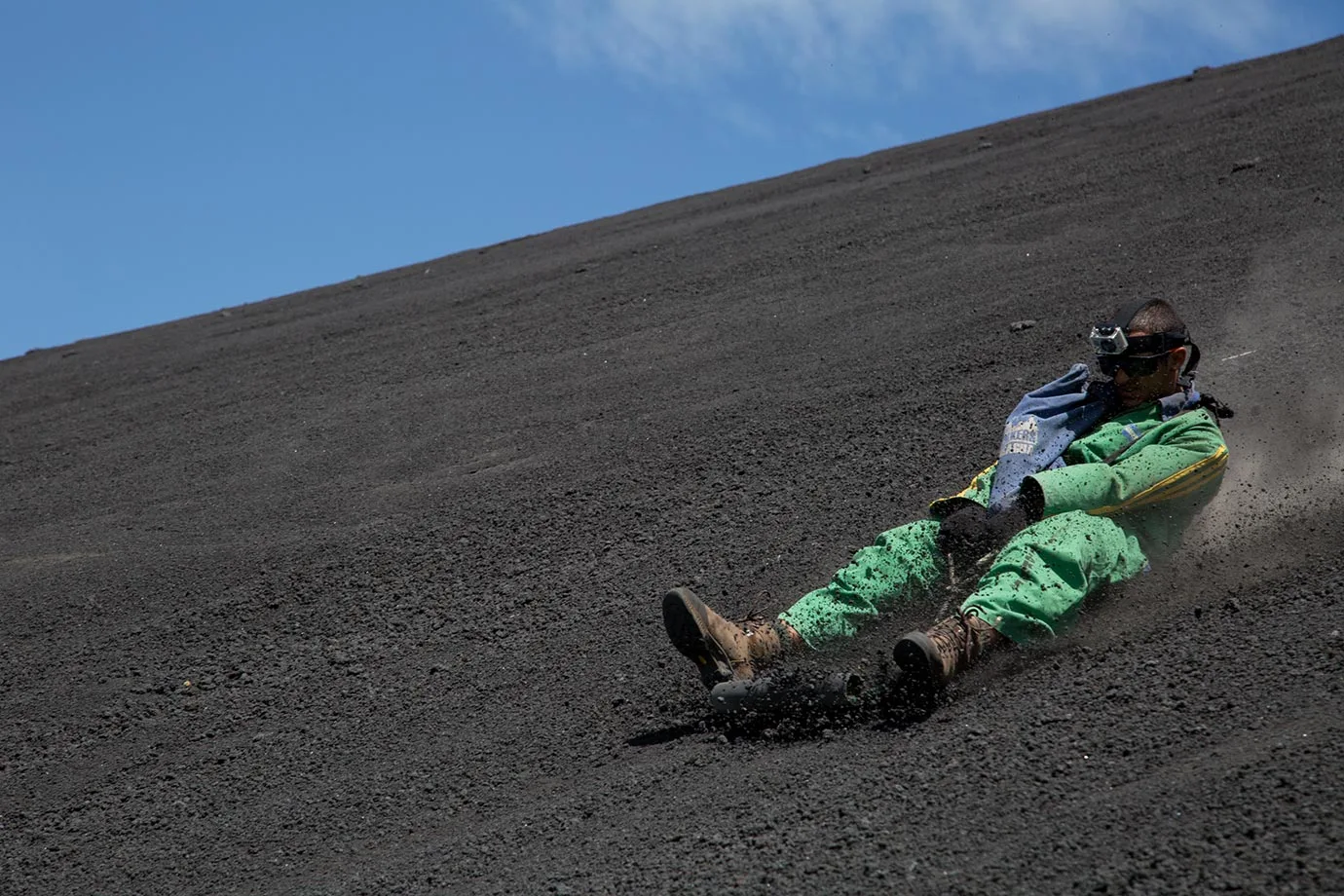 Finally, it was my turn, the last person down Cerro Negro. Now, I don't really know the meaning of 'go slow', so as soon as I hopped on to that thing I leant back as far as I could, building up more and more speed until I may have taken a tumble half way down. Once I got back on though, it was full-throttle again, leaning back, legs out, stones kicking up and spinning past me as I became coated in gravel and dust. It's at this point I should say these things can touch 100kph. Just unreal.
Volcano boarding really was as exhilarating as it sounds, such as a rush, and we went far faster than I ever thought possible.
Considering this still only the first few hours of our Volcan El Hoyo trek, we knew we were in for a couple of days that we would always remember. Next stop, hiking to the top of Las Pilas and El Hoyo.
Save