Wondering what to do in Murcia, Spain? From hiking the Segura River to exploring Cueva del Puerto, these are the best things to do in the region of Murica!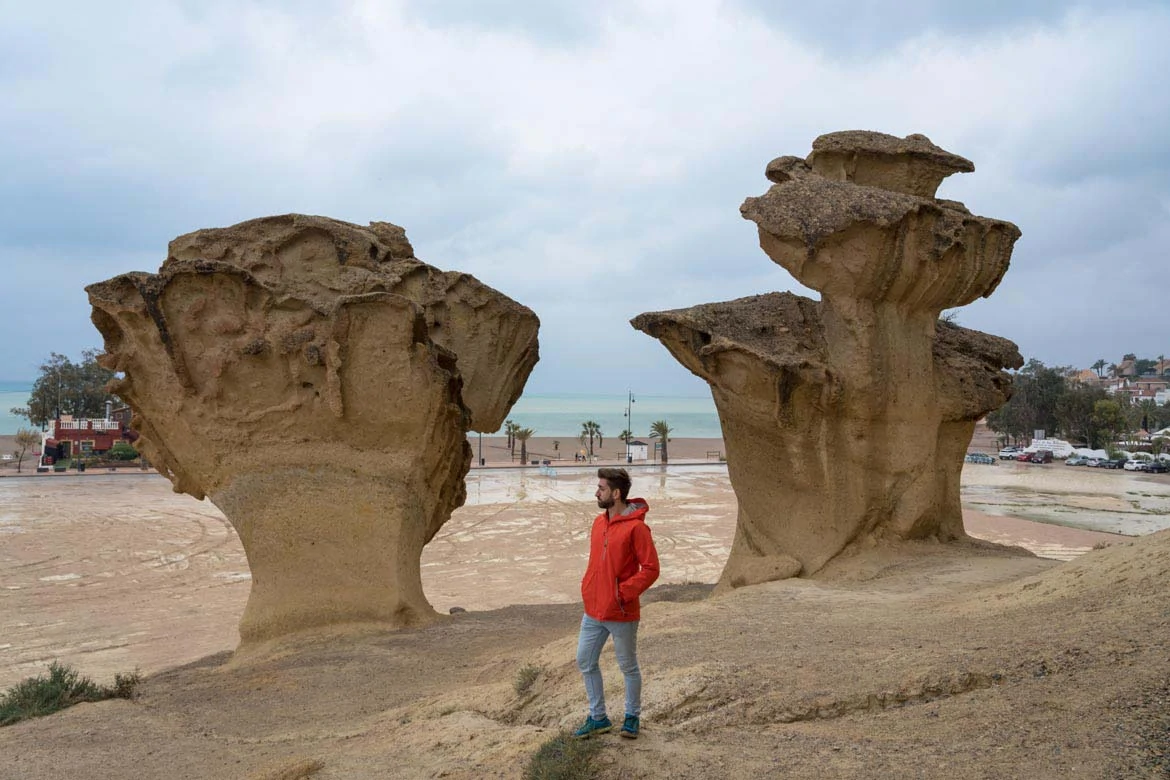 Located in the south-east of Spain, the region of Murcia is packed full of things to see and do, especially if you love nature and the outdoors as much as I do.
With its Mediterranean coastline, the Costa Cálida has 250 km of gorgeous beaches. But as soon as you head inland the region of Murcia opens up with a whole host of outdoor activities.
There are some fantastic hiking trails along the Segura River, you can go biking through the vineyards & olive groves at Bullas, there are caves to explore with paintings dating back 7,000 years at Cueva de la Serreta, and then there are some of the craziest rock formations you'll ever see at Bolnuevo.
So, with that in mind, here's what to do in Murcia! Get ready for an amazing holiday is this fascinating region of Spain.
Make sure you watch my video below showcasing some of the best things to do in Murcia, Spain. This should give you a taster of what it's really like.

The Region of Murcia
When I was researching what to do in Murcia, I immediately knew this was a place I was going to love.
Even though there are lots of beautiful beaches in Murcia (like there are everywhere in Spain), I knew this place was more about outdoor activities and enjoying the countryside. As I said, it sounded like my kind of place.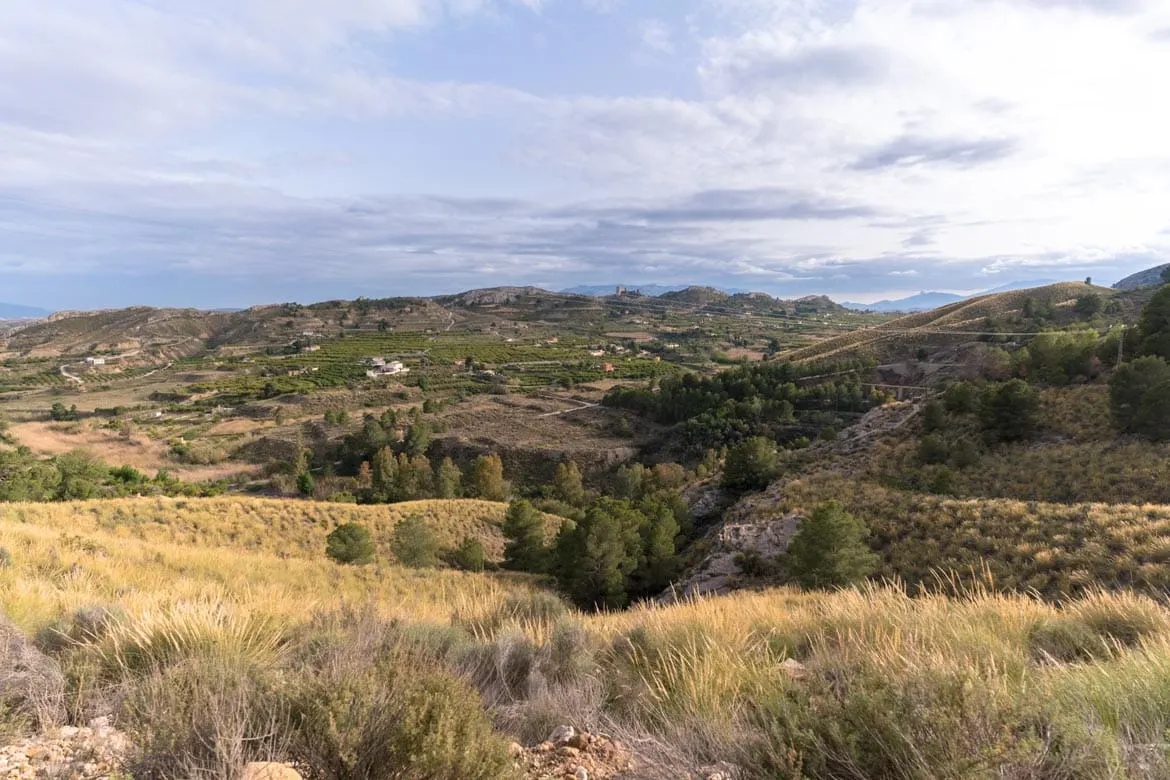 I really feel like this is one of Spain's hidden gems though. Apart from expats living in Spain, not many people know about the region of Murcia, let alone where it is.
Whenever I said to people I was heading to Murcia, they all thought I was going to the city with the same name. Yes, the capital of the region is also called Murcia (just to confuse things).
Because hardly anyone travels here, it meant I have all these stunning views and attractions all to myself. I hardly came across any other tourists while I was there – and certainly no Brits – which means this is the perfect place if you're looking to get away from it all.
When it comes to things to do in Spain, I feel like a lot of the towns on the coast can be quite samey. Well the region of Murcia is unlike anywhere else I've been in the country. I have a feeling you're going to love it there!
If you're heading to the city of Murcia, make sure you check out Emily Luxton's 48 Travel Guide – it's packed full with all the best things to do in the city, just perfect for a weekend away!
Also, if you're looking at exploring some other places in the region like Almeria, then check out this guide to some of the best road trips in Spain.
Tours in Murcia
---
What to do in Murcia, Spain
Hiking the Segura River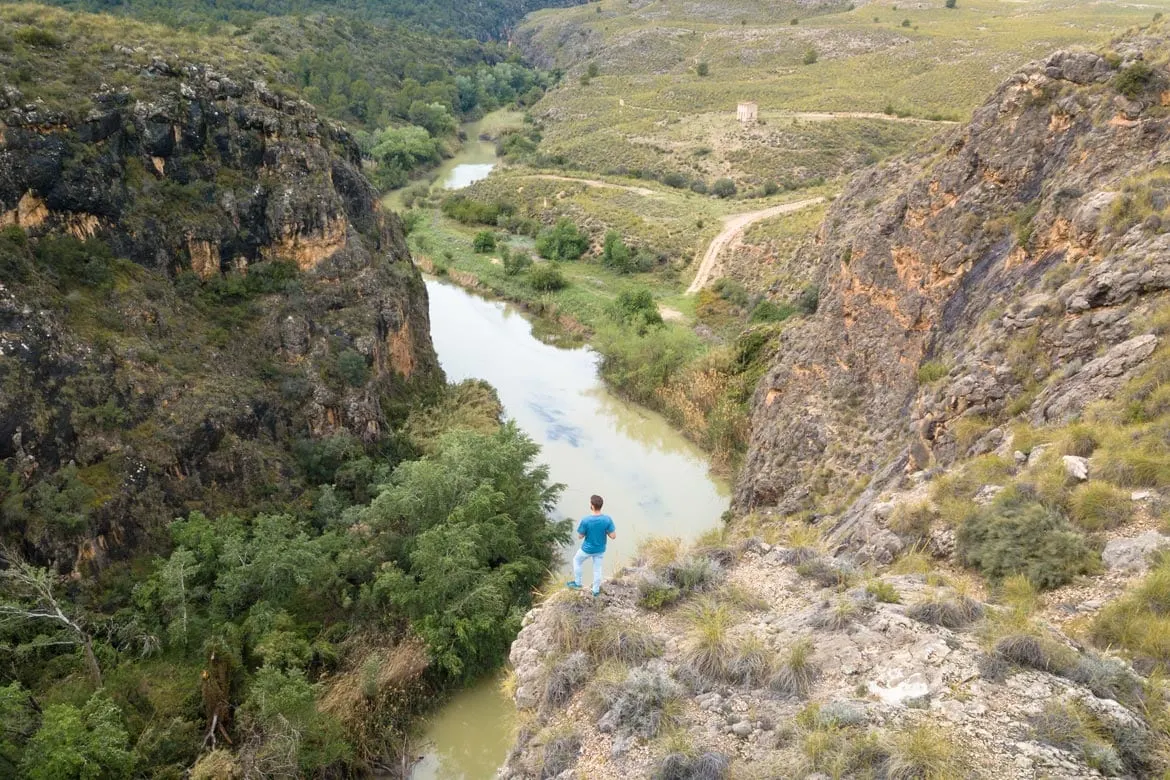 The Segura River is the main river that runs through Murcia. This means there are loads of fantastic hiking trails to choose from.
The spot I headed for was at Presa de la Mulata. This is actually a power-station and dam on the map, but there's a route that takes you up into the hills. From here you can walk along the cliffs with the Segura River below and it's such a beautiful place for a hike.
Another spot that everyone recommended to me was Canon de Almadenes. This is a longer trail that you follow alongside the river. This is supposed to be one of the best hikes in Murica so check it out if you can.
Just to note, the hiking trails are loose gravel so make sure you wear some sturdy hiking shoes otherwise you might find it slippery underfoot.
Kayaking/rafting the Segura River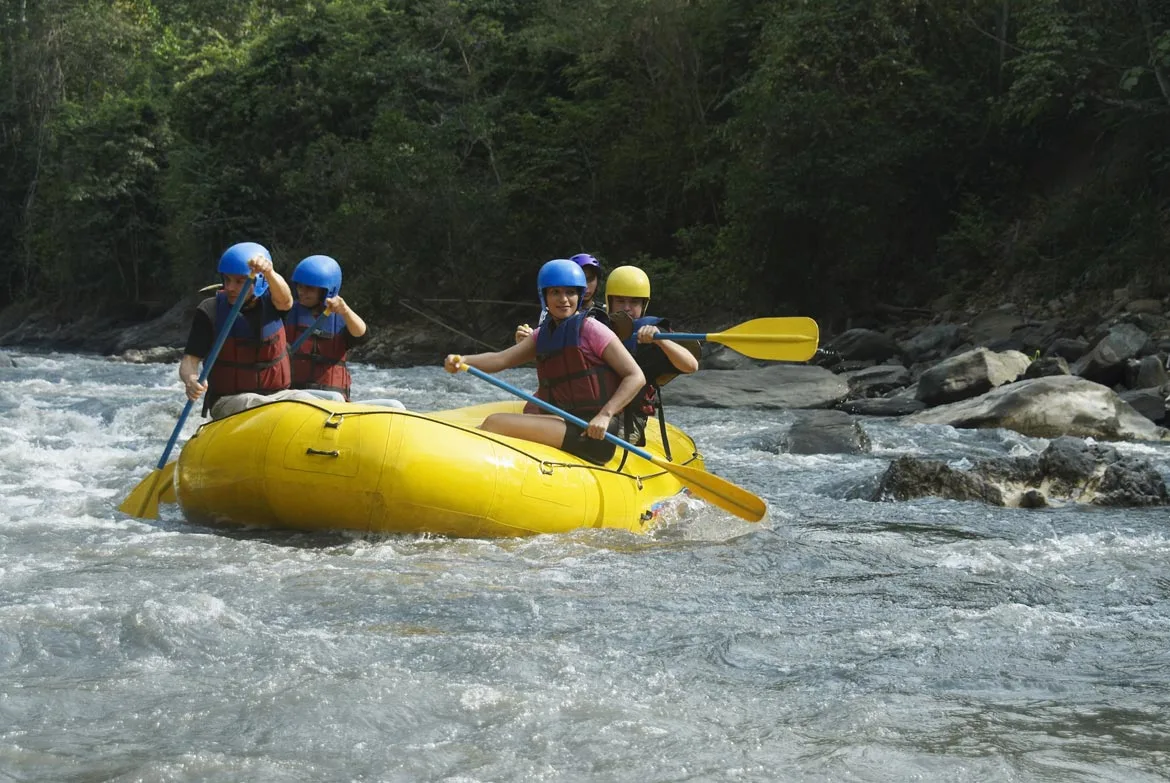 Now I didn't actually do this myself as the weather was too bad, but this is one of the best adventure activities in Murcia.
There are a few companies you can go kayaking & rafting on the Segura River. Even though this isn't proper white-water rafting, it's still an amazing way to see the beautiful landscapes. I would say this activity is perfect for families with young kids.
Groups are usually 8-12 people per raft and a lot of companies include a snack or lunch. Most companies start in Blanca and you travel 13km on the river to Cieza. This usually takes around 3 hours. Oh, and obviously expect to get very wet so bring a spare change of clothes for afterwards!
You can find out more about this activity here.
Seeing the rock formations at Bolnuevo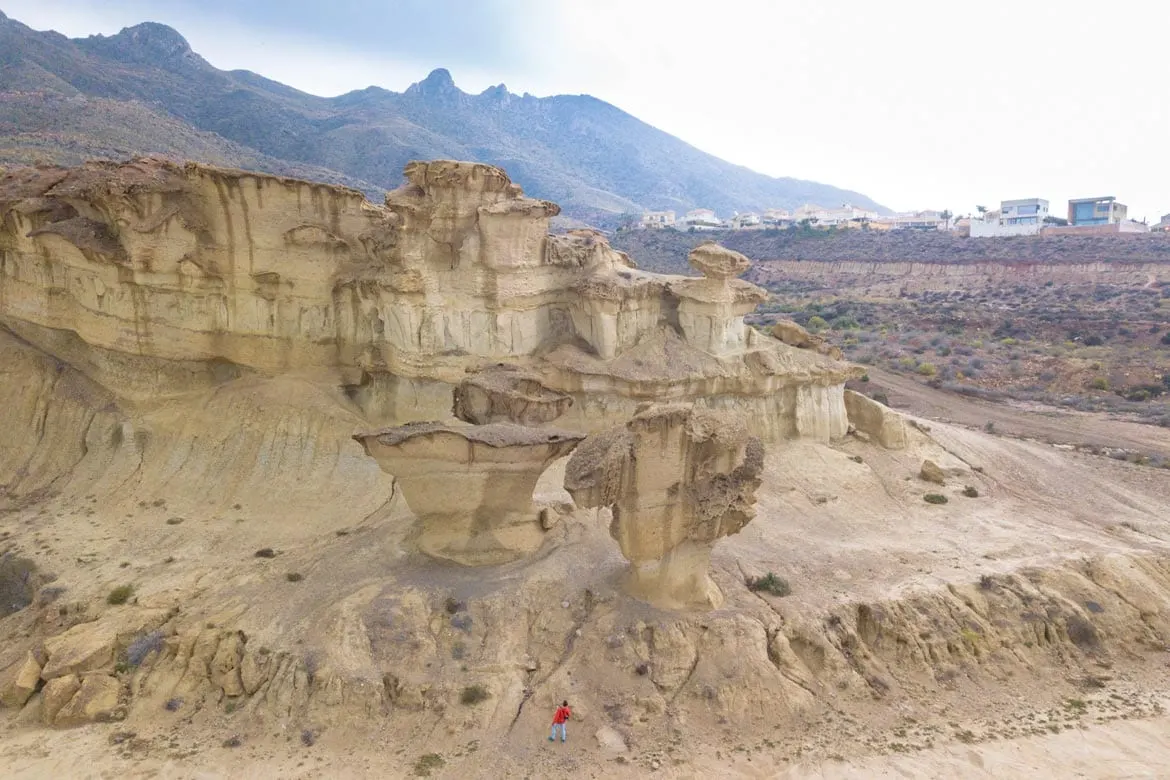 This was another of my favourite spots in Murcia.
When everyone says all Spain has is beaches, I'm going to point out Bolnuevo to them.
Las Gredas de Bolnuevo, also called Ciudad Encantada (the enchanted city), are heavily eroded sandstone formations along the beach of Bolnuevo.
The sandstone shapes are sculpted by water and wind over thousands of years making these Mars-like formations. They almost defy gravity as they're standing up.
While I was there, I climbed to the top of the rocks (if you do this yourself please be very careful as it can be slippery) and the views are incredible. This really is one of the best places to visit in Murcia.
Exploring Cueva del Puerto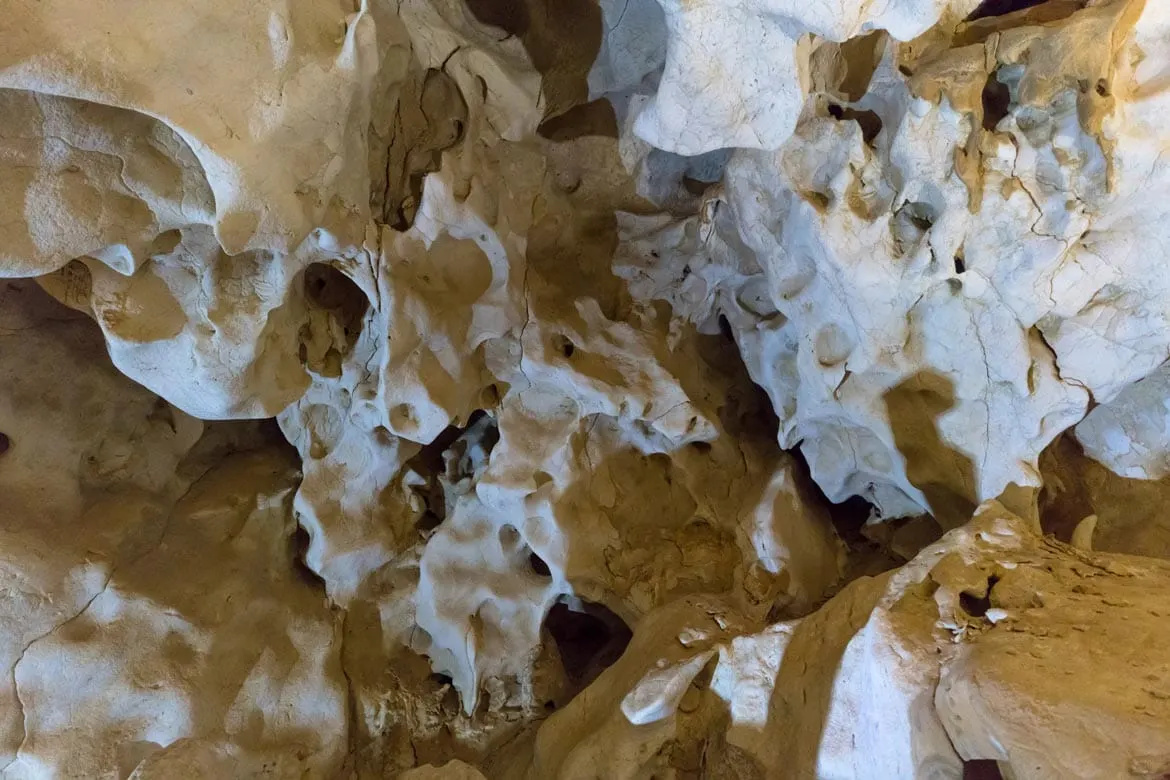 Cueva del Puerto is an extensive underground network of caves in Murcia and it is so much fun exploring these.
I was in a group of about 12 people and we had a guide take us through the 700 metres of caves explaining about all the different formations and the history of the area.
My favourite area was Gaudi's Hall. This was a rock formation that was as if Gaudi, Spain's most famous architect, had created himself. It genuinely looks just like Casa Mia in Barcelona, just underground.
Located just outside Callasparra, getting to Cueva del Puerto can be tricky. Basically, follow GoogleMaps or Waze, and when it looks like you're heading straight up a hill in the middle of nowhere then you're in the right place!
Discovering 7,000-year-old paintings at Cueva de la Serreta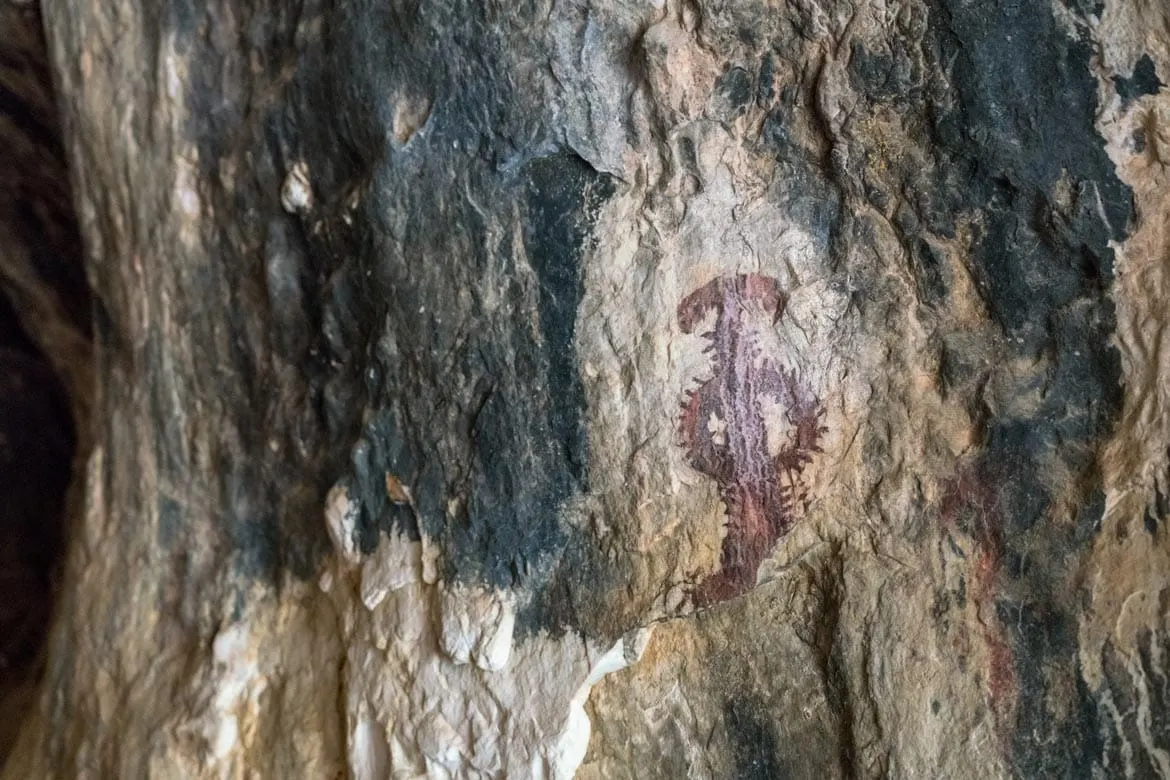 Another incredible cave in the area is Cueva de la Serreta.
Just a short 30-minute drive from Cueva del Puerto, this is one of the best caves I've ever come across on my travels. Honestly, I really mean that.
Cueva de la Serreta is closed to the public and you need to organise access with Jose, the keeper of the keys, beforehand. You can email [email protected] to arrange a visit.
I met Jose in the carpark and he opened the gate to Cueva de la Serreta. From there, we walked down into the cave.
This is a huge cave opening overlooking the Segura River below. However, the thing that makes it so remarkable are the rock paintings dating back 7,000 YEARS! How crazy is that!?
On the walls you'll see people with bow-and-arrows hunting animals. There's also a drawing of an 'idol' – local archaeologists believe this may have been a deity that the people worshipped at the time. I'll say it again – HOW CRAZY IS THAT!?
When it comes to what to do in Murcia, this place is right up there with the best.
Biking the Greenways of the Northwest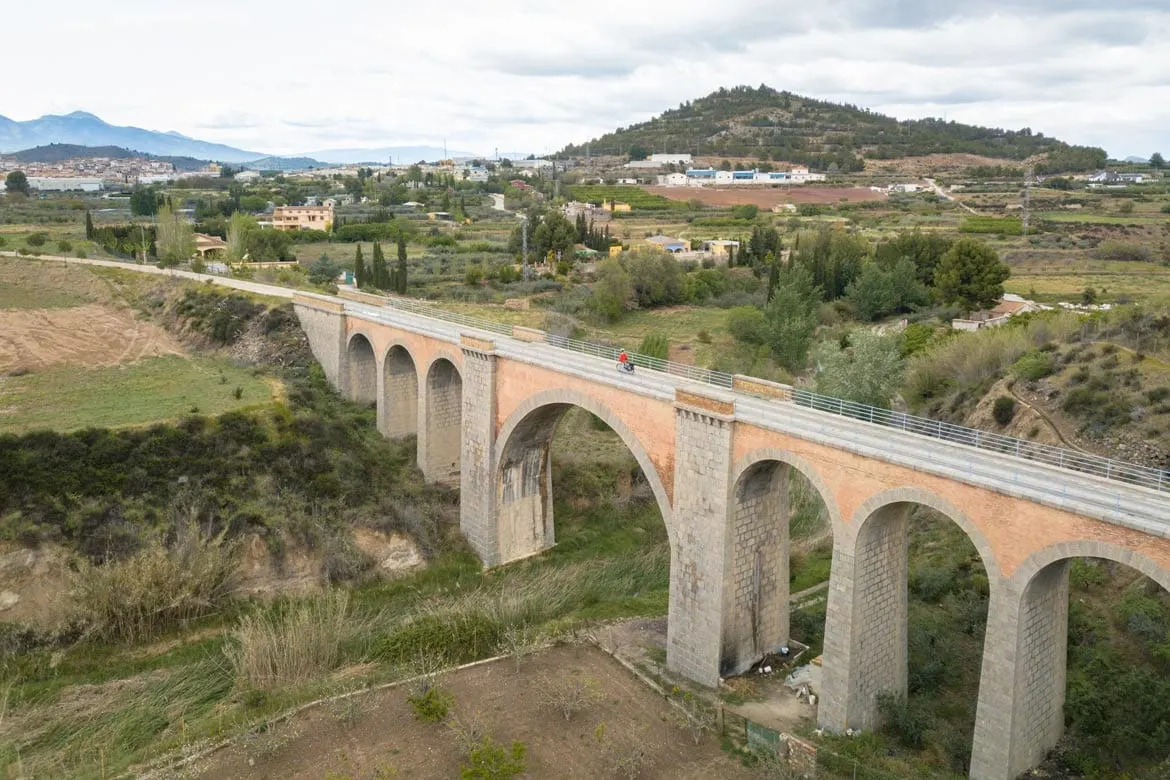 One of my favourite things to do in Murcia is biking the Greenways of the Northwest. This is an area that's packed full of vineyards and olive groves. This means it is such a peaceful biking route.
I picked up a mountain bike with SoBikes (they have an office in the city of Murcia) and from there I headed to Bullas, a little town west of Mula and in the heart of Murcia.
From Bullas, there's a 10km walking and biking trail that takes you to Cehegin. And don't worry if you're a little unfit – this trail is as flat as a pancake meaning you can take it very easy and in your own time.
What I really liked about this route was it took you over a couple of old viaducts. These were absolutely massive (make sure you check out my video to get a sense of how big they are) and it's definitely worth stopping at these for a peek over the edge.
Also, there's an old Roman fort called Begastri that's on the route – definitely another photo spot!
Hiking at Sierra Espuña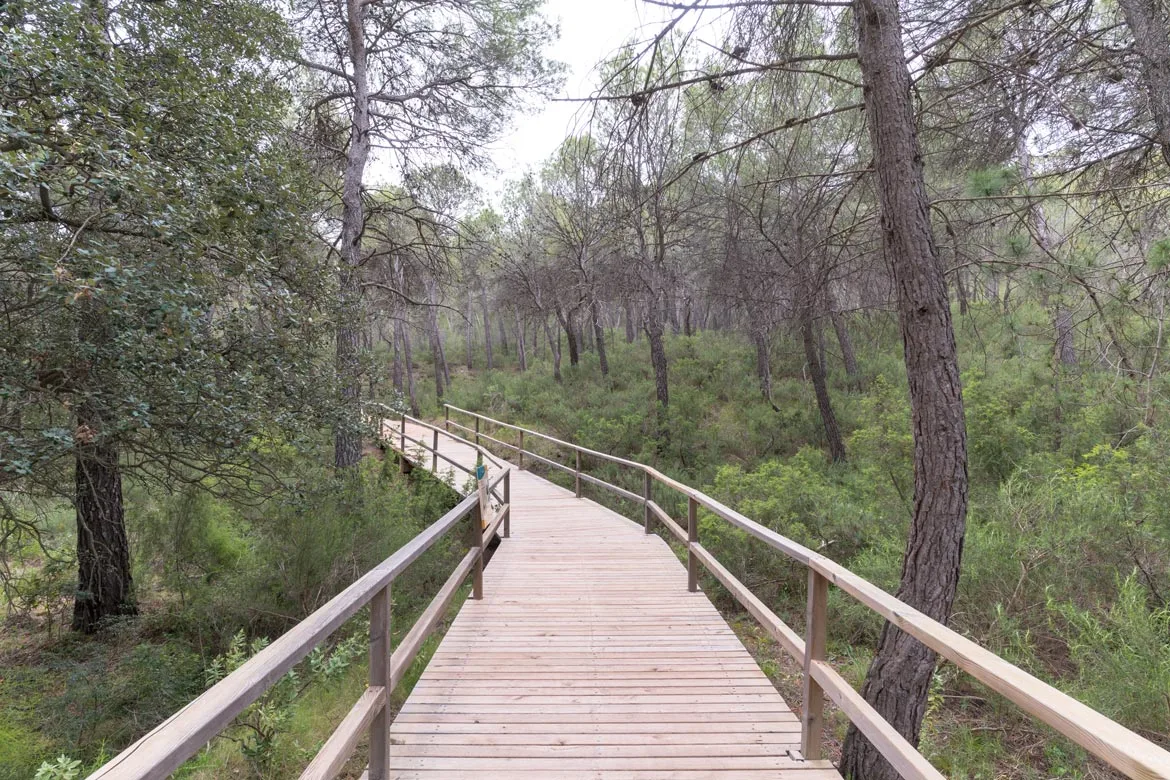 Another of the best hiking spots in Murcia is Sierra Espuña. This is a huge national park that's perfect for bikers and hikers alike.
Sierra Espuña is Murcia's largest forest and area of outstanding beauty. This place is known as Murcia's "green lungs" and it's very easy to see why.
I headed straight for the visitors centre to find out where to best hiking trails were.
One of the reasons why this place is so popular for hiking is it caters to all ages and abilities. There are short 1-hour hikes and longer multi-day hikes depending on what you're looking for.
I hit one of the trails for a few hours and again, I was so surprised at how quiet it was. I hardly saw any other people and it was so peaceful. This is one of my favourite activities in Murcia that's for sure!
Walking across the suspension bridge at Ojós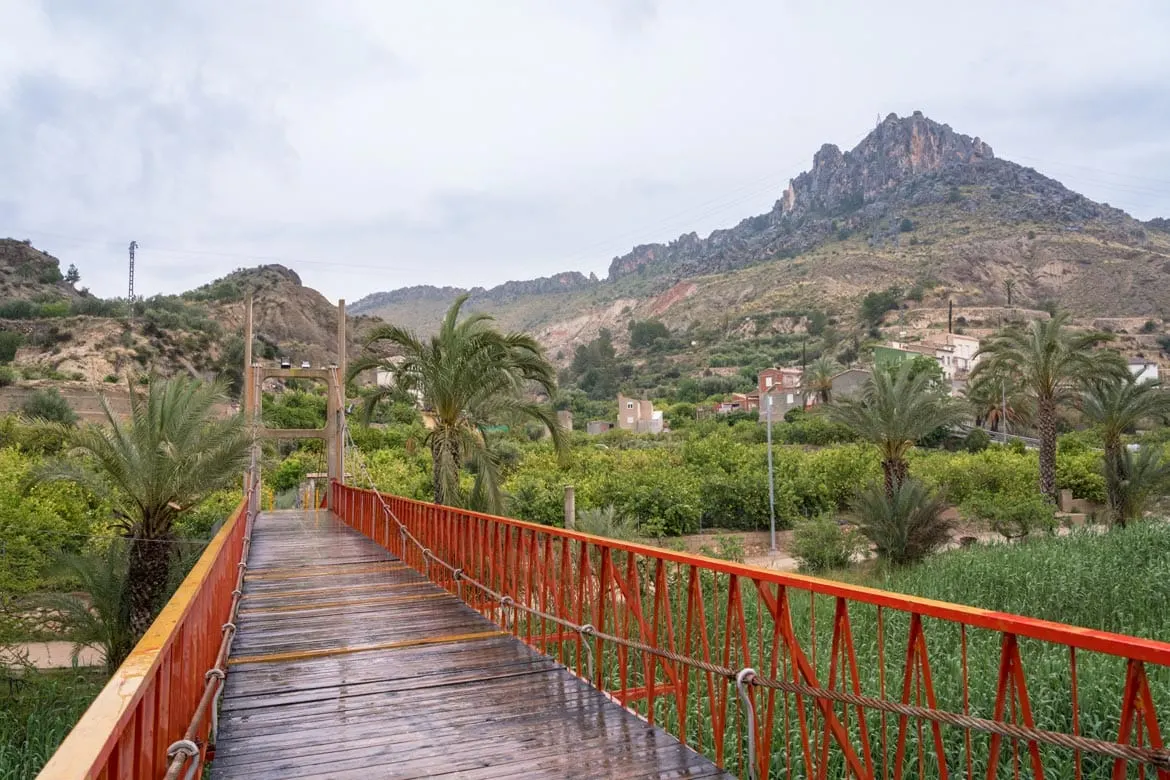 Over in Ojós, a little town north of the city of Murcia, is Puente Colgante de Ojós. This is the Ojos suspension bridge and is a cool spot to visit.
There are some nice walking trails around the area and if you follow the river you'll eventually hit the suspension bridge. This bridge was built in 1988 and is in the middle of a valley with mountains all around it.
Ojós conserves an old-fashioned atmosphere; the town itself is small, it has kept alive many old traditions and crafts and seems to hum along to the banter of children playing in the street and the clatter of busy kitchens.
Spotting flamingos at San Pedro del Pinatar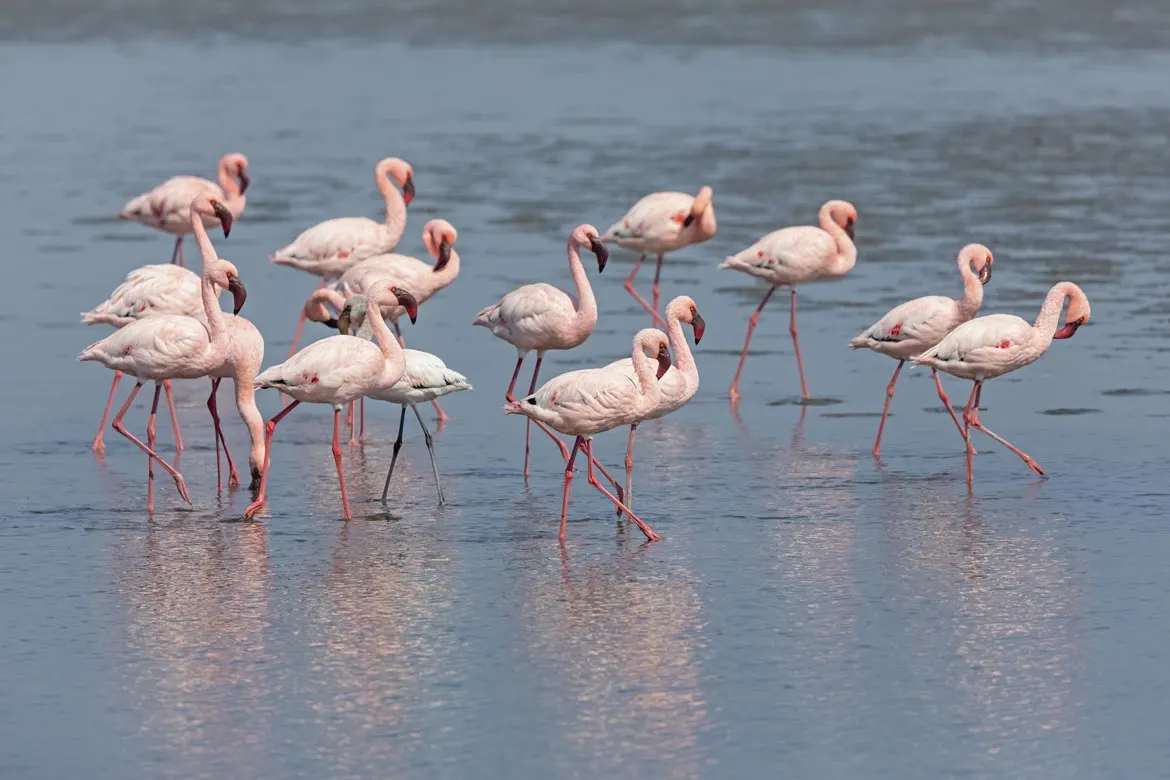 My Murcia travel guide wouldn't be complete without a little wildlife spotting.
San Pedro del Pinatar are the most important wetlands in the region of Murcia and are the best place to spot some flamingos.
Dotted around San Pedro del Pinatar are the Salinas y Arenales. These are shall fields where they harvest salt and they create the perfect conditions for feeding flamingos.
The Salinas y Arenales de San Pedro Regional Reserve extends for 6 kilometres along Murcia's Mediterranean coastline between the towns of San Pedro del Pinatar and San Javier.
It's amazing driving around here and stopping off by the side of the road to watch the flamingos feeding. There's also a really informative visitors centre where they can tell you more about the wildlife in the area and point out the best walking trails.
The best time to visit is spring and autumn, although the greatest concentrations of flamingos can be seen in late June.
Where to stay in Murcia, Spain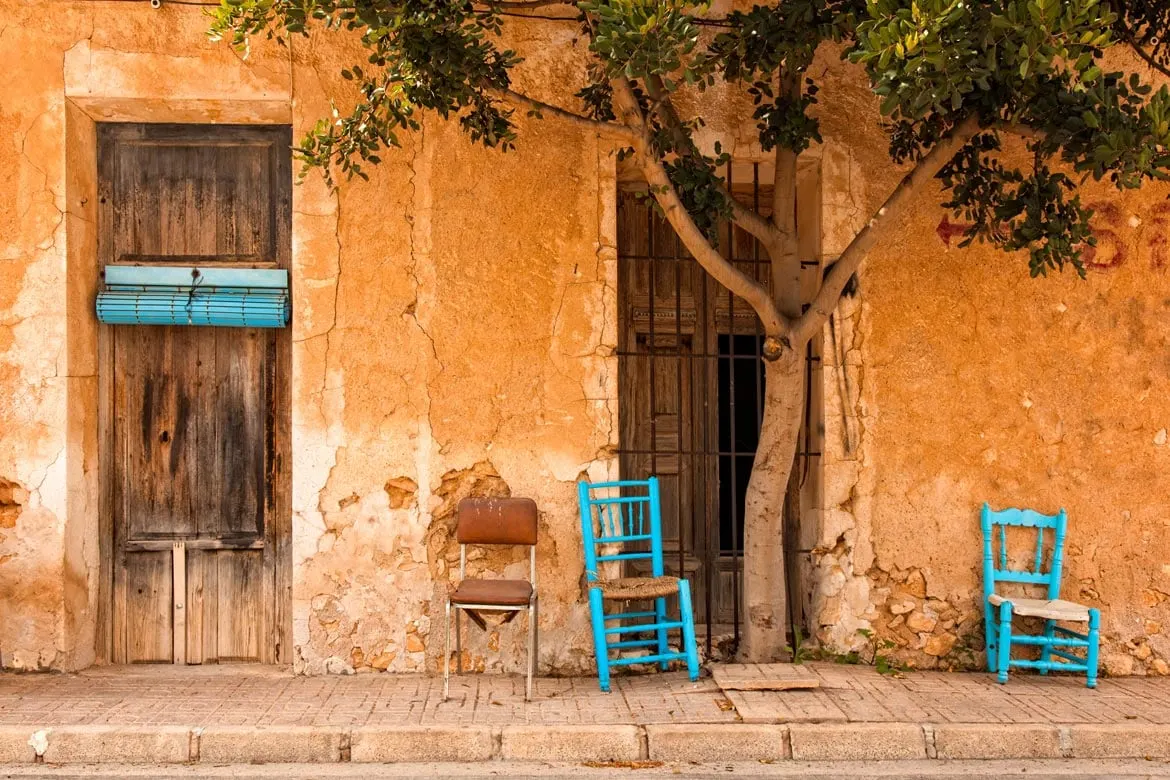 Here are a few hotels that I'd recommend if you're looking for a place to stay in the region of Murcia.
Obviously a lot of people stay in the city of Murcia itself, but I think it's a good idea to get out into the countryside.
Jardines de Casablanca – If you're looking a quiet place away from it all in the region of Murcia then Jardines de Casablanca is a great option. This place has its own swimming pool, garden and bbq so perfect for families. This is a fully equipped villa with all the amenities you'll need.
Hotel San Sebastián Hospedería – This is a pretty little hotel set in Cieza's historic centre. Hotel San Sebastián Hospedería is in a really beautiful building with gorgeous views of the mountains. This hotel is just 30 minutes from Murcia so perfect for those who want to get away from the big city. Prices start around £55 for a double room.
Balneario de Archena: Hotel Levante – The Hotel Levante is located in Balneario de Archena and offers free access to the Spa Thermal Swimming-pools. This place is a little slice of luxury at a fraction of the cost. A night here costs just £62 for a double room with spa access.
Murcia packing list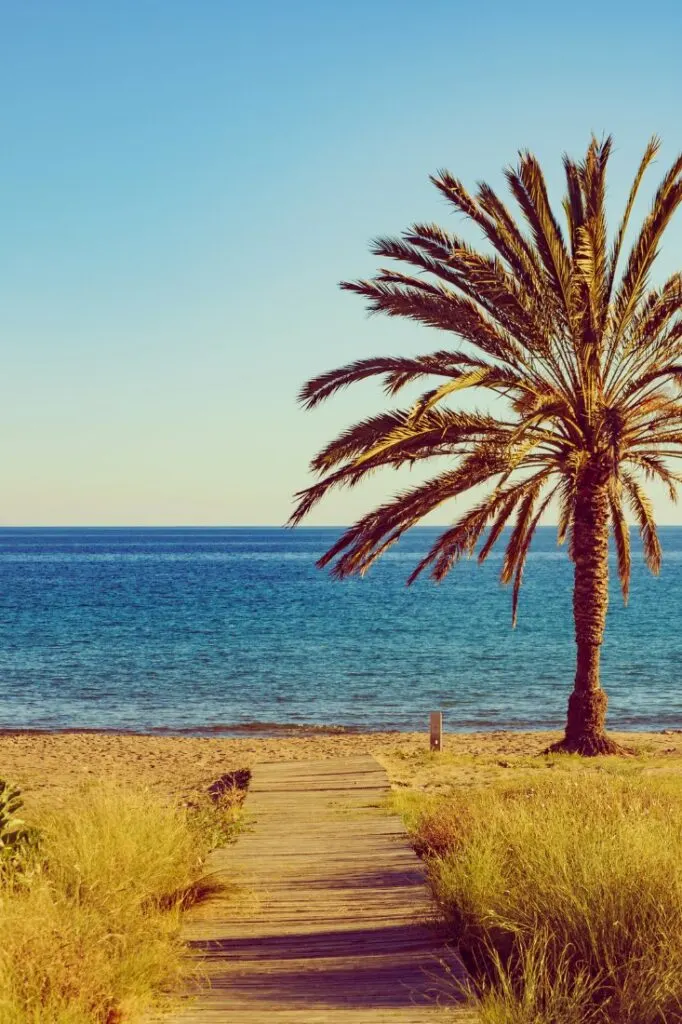 As you can imagine, I travel a lot. It comes with the territory of being a travel blogger! That being said, there are some things that I now can't travel without. If you're planning your Murcia itinerary, I'd really recommend taking these items with you: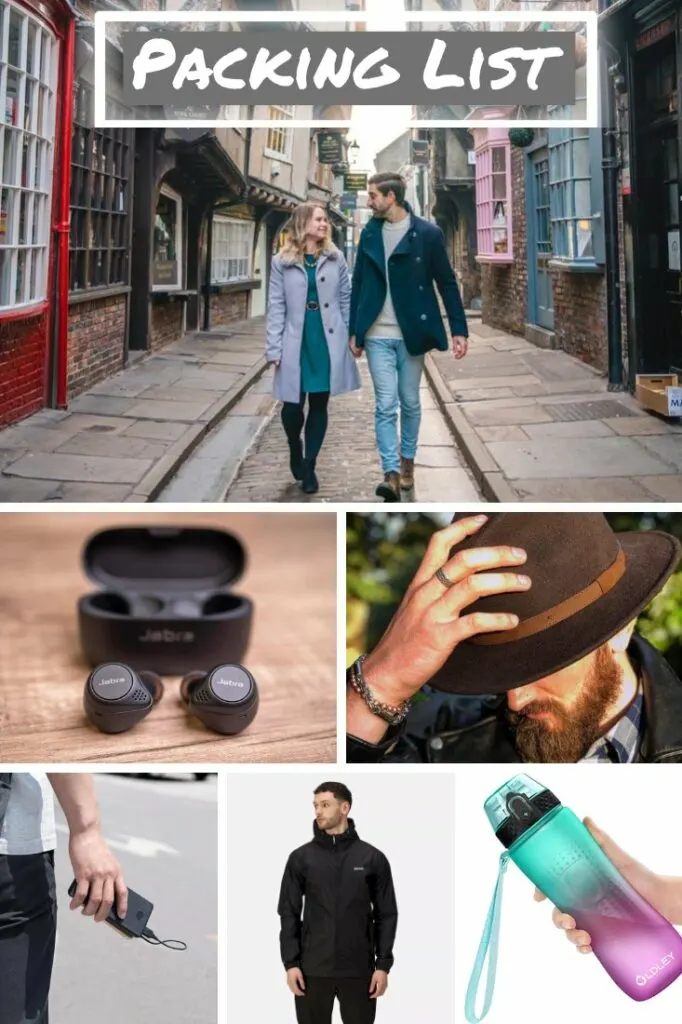 ---
My trip to Murcia was in association with Visit Murcia and SolBooking promoting the best things to do in the region of Murcia. As always, views are entirely my own and without bias.
Are you planning a trip to Murcia? What are some of the things you'd like to do here? Let me know in the comments below!
Like this blog post? Then make sure you Pin it!