If you're looking at exploring Cueva del Puerto in the Region of Murcia, then this travel guide is packed full of advice and information on the caves!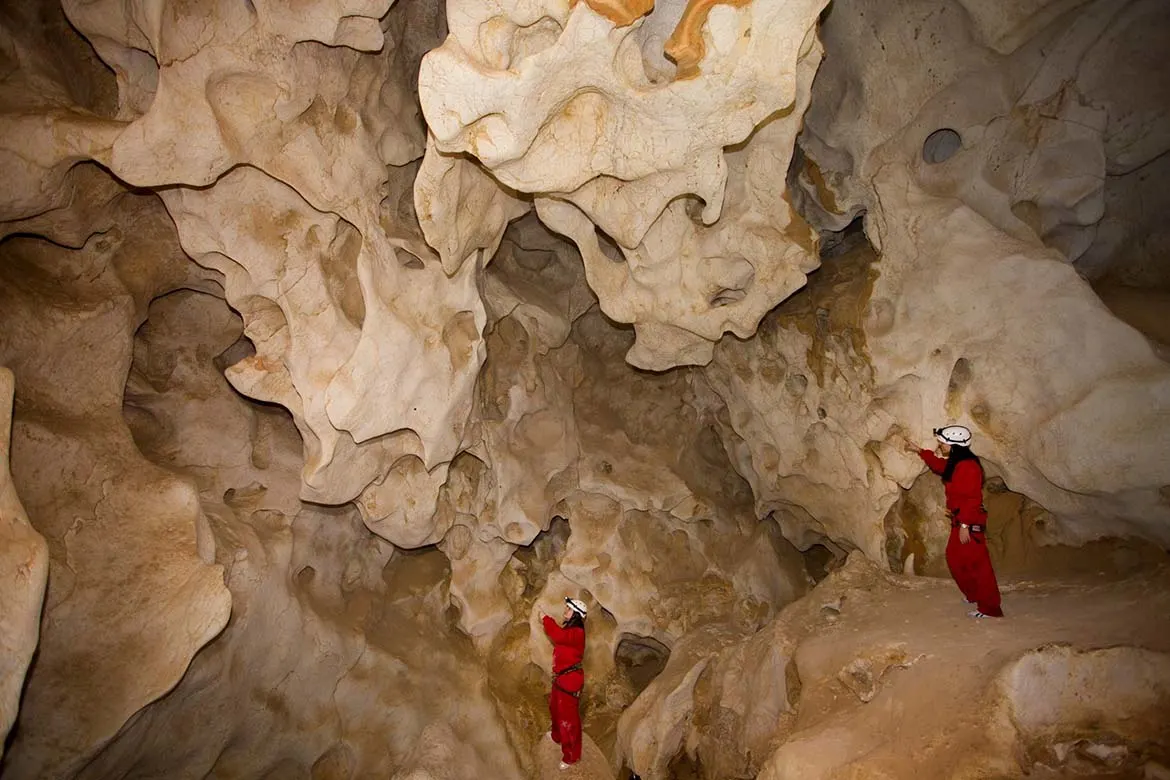 There's something so magnificent about standing in a huge underground cavern with spindly stalactites and stalagmites all around. The dancing shadows play with your mind, and you can almost feel the eerie silence envelop you.
For me, I love that feeling of being so cut off from the world. No light, no people, no phone signal. It always makes me feel like Indiana Jones unearthing mysterious secrets.
Well, there aren't many caves around the world better than Cueva del Puerto in Murcia, Spain. This really is a jewel found deep underground. And for all your adventurers and explorers out there, you will love it.
You can check out what I thought of Cueva del Puerto in my video all about the region of Murcia below!

One of the best things about these caves is hardly anyone knows about them, so you'll have the place to yourself.
Tucked away up in the mountains, they are in such a beautiful spot in the Region of Murcia, yet the only real tourists you'll see here are locals looking to explore the caves themselves. I was the only foreigner which made me feel special.
I really can't recommend visiting Cueva del Puerto enough. For me, it was one of my highlights in my Murcia travel guide. Hopefully in this post you'll understand why.
So, if you're looking at visiting Cueva del Puerto, then this is the article for you. Packed full of advice and information, I'll about to tell you why this is a must on any trip to Murcia.
Where is Cueva del Puerto?
Located in the northwest of the
Region of Murcia
, Cueva del Puerto can be found in the mountain range of the Sierra del Puerto, 9 km from
Calasparra
.
When you're driving up to the caves, it already feels like you're in the middle of nowhere. All around you is farmland, olive groves, and endless vistas. And it is absolutely beautiful.
I was staying nearby in Mula, about an hour away from the caves. I visited the caves in the morning, and it was such a stunning drive from Mula to Calasparra. When you see how remote it is, it really gets you excited to get underground and see the caves.
Also, I'd really recommend exploring some of the surrounding landscape afterwards. There are some fantastic hikes in the area all from the main car park.
I tagged on a short hike of an hour just so I could get a feel for the landscape and appreciate the beauty of the area.
Getting here from the city of Murcia, you have to take the A-30. After Cieza, take exit 91 (Venta del Olivo) towards Calasparra on the RM-714.
Once on this road, at km 36 and before Venta Reales, there is a secondary road on the right. This road will take you directly to Cueva del Puerto. It really is that easy!
What is Cueva del Puerto?
The caves are known as The Cave of the Port in English, which is odd considering it's a very long way away from the coast here!
This network has nearly 5 kms of caves that have been surveyed, but it's thought the whole network is much larger than this. It's pretty crazy when you think about all those undiscovered caves that no one has ever stepped foot in.
For visitors, there are more than 700 metres to explore going down 50 metres underground. Even though you only get to glimpse a small section of the caves, it gives you an insight into what this underground network is like.
All the paths are well illuminated with walkways and bridges over some of the emptier caverns. One of the bridges is about 20-metres high above the cave floor with the drop below, so it's not for the faint-hearted.
It's unknown when the caves were first discovered or whether Neanderthals ever inhabited them. No signs such as cave drawings have been discovered (unlike at the nearby cave of Cueva de la Serrata – more on that later though!)
It's thought locals discovered the caves about five generations ago. Can you just imagine what it would've been like discovering this place for the first time!? As I said, this is proper Indiana Jones territory.
Cueva del Puerto tours
The main tour
The most common excursion is going on a short 1-hour tour of the caves. This starts in the main building where you'll meet your tour guide. Don't worry, all tours are in Spanish and English, and the group sizes are very small. There were only 10 of us in total in our tour group which I think is quite small.
Initially, the tour guide went through the history of the area and the geology of the caves in the main building before taking us to the cave entrance.
As you'd expect, some of the caves are massive, so there's plenty of room to feel like you've got the place to yourself.
Also, the whole tour is a one-way system, so it's impossible to wander and getting lost. Very handy when you've got inquisitive kids.
In each cavern, our tour guide explained more about the geology of the caves. And to make things interesting for the young ones, he pointed out all the different rock formations that looked like an animal or something random like that.
One of the things I loved about being in the caves is how colourful they were. All of the caves are lit up with bright LED lights. There's even an audio-visual show with speech and synchronised lighting to bring everything to life.
This tour only costs €9, so it's really good value for money and a great way of seeing Cueva del Puerto for yourself.
Adventure tour
The other two tours are for all your adventurers out there. This is a proper underground caving tour where you abseil, climb and explore the bowels of Cueva del Puerto.
Obviously all equipment such as overalls, helmets and headlamps are provided. You're also with knowledgeable and experienced guides who show you the ropes of abseiling and climbing.
This tour costs €50, takes three and a half hours with lunch provided too.
I'm gutted I didn't do this tour while I was in Murcia. I've heard nothing but good things, and it's would be such a brilliant way of getting to see the caves. Just means I'll have to visit again one day!
The final tour is a mix of the two above. On this tour you'll learn all about the caves and get to explore off the main path, going deeper underground than on the first tour, but it isn't as long or as adventurous as the second tour.
This tour costs €10 and takes an hour and a half.
Opening hours
From Wednesday to Sunday there are tours at the times below:
09:30 / 11:00 / 12:30 / 14:00
From October to June, the opening times are mainly on Saturday and Sunday:
Morning: 10:00 / 11:30 / 13:00
Afternoon: 16:00 / 17:30
You can still visit from Wednesday to Friday from October to June, but you have to make a reservation for the following times:
The best place to make a reservation is here. You can also call should contact Qalat on 968723000/650940294.
Note: The caves are closed all year round on Monday and Tuesday.
What to bring with you
Trainers or boots – Even though there are walkways and stairs throughout the caves, I would say it's a good idea to wear trainers or boots. They are much more comfortable for exploring the caves. Also, it means you can go hiking afterwards too.
Wear layers – Even if it's gorgeous 30ºC weather outside, it can be cool and humid in the caves themselves. The average temperature is 18ºC inside, and the humidity is 90%. That's why you should bring a thin layer for when you first get into the caves, otherwise it can feel a little chilly.
Bring water – I always think it's a good idea bringing a bottle of water with you.
Another thing. That's a café on site selling sandwiches and coffees. Instead of zooming off, I'd recommend ordering a coffee (or a cerveza), sitting on the balcony and drinking in the views all around you.
– Other things to do in the Region of Murcia –
Visit Cueva de la Serrata
Another incredible cave in the area is Cueva de la Serreta.
Just a short 30-minute drive from Cueva del Puerto, this is one of the best caves I've ever come across on my travels. Honestly, I really mean that.
Cueva de la Serreta is closed to the public and you need to organise access with Jose, the keeper of the keys, beforehand. You can email [email protected] to arrange a visit.
I met Jose in the car park and he opened the gate to Cueva de la Serreta. From there, we walked down into the cave.
This is a huge cave opening overlooking the Segura River below. However, the thing that makes it so remarkable are the rock paintings dating back 7,000 YEARS! How crazy is that!?
On the walls you'll see people with bow-and-arrows hunting animals. There's also a drawing of an 'idol' – local archaeologists believe this may have been a deity that the people worshiped at the time. I'll say it again – HOW CRAZY IS THAT!?
When it comes to what to do in Murcia, this place is right up there with the best.
Hike the Segura River
The Segura River is the main river that runs through the Region of Murcia. This means there are loads of fantastic hiking trails to choose from in the area.
The spot I headed for was Presa de la Mulata. This is actually a power-station and dam on the map, but there's a route that takes you up into the hills. From here you can walk along the cliffs with the Segura River below and it's such a beautiful place for a hike.
Another spot that everyone recommended to me was Canon de Almadenes. This is a longer trail that you follow alongside the river. This is supposed to be one of the best hikes in Murcia, so check it out if you can.
Just to note, the hiking trails are loose gravel so make sure you wear some sturdy hiking shoes otherwise you might find it slippery underfoot.
---
Don't forget you can find out all the best things to do in the region of Murica in my travel guide to the area. This really is one of my favourite areas of Spain, so I hope you like it as much as I did!
Are you planning a trip to Cueva del Puerto in Calasparra? If so, let me know if you have any questions below and I'll see if I can help out!
Like this blog post? Then Pin it for the future!