Planning on visiting Cueva de los Verdes? From opening times to ticket prices, this is the ultimate guide to these caves in Lanzarote!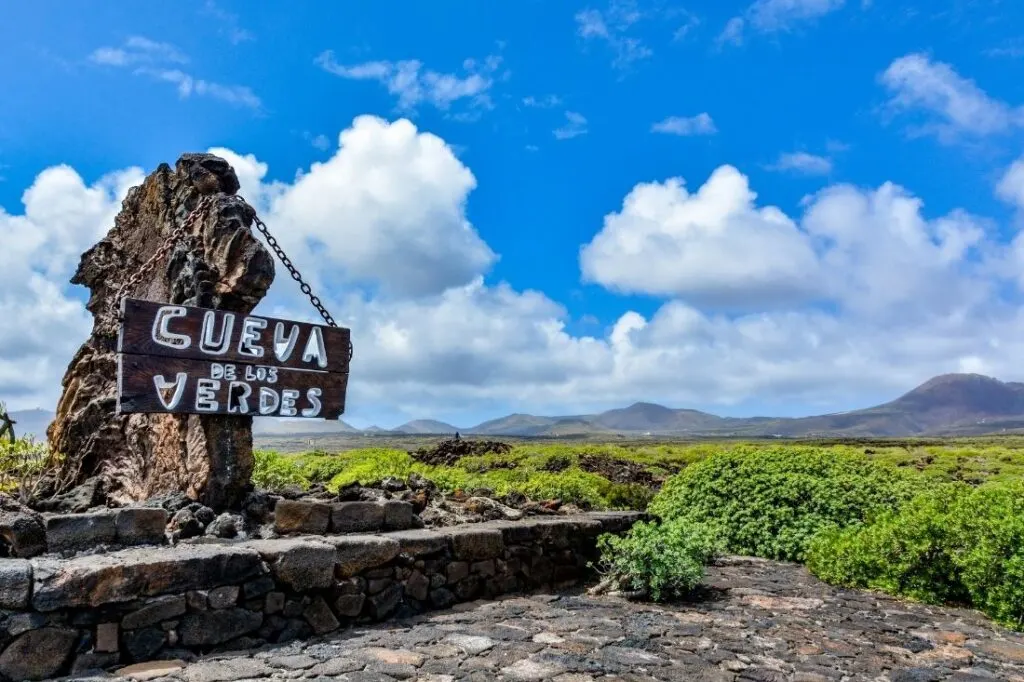 If you're looking for one of the top attractions in Lanzarote, then Cueva de los Verdes is up there with the best.
This is a mesmerising lava tube that really showcases what the volcanic landscape of Lanzarote is all about.
Here's my guide on how to visit Cueva de los Verdes packed full of the most up-to-date information!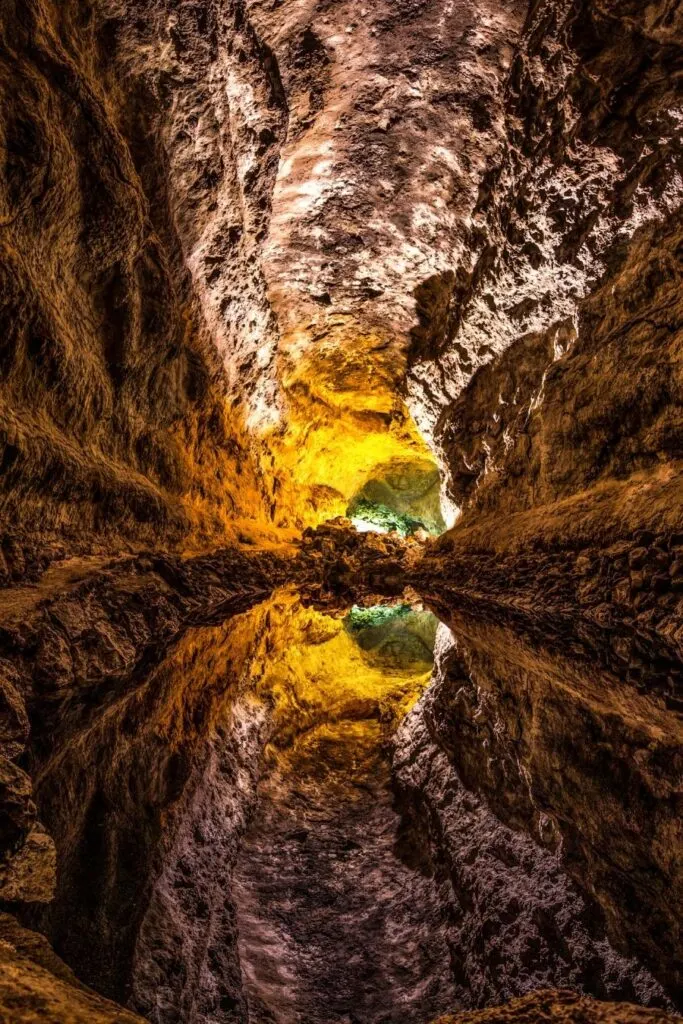 When I arrived at the car park, all I could see was the black rocky landscape for mile after mile. Off in the far distance was a volcano, and behind me I could just make out the glittering coastline. This was the type of landscape I grew to love when travelling around Lanzarote.
If it wasn't the big 'Cueva de los Verdes' sign, this could've been anywhere on the island. But then I started seeing people disappear as they went underground. One monent they were there, the next gone.
From the surface, it's hard believing there's this giant network of underground caves just below your feet, but that's makes Cueva de los Verdes special. It's hidden, out of sight, silent.
But when you stand deep in the bowels of these caves, you realise there's an ethereal beauty to them. It feels like you're on a journey to the centre of the earth.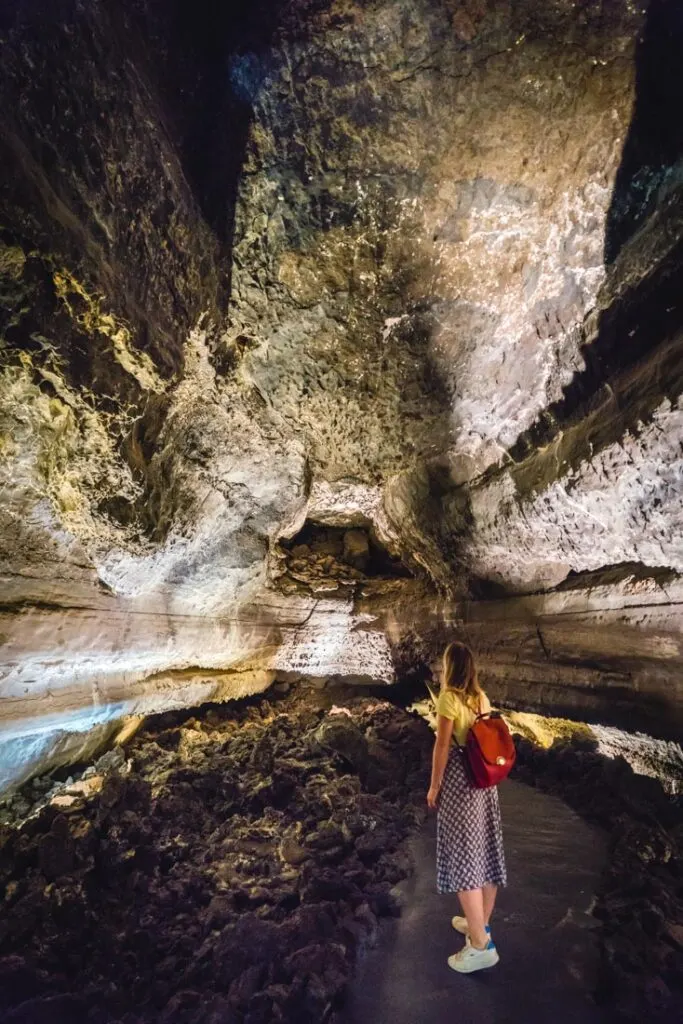 When I was researching the best caves in Lanzarote, I knew this was the main one to visit, but I couldn't find any up-to-date information on prices and opening times.
That's why I wanted to write this Cueva de los Verdes guide. In it you'll find information about the tour, when is the best time to visit and what to wear too.
Hopefully this guide will help you when planning a trip to these Lanzarote caves – I promise you they're one of the best attractions on the island!
To help plan your trip here, make sure you check out my guide to the best boutique hotels in Lanzarote. Some of these places are so dreamy and perfect for that extra special holiday.
What is Cueva de los Verdes?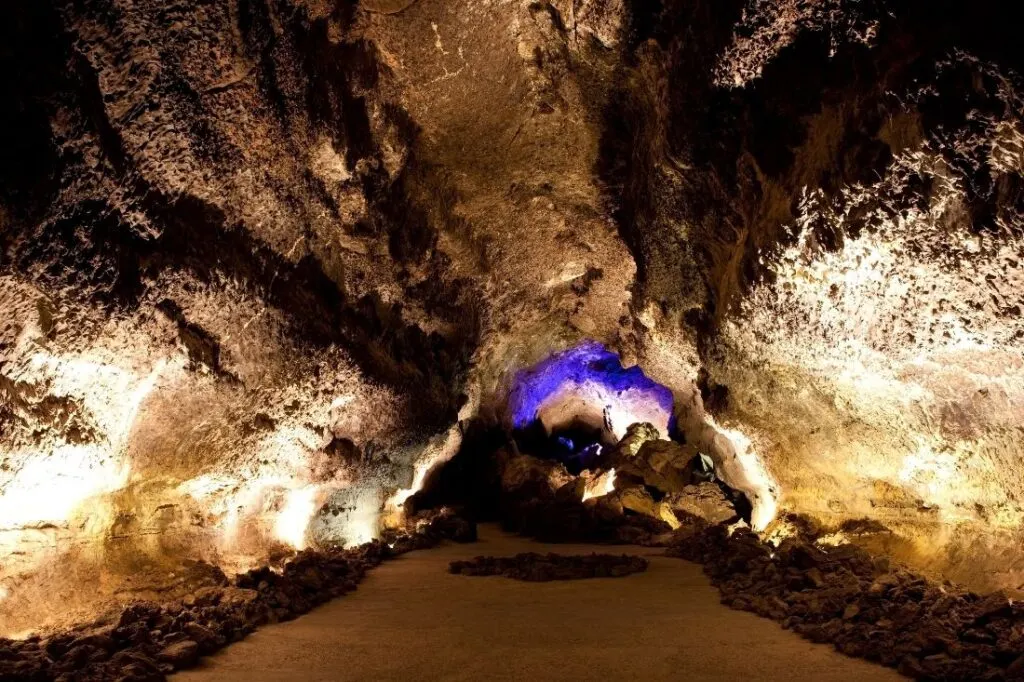 Cueva de los Verdes is a giant lava tube near to Haria in the northeast of Lanzarote.
The cave was created around 3,000 – 5,000 years ago by lava flows erupting from the nearby volcano Monte Corona.
As the lava flowed towards the sea, the top of the lava stream cooled and developed a solid crust. This became the top of the lava tube, and everything below it was melted away by the liquid magma as it slithered towards the water.
It's quite hard describing the feeling of standing in a lava tube, but you do get a sense of nature's vast power and destruction to create something like this. I can't imagine what it would be like seeing something like this happen. I'm glad it was over 3,000 years ago!
I feel like that's a very quick geography lesson there!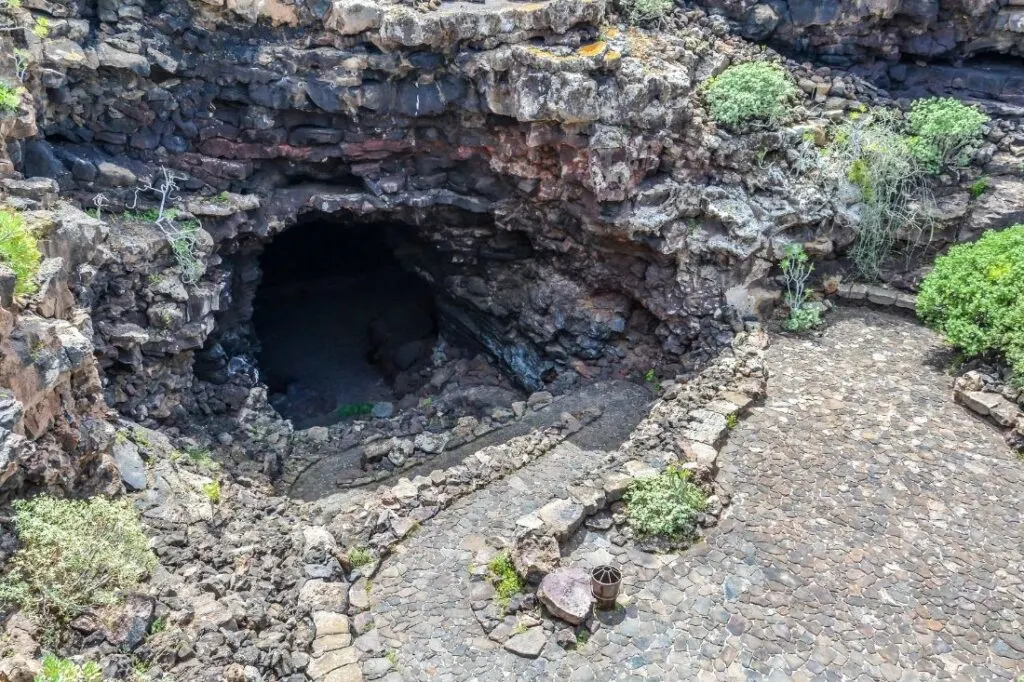 The whole network of caves extends for about 6 kilometres, but the main cave system at Cueva de los Verdes is 1 kilometres which you get to explore. All the caves are lit up with bright coloured lights adding to the mystery of the place.
One of the things that makes these caves so special is there's a concert hall underground. There's even a grand piano down here! Apparently because some of the passages are so narrow, they had to assemble the piano underground.
The concert hall can seat up to 500 people, and because of the low ceilings and hard rock, the acoustics are some of the best around.
These caves were opened to the public in the Canary Islands in 1964, and tourists have been flocking here ever since.
Cueva de los Verdes tour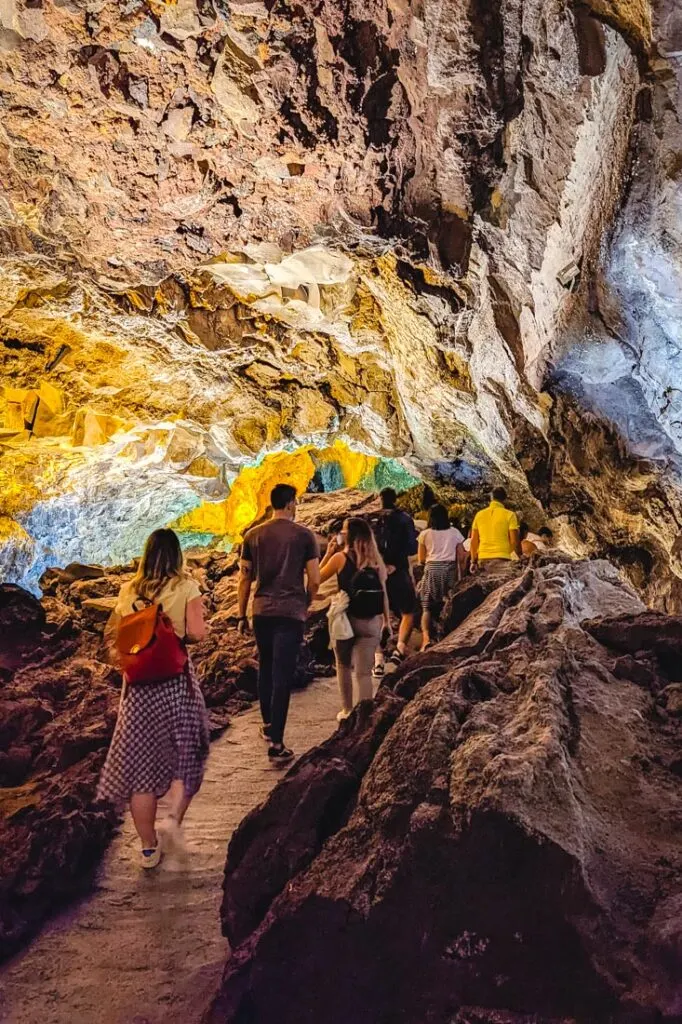 What I didn't realise when I arrived here was that you can't explore the caves yourself – you can only see them by going on a tour.
We arrived at Cueva de los Verdes just before 10am, and already there was a good group of people waiting to go down into the caves.
The Cueva de los Verdes tour take around 50-minutes, and they are run in Spanish and English. Our tour guide was a fountain of knowledge, and he really brought the caves to life.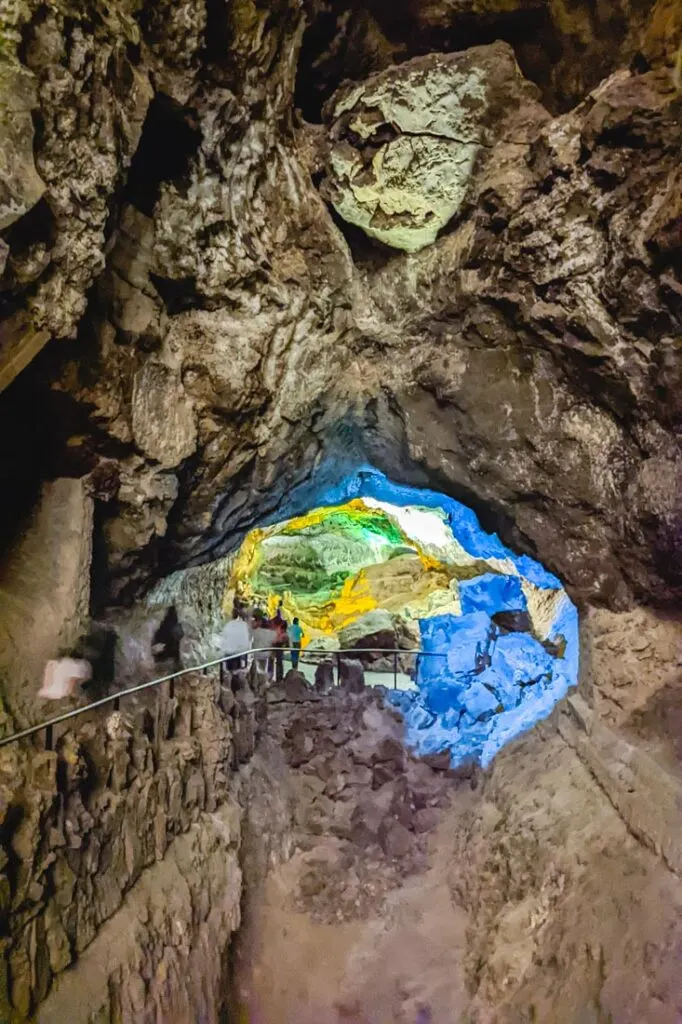 If you look at the structure of the cave itself, the ceiling is covered in what I thought were mini-stalactites at first. However, no water penetrates the cave at all, so I was completely wrong there!
Apparently, they are where bubbles of air and lava were thrown up onto the ceiling by gases released while the boiling lava flowed beneath. As they hit the rock ceiling, they hardened in the process of dripping back down.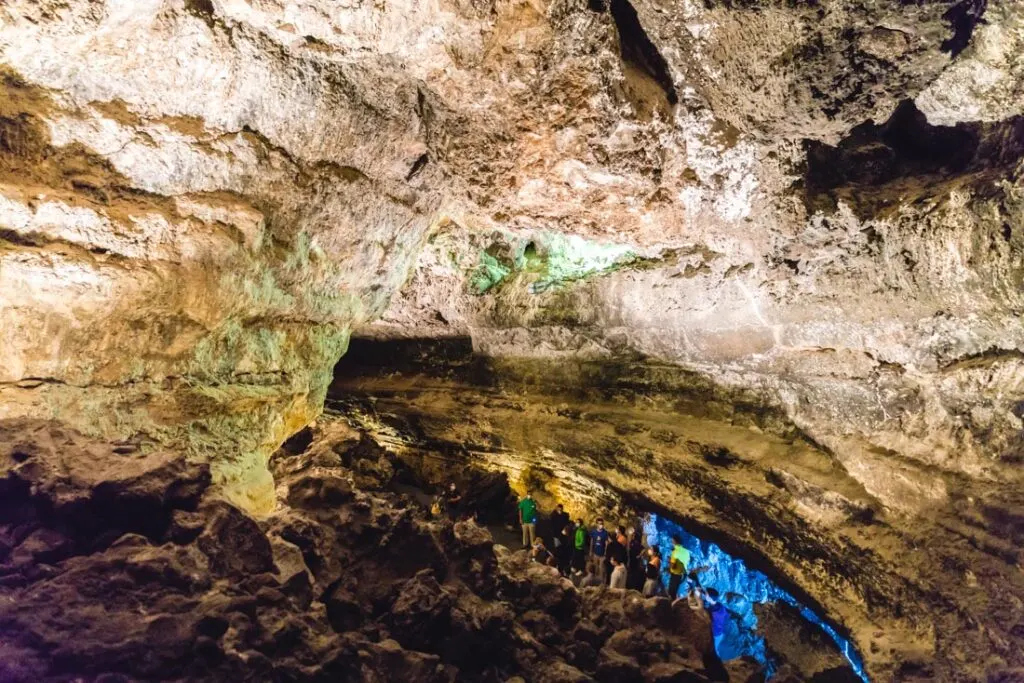 Another thing I found fascinating was that the caves were used as a hideout against the attacks and invasions of pirates from Northern Africa during the 16th and 17th centuries.
I can imagine the caves made for an excellent hiding place – once you're below ground, there really are no signs that there's massive network of caves from the surface.
The Mirror Lake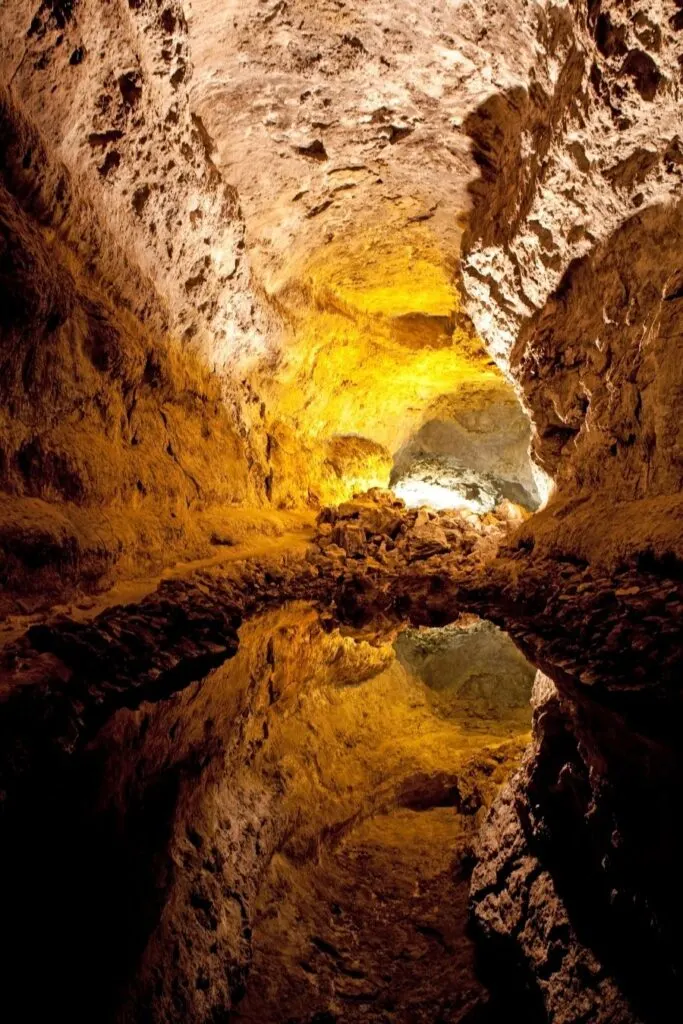 For me, one of the highlights of Cueva de los Verdes is the mirror lake.
In one of the big caverns, there is a very shallow lake. Because there is no wind or rain to disturb the water, it is perfectly flat, just like glass. That means it creates this mirror reflection of the cavern making it look twice as big as it is.
In this cavern, you really get to see how colourful the caves are. There are different hues of red and orange (the iron in the rock), and shades of grey and black creating eerie shadows on the walls.
It's such a simple trick that really showcases the extraordinary landscape here. This was probably my favourite part of the tour, and it's a really good photo spot too.
Cueva de los Verdes price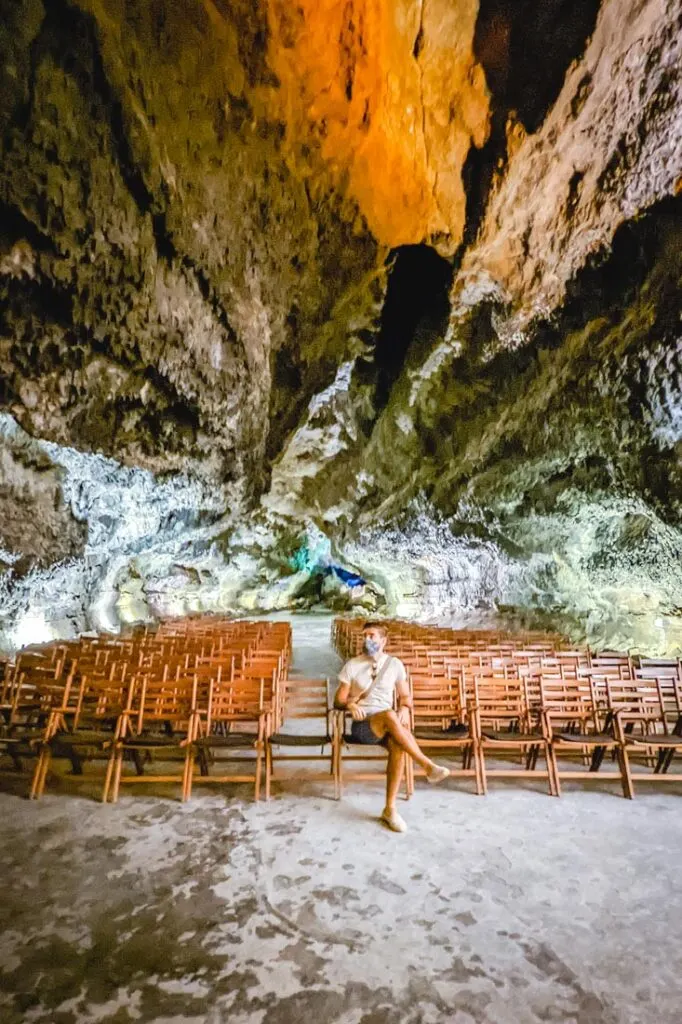 The price of Cueva de los Verdes is €10 for adults and €5 for children. Kids under the age of 7 go free. You can buy your tickets online here.
However, if you're travelling around Lanzarote, I would recommend buying a multi-centre ticket. You can buy either a 3 centre, 4 centre or 6 centre ticket where you can visit Cueva de los Verdes, Jameos del Agua, Montañas del Fuego, Mirador del Río, Jardín de Cactus and MIAC Castillo de San José.
Obviously buying a multi-centre ticket means you'll save money compared to buying individual tickets. As we were in Lanzarote for a week, we bought a 6 centre ticket and it was great not having to worry about buying individual tickets at each place.
If you are a resident of the Canary Islands or a resident of Lanzarote, you will receive a special price.
Cueva de los Verdes tickets
If you don't have a car and really want to visit the caves, then I would really recommend this Lanzarote tour.
On this tour you'll see some of the highlights of Lanzarote. This tour includes visits to the César Manrique Foundation, the Cactus Garden, Mirador Del Río, Monument to the Peasant before finally seeing Cueva de los Verdes. It really is a great tour!
Cueva de los Verdes hours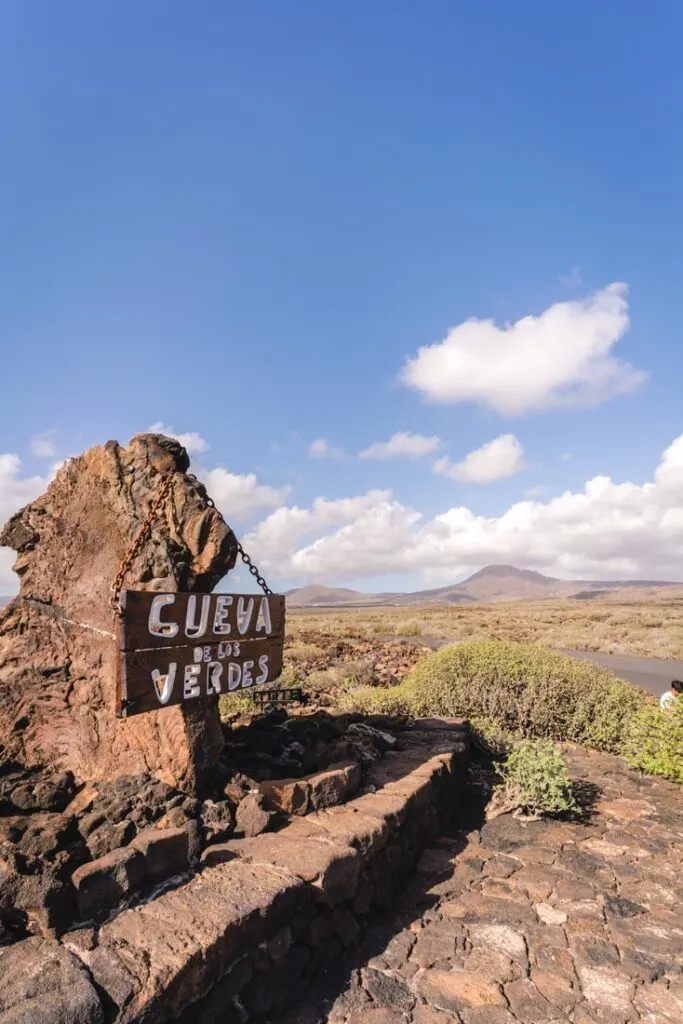 The opening hours for Cueva de los Verdes are 10am to 4pm.
The last tour is at 4pm, so you can arrive here at 3:50pm and you'll be finished around 5:00pm.
If you're looking for the quietest time to visit Cueva de los Verdes, then the tours at 3pm and 4pm are best. This is when most of the tourists have gone and the tour groups are much smaller. I got here early for the 10am tour, and that was a good time to visit too.
There aren't any amenities here, so don't come at lunchtime as there's nowhere to eat!
Top tips for visiting Cueva de los Verdes
Just as a word of warning, I would say anyone with severe claustrophobia might want to steer clear of the caves.
Also, people with back problems might struggle too. There are a few tight passages that require you to bend down which might be tricky. Unfortunately there is no disable access.
I would say it's a good idea wearing trainers or closed shoes. You are scrambling over rock, and it is very easy to scrape your foot on the rocks if they're not covered.
The temperature inside the cave is a balmy 20 degrees all year round, so I'd recommend shorts and a t-shirt.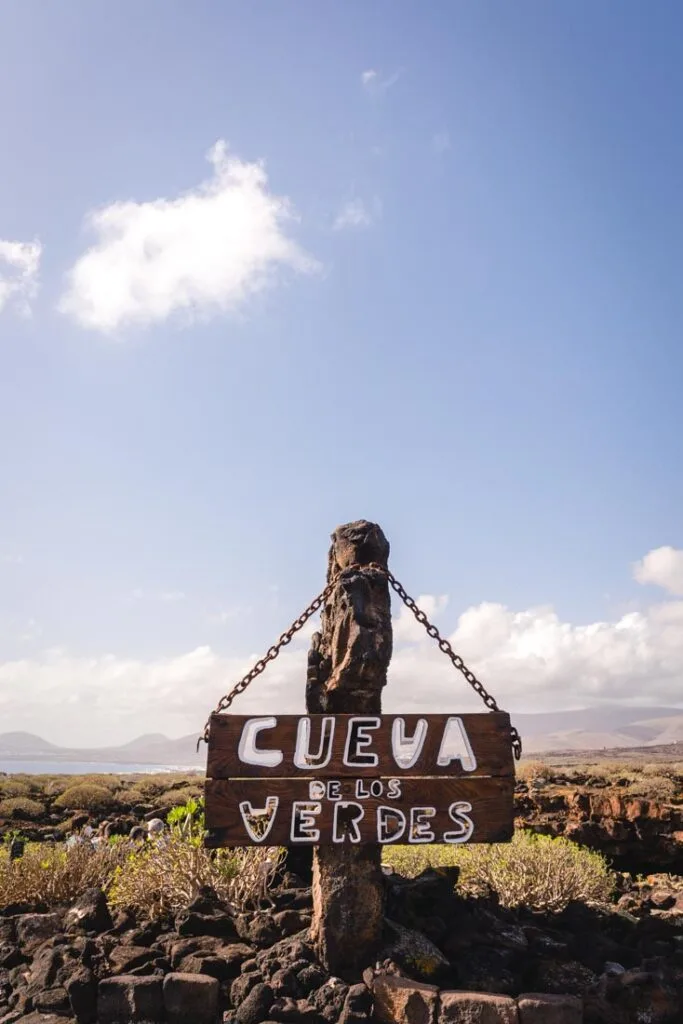 Because the tour group size is limited to around 50 people, it's best to get here either early in the morning or later in the afternoon. If you come around midday, you might have to wait a bit.
There is lots of free parking on site, so if you're driving in Lanzarote, you don't have to worry about leaving your car here.
---
Are you planning on visiting Cueva de los Verdes in Lanzarote? Let me know if you have any questions at all in the comments below!
Like this blog post? Then Pin it for the future!