Cueva de la Serreta is a must on any trip to Murica. Home to cave paintings dating back 5,000 years, this is my guide to Sima de la Serreta!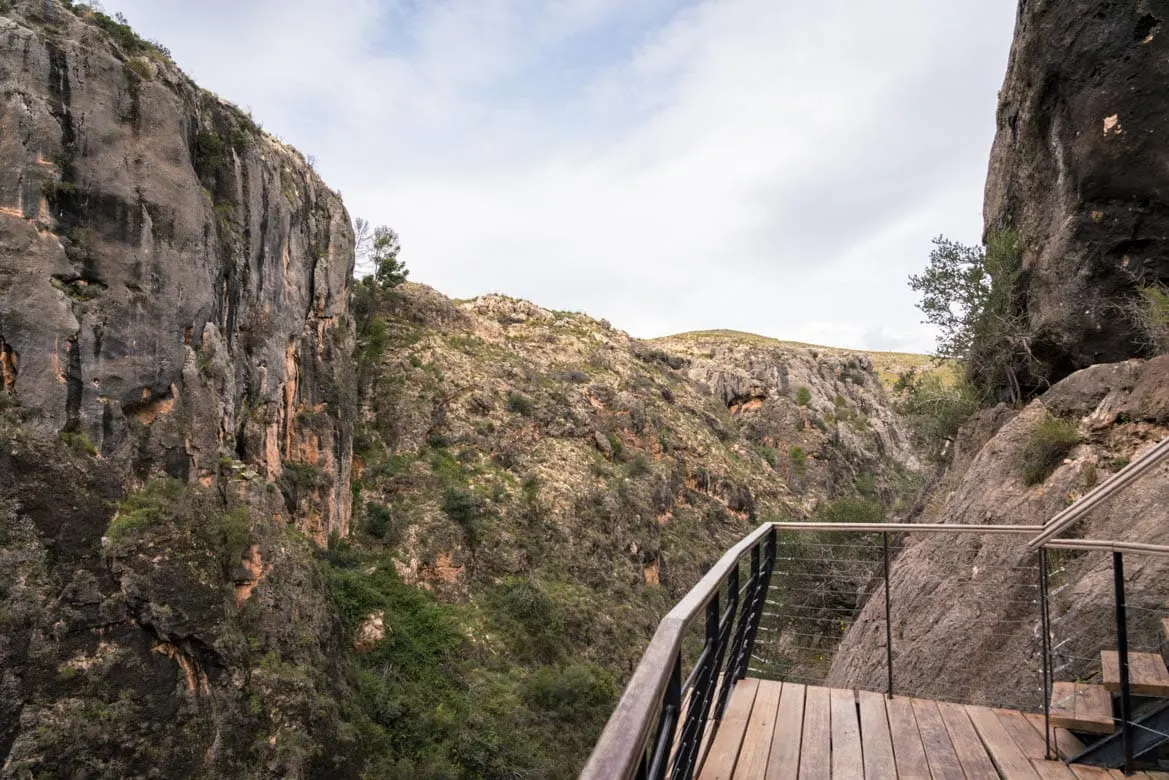 I bet you've never heard of Cueva de la Serreta in Murcia, right? Don't worry, you're not the only one.
When I was travelling around the region of Murcia in southeast Spain, the locals recommended two places to me – Cueva del Puerto and Cueva de la Serreta.
You can read all about Cueva del Puerto here, but Cueva de la Serreta is so different it's almost impossible to compare the two. Yes, as the name suggests, they're both caves, but that where the similarities stop.
Cueva del Puerto is an underground network of caves in the hills of Calasparra. This network has nearly 5 kms of caves that have been surveyed, but it's thought the whole network is much larger than this.
On the other hand, Cueva de la Serreta is just one cave. One cave that holds a secret – civilisation once lived here over 5,000 years ago.
You can check out what I thought of Cueva de la Serreta in my video all about the region of Murcia below!
On the walls of the cave, you can see the faint outlines of ancient prehistoric cave paintings that have withstood the test of time.
This is where early humans once lived. This is where early humans once survived. Isn't that amazing just thinking about it?
Being in a place where you know hunter gatherers once lived is quite eerie. It's hard to describe, but knowing people once slept on the stone below your feet thousands of years ago, it makes you appreciate how far mankind has come over the millennia.
As if that's not enough, Cueva de la Serreta holds another secret too. In the cave you'll find brick foundations of an ancient Roman villa that dates back to the 3rd century AD. Yes, you read that right. There is a house, in a cave, underground.
As I said, this is a place hardly anyone knows about, but that's part of its beauty. When people recommended this place to me, they weren't wrong. This really is one of the best places to visit in the region of Murica.
Hopefully this blog post will highlight why Cueva de la Serreta should be on your Murcia itinerary too. I promise you it's a place you won't forget.
Where is Cueva de la Serreta?
Cueva de la Serreta is located in the middle of nowhere. Seriously, if it wasn't for Google maps, I would never have found this place.
Geographically, it's between the two towns of Calasparra and Cieza in the region of Murcia. If you're coming from the city of Murcia, you take the A-30 up to Cieza, then you follow the RM-B19.
The cave is located within the naturally protected area on the river gorge of Canon de los Almadenes. The gorge has been cut by the passage of the River Sigura creating these vast sheer walls that drop 120 metres to the river below.
The natural porous nature of the limestone rocks from which the gorge is formed has led to the formation of numerous caves in the surrounding area. It really is such a stunning spot before you even go down into the cave.
Getting to Cueva de la Serreta, you drive along a dirt track for a good 15 minutes before you get to the entrance and car park. The entrance is a big metal trapdoor to the cave below so you really can't miss it.
Once you go through the entrance, the whole world of Cueva de la Serrata opens up to you.
What is Cueva de la Serreta?
I'll try and do this justice. Cueva de la Serreta is historically one of the most important sites in Spain. This is one of the only places in the county where you can see cave paintings so clearly. That's why it's so surprising that hardly anyone knows about this tourist attraction.
Despite the fact that it became a UNESCO World Heritage Site in 1998, still hardly anyone visits here. That means if you add this to your Murica itinerary, chances are you'll have the place to yourself.
At the caves themselves, there are about 50 rock wall paintings in total. It's thought that some of these date back 5,000 years. Yes, you read that right. This is living history right here. How crazy is that!?
On the walls you'll see people with bow-and-arrows hunting animals. There's also a drawing of an 'idol' – local archaeologists believe this may have been a deity that the people worshiped at the time. I'll say it again – HOW CRAZY IS THAT!?
Going on a tour at Cueva de la Serreta
Unfortunately, the caves aren't open to the public – you have to organise a visit or book a tour beforehand, so don't just drive there hoping you'll see the cave for yourself.
Saying that, organising a visit is very easy. You can email [email protected] to arrange a visit with Jose. You can also organise a visit directly with Visit Murica.
Usually there are tours running every Saturday and Sunday and it costs €5 per person which is well worth it.
I met Jose in the car park and he opened the gate to Cueva de la Serreta. From there, we went 20 metres down a narrow spiral staircase into the cave.
Once you get down into the cave, it opens out and you have the most beautiful view of the Sigura River flowing below. When you're standing in the car park, it's hard to believe there's this massive cave with stunning views just below your feet.
Jose is a bit of a local legend in the area. He has been running tours for years and he's so knowledgeable about the history of the cave. He's really goes into detail about all the different rock art drawings and he brings the place to life.
One of the main areas of interest is the remains of a Roman house which dates back to the 3rd century AD. It's hard to believe that anyone would've built a house underground in a cave, but you can clearly see the outlines of the brick walls. It's thought the whoever lived here at the time might've been hiding from religious persecution or that they were outlaws which just adds a layer of mystery to the place.
Just to add more magic, this is the only documented Roman habitat inside a cave anywhere in Spain. I know that's very niche, but still damn cool.
Paintings in the cave
Without a doubt the real treasure at La Serreta are the prehistoric cave paintings. These are located on two different levels – one higher up near the stairs, and one lower down on a wall overlooking the canyon.
Both sets of paintings date from the Neolithic period and belong to the Mediterranean Arc (or Levantine Cave Art). As I said, it's thought some of these paintings date back over 5,000 years, though most are more likely to be 4,000-3,000 years ago.
On wall on the lower level, you will find seven figures all in a row, all in a schematic style. One of these figures is known as the Bullfighter due to its head with horns. You can even see the animals they're hunting at the time, a true representation of hunter gatherers.
The other main painting is the Idol which looks like a weird alien symbol. It almost looks like a living organism or a worm. There is definitely an aura to the painting though.
Because of its shape of a circle being dissected by a line, it's thought this could have been a fertility symbol, or something early humans worshiped to give life. Either way, it's absolutely fascinating staring at something so old.
The painting of the Idol is so important to the area that it is now the symbol of the city of Cieza.
Why you should visit
I really can't recommend Cueva de la Serreta enough.
I don't know if it's the painting of the Idol or knowing you're visiting a place early cave dwellers once lived, but there's a very special feeling visiting somewhere like this. Put it this way – it's a place you won't forget easily.
Hopefully this post has highlighted why you need to add Cueva de la Serreta on your list of things to do in the region of Murcia. For me, it really is one of the best things to do here.
---
Don't forget you can find out all the best things to do in the region of Murica in my travel guide to the area. This really is one of my favourite areas of Spain, so I hope you like it as much as I did!
Like this blog post? Then Pin it for the future!