Salzburg is just perfect for a weekend away. If you're looking at where to stay in Salzburg, these are the best hotels for you!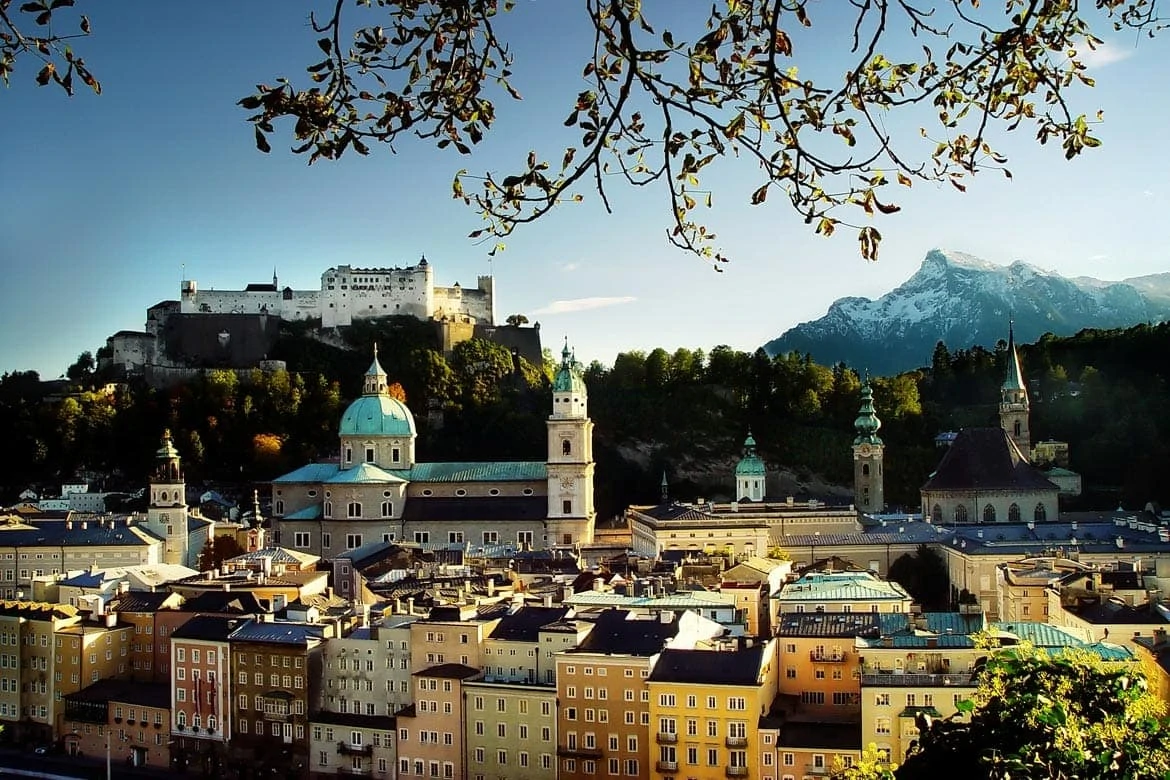 I'm throwing this out there but Salzburg *might* just be my favourite place in Austria.
I could walk around the cobbled streets of Old Town popping into little boutique shops and cafes all day long.
Then there's the amazing architecture everywhere, this beautiful blend of old 15th century buildings with modern hotels dotted around the city.
If you're looking at where to stay in Salzburg, you've certainly come to the right place! In this blog post I'm going to take you to some of the best hotels in Salzburg and how much they cost per night.
Stay at one of these hotels and you're bound to have an amazing time in the city.
Also, if you're looking for a travel guide then make sure you check out my Salzburg itinerary with some of the best things to do in the city. I've also written about some of the best day trips from Salzburg too if you want to get out of the city for the day.

Getting around Salzburg
One of best things about Salzburg is its size. It is a very easy city to get around and you can walk to most places.
The town is split into two by the Salzach River running through it. Don't worry though – there are 3 big bridges connecting the city so it is very quick getting from one side to the other.
All the major tourist attractions in Salzburg are walkable. The majority of people stay in and around the Altstadt (the old town) in the city. This is where you'll find Mozart's birthplace, the Mirabell Gardens (where they filmed The Sound of Music) and Kapitelplatz (Chapter Square).
Personally, I think Altstadt is where you'll find some of the best hotels in Salzburg. Saying that, there are some lovely hotels on the other side of the river which I'll tell you about too.
Heading from Mozart's Museum to the top of Hohensalzburg Fortress only takes 15 minutes. You see, I told you it was a walkable city!
How long to stay in Salzburg
When it comes to how long to stay in Salzburg, there's no right or wrong answer. I know some people who have only spent a couple of days here. On the flip side, I know people who have stayed for a week exploring all Salzburg and Austria had to offer.
For me though, I've been to Salzburg a couple of times now. Once was in winter for the Salzburg Christmas Market and once in summer. I was amazing seeing the contrast that the seasons brought. Winter was so magical but I warn you, it is very cold.
Both times I spent 3 days in Salzburg and I think this is the perfect amount of time to really get a feel for the city. You can definitely tick off a loads of things to see and do in that amount of time.
As it's a small city and easy to get around, that makes Salzburg one of those cities perfect for a city break or a romantic weekend away.
– Where to stay in Sazburg –
From little boutique hotels to 5* luxury resorts with incredible views, there is an abundance of accommodation options to choose from here in Salzburg. So you've got it, these are some of the best places to stay in Salzburg.
To kick things off let's start with one of the most luxurious hotels in Salzburg (don't worry, they're not all going to be this posh and expensive!)
Hotel Schloss Mönchstein is a 5* superior hotel at the top of the Mönchsberg, a hill right in the centre of Salzburg. It is surrounded by a large park and offers the most stunning panoramic views of the city. In fact, I think this is one of the best photo spots in Salzburg too.
To make things even better, there's an outdoor infinity pool (perfect for summer) and an outdoor hot tub (perfect for winter), so you're covered in all seasons.
Obviously there's a spa with a sauna and steam room. You can also get beauty and wellness treatments if you're looking for a little extra R&R.
The exclusive rooms and suites are all individually and luxuriously furnished. They feature priceless antiques and marble bathrooms, as well as modern amenities.
At the other end of the scale is the very trendy Arthotel Blaue Gans. Even though this hotel is in an old 14-th century building in the heart of Salzburg's Old Town, the inside is very modern.
Situated along the famous Getreidegasse shopping street, Arthotel Blaue Gans is directly opposite the Festival Hall and just a few steps from Mozart's Birthplace. It combines a historic ambience with modern design and contemporary art. More than 100 original works of art are spread throughout the Arthotel. This makes it the perfect place to stay in Salzburg if you're an art lover!
There's a really nice restaurant downstairs which is surrounded by medieval stone walls. They serve really nice Austrian cuisine and in summer you can expect things like asparagus salad and lots of trout.
There's also a beautiful herb garden out back which is a lovely place to kick back with a cocktail.
The Arthotel Blaue Gans is one of the best-rated properties in Salzburg.
Now for some very different Salzburg accommodation! The Das Grüne Hotel zur Post is a 100% eco-friendly hotel.
This hotel uses a photovoltaic system to generate electricity and solar energy to heat the water. The remaining energy comes from a carbon-neutral pellet heating making this an energy-neutral hotel. That means you can stay here know you're not impacting your carbon footprint which is a good thing.
Also, their breakfast buffet isn't your normal fare either (sorry sausages). Instead, you can expect a selection of vegan, lactose-free and gluten-free dishes.
There's also a really nice terrace here and a sauna too – both places are great to unwind after a day of sightseeing.
Das Grüne Hotel zur Post is about a 5-minute bus ride from Salzburg city centre or you can rent a bike for the day and cycling some of the surrounding trails.
Time for another uber lux place. Hotel Goldener Hirsch is one of the best hotels in Salzburg – this place is absolutely gorgeous. Situated in the famous Getreidegasse right in the heart of Old Town, this hotel is just moments from Mozart's birthplace.
There has been a luxury hotel on this site since the 15th century. As soon as you step inside it's like going back in time and the whole hotel is decorated with antiques and handmade furniture.
If you decide to stay here then make sure you check out Bar Goldener Hirsch. This bar is ornate on another level.
The cathedral, Hohensalzburg Fortress, and all major sights of Salzburg are only a short walk away from Hotel Goldener Hirsch.
This is always one of the top picks in Salzburg and the location is spot on.
Hotel Rosenvillal is a little further out of town in the residential district of Aigen, south of the Kapuzinerberg Mountain and just a 15-minute walk to the Old Town. This means it feels like your own little escape from the hustle and bustle of the centre of town.
What I really like about this place is it's very clean and modern inside. It kinda feels like a ski chalet crossed with a country manor. Also, some of the rooms come with a balcony which is perfect for the summer. The views of the mountains from here are gorgeous.
If you're looking at where to stay in Salzburg, Hotel Stein is one of the most popular places around.
Located right in the centre of town, Hotel Stein comes with a rich history dating back to medieval times. However, it was full renovated and reopened in the spring of 2018 giving the hotel a new lease of life.
At the top of the hotel is a panoramic rooftop terrace with some of the most beautiful views of the city and the surrounding mountains.
The rooms here are in a classical style but with a lot of modern touches. Each room is really bright and I love the splashes of colour everywhere.
Also, restaurant Seven Senses is to die for. I ate here on my last trip to Salzburg and the food was incredible (I recommend this restaurant in my Salzburg itinerary). You really can't beat the views from the terrace for sunset, especially in summer.
Only 100 yards from the hotel, the well-known Linzergasse starts, where a variety of shops can be found.
The Meininger is one of the best budget hotels in Salzburg, partly because it's a little of out the action.
Even though you're just over a mile away from the Old Town, this hotel is extremely close to the main trail station making if perfect for people who only have a day in Salzburg.
Each room is decorated with modern, wooden furniture and the roof terrace offers panoramic city views. Also, the bar has a pool table and a fussball table. Oh, and there's a Nintendo Wii too! Loads of games for me to lose at.
If you're looking at where to stay in Salzburg then you really can't go wrong with this place. First opened in 1864, Imlauer Hotel Pitter is in the centre of Salzburg and within walking distance of all the top attractions.
The famous PitterKeller restaurant serves dishes which are typical for Salzburg and it surrounding region as well as a range of beer specialties.
Also, the train station is only a 10-minute walk away, so much like with the hotel above, this is great for travellers with a short amount of time in Salzburg.
---
What are some of your favourite hotels in Salzburg? Let me know in the comments below and I'll add them to this blog post!
Like this blog post? Then make sure you Pin it!