Are you searching for the best day trips from Salzburg? From the idyllic village of Hallstatt to the majestic Dachstein Ice Caves, these are my top picks!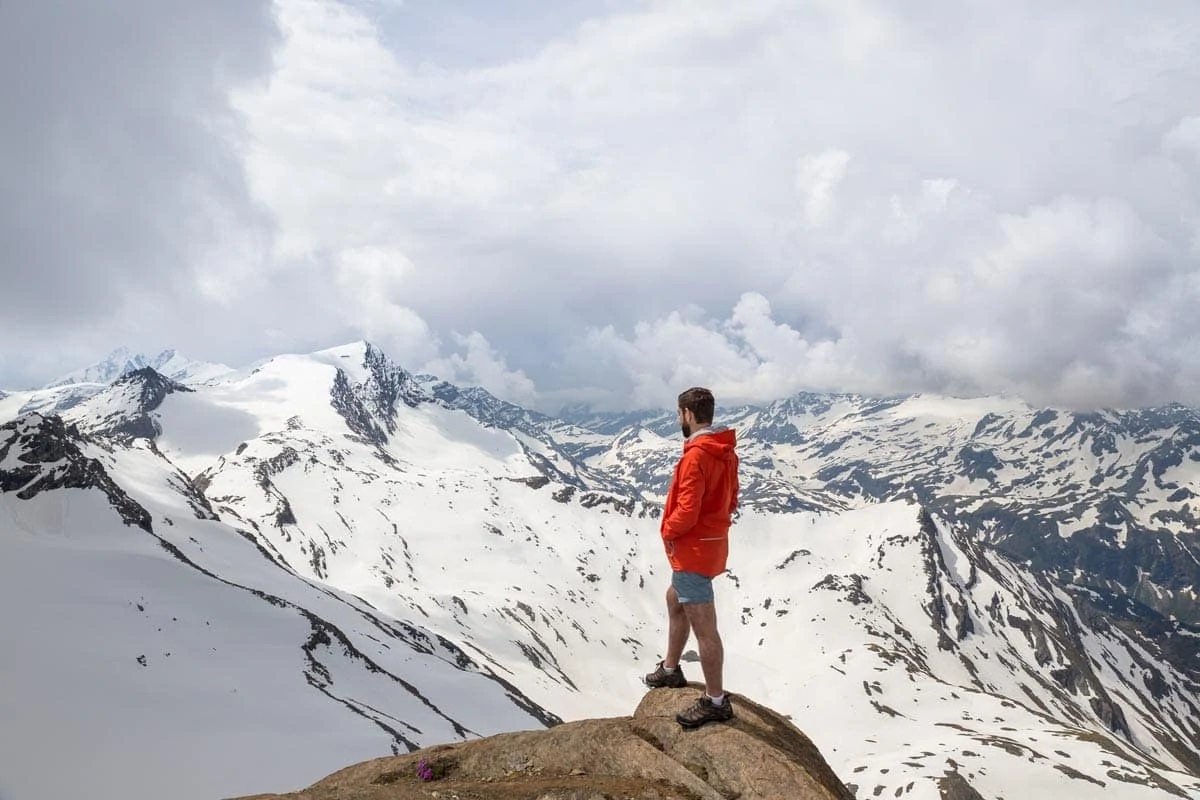 Most people know it as the home of both Mozart and The Sound of Music, but there's so much more to Salzburg than just those two things.
With picture-perfect baroque architecture and charming cultural landmarks, this is a city that I could visit time and time again. I'm a firm believer that it should on the itinerary for any Austrian adventure.
What makes it an even better stop-off point are all the amazing day trips from Salzburg that you can do. There are so many stunning places you can visit all just a short drive or train ride away.
The city has fantastic transport links which means all of these Salzburg trips are easy to do in a day.
Visits to places like the fairy tale village of Hallstatt or the Bavarian capital of Munich are ideal if you're seeking culture.
I think it's important to get clued up on local history, so trips to the Eagle's Nest and Dachau Concentration Camp are also excellent choices. Equally, I love to get in a good dose of natural beauty and found the Dachstein and Werfen Ice Caves just awe-inspiring. As you can see, there is so much to see & do here.
So, without further ado, let's dive into the best day trips from Salzburg in Austria. I've got no less than 14 recommendations for you and there's somewhere for every traveller's tastes.
If you're looking at basing yourself in Salzburg, then make sure you check out my article on where to stay in Salzburg featuring some of the best hotels in the city!
Best Day Trips from Salzburg, Austria
1. Hallstatt, Austria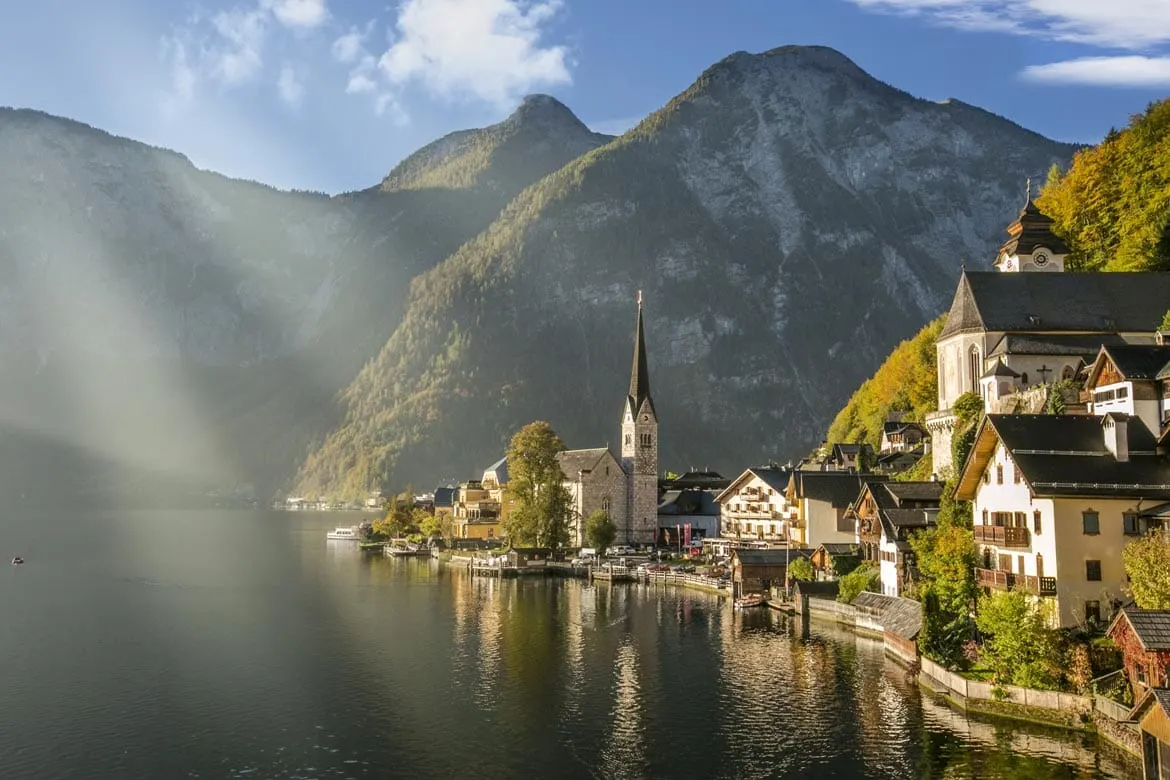 I would say a day trip from Salzburg to Hallstatt is one of the most popular you can in Austria.
I'd recommend a full day here to really take in this idyllic village. It's so peaceful wandering around the lake and exploring all the village has to offer.
My top activity to do in Hallstatt is definitely the salt mine tour. It uncovers the history of the oldest salt mine in the world and the huge significance of 'white gold' in the local area. A ride on one of the traditional wooden boats across the serene lake is another must. Also, don't forget your camera because this place is picture postcard perfect.
A tour of Hallstatt from Salzburg costs £56/US$70. This is for a half-day tour (6 hours) and includes all guides and transfers.
2. Hitler's Eagle's Nest, Germany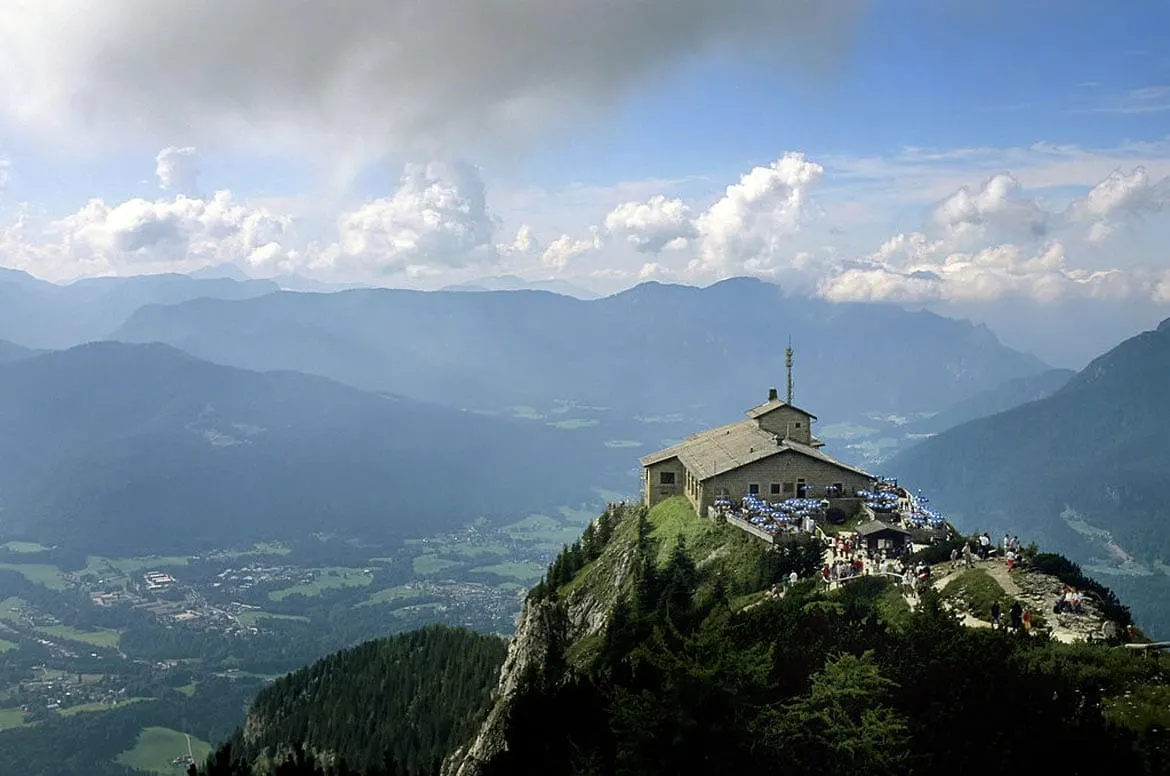 Anyone with an interest in history, especially WWII history, should make this one of their Salzburg day trips.
The Eagle's Nest is a former command centre that was built for Adolf Hitler and became his second seat of power. Its name comes from the fact that it's situated 6,017 feet above sea level with unparalleled views over the Bavarian Alps and surrounding area.
Today, the building is a mountain-top restaurant loved for panoramic views – a far cry from its unsavoury past. There's an uneasy contrast between this beautiful scenic spot and what you know about the history.
The nearby Documentation Centre is a museum dedicated to understanding the history and includes a WWII bunker tunnel system on display.
A tour of the Eagle's Nest costs £56/US$70. This is for a half-day tour (5 hours) and includes all guides and transfers. Make sure you bring your passport with you just in case too!
3. Alpbach, Tirol, Austria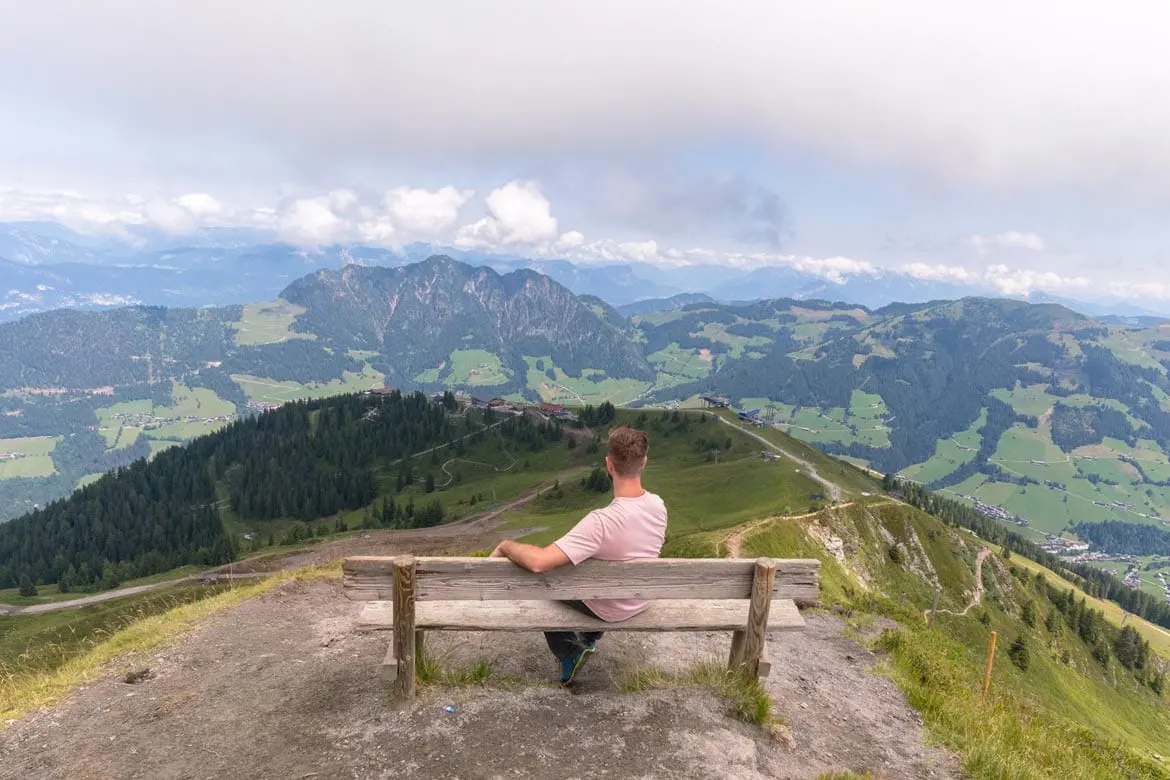 Alpbach has everything you want from a day trip to an alpine village: authentic wooden houses, mountain vistas, pure air, green spruce trees and picturesque meadows. It was once voted Austria's prettiest village and I'm pleased to report it lives up to the reputation.
Skiing and other winter sports are the obvious pastimes here, but there are also loads of beautiful hiking and cycling trails. You can also go paragliding and while I didn't have a go myself, I'm certain you'd be treated to unbeatable views.
You can check out the best things to do in Alpbach in my blog post here (just click on the link),
4. Munich, Germany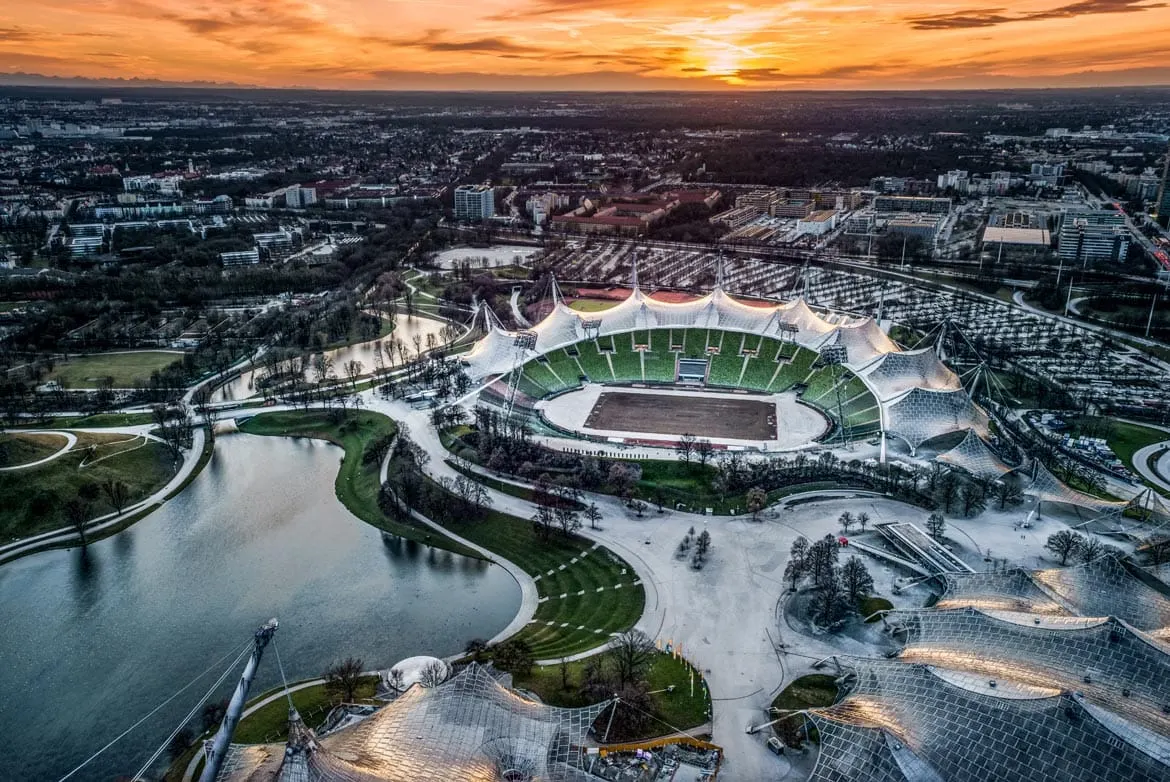 The beer halls and the Bavarian city of Munich is only 90 minutes away by train. For me, this makes it one of the best day trips from Salzburg, especially if you want to visit a different country.
Germany's third largest city is packed with interesting sights. Marienplatz, the English Garden and the BMW Museum are all favourites, plus there are some truly epic churches, galleries and palaces.
And of course, if you're in Salzburg around the time of Oktoberfest, then a day trip here is a no brainer. I've been to a couple of Oktoberfest parties before and they are so much fun. I promise you they're even better in Munich!
A tour of Munich from Salzburg costs £49/US$60. This is for a full-day tour (10 hours) and includes all guides, train tickets and transfers.
5. Dachstein Ice Caves, Austria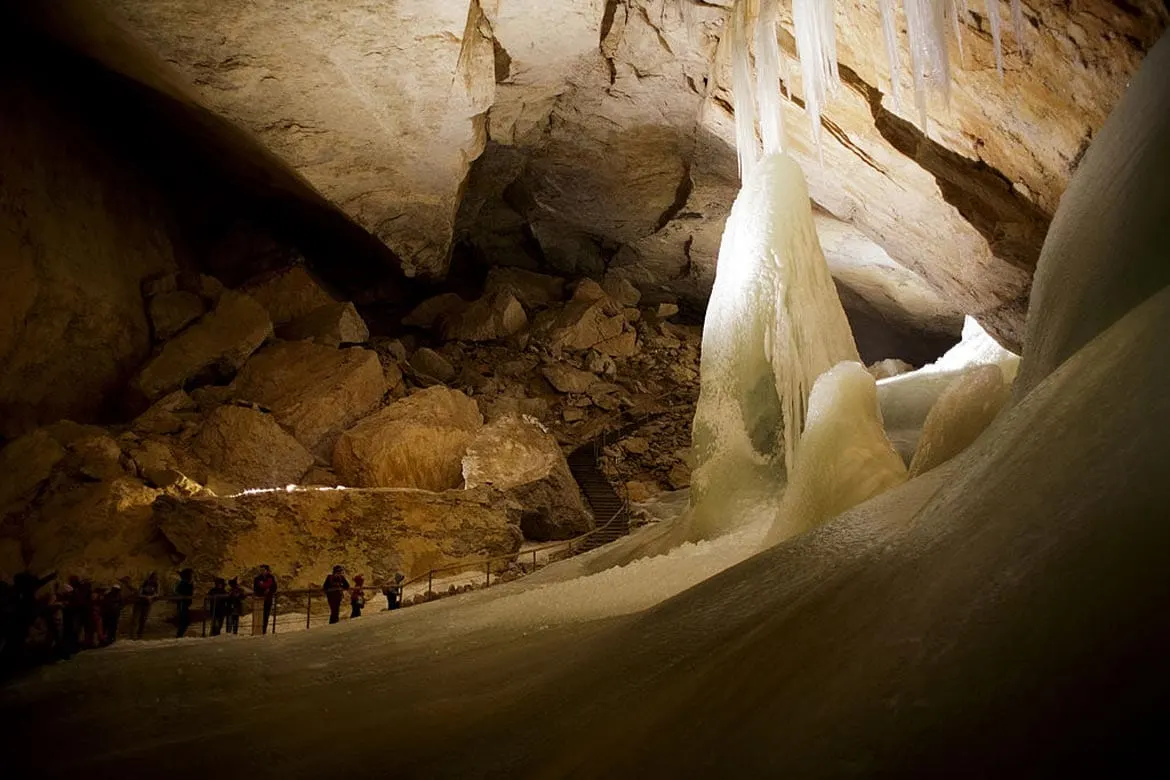 Located above Hallstatt, I found visiting the Dachstein Ice Caves a mind blowing experience. These aren't just ice caves, but mega-sized ice caves which began forming more than 500 years ago.
During the tour, which lasts about 50 minutes inside the caves themselves, you get to see magical glaciers, icebergs, frozen waterfalls and other formations. There is also the Mammut (Mammoth) Cave to explore, one of the world's largest karst caves.
You would never believe this whole other world was lying right beneath your feet. If you want to see some unique natural beauty, this is one of the Salzburg tours you should choose.
The Dachstein ice caves price is €37.50 for an adult and €20.50 for a child.
6. Werfen Fortress, Austria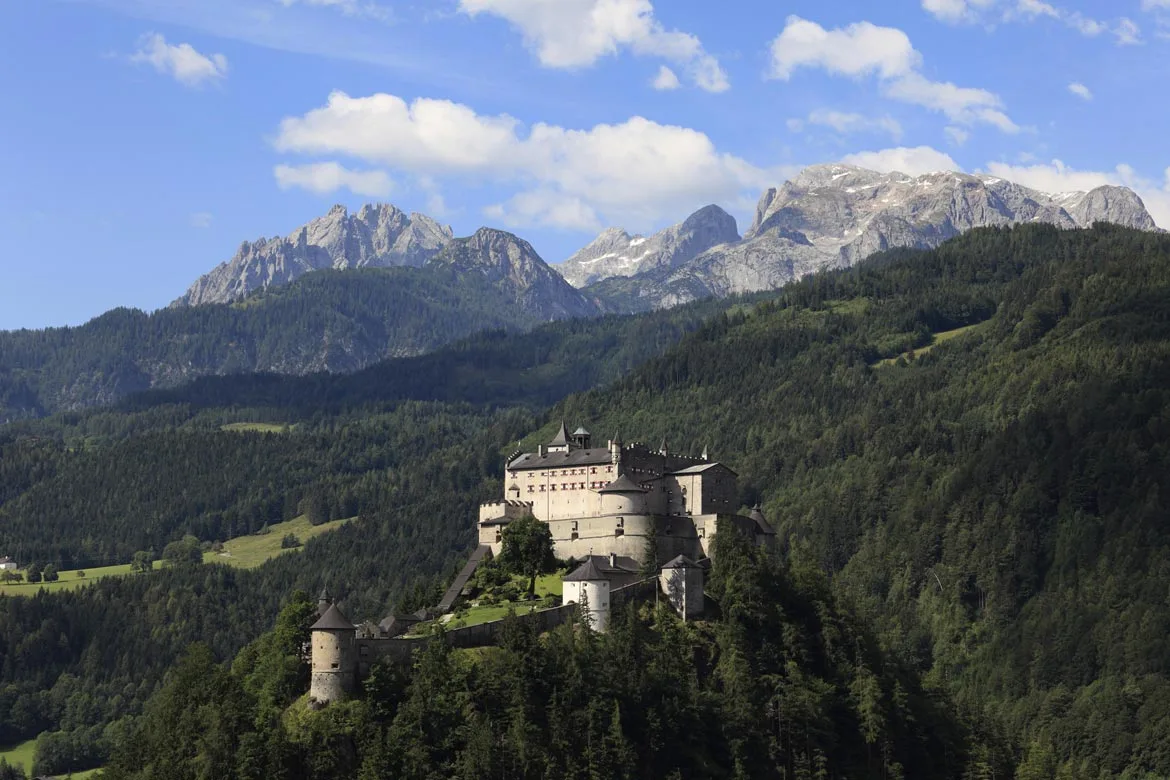 Hohenwerfen Fortress is a formidable sight. It lives among the forests at the top of the Salzech Valley with mountains looming over it.
The fortress dates back 900 years and is an amazing example of medieval architecture. I took a tour of the historic castle and also watched one of the daily falconry shows that takes place here, both of which were brilliant. Everyone thinks Germany and Bavaria is famous for these type of castles but there are a fair few in Austria too, this one being the finest around.
This is another quick and easy Salzburg day trip taking around 45 minutes to reach by train.
7. Wolfgangsee, Austria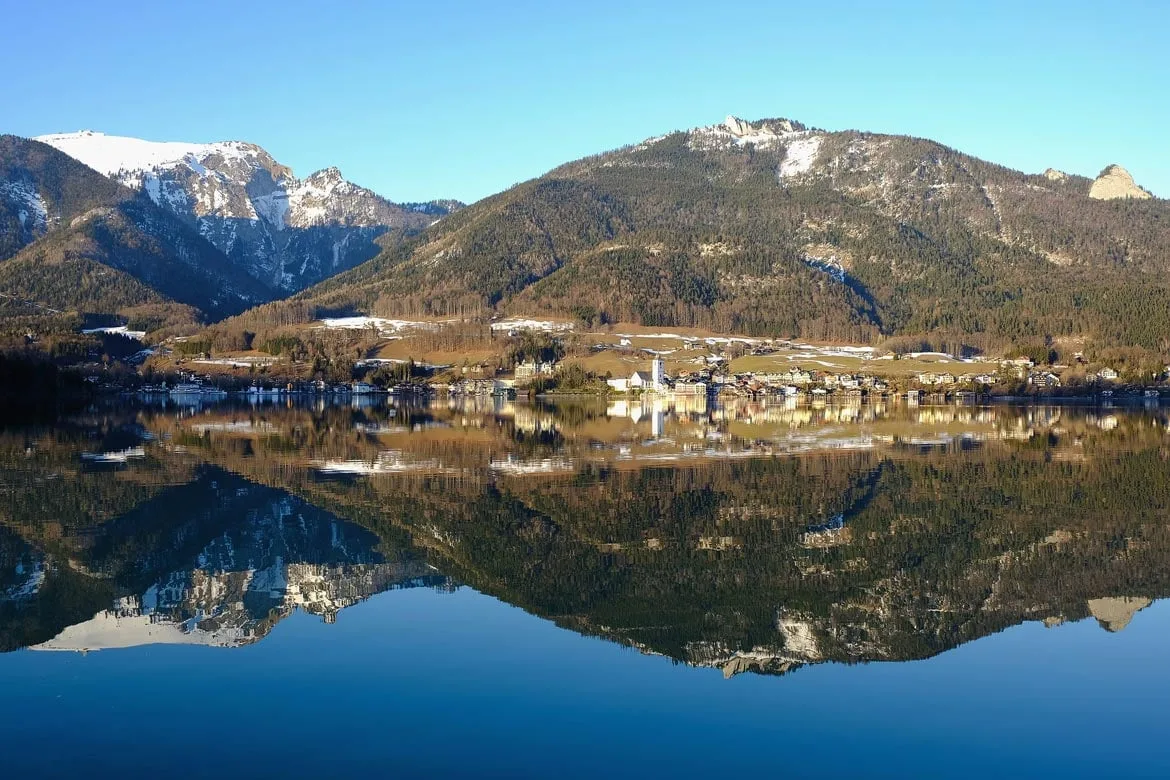 Wolfgangsee is an impressive lake with a quaint little village right at its centre – Saint Wolfgang. A blissful, leisurely lakeside day out is guaranteed here. Head on a lake cruise, browse the shop-lined lanes, and enjoy some good food at one of the many water-side restaurants.
The cog railway, which has been running since 1893, is another highlight of a visit to Wolfgangsee. Climbing up the Schafberg Mountain, you're in for a memorable experience knowing your riding on a historic railway and with some breathtaking views too. There's also a superb restaurant, The Alpine Hut, waiting for you at the top.
A Salzburg day tour of Wolfgangsee and some of the other lakes in the area costs £46/US$58. This is for a half-day tour (4 hours) and includes all guides, a boat trip and transfers.
8. King's Lake, Berchtesgaden, Germany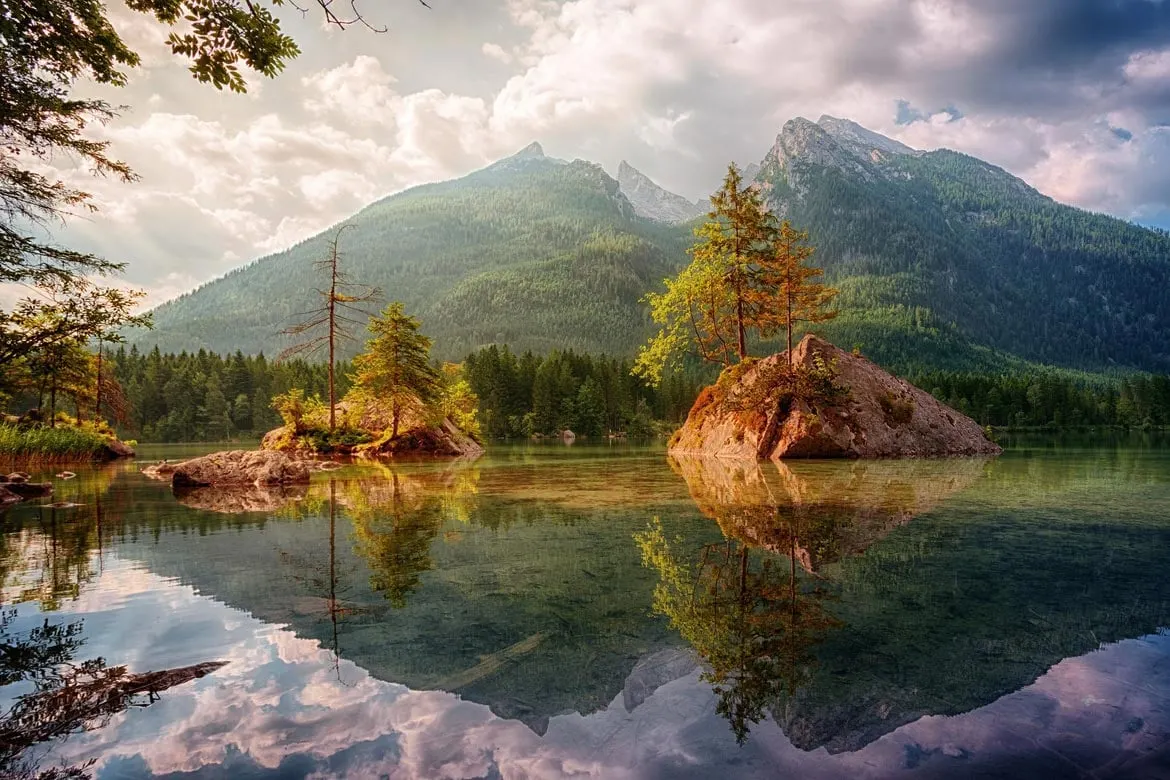 Nestled in a tranquil valley, not far across the German border in Bavaria, lies this gem of a lake. The King's Lake, or Königssee, is blessed with emerald green water and enchanting alpine surroundings.
Make sure you hear the echo of Königssee before you leave. Hop on a ferry to the triple-domed St. Bartholomä Chapel, the former hunting lodge of Bavarian kings. Just past here you enter an echo chamber, where the ferry driver sounds a trumpet to show off the famous echo.
It's the deepest lake in Bavaria, one of the cleanest in Germany and is home to some rare fish too. If there ever was a Top Trumps for lakes, I think we'd have a winner!
A tour of Berchtesgaden and Bavaria costs £48/US$60. This is for a full-day tour (10 hours) and includes all guides and transfers.
9. Hallein Salt Mine, Austria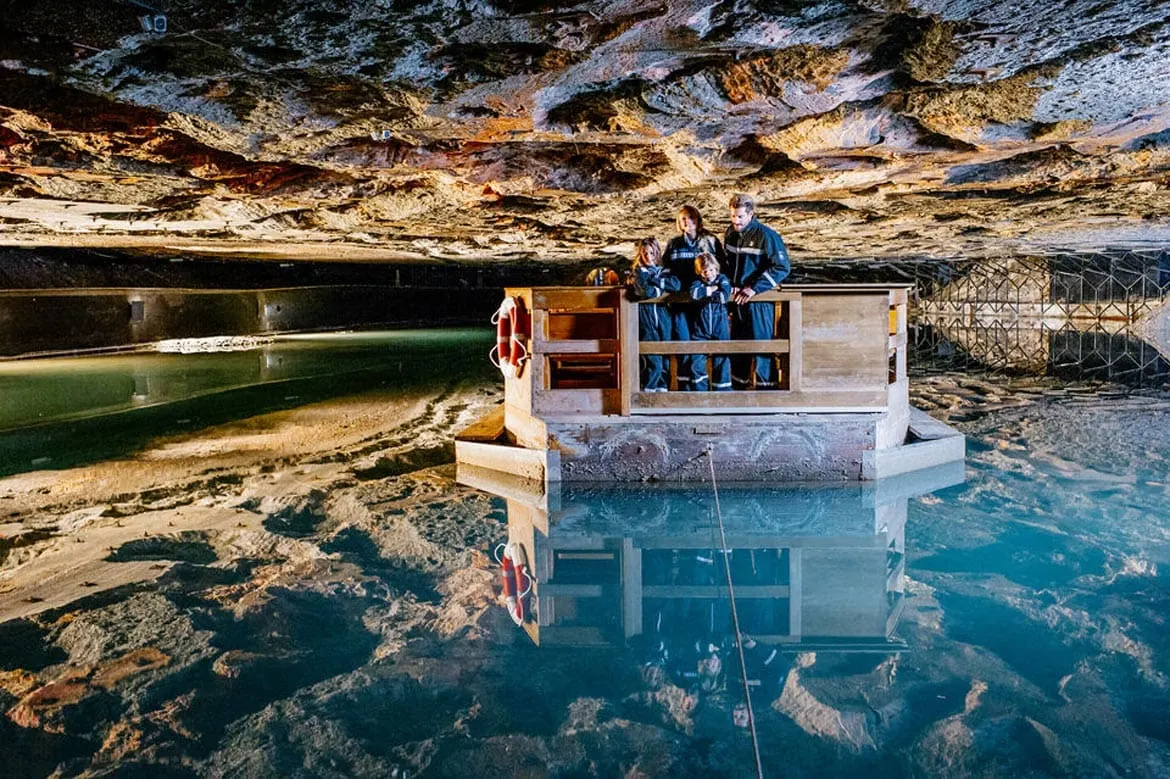 Hallein Salt Mine is located in the Dürrnberg plateau, an area where salt was being mined all the way back in the Neolithic Age. An underground lake and traditional wooden miners' slides that you can go down are some of the main features in the mine. One of the slides is an immense 150 feet long.
There's even a chance to cross an underground border into Germany, which gives it a unique edge on the other salt mines in the area.
I loved taking a look around the replica Celtic village next to the mine too, which gives you an insight into what life was like here 2600 years ago.
A tour of the Hallein Salt Mine costs £85/US$106. This is for a full-day tour (8 hours) and includes all guides, entrance fee into the salt mine and all transfers/transportation. For me, this is one of the best Salzburg day tours you can do.
10. Zell am See-Kaprun, Austria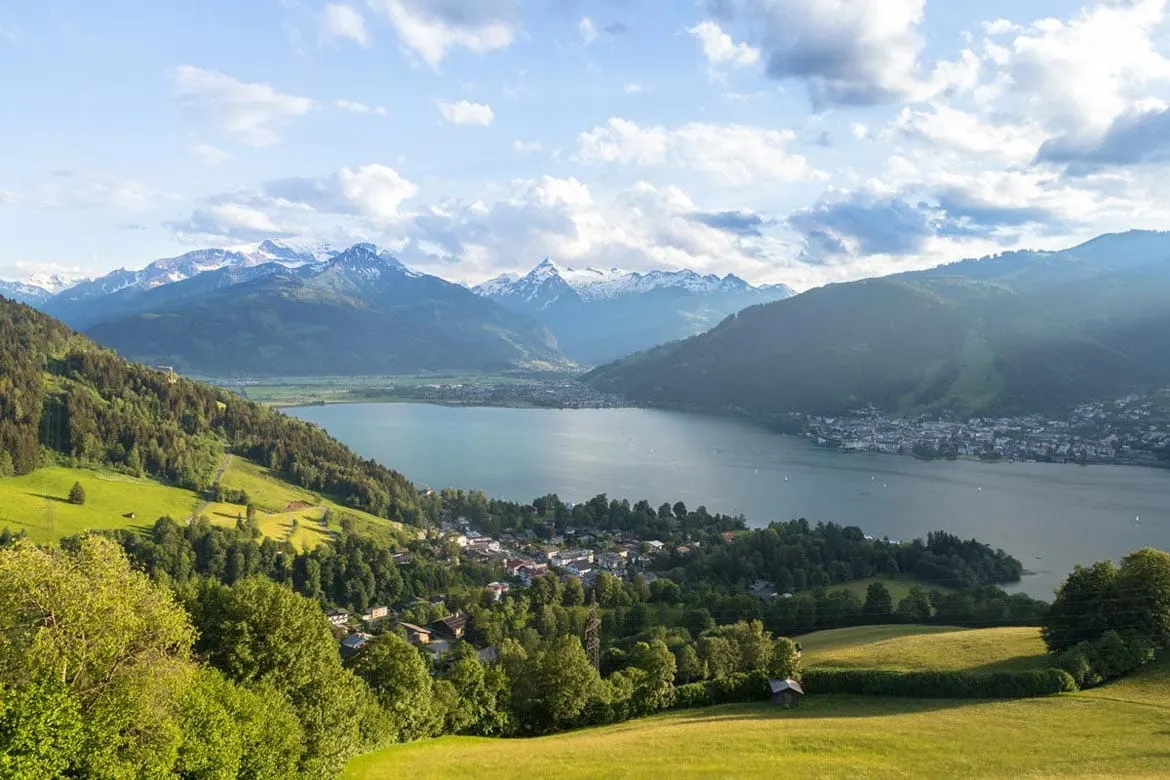 There aren't many places around the world that can boast the beauty of Zell am See – it just has a little bit of everything.
Mountains and glaciers? Check. Deep dense forests? Check. Beautiful blue lake? Check. And then there's the town – it's so charming and cute.
One of my top highlights in Zell am See-Kaprun was heading to the top of the Kitzsteinhorn glacier. This is one of the top things to do in the area and a great way of getting up in the mountains.
Being a mountain and glacier, the main things to do at Kitzsteinhorn are skiing and snowboarding. However, if you're looking for somewhere to go hiking or to be in the fresh alpine air then this is it. I really loved my time in Zell am See-Kaprun and exploring the Kitzsteinhorn so hopefully you will too!
11. Untersberg Mountain, Austria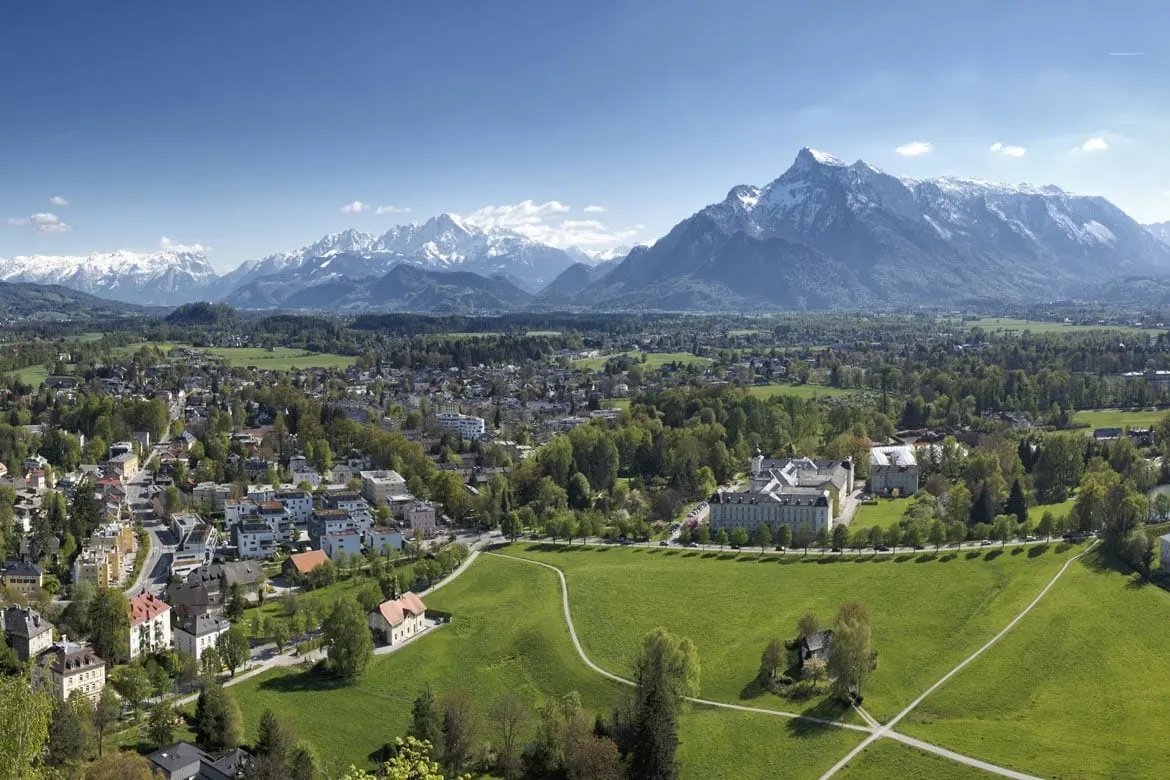 Over 100,000 passengers ride the cable car up Untersberg Mountain every year. In just ten minutes it sends you the 1,500m to the summit. As well as to enjoy the stunning views, people travel up the mountain for skiing, climbing, hiking and other activities.
If you're up for the two-hour long trek there, you can also check out the Schellenberger ice cave. It's not the easiest walk but straying off the beaten track has the payoff of getting to see an awesome cave without many other tourists around.
12. Dachau Concentration Camp, Germany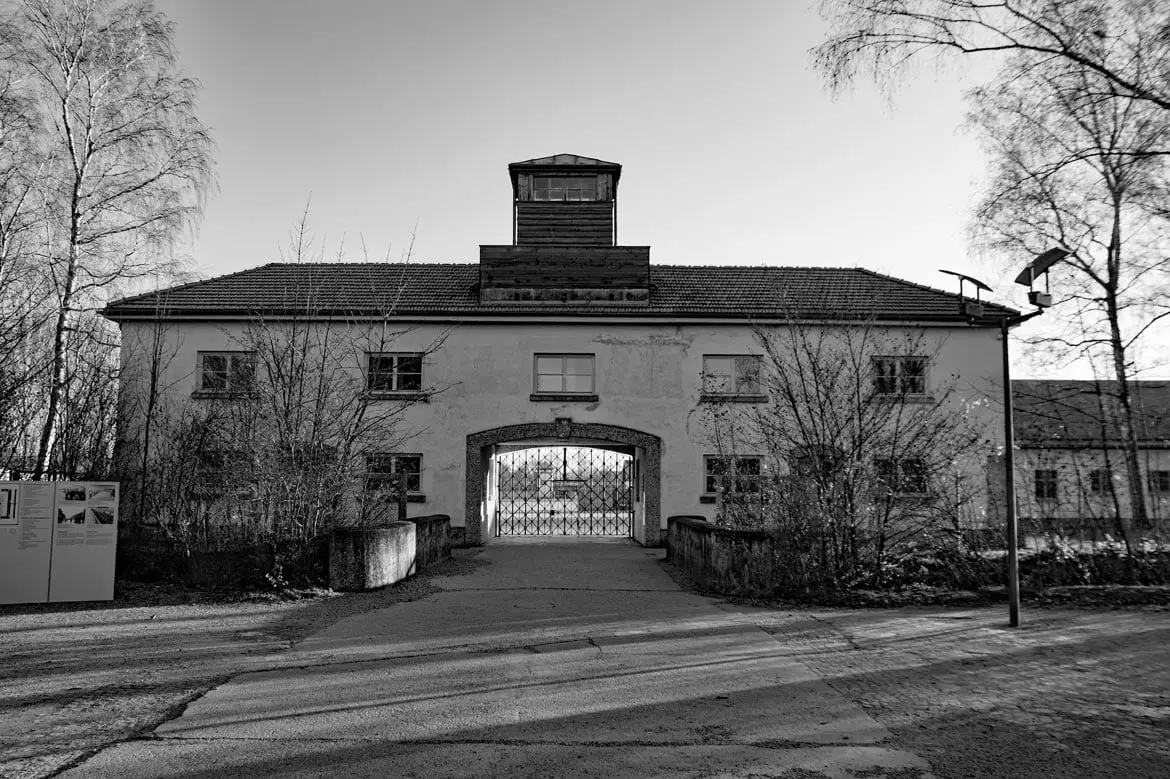 Visiting Dachau Concentration Camp Memorial is a tough but important experience. Just a stone's throw from Munich, there are a number of Salzburg day tours that you can choose from.
Now a place of education and remembrance, tours of the site including cells, barracks and gas chambers are available and there's also a museum. You leave with a perspective on the Holocaust like no other. Basically, it teaches you all about man's inhumanity to man, and it really hammers home why we should be kind to one another.
It's always uneasy visiting somewhere with such tragic history. But learning about what happened here and remembering all those who needlessly lost their lives is one way to pay our respects. It teaches us never to let it happen again.
13. Innsbruck, Austria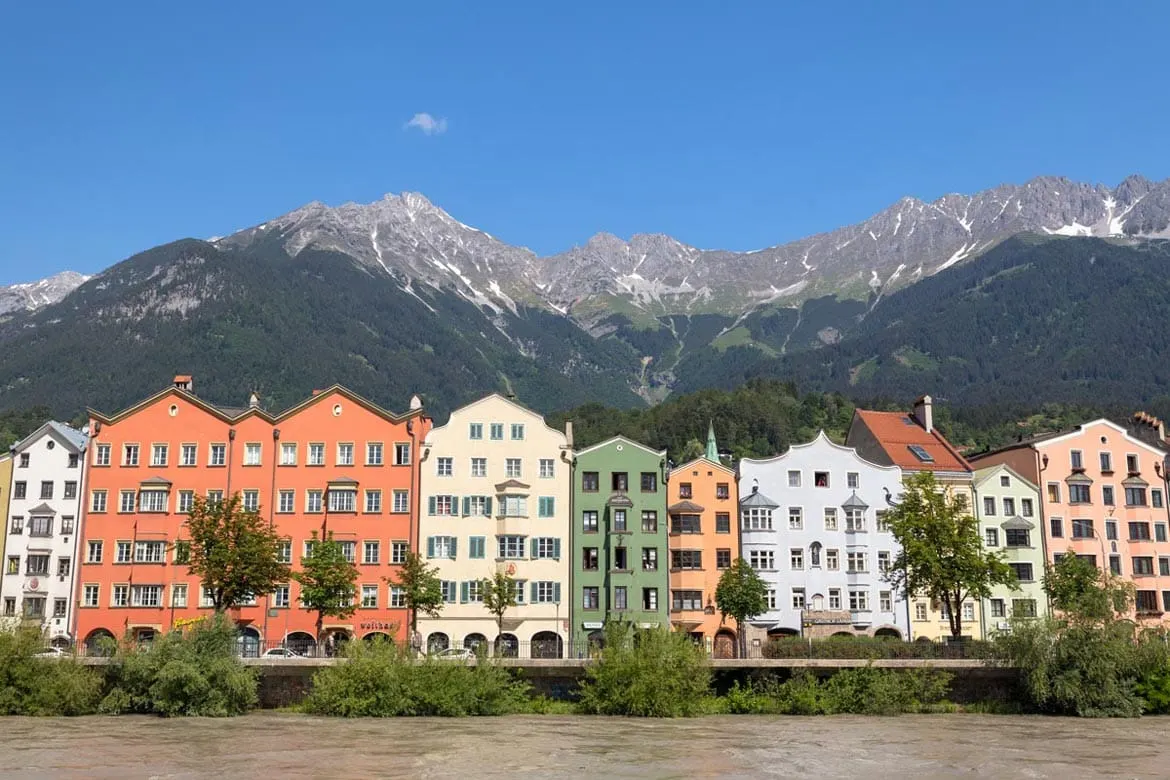 Nestled at the bottom of a valley and surrounded by the mountains, many people consider Innsbruck just a winter destination with world-class ski resorts. However, there's so much to do here in summer too – don't skip over it as one of your potential Salzburg day trips thinking it's seasonal.
Austrians love their cycling and Innsbruck is a top spot for it. The downhill cycling is some of the best in Europe, though I decided to go for a more leisurely (and less scary!) ride around town instead.
There are lots of pretty photo opportunities, especially the row of colourful houses down by the river, so make sure you bring your camera.
You can check out some more things to do in Innsbruck in my blog post – just click on the link.
14. Werfen Ice Caves, Austria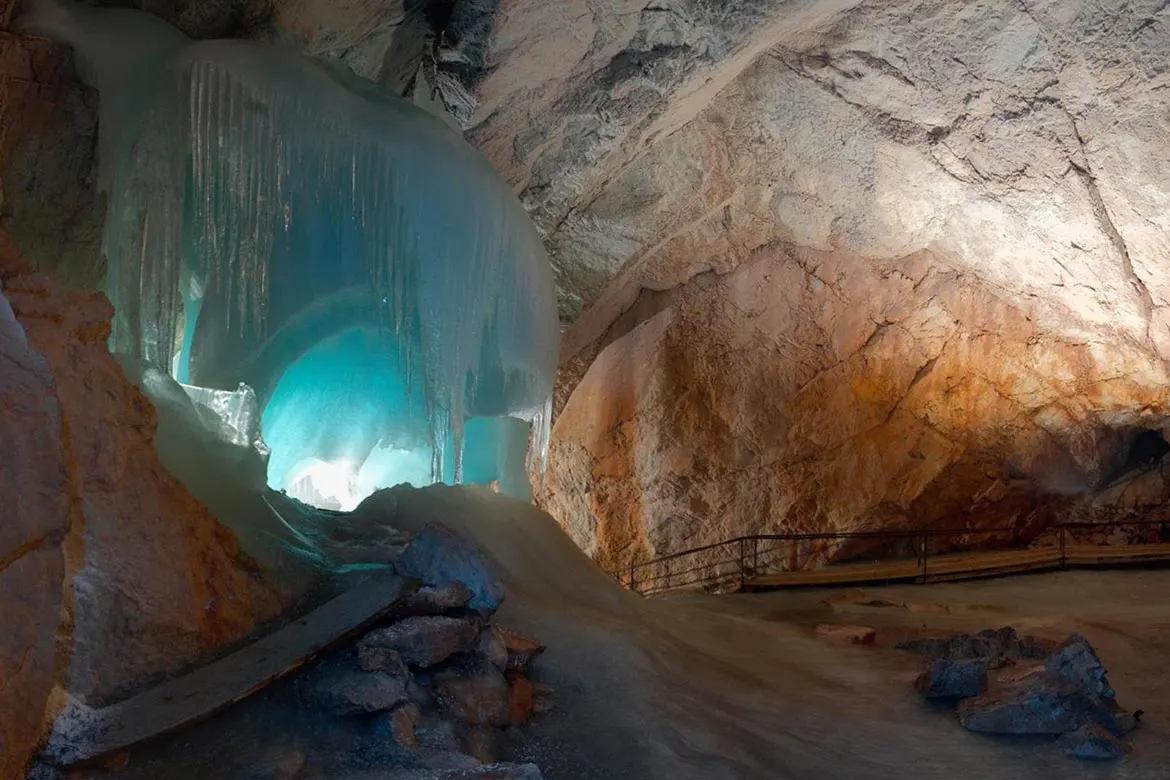 Werfen Ice Caves are the largest in the world and, like those in Dachstein, they are extraordinary. Not far from Werfen Fortress, I would combine visiting the two to make one cracking day trip.
In the past, locals would not enter because the entrance was said to look like the gates of hell. But inside the 'World of the Ice Giants', trust me when I say it's all beauty, with the most amazing glistening ice sculptures and galleries.
You have the choice of hiking from the visitor centre to the cave entrance or riding in Austria's steepest gondola. I decided to walk but either way it's a nice journey upwards!
A tour of the Werfen Ice Caves costs £86/US$104. This is for a half-day tour (6 hours) and includes all guides, entrance fee into the ice caves and all transfers/transportation.
---
Which one of these do you think is the best day trip from Salzburg? Let me know in the comments below!

Like this blog post? Then make sure you Pin it for the future!