From rock climbing at Railay to the infamous Chiang Mai zipline, these are the best Thailand adventures for your next holiday!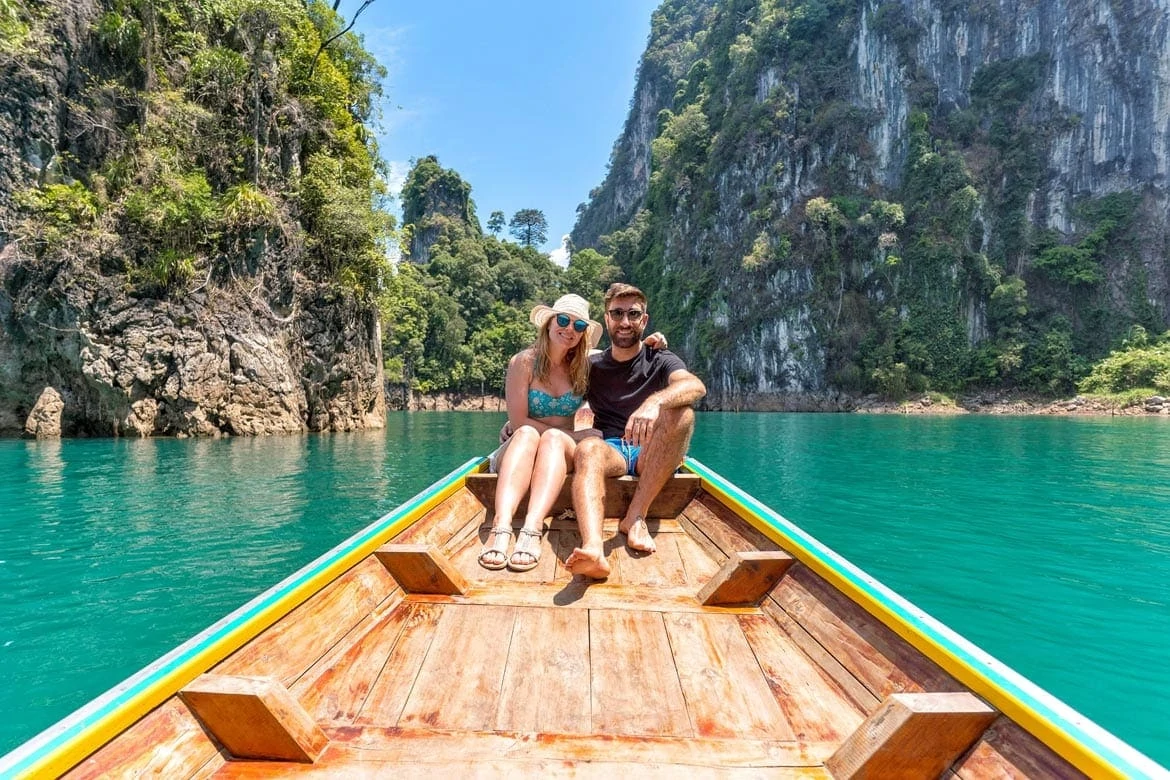 When it comes to Thailand adventures there are so many to choose from. Honestly, there aren't many countries around the world so set up for adventure activities than Thailand. If you're an adrenaline junkie (like me) then you'll absolutely love it here.
As soon as you arrive in Bangkok you'll start seeing all these tours and activities advertised all over the place. They're everywhere from the airport to the streets of the Khaosan Road.
The vast and varied landscape means there are countless adventure activities in Thailand to try out. Every corner of the country has something exciting to offer which I absolutely love.
You've got the incredible southern coastline and islands, which is blessed with some of the world's best beaches. This region is more than just a great place for beach bumming. It's perfect for watersports, like sea kayaking which I did in beautiful Krabi.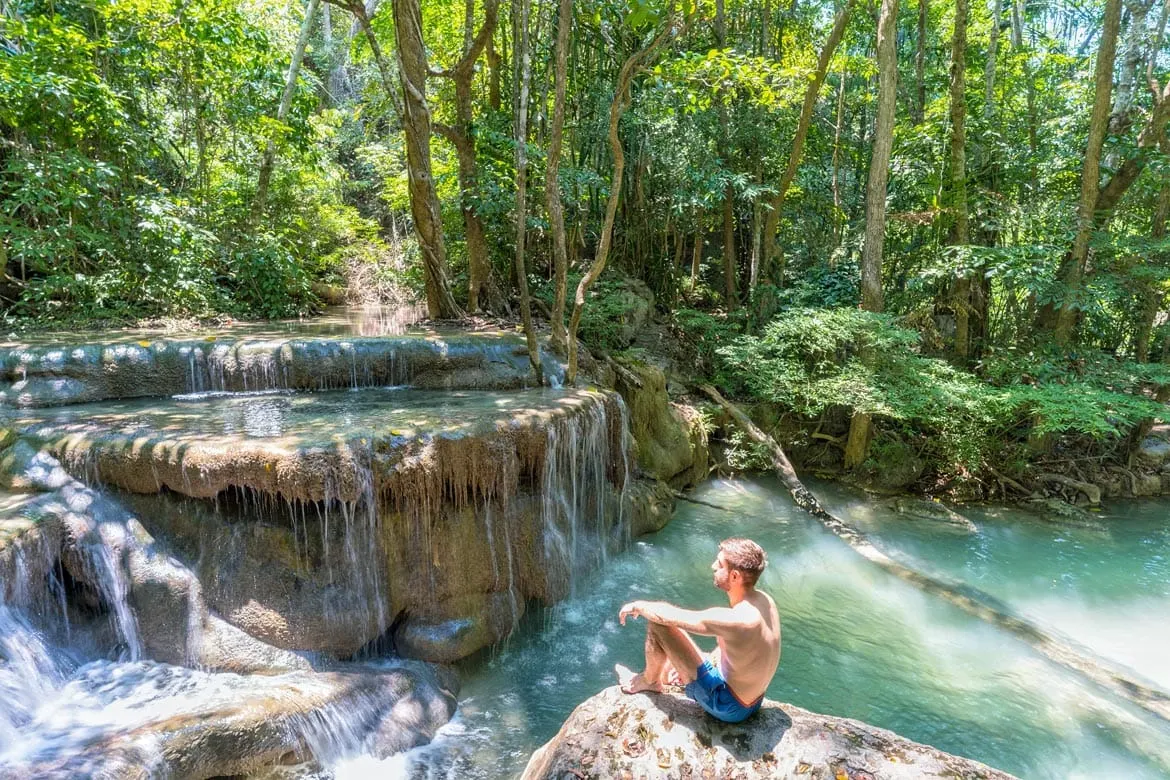 Then there are the jungle-covered hills of the north, where you can go trekking and wildlife spotting. It was there that I went jungle trekking in Pai, which was one of my top Thailand adventures.
Add to all this the first-class food, interesting culture, natural beauty and hot weather and you have a pretty unbeatable destination. I mean, there's a reason why Thailand is one of my favourite countries in the world!
With so many adventurous things to do in Thailand, I've put together this list of my top recommendations for fellow thrillseekers.
Whether you're going all over the country or just visiting one part, find something here to inspire your travel plans.
If you're heading to Bangkok then make sure you check out some of the best food tours in Bangkok to really experience the city! Also, these are some of the best Bangkok hotels for you too.
---
Best adventures in Thailand
Khao Sok National Park (and Cheow Lan Lake)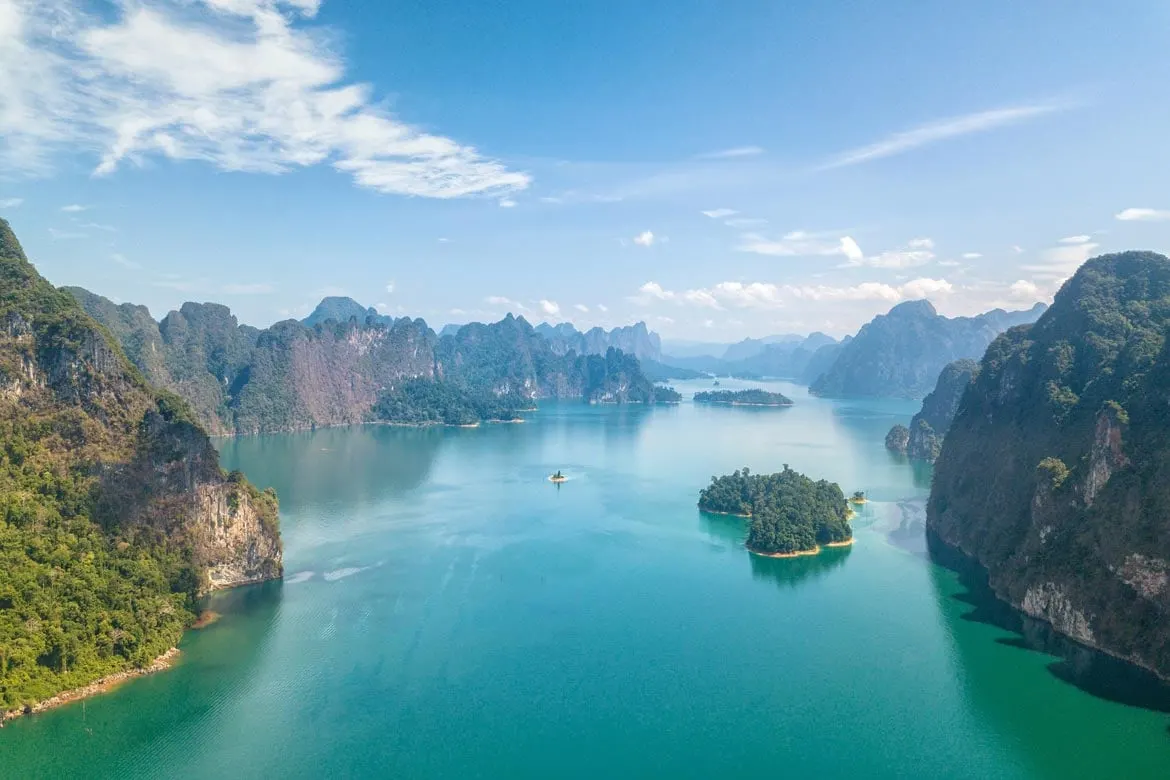 Khoa Sok National Park, a huge park in the Surat Thani province, is brimming with natural beauty. It's filled with 160 million-year-old rainforest, waterfalls, wildlife and those karst mountains that always come to mind when you picture Thailand.
One of the reasons this is such a great spot for having a Thailand adventure that it's so vast and varied. I managed to fit in a good handful of activities in just a few days: kayaking, hiking, swimming and exploring caves. I loved seeing the bamboo forest – some of the largest bamboo plants in Thailand grow there.
There are actually two parts to Khao Sok National Park, the second being Cheow Lan Lake. This is a man-made lake, about 65 km away from the main park. A long tail boat cruise on the emerald green water here is an experience not to miss and the perfect opportunity to spot some wildlife too.
One of the best ways of exploring Khoa Sok National Park is on a 2-day, 1-night tour. Then you get to stay in the national park itself and really get to see all it has to offer. This is the tour I did, though I would've perhaps been tempted to do a 3-day tour too!
Rock climbing at Railay and Tonsai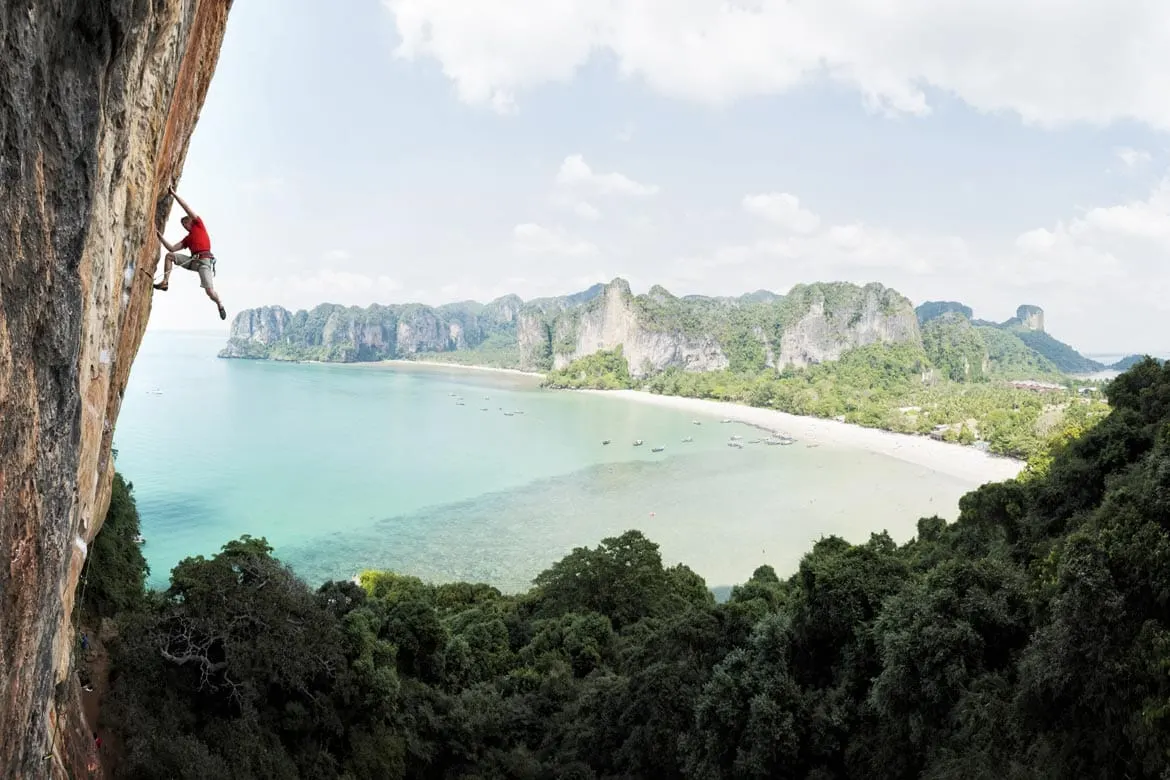 Railay and Tonsai, which are two neighbouring beaches, are a must-visit if you're into rock climbing. It's a real hotspot for the sport and the climbing here is renowned as one of the best adventurous things to do in Thailand.
Climbers from all over the world flock to the area for the 700 plus bolted routes on the awe-inspiring limestone cliffs. There's a strong community feel, which is especially handy if you're travelling solo – you're pretty much guaranteed to find a climbing partner and make some friends along the way.
You're really going to get the most out of a trip here if you're a more experienced climber. However, there are plenty of walls for beginners and guides to help you conquer them, so I definitely don't think anyone should be put off!
If you're looking at doing a half-day trip rocking climbing at Railay then I'd recommend this tour where you have your own professional guide and all equipment. This really is one of the best adventurous things to do in Thailand!
Scuba diving at the Similan Islands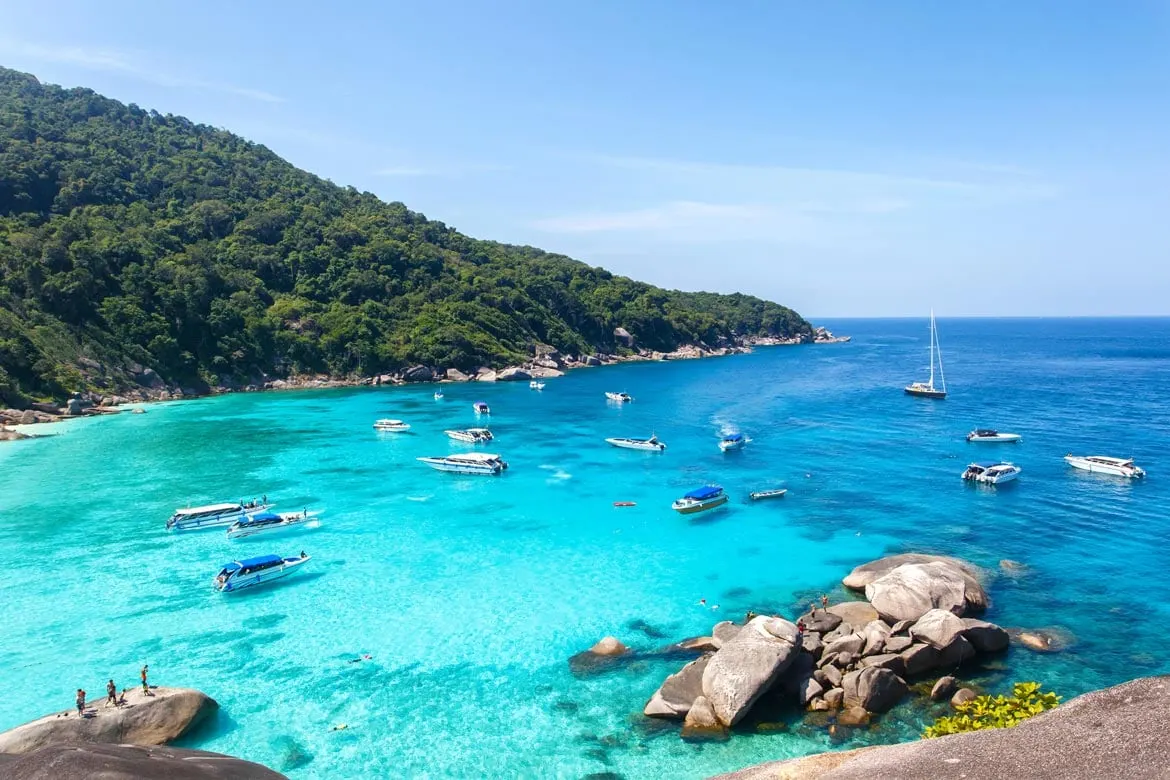 When it comes to Thailand adventures, this one is right up there with the best.
I've been lucky to go diving in a fair few places in Thailand, but none of them beat the Similan Islands. This really is up there as the best dive spot in Thailand. These are a group of 11 islands in the Andaman Sea, which together make up an idyllic marine national park.
I took a liveaboard cruise from Khao Lak, which was incredible. You can also join tours from nearby Phuket or Ranong, for anything from one day to a whole week. There are speedboat tours if you don't fancy a liveaboard cruise too.
We saw a magical range of sea animals, like manta rays, barracudas and so many schools of colourful fish. The coral reefs are equally impressive as the creatures that swim around them. The whale sharks were the stars of the show for me though – a bucket list item ticked off!
Don't worry if you've never been scuba diving before. There are plenty of dive schools where you can get PADI qualified in this area. Just plan in enough time for the lessons. Alternatively, there are some snorkelling tours to choose from too. When it comes to water sports in Khao Lak, there are so many options here.
Bear in mind that the marine park is closed during rainy season too, which is May to November.
Flight of the Gibbon Experience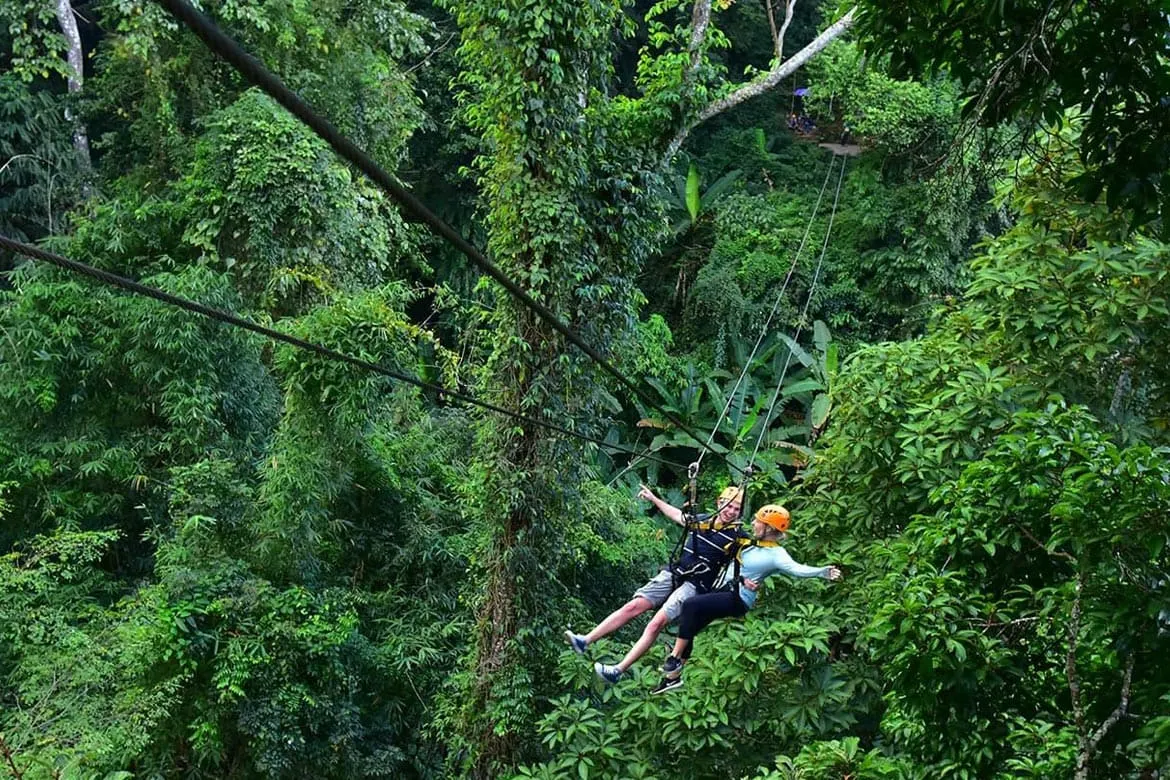 Love ziplining? Love wildlife? If you answered yes and yes then you have to come here. The Flight of the Gibbon Experience really has become on of the top things to do in northern Thailand.
This is one of those activities that's suitable for absolutely anyone who's after an adventure. It doesn't matter what age you are, how fit or what experience you have. Anyone can hop on a zipline and enjoy themselves.
The ziplines here take you through a forest canopy, which is where the gibbons hang out. They are most active in the mornings. Go as early as possible to catch the best look at them as you glide through the enchanting forest.
I went to the original course in Chiang Mai, but there's now actually a second Flight of the Gibbon course. It's in Pattaya, not far from Bangkok.
The Flight of the Gibbon experience really is one of the best adventures in Chiang Mai and I really can't recommend it enough.
If you're heading north, make sure you check out this amazing Chiang Mai itinerary with all the best things to do in the city. This guide includes some of my favourite activities like a Thai cooking course and visiting the local waterfalls, so it's a good one.
Jungle trekking in Pai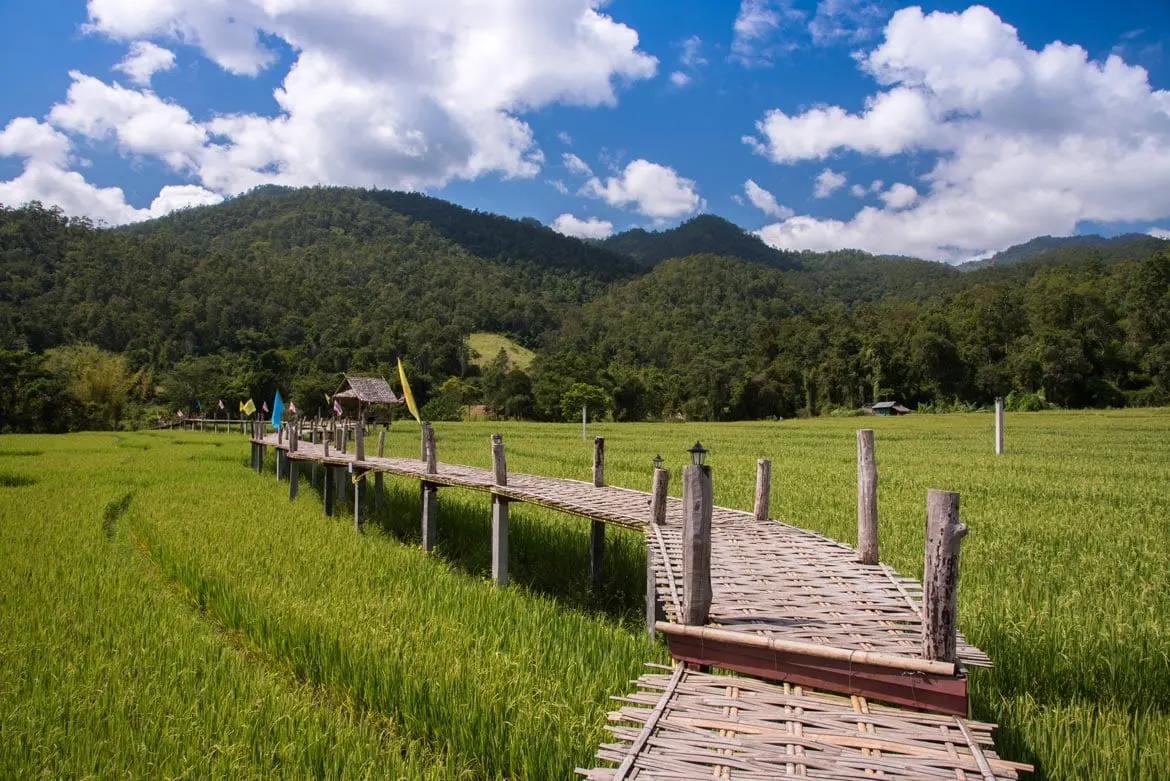 Travelling the relentlessly twisty road to Pai (there are over 700 turns!) is 100% worth it. This little town is surrounded by exceptionally beautiful countryside. Waterfalls, caves, rice terraces and, of course, jungle make up the scenery here.
There are some hiking trails directly from the town but lots more a little further afield, such as through the Soppong Jungle. You'll easily find a tour or a guide that can take you out of town, if you'd rather not travel to trails and hike alone.
If you want to catch a sunset or sunrise, I would suggest heading to Pai Canyon. Unlike other trails, you're above the treetops here and get awesome 360-degree views.
I visited in March, in between summer and winter, which is said to be the optimum time of the year to come trekking in Pai. I can vouch for the fact that it reaches a nice Goldilocks-esque 'not too hot, not too cold' temperature.
Muay Thai training camp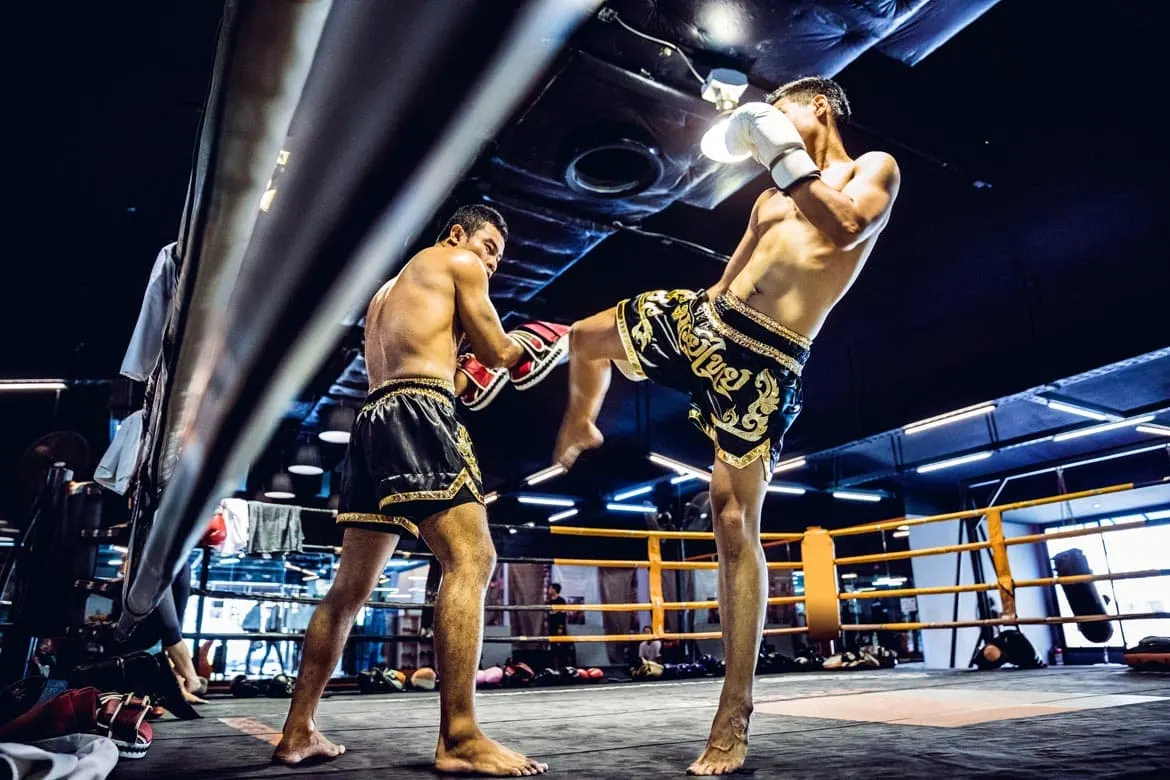 Not all of the adventurous things to do in Thailand are outside. You can have a go at Muay Thai year round, whatever the weather. And with training camps all over the country, you can do it wherever too.
Also called Thai boxing, Muay Thai is a martial art and the country's national sport. As well as power and strength, there's a lot of grace and fluidity to the sport. Unsurprisingly, it can be an intense workout too.
When I gave it a go, I only did a one-day session. This was a lot of fun but if you wanted to step it up a gear, there are loads of courses that last a week or longer.
If you don't fancy actually jumping in the ring, watching a Muay Thai match could still be one of your Thailand activities to enjoy. You can just leave throwing punches to the pros!
If you're up for it, you can go on a week long Muay Thai training camp where you'll really be put through your paces!
Sea kayaking at Ao Nang (Krabi)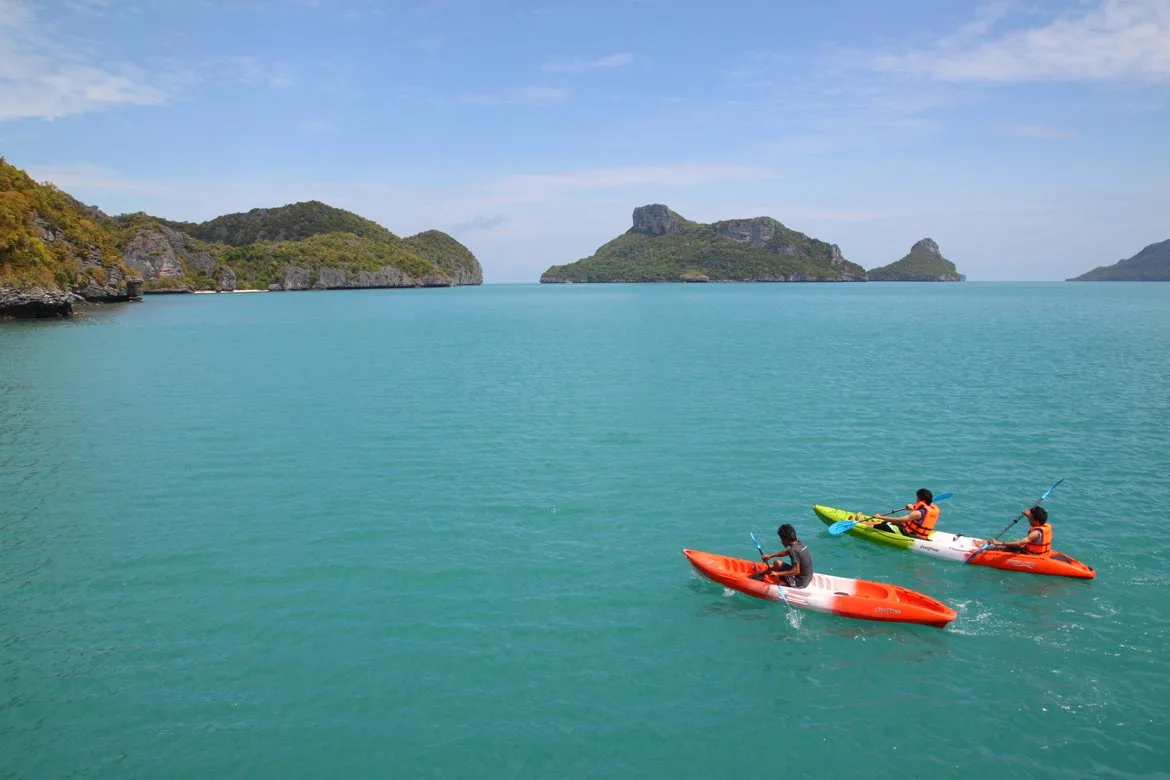 Although I've picked this as one of my top adventurous things to do in Thailand, I always think sea kayaking is kind of relaxing.
That's especially true when you can gaze at the picture-perfect coastline around Ao Nang Bay. You get a great perspective on the cliffs, coves and mangroves as you paddle on the serene clear water.
Hire your kayak from one of the many rental places and paddle from Ao Nang to Railay or other nearby beaches. Or there are guided tours that hit some of the best spots.
My number one tip for sea kayaking in Ao Nang: beware of the heat. Avoid the hottest parts of the day or risk returning exhausted and sunburnt. I found out the hard way and had to rock the lobster look for a few days.
You can take a kayaking tour of Krabi and visit Thalane Bay paddling through the narrow channels cut through two towering complexes.
White water rafting in Chiang Mai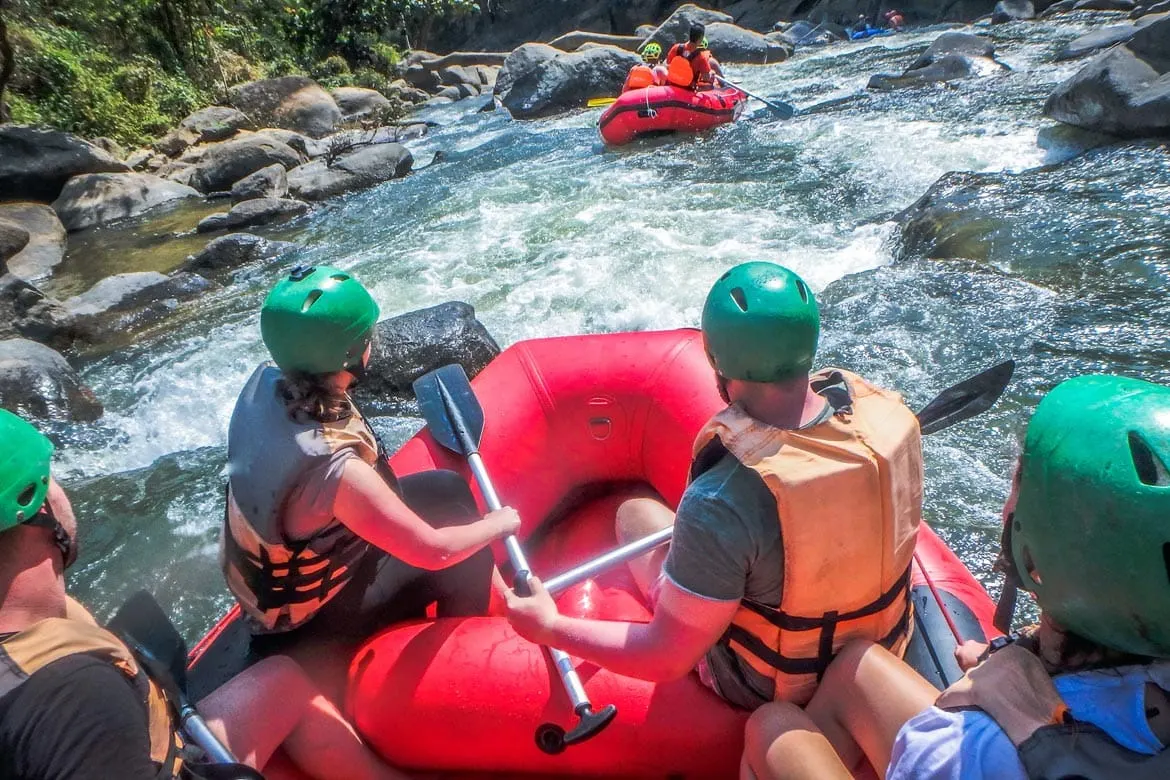 I've saved one of the best until last! White water rafting is perfect for adrenaline junkies searching for Thailand activities. It's the definition of an exhilarating experience.
Chiang Mai is an ideal spot for white water rafting because it's in the nature-rich north, near the Mae Taeng river. Along the Mae Taeng, there are ample opportunities to hop in a raft and tumble through canyons, past waterfalls and beautiful surroundings.
If you've never been before, rapids are graded 1 to 5 based on how much of a whirlwind ride they provide. Chiang Mai has courses to suit every level. If you want to be eased in, start at 1 or 2 then work your way up when you feel confident.
I challenge even the most seasoned adventurers not to feel a bit of nervous anticipation when white water rafting in Chiang Mai. I know I certainly did! But that was firmly outweighed by the fun and thrill of it. For me, this really is one of the top Thailand adventures.
White water rafting in Chiang Mai really is such an incredible activity. On a tour you'll take on the rapids of the Mae Taeng River with the jungles all around you. Such a rush!
---
Has reading this got you excited for some adventures in Thailand? I'd love to know which you'll be trying – leave me a comment!
Like this blog post? Then make sure you Pin it for the future!